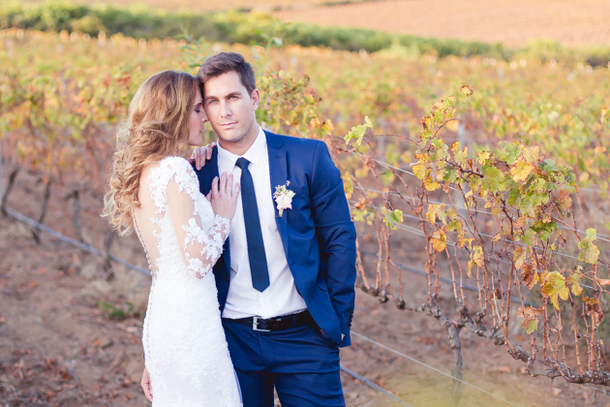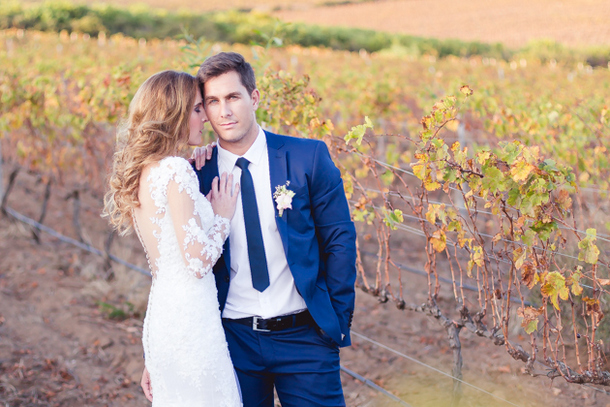 Today's couple had one of those proposals that could have come straight out of a Hollywood movie, and one of those weddings that would be quite at home on the pages of a glossy magazine – I just LOVE the sparkle and the glitter mixed with soft pastel blush and some absolutely gorgeous soft florals from Sitting Pretty. In fact (and I swear I didn't plan it this way) this wedding is kind of the perfect transition between our August and September 'themes', since it's both glamorous and full of beautiful spring pastels! Hooray! I can't not mention the bride's absolutely amazing lace dress, which combined perfectly with her groom's navy suit – don't they just make the most stylish pair? Linda Fourie was on the scene to capture these lovely pictures of every smile and detail.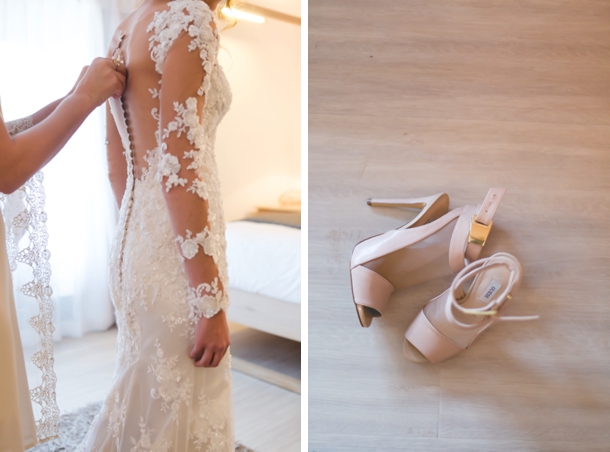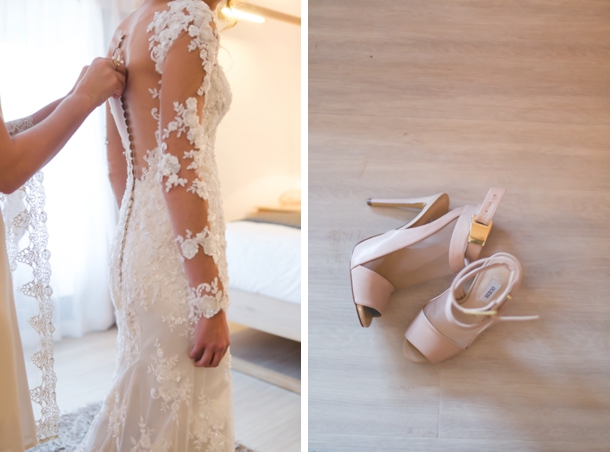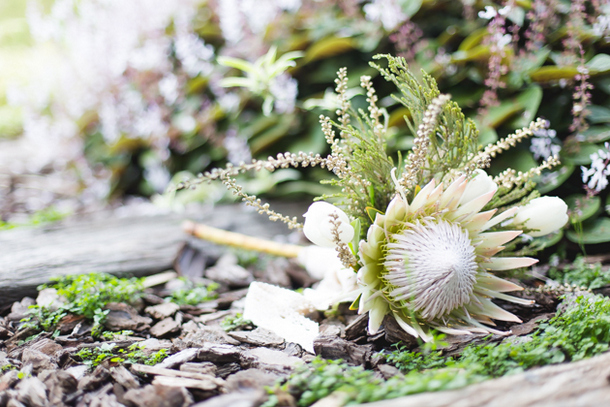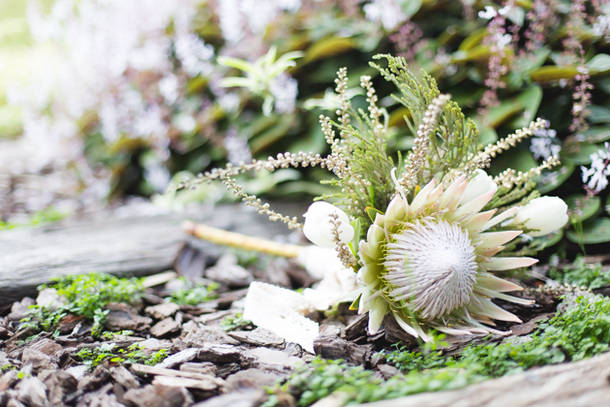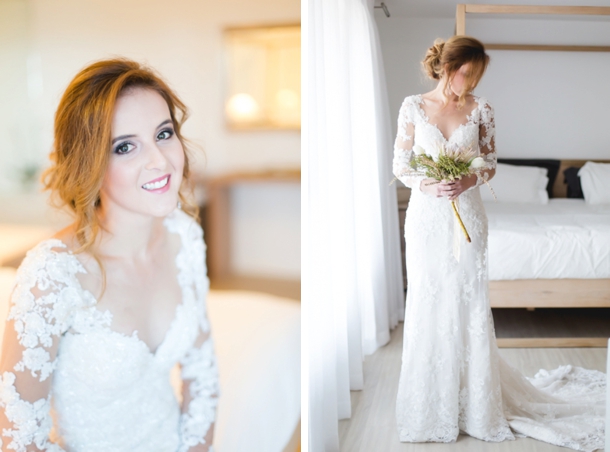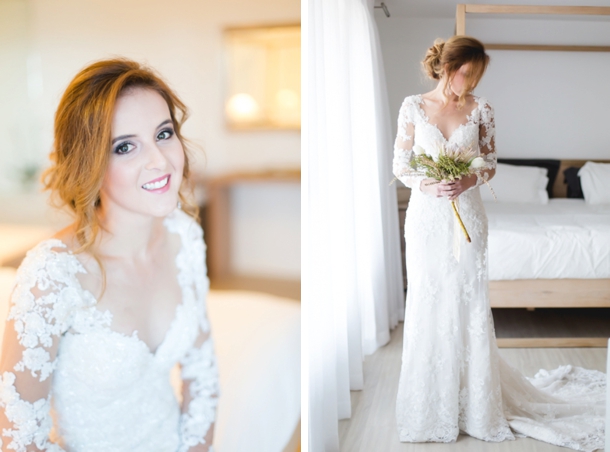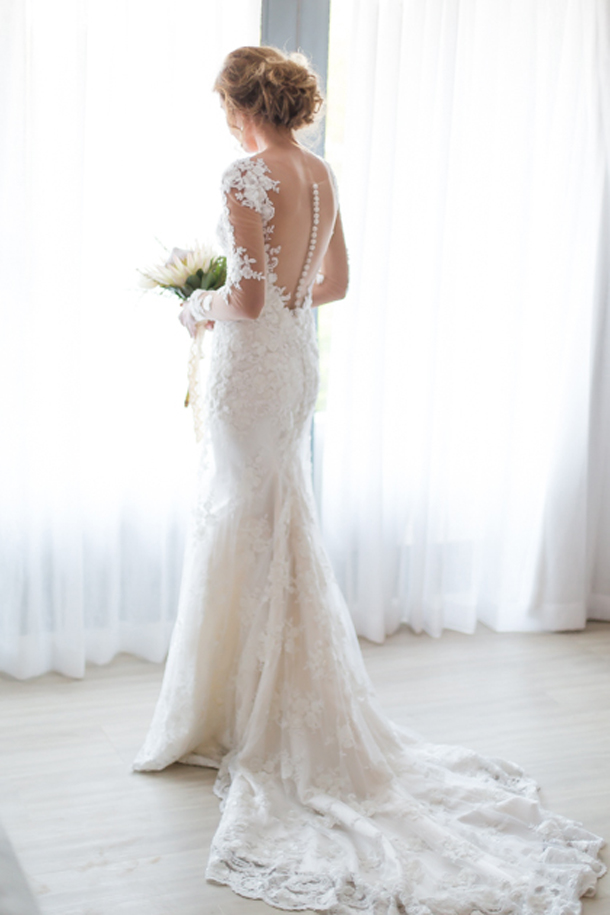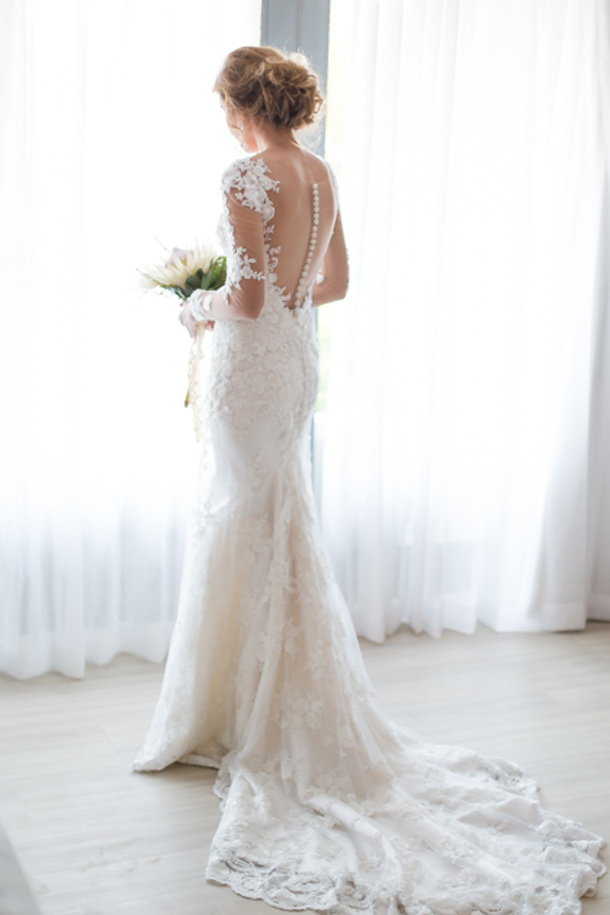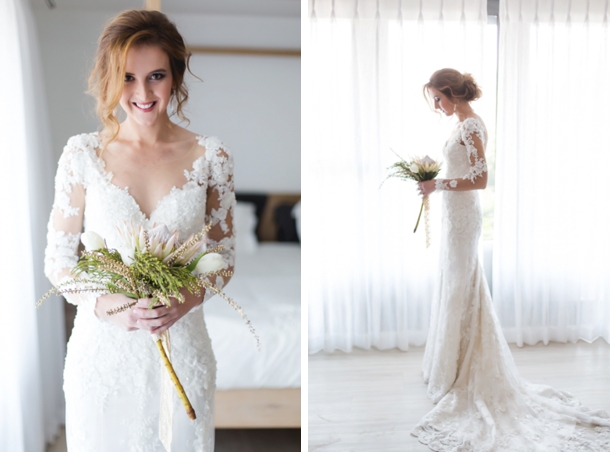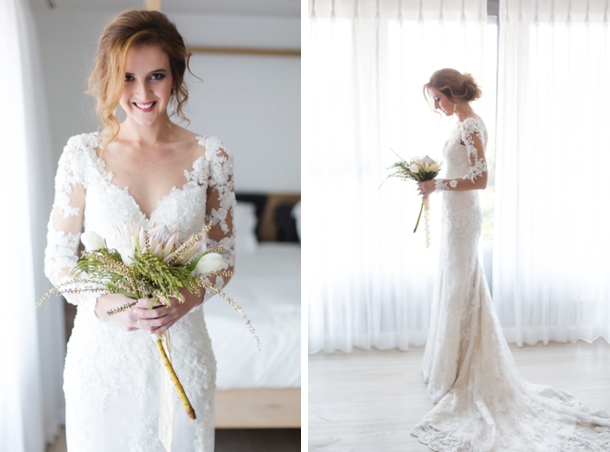 Love Story
We have known each other since primary school! It was only in Std 8 that we became friends. A stolen New Year's Eve kiss is what started our relationship, but even after that we were both still too shy I guess… until one day in Business Economics Class, a friend told me that he liked me and started laughing hysterically until I replied: "Well… I like him too." Ever since then we have been a part of each other's lives. For nine years we have learned about each other and from each other. We are very different, but as challenging as some may find it, these differences are what keeps us strong as we strengthen each other's weaknesses; it keeps us sane as the dreamer that finds nothing impossible sometimes needs a reality check and the realist sometimes need to dream! The artist and foodie teaches the fitness freak about the details of life, and the fitness freak keeps us healthy and prioritised! We embrace this! In the course of nine years we have laughed, we have cried, we have shouted, and kissed, and annoyed and fallen in love (over and over), we have shared, we have been selfish, we have grown, we have fallen short, we have encouraged and supported, we have gone on adventures and we have made memories, but most important – we have been TOGETHER!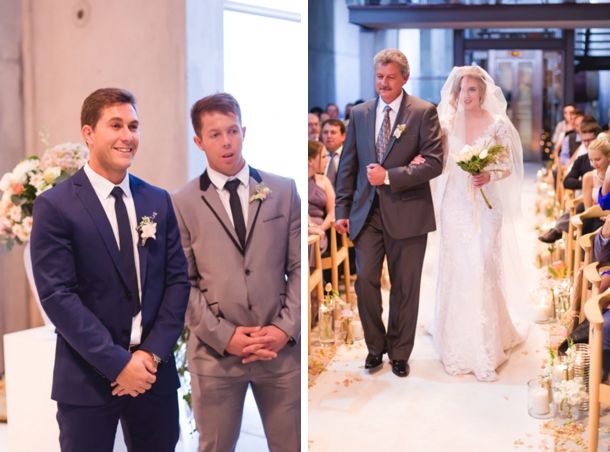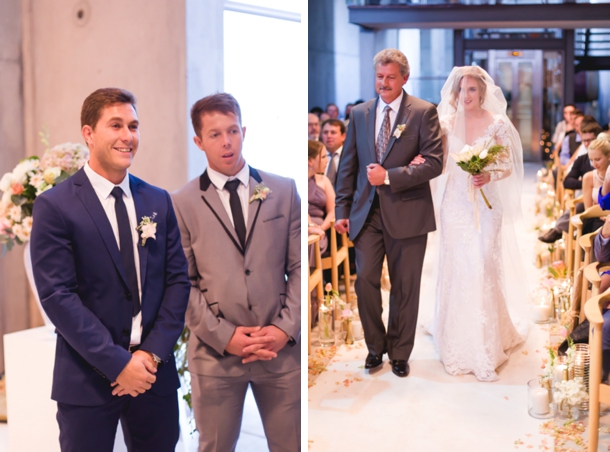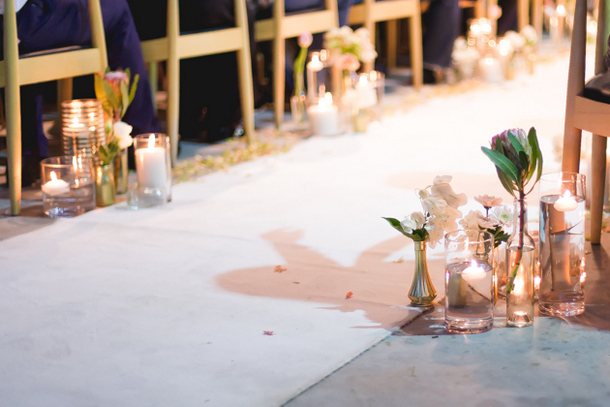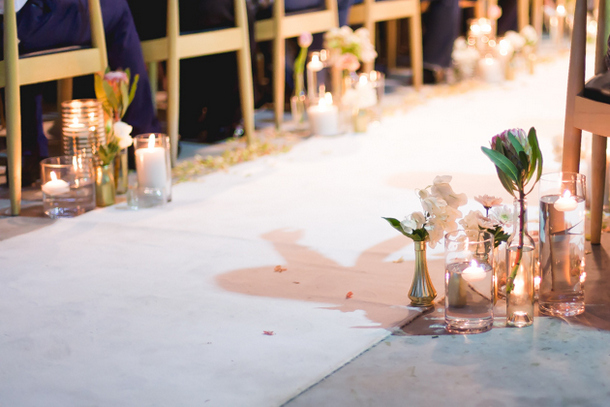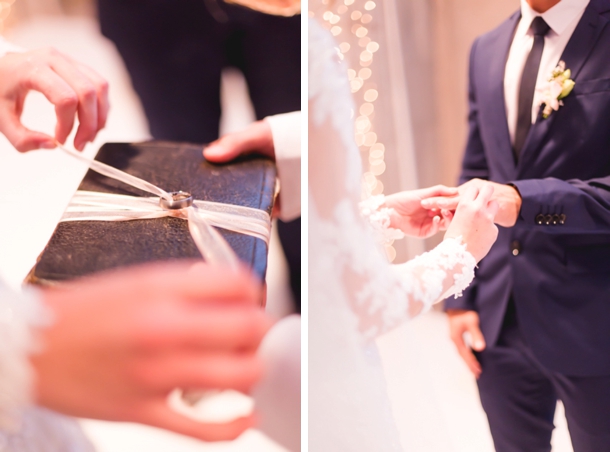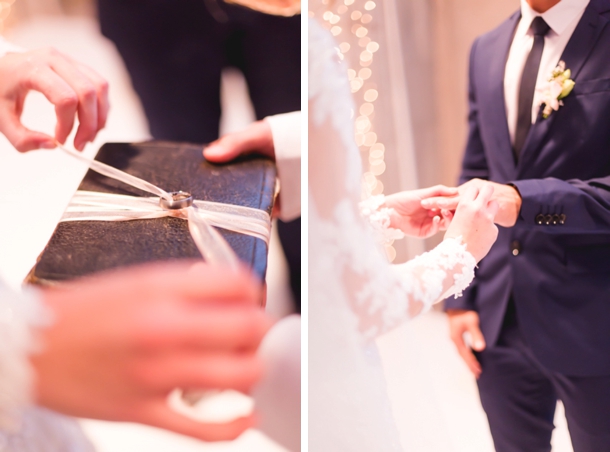 The Proposal
I live in wanderlust – am addicted to travelling, obsessed with flying and love airports. I also dream about living in Paris! It was October in the green Kalahari, and I wasn't expecting much as I was honestly waiting for it to happen in December. Mr. Groom had told me to have myself ready for a lovely date night. On our way to "somewhere" I figured we were heading for the airport- it's Upington, and there's only the Army Camp and the airport en route! Once there our friend and his dad were waiting for us, taking us on a scenic flight over Upington in their Giros. Kobus landed first, and upon my landing on the longest landing strip in the southern hemisphere, a table for two was set up. AfriFraans was playing, Moet & Chandon was on ice and a love letter was awaiting me. After some awkward chit chat (as Gavin, Uncle Eben & Tommy – the airport fire fighter – were not that far away, umm – safety first I guess!) Kobus told me that I could read the letter. It was beautiful (he doesn't like writing and isn't good with words, but he melts my heart every time he tries). The sun was setting and then… I had to stand up, face the strip and close my eyes. A few second later I could open it. The landing strip's lights were turned on. Magical. Majestic. Kobus then went down on his one knee and asked me to be his wife. I said yes, of course!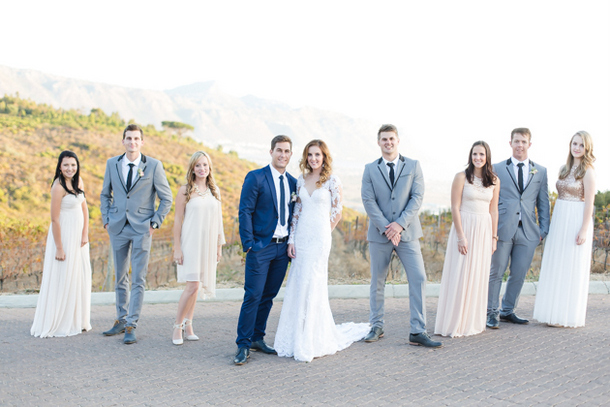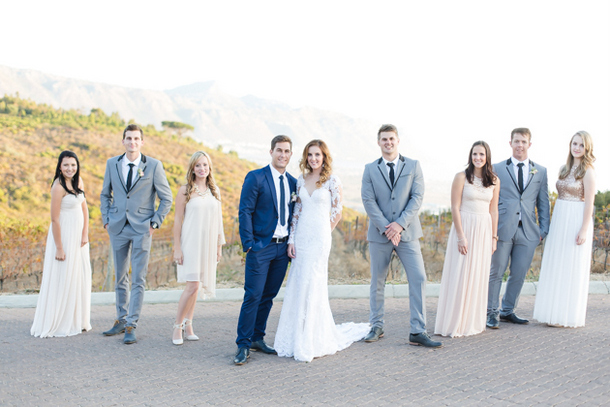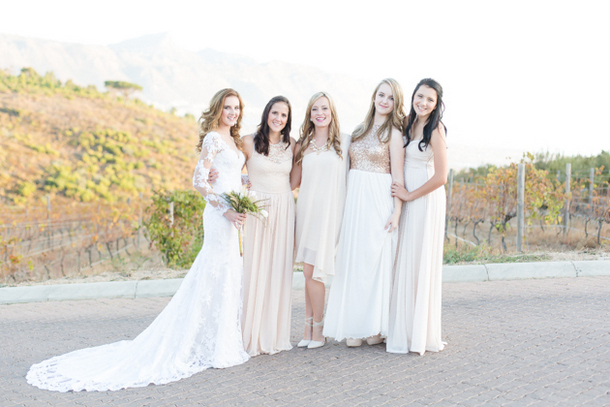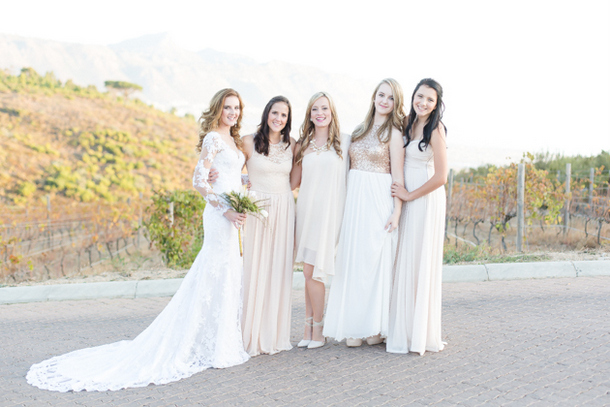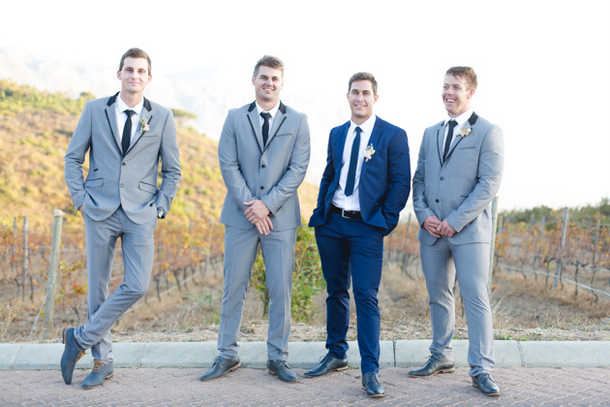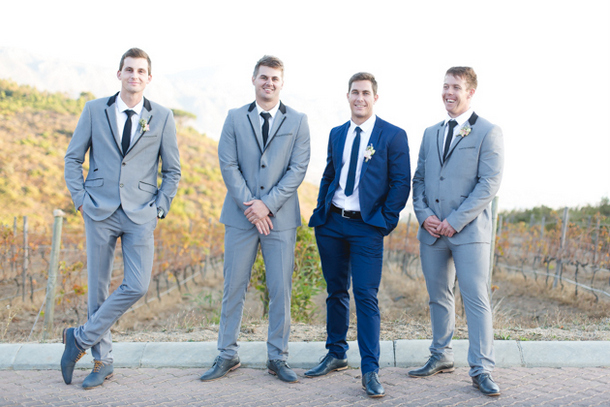 The Venue
I wanted a very industrial look, something unique and very different. I dined at Waterkloof on my graduation, and it has always been in the back of my mind. We looked at various other places (industrial venues are scarce in the Western Cape), but Waterkloof just took my breath away each time.
Wedding Style
I was clueless at first, but I knew I wanted something that was very different and very sophisticated. I later decided on blush (as Mr. Groom thinks I look lovely in it) with hints of gold.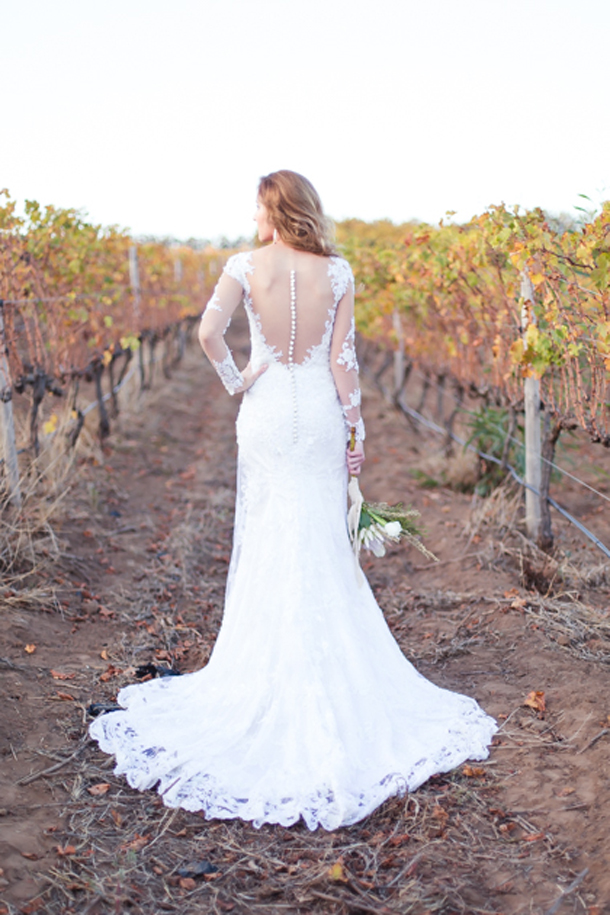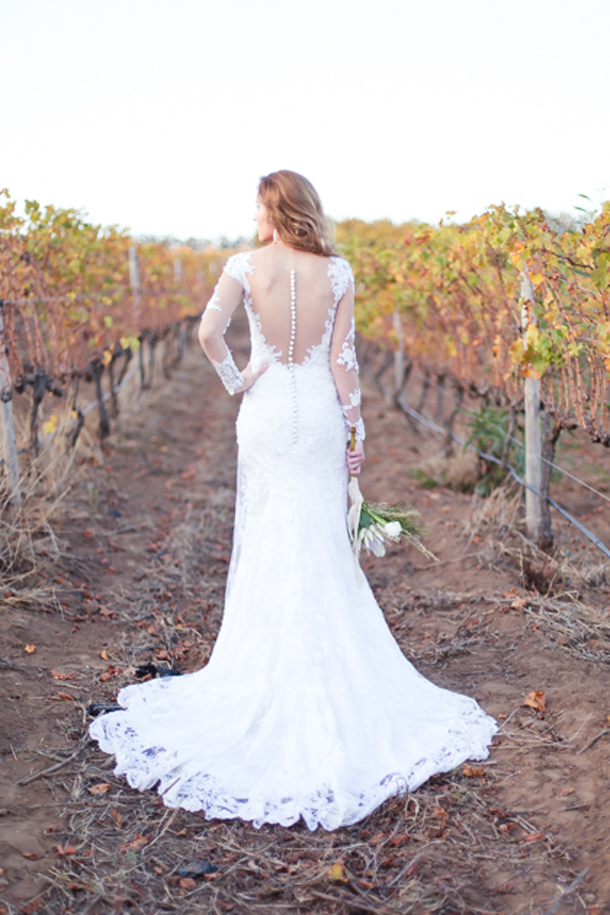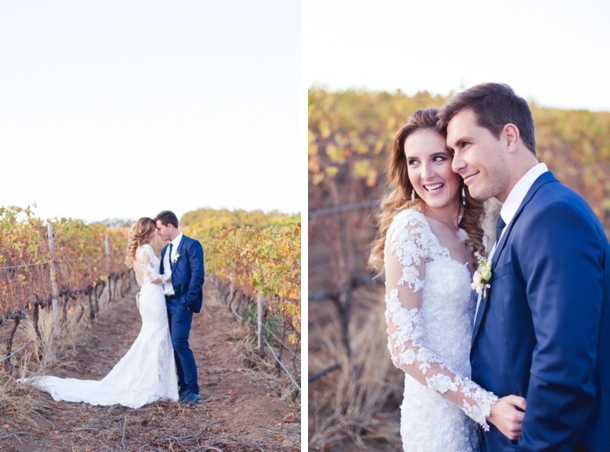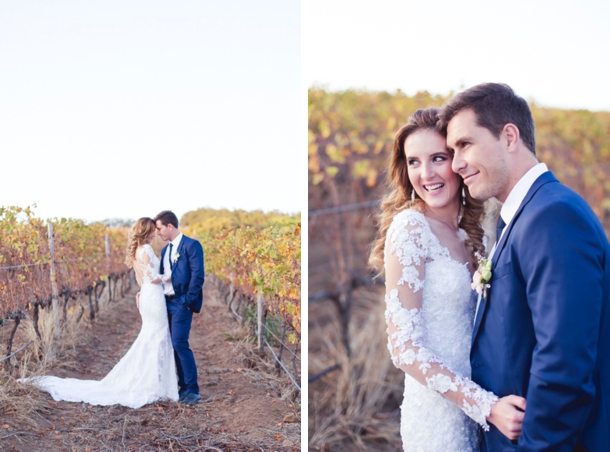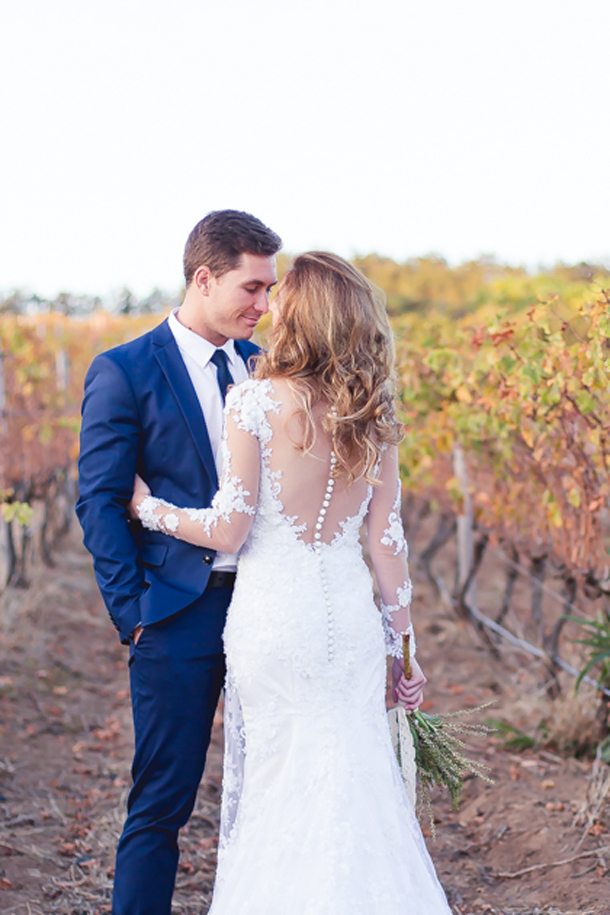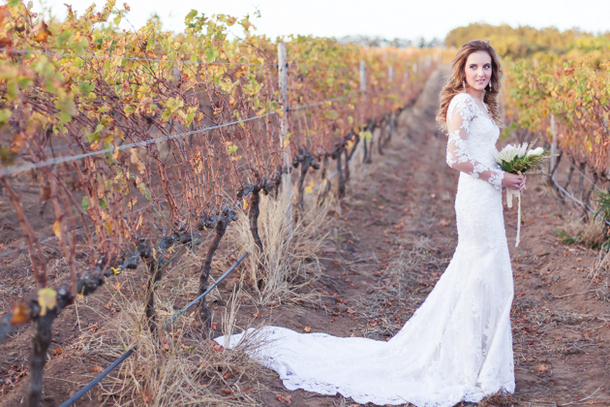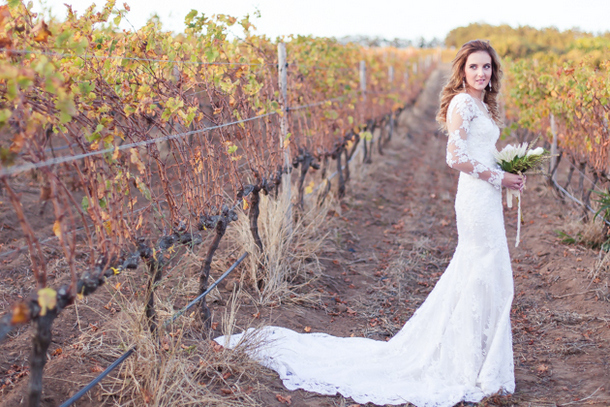 Wedding Details
I think our wedding day represented me more than it did us as a couple, but like many guys would say, "ag, I don't care, whatever you like" – our day was still planned for the both of us. We wanted it to be intimate and more than just a party, we wanted it to be about the covenant that was created and sharing that with our friends and family. We had my brother as our Master of Ceremonies – he knows us best as for nine years he has been our tail! We had my cousin and his wife lead us in worship to a beautiful song that we wanted to create the start to our marriage (Holy Spirit by Jesus Culture), and we had personalised messages to our guests in our program to let them know how much each of them meant to us. 
The Wedding in 3 Words
Beautiful, Blessed, Beyond (expectations)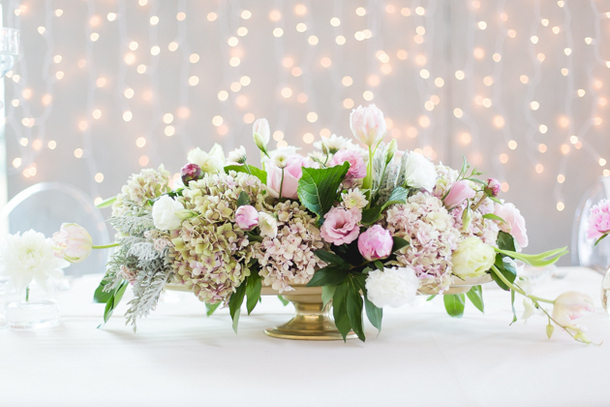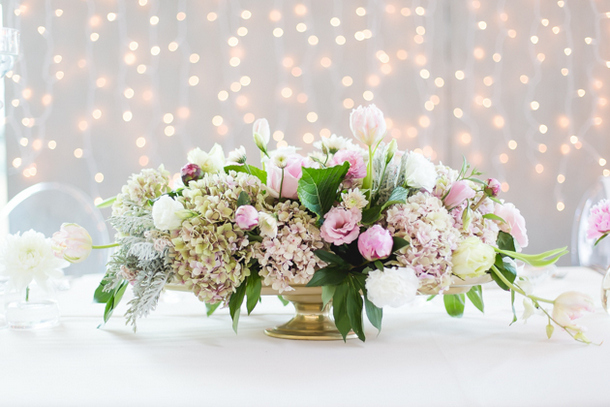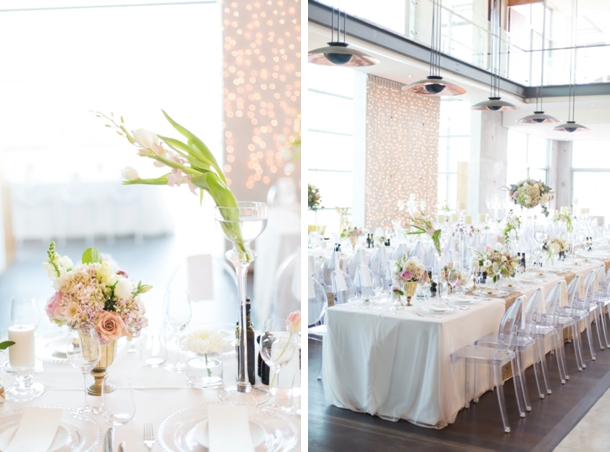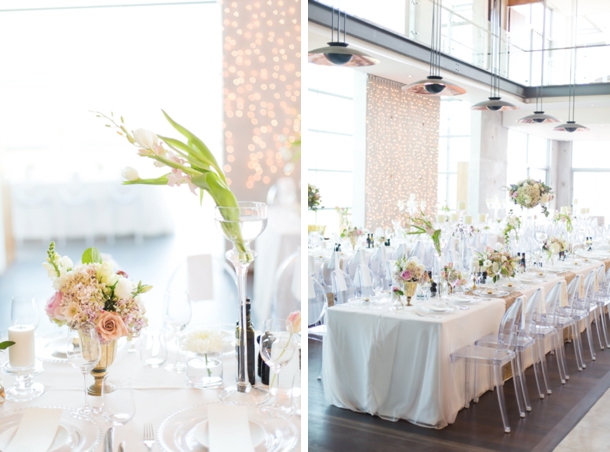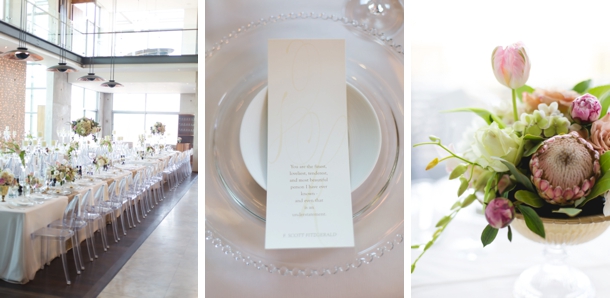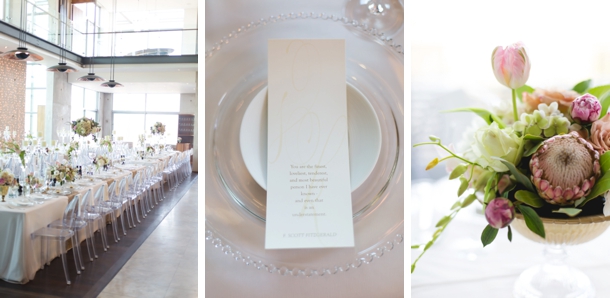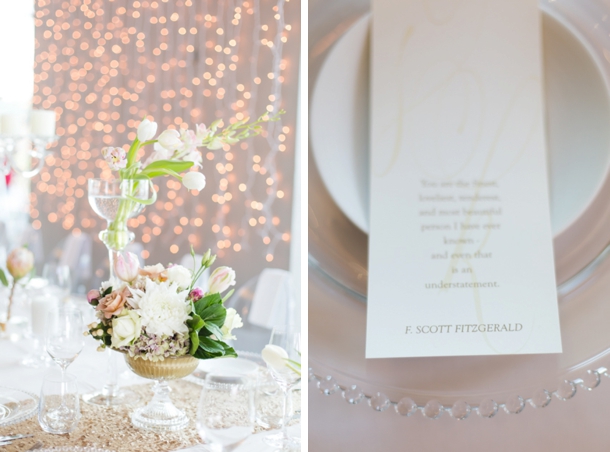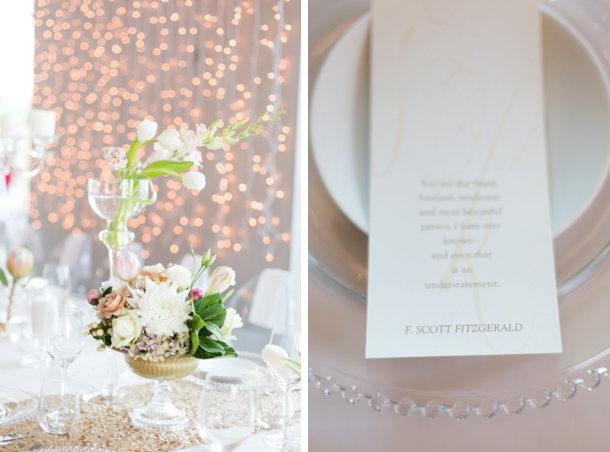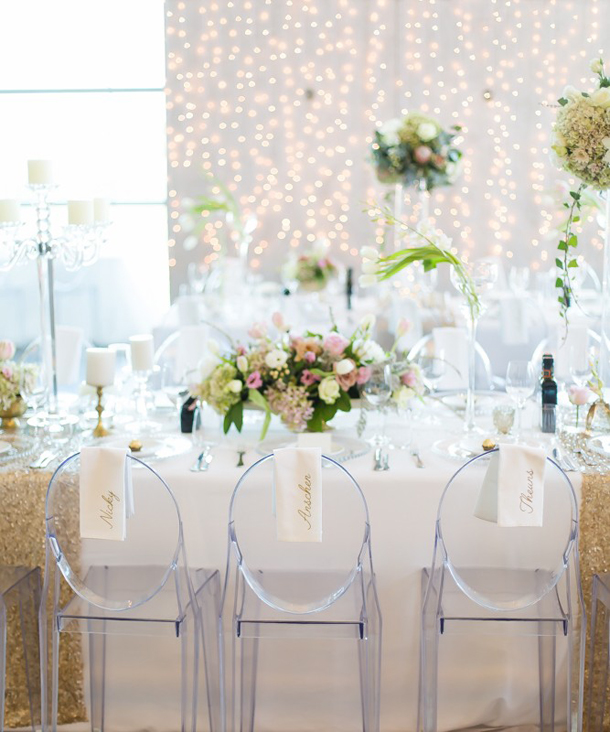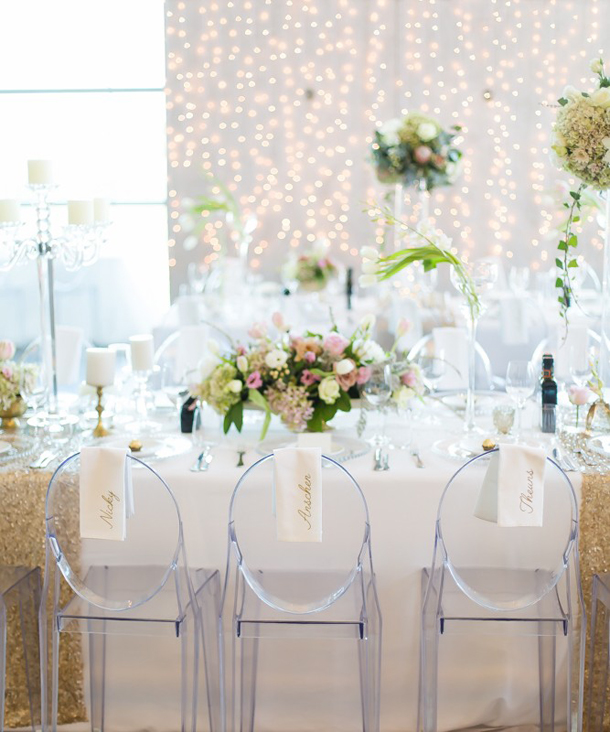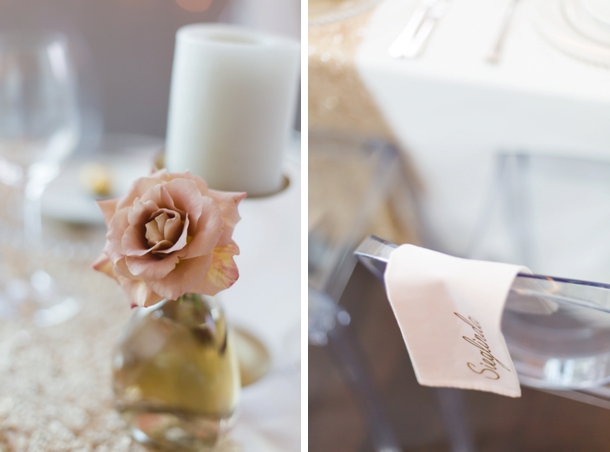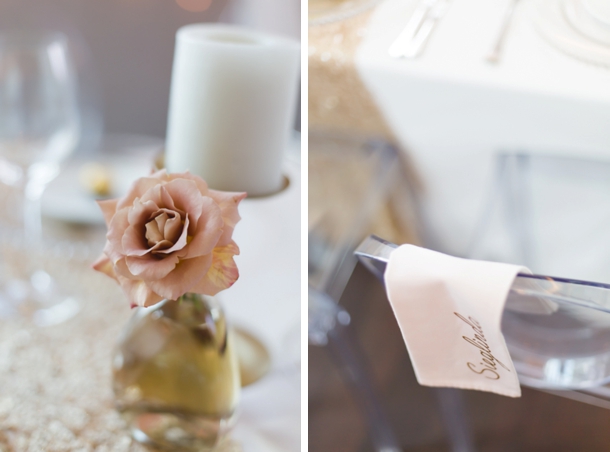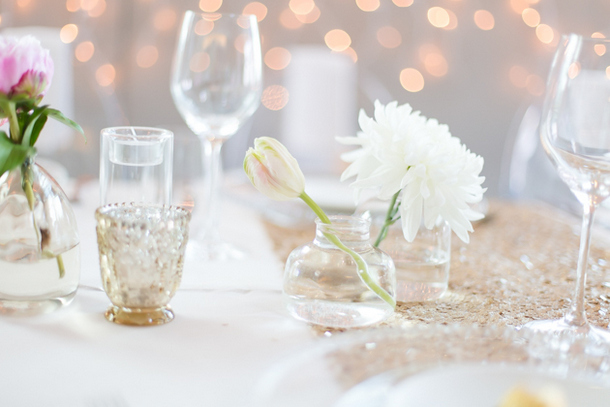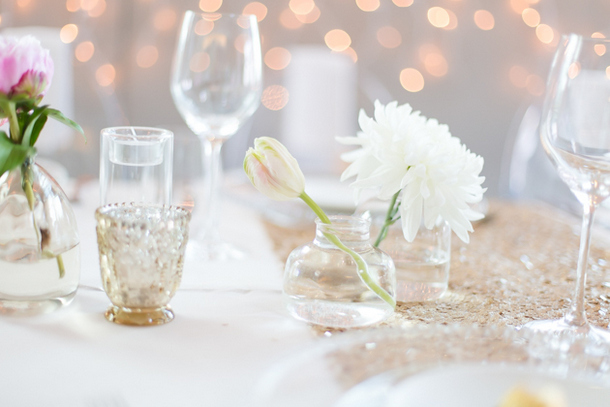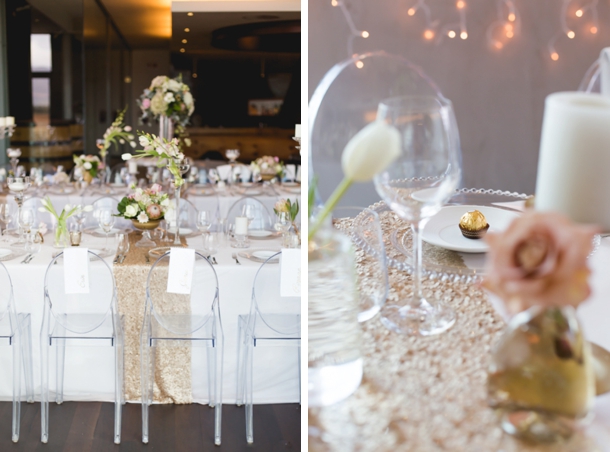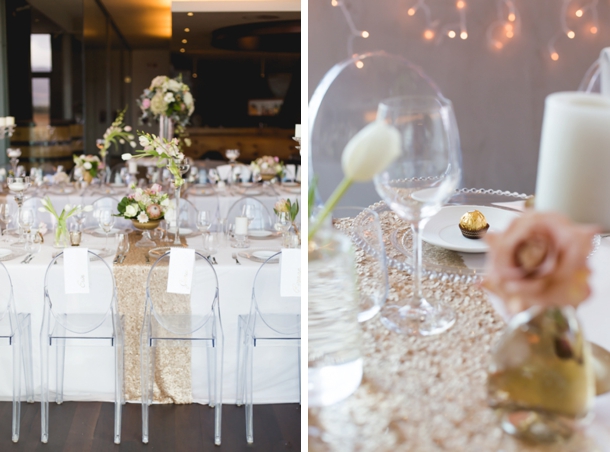 The Dress
I am quite specific, and couldn't find something that had all the elements I wanted in one dress. My aunt has a friend who is friends with Verona Dove and that's how we got to creating my dream dress. Verona was a great guide and so full of knowledge when it came to creating the perfect dress. I wanted long sleeves, without looking like a grandma, an open back and a train. 
Memorable Moment
I had talked between the lines with my décor planner, and we didn't really have a real mock-up, so I wasn't 100% sure what our day was going to look like. When I walked in and saw everything I was overwhelmed and couldn't help crying, it was just beyond perfect and more than I imagined it to be. She did such a wonderful job! I think seeing each other as I walked down the aisle was also a great moment as you feel "this is really happening."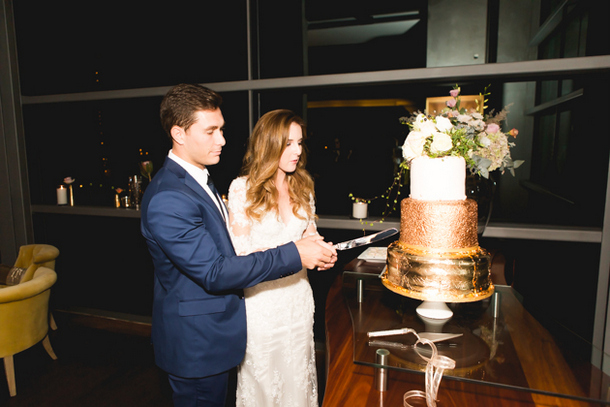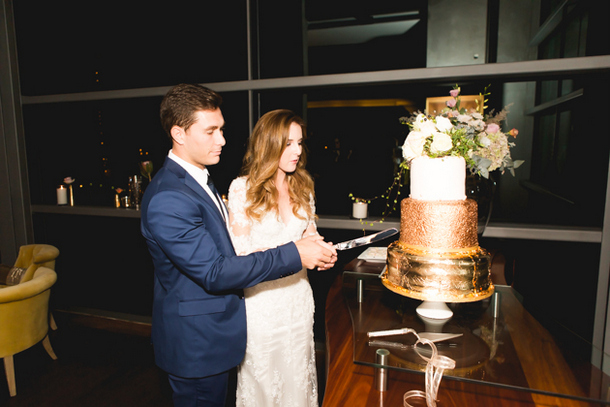 The Honeymoon
As mentioned earlier, I am the one stuck in travel mode, so I planned our Honeymoon. We went to Mauritius for a week, and then to Victoria Falls to end off our time. We had a blessed honeymoon, with upgrades and inclusions that made our time away so special, thanks to Solana Beach Resort, and the Royal Livingstone Hotel. 
Advice for Future Brides & Grooms
Start off by choosing a central theme or colour and keep every detail of your special day within it – it will make planning easier and your wedding will have every aspect flowing together. Don't try to impress others, it is your day so stay true to yourself and what you want – DO HOWEVER listen to and consider inputs from others, as they actually sometimes have better or more practical ideas. Never forget what the day is actually about… And as cliché as it may seem, don't sweat the small stuff, especially on the day of your wedding… Things might go wrong, but crying because you don't like your bridesmaid's shoes is seriously irrelevant. Also trust your vendors to do their job, don't check up on them every half hour – they know what they are doing.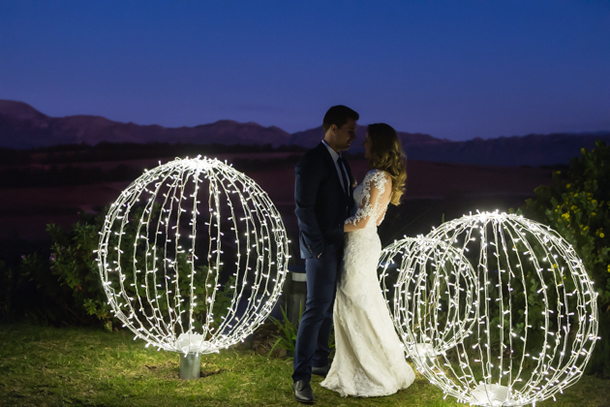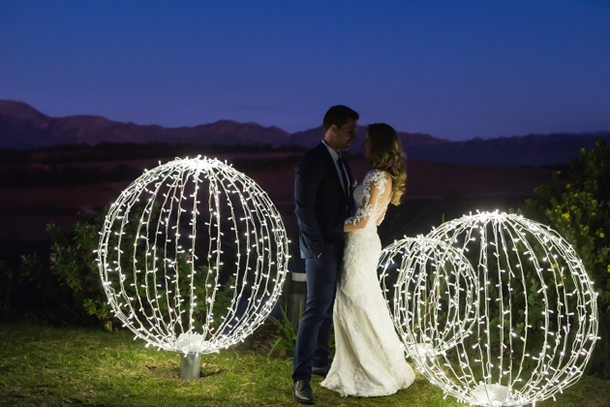 You can see more from this wedding on Linda Fourie's blog.
SERVICE PROVIDERS
Venue & catering: Waterkloof Estate | Photography: Linda Fourie Photography | Day Of Coordinaion: Jo-Ann of Waterkloof Estate | Videography: White Lines | Cake: The Birdcage Tea Bar, Stellenbosch | Flowers & décor: Sitting Pretty | Stationery: Blue Print Design Studio | Bride's dress: Verona Dove | Hair & makeup: Liandi Ahlers | Bridesmaids' dresses: YDE | Groom's attire: ZARA Man | Hiring: Okasie; A Place | DJ: DJ Wico | Entertainment: Martinus van Tee; Gary Deacon Due | Photobooth: Boothalicious