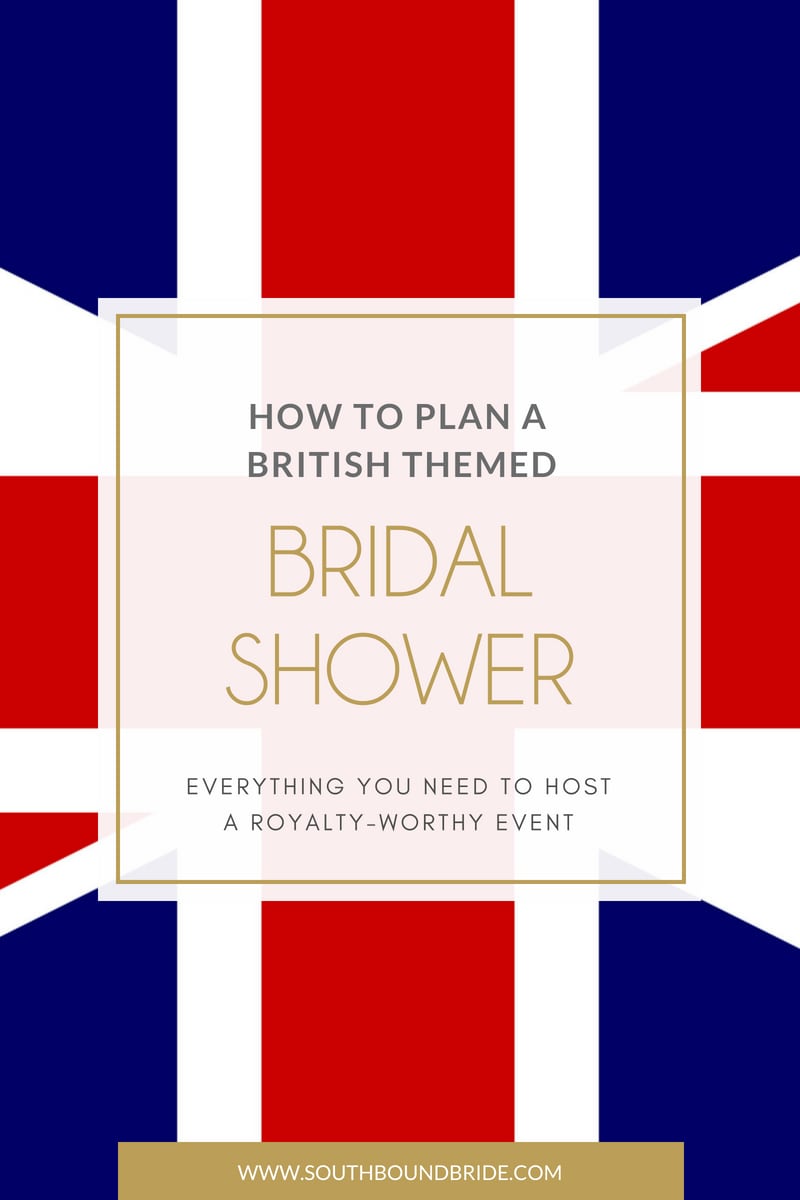 *UPDATED FOR 2018* London, baby! Now this one might not seem like an obvious choice for a bridal shower theme or hen party theme, but London has been a big part of many young South Africans' lives, and now that Harry and Meghan have tied the knot, there's no shortage of royal wedding fever to revel in. After all, every bride wants to feel a little like a princess, right? So if your bestie used to live/currently lives in the UK, or met her husband-to-be there, or is honeymooning there, or is an anglophile, or even is just someone called Kate or Elizabeth or Victoria or Meghan, a London theme bridal shower makes a really fun (and very easy to decorate) theme. A British party theme is also one that works well, whether you're doing the sedate day shower (aka tea party!), or if you want to make it the start of a night on the town. So all aboard, because next stop, London! *Links in bold denote affiliate links. The cost to you remains the same, but SBB may receive a commission for any sales made.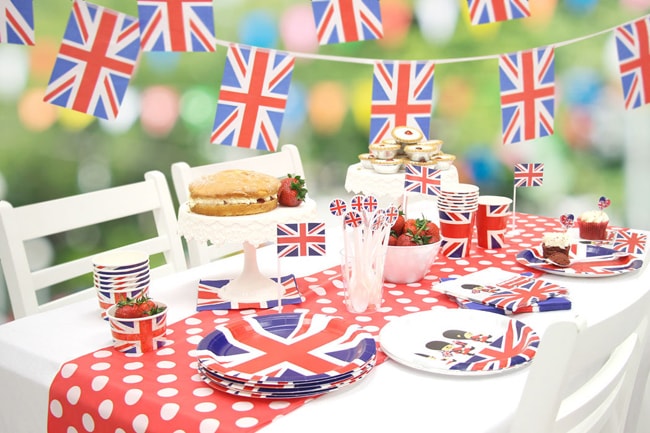 Credits: Party Delights

COLOURS & INVITATIONS
The most obvious colours for this kind of party are obviously blue and red, to reflect the British flag. This is a great idea, especially if you want to benefit from Royal Wedding vibe and products that are around at the moment. But why not also consider a pretty, girlie alternative? I love the idea of using pink and grey, but still with iconic London designs. Or even black, white and neutrals (if you do this, why not make use of stylish London bus blind design elements or the 'Keep Calm' motif – you can even generate your own signs here). Or, if you're working on a budget, why not get hold of some London postcards, vintage or current, and send them out? Nice and easy.
Here are some of my fave invitation options from Etsy:

Top to bottom, left to right: 1- British Printable Bridal Shower Mind The Gap Invitations with RSVP Card by Village 1920; 2- London Invitations by Seahorse Bend Press; 3- Royal British Bridal Shower Invitation by Studio Yniguez; 4- London Invitation Printable by Rebecca Designs; 5- High Tea Bridal Shower Invitation by paperclipandcoshop; 6- London Party Passport Invitation by Paper Built Shop

DECOR
Like the invitations, you have several options, since there are so many London icons. For example, the red buses and postboxes, the landmarks and skyline, the tube map, the street signs, the aerial map, bus blinds, WW2 retro elements, very British things like Penguin books or tea caddies, etc. You can tweak the colour scheme, or stick to the basics, and you'll find no shortage of union jack decor pieces, no matter which way you go. You could do as the clever bride in this wedding did, and have a London wall hanging. You'll also find no shortage of printables – including these free photo booth props!

Credits: Row 1- Save the Date for Cupcakes/Brooklyn Limestone via Hostess with the Mostess ; Row 2- Chanelle Segerius Bruce/MANGO PIE; Row 3- Ana Paula Guerra Fotografias/Bianca Fiedler via Kara's Party Ideas; Row 4- Save the Date for Cupcakes/Brooklyn Limestone via Hostess with the Mostess

Here are some fab essentials: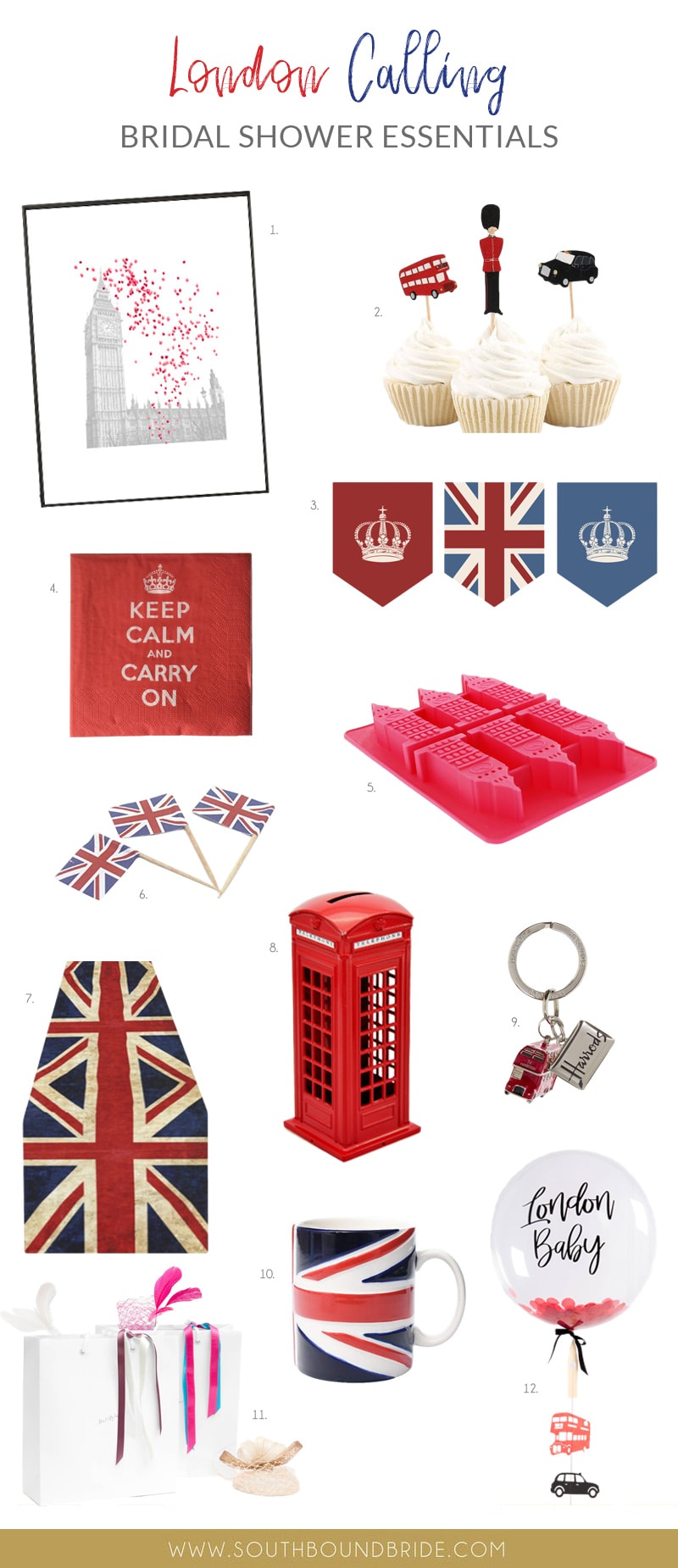 ACTIVITIES
These can really fit around the kind of party you would like to throw. If it's a pretty bridal shower, then I'd recommend a sort of jubilee street party vibe, or else a formal afternoon tea – both are so British they'd be perfect, and they're fun for guests of all ages and dispositions. A fun activity for an afternoon party is fascinator making – you can even pick up a kit with everything prepped! If this is a hen night or bachelorette, swap your tea for Pimms (in teacups!), or head out to a typically British pub. If you're actually IN London, organise for all the girls to go on an open-top bus, or one of the Thames sightseeing boats for the afternoon. Or, even if you're not on location, you could get creative and apply the aeroplane party principle to your 'sightseeing' by designating different bars (or rooms in a house) as different tube stops or areas of London, and having games and drinks to match. For example, you could stop at 'Hyde Park' and have alcoholic Pimms popsicles while the bride has to make a speech at 'Speaker's Corner' (or have a bridesmaid make a lovely speech to her), then head to 'Chelsea' for posh G&Ts – you could really have some fun with this idea.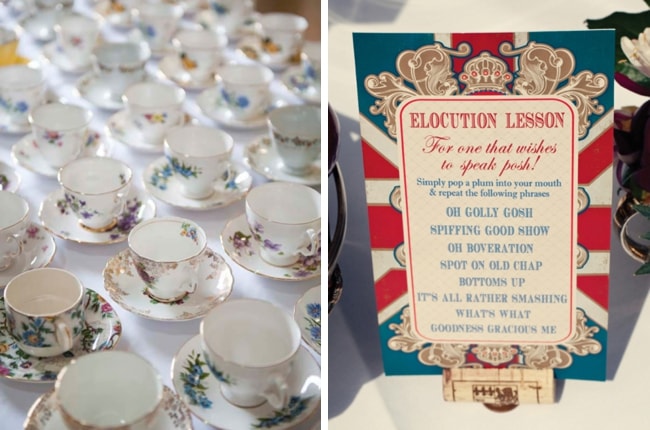 Credits: Source Images via Rock 'n Roll Bride (left); Truly Madly Dottie via Love My Dress (right)

FOOD & DRINK
The food and drink for this party would be so fun! Serve high tea fare – sandwiches and tea, followed by little cakes – or scones, or strawberries and cream (or hell, all of them). Little iced London-themed biscuits make such a lovely touch, if you pop them on the side of each teacup (which also allows them to act as a little favour). I also love the idea of scones in a jar! If you're catering an evening meal, serve fish and chips, which goes surprisingly well with champagne. And then, of course, there has to be Pimms as mentioned above – you could even turn Pimms into lollies or jellies for fun!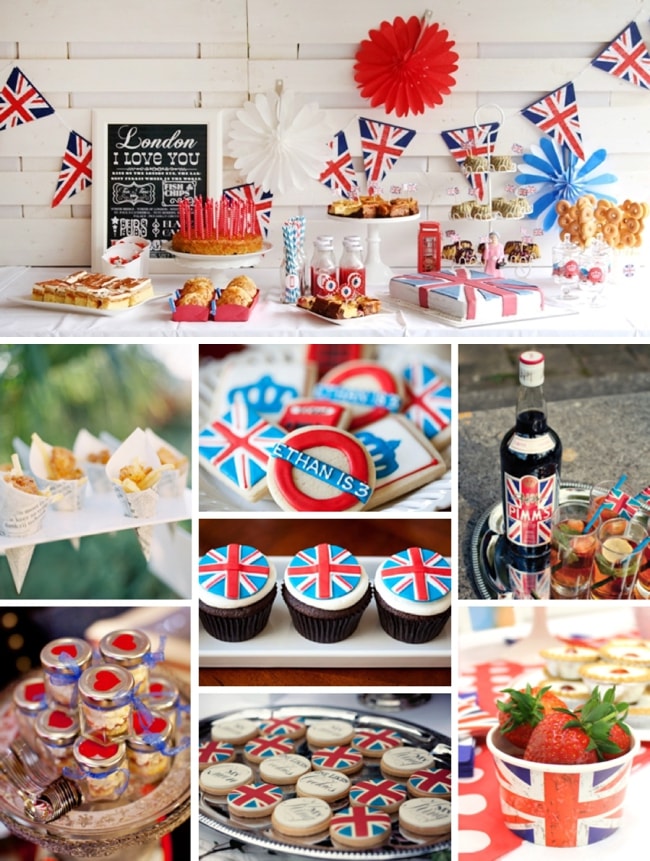 Credits: Row 1- Magnolia Electric; Row 2- Jose Villa/Beth Helmstetter via Style Me Pretty (top left); Chanelle Segerius Bruce/MANGO PIE (bottom left); Modern Cupcake via Amy Atlas (top centre); Modern Cupcake via Amy Atlas (middle centre); Truly Madly Dottie via Love My Dress (bottom centre); Truly Madly Dottie via Love My Dress (top right); Party Delights (bottom right)

DRESS
This is the kind of theme you can take from zero dress-up to over the top, depending on whether it's a shower or kitchen tea, or a full scale hen night, and of course on whether or not the bride is someone who likes a bit of fancy dress. If you're going for the Union Jack colour scheme, I'd suggest asking the girls to wear something red, white and blue, or you could invite everyone to wear a hat or fascinator in true British style. You could even hand out Union Jack bowler hats for a fun prop/favour.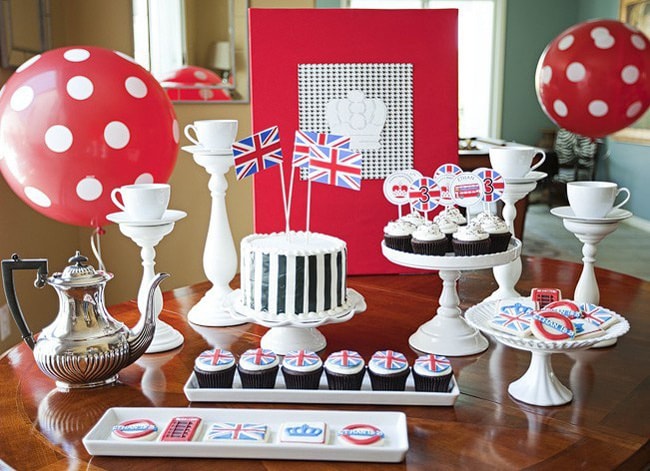 Credit: Modern Cupcake via Amy Atlas