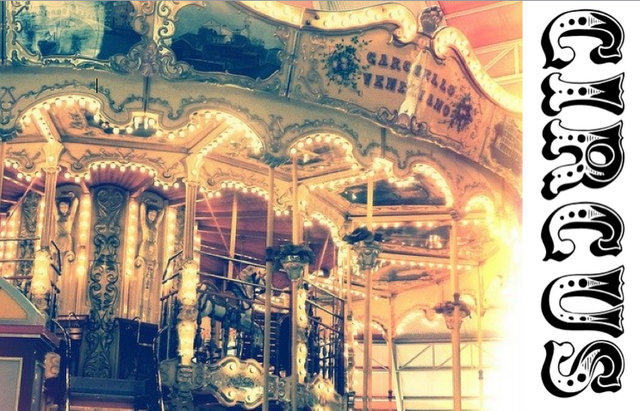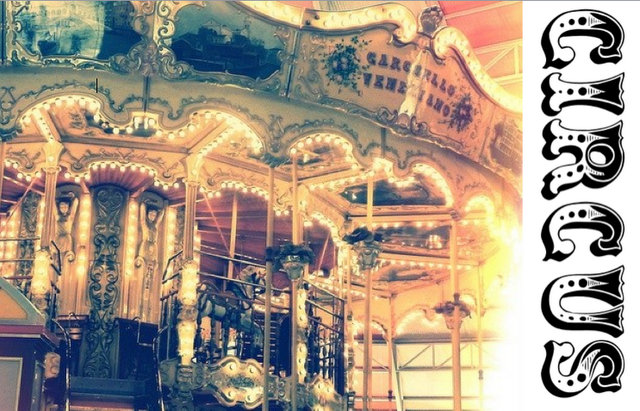 Image via Pinterest
Time for the weekend, lovelies! Hope you have a good one planned. Before I get on to today's feature, I wanted to apologise for things being a little slower than usual here on the blog (and on my email, sorry anyone who's been in touch!) – if you follow on Facebook you'll know I managed to sprain a finger (nothing serious, but having your right index finger strapped to your middle one kind of gets in the way of typing very quickly!). Things will be 100% back to normal next week. Hey, these things happen, right? ANYWAY, so it's been a while since I did a hen party theme roundup, and I'm very excited about this one! Circus weddings have been a big trend in the last couple of years, and I adore them, but not everyone wants to go so 'themey' for their actual wedding. The perfect solution? A Big Top Bridal Shower! SUCH a fun theme, and you can really make it classy (and shape it around whatever level of activity you're planning).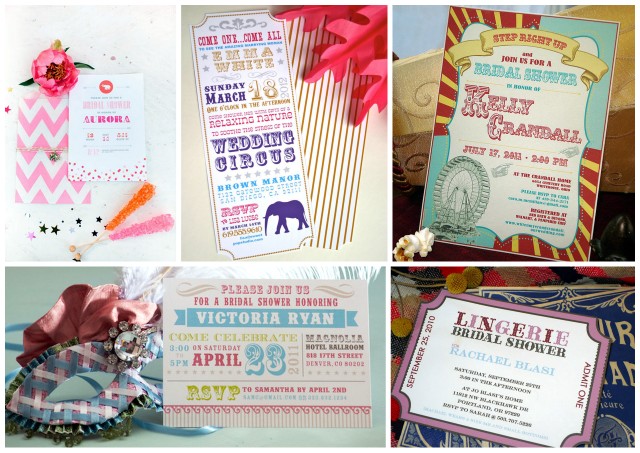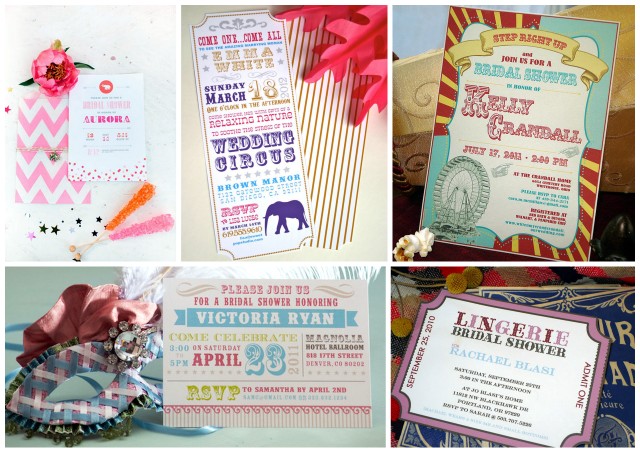 Sources (clockwise from top left): 1- Somewhere Splendid on Etsy; 2- Sweet Pop Studio; 3- Envy Marketing on Etsy; 4- Munchkin Designs; 5- Papermints/Maria Healey Wedding Photography
Invitations: Set the scene with beautiful paper – there are a number of awesome options available on Etsy especially. My favourite is this one, which plays with vintage circus wording and invites guests to help the bride take a break from the 'wedding circus' – so cute! Alternatively, play on the admissions tickets aspect.
Venue & activities: This is another theme that can be done in a number of ways. If you're after a quiet sort of bridal shower, you're looking at nothing more complicated than a circus-themed tea at someone's home (see the section on food for lots of ideas!). Even better if you have a trampoline in the back yard! However, if you're planning an activity-filled day, why not sign up for a circus class? These are popular both in the UK and in South Africa, and involve a few fun hours learning the trapeze or another exciting big top skill. I've never taken the plunge (so to speak!) myself, but friends who have have recommended it outright. Alternatively, if you're in SA, this is the ideal theme for you to book a night at the amazing Madame Zingara's. So. Much. Fun. Not to mention the option of a trip to the ACTUAL circus (assuming they're in town). What you decide to do will really depend on your crowd, but the theme is flexible enough to work for any kind of bachelorette event.
Top row (l-r): Circus sign; biscuits; ice cream and drink; circus tent
Row 2: Carousel horse; engagement shoot; menu; bridal party
Row 3: Popcorn cupcakes; decor; moustache sticks; animal masks; favour bags.
Colours: This is a theme that you can go as colourful as you like. There's the traditional blue with red stripes (see our circus inspiration board above), or you could go for a vintage palette if you're going more Water for Elephants, or a bright girly pink or even a full rainbow spectrum! You have a lot of flexibility here, just make it bold and make it festive. Hurray!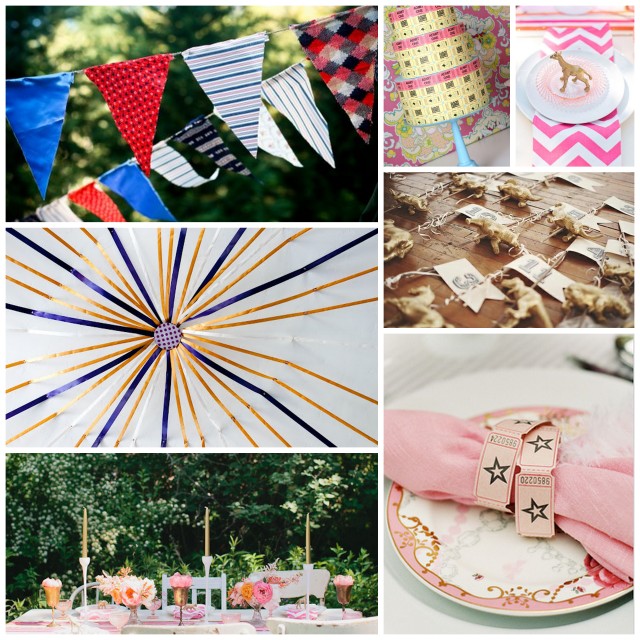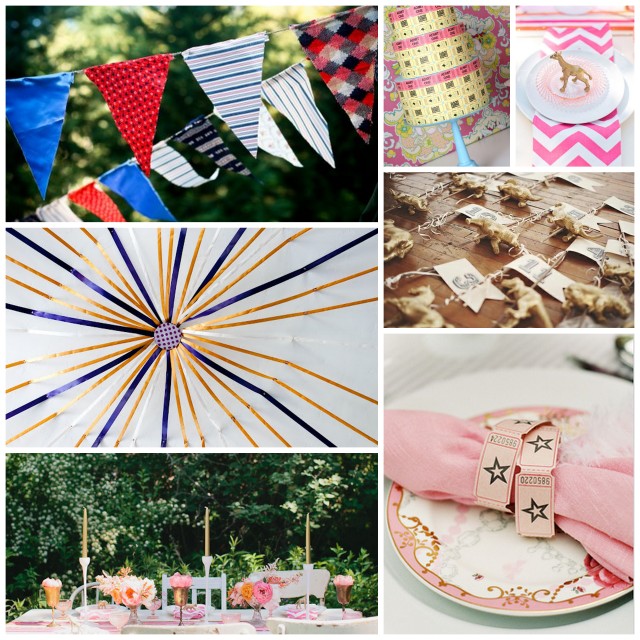 Sources (clockwise from top left): 1- via Green Dandelion Floral Design; 2- Cupcake Keepsakes via HTWM; 3- Somewhere Splendid/Canary Grey Photography via Green Wedding Shoes; 4- Sam Hurd Photography via 100 Layer Cake; 5- Magnolia Event Design/Linda Chaja via The Wedding Chicks; 6- Somewhere Splendid/Canary Grey Photography via Green Wedding Shoes; 7- Sweet Pop Studio via HWTM
Decor: Just as with the colours above, you have a lot of flexibility and you can make it as girly as you like. This recently featured shower was brilliantly girly (with just a touch of circus) – I especially love the chevron and the little gold sprayed animals (I have just been doing this for a baby shower, and it looks amazing!). Bunting is always a winner – here's our DIY paper bunting tutorial if you need some help. Other elements I have found and loved: ribbons hung from the ceiling to look like a tent, and tickets used to create a cake or as pretty napkin wraps.


Sources: 1- Circus Sweetie Costume; 2- Fiction to Fashion; 3- Jillian Northrup via Hip Hip Hooray
Dress: Dressing up isn't strictly necessary for this one – you can get away with giving all guests a red nose as a favour (fun photos!) or even a clown wig. You could just dress up the bride (depending on her comfort level, some cheeky 'ringmaster' costumes are available online like the one above). Or dress according to your colour scheme, but with circus touches like hats and fascinators and bold stripes. I just love the outfit someone's put together, above centre!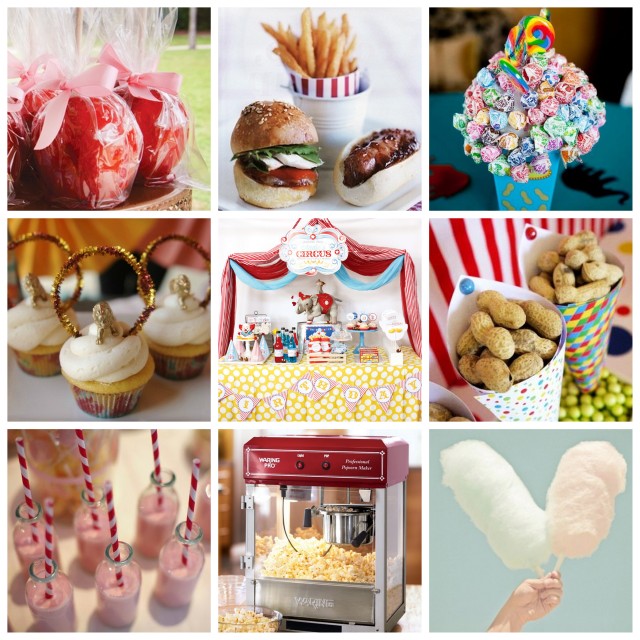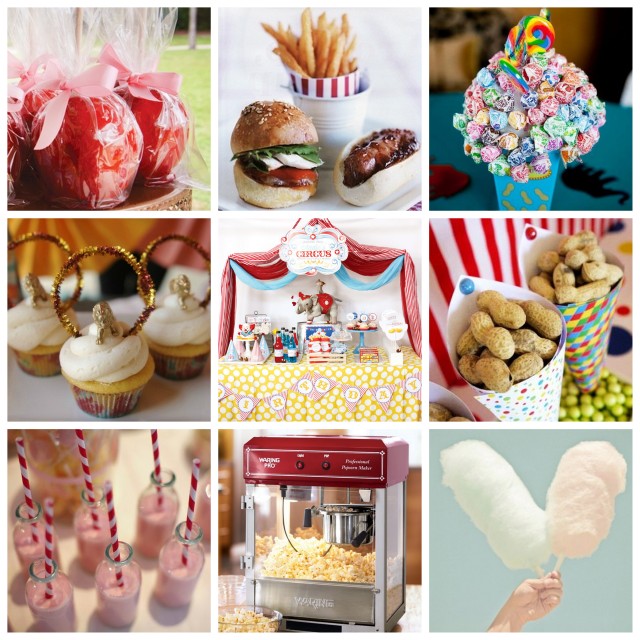 Sources – Row 1: 1- iheartsugarsugar via HTWM; 2- Wedding Style Guide via Brooklyn Bride; 3- via HTWM; Row 2: 1- via The Proper Pinwheel; 2- Wants and Wishes via HTWM; 3- via HTWM; Row 3: 1- via HTWM; 2- Waring; 3- JoyHey 
Food: If your shower is home-based, this is where you can really get creative. And there's something about the food you eat at a circus or carnival that really makes you feel like a child again, which is great for creating a fun atmosphere. Candy floss is a must, as are peanuts and popcorn (rent a popcorn machine if you really want to thrill your guests). Mains have to be hot dogs and hamburgers (extra adorable points if they're mini). For dessert, you can create a gorgeous spread with cupcakes (how cute are these tigers through burning rings, above?), toffee apples, sweets and milkshake shots. I guarantee your guests will leave with a smile on their faces after tucking into this nostalgic fare!
Real Circus Showers: