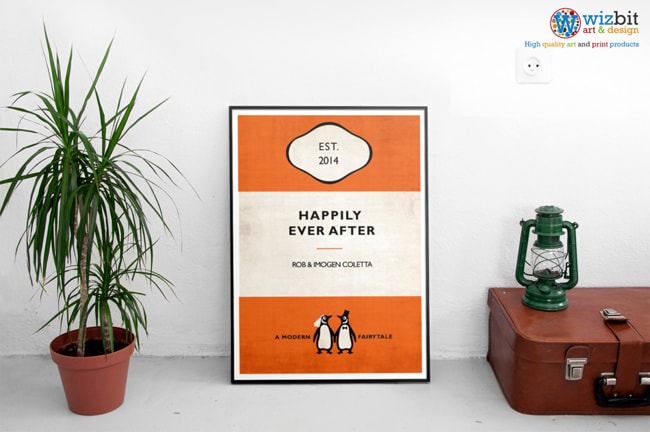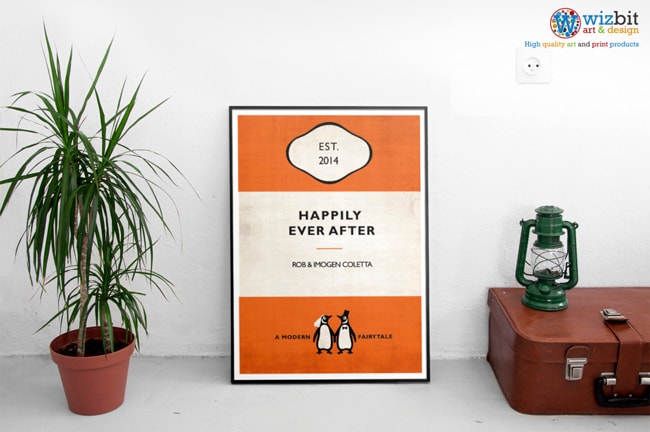 Vintage Penguin Book Style Personalised Wedding Poster Print by WizBitArt on Etsy
Today's post is inspired by my dear friend Shannon, who just so happens to work at Penguin, and just so happens to be getting married next year. I don't think she's using Penguin books as part of her decor, but probably because of her I've been more aware of a few instances of them coming up in weddings recently. I have to say though, that I wouldn't call this a trend – it's certainly not for everyone. But for a certain type of bride and groom (library wedding, love of books, English Lit graduates, writers or editors, etc.) it makes a lovely and personal motif. All books would, of course, but Penguin books marry literature so successfully with iconic design. There are, of course, the original Penguins – those single colour covers that we all instantly recognise. But more recently, there's been the work of Coralie Bickford-Smith, a senior designer at Penguin who has won awards and acclaim for her beautiful, covetable covers (I own a complete set of the Fitzgerald ones and I'M COMPLETELY IN LOVE with them). Including these in your decor immediately adds an element of great design, and I think that's why some couples have been using them so successfully. Let's have a look.
Links in bold denote affiliate links. The cost to you remains the same, but SBB may receive a commission for any sales made.
First, the classic Penguin. Truly a British design icon. (The three horizontal band design was created by then office junior Edward Young – orange was for general fiction, green for crime, pink for travel, dark blue for biography, red for drama, yellow for miscellaneous, purple for essays and grey for world affairs.) And, it turns out, they make for a very cute Save the Date or wedding invitation!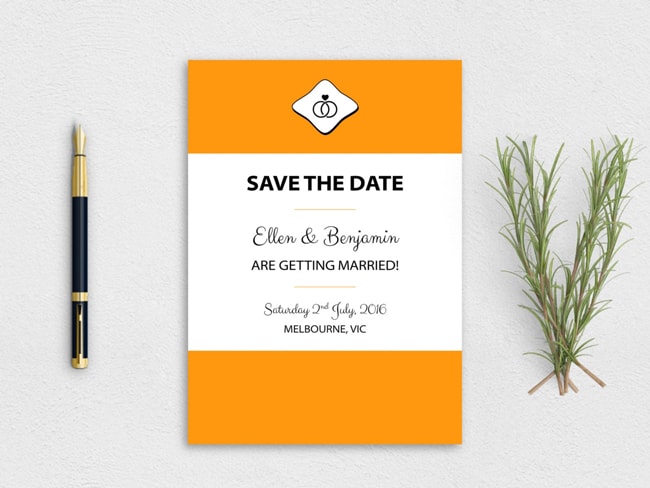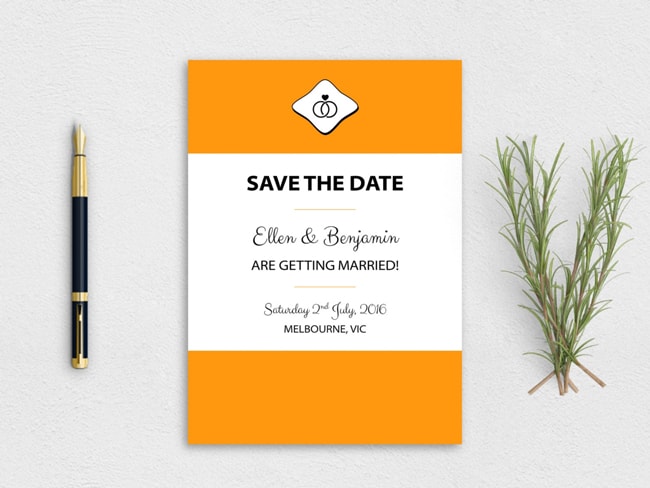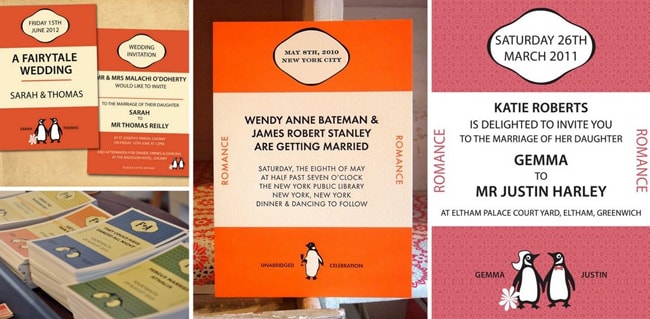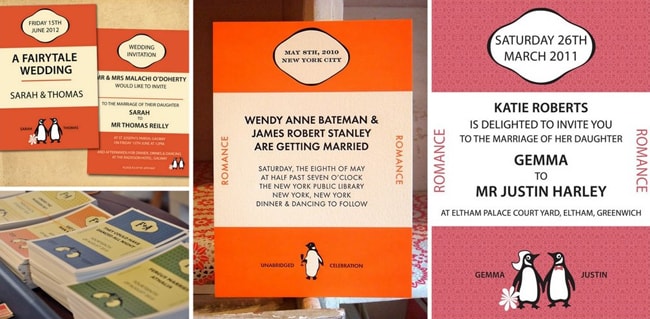 Row 1: Literary Wedding Save the Date by Chameleon Weddings on Etsy; Row 2: Marty McColgan (top); these glorious days (bottom); Greenwich Letterpress via Word Doodles; Marty McColgan
I love how the Penguins themselves have been customised in each case, don't you?
These books also make great favours. This couple found one for every guest and arranged them as part of the place settings (time consuming finding an appropriate title for every guest, yes, but since you can often pick these up relatively cheaply on eBay, they actually make quite an affordable favour and one which your guests will really appreciate and remember). Design bookmarks or bookplates with your wedding motif or names on it to place inside, or create fun library cards (you could even use the cards as escort cards, and then have a pocket for guests to place these inside the books afterwards).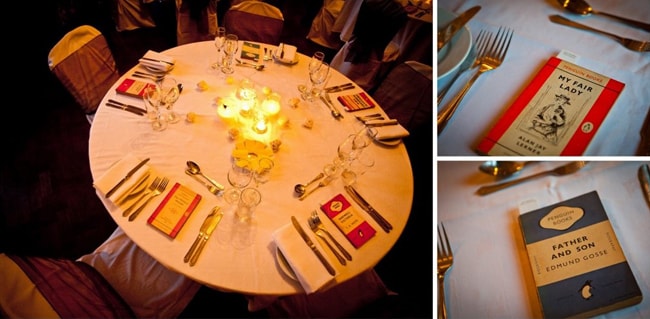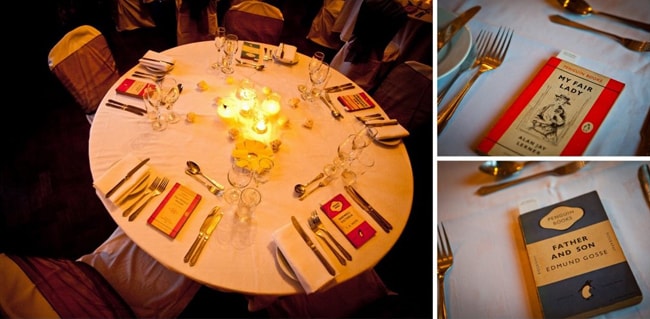 Credit: Jonny Draper Photography
Then, of course, there are the more modern design legends, and while Penguin as a whole operates on a strong design ethic, none are in my opinion lovelier than Coralie Bickford-Smith's. Her anthro-esque patterned cloth jacket treatment of the classics is so very lovely, and lends itself so well to a wedding table. (Find Clothbound Classics on Amazon)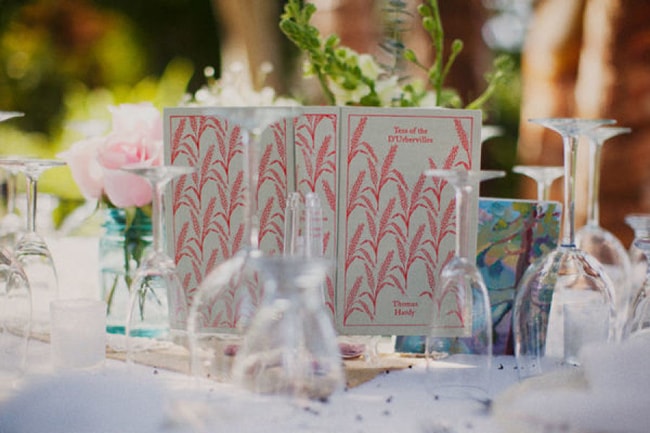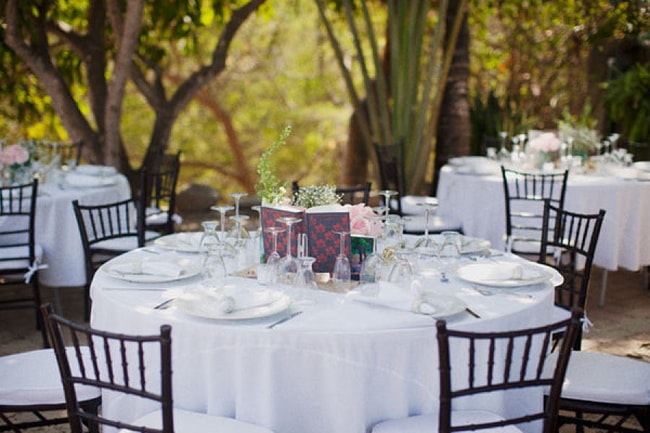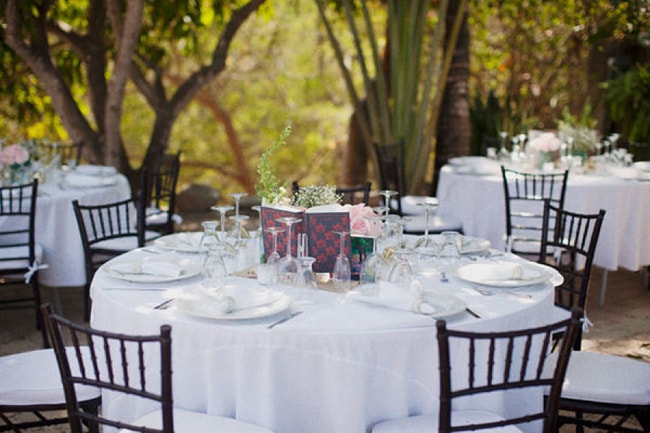 Credit: This Modern Romance via Style Me Pretty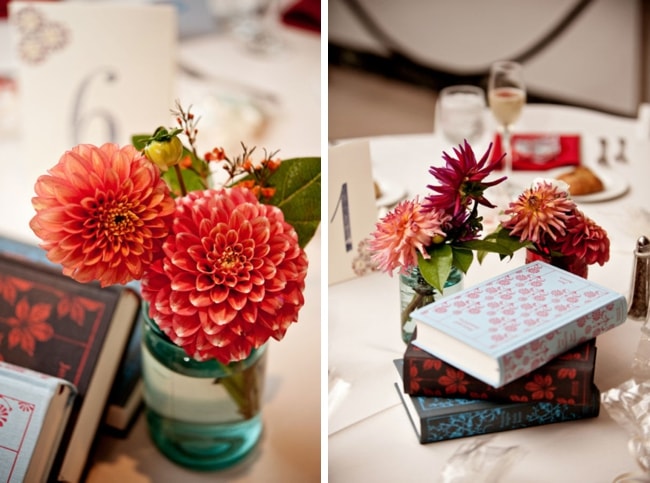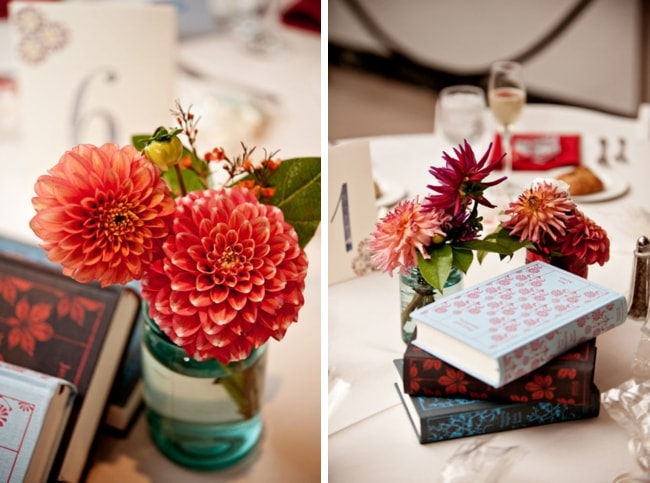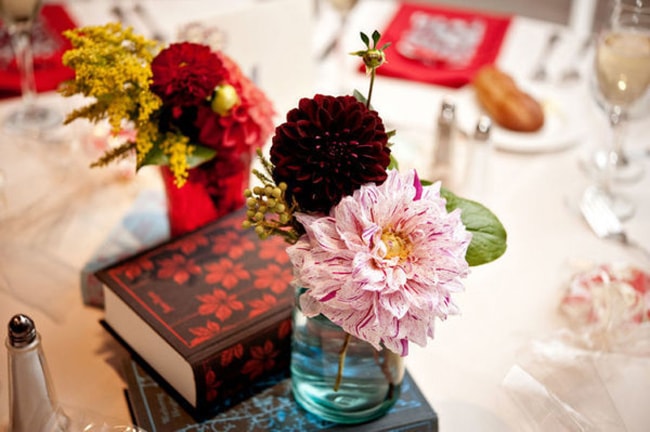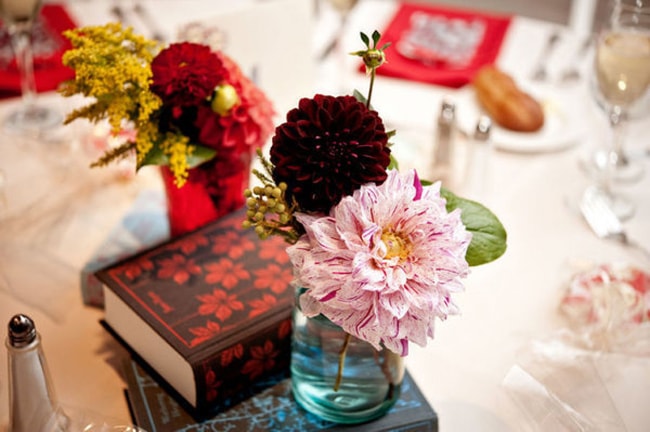 Credit: Jess + Nate Studios via Style Me Pretty
If you love the idea of having a pile of books as part of your table decor but don't want to go for the vintage look, these are perfect for you. In one of the examples above, the book at each table was used as a guest book, with everyone at the table writing a message inside – I can't think of a better keepsake for your library than a lovely (and personalised) set of these beauties! It's a classic example of wedding decor that can be recycled as home decor afterwards.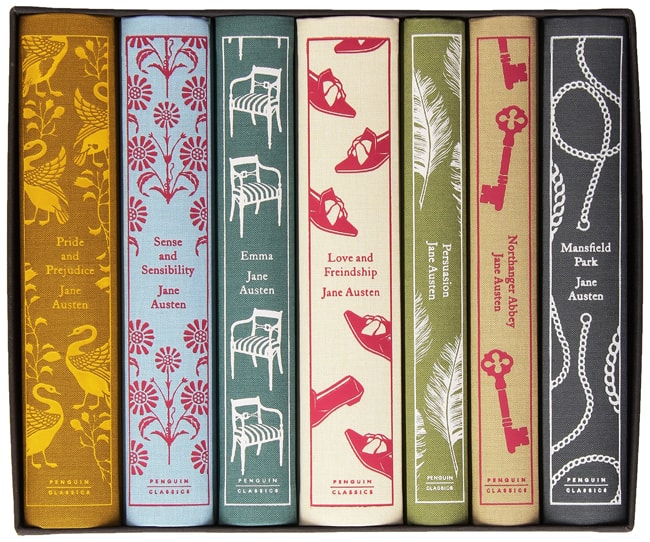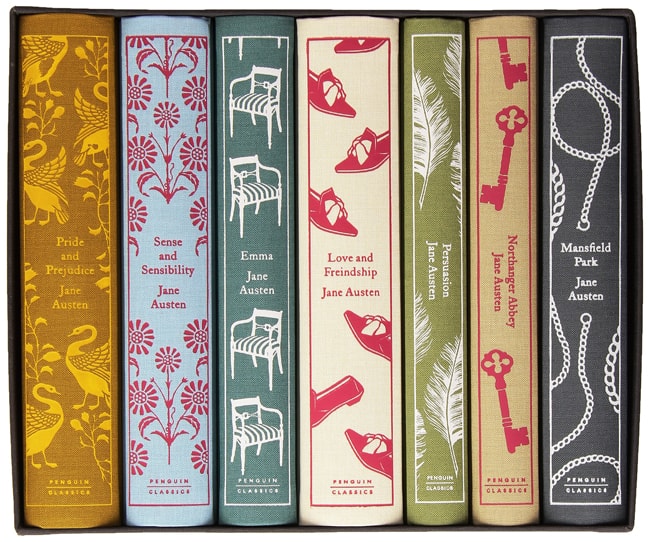 Pictured: Jane Austen Complete Works Clothbound Classics Edition
Lucky for bookish brides and grooms, Penguin have a rather satisfying range of merchandise, many of which can be used as favours, such as luggage tags or mini note books. You could consider using some of their mugs filled with fresh flowers (pick the titles carefully):


Book Cover Mugs by Penguin Books Collection
I also love the set of 100 postcards with Penguin covers that you can buy. These make great Save the Dates, escort cards, thank you cards, orders of service (when attached to the cover), and favours or favour tags.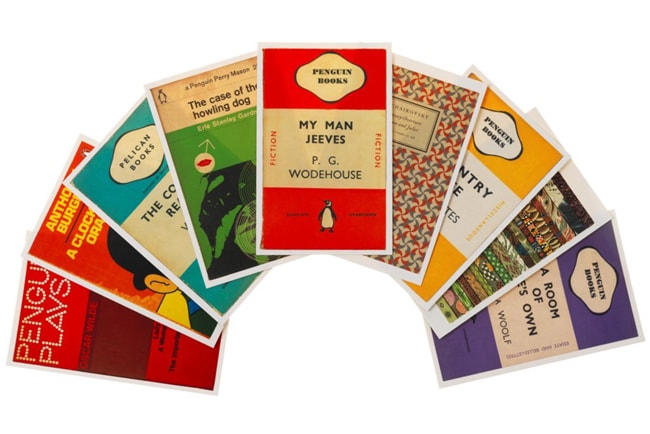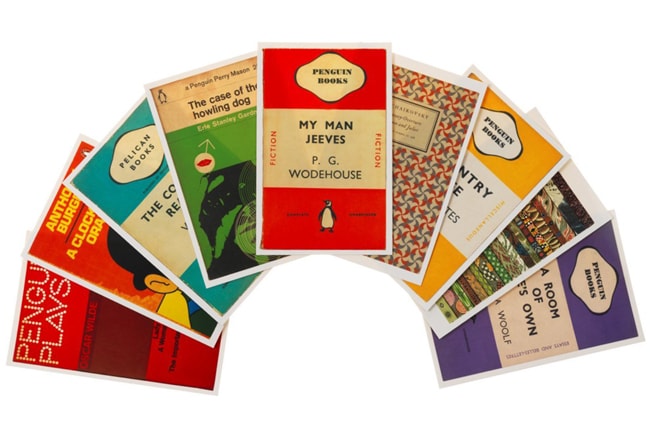 More Literary Wedding Ideas You May Enjoy: