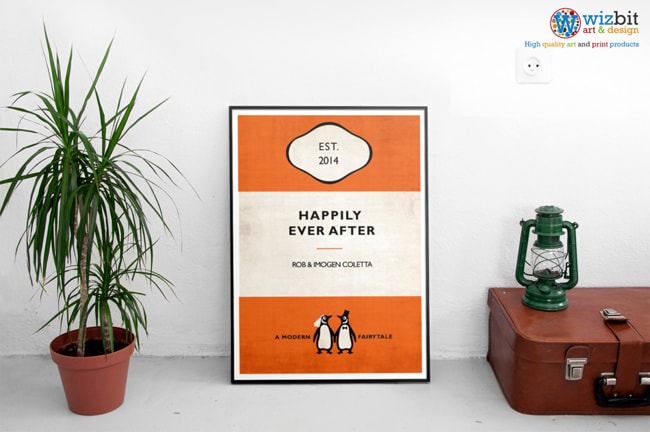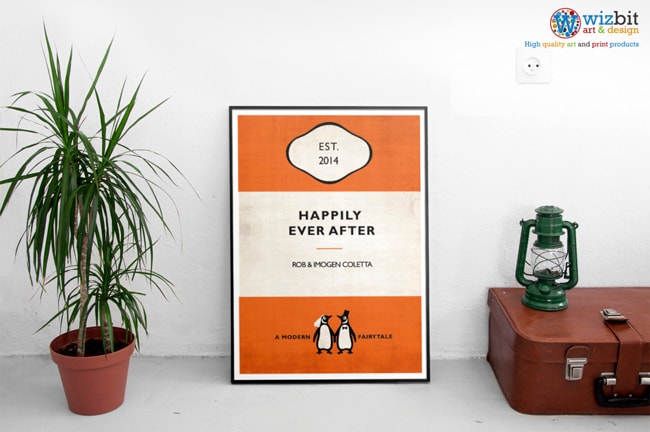 Vintage Penguin Book Style Personalised Wedding Poster Print by WizBitArt on Etsy
Today's post is inspired by my dear friend Shannon, who just so happens to work at Penguin, and just so happens to be getting married next year. I don't think she's using Penguin books as part of her decor, but probably because of her I've been more aware of a few instances of them coming up in weddings recently. I have to say though, that I wouldn't call this a trend – it's certainly not for everyone. But for a certain type of bride and groom (library wedding, love of books, English Lit graduates, writers or editors, etc.) it makes a lovely and personal motif. All books would, of course, but Penguin books marry literature so successfully with iconic design. There are, of course, the original Penguins – those single colour covers that we all instantly recognise. But more recently, there's been the work of Coralie Bickford-Smith, a senior designer at Penguin who has won awards and acclaim for her beautiful, covetable covers (I own a complete set of the Fitzgerald ones and I'M COMPLETELY IN LOVE with them). Including these in your decor immediately adds an element of great design, and I think that's why some couples have been using them so successfully. Let's have a look.
Links in bold denote affiliate links. The cost to you remains the same, but SBB may receive a commission for any sales made.