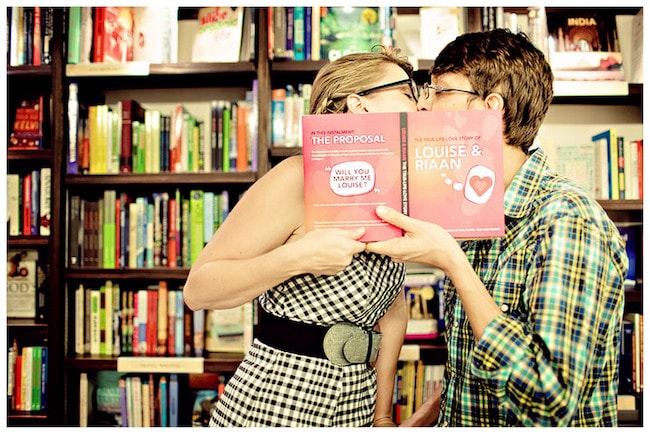 I'm hugely excited to share Louise and Riaan's engagement shoot with you! One, because it's the first on this blog, and it's completely original, gorgeous and inspiring. And two, because I get to introduce you to a pair of very talented designers and a young photographer who I think we'll be seeing a lot more great things from in future. But first, get ready to do some serious oohing and aahing over the proposal!
Ahead of time (and unbeknownst to Louise), Riaan asked not only her parents for permission, but also her female friends, because of the major role they play in her life. (Gents take note – we love this!) Then he designed a book cover with the title: The true-life-love story of Louise and Riaan – an on-going fairy tale based on real events – past and present, and had each of the women in Louise's life write a little letter giving their blessing to the marriage. He put each of these in the book together with photographs and organised for it to be displayed in the window of The Booklounge in Cape Town (their favourite bookshop). As they walked past, Riaan pointed out the display, much to Louise's puzzlement and surprise. They went inside so she could look at the book and on the back cover it said: Will you marry me Louise? When she  turned round, Riaan was on one knee with the ring. Fortunately the answer was a great big YES. (Who could resist a proposal like that, after all?!)
Appropriately the engagement shoot was also held at The Booklounge, and was styled by Louise herself. You'll be seeing more of her incredible taste and design skill when I showcase their wedding in a couple of weeks – believe me, it's something very, very special! Both the engagement and wedding were shot by the wonderful Annemari Ruthven, and I hope we'll be featuring lots more of her work here. In the meantime, enjoy!