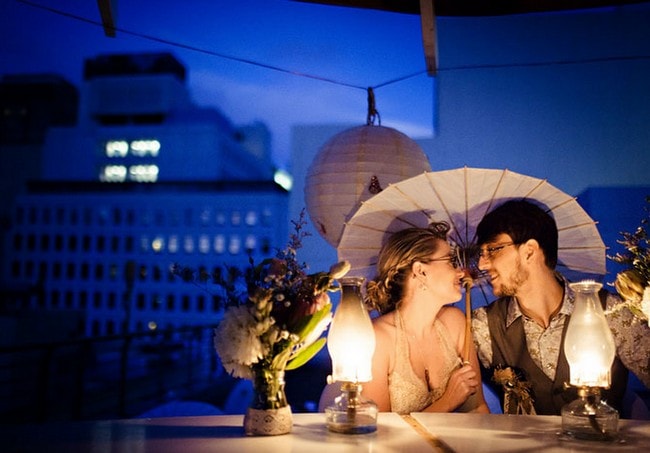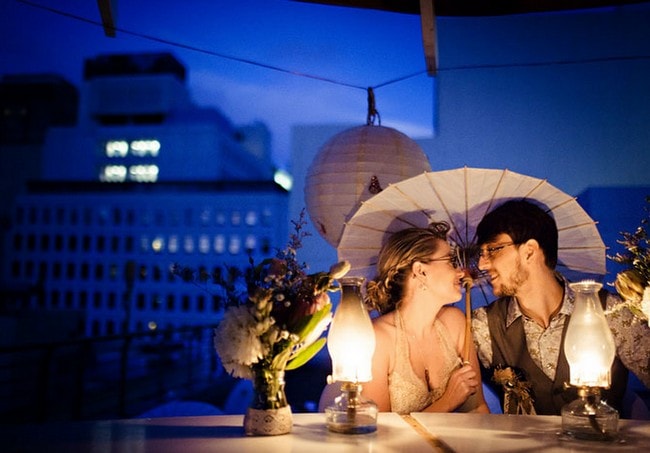 Ok, I admit, I love all the weddings on this blog, and almost every day I fall in love with a new one. But the wedding I have to show you today is just… wow. As in, jump up and down and make little squealy noises-kinda amazing. As in, I'm still speechless at some of these details-kinda amazing. It is so beautiful, so creative, so personal and so joyful, that I have no doubt you will be truly inspired. You may remember Louise and Riaan from their bookshop-themed engagement shoot (in which case you'll certainly remember their very talented photographer, Annemari Ruthven). Both are designers, and they took on their wedding like it was a high spec design project, from hand-staining the lanterns with tea to designing and making all the stationery and the exciting little goodies for the picnic baskets, to personalised parking vouchers (seriously!). Every little detail was considered to make the day special for their guests. And you'll be able to see even more of those details on Thursday, when I'll also be telling you how you can get a little bit of Louise magic for your own wedding (yay!). In the meantime, congrats to Louise and Riaan, who as well as being super talented are just two of the nicest people. Thank you both for sharing your incredible day!
From Louise:
Riaan and I attended the same High School in Pretoria… but never met there! Years later, Riaan spotted me on Facebook when I started a group called Dare to Care. I was going to work in Zambia for two orphanages over the December holiday and was collecting donations for stationery packs that would be supplied to kids in need. Apparently something tugged at Riaan's heart strings and he decided to donate funds. After my return from Zambia and some posted cards from the kids thanking Riaan, we finally met – in real life – over sushi… and the rest as they say is history! On that first date I wore a badge saying "Ek ken Riaan" (I know Riaan), which I saved and attached to my bouquet.


I love this picture so much – how totally in love are the bride and groom?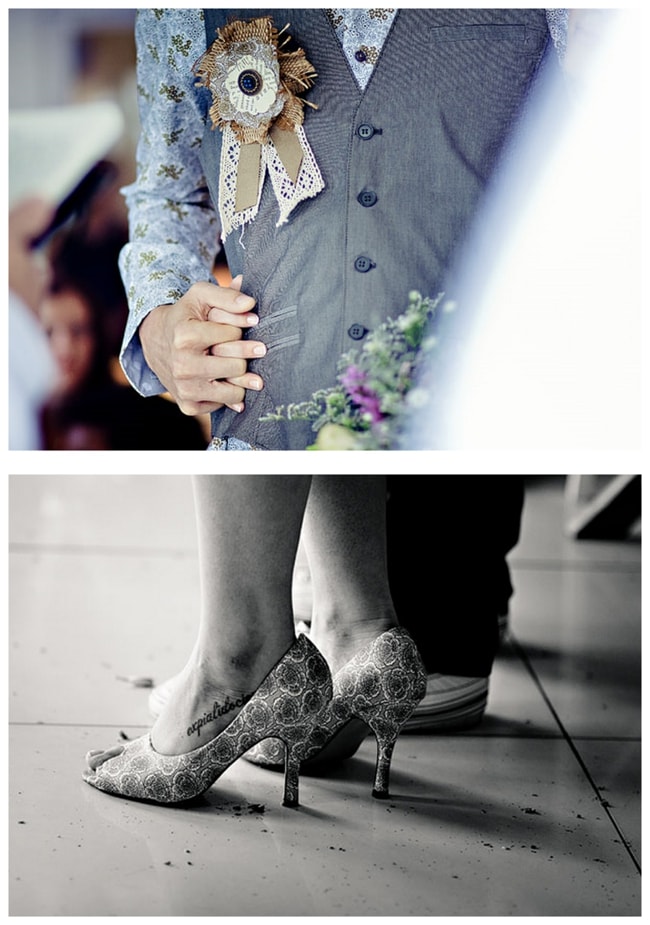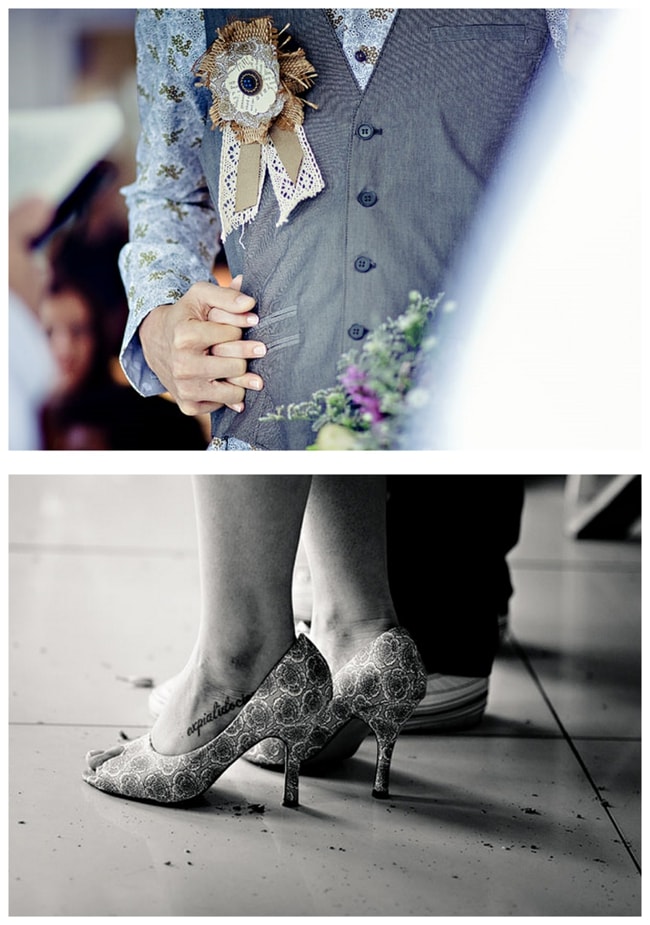 Louise used fabric from Riaan's shirt to cover her shoes – aren't they gorgeous?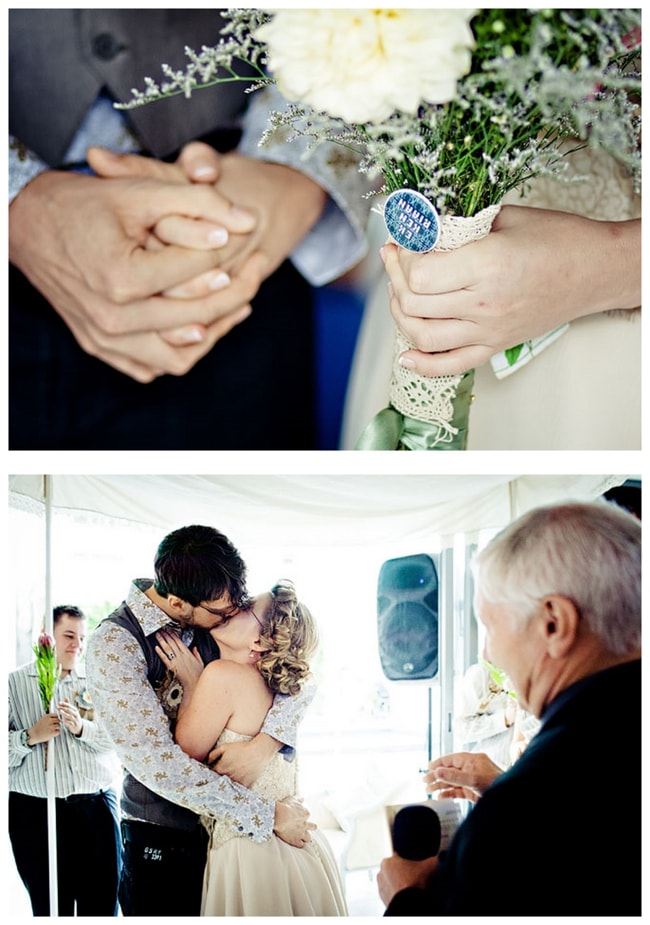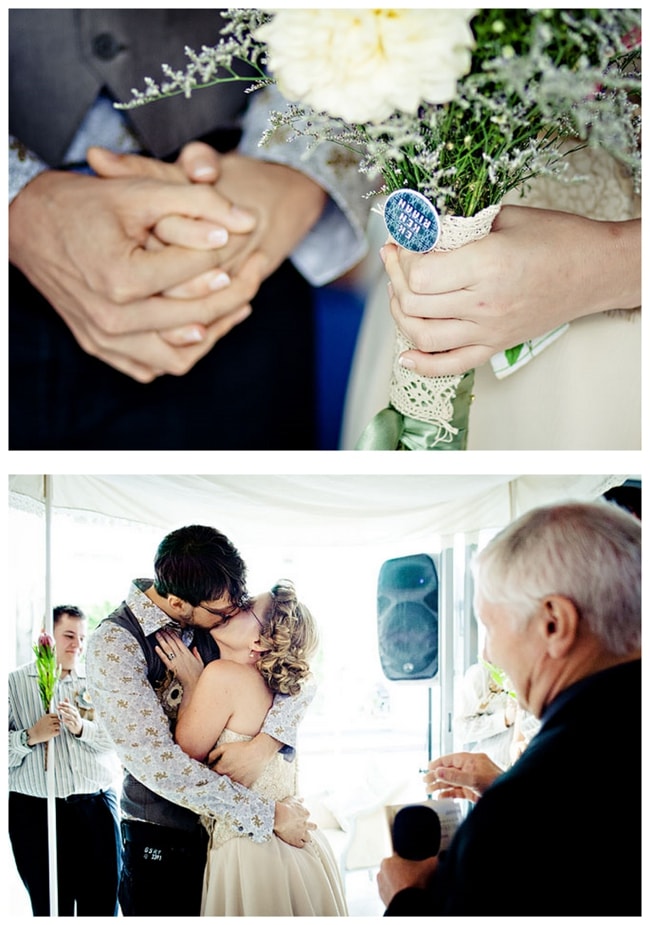 Our theme was 'Sharing Your Story' and our design concept for the day was a sort of eclectic urban romance with lots of handmade elements. We did everything ourselves, including the flowers. I picked these up at the well-known Trafalgar Flea Market in Cape Town the morning before the wedding, and my maid of honour helped me to bunch them together. The flower pots were made from recycled coffee & jam jars which I put some lace onto. For the centre of the groomsmen's rosettes, I used my grandfather's old police cufflinks (he passed away in 2009), so we would remember him on the day.


One of the highlights of the day was seeing each other walk down the aisle, both of us with our parents by our sides. My father performed the ceremony, and Riaan's dad read a special poem he wrote for us. Our brothers held the chuppah we were married under. Afterwards, we had our photographs taken while our guests had fun with our photobooth. We then moved on to a rooftop picnic under the full moon. This was cut short by rain, but a special memory for us is all our family and friends pulling together to move everything inside. We had a wonderful time with our guests, while three-time SAMA award-winning artist Tony Cox provided us with some acoustic tunes. Other highlights were seeing the kids drawing on their handmade 'story dolls', and serving our guests cake from Cassis for dessert.


Don't forget to come back on Thursday to see more of Louise's DIY details!
SERVICE PROVIDERS
Venue: Azura at the Mandela Rhodes Place Hotel | Flowers, design and stationery: Louise van der Westhuizen (Lovelab)
Photography: Annemari Ruthven | Catering: The Picnic Company | Dress: Elbeth Gillis | Hair & makeup: Alicia Robinson – +27 (0) 83 947 2718 | Cake: Cassis | Music: Tony Cox