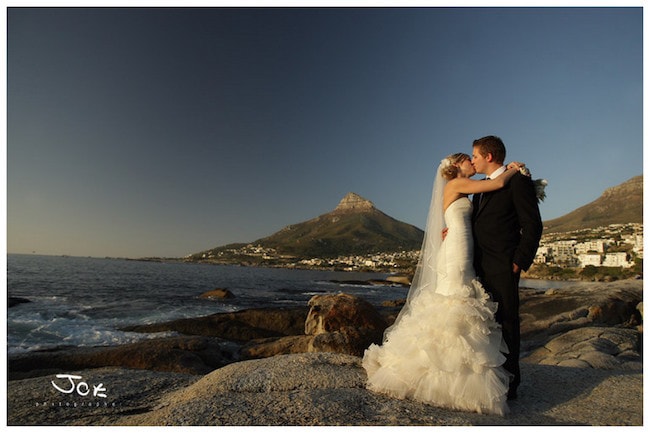 There's so much to love about today's wedding, which comes from photographer Joe Dreyer (whose work I have been dying to showcase!). The totally unique beachy ceremony location, for one (which just shows how a little creative thinking goes a long way). The proteas, of course. A couple so obviously in love. Ashley's glorious dress. The infusion of different cultures into the day. But for me, the best thing is the way that the wedding is so very personal. It's the perfect example of two people who are really celebrating their journey as individuals and as a couple, and sharing that with those who mean the most to them. To me, that's what weddings are all about. Ashley and Malan – thank you for sharing your story with us, and congratulations again!
Ashley and Malan's wedding was co-ordinated by the well-known Aleit Group, who are based in Stellenbosch but have clients around the world. Their speciality is in creating fabulous, bespoke events that are an extension of their clients' personalities and project their unique individuality, and I'm absolutely delighted to be able to feature some of their work on this blog!
From Ashley:
Malan and I met at the first meet-and-greet for incoming Masters students at the London School of Economics. We like to think we met in the middle as I had come from Canada, and he had come from South Africa. On our very first date (which was supposed to last an hour, but ended up lasting eight) he took me on a tourist bus of London. We sat on the upper deck and huddled together as it started to rain and the bus drove us over Tower Bridge where we saw a rainbow overlooking the Thames. Four years later, he proposed to me on Tower Bridge. It was magical.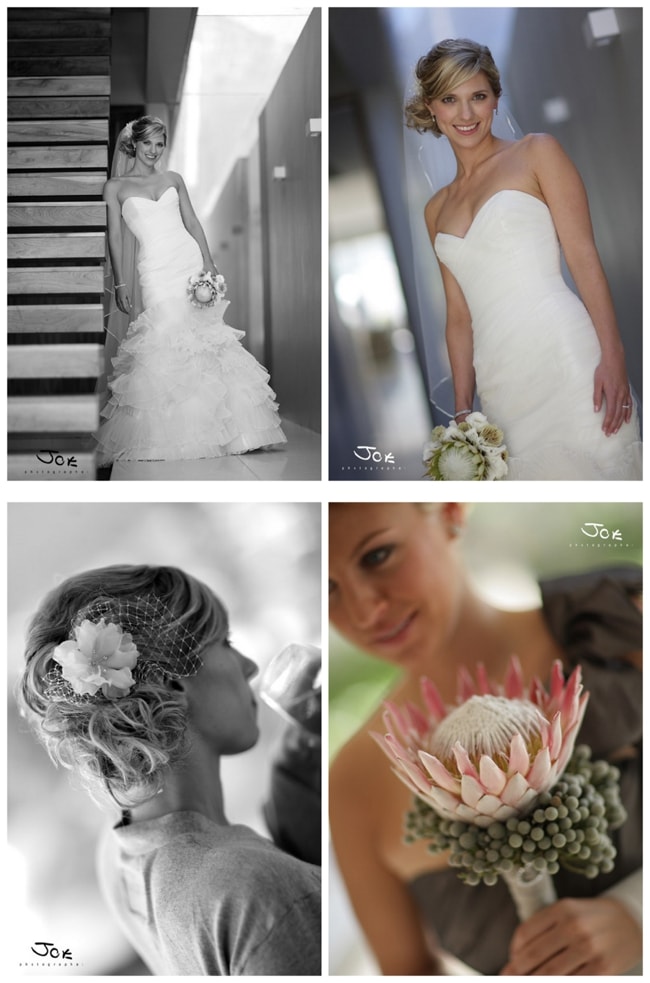 Our wedding day was the greatest experience of my life. It was a celebration of a commitment that already existed in our hearts so there were no nerves, just pure excitement. It also represented our families and friends (from three different continents) all being able to meet. 25 of our closest friends and family had flown to Cape Town from Canada, the USA, Ukraine, Holland and the UK to join South Africans from all over the country in sharing this day with us. My family said the world felt smaller to them after that journey, and it impacted people far beyond my expectations, making all the planning worth it!

The venue was the hardest part of our wedding planning experience. We knew we wanted to get married in Cape Town and wanted our wedding to be tailored to our tastes so were trying to avoid a "packaged" wedding. We searched high and low for venues (which wasn't always easy given that we were living in London at the time). I originally thought I wanted bright tropical colours, but learnt throughout the process that it is important to adapt your vision as the planning unfolds. We loved the view of the Twelve Apostle Mountains in Cape Town and my husband came up with the idea of having an outdoor ceremony with that view. Hayley from Aleit managed to get a deal with the city to rent out part of Maiden's Cove for a few hours and executed the ceremony to perfection. Although the morning started off completely overcast, two hours before our outdoor ceremony the sky opened up and it was the perfect Cape Town day (just as I had imagined it on my very first trip to the Cape). I wasn't nervous all day but when I asked Hayley if Malan was waiting at the ceremony site and she responded that he was, a rush of emotion washed over me. When I got to the ceremony and saw that it was just how I pictured it in my head, an intimate and personal gathering without pretence and the gorgeous natural setting, I was immediately calmed.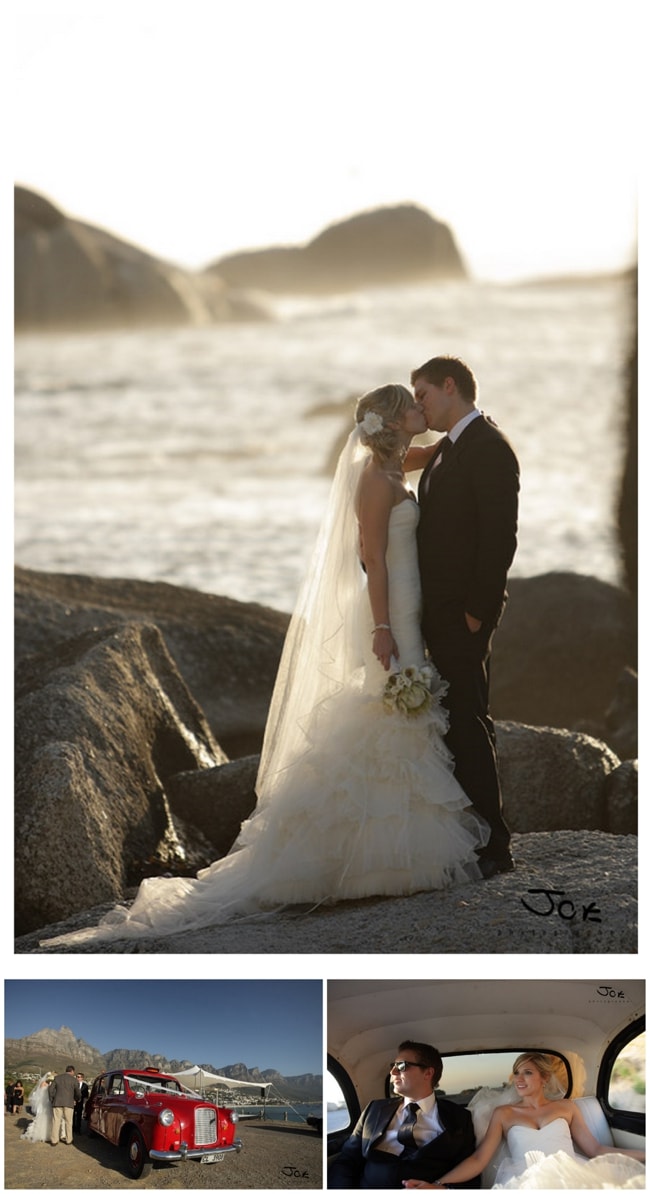 We had a lot of ups and downs when it came to finding a reception venue. My advice to other couples is not to panic and rush the decision. The venue can make the wedding. For us, Hout Bay Manor turned out to be perfect. The entire hotel is decorated in the style of African chic, the staff is unbelievable and the restaurant (Pure) not only makes amazing food but also had a soft "washed away" white theme. It was from these venues (and from all my trips to South Africa where I fawned over the interior design aesthetic) that I realized I wanted an indigenous South African feeling to the wedding. Our flowers were proteas and fynbos and the subtle muted tones and textures had a very romantic (and yet not too traditional) feeling.

As I have more of an eclectic style (as did our venue), we decided not to over plan the aesthetic theme of the wedding and instead had a theme based on sentiment. We started inside our invitations with a favourite song lyric that means something to us, which helped our guests feel welcomed into our private and unique love:
"Love has no boundaries
Stay because I love you as you are
I crossed an ocean of possibilities
And I found you" – Talib Kweli
Several of our speeches and our gift book (a photographic essay of our favourite pictures from visits to Canada and South Africa, which was entitled 'Across an Ocean of Possibilities') carried this poem throughout our wedding. On the front of our invitations we had an image from a South African painting that my mother-in-law gave us for our anniversary of two figures walking towards the radiating sun together. This invitation was also carried through some stationery and embroidered on the napkins by the Aleit shop.
We also tried to integrate elements from the different cultures that we represent. We arrived to the reception in an old red London cab (from the city where we fell in love), we had an African choir, marimba band and Zulu dancers perform, as well as a Scottish bagpiper (bride's father's heritage), and we performed a Serbian kolo dance (bride's mother's heritage). One of my favourite moments was when we arrived at the reception and were led in by the Zulu drummers and I (the Canadian) was the one who was dancing and singing along to Nksoi Sikelel' iAfrika!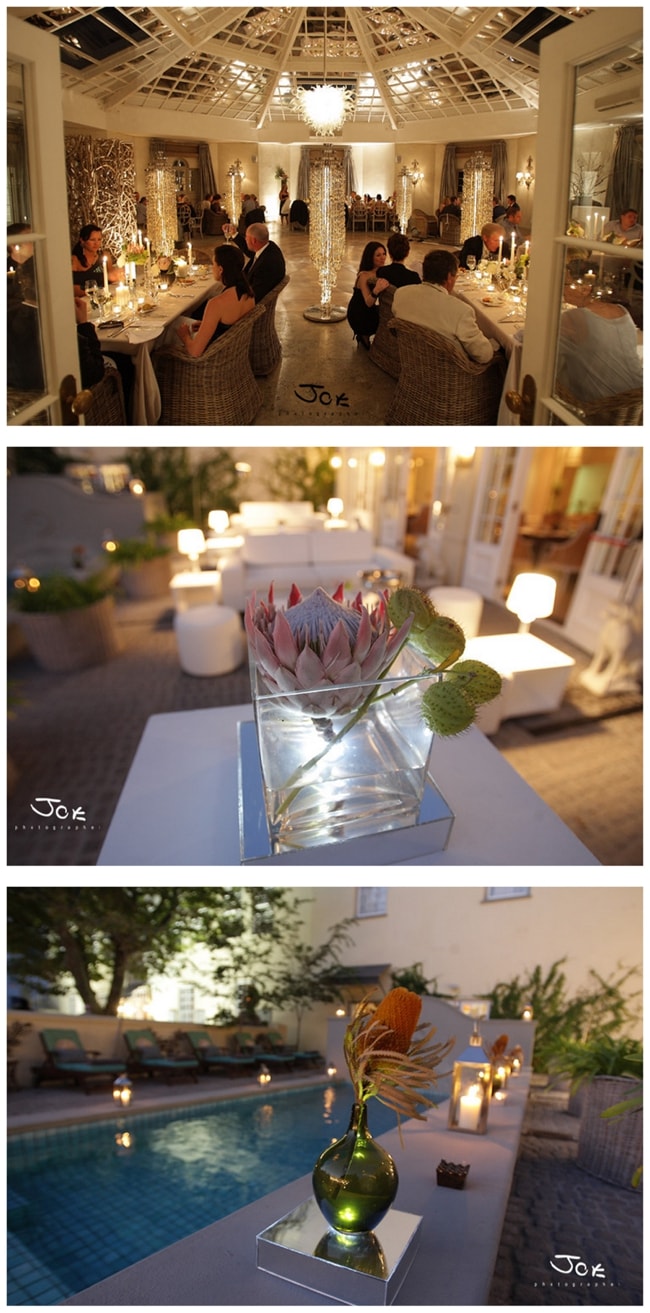 My mom and I are extremely close and she has exquisite taste. However, she lives in Canada and I planned the wedding on different trips to South Africa. I was nervous that I wasn't going to make her proud so a moment of great joy for me was when we sat down in the restaurant for dinner and I looked over to my mom and asked what she thought. She looked back at me with an almost speechless expression and said: "Honey, it's perfect". She was overwhelmed, and so was I.
Malan says one of his greatest moments was our first dance. Neither of us was very keen to perform this tradition as we were convinced it wasn't going to feel natural. However, without any rehearsal, we just got up and enjoyed the moment together and it felt as if we were in our living room back home.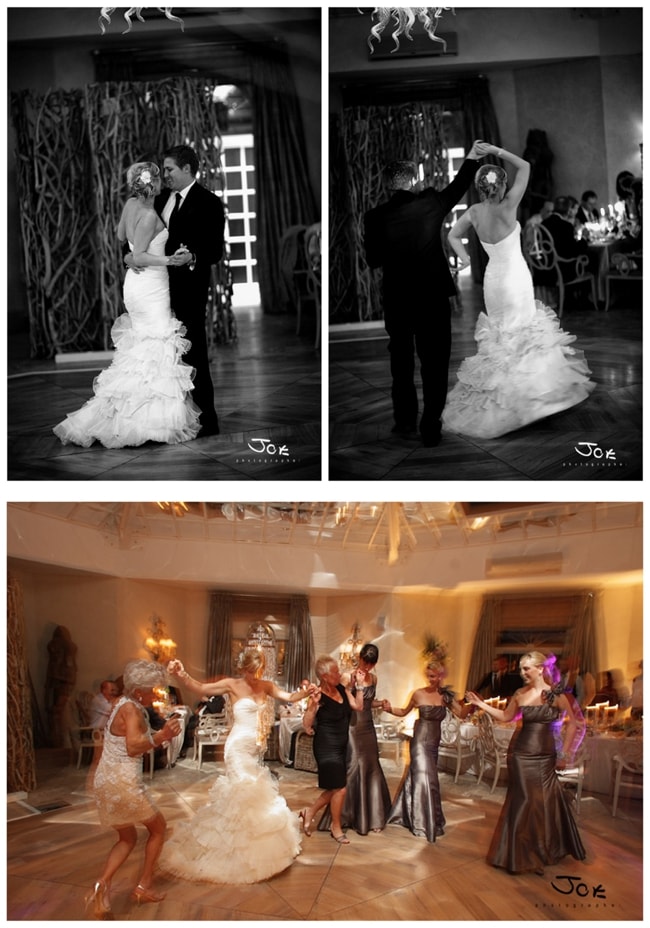 One piece of advice I would give to other couples is to make your wedding your own, whatever that means for you. Making your wedding personal gets rid of nerves and makes it so memorable because those meaningful details pop up throughout the entire day. I wasn't nervous saying my own vows or giving my speech because I was so comfortable in the environment that we had created. 
SERVICE PROVIDERS
Venue & catering: PURE at Hout Bay Manor | Co-ordination: The Aleit Group | Photography: Joe Dreyer | Flowers: Aspen and Co. | Videography: Palace Productions – +27 21 976 8824, [email protected] | Cake: Kanya Hunt – +27 82 375 5200, [email protected] | Music:  Aleit Music and Entertainment | Stationery: Elsje Designs | Favours and napkins: Aleit Shop | Lighting: Something Different | Hair & makeup: Luciano dos Santos – +27 76 880 5748, [email protected] | Hiring: Hireworx