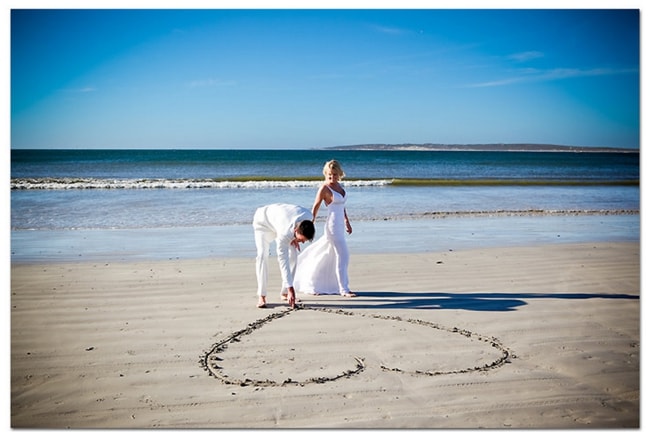 It's back to the beach for today's wedding, and what a gorgeous wedding it is! So many of my favourite elements – intimate beach setting, gazebo, proteas, CHEESE CAKE. (Oh, how I do love a cheese cake. They just add that something unexpected, and they're so absolutely perfect for a couple who are not that excited by the idea of a sweet dessert. And this one was 100% DIY! Amazing.) But what's even more impressive is that all of this coastal rustic goodness was pulled together by a bride and groom who were living in Shanghai, China, with all the challenges that organising a wedding long distance can bring. Kira and Jason, you guys did an amazing job! Thank you for sharing your day with us. And thank you also to the lovely Judy Stofberg of Just Judy Photography, who took these stunning photographs.

From Kira:
In 2008, Jason and I moved to Shanghai, China to start a business and a new chapter in our lives.  In May 2009 we visited home, including a trip with my parents to the Eastern Transvaal. Jason planned a surprise for us the morning of 22 May, which no one was privy to. It turned out to be an early morning hot air balloon ride over game reserves and farms in the Sabie, Hazyveiw area. We watched the sunrise and this is when Jason proposed, high up in the air in a magical setting in front of my parents.  It was the most romantic, breathtaking moment. After landing in a field we were met with champagne followed by a breakfast at a manor house close by. It couldn't have been more perfect.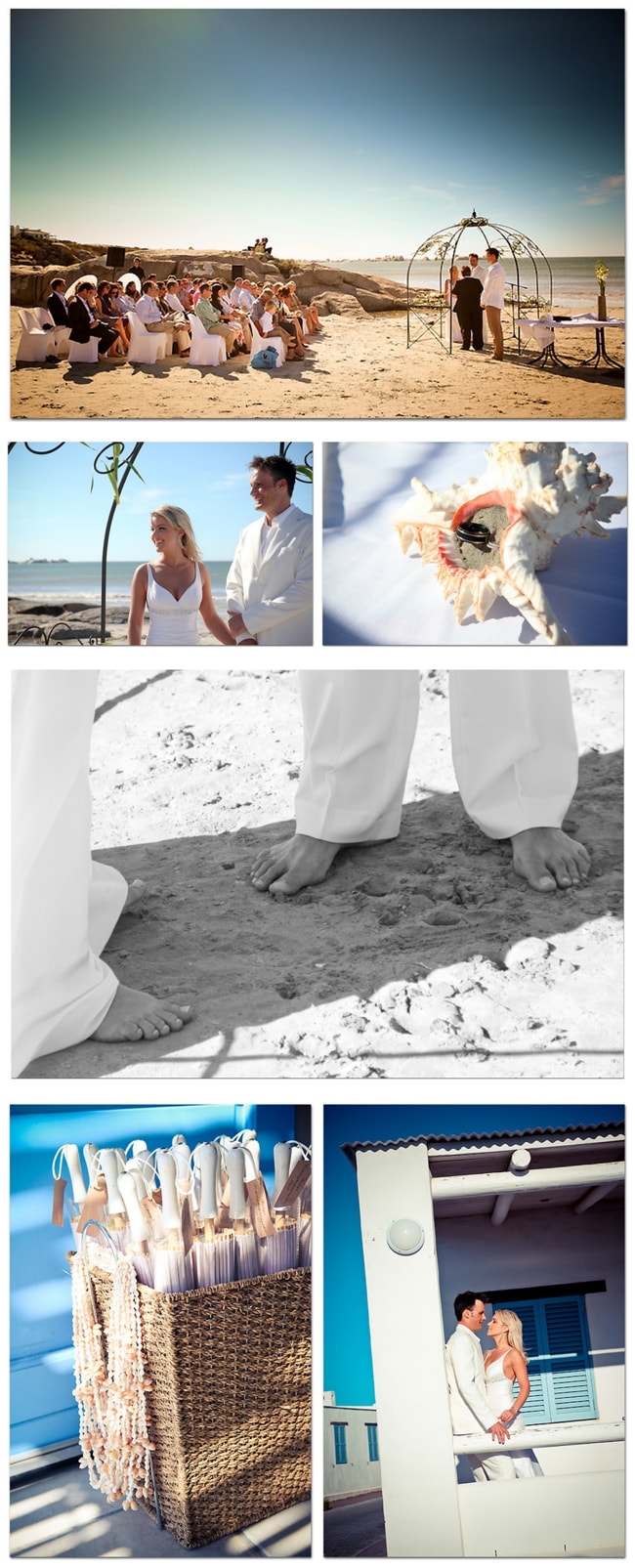 We both dreamed of marrying on the beach, and thought a weekend away would be a great idea. It would then give us a chance to spend some time with all our guests, given that we lived abroad. We chose Paternoster, a typical West Coast-style village 90km outside of Cape Town. Our wedding reception was at the Paternoster Lodge (which overlooks the whole of Paternoster and its beach). This is also where we stayed with our families and friends for the weekend. On the Friday night we had a traditional west coast style braai (BBQ) together with all our guests, which gave us a chance to catch up with everyone before the big day.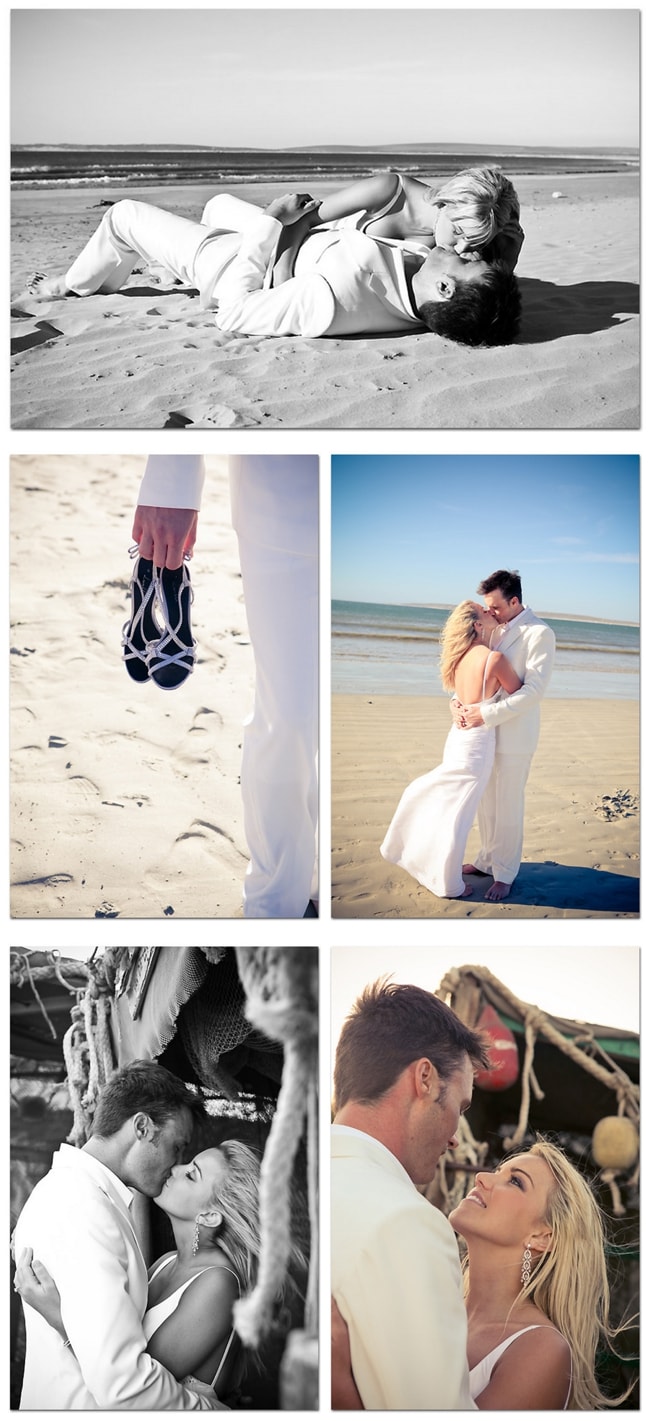 Our theme was rustic beach chic and for my bridesmaids I went for a Grecian goddess style, using earthy beach tones as the color scheme. Jason wore an all white suit with no tie. My bouquet was a Protea to suit our west coast beach theme. For my dress, I had two styles in mind that I decided to mix together, but living in China, with the language barrier, trying to explain my desired style presented many challenges. I thankfully stumbled across a Hong Kong designer who lived in Shanghai. She did a wonderful job and my dress turned out exactly how I dreamed!
I did most of the things myself (with the help from family) and really enjoyed every minute. It made the wedding very intimate and special, with the guests knowing you took the time to put your touch in every little detail. It is so much more appreciated then. My makeup was done by a good friend of mine who is a makeup artist (Gina Gomes). At the ceremony,  I had two dear friends of mine hand out gifts to all the ladies on their arrival. They were white parasols (all the way from Shanghai) and shell necklaces (all the way from Boracay Island in the Philippines, which we bought on holiday there months before along with the shells for our table seating cards).  My dad, my two special bridesmaids and myself were taken down to the beach on a typical west coast style fishing boat, which made for a spectacular entrance. We chose unconventional music to walk up and down the aisle to – songs that meant something to us – and we exchanged vows under a wrought iron dome decorated with gladioli. Unfortunately, it turned out to be quite windy on the day which made it a little more challenging, but we made the most of it and it turned out be a lovely ceremony. I was slightly nervous for my photos but we had an amazing photographer, Judy Stofberg, who managed to pull it off despite the West Coast wind.

After the ceremony our guests enjoyed Champagne and canapés on the patio at Paternoster Lodge, while listening to live music by my brother-in-law, who is a musician. As they walked into the reception area, we had a big rustic photo frame hanging from the ceiling, which had a few of our engagement shoot pictures .  We also had the words "love" in wrought iron hanging behind the main table.  My name placement cards were in between shell shaped praline chocolates displayed in a shell for guests to eat.  The tables were decorated with beautiful shells my parents had collected. I chose Gladiolus as the table flowers for something more simple and different. I also loved the meaning which I found, that a bouquet of gladioli symbolised to a recipient that they pierced the giver's heart with passion. The flowers also symbolise setrngth and moral integrity. Our DIY wedding cake consisted of tiers of different kinds of cheeses served with a variety of glace and dried fruit and crackers, accompanied by jars filled with Lindt balls.
Jason and I thoroughly enjoyed every part of our memorable day. It was filled with so much fun and laughter.  We partied the night away (and actually landed up being one of the last to leave our own wedding). Seeing our close ones less frequently with living overseas made the day extra special to celebrate our love for each other with all the people who we love and care for.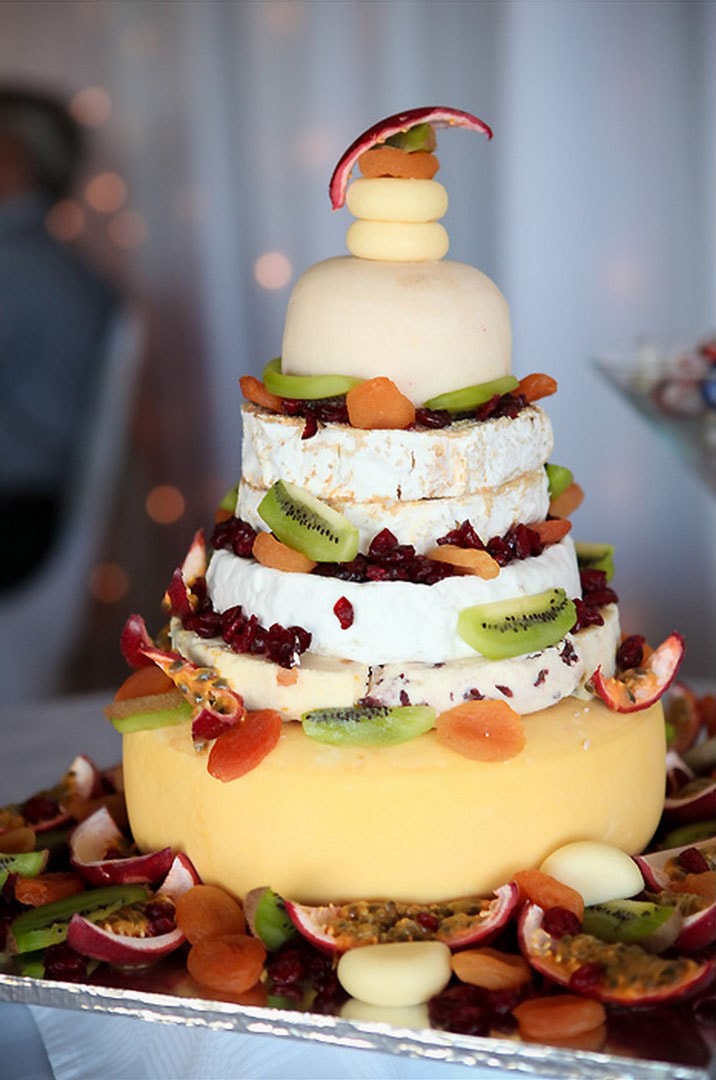 SERVICE PROVIDERS
Venue & co-ordination: Paternoster Lodge | Photography: Judy Stofberg of Just Judy Photography | Priest: Alison Hayward – I Do Weddings | Flowers & decor: Bunches for Africa – 021 982 3412 | Music: Fresh Sounds | Make-up: Gina Gomes – 082 8250917 | Dress: Tina Couture | Rings: Kim Myburg