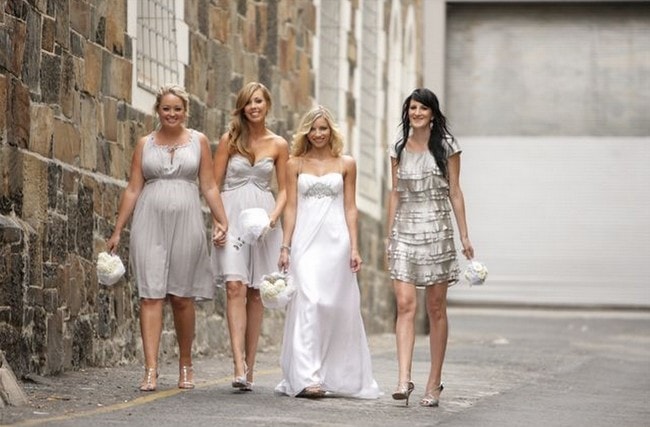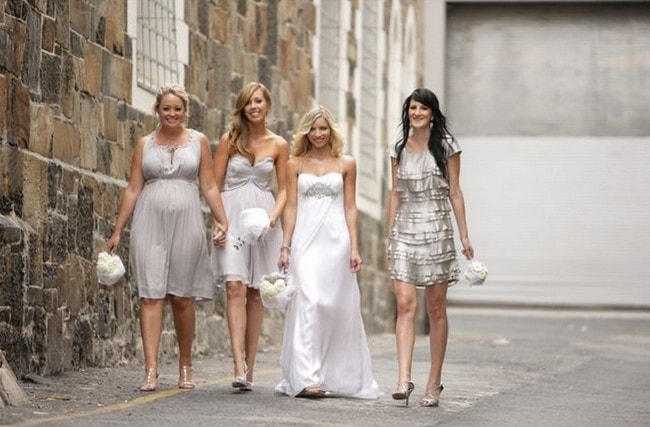 Today's wedding comes from co-ordinators The Aleit Group, and I'm so excited to share it with you! Not only is it absolutely gorgeous gorgeous gorgeous (not that I'd expect any less from this team), but it's also completely unique and contemporary. The location for one thing, is the Lightbox Studio, a minimalist photographic studio and event space in Greenpoint, that has incredible views out over the city, harbour and Table Mountain. I just love venues that show off the urban cool side of Cape Town, and this is definitely one of them. The look is white on white with a dash of silver, which makes tiny bits of colour like the cocktails really pop. Instead of a seated meal, the couple opted for a cocktail party followed by dancing, and it all adds up to a celebration that just oozes sophistication. And the details… wow. My favourites: the cake topper, the bridesmaid's dresses, the incredible photo wall/guest book, and Andrew's super cool "(Hus)band" armband. And with this level of awesome, I know you also won't be surprised to hear that pictures are by the always-brilliant Joe Dreyer.
Madri from Aleit sent over some more information about this sensational wedding:
Jade and Andrew met in 2001 at the University of Miami in Florida, U.S.A. Jade was on a student exchange from her University in Australia and Andrew, who is South African, was on a sports scholarship to play tennis for the University of Miami. As Jade remembers, "we were together in Miami for about six months and then spent the next couple of years jetting backwards and forwards across the world to be with each other when we could. Gradually the periods of time I spent in South Africa got longer and longer until we couldn't bear to be apart from each other for more than a few days, so I stayed. An Australian and a South African meeting in Miami, who would've thought?!"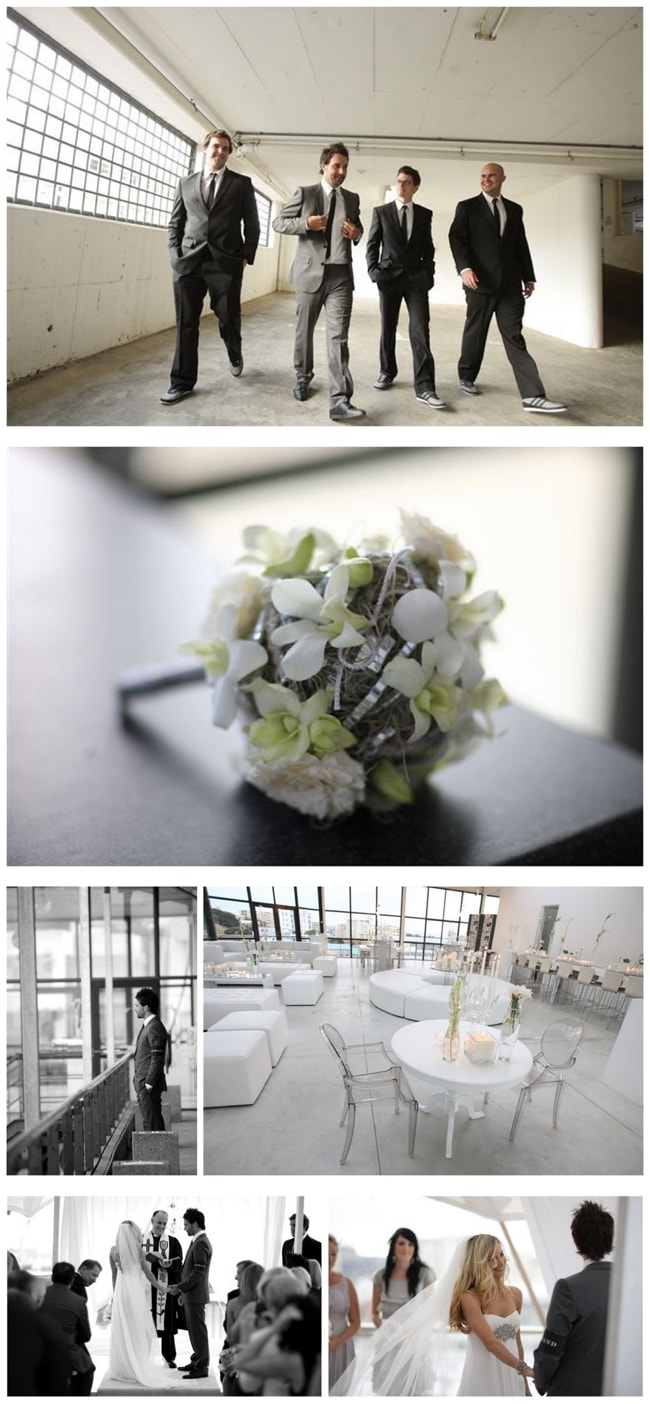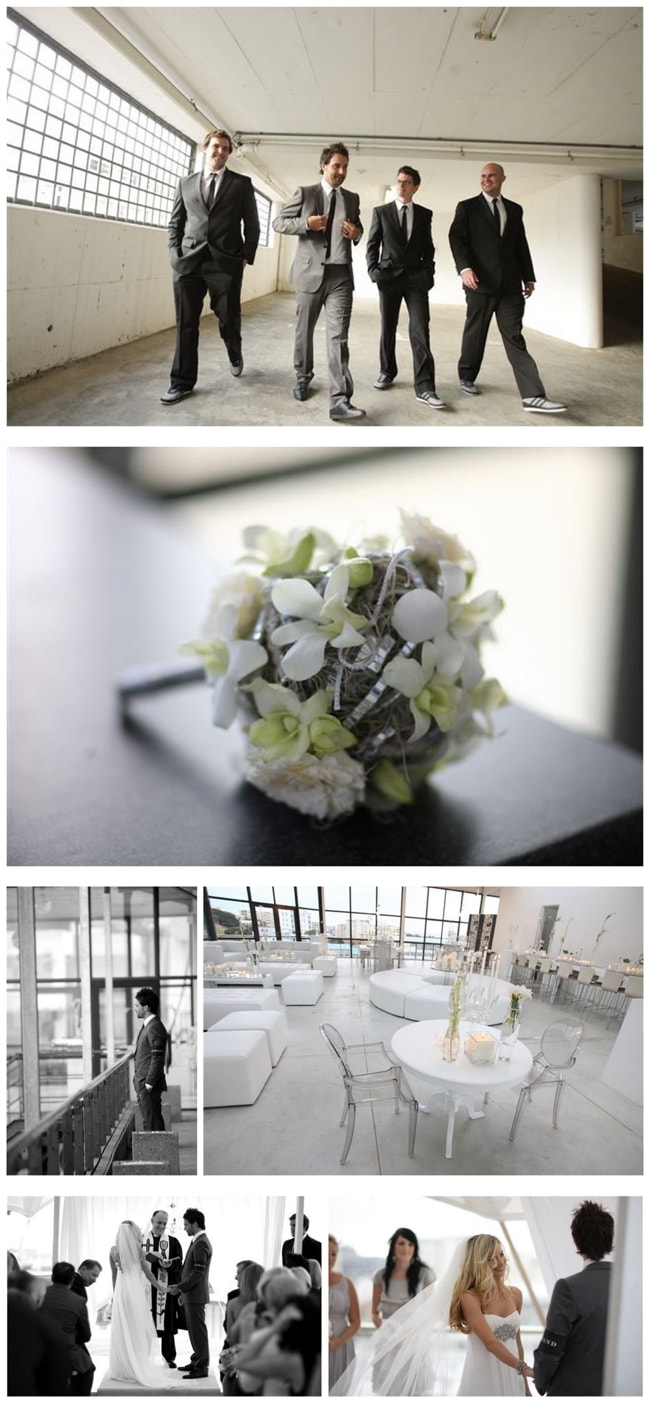 Even though they'd been together for six and a half years, the proposal still came as a surprise for Jade. "After a long working day I came home to find an empty champagne glass standing in the hallway with a note propped up against it. It was a poem that gave me a clue to where another note was with another clue, like a miniature version of the Amazing Race, one of our favourite shows at the time. The last note ended with a clue to where Andrew would be 'waiting on bended knee'. At that moment I knew what was going on and my first instinct was to drive straight to where he was waiting, but then I glanced at my unsightly appearance in the rear-view mirror of the car and decided I needed to shower, shave my legs and straighten my hair. He'd kept me waiting for six and a half years so what was another half an hour? I took pride in regaining a bit of a control during a moment where the guy usually has all of the control! I eventually made it to where he was waiting on bended knee and we filled the empty champagne glass and toasted to our engagement."


Jade and Andrew's wedding day was a thoroughly contemporary celebration, held at the striking Lightbox Studio in Greenpoint. With a focus on modern decor and fresh styling, a chic lounge-style area was created to provide a relaxed space for guests to mingle and take in the atmosphere. During the ceremony guests sat on white ottoman chairs and the couple made their vows at a specially constructed cabana in the outside area of the studio (views of Cape Town included), making it a truly urban take on the wedding venue.
After the ceremony guests snacked on sensational canapés such as Floating Champagne Flutes filled with Vodka-laced Sweet Chilli Prawn Skewers and Wild Mushroom and Asparagus-filled Beetroot Ravioli Hearts drizzled with a Decadent Sage Butter Reduction. There was also a photo booth where guests could capture special moments of the day.
Instead of a seated dinner, both starters and main course were served in the form of canapés and bowl food. A slick DJ set a sophisticated party vibe, and soon it was time for everyone to hit the dance floor, which the couple highlight as their favourite moment of the day. "Looking around and seeing friends and family from all over the world, who would never have met if it wasn't for us, dancing and having a good time with each other was just amazing."


Not surprisingly, the day went by in a blur for the newlyweds. As Jade says, "I wish I could do it all again, but in slow motion this time! Thank goodness for all the fabulous photos we have, Joe captured every moment and tiny detail so we will have them frozen in time forever. Andrew says it was the best day of his life!"
SERVICE PROVIDERS
Venue: The Lightbox Daylight Studio (PLEASE NOTE, THIS VENUE IS NO LONGER AVAILABLE) | Minister: Reverent Kevin Needham | Chef: Dish Food and Social | Cake: Cakes by Wade | Bar: Pure Bar Solutions | Music: Aleit Music and Entertainment | Stationery: Elsje Designs | Table Gifts: Aleit Shop | Florist: Alwyn – OKASIE | Lighting: Something Different | Photographer: Joe | Hair: HAND – Michael Scott | Make-up: Daleen Stewart | Flooring: Event Flooring | Hiring: Hireworx