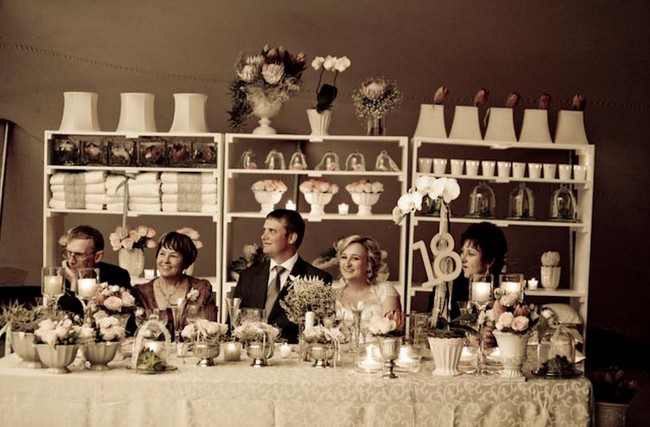 When I saw today's wedding on photographer Gavin Casey's blog, I was so excited that I emailed him straight away to ask if I could feature it. There's a real cinematic quality to these pictures – I just love looking at them. I was even more excited to discover that it was co-ordinated by the Aleit team, as they always manage to bring something unique to their weddings. And this one has just that – starting with the venue. Ceremonies at Beloftebos are held under beautiful oak trees that form a roof so dense that you can legally sign the register! Other favourite details: the baby's breath bouquets, mismatched bridesmaids' dresses, succulents under glass, the vintage car and the broderie anglaise-style cake (with such a cute cake topper). I also loved that the couple played Pétanque (a form of boules) with their guests!

From Carlien:
Rudolph and my brother have been great friends since pre-school, so we grew up together. Somewhere along the line we noticed one another, and the rest is history! As they say, opposites attract, and so did we. I am the creative, bohemian one – I keep things interesting with my free spirit! Rudolph is more straight down the line – stable and caring, he is the one who keeps me on track. With very few words I always know where I stand and how he feels. We've been together for over seven years and shared all our dreams, ideas and sorrows with one another. Three months before our wedding my father passed away in a car accident. It was very painful to know my Dad couldn't be with us on our happiest day. Rudolph understood me the best as he lost his mother as a child and in his quiet way he healed me. On our wedding day, we hung small pictures of our lost loved ones from the oak trees, and we both know that they were with us that day.

The wedding was a combination of both of our tastes. We both grew up on farms and love the outdoors, so it only made sense to have an outdoor wedding. We contacted the Aleit team with a difficult request – a wedding outside but in an oak forest . Beloftebos was the first and only venue we looked at and it was perfect. The outcome was really amazing, the fairy forest with white coaches and chandeliers – it was a countryside wedding with a twist. Our colour scheme was pale blue and green with hints of dirty pink. We used proteas for our flower arrangements and that was our one constant throughout the wedding – from our invite to my bouquet to the reception and even some proteas were hung from the oak trees.

The reception took place in a freeform tent in the forest – the whole thing was lit with fairy lights. Fires were lit in large old oil drums, which was really atmospheric, and we had one big fire on the side where we played Pétanque. Our guests, who wore name brooches, were on the dance floor until 2am! Fortunately we provided flip flops for the ladies to wear if their dancing shoes started to hurt!

Congratulations Carlien and Rudolph! I'm so glad I was able to share your beautiful day!
SERVICE PROVIDERS
Venue & catering: Beloftebos | Co-ordination: The Aleit Group | Photographer: Gavin Casey | Videography: Tolken Media | Stationery: Elsje Designs | Favours: Aleit Shop | Hair: Fabienne Zadel | Makeup: Ronel, Rosabella – +27 28 840 0991/+27 82 353 9091