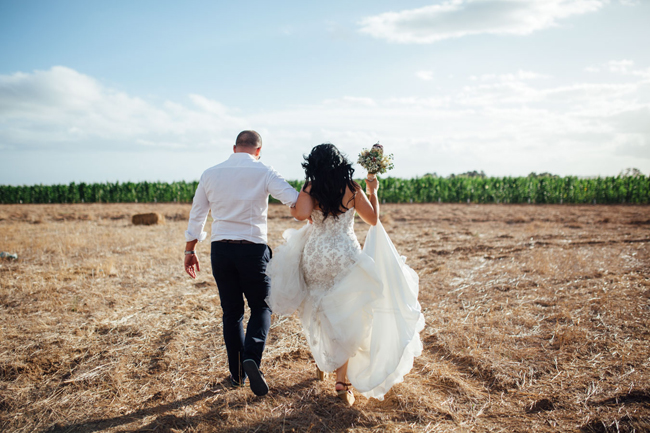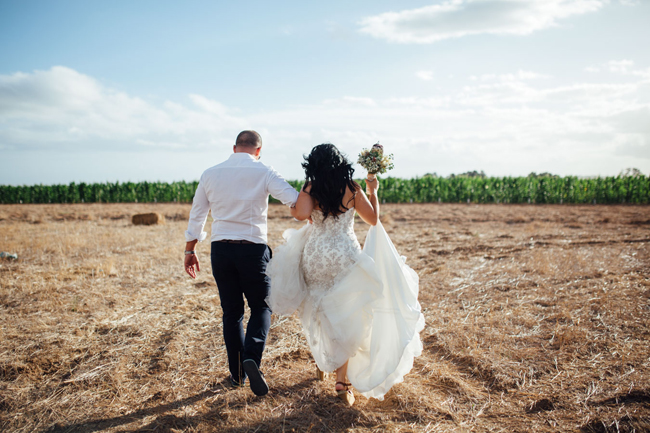 How romantic is this groom? Jenna and Neil tied the knot on Valentine's Day, which was the groom's choice as he had the date picked out and the Rabbi booked even before he proposed! This wedding is everything we love about a modern romance: an unlikely meeting, a brief courtship and a heartfelt celebration of breathtaking proportions. Jewish weddings are absolutely beautiful. Every moment of the ceremony is framed by traditions that speak of generations of love stories and the ties that bind families and form new ones. Aside from the traditional elements of the ceremony, there were plenty of quirky and rustic details that perfectly suited the couple's modern taste. From a burger and boerewors bar to Havaianas for the groomsmen, it was an eclectic mix of creative and personal details woven into the traditional. All of this was seamlessly brought together by the fabulous Quirky Parties, with Gavin Casey behind the camera.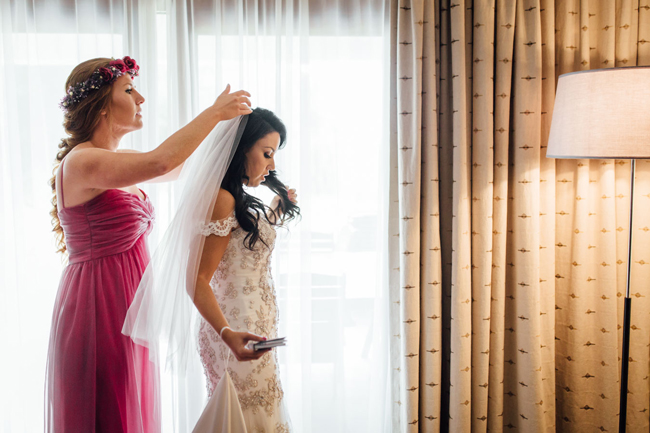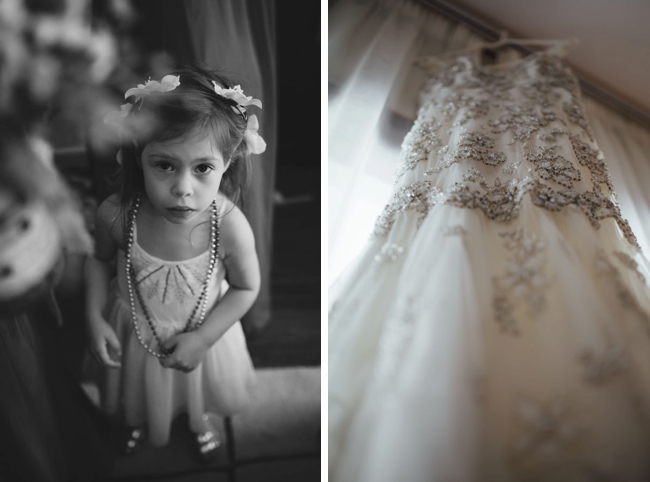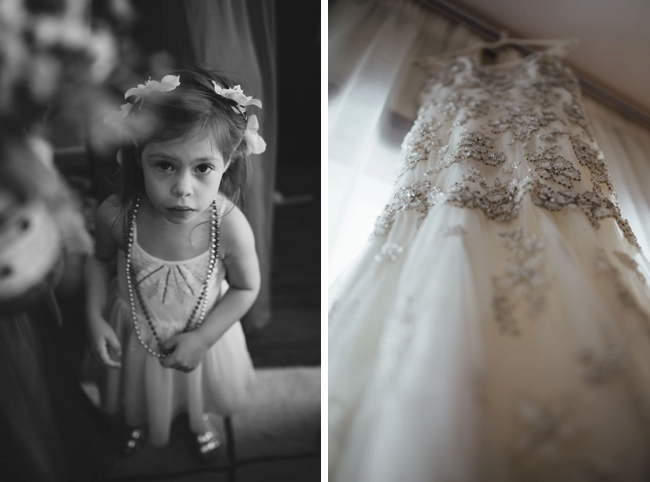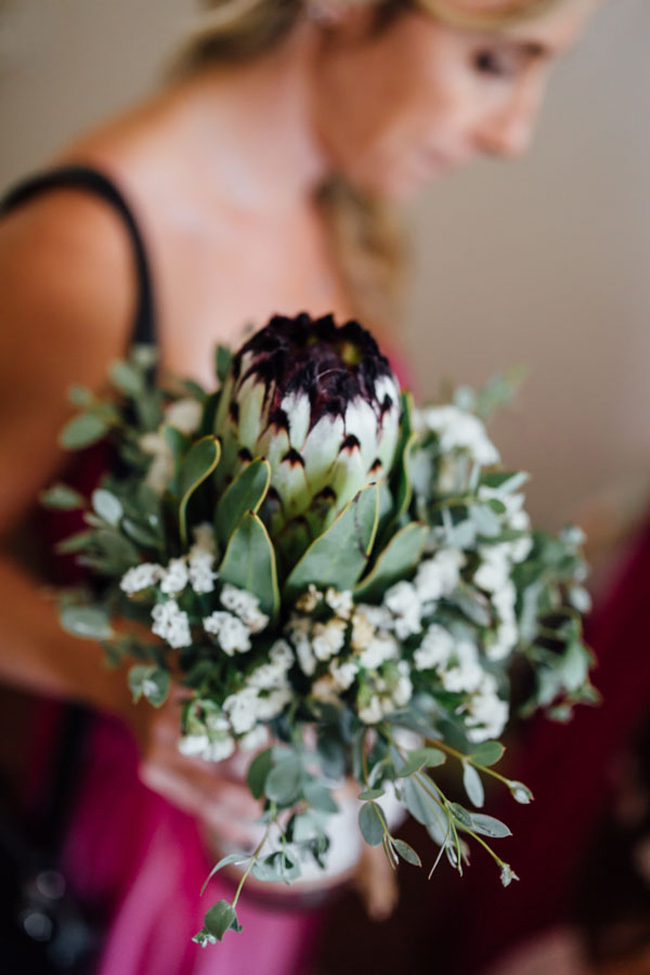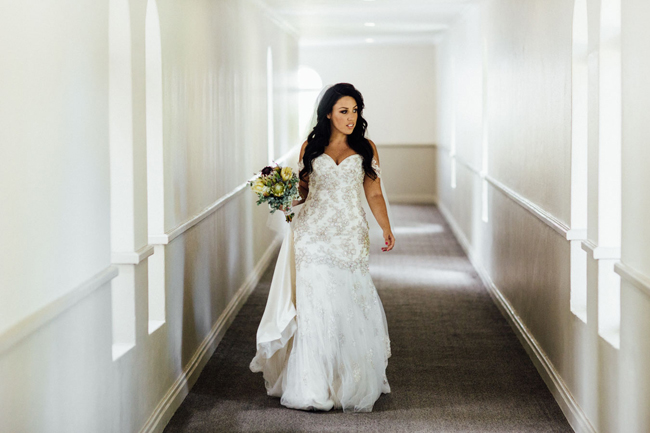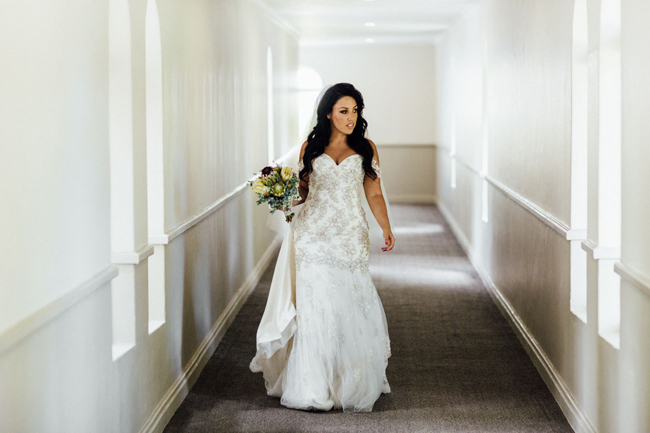 Love Story
Our love story was actually very 'modern age' – we met via Facebook! Neil and I always say our lives are like the movie Sliding Doors. We both lived in Cape Town, had tons of mutual friends, went to the same parties and were even photographed in the same photo but had never met! In 2014, Neil was sitting at the airport on the way back from America. He was browsing on Facebook and on the 'people you may know' section, my work profile Betty Bloom (with my photo) came up – with one mutual friend. Neil asked the friend who Betty Bloom was and he didn't know, so Neil added 'Betty' anyway. At the time, I was logged into my work account and sent him a message saying who are you? After a few cheeky messages, we figured out who was who and quickly became friends on my real profile. After a few months of chatting on Whatsapp and hours spent on the phone, we finally met in October and that was it! We were engaged a few months later!
The Proposal
So Neil lived in Cape Town and I was living in Johannesburg, we were doing long distance. I went down to Cape Town for ten days along with a few of our mutual friends. These friends were staying with us and Neil had organised a big Shabbat (we are Jewish) dinner for all the friends. He said that before everyone descended it would be nice for us to go out to Franschhoek on Friday for pancakes (my favourite!). Prior to me coming down to Cape Town, Neil said we should send each other five things we loved about each other every day until we were reunited. We arrived in Franschoek and I was starving, and Neil wanted to go for a stroll and sit under some tree. I was thinking 'OMG when can we go get pancakes?!' We sat down and Neil said, "I love so many things about you, I have ten more to tell you". I was still like seriously, are we ever going to eat? He gave me his phone and I read them and the last one said, "I love that in five seconds I am going to ask you to be my wife and you will say YES!". I looked up and there was the most magnificent ring! I was in total shock! He said, "well not to shock you more, turn around!" and there was a photographer shooting the whole thing and needless to say there are so many very shocked photos! Unbeknownst to me, Neil had already contacted the Rabbi and a caterer and booked a wedding date before he proposed! After that, it was just crazy! The Shabbat dinner was actually an impromptu engagement party with all our friends. Neil also made an appointment for me, his sister and a friend of ours to get our nails done so my nails looked fabulous with my new ring.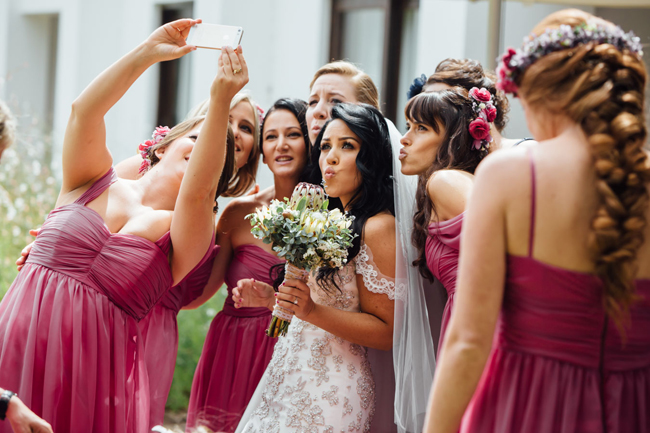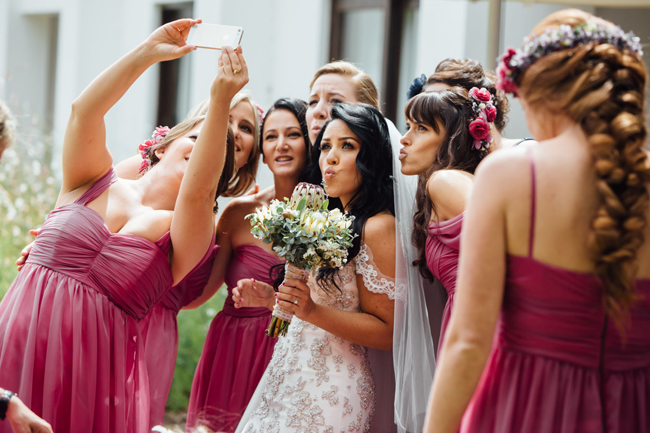 The Venue
I am originally from Durban and Neil is from Cape Town. We live in Johannesburg but having the wedding in Cape Town was the only option for us. We were totally sold on the idea of having our wedding in the Company Gardens in a glass marquee with lawn games, food stations and dancing outside for that garden feel. We both had our hearts set on getting married 'locally' and not in the Winelands. A wedding in the Company Gardens meant bringing everything from electricity to toilets – basically a logistical nightmare with no backup plan if it rained (which it did on the day in Cape Town). Sadly we had to look for Option B. I scoured venues in Cape Town but nothing could accommodate all our guests and my vision. I was on Facebook one day and came across a video of a wedding at Cavalli Stud and Wine Farm – and I was sold! I loved that it was modern and wasn't a typical 'wine farm'. I fell in love with their sunken garden for our ceremony. It was exactly where I imagined us tying the knot.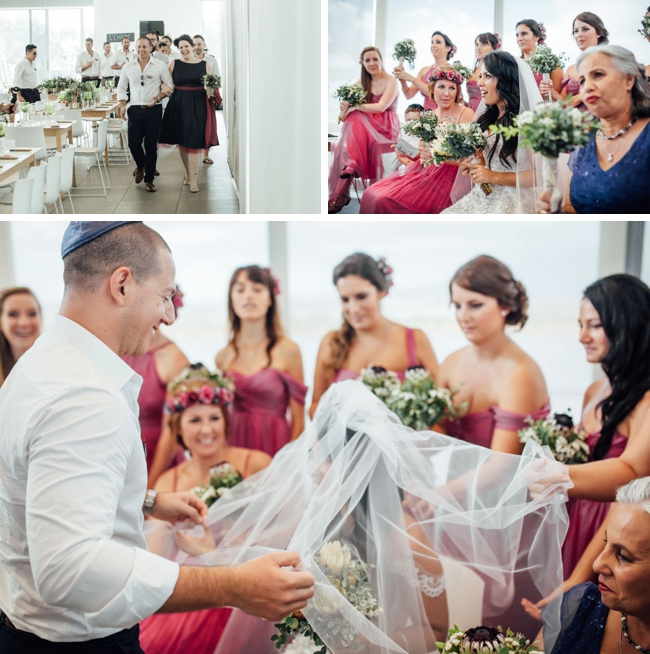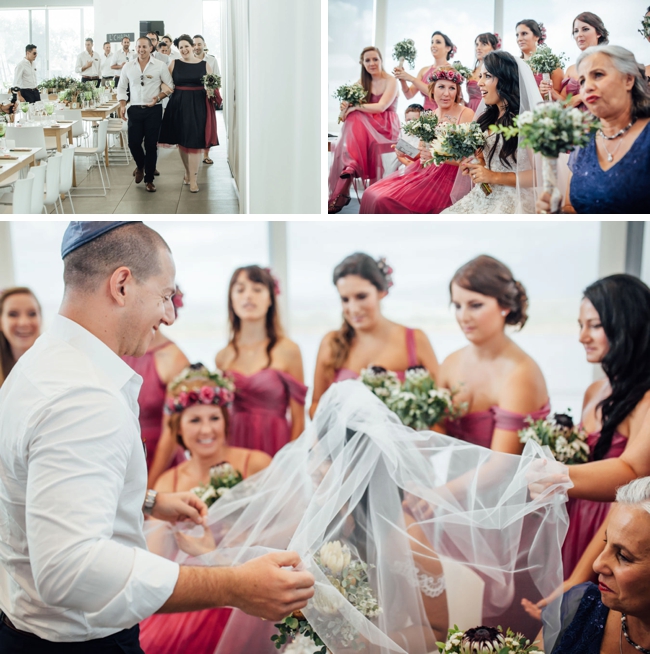 Wedding Style
My original vision and theme was rustic vintage with some quirky touches that were 'us' as a couple. From the moment we were engaged, we focused on creating a wedding that would be totally fun for our guests. We wanted minimal formalities and maximum fun. The best find was Carol from Quirky Parties, a vintage hire and decor company based in Cape Town. We instantly clicked and she understood me and exactly the look and feel I wanted. We had decided on the look and colour scheme of purples and greens – tons of bunting and fairy lights – but when we went for a site visit to Cavalli over December, we had to change EVERYTHING to fit in with the modern feel and design of the venue. We needed to bring warmth to the very white and modern room, which was a huge challenge. We did this by bringing in lots of rustic elements – wooden runners and flower boxes for the middle of the tables to soften the white tables and chairs. I still wanted to stick to my informal, rustic feel so I chose wooden cutlery paired with paper serviettes put together in brown paper bag holders. Specially designed disposable placemats with a fun and quirky message really completed the rustic feel. The initial purple colours we chose were ditched in favour of different greens with a touch of gold. Gorgeous green wine glasses also added to the look. Since we got married on Valentine's Day, I avoided roses, hearts and anything red like the plague – but at the last minute, we added big red heart lollipops on the table for each guest. I surrendered to the fact it was the day of love worldwide and it needed to be acknowledged. I chose not to have a traditional main table, but rather a long table with the retinue down the middle of the room with naked bulbs hanging above. This was a real feature of the room and we felt like we were in the middle of everything and surrounded by everyone we love. Other quirky touches included a traditional lemonade stand for our 'podium' for speeches and as a shooter bar later on in the evening so guests wouldn't have to leave the dance floor! Carol and her team also brought my vision for canapés to life. Lawn games and lemonade stands with big canisters of fruity cocktails all added to the fun and informal vibe. At her suggestion, we hired an amazing caricaturist to sketch guests while they waited. Also at Carol's suggestion, we hired Coco Caravan for a photo booth – a total hit! The caravan was all lit up in the hall and a huge talking point. Carol was amazing in helping me make my initial vision fit into the new constraints – and all over email and via phone as I was based in Johannesburg!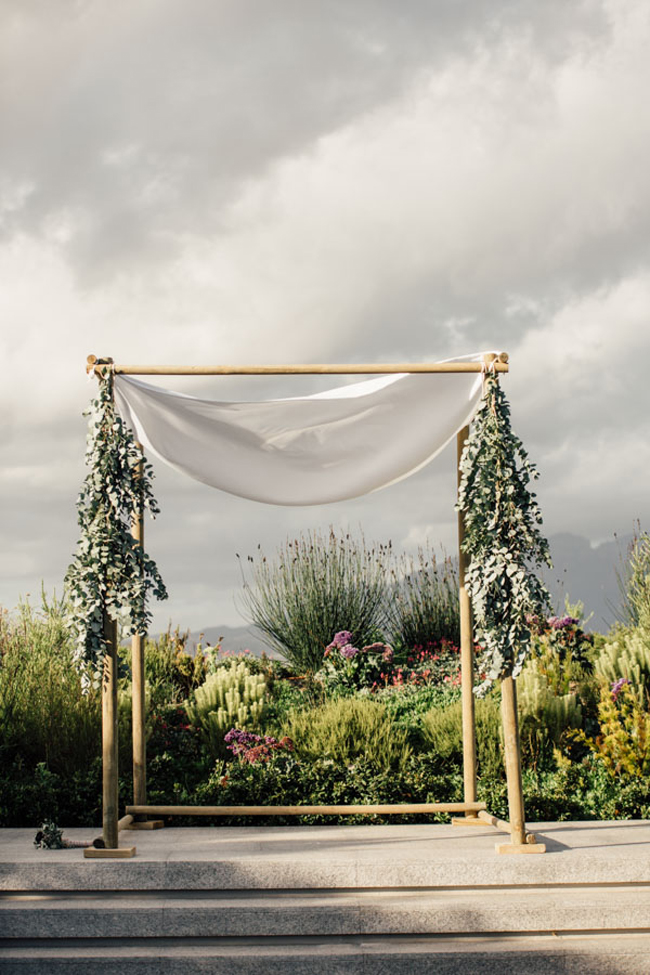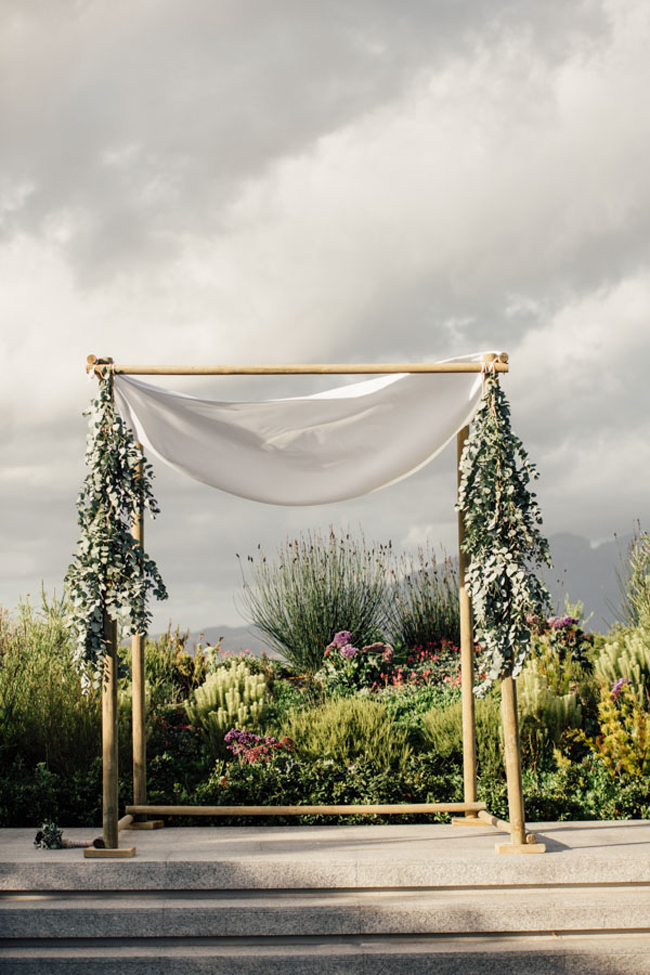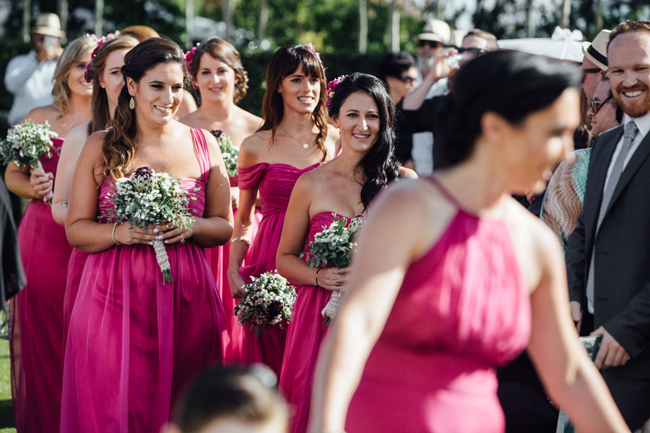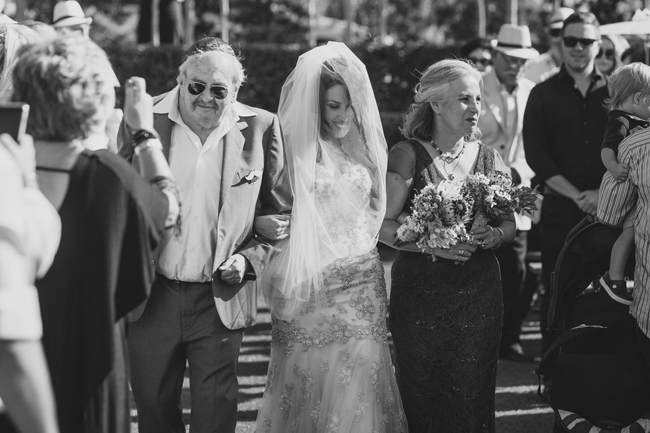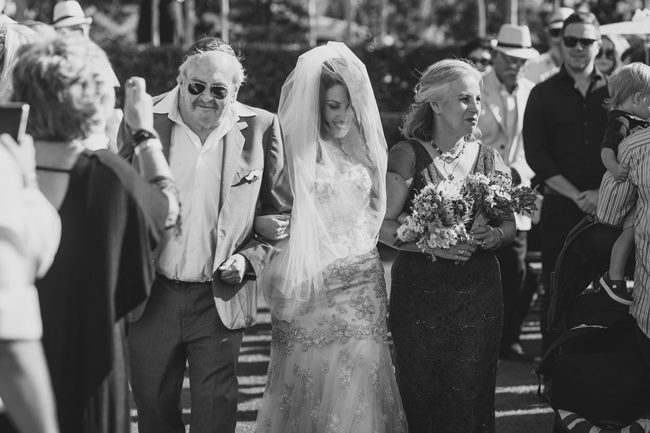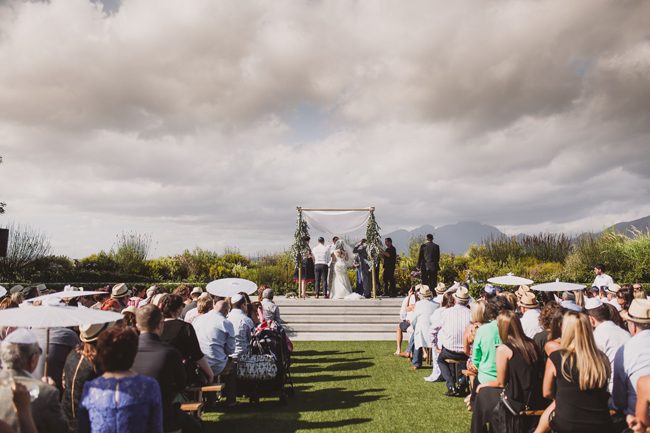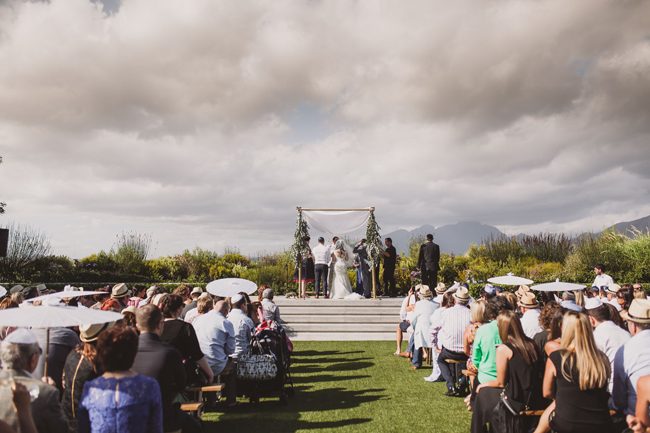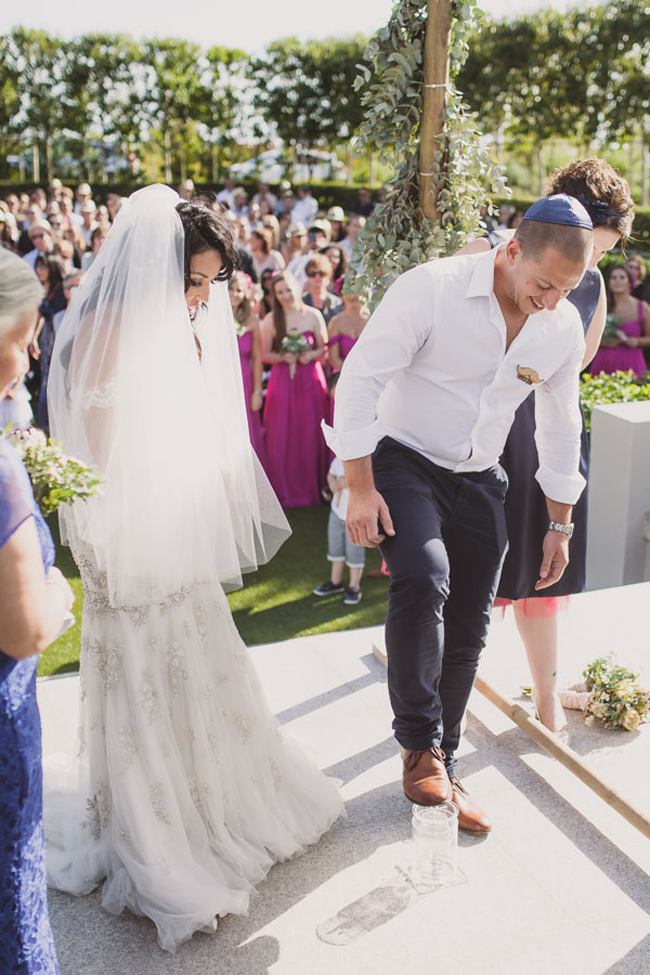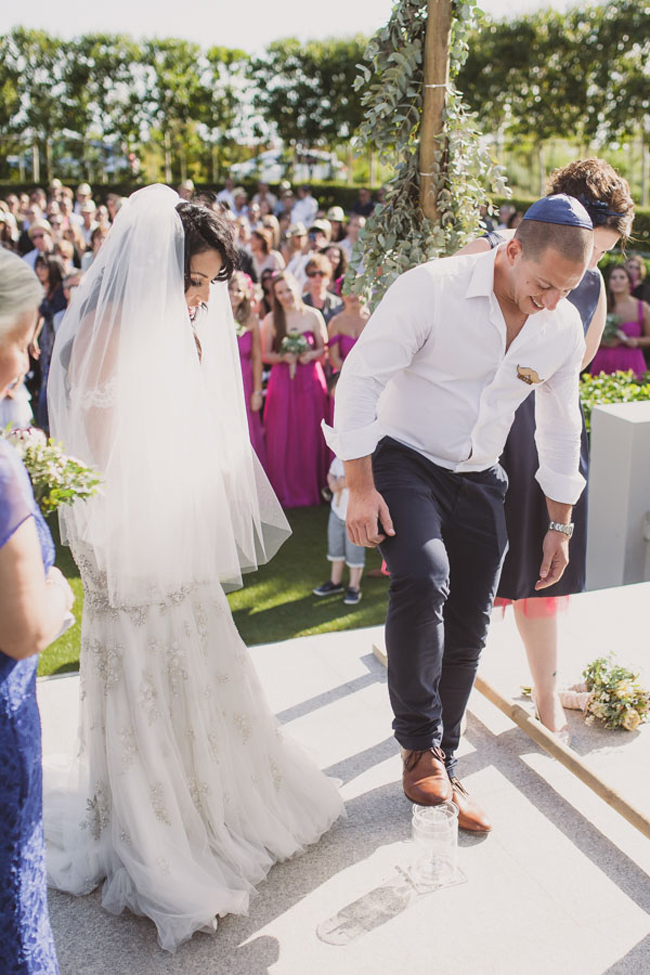 Wedding Details
There were so many details that I loved, but as a whole, I'd say my favourite thing was looking around and seeing all the personal touches come together – the handmade 'hangover packs' and the wording on the disposable placemats that were just so 'us'! Another detail that I loved was that our MC was the mutual friend that we had 'met' through on Facebook.
DIY Elements
I was totally gung-ho on putting our personal touch on to our big day. I work at a digital agency so I was lucky in having an amazing designer to create my vision for different elements of the wedding. Along with the save the date and wedding invite, she designed disposable placemats and an infographic of our big day that was used on the fans, which I stuck and glued together with ice-cream sticks. We also put together 'hangover packs' for our guests. We packed over 200 of them with items that we specially chose. For our sweet table, I stamped about 400 brown paper bags with our custom designed logo.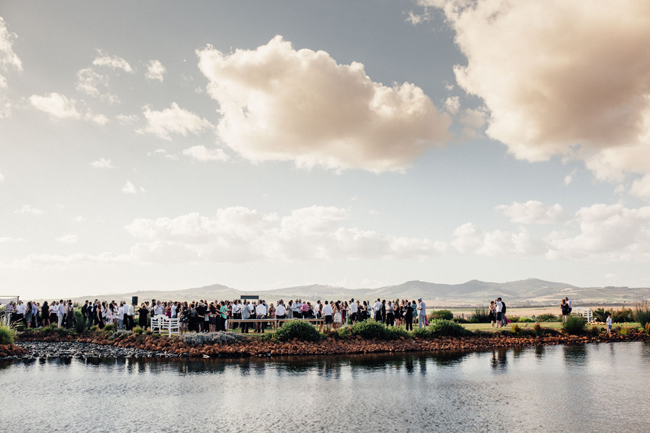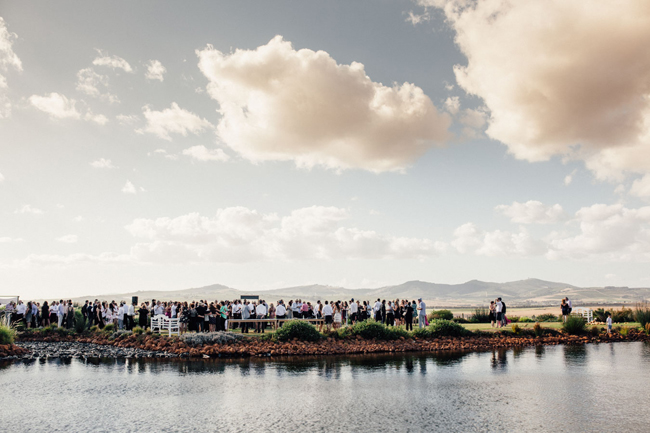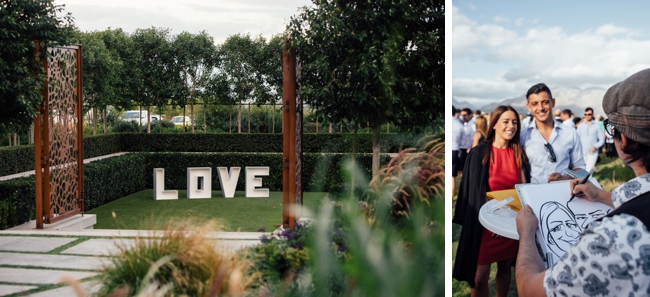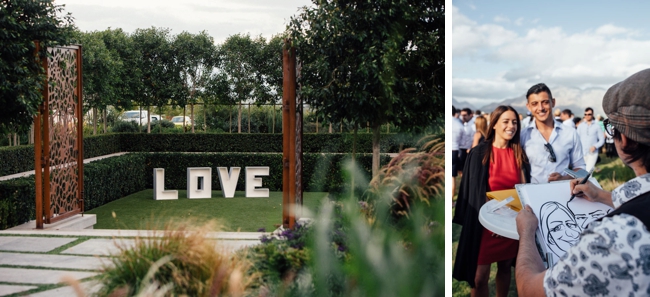 The Dress
I love fashion and have always fancied myself as Carrie Bradshaw, but I was totally focused on the decor and shockingly to everyone who knew me, the dress was secondary! I was on a work trip to Durban, where my parents live, and I managed to sneak away and go dress shopping with my parents. I tried on a few dresses but nothing really stood out. I found one I liked and decided to go with that but my mom said let's just go to one more shop, and luckily we did! I saw my dress and I was like, that's it. We bought it and I took a few photos of it hanging up and never saw it again until the beginning of January. It stayed in the shop as I was supposed to come to Durban for a final fitting. Long story short, with all the wedding madness, we decided there was no time to fly to Durban for a fitting. So the dress had to come to Johannesburg to be fitted. My mom went to fetch the dress from the store and it was totally different to how I remembered it! The dress came to Johannesburg and after some nips and tucks and a few tears, it was perfect and totally me!
The Bridesmaids
I had nine beautiful bridesmaids who all have been such an integral part of my life. I decided on using a purple/magenta colour for the dresses to fit in with the gorgeous colours of Cavalli's landscape, which also spoke to my personal style – I love bright colours. I wanted the girls to feel fabulous on the day so I said the dresses had to be long but they could do whatever they wanted in terms of style. I wanted a bit of a boho feel, so I enlisted the help of an old friend who owns Kary M Designs, who creates bespoke headpieces. Over email, she totally got my vision and created magic! My maid of honour wore a full garland and the rest of the girls wore large flower clips, which really added that boho touch. My husband also had a big retinue, eleven guys. We decided to keep them cool and casual. They all wore smart shorts complete with Havaianas! We also had awesome wooden groomsmen badges made to complete the look.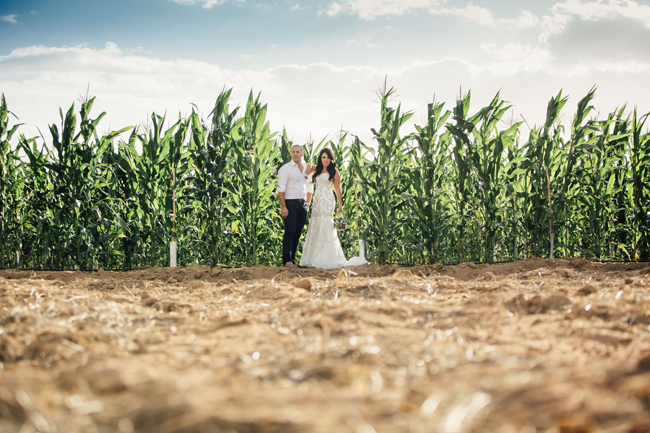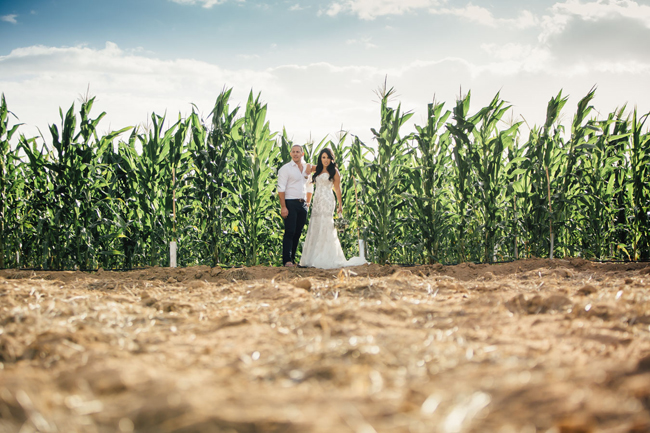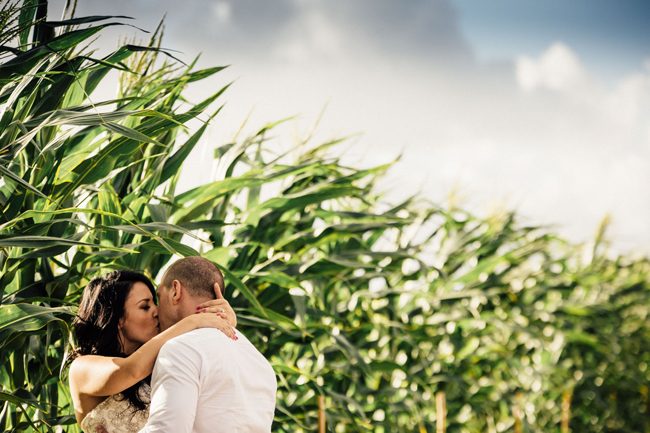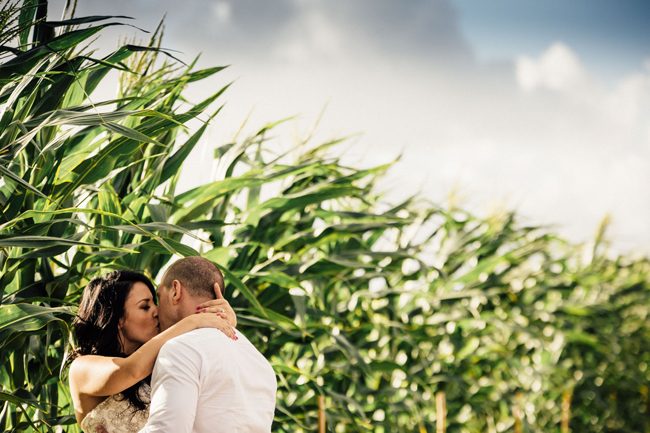 The Flowers
We got married on Valentine's Day so all roses were out! I had my heart set on Kale Roses but they were out of season. I looked all over the internet for fake ones, but no luck! Carol from Quirky Parties even tried to grow them for me in her garden. We then decided on filling gorgeous long wooden flower boxes (which Quirky made especially for our wedding) with lots of greenery and fynbos that fitted in with the natural flowers at Cavalli. In the week before the wedding, due to the crazy drought over the summer, Carol and her team battled to find fynbos or much of anything! On the Friday before our Sunday wedding, I still had no idea what flowers we were going to have, but I trusted Carol and I was totally blown away when I saw the flowers – she had pulled a rabbit out of a hat! Our bouquets were also magnificent – gorgeous proteas and tons of greenery all tied together with hessian and lace ribbon that matched the rustic feel.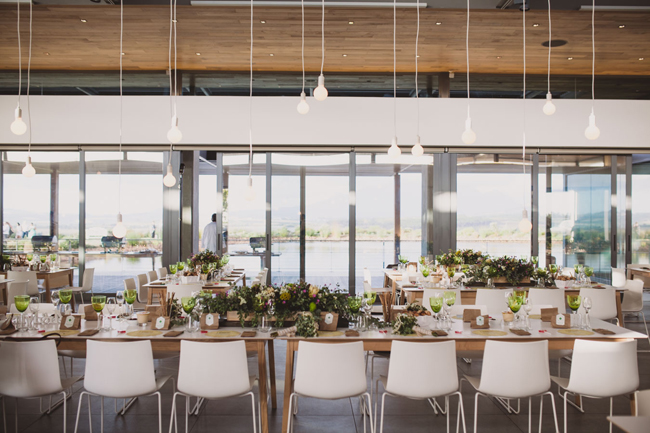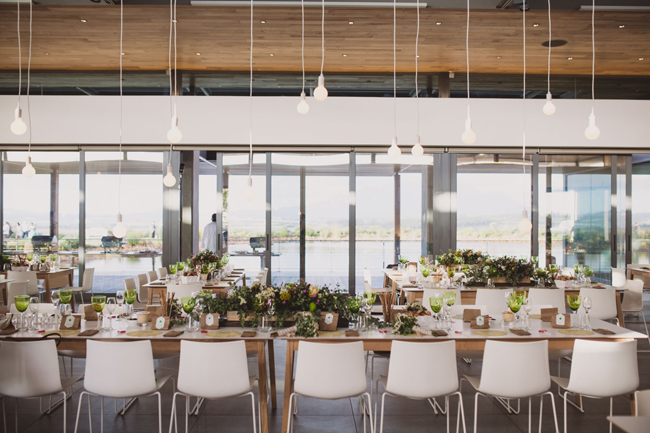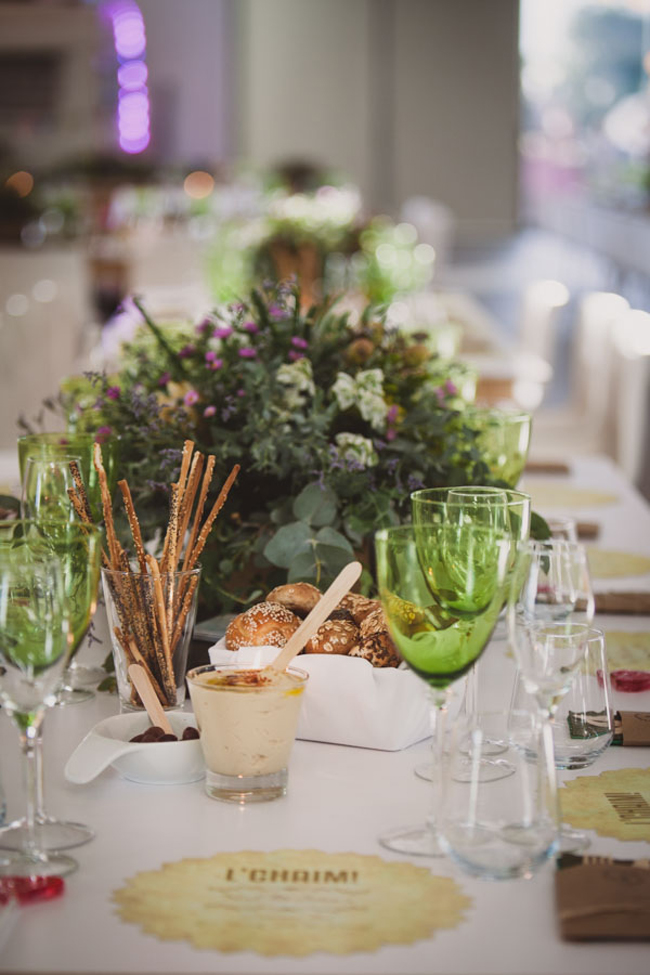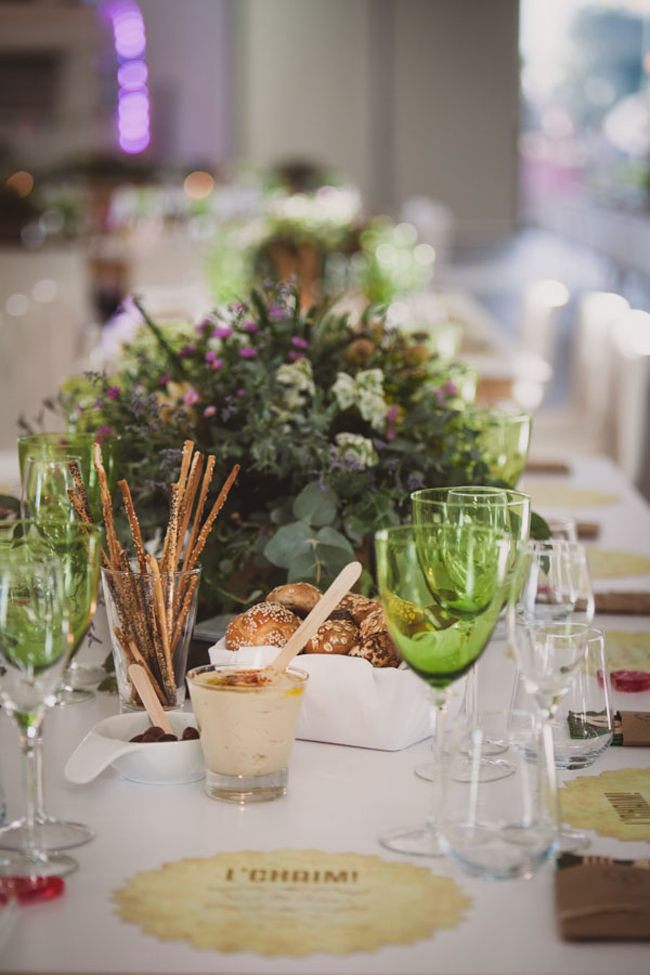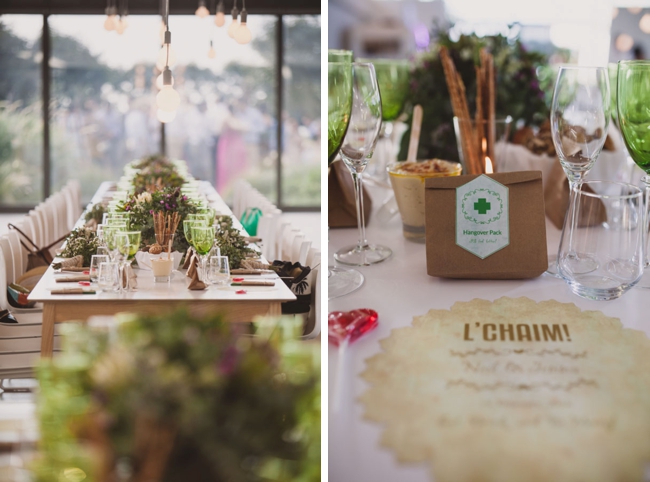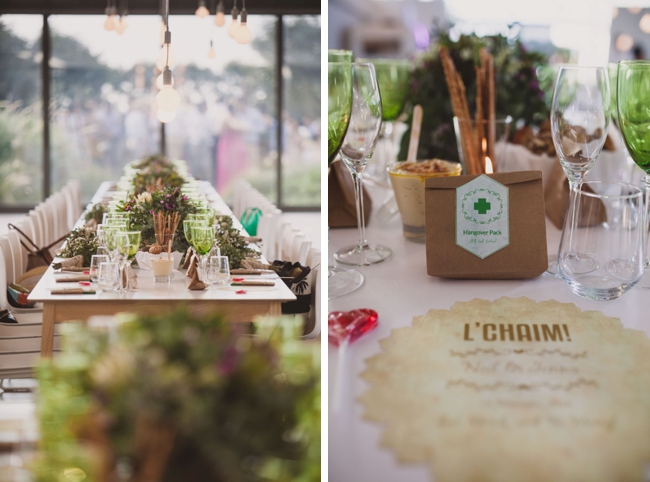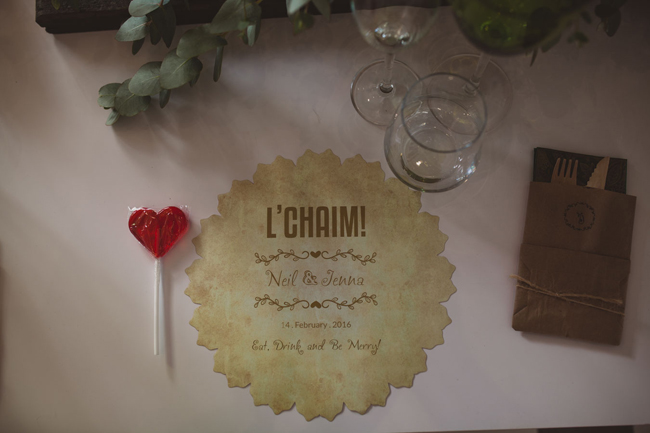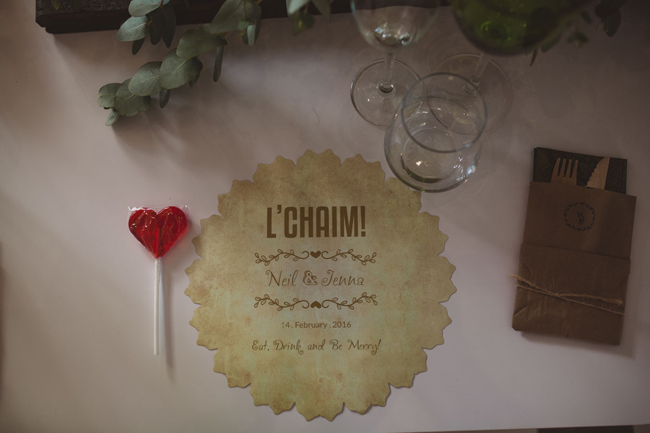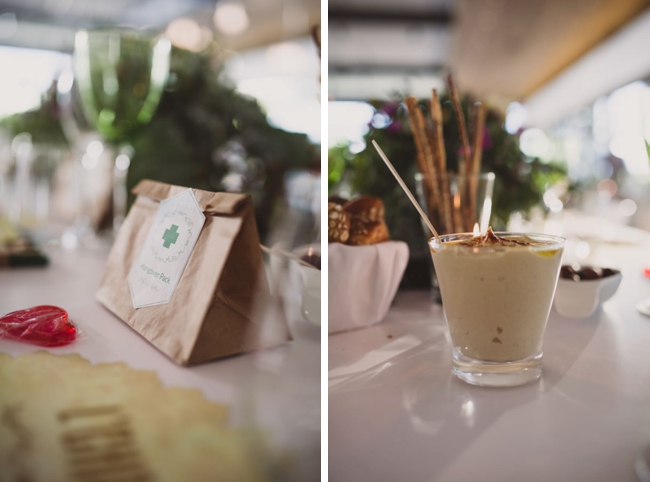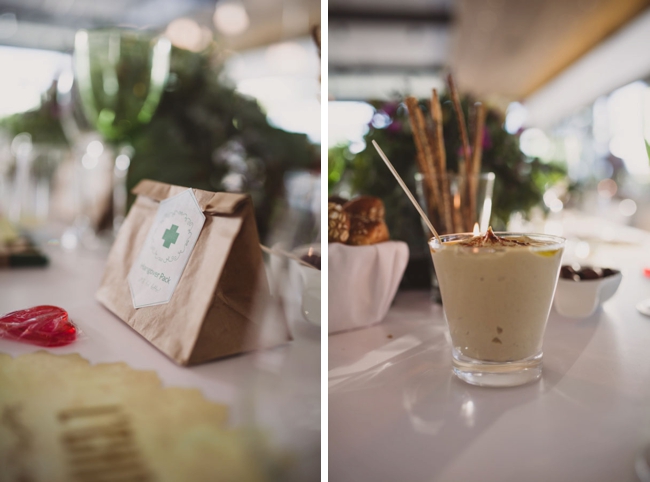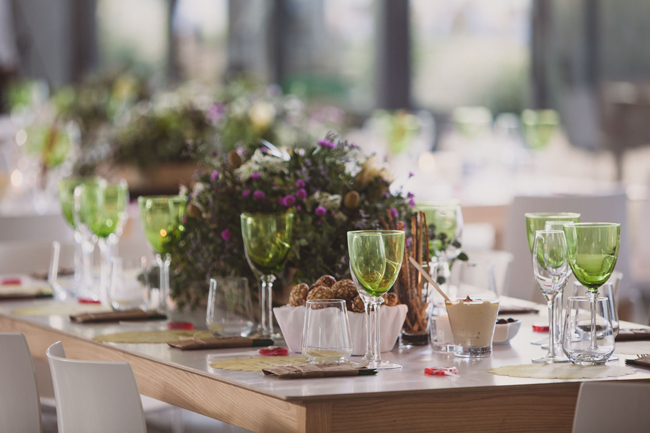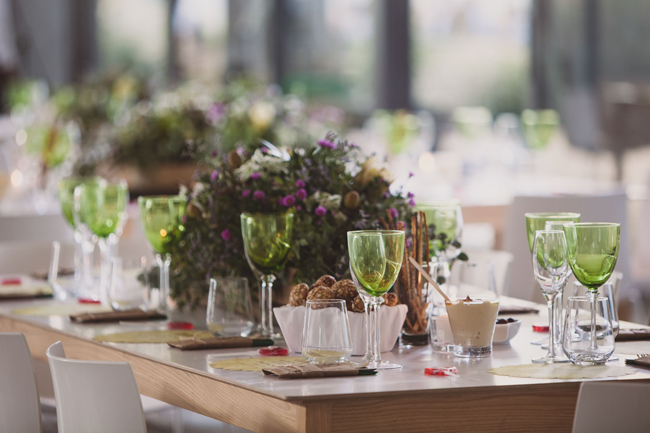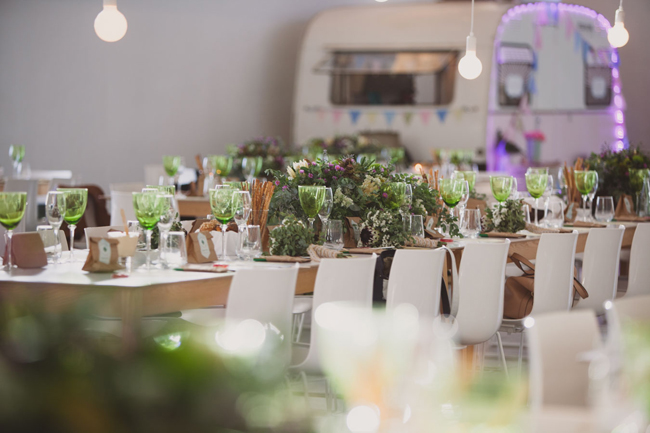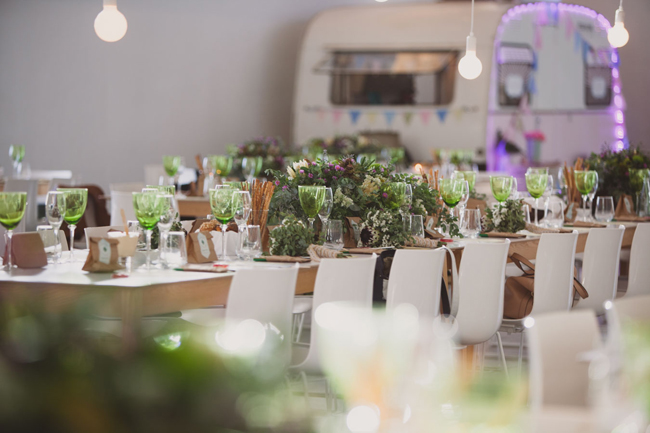 Memorable Moments
Following Jewish tradition, I didn't see Neil for a week before the wedding. So the Bedekken Ceremony, where the groom comes in and makes sure that he has the correct bride just before the ceremony, was the first time seeing him after a week. Surrounded by our retinues and families, it was very emotional. Another special moment that stands out was the one where, following the advice of close friends of ours who had gotten married a few years before to take a moment just the two of us, go somewhere quiet and watch everyone around us having fun, we went outside and sat for a few minutes and watched everyone on the dance floor having a great time!
Proudly South African Details
Our flowers were proudly South African. I wanted to use flowers that were local. We also focused on having traditional South African food. One of our food stations was a burger and boerewors bar.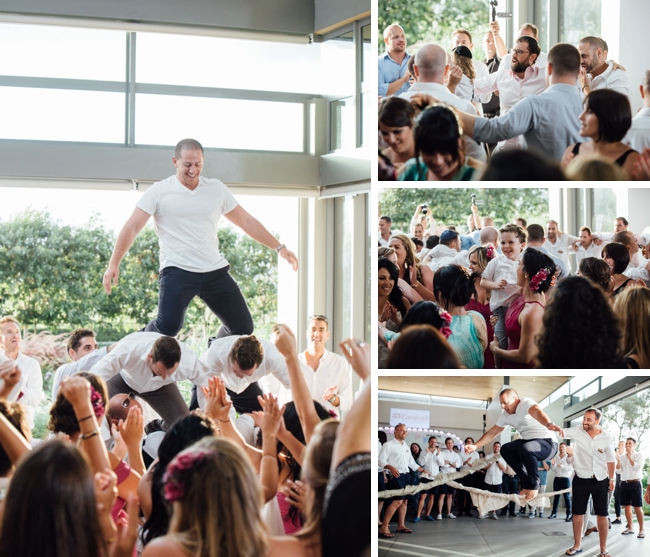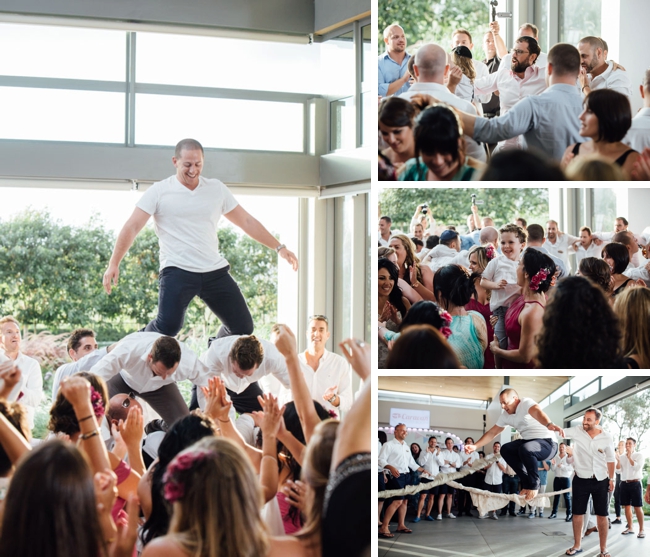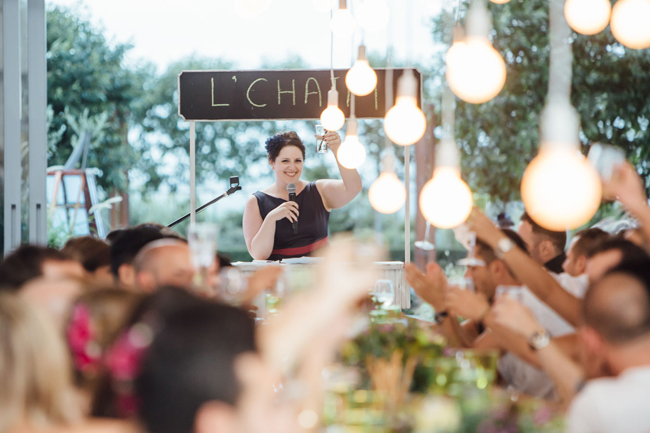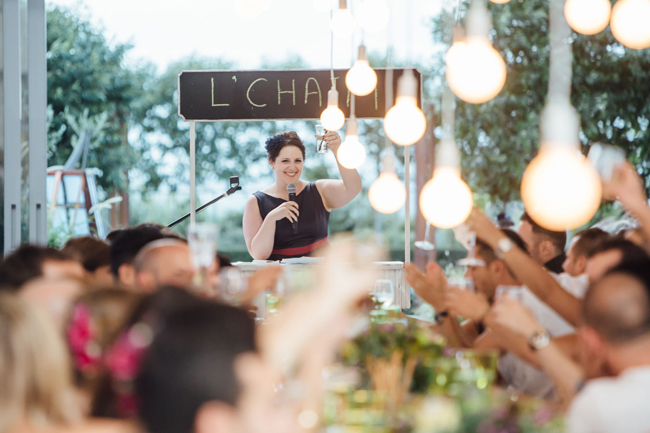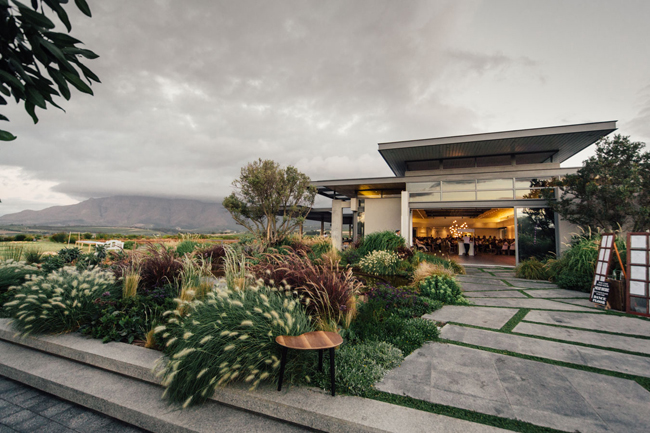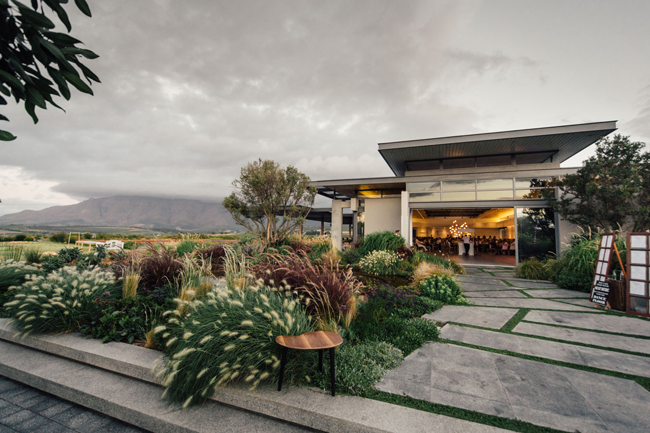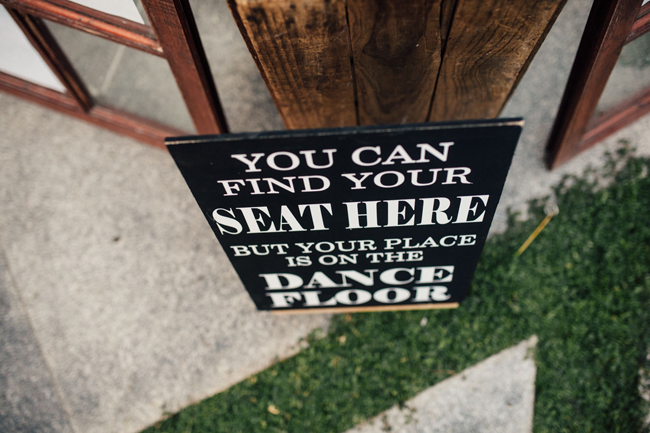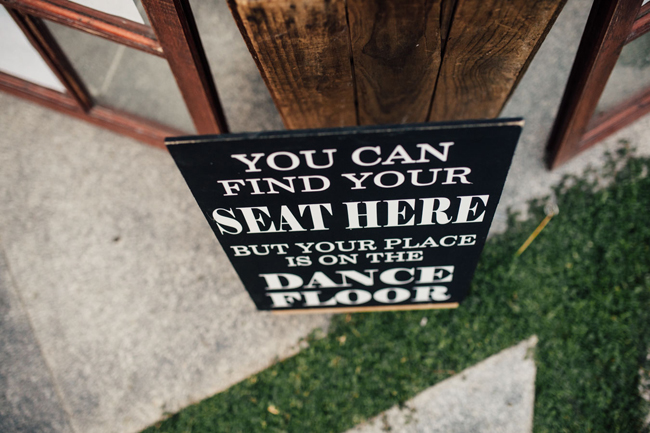 Best Decision
The best decision was working with Quirky Parties, I don't know what I would have done without them! Working with amazing suppliers who really know the industry makes all the difference – especially if you are planning a wedding from afar.
Advice for Future Brides & Grooms
As clichéd as it is, don't sweat the small stuff and focus on what's really important – who you are marrying. Other advice would be, put a line in the sand. There is always another idea, another option, and another opinion. Do what's right for you and don't listen to anyone else.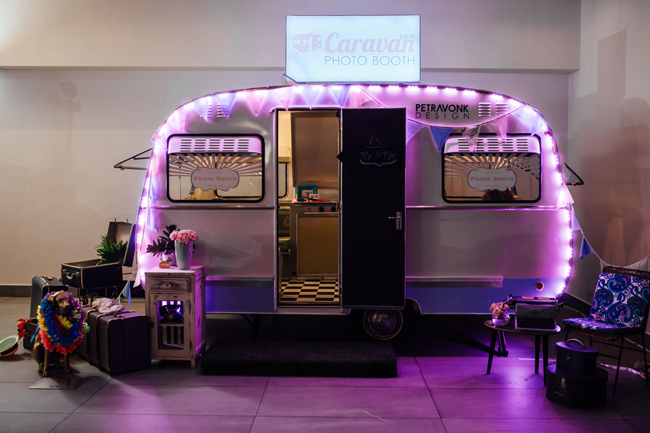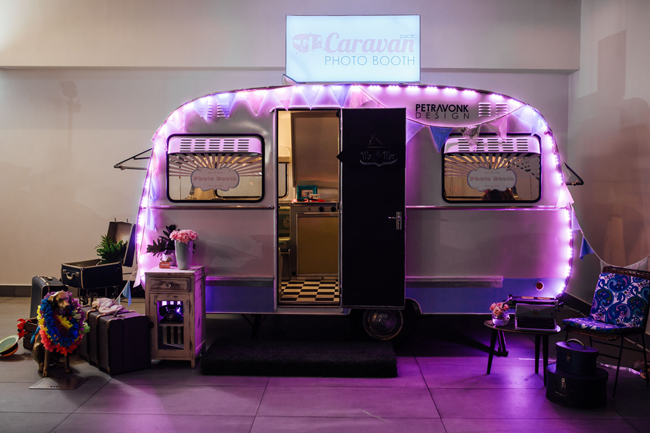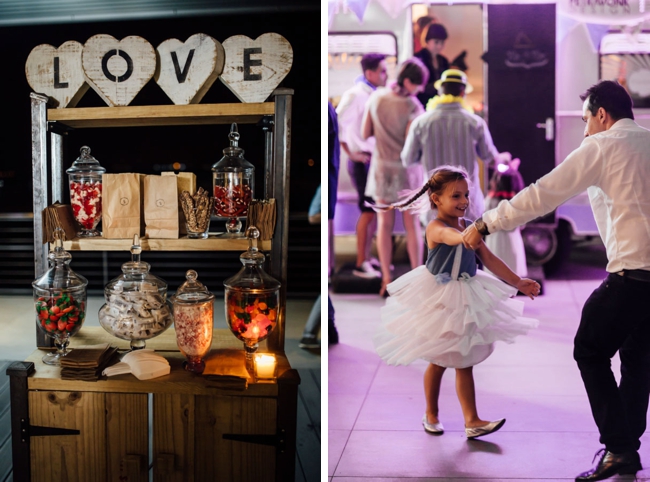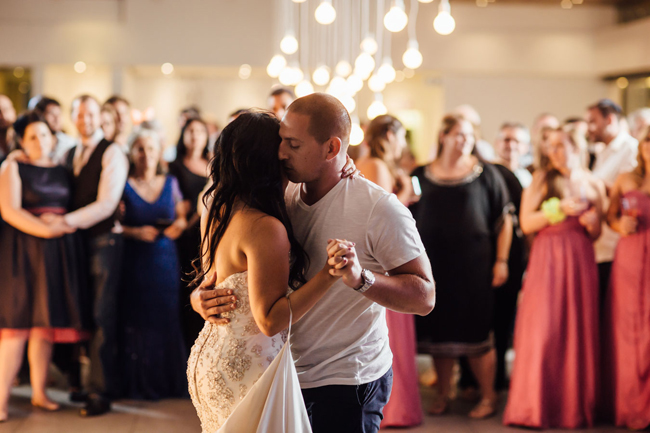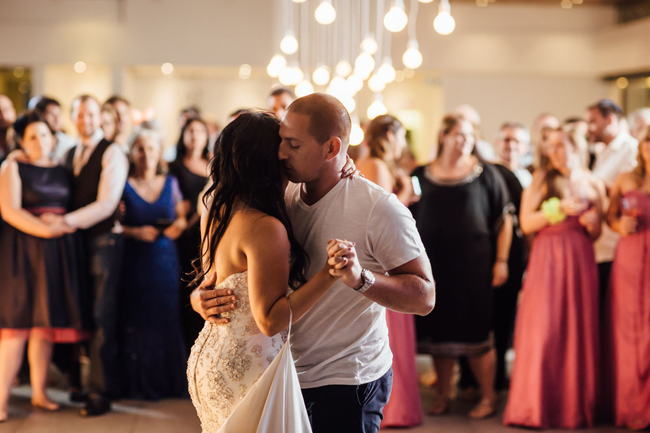 SERVICE PROVIDERS
Venue & catering: Cavalli Wine and Stud Farm; Norrie Caterers | Photography: Gavin Casey  | Co-ordination: Quirky Parties | Flowers & décor: Quirky Parties | Stationery: Bride | Video: FJS Productions | Bride's dress: Fabric and Bridal World | Hair: Jeanette Genis | Makeup: Algria Ferreira | Bridesmaids' Hair and Make-up: Glamour Gloss Girls | Bridesmaids' accessories: Kary M Designs | Groom's attire: H&M | Groomsmens' badges: Quirky Parties | Hiring: Downings; Events Academy; Quirky Parties; Urban Tonic | DJ/Entertainment: DJ Sox – Socrates Georgiades;  Choni G | Lighting: EC Lightings | Caricaturist: Martinus Van Tee | Photobooth: Coco Caravan | Printing: El Shadai


Save