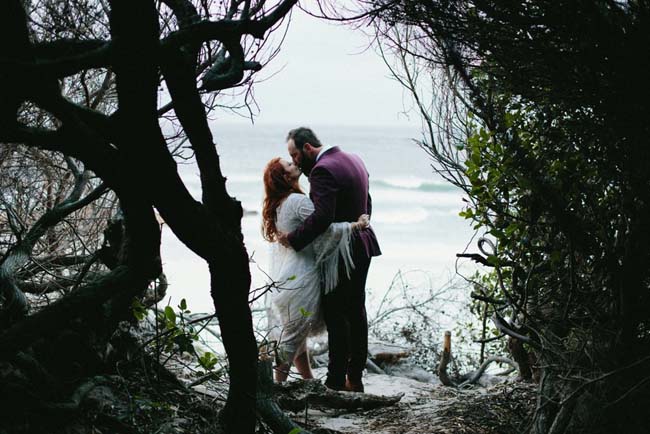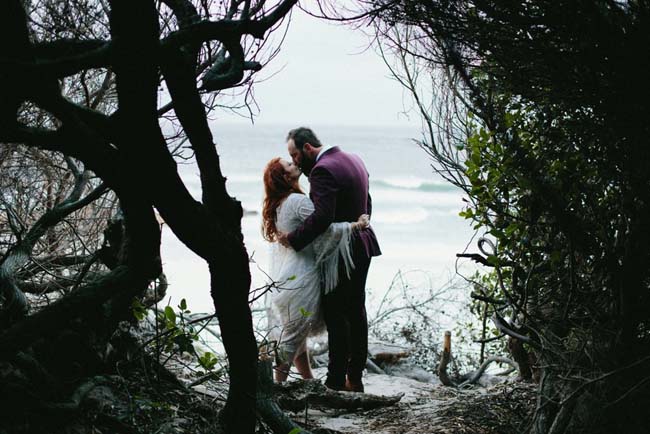 I can't help but smile like crazy when looking at this gorgeous celebration of love, hosted festival-style on the beach in Hermanus (which you might also be able to tell from the fact that I included a bumper crop of pics today!). It's basically the best. Boho goddess bride, bright colours, a fabulously mismatched (and colourful) wedding party, a ceremony on the sand, and a relaxed reception filled with flowers, greenery, and a rainbow of glassware. There are so many adorable, stealworthy ideas dreamed up by this DIY couple: 3D guitar boutonnieres, paint brushes to clean up sandy feet, leather music festival-style bands which doubled up as favours, tiny origami birds used as confetti. I love everything from the rich palette to the donut desserts – and who better than Coba Photography to capture this super fun affair?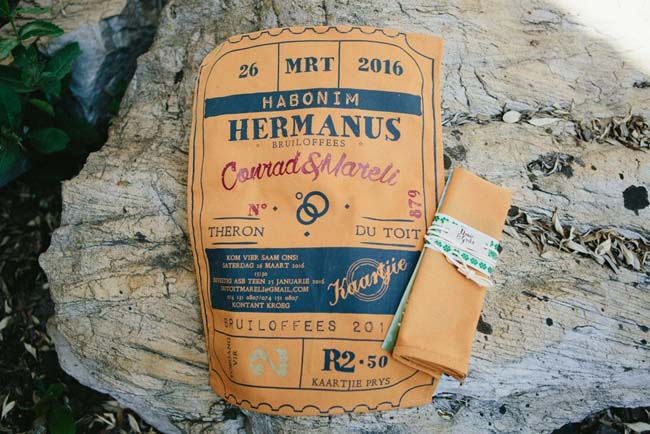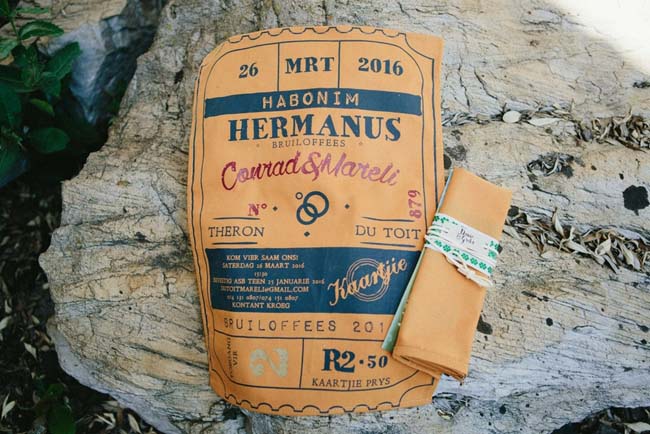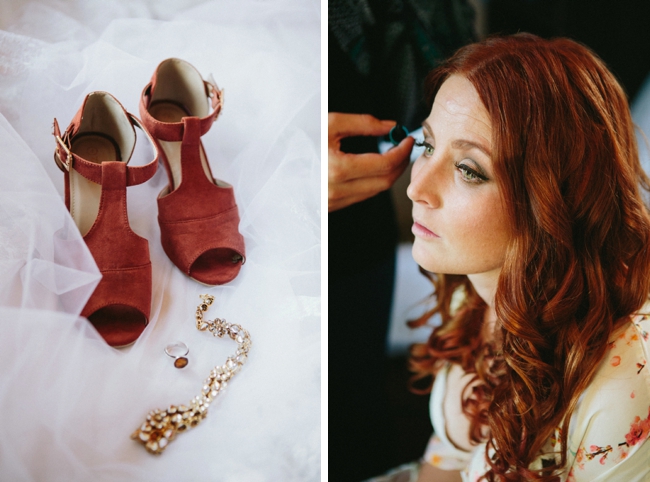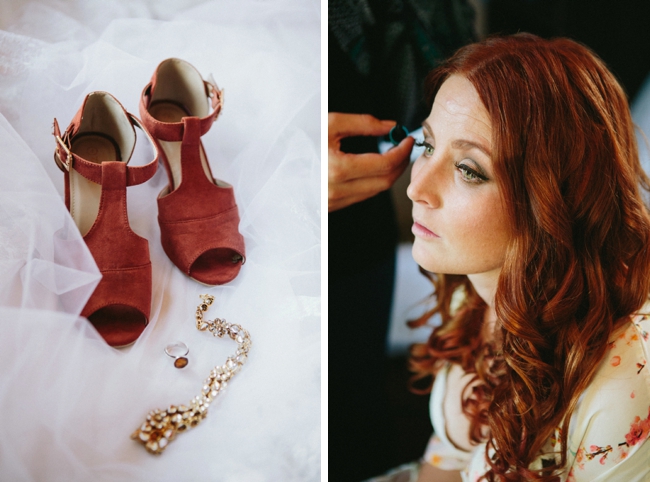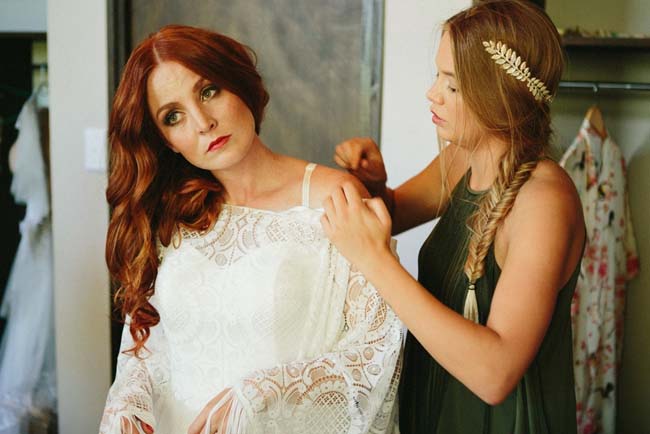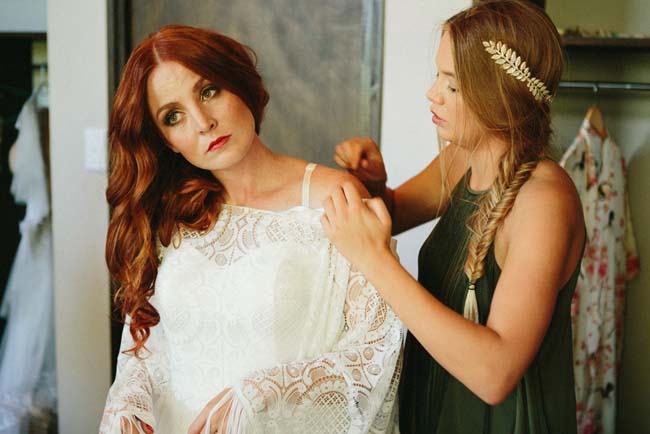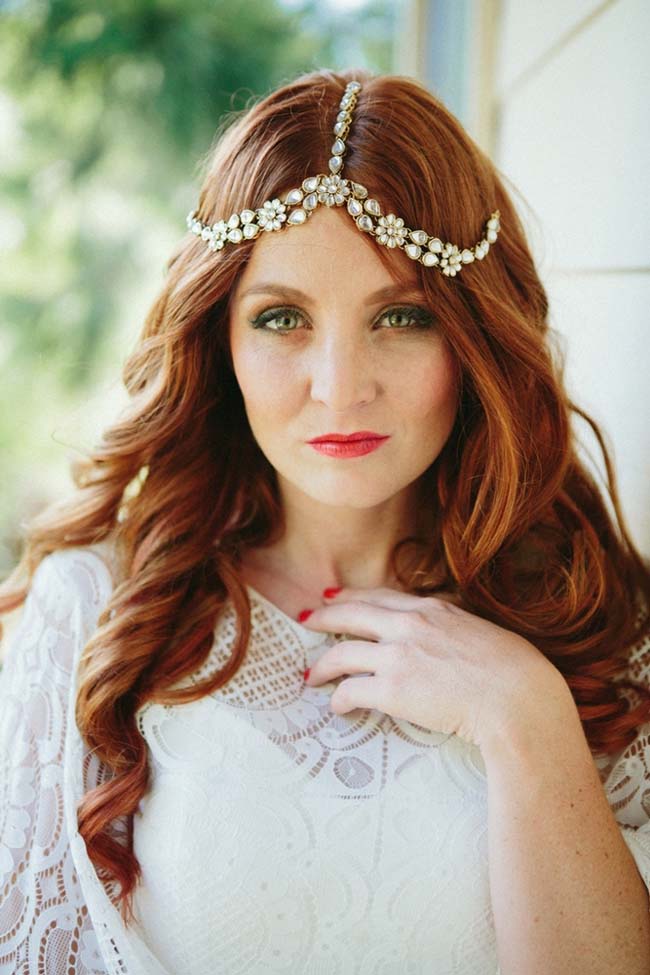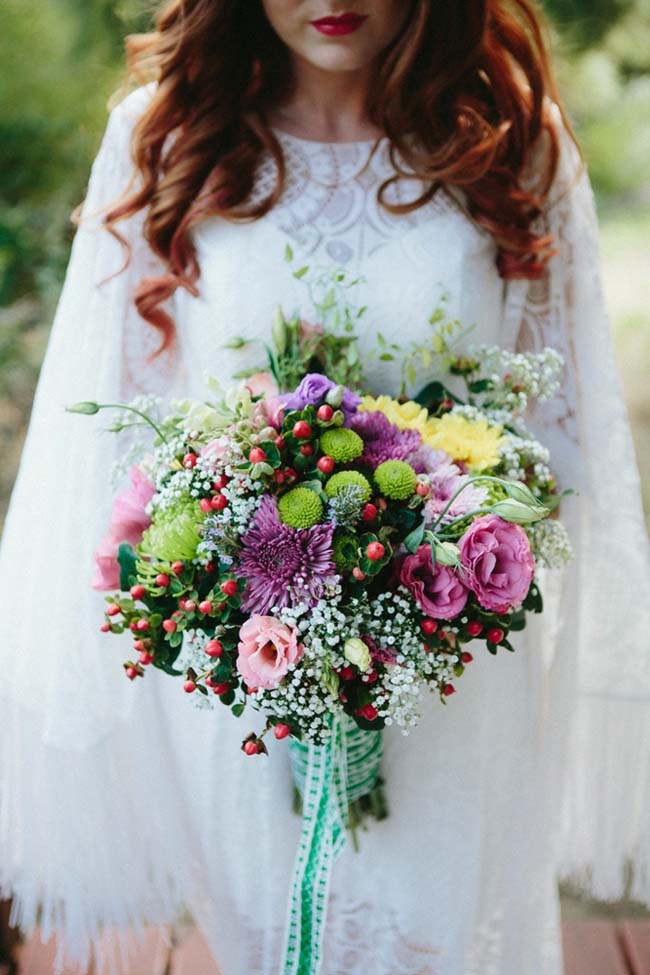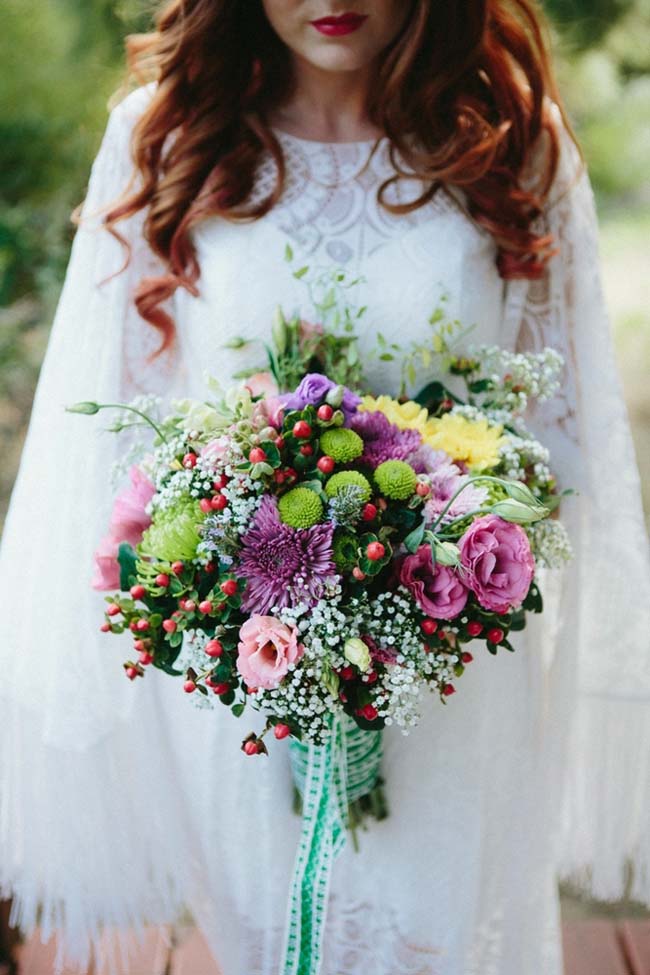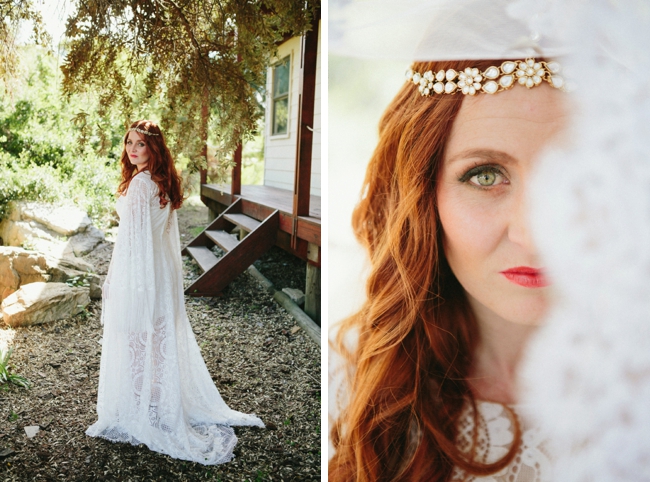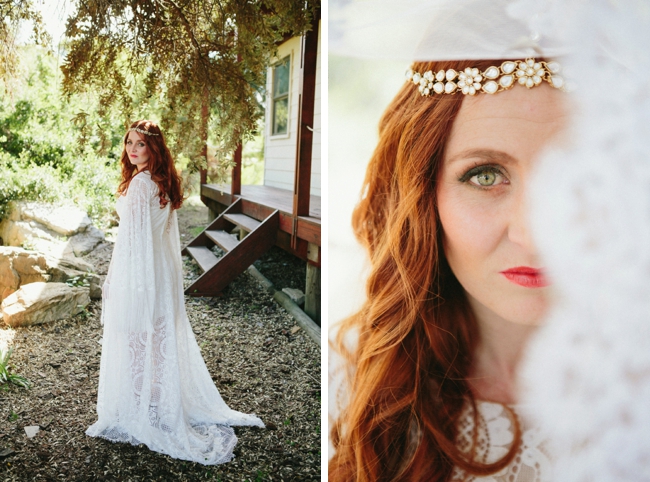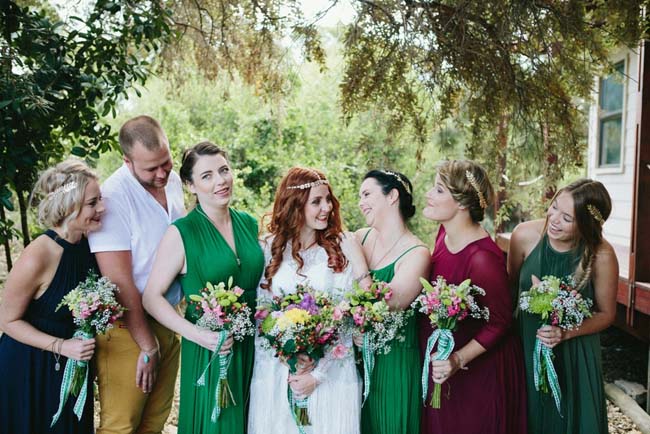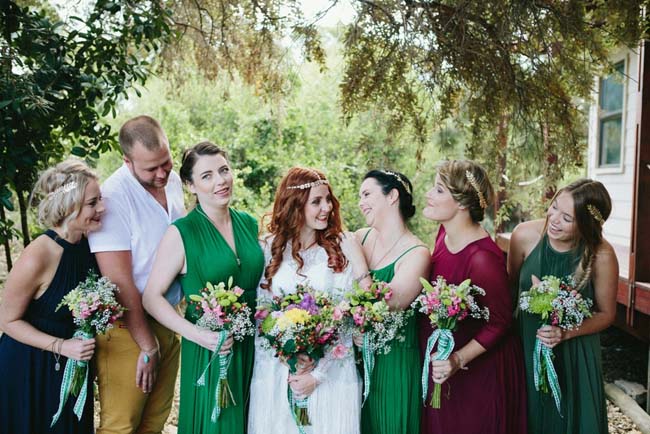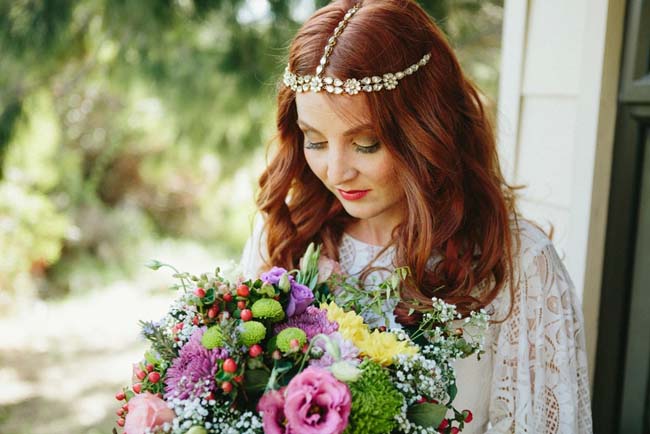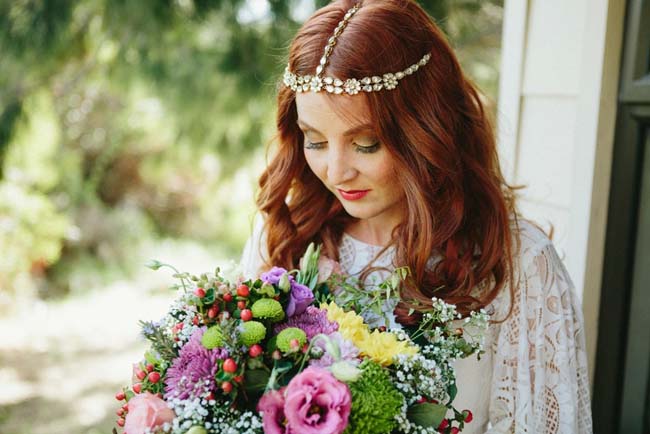 Love Story
We met through a mutual friend, first as friends, and started dating two years after. Ten years later, our love is still going strong.
The Proposal
On holiday in Turkey with some of our friends. We had spend the day in Olympos on the beach, and Conrad insisted on going to see the view from up the mountain. All of us sat up there for a while, and he told our friends that we would meet them at the bottom, as he just wanted to take a photo. The romantic in me thought that this might be it, but he reached into his pocket and took out his phone. I thought I was just being silly and as I turned around, after he took the photo – he was on one knee and asked me the big question.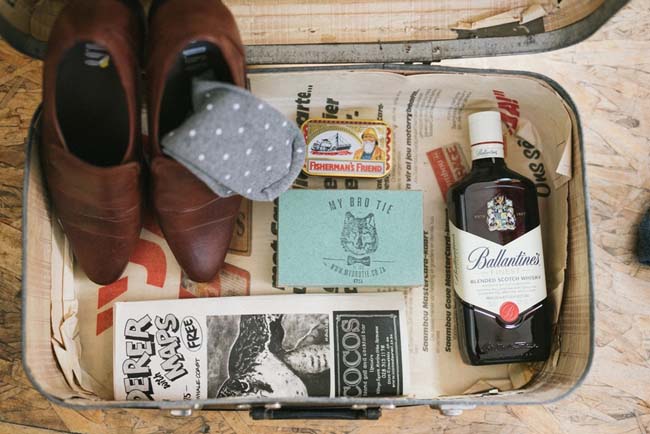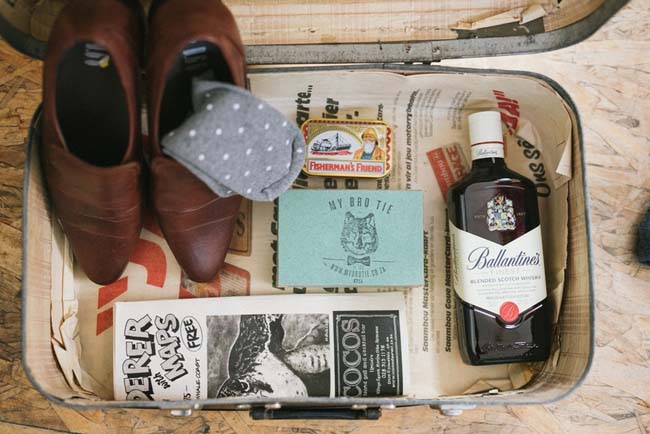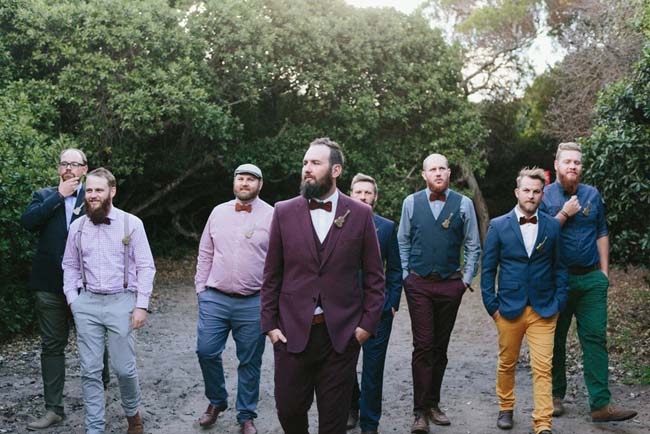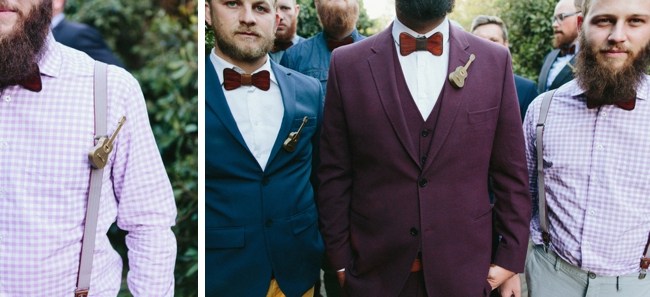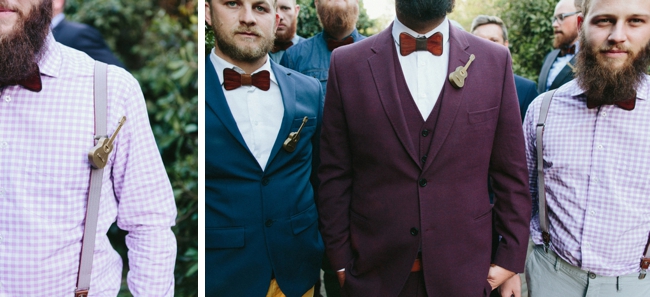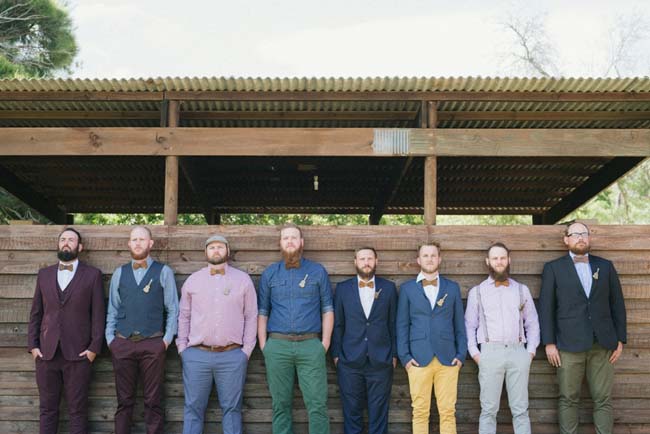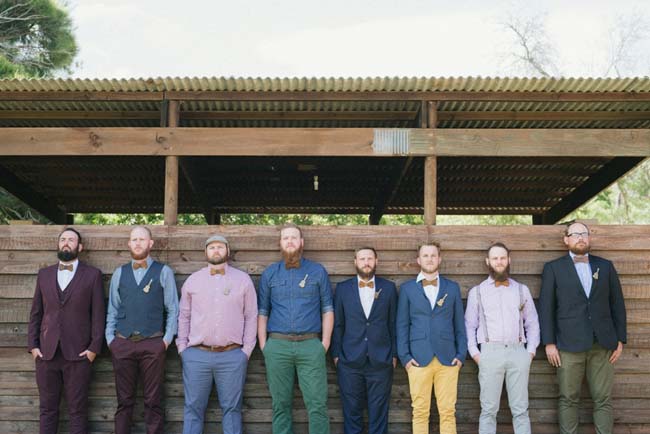 The Venue
Our wedding was in Hermanus. Both of us are from Pretoria, but Hermanus is my second home, as all of my grandparents and most of my family lived there. It was quite a task finding a venue that was at the beach, under the Milkwood Forest and had accommodation for all our guests, most coming all the way from Pretoria. But we found a place in Onrus that checked all three and was perfect.
Wedding Style
We decided that we wanted to incorporate music into the wedding. It is a passion that we both share, and we also wanted to have a bohemian feel to the whole wedding. It basically was a bohemian music festival vibe that lasted a week. The colours that I chose were magenta, mustard, navy, green, burgundy and olive. The ceremony itself happened on the beach, the wind was quite strong, but for that short time it calmed down a bit. The ceremony was performed by a friend and was both personal and beautiful. We had a harvest table under the Milkwood forest, where we had a big table with snacks, and live music from Gerry Liberty. Here we had a Insta photobooth, a paint splash canvas, and a tattoo booth. We wanted guests to enjoy themselves and each other's company. The ceremony was held in a hall on the property and we had an outside dance floor, but the rain prevented us from using this. For desert we had a Ice Cream Van and a donut peg board.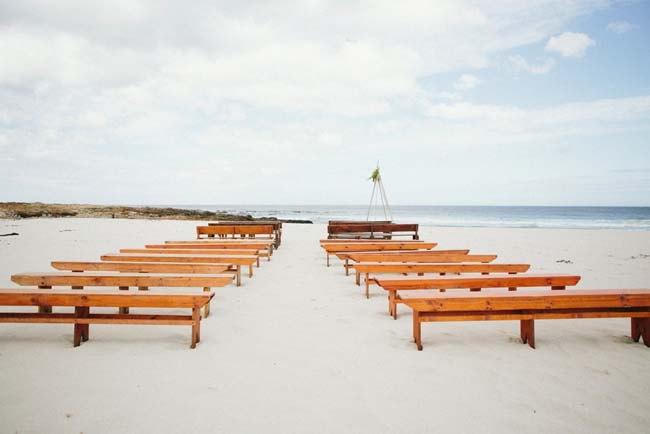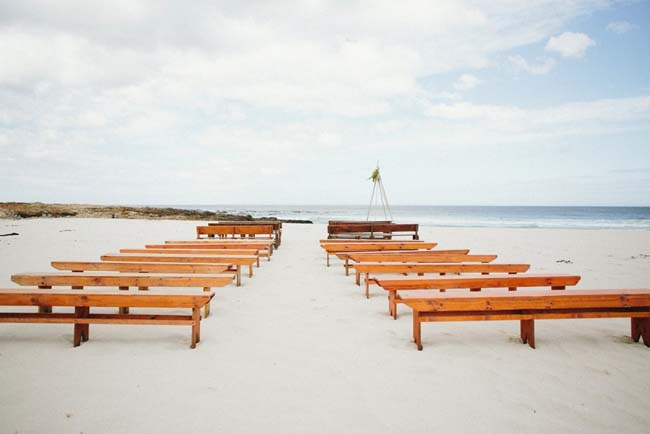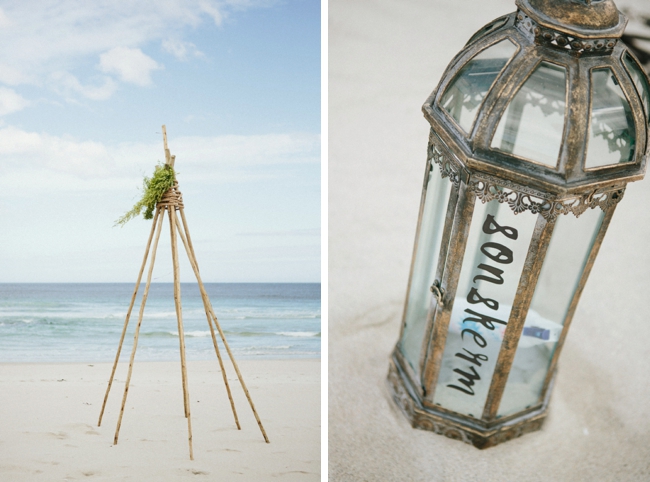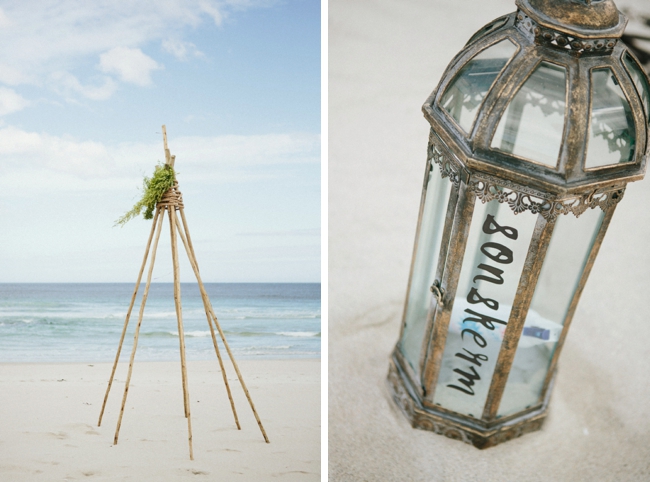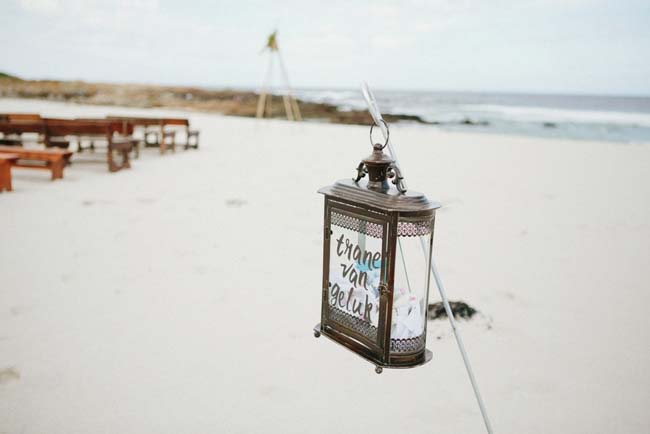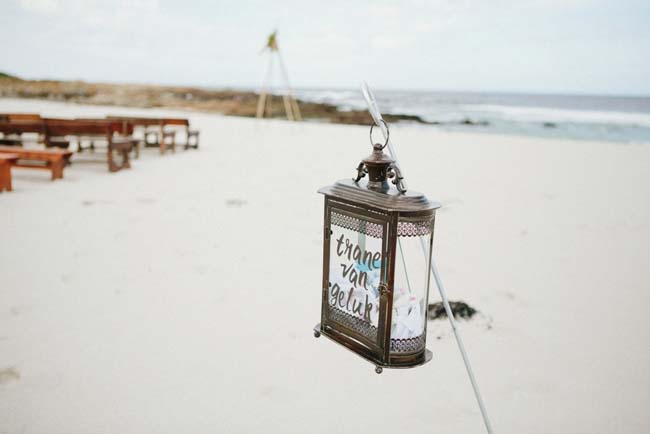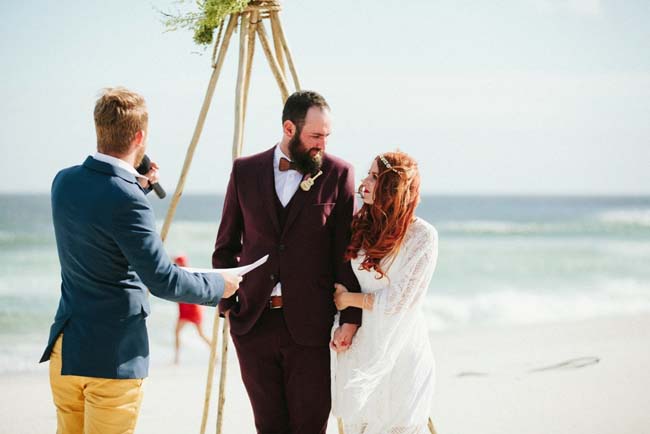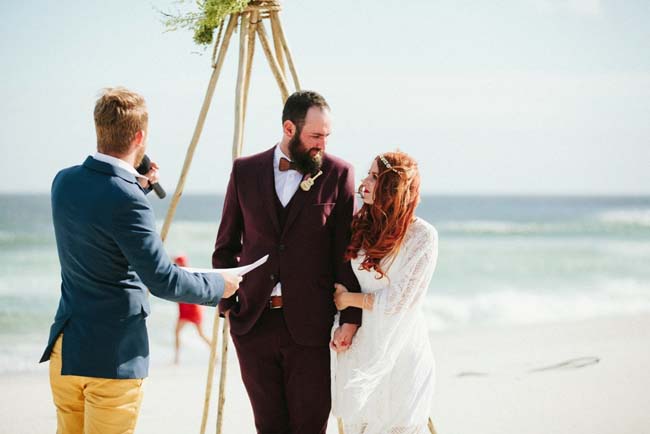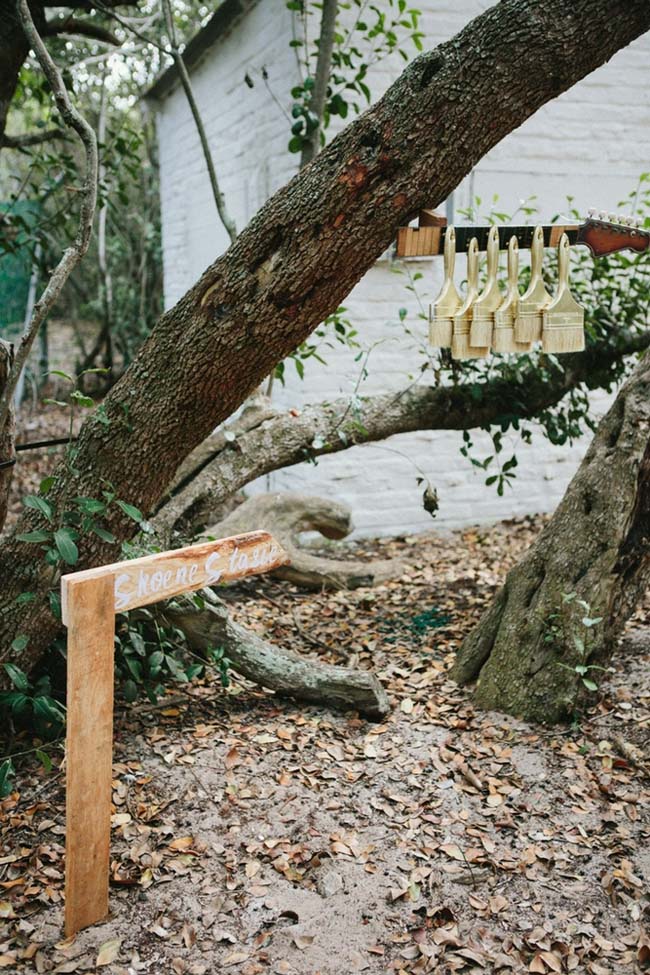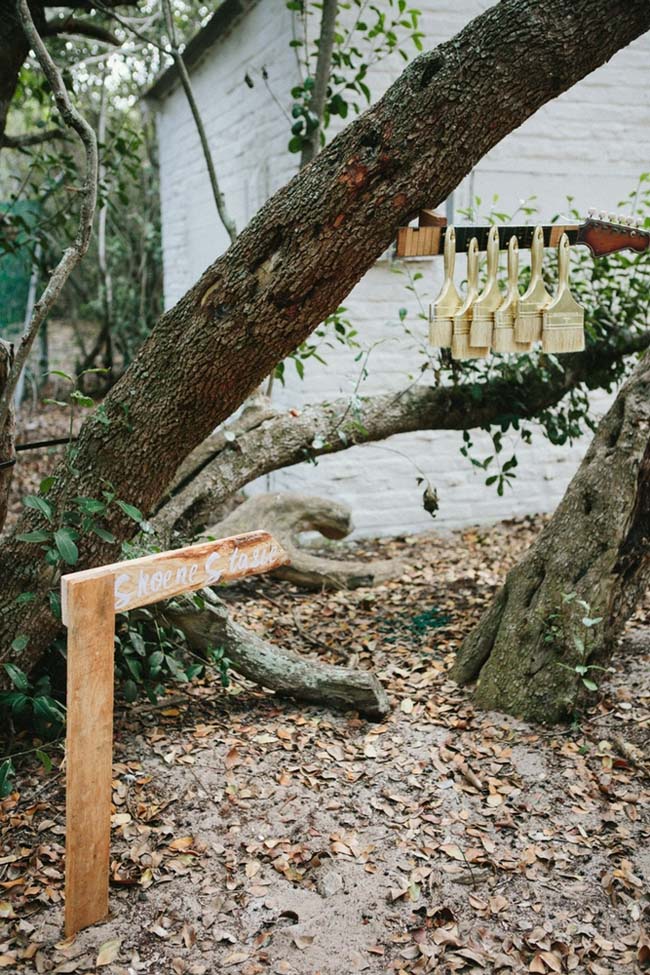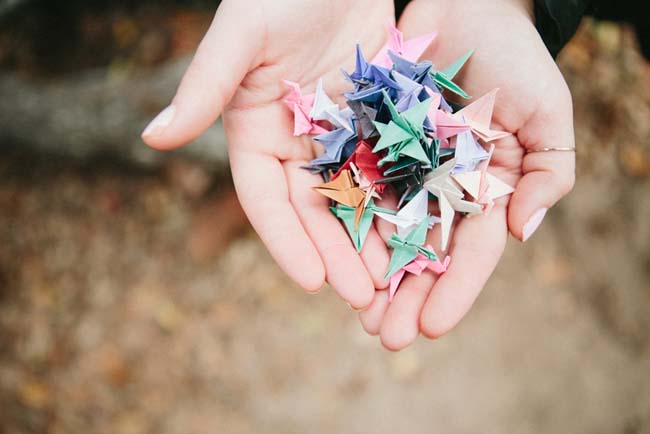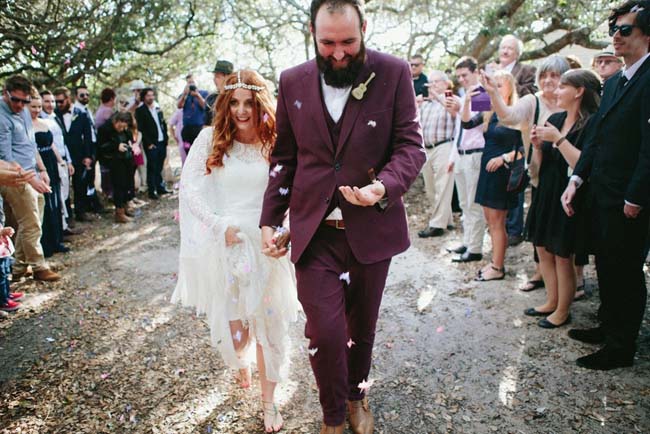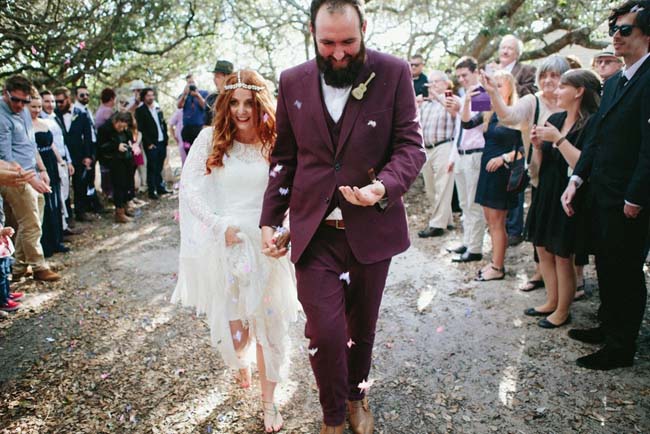 Wedding Details
My most favorite moment was definitely our first dance. We don't really dance and decided to surprise everyone by singing a song. Conrad is the musician, so for me to sing was quite new. It was perfect as no one knew about it and everybody's reaction was priceless. We also had a rugby garter toss. The garter was put on a gold painted rugby ball and the guys had a lot of fun running after it.
DIY Elements
The whole wedding was one big DIY, put together by the bridal party, friends and family. The food was prepared by my aunties and cousins. Most of the details were made by me with the help of my amazing bridesmaids. The guests received leather "entrance" bands on arrival, my friend folded 1000 paper cranes for our confetti. I made leather brooches that served as name cards as well. My new father in law, had built us an Insta photobooth, he also made the floating swings that hung from the roof and the big C&M letters. I handpicked all the vases and glassware from shops around Pretoria and Cape Town. The wedding could not have happened if we didn't have so many wonderful and talented friends and family.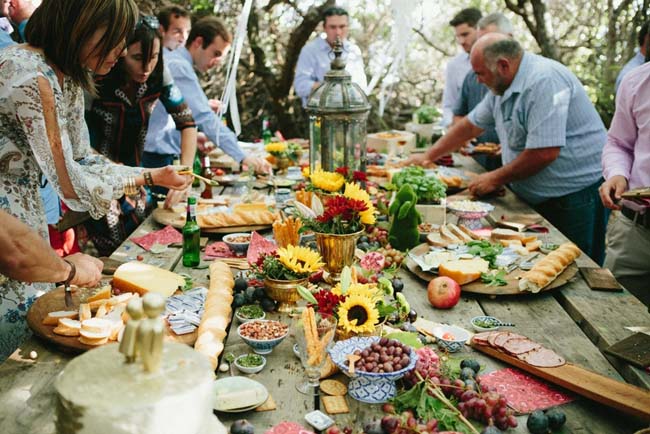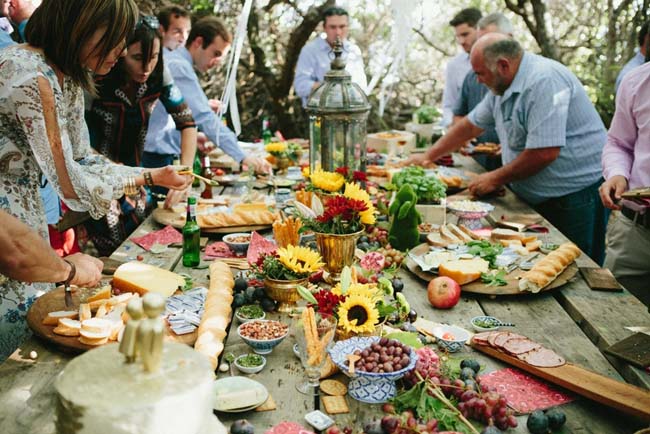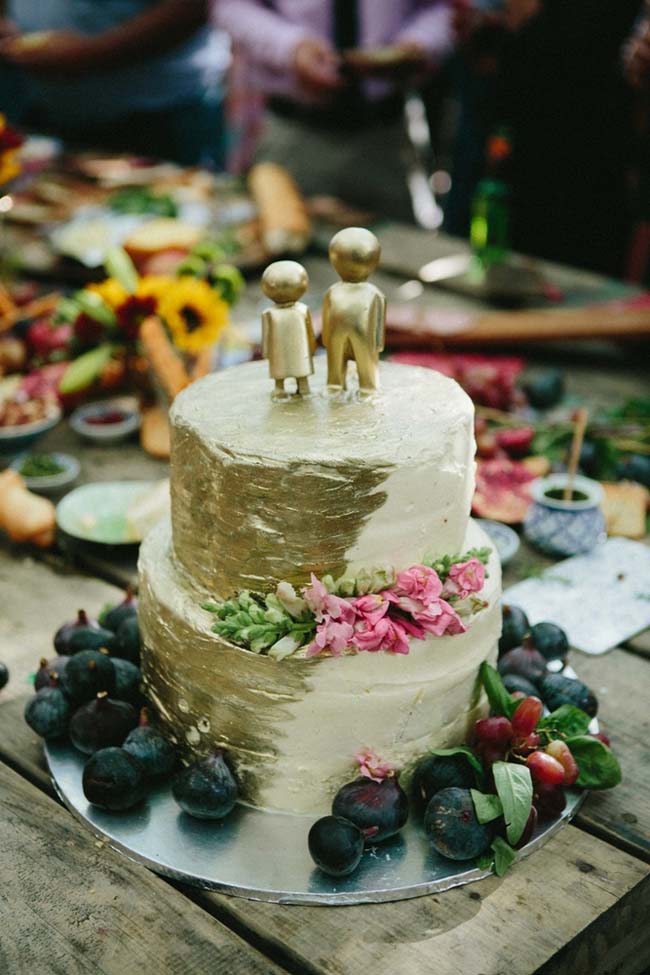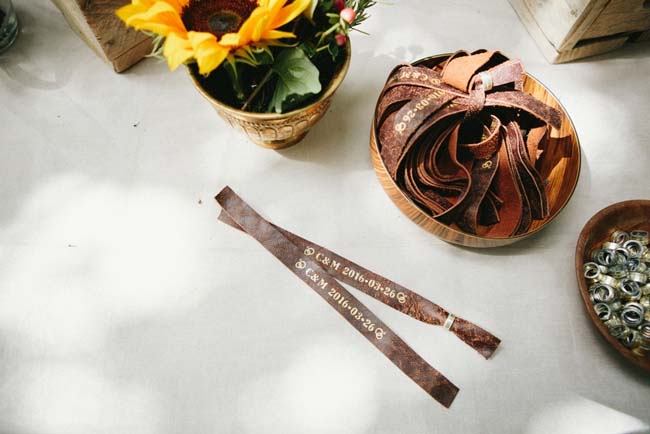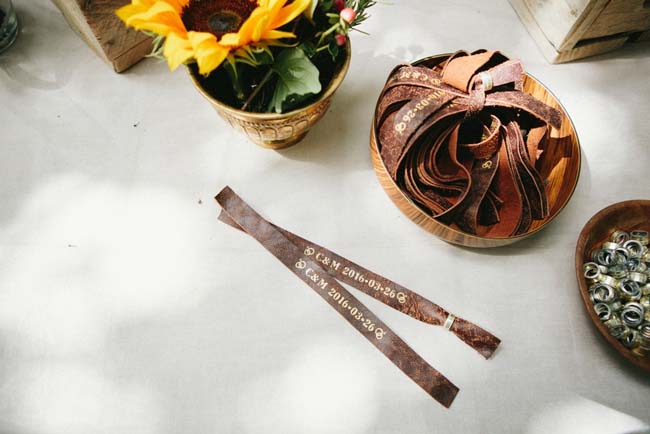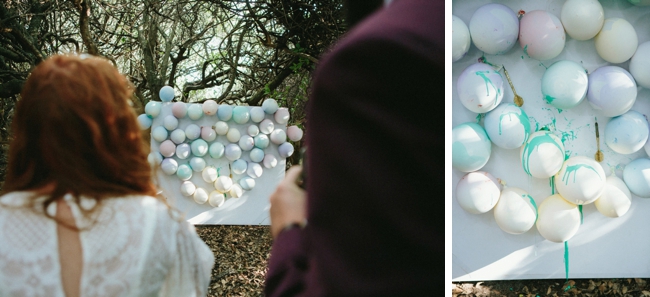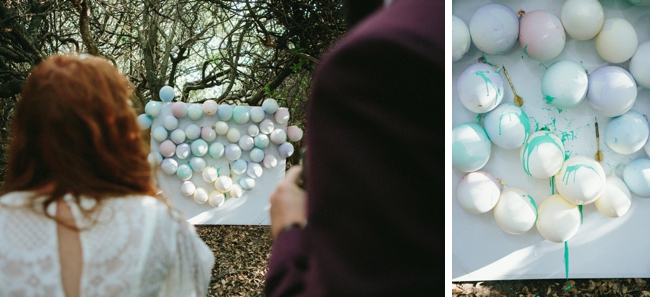 The Dress
I had two gowns. The first I had ordered through Crystals and Creme and the second was made by my dear friend Ruan Jooste. He also added the fringe detail to my first dress.
The Bridesmaids
The bridesmaids and groomsmen all wore different colours and clothing. I gave them a colour and they could choose what they wanted to wear. We had little guitars 3D printed for the groomsmen, as boutonnieres.
The Flowers
The flowers was also put together by my amazing aunties, mother and cousins. I love all flowers, so we basically just ordered pretty flowers in season. I had a vision of green leaf runners, we had them flown down from Pretoria, also by a family friend.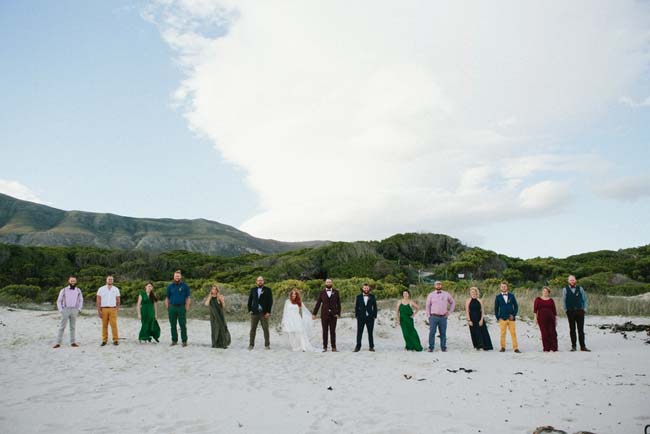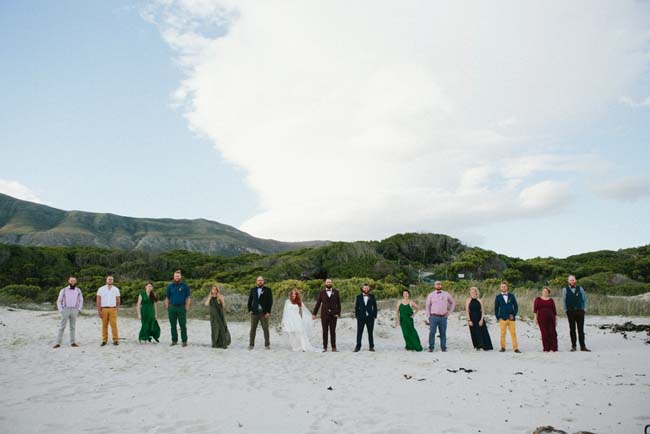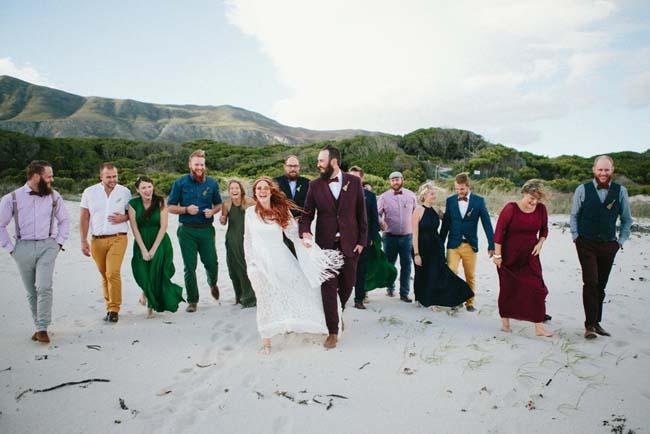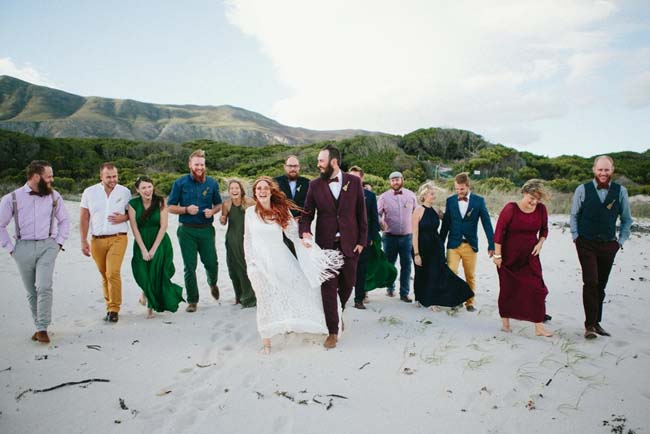 Memorable Moments
The moment walking down the aisle, seeing my husband to be, our song, seeing everything come together after months of planning. Our whole wedding was one memorable day. We are also currently on a year long honeymoon travelling through South East Asia, one of the best decisions we have ever made as a couple. We have a website if you are interested in our stories.
Proudly South African Details
The rugby ball, that we used to throw the garter.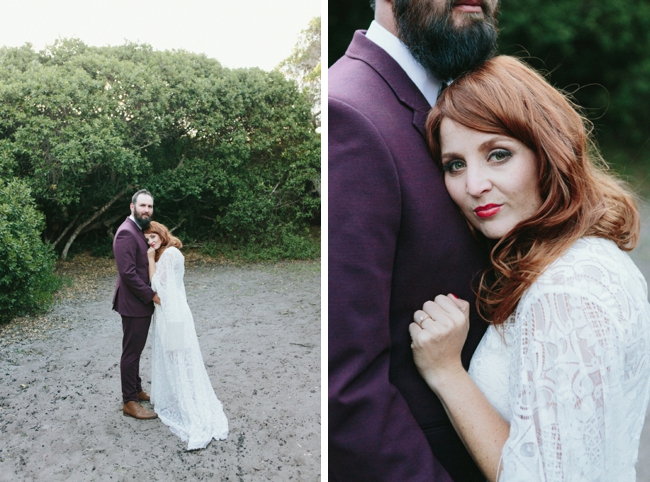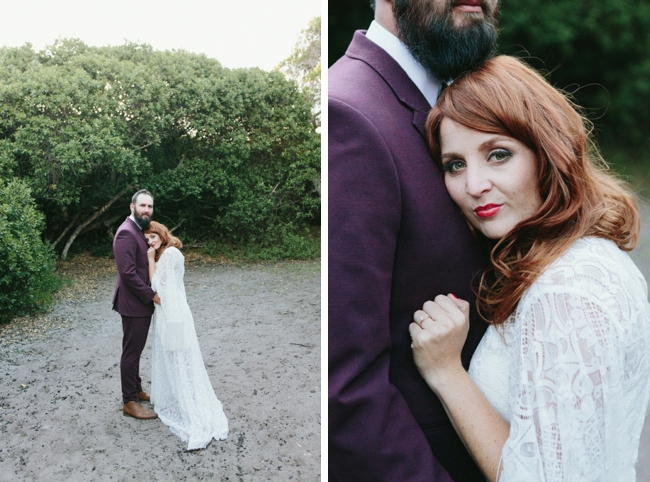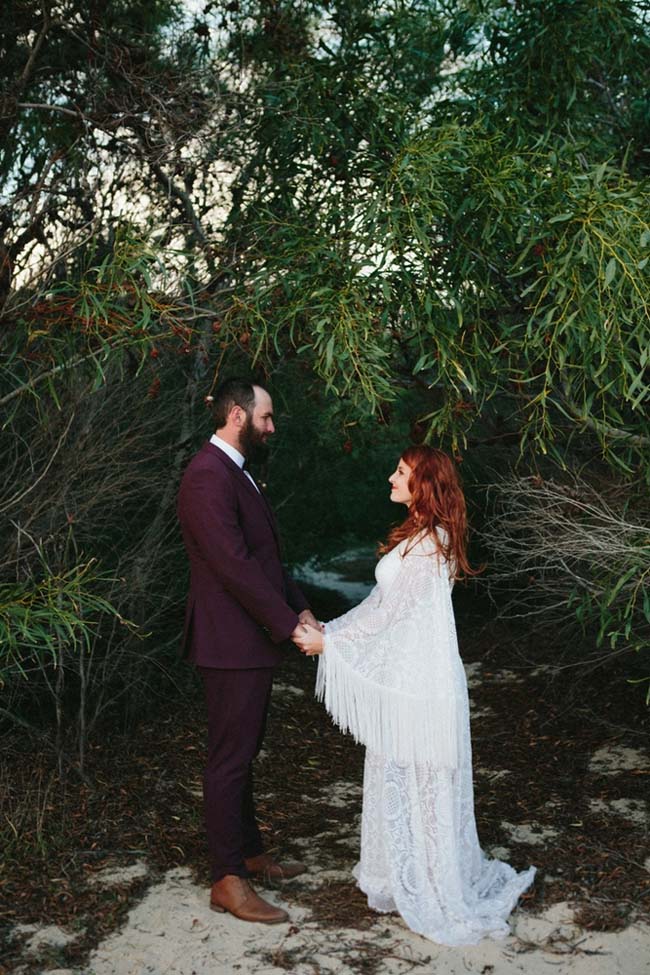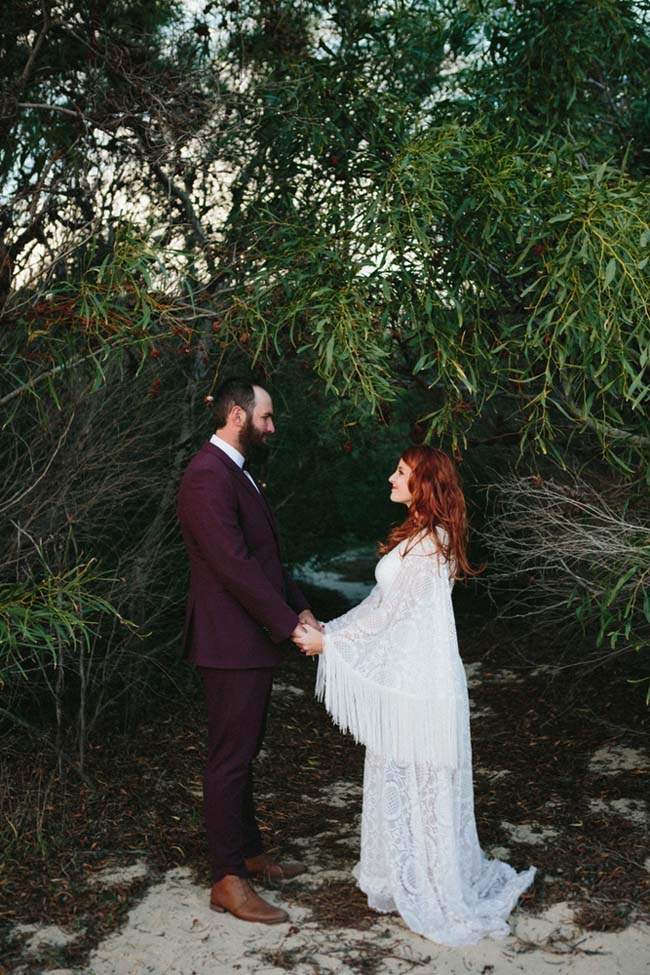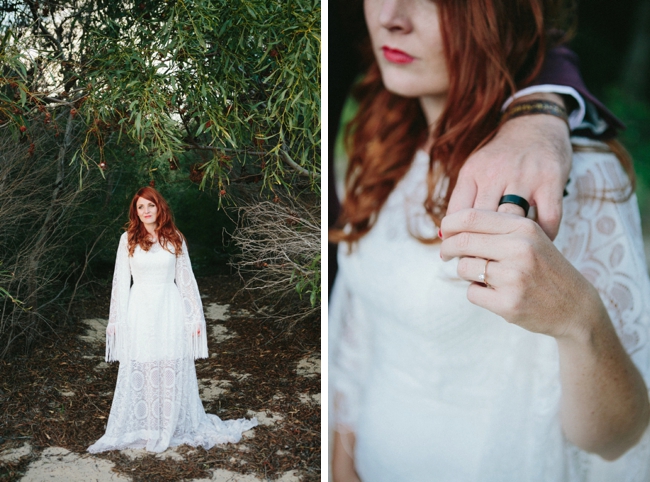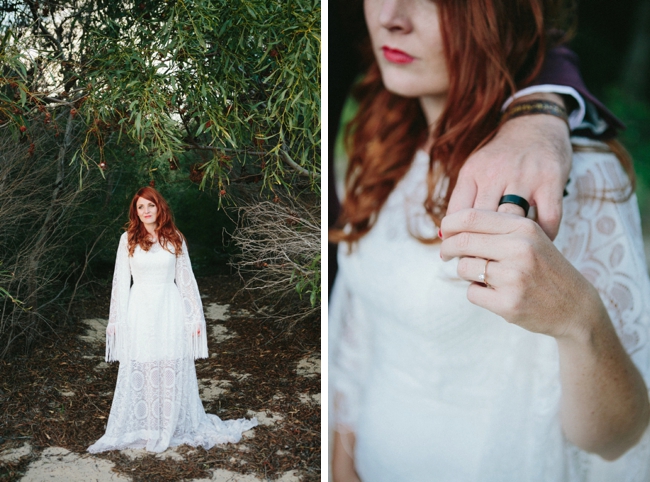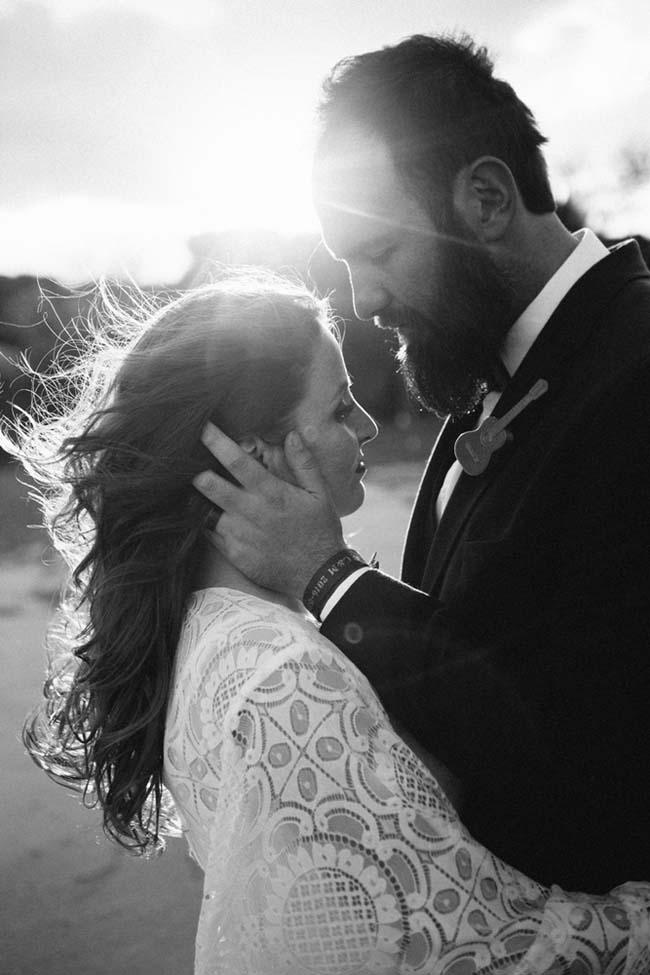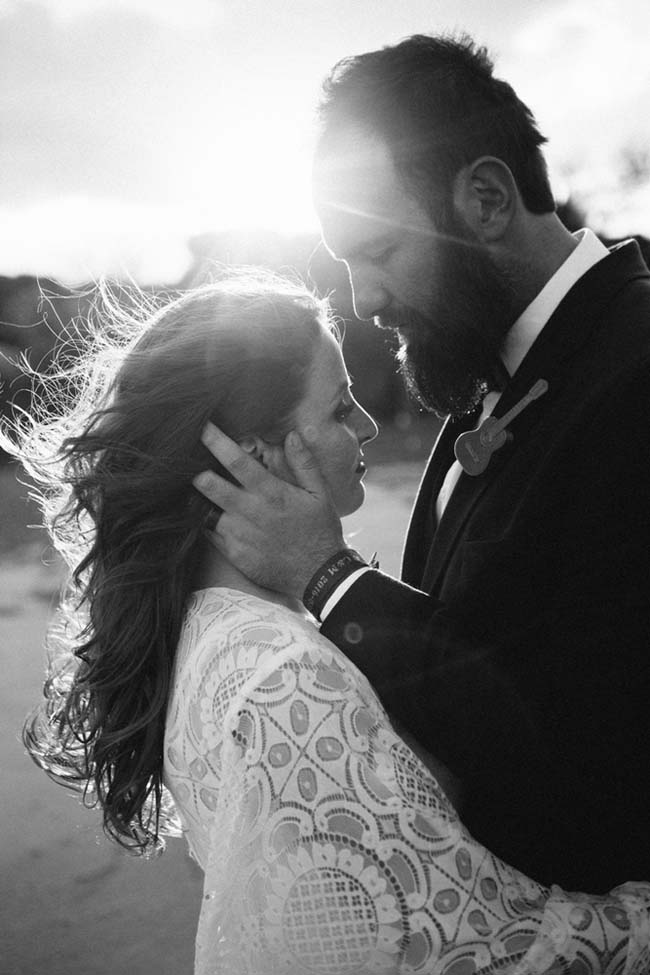 Destination Wedding
The whole wedding was a fun filled week; we had a boat trip on the river the Thursday night, an outside movie night on the Friday and then the wedding on the Saturday. We also prepared a welcome tote bag for our guests filled with homemade fudge, cookies, playing cards, a hangover kit and information about Hermanus, and what to do around the area.
Best Decision
Planning everything myself was quite the task, but at the end so amazing to see everything come together.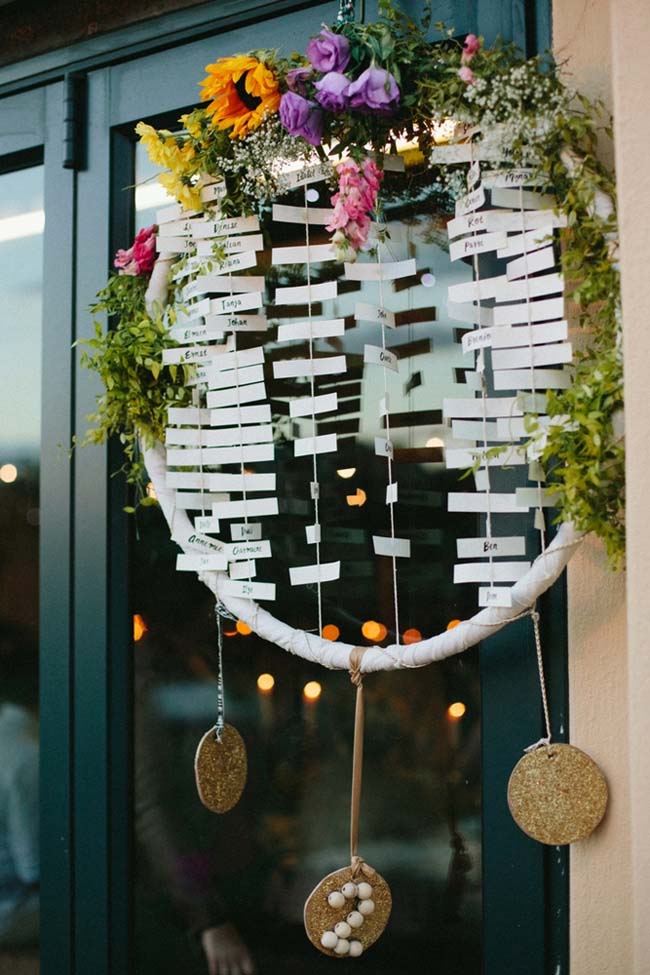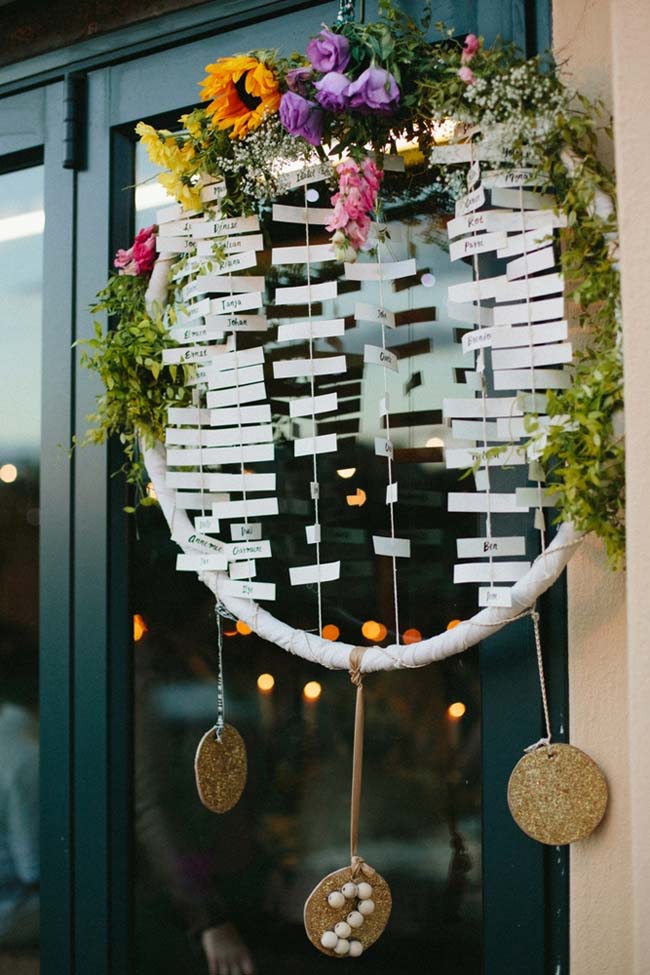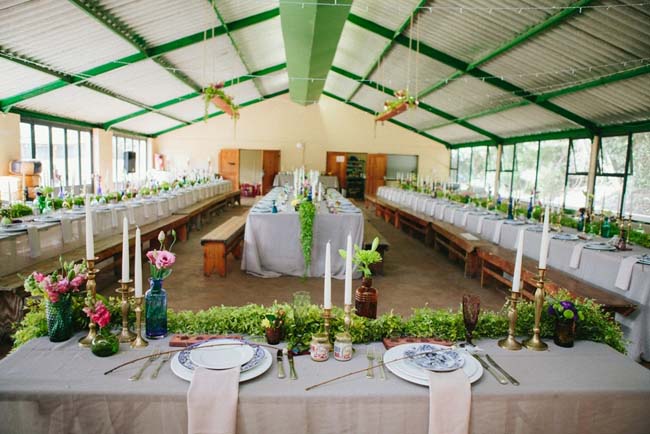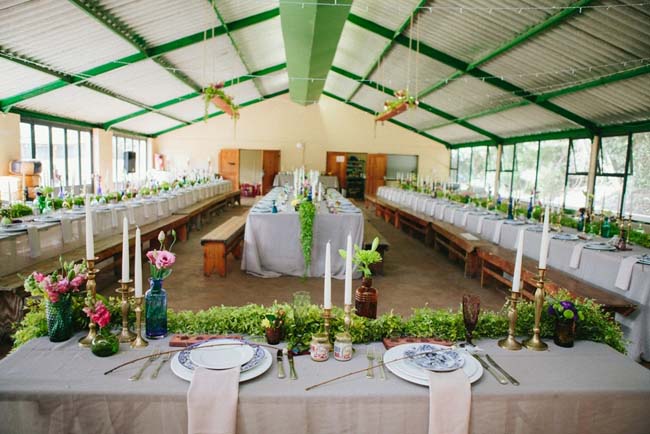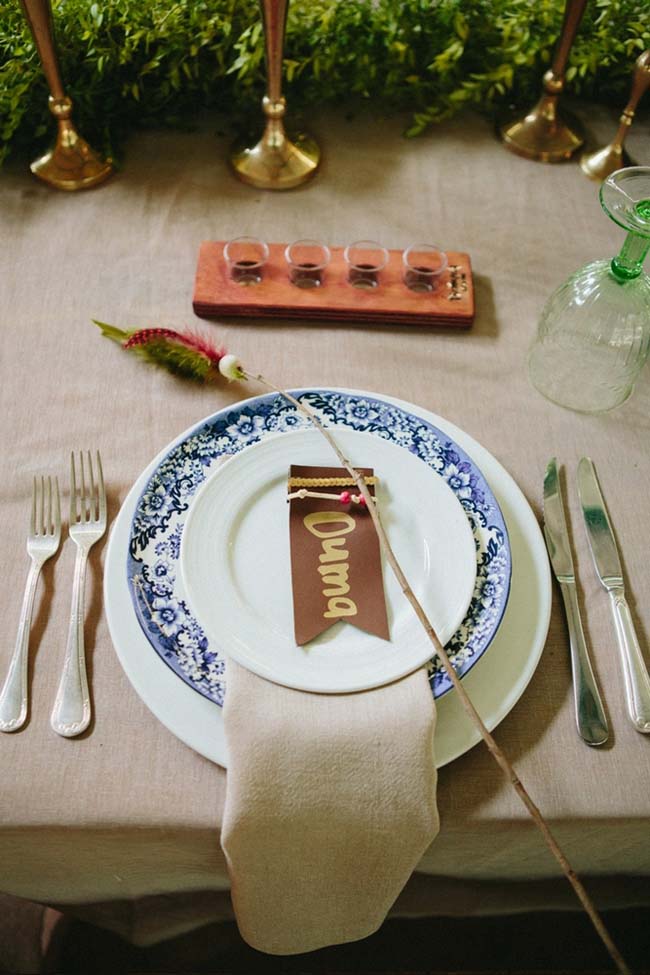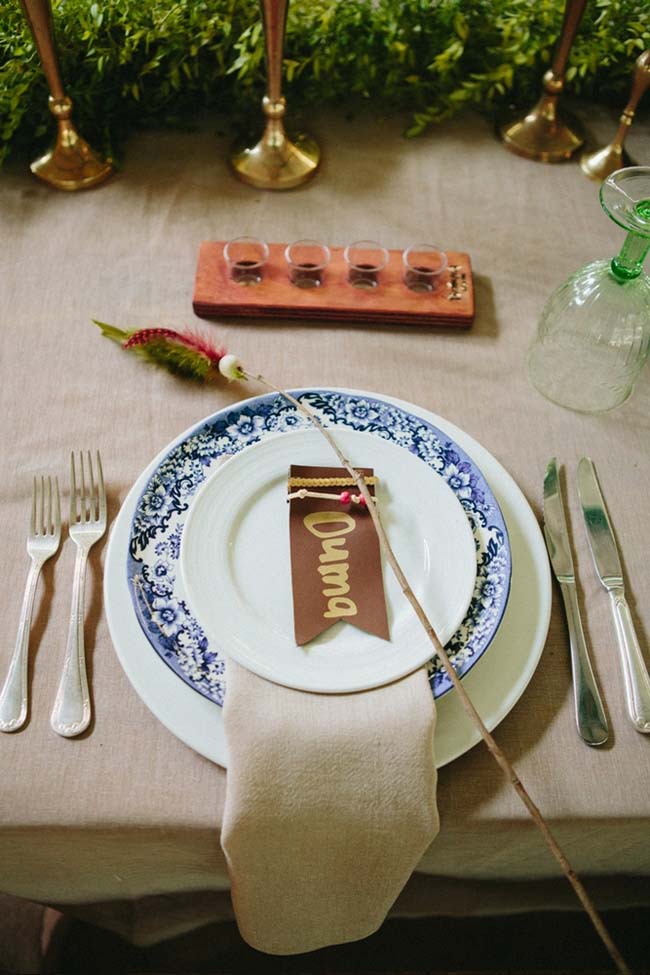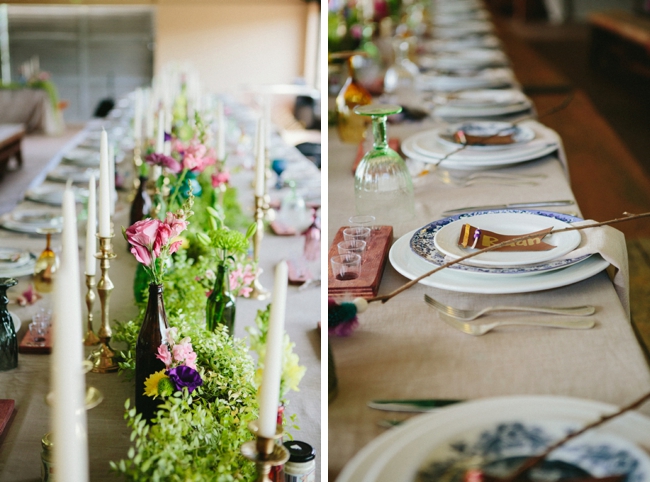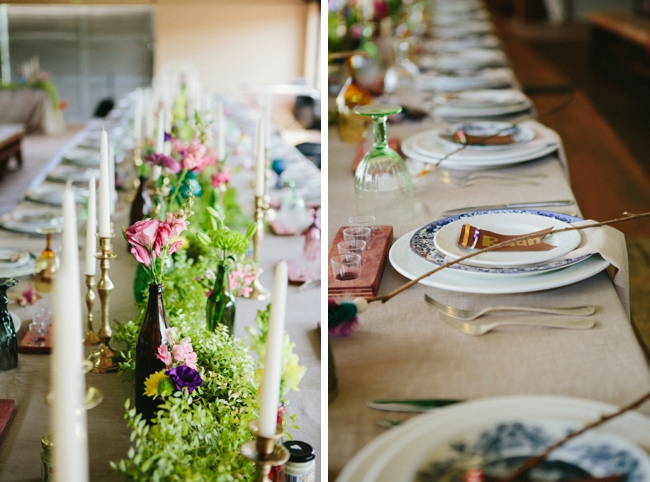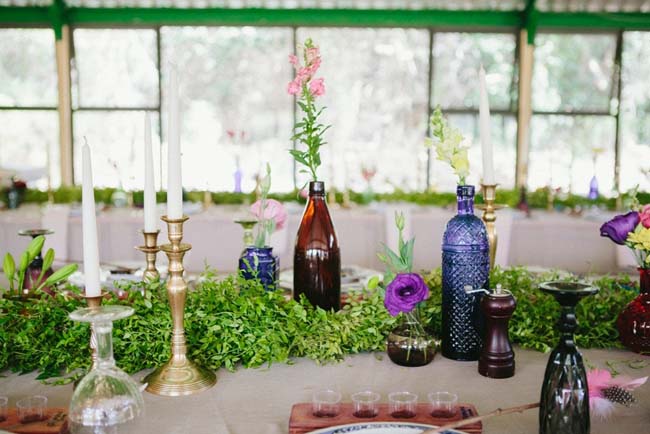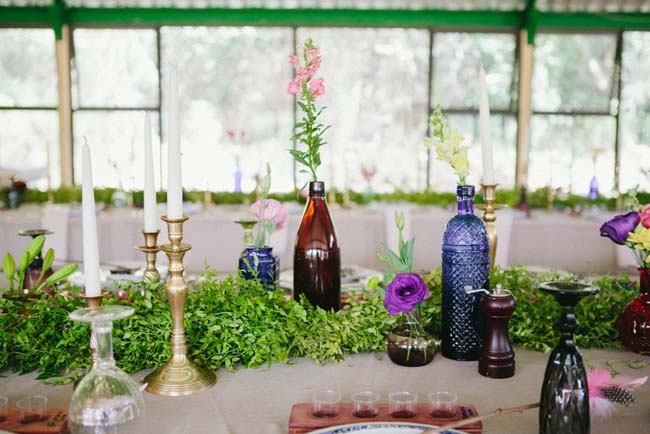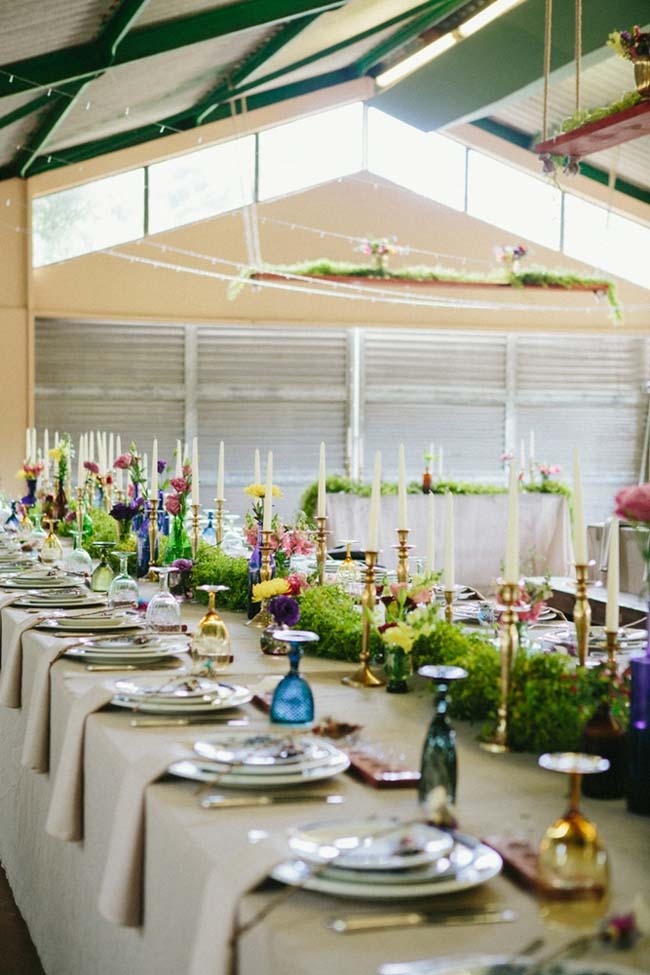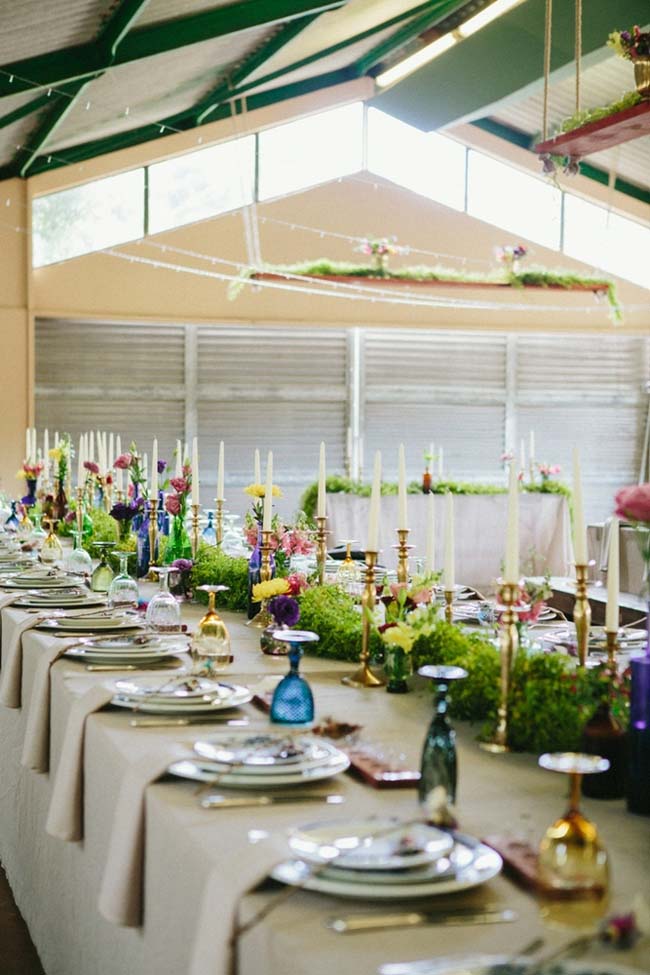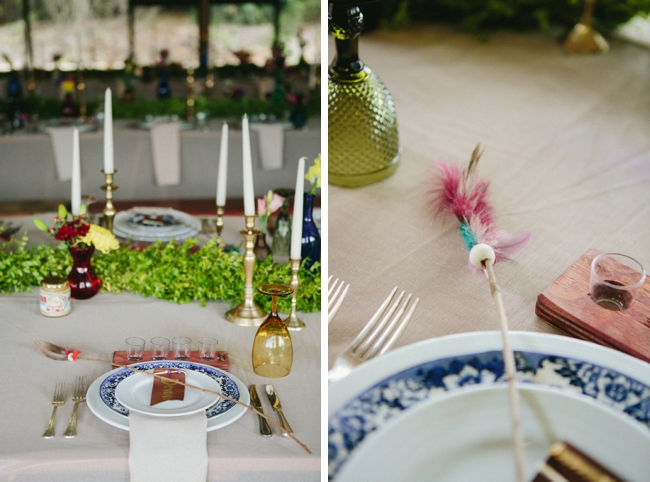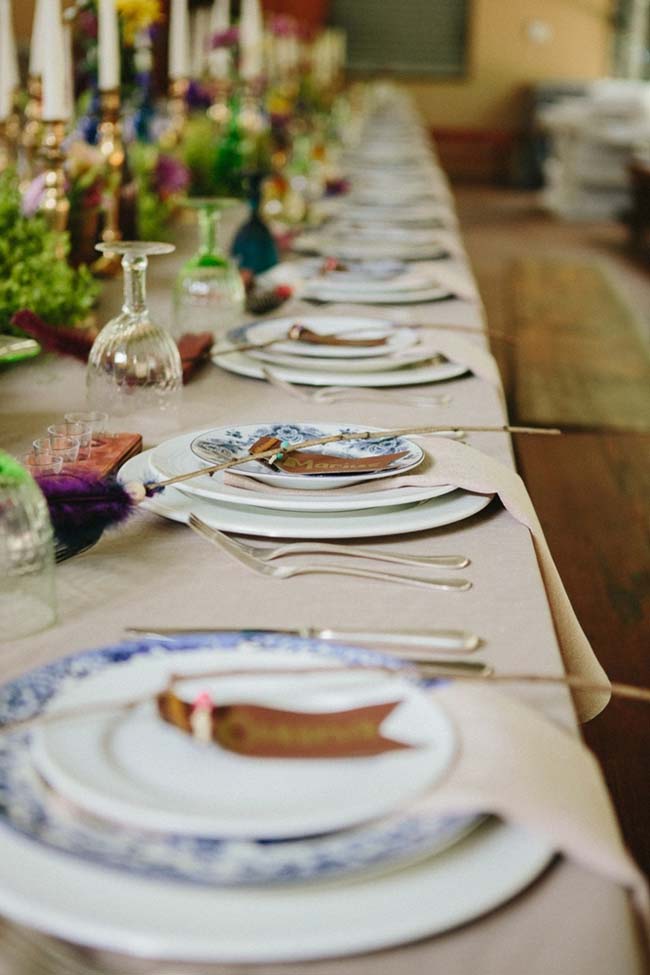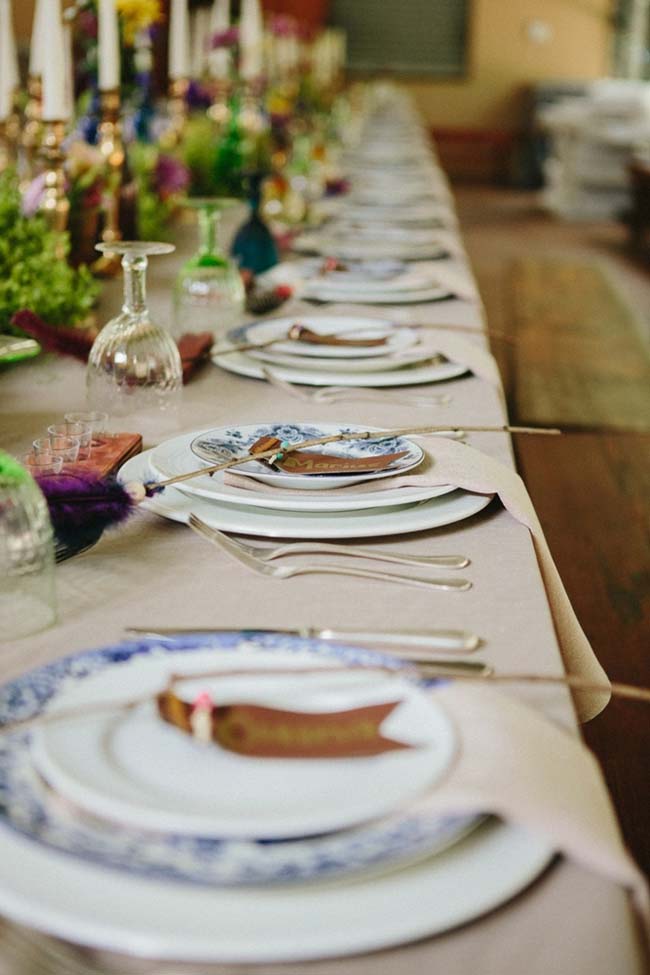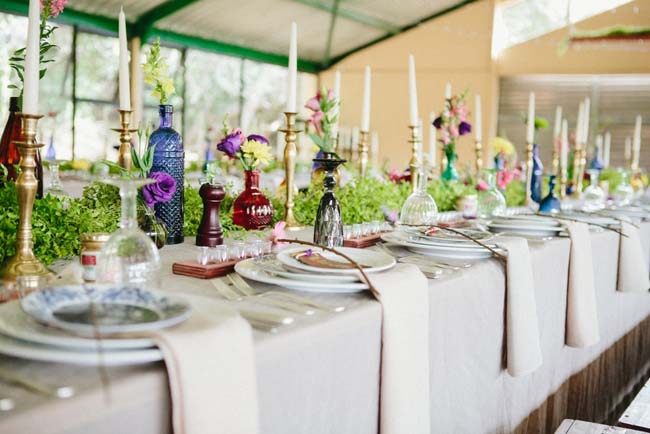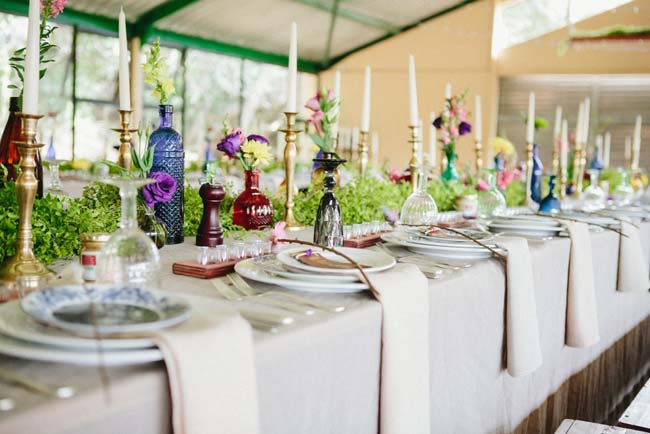 Advice for Future Brides & Grooms
Although it is a lot of fun planning the wedding, I regret not getting outside help to put it together. My friends and family worked so hard to make our day perfect, which it definitely was, but I would rather have had them enjoy the weekend and be more relaxed.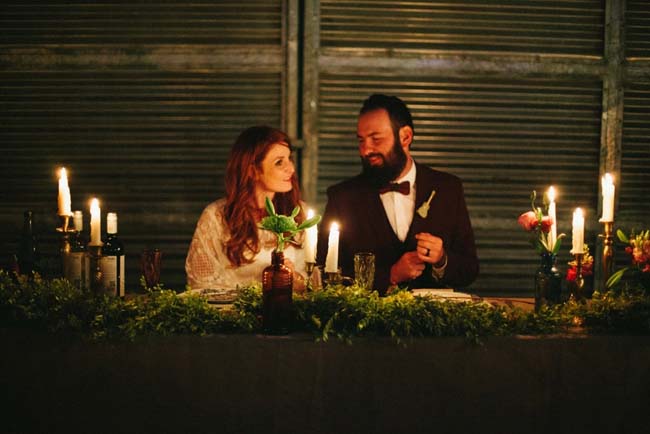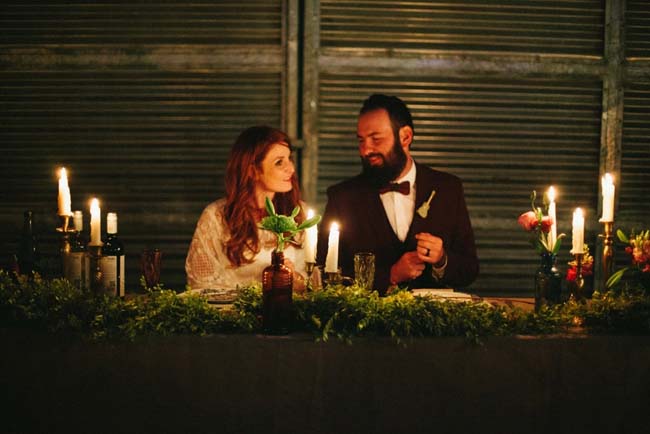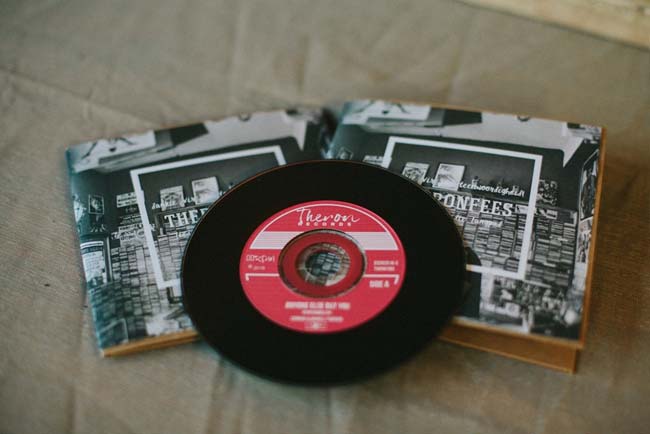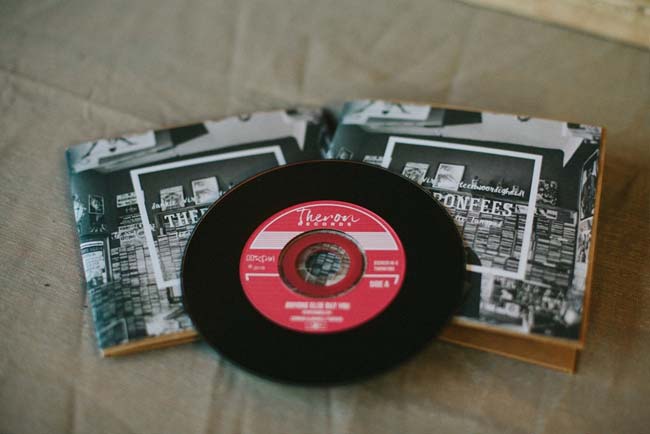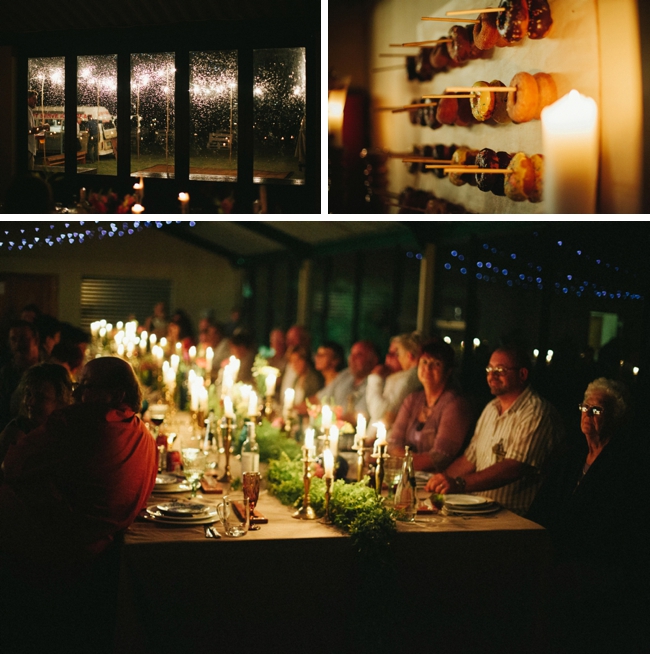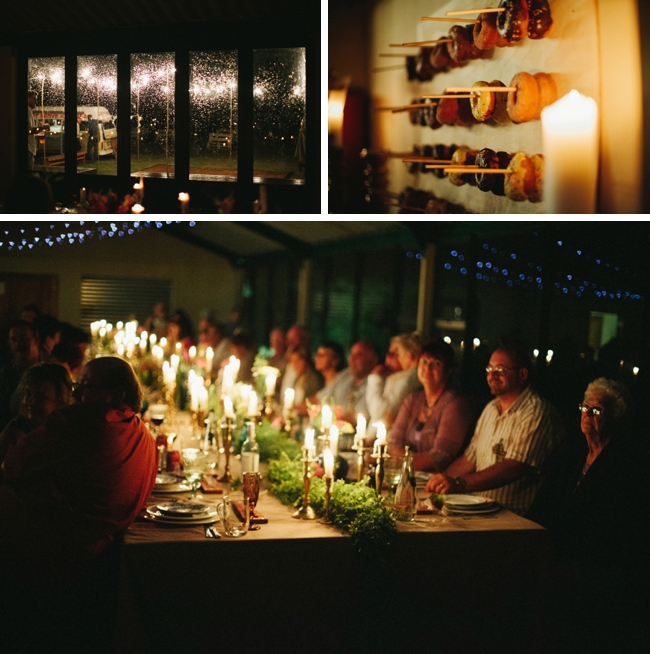 You can see more from this wedding on Coba's blog.
SERVICE PROVIDERS
Venue: Habonim | Photography: Coba Photography | Cake: Celeste van der Berg | Bride's dress: Crystals and Creme | Hair & makeup: Mia Uys | Hiring: Red Hot Events; Function Hiring 4u; Joli hire; Ten of Cups; Downing Event Hire; Touch of Class; Table Cloth Hiring
Save