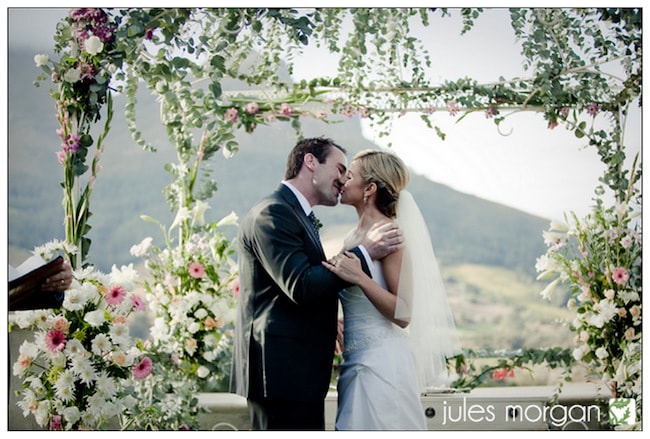 This wedding to me is just the epitomy of Romance. Soft colours, beautiful flowers, a stunning venue… sigh. But what really stands out is the incredible attention to detail. The little touches, like the chalkboard canape platters or the herb favours, or the bird's nest ring holder, that give this such a pretty garden feel. Everything works so perfectly that it's hard to believe it wasn't all put together by a professional, but as always, the time and effort put into DIY by the couple and their families made it extra special. In fact, there were so many inspiring details that I couldn't resist including all of them, and fortunately the lovely Jules Morgan has let me share lots of her wonderful photographs with you in this pretty post.

From Jeannine:
Liam and I grew up on a farm together from the age of three, so we have known each other for 27 years. We both now have our own businesses in London. We love the outdoors and wanted to get married surrounded by mountains, as this is how we spent most of our childhood – camping and riding our bicycles in the mountains. We got engaged in Montepulciano in Italy and felt that Clouds Estate in Stellenbosch was like a little piece of Tuscany in Cape Town. The venue blew me away on the day – it was everything I could have dreamed of and more.
We wanted a relaxed wedding with an Al Fresco-French countryside feel. I love earthy /natural tones with touches of colour, so that was what we went for. I also really like a mix of textures which is why we went for mismatched bridesmaids' dresses in charcoal and brightened them up with flowers.

I think that flowers can transform your day and reflect your personality – so much love and thought went into ours. My aunt did the bouquets and we had a mix of succulents (desert roses), lisianthus, roses and lavender. To create the herb favours, my father-in-law had a small greenhouse built specially in his back garden in Kalk Bay. We supplied our own 'flowerballs' from Heath Nash to hang over the pool, which were very striking. Having the herbs and rose bushes on the terrace meant that we didn't end of up with lots of leftover flowers as the guests went home with a present and a lasting memory of our special day. We also didn't print a lot for our wedding, but used chalkboards for decor and the menu. For dessert, we had three different types of cake on vintage stands – they were incredible!

I did a lot of things myself and had so much fun doing it. I read a lot of wedding blogs and it was amazing to see it all come together on the day. I think it's important to have your own personal stamp on your wedding. I also think it's important to involve family where you can… makes it more personal. My stepdad made all the blackboards for the snacks (these were really easy to do using blackboard paint on ply wood). I made the 'table name' board myself, using a vintage frame. Liam drew the herb which we had on our wedding invitation/table layouts and thank you cards. It was nice to carry this theme throughout the wedding.

Congratulations, Jeannine and Liam, and thank you for sharing your lovely wedding with us!

For even more beautiful pictures, head over to Jules Morgan's blog.
SERVICE PROVIDERS
Venue & catering: Clouds Estate | Photographer: Jules Morgan | Flowers: Flowers in the Foyer | Linens, etc.: Hireworx | Lighting: Something Different | Cakes: Kanya Hunt, Hunt House Kitchen – Tel +27 82 375 5200; [email protected] | DJ: Didier | Guitarist: Wesley Hlava