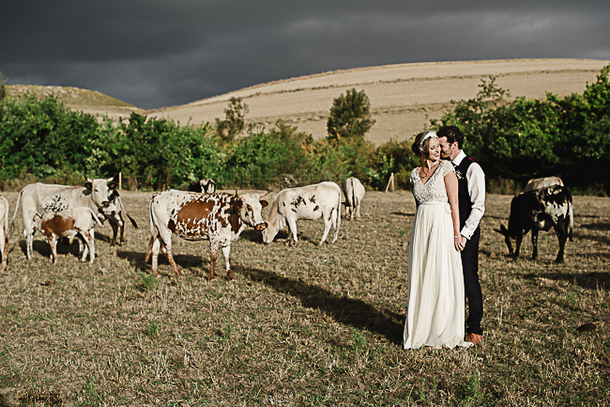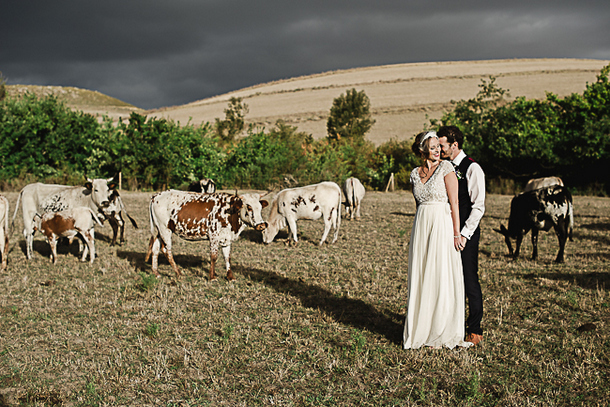 Ugh you guys, being sick sucks. But while I'm holed up in bed, feeling more than reasonably sorry for myself, at least I can surround myself with pretty weddings, and today's is a beauty. Jean and Cormac are one of those 'meant to be' couples whose love has crossed a couple of oceans, so to celebrate joining their lives, nothing less than the prettiest of South African weddings surrounded by friends and family would do. 'Frivolously elegant' is how Jean describes their style (don't you love that?), from the olive leaf wreaths and the beaded Nguni cow favours, to the mix of paper flowers and proteas, the illustrated table markers, and the bridesmaids' floral print dresses. There's such a lovely relaxed feeling about this big day, you can't help but love it. And even more so when the uber talented Jules Morgan is behind the lens, capturing every shiny happy moment.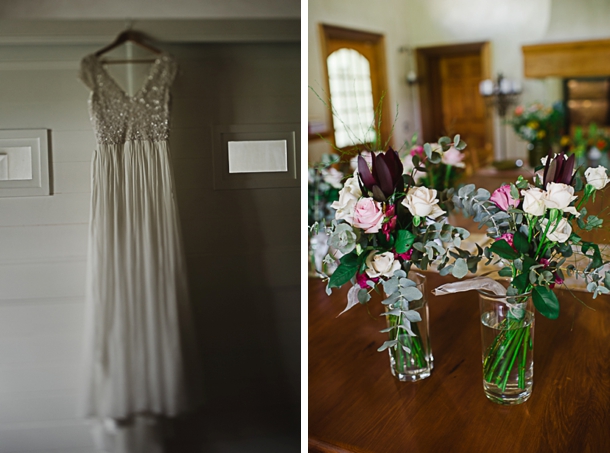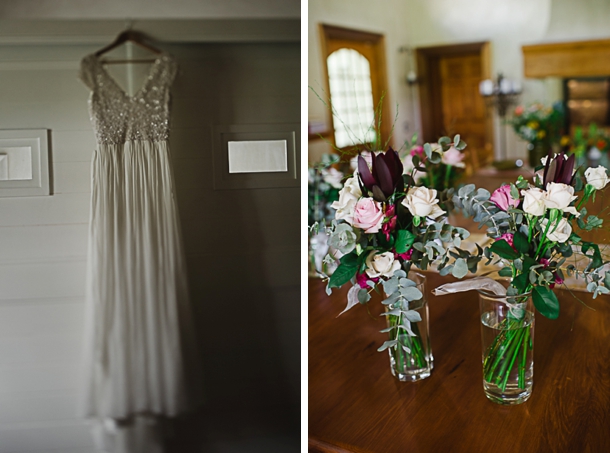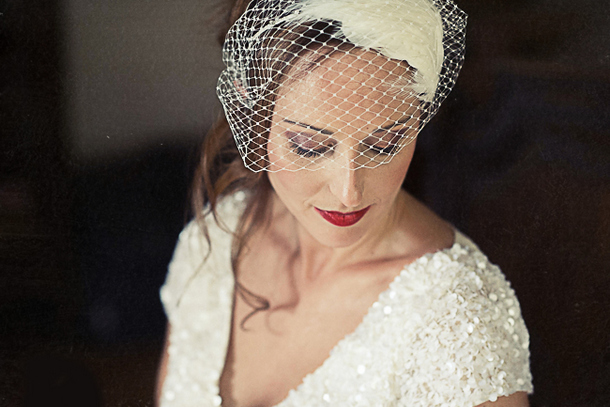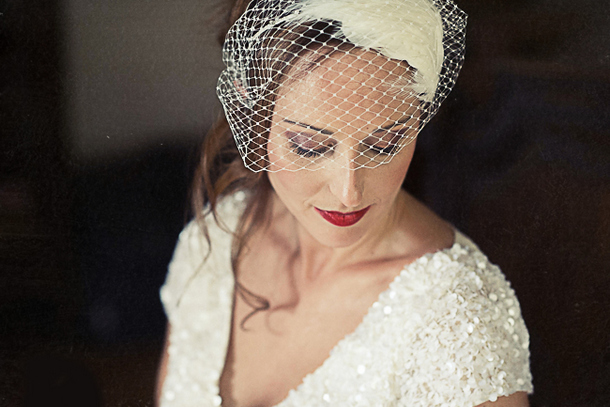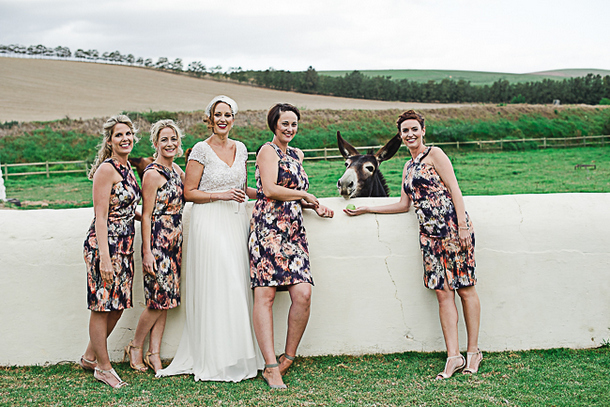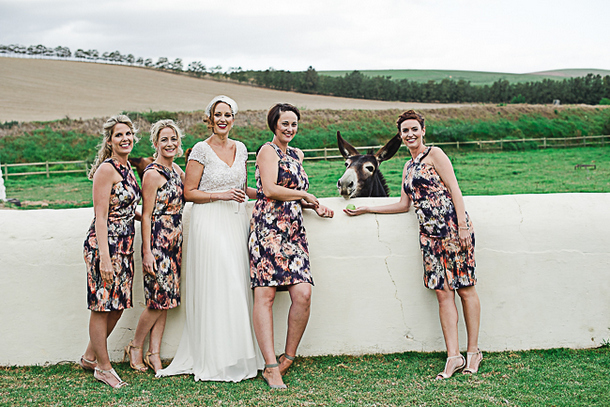 Love Story
We actually worked together in the UK for all of six weeks in London before Cormac returned to Australia. We kept in contact while he was away and over time we just contacted each other more and more… Emails turned into texts which turned into calls which turned into Skype. As he is English he came back in the summer where we properly clicked, and by the end of the year I left my job and agreed to visit him in Sydney. I went for a holiday and ended up staying three years.
The Proposal
Cormac planned a surprise weekend away in a retreat an hour outside of Sydney in the country. I knew that there was a surprise, but just thought it would be a dinner, or a show, until we took the wrong turn out of town and that's when I sensed something was afoot. At first I was a little apprehensive, but when he whipped out the newspaper and put his feet up in front of the fire I thought I was in the clear. Then he dropped to his knee just when my defences were down.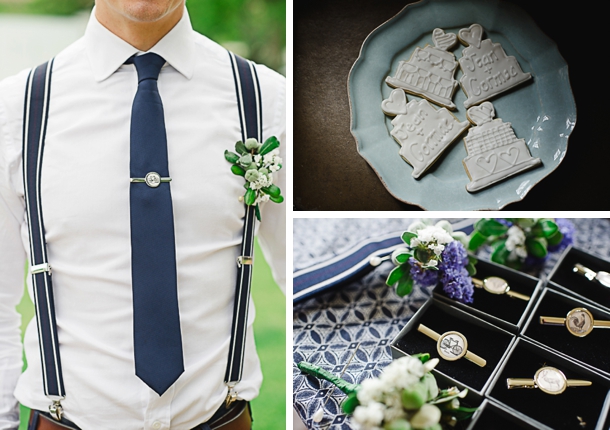 The Venue
We had a plenty of guests coming from overseas that had never been to South Africa before, so we really wanted them to get a taste of the countryside – somewhere that was both beautiful in scenery and also easy enough for people to get to from Cape Town. We took a look at heaps of places, and although there is a plethora of stunning venues, there was always just one thing that meant that many weren't quite right – too close to town so closed early, could only fit a limited number of people, asked us to use their caterers, out of budget, etc. The Oaks Estate in Greyton was so accommodating to us – such a lovely venue and gave us a lot of freedom to do what we wanted to do. A beautiful old Cape Dutch farm with a backdrop of the dramatic Overberg pass and ten minutes away from Greyton.
Wedding Style
'Frivolously elegant' is what I liked to call it. No particular colour palette, but little touches of vintage and rustic farm touches here and there – we just wanted to make it feel like a place where everyone could very much feel comfortable and relaxed. The décor touches were a part of that.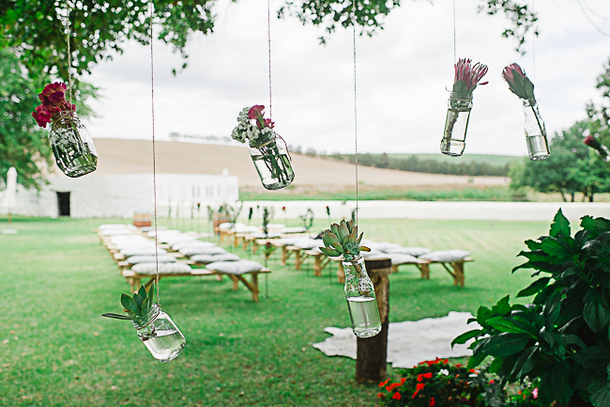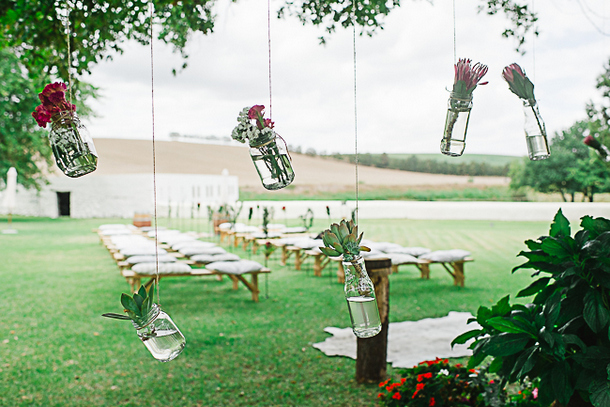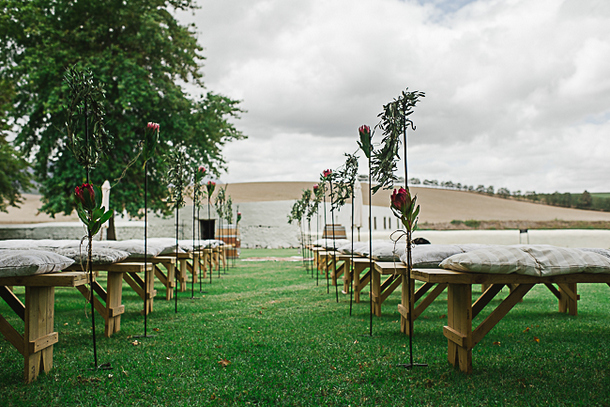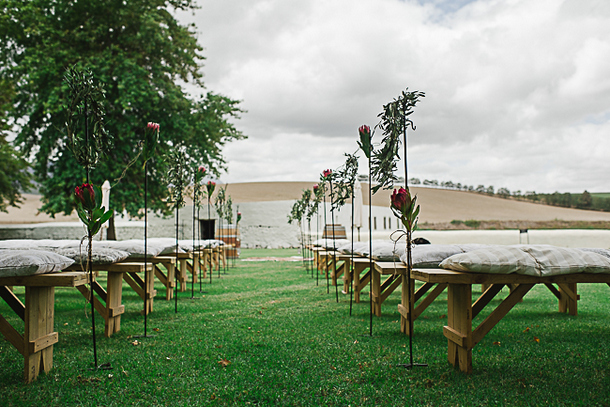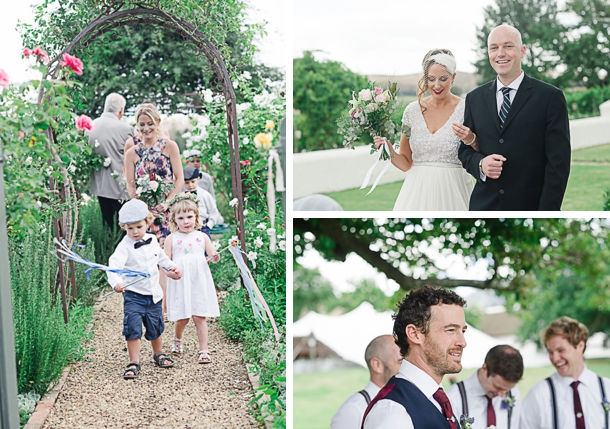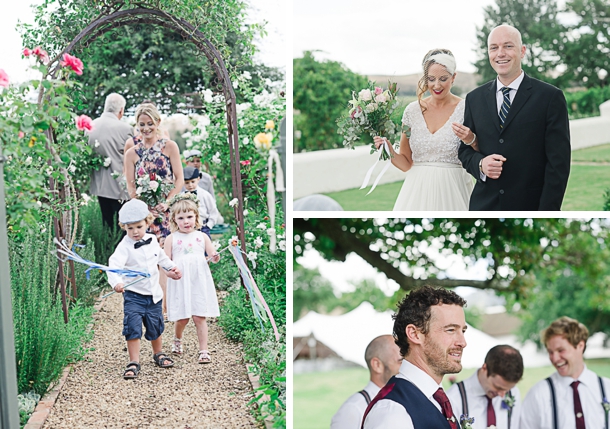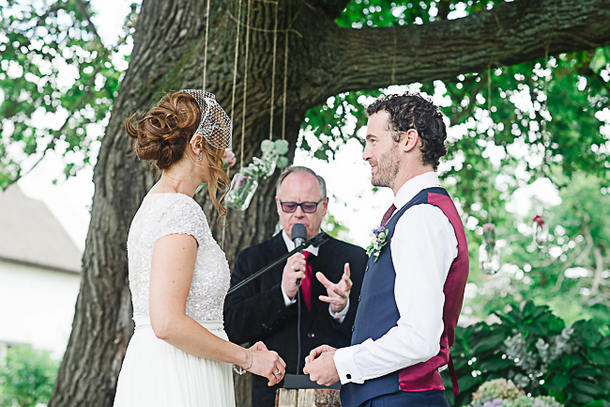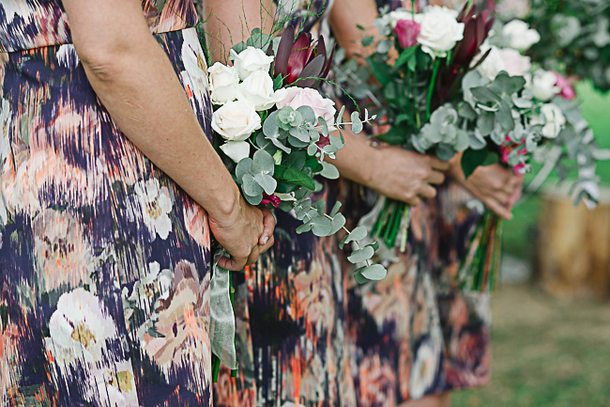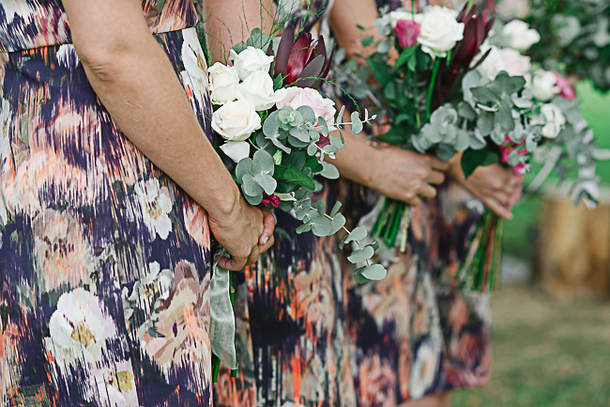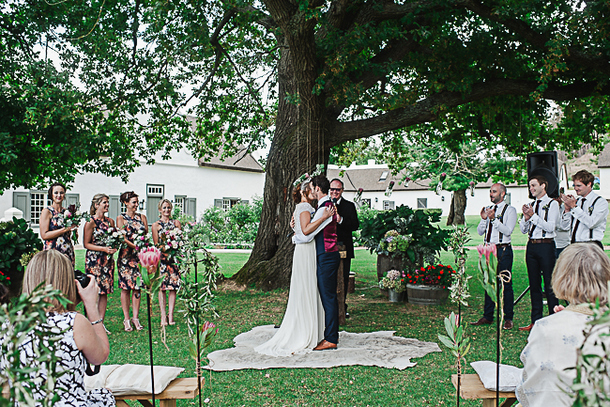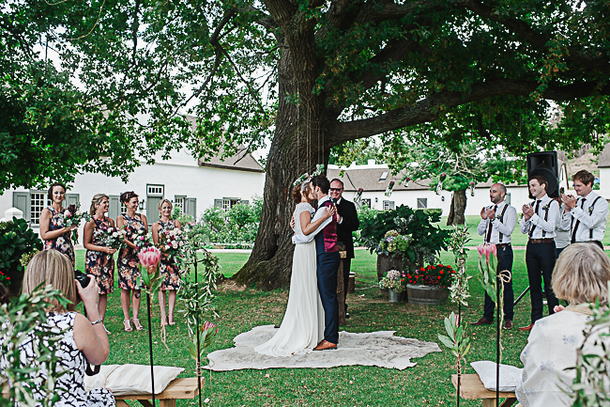 Wedding Details
We wanted every element of the wedding to feel bespoke to us and our guests. From the beginning we designed the invites and Cormac drew a map of Greyton. On the day we created a photo area where we printed out photos of all our guests and wrote messages on the back. The table names were illustrations of birds that we loved in terms of style and the olive theme of wreaths was present throughout with the hanging wreaths at the ceremony, above the main table and a twig at each placement – all from my mum's garden. My aunt made our delicious Victoria sponge cake that is a tradition as she made my brother's. Getting the right photographer was very important to us both and Jules totally exceeded our expectations as she has an exquisite eye for capturing soft moments in perfect light plus was so brave getting up close and personal to the Nguni cows.
DIY Elements
Most of the touches we tried to do ourselves or with the help from family and friends, such as the flowers, the cake, the invitations and décor. We did have a budget, but I think with weddings you have to accept that you are going to break the budget somewhere, and in the end it was entirely worth it. I can't think of anything that we would have done without.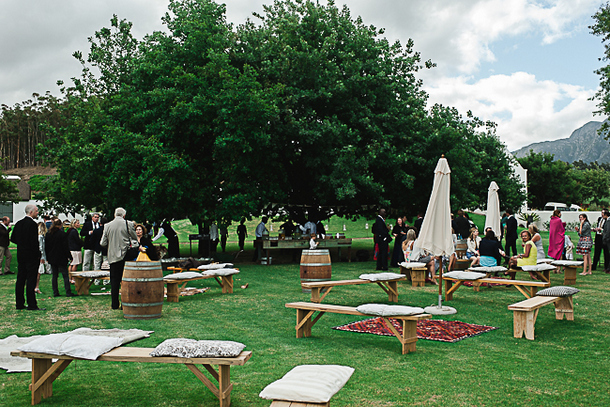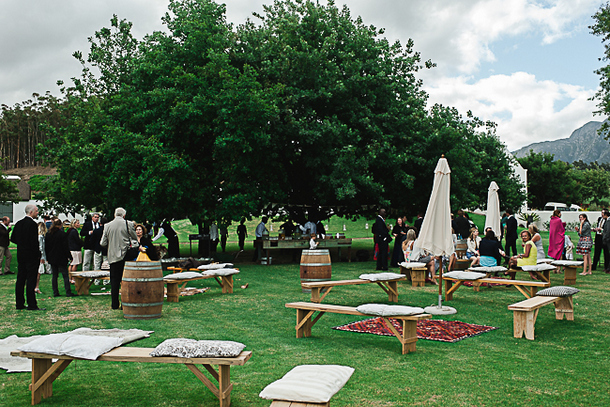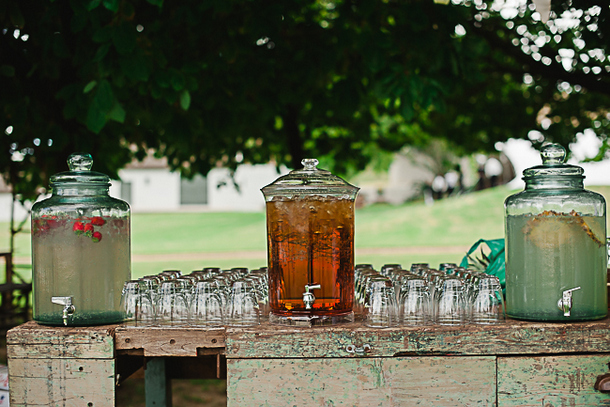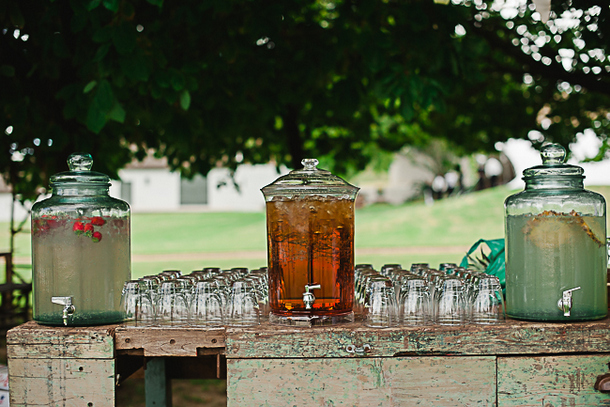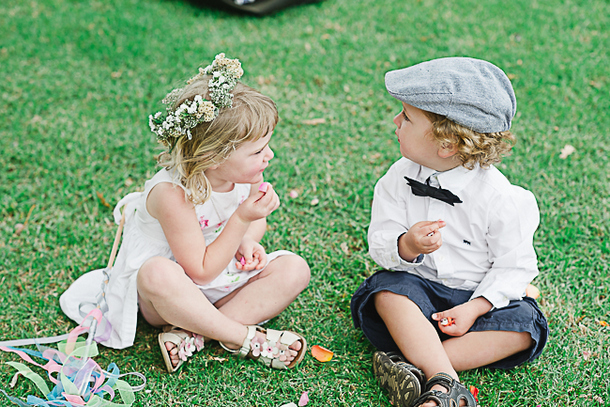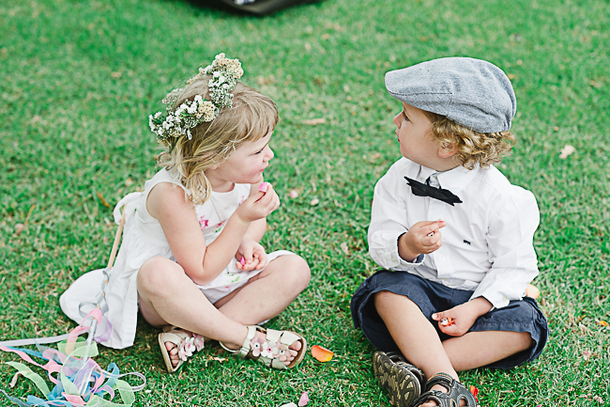 The Flowers
I wanted the flowers to be bright and scattered across the tables in glass vases showcasing the beautiful arrangements in the best light. My mother's very talented close friends did our table flowers, bridal flowers and the hanging jars that formed our backdrop to the ceremony. My mother spent months collecting all the vases for the flowers; plus made the olive wreaths for the ceremony.
The Dress
I spotted the dress online when I was back in the UK and knew it was exactly what I wanted – vintage with sparkle and exquisite detail on the back. The dress just happened to be by an Australian designer, Karen Willis Holmes, so in the end it travelled more miles than I did to get to South Africa!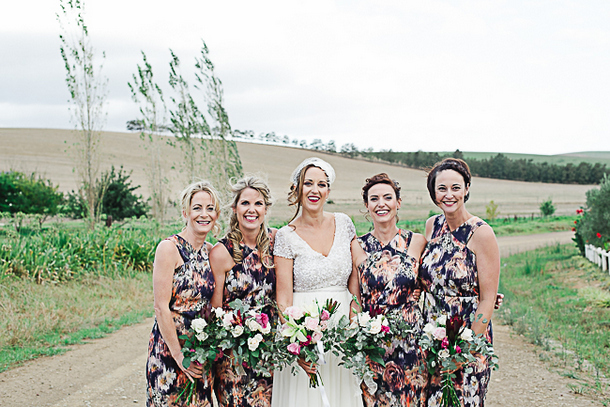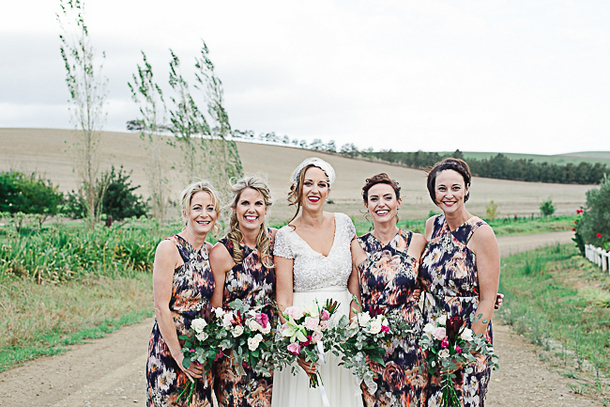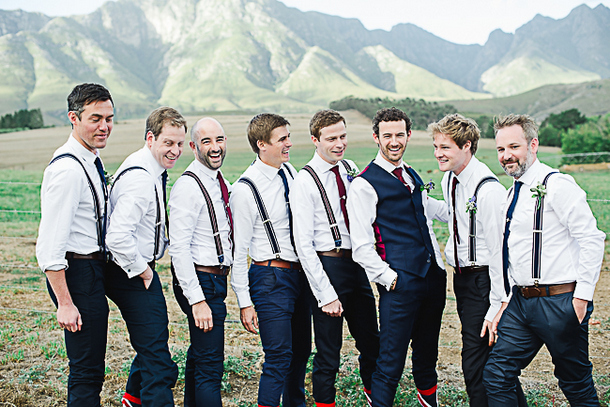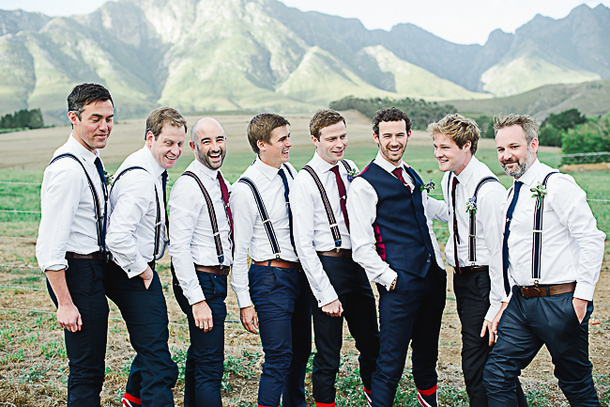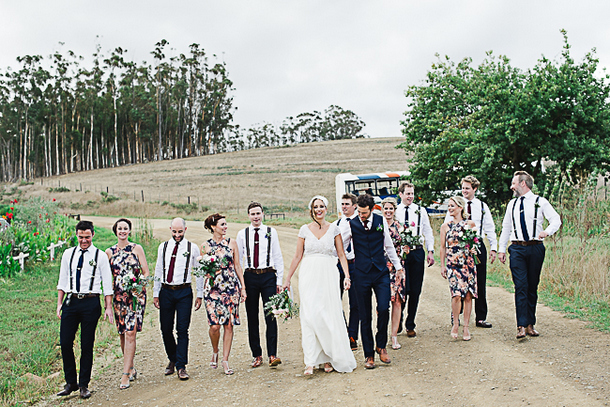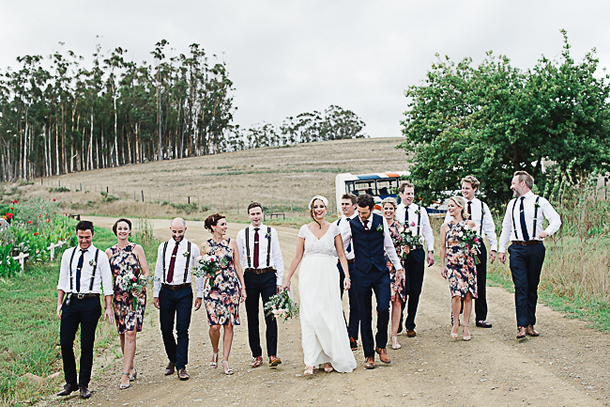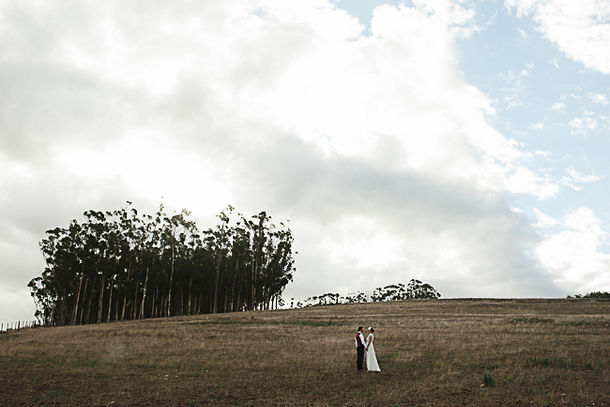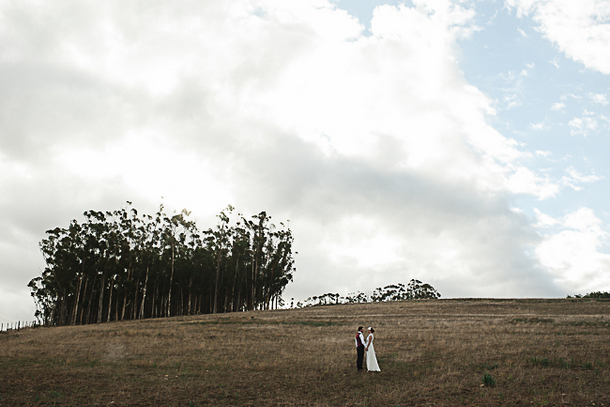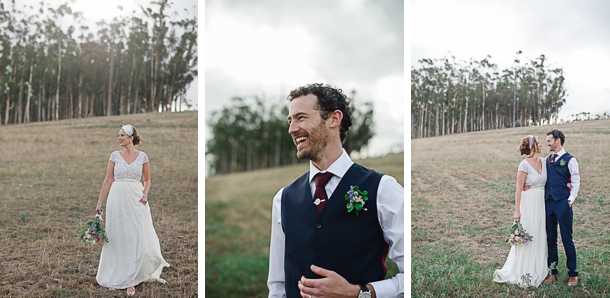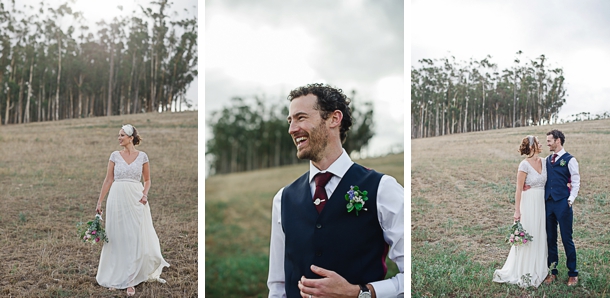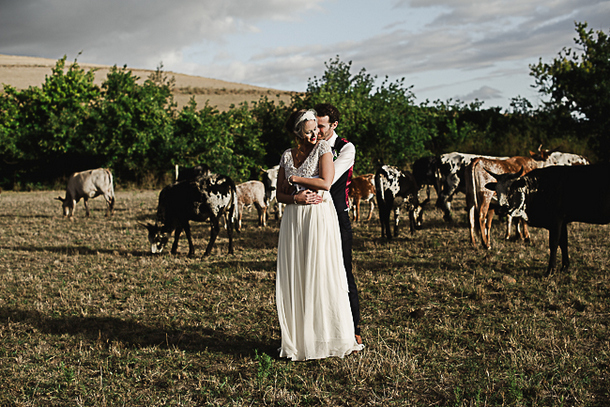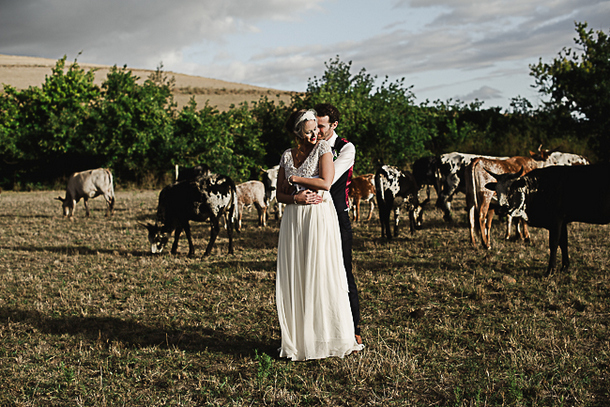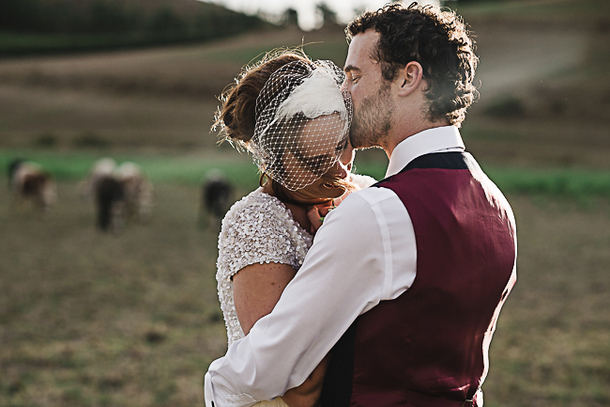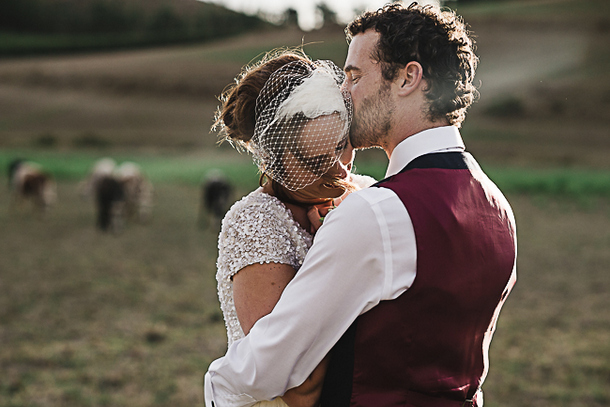 Memorable Moments
Too many to put down… having photos with the Nguni cows was fairly unique and fun, but every moment played its part in the whole. I think the speeches were possibly the most memorable, but sitting around the fire with old friends and a glass of brandy, untamed dance-offs, photos with the bridesmaids and groomsmen, and of course the ceremony were all such special memories.
Proudly South African Details
Of course. Springbok shooters! We also had little beaded wire Nguni cow keyrings made for favours by Maxwell who is based in Rondebosch as reminder of our wedding and SA for our overseas guests.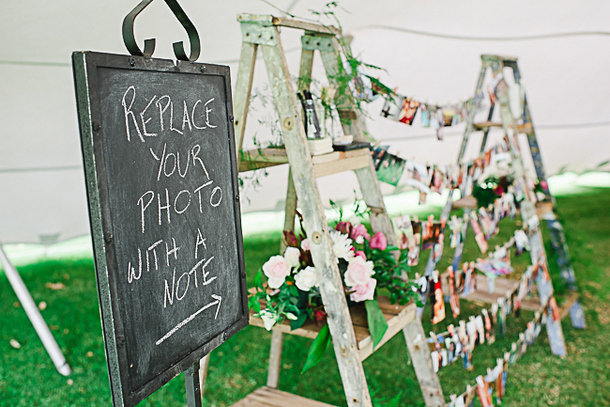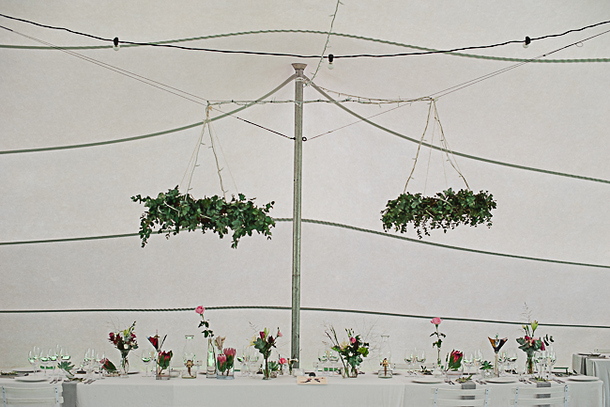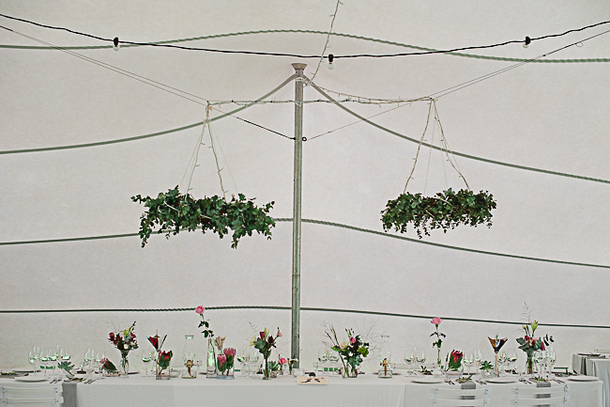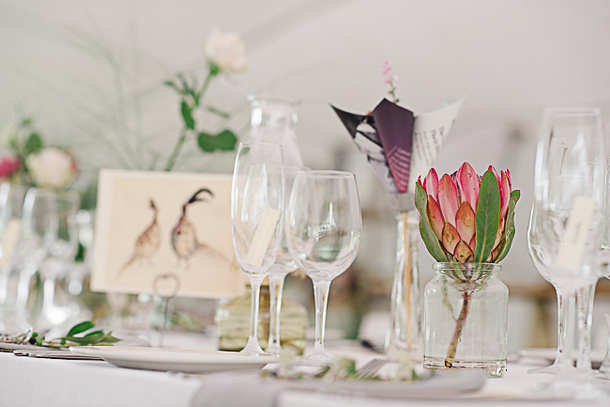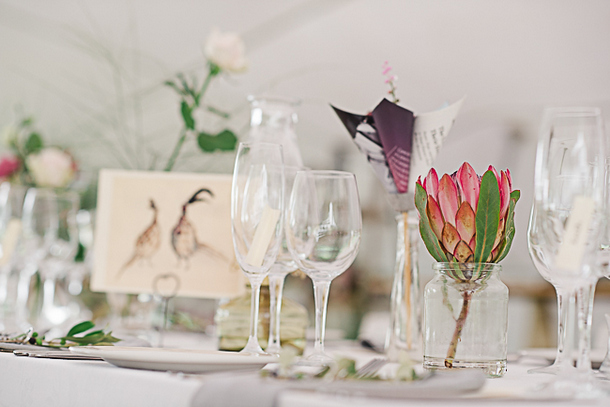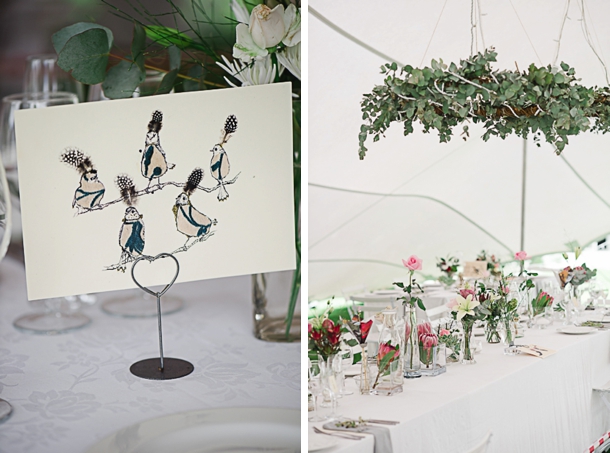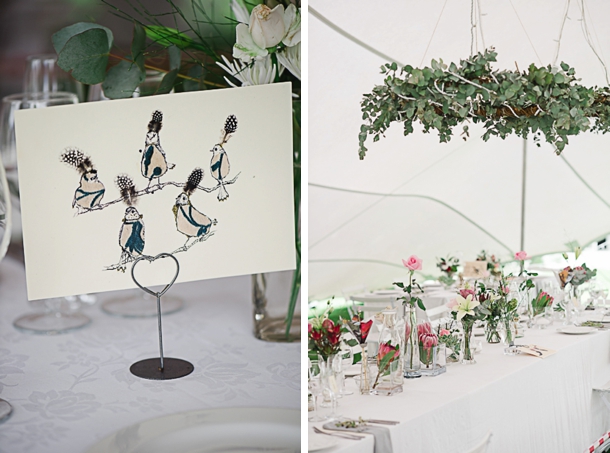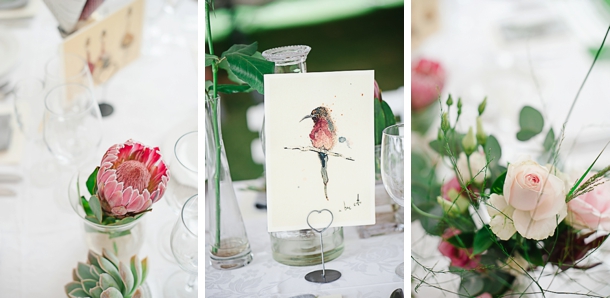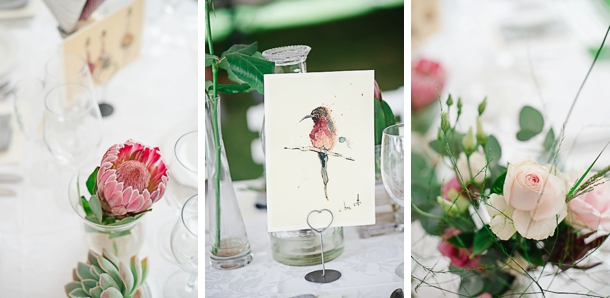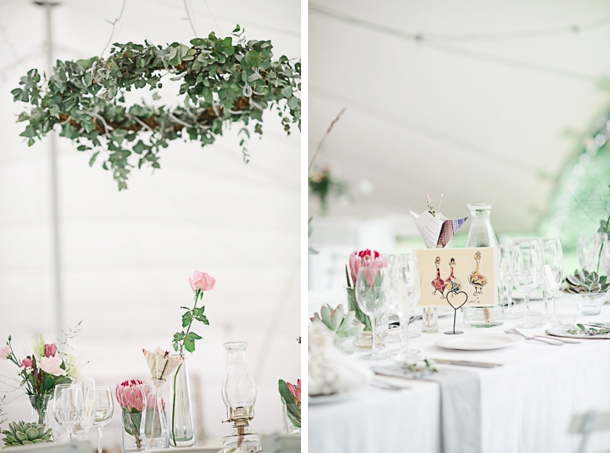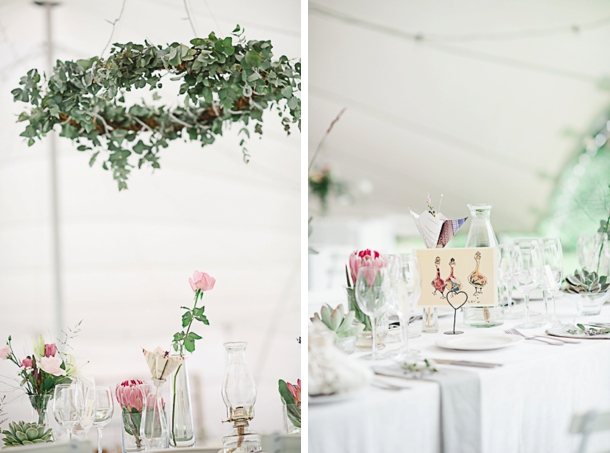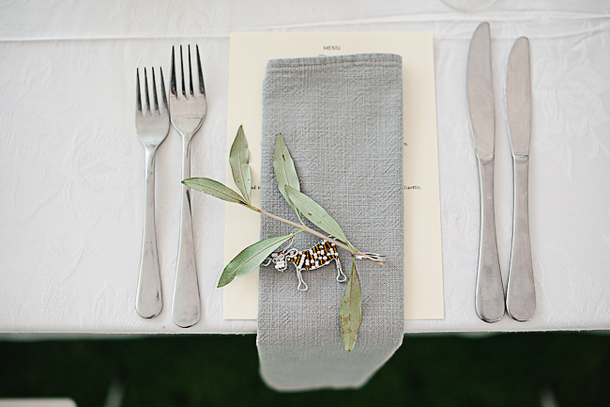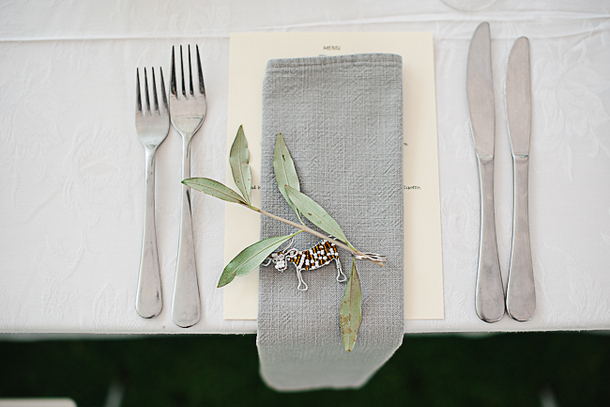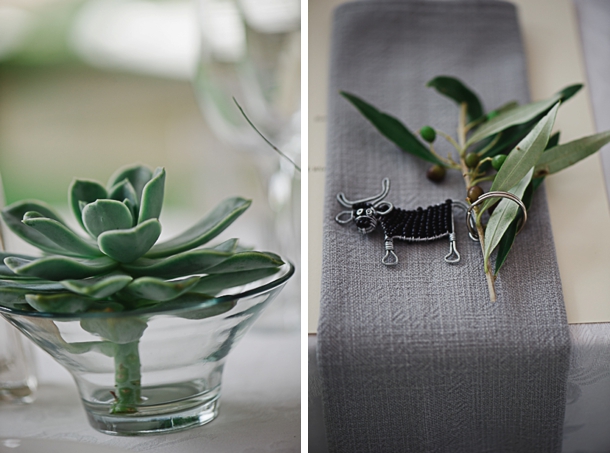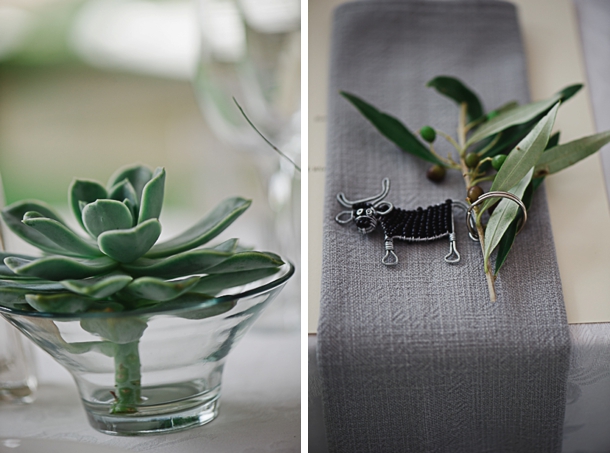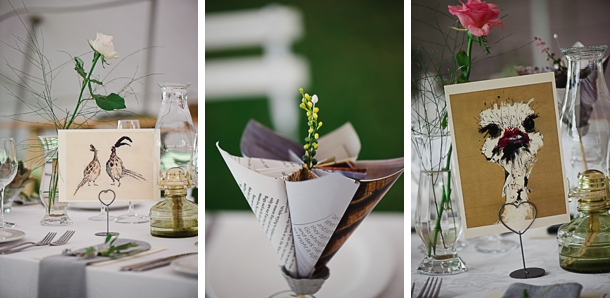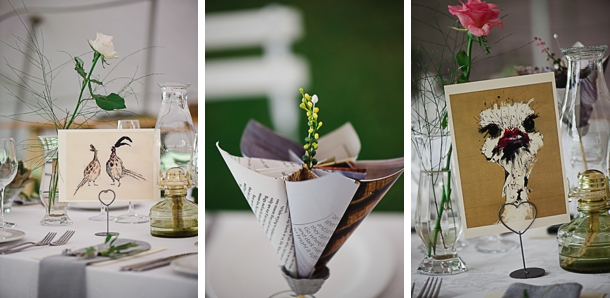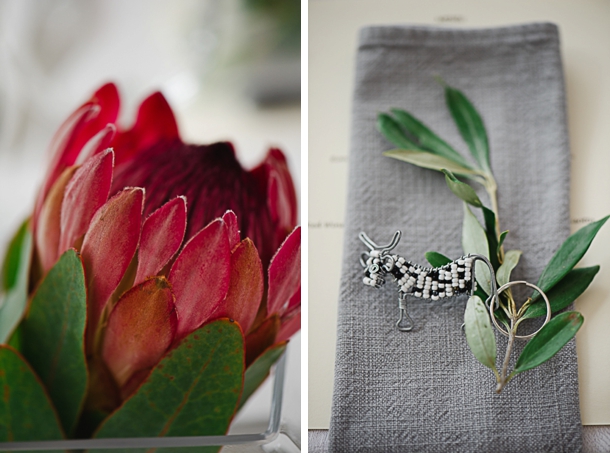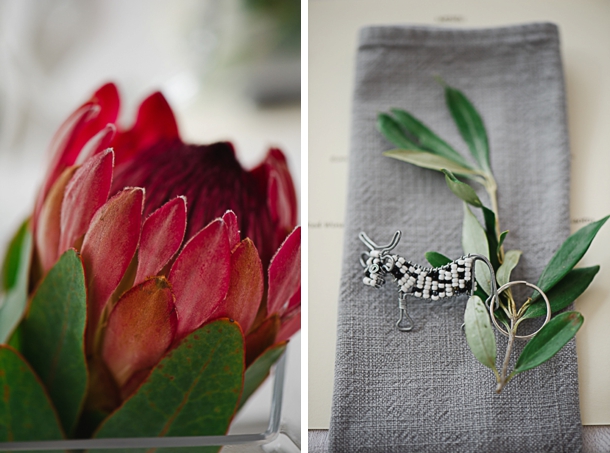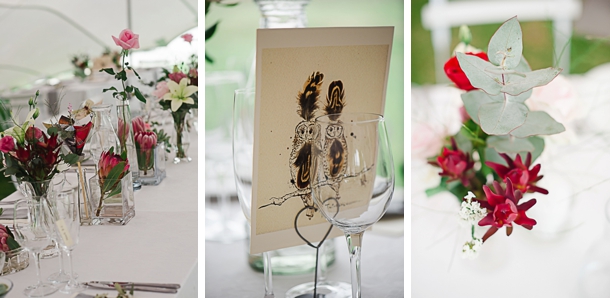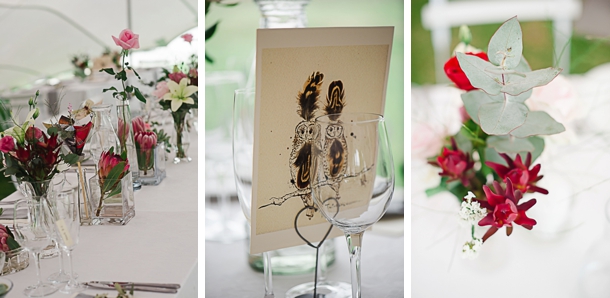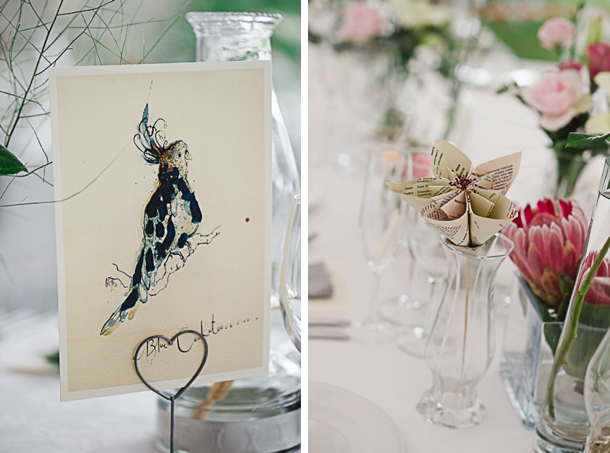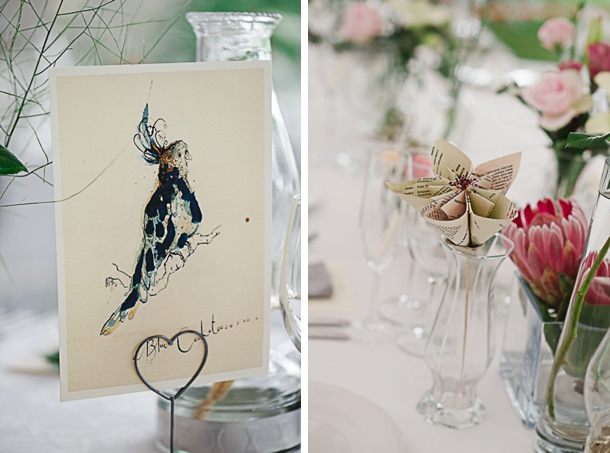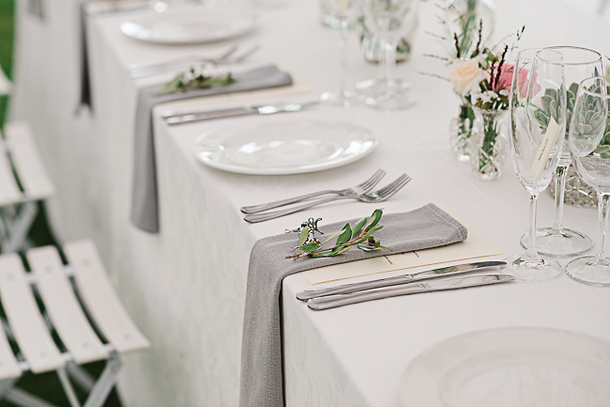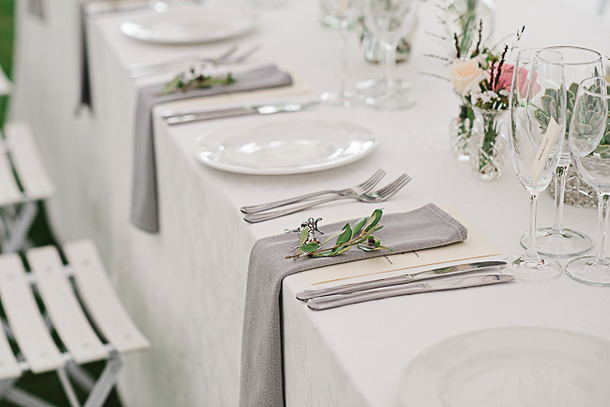 The Honeymoon
Tanzania (Selous Game Reserve) and Zanzibar. I knew where we were going but knew nothing about the details.
Advice for Future Brides & Grooms
Plan as early as possible and get out of the way all the things that can be booked up. Get creative and have fun with the details and save budget for what counts, i.e. photography, catering, etc.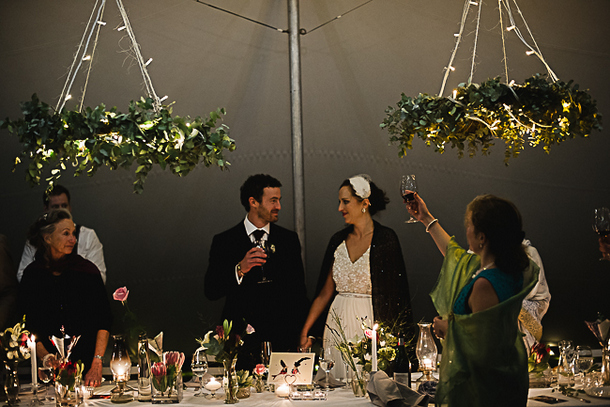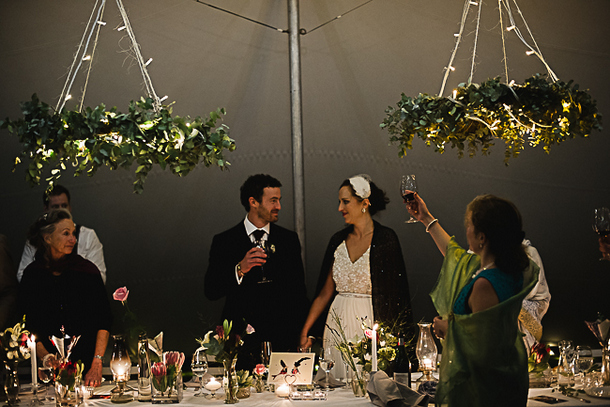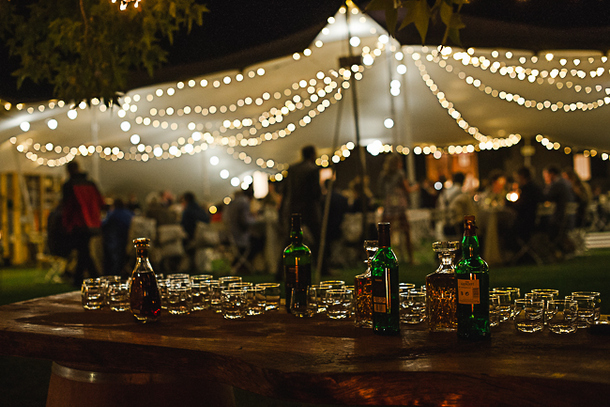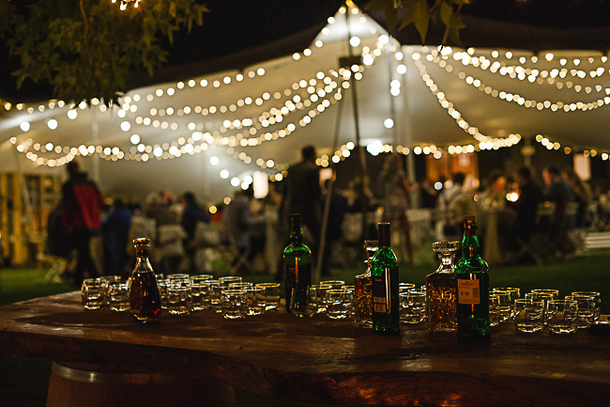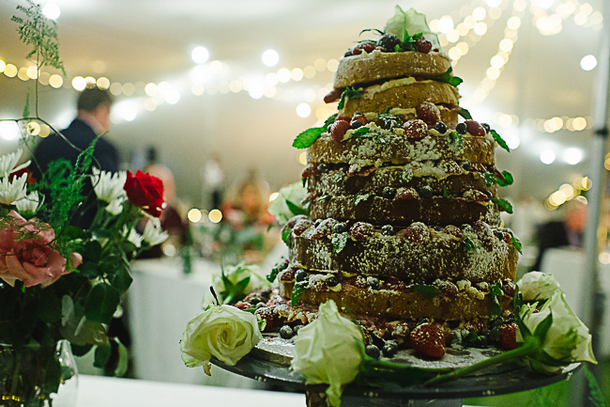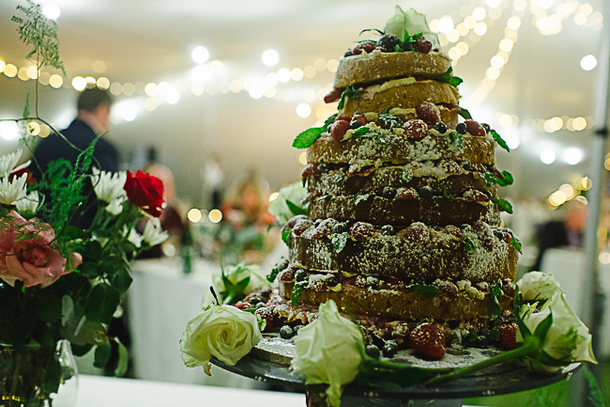 You can see more from this wedding on Jules Morgan's blog.
SERVICE PROVIDERS
Venue: The Oaks Estate, Greyton | Catering: Gordon Manuel @ Country Kitchen | Photography: Jules Morgan | Cake: Janet's Cakes (0822554823) | Flowers: Judy Preen and Jacqui Orton | Décor and hiring: Nadia Strauss for 4EveryEvent | Stationery: Table Bird Designs (Anna Wright) | Nguni key ring favours: Maxwell (0818583703) | Minister: Marius Greeff | Bride's dress: Karen Willis Holmes 'Kayla' | Makeup: Jennifer | Bridesmaids' dresses: Coast
SBB ♥ Jules Morgan Photography, a featured member of our Directory