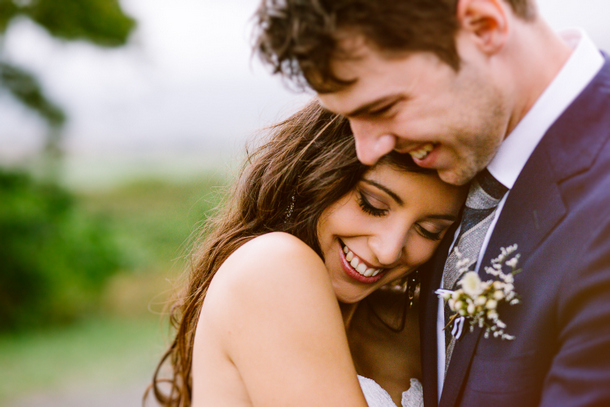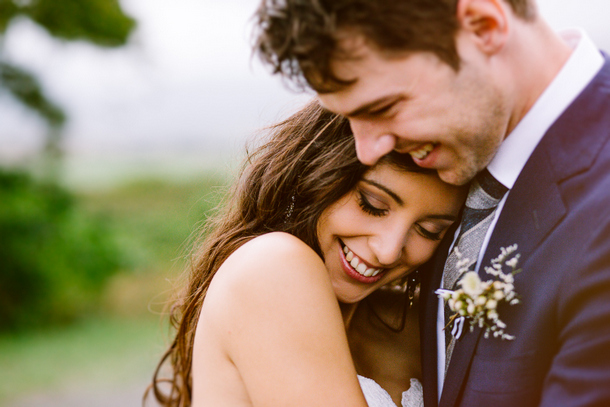 I had such fun reading the 'beind the scenes' story from today's couple, who have such a lovely sense of humour and fun as they recount the series of circumstances and happenings that brought them together. So it didn't put a single bit of a dampener on proceedings when they said their vows at The Cowshed in Mpumalanga on a rainy afternoon. Weddings at this venue always have a great mix of casual and country chic, and with a reception filled with proteas and roses, silverware and chandeliers, candelight and cake, that's exactly the kind of farm charm that we adore. Look out for the Coke can favours (love this idea!) and some beautiful floral bridesmaid dresses among the pretty pics delivered by Lad & Lass.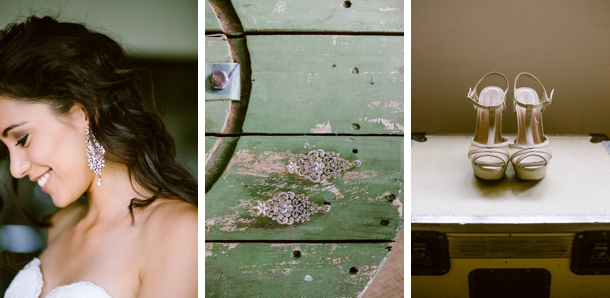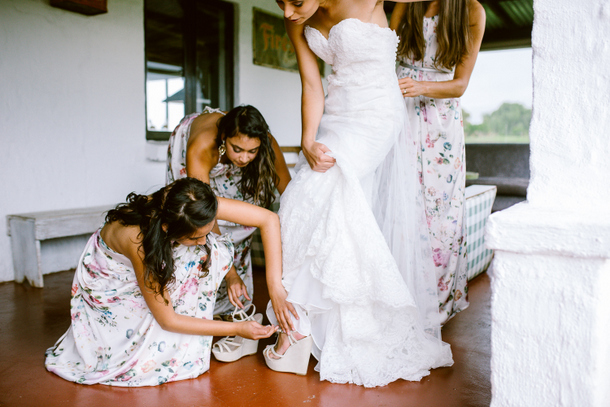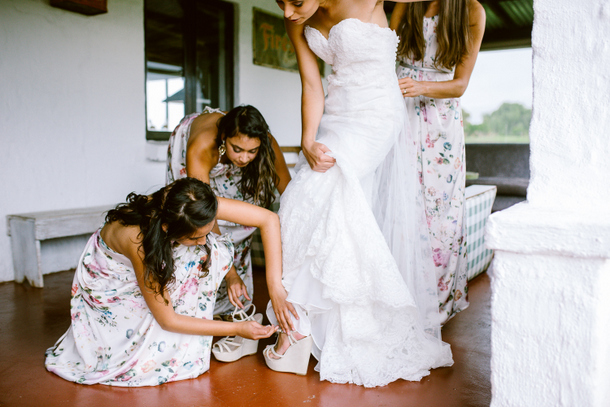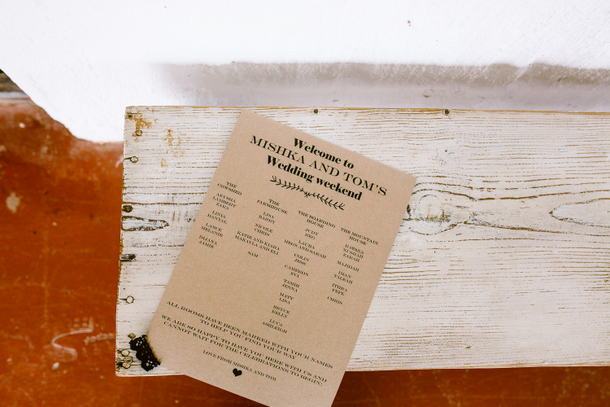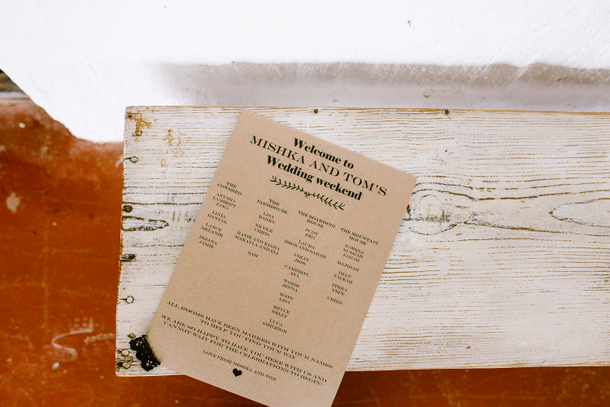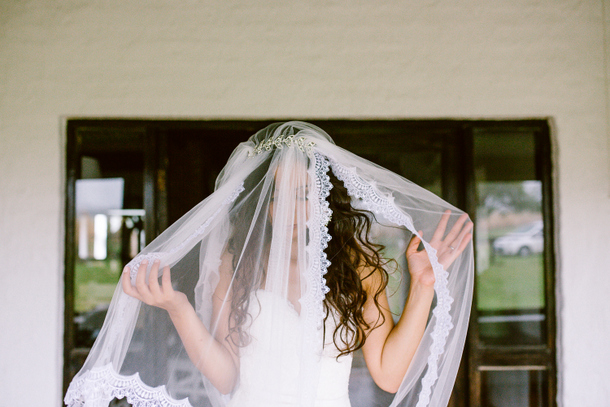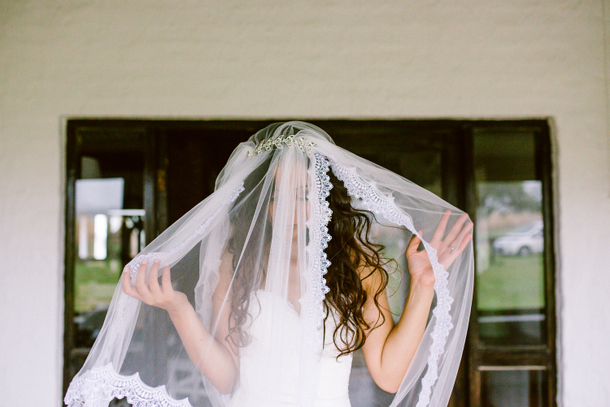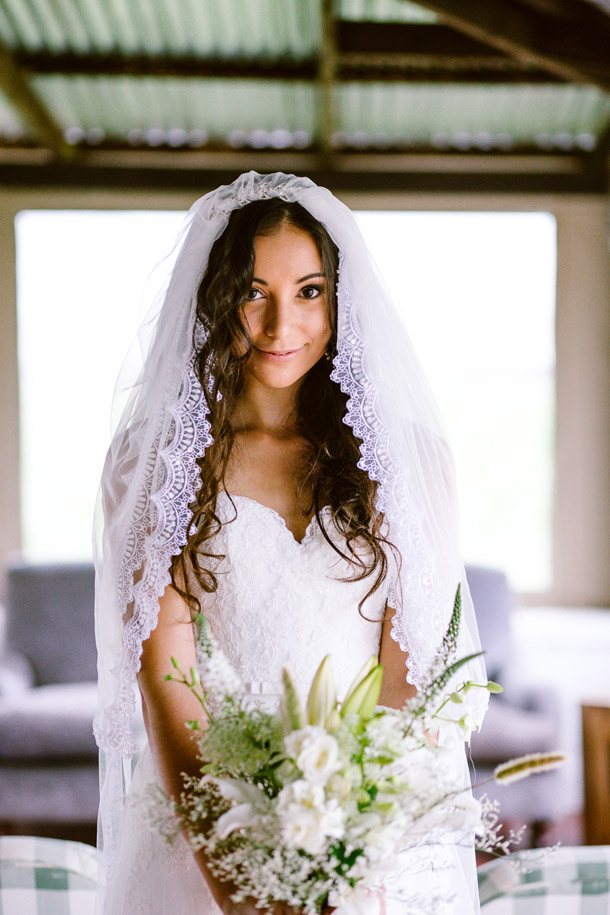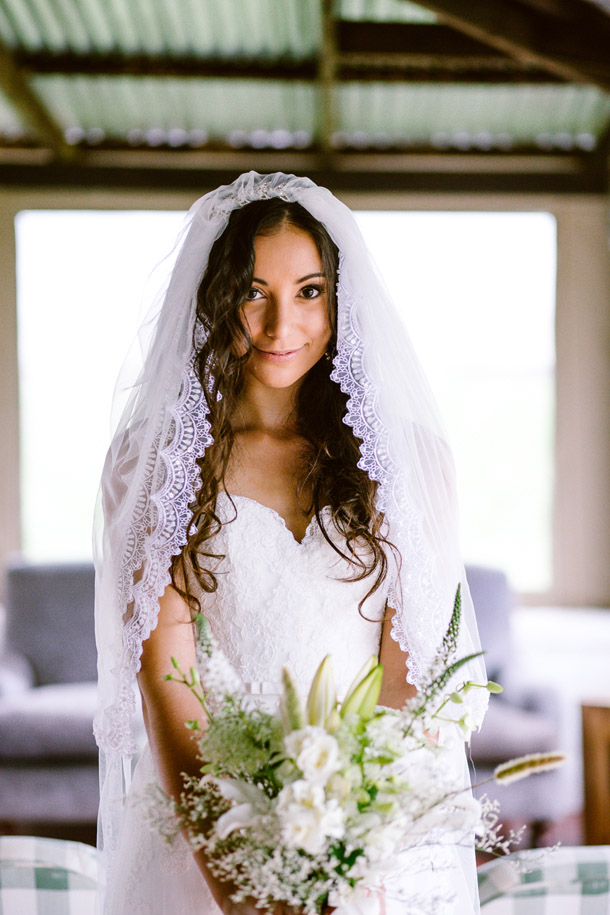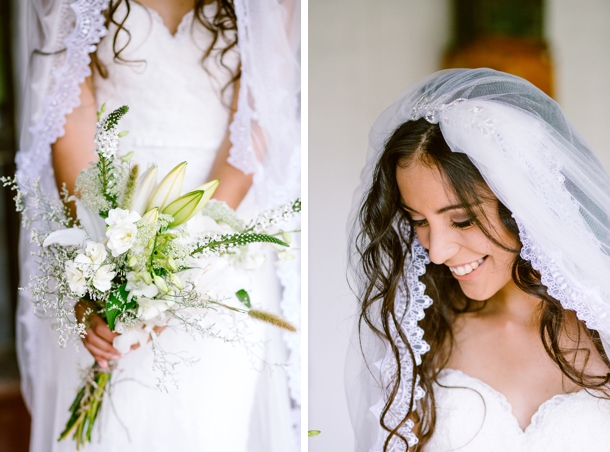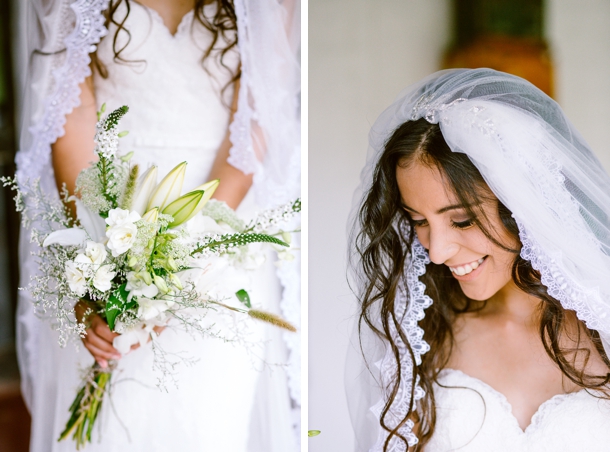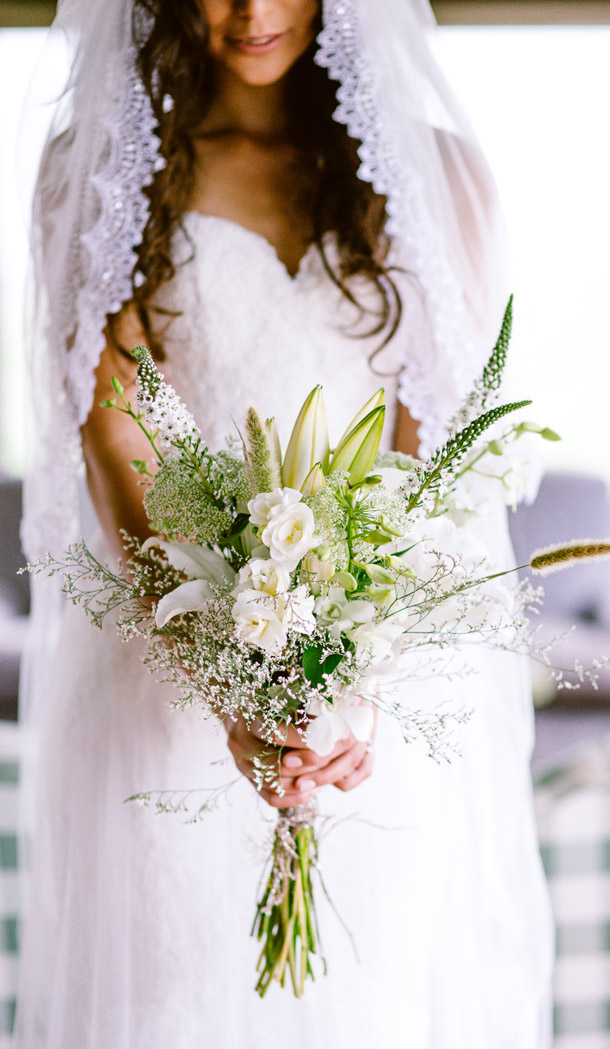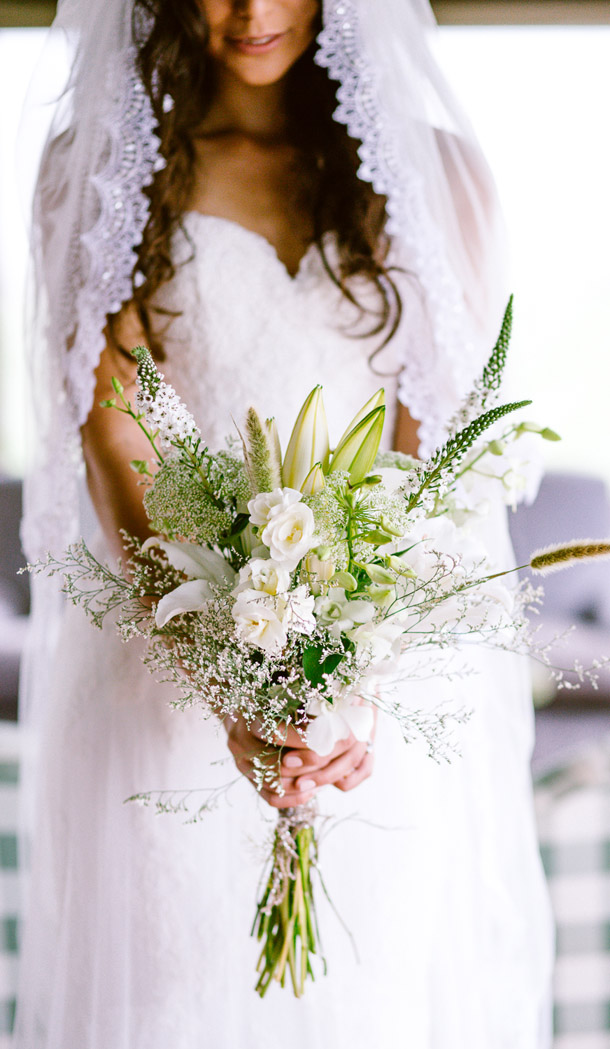 Love Story
Tom: Our story is one of MANY chapters – we recently found that the first was in Std 8, when I asked a pretty girl at a cultural festival for her number and she refused. This theme of rejection follows through our story, at least in the beginning… excluding that random rejection, our love story was roughly seven years in the making. When I think of how I met and fell in love with Mish, it really hinges on a few critical events. On my third day at WITS, I spotted the most stunning girl I had ever seen, but she was running to class and I couldn't catch up to her without looking like I was a creep chasing after random women. I spotted her again later that week, talking to a guy I knew – I asked him for an introduction and he flat out declined, commenting that she was his next target. So the next time I saw them talking, I walked up and waited until it was too awkward NOT to introduce myself, then did what every self-respecting guy does when he meets a beautiful girl… stalked and added her on Facebook. We became really good friends over the next year, spending evenings chatting, skipping lectures for coffee and sitting on the lawns together. But the timing was never right, and nothing ever came of it. Mish then went off and travelled the world, and our communications were sporadic until a few years later, when we ran into each other on campus. I made a snide comment about her then-boyfriend and we parted ways, but ironically it was that comment that sparked something again. A few weeks later, I ended up on the Mozambique border with a 2km queue separating our convoy from an Easter weekend on the beach. We grasped at our last hope of a holiday and pretended to be officials waving our cars through – along the way I spotted Mish looking forlorn in the front seat of a 4×4. After a brief chat we went our separate ways – but that weekend she ended up breaking up with her boyfriend. When we got back and started chatting again, I finally plucked up the courage to ask her for coffee, which became breakfast became lunch became dinner. Three weeks of spending every day together, and we were finally boyfriend and girlfriend!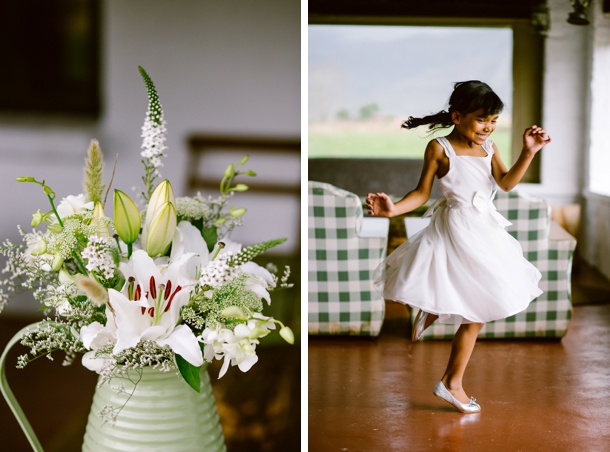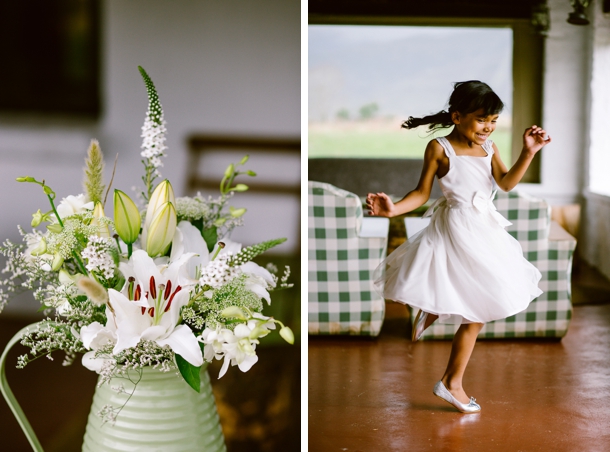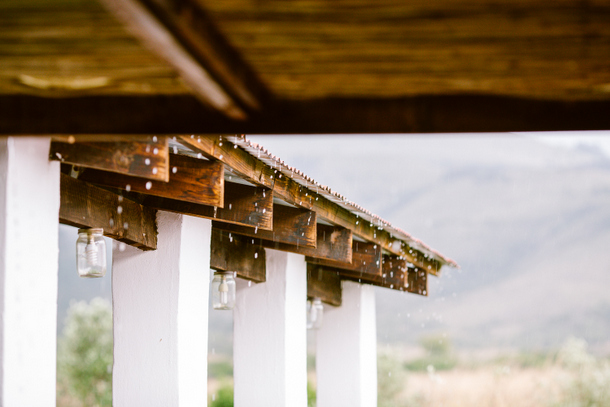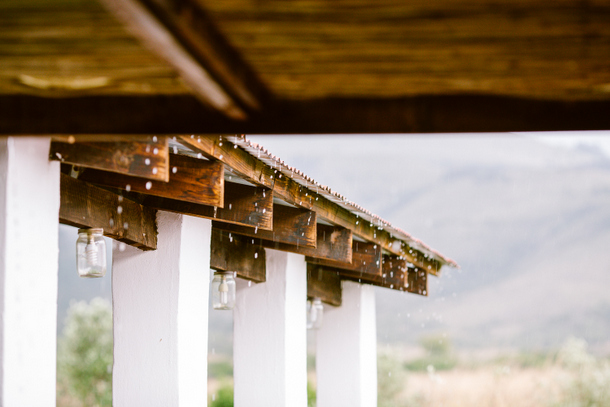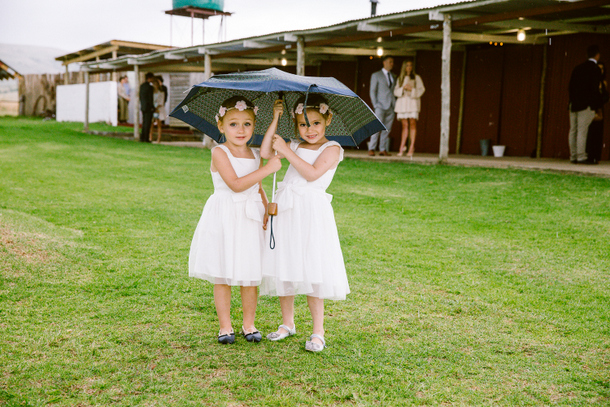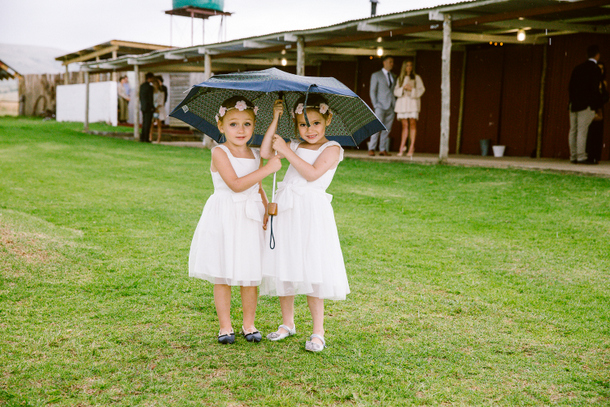 The Proposal
Mishka: The engagement was like many things in our relationship… fraught with comedy, surprise and chaos! We had planned a full road trip through the Cape doing all the things I had wanted to do for some time, including riding ostriches. Tom designed the ring and decided to pop the question, carrying a daypack around with him because he was so nervous of losing it. Every special moment was followed by Tom being a little fidgety, and us swiftly moving on. I later found out that this was because the poor guy tried to propose six times, and each time something wasn't perfect. On a private beach, I got sand in my eye. We arrived late to one of my favourite musicians playing an acoustic set and didn't get Tom's planned seating. At a picnic in a private vineyard, I begged to leave as I was ravenous for pasta. The final straw was him booking a paraglide off Lion's Head, getting an enourmous 'Marry Me' sign printed, and the day before being told that the weather wasn't suitable. No wonder he'd get all anxious whenever that damn bag came out! Finally, sitting in my family's garden on a glorious sunny day, he just erupted, and told me that no single moment would be special enough to embody his love for me. That he needed a whole lifetime of special moments to make this engagement special enough. He got down on one knee, and through tears of joy and surprise, I said yes.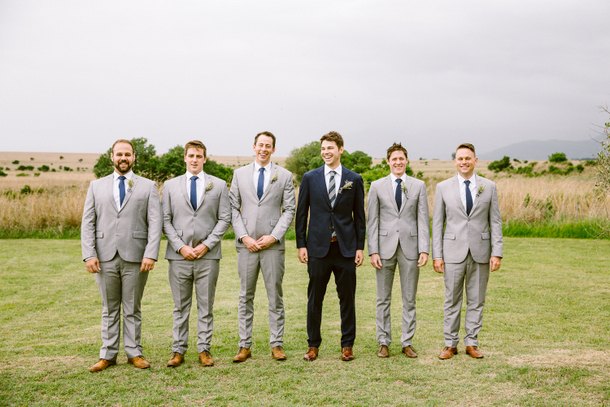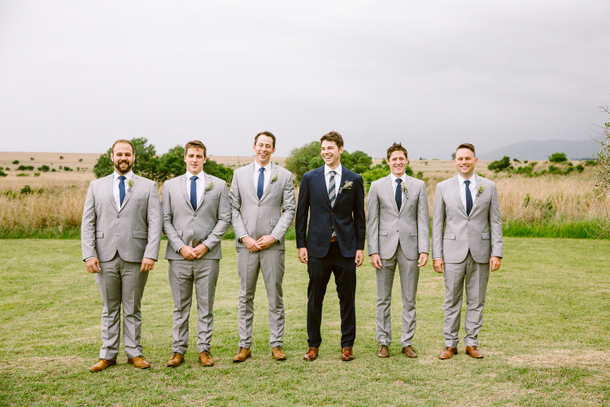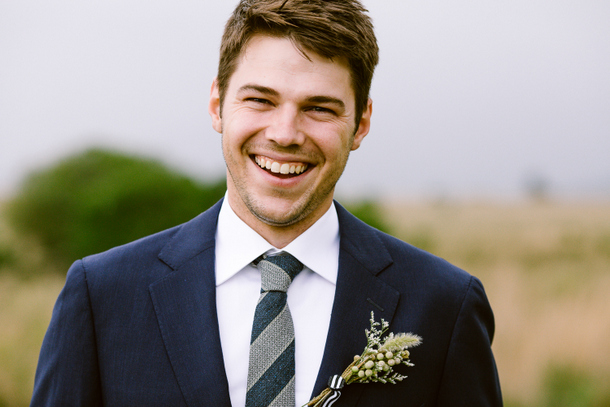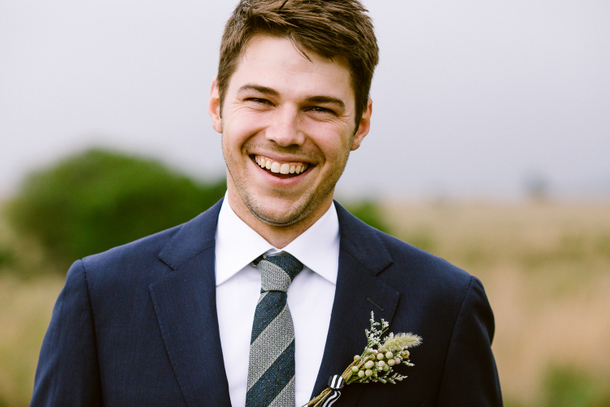 The Venue
With the excitement of having to plan a wedding finally sinking in, we began looking at venues that we felt would reflect who we were to our guests. We both wanted a place that would accommodate a weekend wedding. The Cowshed was effortlessly elegant. The ability to have all our family in the same place was very important to us. The venue had stunning accommodation, an unbelievably beautiful setting and gave the wedding an intimate feel despite its size. It is nestled in the Badfontein Valley and has an enormous tree under which you can get married. This sold it immediately. Anne, who runs The Cowshed, made us feel at ease from the moment we met her. Her quiet confidence and perpetual patience meant no task was too big and no query too silly. She was amazing!
Wedding Style
We went for a relaxed farm wedding, which lent itself to muted neutrals, soft greys and whites, contrasted with the warmth of wood and the luxe of silver. We didn't really confine ourselves to a single colour palette, but tended towards tones and textures that reflected both the masculine and feminine elements of luxury farm style living. We wanted to avoid the clichéd elements associated with a farm wedding, and keep it sophisticated, yet unpretentious.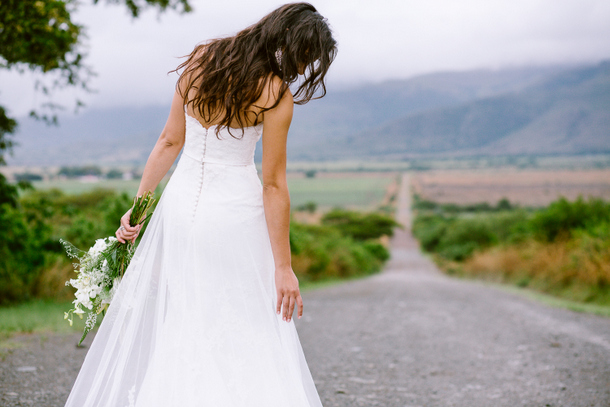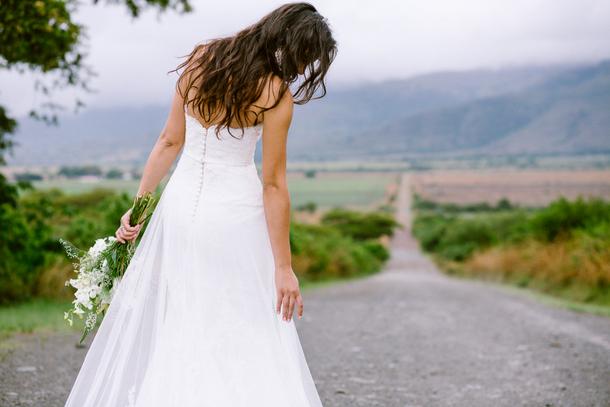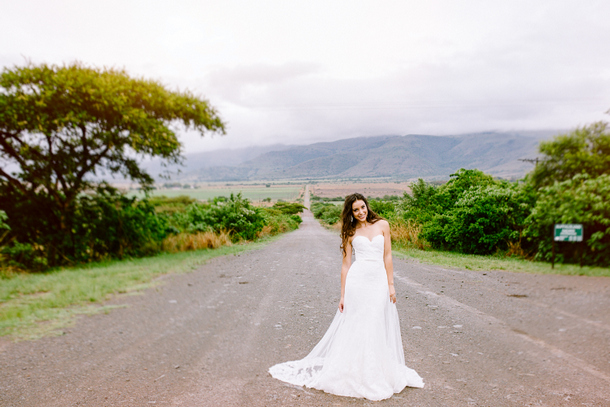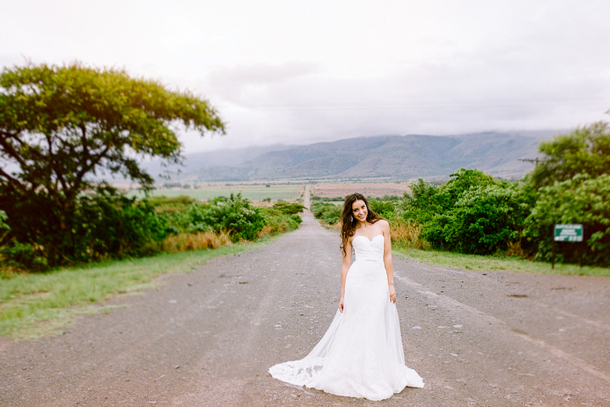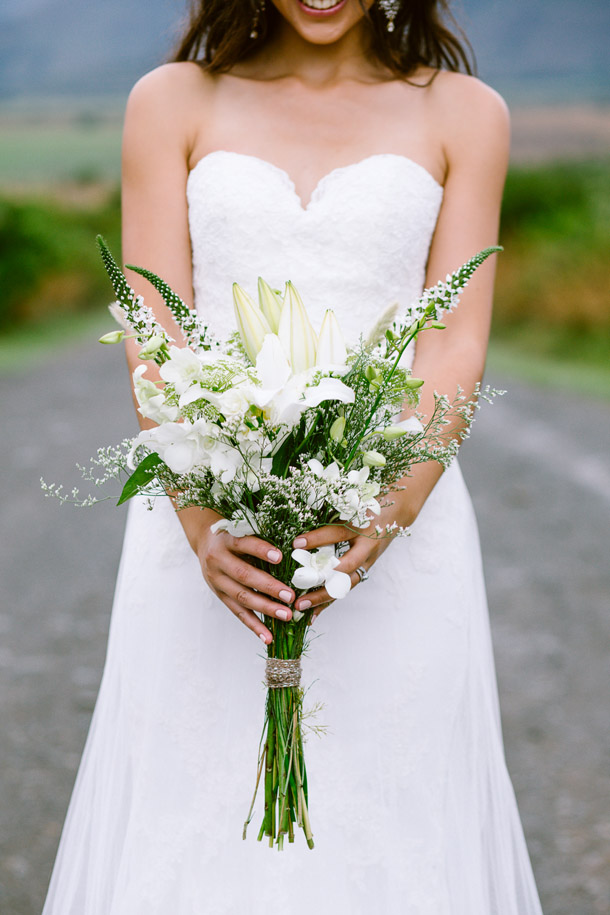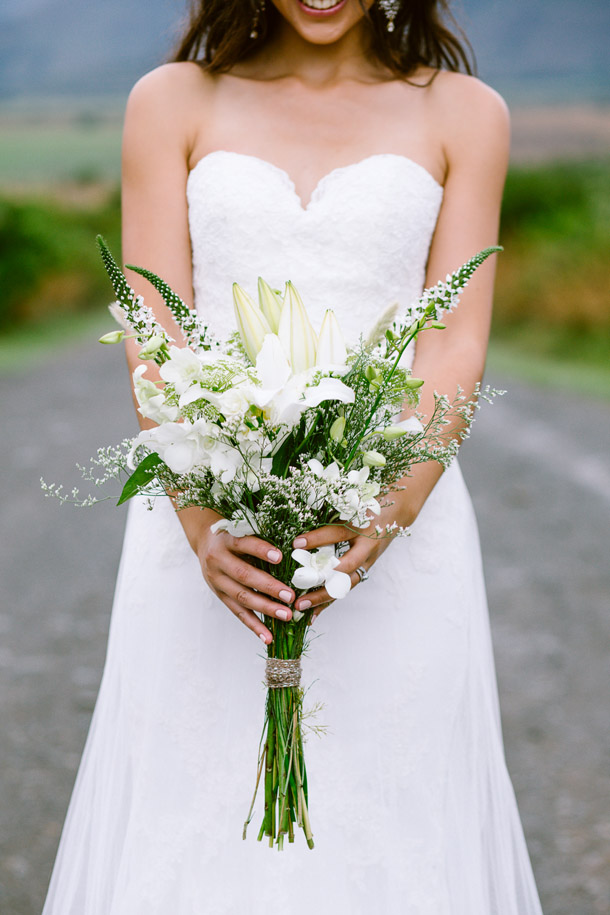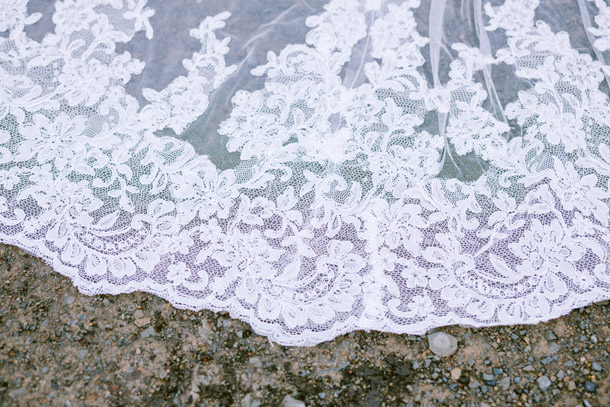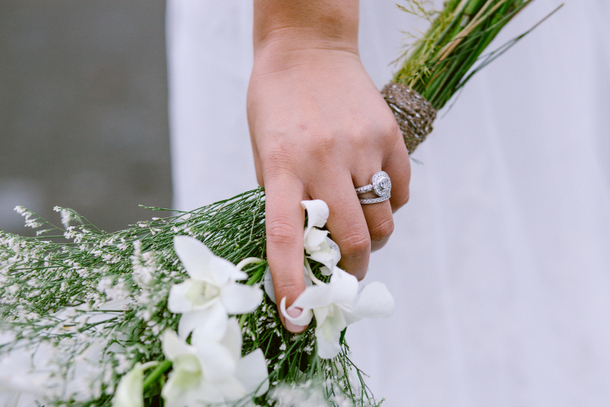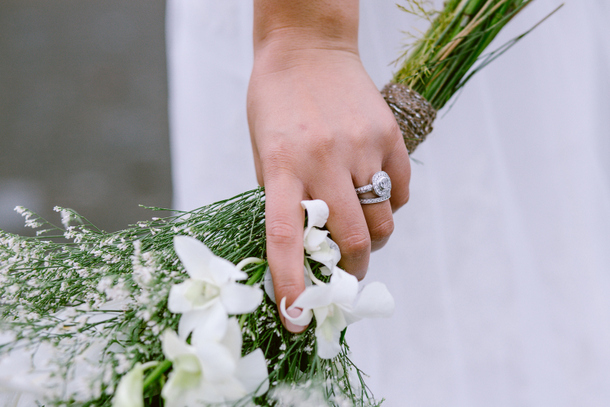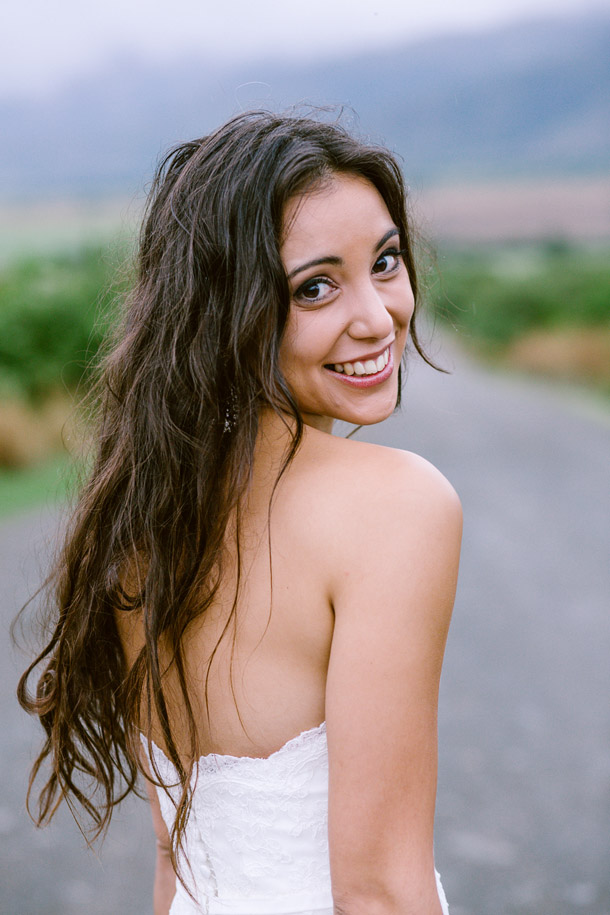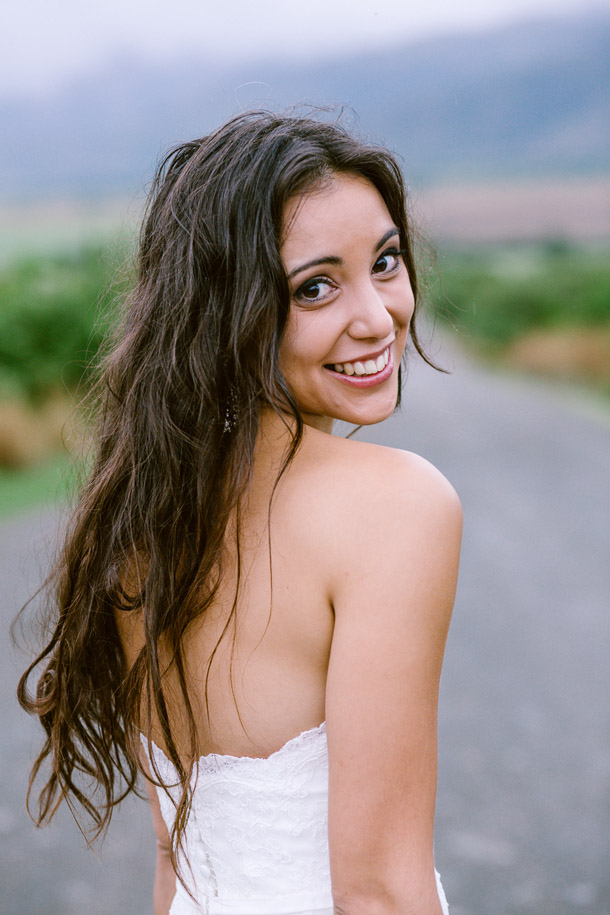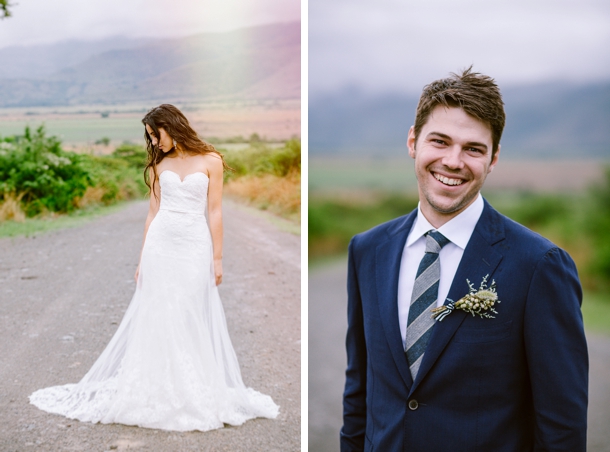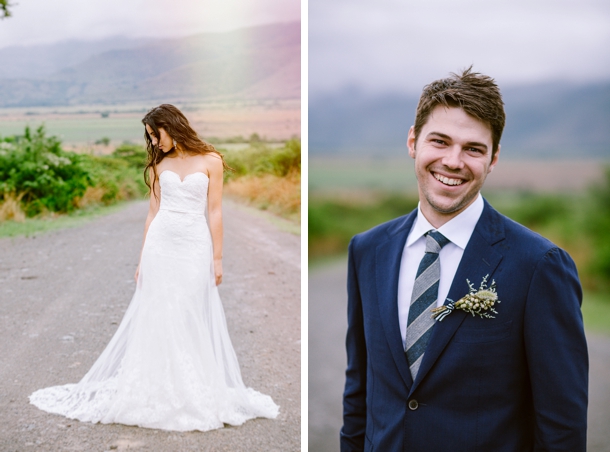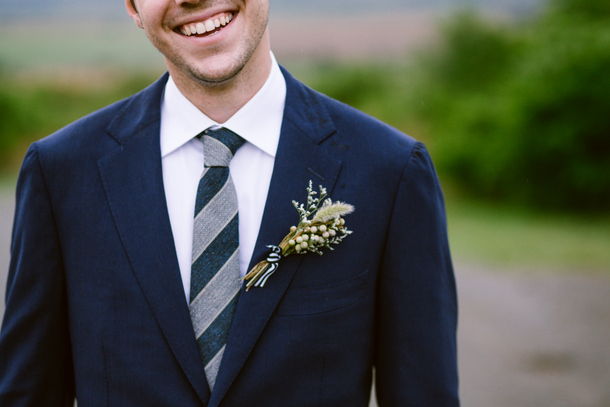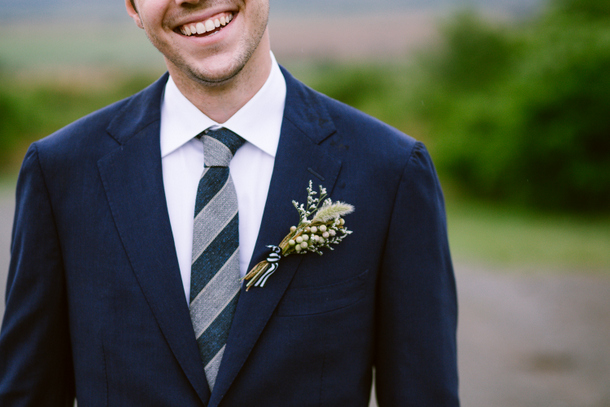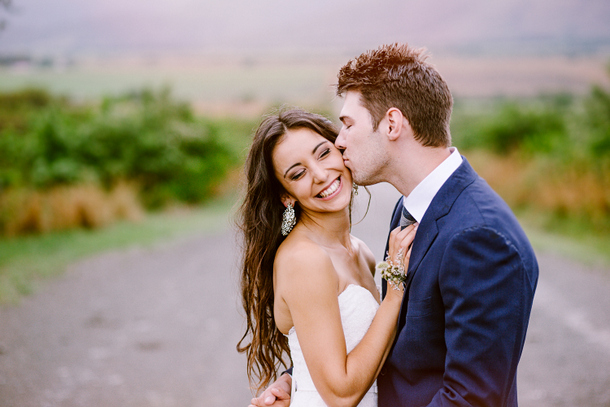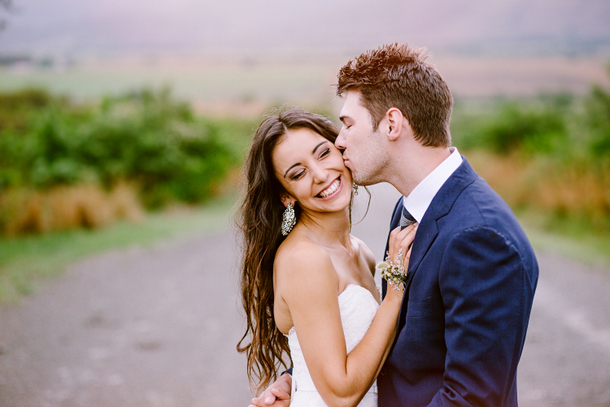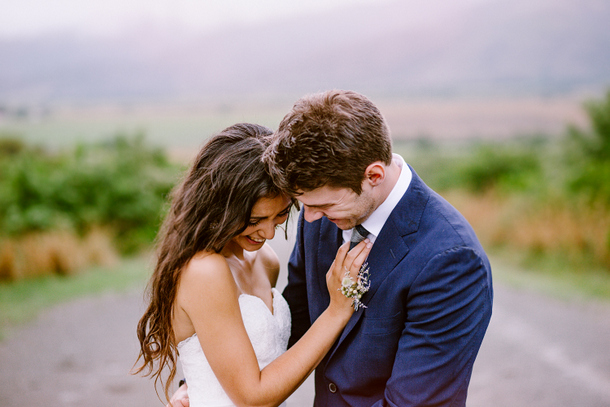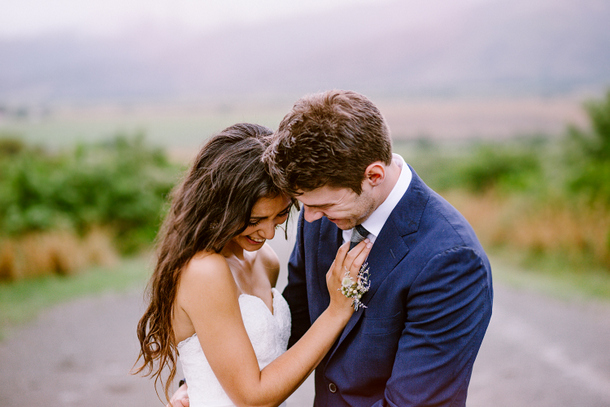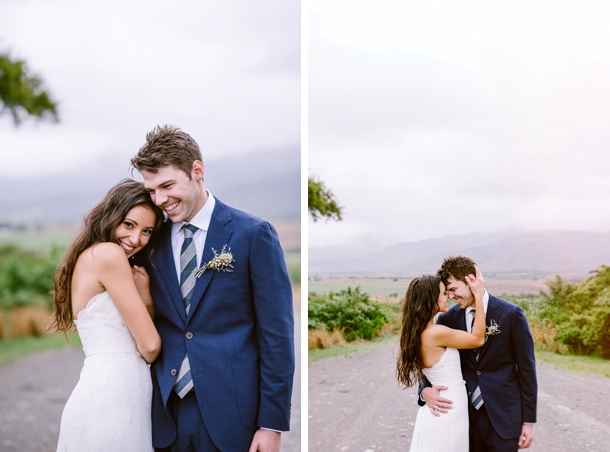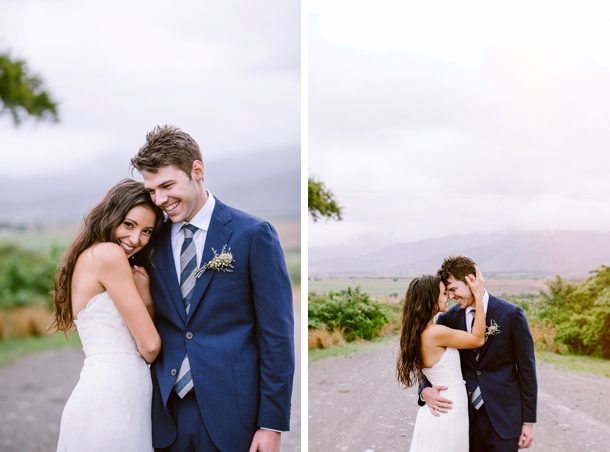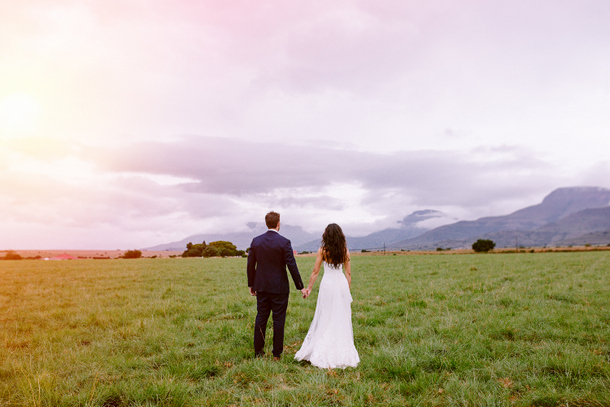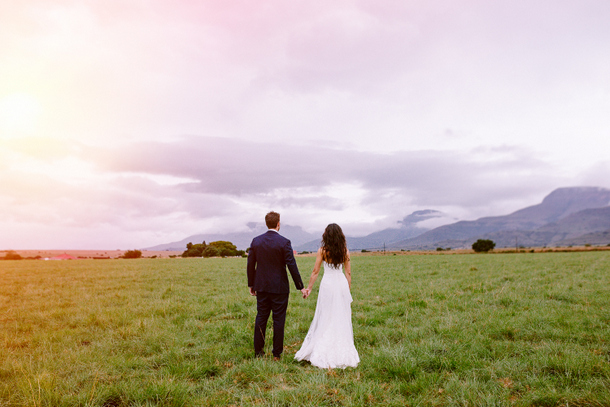 Wedding Details
Tom's dad performed the ceremony – something so precious for both of us, and there wasn't a dry eye at the end of it all. We also decided to write our own vows, and it made the ceremony even more sincere in relaying our love and joy at being able to marry our best friend. The flower girls were made up of Mish's youngest sister and our nieces. Seeing them so excited in their dresses was perfect as it reinforced our desire for family to be intimately involved in our celebration. The memories of having them dancing the night away with us will remain with us always.
As a gift after our engagement, we were given two customised Coke cans. We felt this was such a sweet – and quirky – gesture that we decided to use Coke cans as our place holders for our guests. This required nearly a full week of standing in line outside the "Share a Coke" campaign, as we were only able to generate them two names at a time. This was a testament to Mish's ridiculous tenacity!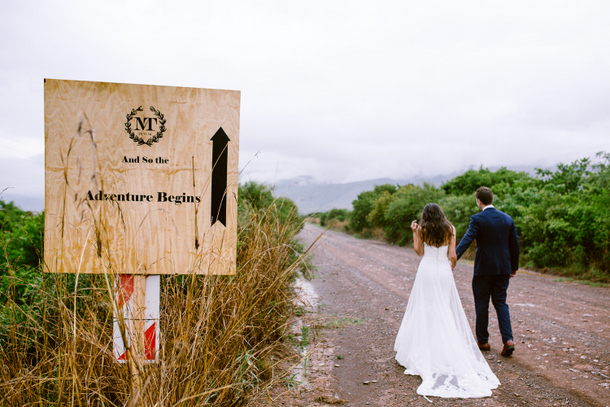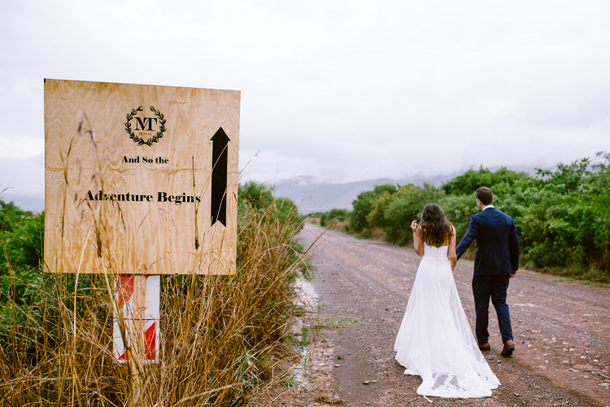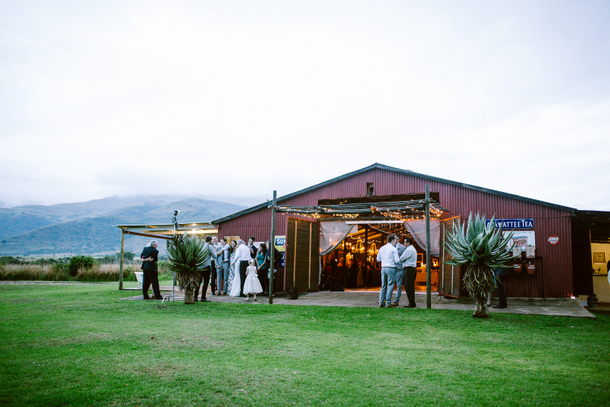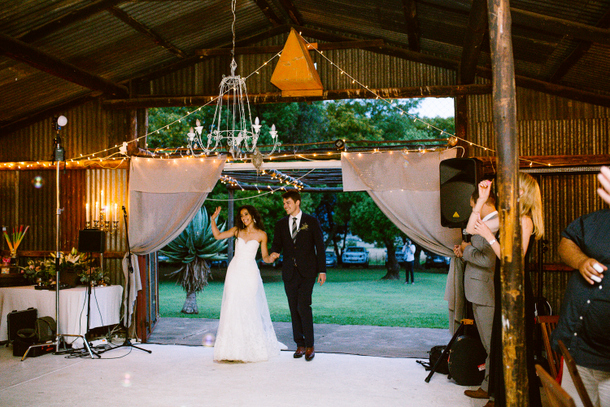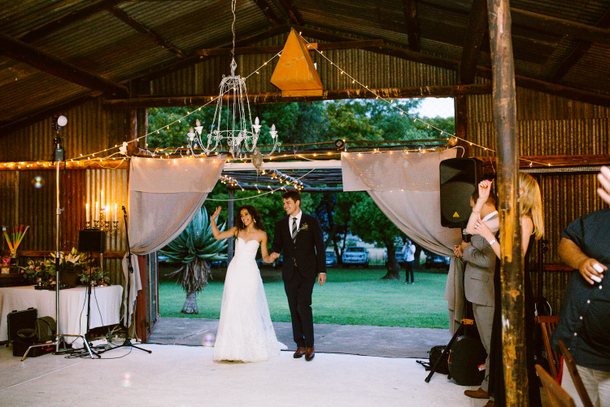 DIY Elements
Pretty much everything – one of the happiest memories before the wedding was aunts and mothers coming over to stick bells on our wavers and attach tags to our wooden chopping board gifts. I think we ended up doing so much DIY because we really loved it, and because by finding elements we love and trying to recreate them, we were often the only people we could find who were able to do what we wanted. Both of us love using our hands and this was a perfect way of being creative together. It wasn't really about budget, as we probably spent more through trial and error.
The Flowers
Two weeks before the ceremony, we were suddenly without a florist. Panic ensued but we were so blessed that Tom's mom grabbed the reigns and within a few days we had 200 proteas in buckets in the garage. She spent the two days before the wedding putting all the arrangements together. The outcome was more than we could ever have imagined. She captured what we had envisioned perfectly, with colours of white, blush and champagne, and natural assortments of soft fynbos such as buxifolia with king Proteas, Nubia Proteas, champagne roses, lizianthus, penny gum and gypsophilia placed in various ornate silver rose bowls. Our bouquets were a loose arrangement of a mixture of my favourite orchids, Casablanca lilies, veronica and soft roses.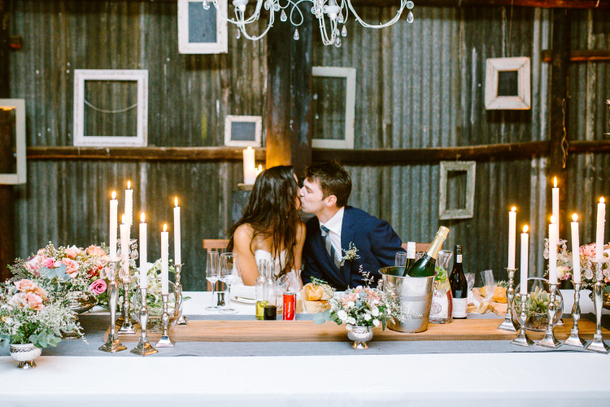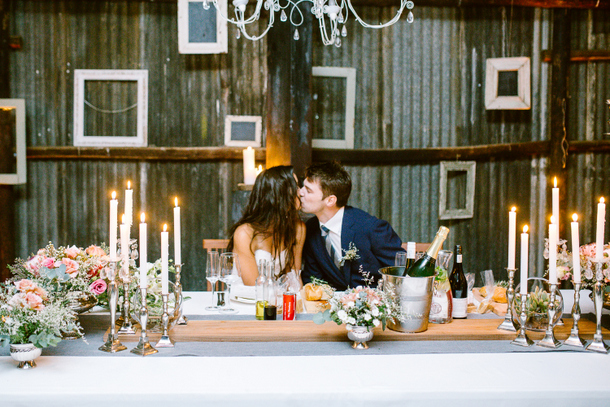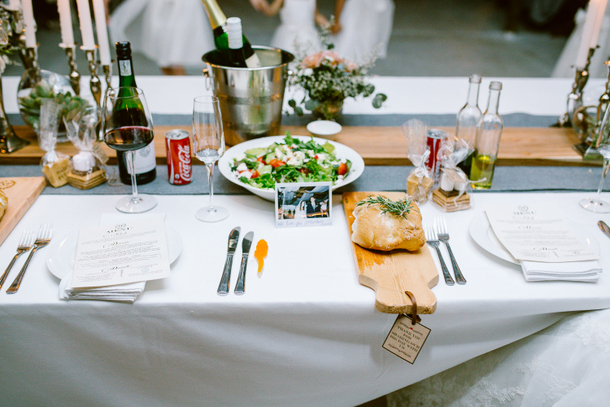 The Dress
I knew from the very beginning that I did not want to have a dress made. I felt that my perfect wedding dress was out there and all I had to do was find it. Hundreds of Pinterest posts, Instagram screenshots and bridal magazines later, I was more confused then ever. Then I stumbled upon De La Vida through a friend's recommendation and was surprised to find a dress that was perfect. It was the very first I tried on, and I finally understood what everyone meant about that feeling you get when you find your wedding dress. It's indescribable and had me in tears when I saw myself in the mirror. But as luck would have it, I was then informed that the particular dress I had chosen had been discontinued and South Africa didn't have it in stock. After frantic discussions with the head office in Spain, we found one remaining in my size in Barcelona, and we had a mad dash to ensure my dream dress would be flown over in time for my special day.
Memorable Moments
We were given the advice that the day would fly by, and that it was so easy to miss the moments that mattered. We made a special effort to take two minutes every hour to just stop and watch. The first time we did it, we suddenly realised that every single guest was there with the sole intention of celebrating our love and commitment with us. In terms of our most memorable single moment, it was laughing and crying as we got to say our vows to the one person in the world that needed to hear them. It was as if no one else was even there.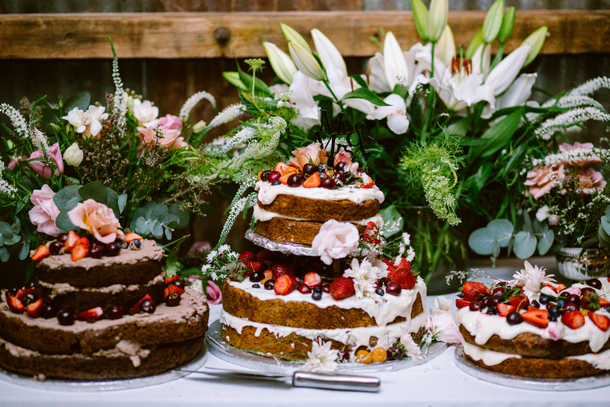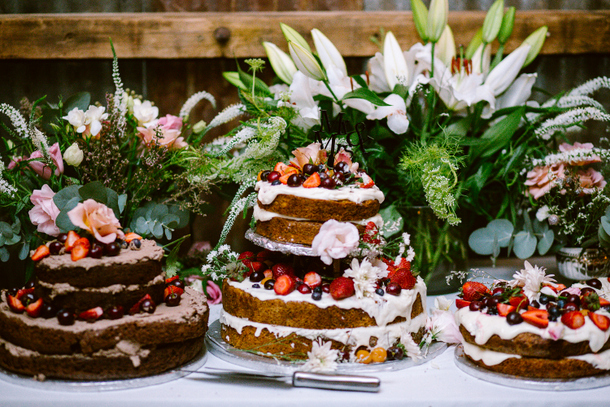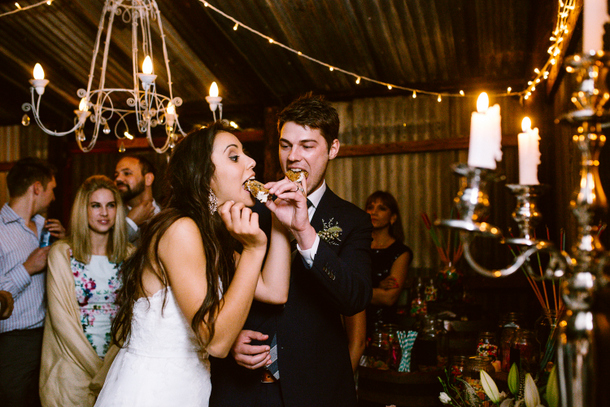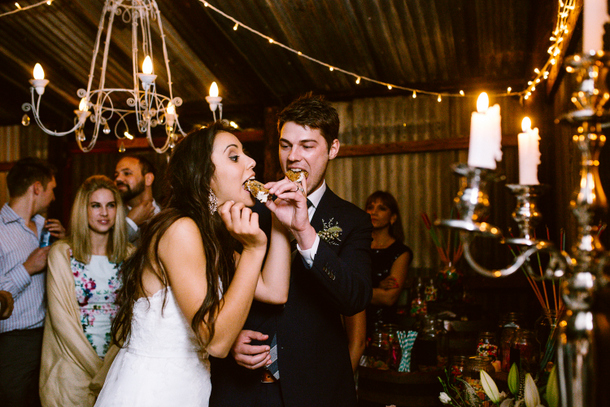 The Honeymoon
We went to South East Asia visiting the small islands off the coast of Thailand and Malaysia. Tom had kept it a secret the whole time, and the first instant I knew where we were going was in the departure terminal in Dubai. It was a beach holiday filled with shopping (my favourite thing!).
Advice for Future Brides & Grooms
Pin down the big stuff first – the detail will fall into place. It's also more fun when you realise that what you are doing is about enhancing the day, rather than being central to it. It takes the pressure off and you can actually enjoy it.
It's easy to forget that after the wedding, there is a marriage. Remember that this is a day to celebrate the start of this, not to be the epitome of it. Don't allow others to scare you with the enormity of the task – take it one day at a time and have fun TOGETHER! Finally, never underestimate the importance of a photographer on your big day. Its imperative that you get along with them. Lad and Lass felt like old friends that we'd known for years, like they were a part of the family from day one and the photographs of our big day are testament to that. Take your time finding a photographer that makes you feel comfortable, it shows in the photos.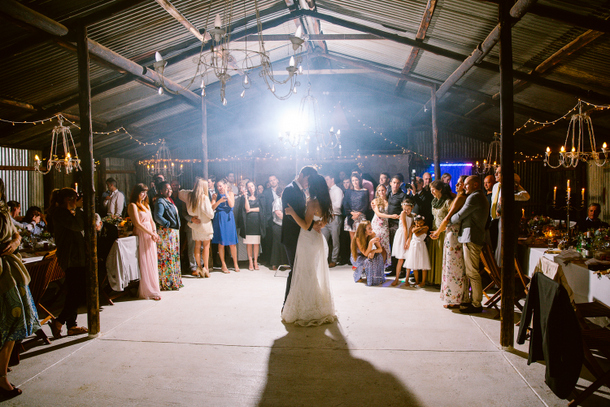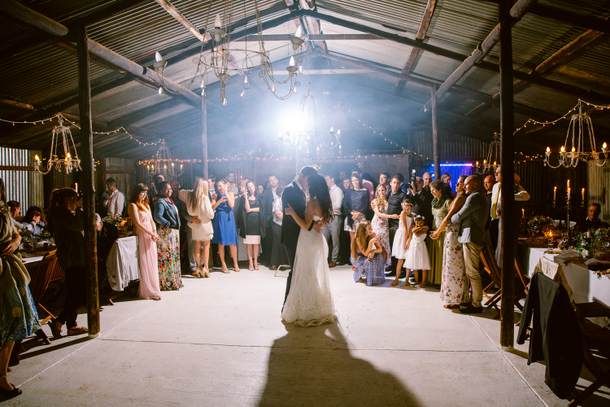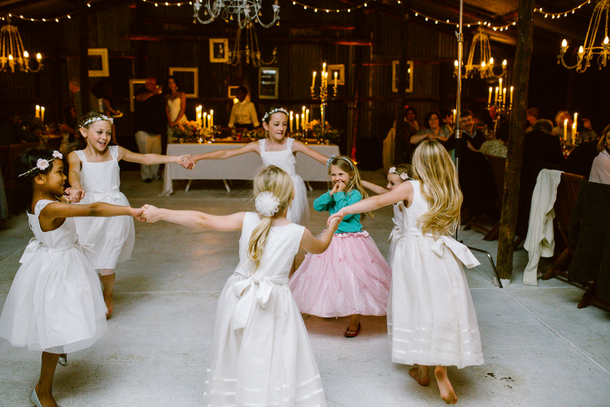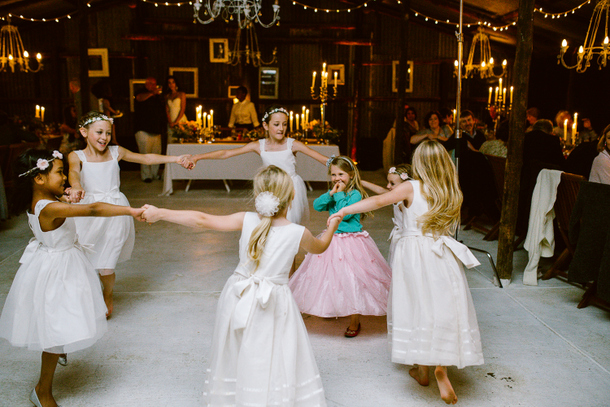 You can see more from this wedding on the Lad & Lass blog.
SERVICE PROVIDERS
Venue: The Cowshed | Catering & cakes: Christine Hamman | Photography: Lad & Lass | Bride's dress: De La Vida | Hair & makeup: Trevor Conn | Grooms Attire: Suit Supply | Music: Cameron Bruce