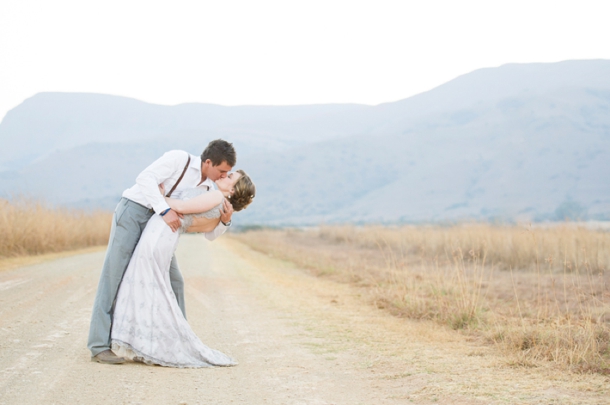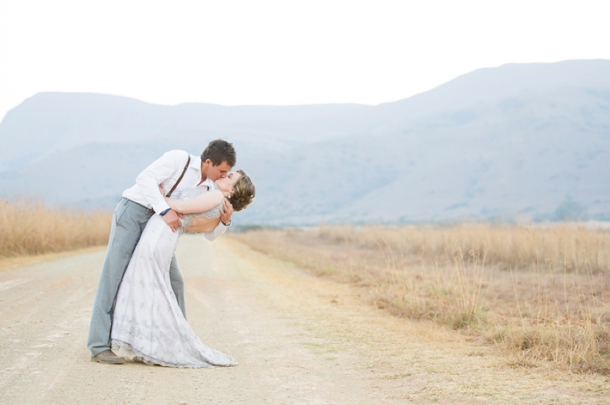 Good morning, friends! How's the week treating you all? Well, either way, it's about to get a little better with a beautiful farm wedding at a venue I have been dying to feature, The Cowshed – talk about rustic goodness! Bride MoniQue was actually first in touch a few months back when I put out a call for new Real Life Brides. Her wedding was too soon to include in the programme, but I was intrigued when she told me all about her custom, soft grey dress and vintage farm theme. Well, both dress and wedding turned out beyond beautiful, so I just had to share them with you here today! This is South African country vintage done right, with lots of heirloom pieces woven into the decor, pretty proteas (I LOVE how each bouquet was a little different), and a romantic ceremony under a tree. Just lovely. Photographer Kim Jansen van Rensburg was there to capture every special moment.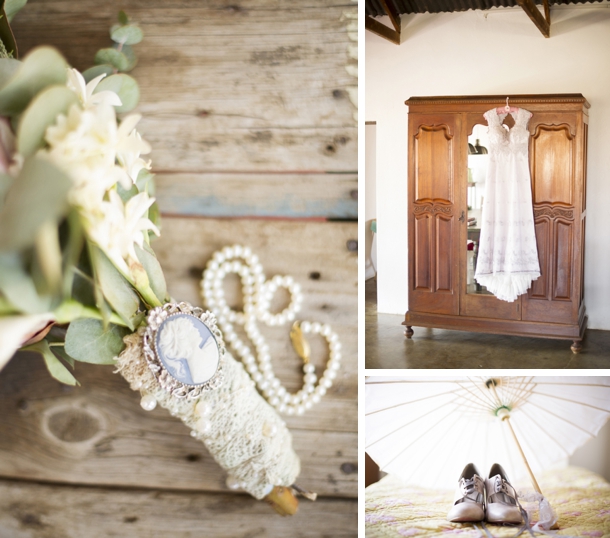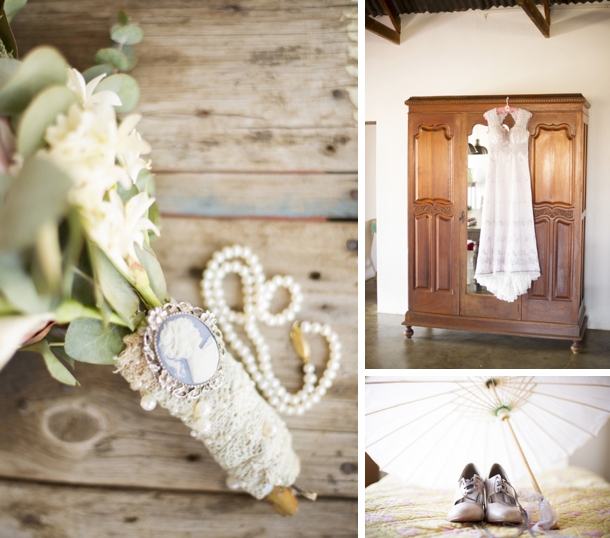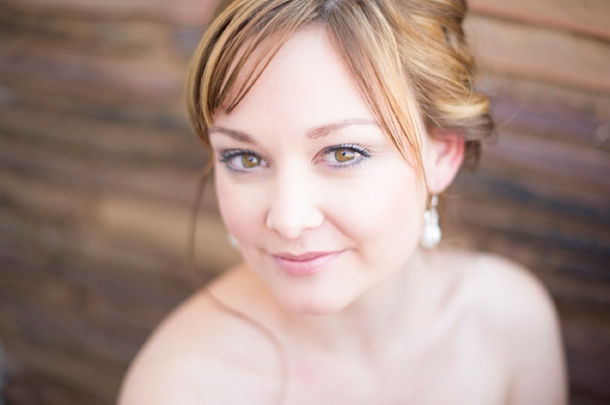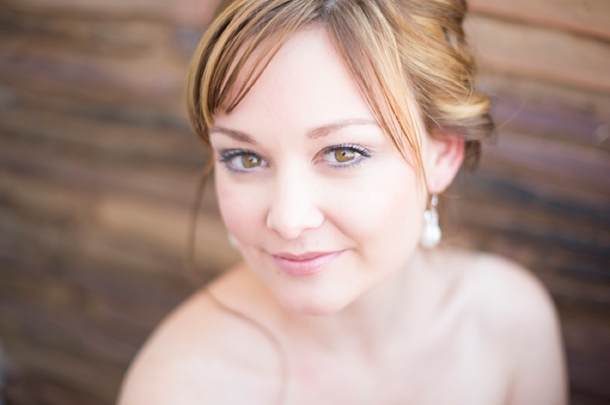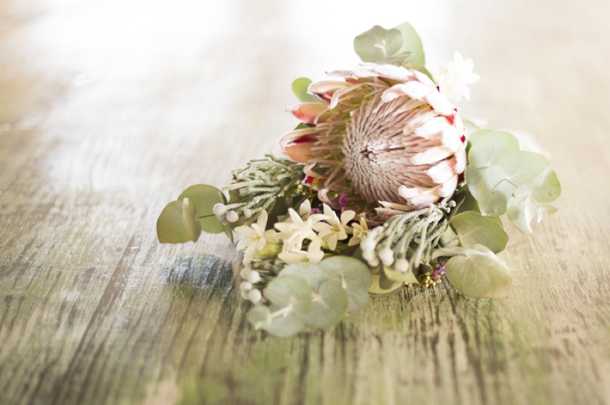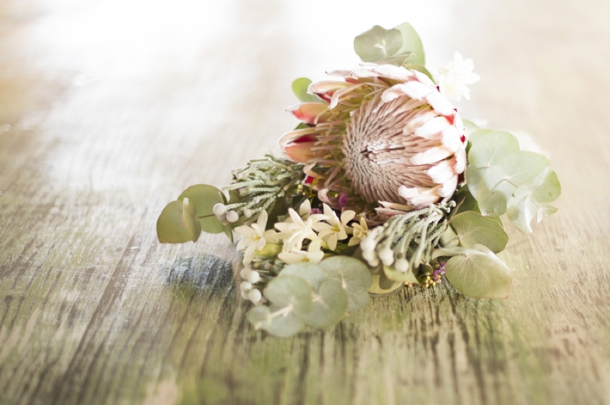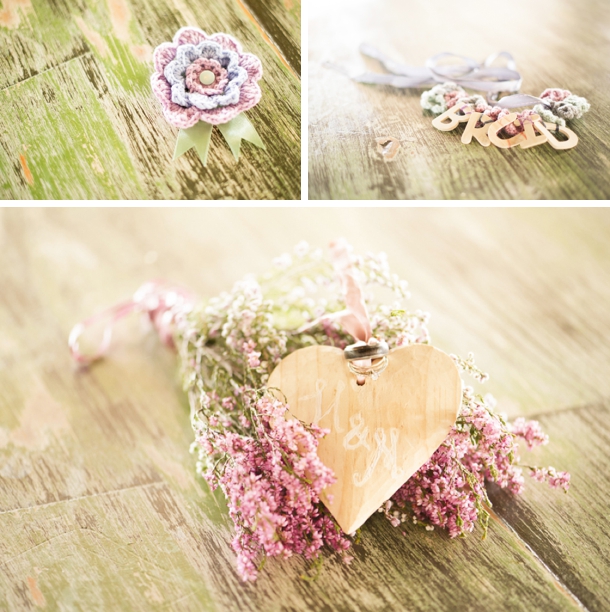 From the bride, MoniQue:
Nico and I met in a scene straight from a good chick flick. I was a waitress at a restaurant and I served Nico's table. We smiled at each other, not knowing we were each other's futures. Nico left that night with my cell phone number and I with a big tip! We started dating soon after.
Six years later, he proposed on a elaborate surprise weekend away that I believed was for a work trip. He is an Environmental Consultant, so working for a lodge wasn't strange. When we arrived, the lodge 'gifted' Nico with a sunset game drive since it also happened to be his birthday. It was of course all part of his elaborate plan. Even the game driver was in on it. He kept us busy till just before sunset and then took us to a lake to enjoy the sundowner over the bushveld. I was busy clicking away with my camera and when I turned around he called me closer, explained that we were not here for work and then asked if I would be his 'beste maatjie vir ewig' (best friend forever) and took out the ring. We then spent the whole weekend in a fancy tree house in the bushveld! All the staff at Pezulu Tree Lodge were his perfect little helpers.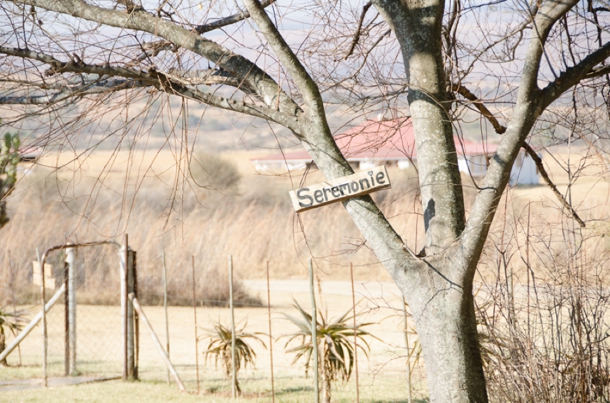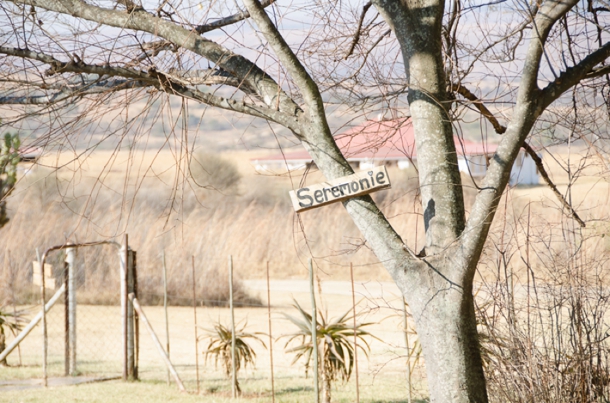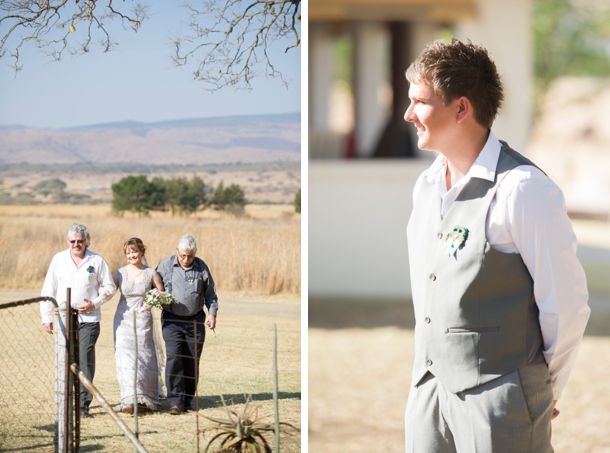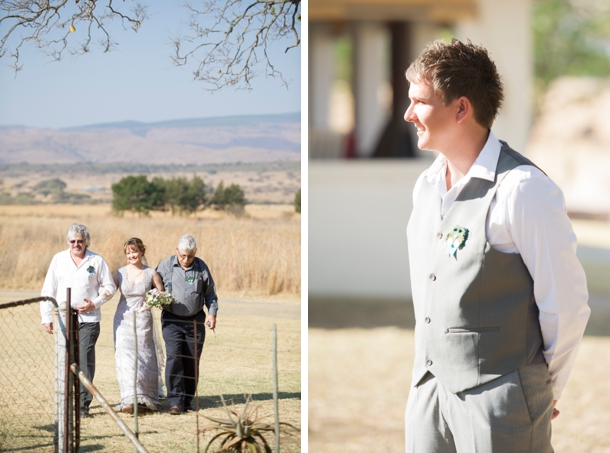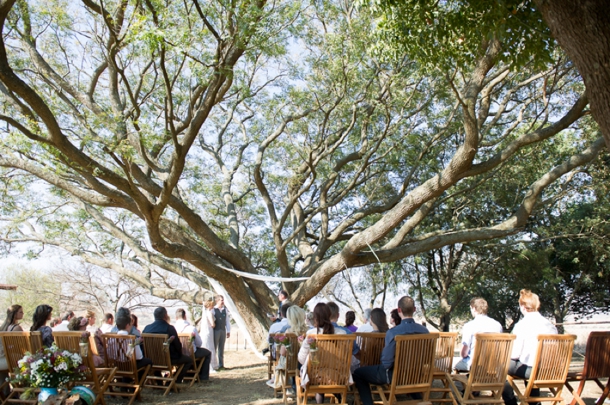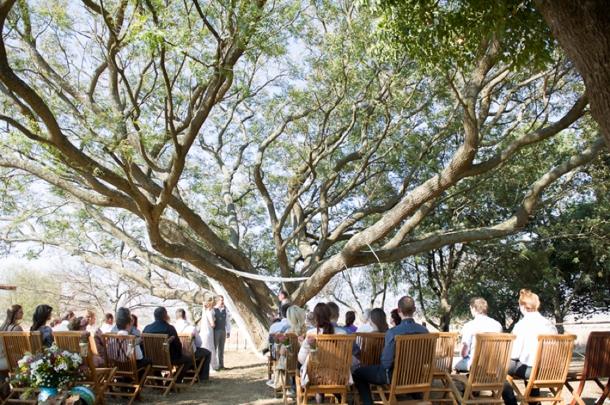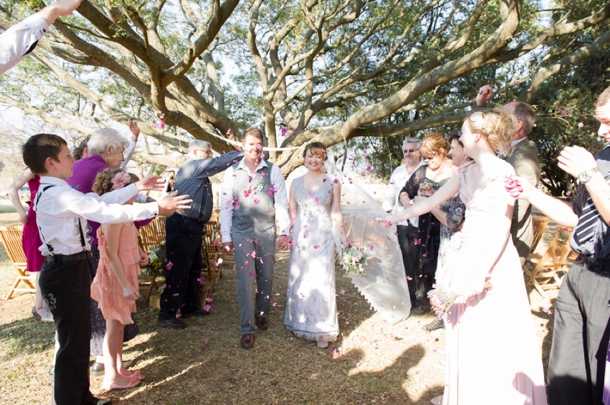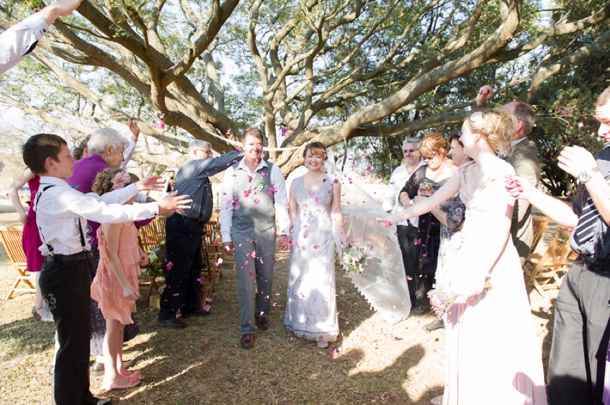 We visited our wedding venue on our way back home from the engagement weekend and it was the only venue we went to. The Cowshed in Lydenburg had everything we wanted. A farm location, great decor and accommodation for our guests. We have always dreamed of a wedding weekend where our guests could spend the Friday till the Sunday together. I've always wanted to get married under a huge tree and The Cowshed even had that. So it was beyond perfect. We went with a 'Vintage Plaas' (vintage farm) theme and didn't really have a set colour; as long as it fit the theme and was a little fun it was perfect.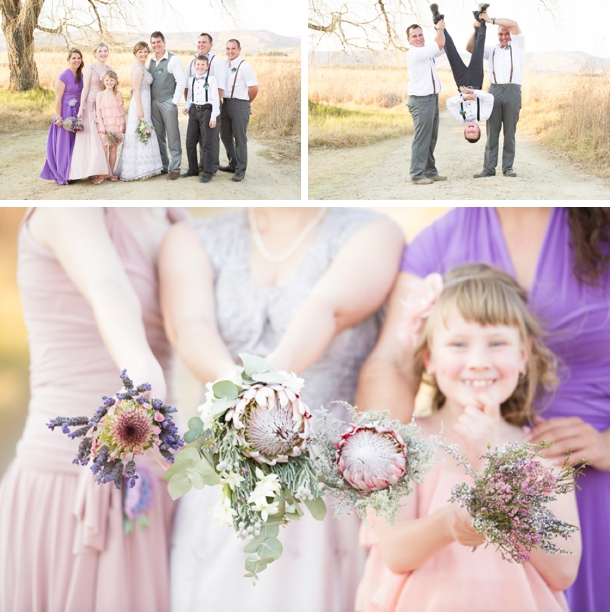 In the months before the wedding, I tried on traditional dresses but found that nothing really suited my body type or was just way too expensive to still have alterations done. So I decided to have it made. White wedding lace was also above our budget and when I saw the grey lace I immediately called my husband-to-be and asked if he would mind if I didn't get married in white. He of course had no problem with it and I bought the lace that instant. The dress maker was amazing and my dress turned out even better than I could have dreamed. I also wore very special pieces that were part of the family. The gloves I wore during the ceremony were Nico's 90-year-old grandmother's that she wore on her own wedding day, and my pearl necklace and earrings were my gran's. The brooch in my hair was my Mom's.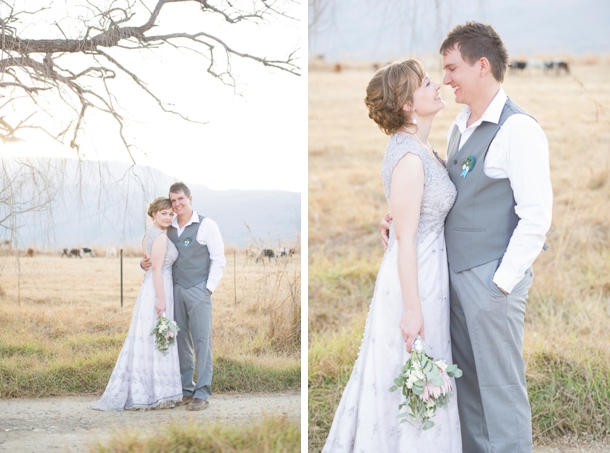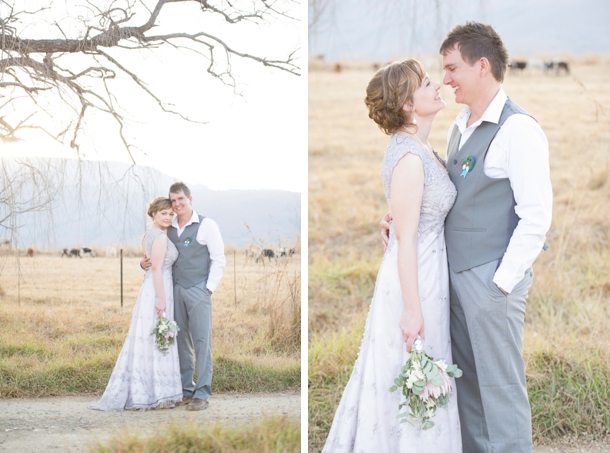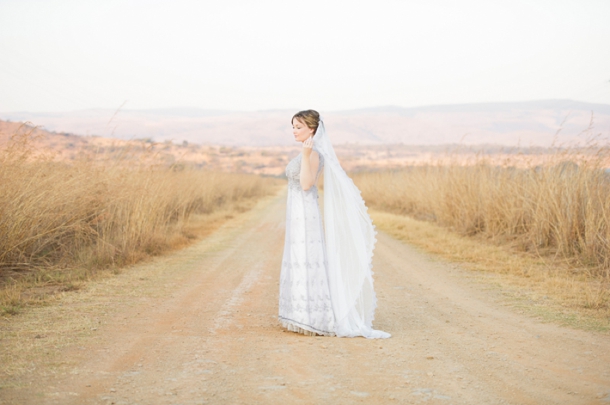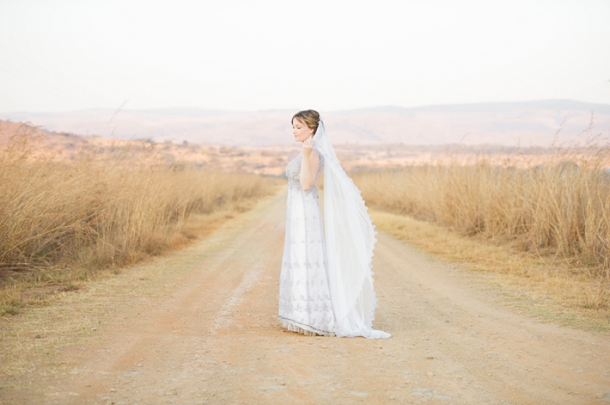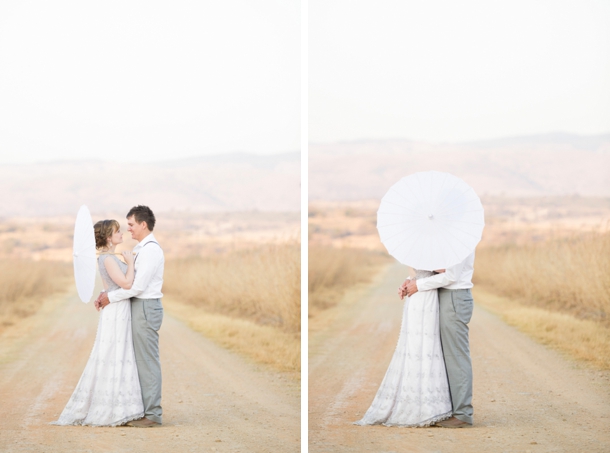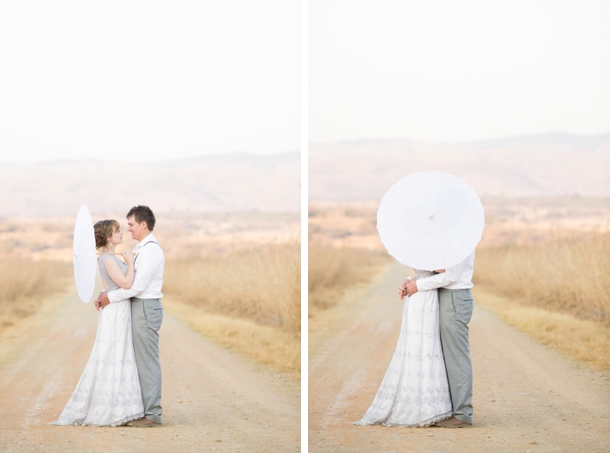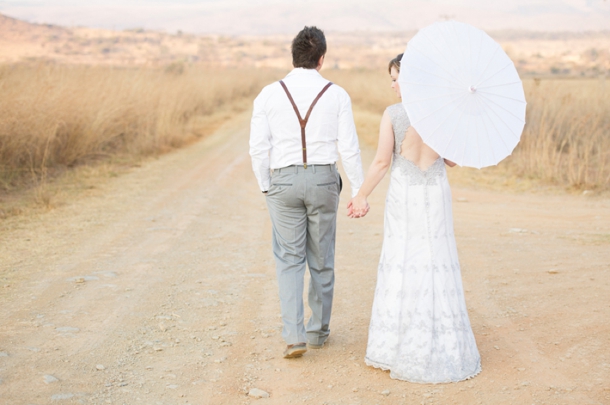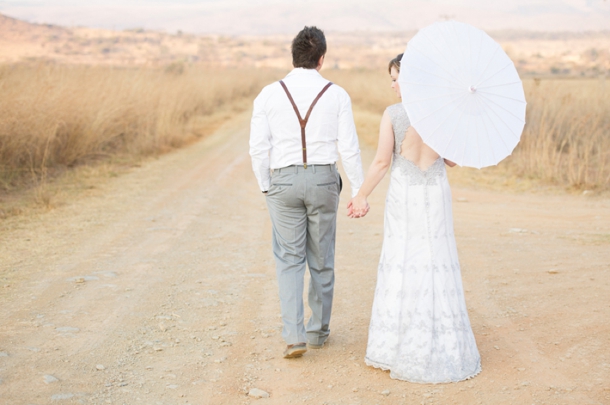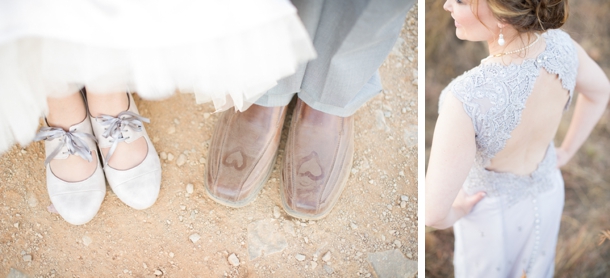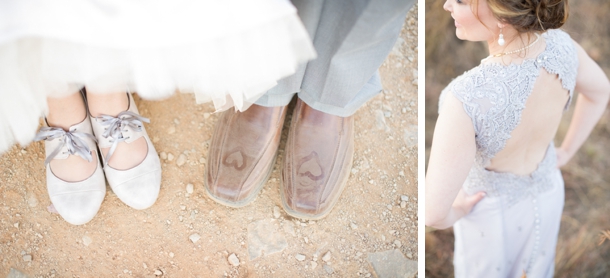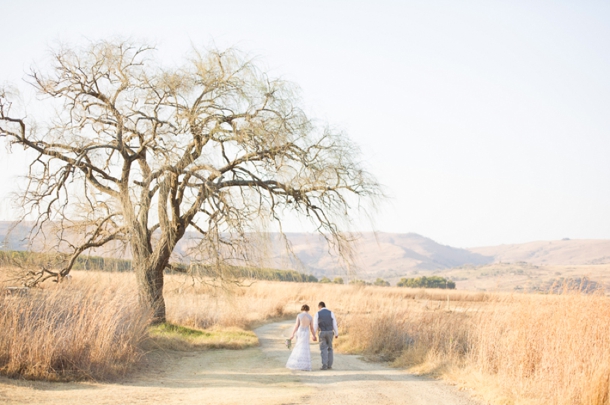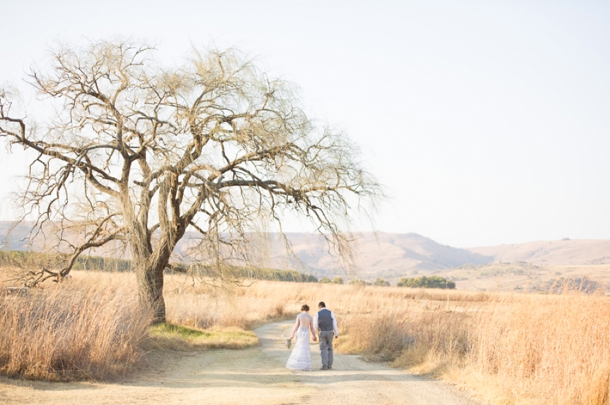 I entered the ceremony with my Granddad and Dad. I am very close with my grandparents and admire my their marriage and see them as great role models. Few people can say they have been married for 52 years. Our family also helped so much with details. My mom made our wedding cake and crochéd the lapel flowers and boutonnieres. My gran had our serviettes embroidered with our initials as a surprise and cut and sewed all the bunting. We also had our moms and grandmas make our favourite desserts as part of our dessert table. There were a million small handmade and DIY projects that made our day so special.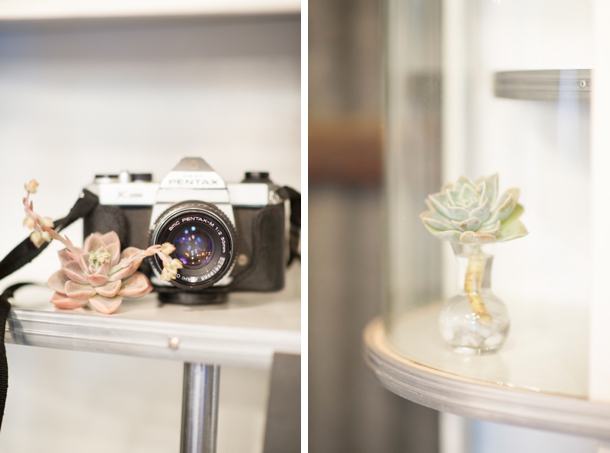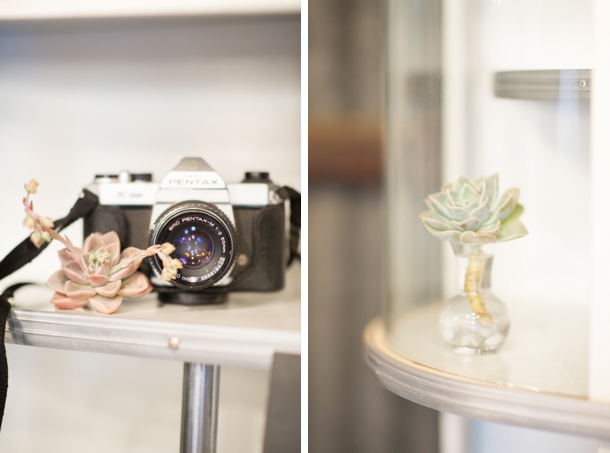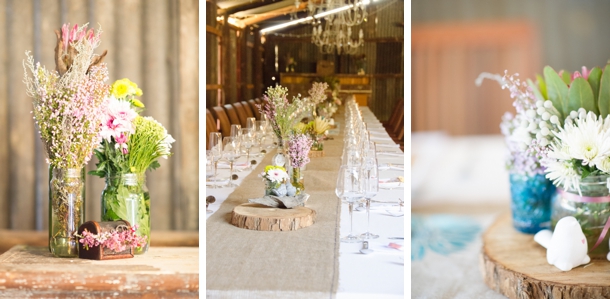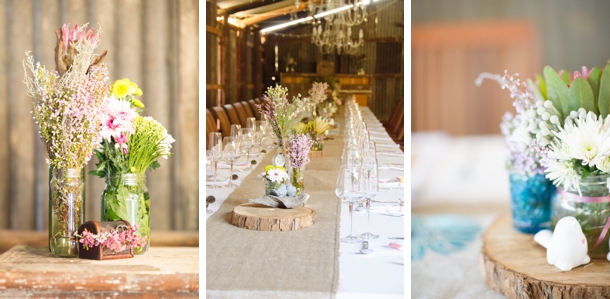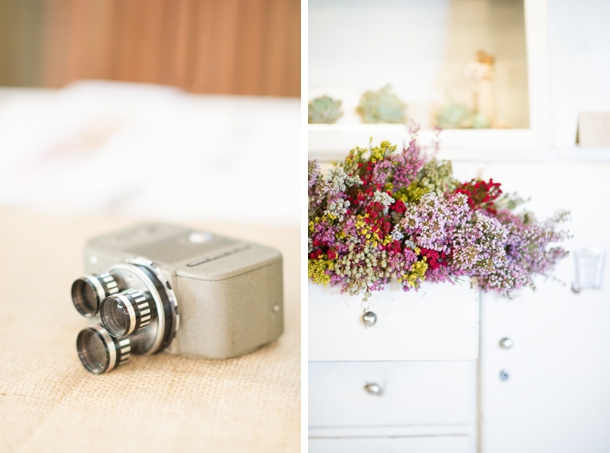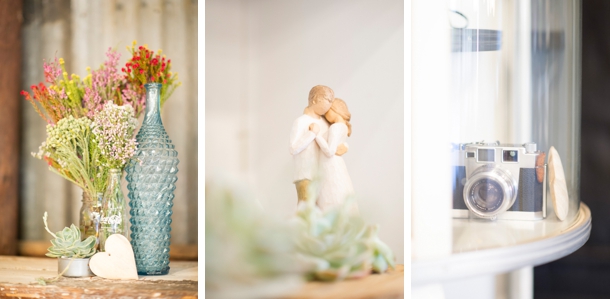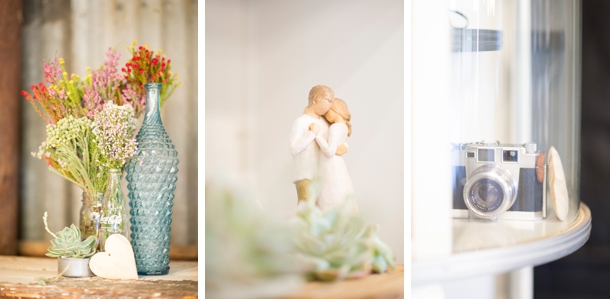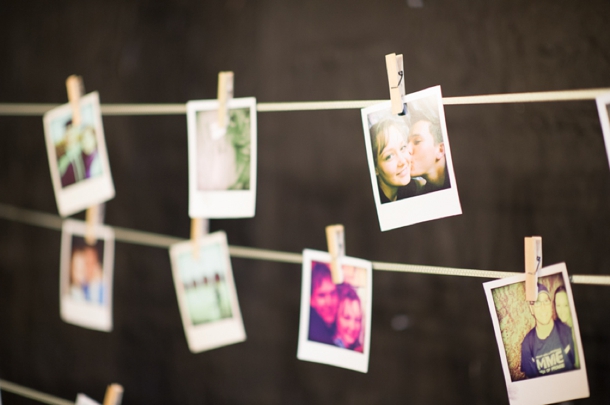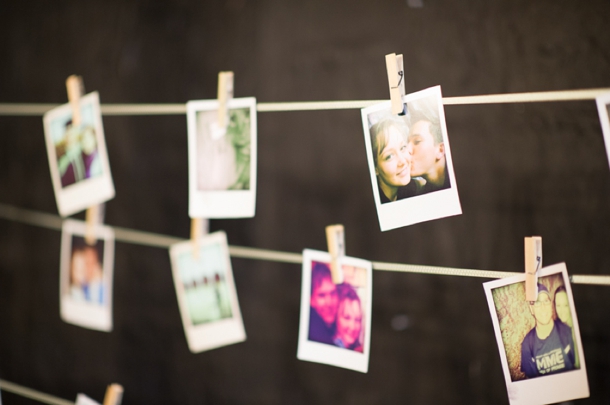 My most favourite part of the day was that my husband surprised me with a serenade after his speech. He sang Adam Sandler's, 'I wanna grow old with you'. He sings it to me all the time at home, but always said he would never be able to do it in front of people when I asked if he would sing it to me on our wedding day. And I foolishly believed him!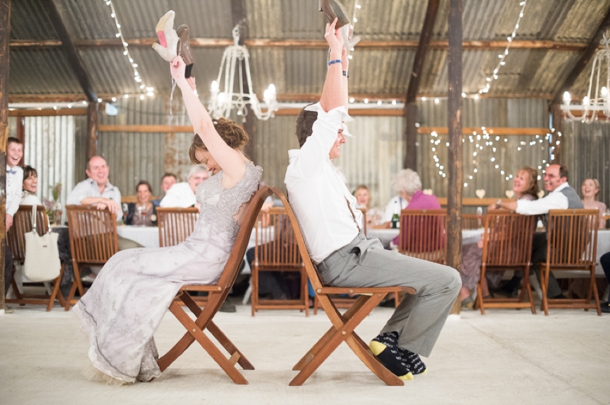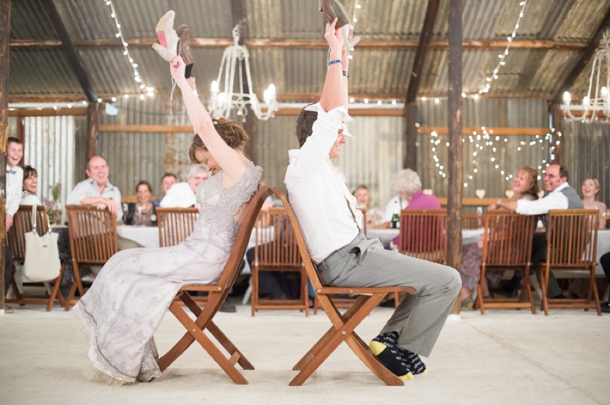 My advice for future brides would be to plan within your budget and not go into debt to have what you think will be your dream wedding. This was our rule when planning our wedding day and we didn't have a cent's debt for our wedding or honeymoon, and it still turned out perfect even though there were many things we couldn't get. We rather saved as much as we could and even stopped eating out and going to the movies for a year and were then able to start our marriage debt free. Also make your wedding about you as a couple, and not about keeping family happy or sticking with tradition. Focus on each other during the wedding, and don't worry so much about getting to see all the guests. This is your day, and it celebrates your love and union – soak it in.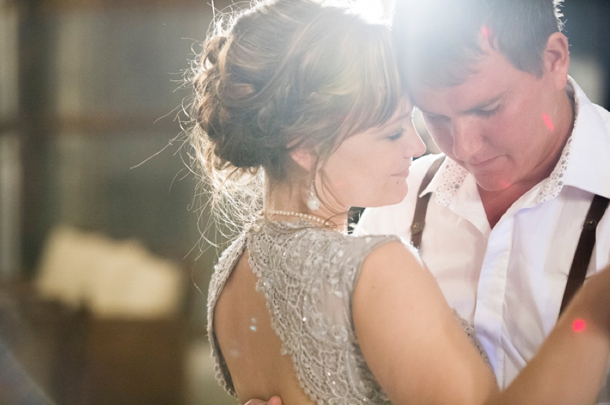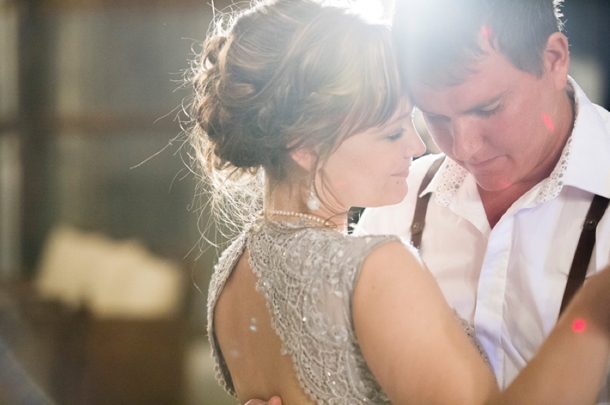 Thanks so much MoniQue and Nico and congrats on your marriage! Huge thanks also to photographer Kim – head over to her site to see more.
SERVICE PROVIDERS
Venue & catering: The Cowshed | Photography: Kim Jansen van Rensburg | Day-of Co-ordination: Suzanne Viljoen | Flowers: Colour Country Flora, Krugersdorp (011 954 4811) | Bride's dress: Analize Neethling (082 379 4288) | Bridesmaids' dresses: Gelique Wrap Dresses | Hair: Elmare Harvey (082 308 3198) | DJ: CrouTech Music