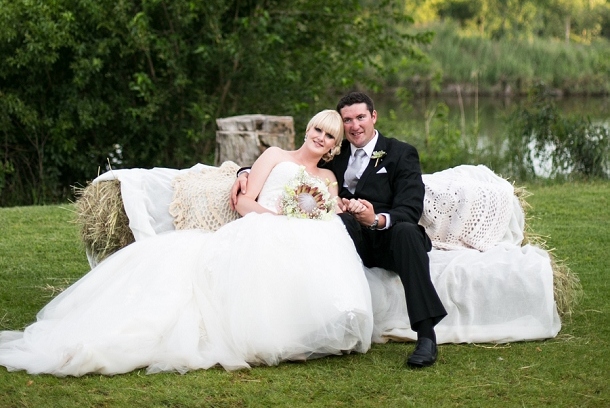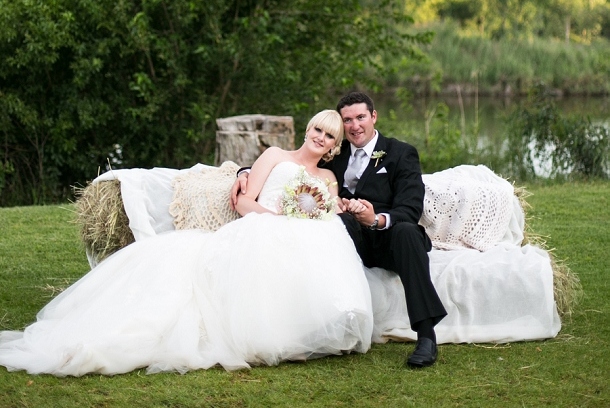 Oh happy day! I'm super excited to share this wedding with you, because not only is it full of shabby chic, farm wedding gorgeousness, it actually has a little SBB twist. Back when Anna and Piet first got engaged, the bride found her photographer Anneli Marinovich right here, and I was looking forward to hearing all about the (usually London-based) Anneli's South African wedding. I've worked with Anneli loads myself and love her work, so I knew she would do an amazing job! It was such a pleasure not only to see her gorgeous pics, but to hear about how much fun she had with Anna and Piet and their exuberant families, and after a feature in Wedding Inspirations, it comes full circle with me sharing this farm fête here today. Just some of my favourite details: a custom aisle, a cluster of bridesmaids in pretty pastels, flowers in tins and the cheese cake!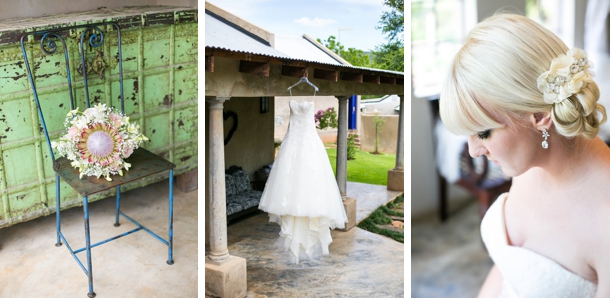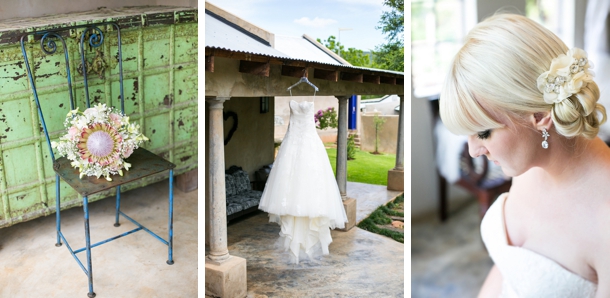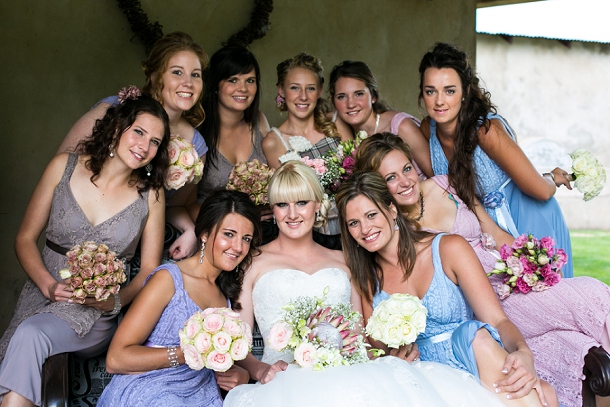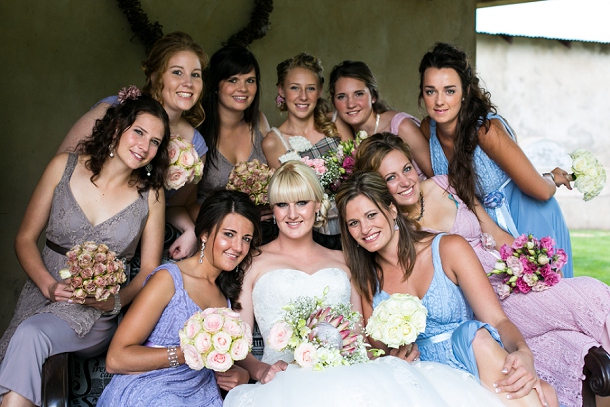 Love Story
We met each other at university as students. I lived in a student house and he was friends with a guy that was also staying there, so we saw each other a lot as he was visiting almost every day. If you told me that he would be my husband in a few years time, I would not have believed you! We were very good friends, always joking around and laughing at each other's stupid jokes. It happened one day that the date he was supposed to take to a wedding suddenly cancelled and he rang me up and asked if I would go in her place at the last minute and I agreed that I would go. It turned out that we had an amazing time and we danced the whole night through, it was the first time we both discovered that the other one was good at dancing! About two weeks later Piet asked me to go to another wedding and we had a marvelous time yet again. From then onwards he began calling me every day and sending me flowers every two days so I couldn't help but fall in love with him.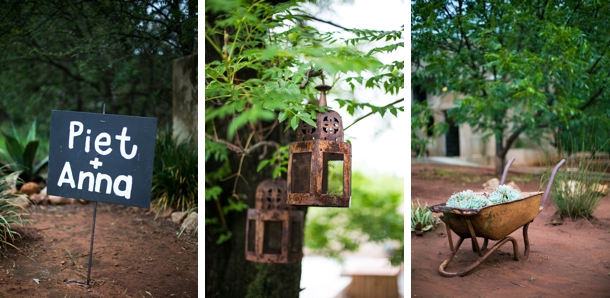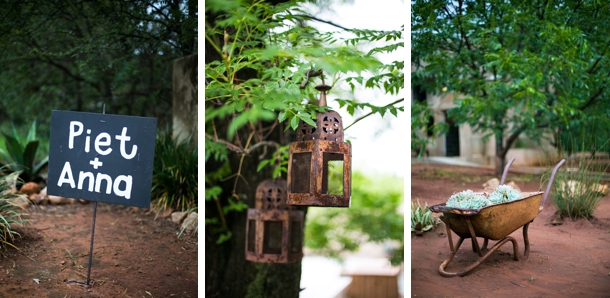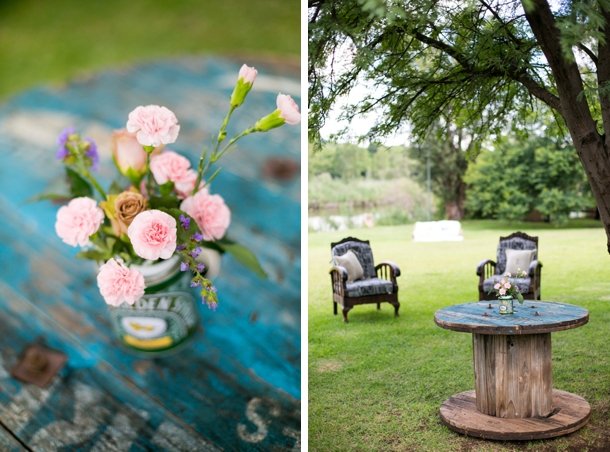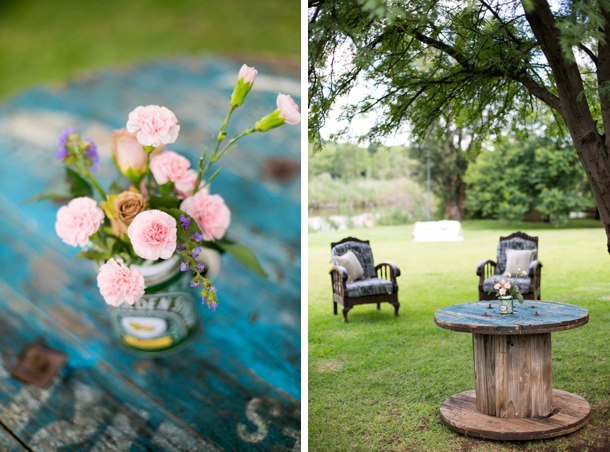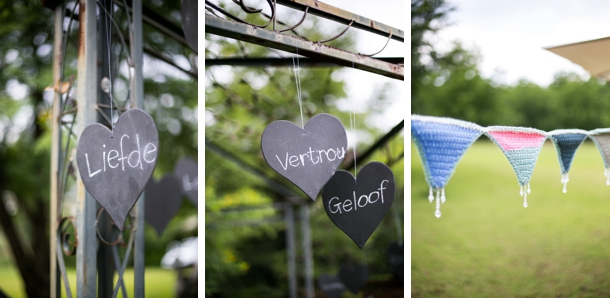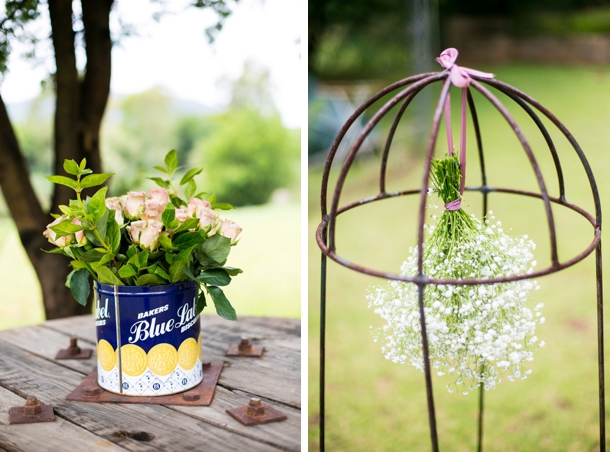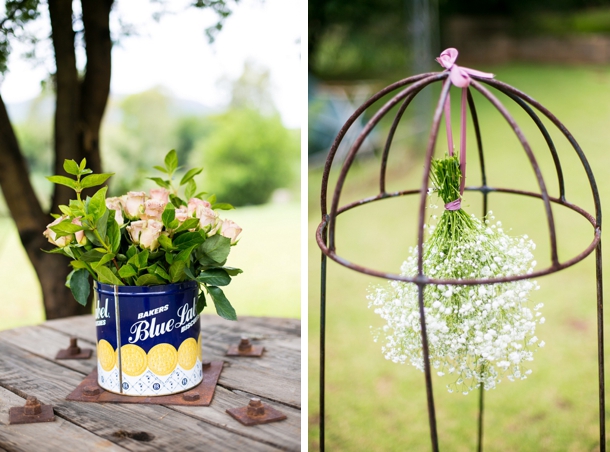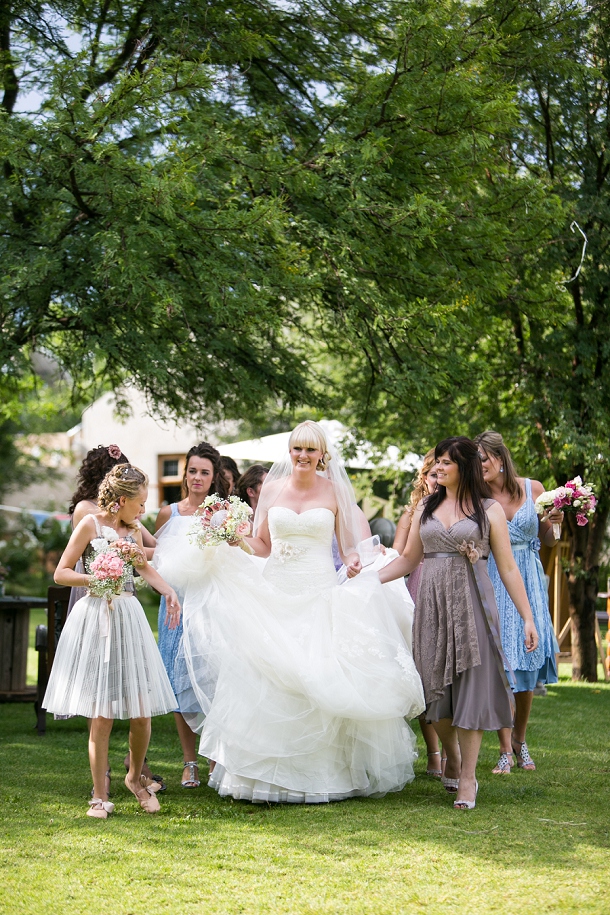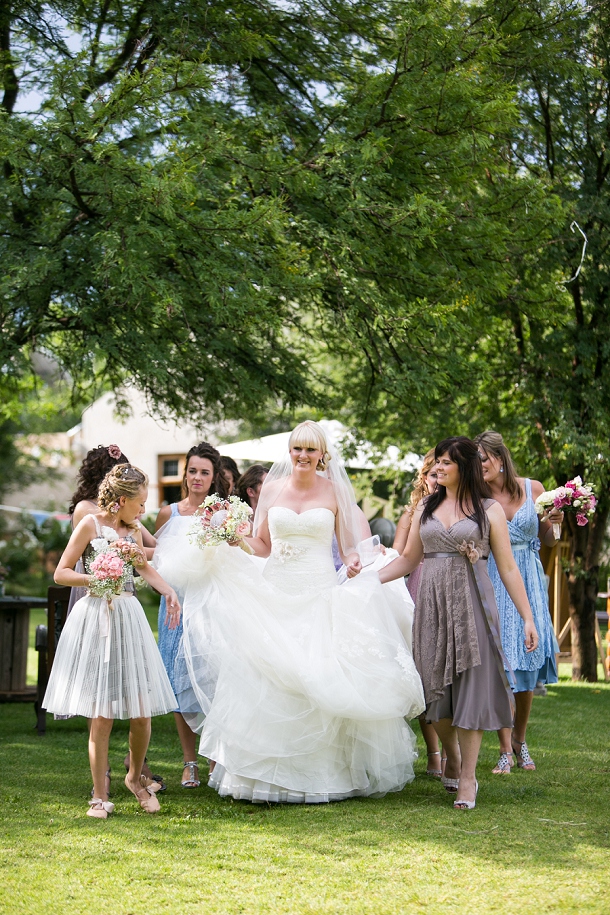 The Proposal
We got engaged on a hilltop, where he took me at the beginning of our relationship, on his uncle's farm. On that day his uncle came into the house and said that there were springbok running around near that hill and we should go look, I grabbed a sweater and off we went. I was frantically searching for the illusive springbok, but to no avail. Thinking back now, Piet was quite the actor, also frantically searching for the non existing springbok and me not noticing something wasn't right. He suggested that we drive to the top of the hill so that we could have a good view of the farm and I agreed. When we got there, we started walking a few feet and to my surprise there was a table set for two with a big bouquet of flowers, everything in my favorite color and all of my favorite snacks with a bucket of champagne. I thought it was just something romantic that he planned but lo and behold he went down on his knees and popped the question. I was in utter shock! My nails were painted green and never in my life did I look less fashionable, but I was the happiest girl in the world.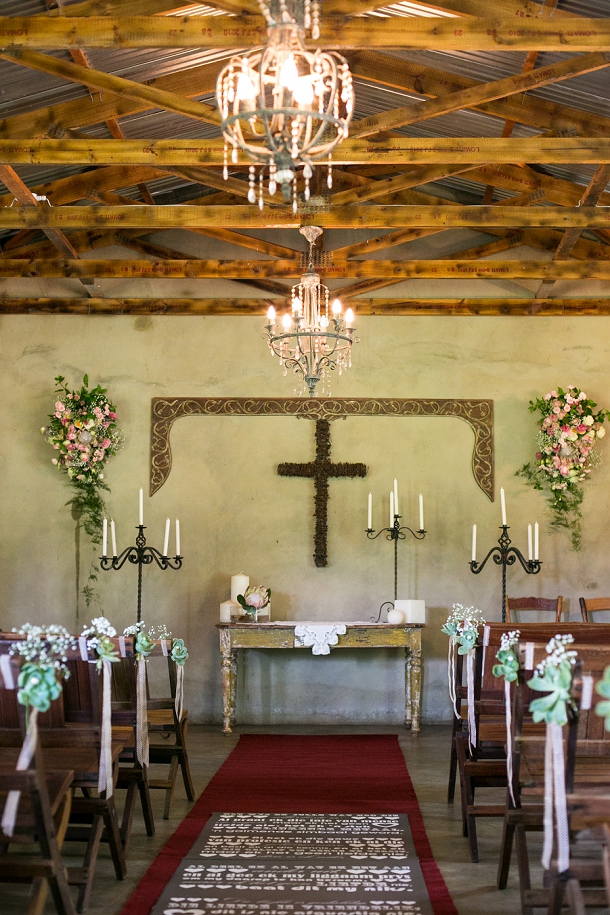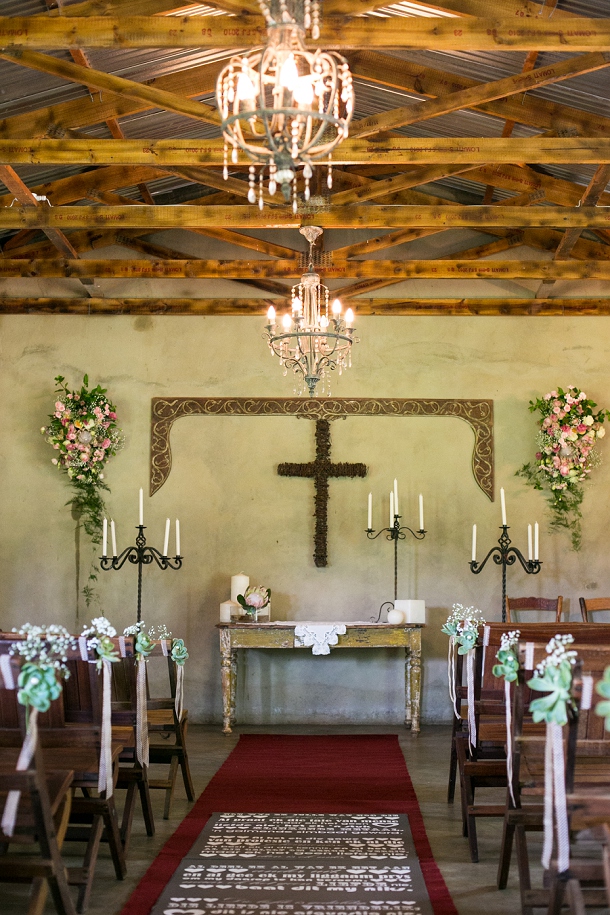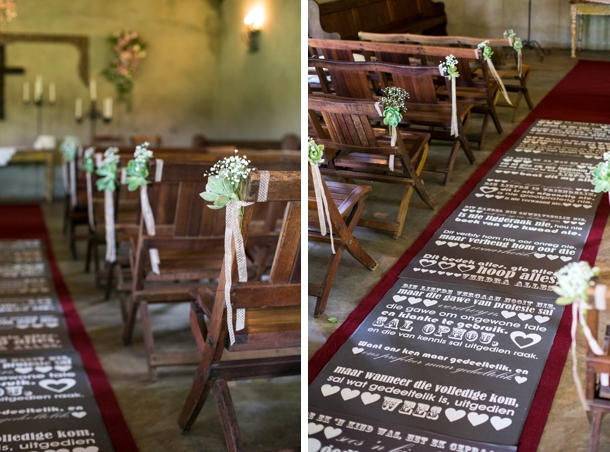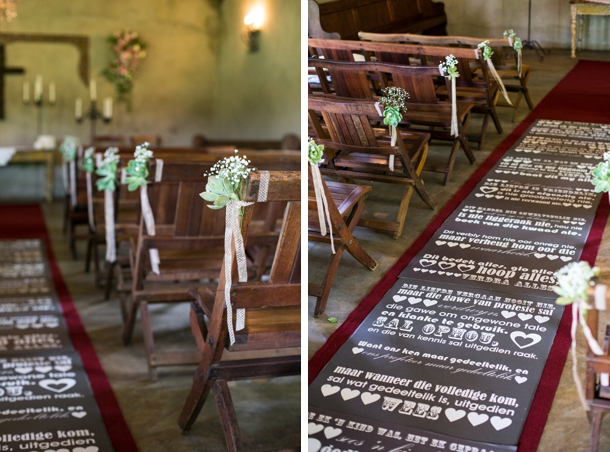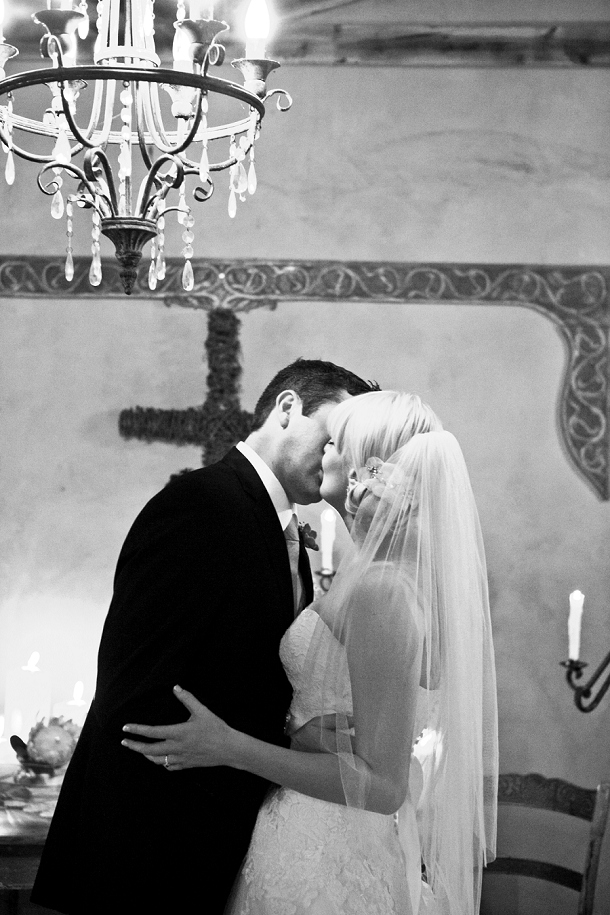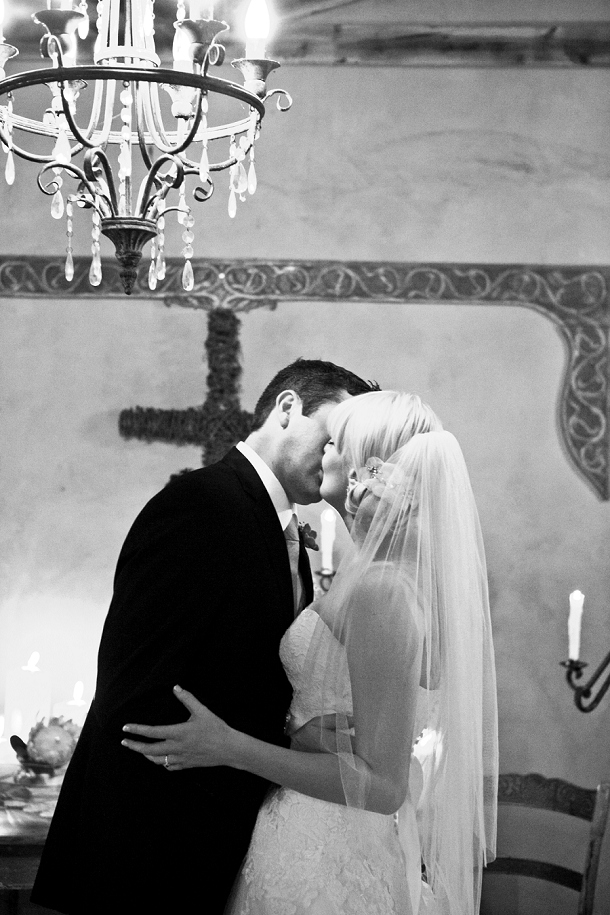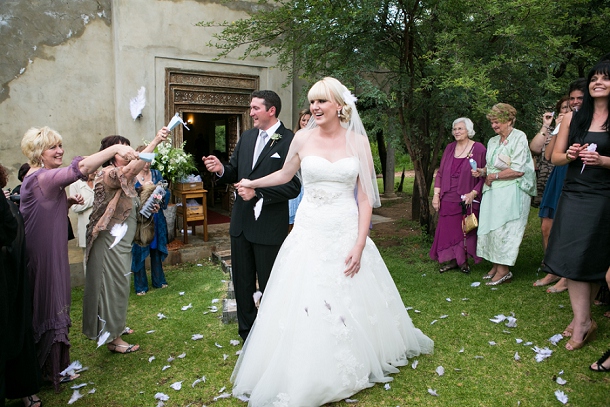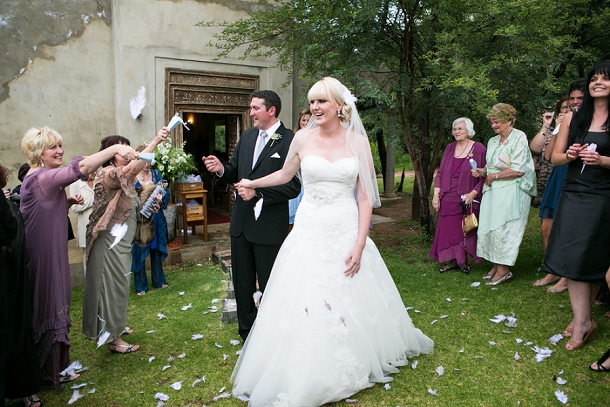 The Venue
We loved the venue as it was rustic, but also chic at the same time. We both grew up on farms so we wanted a warm and relaxed feeling, something different but still stylish and chic with the hint of farm. The Nutcracker was ideally located on the banks of the Vaal river with accommodation for us and guests and with just the right look for us. (And a fantastic chef, Shaun Bosch.)
Wedding Style
The wedding style was 'farm chic' and the colour palette was soft pastel colours and natural colours, greens and whites.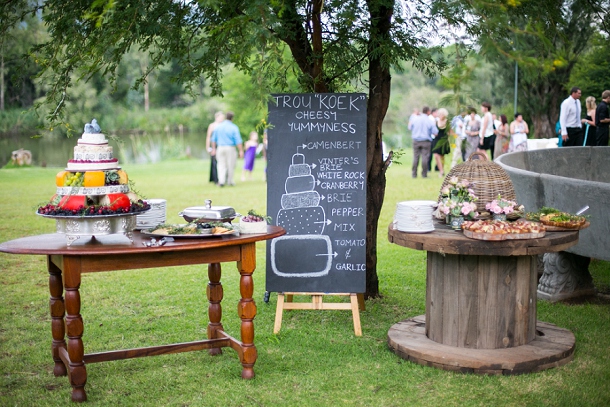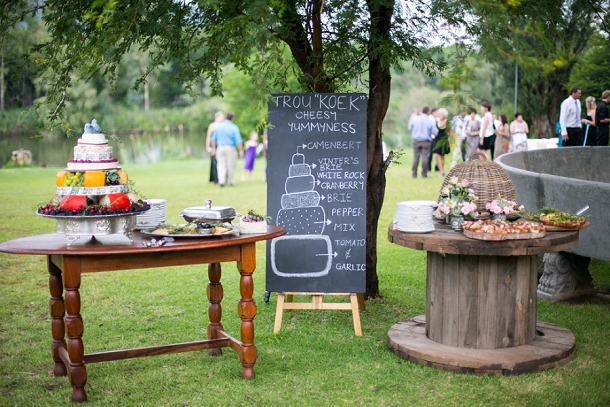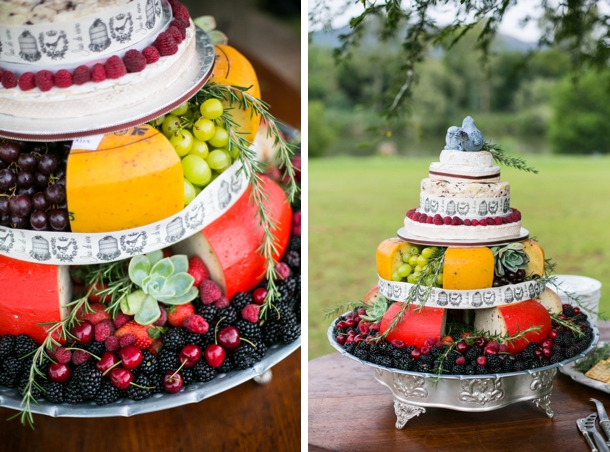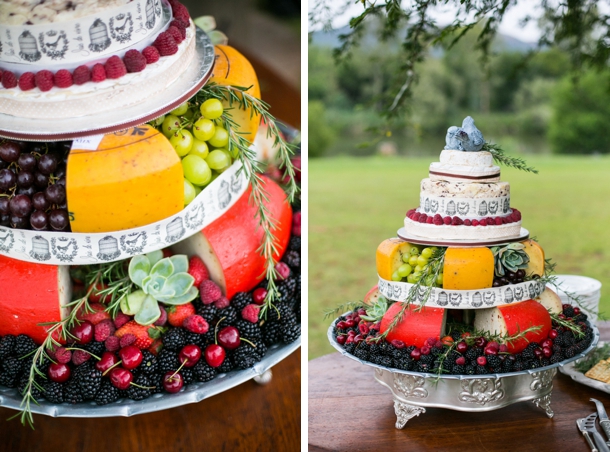 Wedding Details
As the wedding was on the farm it had fit in who we both were and where we grew up. Little things like the wedding favors were unique to us – we always had bees and honey on our farm, so, for the ladies, we gave pots filled with honey with a message on it and for the lads, biltong (a traditional delicacy in South Africa), with messages on the package. The seating plan was done on an old window on which I painted the names. We placed it at the entrance of the hall on hay bales to tie in with the whole farm theme. There were also hay bales outside the chapel on which the guests could sit while canapés were served. All of the tables were different, not one table's flowers looked the same, but it all tied together. That is what we wanted, a laid back, but stylish wedding. Each table number was a book in which guests could write a message for the wedding anniversary represented by that table number.
Budget Elements
As well as the window pane and invites (which were handmade by me and my mother), we also did our own wedding "cake", it was made out of cheese stacks that we got in Johannesburg and my mom and the chef put it together on the wedding day.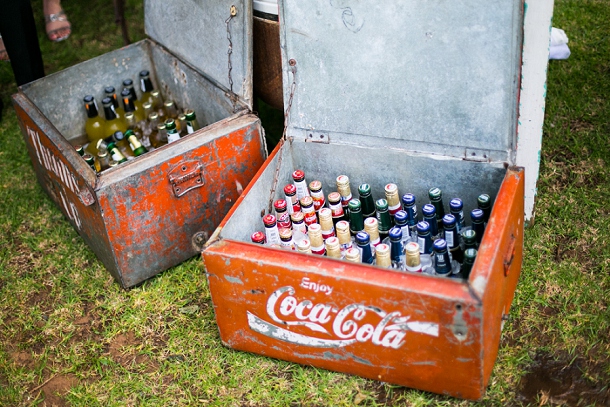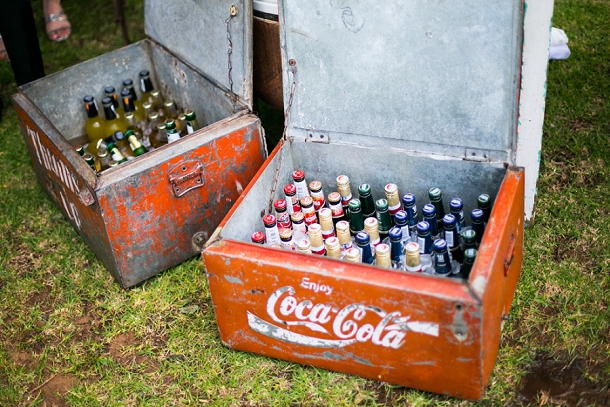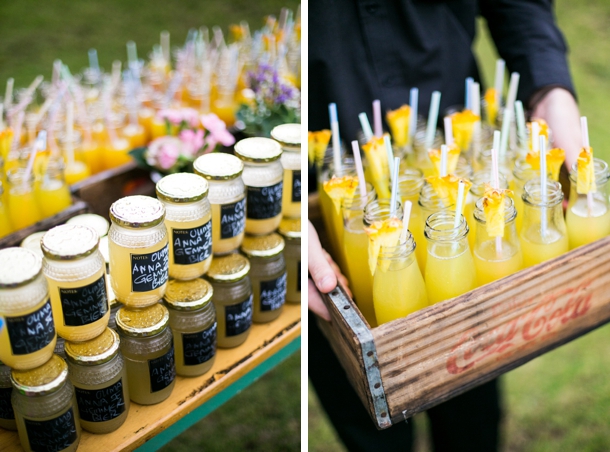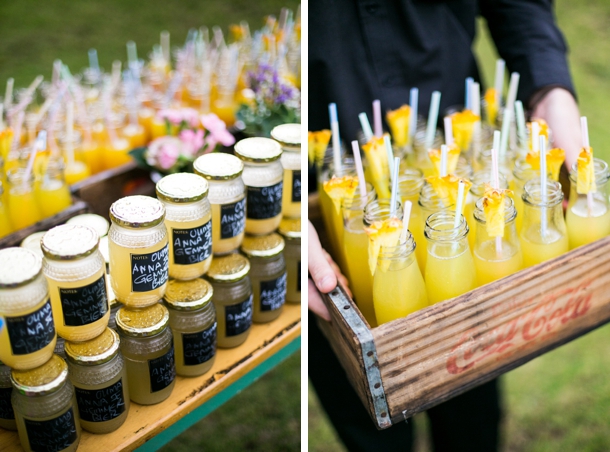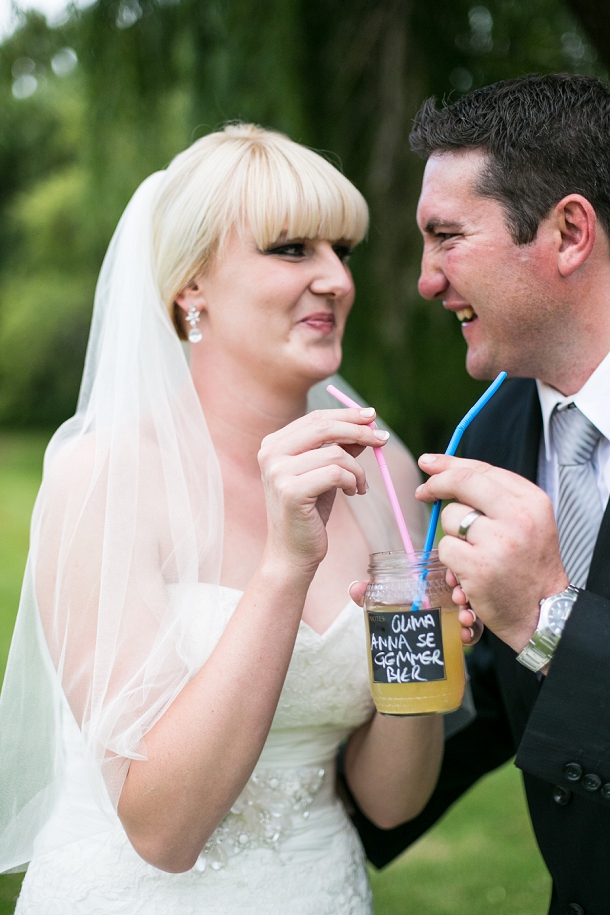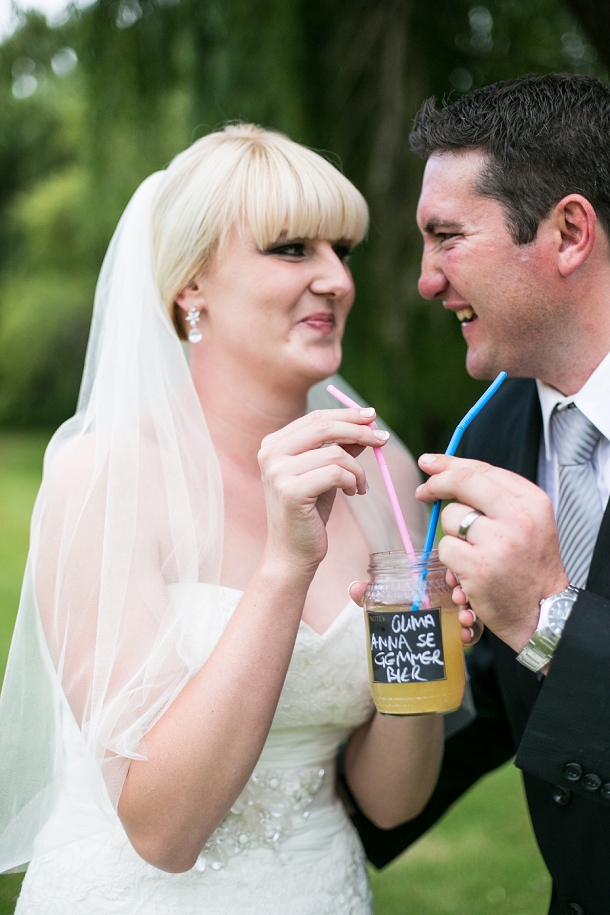 The Flowers
Natural, pastel soft colours. Proteas were important to have and I had to have succulents.
The Dress
I went to Pretoria with my mom to fit wedding gowns. We tried on a lot but when I saw the dress of designer Enzoani and tried it on, I immediately knew it was the one! I felt like a princess in it.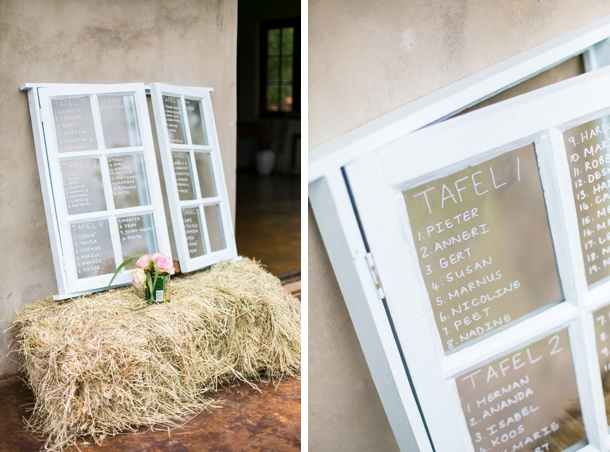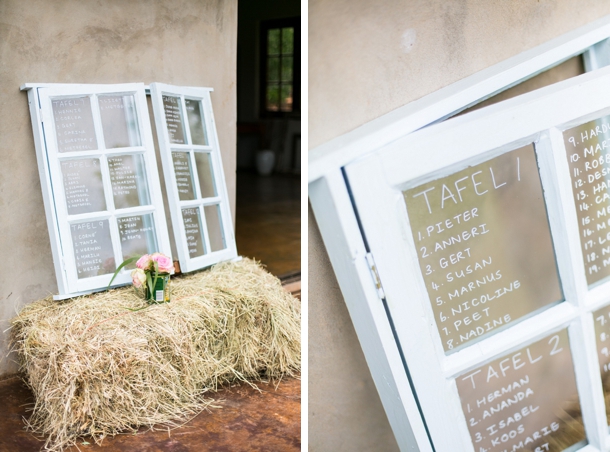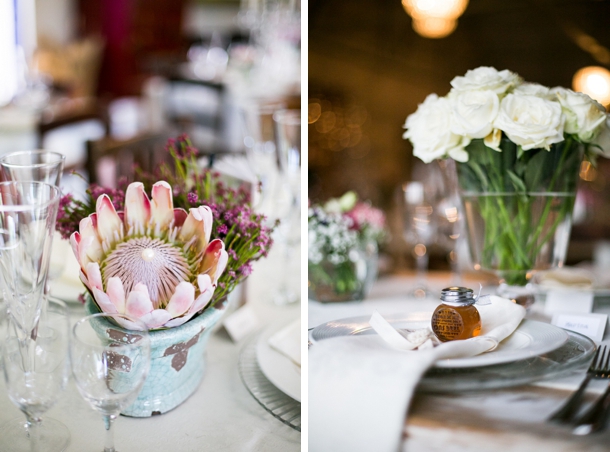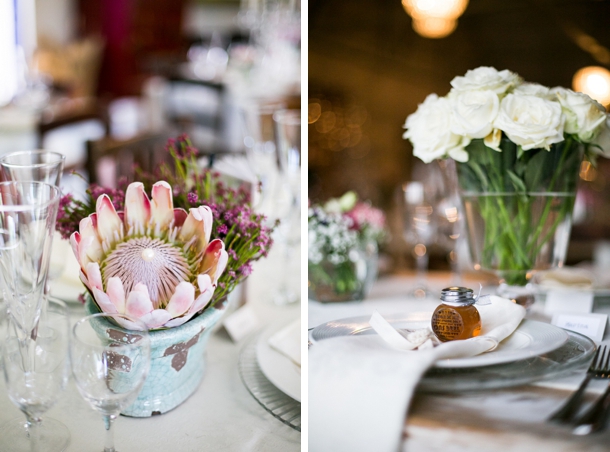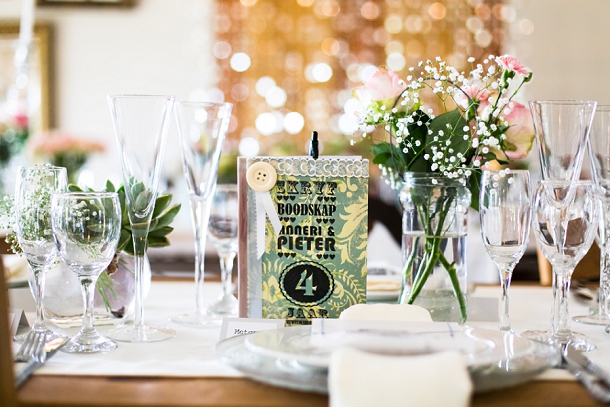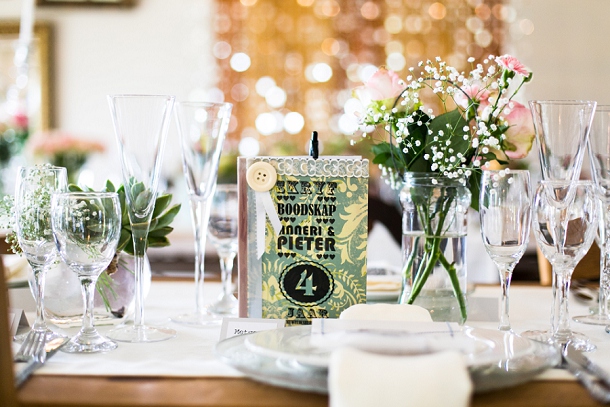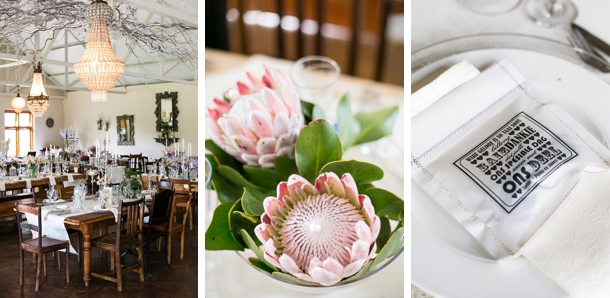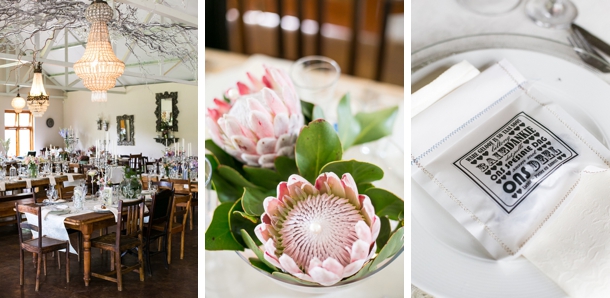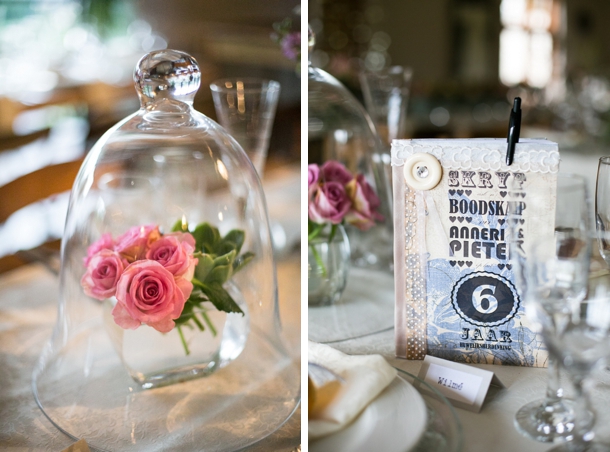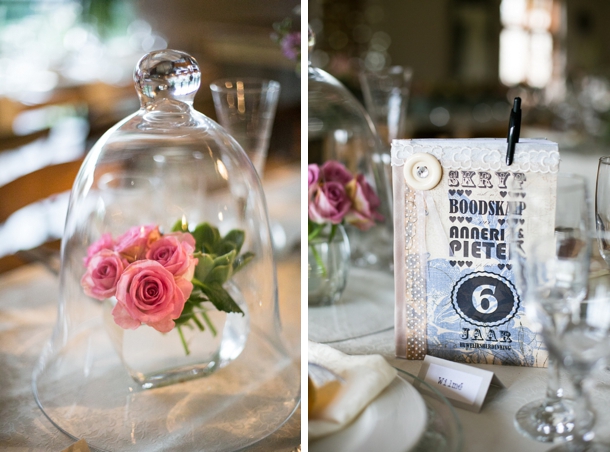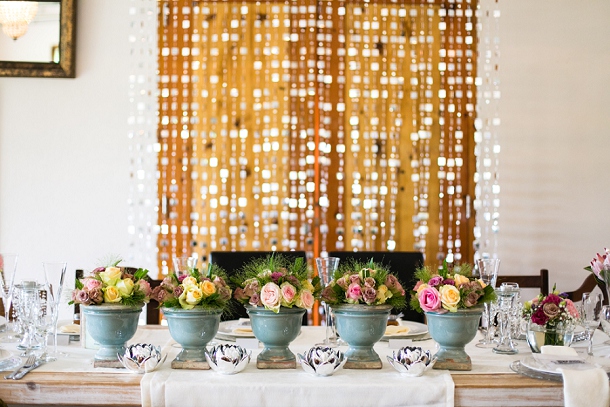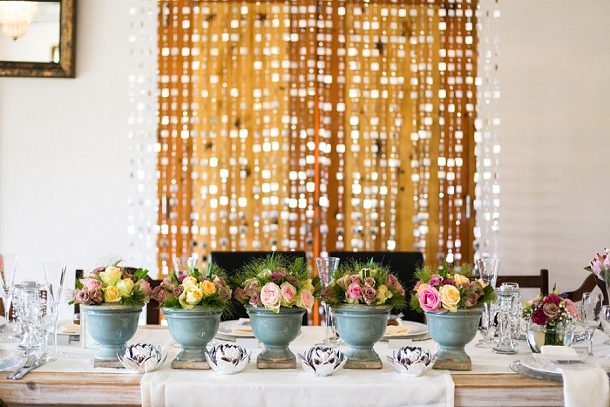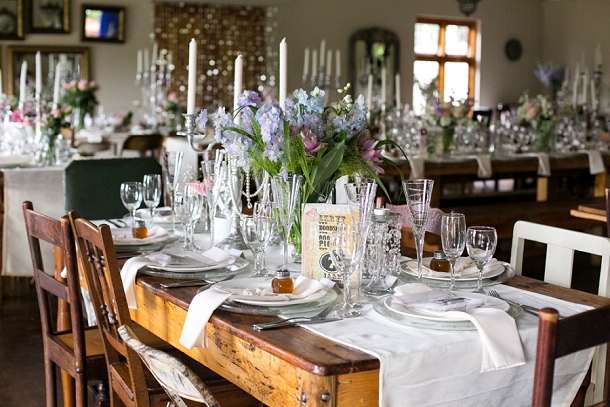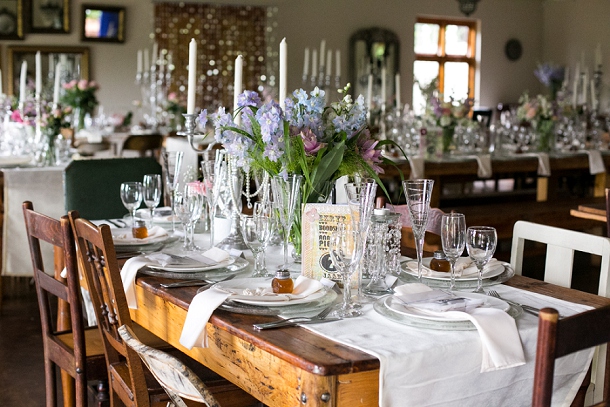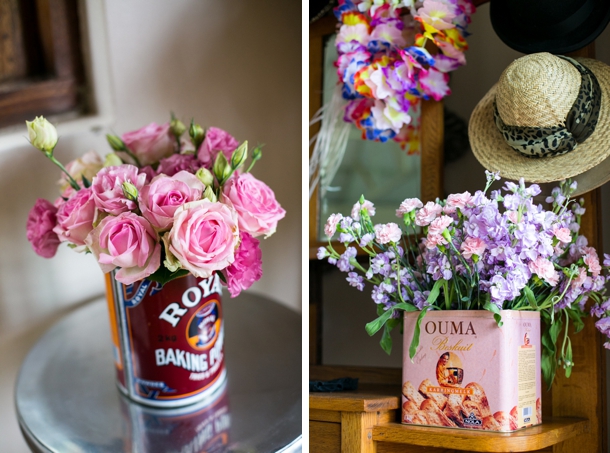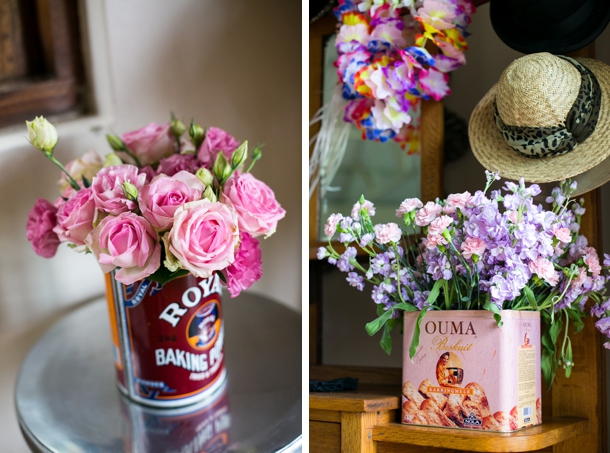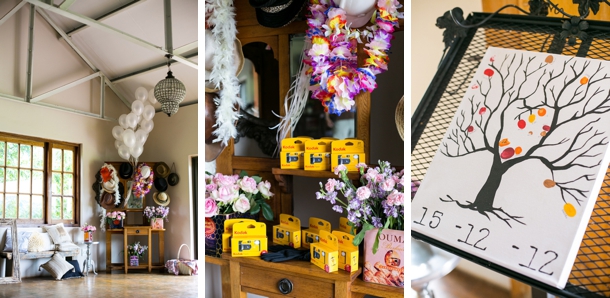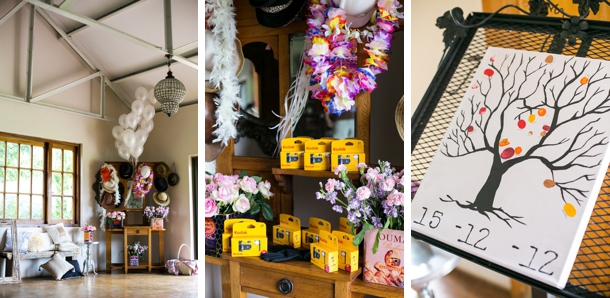 Memorable Moment
When we both said "I do" and the pastor announced that we were now Mr. And Mrs.
Proudly South African Details
Biltong is part of SA like sunshine and I had to use our national flower (Protea), which I love. It was the main feature in my bouquet.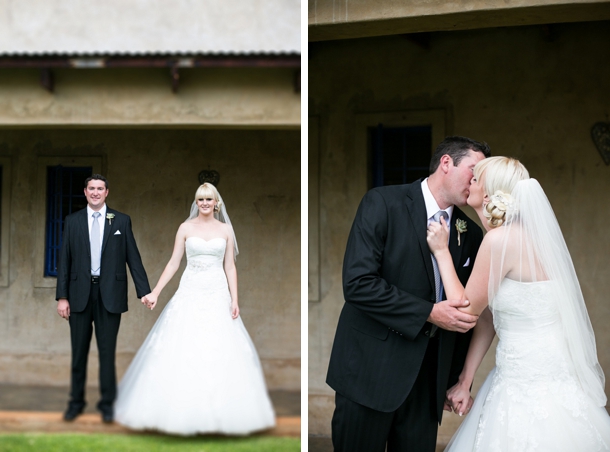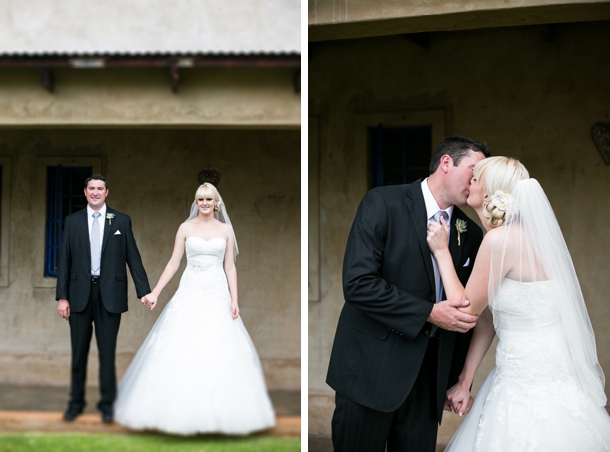 The Honeymoon
It was a total surprise! We went to Ramsgate and to Giants Castle in the Drakensberg.
Advice for Future Brides & Grooms
Don't sweat the small stuff too much. Keep a diary of what you are planning from beginning to end and a file that has all the details in it. Only you will know if something did not work out as planned so just enjoy every moment. You plan and plan and then it' s over in a blink – drink in every moment.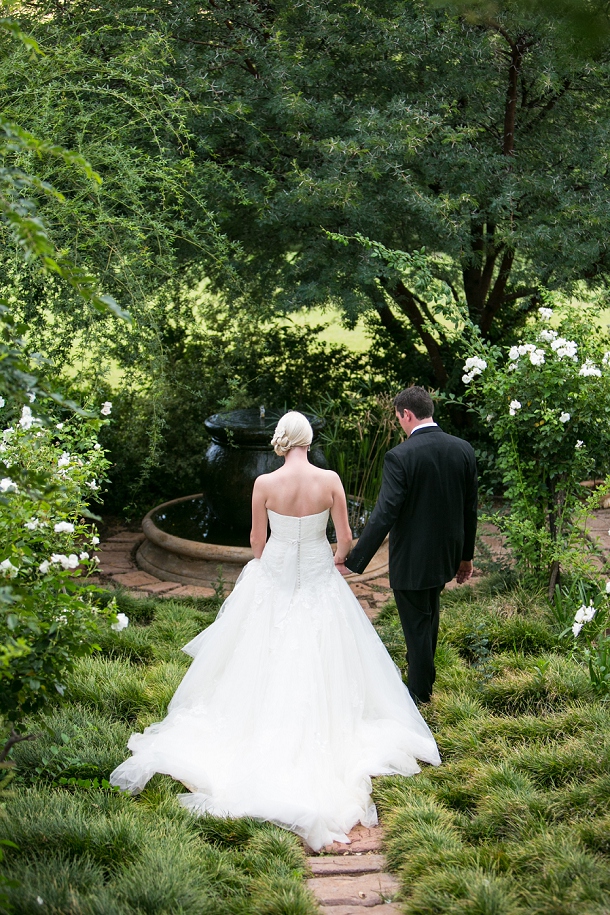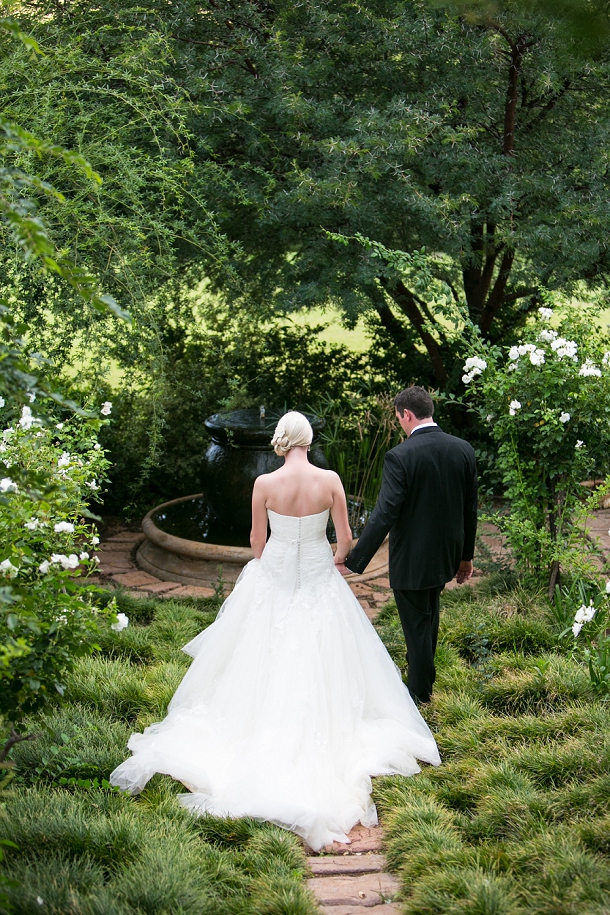 You can see more from this wedding on Anneli Marinovich's blog. (Which, by the way, has just relaunched and it is GORGEOUS! Congrats Anneli!)
SERVICE PROVIDERS
Venue & catering: The Nutcracker | Photography: Anneli Marinovich | Set-up & on the day stationery: Rapid Events | Flowers & décor: Karin Haggard (+27 82 7320099) | Bride's dress: Enzoani at Bridal Wardrobe | Bride's accessories: Bridal Wardrobe | Hair: Cornè at Salon Bello | Makeup: Mariette at Mariette's in Parys | Bridesmaids' dresses: Hanlie's Boutique (+27 82 7279075) | Groom's attire: Pierre Cardin from Checkmate in Secunda | DJ: Vossie's Musiek +27 79 8880704
SBB ♥ Enzoani, a featured member of our Directory