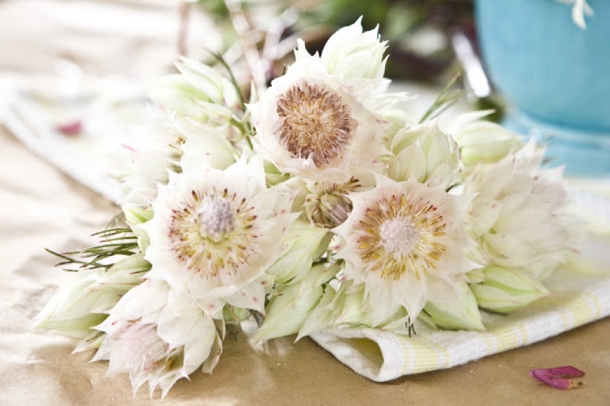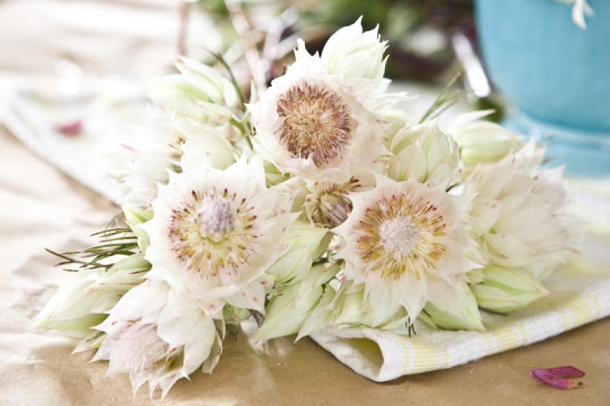 Move over, kings and pincushions – there's a new bridal protea in town! Okay, not new exactly, but this season blushing bride proteas (maybe the most perfectly named wedding flower ever) have really come into their own. This recent SBB wedding featured a ton of them, and I had quite a few queries about what the pretty blush blooms with the lacey edges were, so I thought it was time for a dedicated roundup. One of the things I love best about blushing bride protea flowers is that they're native to SA and, while you can find them all over the world now, they are one of our very own. The story has it that they're nicknamed blushing brides because men on their way to propose to their beloveds would wear one in their buttonhole, and everyone in town would know (hence the bride's blushes) – true or not, it's such a sweet story! I absolutely love them on their own, but combined with other flowers, fillers and even berries, they add a special something in terms of texture to any arrangement. With a combination of romantic folklore, South African pride and sheer gorgeousness, they are perfect for your wedding day. Here are some of my favourites from around the web. *This post contains affiliate links. The cost to you remains the same, but SBB may receive a commission for any sales made.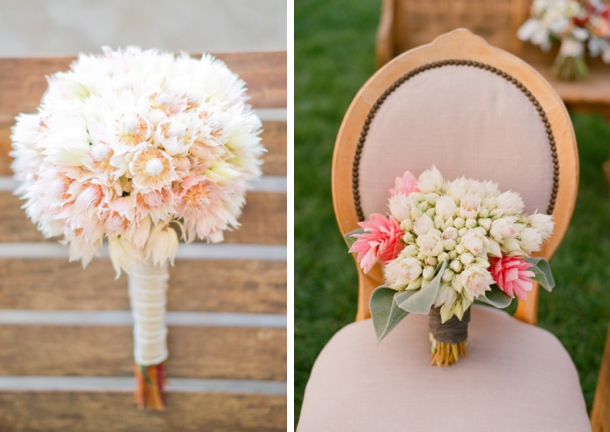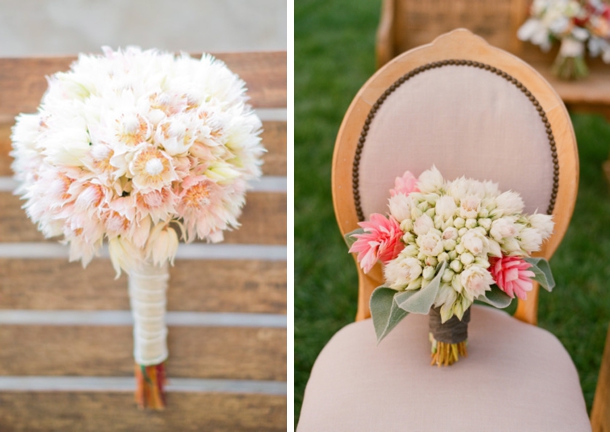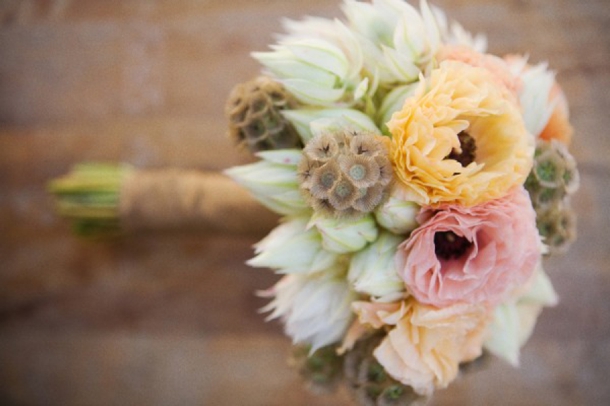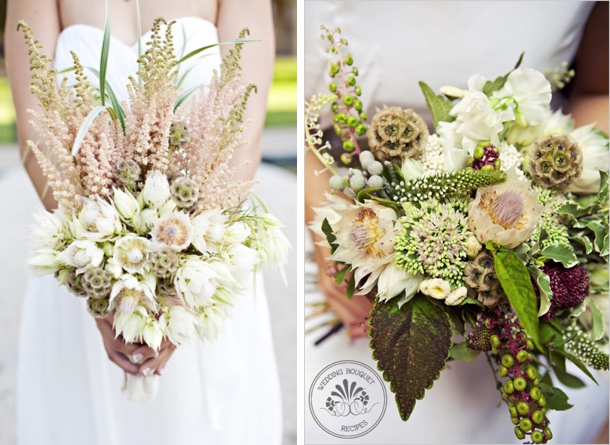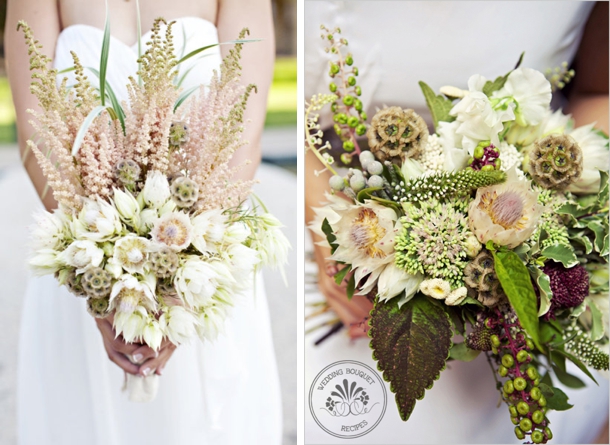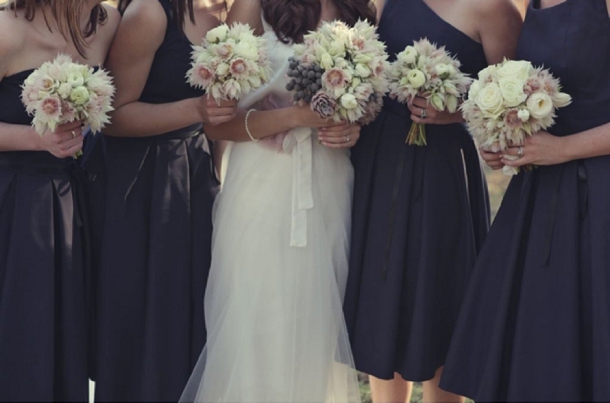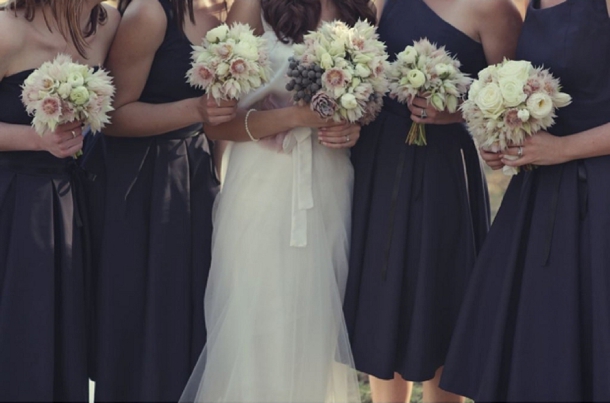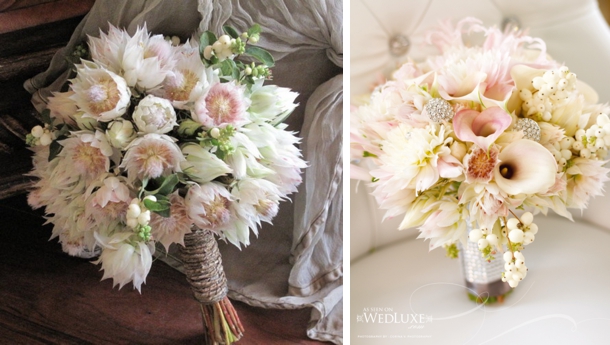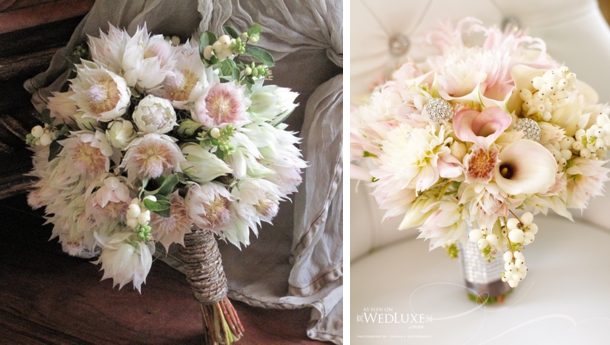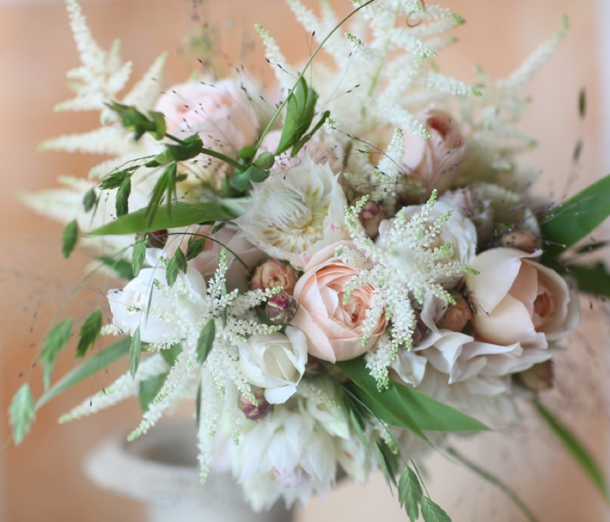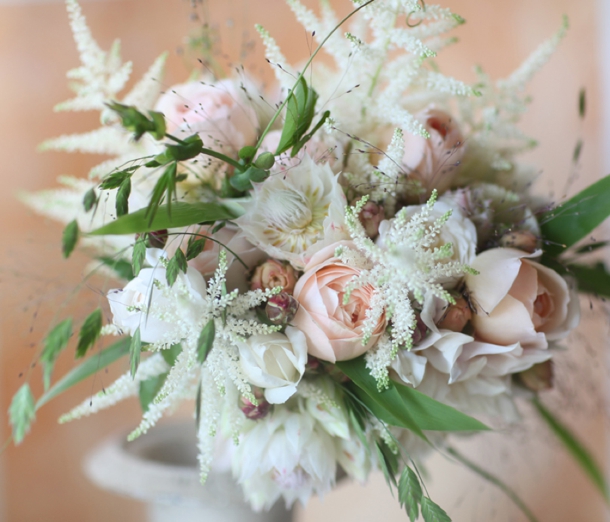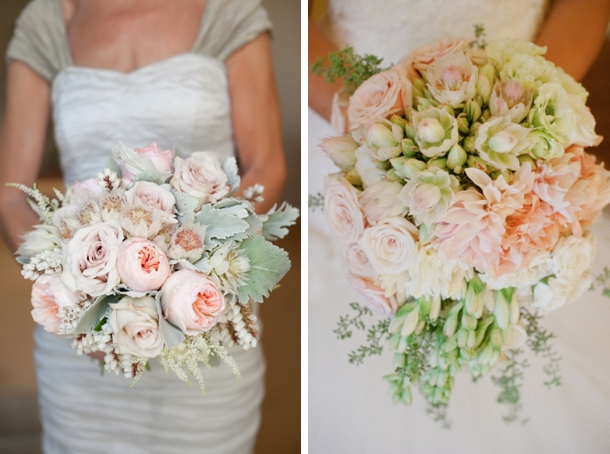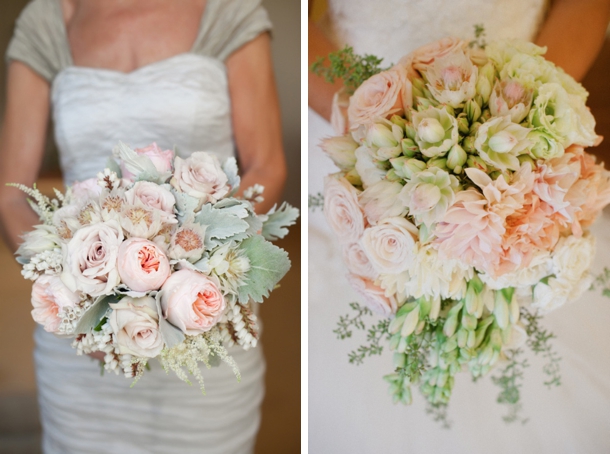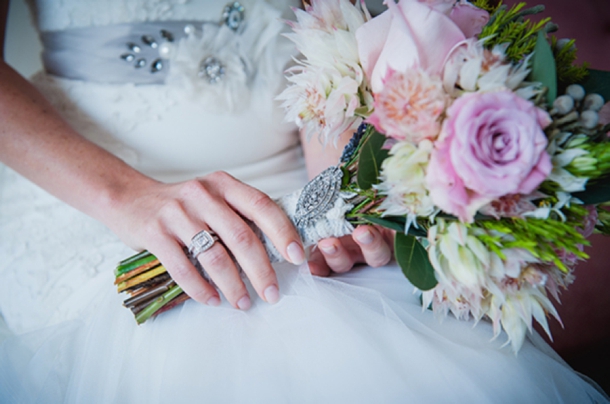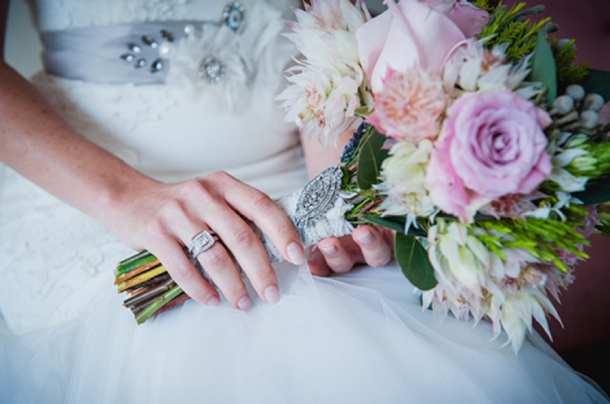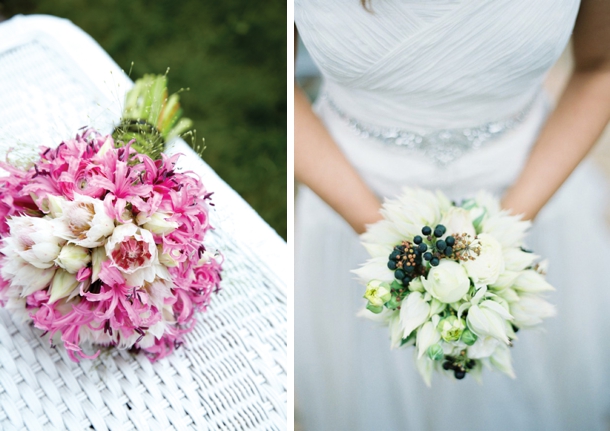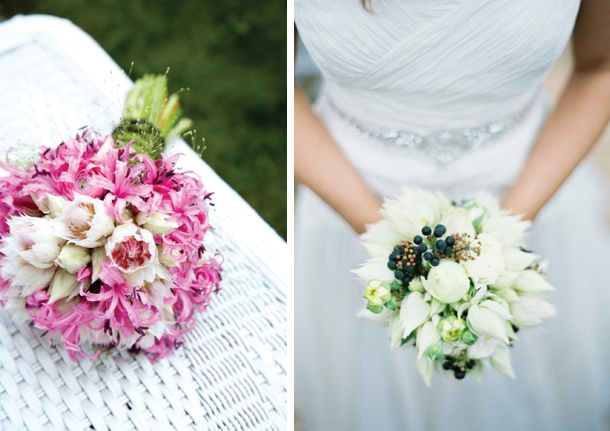 Blushing brides aren't just for bouquets either – have a look at these gorgeous table arrangements!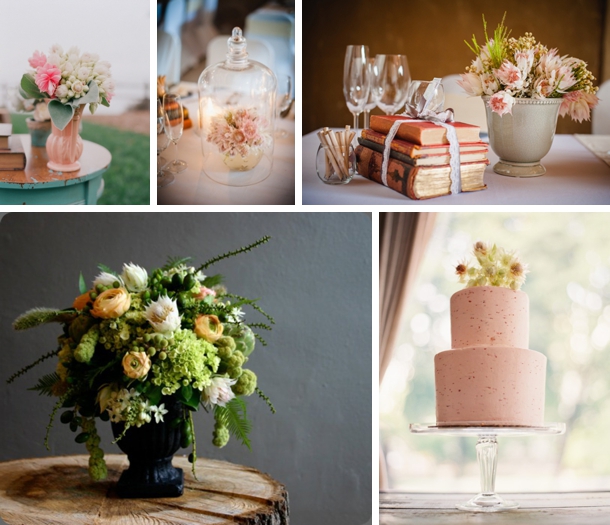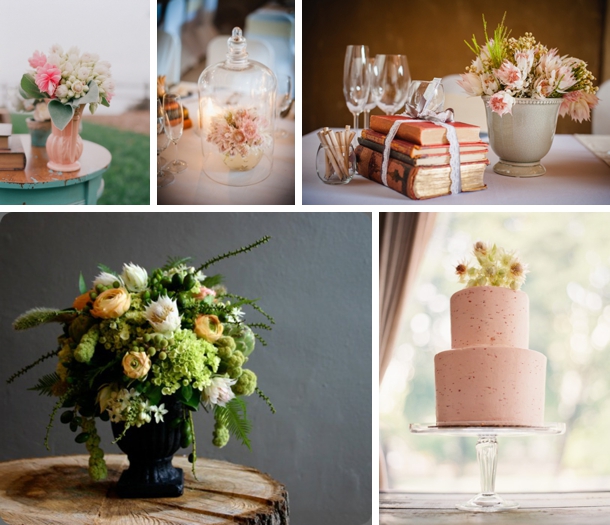 How about for your hair?


Or your groom's boutonnniere?


So much loveliness! Will you be using blushing brides on your big day?
Image credits – Row 1: Kat Flower/kashish das shrestha; Row 2: Rensche Mari  (left); Elizabeth Messina Photography/Kristajon Floral Design via Style Me Pretty (right); Row 3: JL Designs/Stephanie Williams via Elizabeth Anne Designs; Row 4: Sarina Love Photography via Style Me Pretty (left); Gertie Mae's Floral Studio/ Once Like A Spark via Wedding Chicks (right); Row 5: wetakecreativepictures/Splendid Affairs via The Pretty Blog; Row 6: via Once Wed (left); Fuscia Designs/Corina V. Photography via WedLuxe (right); Row 7: Florali; Row 8: Krista Jon/David Tosti  (left); Flourish/Allison Stahl (right); Row 9: Lauren Kriedemann/Cabrières on SouthBound Bride; Row 10: Our Labor of Love (left); Yvette Roman Photography/Yifat Oren & Associates via Martha Stewart Weddings (centre); Michael and Anna Costa Photographers/LaFleur Weddings & Events via The Knot (right); Row 11: Wisteria Design Studio via Minnesota Bride (left); Stewart Leishman/Muesli & Yoghurt via Polka Dot Bride (right); Row 12: Elizabeth Messina Photography/Kristajon Floral Design via Style Me Pretty (left); Lauren Kriedemann/Cabrières on SouthBound Bride (centre & right); Row 13: Bows and Arrows (left); Jose Villa via Once Wed (right); Row 14: Rensche Mari on SouthBound Bride (left); Todd Hunter McGaw via Polka Dot Bride (centre); Laura Murray Photography/Bare Root Flora via Style Me Pretty (right); Row 15: Lauren Kriedemann/Cabrières on SouthBound Bride (left); Michael and Anna Costa Photographers/LaFleur Weddings & Events via The Knot (centre); Blooming Brides via Polka Dot Bride (right)
GET MORE PROTEA WEDDING INSPIRATION: