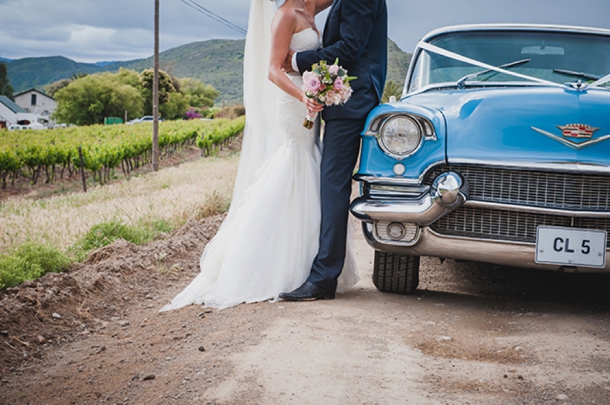 Round these here parts, we love a bit of a French influence, and never more so than when it results in a pretty country wedding. Which is exactly what we have for you today – I've been dying to share this one with you ever since I was sent a link to Lauren Kriedemann's gorgeous photos. Tana and Arlo have an awesome story of how they met, and they chose to marry at the gorgeous Cabrières in Montagu, stringing bunting by the yard and filling their tables with proteas and blushing brides. I love their use of paper details, including flowers for the ladies, strings of birds and hearts, and even a wall of paper butterflies. It's all so whimsical and delicious, and there's even a beyond awesome getaway car! Enjoy…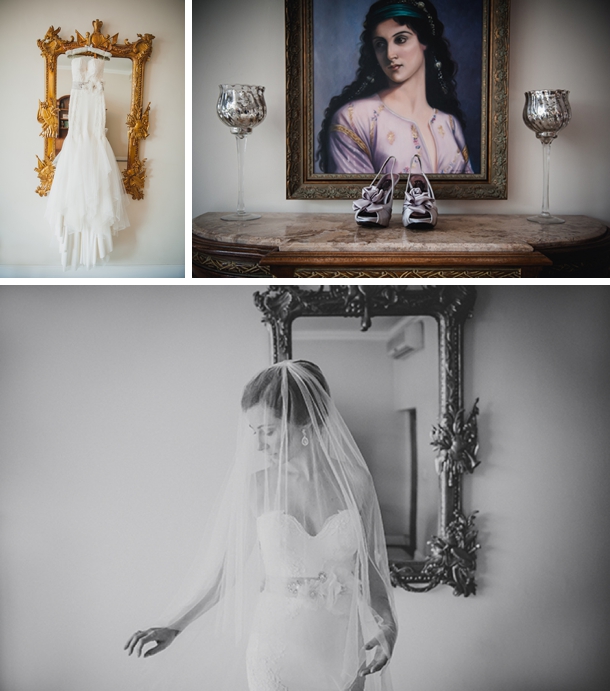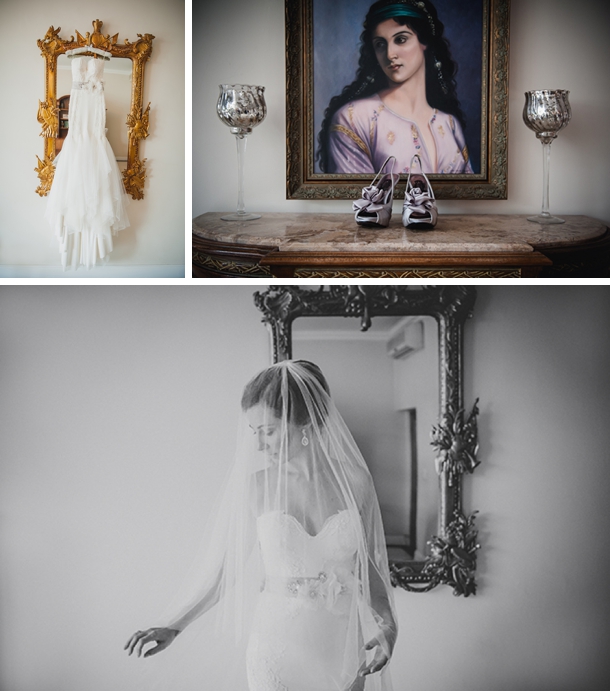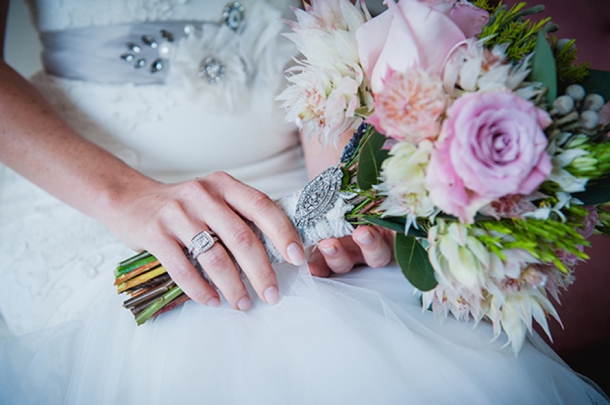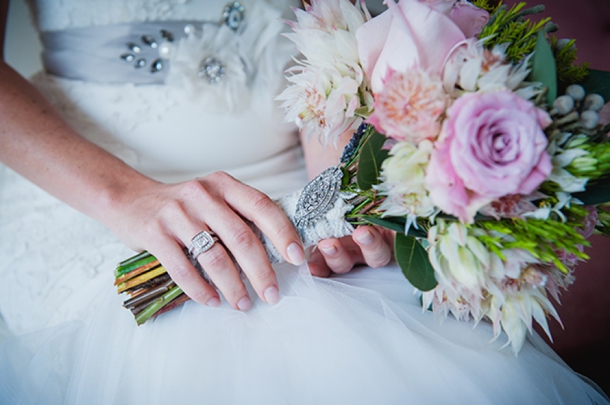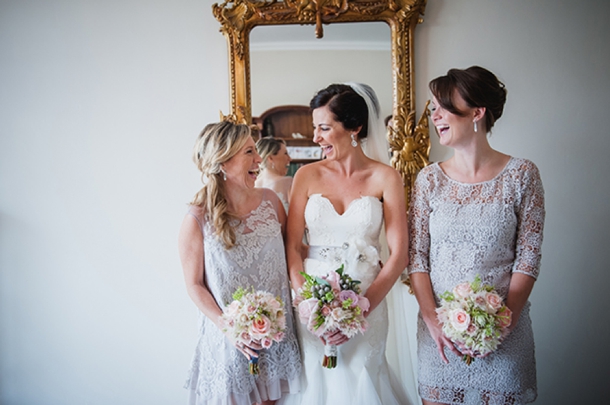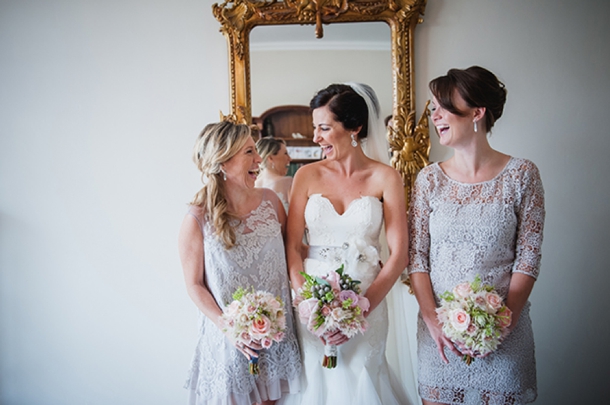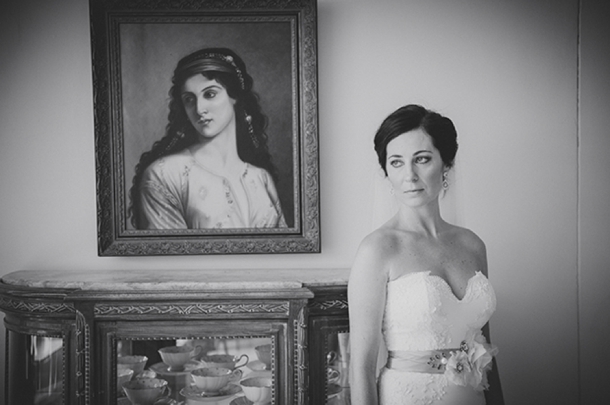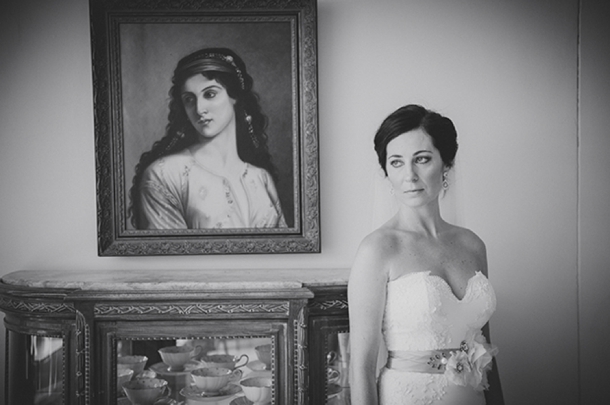 From the lovely bride, Tana:
Arlo and I met in 2005, when I sailed to South Africa on a yacht from England. After a four month friendship, I left South Africa and didn't return until 2010, when we soon both realized that this long distance friendship was destined to be something so much more. Three months into the relationship, Arlo proposed. The actual proposal didn't quite go to plan – it was on a beach south of Durban in gale force winds, Arlo was very nervous and forgot to drop a knee, or even actually ask me to marry him, however I was over the moon! He has since proposed again and I even got another ring out of it! I moved out to Durban permanently to be with Arlo in 2011 after leaving a 7-year career in private yachting. Three weeks before the wedding day in October, Arlo was offered a work transfer to Cape Town within his shipping company, which is where we now live. We got back from honeymoon and packed up our life almost immediately and drove down to the Cape!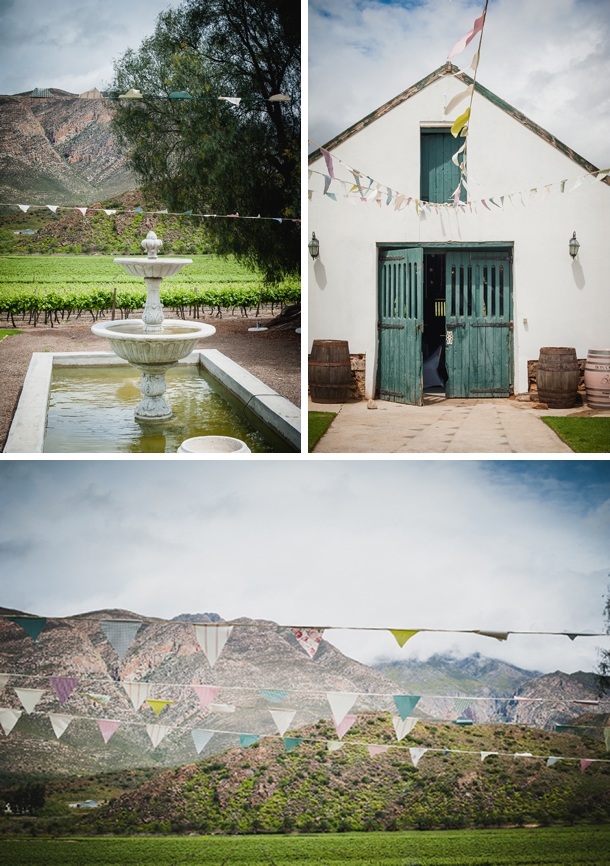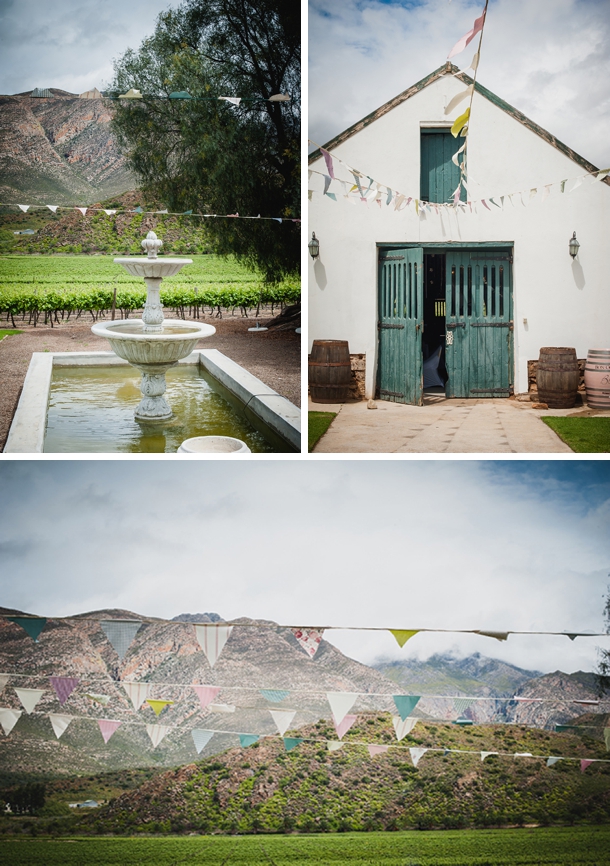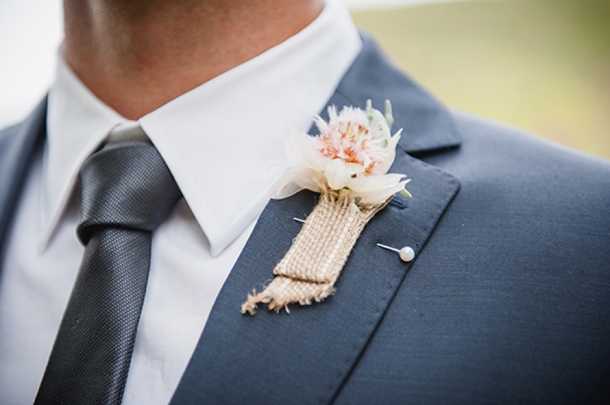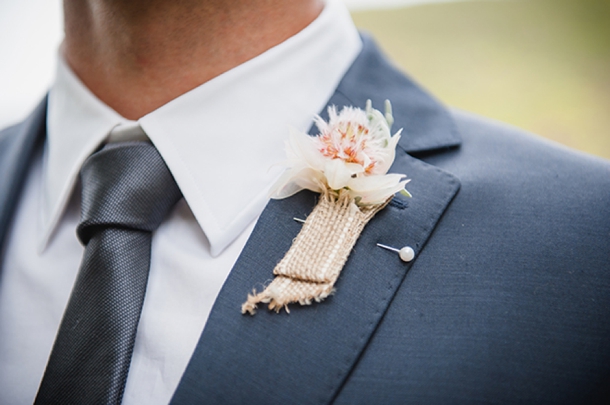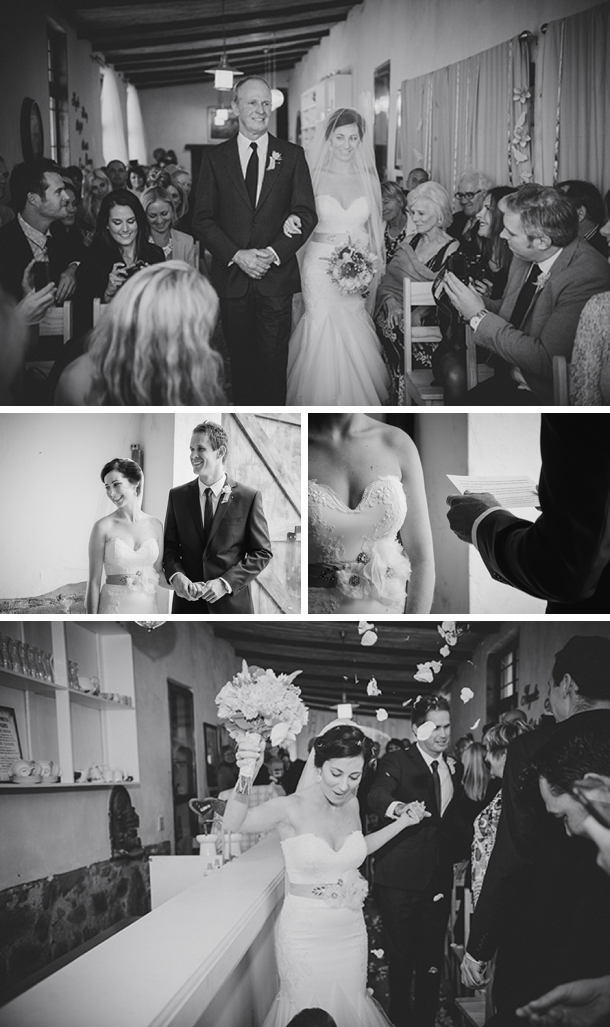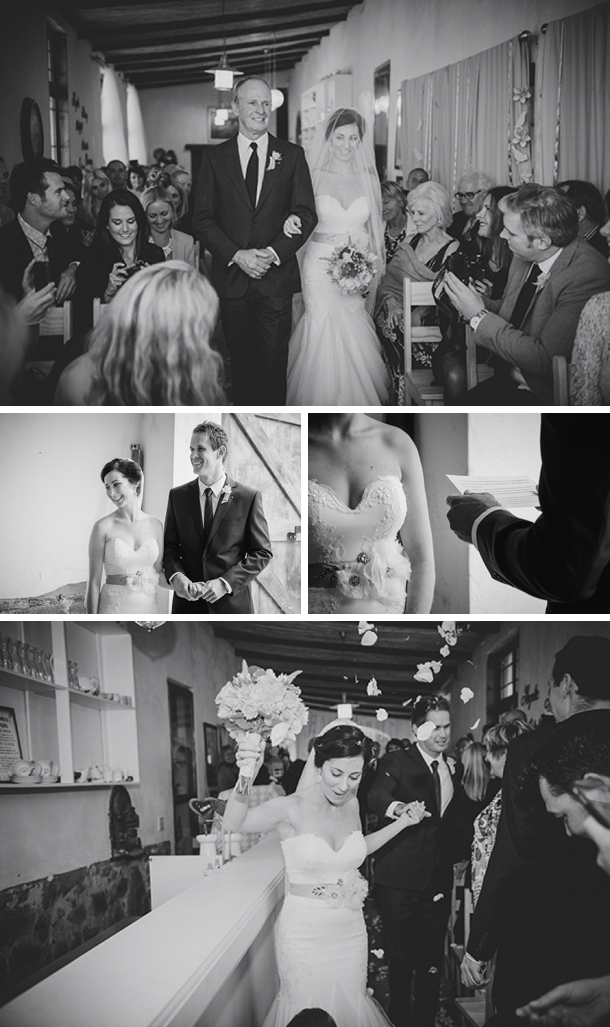 When we first saw the venue on the Internet, I instantly fell in love. I have lived in France for a time and Cabrières has a natural, vintage, French charm that was perfect for the concept of the wedding. Arlo flew down from Durban to see Cabrières as I was overseas. I totally trusted his judgment and we booked it right away. The colours for the wedding evolved over the year into greys, sage green, vintage pink and cream. I loved the fact that the reception rooms already had so much character and history (the building dates back to the 1800s). The scenery surrounding the venue is stunning and I just couldn't wait to show all our friends and family. They traveled so far to be with us on our special day, which was absolutely amazing. Go Team GB!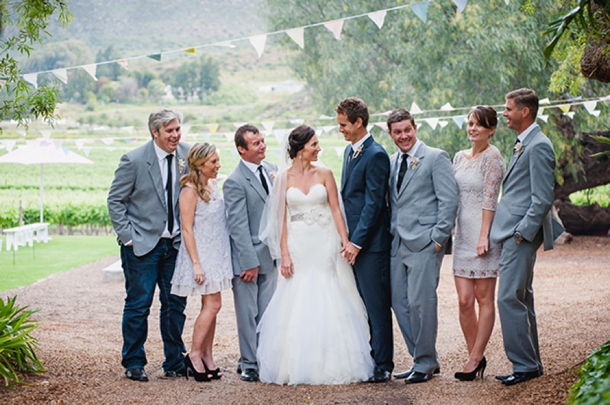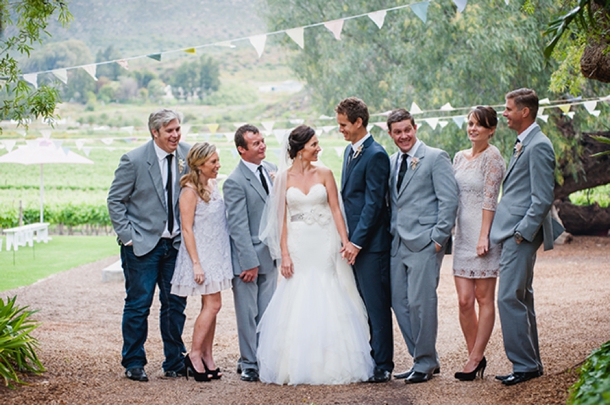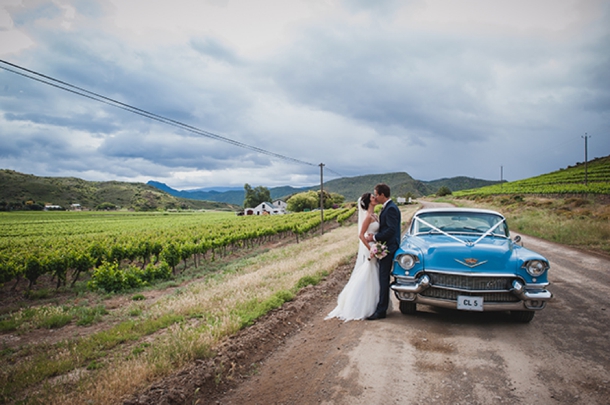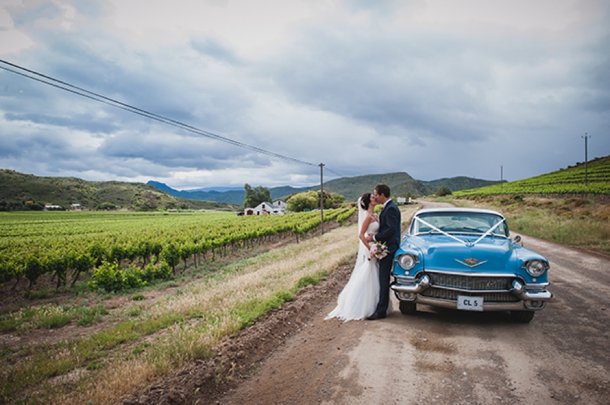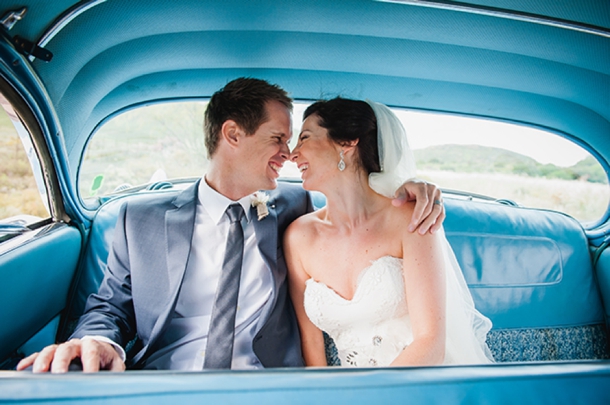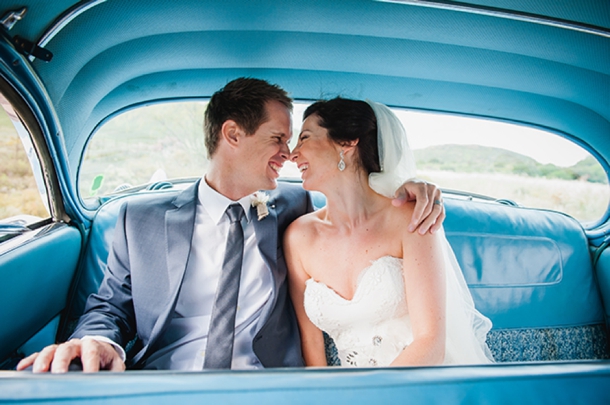 There was heaps of DIY involved in the details and decorations of the wedding. My mother-in-law was wonderful in making all the bunting and the origami flowers that we hung from the ceiling and gave to the girls as favours. All the other paper birds and hearts were cut out by hand and strung together by my very talented mother and girlfriends. Arlo and I made a 'fill in the blanks' story card for our guests to complete, they could be as funny or as loving as they liked. Instead of a regular videographer, we delegated the job of 'Best Man TV' to the wonderful best man and my brother to capture all the video messages so we'd never forget! They did an incredible job! We even chose to write and read our own vows, so every word was a personal connection for us both.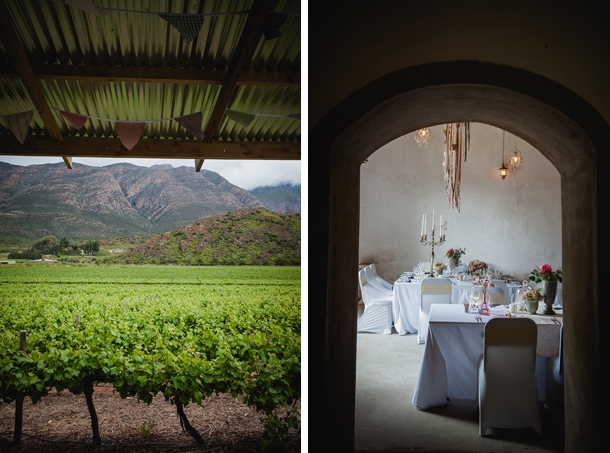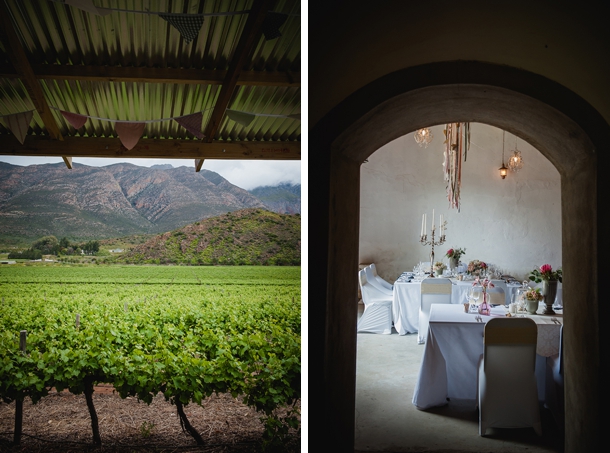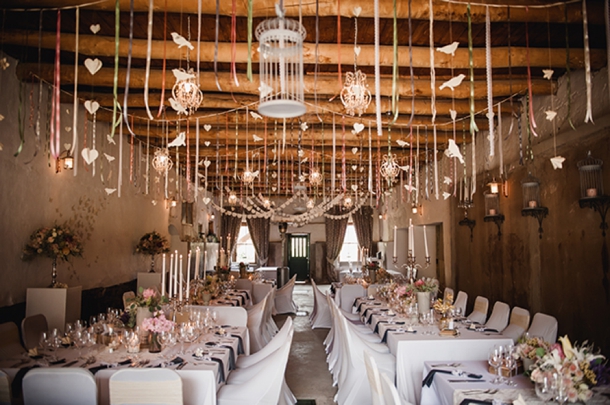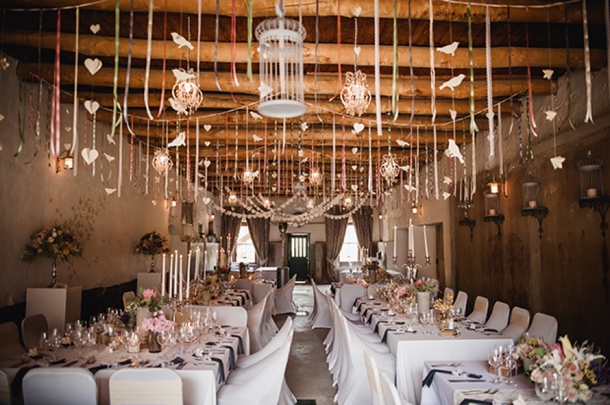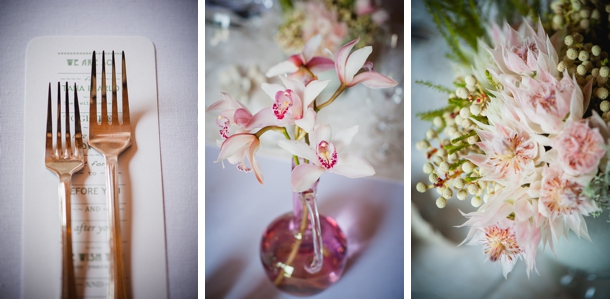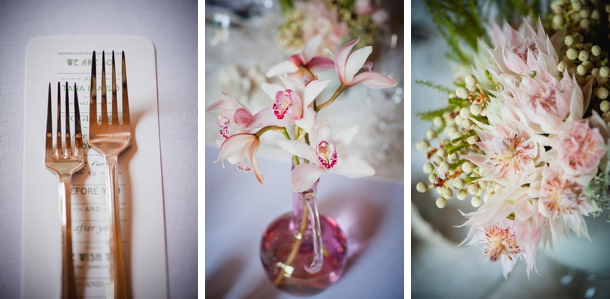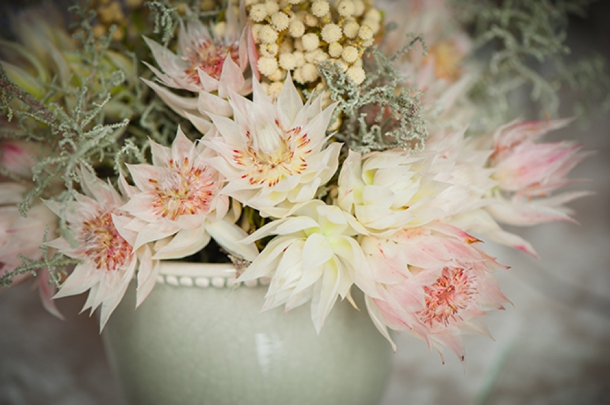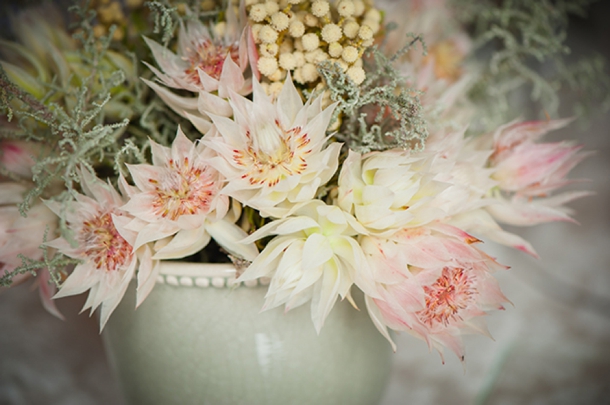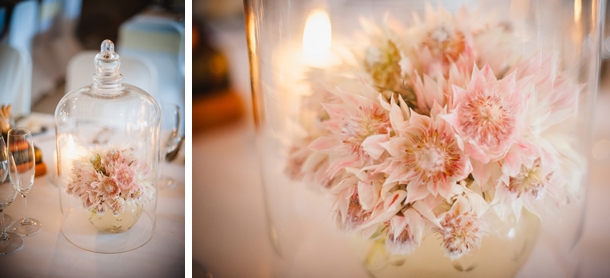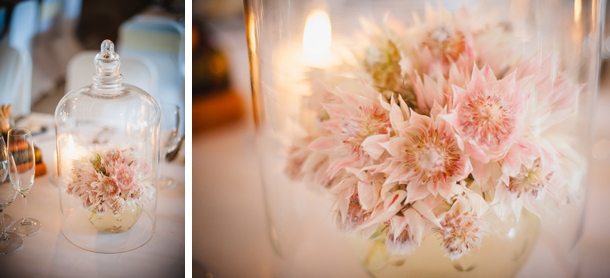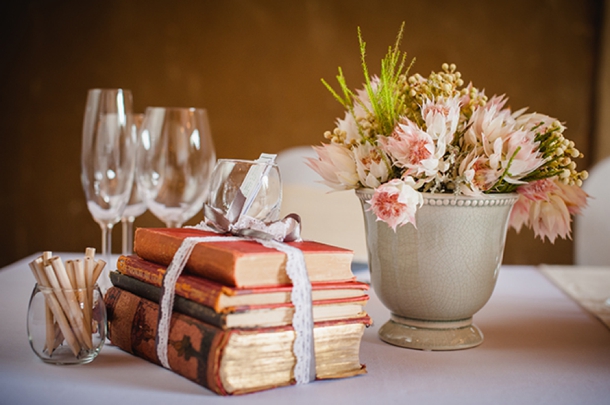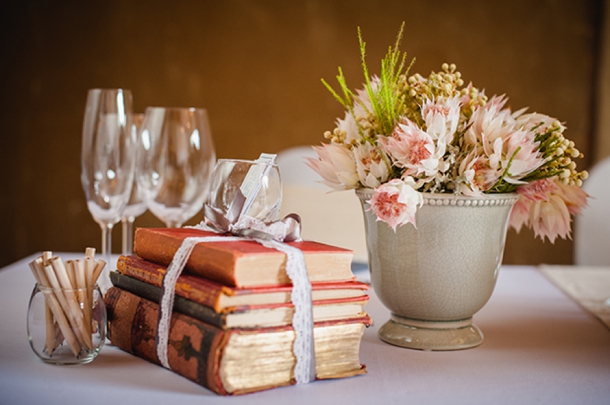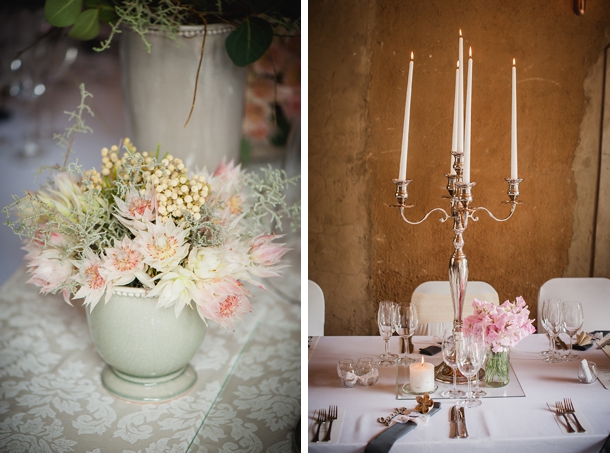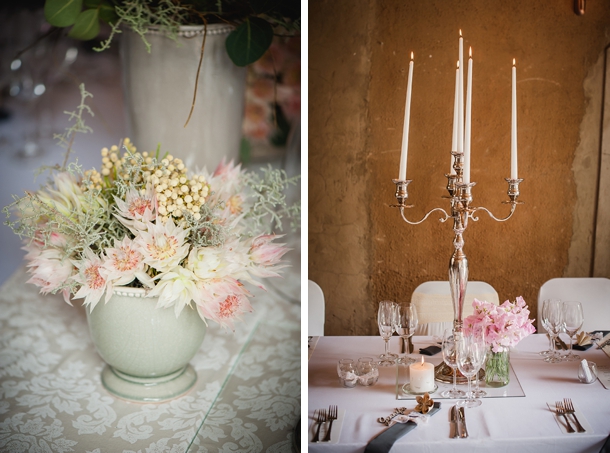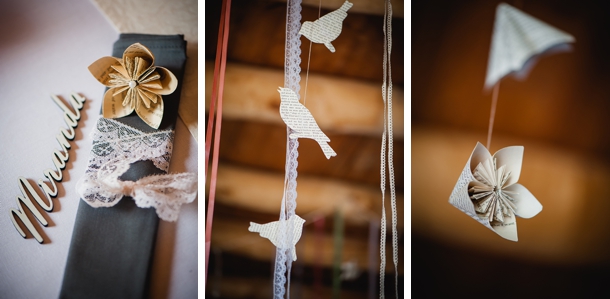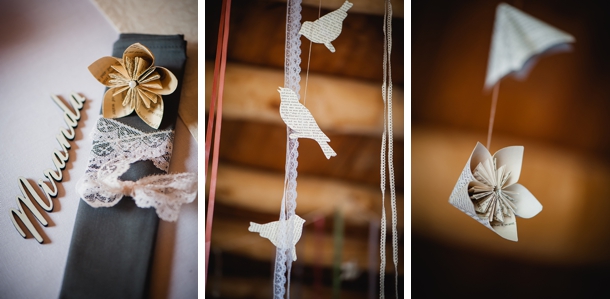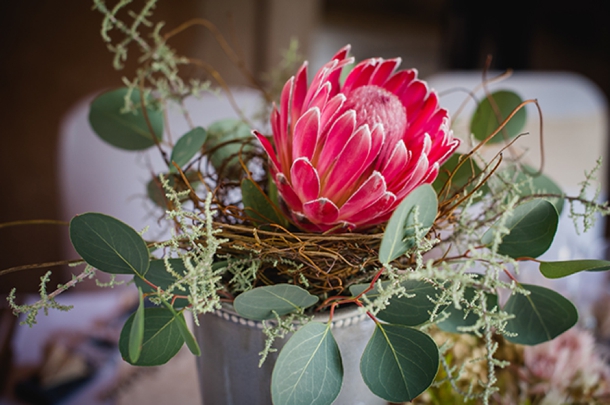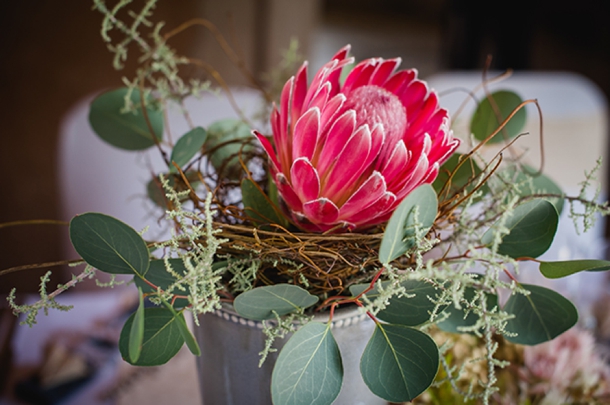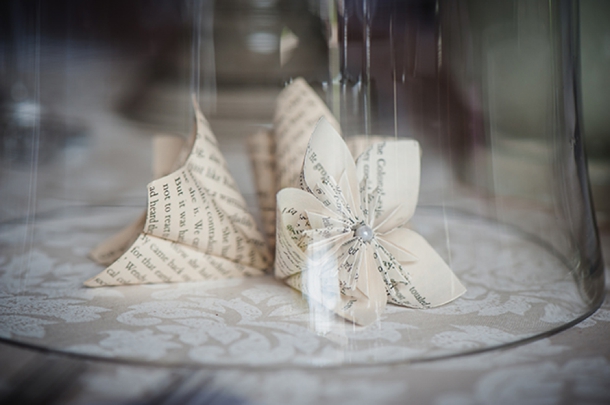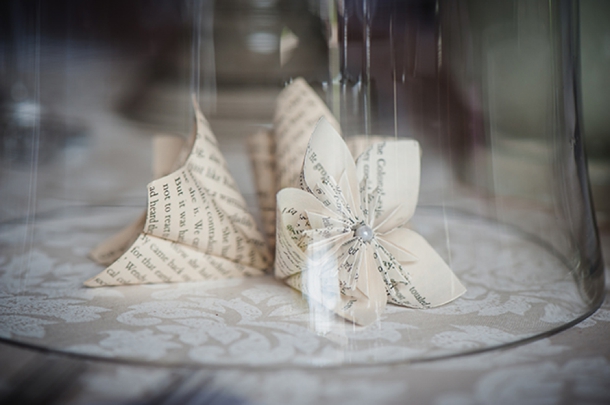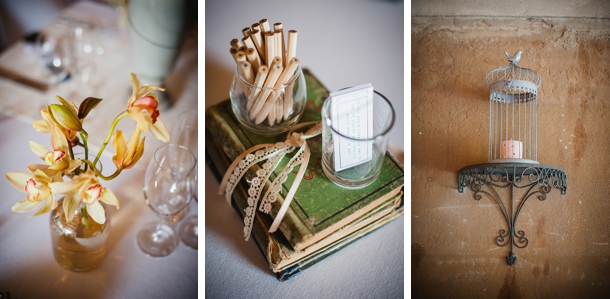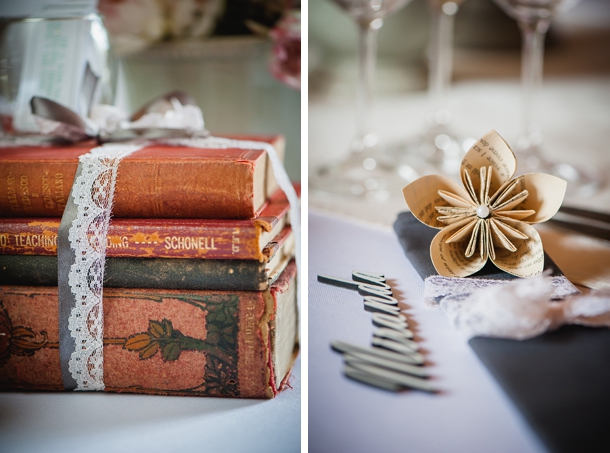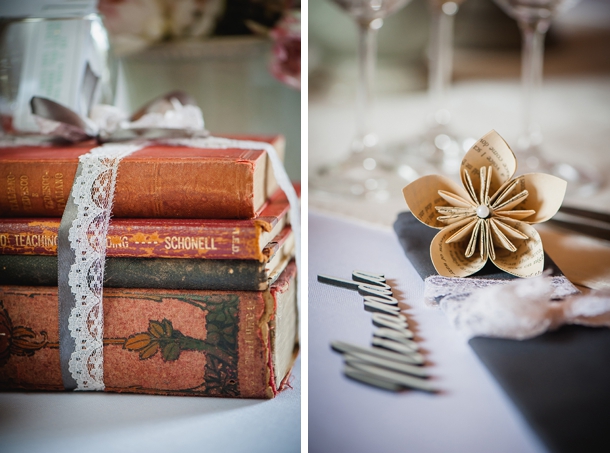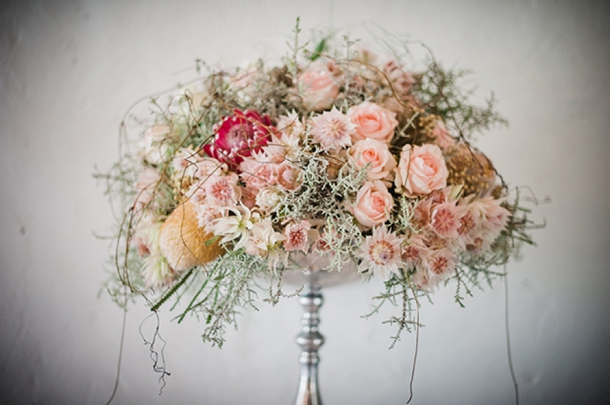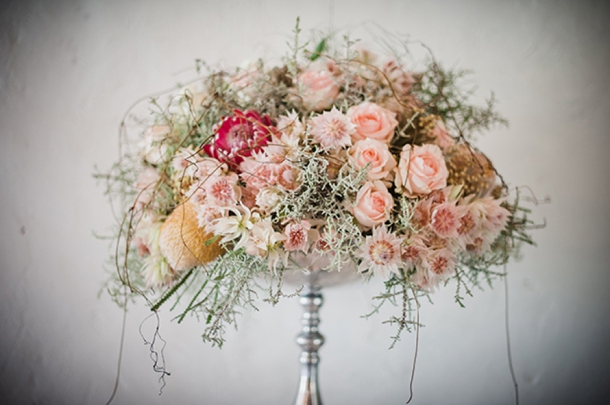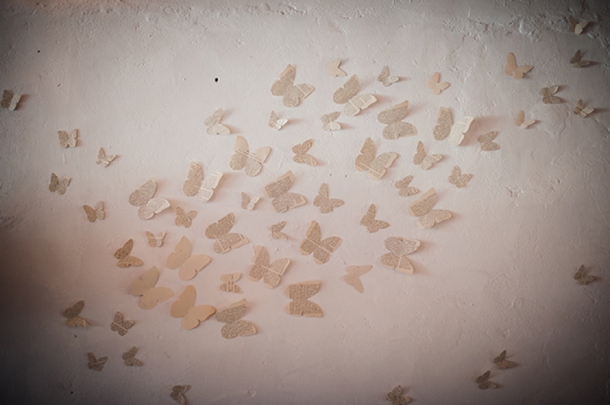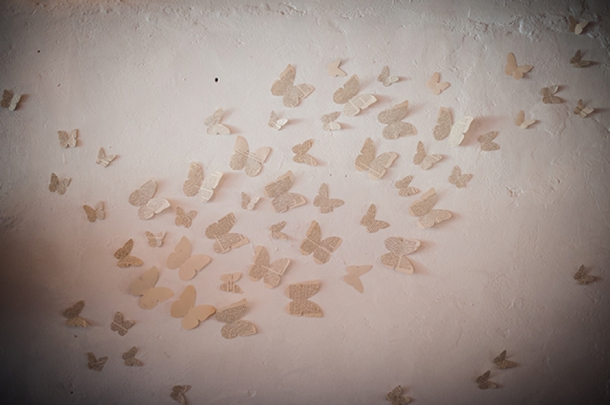 I spent a lot of time researching different photographers as I was looking for something quite particular in terms of the style of images. We were excited when we found Lauren and even more so when she agreed to shoot our wedding! We were also quite specific with our music and we think it made all the difference. Our song choices were EPIC! We danced down the aisle, danced into the reception and danced all night, a true reflection of our fun loving personalities.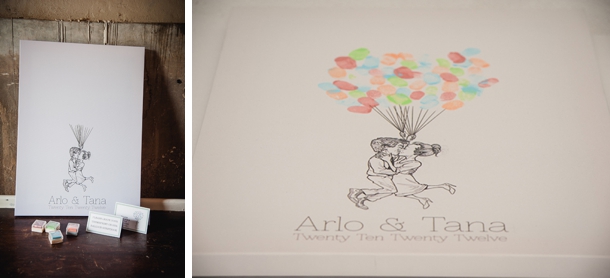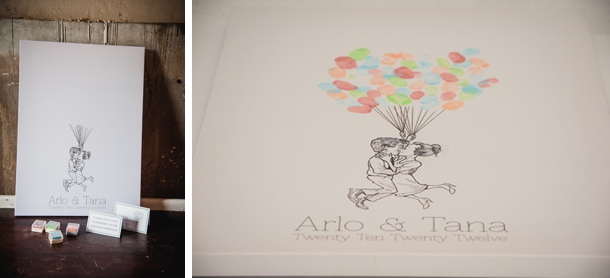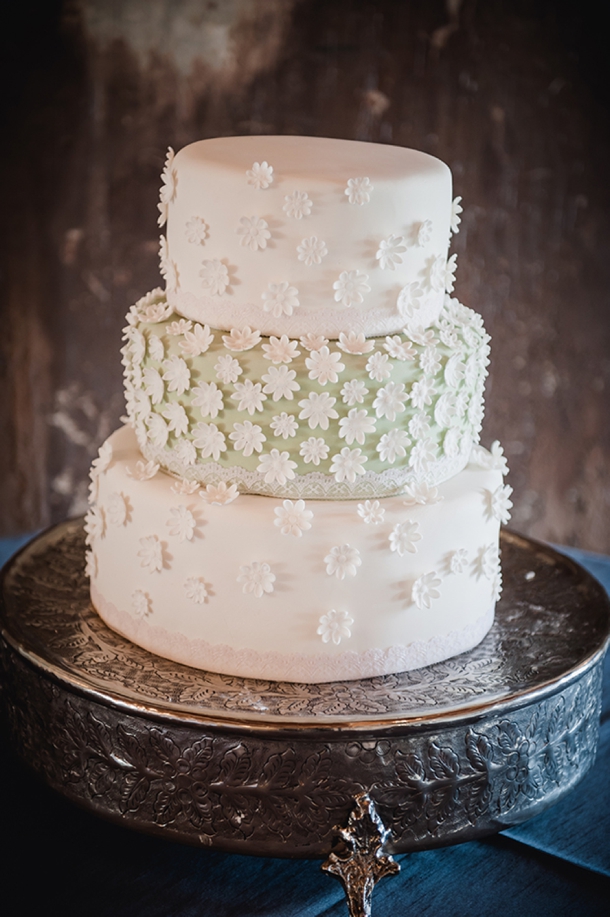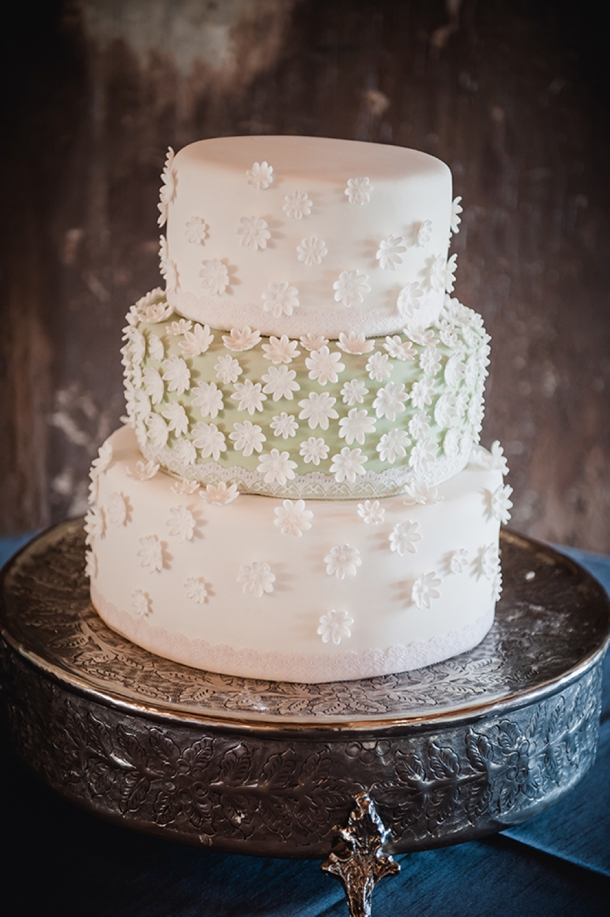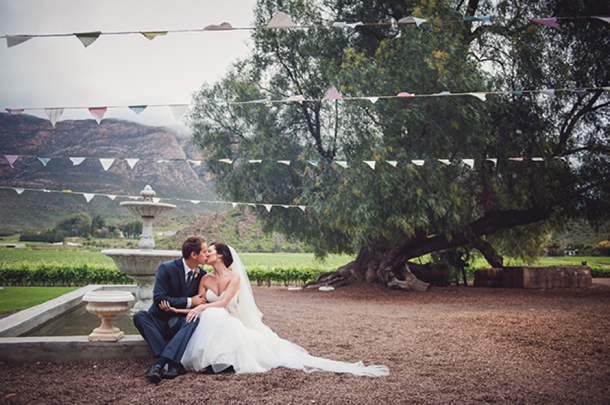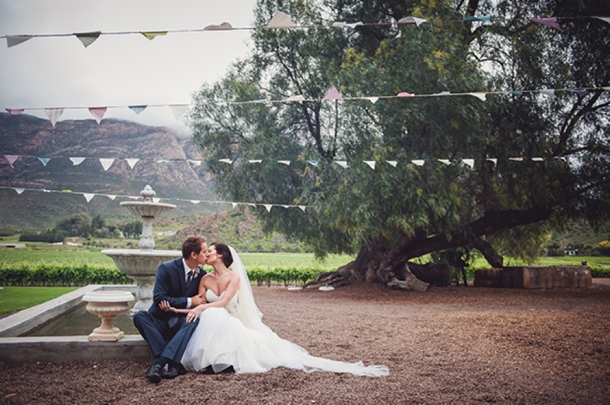 My advice to future bride is: organise, organise, organise… do as much of the planning as early as you can. That is the single biggest piece of advice I can give. Delegate jobs to trusted friends and family early and then you will have more time to kick back and enjoy the whole experience. Cabrières is owned and run by Jane Jordaan, who also acts as the wedding planner. Jane dealt with all of the outsourcing and logistics, and in terms of wedding planners, she is simply the best! She was a huge help before and on the day itself. I also found blogs and magazines a great tool for inspiration and ideas.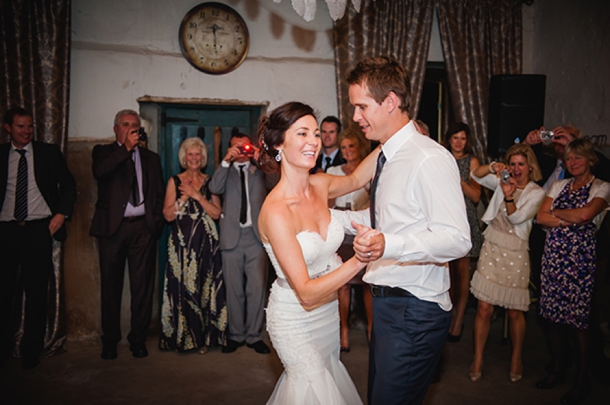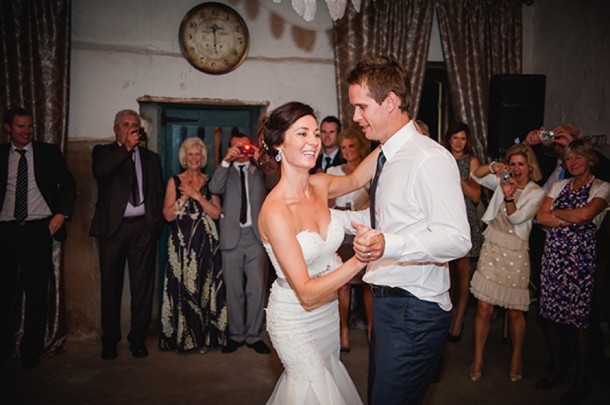 Thanks so much, Tana and Arlo! And of course, thanks to Lauren – always such a pleasure to have her on the blog. You can see more over on her site.
SERVICE PROVIDERS
Venue, flowers & co-ordination: Cabrières | Catering & cake: Sam and Ankia Müller | Photography: Lauren Kriedemann | Decor: Flamboijant | Bridesmaid's dress: Francois Vedemme | Bridesmaids' dresses: Zara | DJ: Adamant Soundz