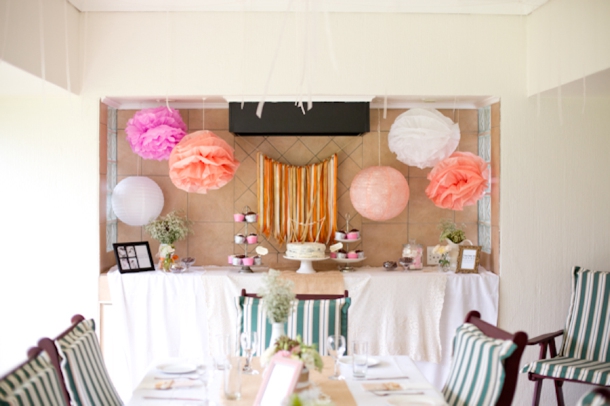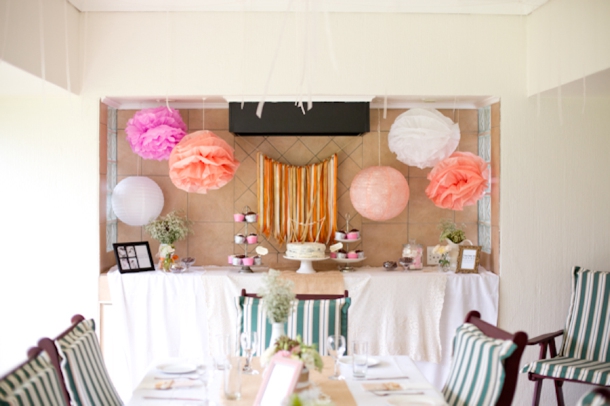 Happy Friday, friends! Later today we'll be getting to know one of my favourite wedding peeps, but first, I'm super excited to share a lovely bridal shower sent in by photographer (and bridesmaid supreme) Alana Meyer. And here's a really fun fact – part of the inspiration came from one of our very own boards! I just love that (and seeing how it evolved), and it shows that you don't have to be planning a wedding to get ideas from SBB. I also love the way that Alana and co. really used the space they had – turning an outdoor area into the ultimate girly tea party location. It shows that throwing a party at home can be every bit as pretty as booking a fancy restaurant (and is a lot less hassle for set-up, as I know from personal experience!). But what I love most are the framed statements from the groom of what he loves most about his bride-to-be, which is pretty much my favourite shower idea in ages, and so easy to do! But enough from me – over to Alana to tell you all about it, from inspiration to reality. Links in bold denote affiliate links. SBB may receive a commission for any sales made.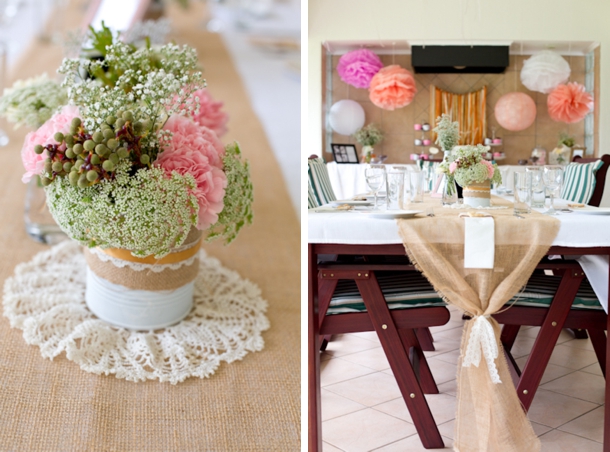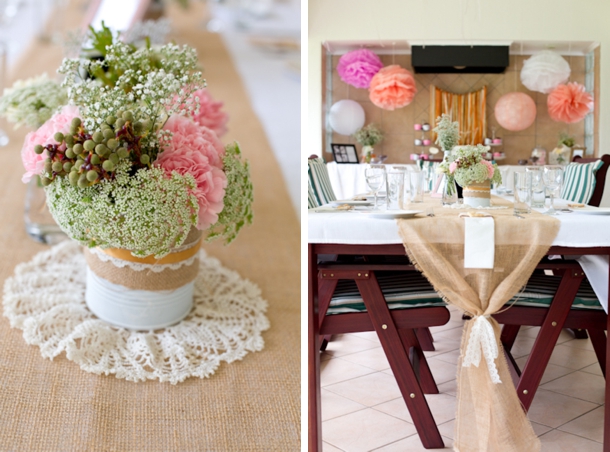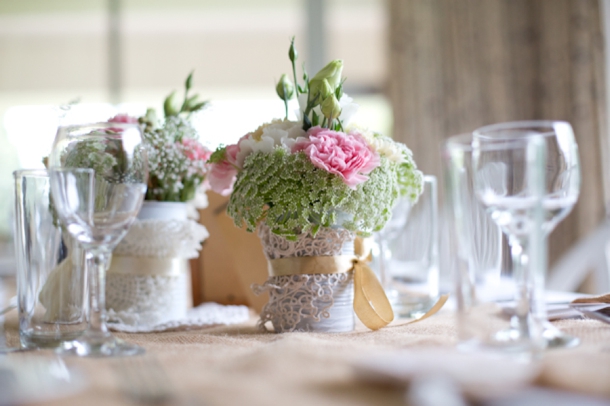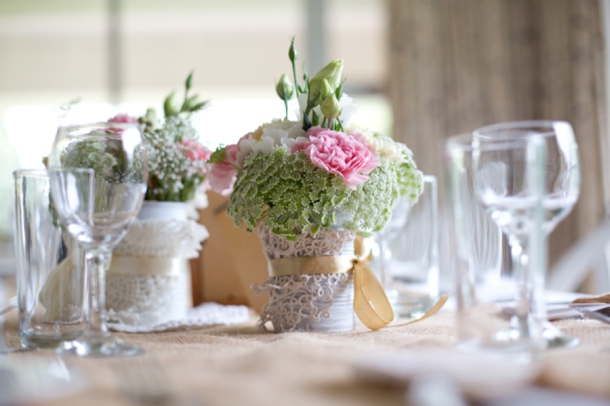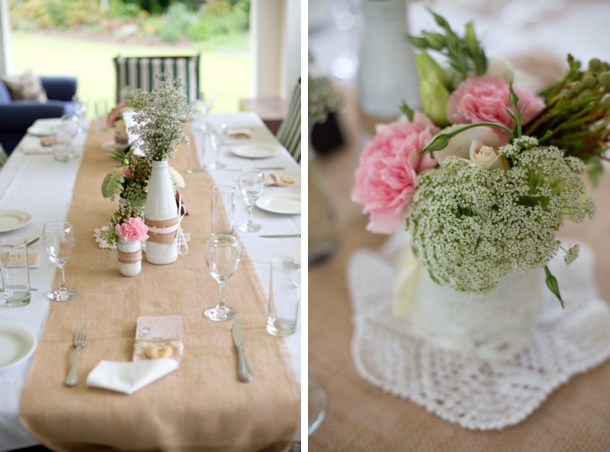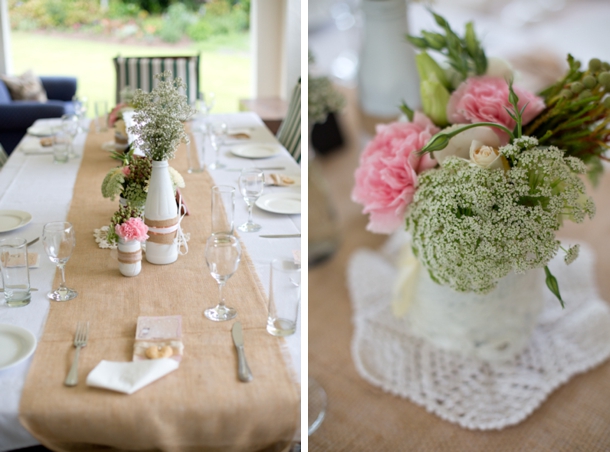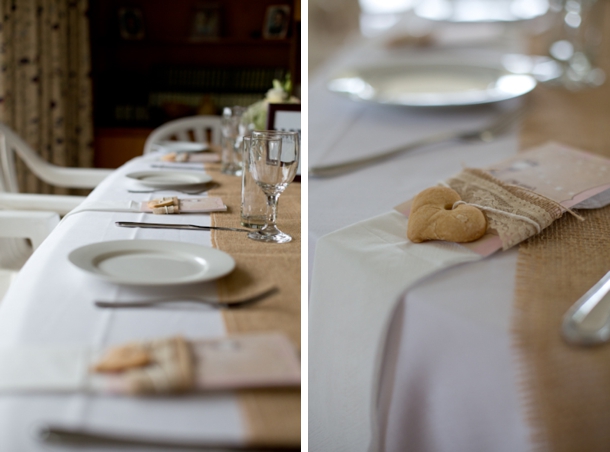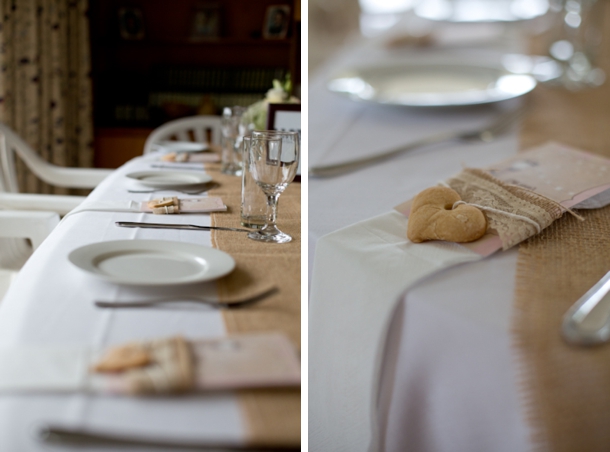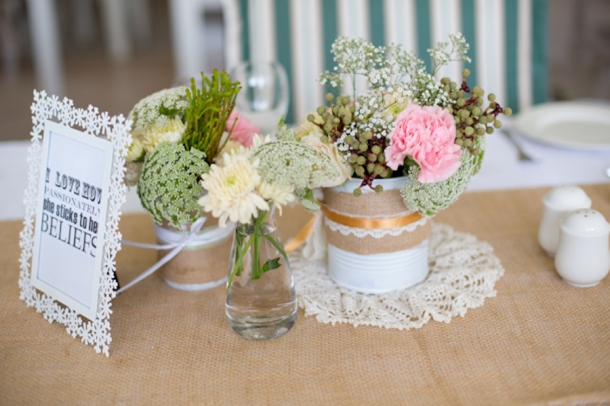 I was a bridesmaid at my sister's wedding in December, and I planned a beautiful bridal shower for her! I actually got the very first theme and idea from one of your inspiration boards: Rustic Tangerine. From there the ideas grew (I spent many hours on Pinterest!), but always sticking to the rustic feel for neutral, feminine colours. A few things always remained from the initial inspiration: the use of hessian sack, heart shaped place settings, the use of clothes pegs and the clean white linen. Tangerine turned into coral and glass jars turned to tins. This is what it evolved into…
Flowers: I collected old tins and jars and painted them white. This gives everything a clean and fresh look. I wrapped some of the jars with paper doilies and some with vintage crochet doilies, and topped each with a pretty ribbon. I wanted to keep the theme feminine so I chose white, pink and coral colours. I made sure each table arrangement had different heights to create depth and interest.
Linen: Hessian sack was the star of the day to create the rustic look. It was used as the table runner on a white tablecloth and simply tied at each end with a lace ribbon. On the candy table, a vintage lace tablecloth was used to tie in with the vintage feel.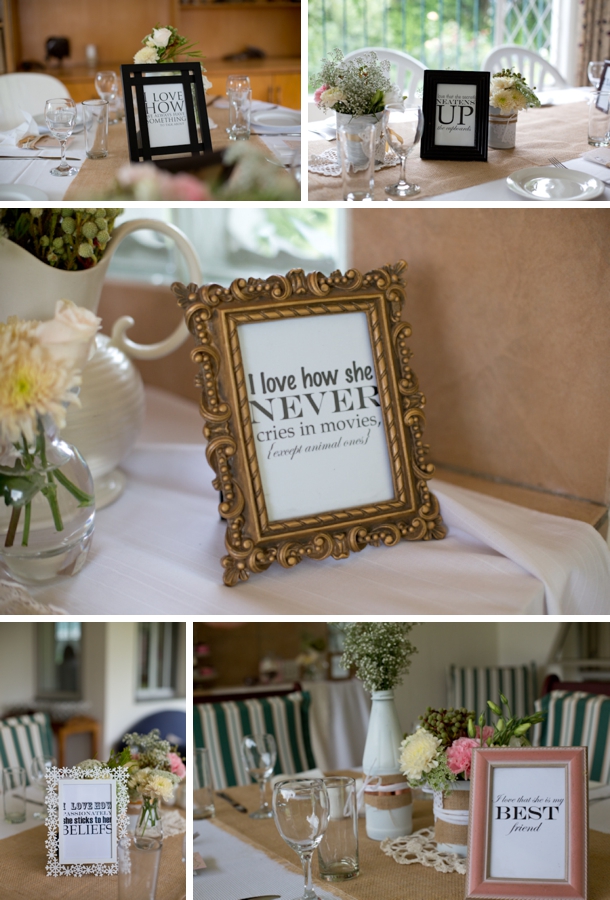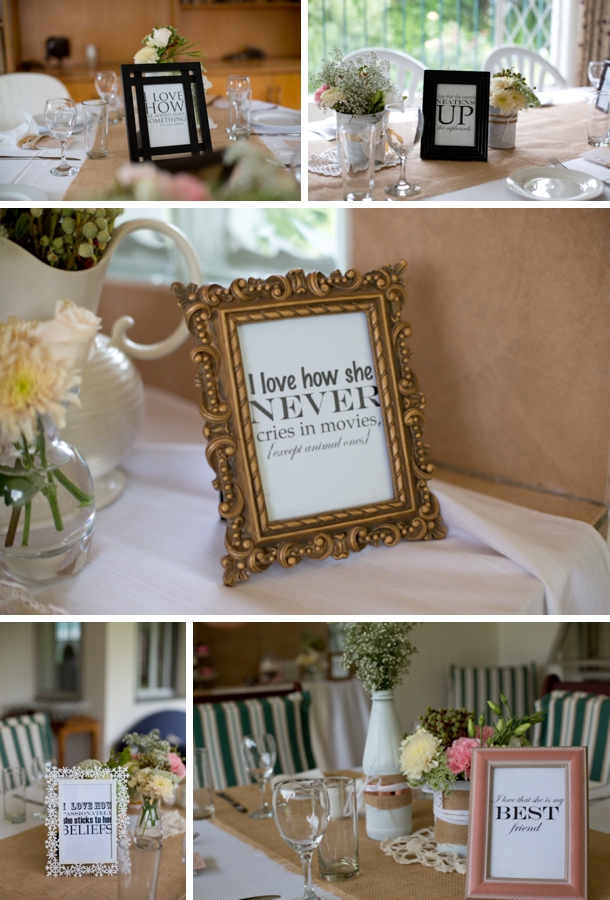 Personal Details: It was a shower filled with love and friendship, so each place setting had a menu with a heart-shaped salt dough tied to it. (I had to remind people it wasn't a biscuit! A homemade biscuit would make a nice alternative.) I asked the groom to write down what he loves about his bride and I framed what he said and placed them on each table so she could wander around and see what he had said (and it provided a topic of conversation for people who didn't know each other.) I made name tags and guests simply pegged them onto themselves. The crochet doilies were my late granny's (who had passed away a few weeks before the wedding) so she was there in spirit. There was also a "Love Story" board, which documented the milestones in their relationship.
Candy Table: The main feature of the room was the candy table. It was framed with paper pompoms, lanterns and a ribbon backdrop. The cake had a bunting cake topper and the other yummies were all in the same colour scheme. To make the pompoms, we followed this tutorial. For the ribbon backdrop: grab a piece of string, cut strips of ribbon, then tie different coloured ribbon to the string until it is full and hang.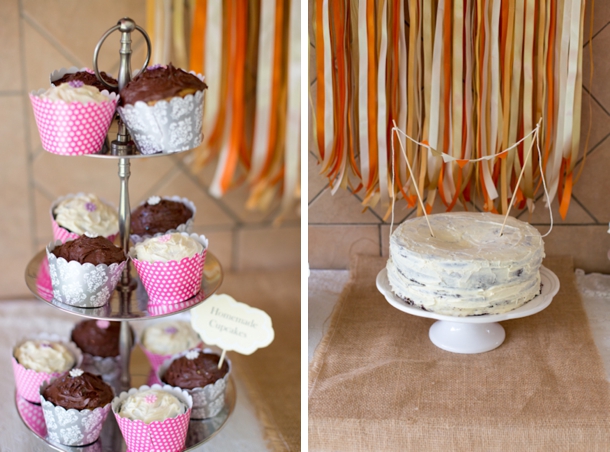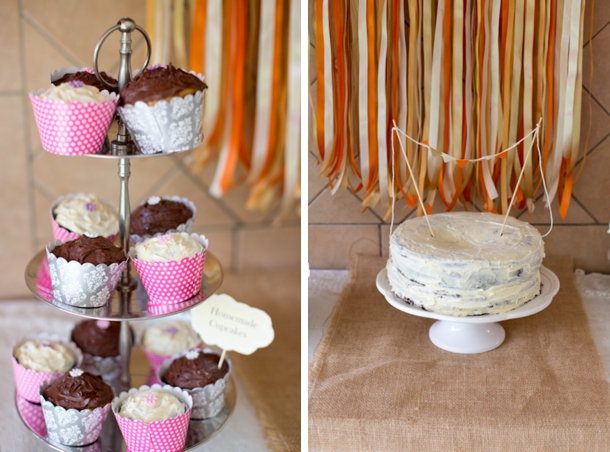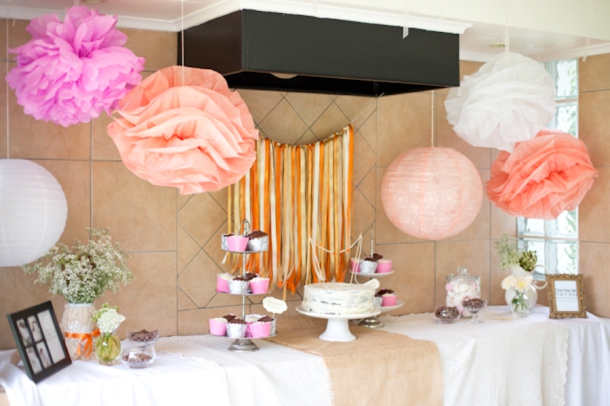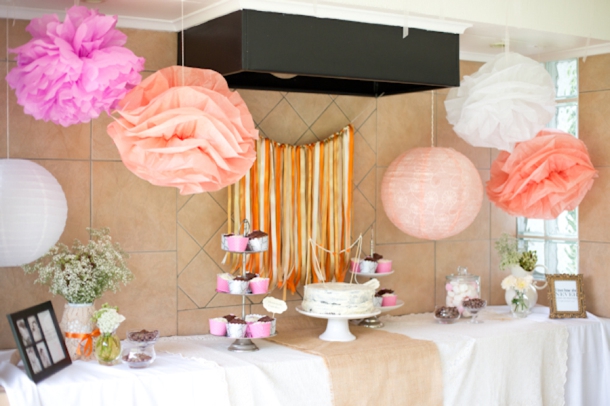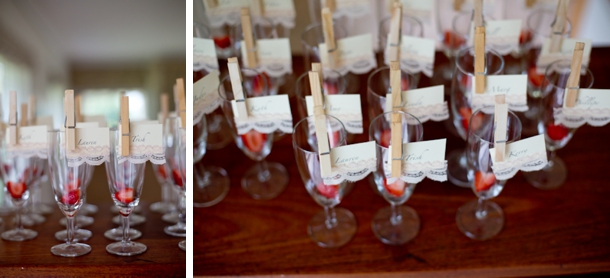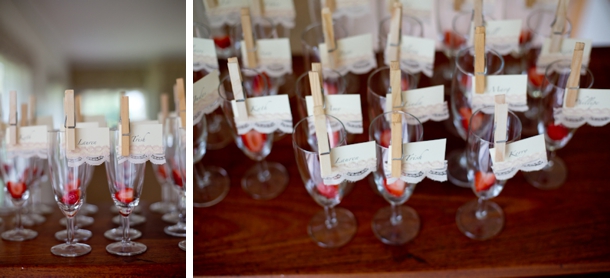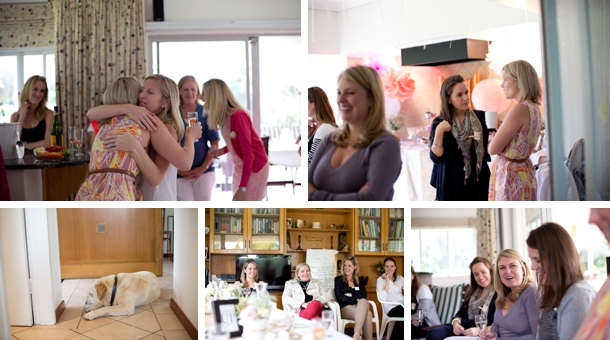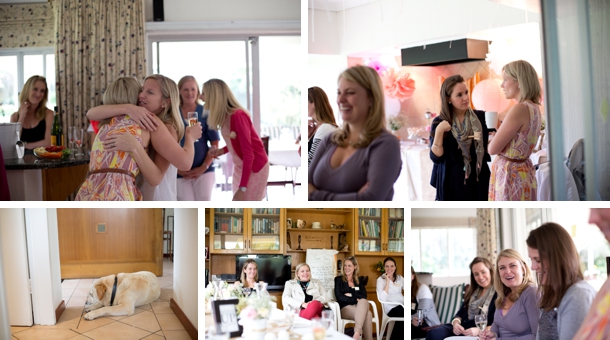 CREDITS
Photography: Alana Meyer Photography
Want to get this look for yourself? Here's how!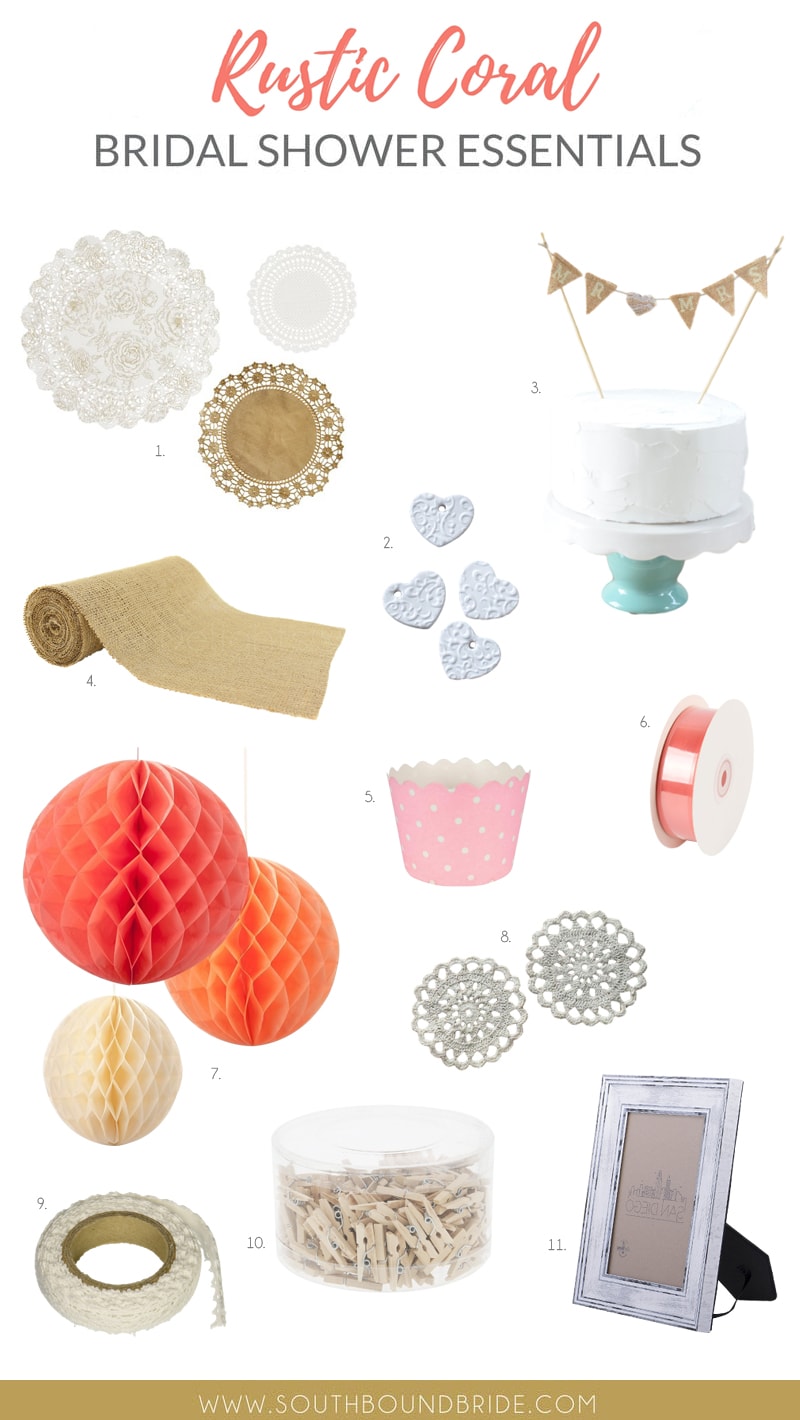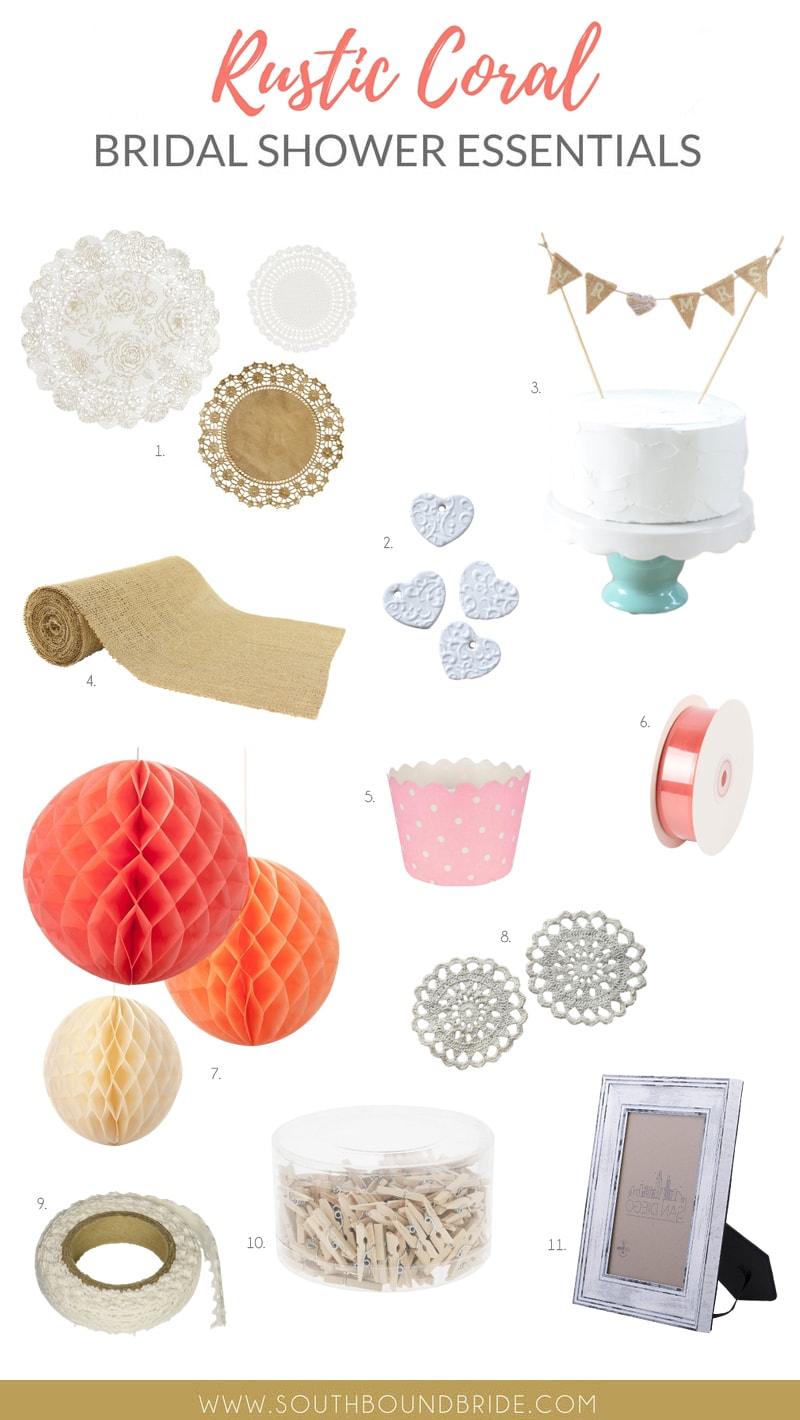 Clay Heart Tag by Mais e Poi Mais
Mini Bunting Cake Topper by Olivia's Sweet Lullaby on Etsy

Vintage-style Crochet Doilies by Rachel's Scraps


MORE BRIDAL SHOWER IDEAS & ADVICE:
Find more fun bridal shower ideas on Pinterest!