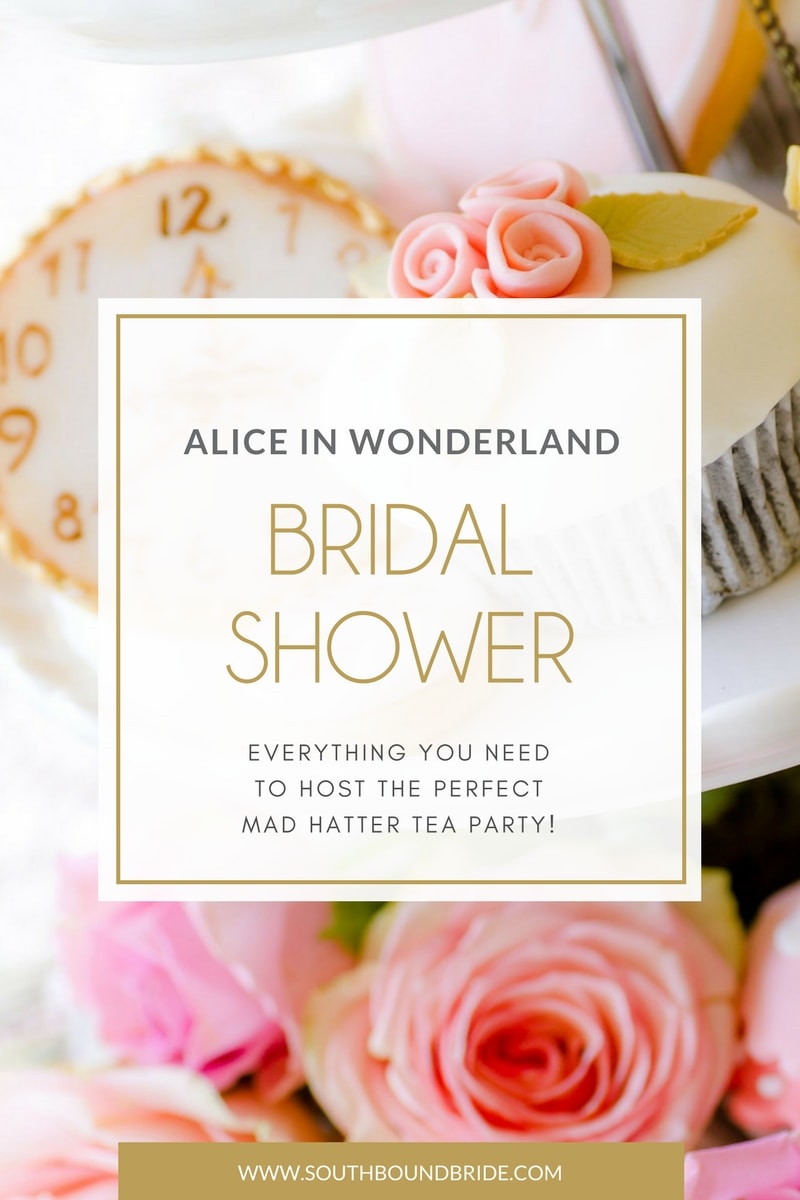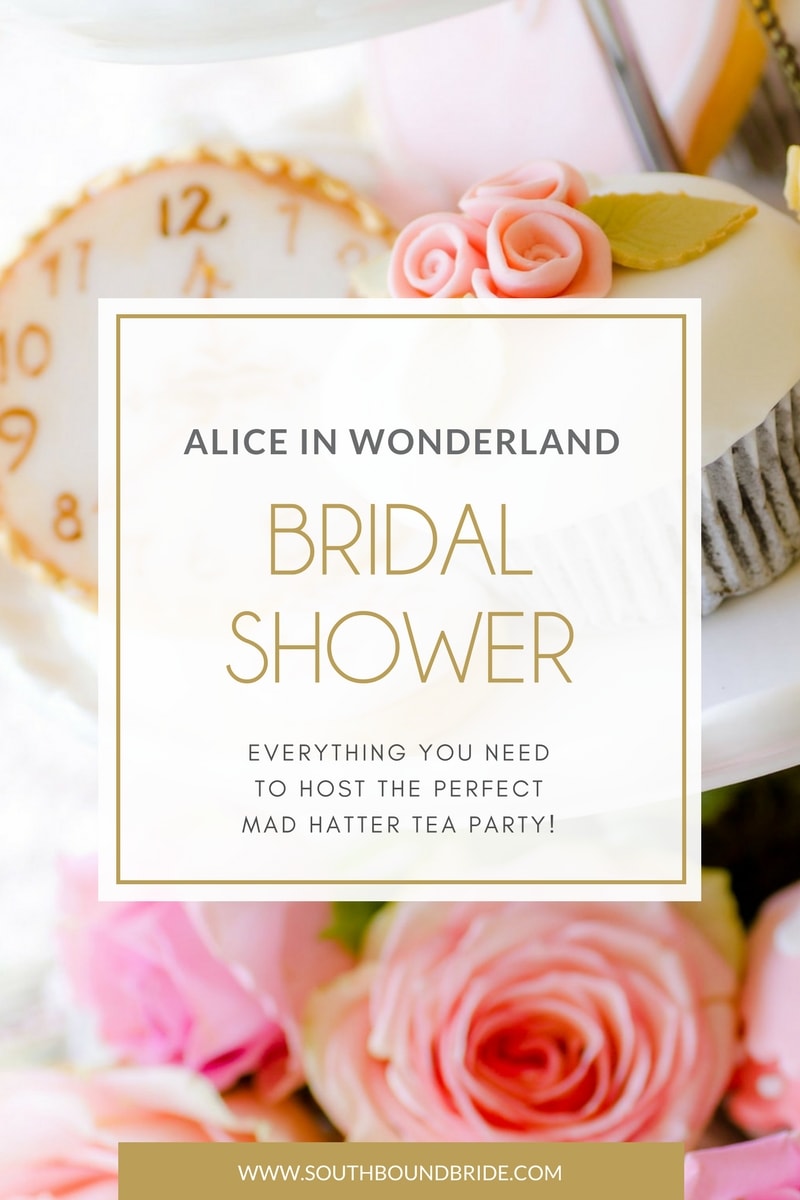 Image credit: Jaqui Franco Photography on SouthBound Bride
Lovelies, I am VERY excited about today's post. It all started when a lovely reader and bride-to-be, Tanya, mailed me the invitation to her Alice in Wonderland bridal shower. It had Mad Hatter tea party theme (or 'Alles in Wonderland' in Afrikaans!) I asked to see some pics, and she sent over loads of them – these girls looked like they were having a wonderful time! I couldn't believe how much effort her friends had gone to in creating the Alice in Wonderland-themed decor, but the best was yet to come. Tanya's friend Andrea Kuhn mailed me offering to send me her files as free downloads for the blog, so she could share them with all of you. How sweet is that? We love Andrea. What I love about these printables is that they're really whimsical – a perfect nod to the novel, but so usable for a fun bridal shower. Cupcake flags, tags, cards for the table, photo props – they're all there for you to download and print yourself or via your favourite printing service. And to get you started with the rest of the planning, we've also put together a bridal shower essentials buying guide! Links in bold denote affiliate links. SBB may receive a commission for any sales made.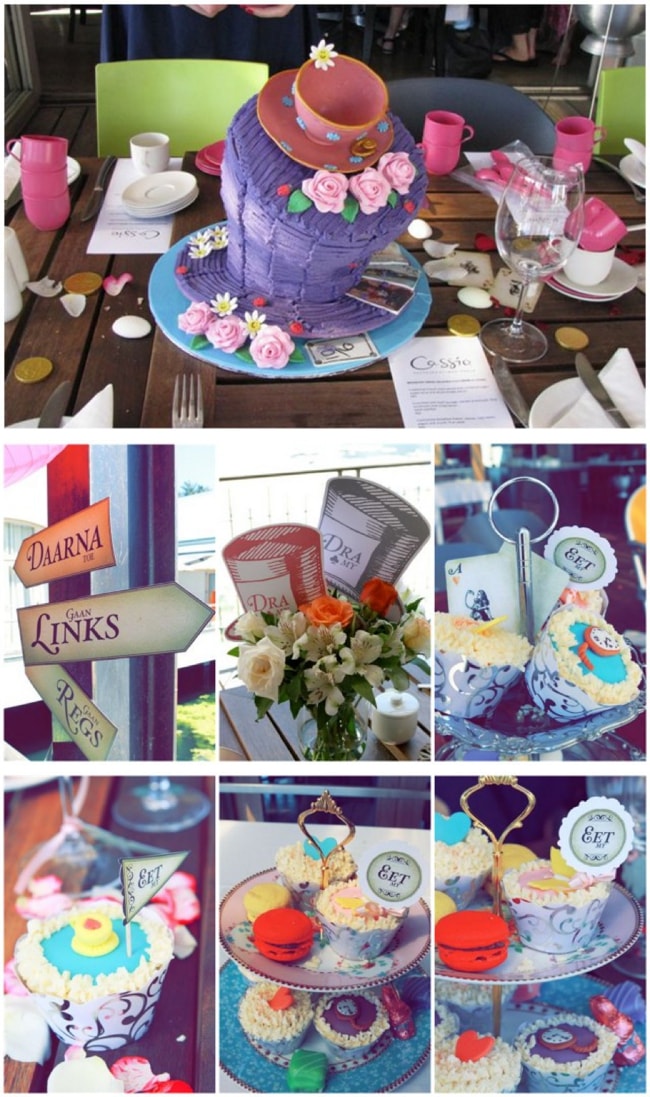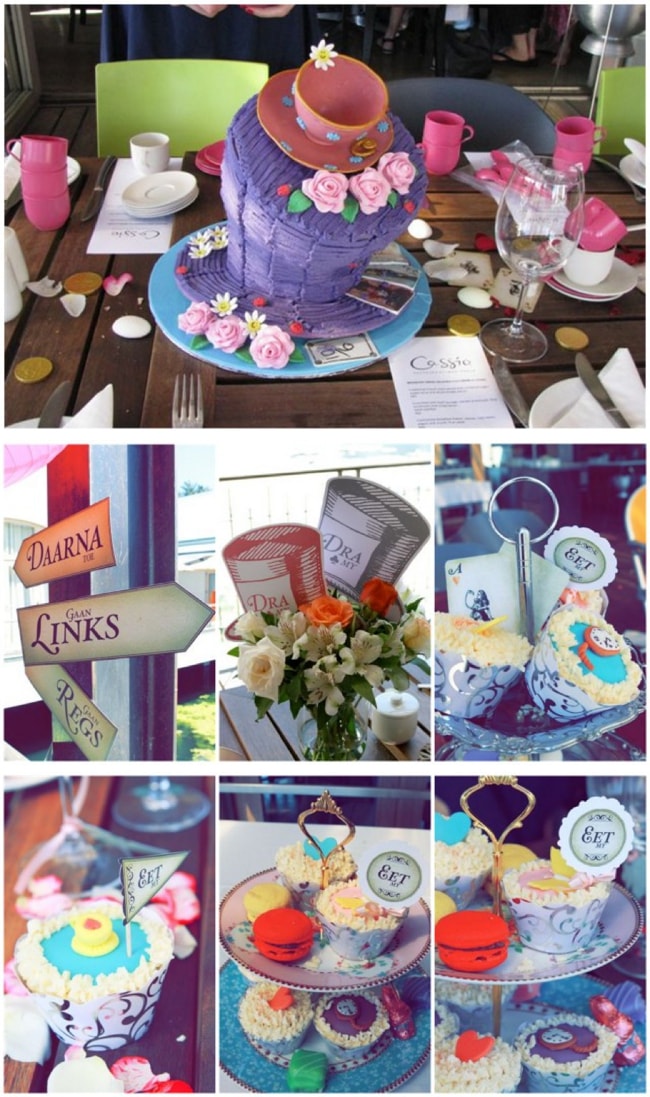 Top tips for throwing an Alice in Wonderland bridal shower:
The great thing about Alice is that you sort of have free reign on the decor as anything a bit zany, topsy turvy, turned about and surreal could be included, which means you can look around for decor items at home. Key motifs you may want to include are: clocks, hats, playing cards, tea cups, mushrooms, rabbits, flamingoes…
For table centrepieces, fill teapots and teacups with flowers, or turn costume top hats upside down and use them as containers. Or stack teacups one one top of another (stick with glue if need be) to create height and interest.
For favours, give each of the ladies a different vintage teacup – line them all up (the more mismatched, the better) and it'll be part of the decor, then write everyone's names and the date underneath (or write a sweet tag) and they can take it home with them afterwards.
Foodwise, a traditional tea party is a no brainer – it's in the book, and it's super fun. And of course, nobody says you can't also drink champagne out of teacups!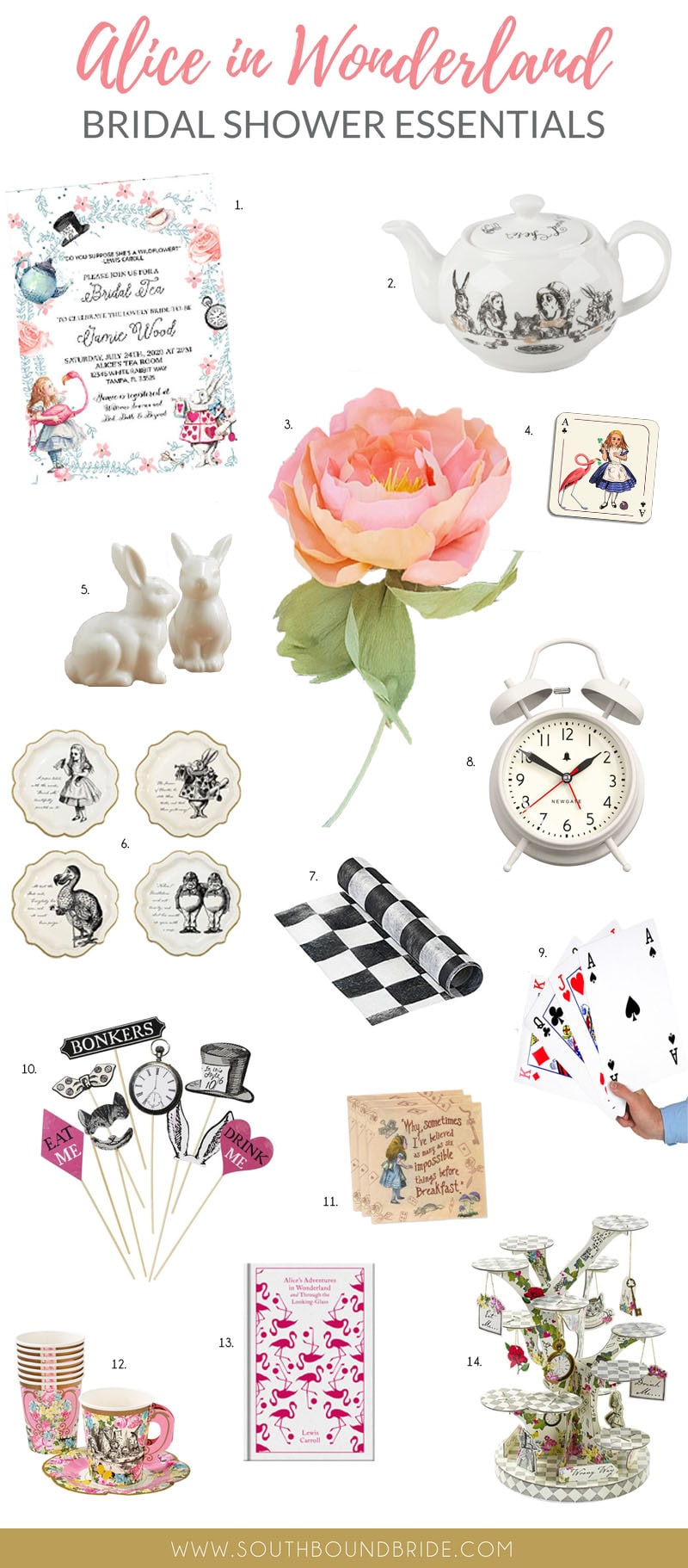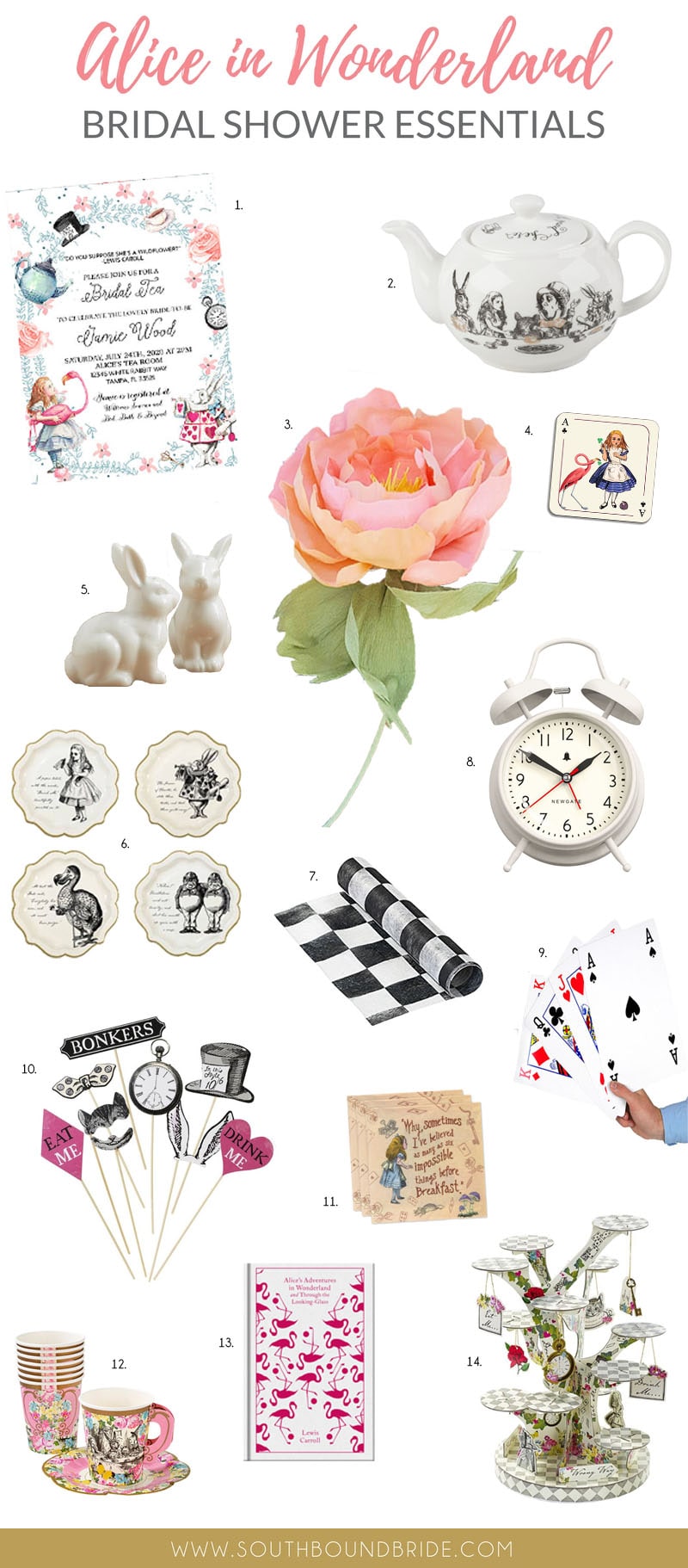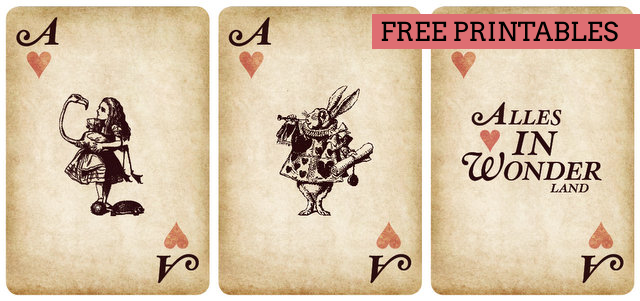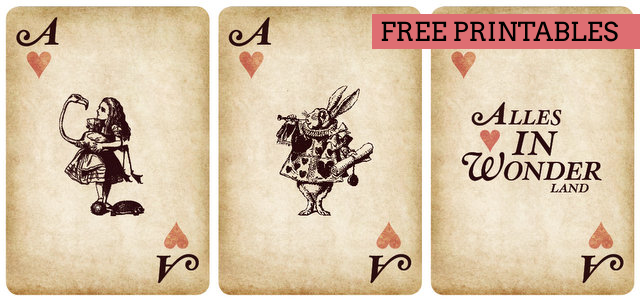 Download the printables here: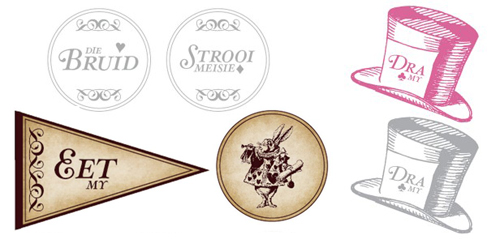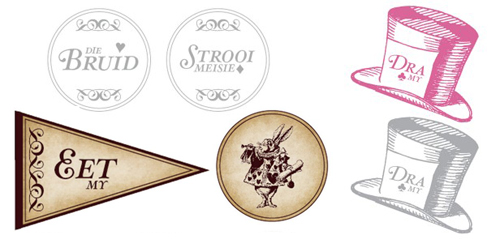 You can find more Alice in Wonderland themed wedding inspiration on SouthBound Bride:
Find more fun bridal shower ideas on Pinterest!