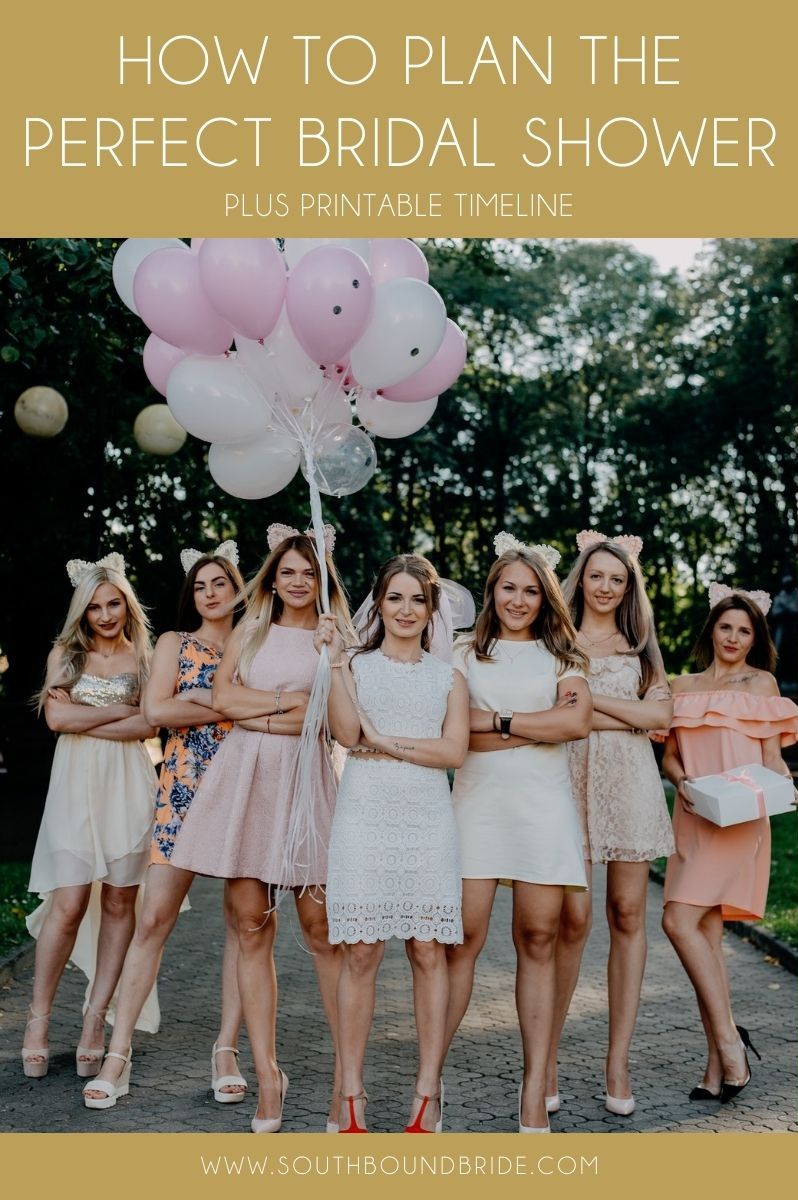 If you follow SBB on Facebook you may have seen that I was invited back this last Tuesday to chat to the lovely Yolanda Martens at OFM, a radio station based in Bloem, as part of her wedding planner series. This time, we were talking all about bridal showers, hen dos, kitchen teas, bachelorettes – whatever you want to call them, I shared lots of info and ideas for bridal shower planning. (You can hear the podcasts here.) To tie in with my interview, I thought this afternoon I would post the complete SBB guide to how to plan the perfect bridal shower (that is, the more sedate day-time party!). If you scroll to the end, you'll even find a very handy printable bridal shower timeline and checklist that your Maid of Honour or bridesmaids can use to help them in their planning, so don't forget to pin it! I've thrown quite a few showers in my time (both bridal and baby), and organisation is the key to make it as stress-free for the planner as well as for the bride and guests as possible. It's such a special gift to give one of your best friends – an afternoon with her favourite people, celebrating their relationships with her – but it doesn't happen by magic. So here's everything you need to know about how to plan the perfect bridal shower.
*Links in bold denote affiliate links. The cost to you remains the same, but SBB may receive a commission for any sales made.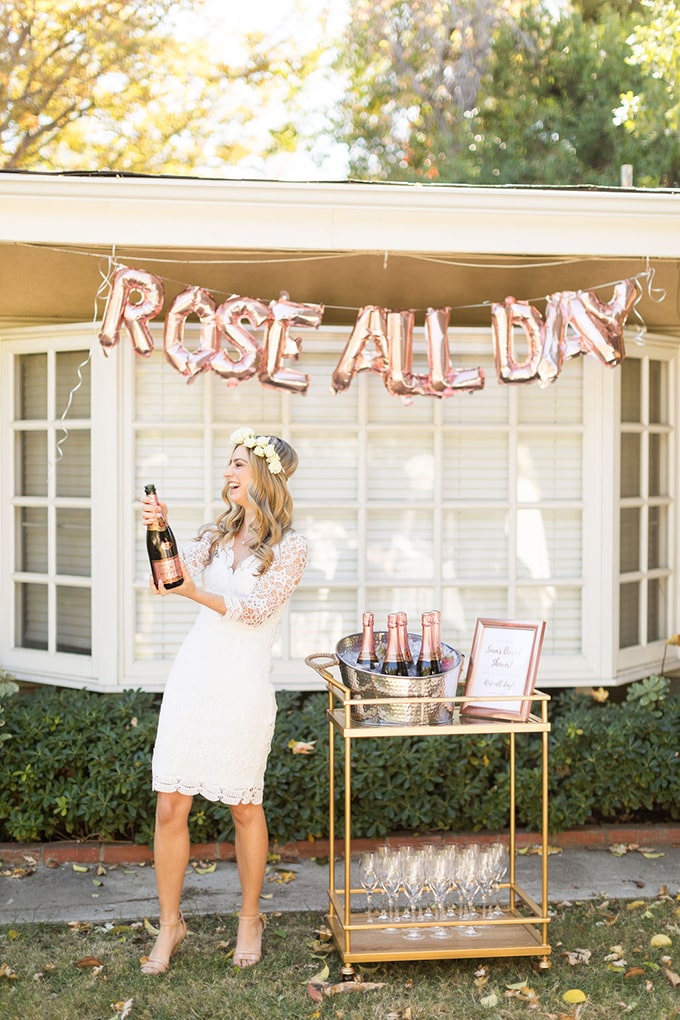 Image credit: Katrina Jayne Photography/Jane Alexandra Events via Glamour & Grace

Bridal Shower Basics
One of the first questions people often ask is "who should throw the bridal shower?" This isn't as clear-cut as it used to be, but generally, it falls in as one of the Maid of Honour's (or bridesmaids as a group's) general duties. Moms and moms-in-law do often want to get involved, and sometimes a colleague will throw a mini-shower for the bride at work. Brides have even been known to organise their showers themselves, especially if their bridal party lives out of town. Whoever is the official host, be sure to take up offers of help from friends and family who would love to be involved, and let everyone know what their job is well ahead of time. (For more info on the etiquette of who pays for what, see this post.)
The first question to ask when planning a shower is who will be attending. I'd really recommend talking to the bride about this, because nobody is going to have as clear an idea of who should be there as she will! Even if you keep everything else a surprise, ask her for a list of names and addresses, and also ask her which guests are the most important (i.e. who you will want to take into account first when choosing a date). There's one HUGE golden rule here: don't invite anyone who isn't invited to the wedding (unless it's someone who would have been invited but can't make it). Nobody wants to feel like rent-a-crowd.
The next step is to choose a date. Chat to the VIPs first, to see if there are any limitations you need to take into account. Most showers are thrown within around a month before the wedding, but if, for example, the bride's sister is flying in from Australia a few days before the wedding, you may need to make it then (DO tell the bride the date in this case, so she can plan around it). Once you have established a good date, send out an email to everyone on the list to ask them to keep the date open – you can send proper invites later, if you like.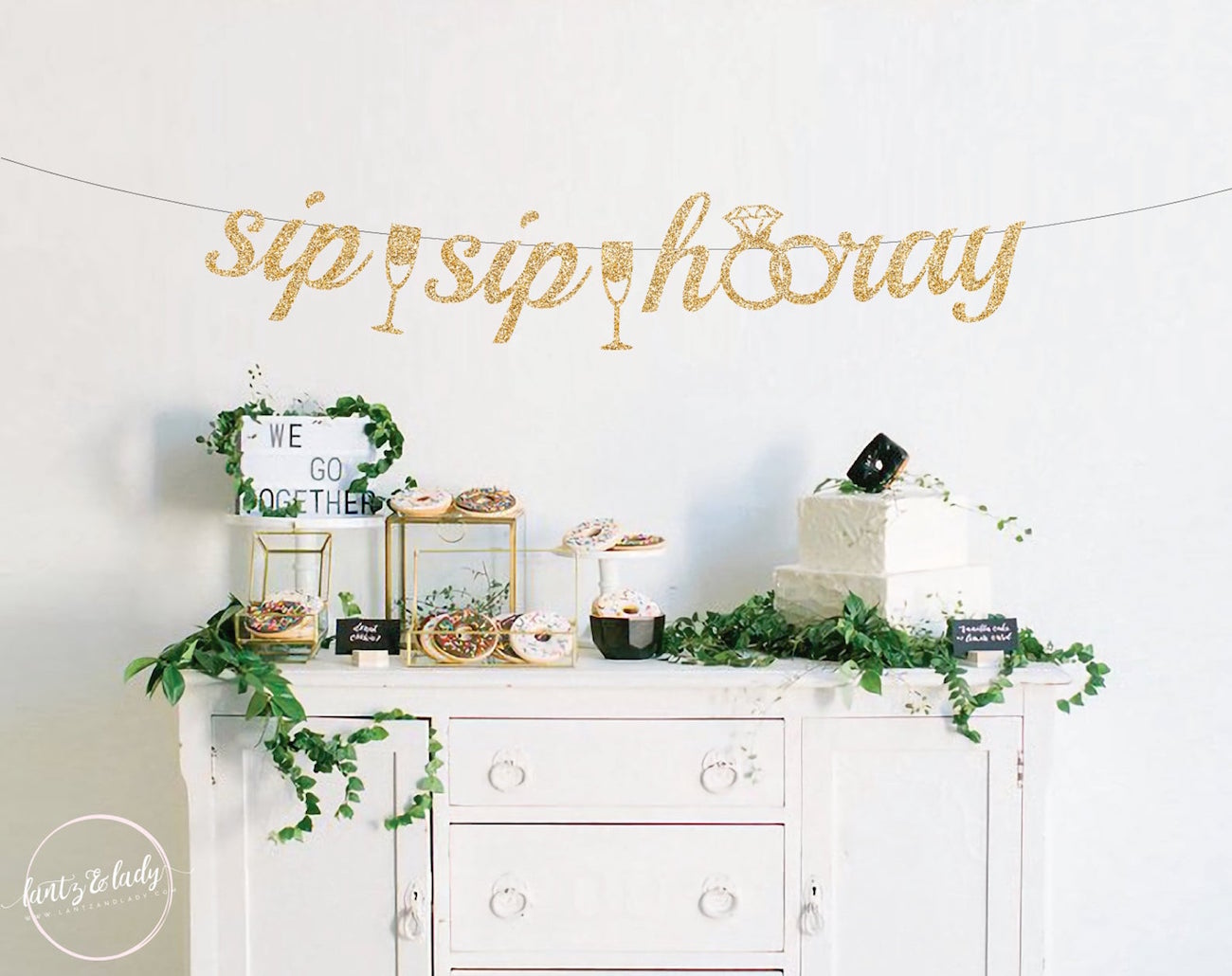 Sip Sip Hooray Bachelorette Party Banner by Lantz and Lady

What Type of Bridal Shower?
Now you have the first steps covered, you can start on the fun stuff! What sort of shower are you going to throw? Will it be just the girls, or a Jack & Jill shower (a joint party for bride and groom)? Will you have a theme? Your starting point for any of this should be your bride – what does she like to do, what does she like – the more personal, the better. If you do have a theme, it can be anything from a full-scale dress-up party (Hawaiian luau anyone?) to just a colour scheme or a motif. When deciding on the kind of party, you'll want to balance your ideas with both budget and with venue. You may already know where you'll be hosting the party, and that will give you some ideas and also some limitations. Be creative – you could have it at a home or restaurant, but equally an outdoor picnic, the beach, a bakery for brunch. You can also take some cues from your guest list. For example, you're unlikely to be able to descend on a spa with twenty girls, so that's better suited to smaller parties. Here are some of the theme ideas we've featured here on SBB:
Great Gatsby/1920s | Twilight | Chanel  | Alice in Wonderland | Circus | London Calling | Tropical Fever | Downton Abbey | Sewing Theme | Day at the Races | Glitter & Glam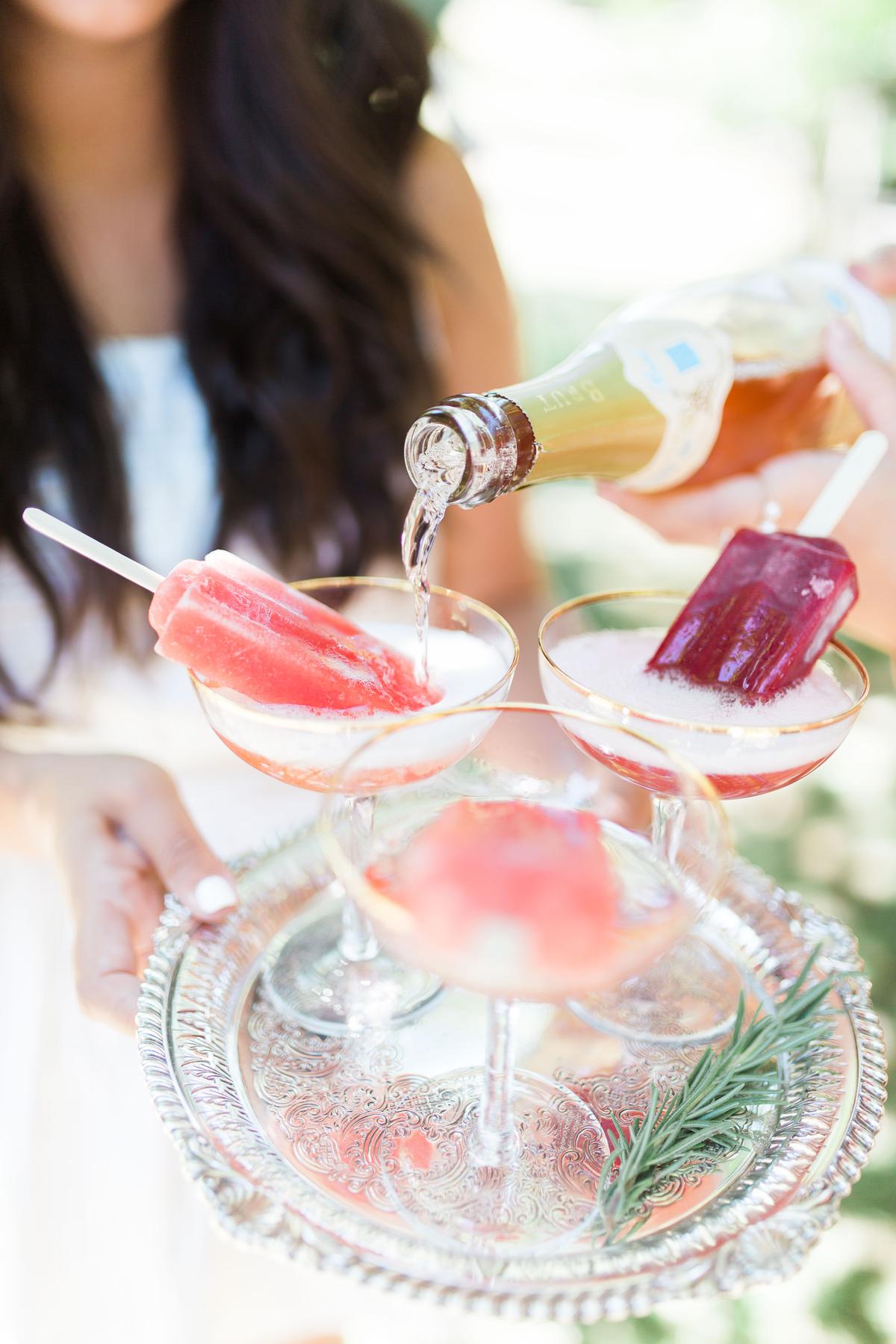 Image credit: Ainsley Rose Photography via Style Me Pretty

Bridal Shower Details
Having a theme helps a lot in planning out the rest of the details – the decor, of course, but also the food and drinks, the invitations, the entertainment or activities – the dress code, if there is one. So in our Chanel shower, for example, we suggested that a perfume-making class would be a perfect activity. Of course, you don't need to have anything too hectic – just a lovely tea is great, and you can always plan for a few fun games to keep things interesting. Keep it tasteful though! My favourite is the Mr & Mrs game, because it's always good fun, but also a really sweet way of reminding everyone what the party is all about.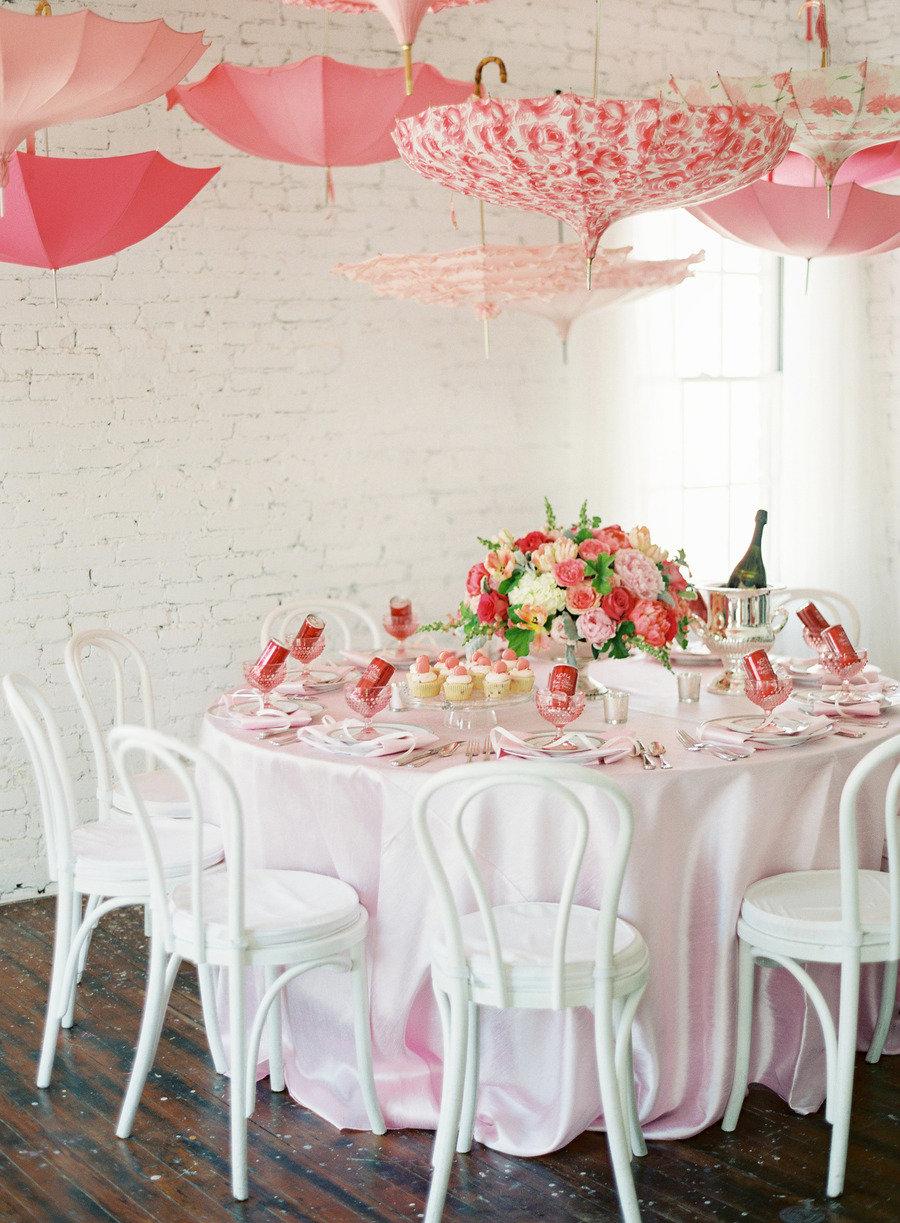 Image credit: Anne Robert Photography via Style Me Pretty

What About Bridal Shower Gifts?
Depending on the type of shower you've organised (as well as who is throwing it, from an etiquette perspective, since it's never considered good for someone to ask for gifts for their own family member or worse still for themselves), the issue of gifts can be confusing. If you plan an activity shower, I don't think gifts are necessary. Even at home, I don't think guests should feel obligated to spend a fortune, but on the other hand, it's terrible to turn up somewhere and be the only one without a pressie because you thought you weren't supposed to bring one! A good way of overcoming this is with themed gifts, like having everyone bring a recipe book to build up the bride's collection, or wine to stock her cellar. Or better yet, you could ask for contributions, like pictures and memories for a scrapbook, or recipes for a cumulative recipe book. These don't cost a lot of money, but they make sure everyone is involved.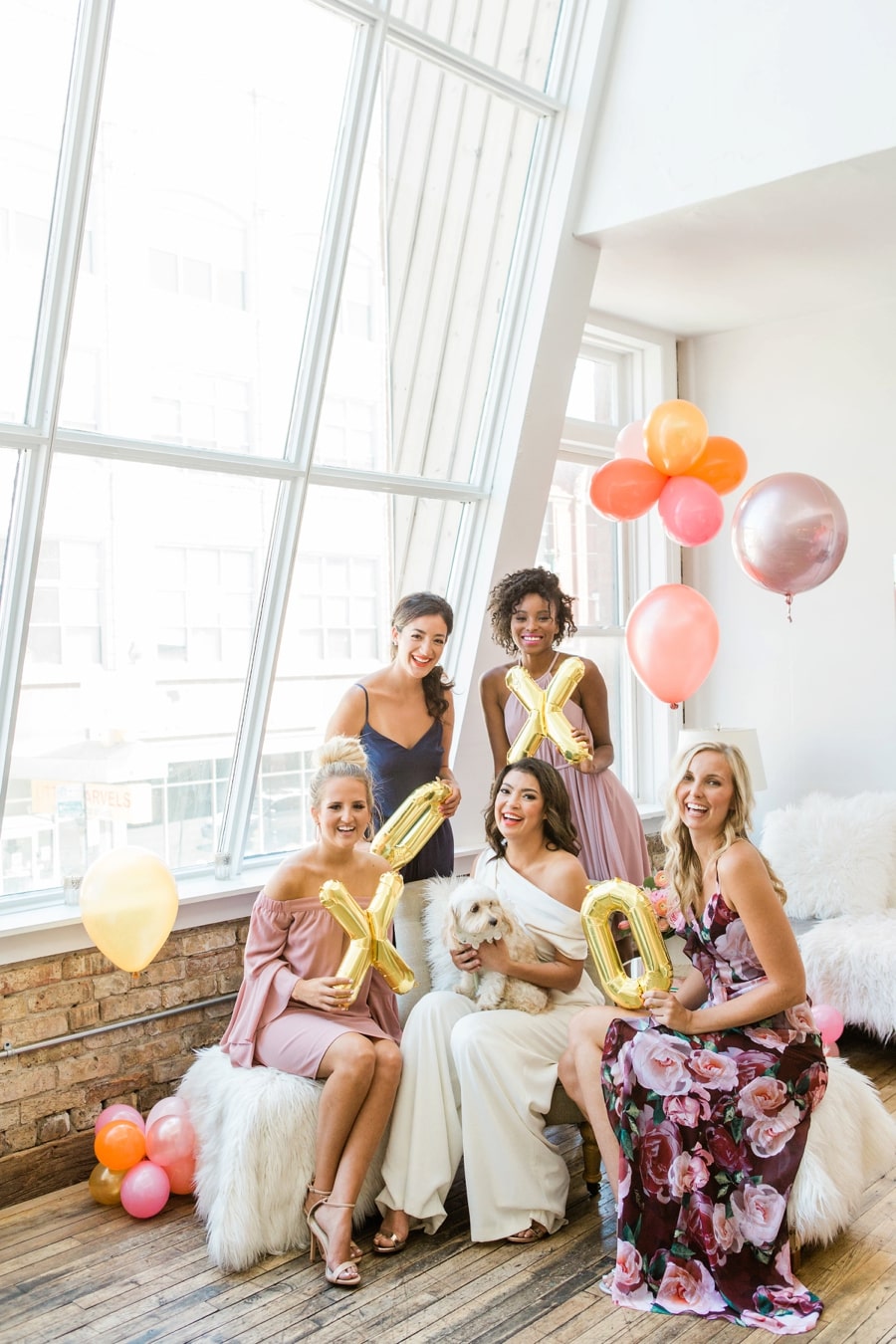 Image credit: Photography by Lauryn/Aisle Society via Every Last Detail

More Bridal Shower Planning Tips
Be sure to check with guests about menu preferences and allergies, especially if you're hosting at home, and to be on the safe side, ensure you have at least one veggie option.
I personally love the idea of name tags, because I am USELESS at remembering people's names when I am put on the spot. This just solves the problem outright. The bonus? It helps people get over their shyness a little, and can promote conversation.
It's perfectly acceptable to ask people to bring food if you're hosting at home, but be sure to be clear about what they should bring. Not in a 'regulation casserole dish with a lid' kind of way, but you want to make sure you don't have twenty bags of chips and no dip.
Make sure someone writes down a list of gifts and givers as the bride opens her presents. I guarantee she will not remember who gave her what!
You may want to give guests favours, but it's certainly not an obligation. At the last shower I threw, we all had a scratch card, which was simple and fun!
If it's an activities-based shower and guests are chipping in, take money ahead of time. Seriously, this is the BIGGEST headache on the day and afterwards, when you have to awkwardly chase up those who didn't pay their share (or write off the cost as your own).
Bridal Shower Planning Timeline
Here's your printable/pinnable planning timeline, summarising everything we've covered: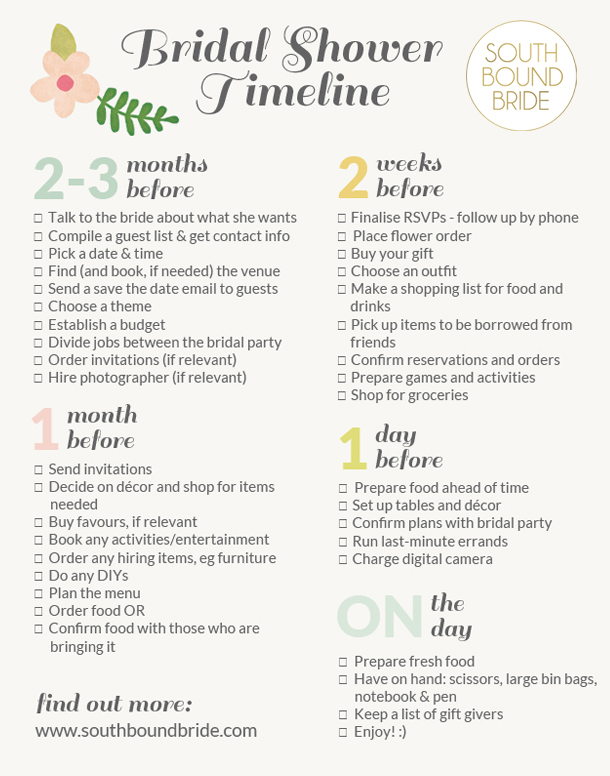 Need some ideas? Here are a few of the sweetest bridal shower details, decor and ideas!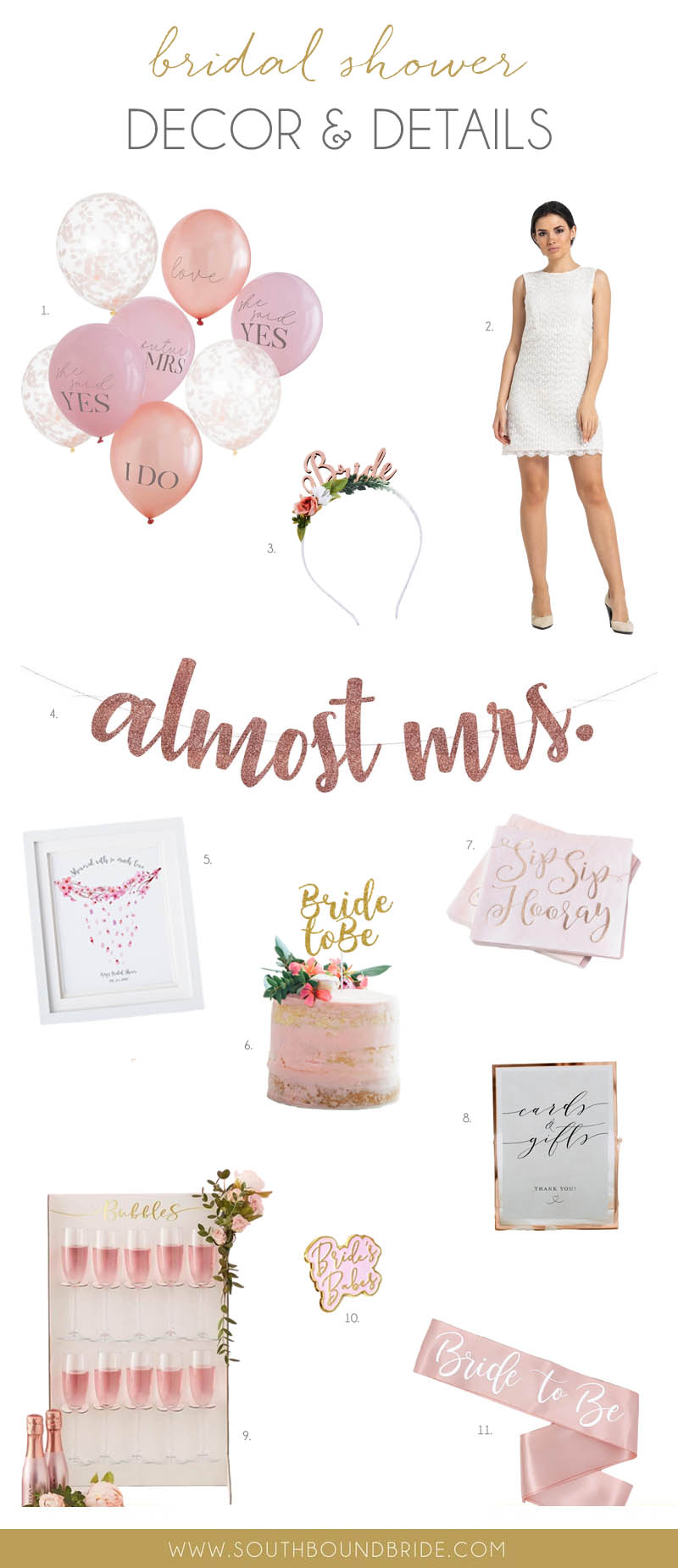 And here are some fab printable bridal shower invitations too! (See more here.)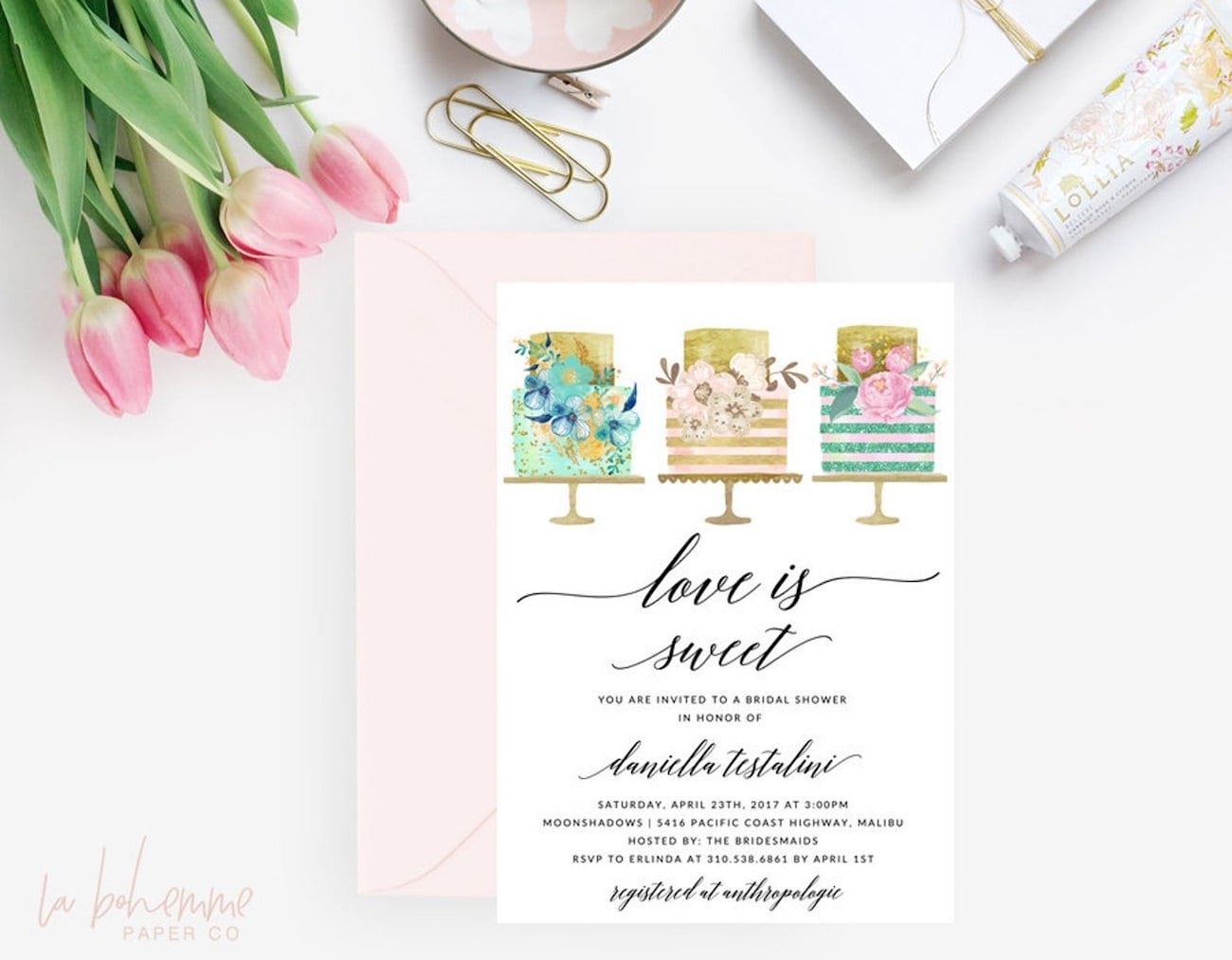 Manuela Printable Bridal Shower Invitation by La Bohemme Paper Co.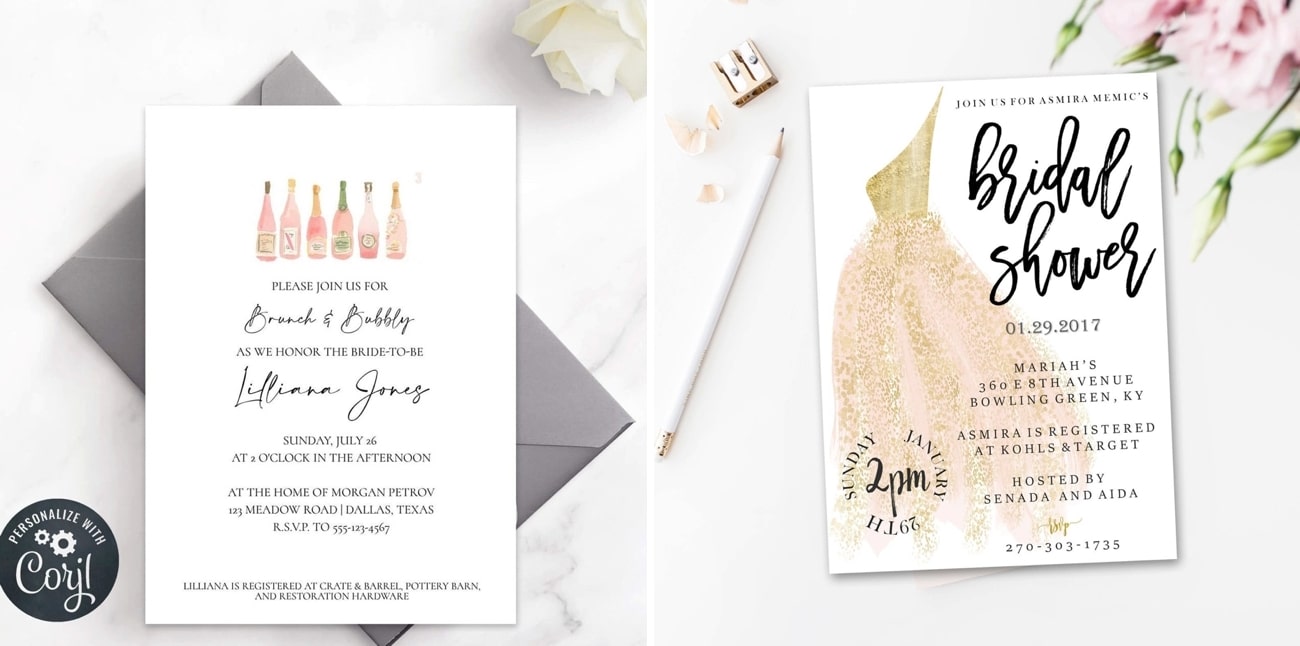 Printable Brunch & Bubbly Bridal Shower Invite by Wild Petrova (left) |Printable Bridal Shower Invitation by Pen Pen Paper (right)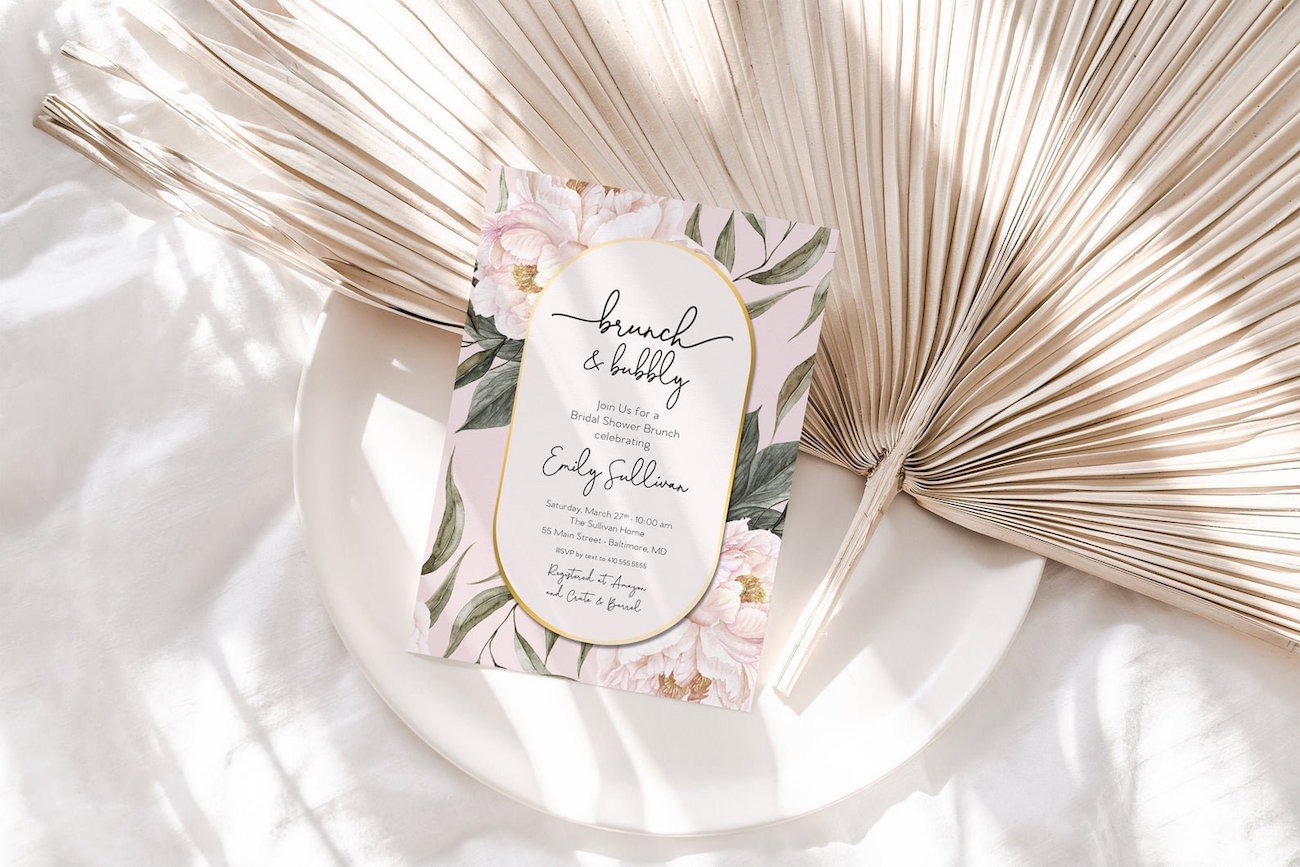 Pink Peony Floral Greenery Brunch and Bubbly Bridal Shower Invitation by Simply Social Designs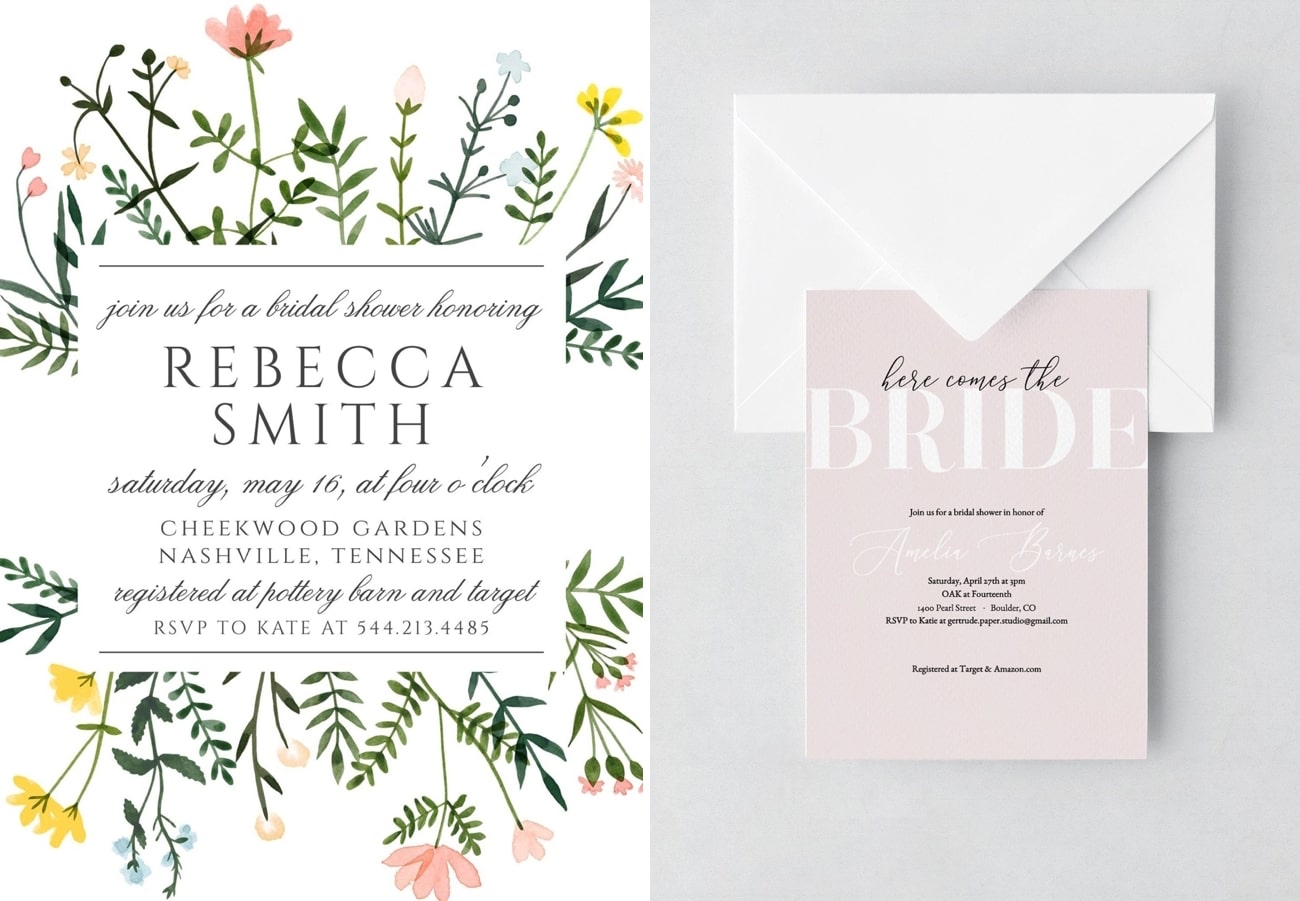 Wildflower Bridal Shower Invitation by Mad and Jules Paperie (left) | Blush Pink Bridal Shower Invitation Template by Gertrude Paper Studio (right)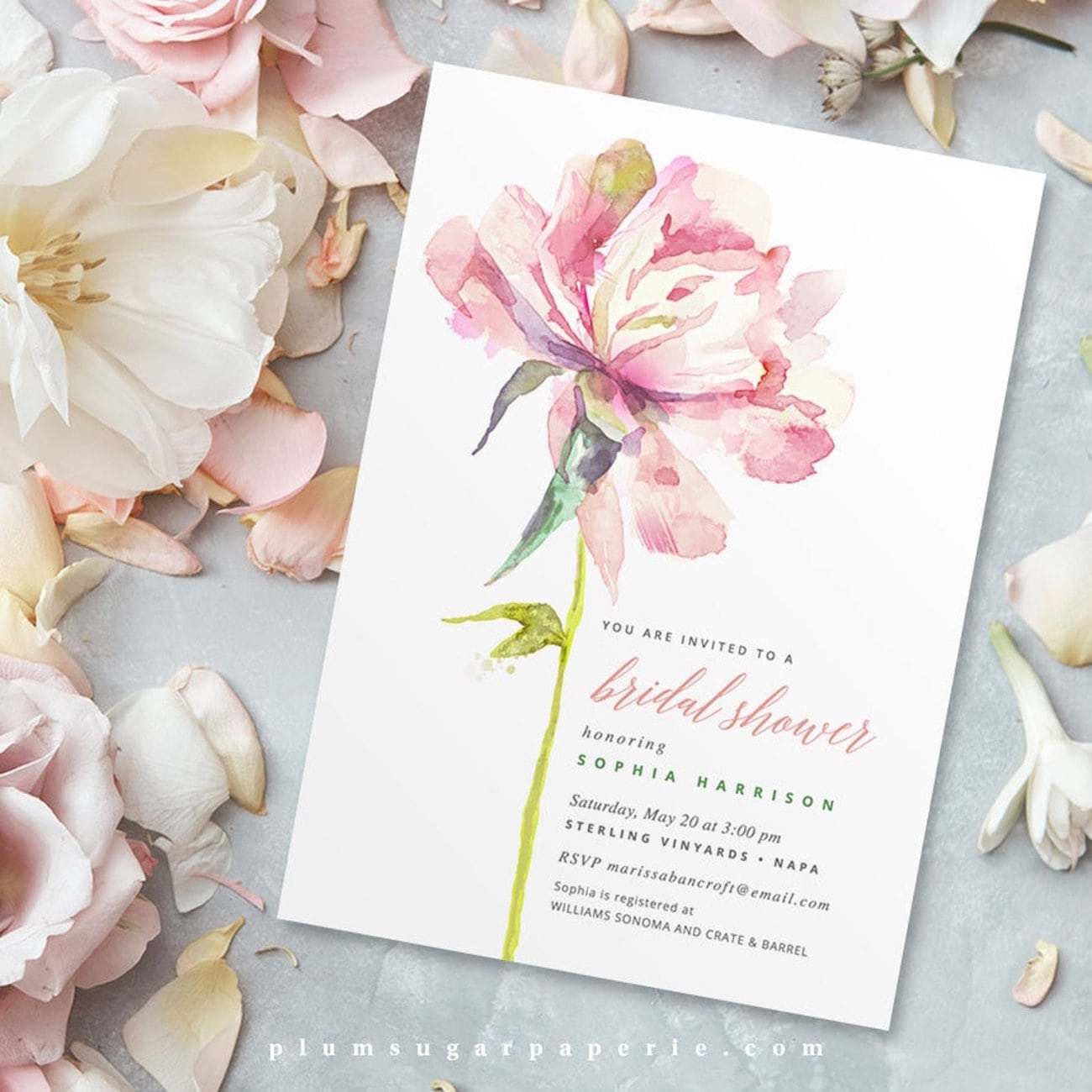 Bridal Shower Invitations with Hand-Painted Watercolor Floral by Plum Sugar Paperie
MORE BRIDAL SHOWER IDEAS & ADVICE:
Find more fun bridal shower ideas on Pinterest!