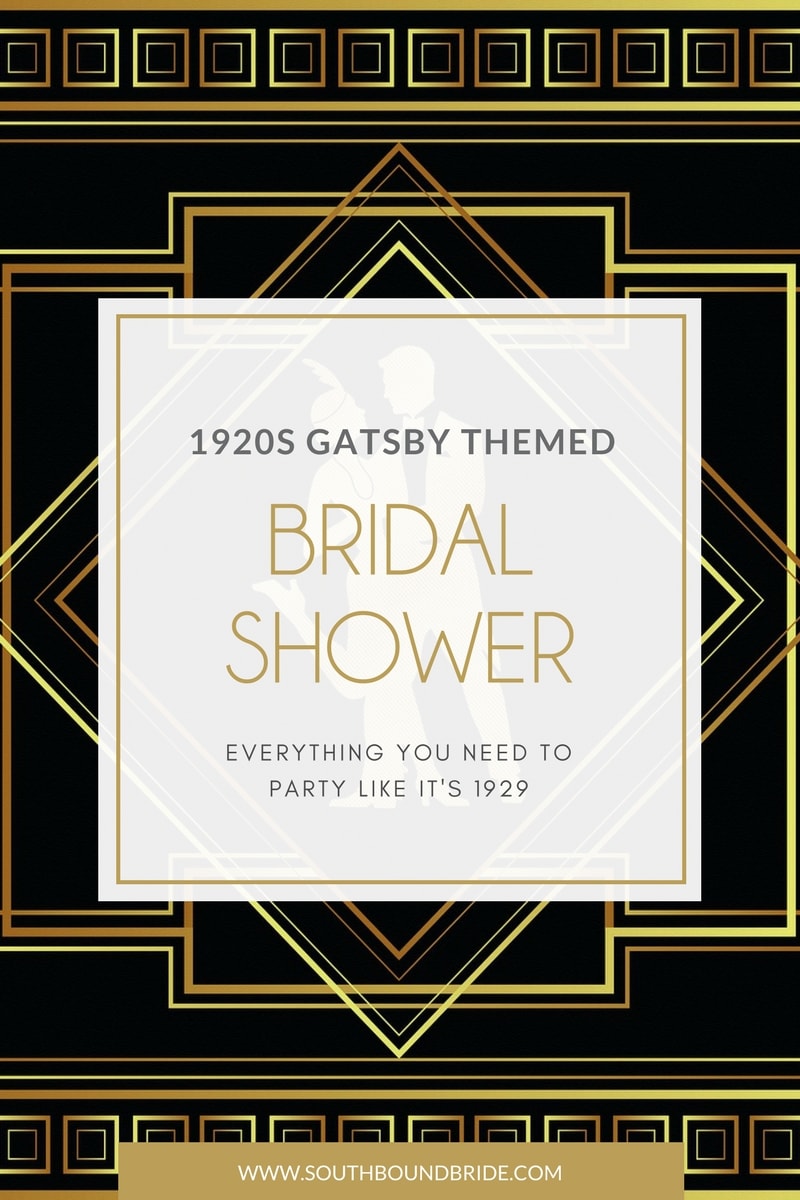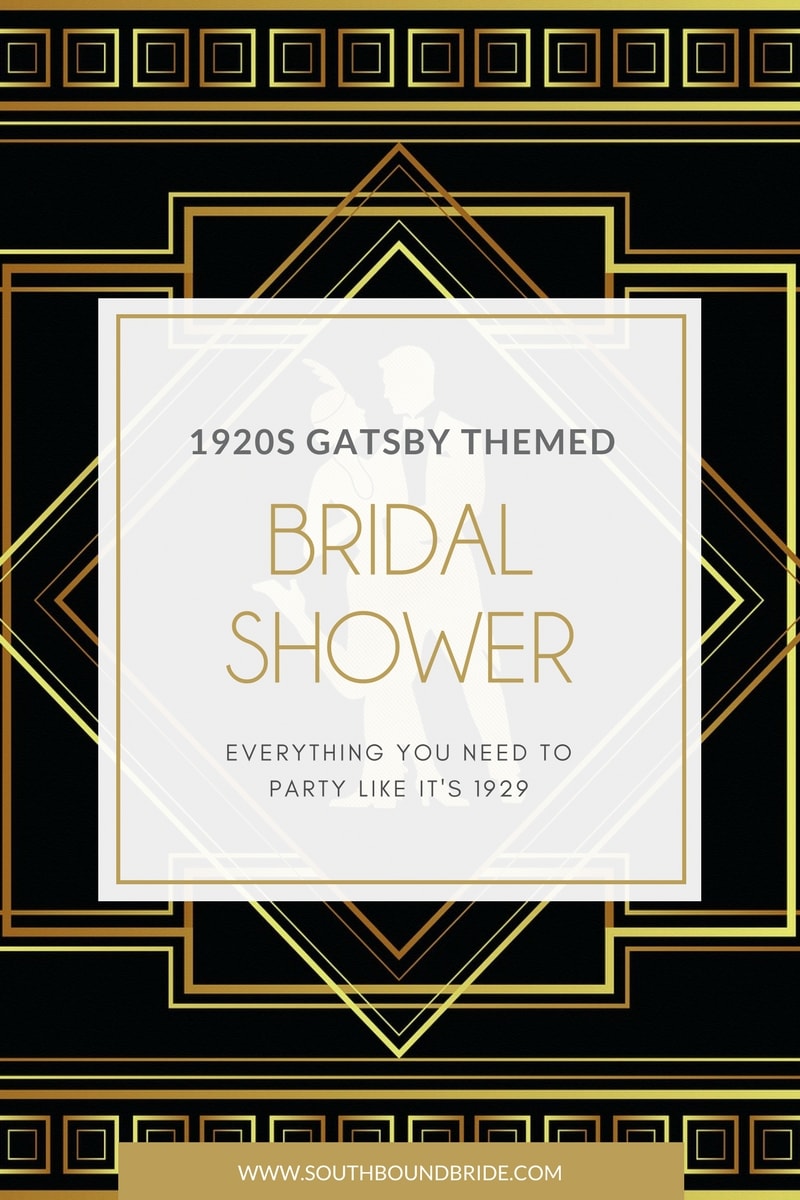 *UPDATED FOR 2021* Looking for a hen party/bachelorette theme that's glamorous and fun? Well, look no further! Great Gatsby bridal showers are all the rage! After all, a little party never killed nobody :) 1920s themed parties are always super fun – let's be honest, haven't we all secretly wanted to dress up as a flapper and Charleston the night away? It can't just be me. It's perfect for a bridal shower as well, because you can start off with a sedate 1920s-style tea party, and then dig into the bootleg gin once moms and grans have left for the evening for a roaring '20s-style bachelorette (the end of prohibition LOL!) It's also relatively easy to dress up for, and not something your girls will feel too embarrassed to wear either. Plus, the '20s are all about glamour and wild abandon, which is exactly what a hen night should be, imo. SO… How to do it? Here's a quick guide to getting started with decor, food, invitations, activities, etc. And along the way we're sharing images from a real Gatsby bridal shower from photographer Suzanne Swart!

*Links in bold denote affiliate links. The cost to you remains the same, but SBB may receive a commission for any sales made.
Gatsby Bridal Shower Dress Code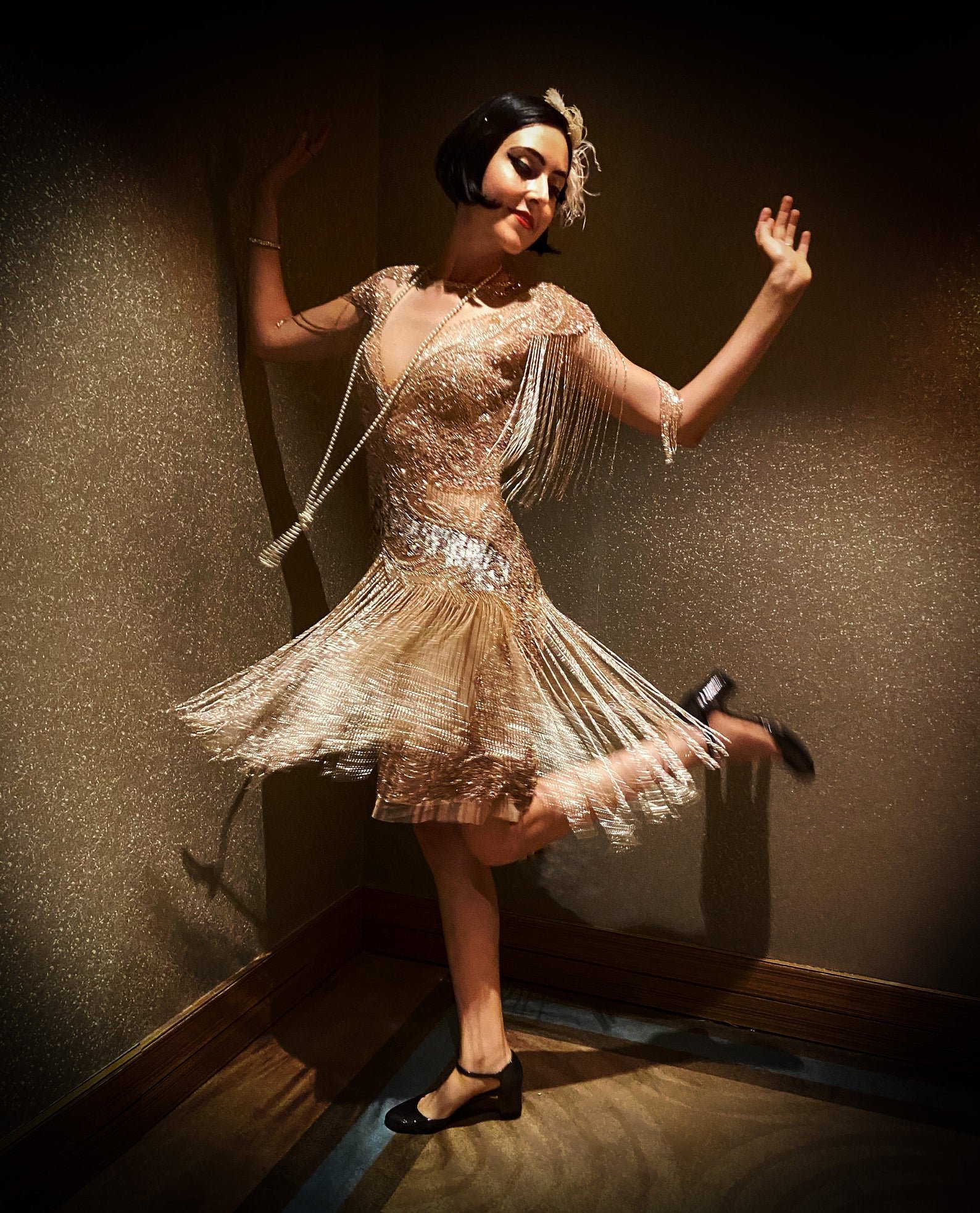 Sybil Blush Fringe Dress by Gatsbylady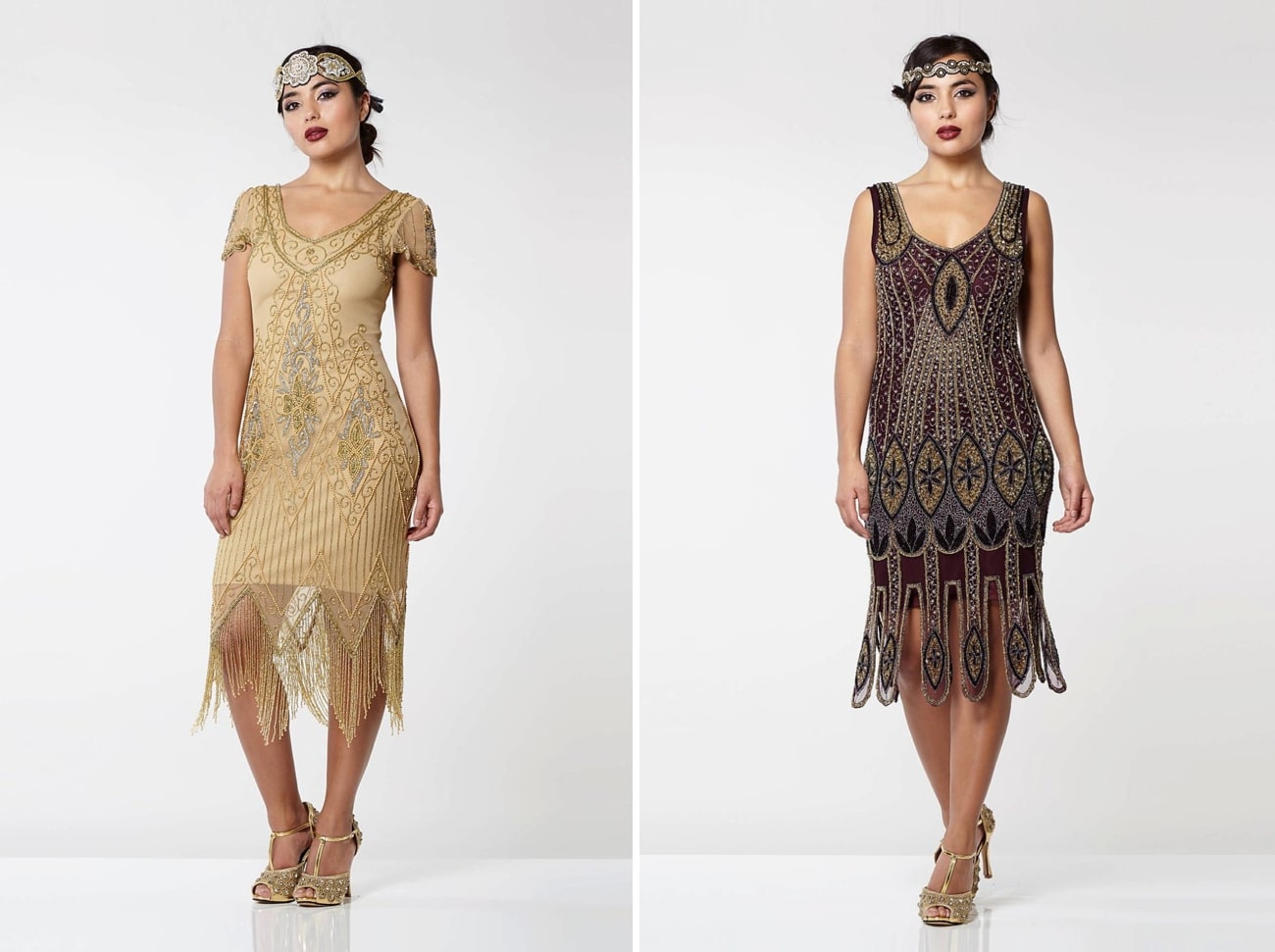 Annette Gold Vintage 20s Flapper Dress by Gatsbylady (left) | Molly Purple Plum Flapper Dress by Gatsbylady (right)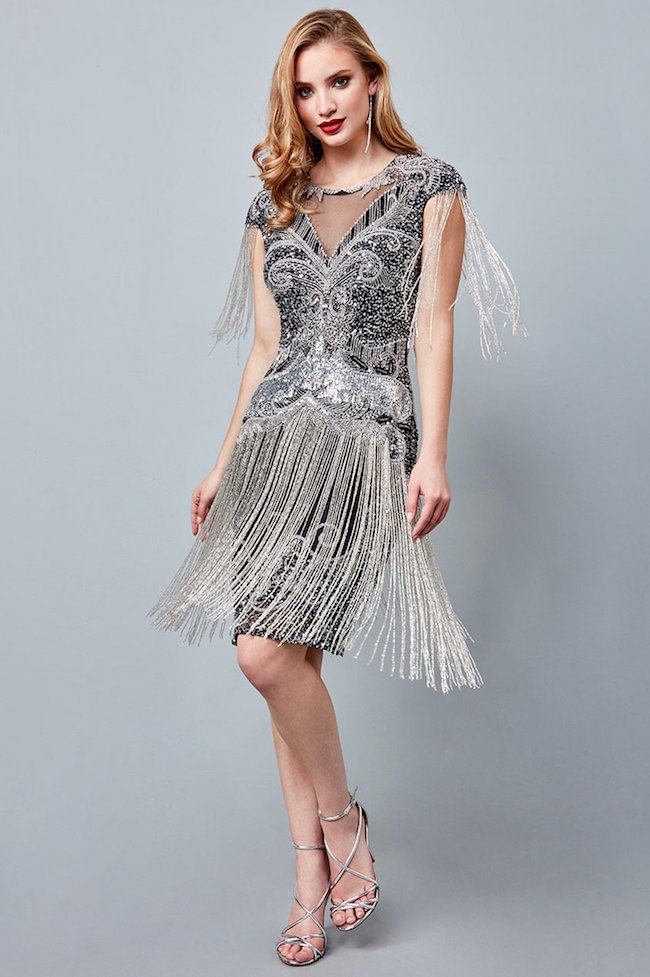 Sybil Black Silver Fringe Dress by Gatsbylady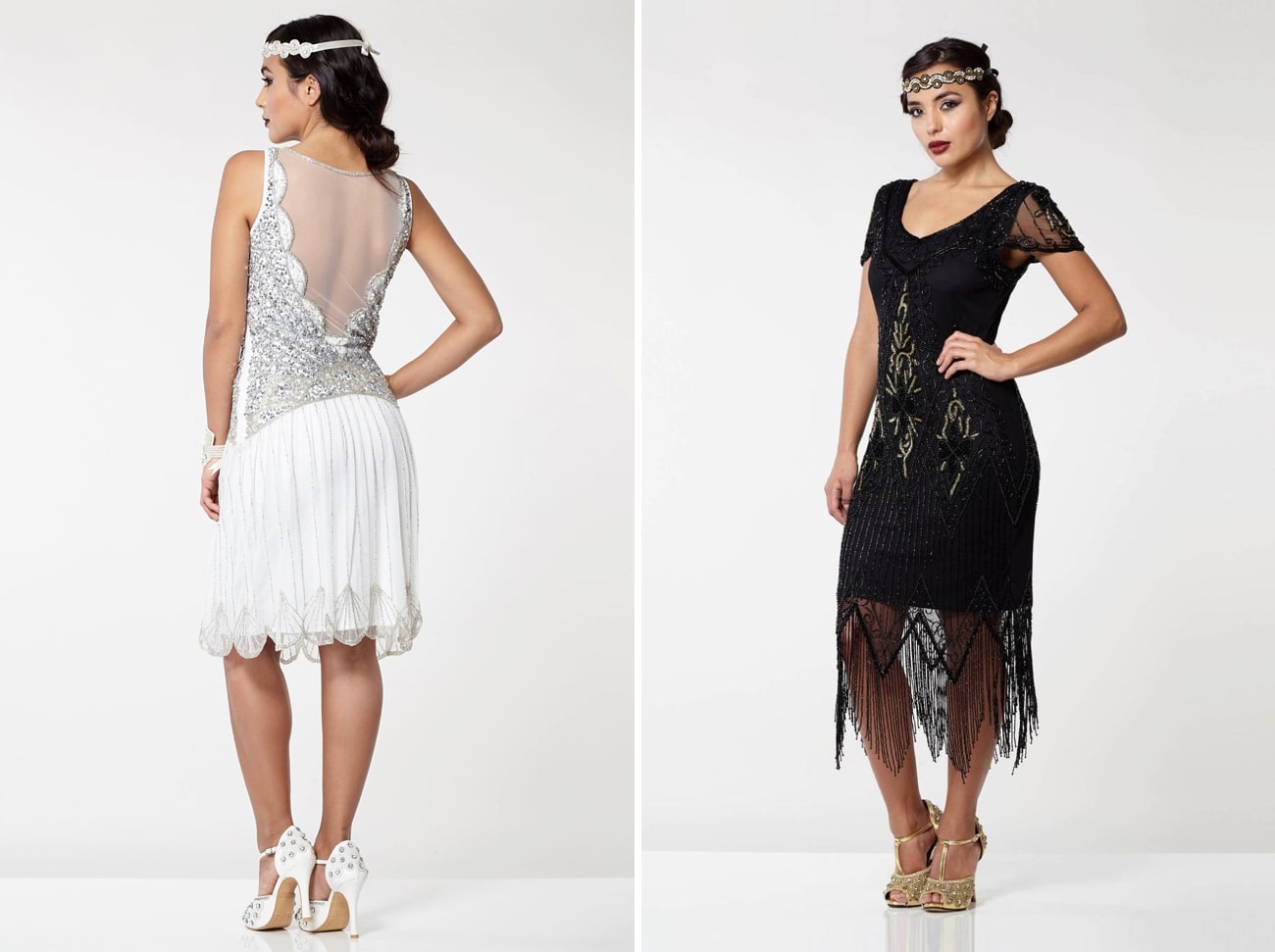 Off White Silver Elaina Flapper Dress by Gatsbylady (left) | Black Gold Annette Vintage 20s Flapper Dress by Gatsbylady (right)
Ideally your girls will be able to buy or hire flapper-style evening dresses, but if they don't want to spend their hard-earned cash, they can make do with knee- or tea-length cocktail dresses and some fun accessories. Sparkly hair bands and feather fascinators can be bought or made up using ribbon and a brooch, feather boas, strings of pearls and long cigarette holders (any good party shop should carry these). For the less girly girls, trousers and braces are totally acceptable! The bride can wear the same dress style as everyone else, but consider adding a sweet birdcage blusher veil for that extra touch of brideyness. There are multiple flapper makeup and fingerwave hair tutorials on YouTube – here's one that has tips for both. You can also find more Gatsby hair inspiration here.
Gatsby Bridal Shower Invitations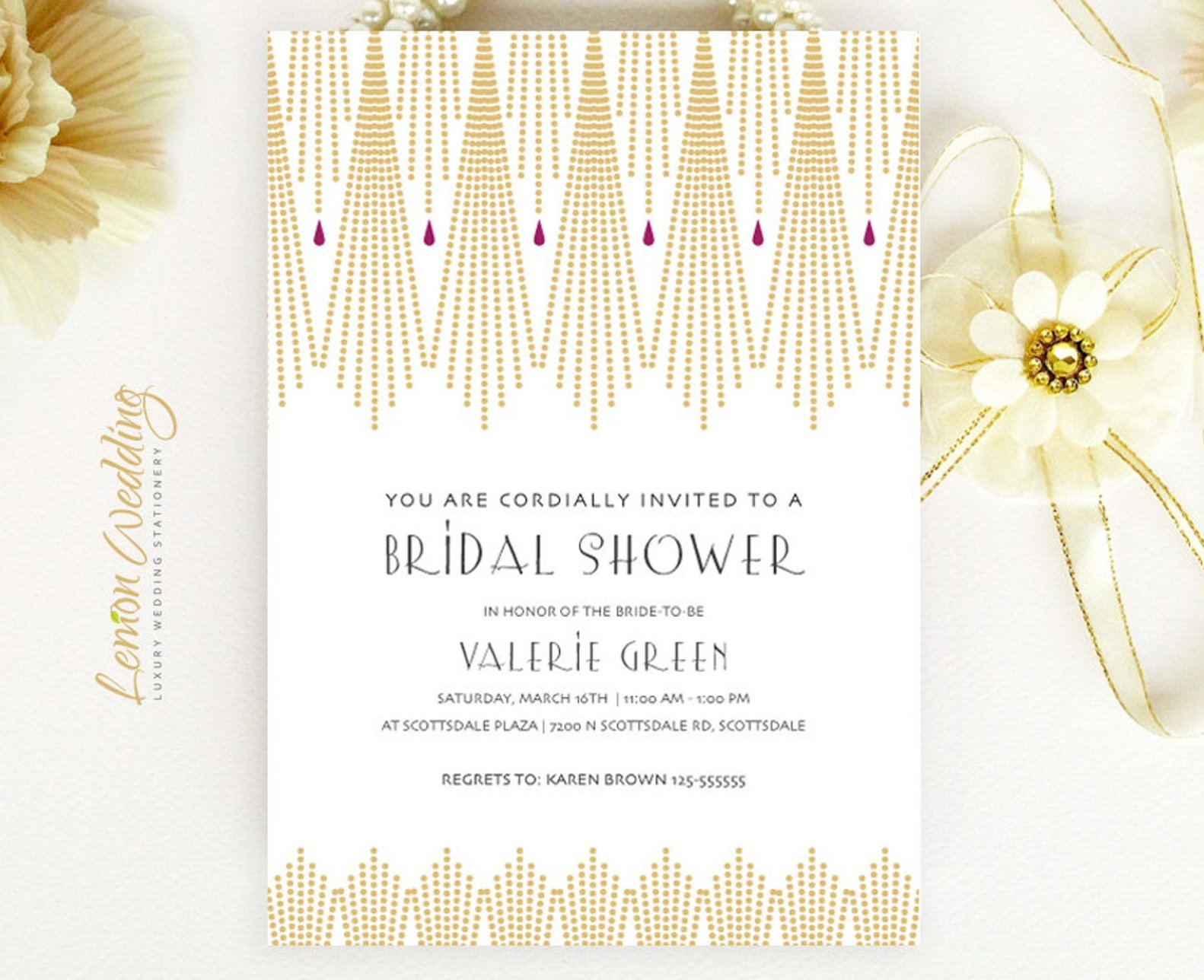 Elegant Wedding Shower Invitations by Lemon Wedding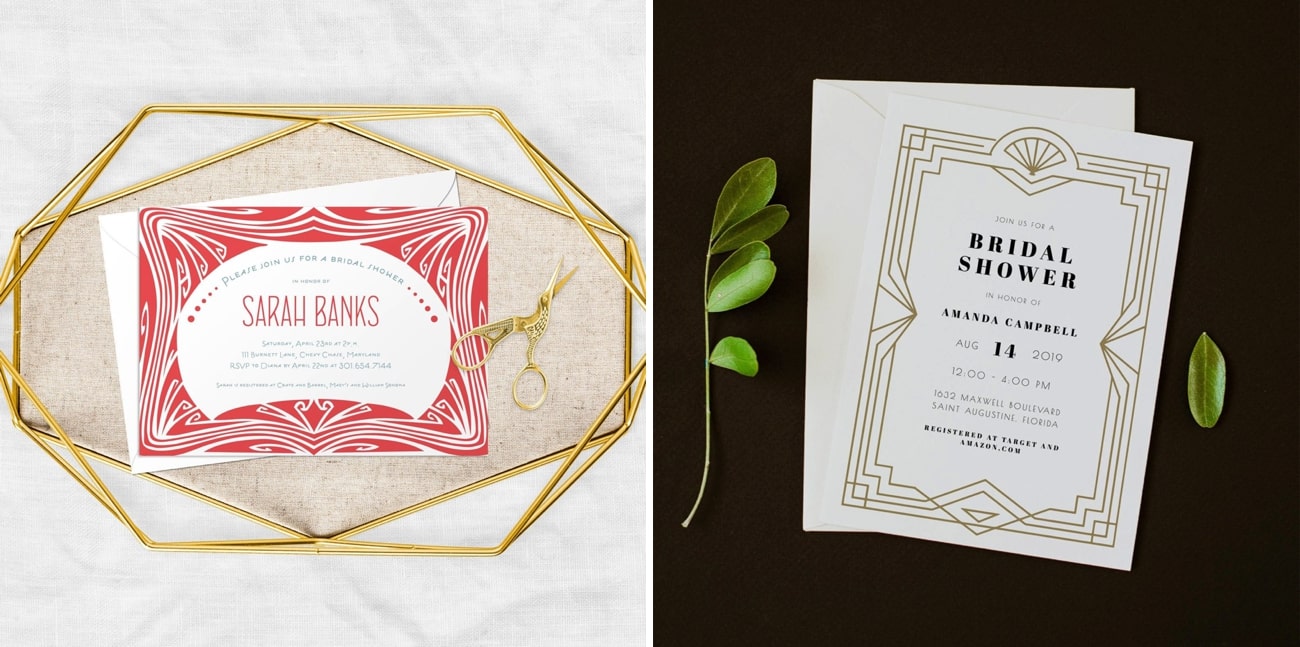 Art Deco Gatsby Bridal Shower Invitation by The Future Mrs Darcy (left) | DAISY Art Deco Bridal Shower Invitation by Unmeasured Event (right)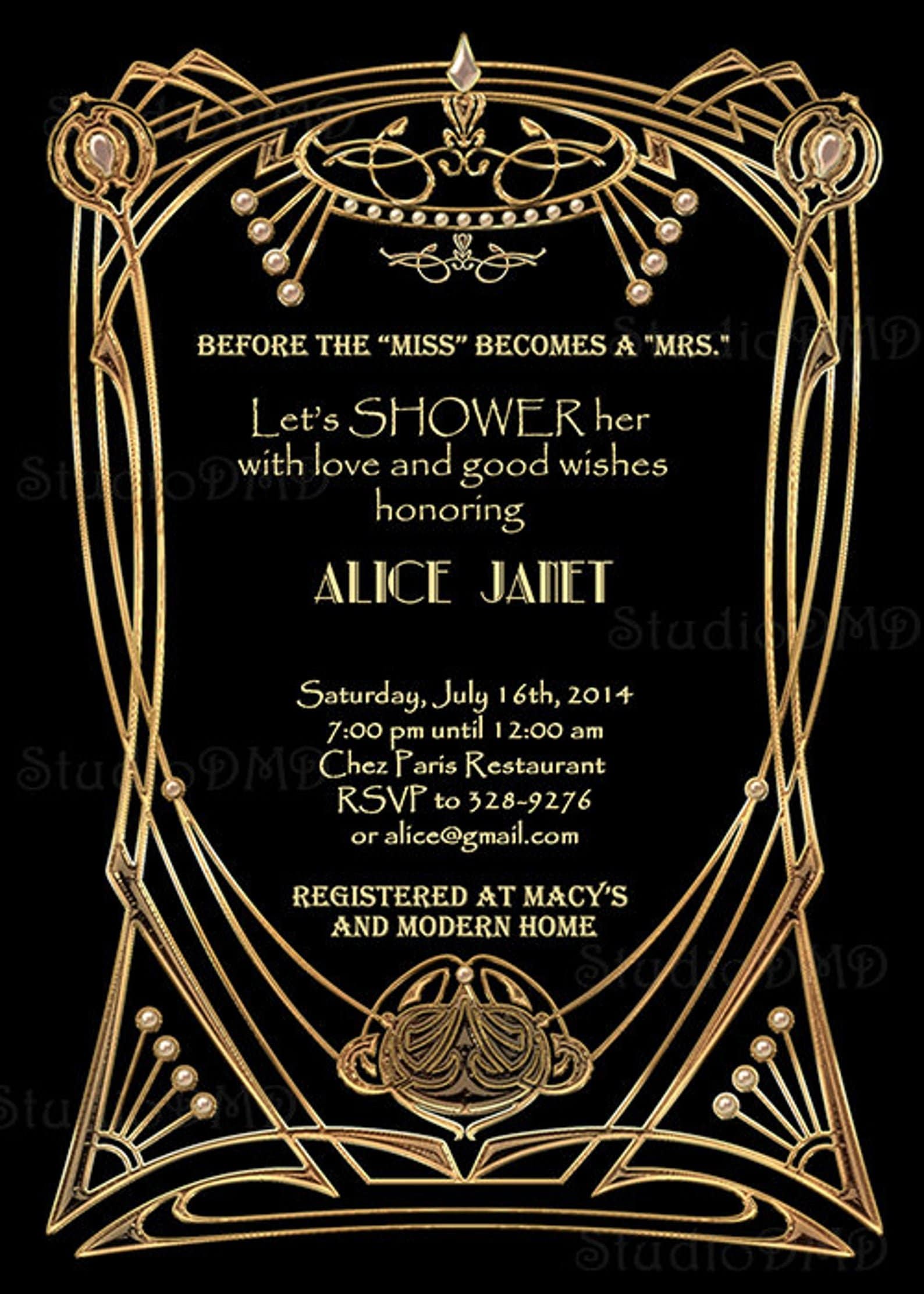 Great Gatsby Style Art Deco Bridal Shower Invitation by Studio DMD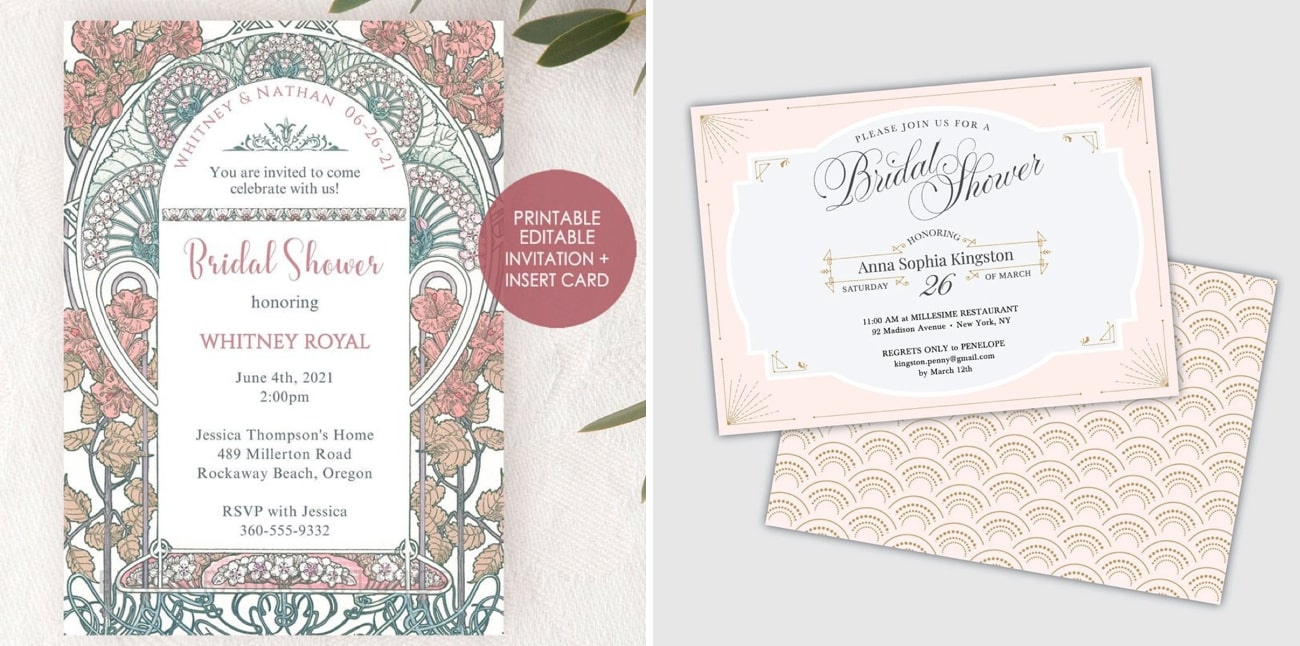 Gatsby Garden Blush Printable Shower Invite by Black Rabbit Gift Shop (left) | Great Gatsby Bridal Shower Invitation by Dandy Lion Paper (right)
You have a few options here. One is to go art deco in keeping with the era – you can find some lovely examples of art deco wedding invitations online to inspire you – above are a few options I found on Etsy (aren't they adorable?) If you want to go all out (especially if there's just a few of you), I love the idea of having a flask hidden in a hollowed-out book with the invitation on the inside front cover – how awesome would that be to receive in the post?
Gatsby Bridal Shower Decor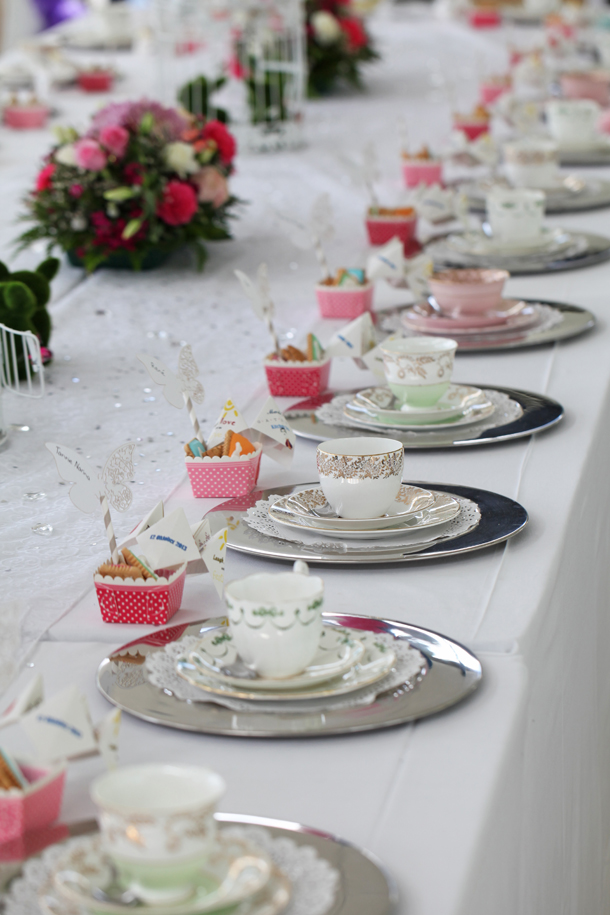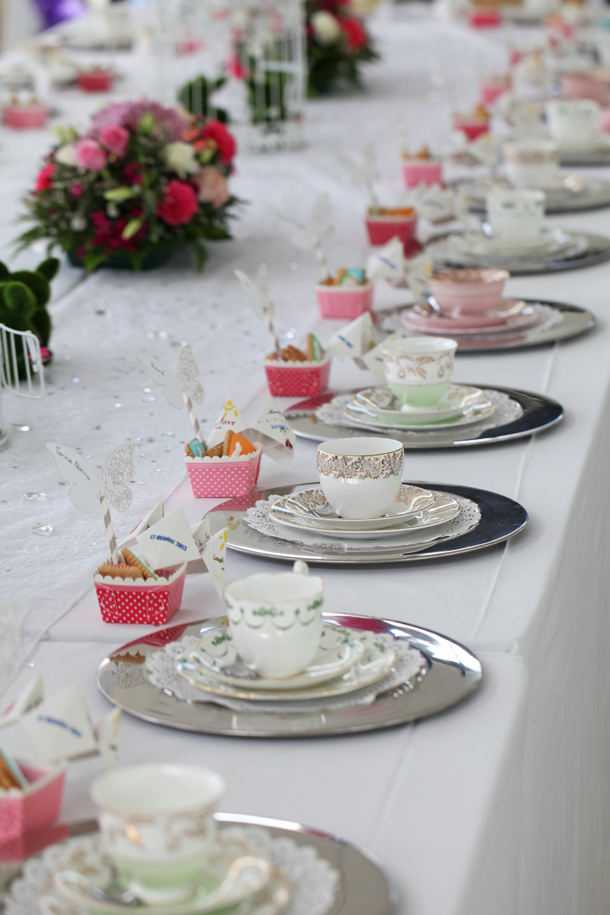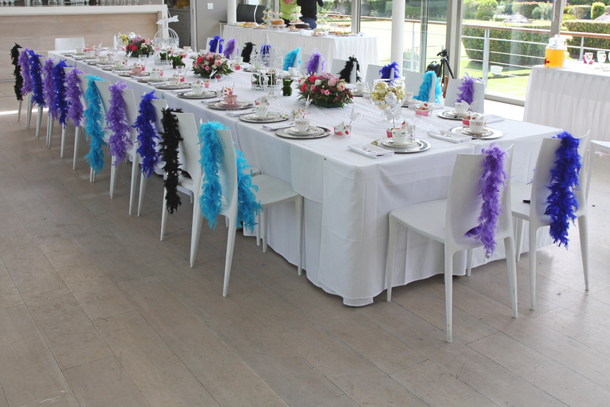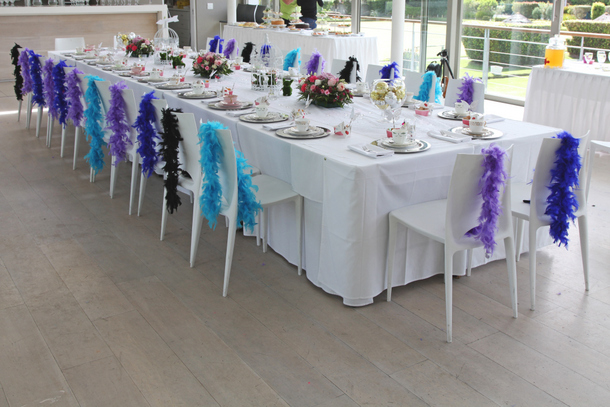 Obviously this will depend on the kind of party you decide to throw. If you're having a sweet vintage afternoon tea, a vintage tea party table style would be absolutely perfect (and a chance to dig out the prettiest crockery!). Think lace and strings of pearls with found objects from the era like old cameras, radios or books, a lace tablecloth and soft blooms. If you're putting on the glitz, then take your inspiration from our Gatsby Glam Pinterest board.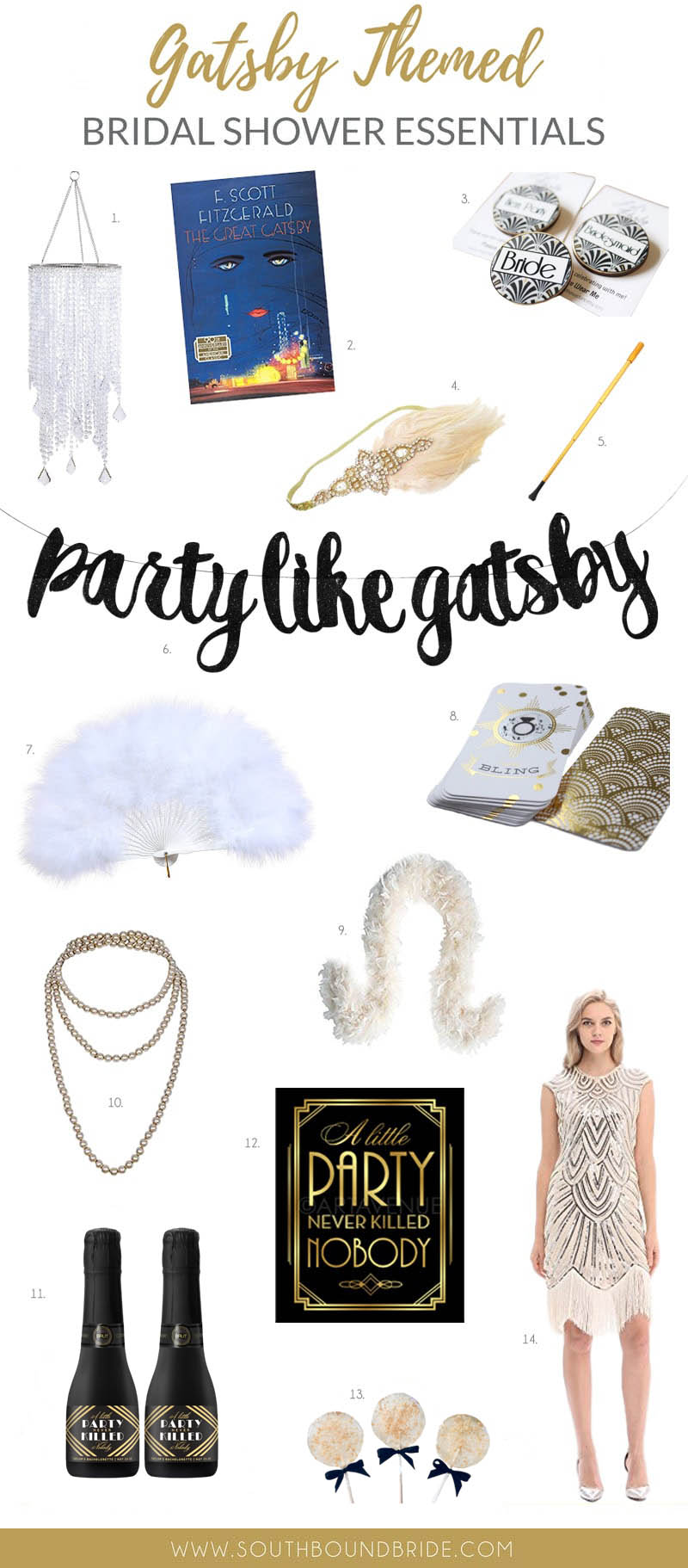 Gatsby Bridal Shower Food & Drink
Finger sandwiches and deviled eggs are appropriate to the era, and you're safe with the usual peanuts, chips and pretzels which were also served at speakeasies in the 1920s. Caesar salads were also popular and make a lovely light lunch meal. Where you can really have fun is with the drinks – tea, coca cola and ginger ale for the non-drinkers; martinis, champagne and mint juleps for the bootleggers. Of course, alcohol was illegal in America during the Prohibition, so a fun idea may be to give the drinks non-alcoholic code names, or keep them cold in a real bathtub as a play on 'bathtub gin'.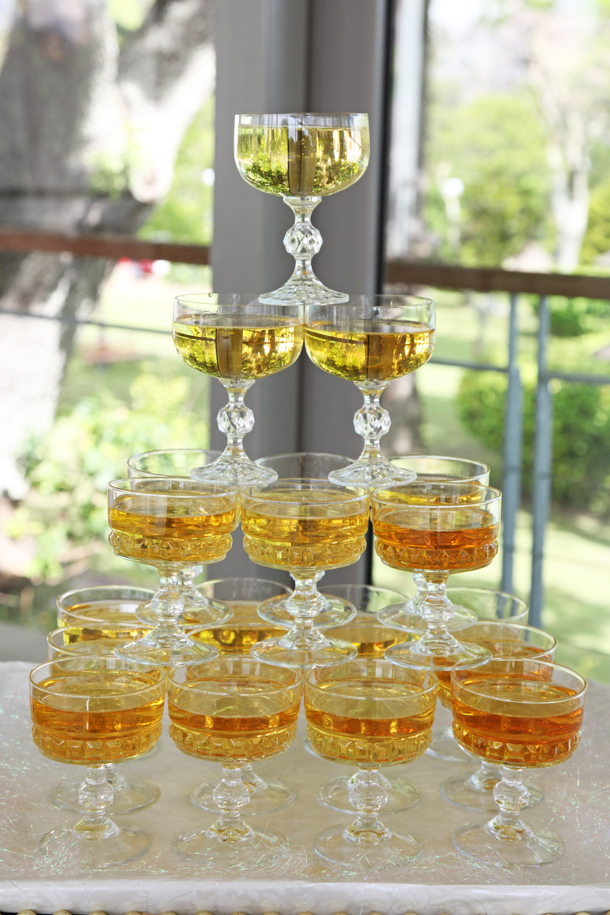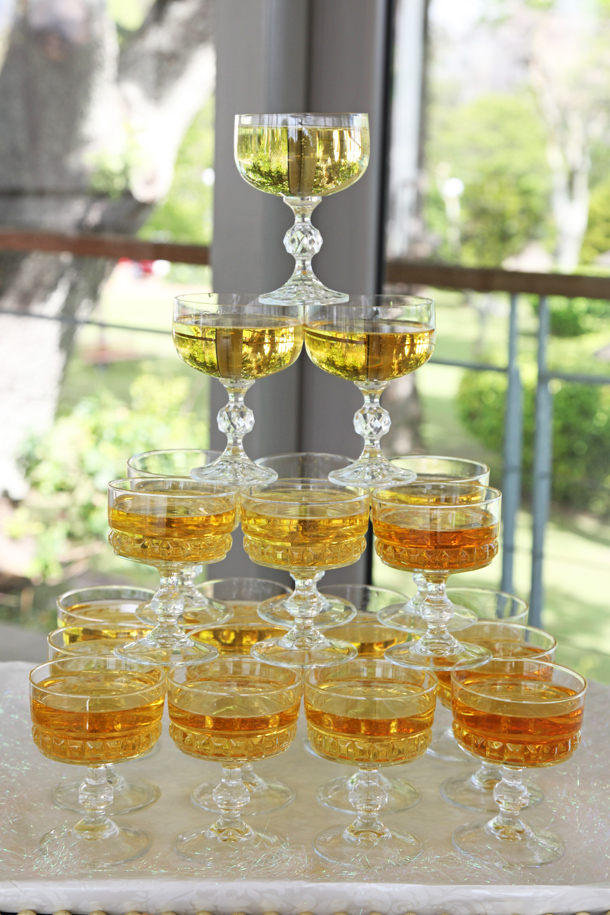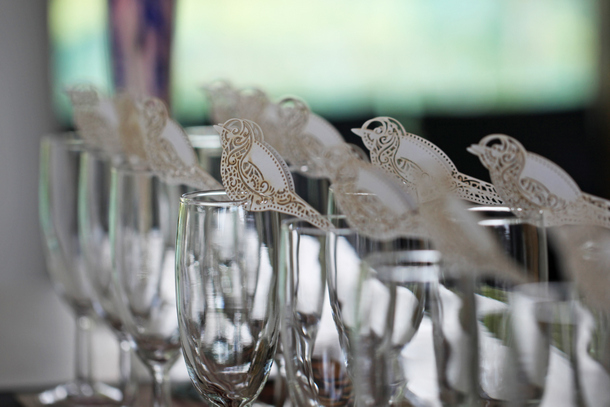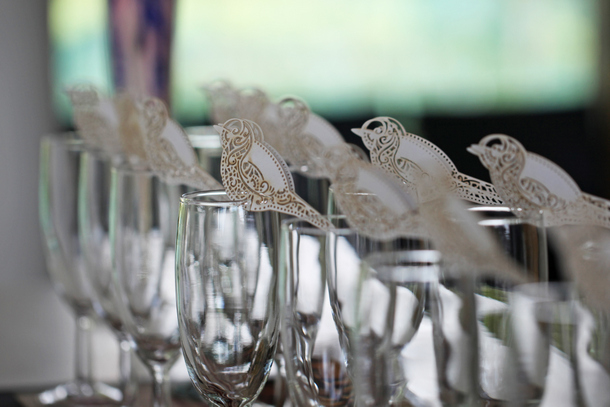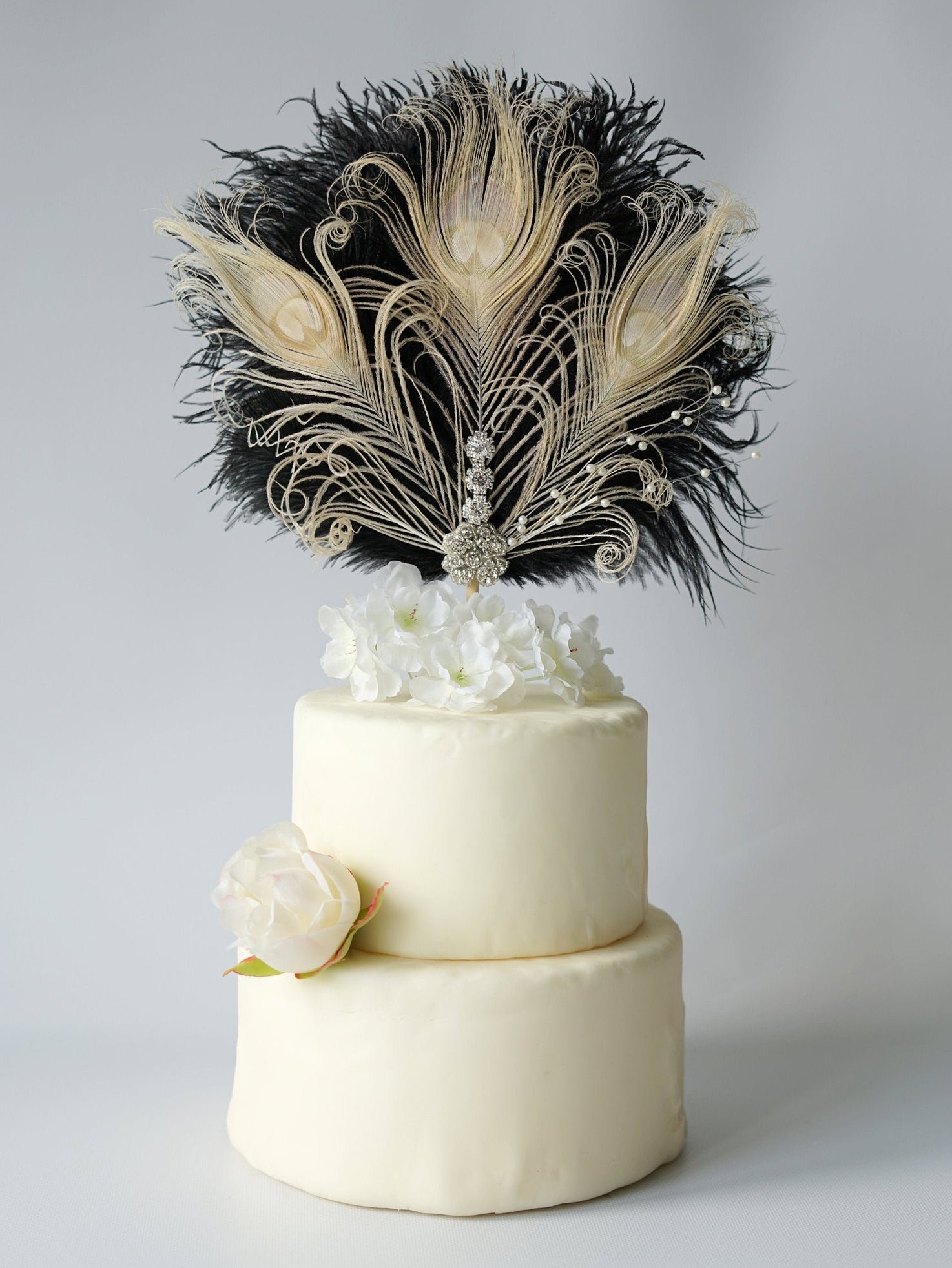 Gatsby Feather Cake Topper by Blue Sky Horizons
Gatsby Bridal Shower Activities
You can have so much fun with this one! If you make your afternoon tea a Gatsby-style picnic, then be sure to include lawn games like croquet for your guests to enjoy. For an evening party, consider hiring a makeup artist to give everyone a perfect clara bow before heading out, or spend an afternoon learning the Charleston at a special class. In the UK,  Charleston Dance not only offer workshops to hens in London, Cheltenham and Henley, but they offer combination packages with afternoon tea, vintage photo shoots – even a vintage life drawing class! Another idea is to organise your party around a murder mystery – you can pick up some super fun 1920s-themed murder mystery games that will give everyone a character and get them into the swing of things. Needless to say, the night ends with a bit of a boogie – get your girls on the dancefloor and party like it's 1929!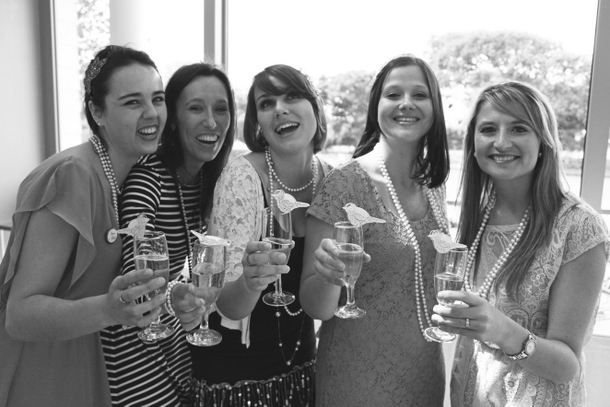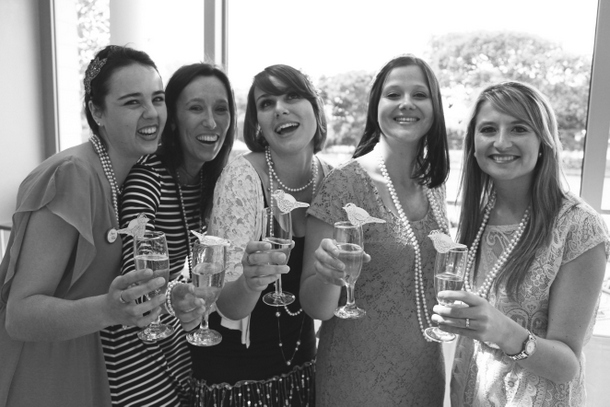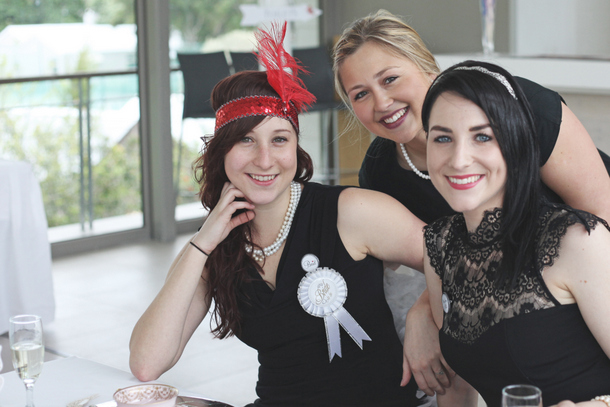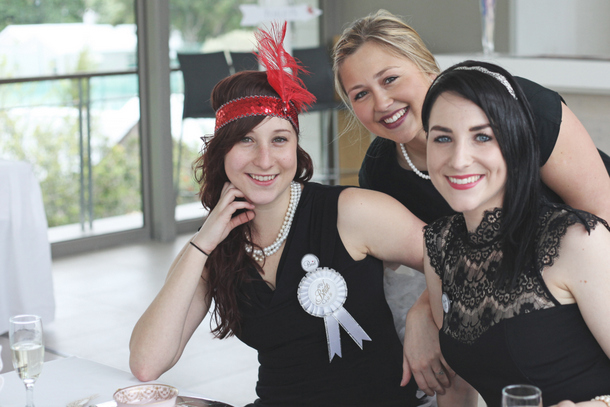 Gatsby Bridal Shower Favors
Some cute options: CDs of 1920s music, Art Deco playing cards, or a beautiful art deco notebook. Mini flasks on key rings are another cute option, or get everyone a copy of The Great Gatsby – almost all editions have absolutely gorgeous covers. You could also gift the girls their accessories: pearls, boas, or feather headpieces all make perfect Daisy Buchanan style choices.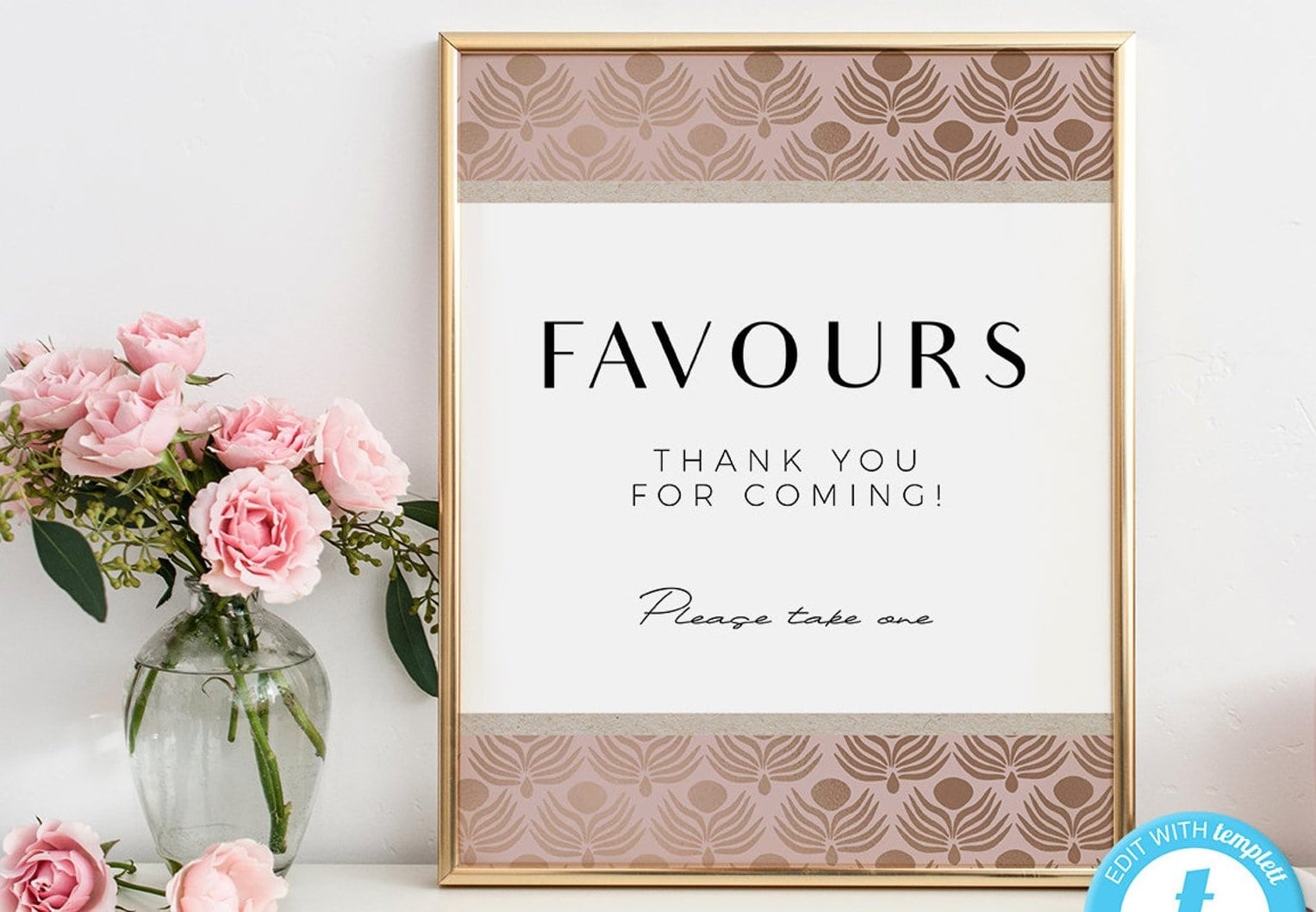 Glam Favours Sign by Glow Wedding Printable
REAL GREAT GATSBY BRIDAL SHOWERS
Image Credits: Venue & catering: Kelvin Grove Country Club | Photography: Suzanne Swart | Cake: Nelle Cakes | Hiring: My Pretty Vintage & In Good Company, Merrypak
---
More Great Gatsby Wedding Inspiration & Ideas:
Find more fun bridal shower ideas on Pinterest!