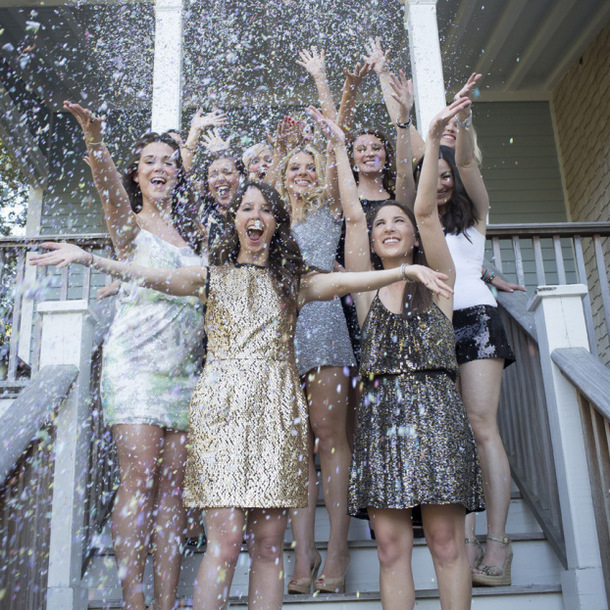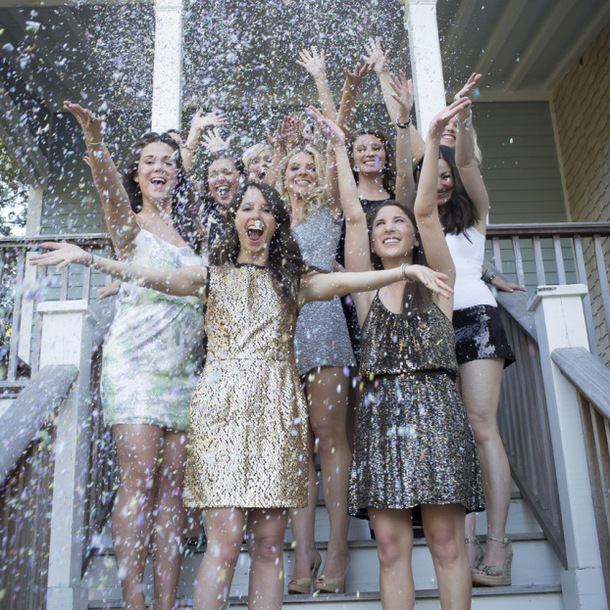 Source: Paige Winn via Ultimate Bridesmaid

It's been a sparkly week, you guys. From a glitzy gold wedding, to a glam rock shoot this morning, we're on a sequin strewn roll. Yay. Who's complaining, right? Anyway, I have been seeing quite a few lovely sparkly bridal showers recently, and what I love about it is that if this is something you like but don't necessarily want to incorporate into your wedding, it gives you the chance to do that. Plus, it's the kind of theme that your girls will be more than happy to dress up for, and it's surprisingly easy (and can be inexpensive) to decorate. The key thing is to mix textures, so a little sparkle goes a long, long way. Here's how I would go about pulling all the details together for the perfect glittery hen party.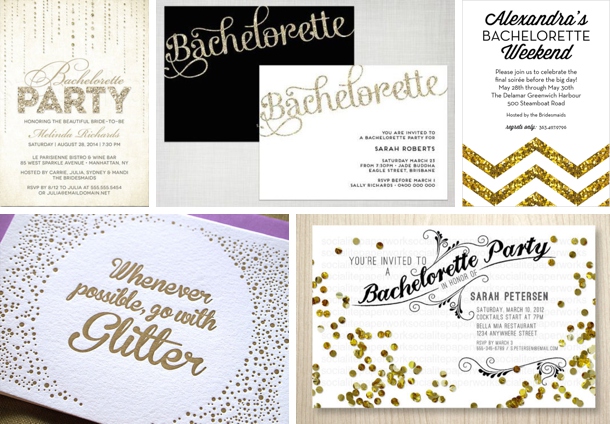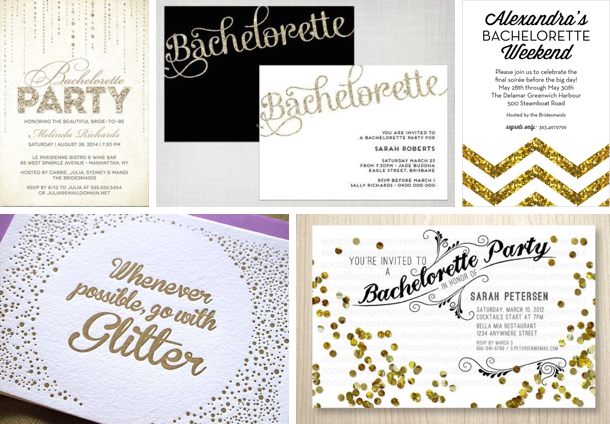 Sources: The Spotted Olive on Etsy (top left); Cartomodello on Etsy (top centre); Polka Dot Designs (top right); Farewell Paperie (bottom left); Socialite Paperworks on Etsy (bottom right)

Invitations: The interwebs are full of gorgeous glitter fueled invitations, from sophisticated gold letterpress or foiled numbers to more simple ones. Or get out the glitter/gold leaf pens and glitz up a plain invite yourself by hand. For a fun touch, include sequins in the envelope so that guests get a pretty shower of sparkle when they open it up (and it's not too much of a hassle to clean up – they won't thank you for glitter!).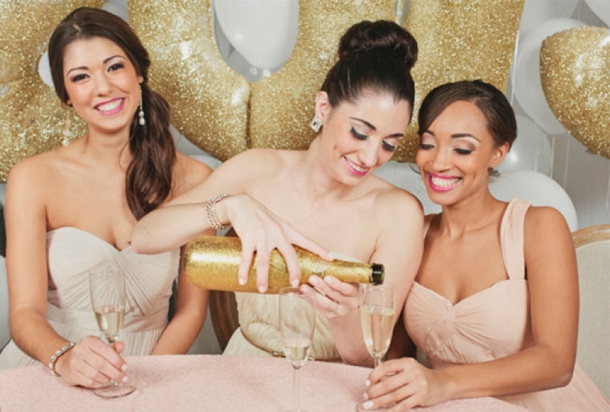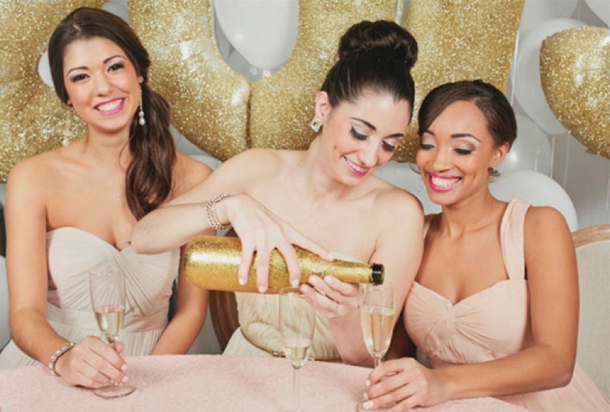 Source: Sarah Gormley Photography/Sarah Park Events via Green Wedding Shoes

Venue: Like most of the themes I choose, this is something you can pull off in a number of locations, from a private home to a fancypants restaurant. How big you go on decor depends on how plain your 'base' is, but just about anywhere can be turned into a sparkle den with the addition of a few well-placed details. In the real showers section at the end of the post you'll find a huge variety of locations used by different bridal parties. One very cute idea is to throw a new years eve party – although you may want to do it earlier and let the guys in so your bride gets to kiss her guy at midnight! That way you combine sparkle and sentiment (and give everyone a party to go to on the last day of the year, win).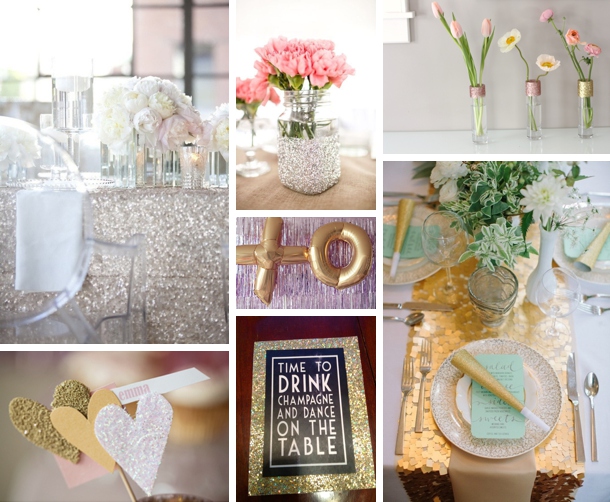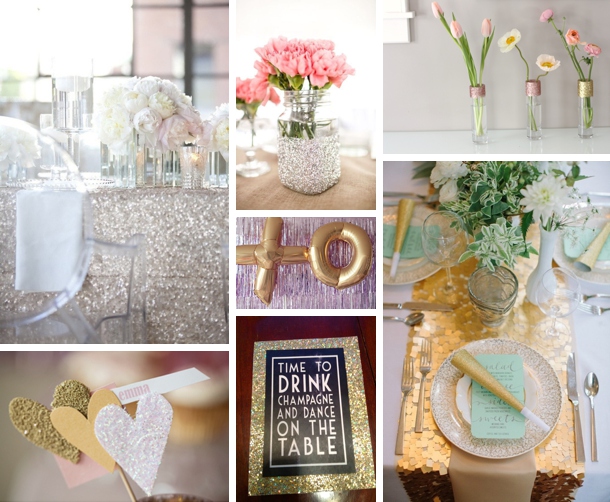 Sources (clockwise from top left): 1- Yasmin Khajavi Photography/Zest Floral and Event Design via Style Me Pretty; 2- Young Hearts Photography/Hoopla Event Design & Styling via Ruffled; 3- Blush Floral Design; 4- Haley Sheffield/Jessica Interiors via Style Me Pretty; 5- source unknown; 6 & 7- Joielala Photographie/Forget Me Knot Weddings/Sitting in a Tree Events via Grey Likes Weddings
Decor: The possibilities are pretty much endless here. Just search for glitter decor on Pinterest and you'll find dozens of ideas. Lots are DIY – see our own SBB roundup of glitter DIYs for some great examples. Buy some sparkly fabric from a haberdashery, or sparkle board to put under each plate if you're having a sit-down meal, dip plastic or wooden flatware in gold and glitter, make glitter accented vases and drink stirrers., etc. Another great idea is to get the bride's initials in big gold helium balloons – one piece of decor that makes a statement and goes a LONG way! Keep flowers simple – soft pastels and white, if anything.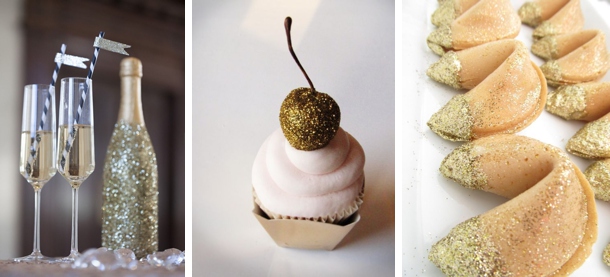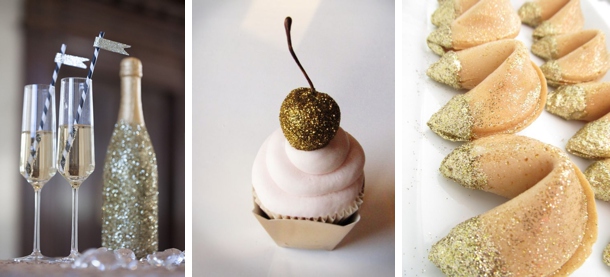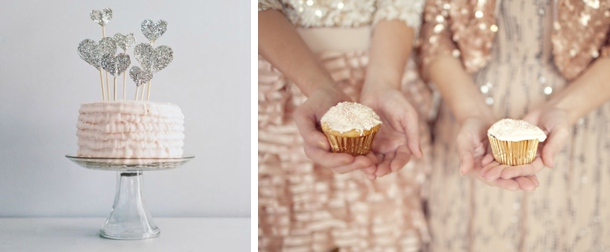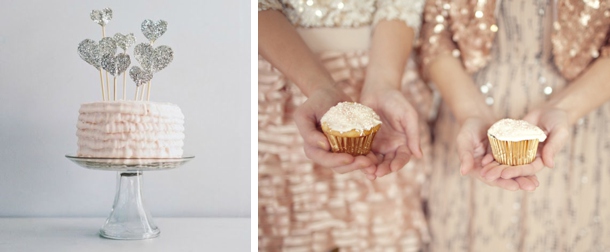 Sources: via I wore Yoga Pants to Work (top left); Connie Cupcake (top centre); Amazing Birthday Ideas (top right); via The Paper Pony (bottom left); Joielala Photographie/Forget Me Knot Weddings/Sitting in a Tree Events via Grey Likes Weddings (bottom right)

Food & Drink: Again, you can keep this quite simple, but add in a few special touches. Sparkly cupcakes are divine, but just as nice is a pretty cake with homemade toppers (a simple afternoon project). And how much do we love the dipped in sparkle fortune cookies? Glitter up a champers bottle for some photogenic glory, and don't forget sparkly washi tape flags on paper straws as the perfect extra touch.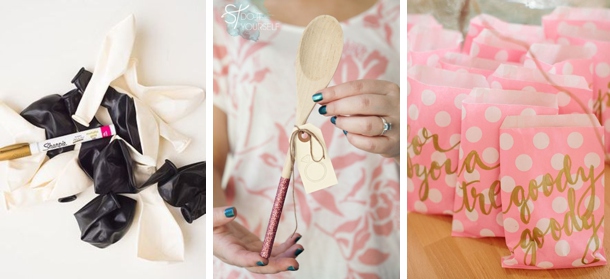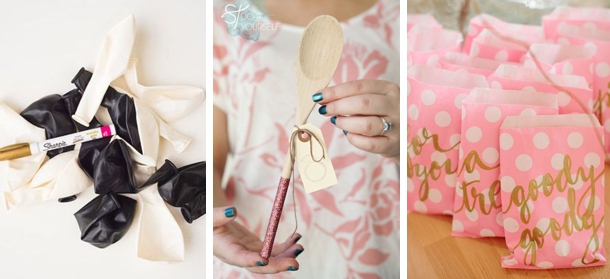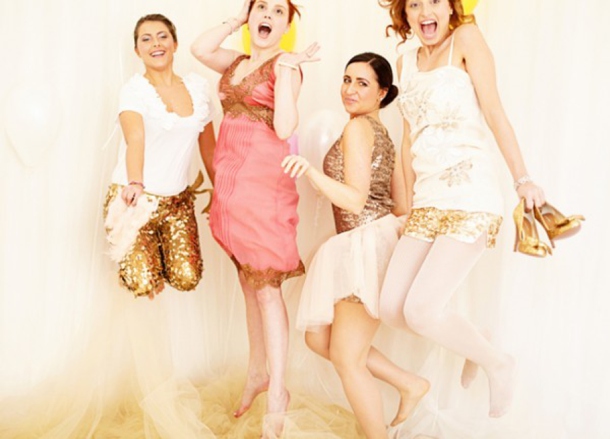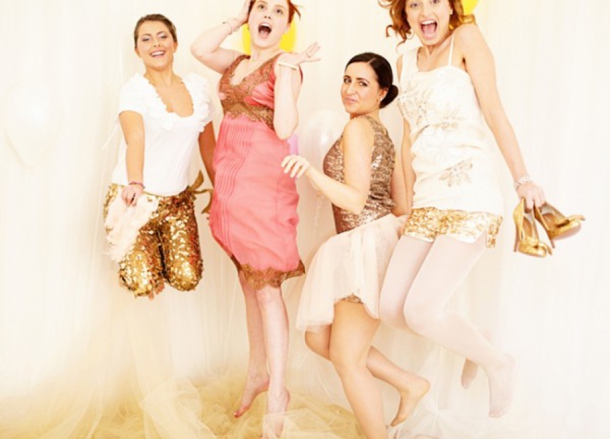 Sources: Harmony Creative Studio via Snippet & Ink (top left); Studio 11 Weddings via Something Turquoise (top centre); Haley Sheffield/How She Sparkles via 100 Layer Cake (top right); Bon Bon Studio via Elizabeth Anne Designs (bottom row)

Favours & Activities: I love the idea of getting your girls all dressed up and then having them pose for a fab photoshoot in their sparkly gowns, like these ladies did. Or get down to some glittery DIYs that double as favours – the wooden spoons above are a fun twist on the traditional kitchen tea gifts. I also love this idea of a twist on Truth or Dare called Sparkles & Secrets – cute right?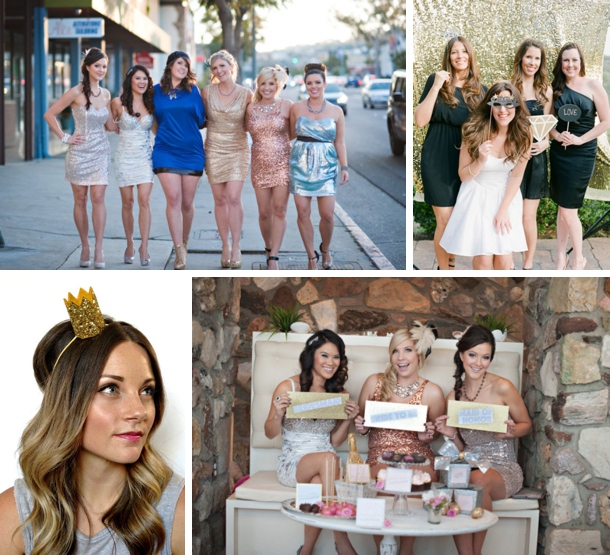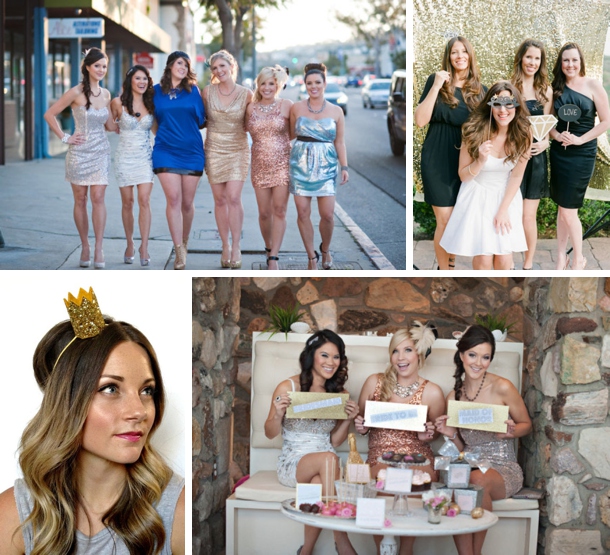 Sources: Bethann Greenberg Photography/Urban Style The Wedding Network via Style Me Pretty (top left); Lavender & Twine/Shindig Fancy via Green Wedding Shoes (top right); Little Blue Olive on Etsy (bottom left); Bethann Greenberg Photography/Urban Style The Wedding Network via Style Me Pretty (bottom right)

Dress: Nah, come on, you don't need my help with this one, right? Invite your ladies to 'frost themselves' as that guy in How to Lose a Guy in 10 Days might say, with whatever combination of sequins and sparkle and metallics that they would like to wear. Otherwise, throw a little black dress party, and have all the decor in shades of sparkle, with the bride herself in the shiniest of all, so she stands out.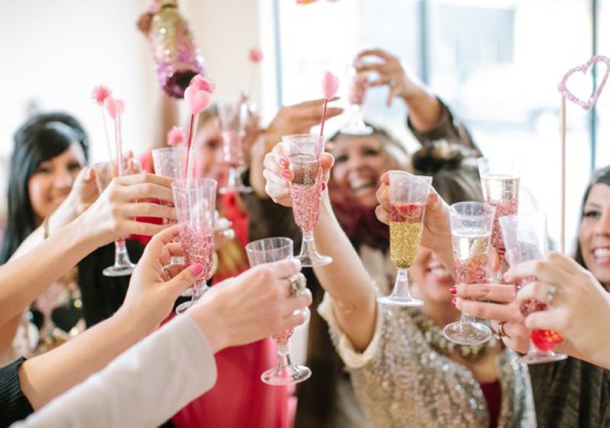 Source: Haley Sheffield/How She Sparkles via 100 Layer Cake

Real glitter themed bridal showers: