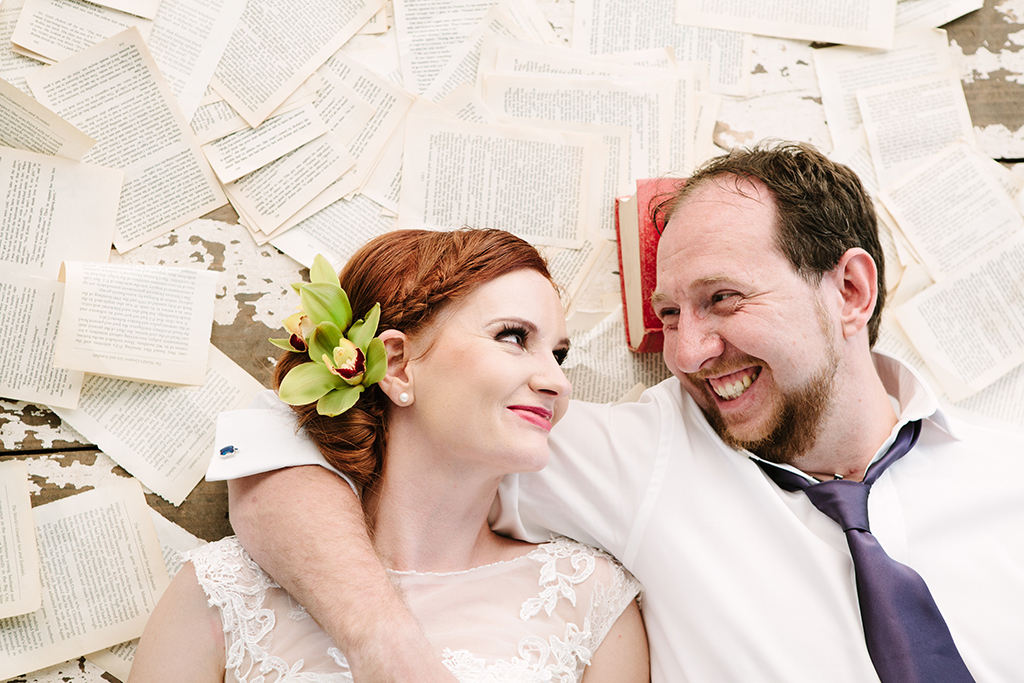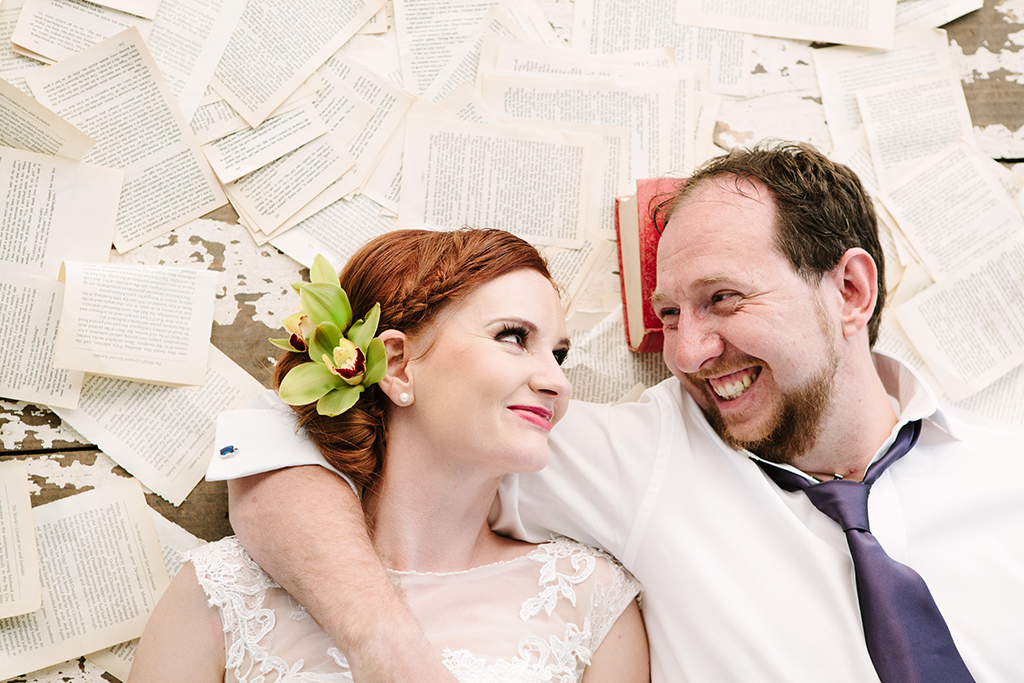 I have a special place in my wedding-loving heart for elopements. There's something so utterly romantic about the idea of two people taking this moment away from the rest of the world for just them, to promise their forevers wrapped up in one another with no distractions, and bask in the glow of the moment, seeing it reflected in each other's eyes. Sure, it's not for everyone, but a beautiful wedding à deux always makes me smile. And I know someone else who loves these kinds of weddings as much as I do – the lovely Rebecca of Runaway Romance, who has made it her mission as a wedding planner to focus on more intimate celebrations and bring them a special kind of magic through her love of detail and styling. After all, just because it's only the two of you, doesn't mean it shouldn't look amazing! Today's wedding is just that. Theuns and Ewalda chose to infuse their elopement with their love of literature in general and Alice in Wonderland in particular, and the result is a wonderfully whimsical celebration with the sweetest of details, from paper flowers (mixed in with red roses, of course!), to Scrabble tile elements, to a custom ceremony backdrop that proclaimed 'It was always you'. Told you elopements were romantic! Andries Combrink was there to capture the whole thing on film.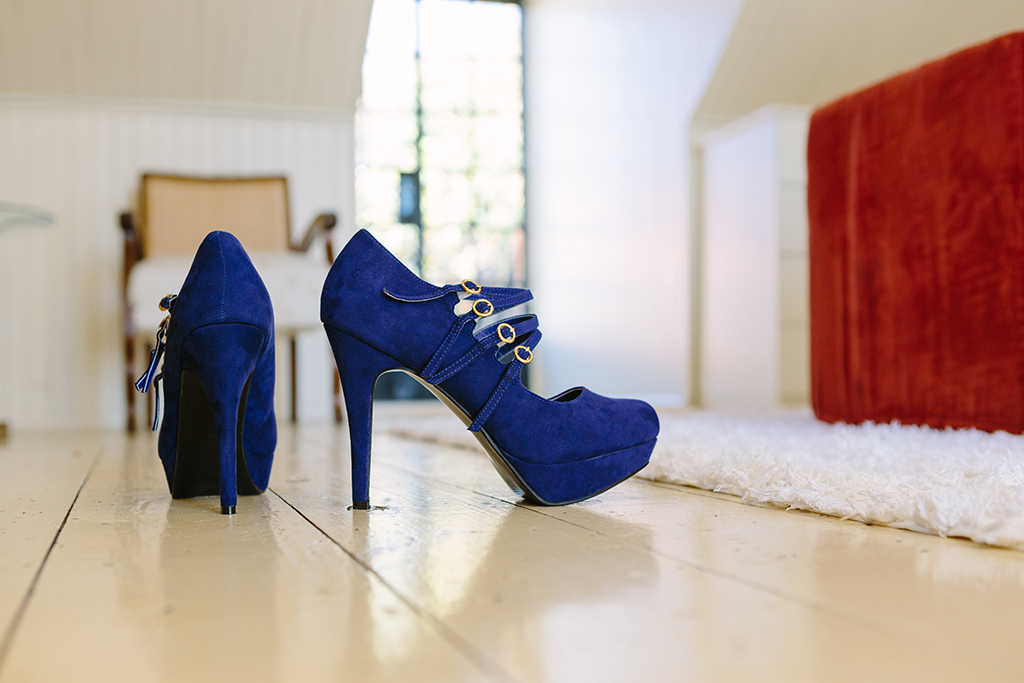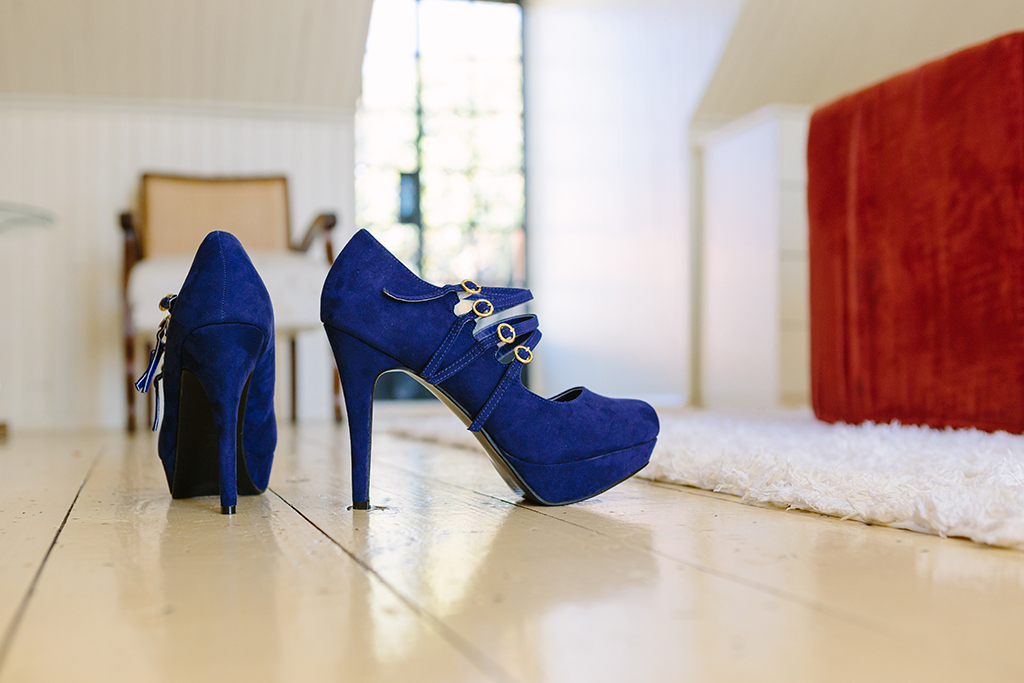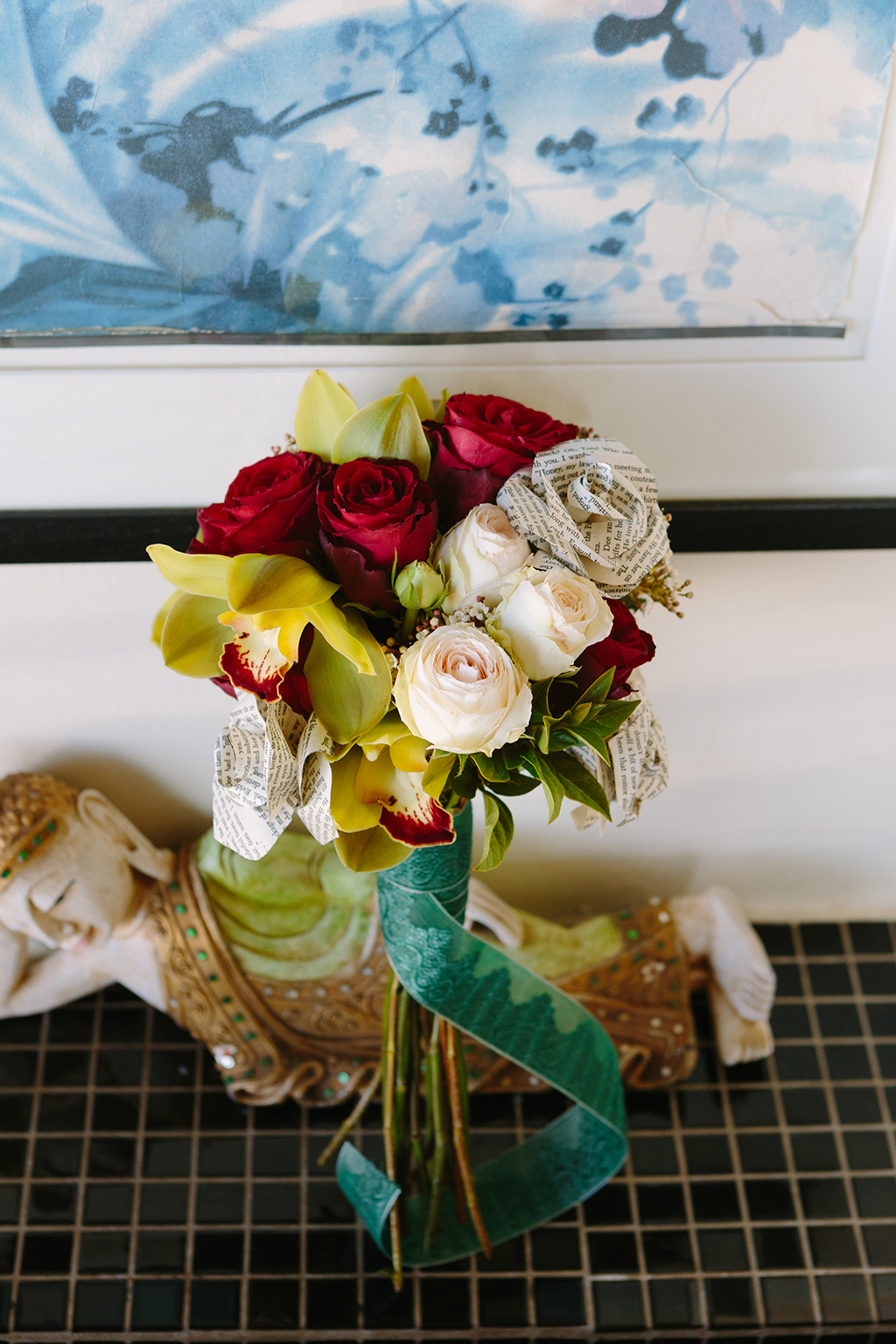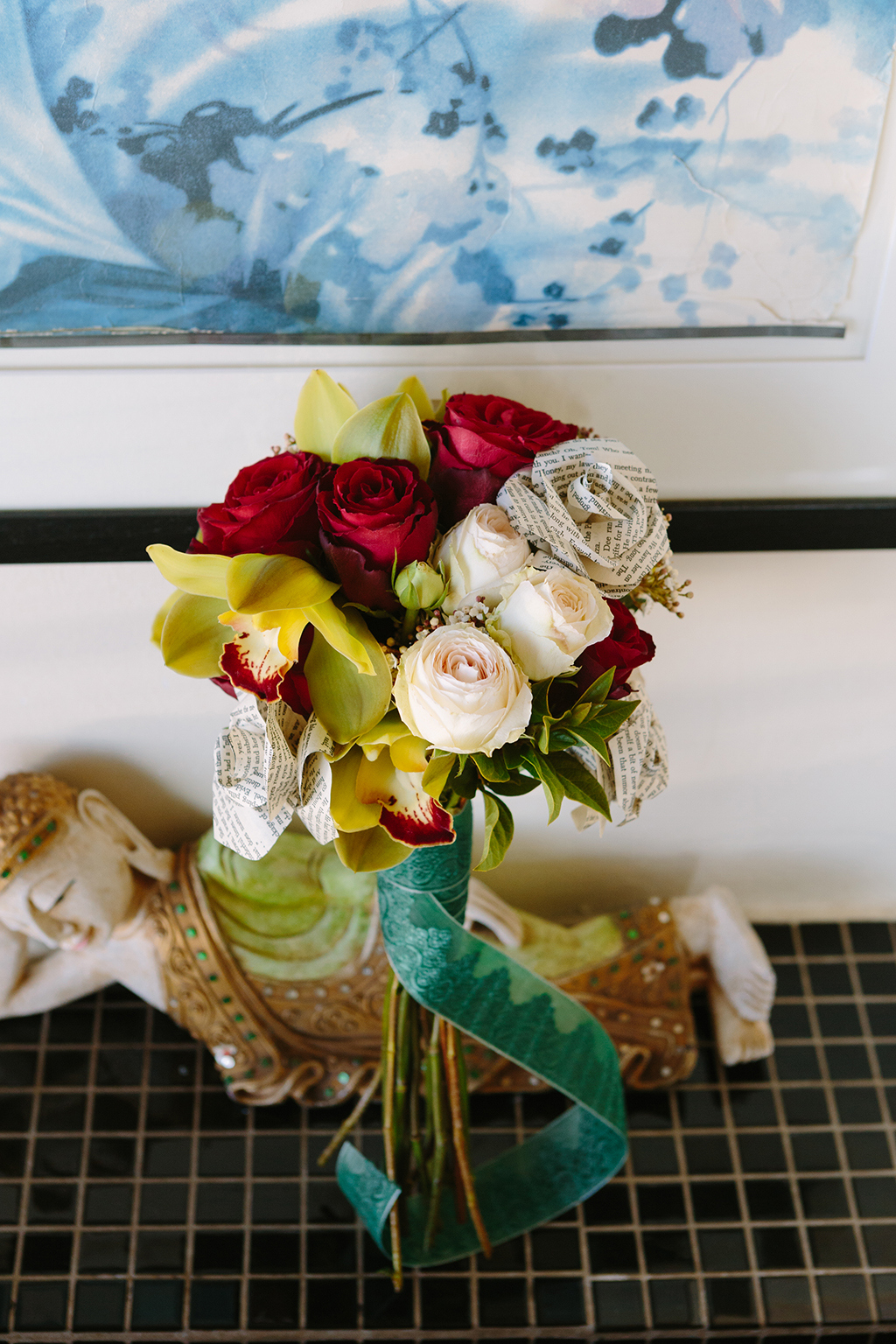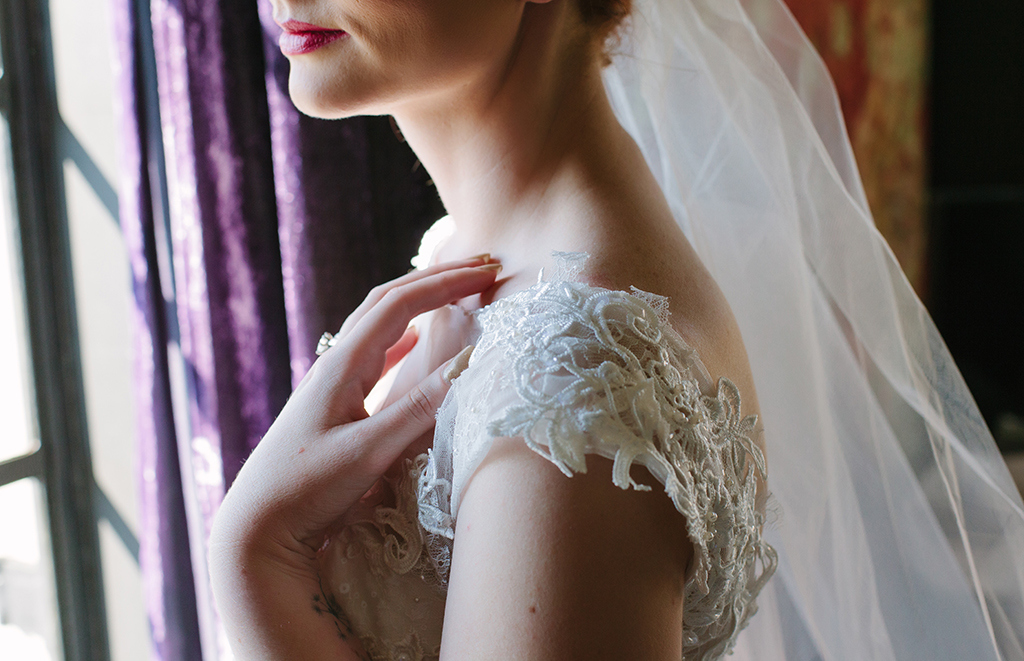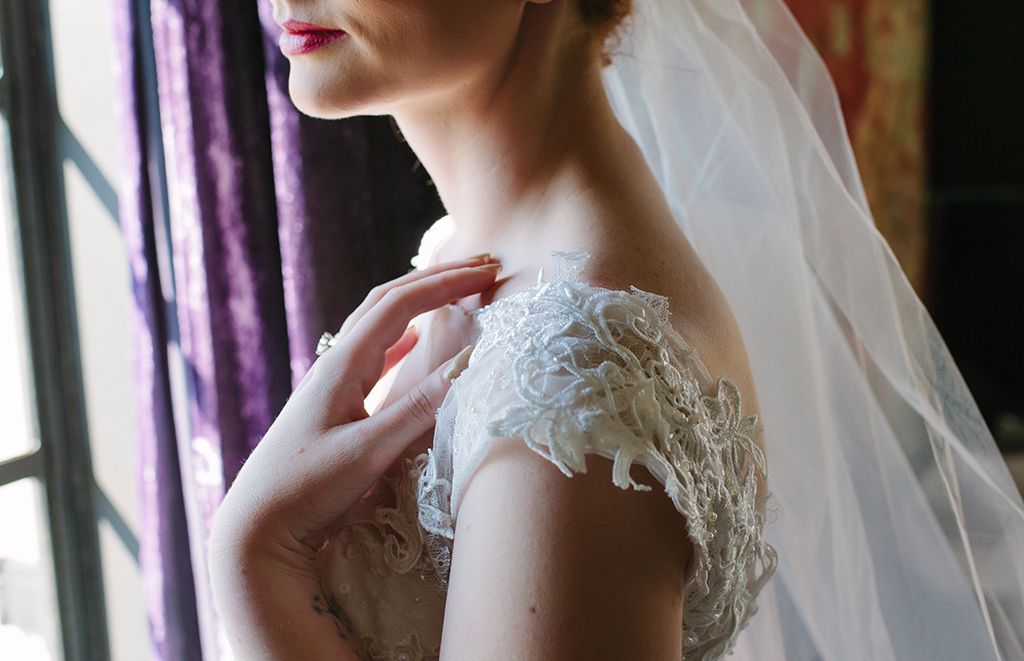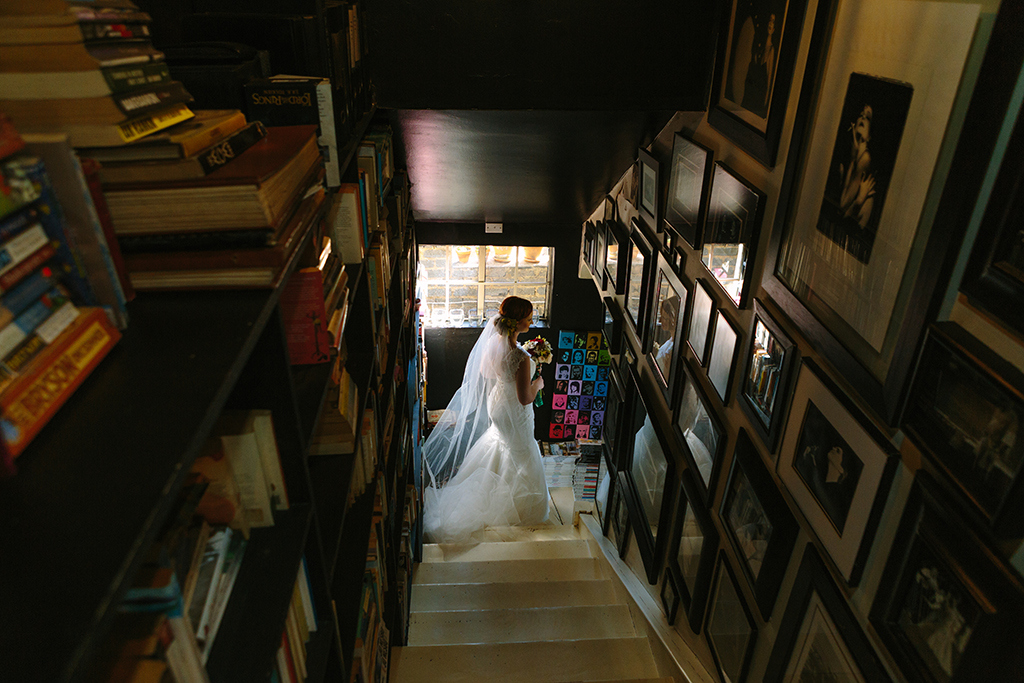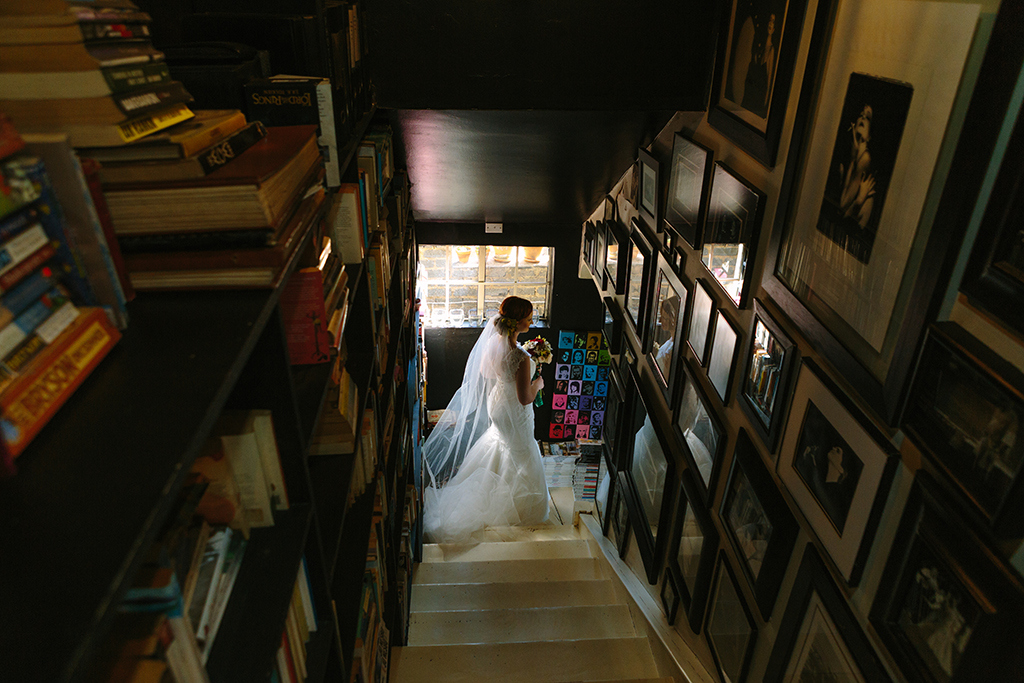 Love Story
We met about fifteen years ago, on an online chat program before the internet and internet dating was a big deal, and I can remember telling my friends that in a perfect world Theuns would be the man I married, when I was all of sixteen years old. We kept in touch over the years via email and social media. We remained good friends, but life took us on our own journeys, and we ended up on different continents, with different lives and goals and ideas about our lives. I was living and working in Cape Town when Theuns moved back to South Africa, and after a few false starts we finally met in person, which confirmed for us what we had believed for years. We were kindred spirits who have kept returning to each other, even when our respective orbits took us far away from where we would have liked to be. We took the leap of faith to see what we could be if we were together, and we have been together ever since.
The Proposal
Initially we weren't sure if we wanted to get married, not because we weren't serious about each other, but because we both had first-hand experience in that getting married doesn't guarantee that there will be a happily ever after, and we didn't want to conform to certain expectations for our relationship just because that would be socially acceptable. Over the course of a few months, the perception we had shifted, and we began thinking that getting married would not be the worst idea in the world, but that we would do it our way. Theuns bought me a beautiful Tanzanite ring while we were walking in Franschoek one afternoon, and said it would be a suitable substitute until we found my forever ring, and that was that. There weren't any grand gestures, it was just matter of fact, and as easy as breathing. In December 2015 we started looking at getting the actual engagement ring, and found the perfect one at Jack Friedman Jewellers, where we were assisted by a fantastic team of very enthusiastic people, and they were able to create something remarkable with the marquee cut diamond and the Kay ring setting. I was however frustrated that Theuns had not actually proposed, and that I was being denied a moment of sparkle that I really looked forward to. One afternoon while we were discussing this topic (he was having a soak in the tub and I was sitting next to him) he simply took my hand and said "Do you want to marry me?" and when I answered in the affirmative, he smiled and we were 'officially' engaged.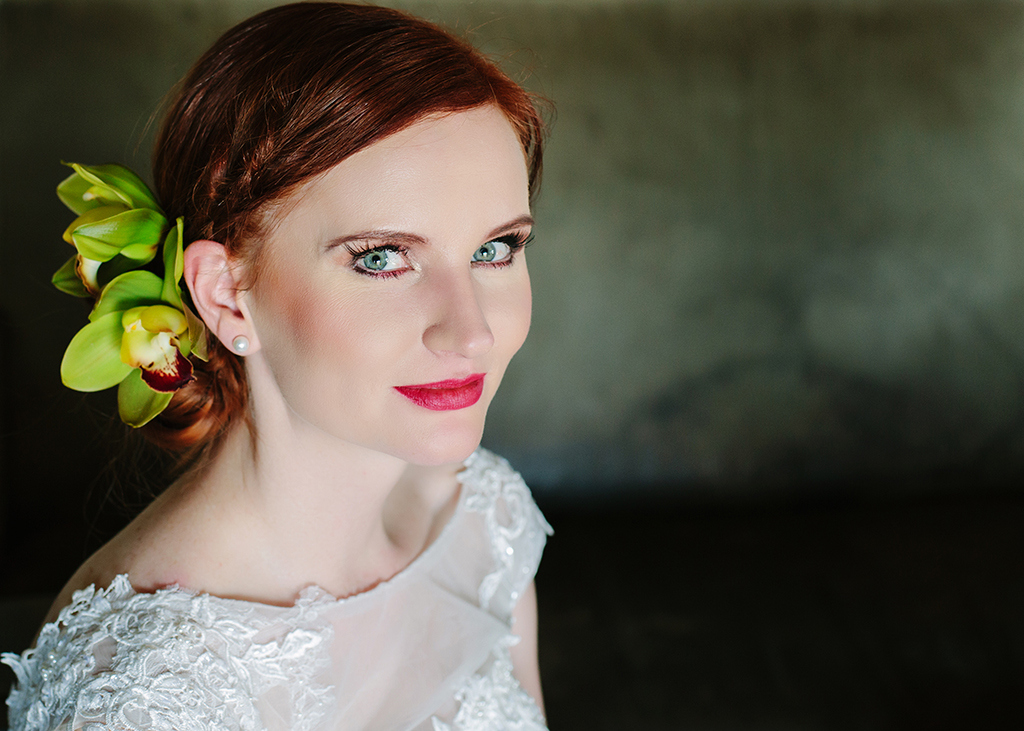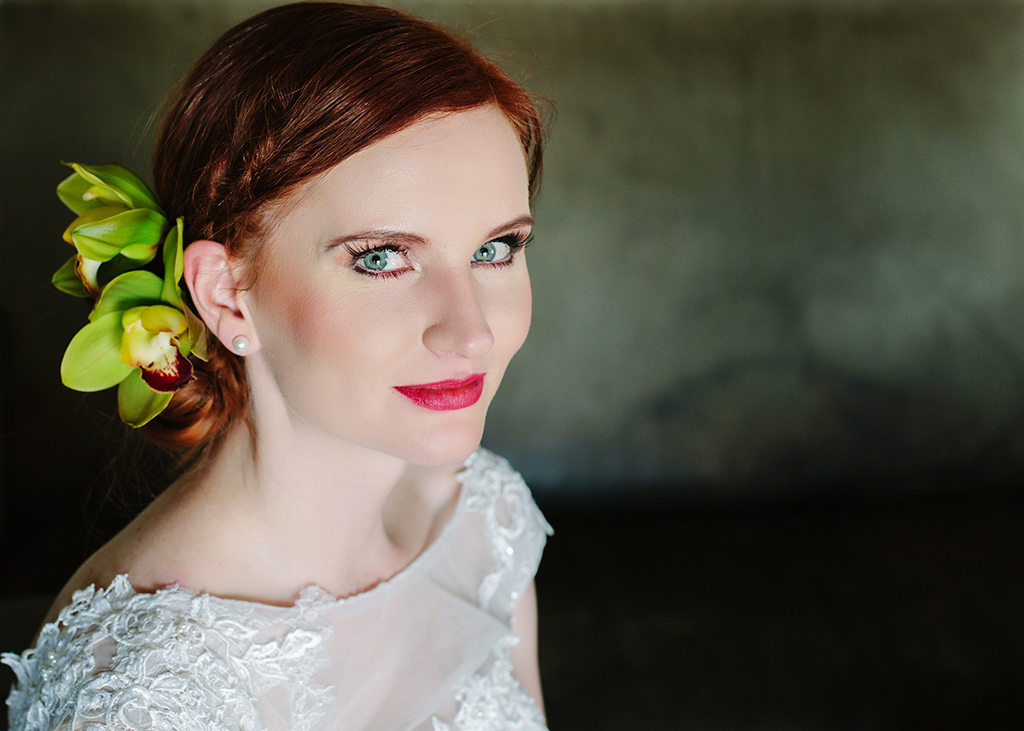 The Venue
We live in Bloemfontein, but wanted to get married in Gauteng, as there were a lot more options available there, so our fantastic wedding organiser, Rebecca, went venue scouting for us. We looked at quite a few options, ranging from a book store, to a boutique garden, and finally settled on Zietsies Guesthouse. Zietsies had the perfect mix of interesting interior design, with the glass dining room and uniquely decorated guest rooms, as well as a beautiful garden, and a view of Johannesburg that is nothing short of breathtaking. When you sit on the balcony it feels as though you are somewhere in Europe. Our photographer, Andries, was also excited about the photographic potential, and that made our decision so much easier.
Wedding Style
At our initial meeting, Rebecca and I discussed what the feel and theme would be for the day to try and find a direction to work towards. We have a long standing love for 'Alice in Wonderland', and books in general. We wanted to incorporate little details from the things we love, to make it something special and that would have meaning to us, which was very important as it would just be us at the wedding. Our wedding was a mix of the whimsical Alice and her Mad Hatter, opting for a high tea instead of a formal reception. We built on the Alice theme with the Red Queen rose tins for the buttonhole and hand tie, and the red roses from the Red Queen's garden. These subtle touches incorporated elements of Wonderland without looking like an obviously themed wedding.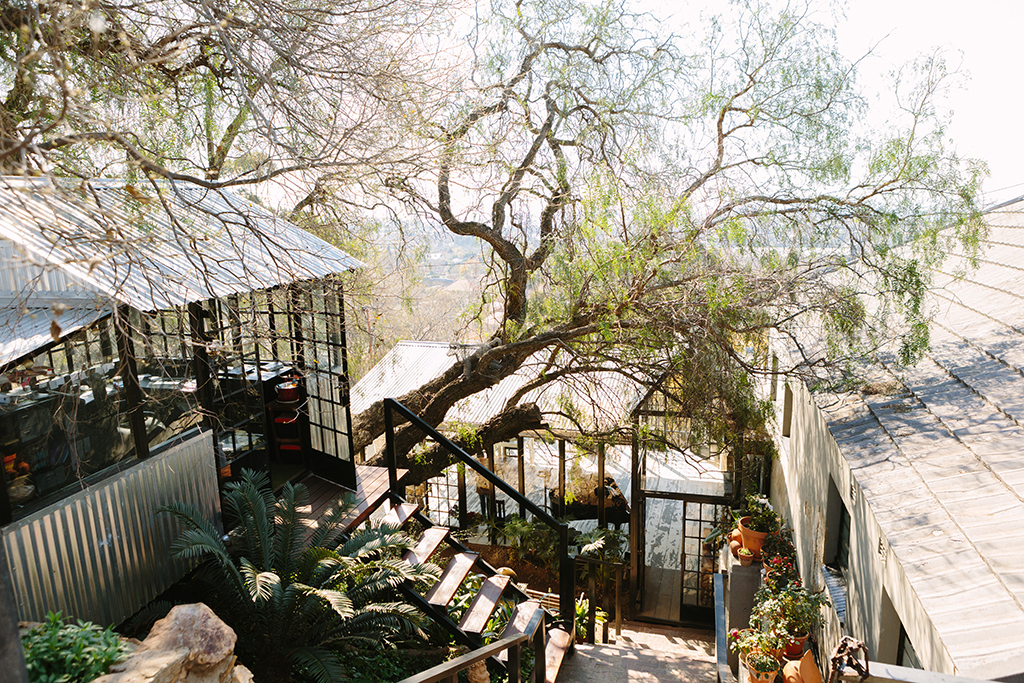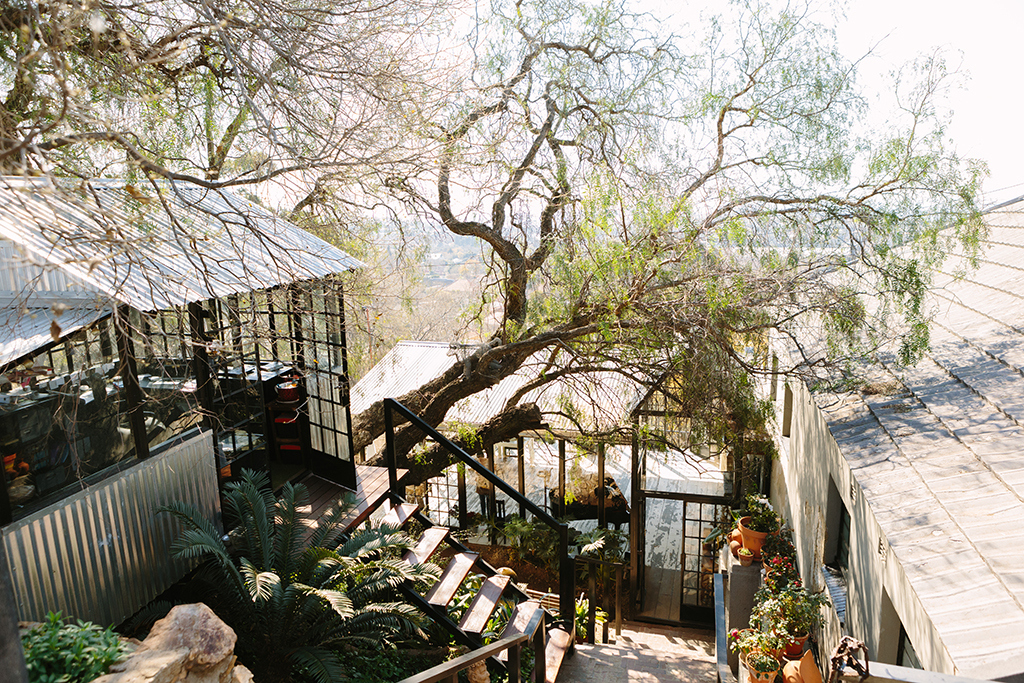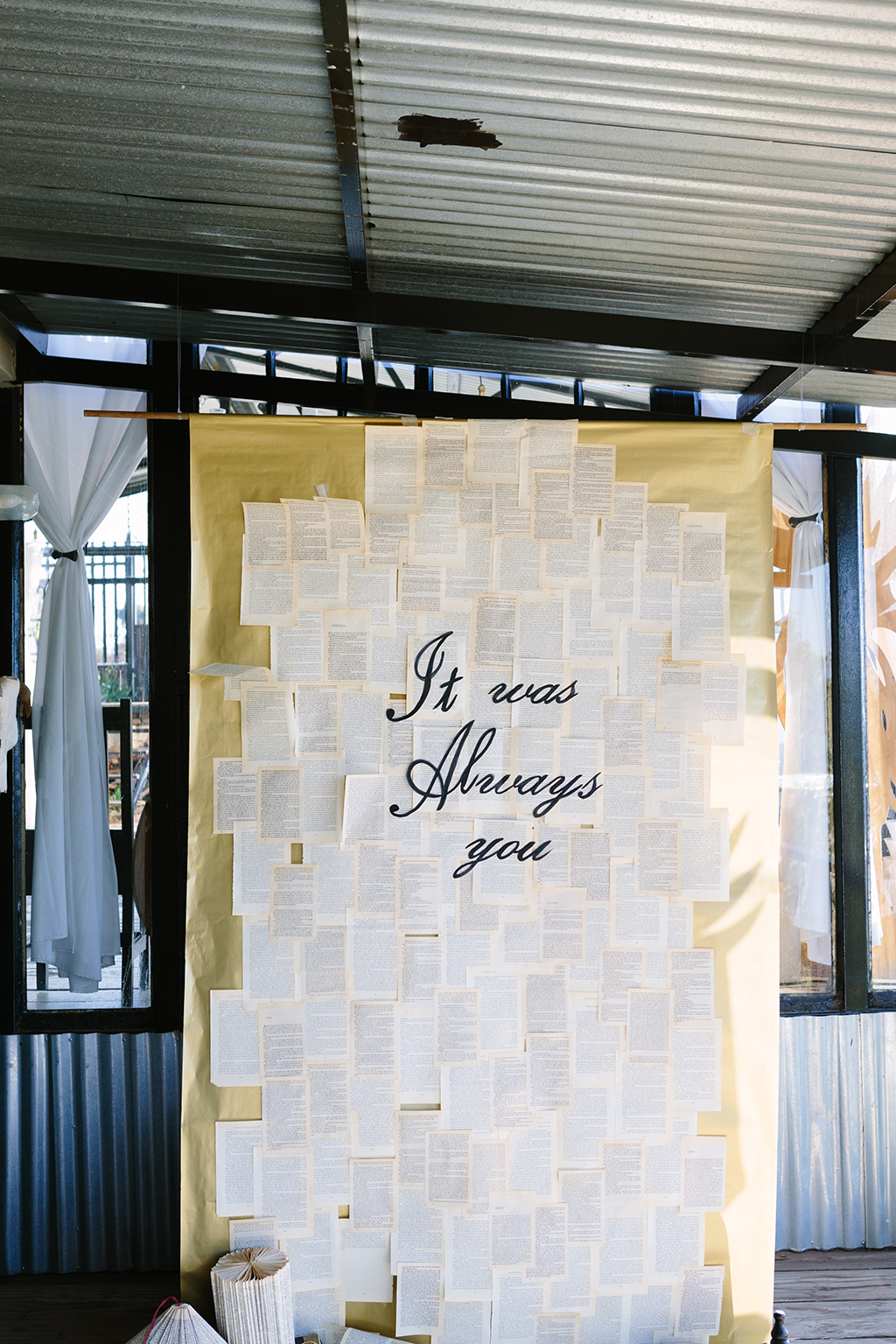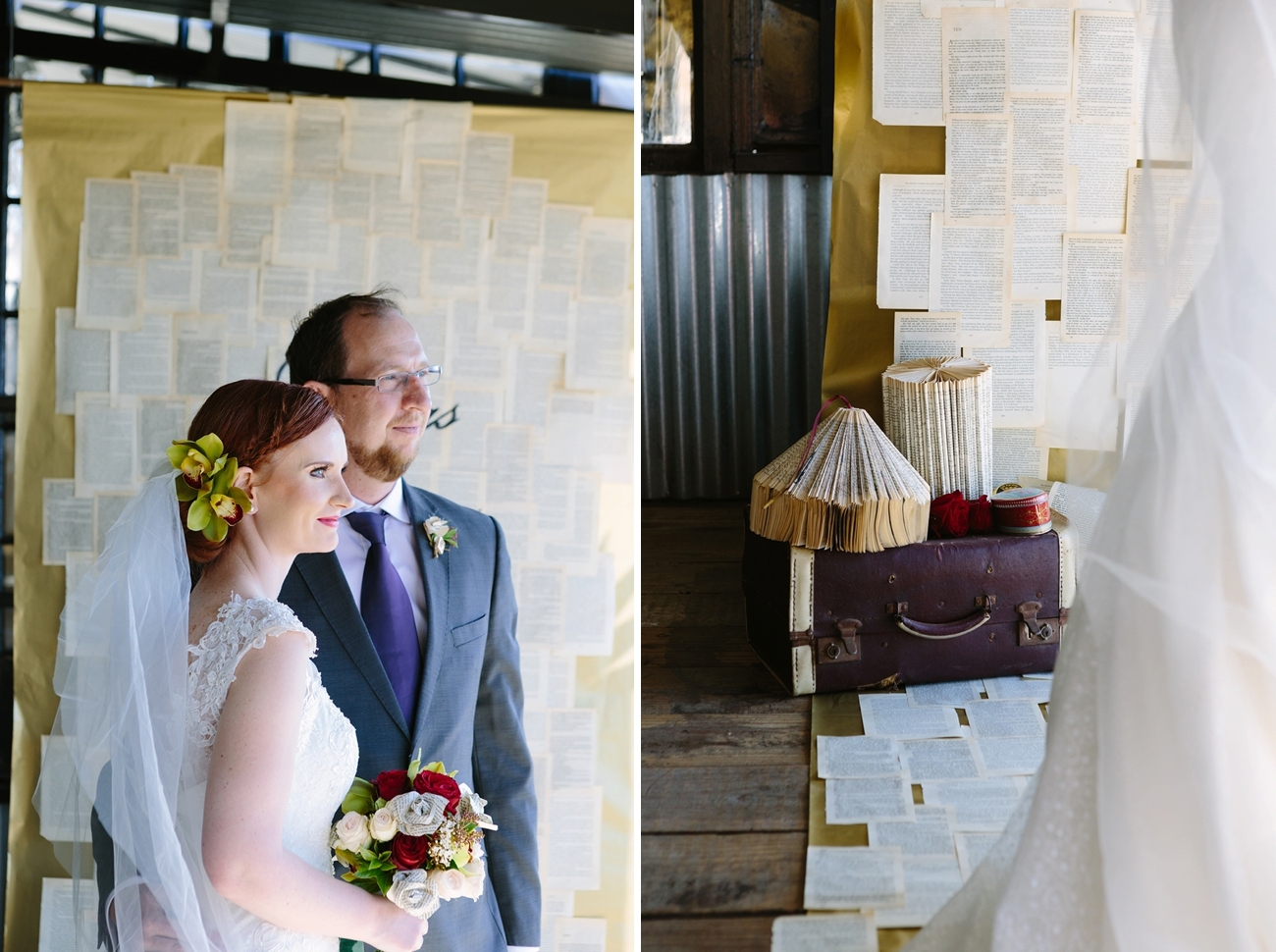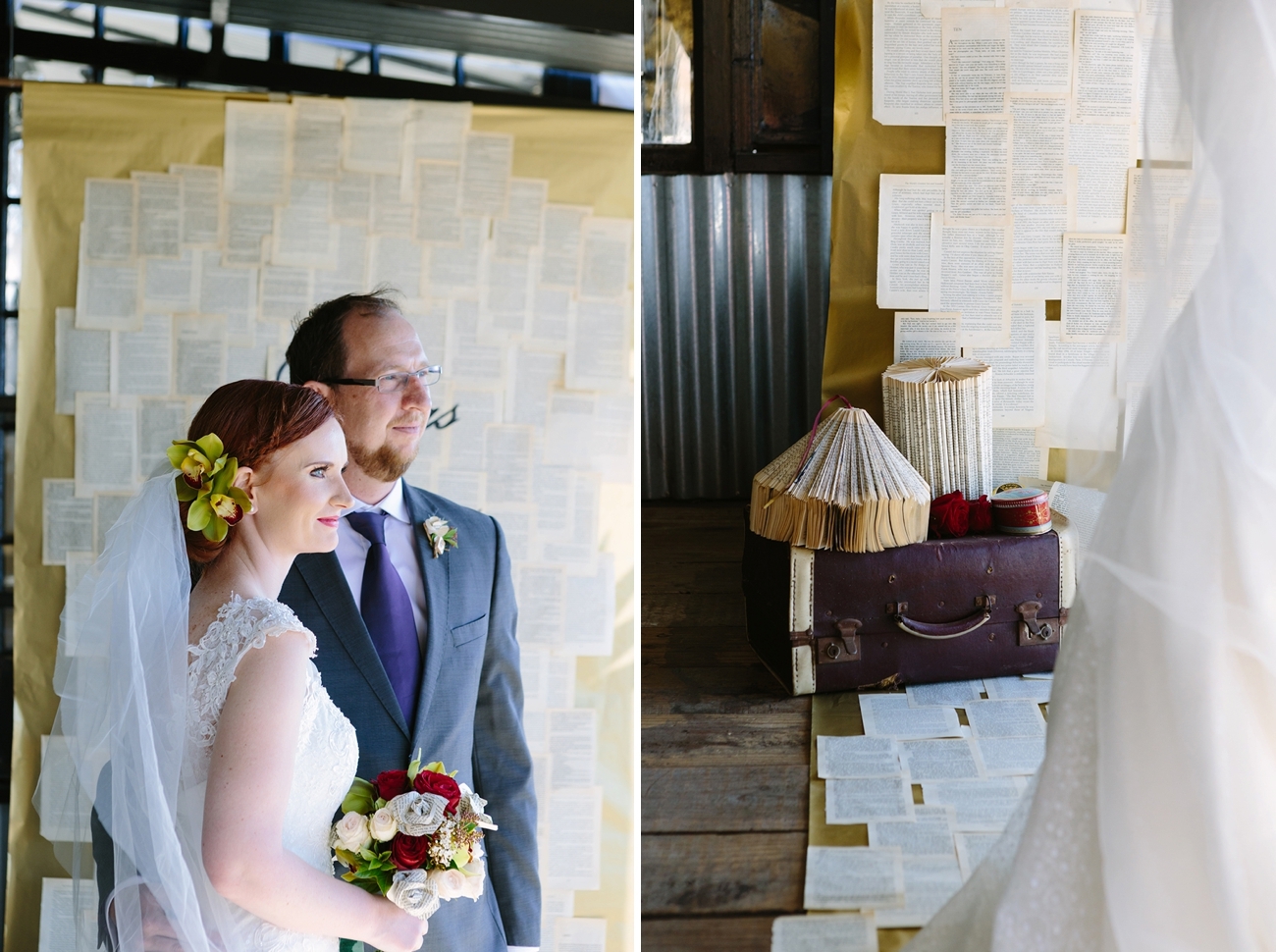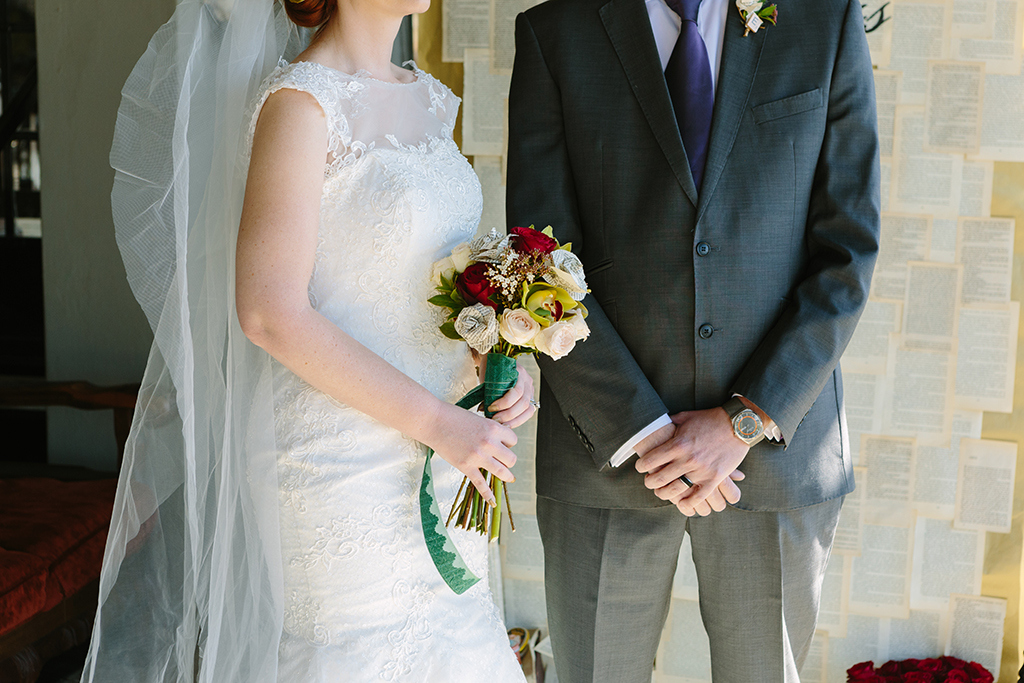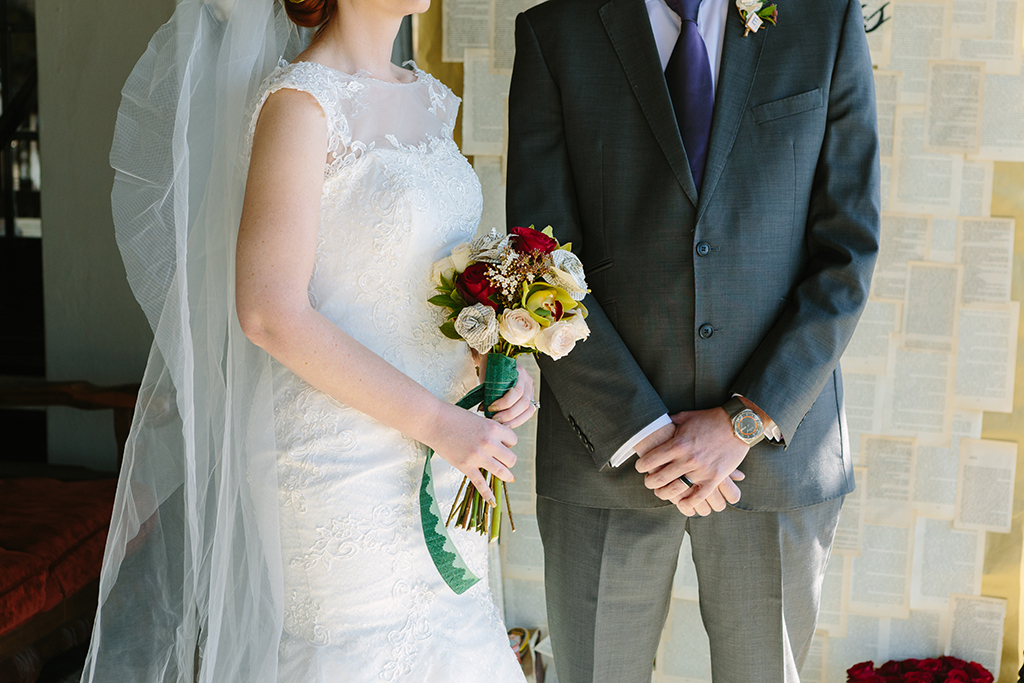 Wedding Details
Every detail that Rebecca incorporated into the décor had some element of meaning to us. The one big plus point of having a small wedding is that you are able to incorporate a lot more personal details into everything, because it doesn't have to be replicated a hundred times, and it doesn't get lost in the whirlwind of details of a big wedding. Rebecca used a lot of paper details, to incorporate our love of books, and all things literary, and took it further by incorporating scrabble tiles on the table décor as well. We had small bits of Wonderland in the mobile with hanging tea cups, and other smaller details referencing the book that inspired so much of our story. Our wedding reading was a collection of our favourite quotes from the books that we have both fallen in love with. The paper backdrop at the ceremony had the quote "It was always you" which was the perfect description of a love that took the better part of our lives to become a reality. We also chose to do a hand fasting tie instead of a ring ceremony, as we had both been wearing our rings prior to the wedding, and chose the Celtic vows that felt more authentic and meaningful to us. As confetti we used book pages instead of petals or rice, and had to repeat it a few times in order to get the perfect shot, but the enthusiasm of the little children who assisted was contagious and made it all the more special for us. We had a high tea as a reception, and enjoyed the tranquility together to soak up the fact that we were married, while thoroughly enjoying the tasty snacks prepared by the Zietsies Kitchen (after nearly being hit by the champagne cork, and having a belly-aching laugh after!).
DIY Elements
Rebecca outdid herself with the handmade details of our wedding. She handcrafted all the book page paper roses, as well as the hanging mobile. As mementos for us she also did a book cut-out of the characters of Alice in Wonderland, a frame with pages showing our wedding date, and a delicate button hole for Theuns, that incorporated the scrabble letter with my initial and a small book page rose. The gold paper and page backdrop with the "It was always you" painted on it was also handmade by Rebecca especially for our ceremony. She took the time to know us as a couple, and incorporated all of the little things into elements that reflect us and our relationship.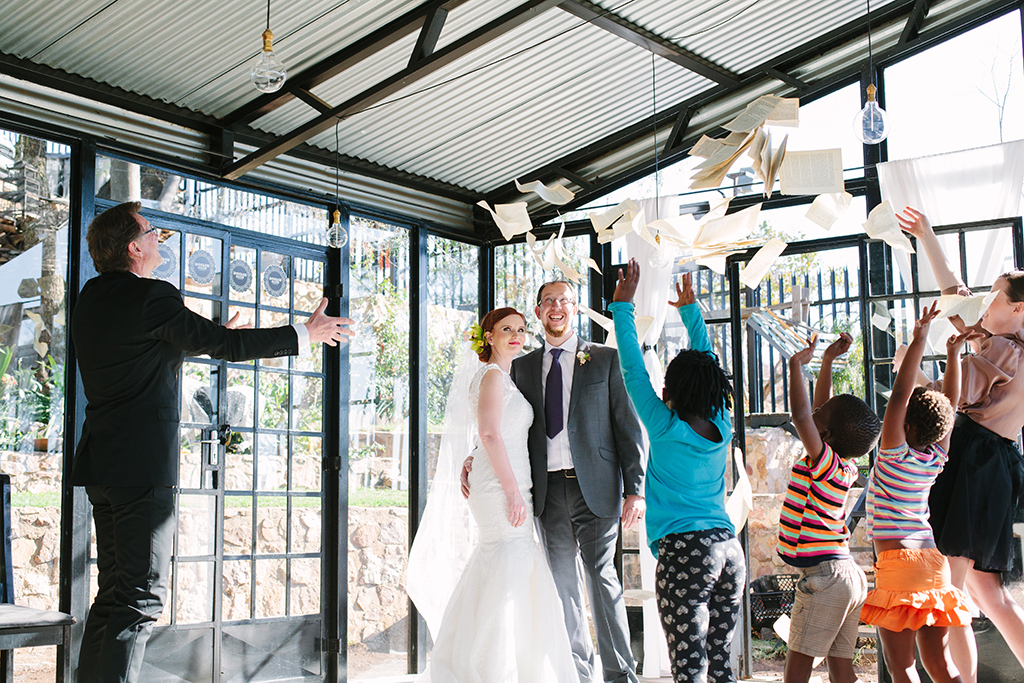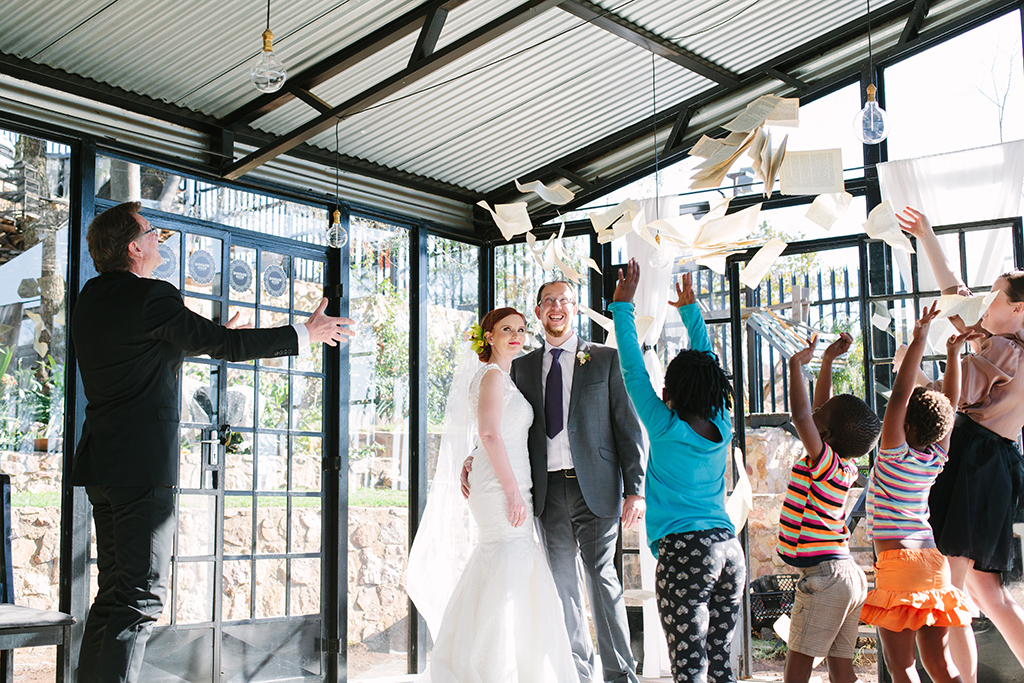 The Dress
Though I think that every bride deserves to get married in a designer dress, made just for her, when it came time to choosing mine, I had a little bit of an issue, because although there are some really fantastic designer dresses available, it was difficult to justify the price tag that came with them, especially for a wedding that would only be for an hour or two. I did however find a dress that I loved from Lingerette & Boutique that was still made to measure, but that was also within the budget that I felt comfortable with for the dress.
The Flowers
Our flowers consisted of the paper roses that Rebecca folded to bring in the literary elements into the flower arrangements, together with the "Queen of Hearts" deep red roses in order to keep some of Wonderland throughout the décor. The Eryngium blue thistle flowers carried a bit of Scotland and Ireland into the reception room that were in keeping with our Celtic vows and hand fasting ceremony. While shopping for the flowers, Rebecca also found beautiful acid green and red Cymbidium orchids that were not part of the initial flower brief, but that proved to be such a striking detail on the table, and that Maureen used for my hair as well. There were also dark green foliage elements with other darker red blooms and pops of blue that helped create a dramatic colour palette that was ever evolving, but came together in the end to blend together in a natural and organic way on the table and in the bouquets. In the end, everything came together in a beautifully eclectic mix of different things that meant something to us.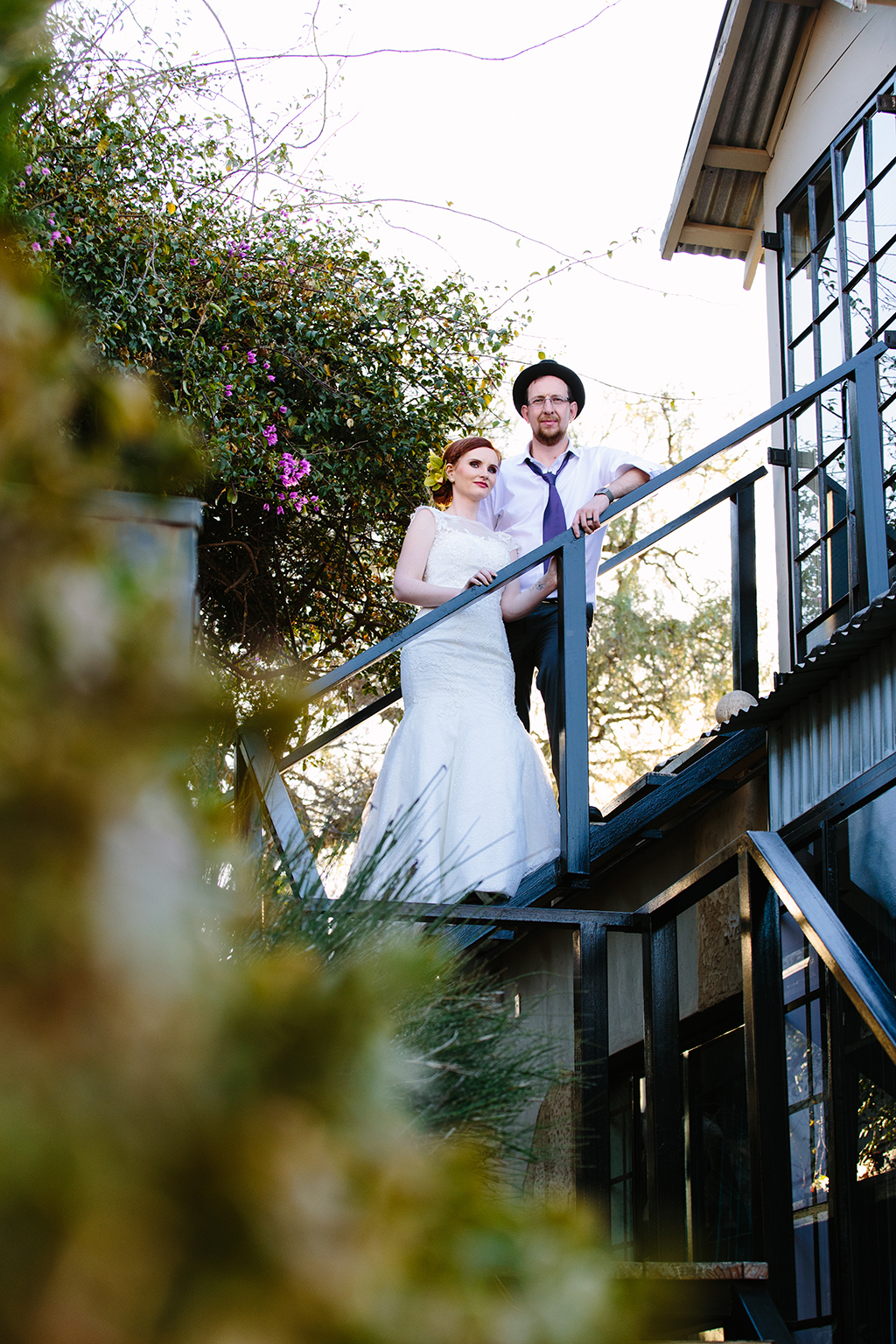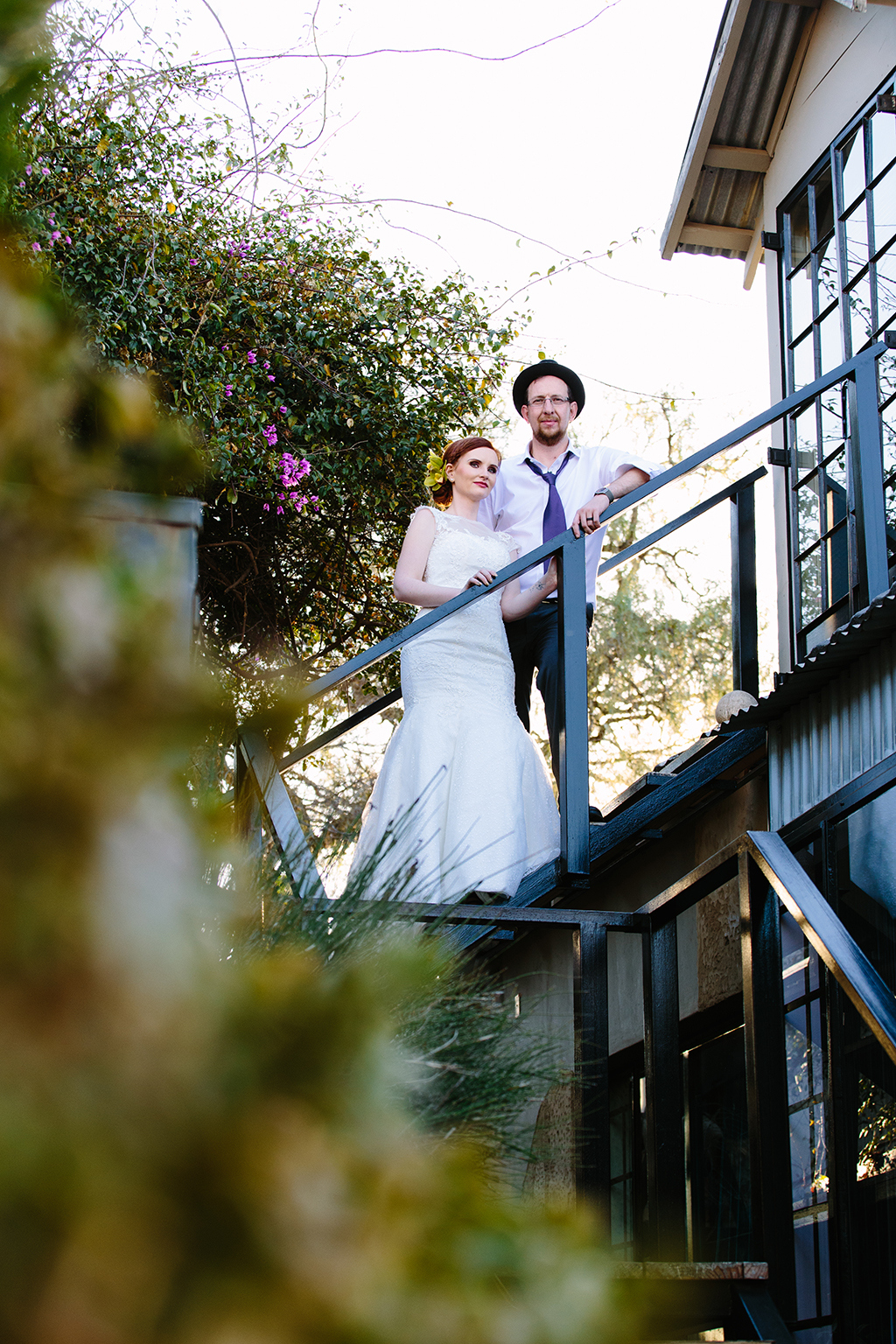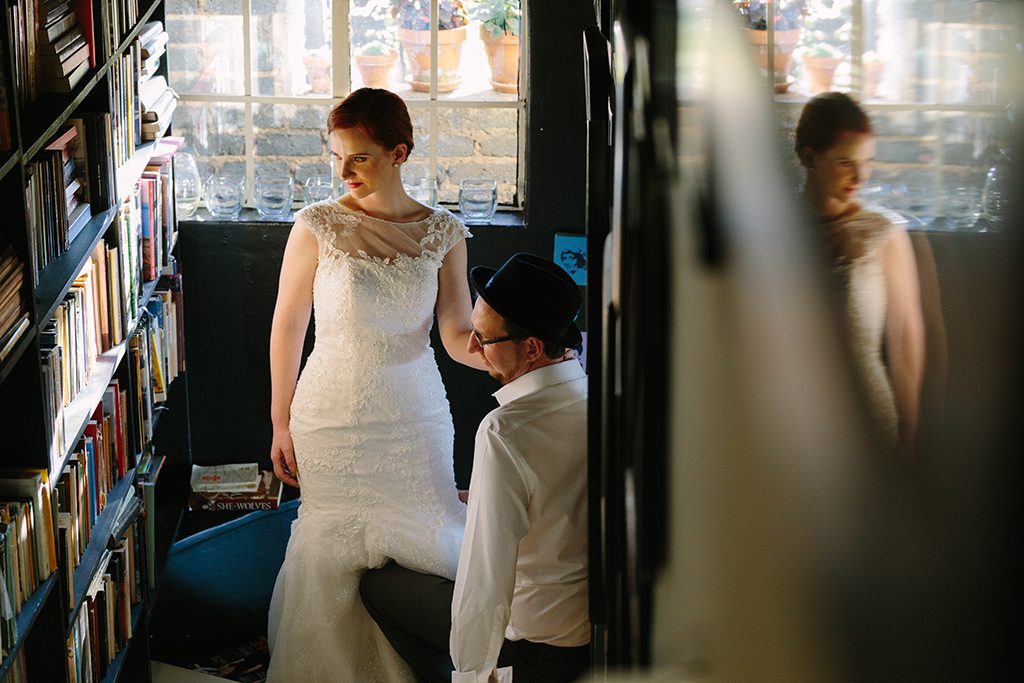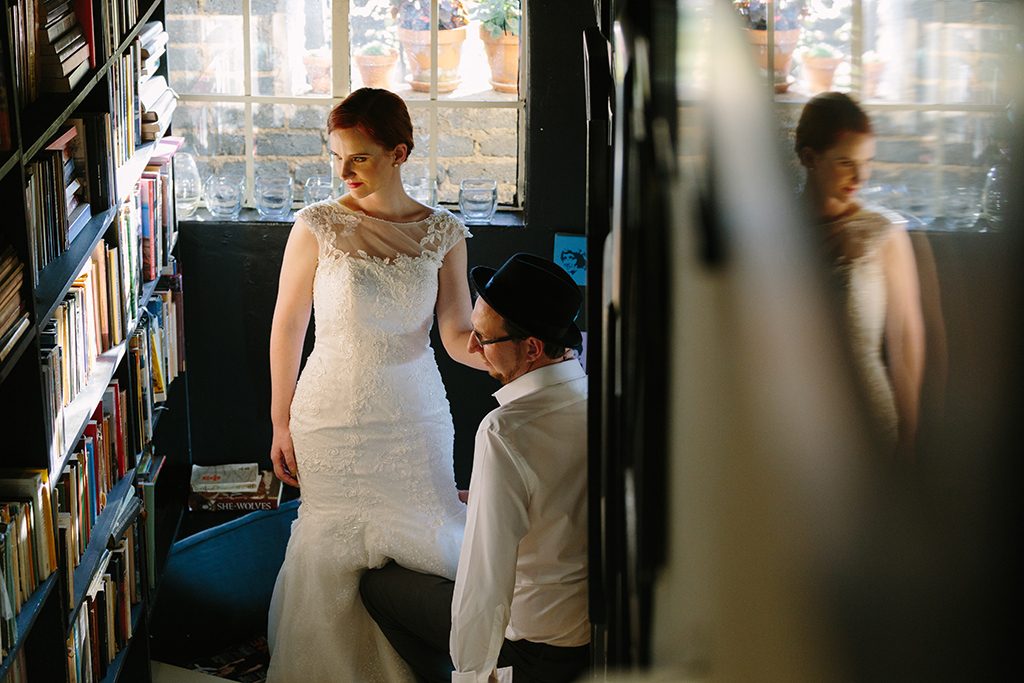 Memorable Moments
I think that it was more the feel of the day that stood out for me, rather than any one moment. We had the morning to ourselves without having to fuss about keeping other people happy or rushing around to get everything done in time, which meant we could just connect with each other in preparation for the day. Theuns was able to relax and read his book while I had my hair and make-up done, and the entire build up was very relaxed. I think that the loony smile on Theuns' face when he first saw me was magical, and my walk down the aisle was something very special to both of us, as well as the vows, as the Celtic vows are very close to our hearts, and incorporating them was a powerful affirmation for both of us.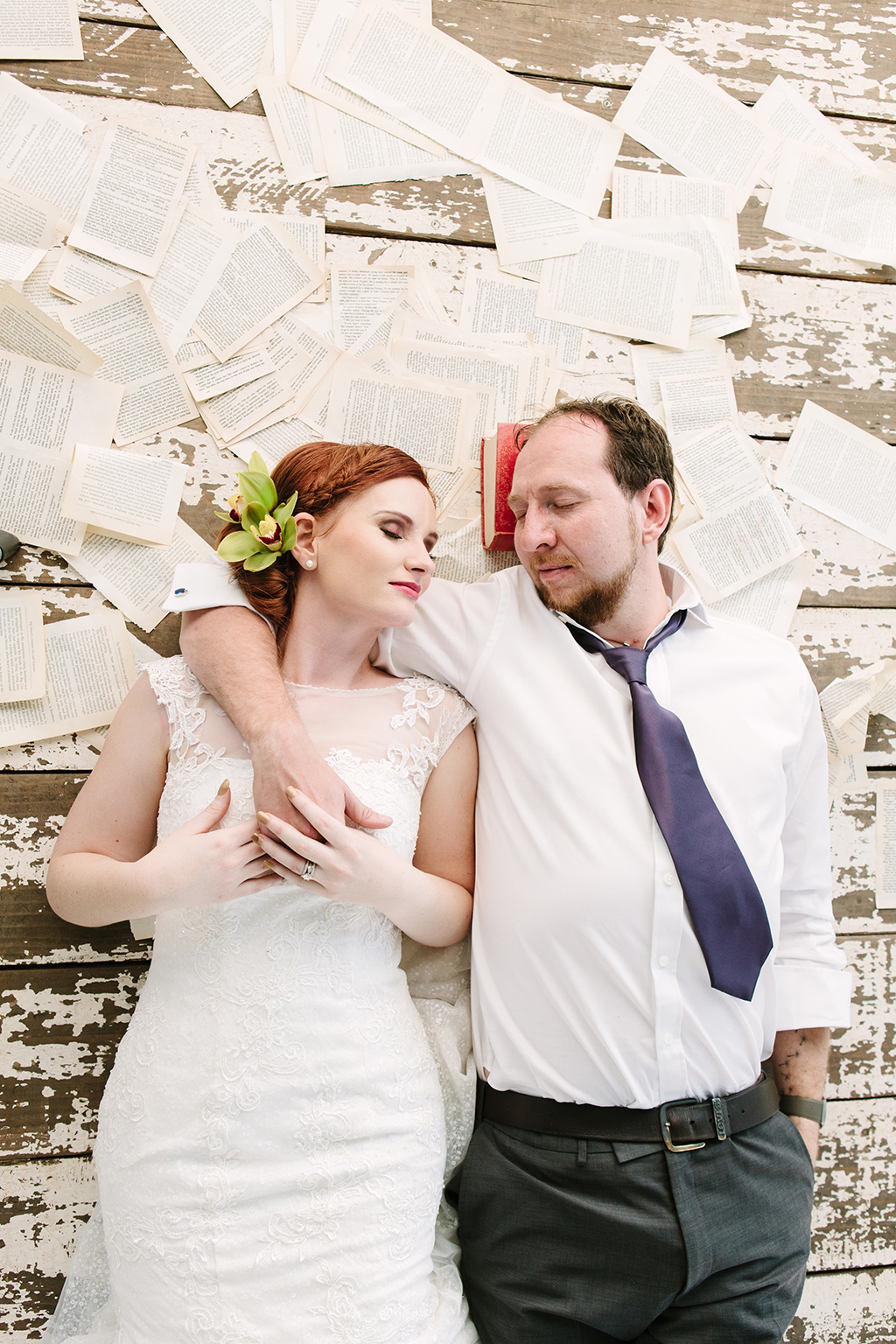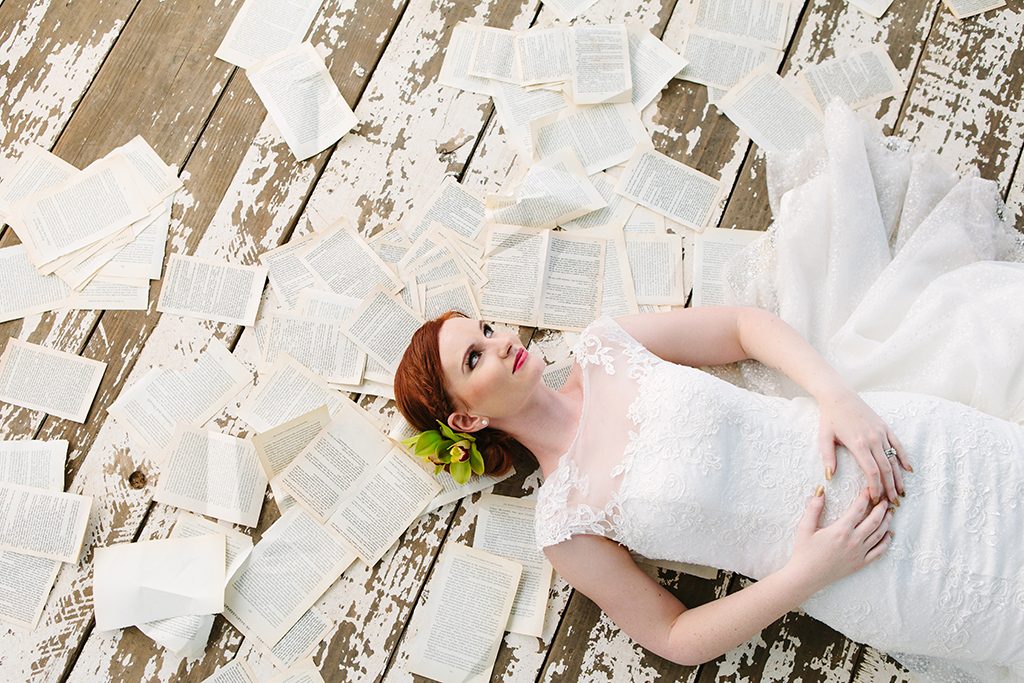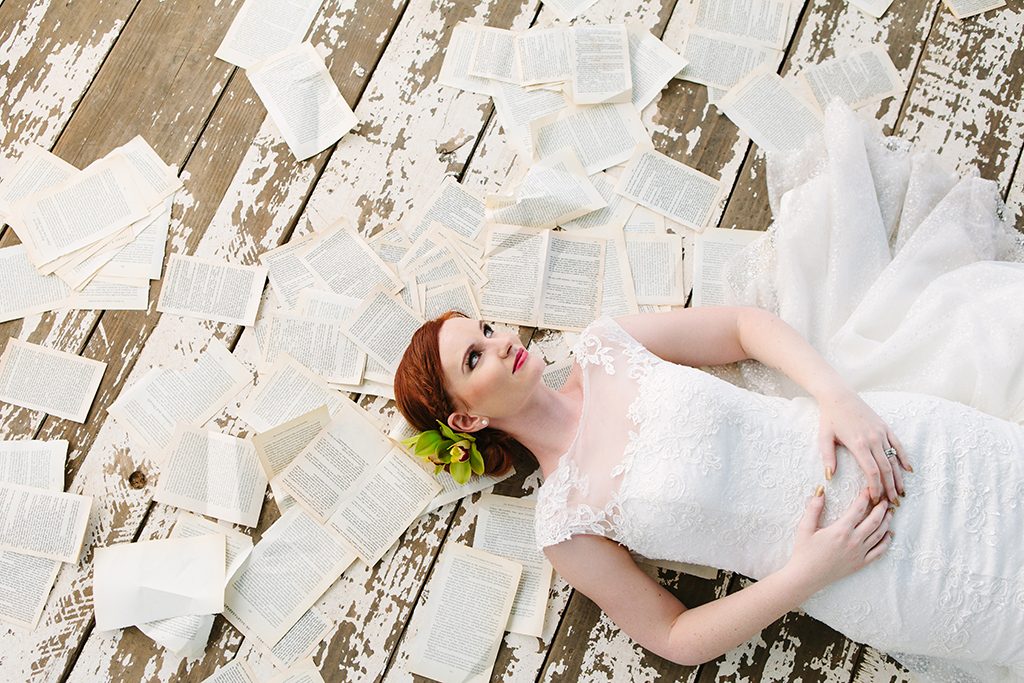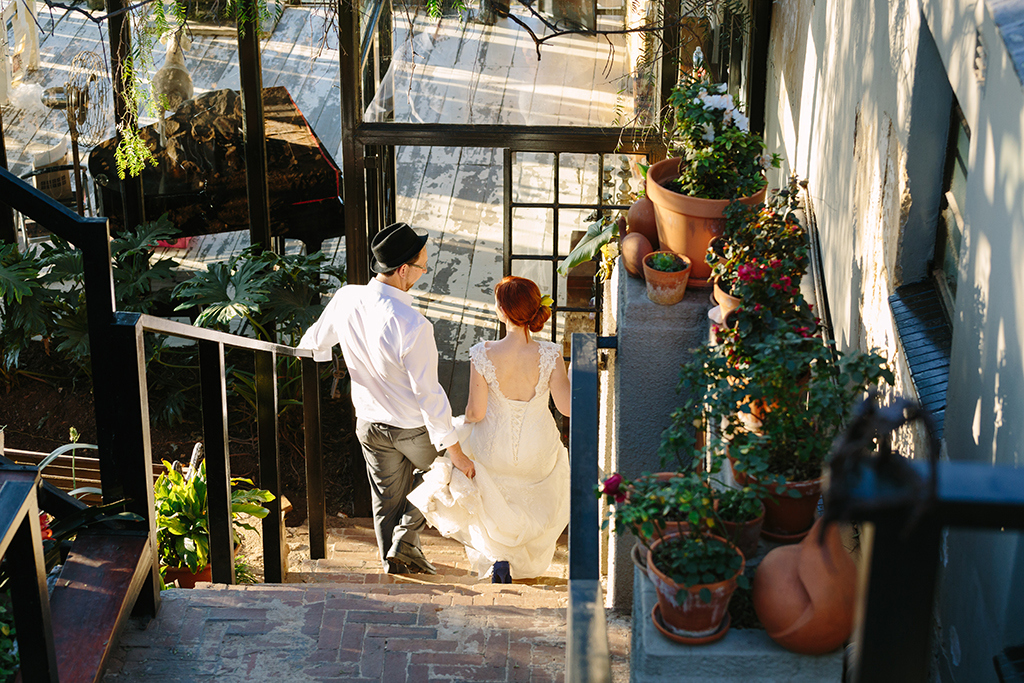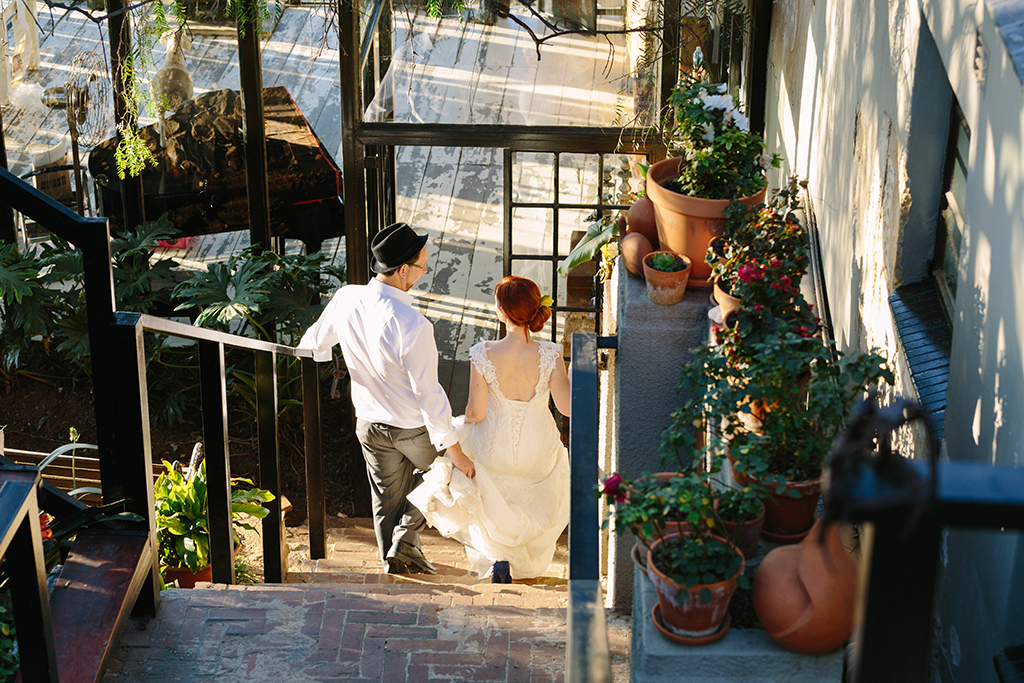 Supporting Cast
The wedding dream team that were involved are all exceptional local talents, and I could not be more proud of the work that they have done in creating a perfectly authentic wedding for us. Zietsies Guesthouse also does a lot of work developing local artists, and they are just a sincere group of fantastic people, in a beautiful space, creating magic with food and the arts.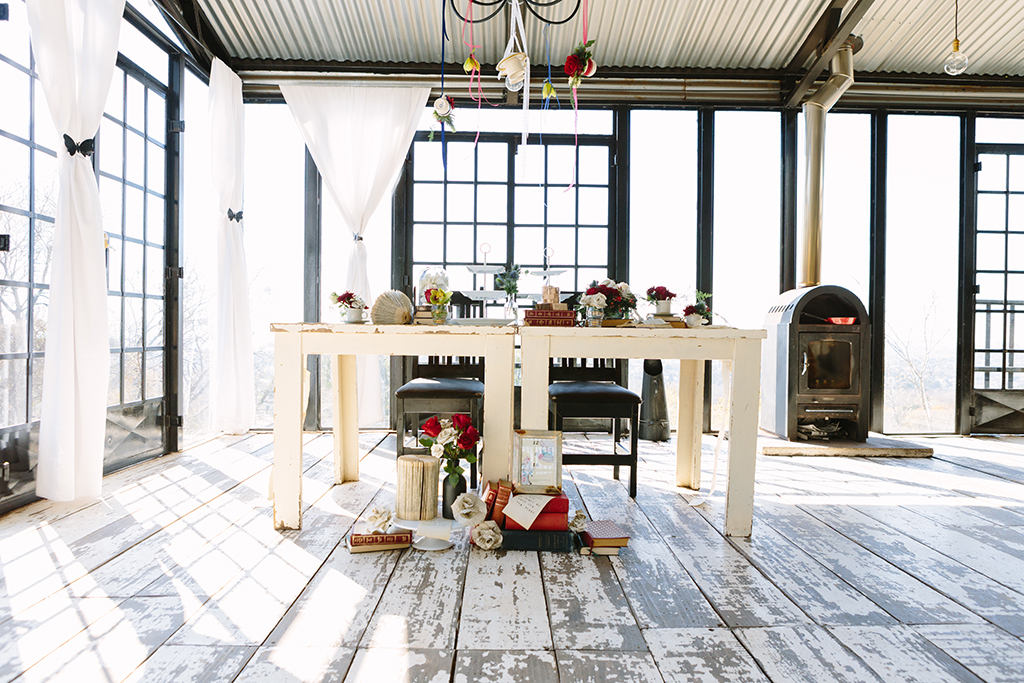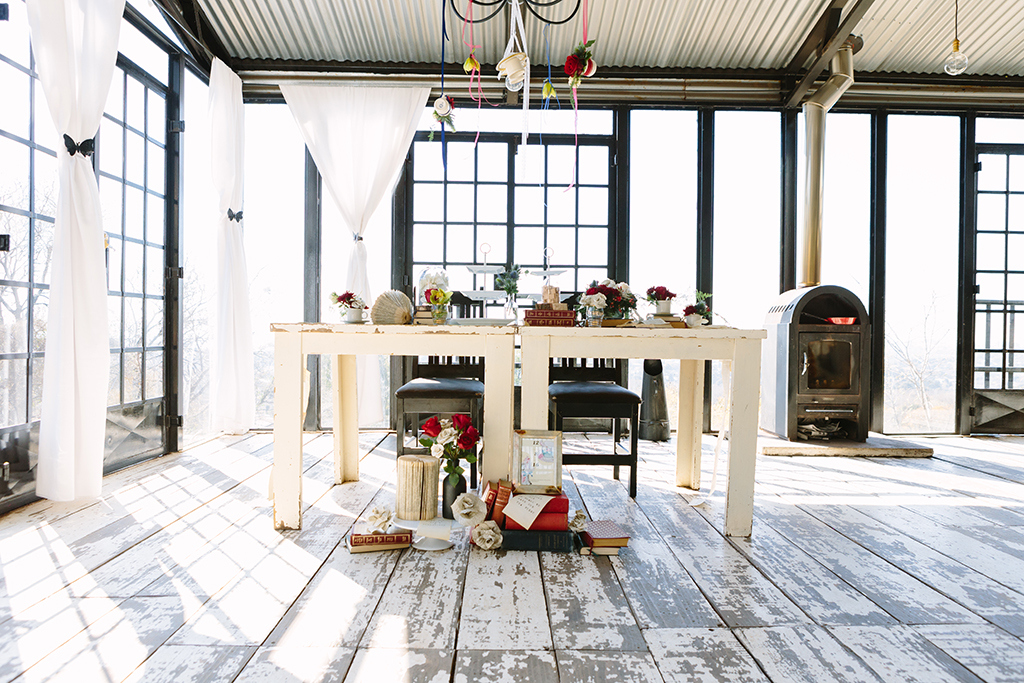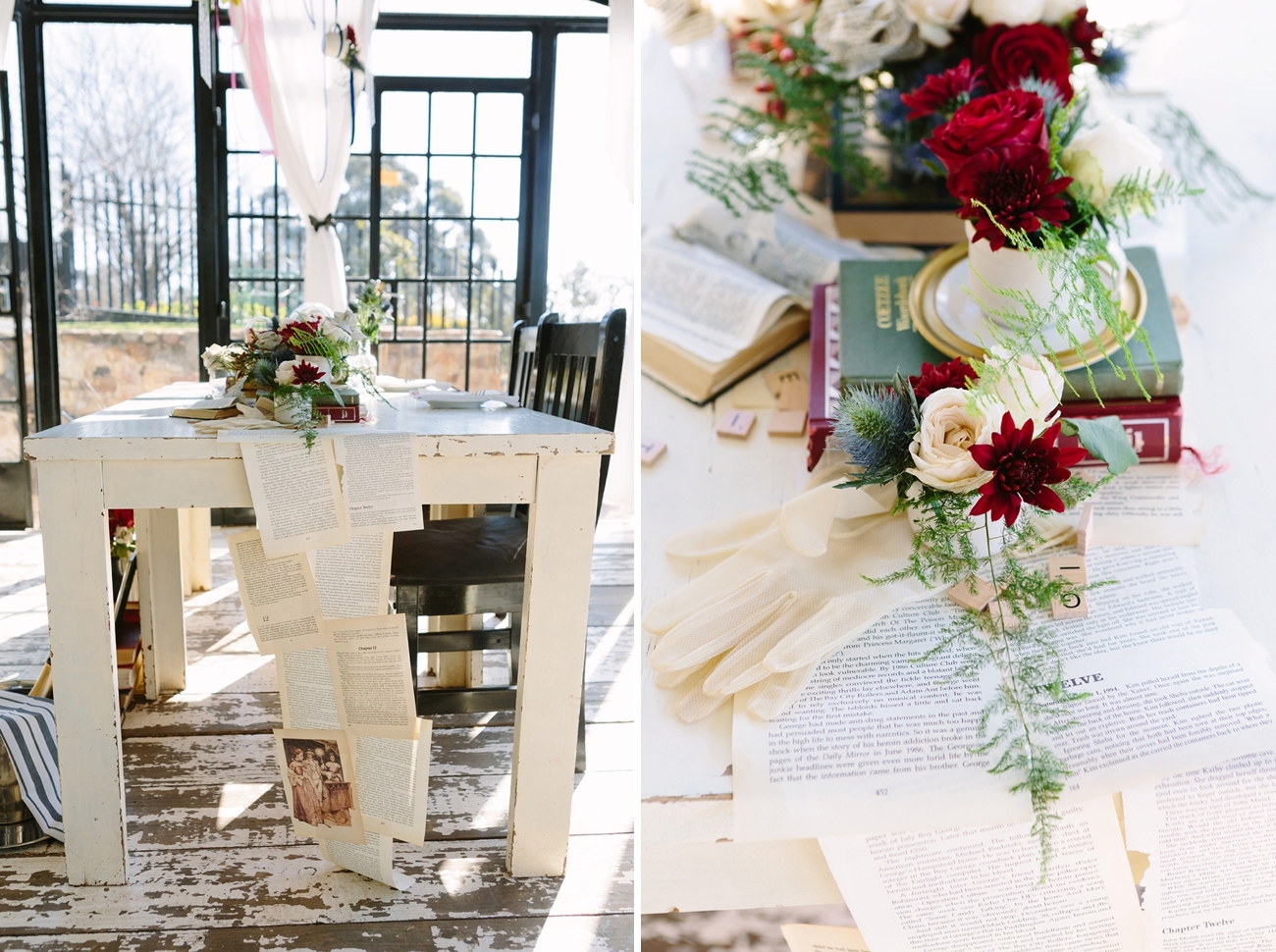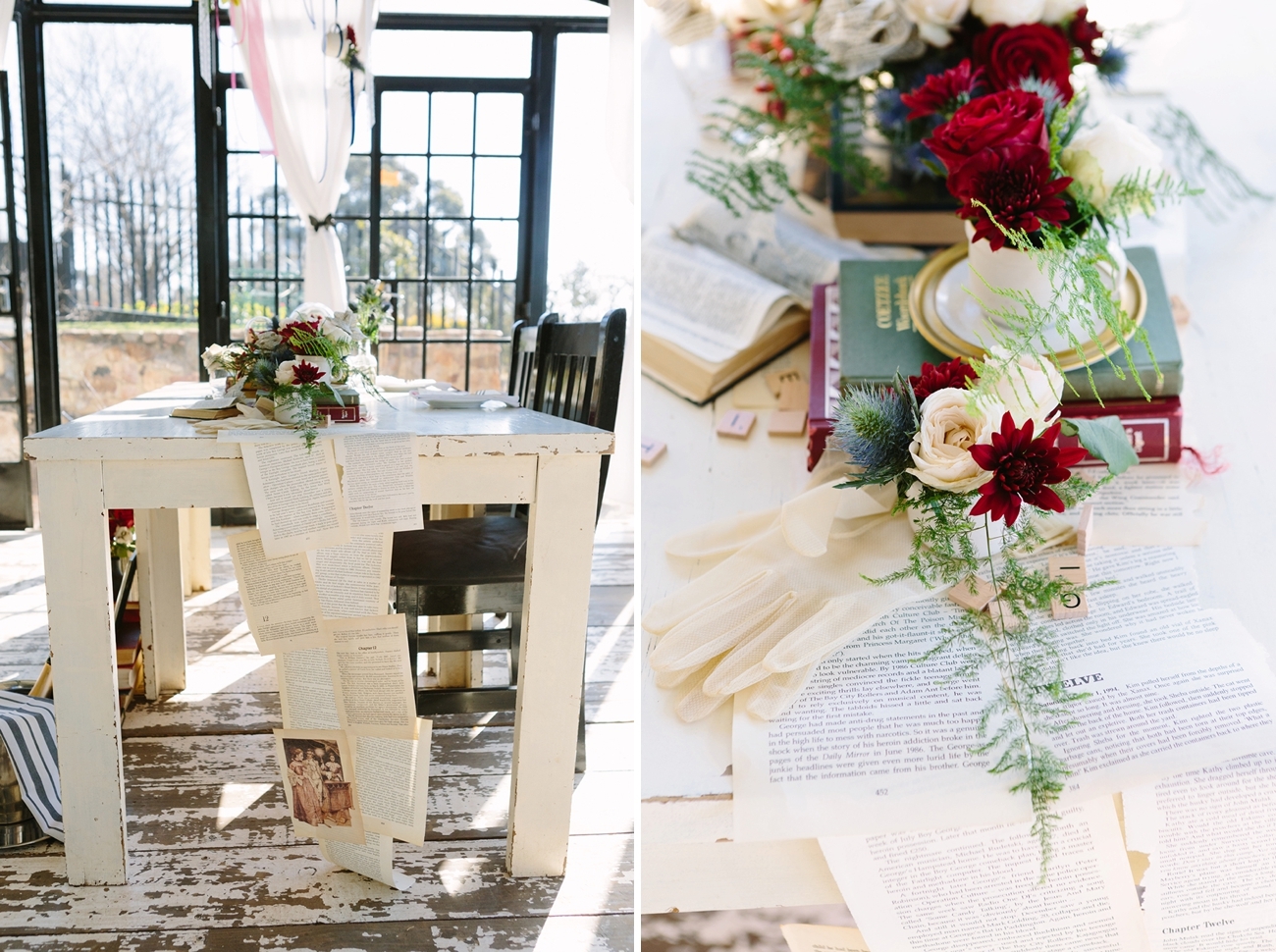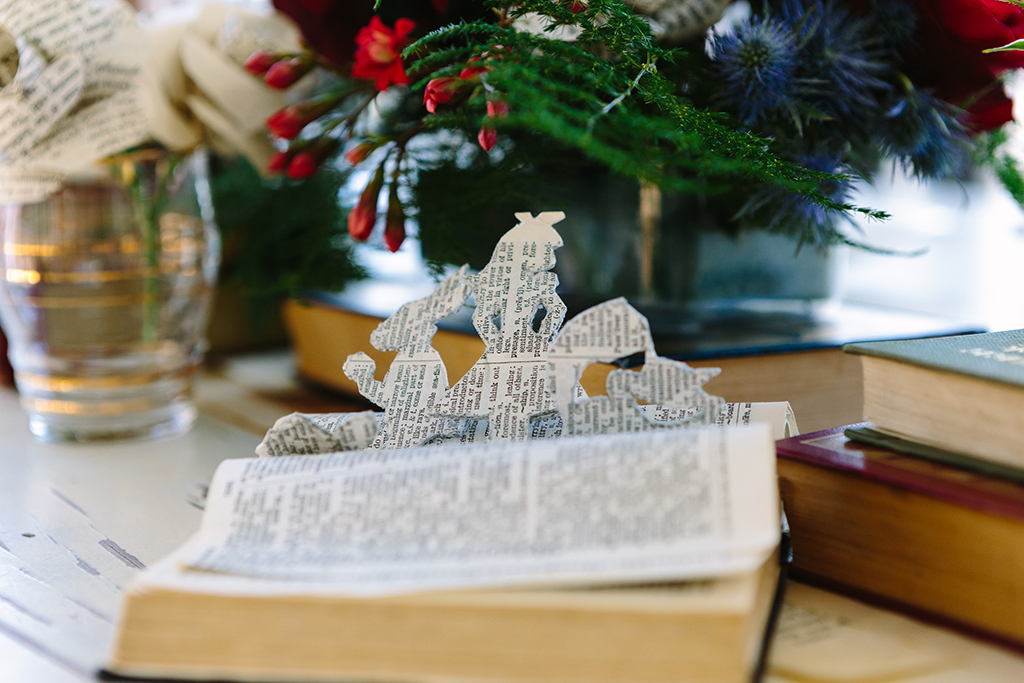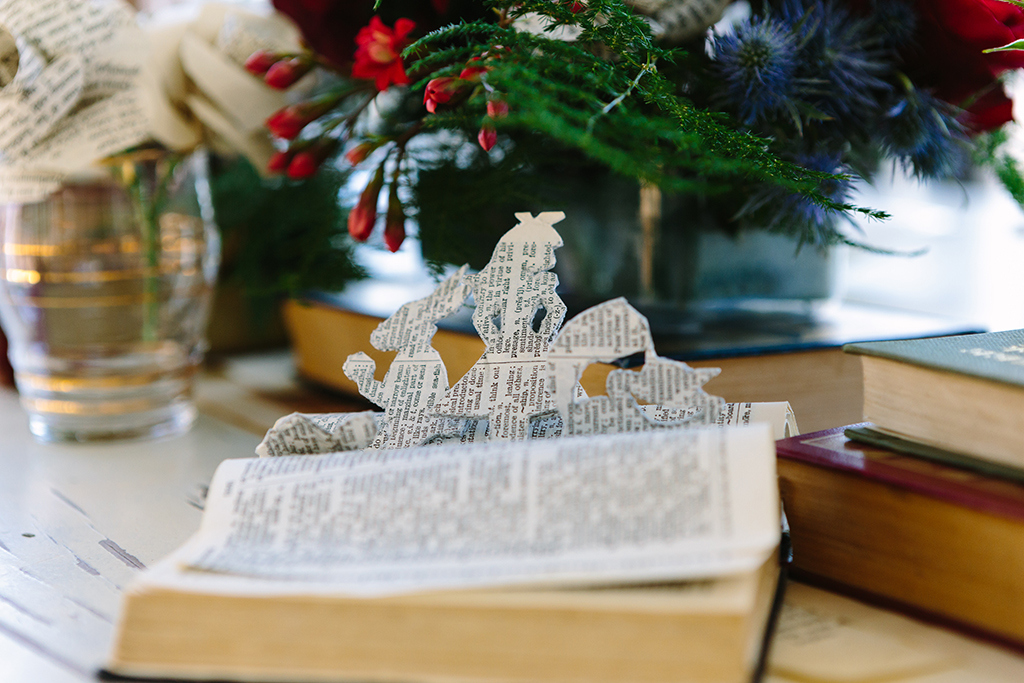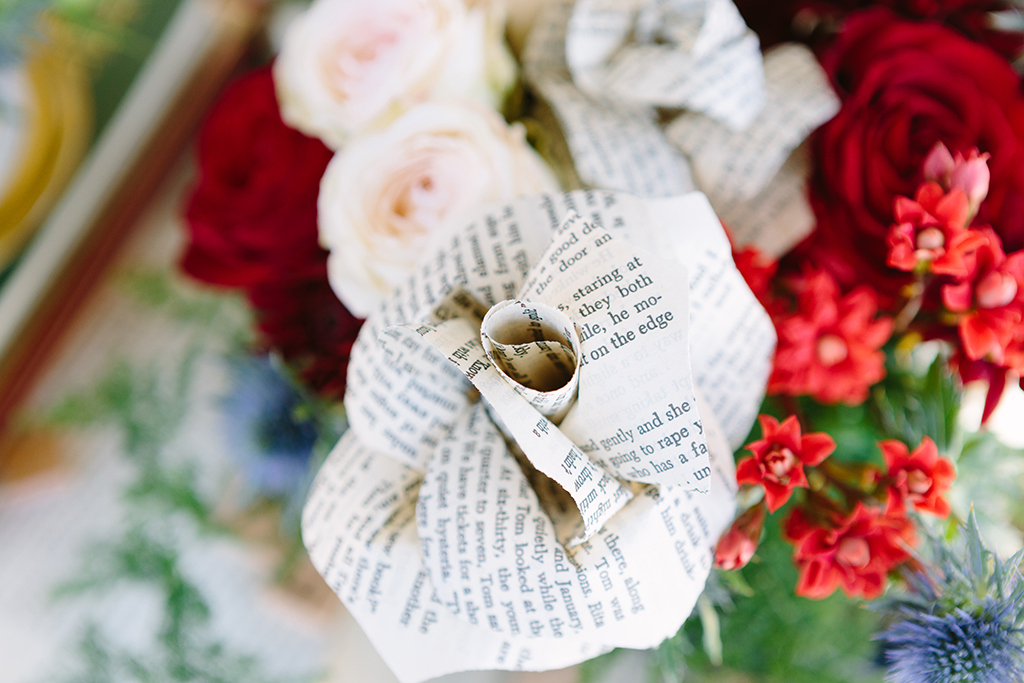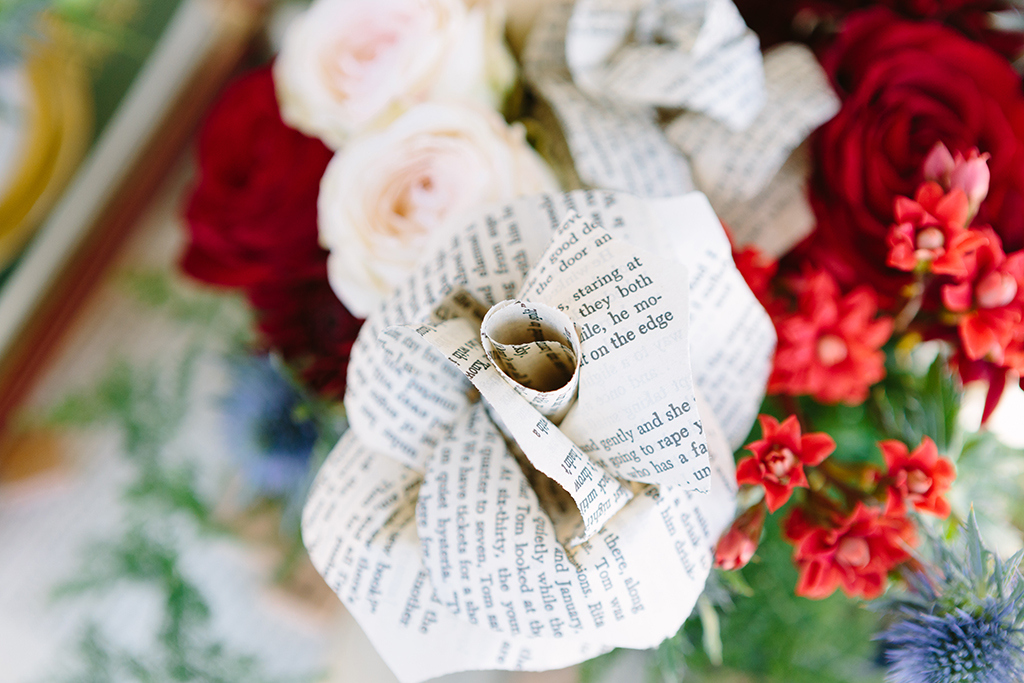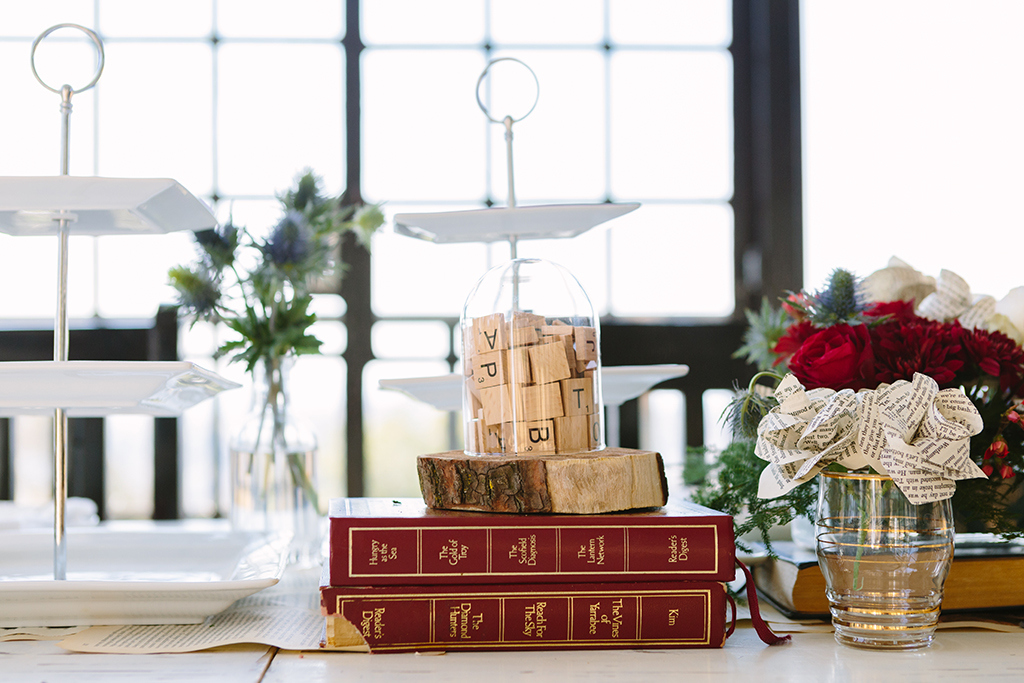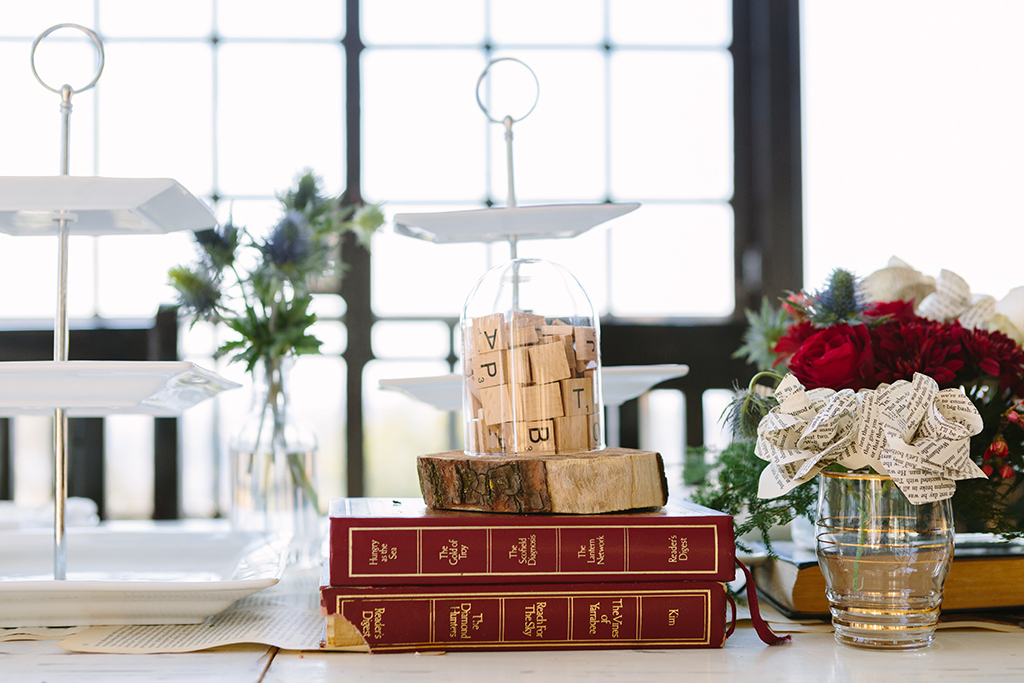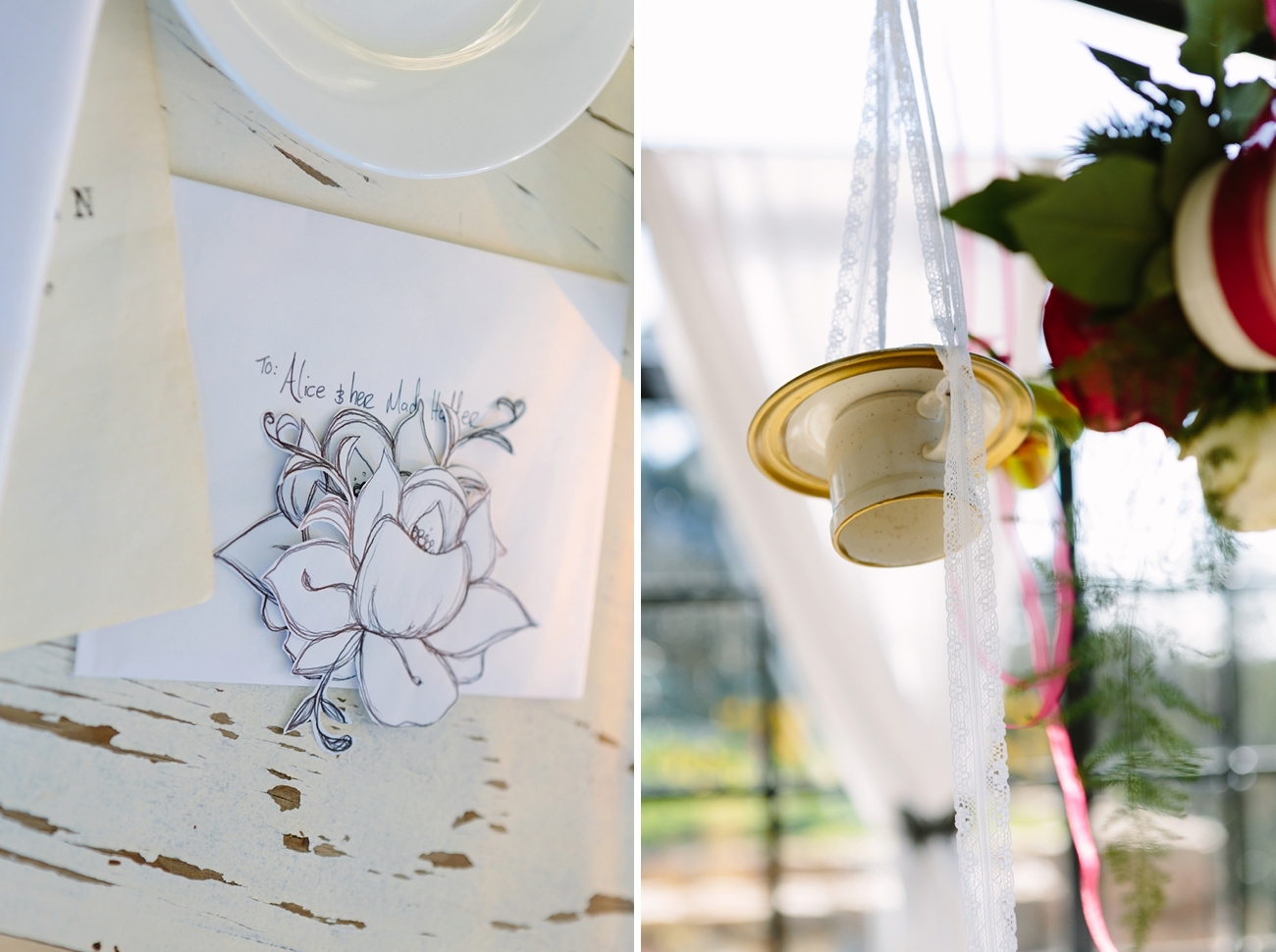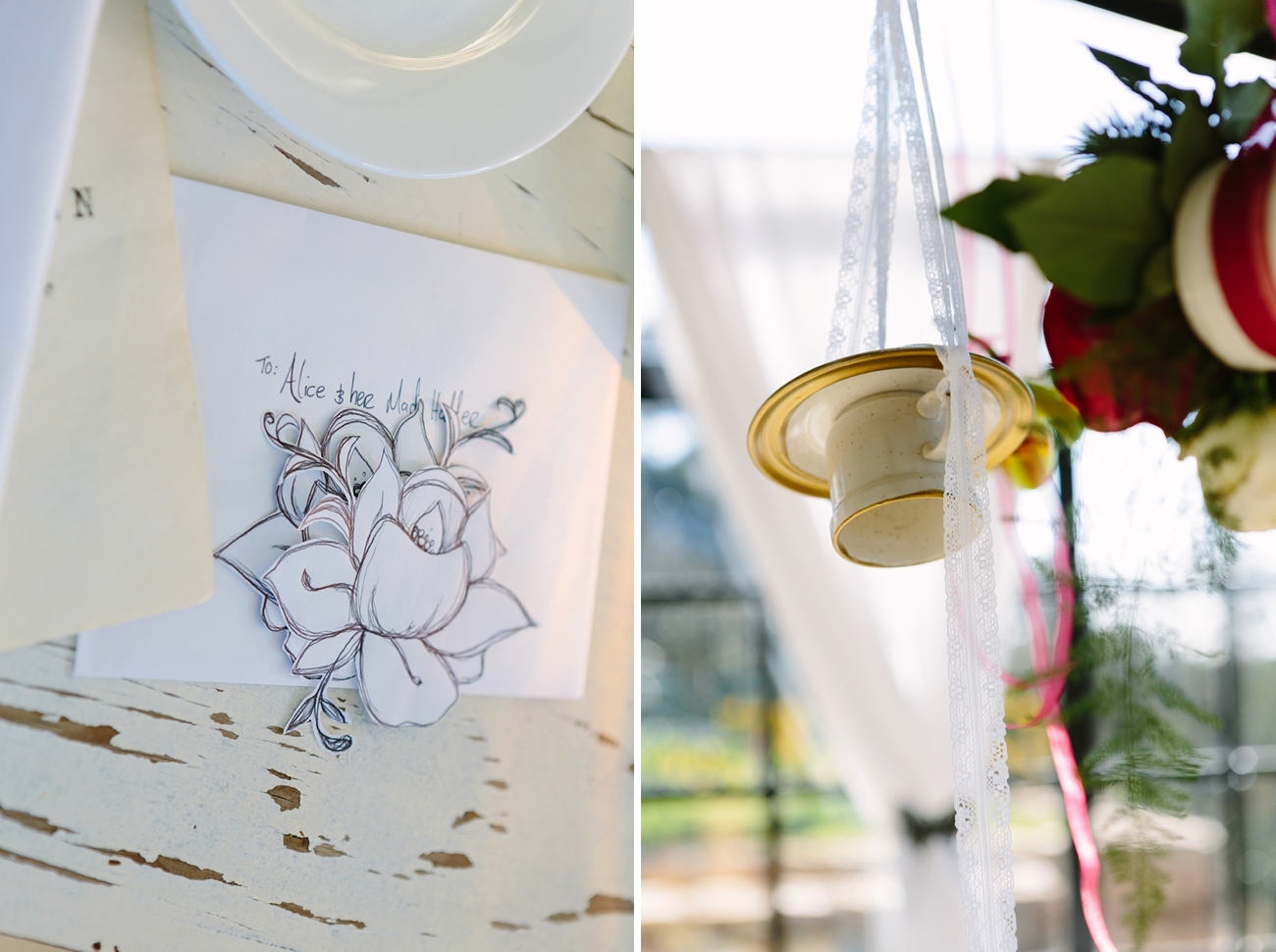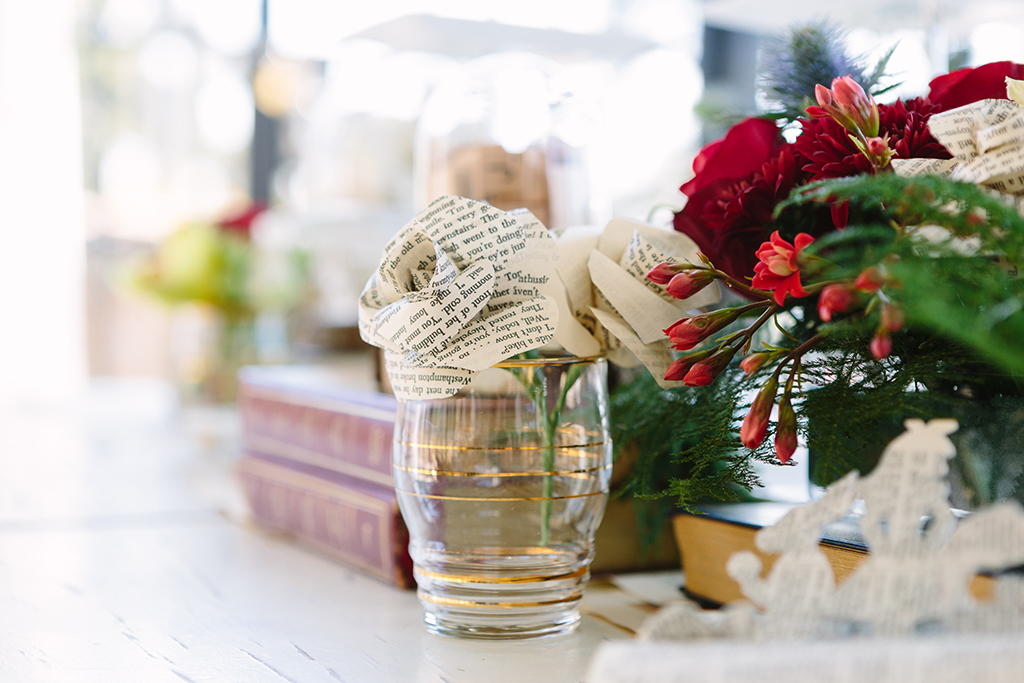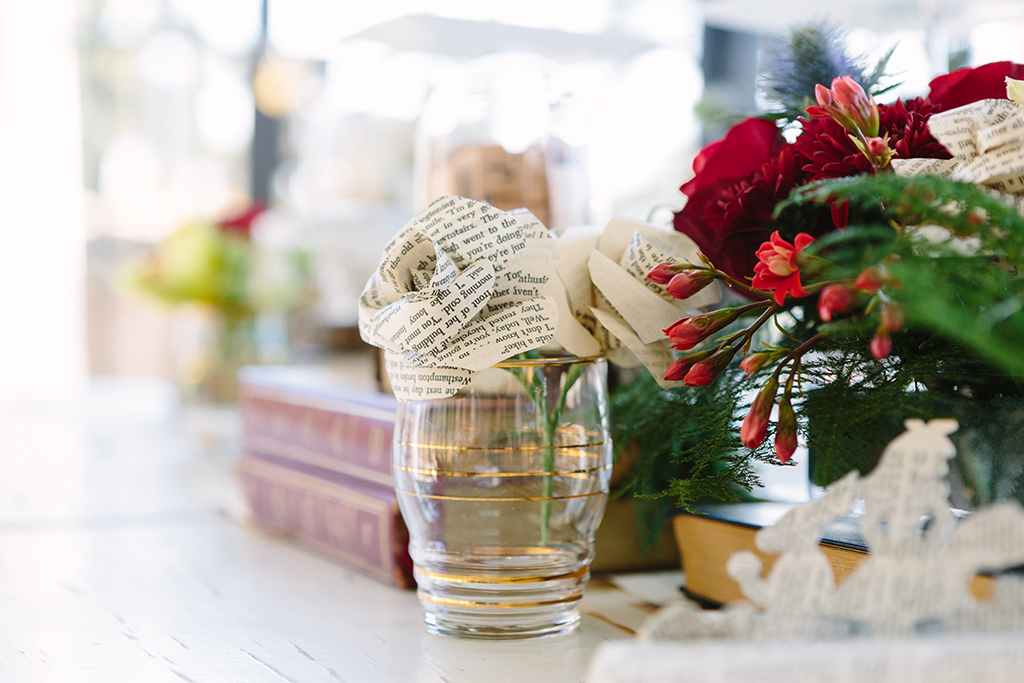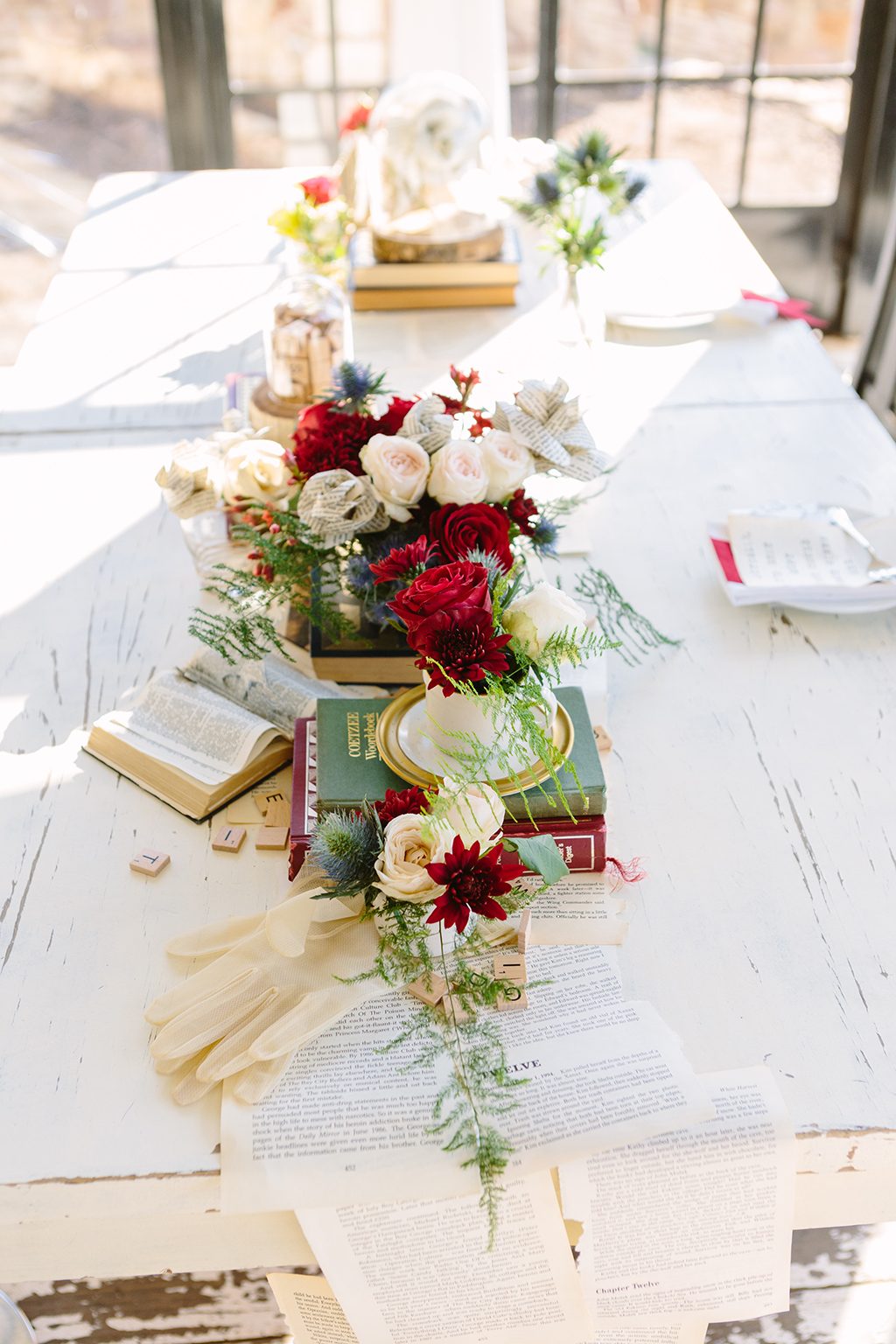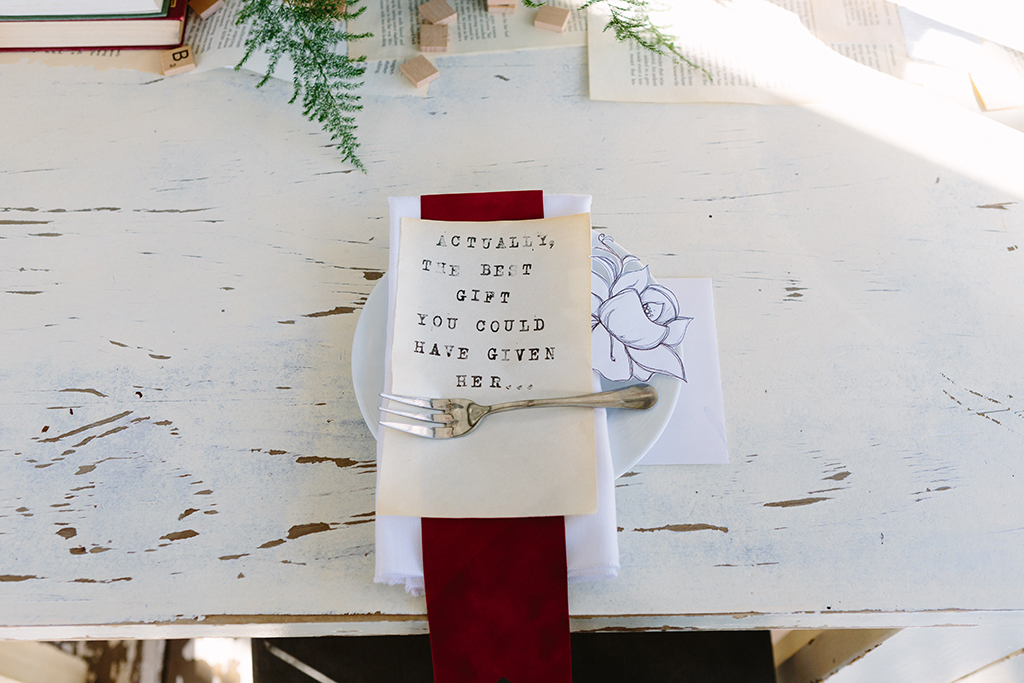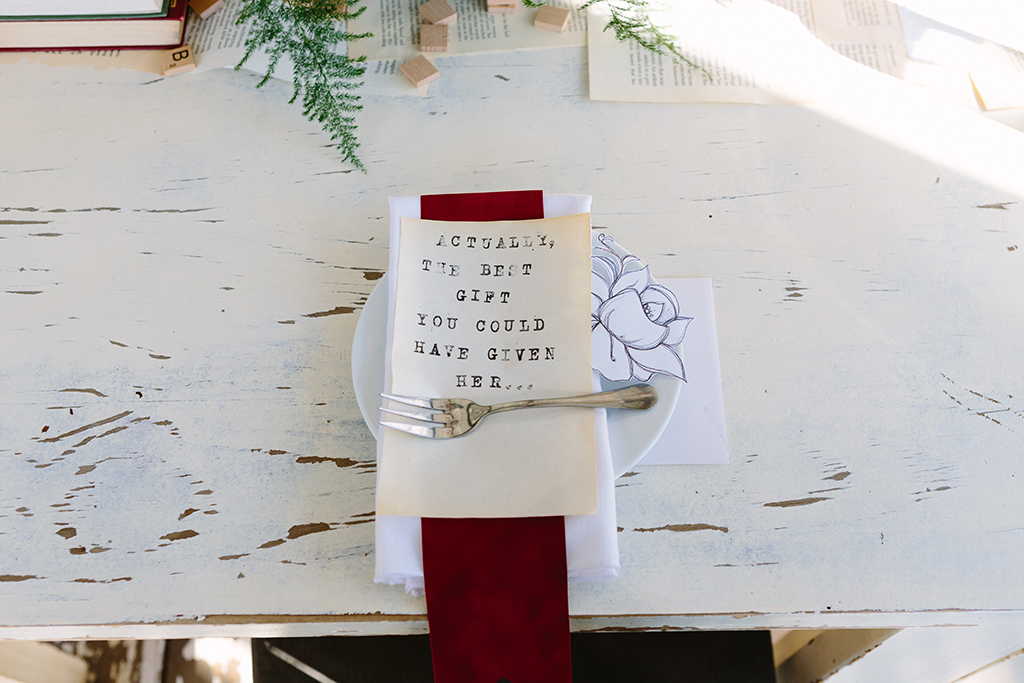 Best Decision
Both Theuns and I felt that eloping was the right way for us to get married. We wanted a day that was just about us without outside pressure and influence, where we could declare our love, and commit to our future in a raw and authentic way, and express ourselves exactly the way we wanted to. But trying to arrange a wedding from another city, trying to source venues and vendors was an impossible task, and even more so when most venues responded with "What is an elopement?" Therefore the best decision we could have made was getting the help of a planner, especially in our case, where Rebecca's focus is on smaller weddings. Rebecca had the contacts, and out-of-the-box ideas for venues, and we ended up having a wedding that was really unique and special, without having to compromise on any of the details that were important to us, and that would not have been possible without her. Having the right wedding suppliers also meant that we did not have any stress. Rebecca was in charge of the timelines and décor, we knew we were in good hands with Andries and that we would have fantastically artistic photos, and Maureen's work requires no words, as it speaks for itself. Nigel also went to great lengths to ensure that our ceremony was not just a legality, but rather a moment in time where we were open and honest, perfectly imperfect and wonderfully in love with our story.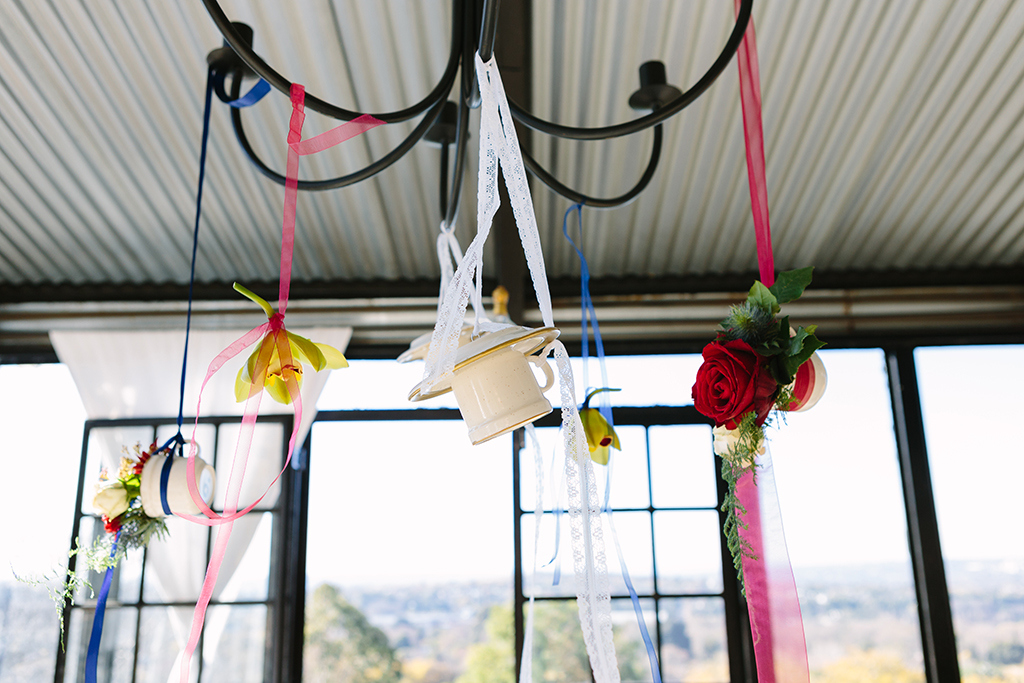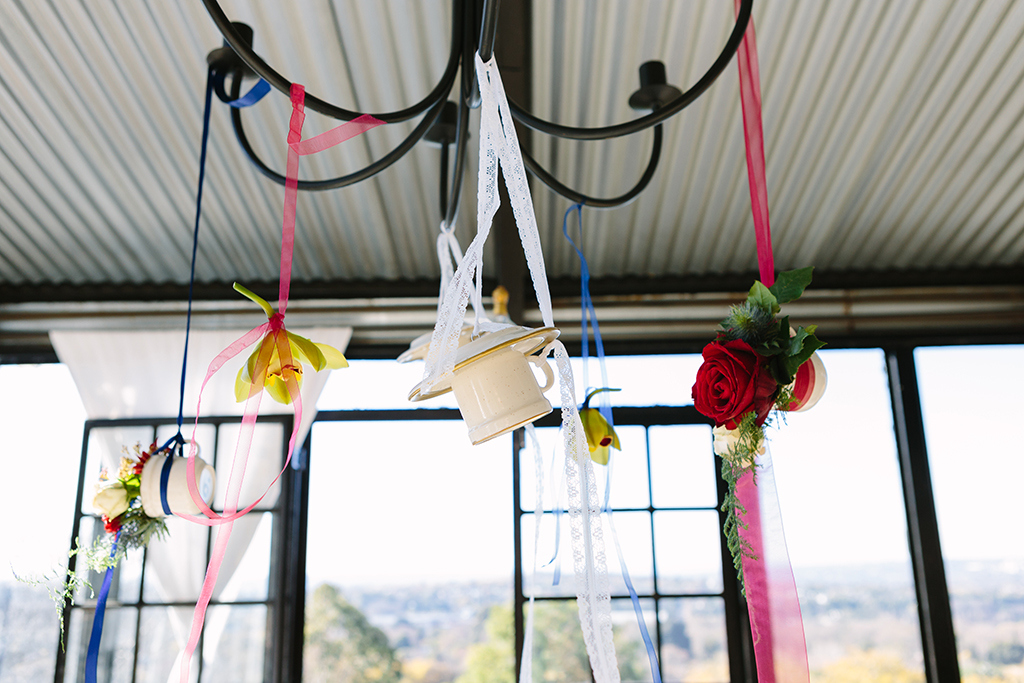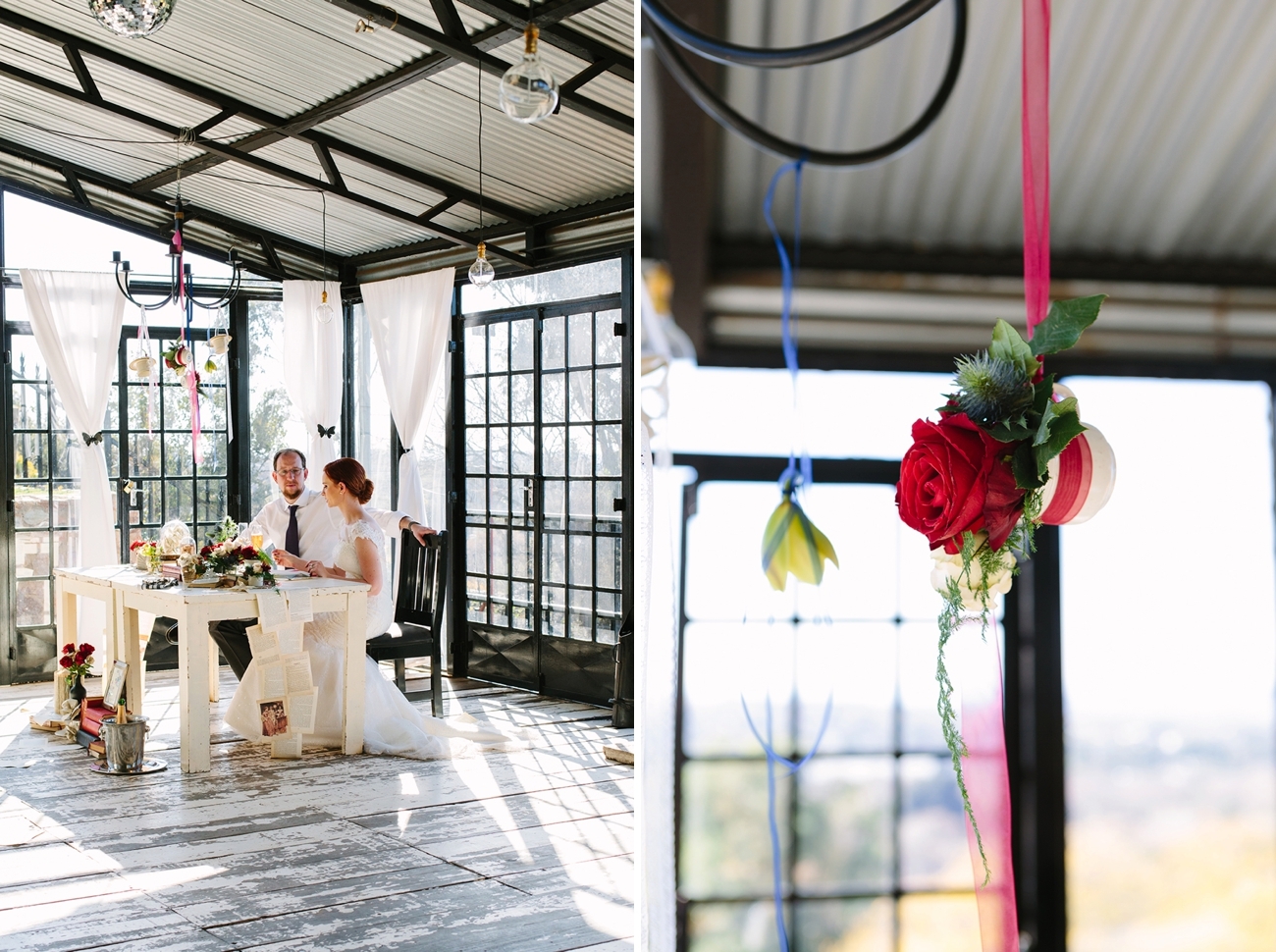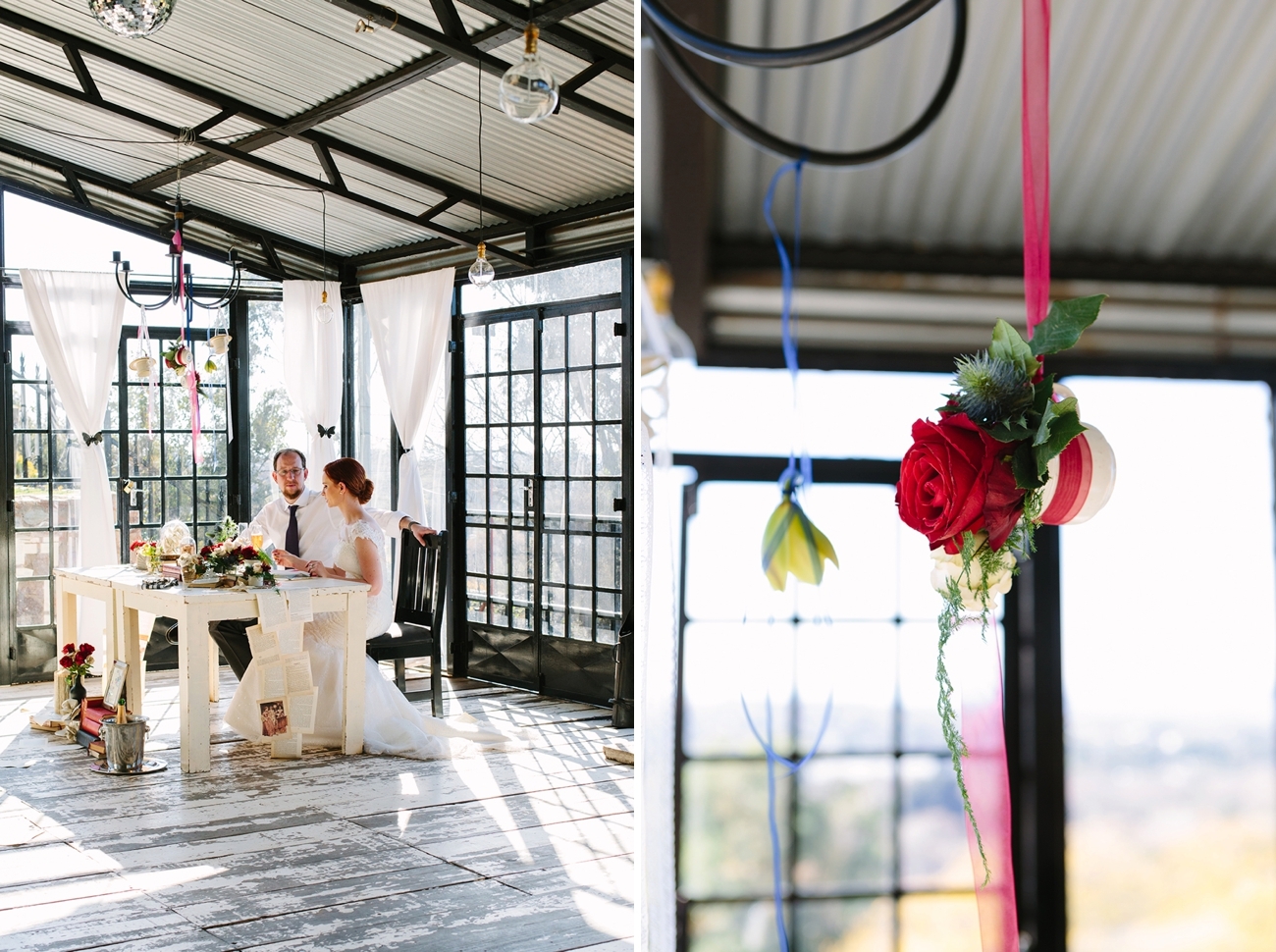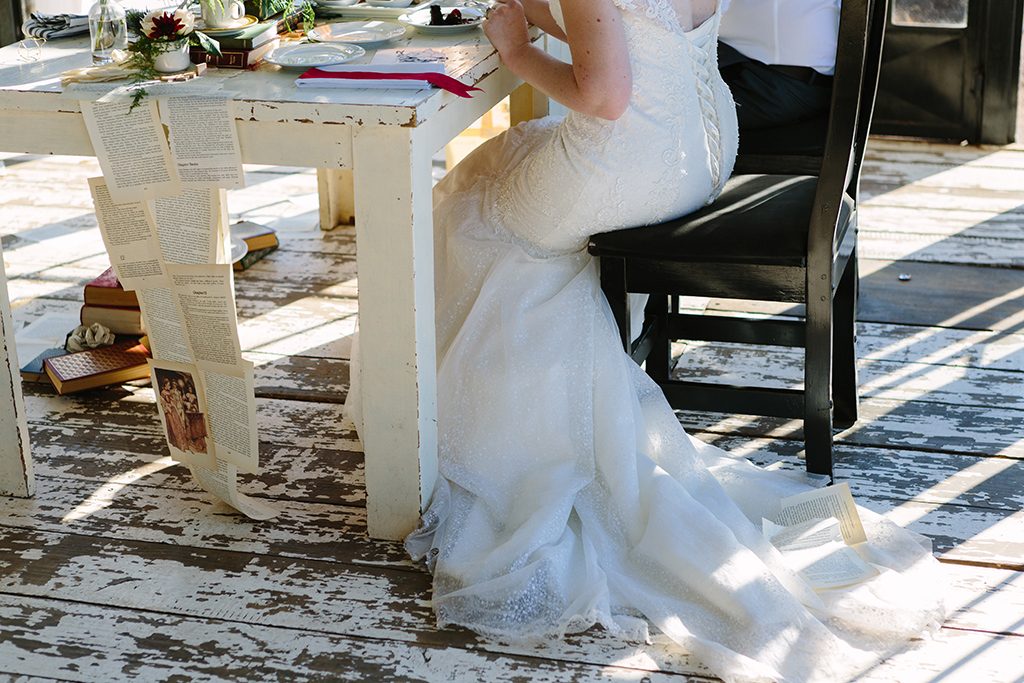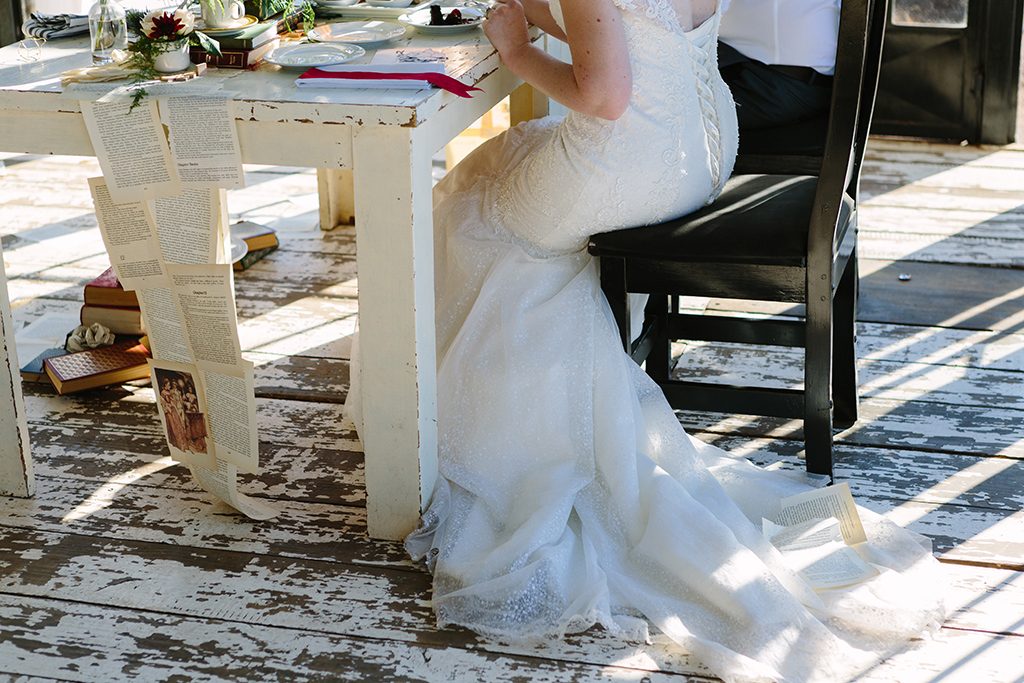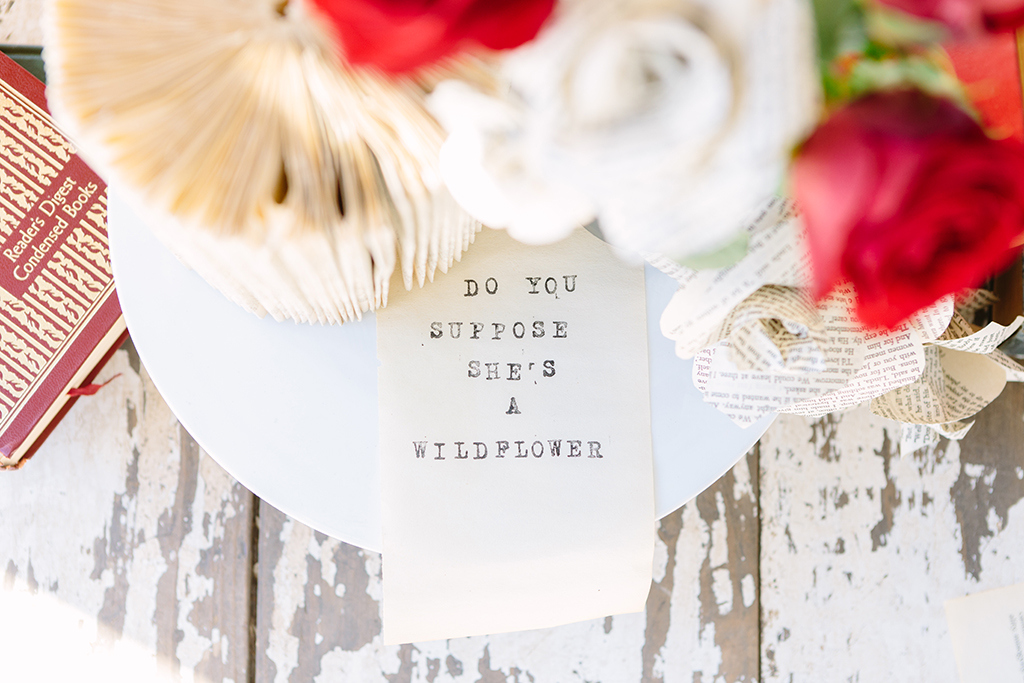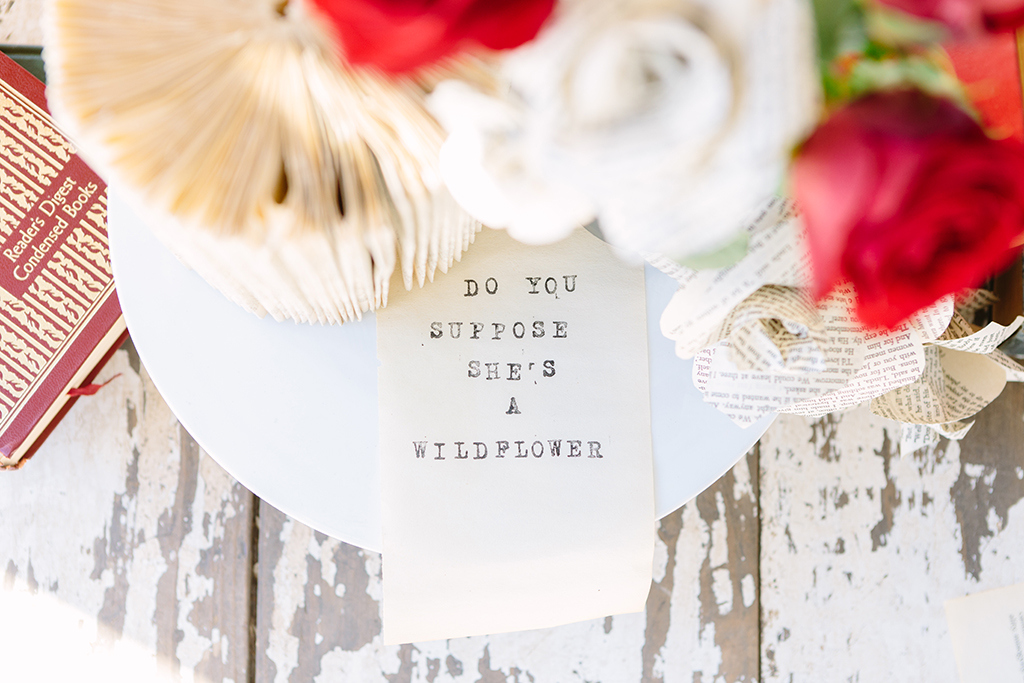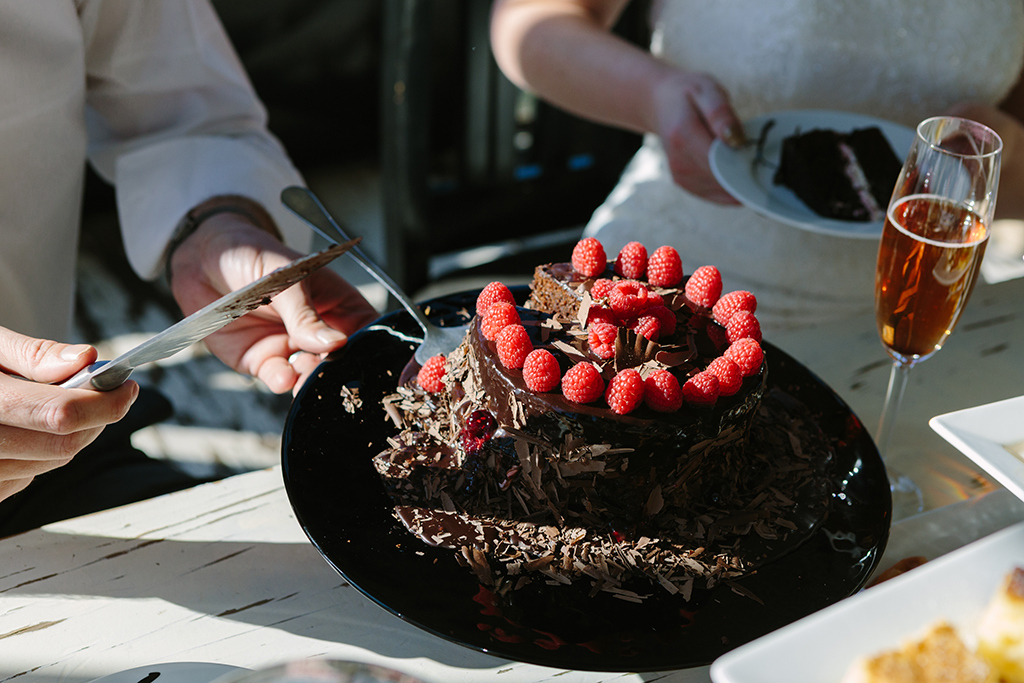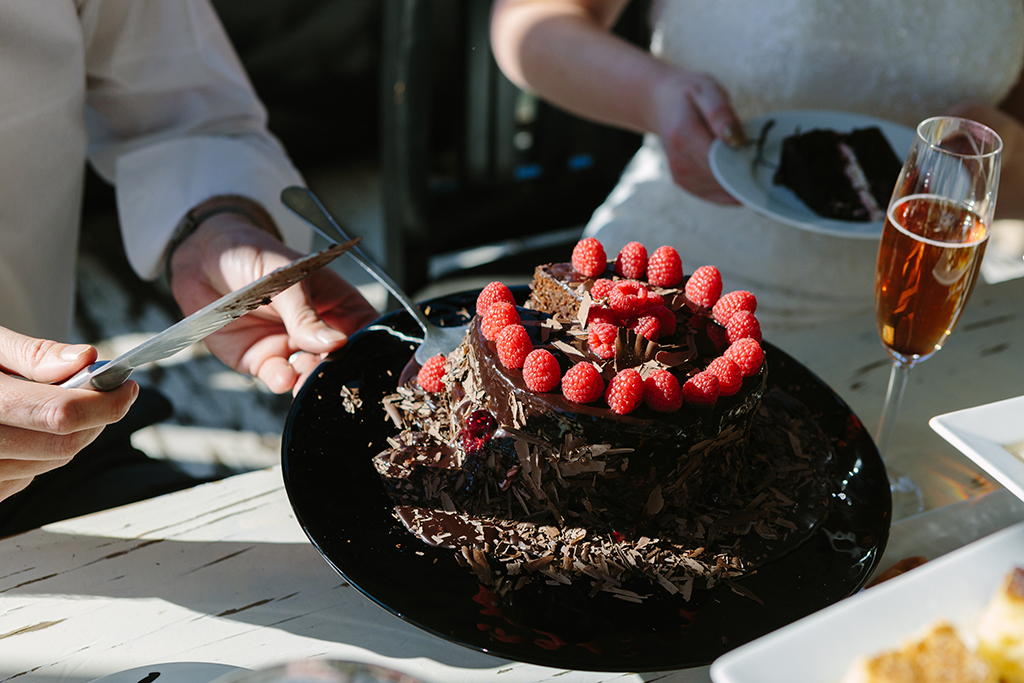 Advice for Future Brides & Grooms
We have no regrets having a smaller wedding. Eloping might not be for everyone, but it was right for us, and even though the thought of upsetting family and friends can be quite daunting, in the end the wedding is not about keeping other people happy if it isn't in line with what would make you happy. Elopements are evolving into an option that offers greater flexibility, more unique options, and a new way of expression within an industry that can otherwise be very expensive and limiting. Cutting the guest list doesn't mean that you are skimping on the wow factor of the wedding, and it might actually enable you to splurge on items that would have been cut from the budget if it had been a traditionally larger wedding. Having the right people on your team makes everything much less stressful, and if you don't have all the help you need by making use of family and friends, don't be scared to get in professional help. The resources that you will have at your disposal are worth more than the extra expense, and it will save you a lot of frustration later on.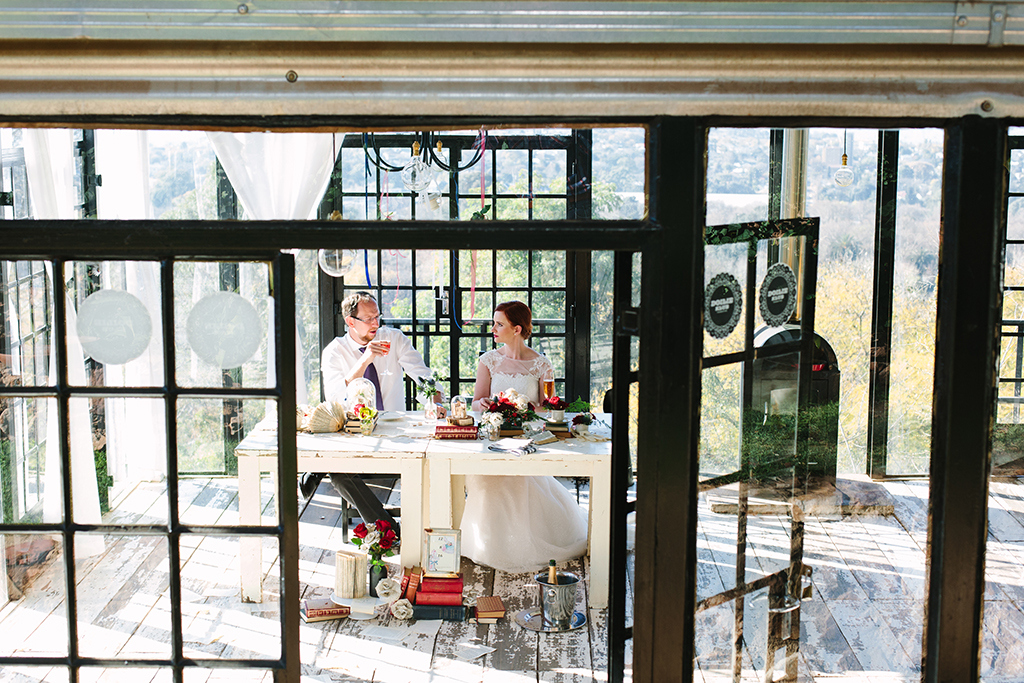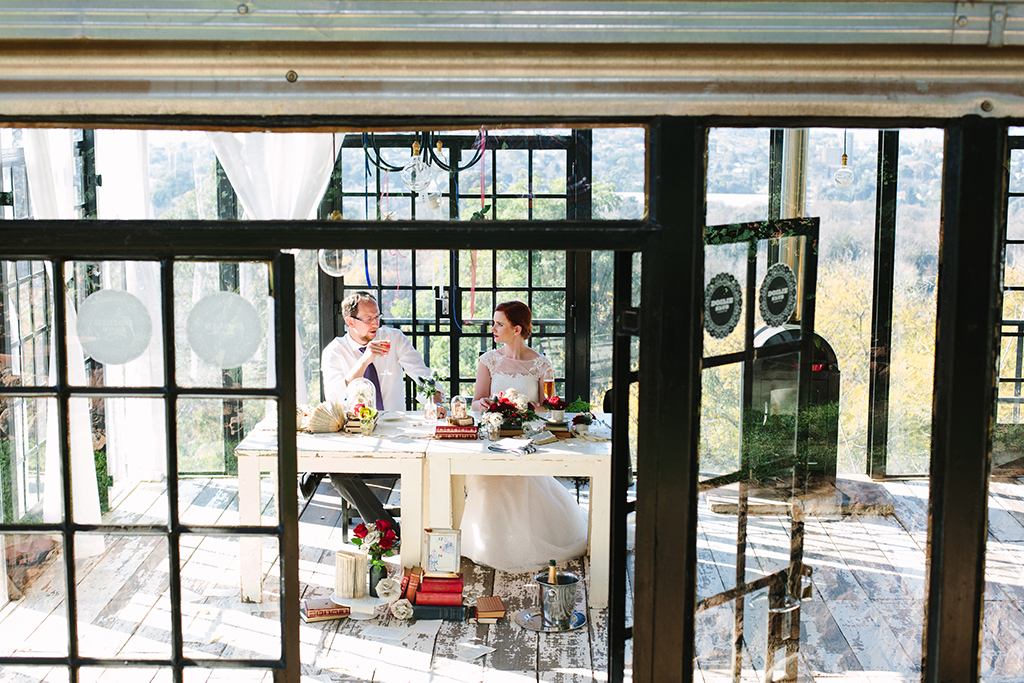 SERVICE PROVIDERS
Venue, cake & catering: Zietsies Guesthouse | Photography: Andries Combrink Photography | Co-ordination, stationery, flowers & décor: Runaway Romance | Bride's dress: Lingerette Boutique | Hair & makeup: Maureen Grobler | Officiant: Nigel Levings from "I do" Weddings
You can find more Alice in Wonderland themed wedding inspiration on SouthBound Bride:
Save