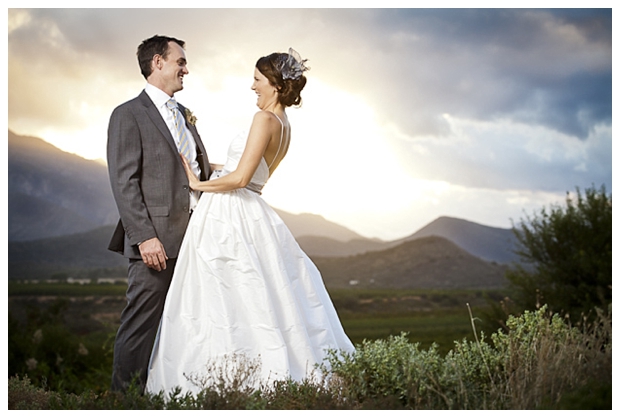 Hello friends! I have been dying to share today's totally adorable Cabriéres wedding with you for ages. One, it is uniquely South African – it even has a Karoo farm theme! With little tin windmills on the tables. Like I say, ADORABLE, right? And not just for the sake of it, either – everything about the day was chosen to reflect the couple's personalities and the history of their relationship. Which, as you know, is so my thing. And two, I love that you can see so much genuine love and emotion, not just from Scott and Lindi, but from their friends and family as well. Steven Booth, their awesome photographer for the day, even spoke about this in our emails, telling me how during the speeches especially, you could tell how this group of friends and family know each other and really 'get' each other, resulting in some very entertaining but also heartfelt speeches. What an awesome wedding to have been a part of.
Here's some background from the lovely Lindi:
Scott grew up in Cape Town, while I grew up on a citrus farm in the Eastern Cape. We met at varsity and were actually friends for several years before we started dating. We now live in a little cottage in Claremont and our lives are practically run by our two crazy dogs, Carrot and Biscuit.
We'd been together for six years when Scott proposed to me at my favorite place in the world – a beautiful dam in the middle of the veld on my parents' farm. Scott asked for my parents' blessing in the morning and then took me for a walk to the dam with Diezel (my parents' boerboel who is very much part of the family). On the edge of the dam, Scott got down on one knee and asked me to marry him. It was probably one of the most romantic/special moments of my life; such a fitting proposal, given the people that we are.
We've always loved Montagu – its quaint village feel and beautiful orange mountains. On our way to my family's farm in the Eastern Cape, we've often stayed over in this lovely little town. The venue for our wedding, Cabriéres, suited us perfectly. It has the most stunning view, overlooking the valley and the mountains. The old cellar is rustic, with massive green wooden doors, the original walls of the fermentation tanks still showing and the ceiling made from beautiful old wooden beams.
We decided on a Karoo farm theme to suit the venue and to suit our personalities. Scott and I both love the outdoors and love spending time on my parents' farm. We also wanted our wedding to be relaxed and fun, with quirky touches here and there. We chose colours that we felt would reflect the Karoo landscape – green, grey and grey-blue with a splash of yellow. Scott is an avid environmentalist so we tried to make our wedding as "green" as possible by using as many recycled or locally-made products and local service providers as we could. We also wanted our wedding to have a personal feel, so we handmade many things and got the whole family involved. We used greenery, fynbos and desert rose succulents that had been collected by family and friends on their farms and in their gardens. My mom created beautiful arrangements in old petrol cans that she found on their farm and in wooden crates. We had little wire-beaded sheep and potted succulents made for the table gifts. We spent hours and hours and hours sewing heart mobiles, using paper from old books that had been discarded by a library. I'm very proud to say that Scott spent almost as many hours sewing as I did! We'll be using the sewn hearts to make our thank you cards. We used hessian for the table runners and placed small blue storm lanterns (recycled from my sister and her husband's wedding) and wire windmills on the tables. Our serviettes were tied with paper from old books, string and buttons which had been collected by family. Scott's mom salvaged bottles from a recycling depot and we hung them around the venue with greenery and roses in them. We used hay bales and tree stumps for the ceremony seating and wooden benches for the reception. We served cocktails in Bashews bottles and beers and champagne were on ice in old wheelbarrows.
I was completely amazed by how our family and friends came together to help us create our special day. The list of people who helped is endless! My mom arranged our flowers, with the help of the bridesmaids, bridesmaids' boyfriends, groomsmen, my seven months pregnant sister, Scott's Ouma, my aunts and uncles, Scott's mom, our dads and Scott and me. Every time I looked at an arrangement on the day I thought of the person who had made it and all of the people who'd collected the greenery and fynbos for us. The heart mobiles made me think of the hours that Scott and I spent sewing them together. Scott's mom destroyed her fingernails cleaning the glass bottles that hung from the trees and the veranda beams. My sister's husband had the sheep made in Joburg and my aunt and uncle brought them all the way to Montagu. The gifts were labeled and the serviettes tied by family and friends around the dinner table over a few glasses of wine. My dad meticulously oiled each windmill and filled each lantern with paraffin. The stationery was printed by a panicked groomsman at the last minute. Friends of ours organized a wonderful, quirky photobooth which kept the guests entertained for hours.
On the day, there had been a howling gale all day and we'd been in a mad rush to get to the ceremony on time. But when I arrived at the venue, the wind dropped and the sun came out, before I walked down the aisle towards Scott. It turned into the most beautiful evening. We'd asked the DJ to play one of our favourite songs as we entered the venue after having our photos taken (Brandi Carlisle's 'The Story'). As the song reached the chorus, the big green doors were opened and our MC introduced us as Mr and Mrs to the cheers of all our friends and family! We loved that our wedding was a relaxed, happy event, and that everyone had a really fun party. The speeches were also a highlight for us – so heartfelt, yet hilariously funny and entertaining.
We found a lot of ideas on wedding blogs and in magazines but we mainly just kept in mind who we are and tried to plan a wedding that was very "us". The owner of the venue, Jane Jordaan, recommended service providers in the area. The best advice that someone gave me was to let go on the day, to accept that things will never look exactly how you had envisioned them, but that none of your guests will notice the details and everything will look beautiful anyway!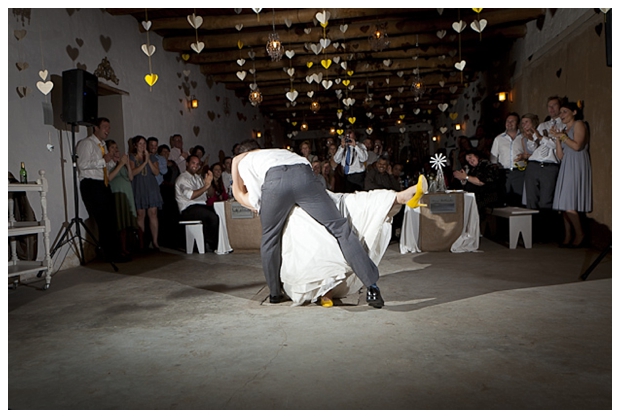 Thank you so much, Scott and Lindi – what a gorgeous wedding! Thank you also to Steven, who is having his first outing here on SBB – welcome, Steven, and we look forward to seeing more of you! (You can see more of this wedding meanwhile, on his blog.)
SERVICE PROVIDERS
Venue & catering: Cabriéres | Photography: Steven Booth | Bride's dress & hairpiece: Didi Couture | Bridesmaids' dresses: Poetry | Bridesmaids' dresses: Truworths | Hair: Michael Cole | Makeup: Belinda Ryke | Hiring: AA Hiring | Hiring: Prolific | Hiring: Flamboijant | DJ: Ian Butler | Entertainment: Music Boutique | Rings: Petra Jewellery