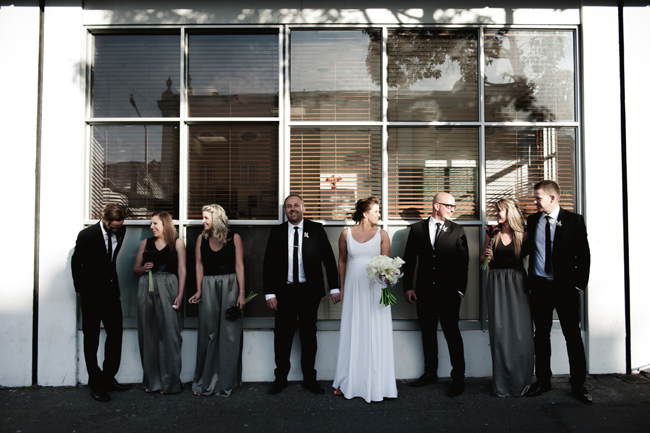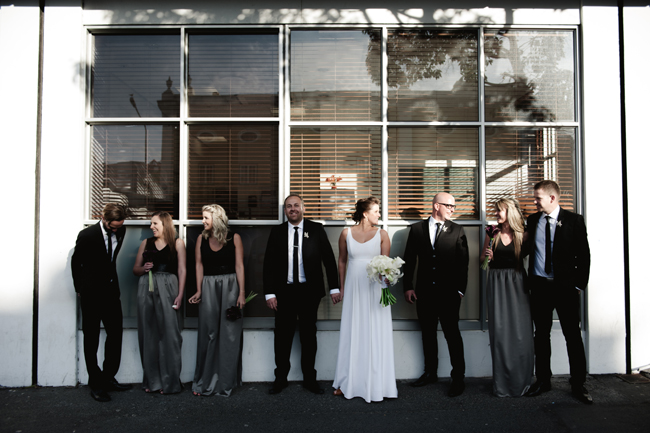 It's a happy day for me when I get the opportunity to share an city wedding for a change, although happily more brides and grooms these days are opting for a bit of urban chic. And why not – after all, if it's reflective of your style, you can make it absolutely amazing, especially in a city as fabulous as Cape Town. With both of them being architects, perhaps it's no wonder that Elbé and Ross decided to get married in amongst their favourite buildings and inner city vibe, and they chose a graphic, monochrome style with a touch of metallic and geometric detailing to make it really pop. I just love this look SO much – everything from the incorporation of textures like leather and cement to Elbé's contemporary pared-down bridal style (complemented beautifully by jewellery from Kirsten Goss). From their church ceremony to their laid-back restaurant reception, all on Heritage Square, it was a collection of their favourite things shared with their favourite people. And speaking of favourites, one of our own, Jules Morgan, was on the scene to deliver these beautifully atmospheric images.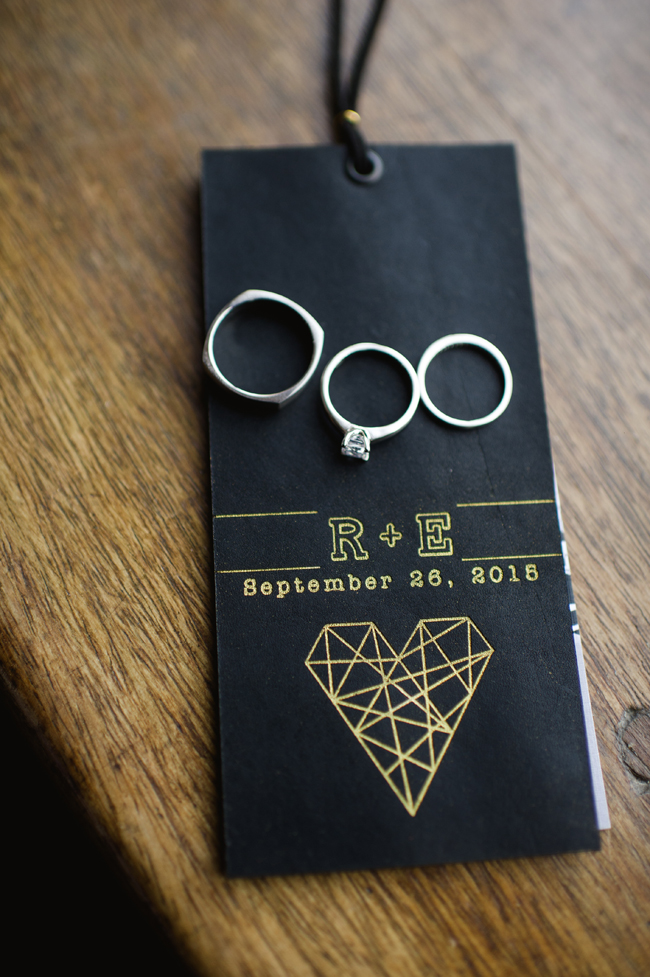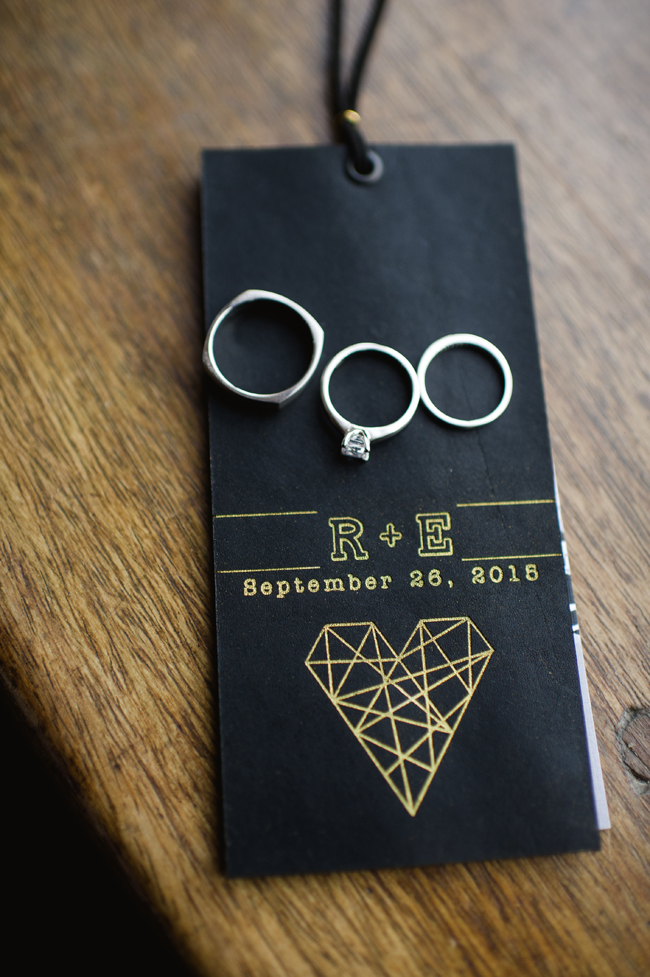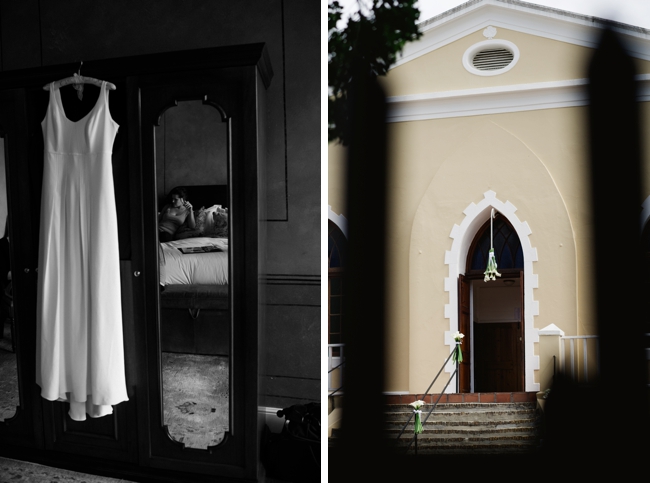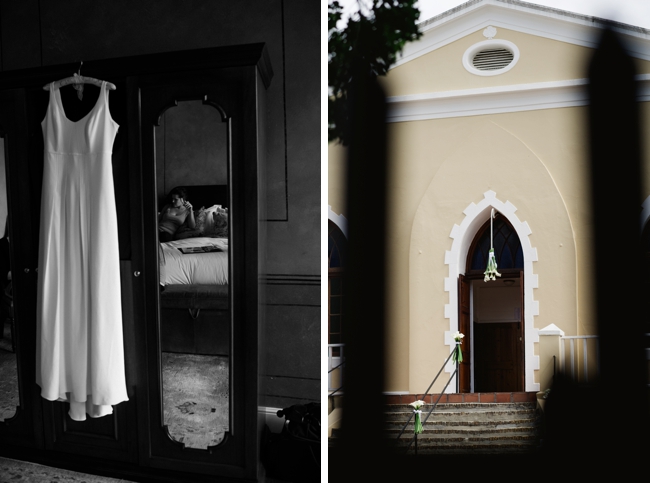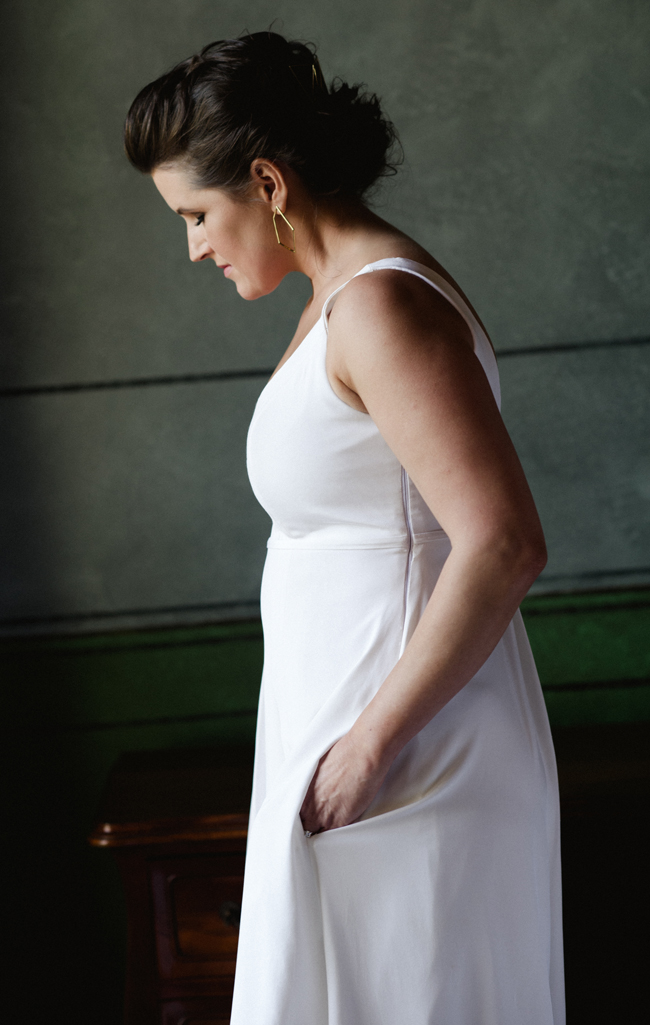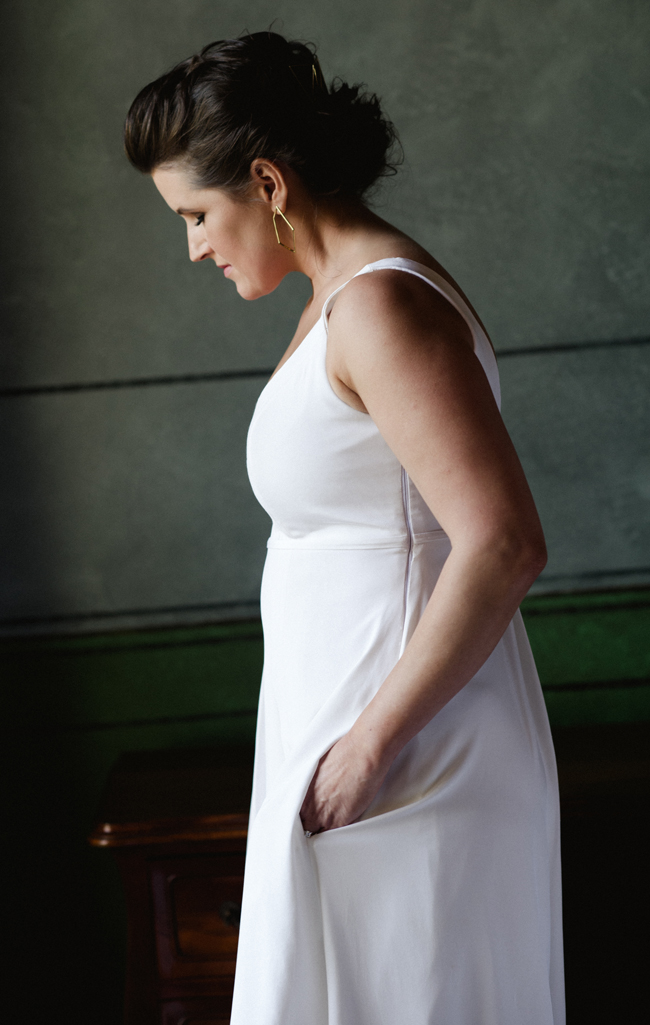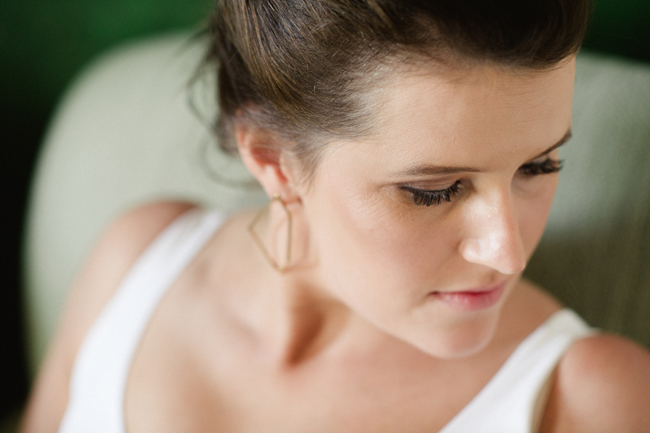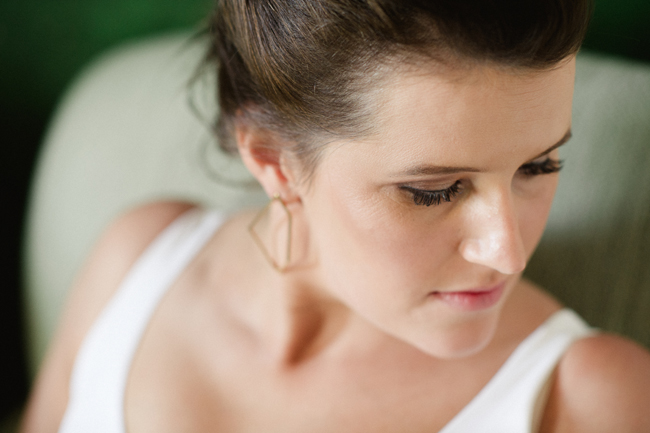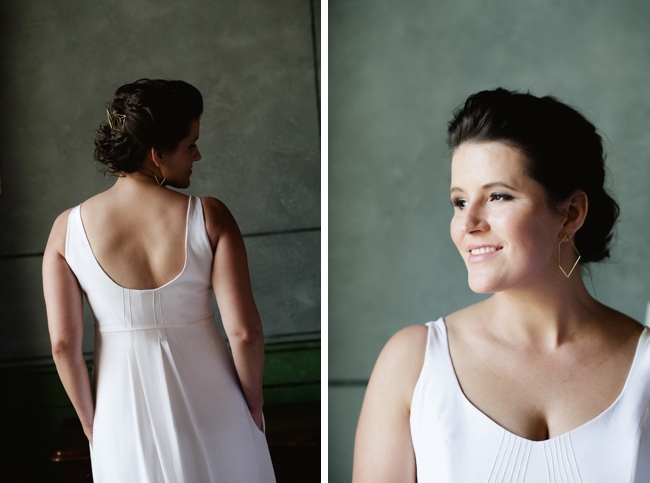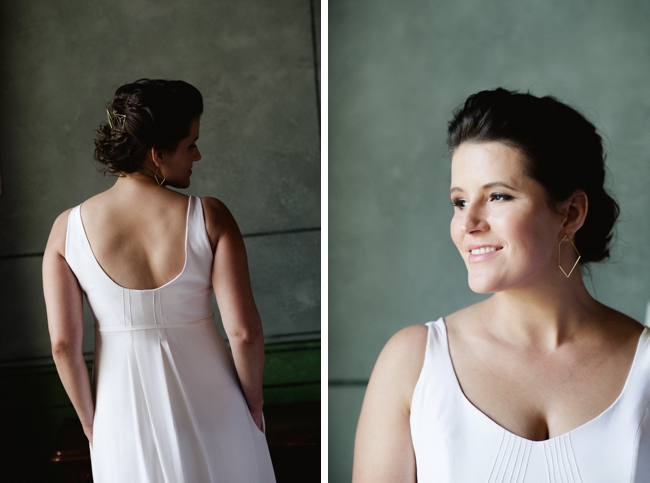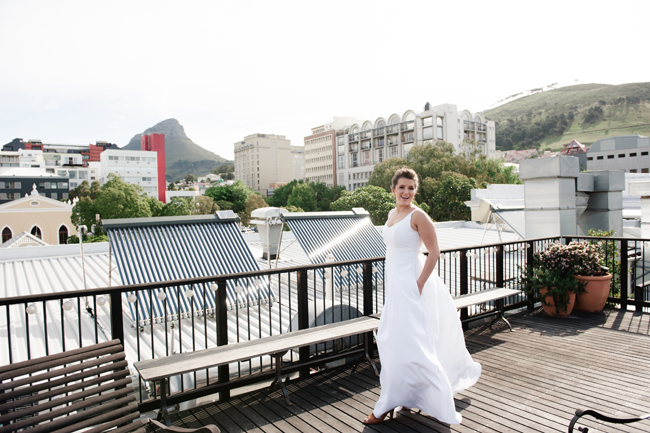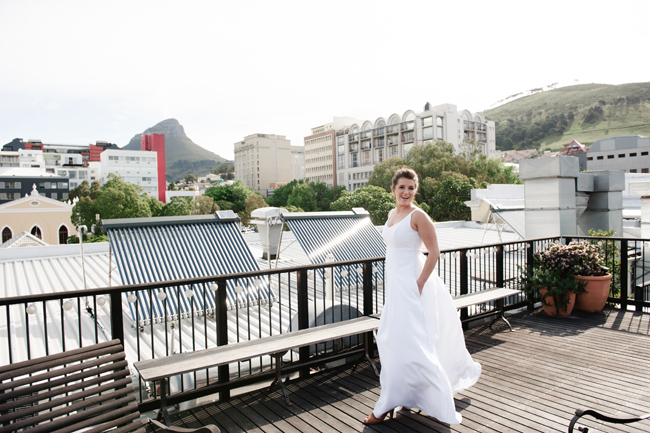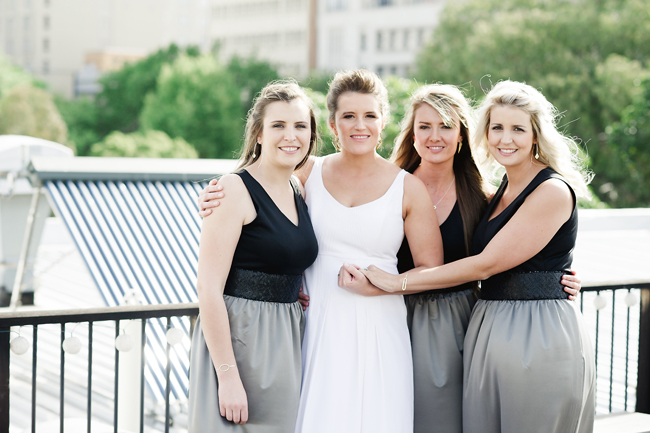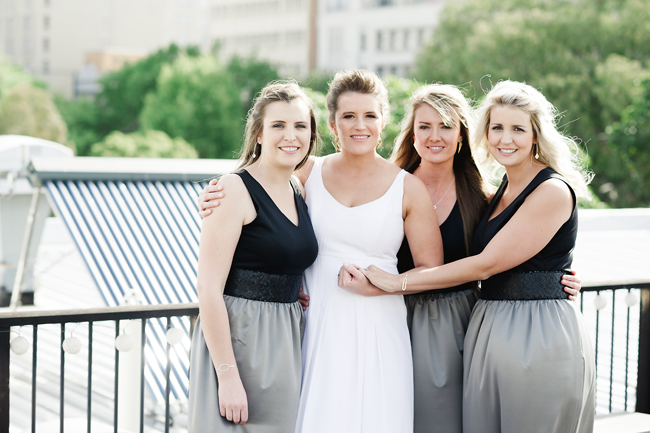 Love Story
We met at University while studying architecture. We knew about each other but never really communicated, until one night we much enjoyed each other's company at the Sophia Grey Architectural Congress held in Bloemfontein every year. A week later he asked me on a date; that was more than seven years ago.
The Proposal
Ross surprised me with a weekend getaway at the Old Mac Daddy luxury trailers in the Elgin Valley. One evening we took a walk down to the viewpoint overlooking the water. I was exploring the surrounding area, and when I turned around he was holding the open ring box tight to his chest.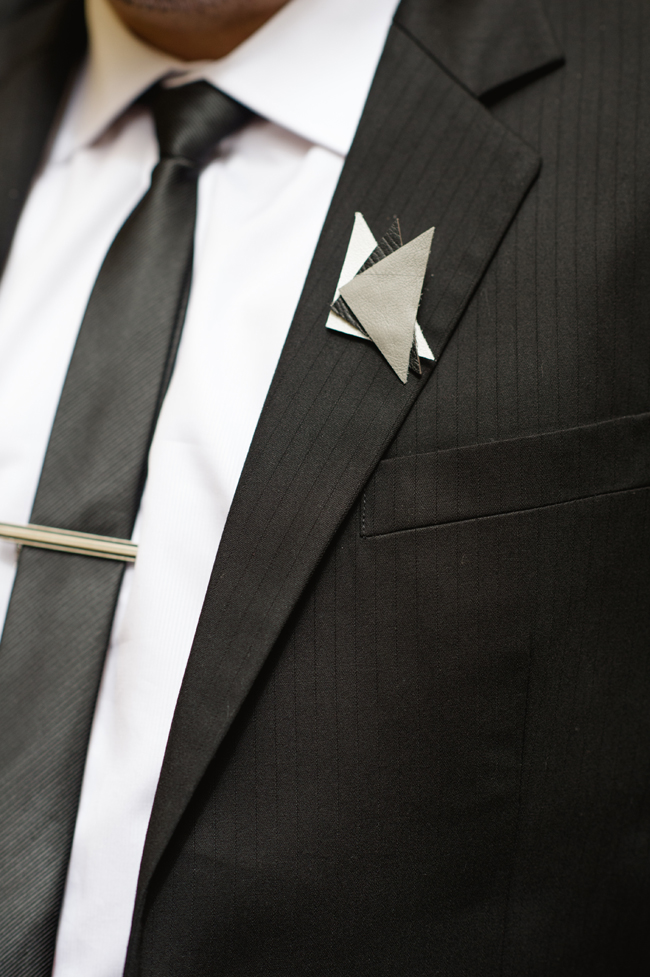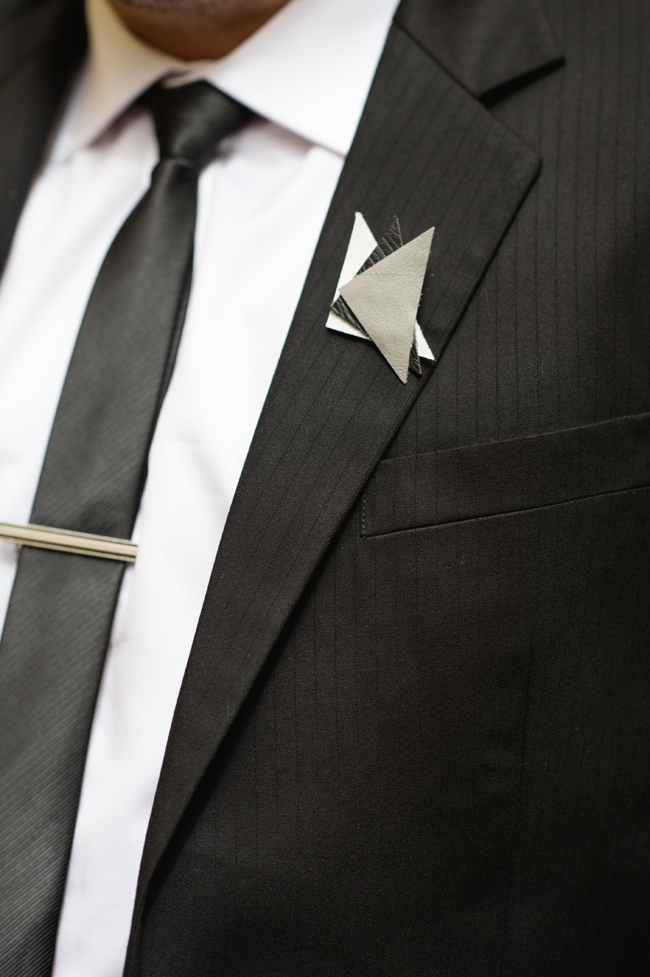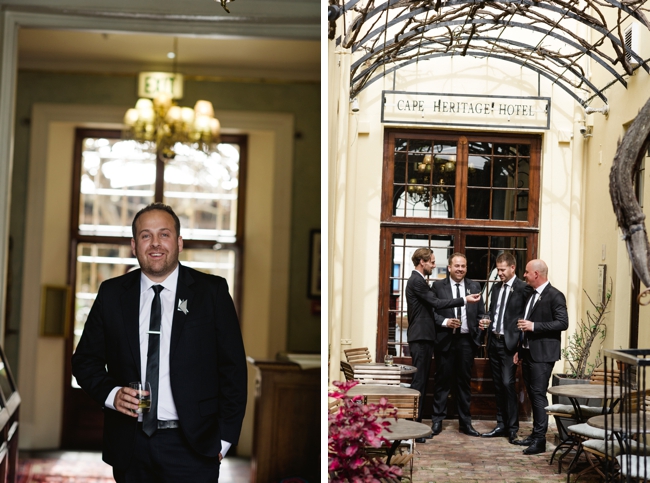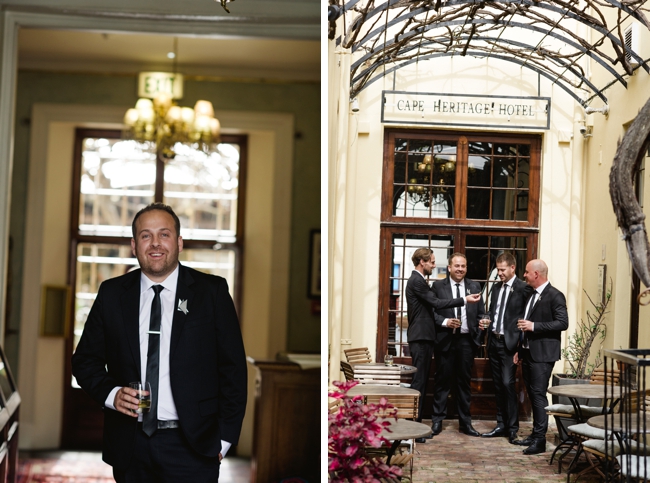 The Venue
We live in the City of Cape Town and we absolutely adore it. The incredible diversity, the innovative use of city spaces, the inner city vibe and the incredibly creative atmosphere and design innovations. We are indeed incredibly lucky to be part of such an enriching environment. We wanted to give our friends and family an experience of the things that we love and enjoy so much. For us an inner city wedding was inevitable; the challenge was to find the perfect space to do it. We have always liked HQ Restaurant – their food is incredible, their service superb and the atmosphere… there is something about atmosphere, the feel of a place. City spaces are not like traditional venues; we never expected to find a blank canvas, but for us HQ ticked all the boxes.
It is set in a building on Heritage Square c/o Bree and Shortmarket Street dating back to 1771. The internal spaces are exceptional, a perfect fusion of historic and contemporary design.
A beautiful internal courtyard linked HQ with the Cape Heritage hotel, another exceptional building on the square with a unique style: grand colonial merged with local design, an historic experience unlike any other. This stunning hotel is where we prepared for our wedding. Across the street from Heritage Square stands the graceful St. Stephens NG church, a landmark on Bree Street, which agreed to host us for the ceremony. I loved the idea of getting married in a real church and walking down the aisle with the old church organ playing. Everything came together perfectly.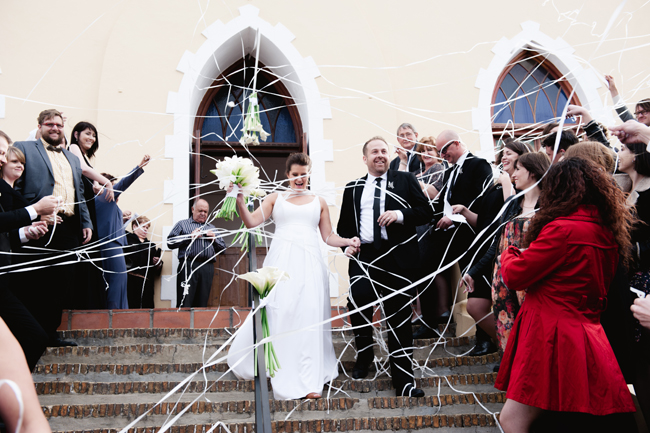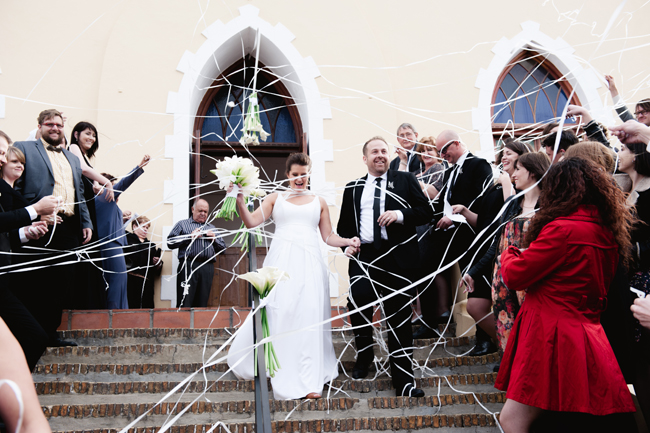 Wedding Style
Our vision was to have an inner city wedding, and we knew we would have to adapt to what would best suit the space we had available. We wanted something unique and different, but also wanted to keep the décor minimalistic and unadorned – it was a process of trial and error. In the end we decided to go with the colours we liked, black and gold, and see what happened. I sat down with San-Marie Jacobs from Creative Nook a few times to brainstorm ideas, and she was the one who suggested the black Strelitzia flowers.
Wedding Details
We made all our wedding stationery ourselves, as we are both designers. The invitations were black leather bookmarks that we had engraved with our details and then gold dusted. Ross did all of the graphics, and everything turned out just as we imagined. A close friend of ours, Willem Botha, whom is part of the Woodstock Brewers Co-op, brewed a special batch of craft beer as a wedding gift. We had it bottled, labelled and served at the reception. My husband is very particular regarding his music and has been collecting vinyl records for years. We contacted Wentzl from Roasted Records who agreed to deejay at our wedding, using exclusively vinyl records and vintage turntables. It turned out to be an excellent choice – not only is it a joy to watch, he understood the vibe and played a superb set of music.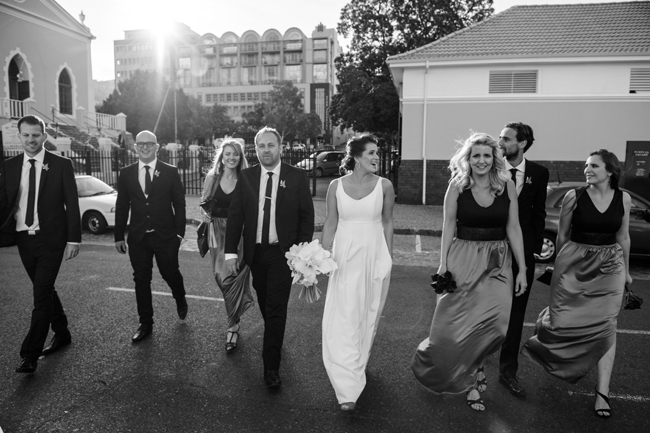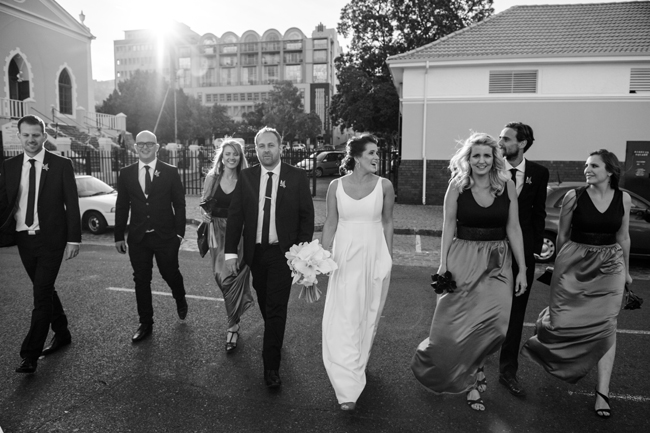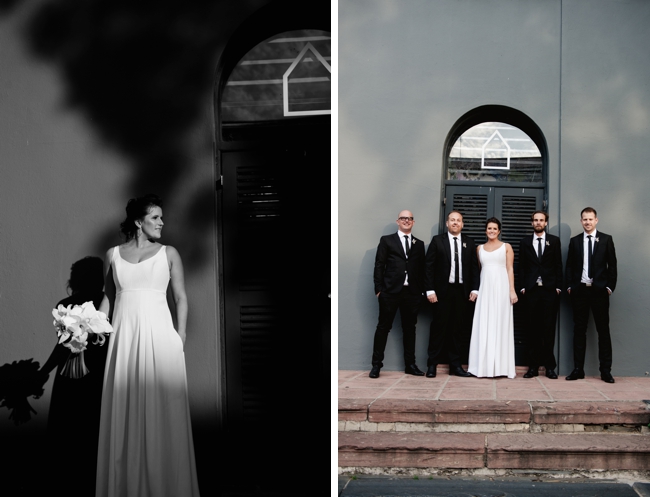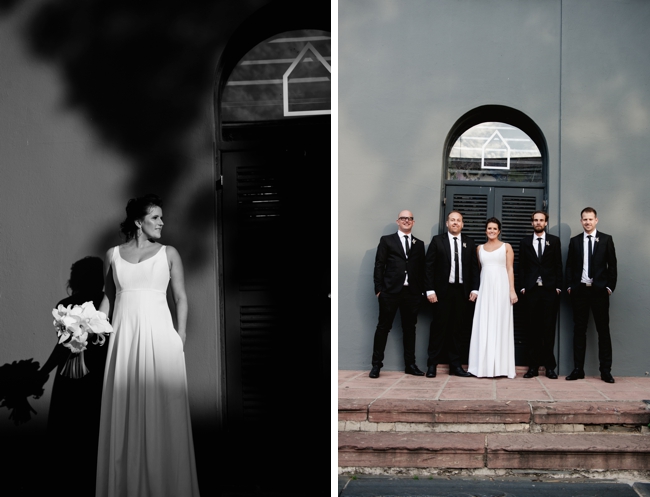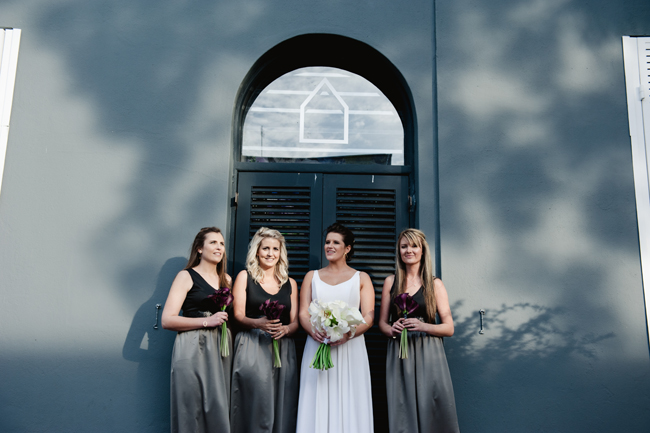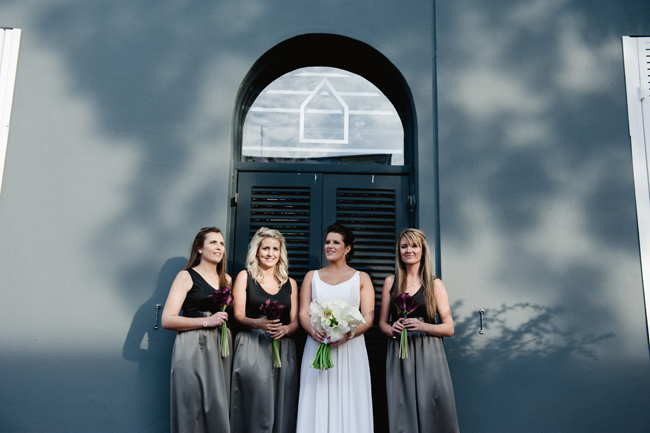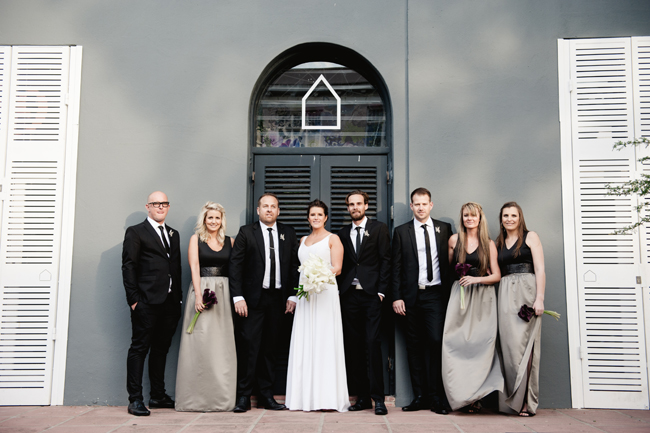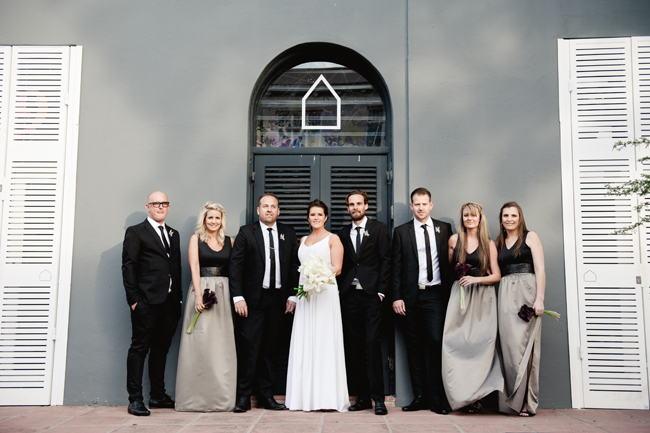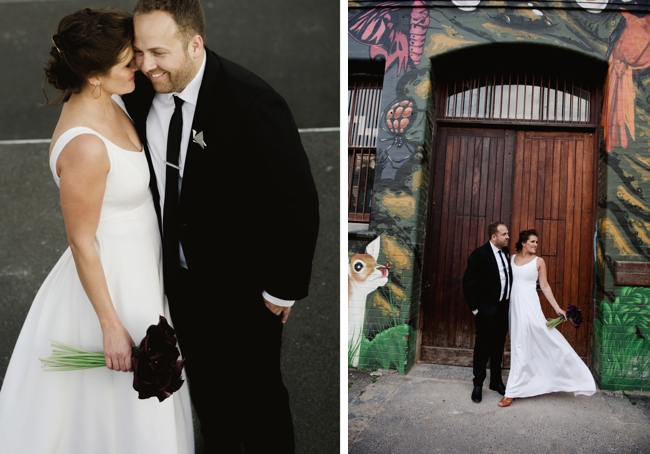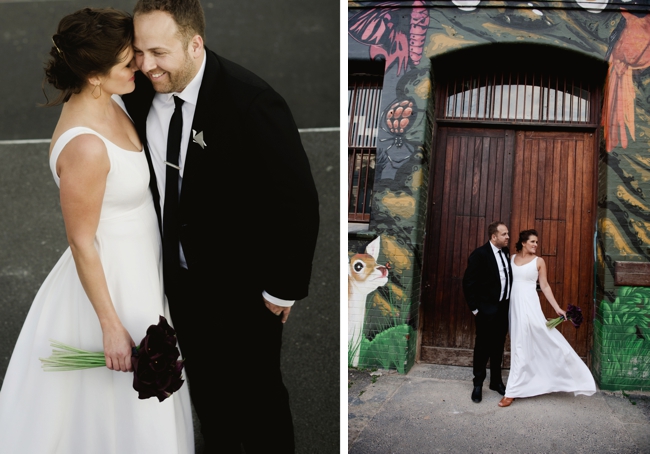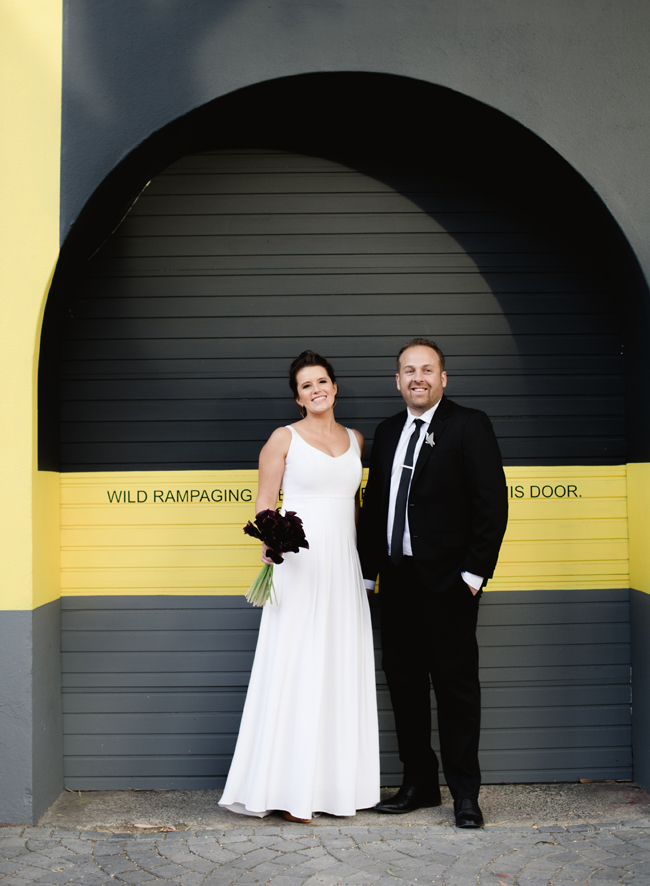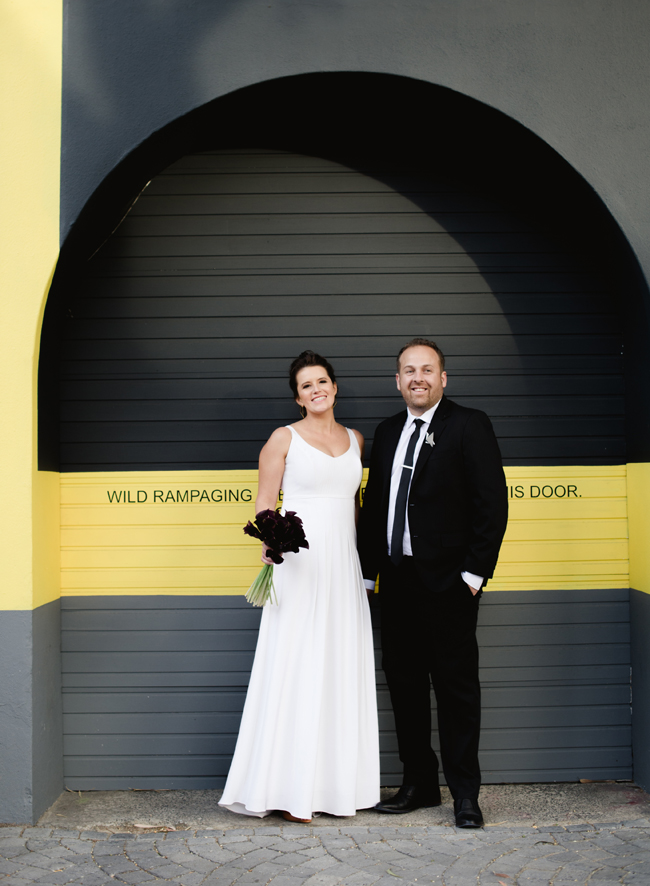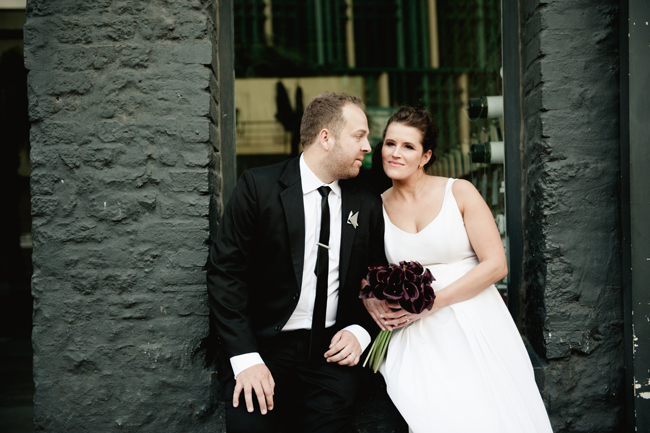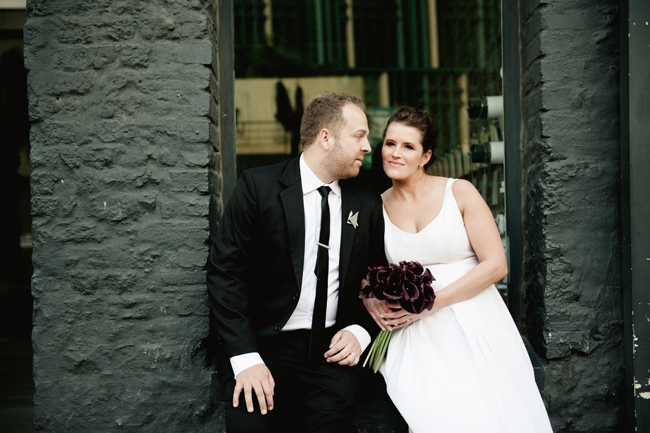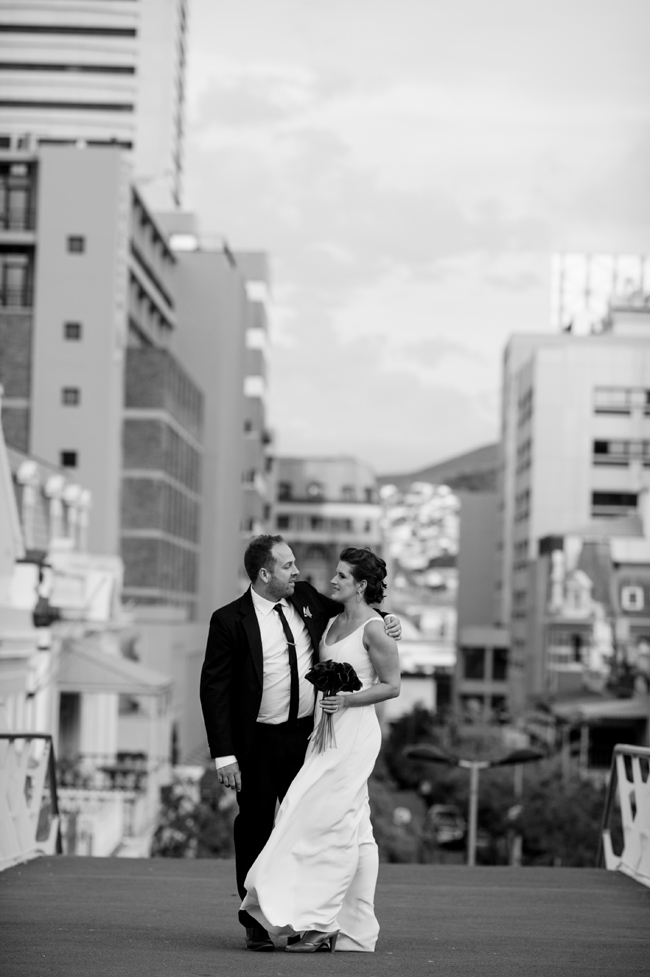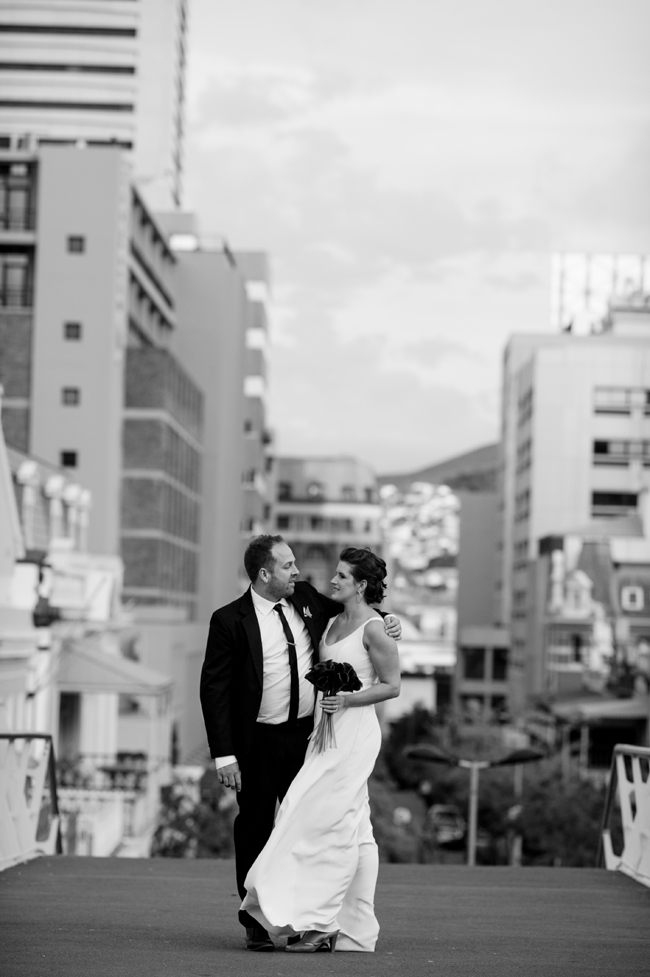 DIY Elements
I decided to take the idea of using leather throughout the wedding elements. I made boutonnieres for the groomsman and direct family. I also made leather necklaces as wedding favours for the ladies together with the gold animal fridge magnets that served as both name place holder and party favours.
The Flowers
With our colours being black and gold, it was pretty difficult to decide on flowers. We wanted to pull the theme of geo shapes and black and gold throughout, so I was looking at dark flowers that would be available in September. We decided on the black calla lilies for the reception tables and dark mixed floral bouquets in the larger informal settings. When San-Marie suggested the black Strelitzia flowers and leaves set as single pieces in a gold vase, I was delighted. It perfectly suited the simplicity and strong shapes we desired.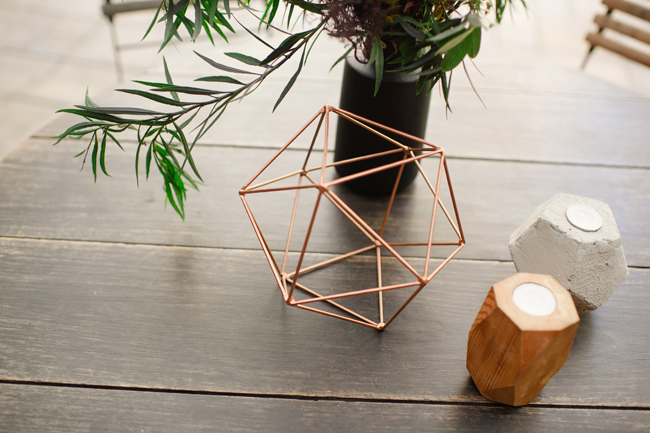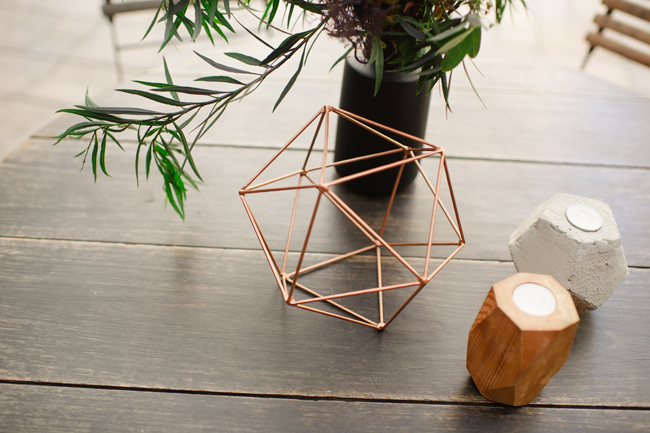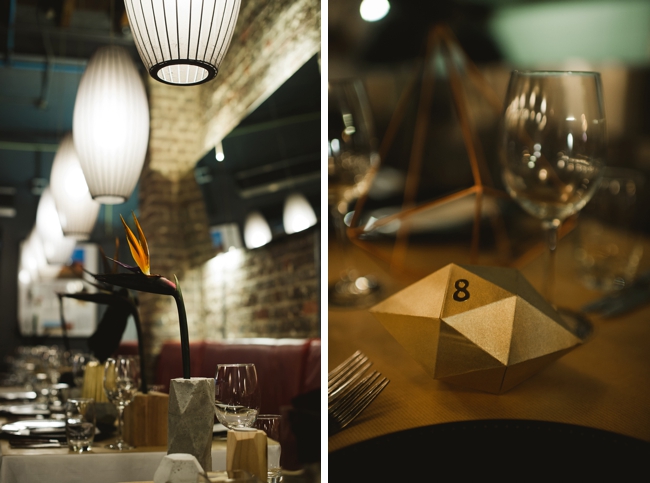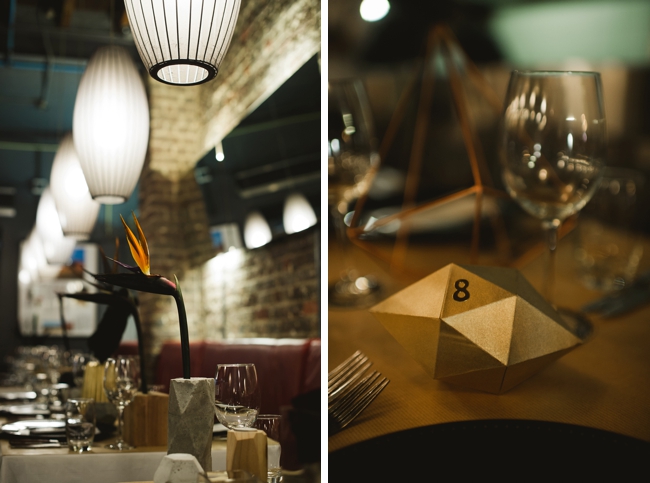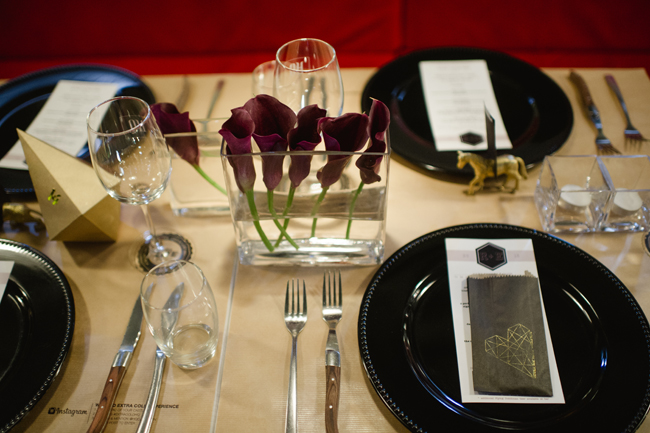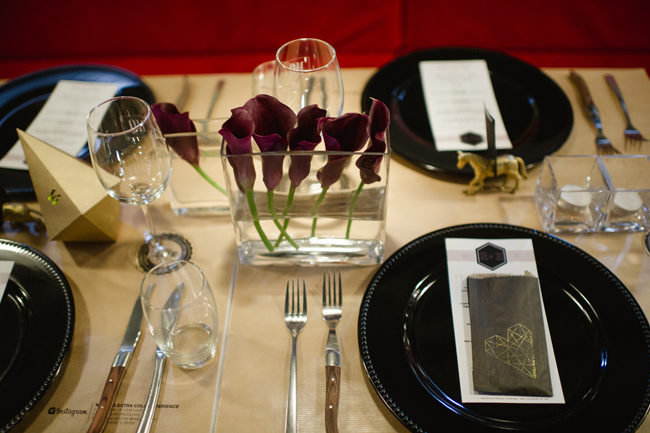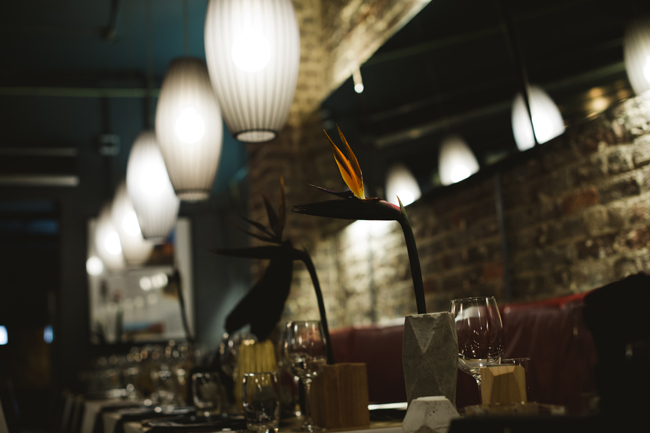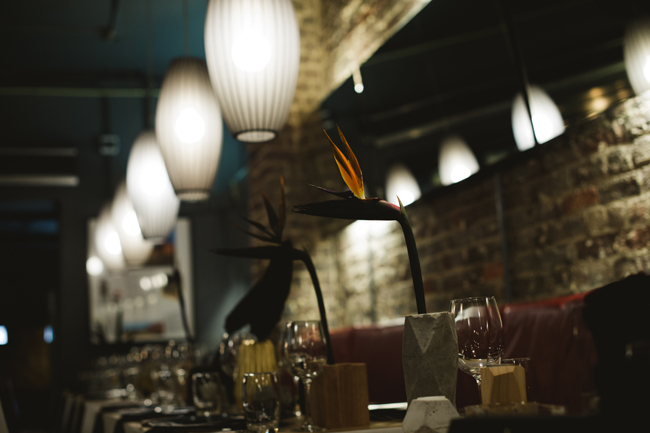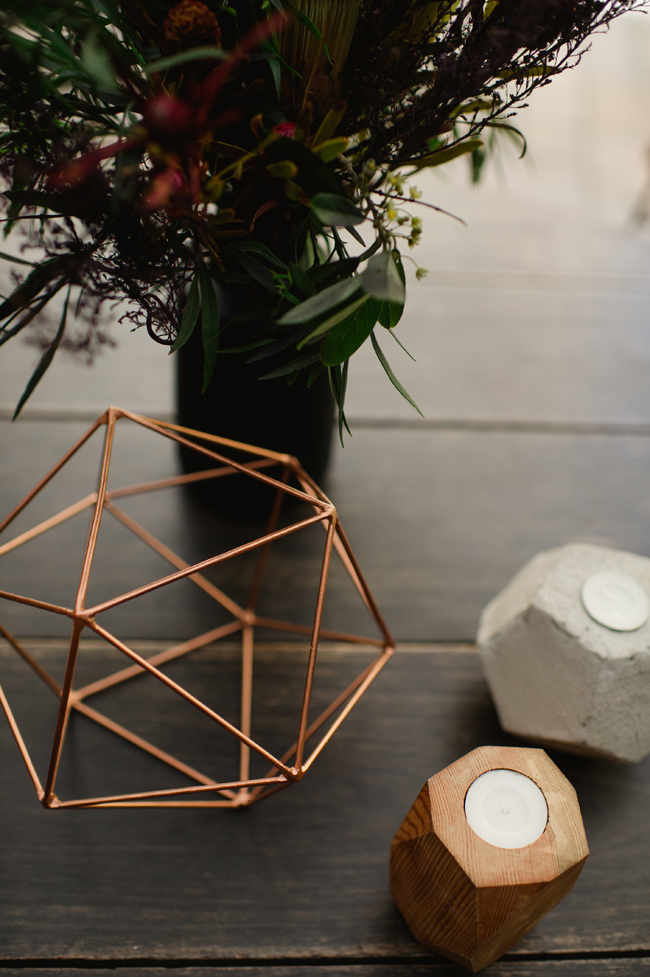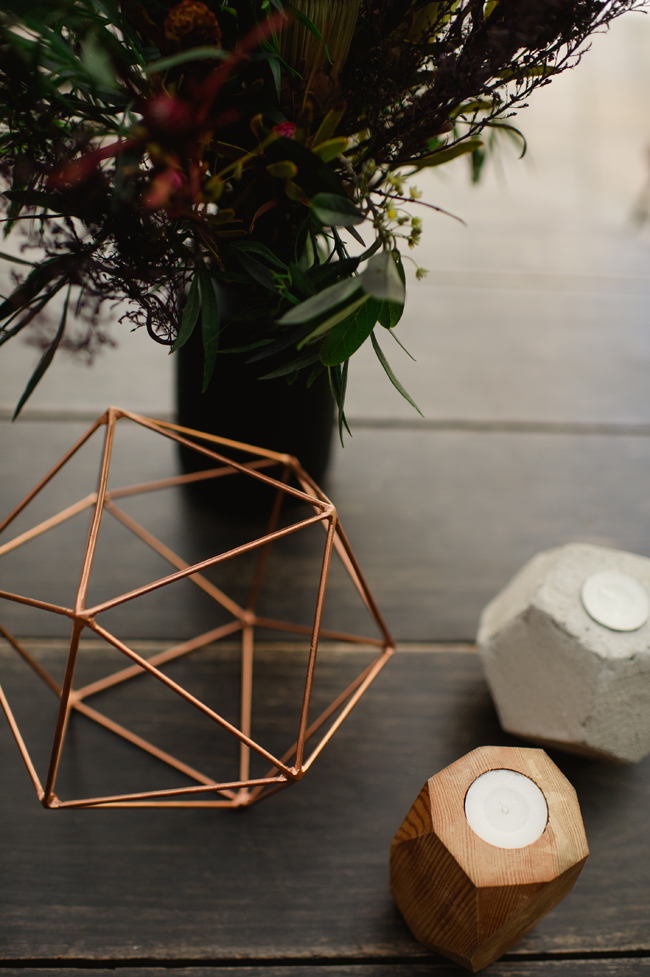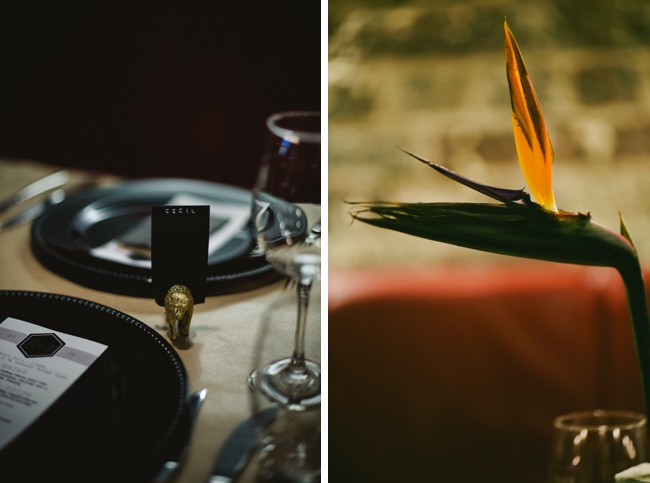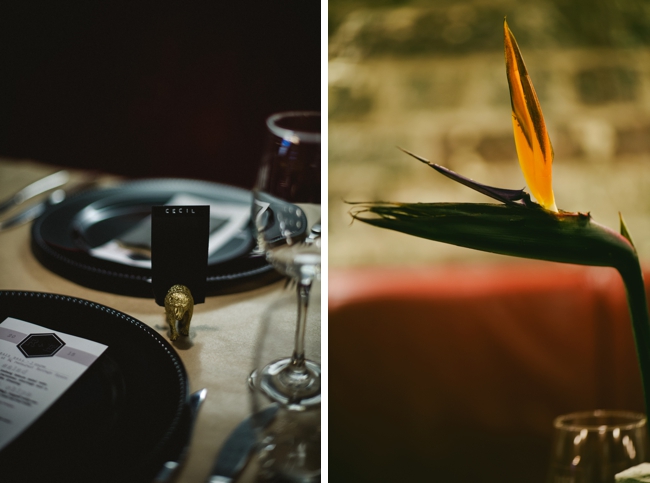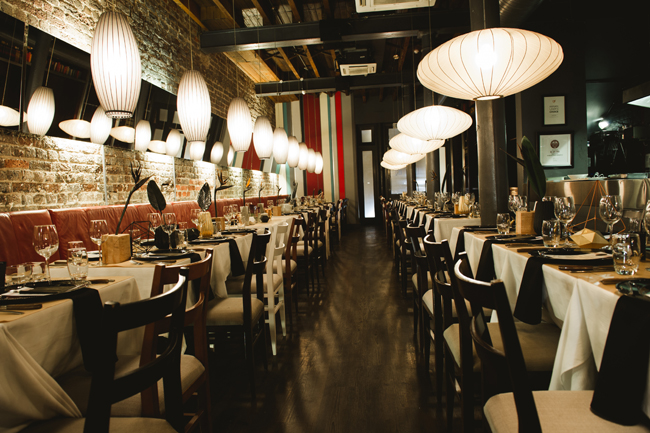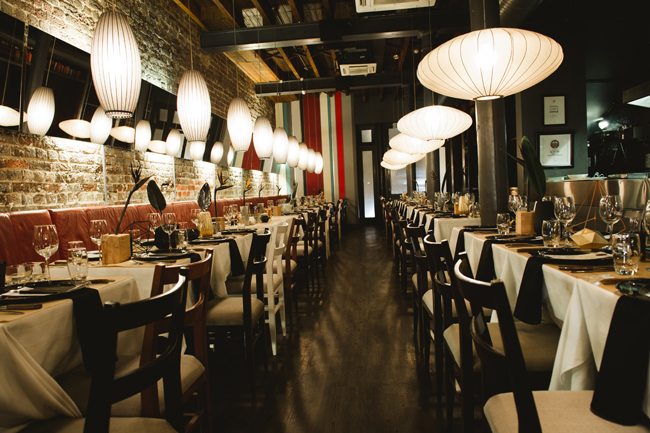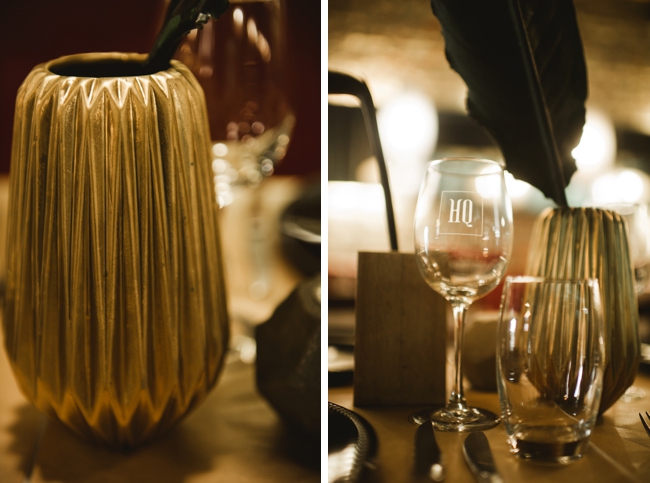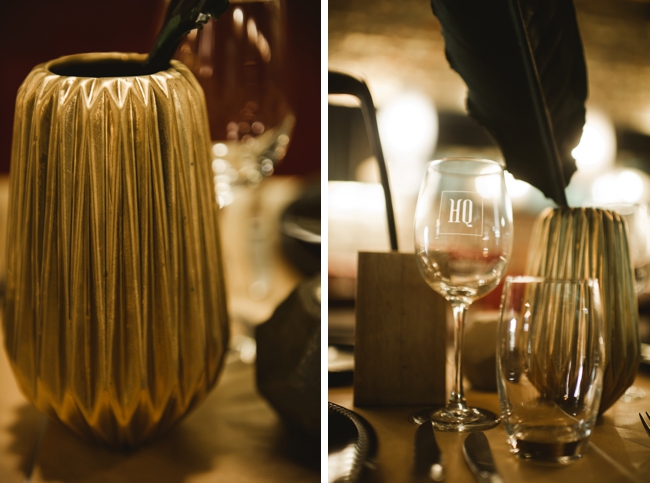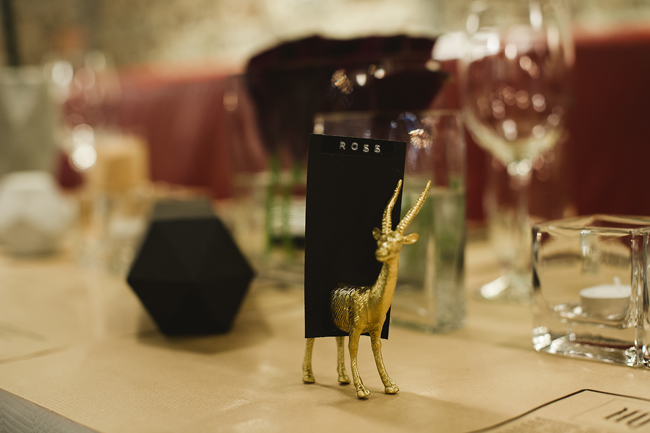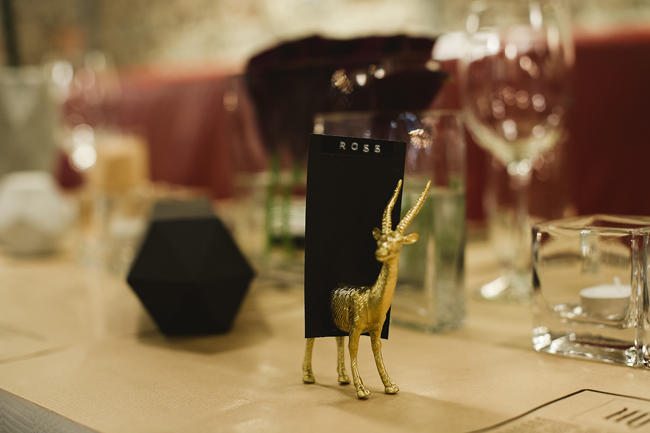 The Dress
I wanted a simple yet contemporary wedding gown. I found pictures of gowns by designers that I liked but nothing quite like it in a store. I decided to approached the talented Erna Theron from Lace Blossom, who custom designed and constructed a dress for me.
The Bridesmaids
My bridesmaids were dressed in custom-made gowns with elegant black bodices and silk charcoal skirts and the flower girls were dressed in white and grey dresses.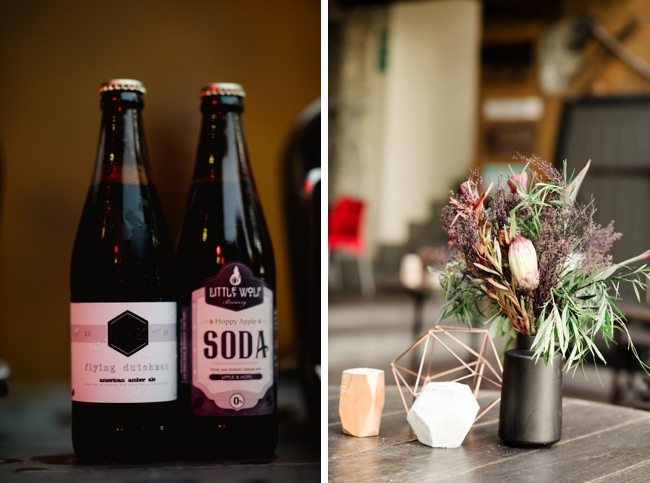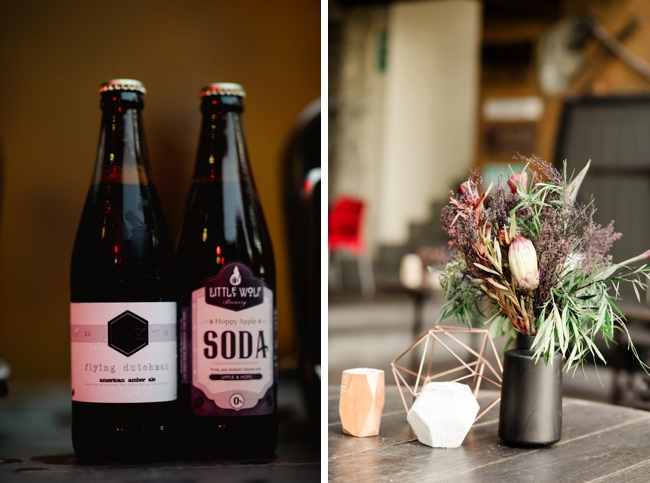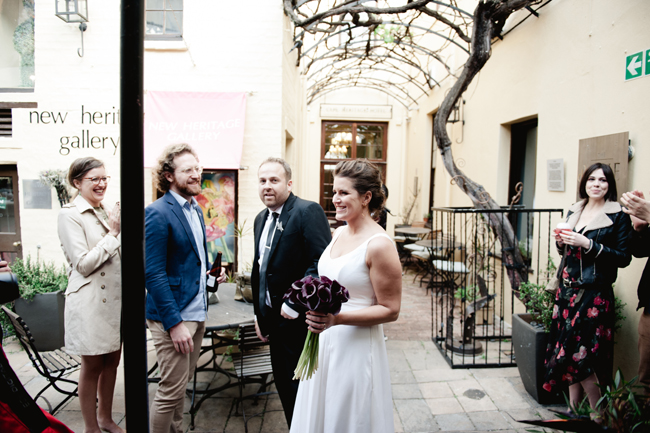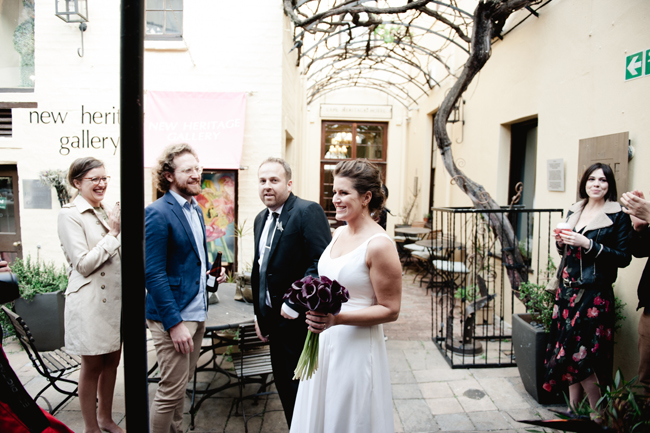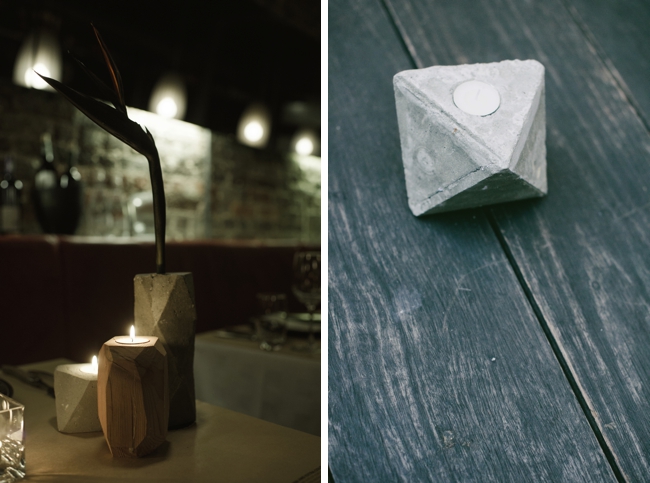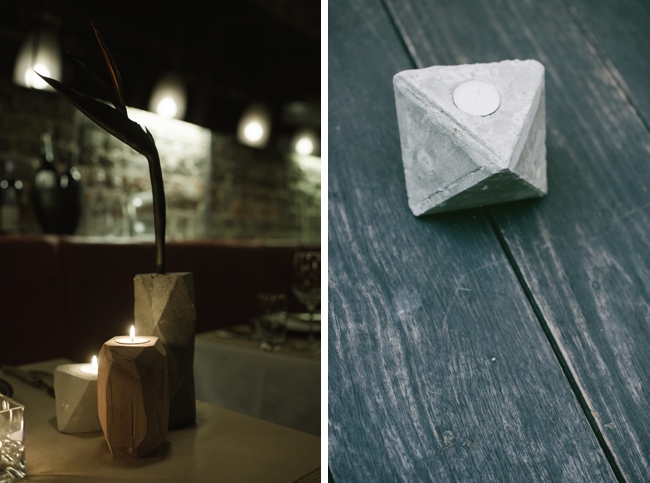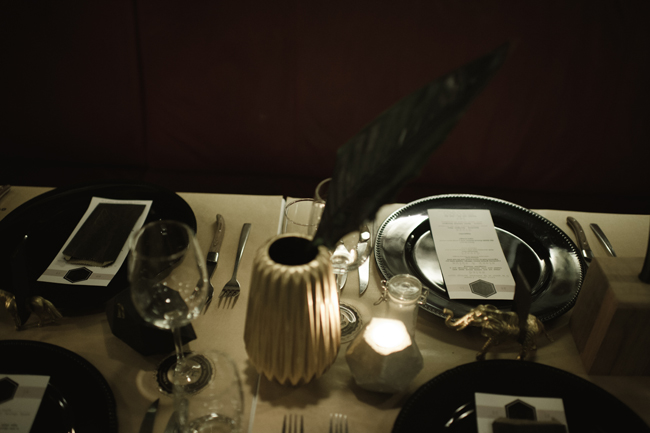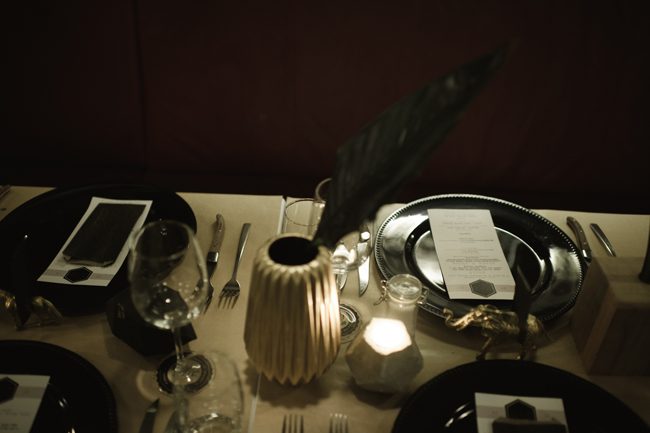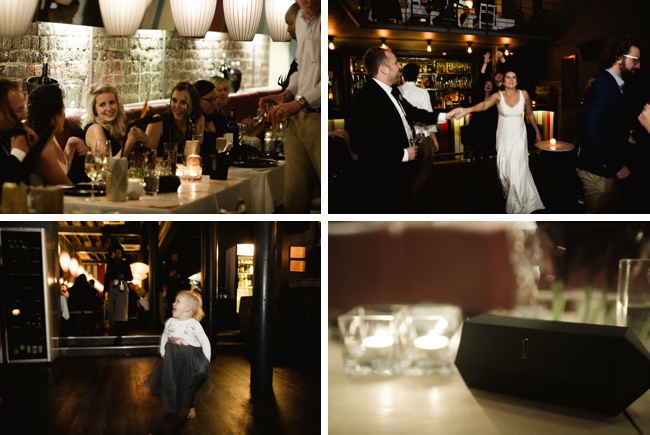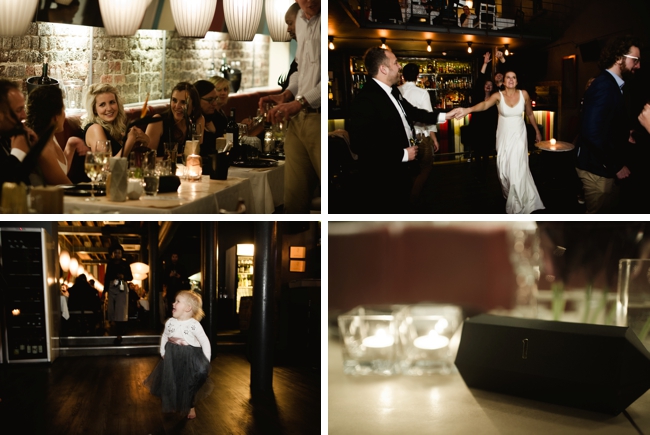 Memorable Moments
I am still in love with how perfect the day turned out, everything I planned and prepared for actualised smoothly. The service from the staff at HQ Restaurant was excellent, and the ceremony by the minister Lectus Steenkamp was heartfelt. Every small part of the day has a special memory: my mom's face when she first saw me in my dress, the tears in my dad's eyes when he met me in front of the church. The moment when we were married, and I looked back at all our guests overjoyed with tears and smiles. The perfectly personal speeches made by friends and family and the joy of celebrating our big day with everyone we love. I loved every part of it.
Advice for Future Brides & Grooms
Do what you want, what you love, make the day yours – not what is expected from you.
Be sure to check out this video preview from Tanjerine Films:
You can see more from this wedding on Jules Morgan's blog.
SERVICE PROVIDERS
Ceremony venue: St. Stephens NG Church | Reception venue: HQ Restaurant, Cape Town | Photography: Jules Morgan Photography | Co-ordination: Bride (studio vwaco) | Flowers & decor: Creative Nook | Video: Tanjerine Films | Bride's dress: Lace Blossom | Bride's accessories: Kirsten Goss (hairpiece altered from necklace) | Rings: Uwe Koetter | Hair & makeup: Helga's Bridal Hair and Makeup | Bridesmaids dresses: Mariaan van der Walt | Bridesmaids' accessories: Dear Rae & Famke Earrings | DJ: Roastin Records | Craft beer: The Brewers Co-op | Accommodation: Cape Heritage Hotel


Save