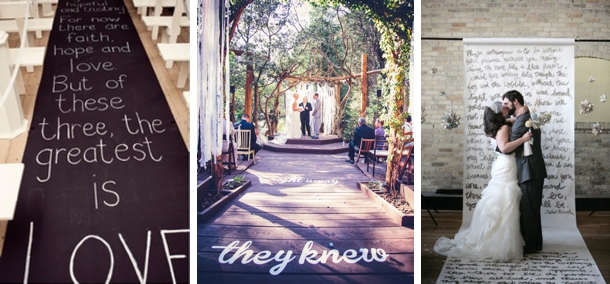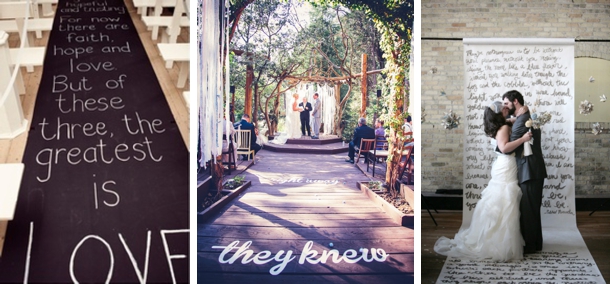 Cari Photography/The Aleit Group on SBB (left); Paige Lowe Photography/Sitting In A Tree via Green Wedding Shoes (centre); Tammy Horton Photography via Style Me Pretty (right)
Something that always amazes me about Pinterest – it being a visual medium – is that one of the most popular things people pin is quotes. Beautifully designed renderings of quotes, yes, but words. Pictures of words. It's a little odd, right? But then, I get it. After all, I am, if nothing else, a words person. So here's a quote for you, from Elie Wiesel: Words can sometimes, in moments of grace, attain the quality of deeds. I like that quote. Because it reminds me that even though actions are important, sometimes words can be every bit as good. Like how, if I'm sick, I just have to call my mom and hear her say "I'm so sorry you're sick, my darling" to feel better – those words are like a hug. Or how words can be a slap in the face, or a handshake, or a pat on the back. Sometimes they wrap around you like a blanket, or sweep you up like a conga line. And sometimes, when the action is as big as giving your whole heart to someone, you need words to share that with the people you love. So they can feel it with you. Which is all a totally poetic way of saying that today's post is about words. As decor. It's one of my top 10 trend predictions for 2013, and I officially love it!
There are SO many beautiful ways you can incorporate text into your wedding design. Maybe you want to share one of your readings (so it stays with your guests longer than the two minutes it takes your sister-in-law to rush through it). Or maybe you have a favourite poem or bible verse or song – a thread running through your relationship. Maybe you're just in love with typography, or writing. Whatever it is, you'll find an idea here to inspire you.
Let's start with the aisle. In the images at the top of the post, three brides have taken different approaches. The first hand wrote a special biblical verse on a chalkboard runner. The second painted words at intervals – can you imagine walking down this aisle? The final one is one of my most-viewed images ever (from when I used it in this roundup of creative aisle ideas), where the bride and groom wrote a special message on a roll of butcher paper and used it as both aisle and backdrop!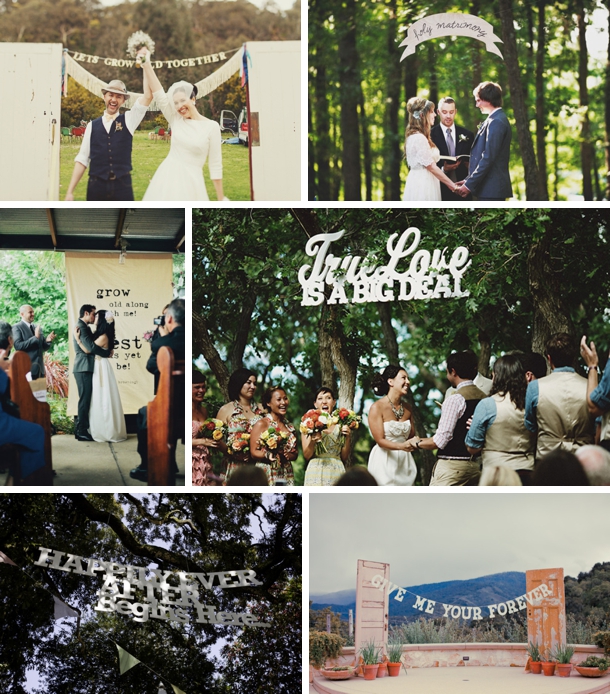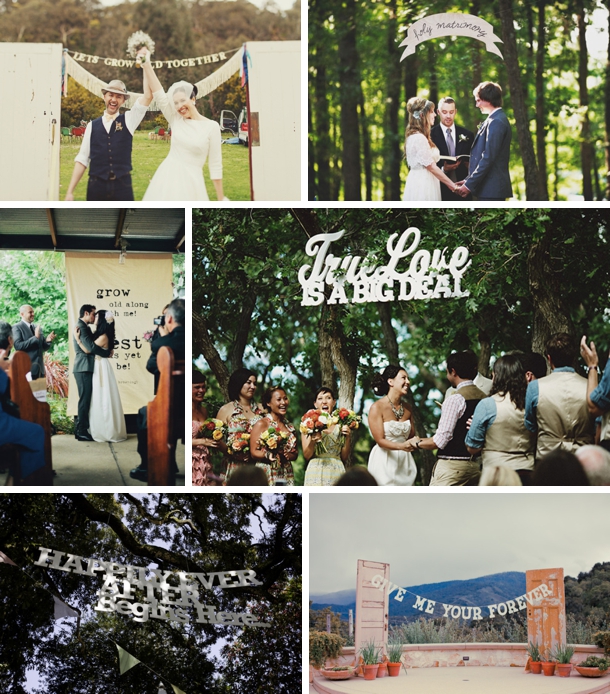 Row 1 – Jonathan Ong/Gorgeous Events via The Wedding Notebook (left); Kyle Hale via Ruffled (right); Row 2 – Samm Blake via Style Me Pretty (left); Jonas Peterson via Once Wed (right); Row 3 – Sean Curtin Photography/Rebecca May Weddings and Events via Bridal Musings (left); Jason + Anna Photography/Engaged & Inspired via Style Me Pretty (right)
Statement ceremony backdrops have become quite a trend since 'True Love is a Big Deal' started it all. Why not customise this idea with a phrase that means something to the two of you? Remember: keep it short and simple – what five or six words best characterise what you're promising one to you?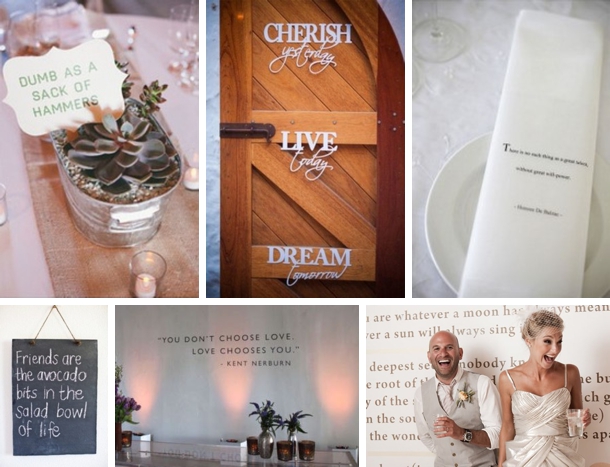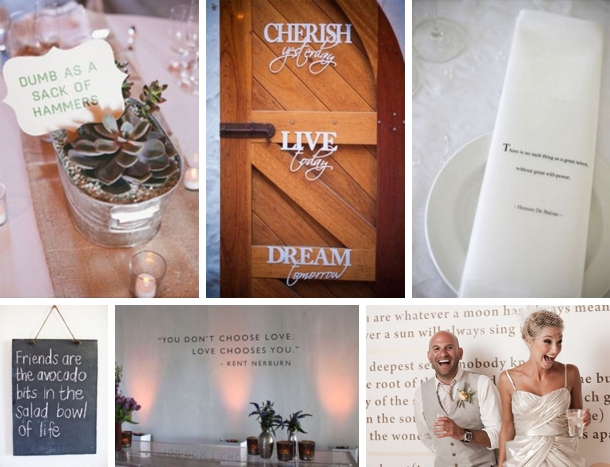 Row 1 – onelove photography/Love & Splendor via Green Wedding Shoes (left); Abigail K on SBB (centre); Adene Photography on SBB (right); Row 2 – Kiekie Photography on SBB (left); Tyler Boye via Style Me Pretty (centre); Charleystar Photo/Bash, Please via Snippet & Ink (right)
If you don't have your own words, why not borrow from someone else? There are lots of quotes you can use from books and songs. Have them lasercut, print on clear paper and use as napkin rings, write on blackboards and hang them around the venue, or project them on the wall. I love the pic bottom right, where the bride and groom had a whole e.e. cummings poem printed on the wall at their reception – such a special way to engage their guests with a favourite text. Or the table names top left, created from the father-of-the-bride's favourite phrases.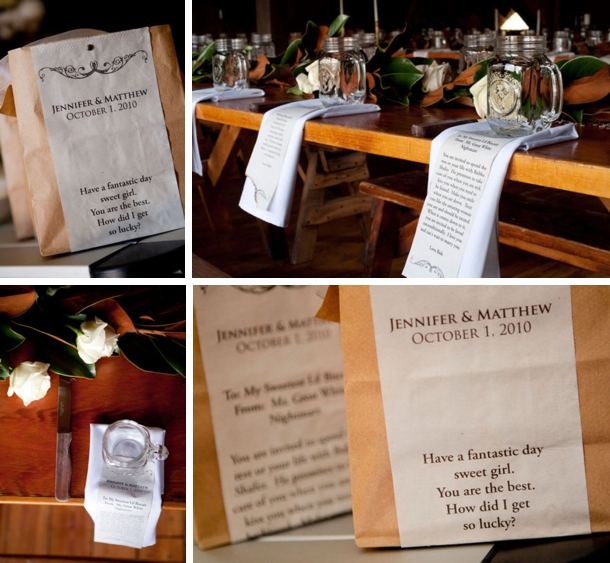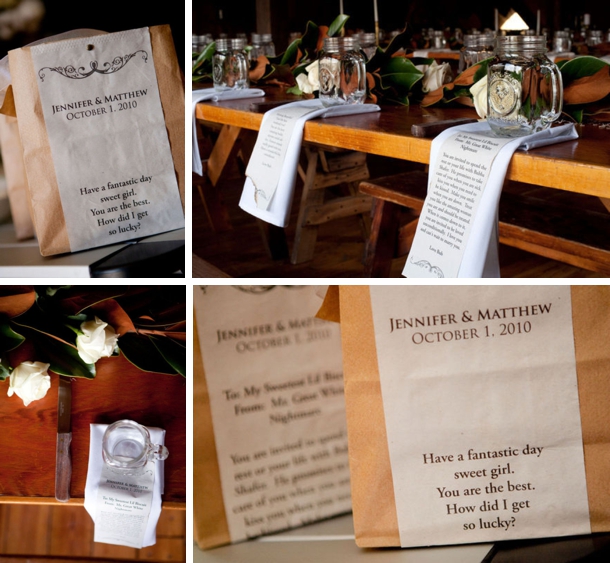 Cameron + Kelly Studio/Peak Events via Style Me Pretty 
Now here's a very special use of text (two years on and I still remember this wedding!). The groom is a prolific writer of love letters – so the couple chose their favourites and used them at each place setting, on confetti bags, etc. How romantic is that?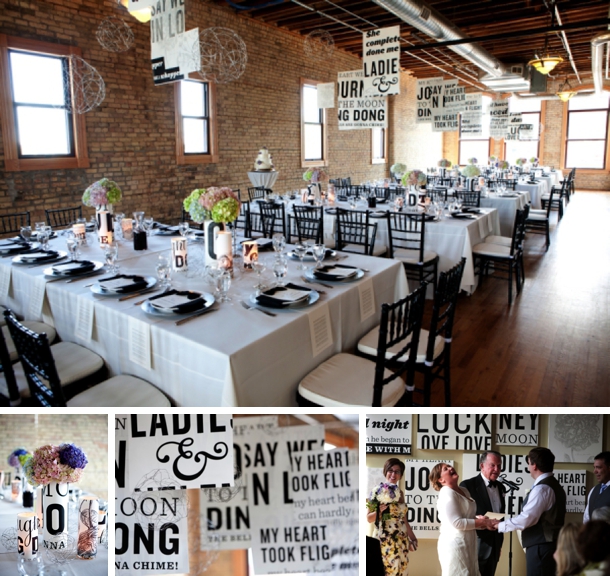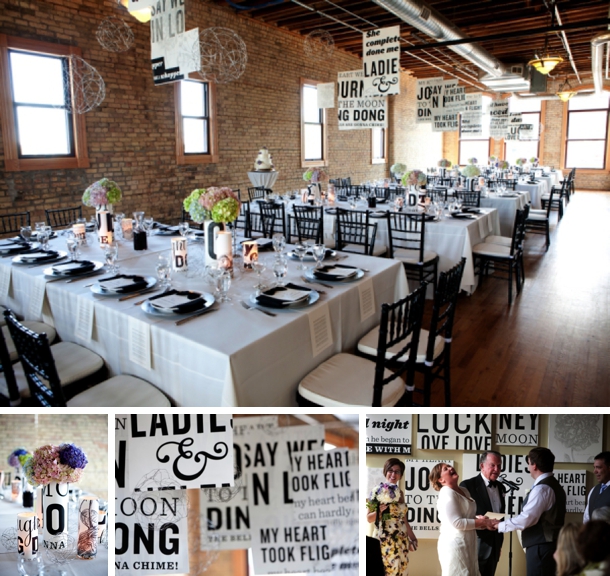 Erica Loeks via Ruffled
Another special text-based wedding is this one, with a whole typography theme. Isn't it clever?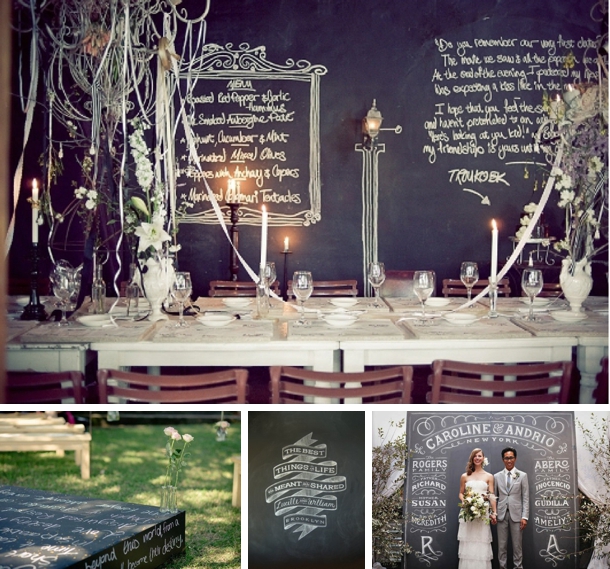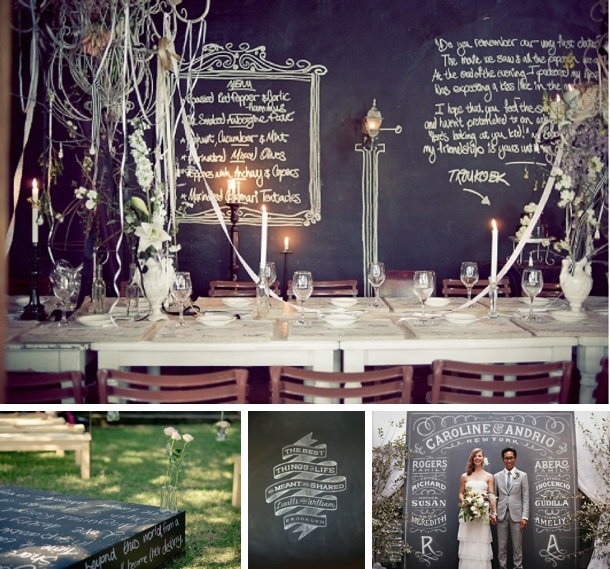 Row 1 – De Liefde/Natural Light Photography via The Pretty Blog; Row 2 – Sybrand Cillié/Aleit Wedding Coordination via The Loveliest Day (left); Tanamachi Studio (centre); Tanamachi Studio (right)
Handwritten text is even more personal than printed – why not combine the new movement towards text decor with the running trend for chalkboard, by creating chalkboard backdrops for your ceremony or reception? Or even a platform for the ceremony with words of love written all over it.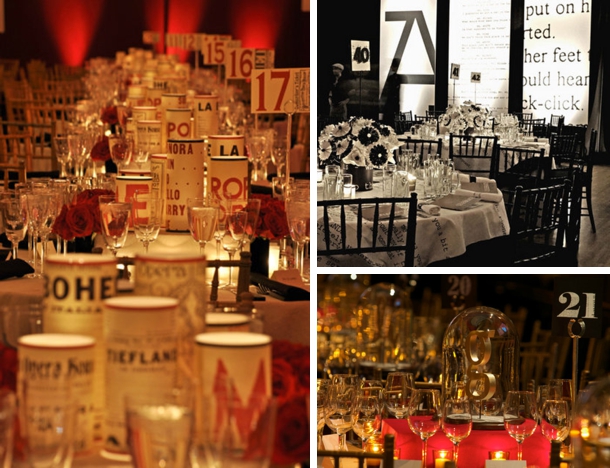 Images above: David Stark
A real master of typographic event design is David Stark – just look at how fun these ideas are. My BEST is the gold letter under a belljar – how awesome would that be as a table 'number' at your wedding?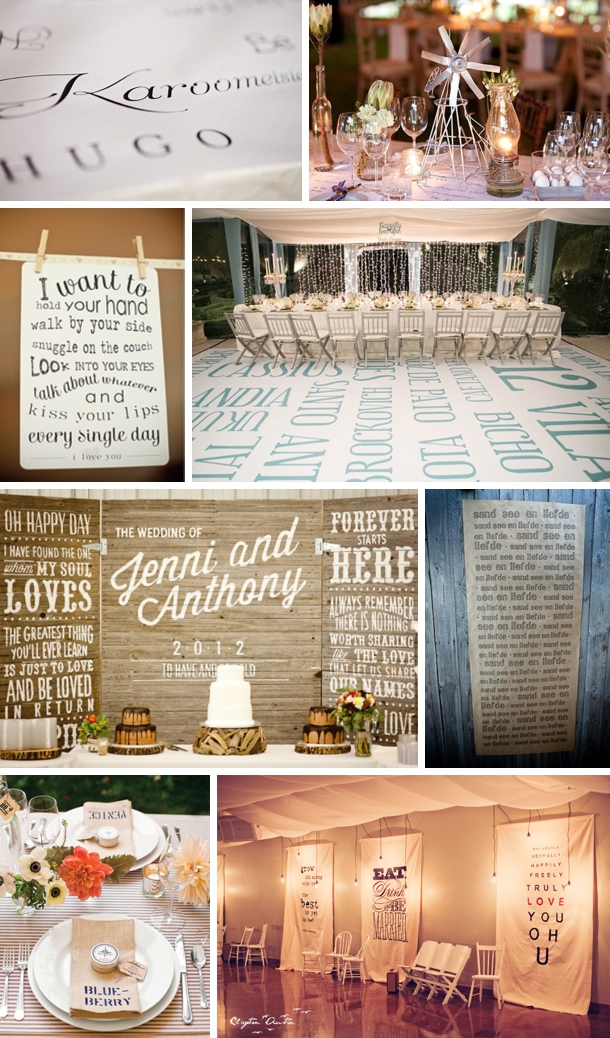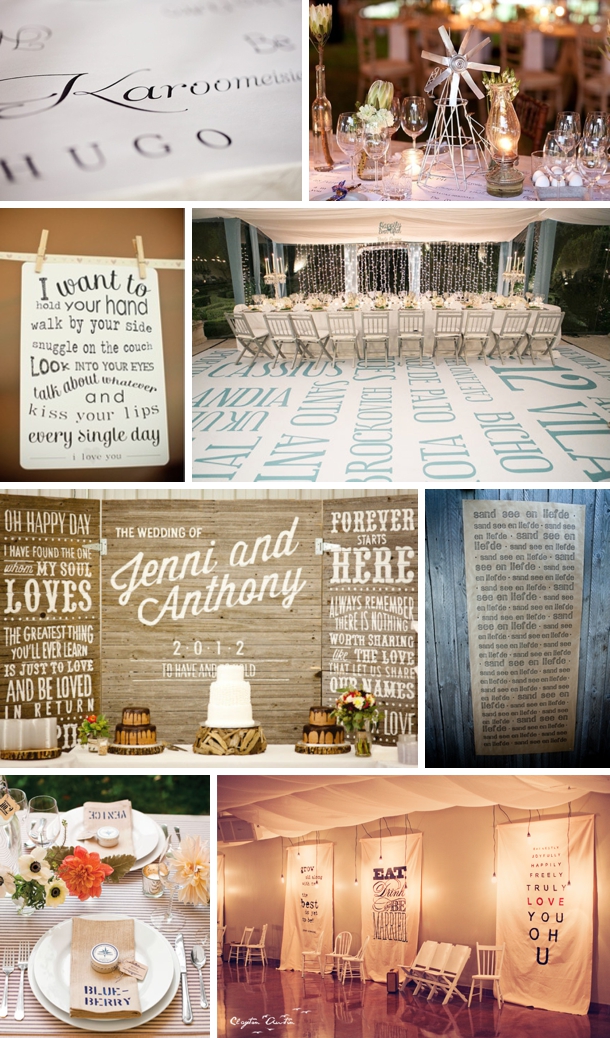 Row 1 – Cari Photography/The Aleit Group on SBB; Row 2 – Cari Photography/The Aleit Group on SBB (left); Zarazoo (right); Row 3 – Imago Vita Photography via Style Me Pretty (left); Monica Dart on SBB  (right); Row 4 – Unscene Inc./Tec Petaja,Jessica Antola via Martha Stewart Weddings (left); Clayton Austin (right)
So many wonderful ideas! I really enjoyed researching this one! From the top, words meaningful to bride and groom printed on tablecloths and menus, a custom word-filled floor covering, a fun word-filled dessert background, a simple set of words printed on kraft paper and used as a banner, napkins each stencilled with a meaningful word, and floor-to-ceiling banners with gorgeous typographic treatments for appropriate phrases.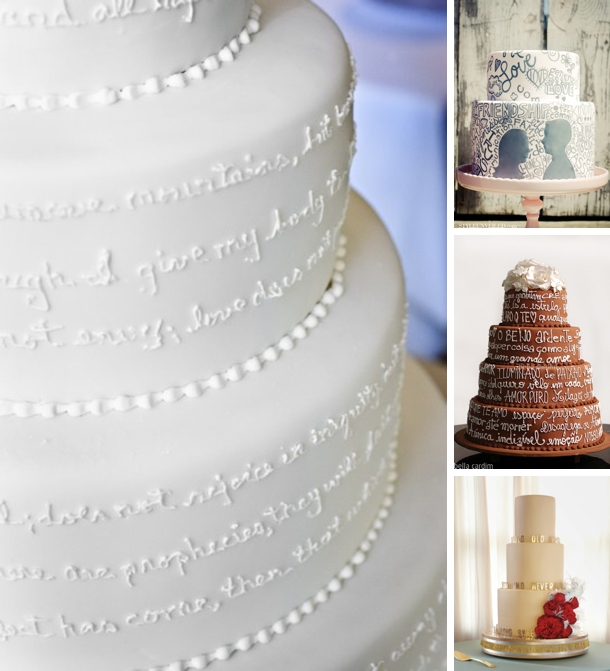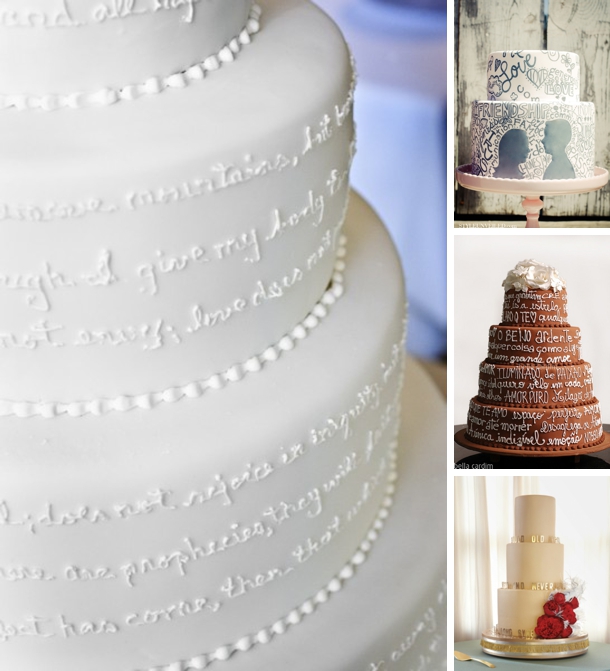 source (left); Sweet and Saucy Shop via Style Unveiled (top right); bella cardim (centre right); Belathee Photography/The People's Cake via Martha Stewart Weddings (bottom right)
And why leave your cake out of the fun? I love the idea of a plain cake with a verse piped around it in icing, or surrounded by letters of a favourite song (in this case, Auld Lang Syne).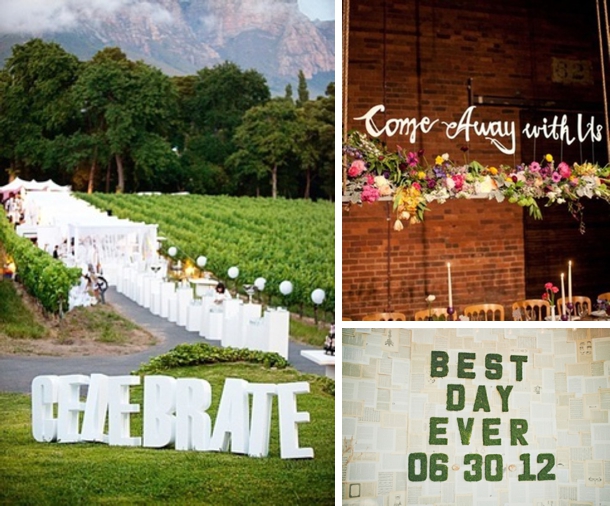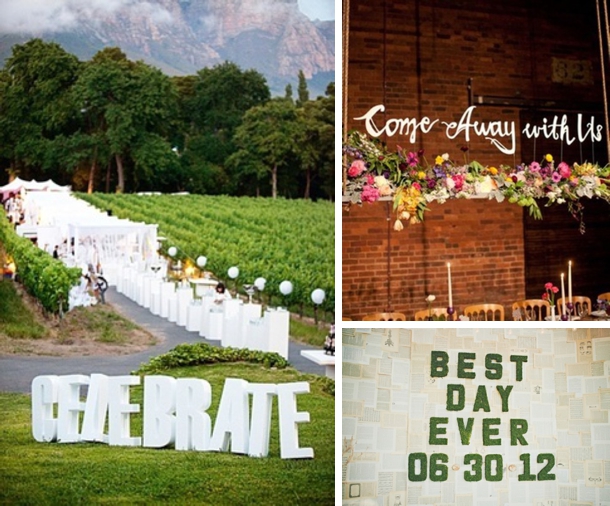 Absolute Weddings via The Pretty Blog (left); Amy Osaba Event Floral Design via Venue Safari (top right); Cami Parker via Ruffled (bottom right)
Don't be a afraid to make a bold statement! Big letters are so fun (see our feature on them here), but I also love the suspended cutout and the wall of book pages with a phrase that would warm any guest's heart!
Right – hands up who's going to be using words as part of their wedding decor?