2013 baby! I don't know about you, but I am amped. I've spent the last few days thinking about what worked and didn't in 2012 and dreaming and planning for the year to come. It was amazing to realise how much was achieved last year, and I have some big plans, so watch this space! Of course, thinking about the future always gets me thinking about wedding trends for the new year, and I'm ready to make my (now annual) predictions. A lot of what I spotted for 2012 came about, so let's see if I can do the same again. :) Here we go…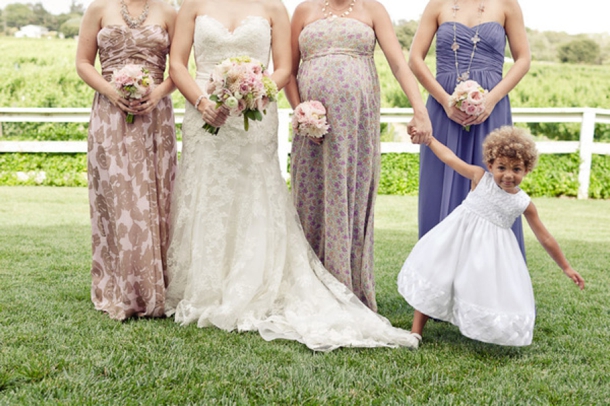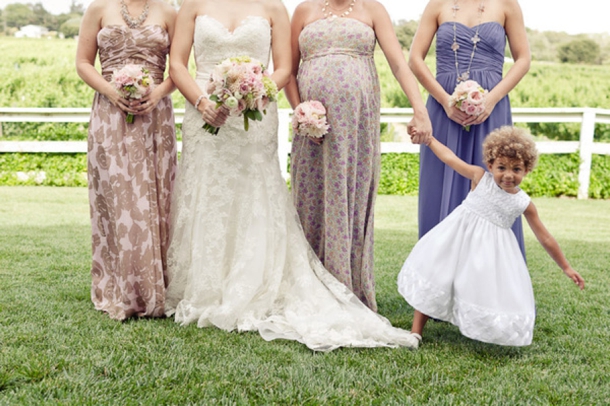 Erin Hearts Court via Style Me Pretty 
1. Prints
A couple of months ago, I was asked by BrideTide to pick my top wedding trend for 2013 and since prints was my choice, it seems only right to put it at the top of my list here too. This is going to be big – we'll see it on invitations and stationery, bridesmaids dresses, linens. Set against a white backdrop, it's a fresh and vibrant look, and one which will really make your wedding look unique. And bonus, you can go for any kind of print that suits you, from soft florals and watercolour styles to bold stripes and graphics, to vintagey toile. If tablecloths or runners are too much, stick to napkins, and remember not to go too overboard – and complementary rather than matchy matchy is key. Let's just say you do not want to put your bridesmaids in the same material as the tablecloths. That's just wrong. You can see my full roundup, and lots of ideas and advice over here.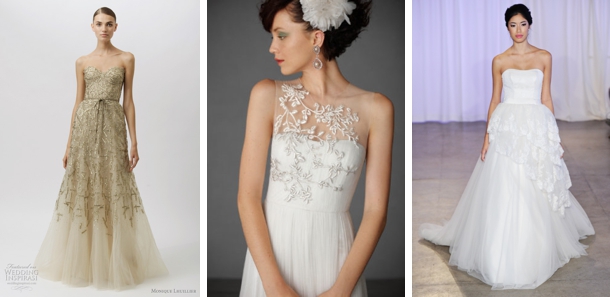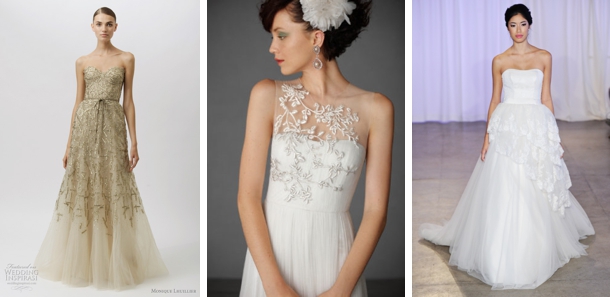 Monique Lhullier via Wedding Inspirasi (left); BHLDN (centre); Kelly Faetanini via Southern Weddings (right)
2. Wedding dresses: colour, illusion and peplums
Last year I mentioned coloured wedding dresses, and this trend has been big in 2012, set to grow even more in 2013. Blush pinks are the least 'scary' for most brides (and they look sensational), but we'll also be seeing greys and golds, and even some intense colours like emerald. A second trend that took the runways by storm last year and will be in many weddings this season is illusion necklines – everything from portrait back 'lace tattoos', to lace sleeves, to illusion bodices. Claire Pettibone is the master of this trend, and her dresses never fail to be pinned within an inch of their lives in Pinterest, so I know you all love this trend as much as I do. (You can read more about portrait backs here) Finally, peplums. A designer started speaking to me about these a year or more ago and I remember thinking, yeah right. Well, I admit it, I was wrong. Peplums are huge news in wedding fashion for 2013, both for brides and bridesmaids, and are tremendously flattering. Who knew?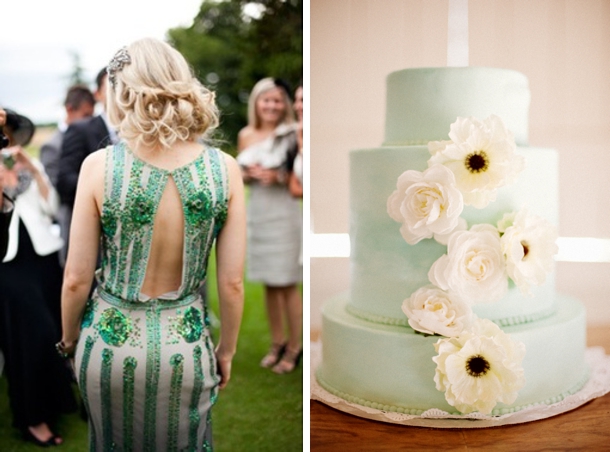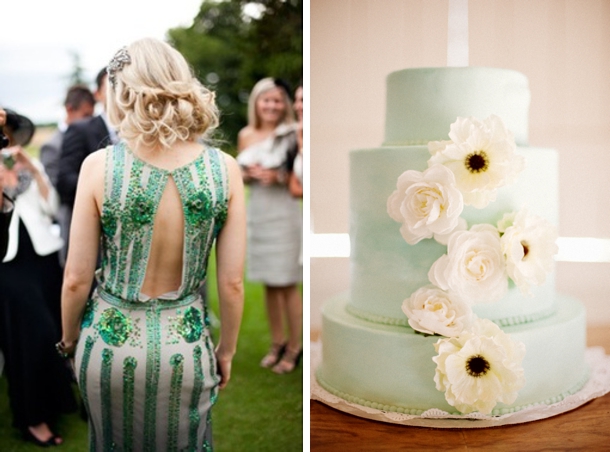 Caught the Light via 100 Layer Cake (left); Kristen Marie via A Low Country Wedding (right)
3. Greens are in
Pantone has named emerald green as its colour of the year, which is a bold move towards cool shades from the warmer pinks and oranges of the last two years. Emerald may be a bit strong for some (although don't discount it just yet – I'll be exploring this colour in detail this week) but there's a general move towards cooler shades including lots of greys and blues. I think mint will be the real winner this year, taking over from peach and coral as the wedding shade du jour. See all our green inspiration boards here.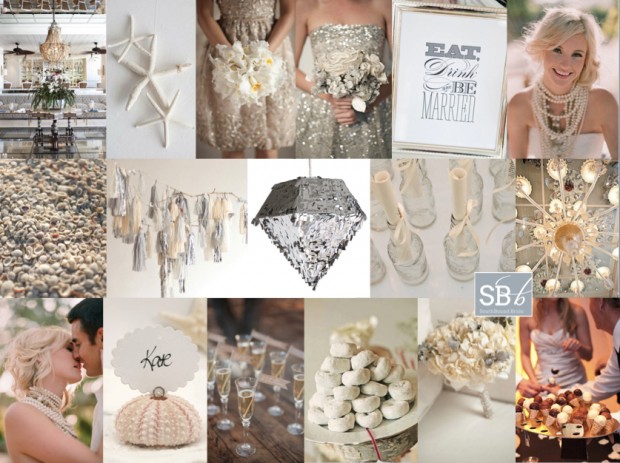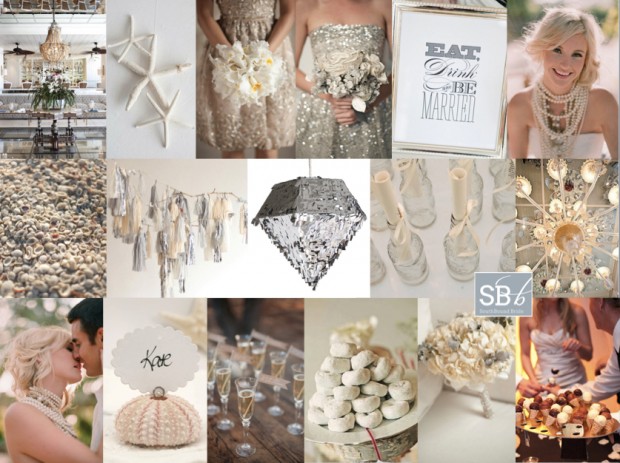 4. Neutral palettes and texture
As well as bold use of colours (including neon, I kid you not), there's a big swing towards neutral palettes at the moment. Soft taupes and blushes, champagne, greys (especially greenish greys). I think we'll see many more of these this year, tying into a return to elegance and glamour after a few years dominated by rustic chic. But neutral doesn't have to mean dull. Metallics are one way to brighten them up (see the inspiration board above, for example) but the other thing I think we'll see a lot of is texture. Think interesting fabrics, like suede or denim, lace framed in embroidery hoops, ties of wool and twine. Design your guests can touch and interact with a bit. And where used in a rustic setting, lots of natural textures like birch bark, as well as an abundance of candles.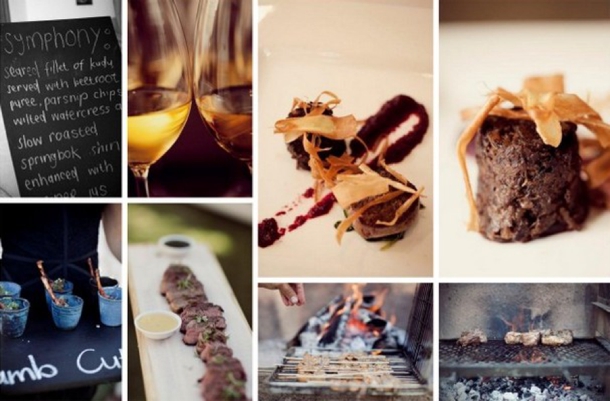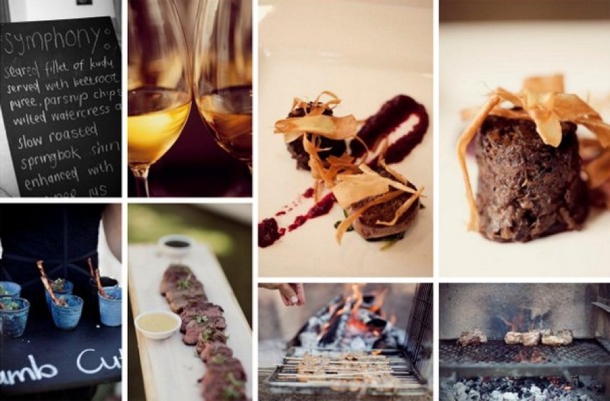 Cari Photography/The Aleit Group on SBB
5. Meaningful Menus
One trend I am seeing a lot of is brides and grooms using the menu to express themselves, just as they would do with stationery or design. Gone are the days of just picking your buffet from a PDF, chefs are working harder and smarter at venues (or as independents) to come up with interesting alternatives that add character to the day (after all, if you're already spending money on your menu, why not make it interesting?). A great way of using the menu is to either showcase local produce or to pay tribute to the bride and/or groom's heritage. One wedding we featured last year with an English/SA couple had a high tea and then a full-scale South African menu, while another had a gourmet braai and yet another created a fifties burger bar vibe to pay tribute to an in-joke the couple shared. Follow our Behind the Menu posts for some of the most exciting culinary ideas from local chefs.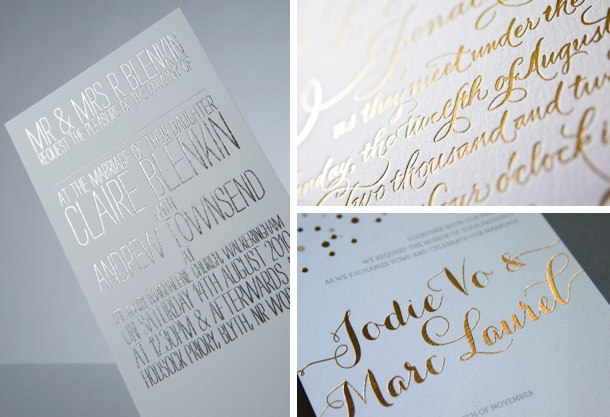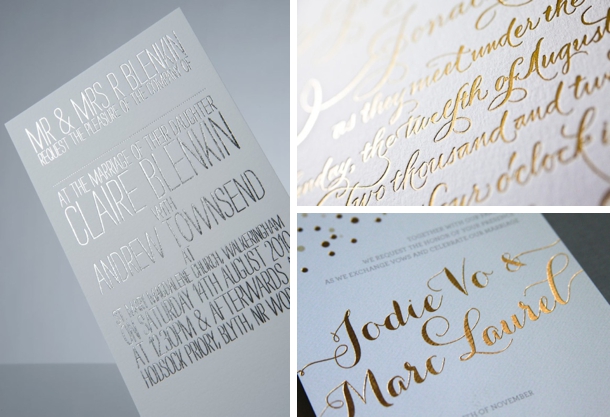 Andrew Townsend via EAD (left); Bella Figura (top right); Jolie Jolie (bottom right)
6. Foil stamping
If there's one stationery trend that will stand out in 2013, it's foil stamping (following on from the move towards metallics and the established presence of luxury processes like letterpress). Every time I see it, it makes me go "ooh, shiny shiny", and that's good enough for me.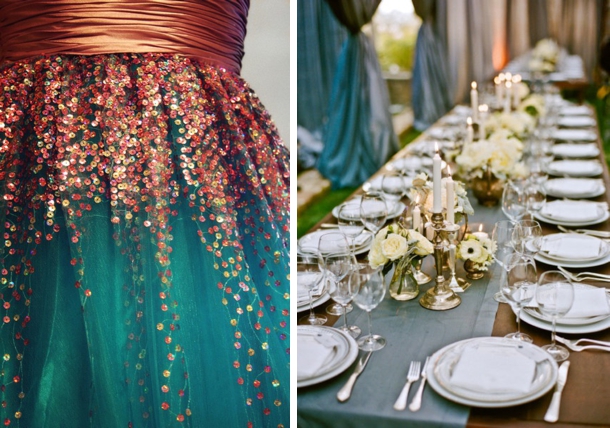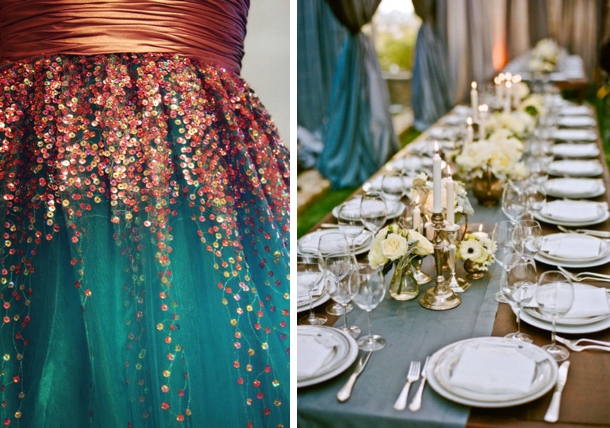 via Juxtapost (left); Amy & Stuart Photography/Love Luck and Angels via Style Me Pretty (right)
7. Copper and brass
Metallics are one trend that's going nowhere – 2012 saw glitter go further than I ever thought it would, with bridesmaids in sequins, glittery table runners, even gold spraypainted animals and sparkly feathers. With The Great Gatsby finally out early in 2013, don't expect mixed metallics to be going anywhere, but you just might see a couple of the less obvious metals making more of an impact. Copper is just a gorgeous colour to use in a paletter, and brass makes for sweetly vintage table decor, for example. Gold and silver, watch your backs.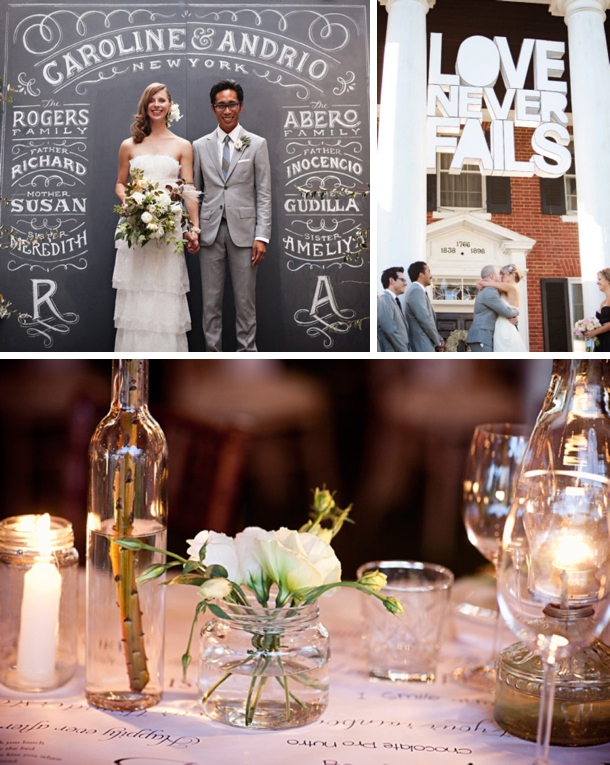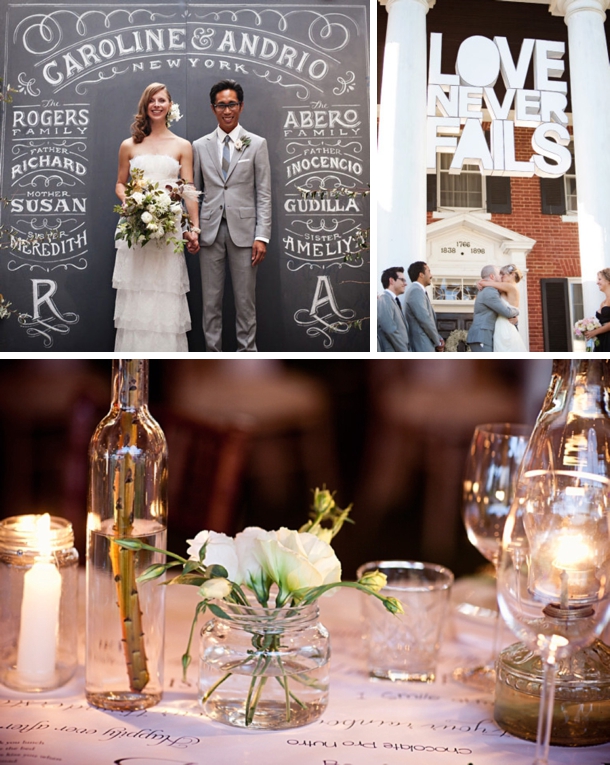 Tanamachi Studio (top left);  Justine Ungaro via SMP (top right) ; Cari Photography/The Aleit Group on SBB (bottom)
8. Text
I know, random right? But just go with it. The thing is that text in one form or another has become a bit of an underground movement in weddings. I'm 100% sure it comes along with the personalisation thing, because how better to express your love for one another than to… well, express your love for one another. Using your words. Or someone else's. Beautiful typography is the other half of this equation – everything from hand lettered calligraphy to bold modern type to chalkboard art. That's what raises text to the level of decor. Pretty sure this one deserves a full roundup from me, so watch this space!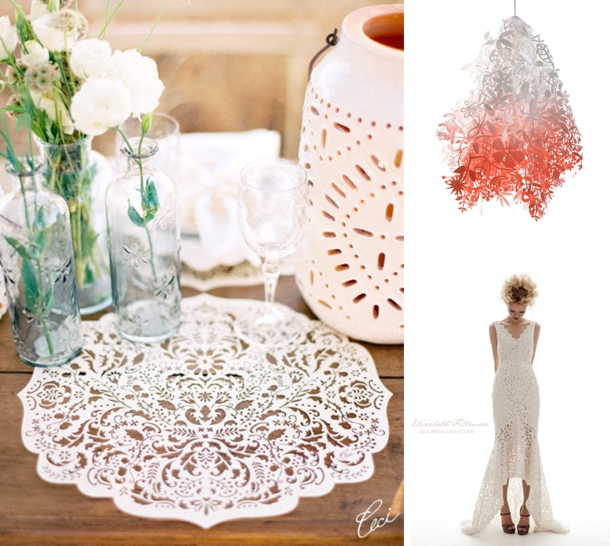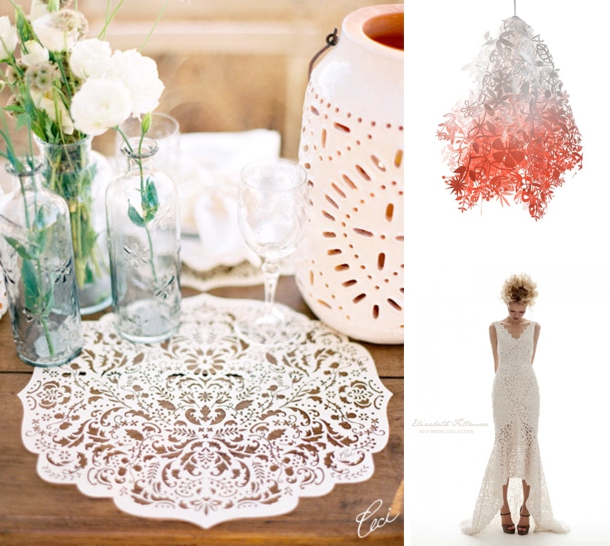 Ceci Style/Jose Villa/La Fleur Weddings & Events (left); Artecnica (top right); Elizabeth Fillmore (bottom right)
9. Lasercuts
Probably alongside the text trend is the one for lasercut – this is already big news in SA (probably more so than elsewhere, but they're catching up fast). Recently we looked at our top 3 ways with lasercut. But you don't have to limit yourself – lasercut can be used for bigger (or smaller!) decor items – even your wedding dress!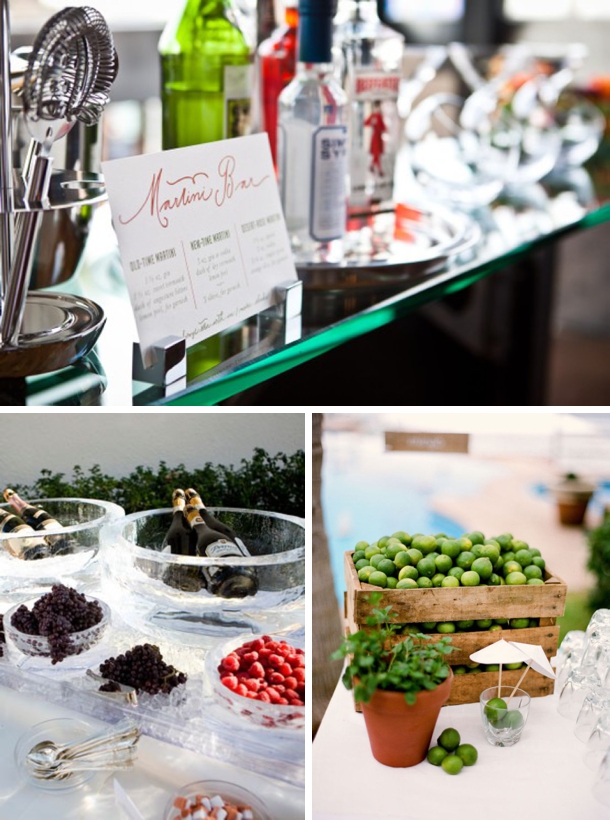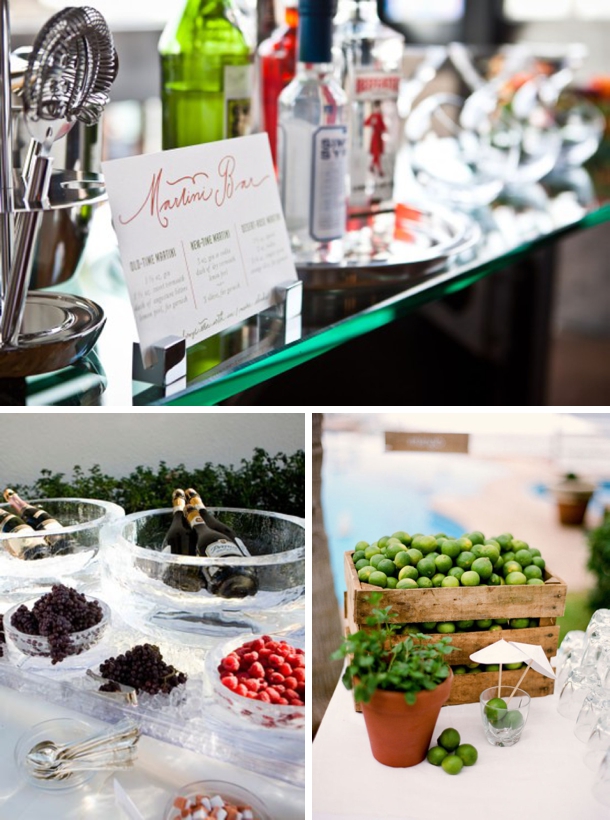 Andrea Freeman Events/Brian Leahy Photography (top); via The Knot; Ritzy Bee via Luna and Chloe Weddings (bottom right)
10. Themed bars
With grooms getting more involved in planning, it only makes sense that a few more groom-centric ideas are creeping in. And those boys do love to plan a whisky bar, let me tell you (see our DIY whisky bar here). But don't limit yourself. Martini bars are FABULOUS. How about a champagne bar, or a bloody mary bar, a fancypants beer bar, or a mojito making station? It doesn't have to be alcoholic either – tea, coffee or hot chocolate are also a great addition!
Annnnd, just for fun, here's some trends already popular elsewhere in 2012 that might finally make it to South Africa this year… or not. Who can tell?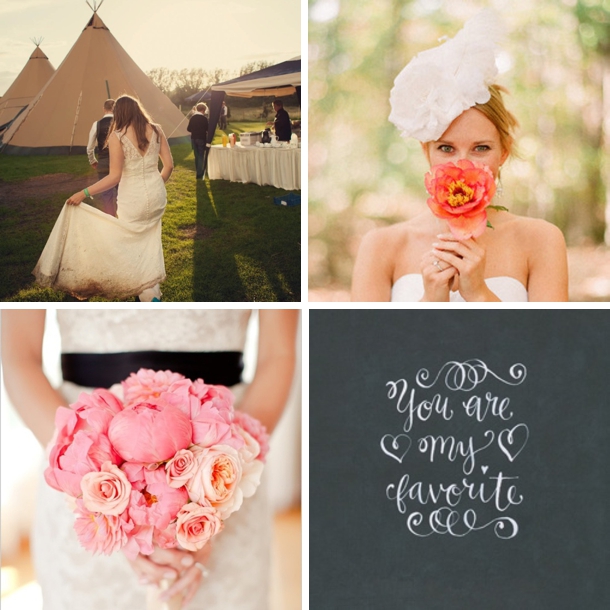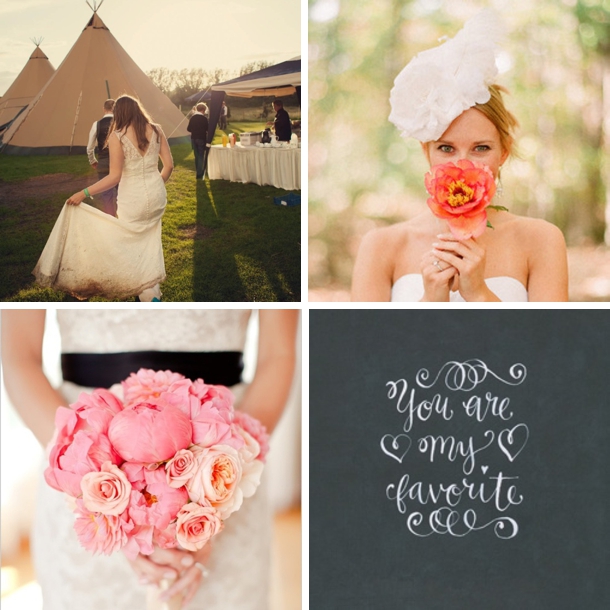 Assassynation via Rock 'n Roll Bride; Elizabeth Messina via Inspired by This (top right); Erin J Saldana Photography via Peony & Plum (bottom left); I Still Love You (bottom right)
Music festival-themed weddings
Bold headpieces
Peonies (what with more availability of these beautiful flowers, we MIGHT get a chance to use 'em! Yay!)
Hand-lettered calligraphy