Hello lovelies – here's the penultimate in our South African wedding style guides, where I'm breaking down four distinctly local looks for different styles of weddings. Today's is one that really delights me – Dutch-inspired design has been news in the international wedding community this year, and of course we have a special link to it in SA, not to mention some very beautiful Cape Dutch venues. Adding a Delft motif and some vintage elements creates something that can be rustic homestead or (my favourite) elegant wine farm, like this wedding below.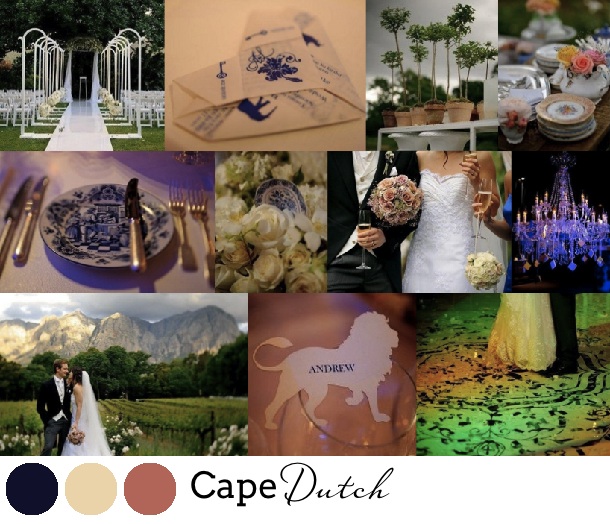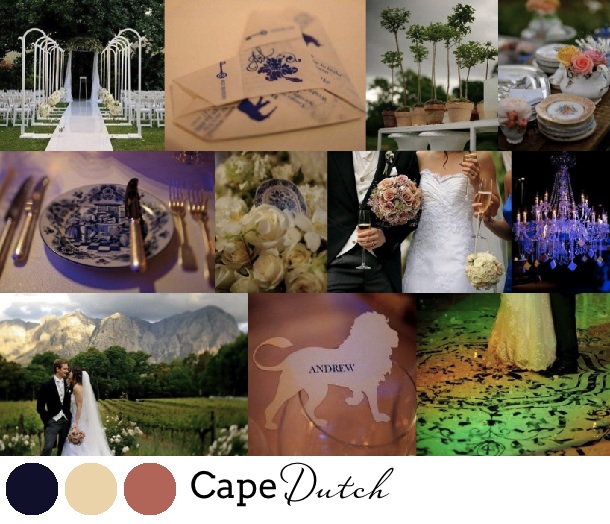 All images above by Jean-Pierre Uys
Key components: CAPE DUTCH SETTING + NAVY AND CREAM BASE PALETTE + DELFT MOTIF + VINTAGE ELEMENTS
I couldn't think of a better couple to embody this style than Liesl and Andrew, whose real wedding we featured this year. Together with Johnny Hamman for The Aleit Group, they created the most beautiful wedding in a palette of navy and cream with a touch of dusky rose, and with lots of special surprises for their guests.
Steal Their Style:
Delft pottery is the key motif for this wedding theme, but as with any motif or colour choice, less is often more. It's great to have a central visual element bringing everything together, but that doesn't mean that every single detail should be part of the theme. Ugh. So, for example, Andrew and Liesl brought their theme in with stationery, table settings (crockery and vases against white), cookies and a customised dancefloor. This is just the right amount. Delft has a distinctive colour of course, and this was another way it was used, with bridesmaids in gorgeous blue dresses, for example.
You don't just have to have one motif or theme. For this wedding, the groom had proposed on safari, so the 'Big 7' where a secondary motif – tables were named after animals and lasercut animals were used for table numbers, place cards and on the stationery – it worked perfectly.
Lighting was a big element in the reception decor – if you look at the pics, you'll see what a big part it played in colour and mood. This is something many brides and grooms forget about, but it can make a huge impact! We're lucky enough to have some very talented suppliers in SA in the lighting area.
I loved the fact that the ceremony and pre-reception stood out separately from the reception for this wedding. The ceremony was clean cut and white, with a spectacular aisle lined with flowers on stylishly large shepherd's hooks. For the pre-reception, the bride and groom hosted a little tea party, referencing the groom's British heritage, including very English canapes, lounge areas, bunting, a string of teabags and vintage crockery. Don't be afraid it mix it up a bit for your guests if you like different styles, especially if there's personal meaning behind your choices.
The reception itself was all elegance, and crystal chandeliers, mirrors and candlelight said 'black tie' all the way.
Like the tea party menu, the main meal was also themed to reflect the couple's heritage – in this case the bride's – with a fine selection of South African flavours.
Probably my absolute FAVOURITE idea of this wedding was the cookies hanging from the chandeliers in the dessert reception area. Such a cute idea! And so easily do-able. Surprising your guests and making things interactive are two ways (combined in this idea) to really create something memorable and fun for them.
Custom dance floors are becoming more common in South African weddings, and they really make a great style statement. Let your imagination run wild!
For more Cape Dutch inspiration, check out this inspiration board.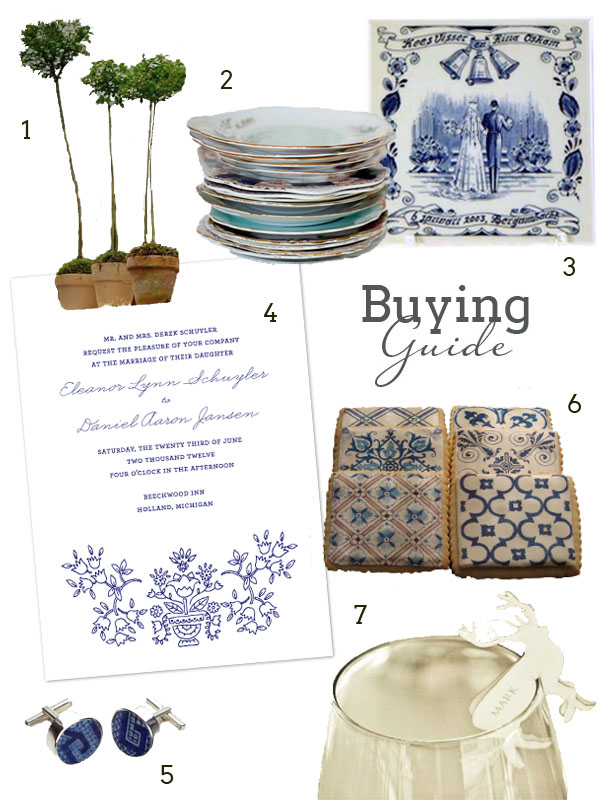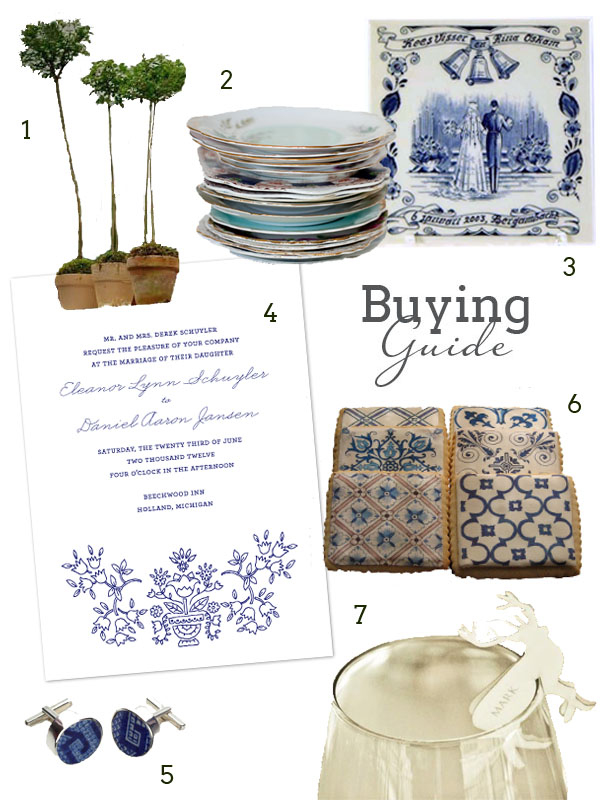 Topiary escort card trees, Okasie
Vintage crockery, My Pretty Vintage
Commemorative Delft wedding tile, John Braat and Co., $58.95
Delft Tulip Invitations via Minted
Delft cufflinks, Chandler House via Africandy, R2,950
Delft cookies,  Whipped Bakeshop (in South Africa, contact Nelle Cakes or Roxanne Floquet)
Lasercut animal wine glass name tags, Elsje Designs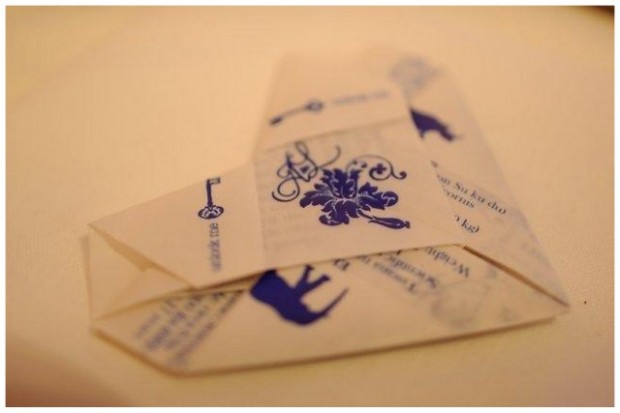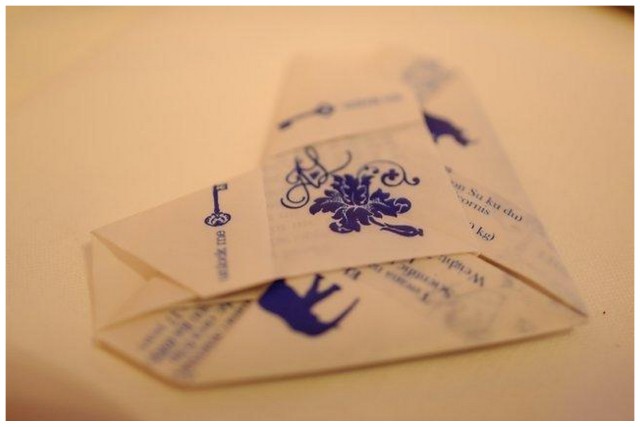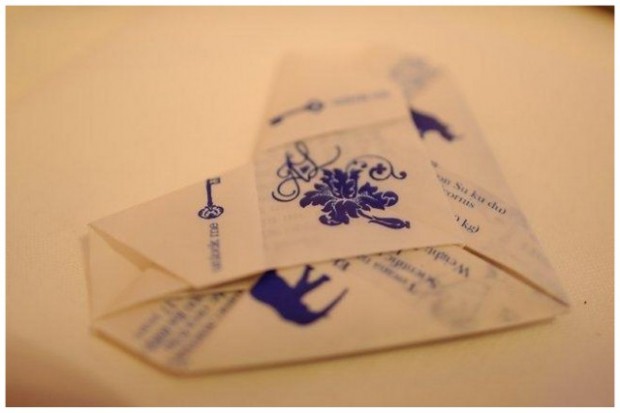 DIY Detail:
I loved the origami heart menus Liesl and Andrew used – another example of surprise and interaction. We have lots of great origami projects in our popular roundup – see it here.