Earlier today, we spent some time with our DIY bride, Sam, chatting about her gorgeous restored vintage dress, but I'm not done with Sam's lovely wedding today! In fact, it's the feature wedding for the last in the five iconic South African wedding styles I chose from last year – in this case, sort of handmade retro, but with a proper South African twist. I don't know if being based in London makes you even more enthusiastic about anything South African (I feel like it has for me!) but I loved that as part of their gorgeous wedding, Sam and Stew included lots of proudly Saffa touches (as well as lots of British ones, to represent their time in the UK). In truth, it's something you could incorporate in a number of wedding styles, but I think it works particularly well with the laid back, handmade, and very personal style of Sam and Stew's wedding – it's a great reflection of our generally chilled-out national nature, and the melting pot of cultures that somehow has become our own.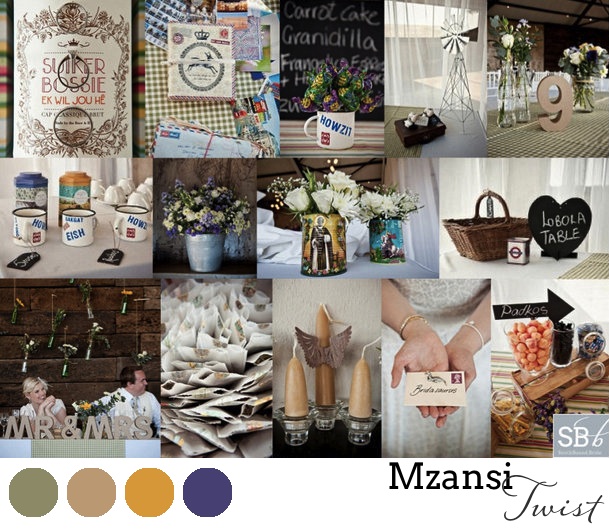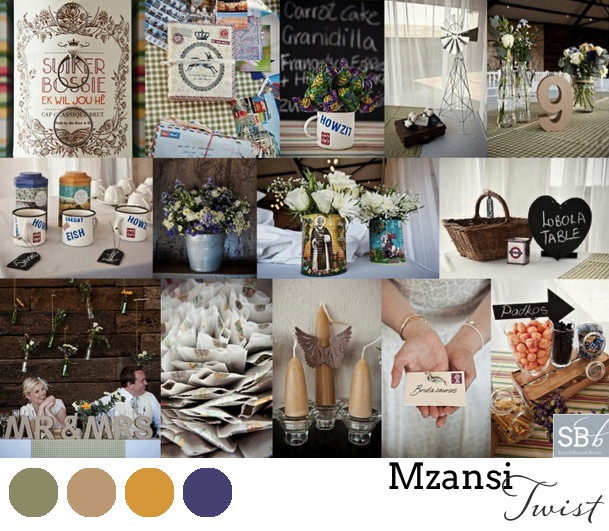 All images above by Jacki Bruniquel
Key components: MIXED PRINTS + MAPS + HANDMADE ELEMENTS + CHALKBOARD + SOUTH AFRICAN DETAILS
The great thing about this look is that it isn't really a look, if that makes sense! Sam didn't really have a colour scheme – she just picked things she liked and they held together. Of course, this is a quirky look so probably not what you want for a formal evening reception (although you could still include some local colour in a few details) but for the vintage 1950s diner idea Sam and Stew had for their lunchtime wedding, it was perfect. Every detail was really well thought out – the menu was part of an in-joke for Sam's family, the dress was a family heirloom, and map, stamp and postcard motifs referenced both the couple's love of travel and the new journey they were embarking on together.
Steal Their Style:
As noted above, keep things personal. Sit down and brainstorm all the things that mean something to each of you personally, to your families, and of course to the both of you as a couple. Consider favourite places, foods, experiences, happy memories, sentimental moments, and those little likes and dislikes that make you who you are, as well as your history. Any special talents? You could include them too, in a subtle way if more appropriate. For example, you both may love music, but creating a custom playlist for your wedding or using sheet music as a motif may be better than having a karaoke reception. In fact, it would definitely be better than a karaoke reception. Please don't have a karaoke reception.
I loved the fact that Sam and Stew signposted (literally!) their home roots with signs like the 'Padkos' one on the sweets table (filled of course, with typically South African sweeties!) and their take on Lobola (the gifts table).
Favours are a fun place to show off this style, and in fact it's often the quirky, Saffa favours that cost a little less. Sam's favours were tin mugs – which we all grew up with! – and I especially loved the ones with South African phrases on them.
This is also a great place to make use of local craftsmanship – whether it just means buying tin windmills at the side of the road, or commissioning something unique from an arts centre or craft collective. We have such a high rate of unemployment in SA, but so many talented people – anything they make is sure to be treasured. SouthBound Bride's own logo was inspired by a customised love letter favour from a friend's wedding!
Another cool place for finds is Mr Price Home – their Colab project works with a range of awesome local designers. You could consider, for example, reworking their funky tea towels into runners or napkins, or using cushions as focal points in a breakout area.
Sam has been giving us her take on homemade and she created many beautiful DIYs, but don't feel like you have to do it all yourself if it's not your thing. Pick what to make, or buy in what you can't – you can still create a handmade feel if you don't DIY!
Use fresh flowers in loose arrangements, and place them in an assortment of vases and other receptacles. Be creative!
Make sure you give your photographer some background on all of the details you've included so they know what it's important to include. Jacki did a great job with this at Sam's wedding –  my favourite is the way she used the bottle of Suikerbossie for the ring shot!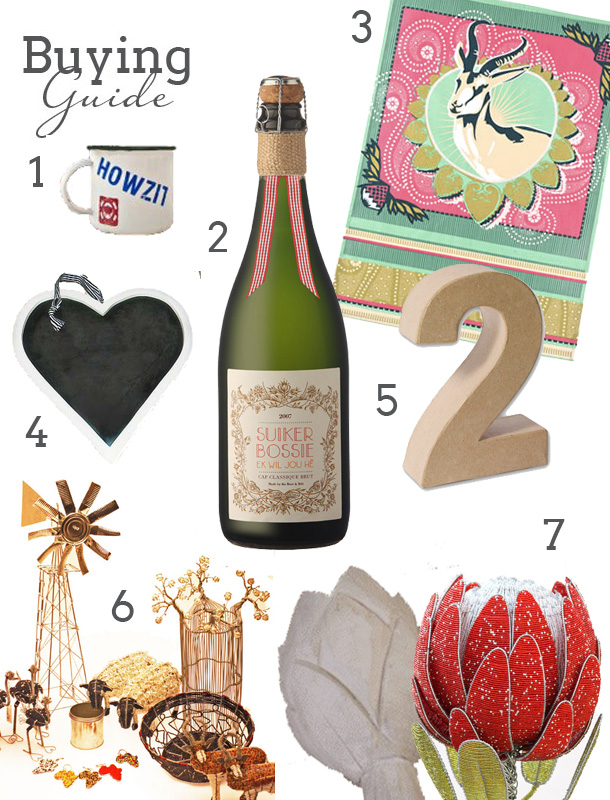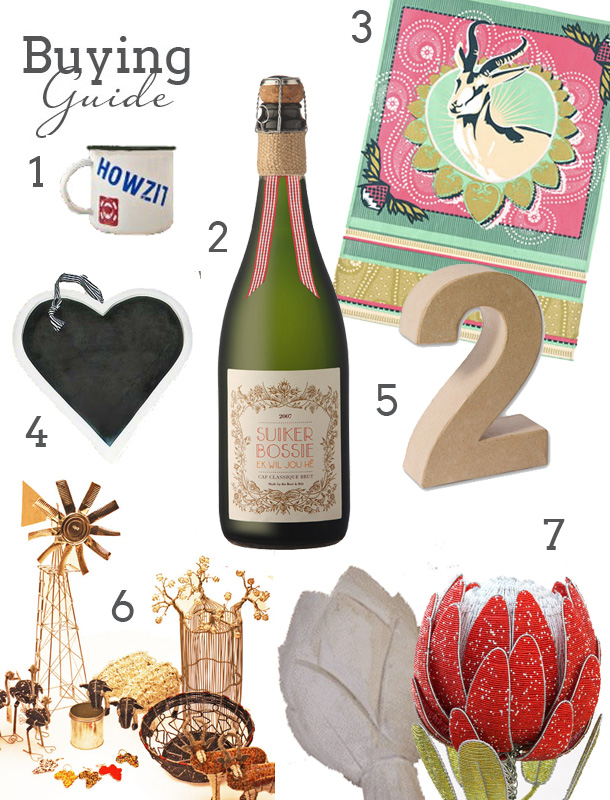 DIY Detail:
For this one you don't have to rely on my research, you can hear it all from the bride herself! Follow our DIY Bride posts from Sam herself to find out how she created everything from invitations to her boutonnieres, and even customised her dress!