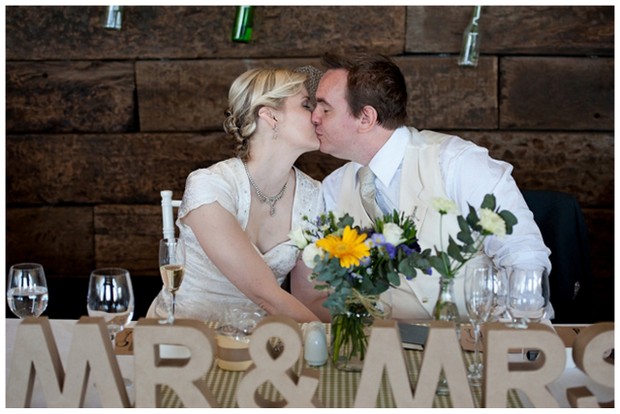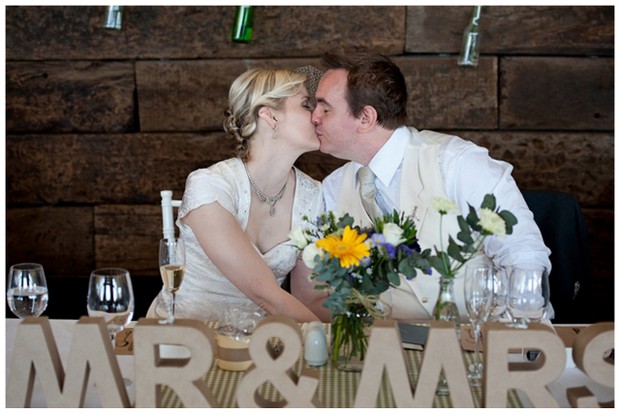 :) I've been waiting for this day for a while, and I'm so excited to share this post with you! *waves 'Yay' flag*
A while back, I was contacted by a former bride living in London, who had planned and executed an awesome DIY wedding in South Africa. Sam wanted to share her insights into planning from abroad, as well as her DIY skills, and as soon as I had a look at her gorgeous wedding I knew not only that we would get on, but that she would be a brilliant contributor to SBB. And so the scheming began. The ultimate result is that I am delighted to tell you that Sam will be joining us here on SBB as our official DIY contributor! Welcome, Sam! She'll start with DIYs from her own gorgeous wedding, and here's the really fun part – we'll be featuring her wedding next week! You guys, it's such a good one, and the pics were taken by one of my faves, Jacki Bruniquel (a few sneaky peeks on this post, but you'll have to wait until Tuesday for the rest!). In the meantime, here's Sam to introduce herself and give some amazing general DIY wedding advice – show her some love in the comments!
**********************************************************
I have a confession to make: My name is Sam, and I was a DIY bride.
From the dress, to the cake, to the flowers, and every stitch and stamp of the reception decor, we sourced, made, crafted and arranged most of it ourselves… from 10 000 miles away.
Why, you ask, would any sane person choose to DIY a wedding in South Africa, all the way from London? To dispel two popular wedding myths straight away – it certainly wasn't because it was 'easier' or 'cheaper'. As one of my (other) favourite wedding bloggers, Meg Keane loves to say: "DIY won't save the world… but it can be fun".
In the end, we chose to do-it-ourselves for a couple of reasons – sometimes, it really did cost less money, though lots more in time and effort! 'Handmade' items matched the laid-back, slightly wonky feel we wanted for our big day, and it allowed us (and by that, I do mean me) more control over the finer details, when planning everything from far away.
But, mostly – it was because I love making stuff, had a VERY patient partner in London, an amazingly helpful family back in SA, and couldn't imagine my wedding without a few (or a whole lot) of crafted bits and pieces to make it special.
Don't get me wrong – it wasn't all paper roses. There were moments (say, half-way through the 89th invitation) when I literally wanted to set fire to all the craft supplies scattered around our house. But, then there were also other moments – like the evening me, my fiancé and my future dad-in-law sat painstakingly ironing (don't ask…) the hand-folded outer covers of those same invitations – in a pokey little room in Wales, watching bad TV and bonding. It's still one of my most treasured pre-wedding memories.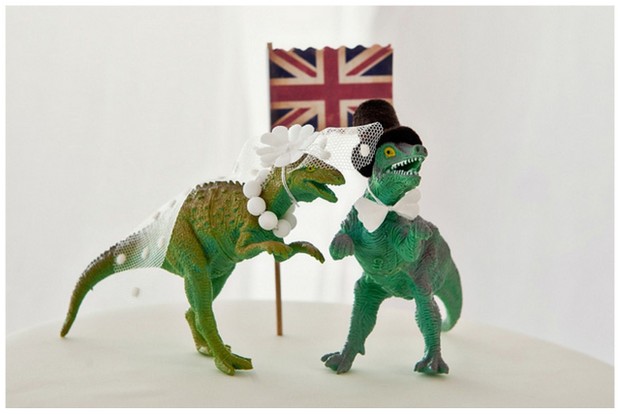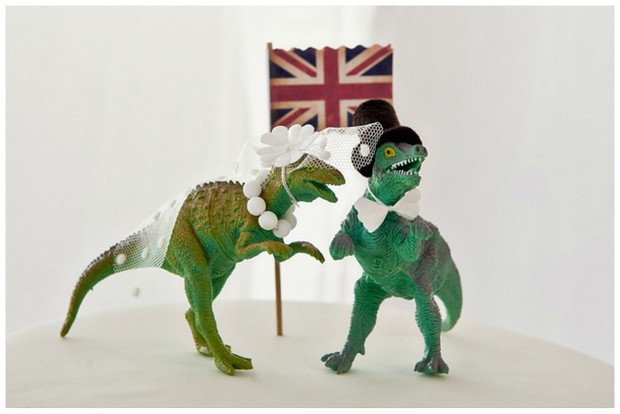 But, as a been-there-done-that-survivor, a few humble considerations to other brides-to-be who may be considering the DIY route:
Play to your strengths. If you sew beautifully – focus on those elements.If you love to bake, make your own edible favours. If you or a friend or a family-member has a useful talent – use it! (We did). But, it's also just as important to know when it's better to NOT-DIY…
I work in a creative industry, and was vey lucky to have a friend who was able to help design some of our printables, which we then put together ourselves. I was also pretty confident in the stamping / stitching / crafting department – having done little projects of my own over the years. But, when it came to the flowers – I knew I was in over my head. I had a pretty good idea of what I wanted the blooms to look like, and with help from my mom, sourced some fab glass jars from the Consol factory shop in Durban (there's one in Joburg too). But, beyond that – I didn't have a clue. Luckily, a family friend and amateur florist volunteered her help, and created the most gorgeous, relaxed arrangements and bouquets for us the day before – one less thing to worry about!
Go Pro where it matters. When it came to the venue, catering and photography – all things that were really important to us, and needed to run smoothly on the day (without us) – we called in the professionals. A decision which we never regretted, not for one single second. Pick the key elements that really count for you as a couple and try to stretch the budget to include some professional advice or vendors, where needed.
Plan, plan plan. Seems obvious, I know. But figure out a system that works for you – be it inspiration boards, excel spreadsheets or a Pinterest page – to try and keep track of things. Mine was a very, very complex system of picture folders on my laptop… (It was BP – Before Pinterest).
Delegate. As a DIY bride, you cannot do it all. (No, really – I promise, even if you think you can… you can't). Involve friends and family in some projects. Not only will it help to (hopefully) alleviate your stress – they'll feel included. For us, looking around the venue – from the cake my mom-in-law baked, to the menu boards my grandpa made, and the hanging bottle garden that my dad strung-up – it felt like we were literally surrounded by symbols of love, care and patience from all our favourite people.
Finally, have fun! Planning a wedding can be a stressful process, and choosing to DIY elements of it, will, inevitably, add to the stress in some way. So – when an idea flops, or your glue-gun fails you, or you just loose the 'gees' (spirit, for non South Africans). Let it go. Take a break. Change your mind, or even – find something that you really love, can afford and is (hurrah!) ready-made on Etsy.
Because, whether you're planning your day from 10 000 or 10 miles away, the DIYing should be about you, wanting to put a little bit of your fabulous, gorgeous, funky selves into your day, not just the blood sweat and (many tears) it may take to pull it all together!
Happy making!
xxx
Sam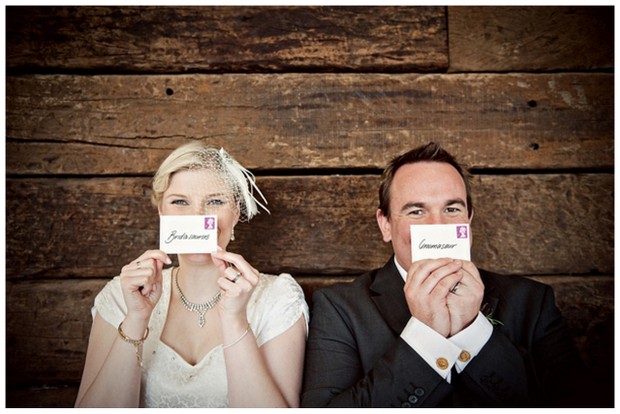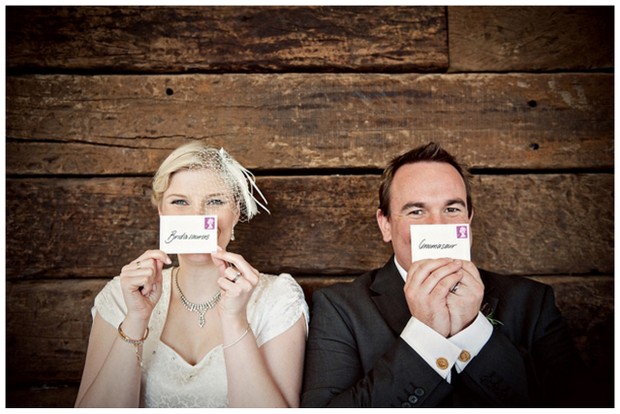 Some of my favourite DIY resources
In London:
Paperchase: A good selection of papers and basic craft supplies
Papermash: Cute and quirky crafty bits and pieces
Hobbycraft: Crafting heaven
Blade Rubber Stamps: Awesome stamp collections, and they'll custom-make a stamp for you – online!
ETSY: If you can't figure out a cost-effective way to make it, you'll find it here.
In SA:
Consol Glass: Mason jars, vases, bottles of all shapes and sizes.
BidorBuy: A good resource if you're looking for vintage items and props
In Good Company: A great range of party favours, wrappings, signs etc., for sale or hire