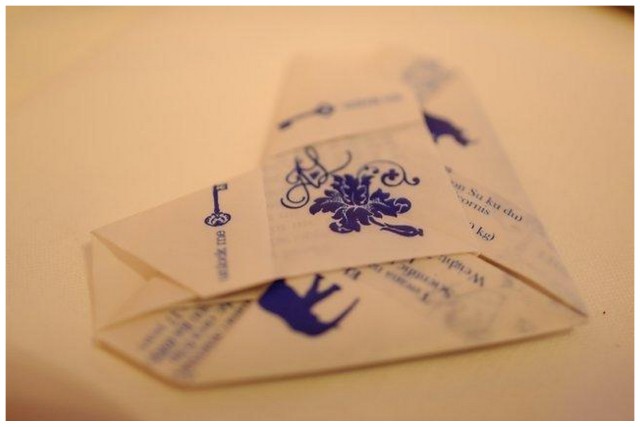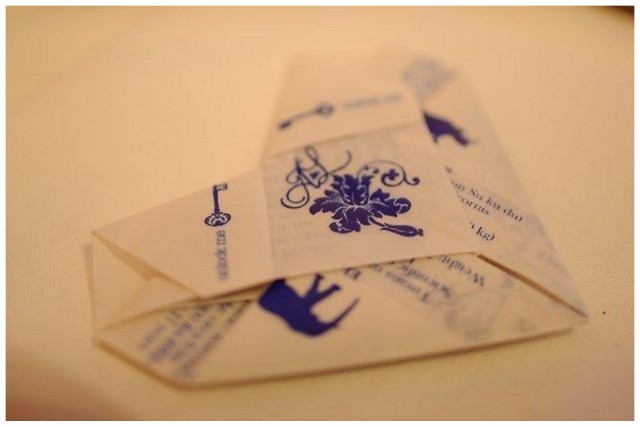 I'm very excited to showcase today's wedding. It comes from one of our industry favourites – the always creative and inspirational Aleit Group, and the styling is seriously cool (not to mention the gorgeous pics by the incredible Jean Pierre Uys). I mentioned Delft a couple of weeks ago as an element I have found interesting recently – well, this wedding used it as a motif throughout. Think place settings, origami menus, cookies and (OMG I die for this) even a Delft-patterned dancefloor! That said, the theme is never tacky or overdone, it just blends in beautifully with the winelands venue (Molenvliet) and the safari-inspired details. Another element that must be mentioned is the aisle – how cool is this one? I've never seen anything quite like it, and I'm in love! Yet another reason I am loving this wedding though, is Liesl and Andrew's super cute story, which includes one of the most romantic proposals ever (I just wish I had space to include the whole thing!). She was a South African girl who finished up her education at boarding school in the UK, he was a born-and-bred Brit. Then somehow, after studying in London and Nottingham respectively, they both landed up in London getting started in their careers in accountancy. And so it began…
Liesl & Andrew tell it best themselves…
Liesl: We met in a bar/club in London that does not have the best reputation… He added me on Facebook and, after a few declined invitations for a date (I blame his notorious profile picture in use at the time! Andrew: It wasn't that bad, everyone passes out after their final exams right?) we lost touch for two years, albeit with the odd, sporadic message from Andrew, which remained unanswered. Then he noticed from my online status that I was headed for New York for a holiday, and recommended a champagne and chocolate tasting bar (Andrew: I had no idea it was a family holiday – else I may have been more cautious with my recommendations!). My family and I thoroughly enjoyed it! In fact, it was only then that I realised Andrew may have good taste, and I took back all my pre-conceived opinions of him. As a result, I messaged him back to thank him, a response he skilfully turned into a date to discuss our respective New York experiences. And the rest, they say is history. His persistence certainly paid off, and I couldn't be happier for it!
In 2010, Andrew and I were lucky enough to secure tickets to join my family at the World Cup Final at Soccer City in Johannesburg, and I secretly arranged a surprise stay post-Final at Madikwe Safari Lodge. What I didn't know was that Andrew had plans to propose. After arriving in Johannesburg, Andrew snuck into my Dad's study to ask for his permission (Andrew: We are both very traditional, and I knew this gesture was as important to Liesl as it was for me.) He made Andrew sweat a little, but 'encouraged him to ask me'. My mom then called in a favour and secured an appointment with the family jeweller – I was oblivious to all the goings on! At the lodge a few days later, Andrew secretly made plans with the staff. On our last night, our ranger approached us an offered us a view of the stars – Andrew accepted his offer with gusto and before I knew it we were climbing back into the Land Rover. We were in serious four-wheel-drive mode, driving up an incredibly steep hill strewn with boulders – at the summit we arrived at the lodge's helipad, with an expansive view of the Game Reserve. There waiting was a table for two, surrounded by a circle of paper lanterns, with oil lanterns hung in the bushes around us, wood fires to keep us warm, the manager on hand to cook us a special dinner, the vastest expanse of black sky around us LITTERED with stars, as though someone had thrown glitter into the sky, hyenas barking in the distance and (I kid you not) a shooting star! Andrew got down on one knee and asked me to marry him – without any hesitation I exclaimed "yes!" and burst into tears of absolute joy. It was the most incredible night and week of my life! My man did good, and I couldn't wait to marry him.
Having lived in the UK for so many years, one thing was certain when we started to plan our big day: we were going to get married in the most beautiful region on earth! MolenVliet Wine & Guest Estate in Stellenbosch epitomised everything we were looking for. In addition to the gorgeous homestead and immaculate gardens, the lush green vineyards and majestic blue mountains provided the perfect back-drop for an intimate and personal wedding with 50 of our dearest family and friends from all over the world.
We both wanted a very classy ambience with timeless, stylish décor featuring crystal vintage chandeliers and an abundance of white floral arrangements with accents of royal blue – all delft pottery inspired. We had a beautiful and romantic garden ceremony on the lawn in front of the MolenVliet Manor House boasting pure white décor, with the aisle lined by tall shepherd hooks, from which white floral pomander balls hung. When the heavens decided to open momentarily with a light sprinkling of rain during one of our readings (ironically just as our good friend read out the opening line "Now you shall feel no rain" from An Apache Blessing!), Andrew and I heard our guests' pop open their white parasols in unison, and we all burst out laughing. The sea of parasols looked just gorgeous, and actually added an extra (British?!) dimension to our outdoors ceremony!
After the ceremony, we led our guests with champagne in hand down through the gorgeous vineyard, accompanied by a high spirited jazz trio, to our pre-reception party. By now the clouds above had parted and the passing light rain had stopped. It was important to us to incorporate the marriage of our South African and British backgrounds into our menu choices. The end result was a British-inspired high tea pre-reception, with a mouth-watering selection of roaming canapés including dainty finger sandwiches, scones, mini Yorkshire Puddings and mini Bangers and Mash. These went down a treat with the variety of freshly brewed teas served in mismatched antique cups and Pimm's No. 1 Cup cocktails. Our tea party area was decked out in fabulous chaise longues, benches and couches bordered by bunting and teabags pegged to a washing line. Our guests also participated in a spot of croquet on the lawn.
For our reception dinner, the hall was laced with regal crystal chandeliers above long white tables with blue trim, adorned with tall white floral arrangements. Following our safari proposal, we chose to seat our guests at tables named after the "Big 7": Lion, Leopard, Elephant, Rhino, Buffalo, Wild Dog, and Cheetah. Each table had a Perspex laser cut outline of the relevant animal, which beautifully reflected the ambient blue and purple lighting in the room. We also had origami heart-shaped menus on the tables, which made the unveiling of our menu an interactive activity. On each were some facts about the "Big 7" animals.
In contrast to the pre-dinner canapés, we indulged in the most exquisite South African flavours including the most succulent venison main of Kudu and Springbok with an utterly delicious and traditional soetpatat (sweet potato) side. It was pure perfection! We also had a cupcake tower – I'm baking mad and a cupcake queen! – and an array of desserts including cookies stamped in a Delft pattern and suspended from a low-hanging chandelier (A: It took both me and the guests a while to realise these dangling ornaments were in fact edible). And the food didn't stop there! After gracing the dancefloor and breaking out an assortment of dance moves, our guests were only too delighted to be treated to a surprise midnight snack of quintessentially British mini Fish and Chips wrapped in newspaper (A: This was quintessentially awesome).
Our first dance was another romantic reference to our safari proposal: "Can You Feel The Love Tonight" from The Lion King, sung by the extremely talented Nomfusi & The Lucky Charms. Our guests (and Andrew, because he'd forgotten!) were all surprised with the confetti bomb which exploded half way through our song, littering the dance floor with white and blue confetti butterflies.
The internet was my biggest source of inspiration. That said, I knew right from the start that I wanted to achieve a Delft theme, of which I found very little online (as daunting as it may seem, this reassured me that it wasn't an overused concept). Being an overly organised person, I thoroughly enjoyed creating a ridiculously catalogued scrapbook of ideas, which I translated into our theme (Andrew: During our 18-month engagement this Wedding File barely left Liesl's side and was so full by the end that it could not be closed!). My biggest help was the use of the exceedingly professional, creative and talented Aleit Group. Their assistance in planning a wedding remotely from the other side of the world made the experience an absolute pleasure. By communicating with them over countless emails, our vision (and more!) was achieved, and unforgettable memories were created. Using a wedding coordinator when planning a destination wedding would be my number one recommendation to any bride abroad.
Also invest in a very talented photographer (and videographer if you can!) as they will capture those special moments and elements, which you will treasure forever as a reminder of your wedding day. Also, very importantly, remember to enjoy the planning phase ahead of your wedding! There are times when certain elements can prove difficult and challenging, but you need to remind yourself about the purpose of your wedding day: you are marrying that one person you love and want to spend the rest of your life with. The rest may be utterly gorgeous extras but it all comes secondary to what you are there to do.
The perfect end to a perfect wedding! Thank you so much, Liesl and Andrew, for sharing your incredible day with us! And big thank yous to both Jean-Pierre and the Aleit Group as well – always an absolute pleasure to feature both of your work!
SERVICE PROVIDERS
Venue: Molenvliet | Catering: Stir Food | Photography: Jean-Pierre Uys | Co-ordination: Johnny Hamman for The Aleit Group | Flowers & decor: Okasie | Cake & dessert display: Nelle Cakes | Stationery: Elsje Designs | Bride's dress: Gert van der Merwe | Bridesmaids' dresses: Dessy Group | Hair & makeup: Le Look | Lighting: Something Different | Teacup rental: A Vintage Affair | Hiring: In and Out | DJ: Aleit Music | Entertainment: Nomfusi & the Lucky Charms | Suits: Neal & Palmer | Video: Vicky Goslin