Hello friends! Time for another of my favourite weddings from 2012, with what I think is a distinctly South African style. I say South African, but in fact in this case it's all Cape Town. A combination of slick city chic and laid back beach with a touch of quirky colonial and vintage style. Quite a mix! But then, it's the same mix that makes the city charming. It's epitomised by the decor at the gorgeous Grand in Granger Bay, where today's swish couple held their wedding.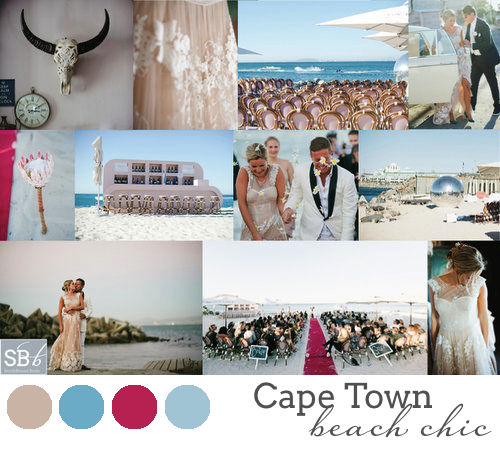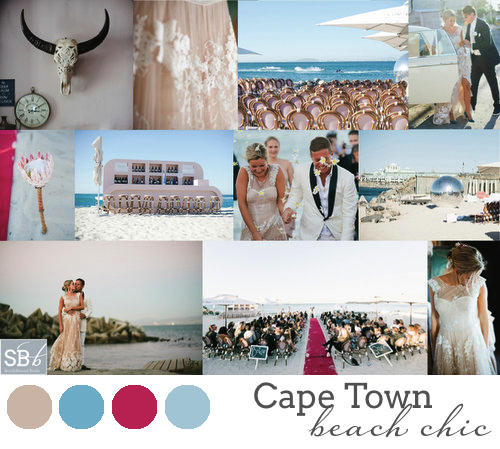 All images above by dna photographers
Key Components: BEACH + MODERN PINK & BLUE PALETTE + QUIRKY ONE-OFF PIECES + MIXED RETRO/BISTRO/INDUSTRIAL STYLE
Of course, the easiest way to adopt this style would be to have your wedding at one of the Grand's venues (after all, it's their awesome interior design that's responsible for the look) but the reason I included this wedding in our roundup is because if you're a cosmopolitan couple who wants a beach wedding but won't go for rustic, there's a lot you can learn from the Grand decor in order to make it your own. The couple themselves also have a few lessons for us, largely because of how seamlessly they integrated their personal styling with the overall look – not an easy thing to achieve!
Steal Their Style:
The easiest stand-out detail to adopt is Barbara's INSANELY cool blush lace dress (by Francois Vedemme). It is the monkey's bananas. Blush dresses are a HUGE trend for 2013, but I still hear brides saying they don't feel brave enough to go pink. This wedding shows how that small risk really pays off. I've worked with two of the three dresses in the buying guide, and they are even more gorgeous in person! I was also so in love with the way Barbara styled her dress – check out the whole wedding and make sure you catch her pretty rosebud hairpiece, her teal shoes, and her funky drop earrings. I also like the chic chignon she is rocking – the perfect combination of effortless and elegant.
No slouch in the fashion stakes himself, groom Michael gave his bride a run for her money in what has to be one of my favourite suit combos this year. The white trousers and shirt paired with a contrast lapel dinner jacket and slicked hair had a lovely touch of the '50s about it, like he was Carey Grant stepping off a yacht. In Havana. I don't think there's a better look for a city/beach combination wedding with a touch of retro! Michael also insisted on changing before the ceremony after meeting and greeting his guests, which I thought was a fun and festive touch.
We often see proteas being included in vintage weddings, but this is a good example of how proteas (with their unusual shape and long sturdy stems) can accessorise a  modern wedding beautifully too. Barbara and Michael had them lining the aisle – simple, no adornment – which was perfect (and still added a sweet proudly South African twist).
Pink is the Grand's signature colour (often with red) and together with the blue of the sea, they formed a sweet but quite unusual palette for a modern beach wedding, which is part of why I think it works. It has the same strength of contrast of hanging a chandelier in a thorn tree – surprising your guests visually goes a long way.
Speaking of which, a key component of the Grand's look is one-off pieces that really catch the eye and get people talking. For example, the pink beach bar, the Marilyn lips couch, the pink wicker bistro chairs, the giant disco ball and of course the filigree carved water buffalo head above the bar. If you're working from scratch, pick a few key pieces that are stylish conversation starters and don't scream 'wedding', and you can re-use them in your own home. Or consider a mini installation or feature wall – great for a ceremony backdrop and not easily forgotten!
Pay homage to the luxury and decadence of the look by serving lots of pink champagne/cap classique.
The rest of the decor was kept simple – this is a great way to save money and hassle. If you have a great venue with great views, then you can afford to keep the table decor simple.
Live entertainment was a big part of Barbara and Michael's big day – they had a singer at the wedding itself and then Goldfish playing at the reception (how awesome is that?). They also made a feature of the food, with a crepe station and late night pizza.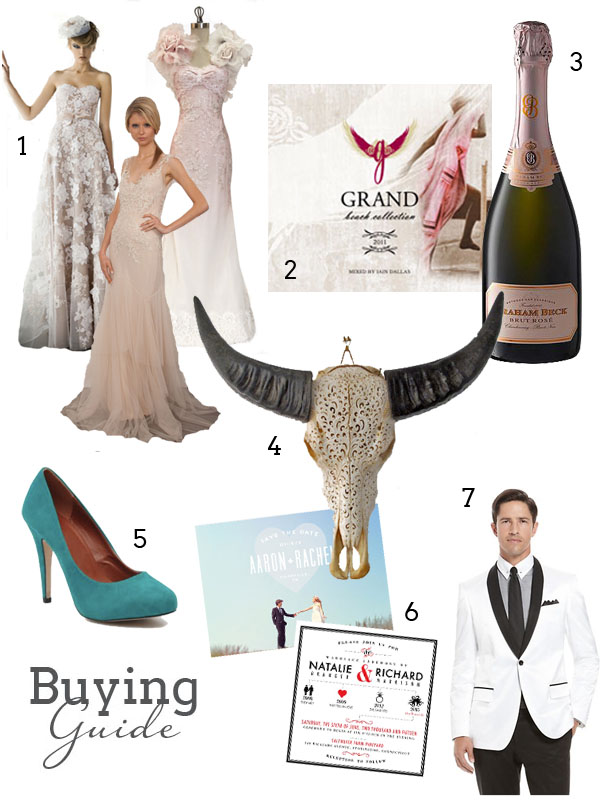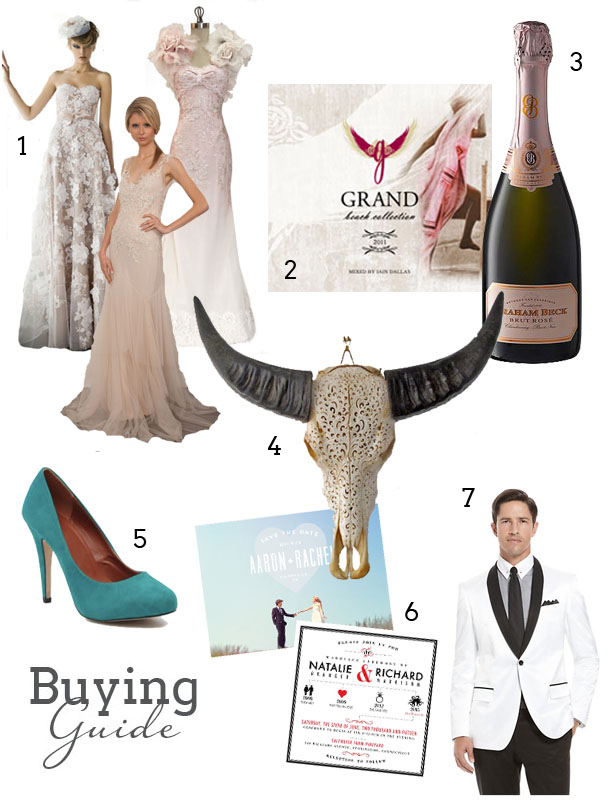 DIY Detail:
I'm not sure if Barbara and Michael served cocktails (they certainly served blush French champagne – love it!), but this sort of wedding is the perfect opportunity to serve a chic signature cocktail or two. My friend Lena over at A Crimson Kiss is the cocktail queen – so here are links to three of her amazing recipes!