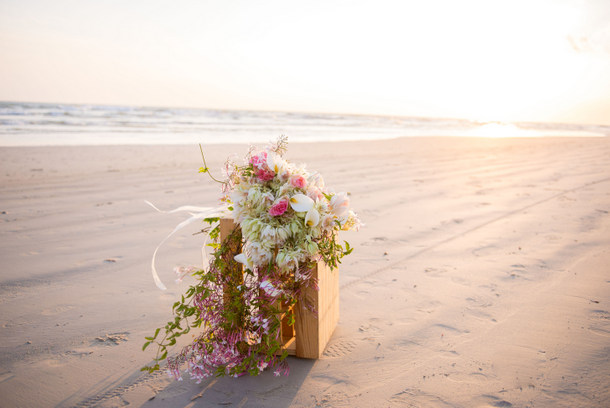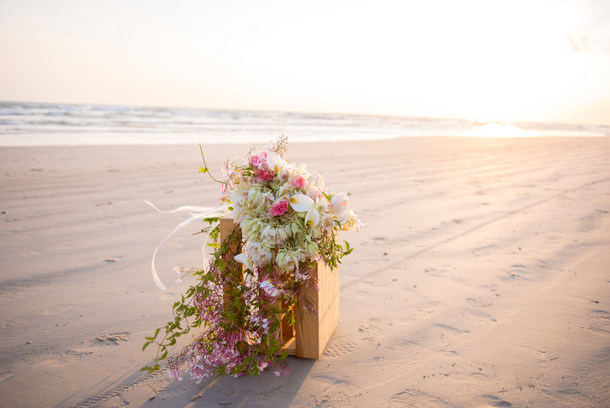 Ready, steady, let's GO! I'm so excited to share a week of proudly South African wedding inspiration here on SBB, starting with this delightful shoot from two long-time supporters of the blog (along with their talented team), stylist Theresa of Creation Events and photographer Cheryl McEwan. Instead of choosing a single South African twist, they were inspired by just how eclectic and diverse our cumulative culture is (one of the things I love most about SA) and created a look for both ceremony and reception that incorporated a mix of the gorgeous textures and colours of our nation. Including a beadwork cake, which I am absolutely DYING over, leather accented stationery (how. cool. is. that.) and lots of beautiful, beautiful proteas. Put simply, these are a few of our favourite things :)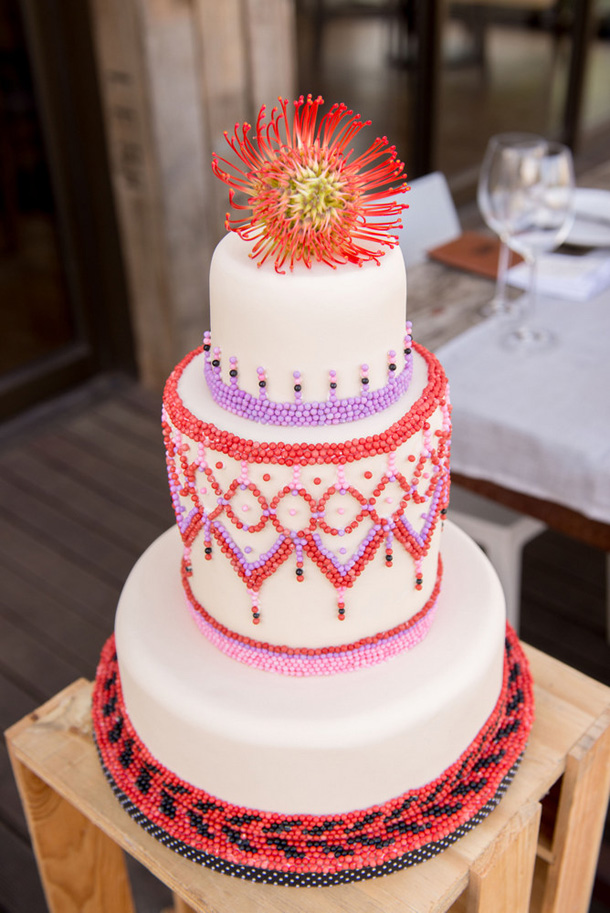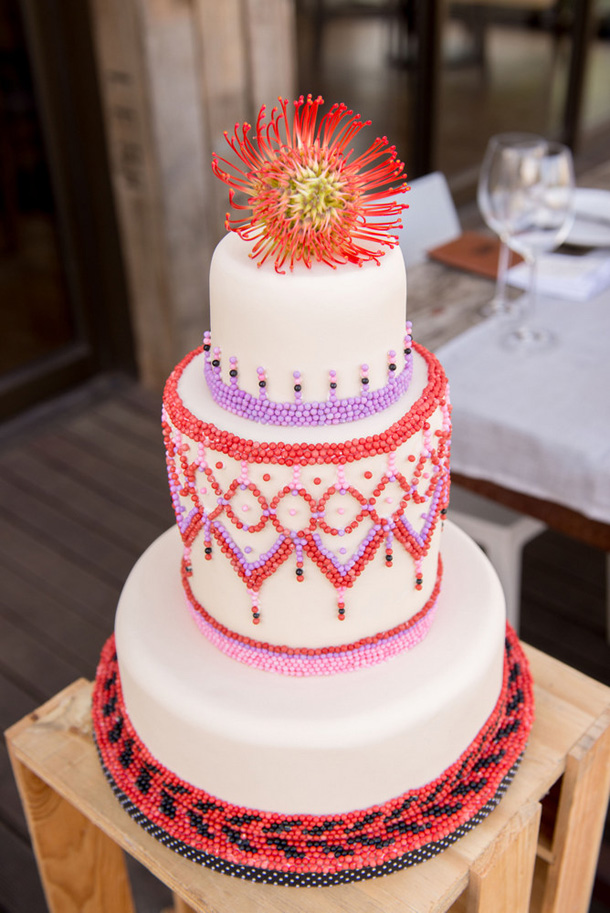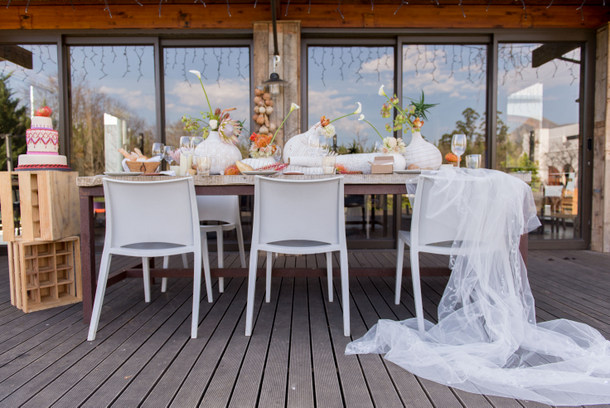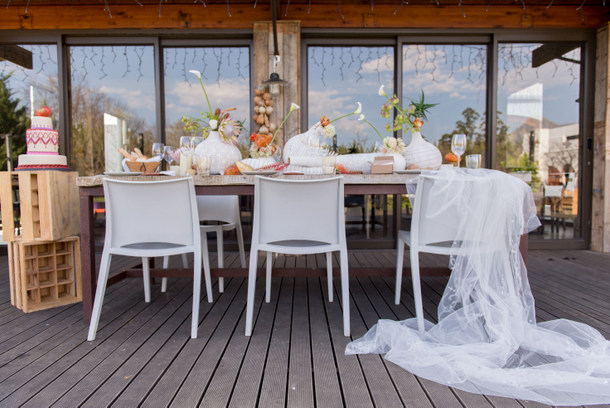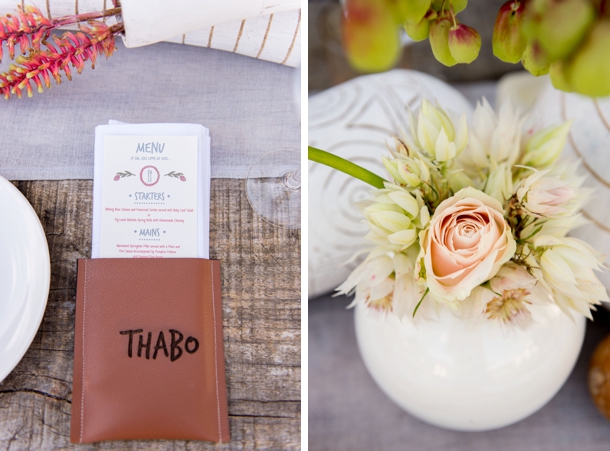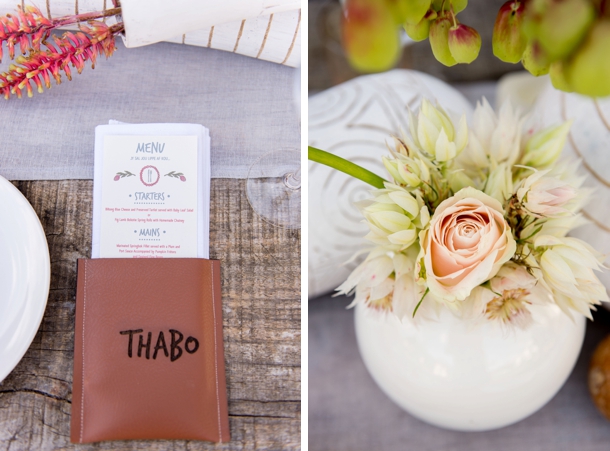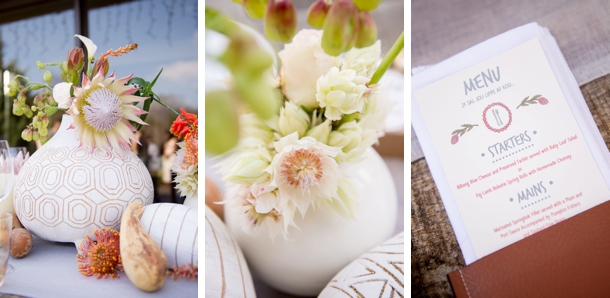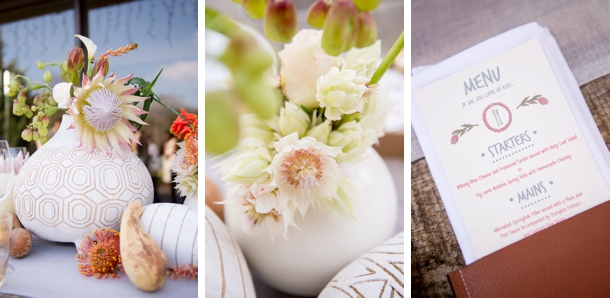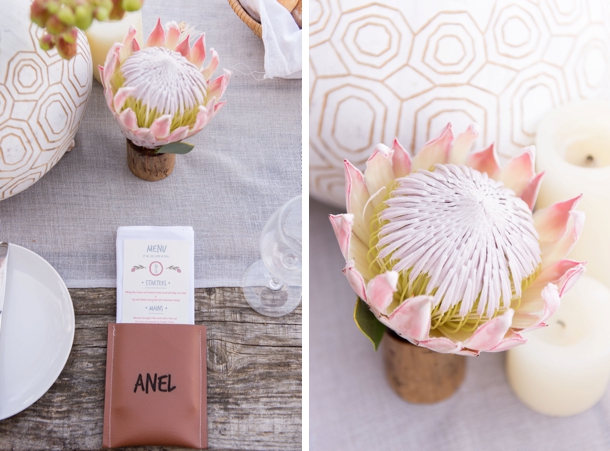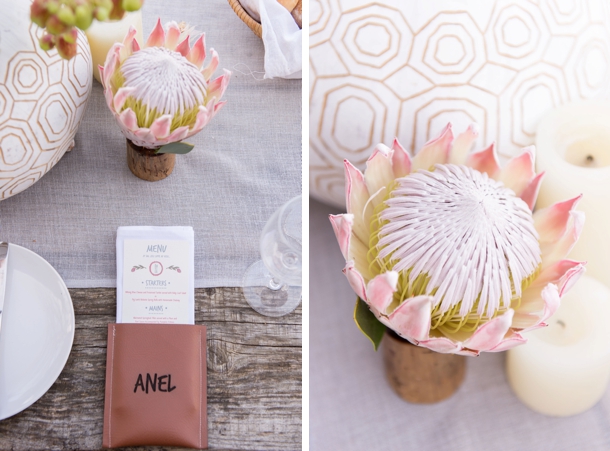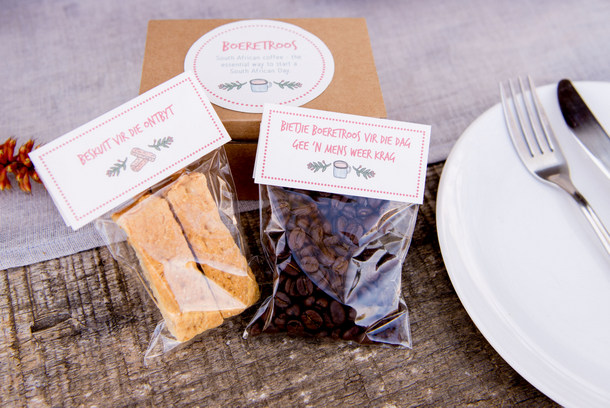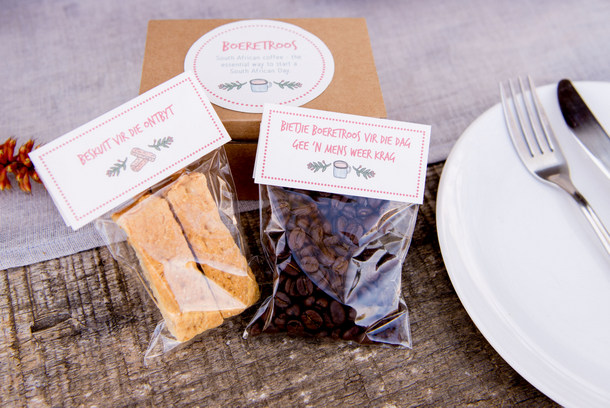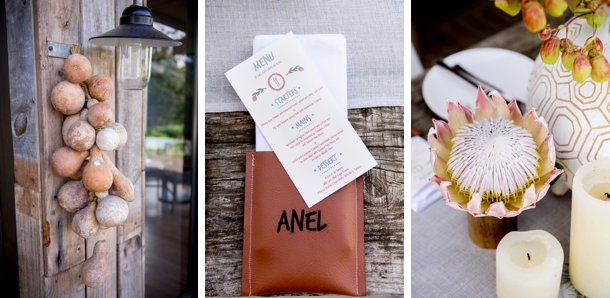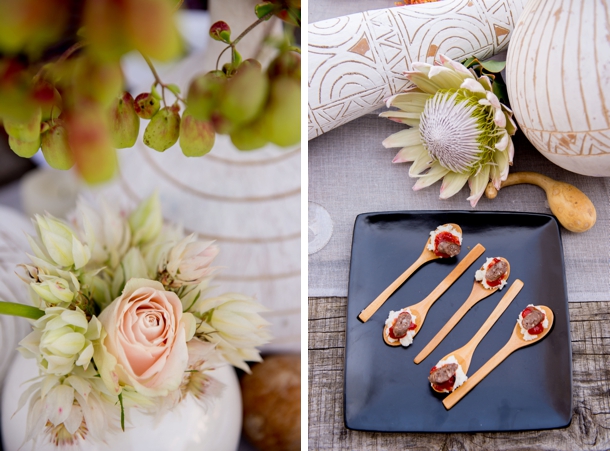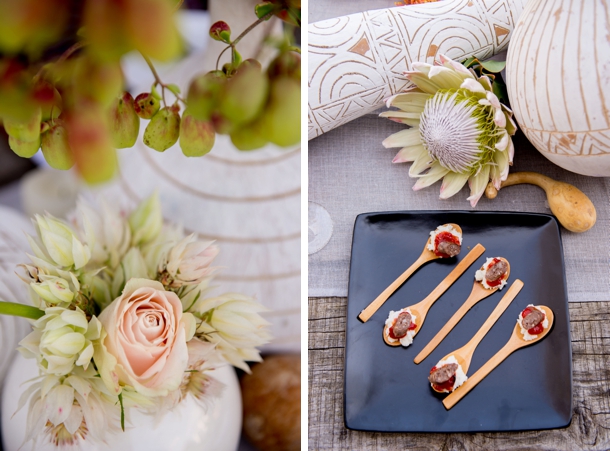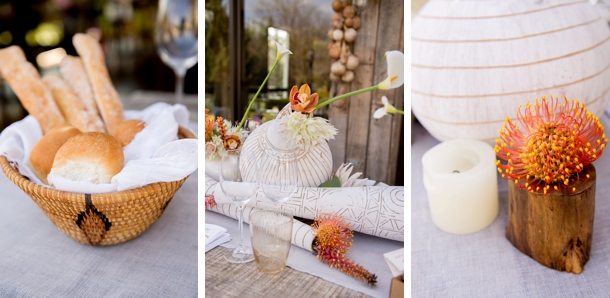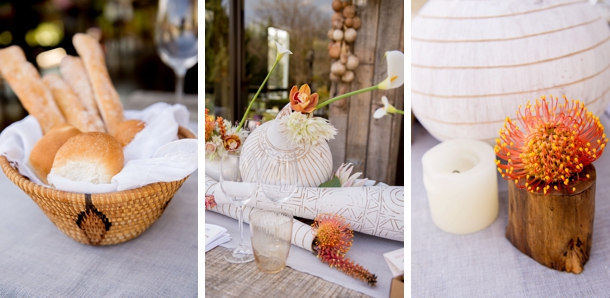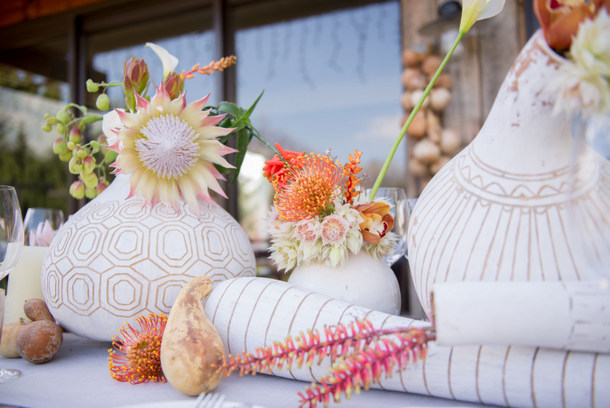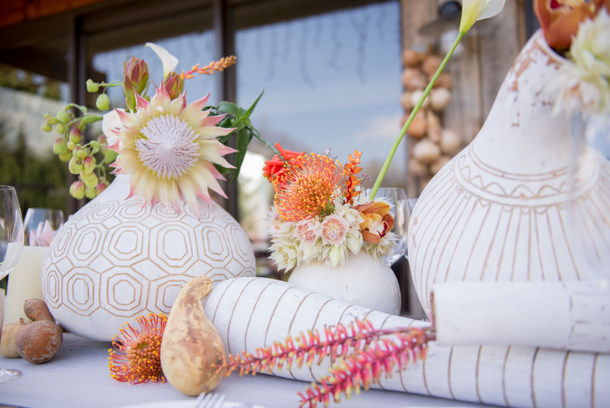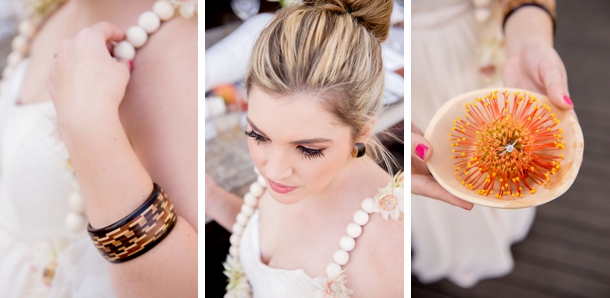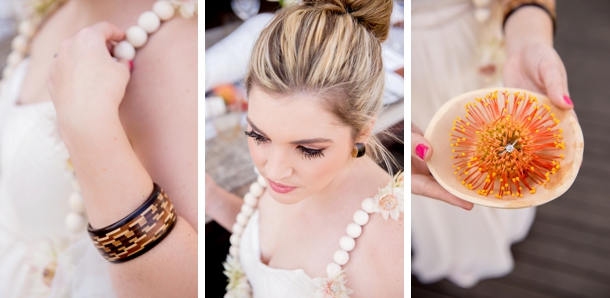 Describe the look for your shoot
The African sunset inspired our colour palette, thus incorporating shades of peach, yellow, and warmer shades of pink. These colours were then highlighted with small touches of stronger colours like burnt orange, brick red and cherry pink. The colour pallete was further supported by the incorporation of natural elements such as leather, worn wood and linen.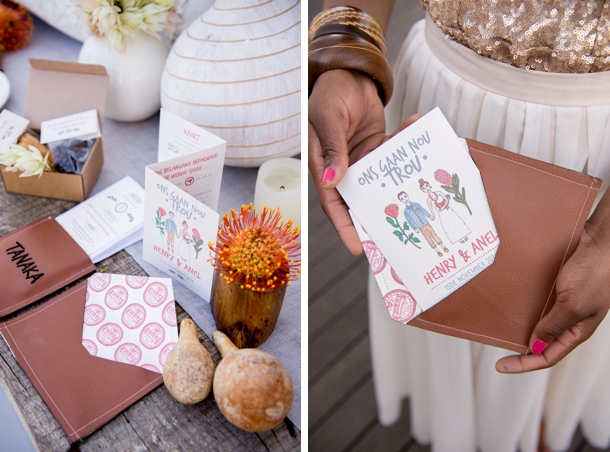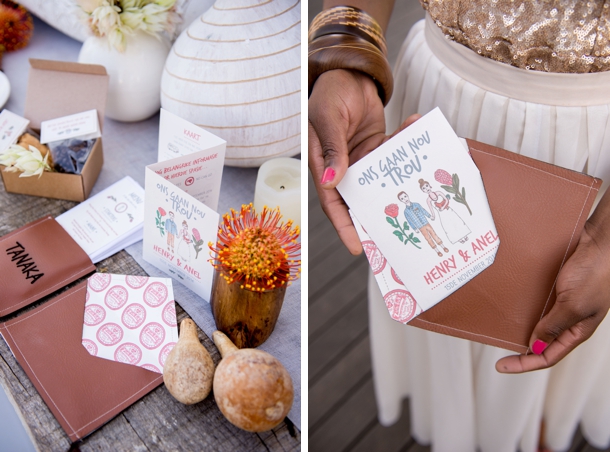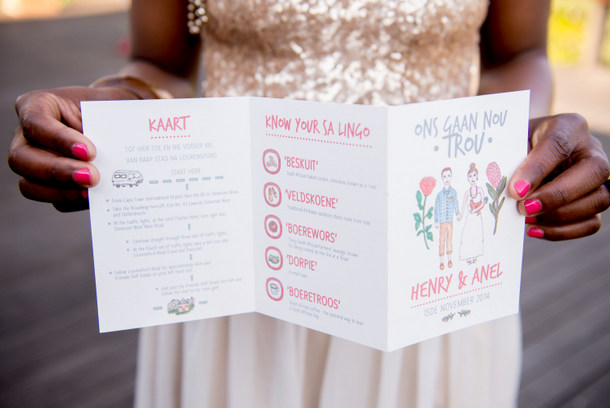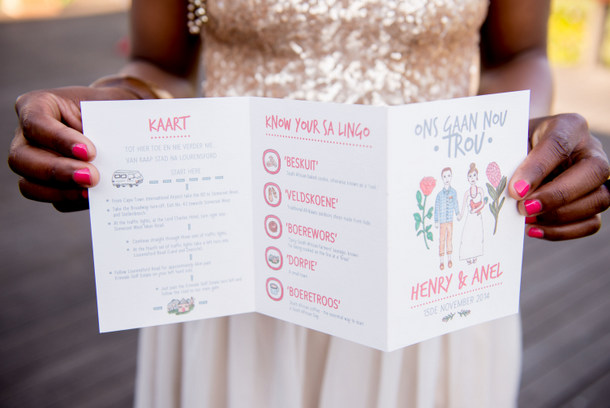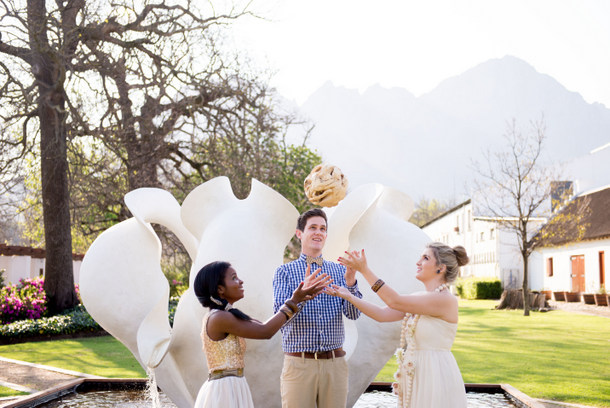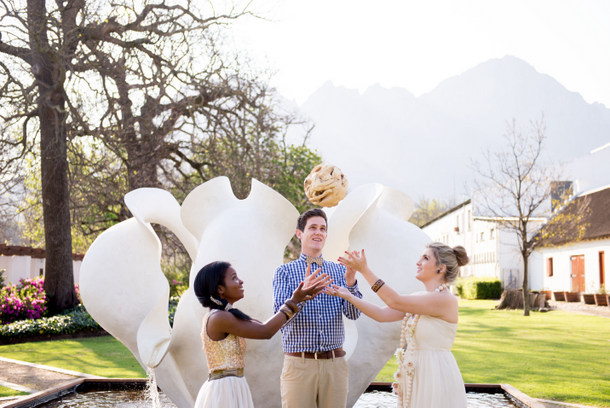 What was the inspiration behind your shoot?
South Africa is an eclectic mix of cultures and therefore there is not one specific element that represents South Africa as a nation. The mere fact that we have eleven official languages is evident of this diversity that makes our country so special. Our aim was therefore not to just represent one culture, but rather to take the best of what each offers and incorporate it into the styling of this shoot so that it is a true representation of our colourful nation.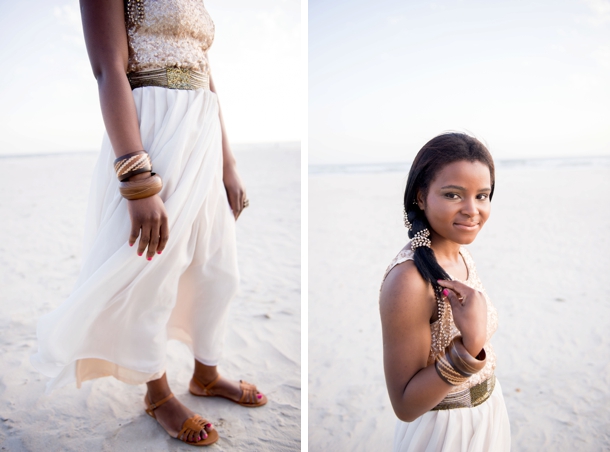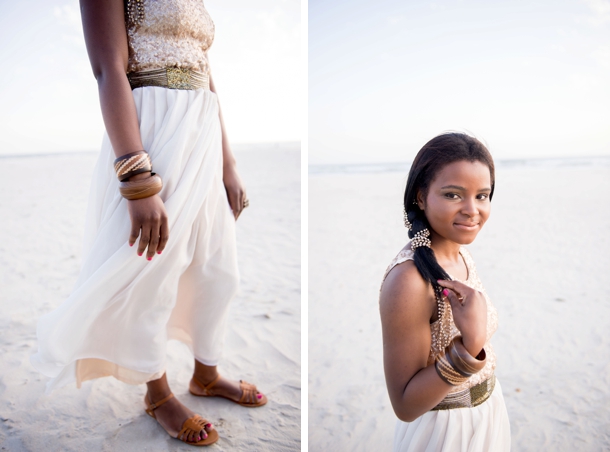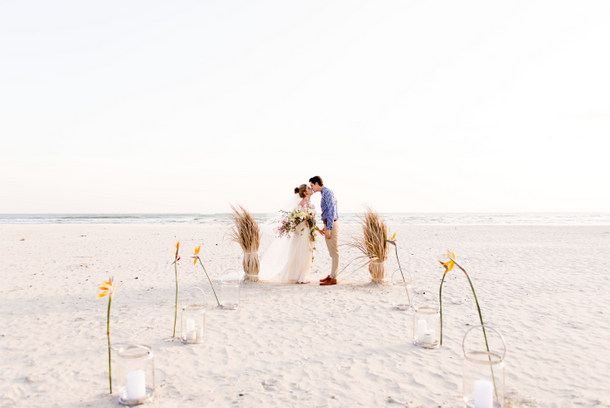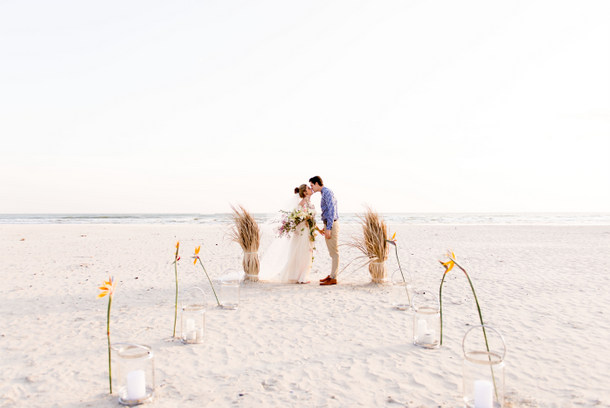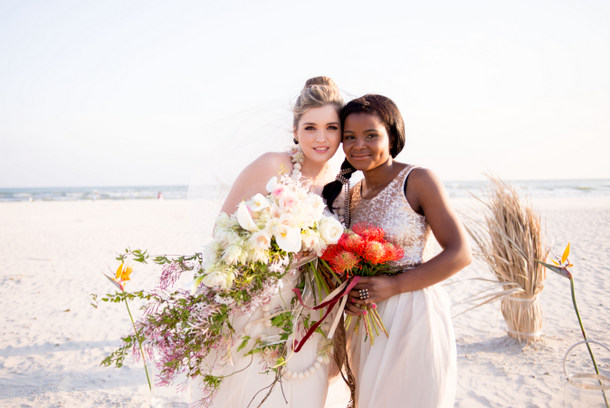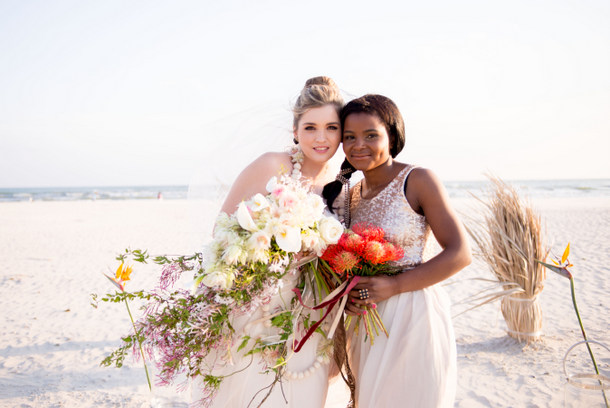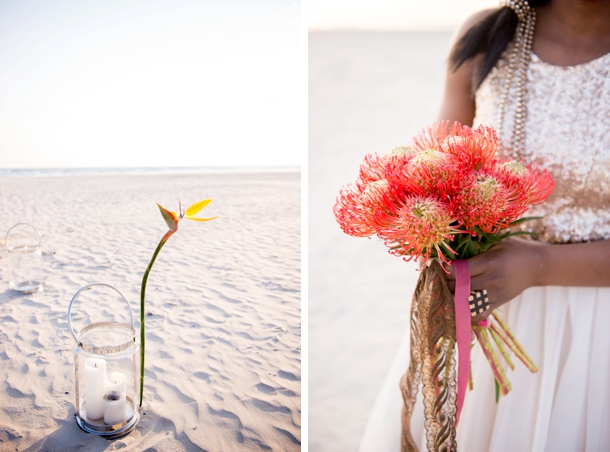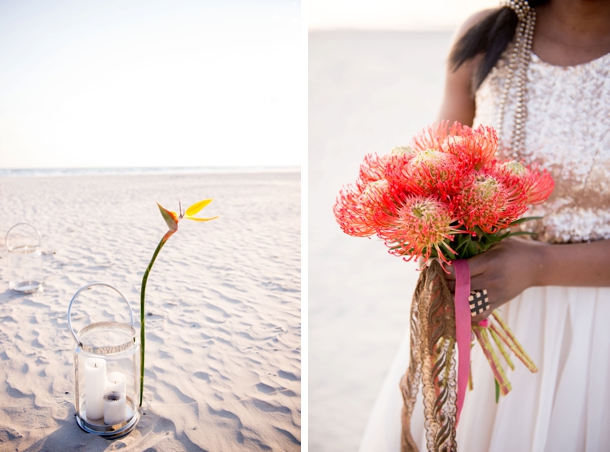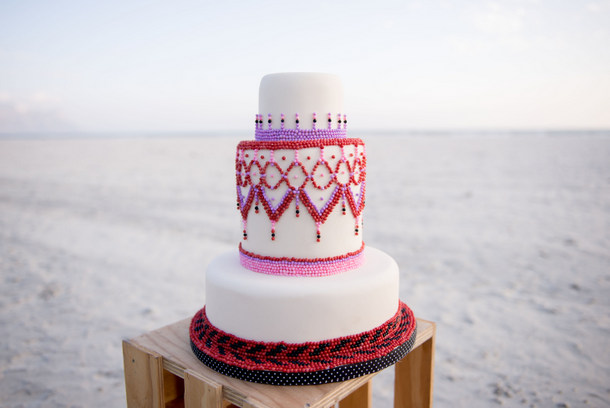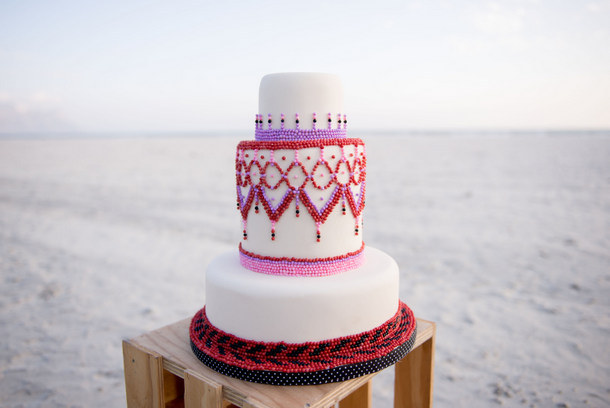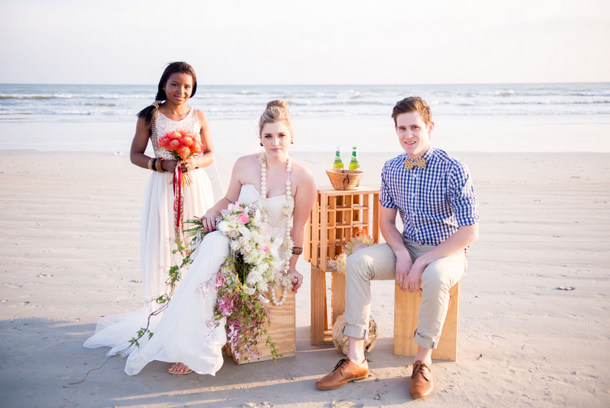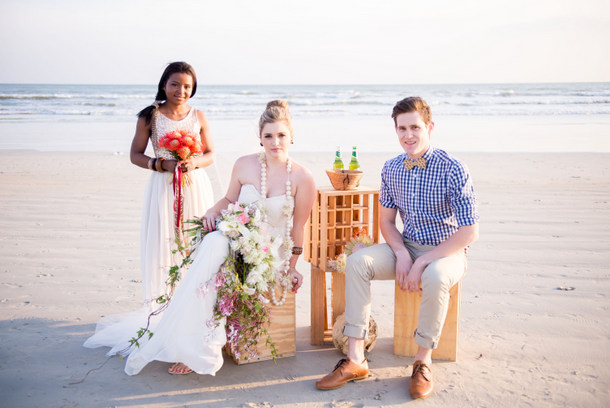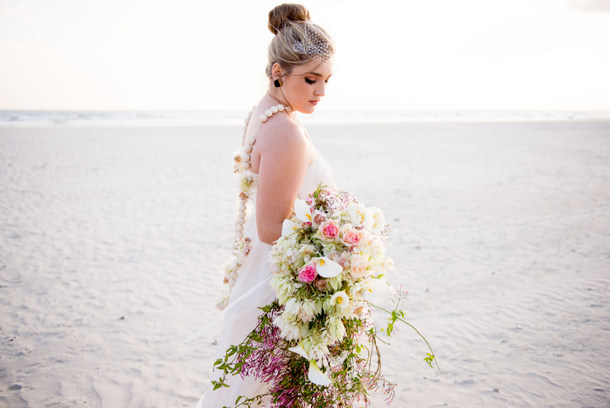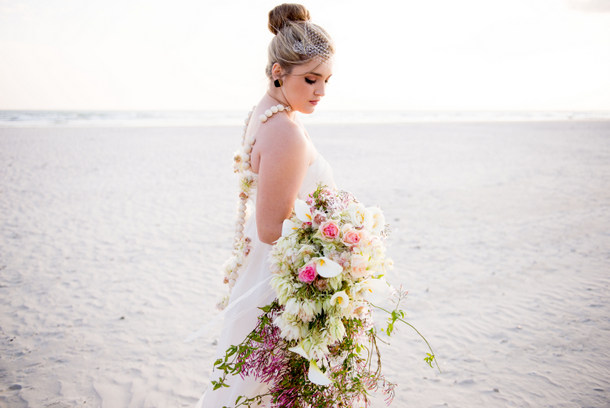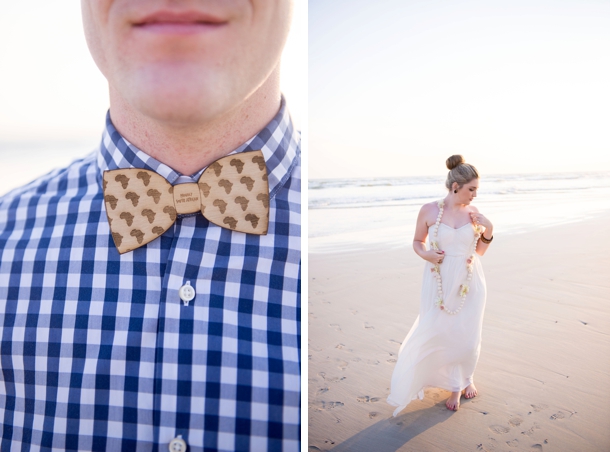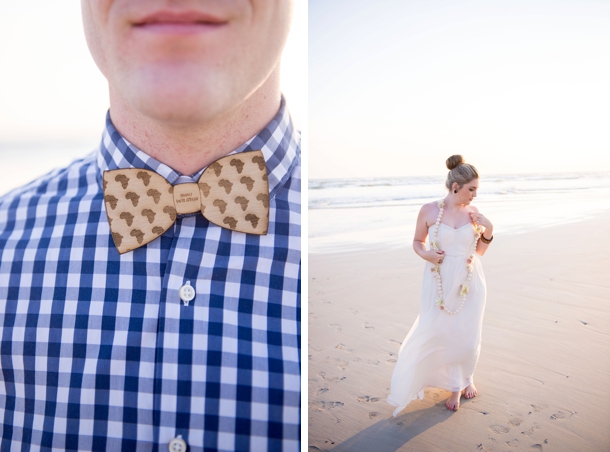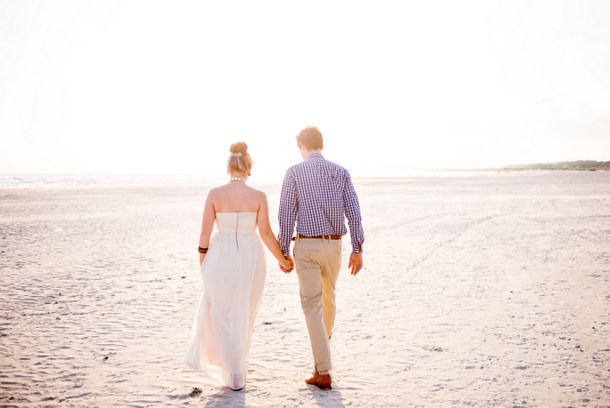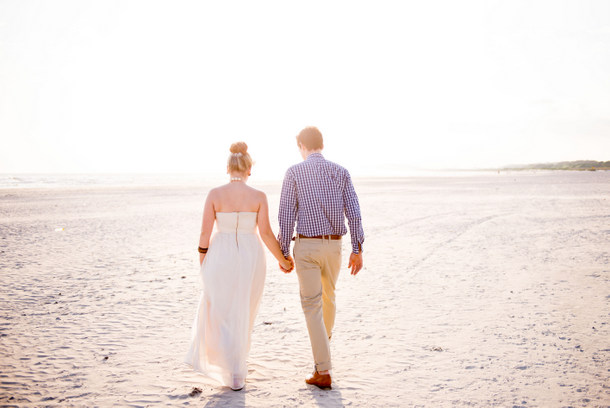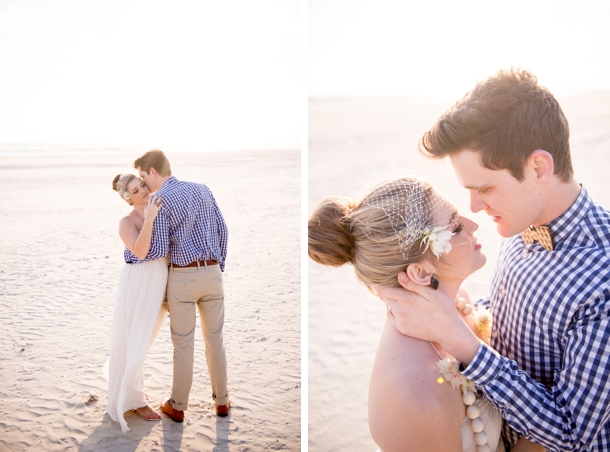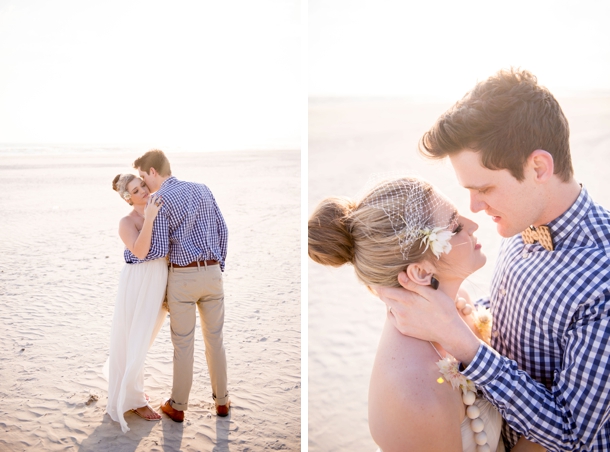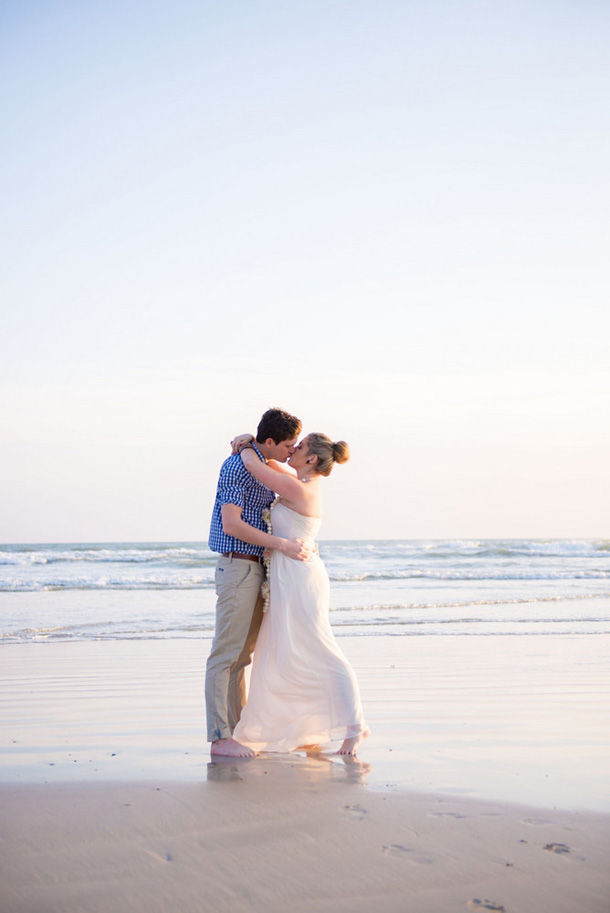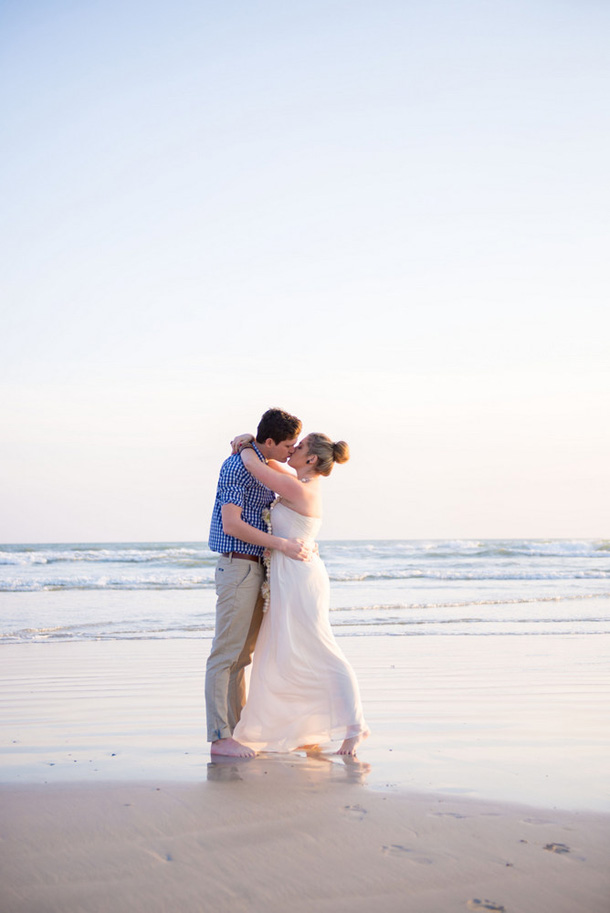 What was your 'South African twist'?
I think most brides think they need to drape themselves in diamonds and pearls on their wedding day. In Africa, traditional attire does not include these beauties and therefore we accessorised our models with beautifully hand-carved wooden jewellery. Again putting emphasis on the natural elements so synonymous with Africa. We also custom-made a special bead and flower necklace for our Bride.
To me it is first prize if you are able to introduce your theme to guests from the first tangible aspect that they will receive. Blooming Wonderful did an amazing job with the design of our featured invitations. We are often asked by clients to have their wedding stationery represent the two nations that the couple is from. It is for this reason that the front of our invitation illustrates a Rose and a Protea – representing Britain and South Africa. The envelopes introduced the natural element of leather and the envelope liner is a funky Zam-Buk pattern. (Zam-Buk is a traditional topical ointment that provides fast, effective and soothing relief for a variety of ailments.) We designed our invitation in two languages and included an "educational page" that would assist overseas visitors with some useful and uniquely South African slang words. The leather used for the envelopes was repeated on the table styling through a little leather pocket holding the napkin and printed menu.
The cake design was inspired by an African beaded necklace often worn in traditional attire and readily available from local craftspeople. We wanted it to look as if a necklace was draped around the cake, allowing you to see the intricate detail and play of colours. Lyndsay from Lulubelle's Bakes realised our vision perfectly and totally exceeded our expectations.
So many foreign brides tell us that they would like to incorporate some indigenous South African blooms in their wedding flowers. It is for this reason that we predominantly used Protea varieties, namely the Pincushions, Blushing Brides and a single King Protea. Marida from Paradiso Flowers softened these with some lush blooms like roses and even the odd orchid. Instead of glass, clay or porcelain containers we made use of white washed calabashes engraved with an African inspired pattern.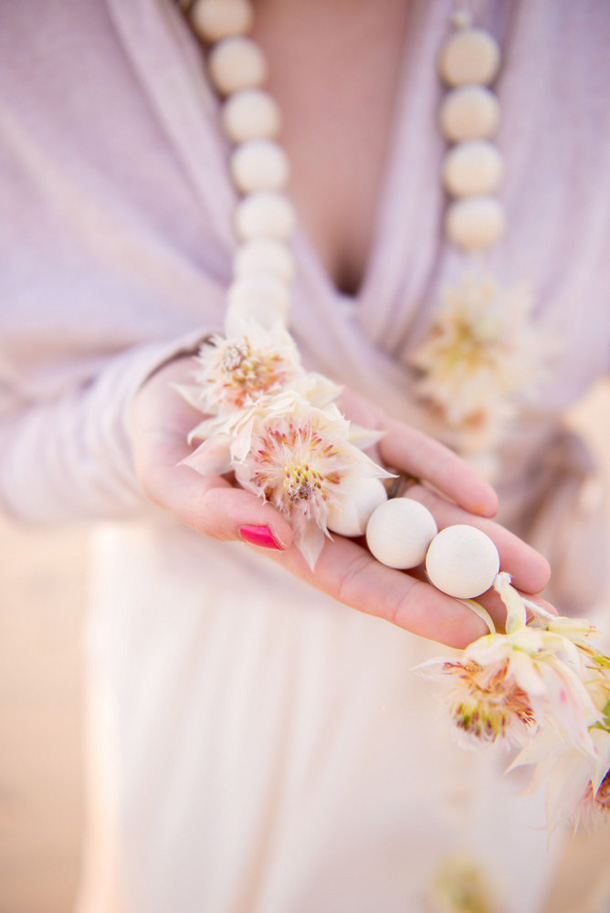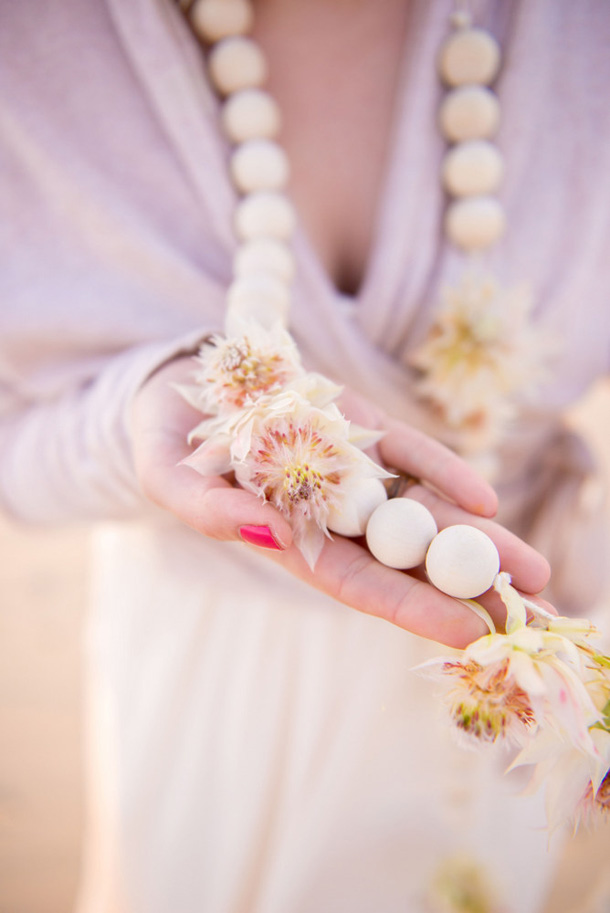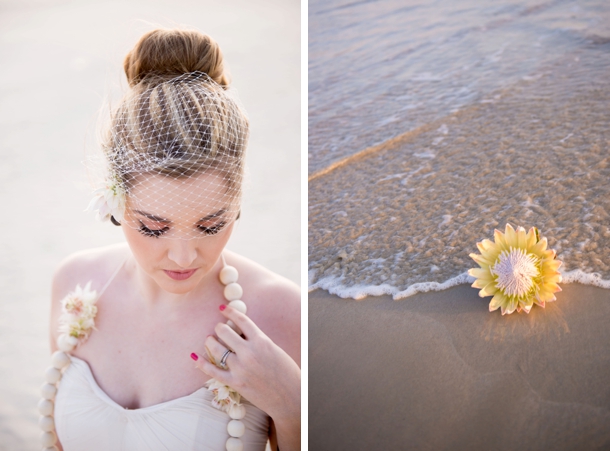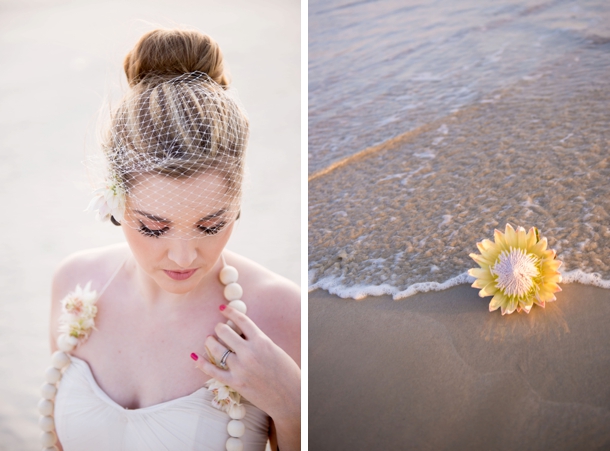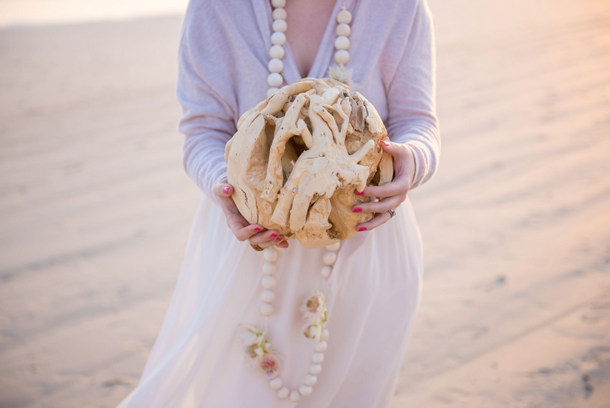 Be sure to stop back in this afternoon when we'll show you how to recreate this style.
SERVICE PROVIDERS
Photography: Cheryl McEwan | Styling & co-ordination: Creation Events | Venue: Mill House Kitchen & Strand Beach | Stationery, hiring & decor: Blooming Wonderful |  Flowers: Paradiso Flowers | Cake: Lulubelle's Bakes | Make-up: Revlon | Accessories: Pierre Wooden Creation | Calabashes: Gallery 91
This shoot is part of the SouthBound Bride Styled Shoot Competition 2014