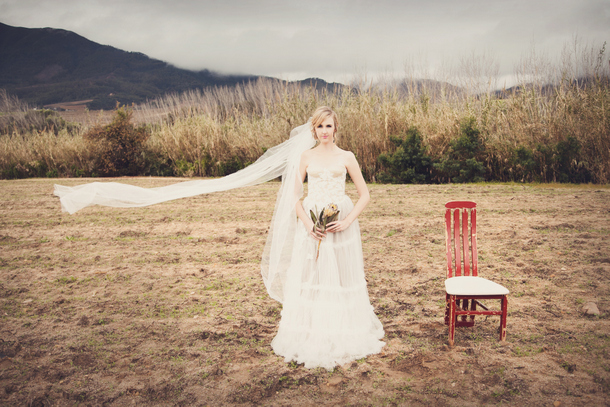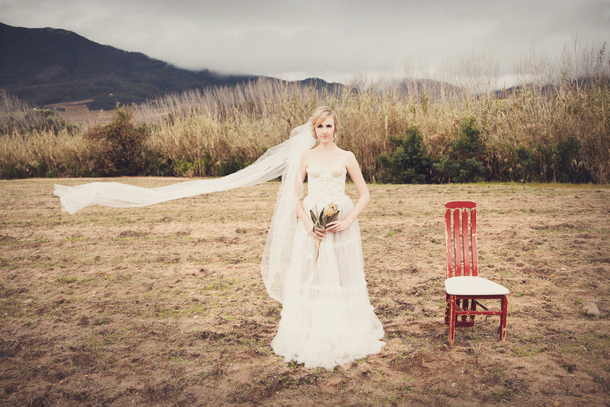 Day Two of styled shoot inspiration begins! From the beach yesterday, today we're off to the Karoo, where the arid landscape inspired our latest team of wedding pros to come up with a very special shoot that has so many elements to it. Led by photographer Michelle Wiese and Kadou, they created some dramatic bridal looks and two variations on a homegrown rustic tablescape that include (shut the front door, seriously) a paper protea table garland. I love how some of the starker elements, like concrete and wood textures, geometric elements and an earthy palette contrast with softer touches like a dreamy tulle peplum dress and watercolour washes. And you can't get a more classic South African motif than our national flower- which turns up in all sorts of fresh ways. Love it!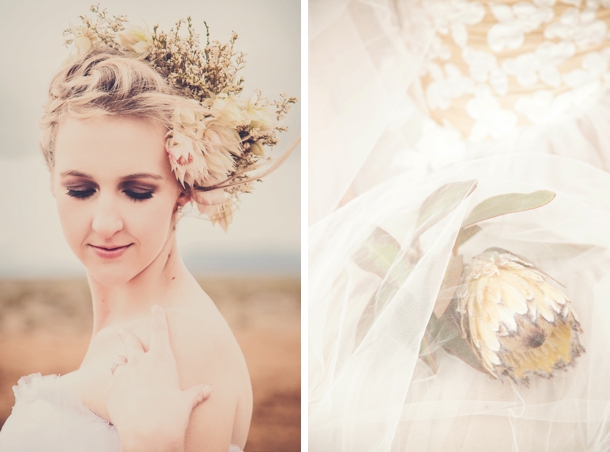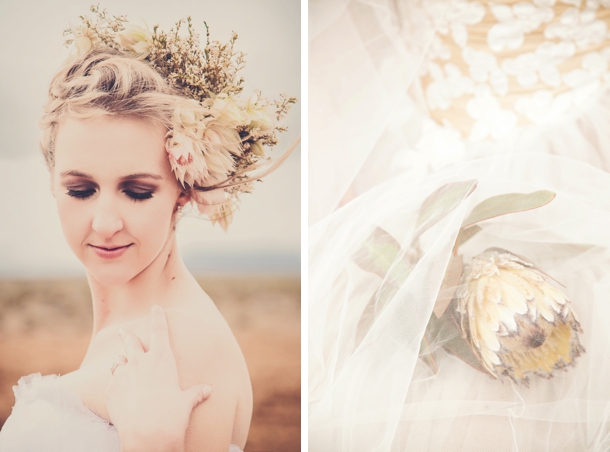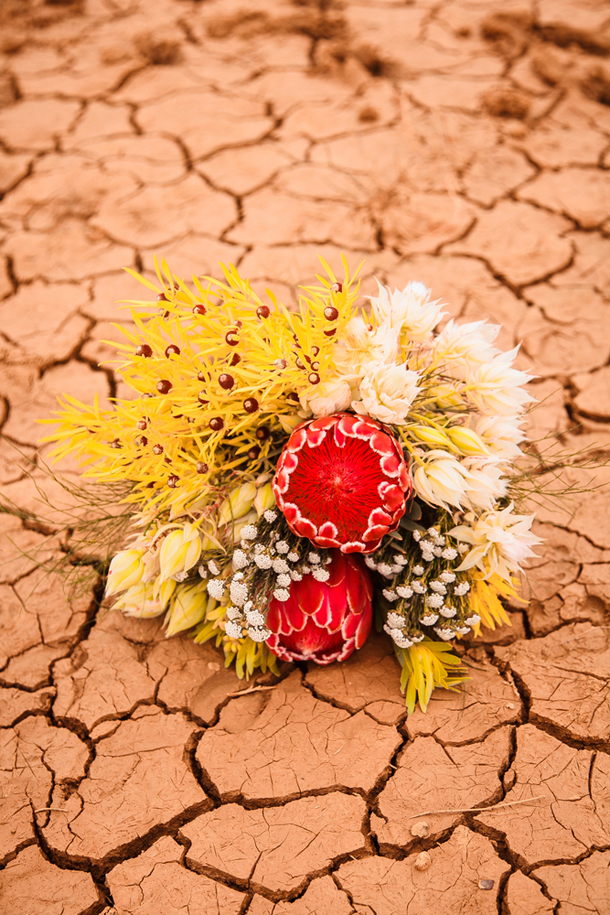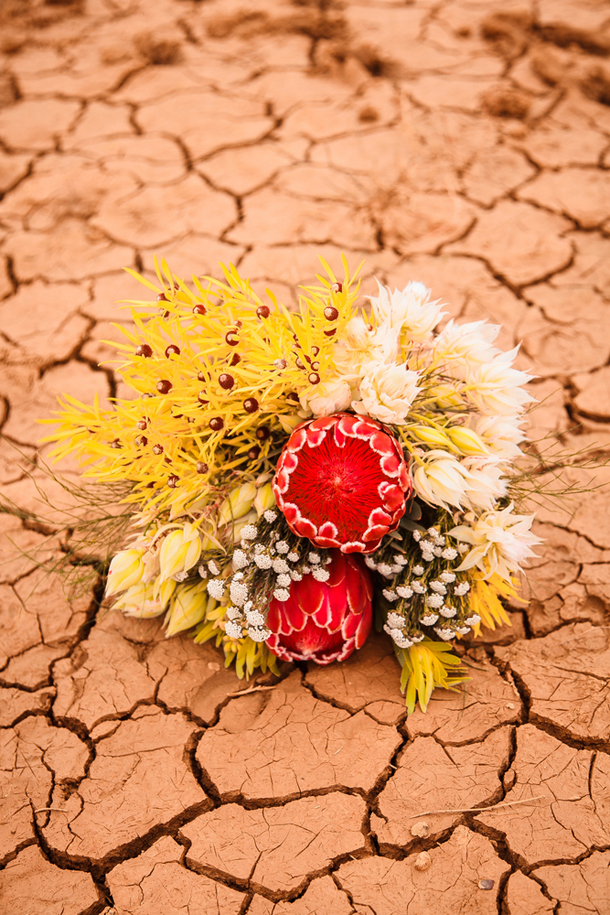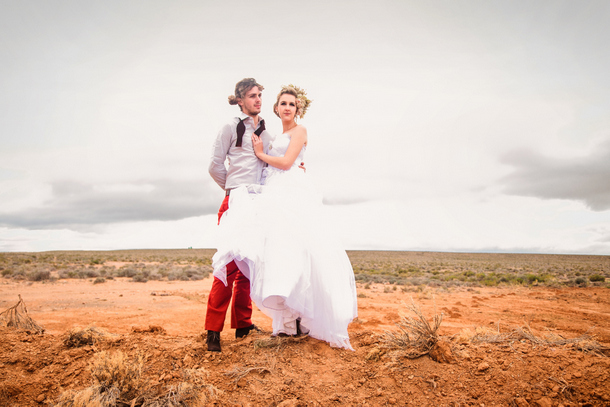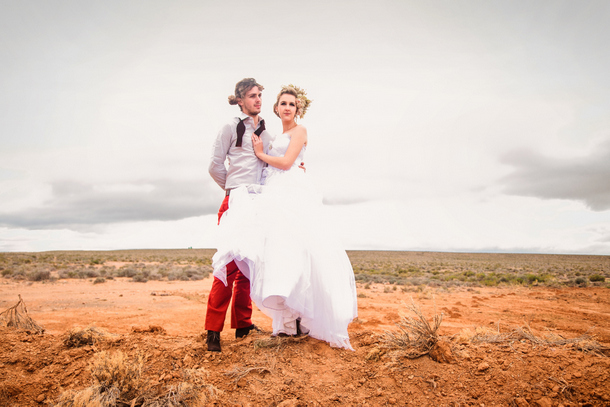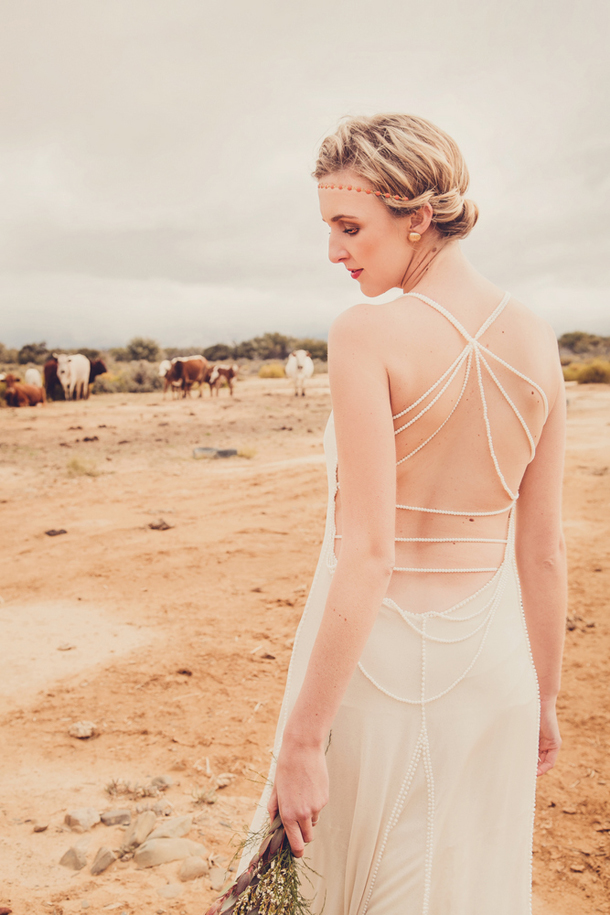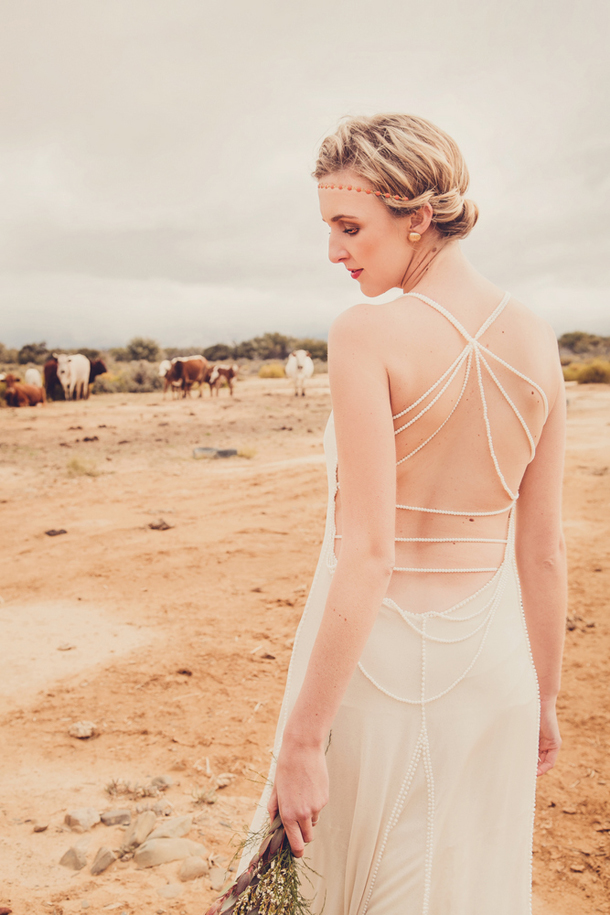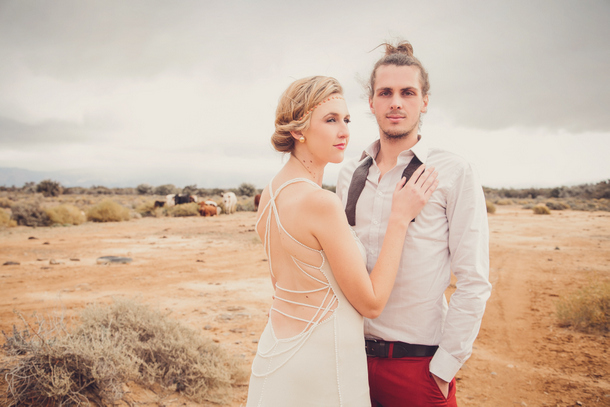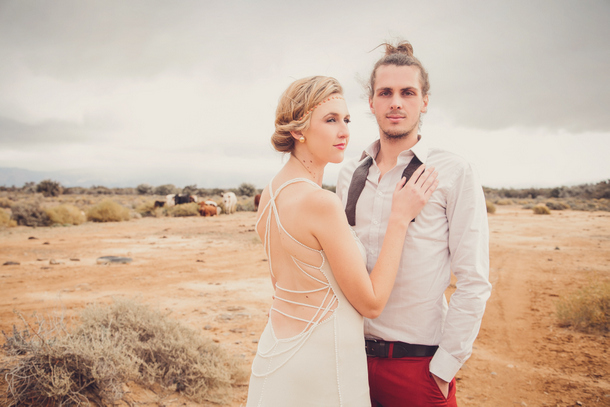 What was the inspiration behind your shoot?
We wanted to showcase the beauty of our fynbos, landscape and the vibrant colours associated with South Africa. I backpacked through Europe for a few weeks four years ago, and the mental picture of proteas and "Karoo bossies" always made me wish I could be back home. The faded greens, greys and browns of the Karoo, the smell of the "Karoo bossies" and the delicate protea (in all shapes and forms) served as inspiration for this shoot. We wanted to keep it as close to a real wedding as possible. Laughter and happiness is something associated with your wedding day and that is exactly what we wanted our shoot to look like. Happy!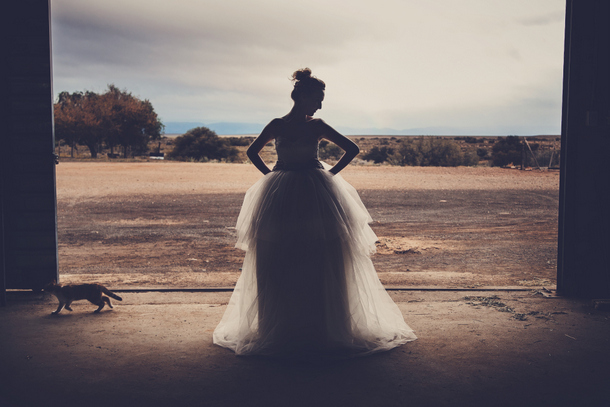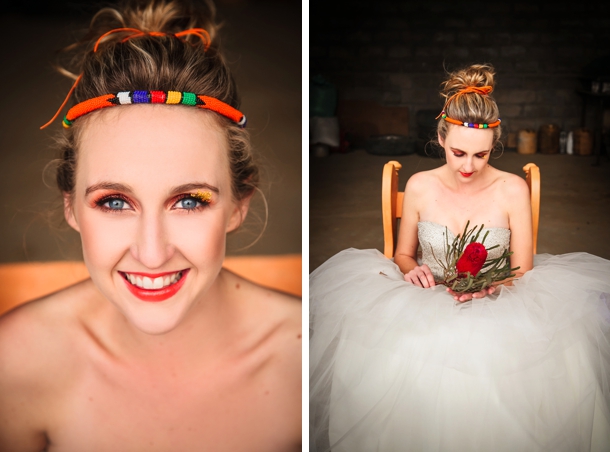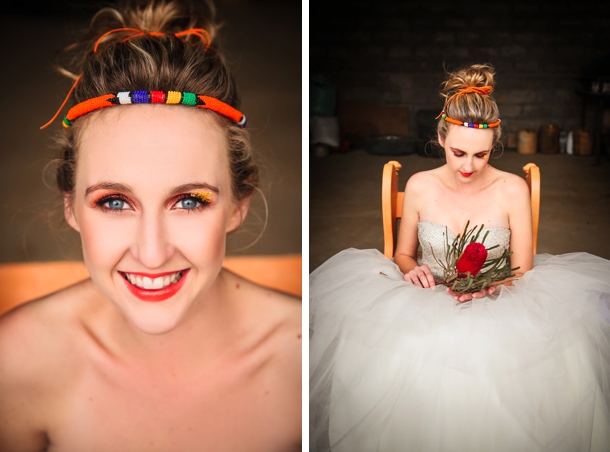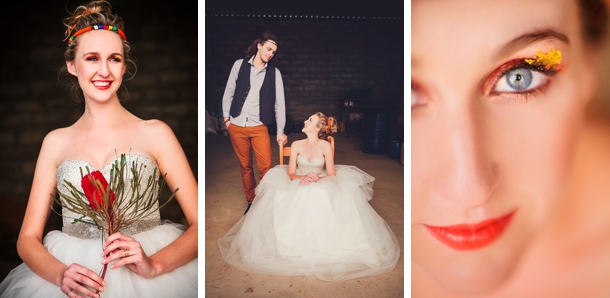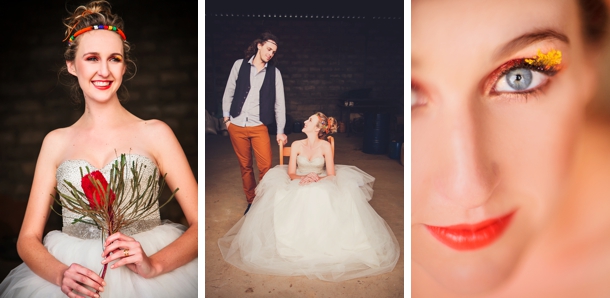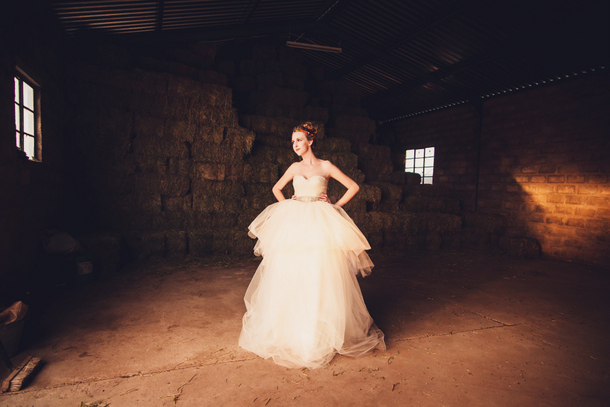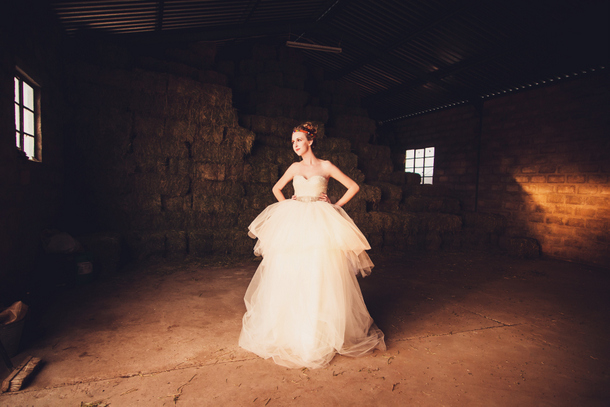 What was your 'South African twist'?
The traditional Zulu wedding headband, the fynbos, the paper proteas, the shwe shwe napkins with the protea print, the Ceres Karoo, the Nguni cattle! I just LOVE South Africa!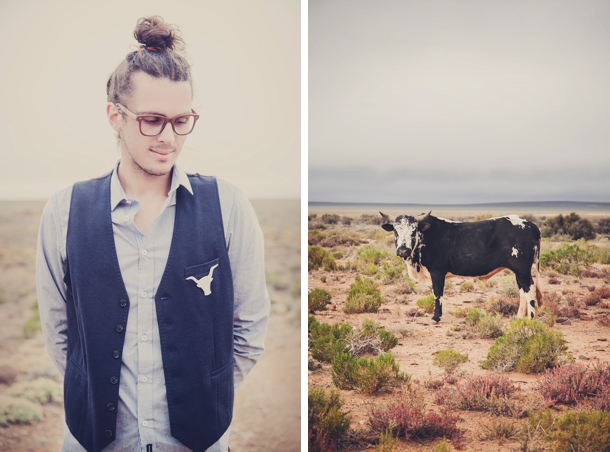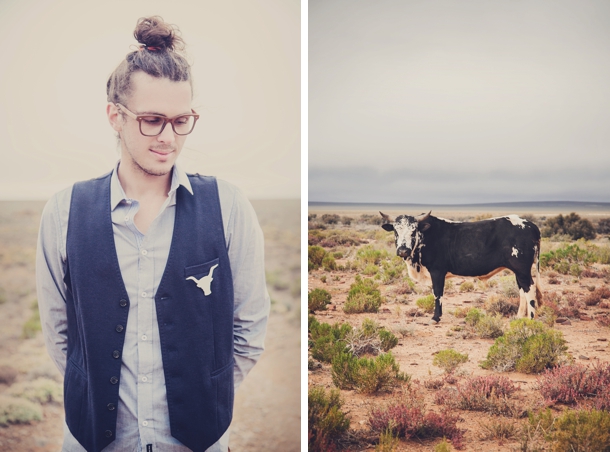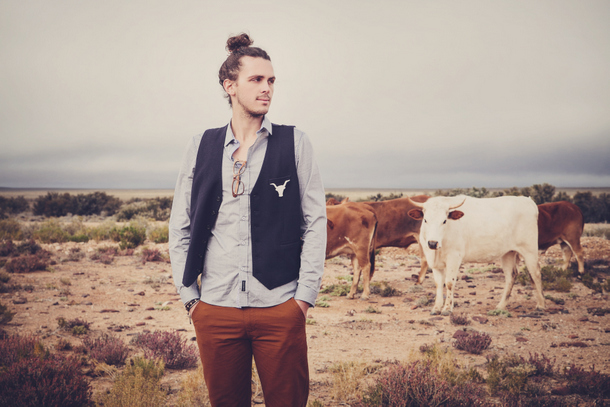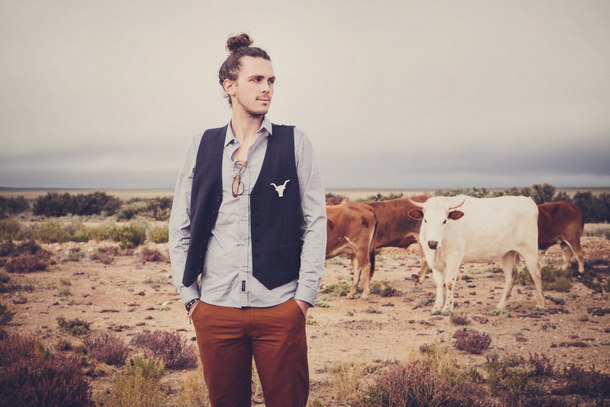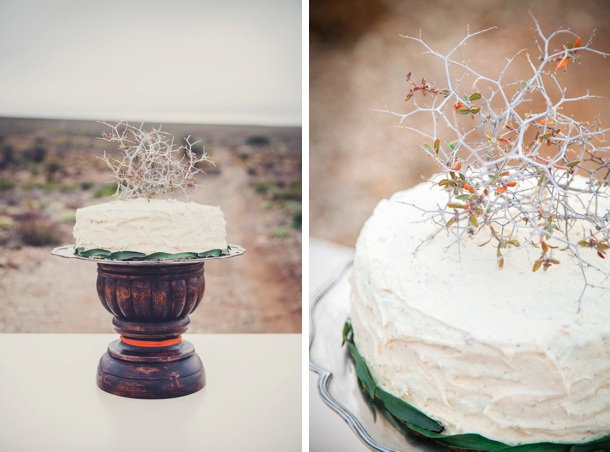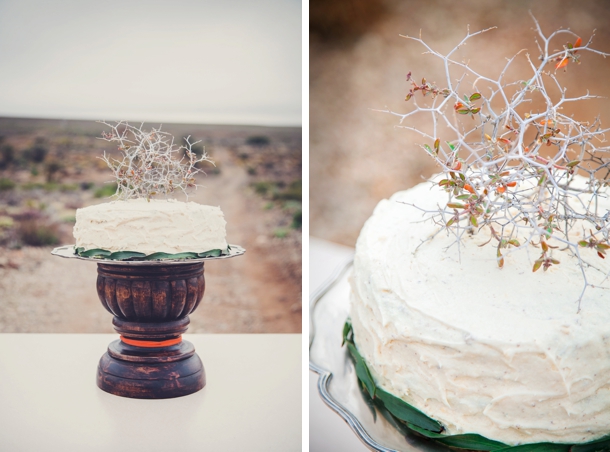 Describe the look for your shoot
We did the first part of the shoot on my uncle's farm in the Ceres Karoo. It was an extremely cold and overcast weekend (even snow on the mountains). The solar panels couldn't charge and we had NO electricity. Clarita Smit (hair & makeup) had to do the different looks without using any power – we think she did an amazing job! The first dress was one from Cindy Bam. We tried to bring a very elegant style to the Karoo. The flower headpiece mostly existed out of Blushing Brides (Berg Bruidjies). The clay wall of the dried up dam was a beautiful contrast to the white dress. The second dress was one from Elaine Blom, called 'Gatsby'. We combined this 1920s inspired dress with a thin coral head band, leather boots and a fynbos cascade bouquet with seed beads. The model-bride was right next to a herd of Nguni cattle and they stood there patiently for us to finish shooting. The third look in the Karoo was in the shed. This is our signature look for this shoot (and also our FAVOURITE). Here we used another Elaine Blom design, called 'Grace', and combined it with a messy hair bun, traditional Zulu wedding headband and a single bright Banksia protea. No other jewellery was used in this look, only a simple gold ring. Our model-bride looked like a proudly South African ballerina! Keep a lookout for the sweet little wild cat that also played model!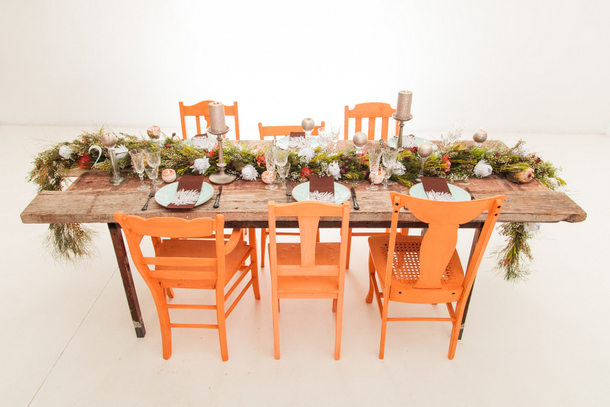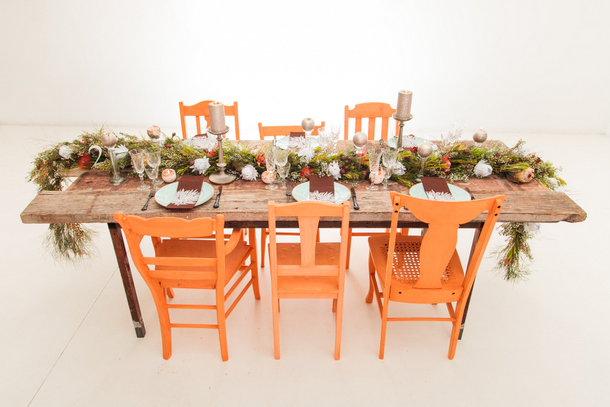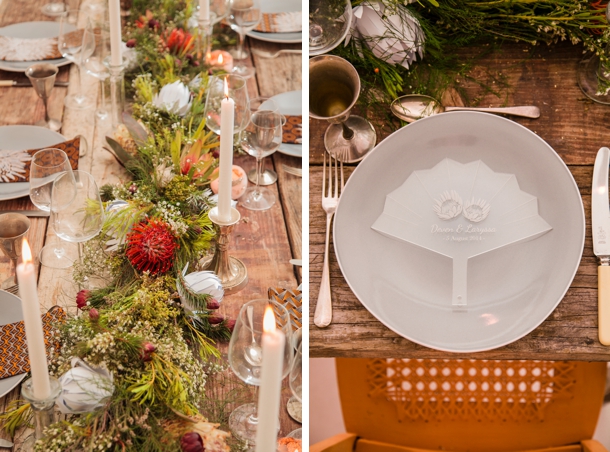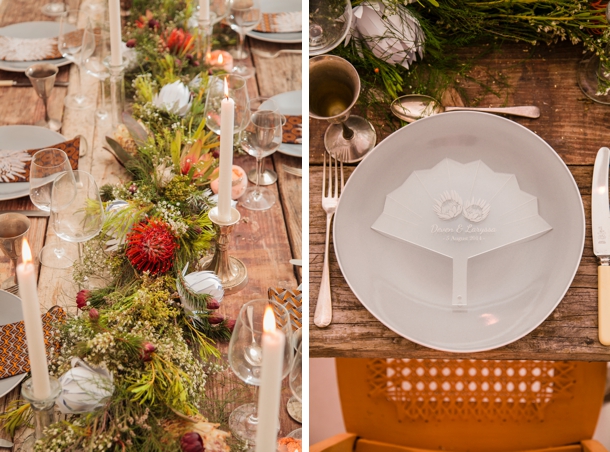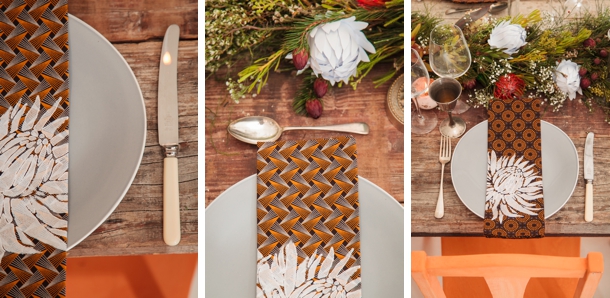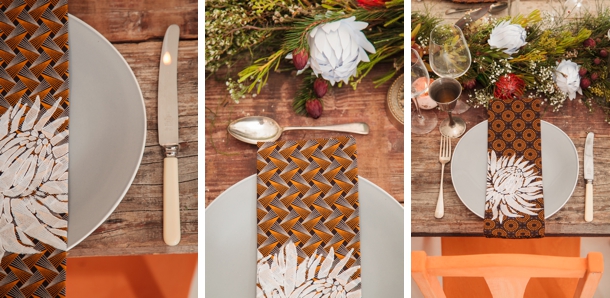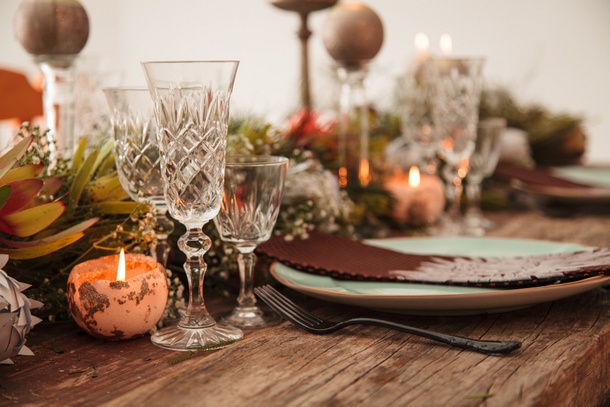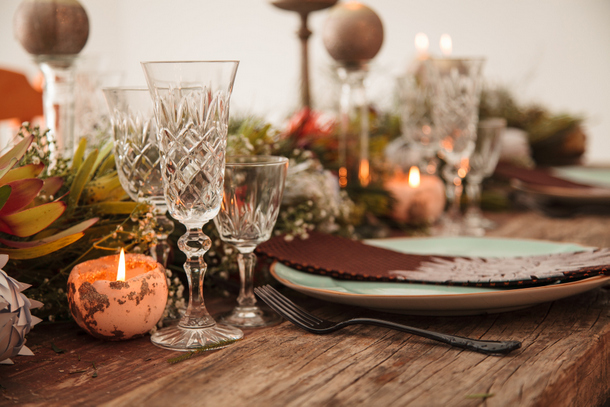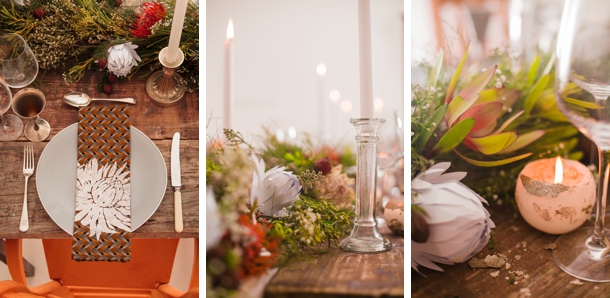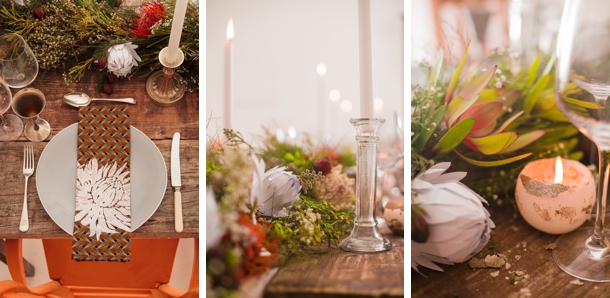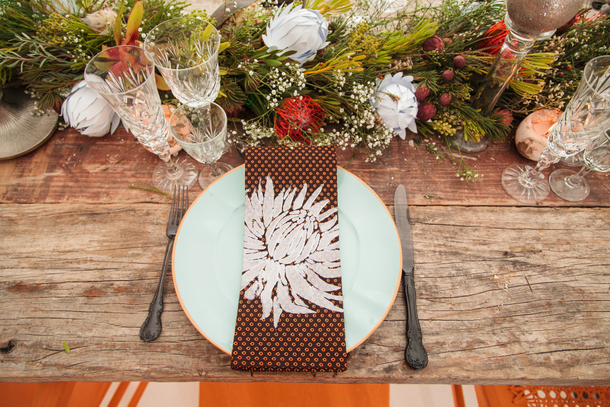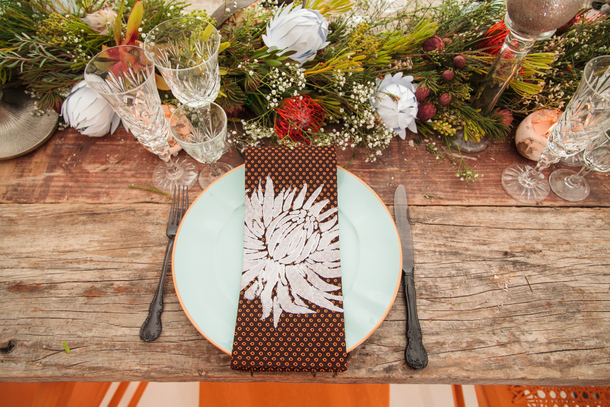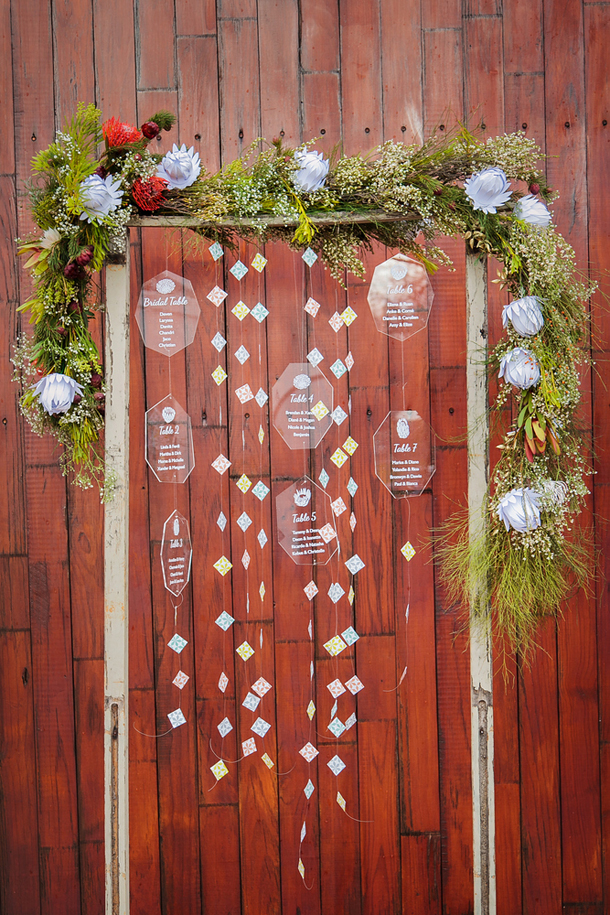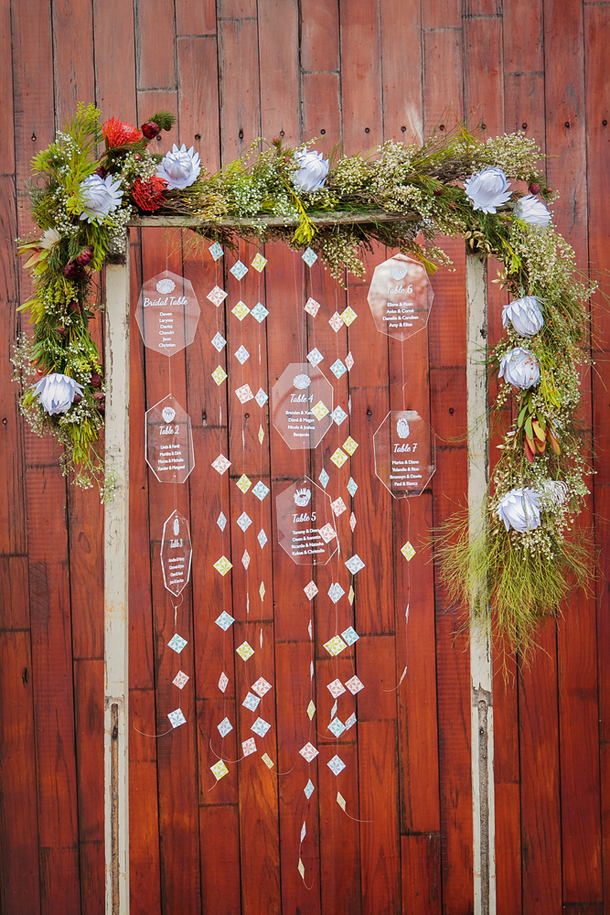 We wanted to incorporate all shades of orange, which is the main colour of our four-coloured-pallette, in all four of the locations. The tablescape was shot at two locations, Kleinvalleij (inside – where we also shot Elaine Blom's 'Butterfly' dress) and Brenaissance (outside). For the first, the tablescape included bone handle knives with vintage silver forks and spoons alternating with more modern perspex ones, shwe shwe napkins with protea prints stencilled on them, white and gold candles and a fynbos garland with paper proteas, orange pincushions, geelbos, white Babijras proteas, blush Leacadendrons and small protea buds, all framed by six orange chair. We used some of the same elements for our outdoor table, but added geometric orange and teal candles together with geometric concrete candle holders (made by Kadou), a garland with fake greenery sprayed gold, fake pin cushions sprayed white, light orange pin cushions (real), silver brunia and 60 paper proteas. Inge (Big I Design) did watercolour designs for the geometric menus and we tried to use natural elements and unusual shapes.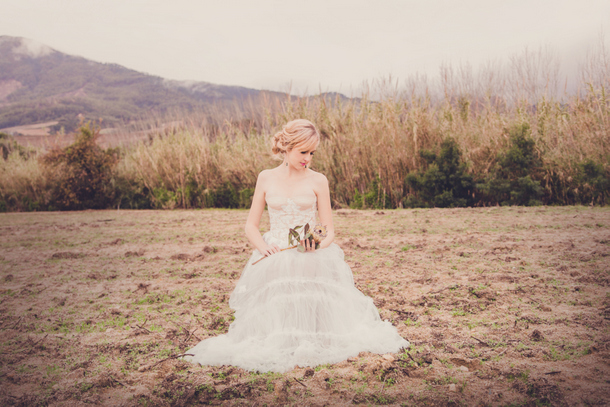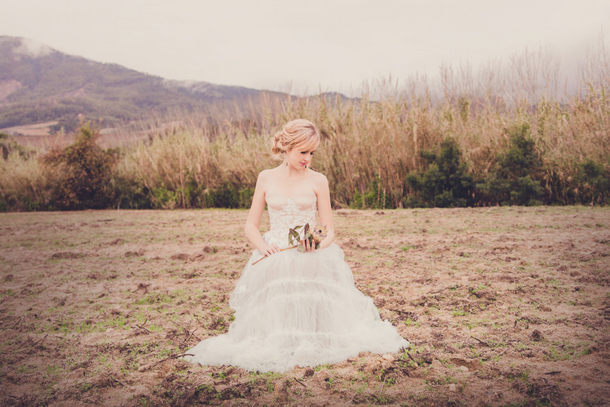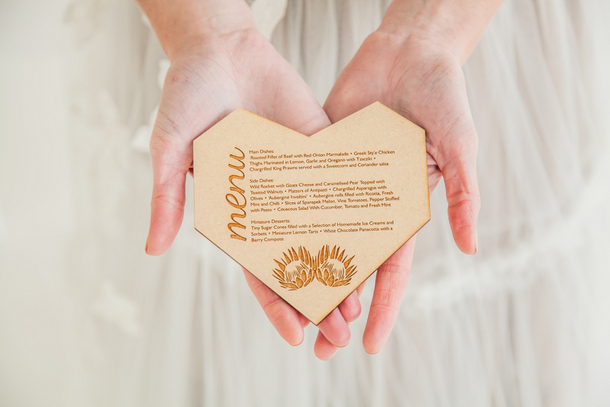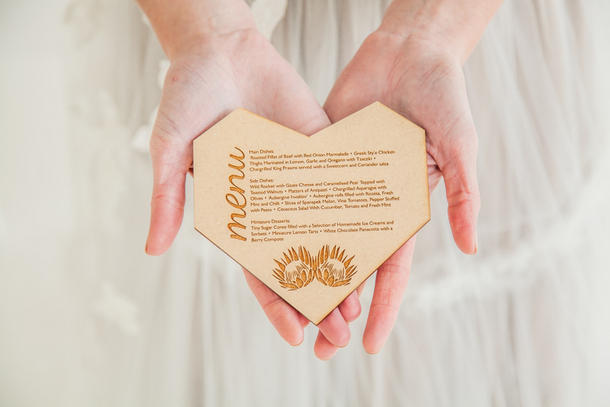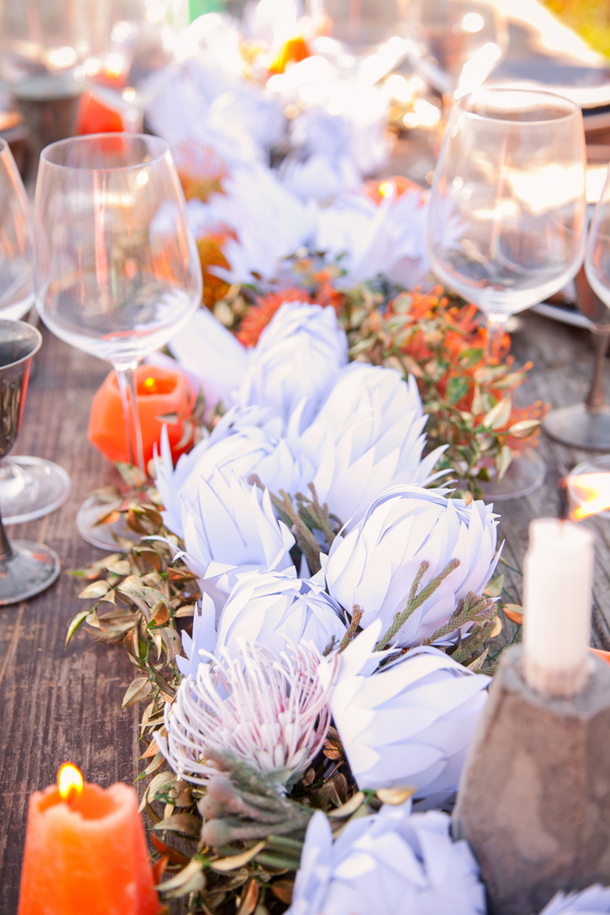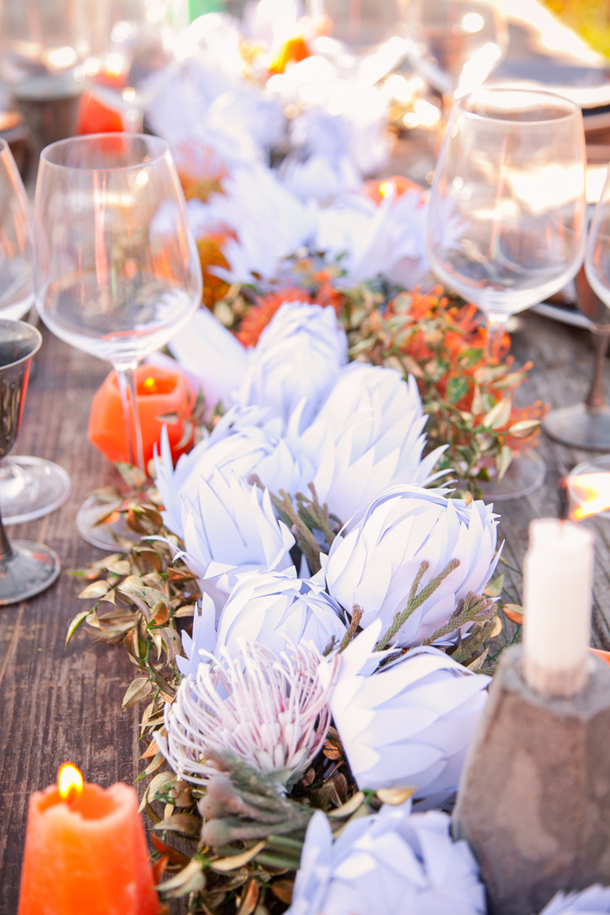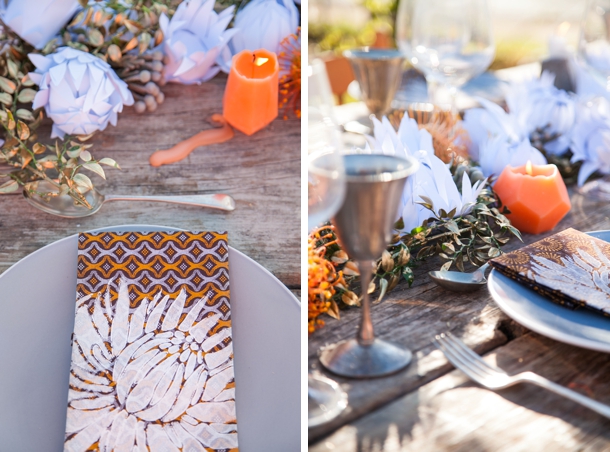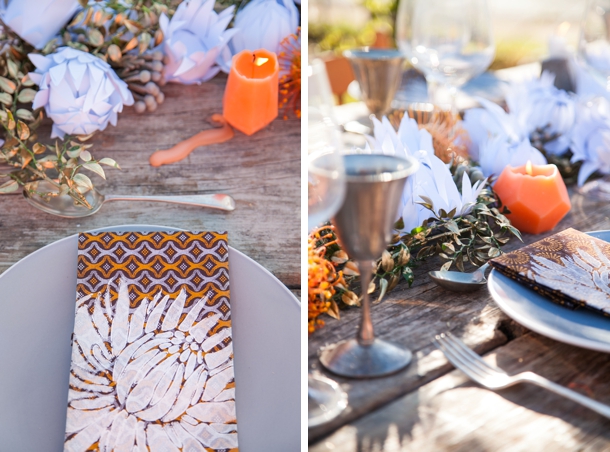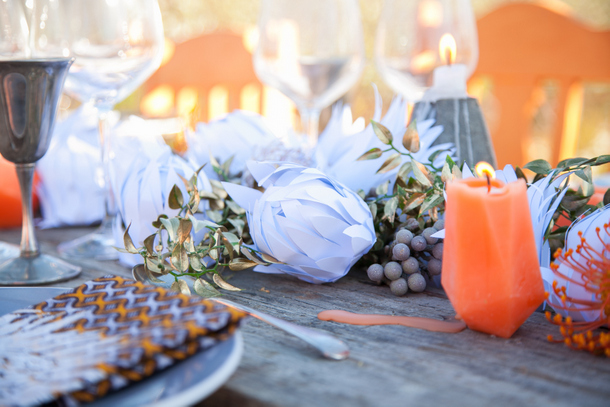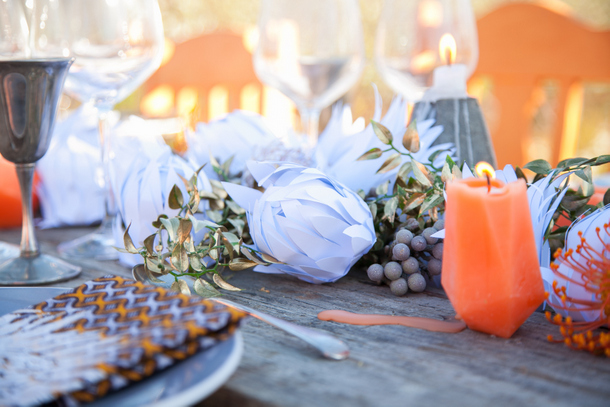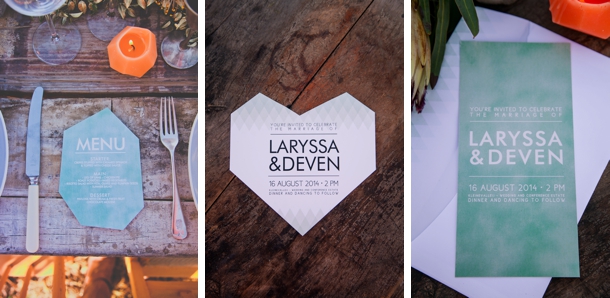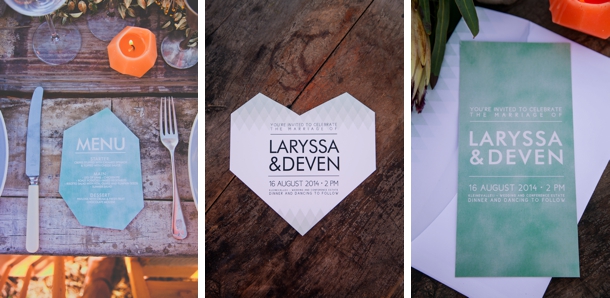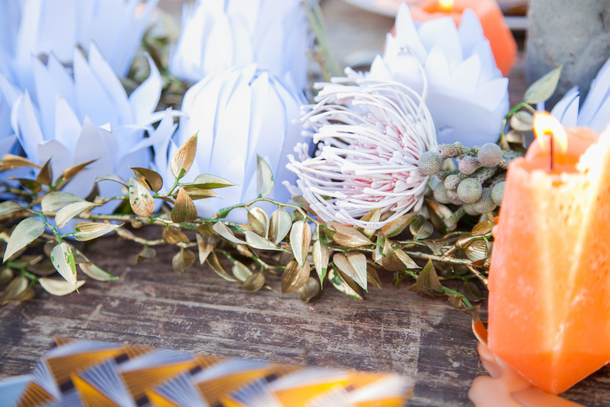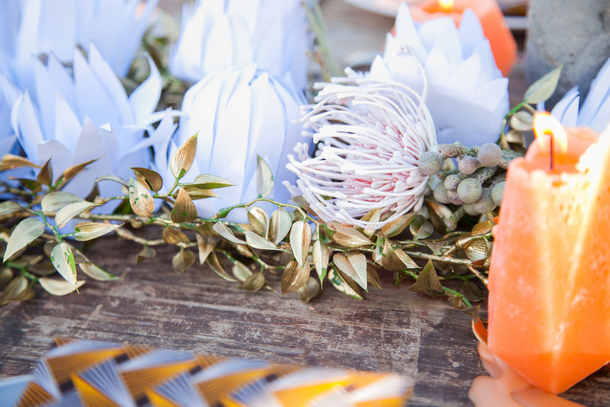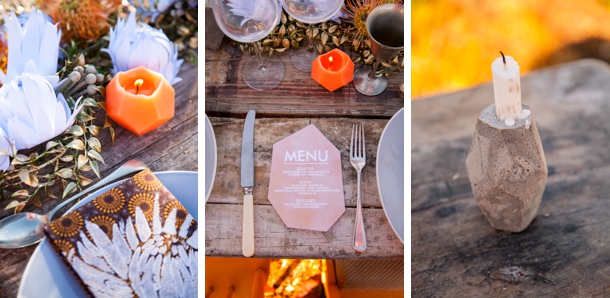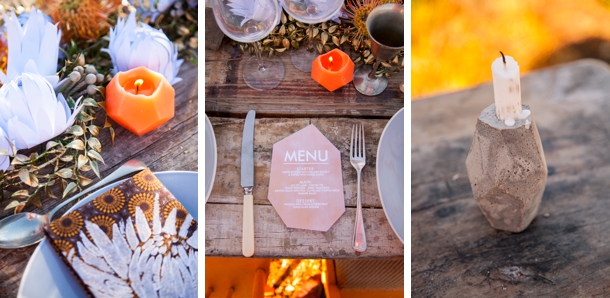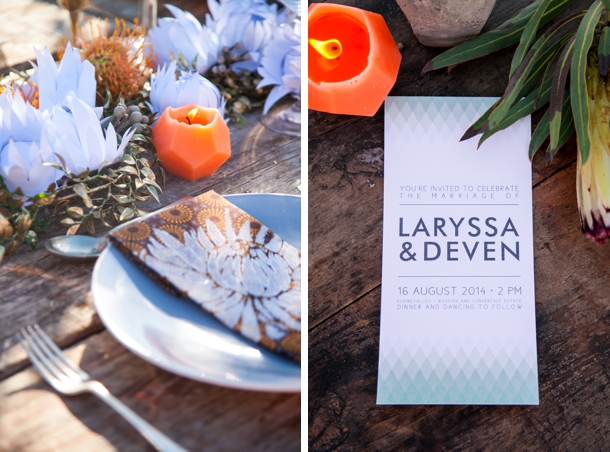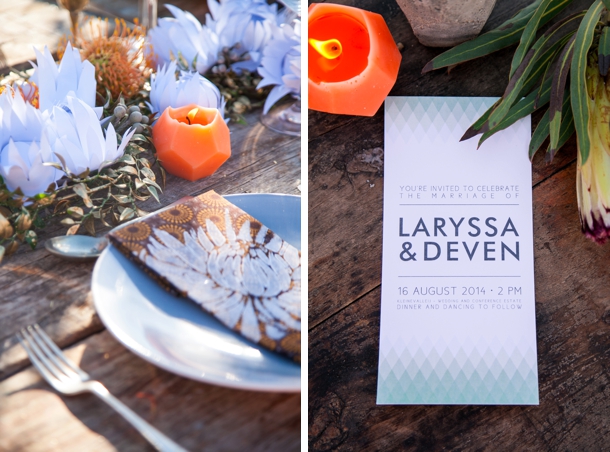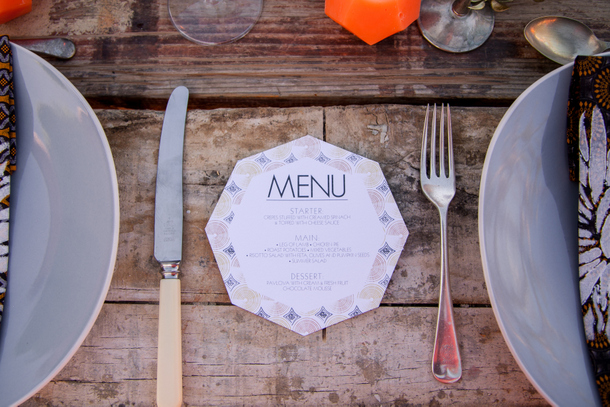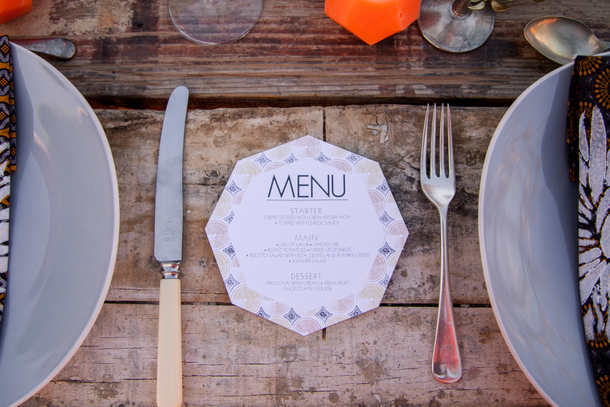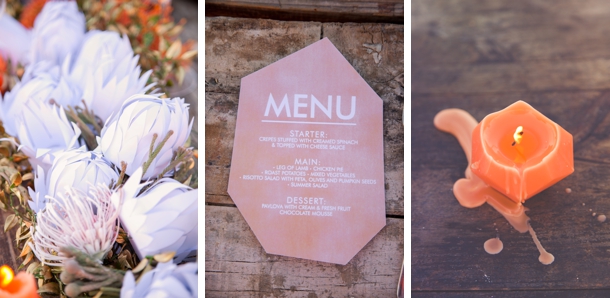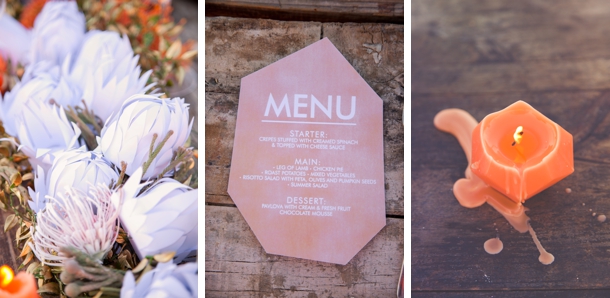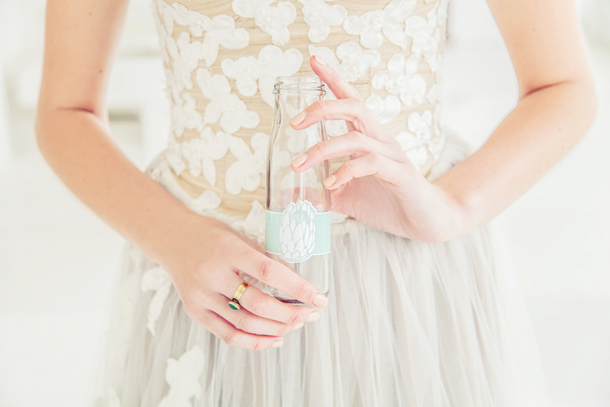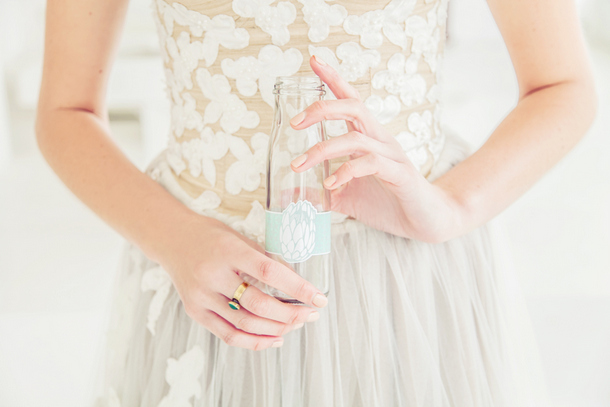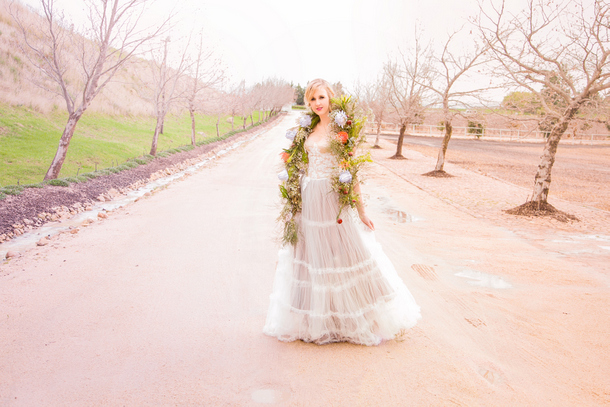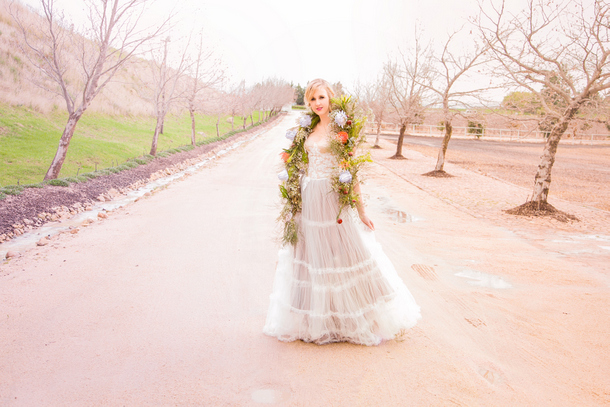 Be sure to stop back in this afternoon when we'll show you how to recreate this style.
SERVICE PROVIDERS
Photography: Michelle Wiese | Styling, co-ordination, flowers & decor: Kadou Wedding & Event Co-ordination | Venues: Kleinevalleij & Brenaissance | Stationery: Inge Basson | Dresses: Cindy Bam & Elaine Blom | Cake: Homemade | Hair & makeup: Clarita Smit |Models: Deven Abrahams
Laryssa Theron | Woodframed sunglasses: Zaki Natural Eyewear
This shoot is part of the SouthBound Bride Styled Shoot Competition 2014