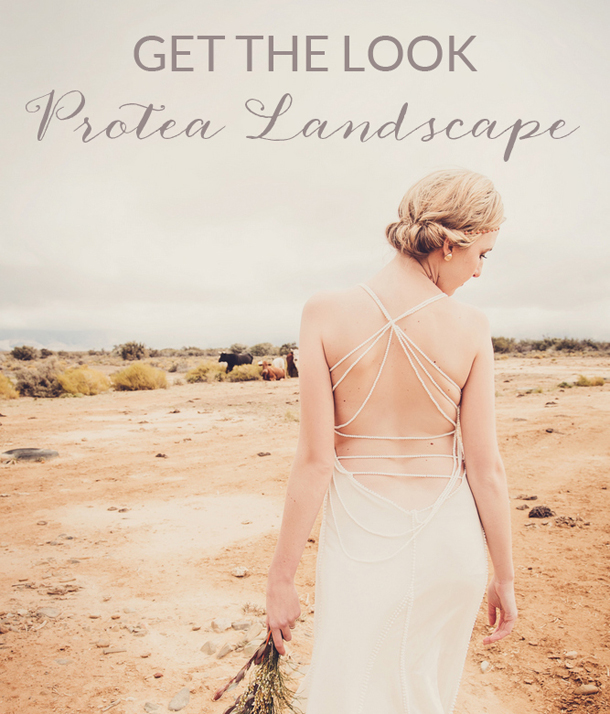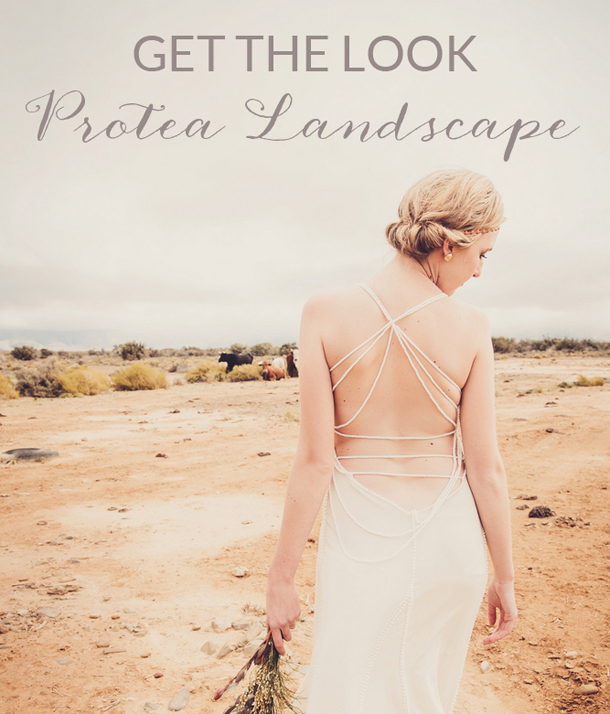 The best part of a styled shoot for brides and grooms (apart from basking in the sheer prettiness, of course!) is the wealth of fresh ideas that you can borrow to add an extra special touch to your own celebrations. As part of our Styled Shoot Competition showcase this week, we're breaking down five of our favourite ideas from each shoot, as well as bringing you tips and advice for recreating the look from the talented team behind each entry. Next up, we're taking a second look at the Karoo chic of this Protea Landscape shoot by Kadou (who made many of the amazing details by hand, right down to painting the chairs) and Michelle Wiese.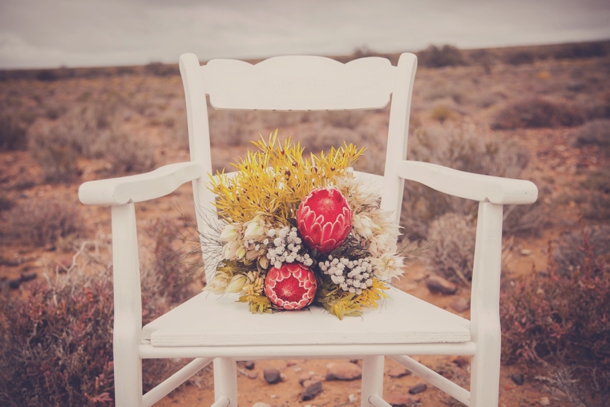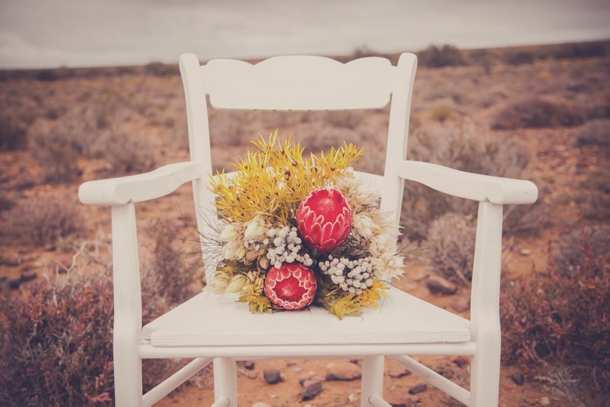 Mixed proteas
It's no secret that we love proteas here on SBB, and after all, they're our national flower. They're all over this shoot, and one of the things I loved best was that they popped up in so many places and varieties – gorgeous bouquets including different varieties of protea, paper proteas, lasercut proteas, proteas on the stationery. Don't feel like you need to stick to a single variety when you use a flower like this as your motif – playful mixing and matching has a lovely organic fynbos effect.
See more: Fresh Protea Bouquets & Protea Centrepieces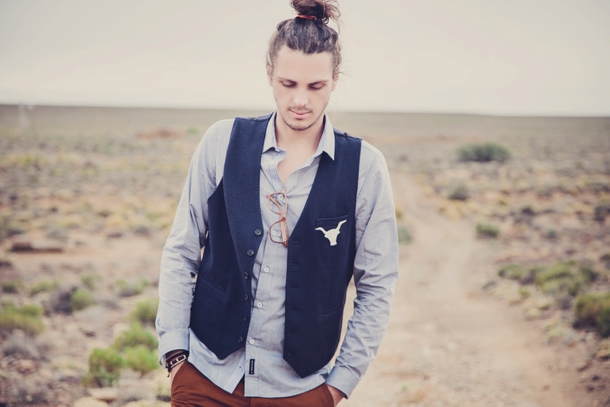 Nguni cattle boutonniere
We do love our cattle, South Africans. And I love how they pop up not just in the actual shoot, but on the groom's lapel. Unusual bouts are a great way to finish off your gent's style, and with lasercut now making all kinds of fun ideas possible, go ahead and get creative.
See more: 25 Unique Boutonnieres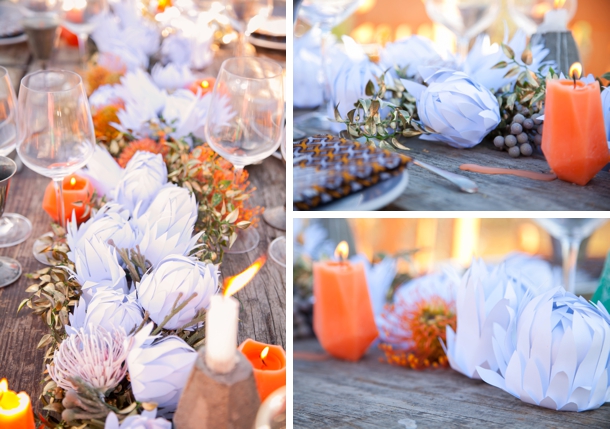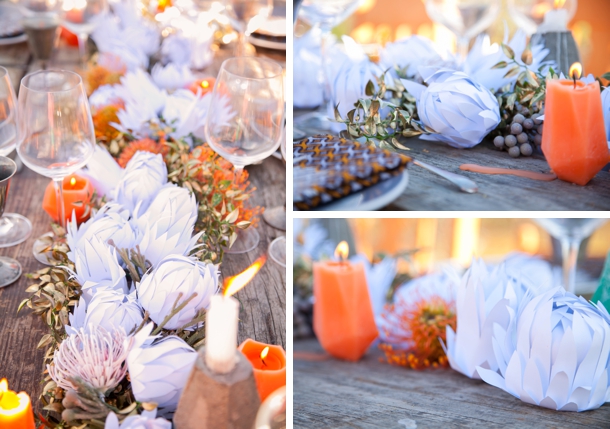 Paper proteas
When I heard that this shoot would include a paper protea centrepiece, I couldn't WAIT to see it, and the final results were even more gorgeous than I imagined they would be. I mean, aren't these COOL? With gold painted foliage and a few pincushions they have a more modern look, and on the second table, added to a lush fynbos garland, they're a whimsical touch to a rustic look. Here's a DIY tutorial I found for making these beauties yourself.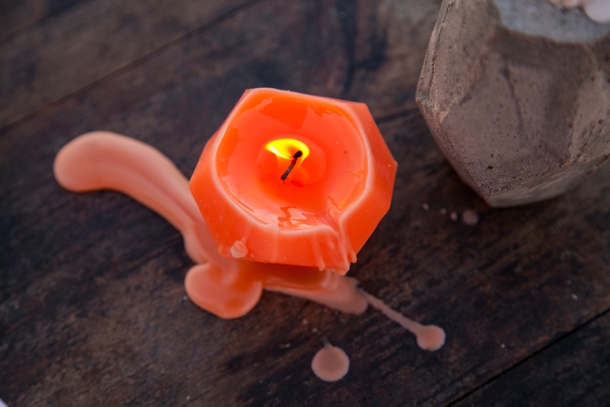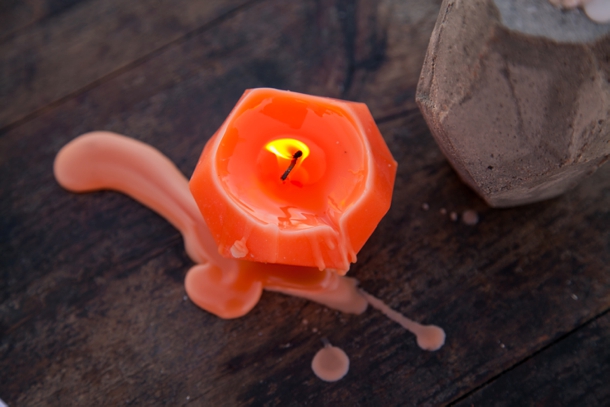 Geometric candles & concrete holders
Another little detail that I absolutely loved in this shoot was the geometric orange candles and the geometric concrete candleholders (a gorgeous little industrial touch). It's this sort of attention to detail that really makes a table for me! Plus, this is another one that you can make a DIY project – here's a DIY tutorial for the concrete holders to get you started.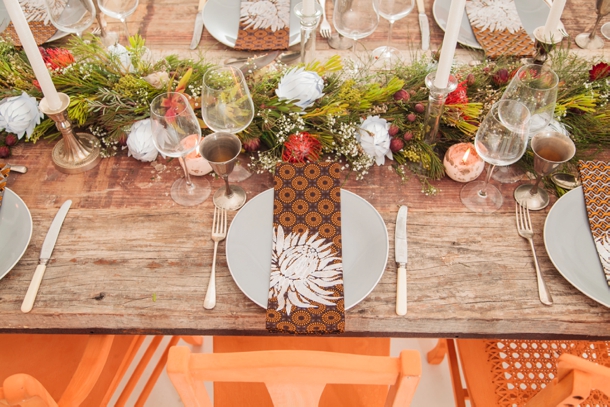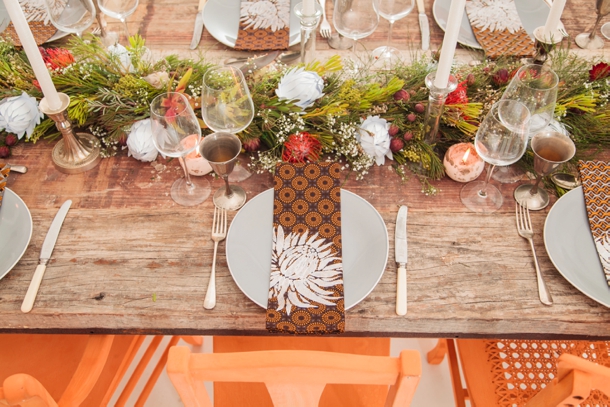 Table garland
I already mentioned the paper protea aspect of this baby, but I just have to give a special mention to how amazing a single garland as a wedding detail is to me. If you have long tables (and even better, if you're able to use rustic wooden ones), they really make a statement and they're also a perfect height so you don't have centrepieces getting in the way of conversation. And depending on how much foliage you use versus flowers, garlands can actually be an economical choice.
See more: Table garlands
TOP TIPS FROM THE TEAM
Use fun shapes and prints with your napkins. It is a fun and affordable way to add colour and interest to your table. Use stencils and fabric paint to create your own prints.
Paper proteas, geometric candles and geometric concrete candle holders: Time management is key. Going the DIY route does take a lot of your time. Make sure you start in advance.
Orange chairs: It is really difficult to hire orange chairs! I would suggest dressing your chairs with orange ribbon or even fun orange paper flowers.
SERVICE PROVIDERS
Photography: Michelle Wiese | Styling, co-ordination, flowers & decor: Kadou Wedding & Event Co-ordination | Venues: Kleinevalleij & Brenaissance | Stationery: Inge Basson | Dresses: Cindy Bam & Elaine Blom | Cake: Homemade | Hair & makeup: Clarita Smit |Models: Deven Abrahams
Laryssa Theron | Woodframed sunglasses: Zaki Natural Eyewear
This shoot is part of the SouthBound Bride Styled Shoot Competition 2014