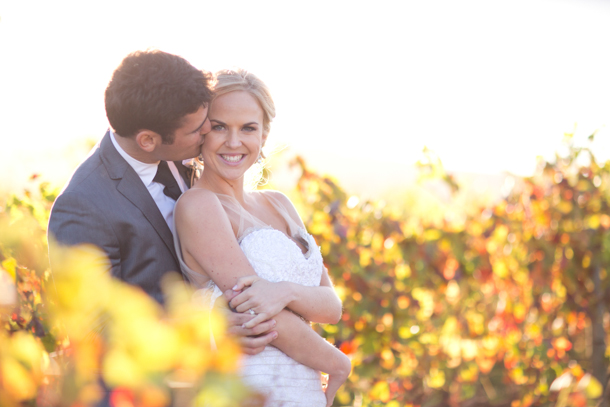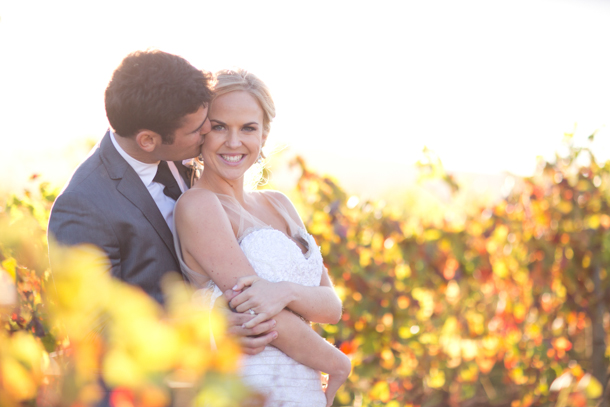 Once upon a time… I feel like today's intro needs to start like a fairytale, since really, that's how Ronnilie and Niel's love story began – a moment straight out of a modern Sleeping Beauty! That fairytale beginning found its way to a magical wedding in the Cape Winelands (where the prince and princess met), handmade with love by family and friends, and carpeted in lush green hydrangeas. I've mentioned before how a single feature or installation can go a long way when it comes to decor, and that's exactly what we have here – a hydrangea table runner making a stunning statement as a centrepiece of the reception. We also love the rustic wooden boxes, the mismatched neutral bridesmaids, the groomsmen's paper boutonnieres! And all of it beautifully captured by photographer Daniela Zondagh. And so, as the story goes, they lived happily ever after…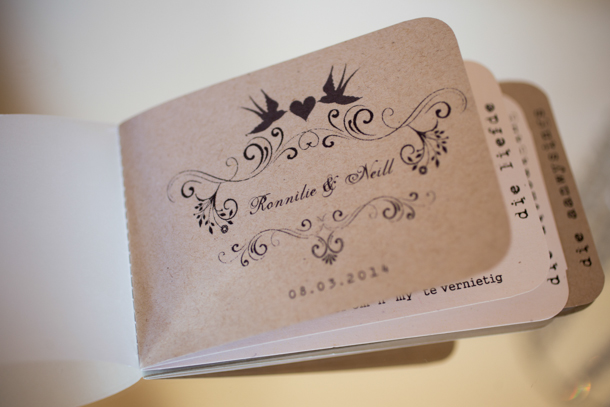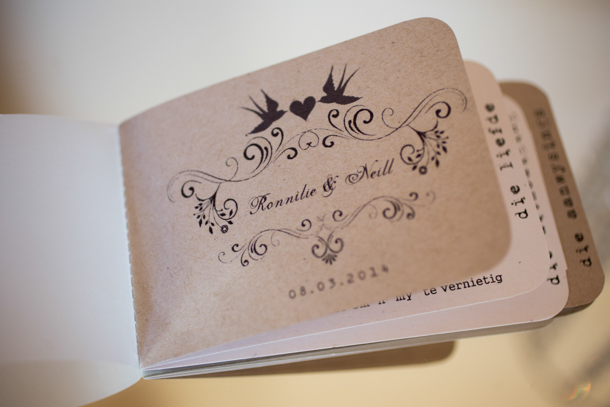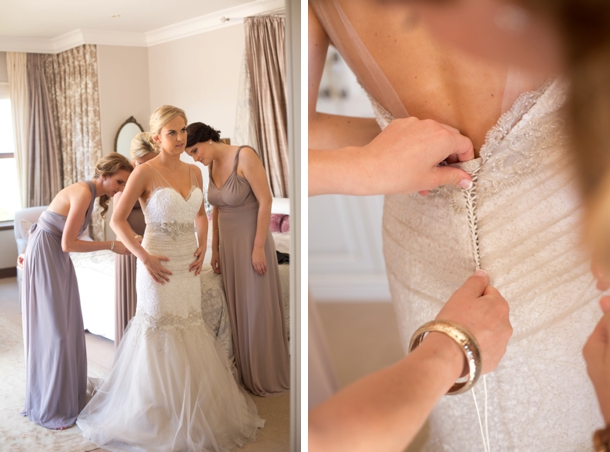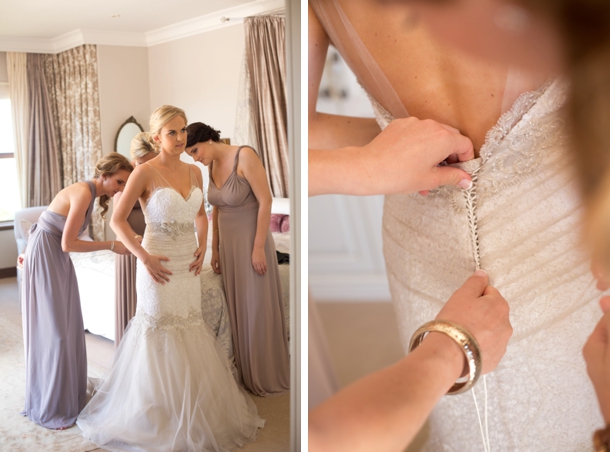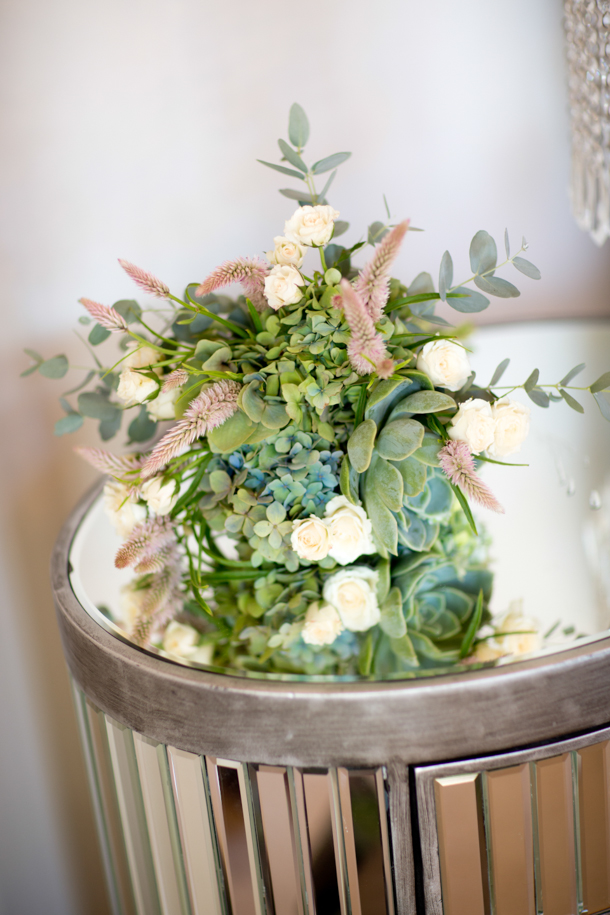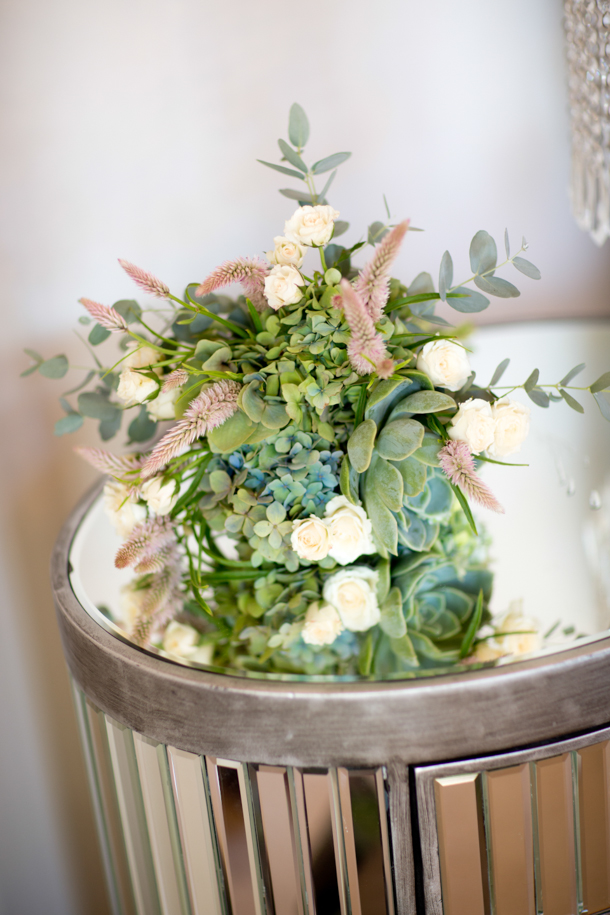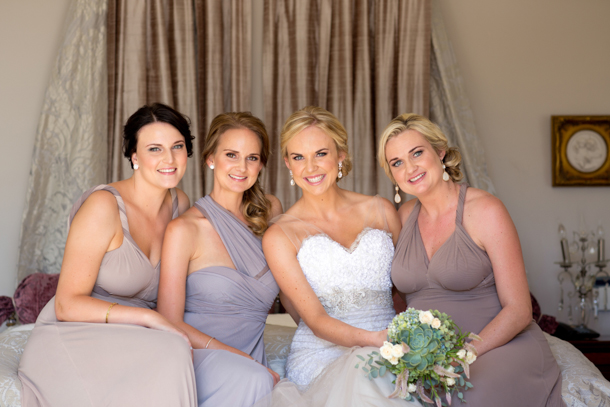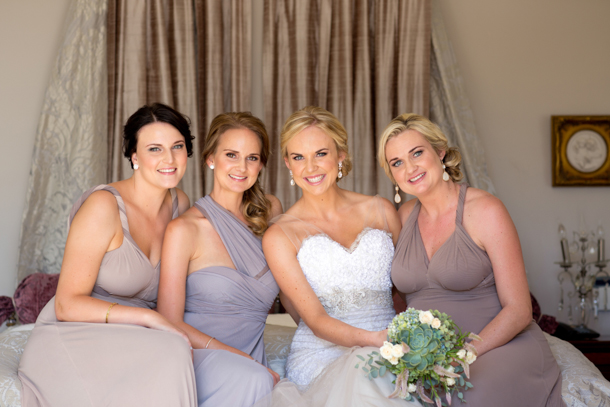 Love Story
I was a first year student in Sonop ladies res in Stellenbosch and we "skakel-ed" with Neill's res, Helderberg, for Jool. On the eve of the Vlotte event the extremely tired first years had to wait till the last "blommetjies" were on the Vlot to be transported back to our res. After an extreme week of first year activities, I needed to get some sleep and phoned one of my brother's best friends (who was a senior in Neill's res) and asked if it was possible for me to go catch a power-nap on his bed. He explained that no one was there, gave me his room code and off I went. A little while later I woke up to Neill entering the room and him finding this random girl (me!) fast asleep on his bed. Needless to say, Neill was roommates with my brother's friend and I had accidently fallen asleep on his bed. (Neill`s version is that he came from an evening out in town to find an angel fast asleep on his bed!) We saw each other a few times after that and at a Valentine's party at his res, we met up by accident again and he offered to take me home after the party, he sneaked in a kiss and we have been best friends since…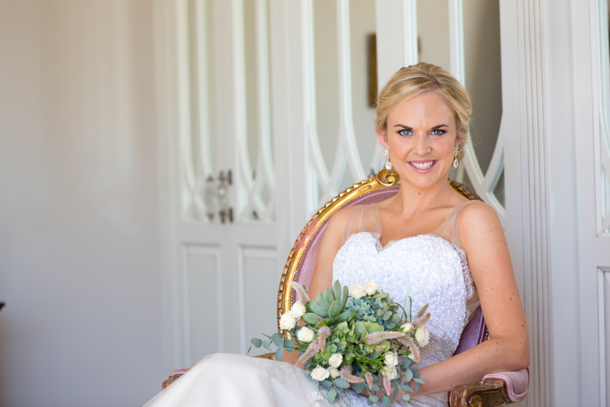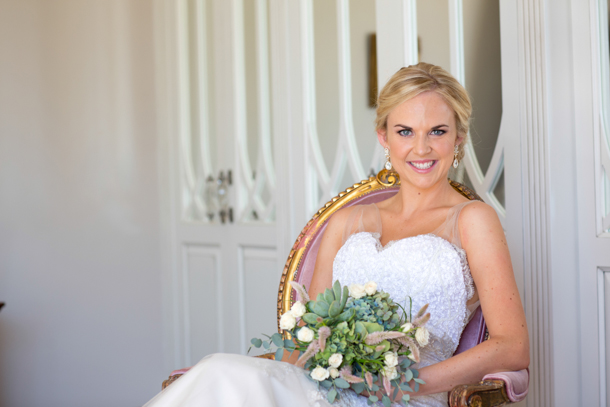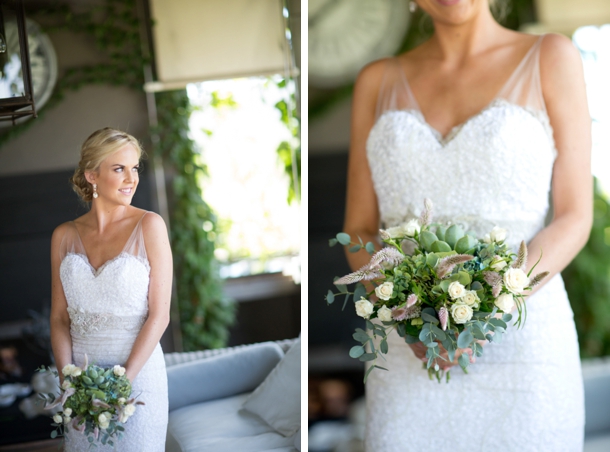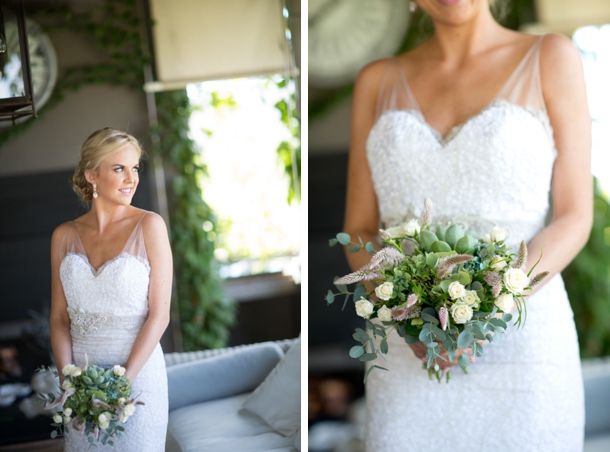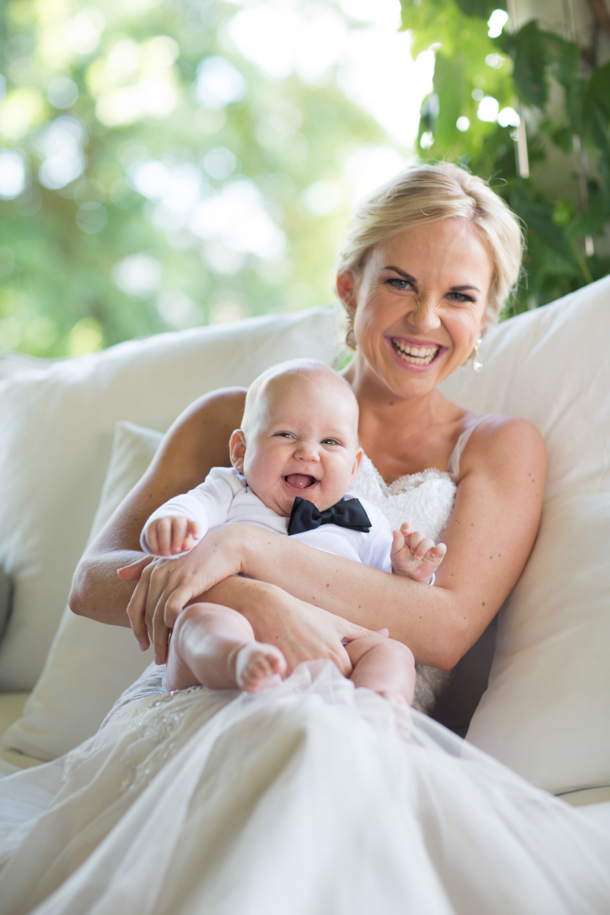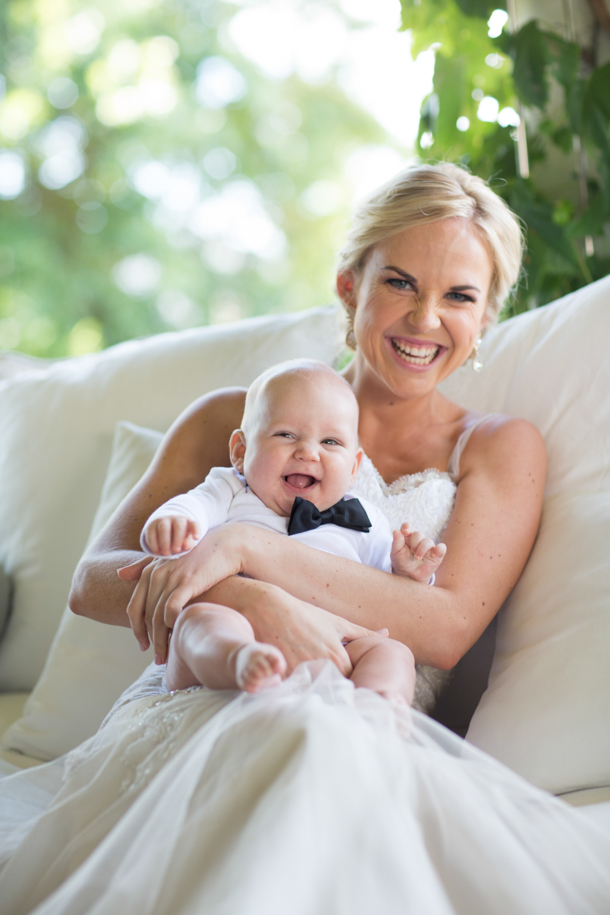 The Proposal
We had been away with friends for the weekend at Hangklip, when Neill woke me up early Saturday morning and told me that we had to go paragliding in Cape Town (at least a two hour drive away). I wasn`t very keen as we were already having such a good weekend away, and driving back into Cape Town felt like a mission. Neill somehow convinced me with an elaborate story about the weather conditions being perfect and if we didn't use the paragliding voucher that weekend we probably wouldn't have another opportunity. We drove to Signal Hill on that beautiful bright day and met up with our instructors. They acted a little strange and were adamant that Neill had to paraglide first, then another lady and then only was it my turn… I started to become suspicious and as soon as I was in the air the instructor started to point out something on the beach. I realised what was happening and couldn't take anything else in but Neill standing by the beach with a massive banner reading "Trou met my!?" As soon as I landed, he got down on one knee and asked me to spend forever with him, I said yes and by that stage we had a crowd gathered around us who cheered us on. Best of all it was captured on both our GoPros so we could relive the moment. Later the paragliding crew revealed that Neill had dropped off the banner almost two months prior to our actual proposal. He had to phone every weekend to inquire about the weather conditions! When they finally said they were good to paraglide, he had waited long enough and had to make use of the window of opportunity. What a guy!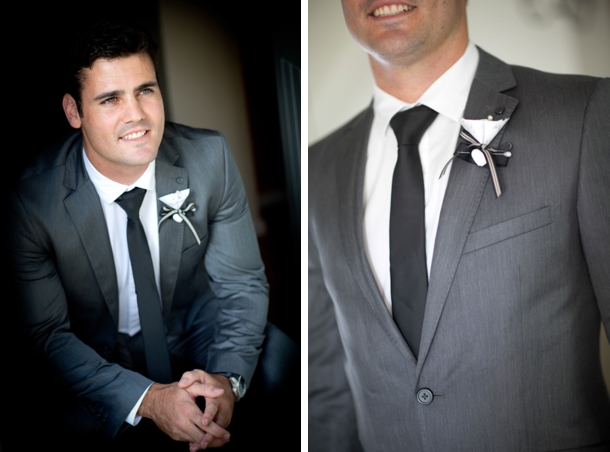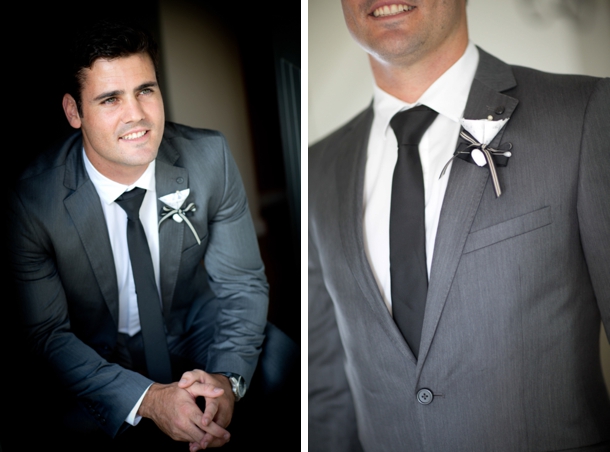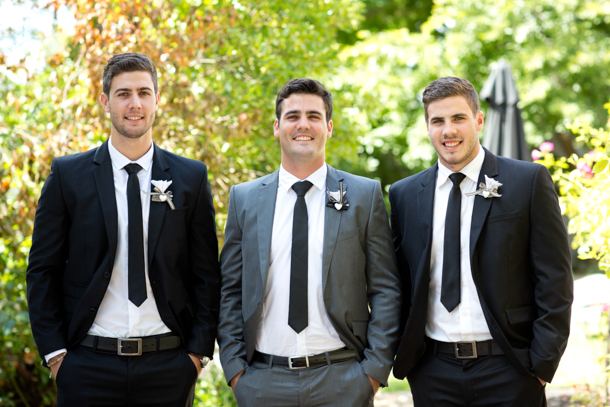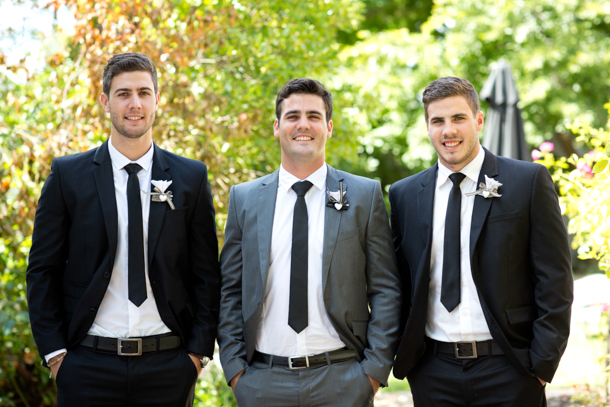 Wedding Style
I am terrible with decisions and didn`t really know what I wanted but knew what I did't want. I initially wanted to get married on our farm in the Karoo but it just was't practical. I decided to keep with a rustic barn theme in the Stellenbosch winelands but make it a little bit more refined. I absolutely adore hydrangeas and the colour palette developed from those colours.
The Venue
I chose 401 Rozendal as it is an old cellar that is converted into a stunning venue space and it beautifully combines rustic with new elegance. Inside it almost feels like a barn with exposed brick walls and the sink roof and I loved the fact that the wedding chapel was built on top of the venue.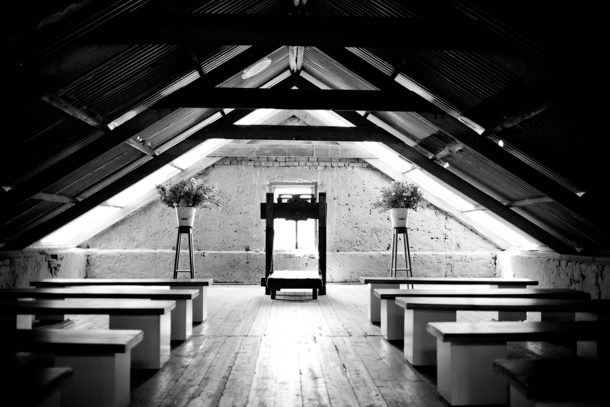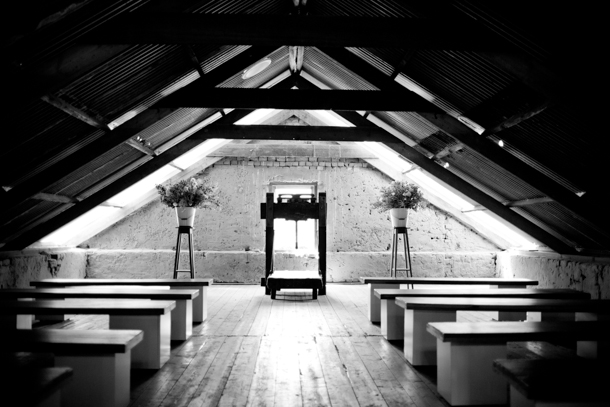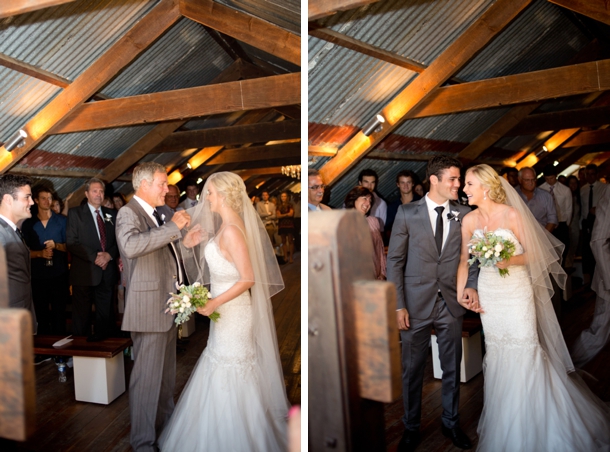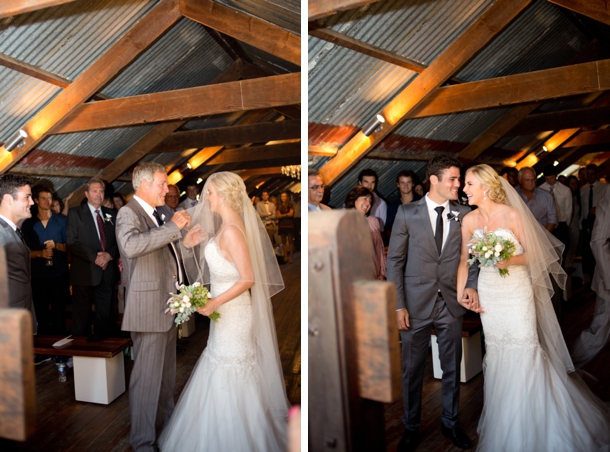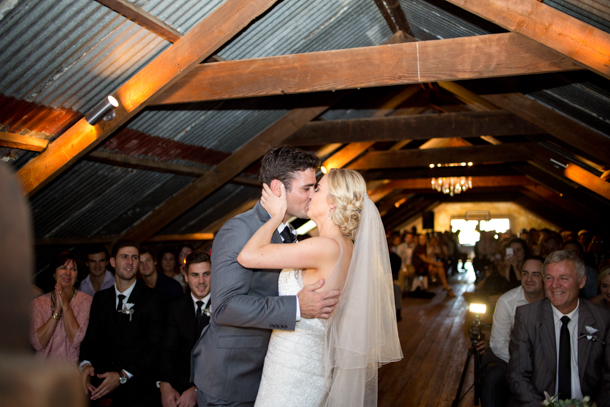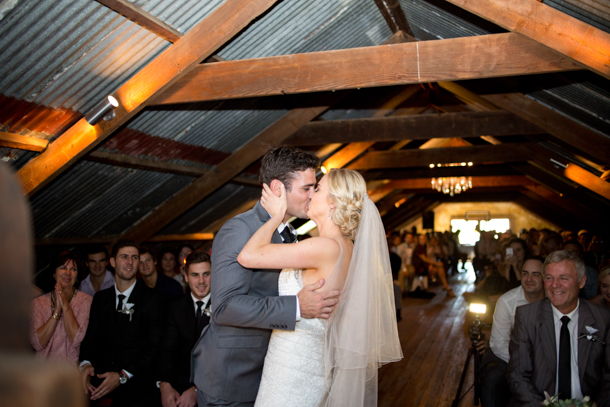 Wedding Details
There were a few enamel bowls and milk jugs filled with flowers for the décor that are used by my father on our farm. Also, as we walked out of the church as Mr and Mrs, Neill`s German Opa, who came all the way from Namibia for our special day, rang the wedding bells (he's been doing it for years in his local church) and it was such a special moment. We are both extremely family oriented and it was important for us to have our family involved throughout the day.
DIY Elements
Sjoe! I am a DIY girl at heart and almost everything was handmade with love by my friends and family. My parents were absolute stars in this department and I could tell them my ideas, give them free reign and was always amazed by the outcomes. There is almost nothing that wasn't handmade by my creative mother. She made the bridesmaids' dresses, as well as their paper flower bouquets; the groomsmen's boutonnieres; she baked and decorated our wedding cake and I am sure a few other things that have slipped my mind. My dad made all the wooden flower boxes for the tables and he was also responsible for the delicious droewors and biltong that accompanied the pre-drinks. Our Save the Date video was made by Neill's brother, Stefan; our wedding invites were beautifully made by a friend of my sister's and the rest of the stationery was my department.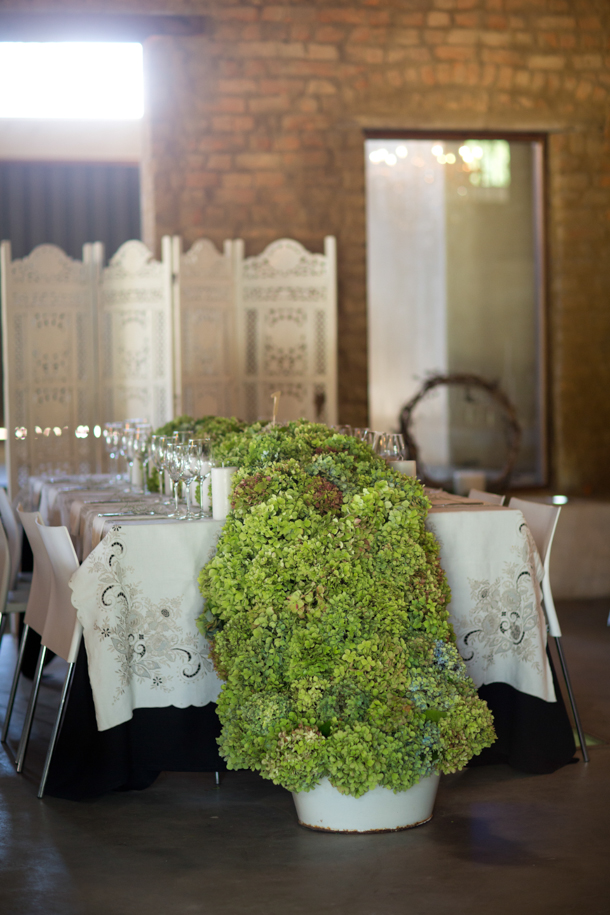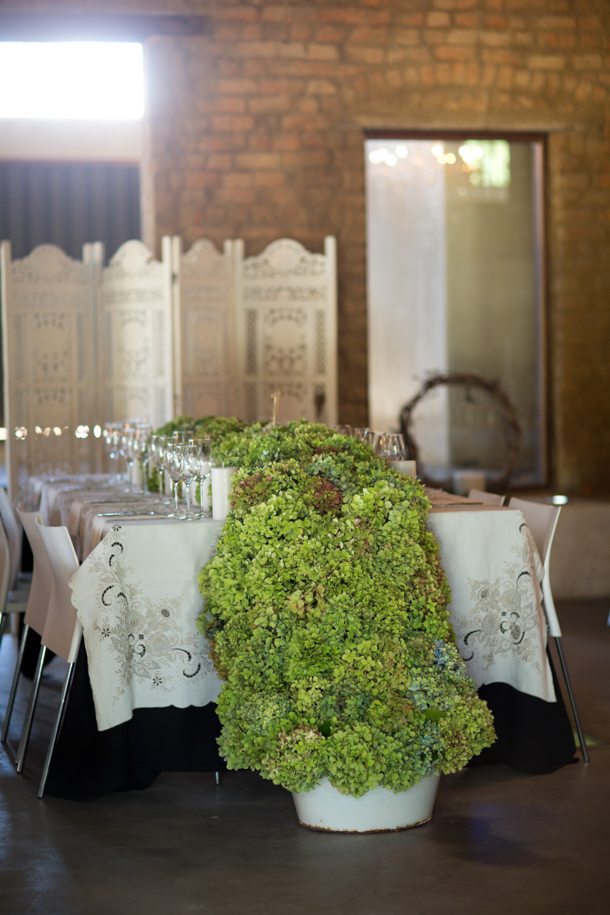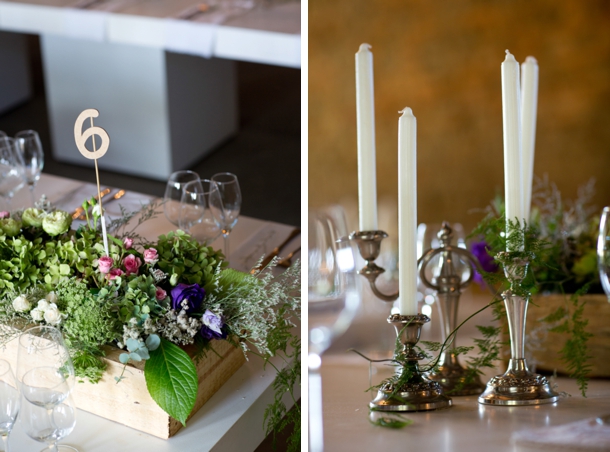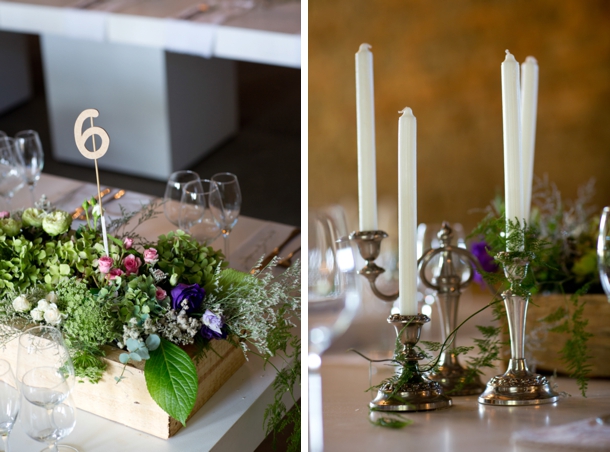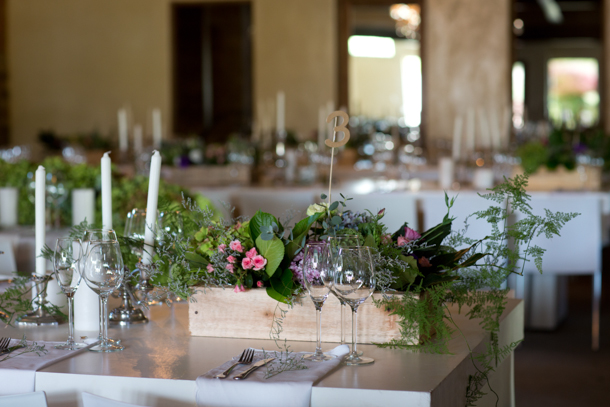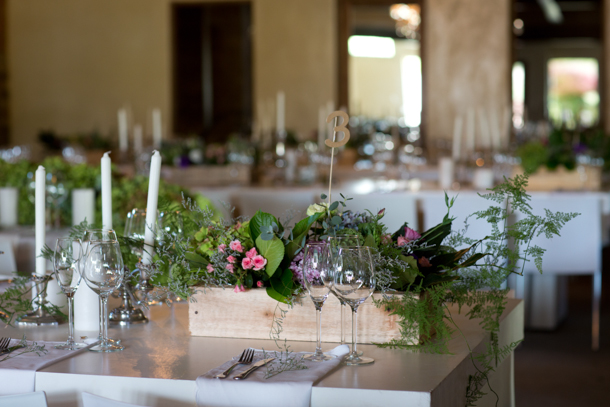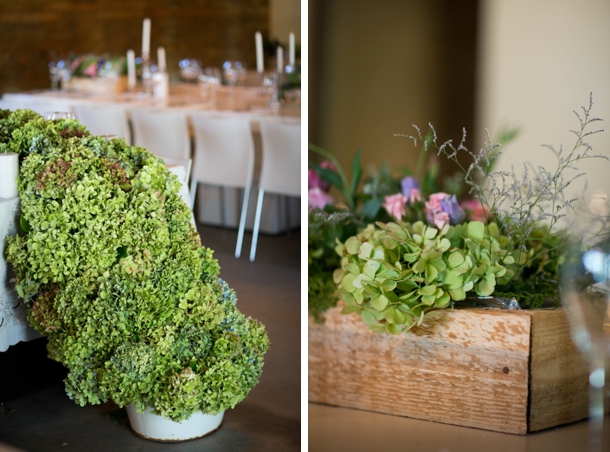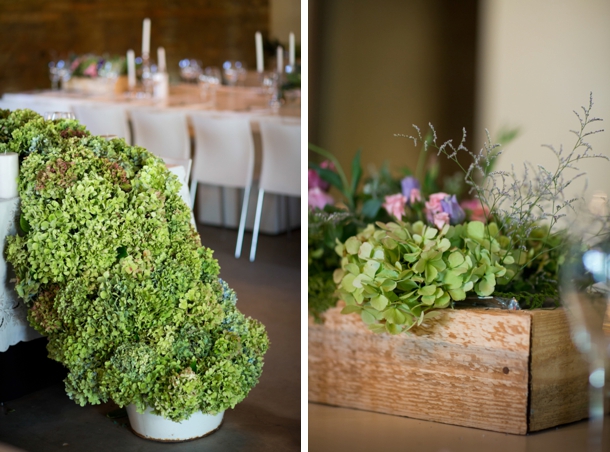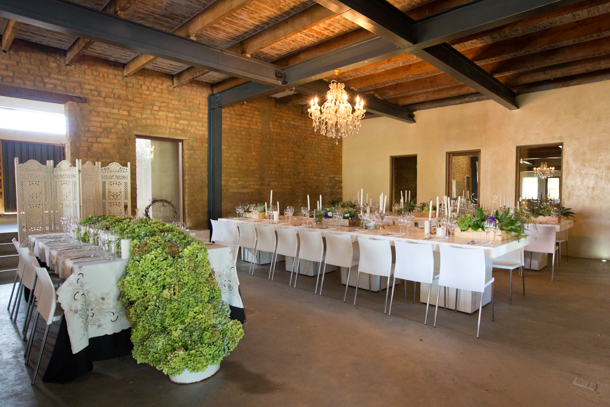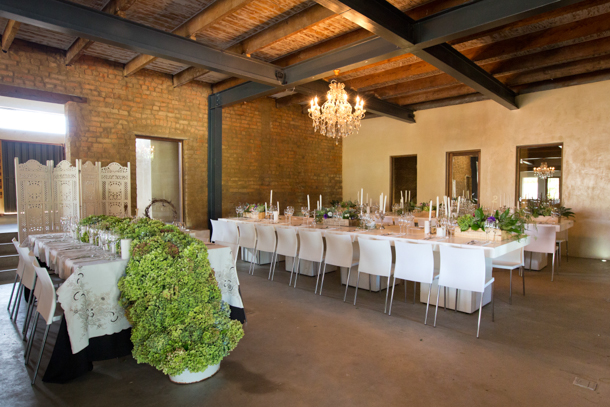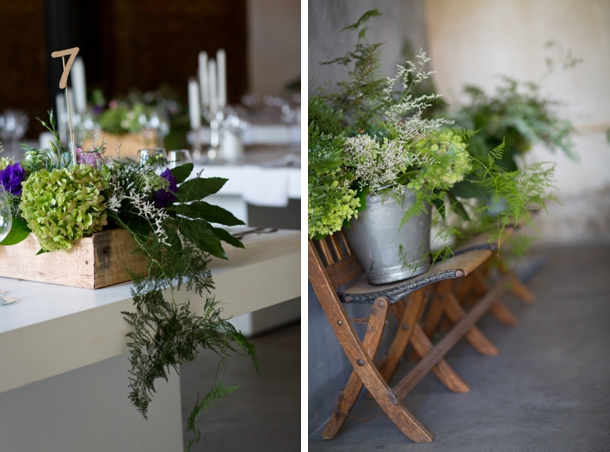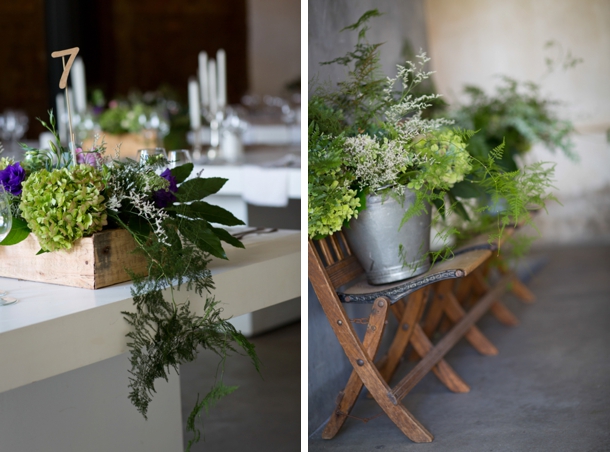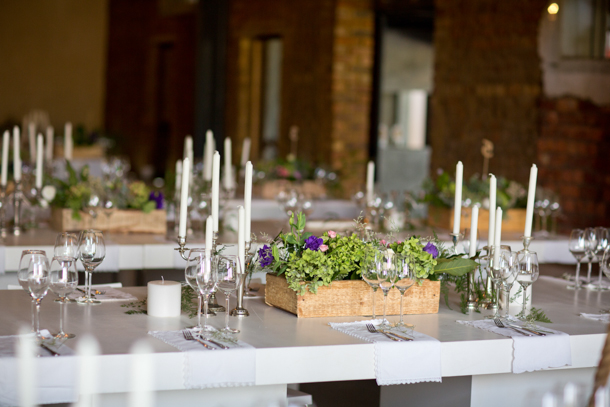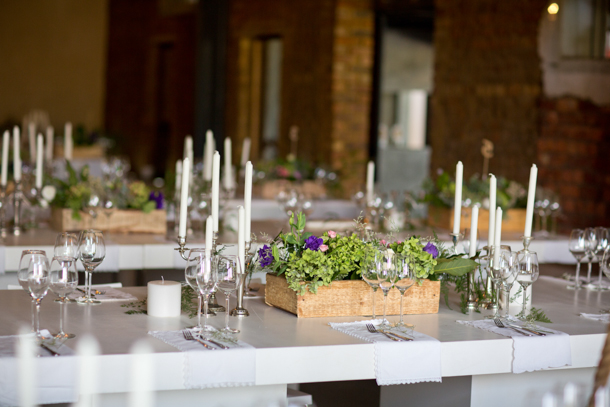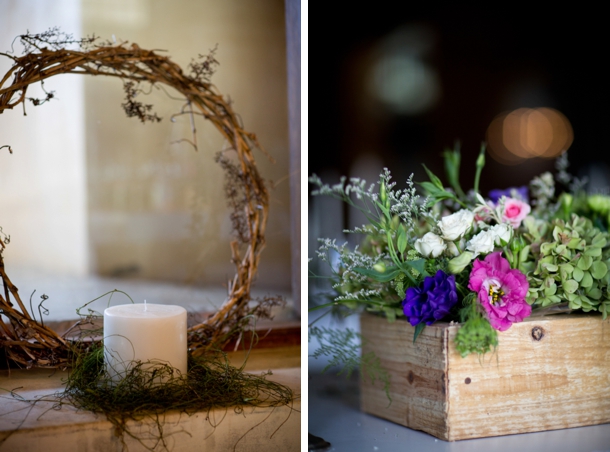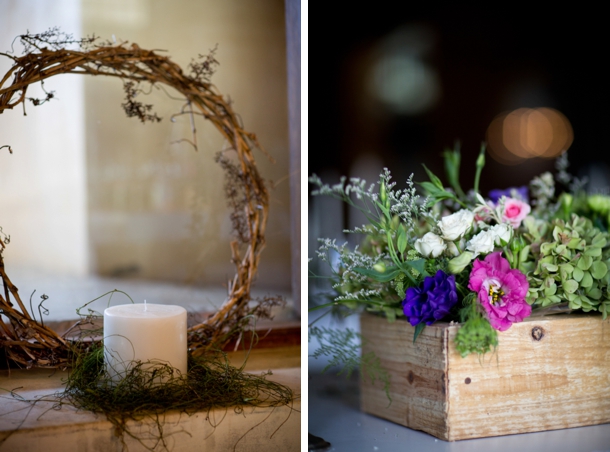 The Flowers
I love hydrangeas and asked a family friend to have them featured everywhere. She was responsible for all the décor and I didn`t need to give her any direction as to what to do. She was extremely creative and made everything look beautiful. Also with my bouquet I told her what I didn't like and asked her to do as she pleased and when I got my bouquet the morning of the wedding I was in awe of how exquisite and, at the same time, effortless it looked.
The Dress
I went dress shopping with my mother, sisters, mother-in-law and friends and could not make up my mind. I had tried on hundreds of beautiful dresses (decisions, decisions!?) when my mother suggested I try on a particular dress that she loved, but one that hadn't really caught my eye on the rack. I obliged and it turned out to be my dream wedding dress. As the saying goes: "Mother knows best"!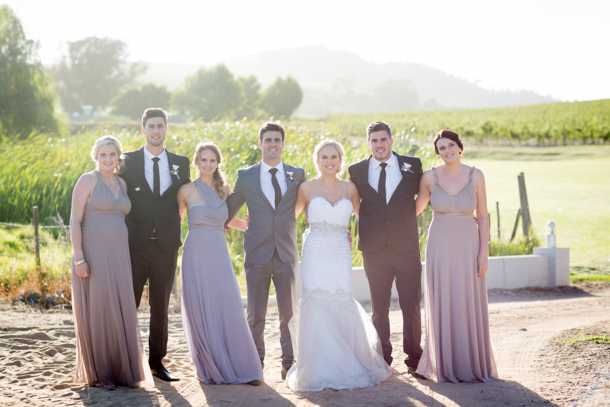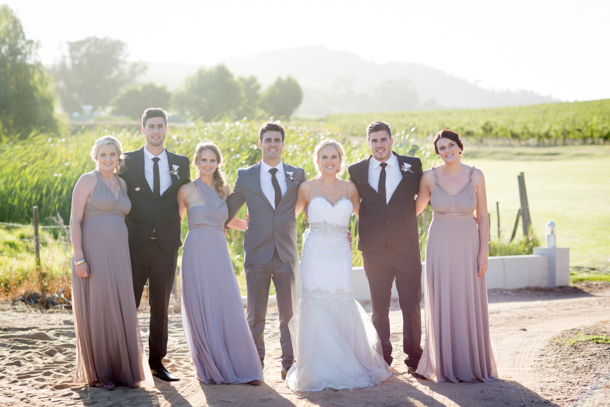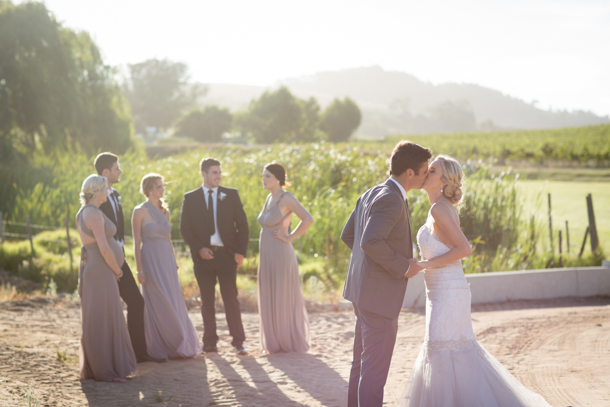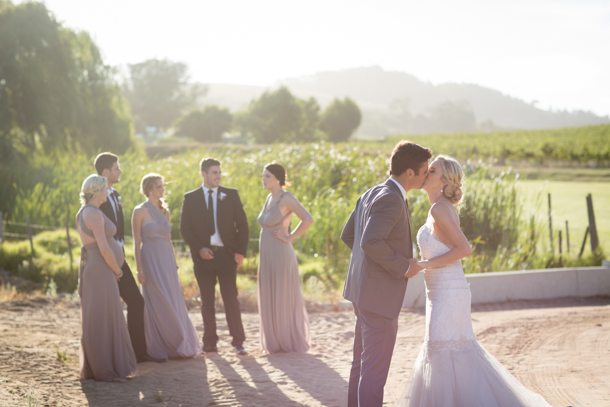 Memorable Moments
When I nervously walked up to the church with my Dad, the wind blew my veil off my head and my dad had to run and catch it to prevent it from falling into the fish pond. We had a good spontaneous laugh and the nerves immediately vanished and made me super excited to walk down the aisle and get to Neill. Saying our vows in church was very special and emotional… All our speeches were also wonderful and funny but my husband's speech stood out by far – he spoke so well and from his heart. He said the most thoughtful things and halfway through his speech, he took a few sips from his hip flask for courage… He had the whole crowd laughing and cheering him on. We also had a bit of a communication mishap about my overnight bag and the keys to our chalet for our first night as newlyweds. After we left the party we realised this and had to drive all the way back to Neill's brothers in Stellenbosch to get the keys and then again to my parents' place to get my overnight bag. It was one of the few times that night that we had only to ourselves and it was so special to talk about the highlights of the day for each one of us as we drove through the almost deserted streets in the dark, reliving our favourite moments of the day.
Proudly South African Details
Fynbos, South African wine, droewors and biltong, plaasbrood and plaas botter (handmade by my mother!)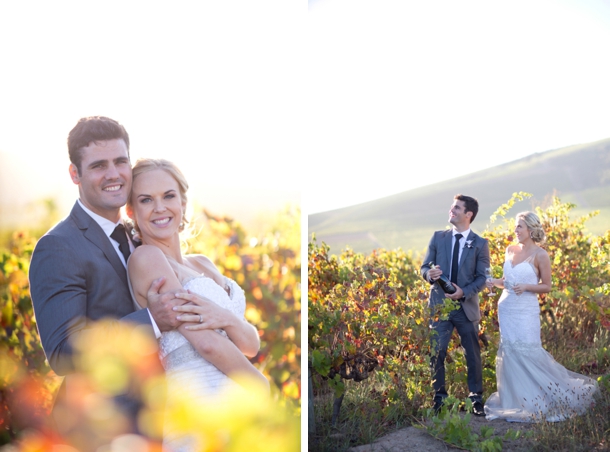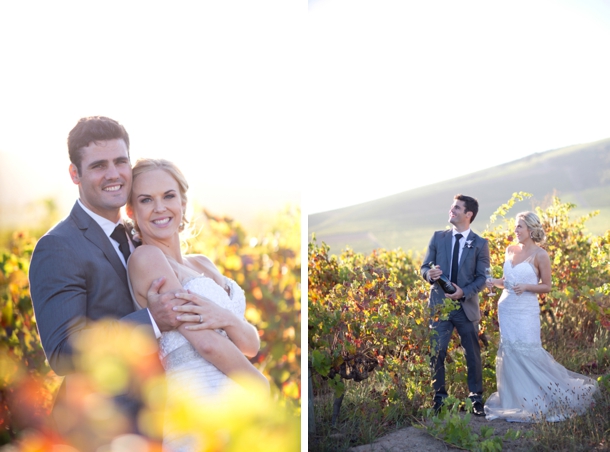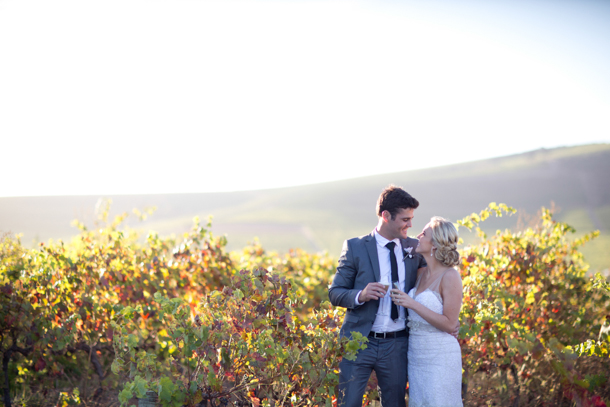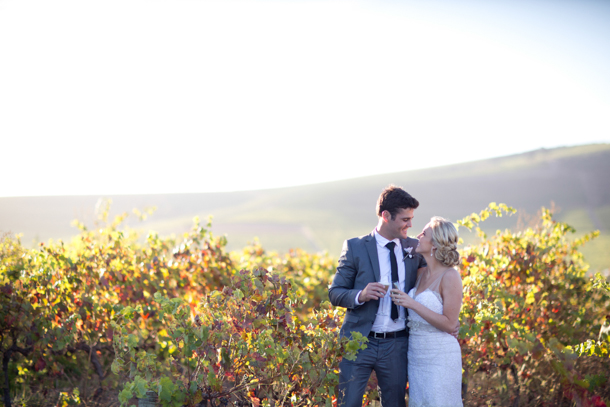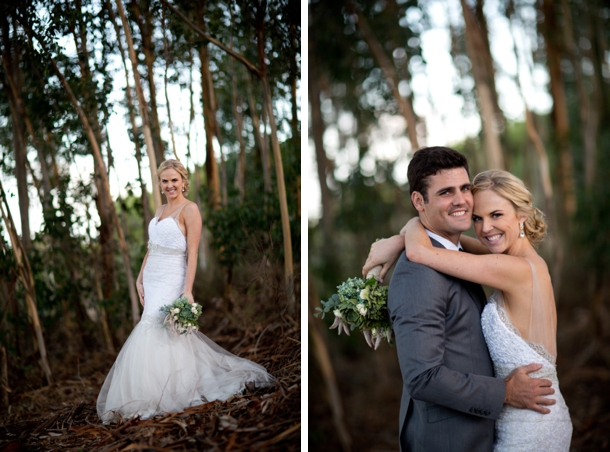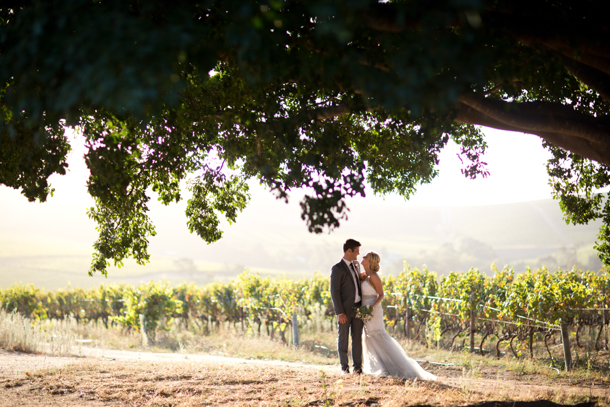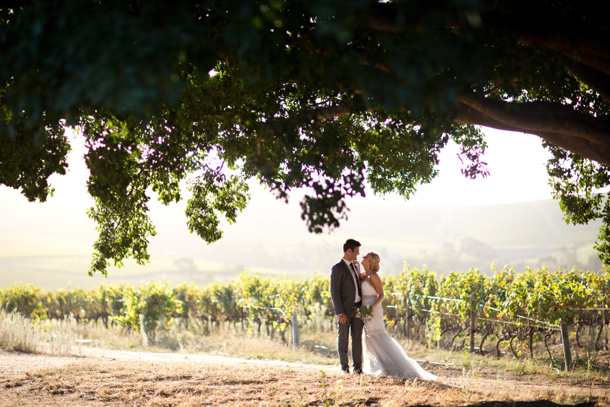 The Honeymoon
Zanzibar :) Neill kept it a surprise up till JHB Airport. It was special and magical.
Advice for Future Brides & Grooms
Do consider a wedding videographer. We splurged on it and it was well worth it. There are so many things on the video that we missed on the big day and it is extremely special to watch and relive it with friends and family afterwards. We watch our DVD frequently. Also ENJOY EVERY MOMENT and go with it. You would be surprised how much fun can be had if everything is not planned down to a T!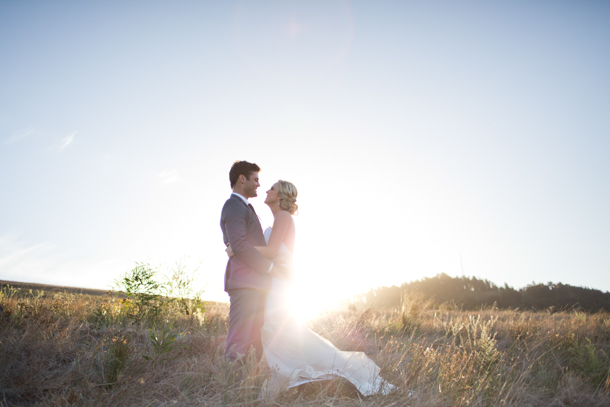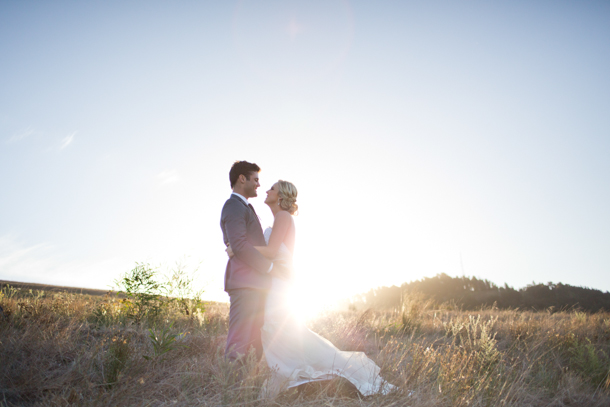 You can see more from this wedding on Daniela Zondagh's blog.
SERVICE PROVIDERS
Venue & catering: 401 Rozendal | Photography: Daniela Zondagh | Videography: Lize and Adam from Love Project | Flowers, décor & hiring: Annie Munnik (family friend) | Stationery: Lillian van Zyl (family friend) | Bride's dress: Elizabeth Stockenstrom | Hair: Letitia van Zyl  | Makeup: Marzaan Lotz | Groom's attire: Zara Man | DJ: DJ Riaan of DJ DEAN