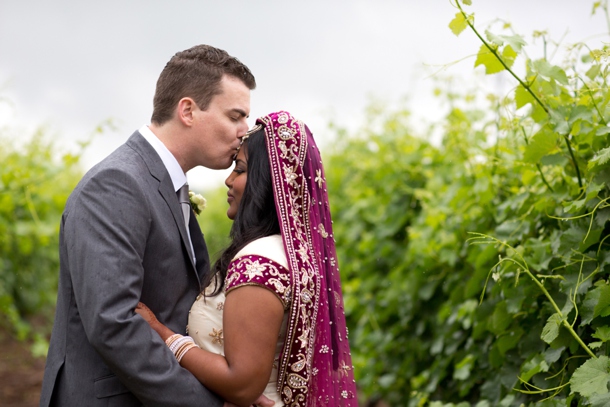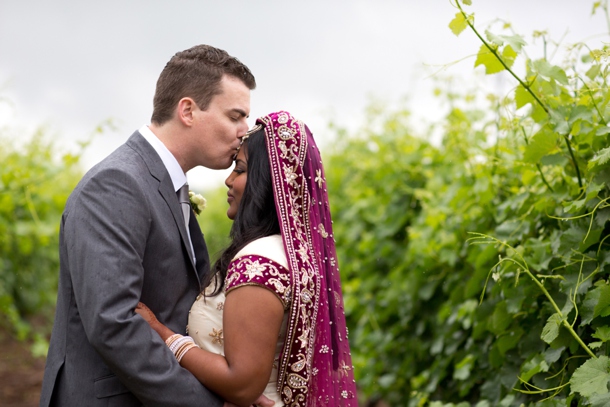 There may come a day friends, when I'll get sick of the combination sparkly gold, soft pink and mint green, when my heart won't thrill at the sight of a pair of sparkly shoes or gold chevron detailing on a cake or proteas teamed with peonies (sigh!) and roses. But that day is definitely not today. Today we're celebrating all of these beautiful details and more, because they come as part of the sweetest multicultural wedding, with a bride not just in a floaty white gown but in a spectacular Indian lengha with jingling bracelets and delicately hennaed hands. An aisle made gorgeous with rose petals, little mirrored Indian trinket boxes for favours, a dashing groom. Whether you're planning your own fusion wedding or one with vintage or modern glam elements, you're going to ell-oh-vee-ee love this!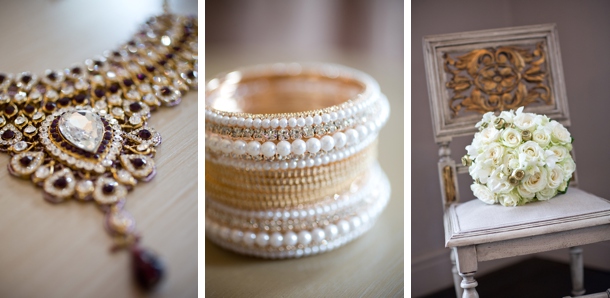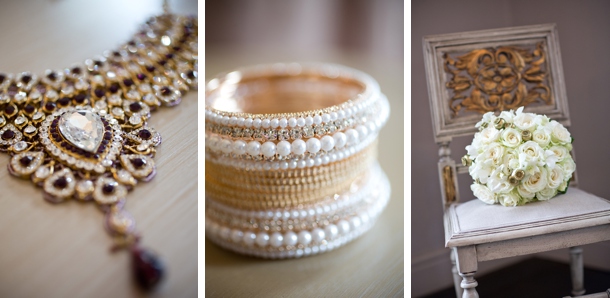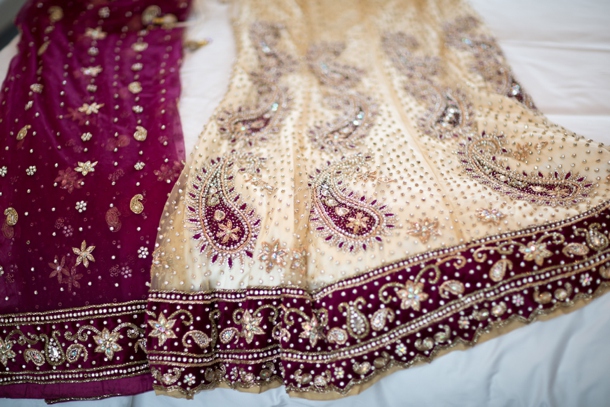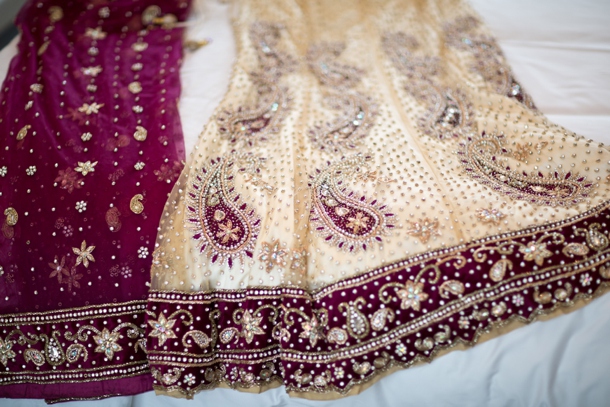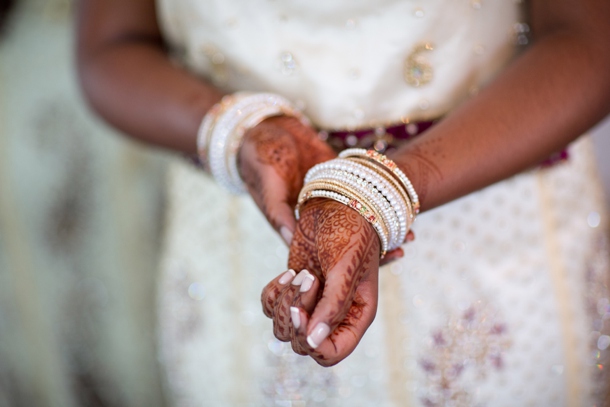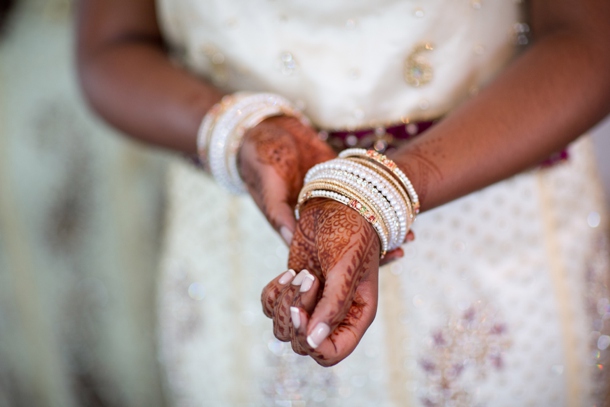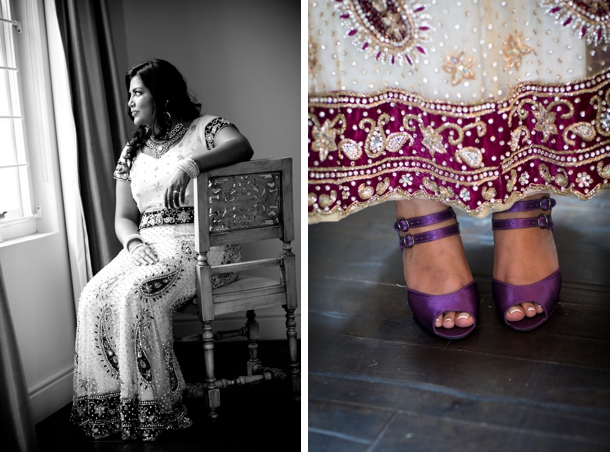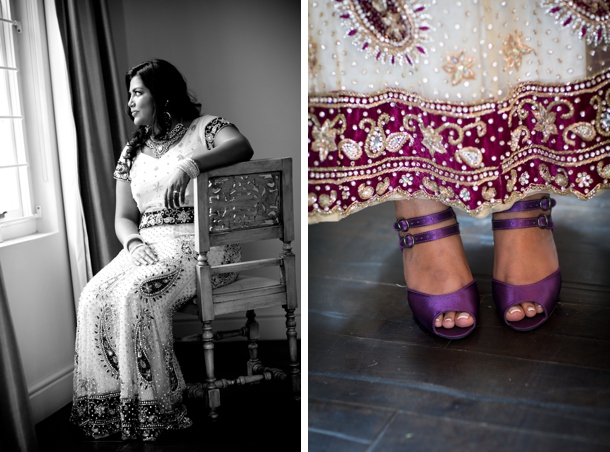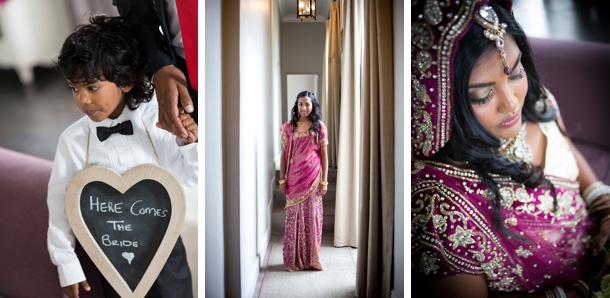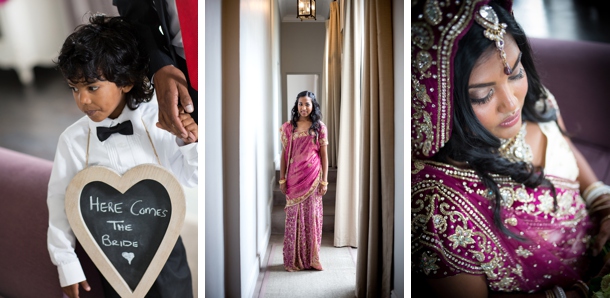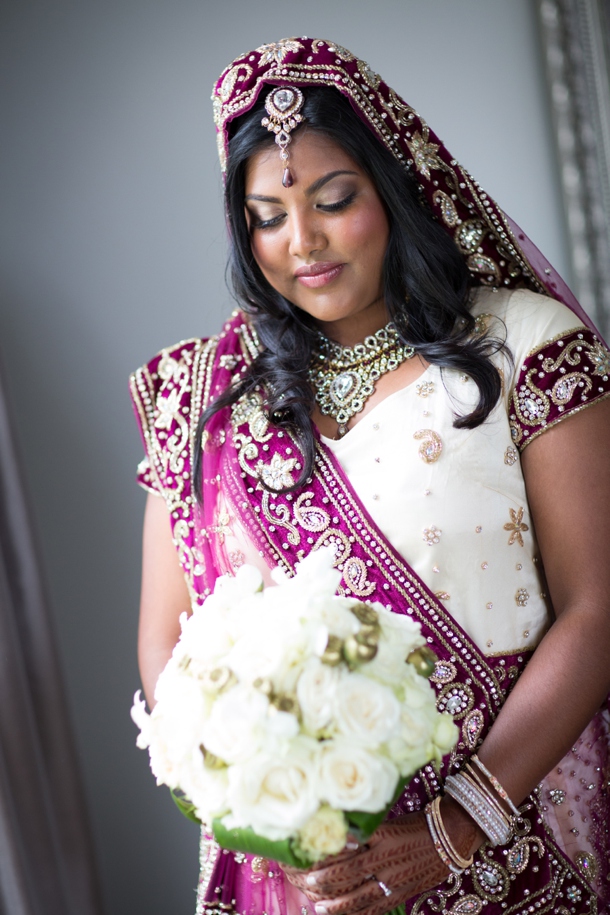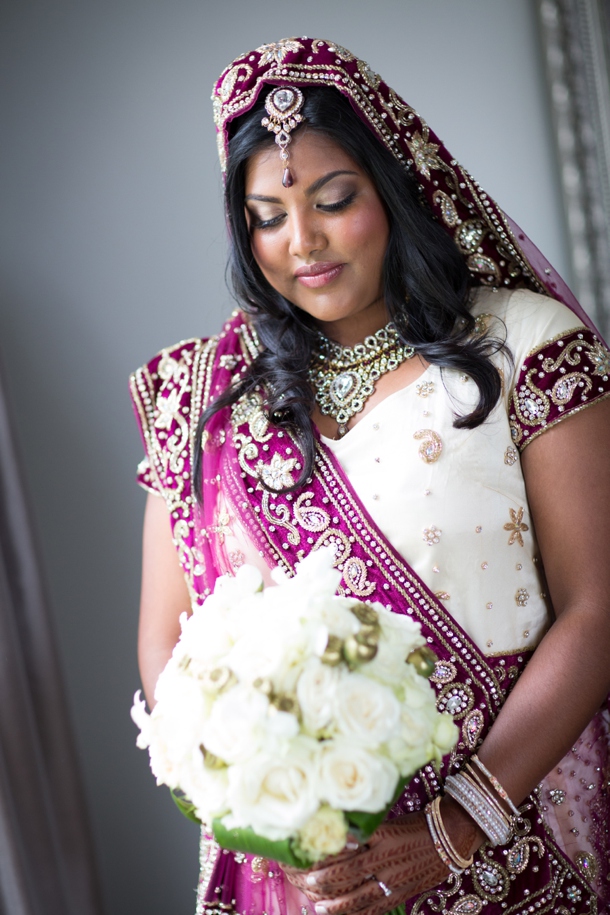 Love Story
Unlike other couples, our story does not begin with love at first sight. Jacques and I met whilst working for the same company – we barely spoke and I only referred to him if I needed some sort of tech support. To Jacques, I was simply the new girl in the office who he only chatted to when he needed meetings to be set up. Months passed, and things stayed exactly the same, until the following year when I moved into the main office. My desk happened to be located directly opposite Jacques. We had the odd conversation and slowly became comfortable in each other's company. We became close and shared more conversations, the odd flirts and giggles and sometimes even chocolates. It then seemed only natural for us to see each other outside of the office and so we made plans to have dinner and a movie. I didn't know what to make of the evening as it seemed extremely platonic until Jacques texted me later on and said, "On our next date, I will pick you up" to which I replied, "So, it was a date then?" and he responded, "I reckon so." And the rest, as they say, is history.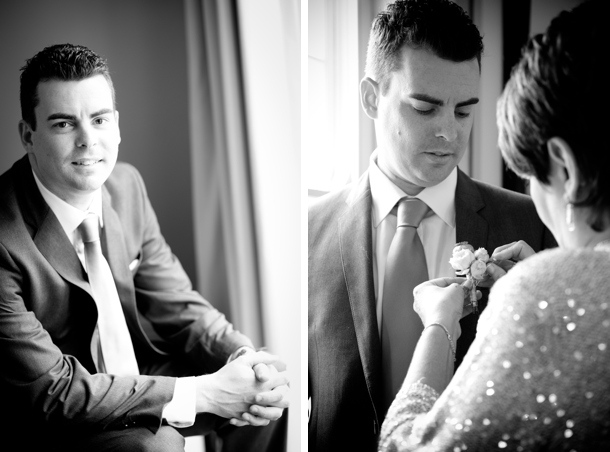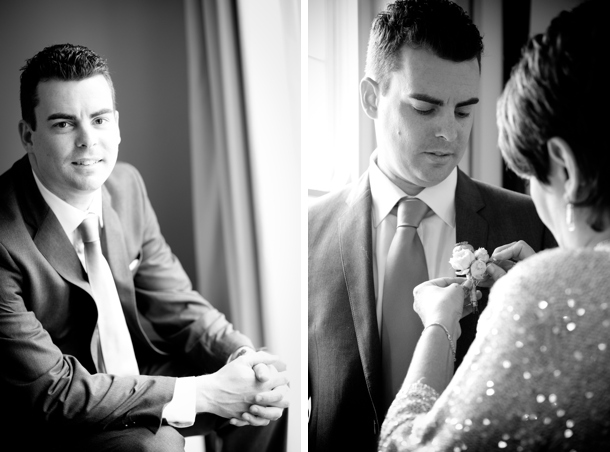 The Proposal
After watching countless YouTube flash mob proposals, I was convinced that was the ultimate proposal, but as Jacques is a rather private person, it was going to be out of the question. Little did I know that he would surprise me with my perfect proposal in one of the most romantic ways possible. He was extremely sneaky about it, insisting we leave work a little early one day and then informing me that I had five minutes to pack an overnight bag when we got home. He took me to the Franschhoek Country House and Villas, an amazing five star establishment that leaves you breathless! We had dinner at the Monneaux Restaurant and afterwards as we walked back to our villa, Jacques insisted we sit down for a while on a pretty bench in the middle of the garden. That's when he got down on one knee and asked me if I would marry him, to which I replied (after shedding tears for a few minutes): yes!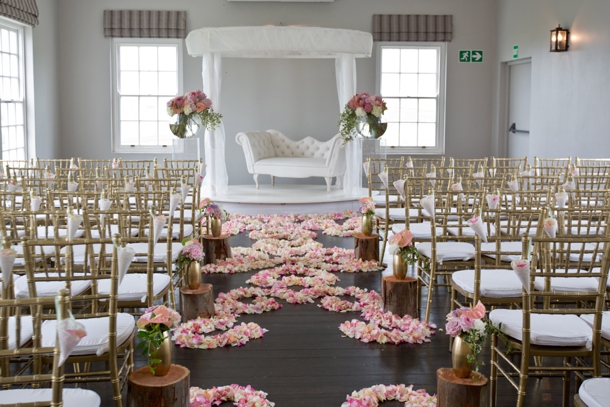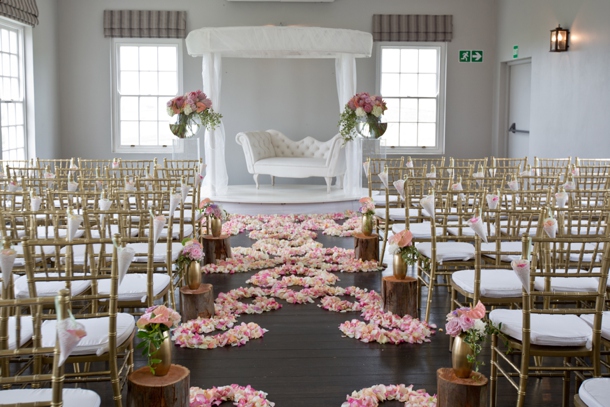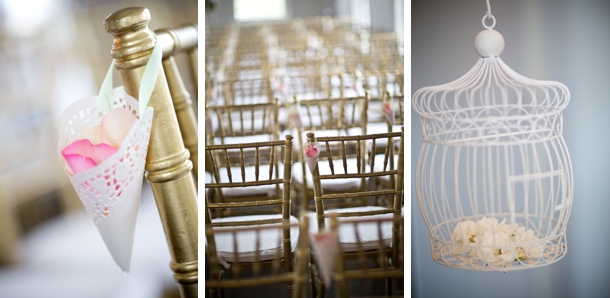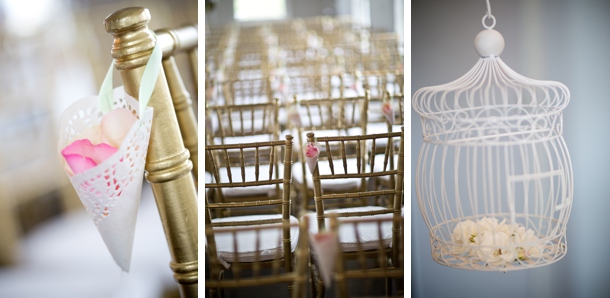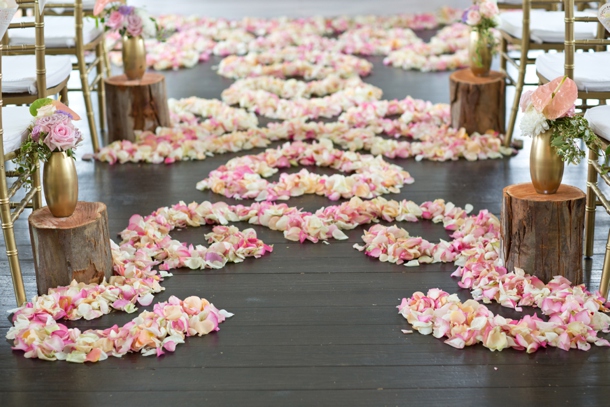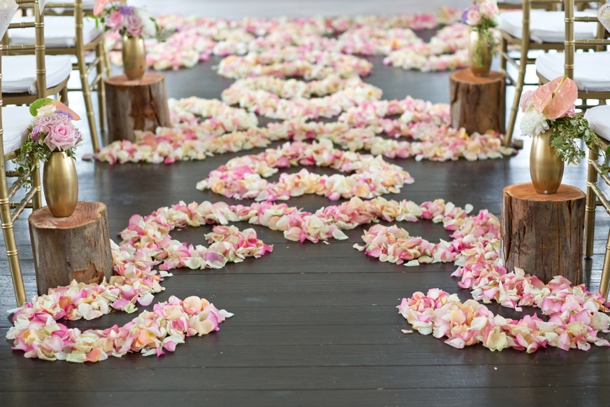 Wedding Style
Our wedding was a cultural fusion of Indian and Western. I am Indian and Jacques is white, so we tried to incorporate as much as we could from our cultures. We made sure our personalities and style were reflected in everything we did, especially with the decor. I love vintage and classy decor but also wanted to incorporate colour and gold, bringing in my Indian culture. Our colour scheme was mint, peach and gold, and the theme was vintage. We used a lot of lace and paper doilies to bring in the vintage feel, and had pastel flowers and table runners with gold candelabras and table settings. We also used lots of wooden and raw finishes, which is something I grew up with. The table runners were raw burlap with lace and the cake stand was a log of wood.
The Venue
I had a list of ten venues to view on a Saturday morning. The first stop was Nantes Estate, and immediately upon arrival I fell in love. The venue was simply perfect, and the decor reflected my style and taste completely. After a complete tour, I knew that this is where I would be getting married. We didn't even bother looking at any other venues that day – while driving home, I emailed the manager at Nantes Estate and booked it immediately.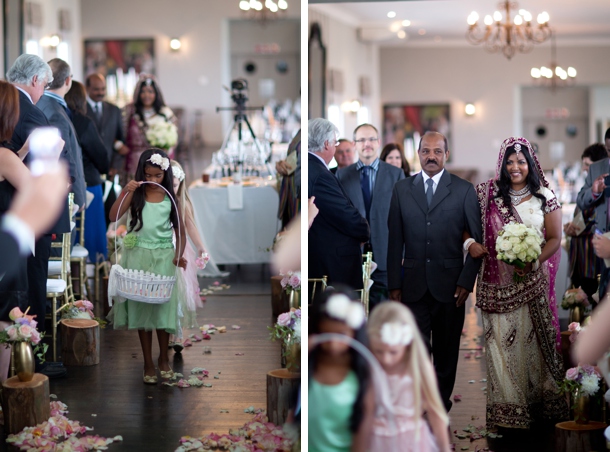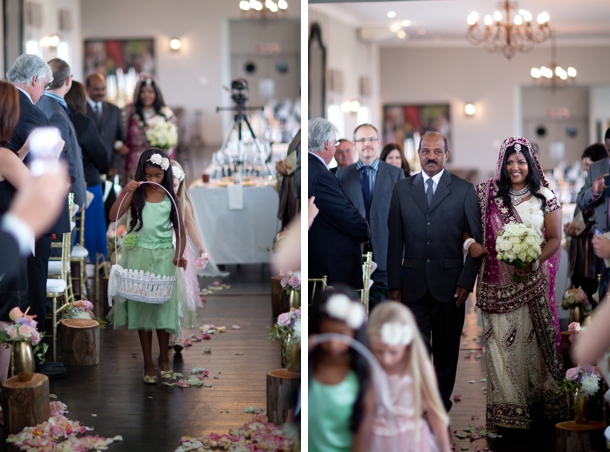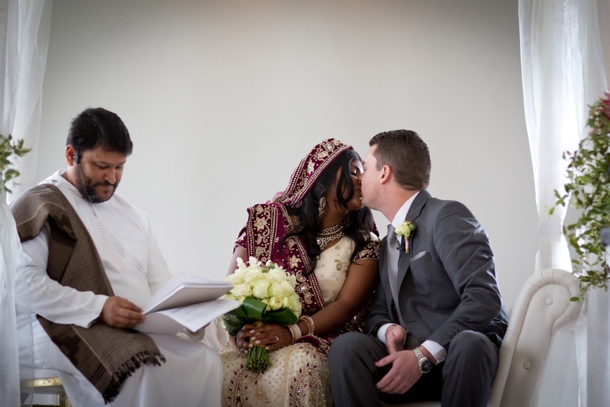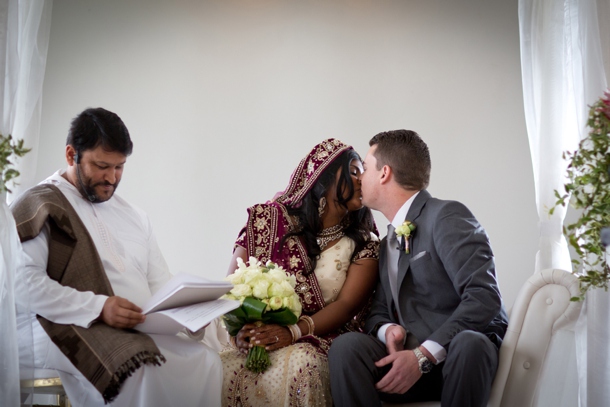 Wedding Details
It was a long wait until the wedding – just over a year to be precise. So when the day arrived, I was incredibly excited and surprisingly not nervous at all. I chose the best suppliers and knew that everything would be perfectly executed. We initially decided on an outdoor ceremony and knew November weather would be perfect for it. Unfortunately it rained on our wedding day, so it had to be moved inside, much to my concern. I am a bit of a control freak so naturally I wanted to constantly check on our flowers and decor, but had to contain myself. When I went upstairs after my hair and makeup to take a quick peek at the venue and I was left speechless. Heike from Fleur Le Cordeur did such a remarkable job that I was left tearful. I couldn't believe that this was MY wedding – it looked like something from a magazine. When I saw what Heike had done to the aisle, I had no complaints about it being inside – it was more than I could have ever hoped for. Her passion for flowers and decor was so evident.
The reception was simply incredible. I was surrounded by so much love and positive energy from all our guests that it touched my soul. It didn't feel like a wedding to be honest, it just felt like one big party. I managed to talk to all 150 guests individually and really connect with everyone on my special day, which for me was the most important part. Even though it rained on my wedding day I knew it could have only been showers of blessings for I indeed felt very blessed. Everything was simply perfect and I could not have asked for more.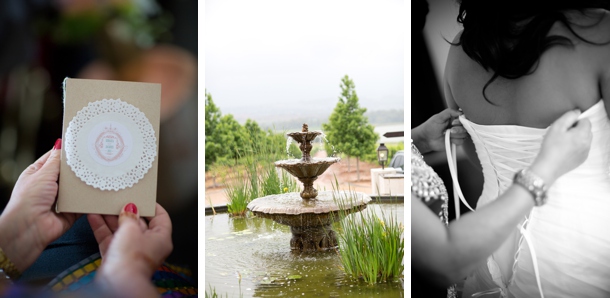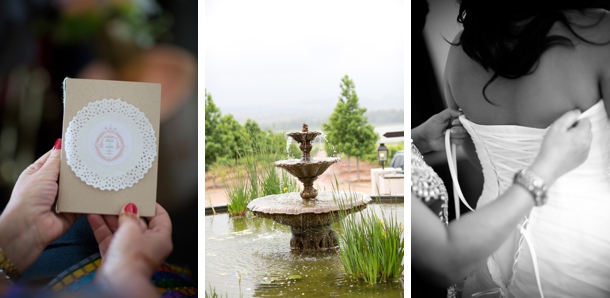 DIY Elements
We tried our best to stick to a budget although it did get very difficult – luckily I had come across numerous DIY projects online. I made quite a few things for the tables myself. I sewed all the burlap table runners, made wooden table numbers from logs, paper doily cones for confetti, cake stands, wedding program booklets, tears of happiness tissues, kids bags and writing stations. It was incredibly special to see how everything just fell into place. Seeing my hard work and attention to detail being appreciated by everyone made it so worth it.
The Flowers
Our wedding flowers were one of my favourite parts. We used peonies, which are so rare and only bloom at certain times of the year, as well as roses, proteas, anthuriums and greenery. It was so beautiful, placed in gold vases on the tables. We also had Fleur Le Cordeur's signature patterned flower aisle, which was stunning!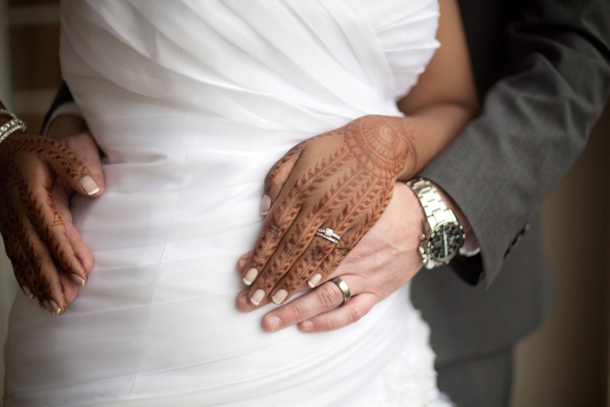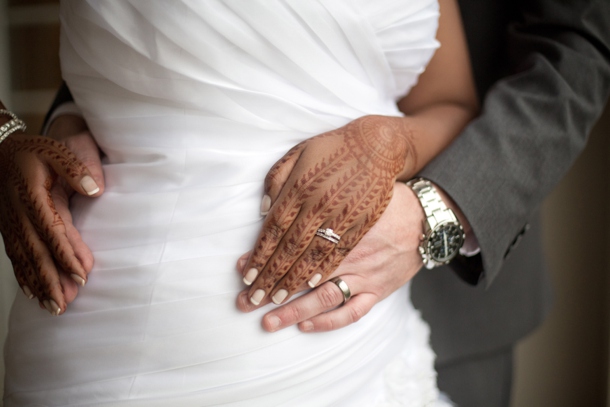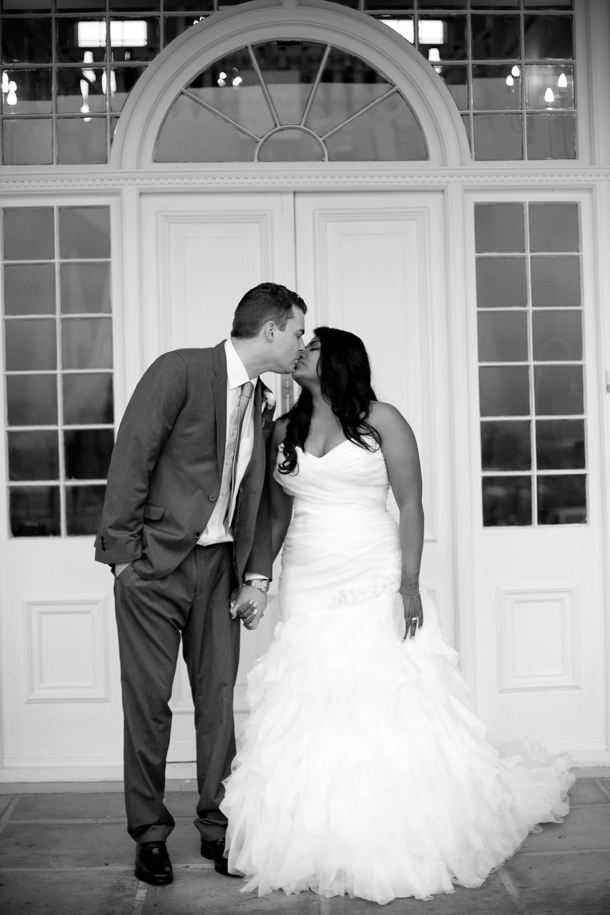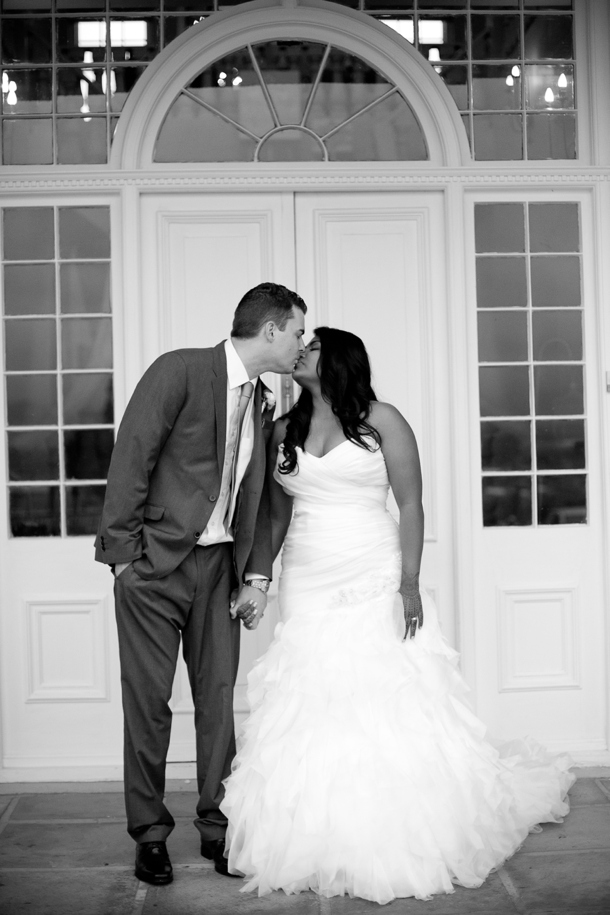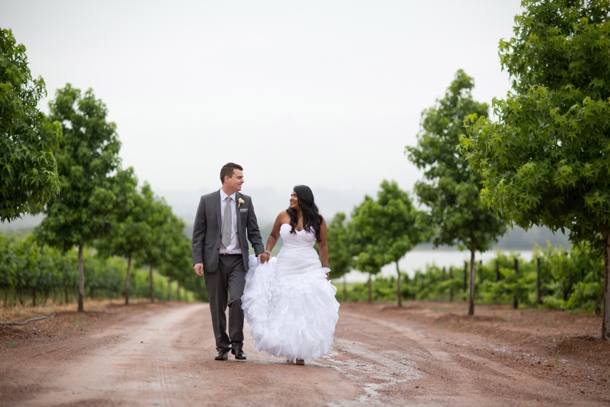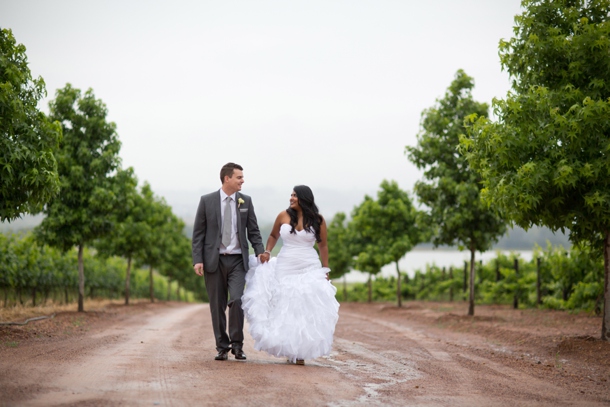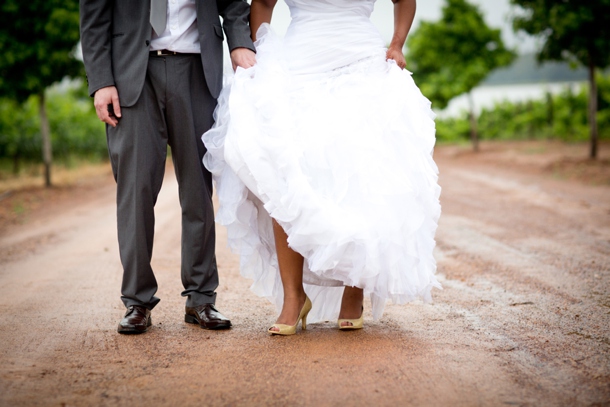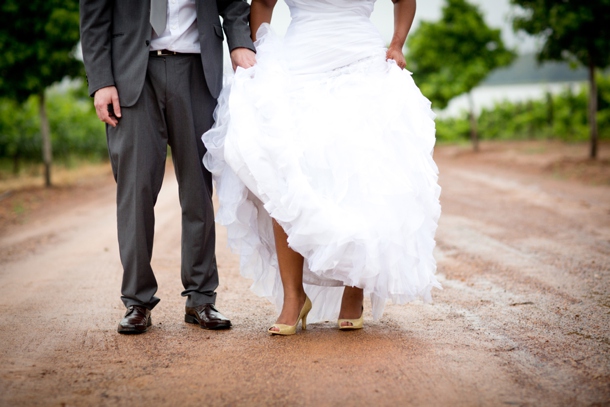 The Dress
I had two gowns: the white dress and my Indian Lengha. I wanted the gowns to reflect my personality, so they had be loud and daring, so to speak! I chose the first dress I tried on because I knew it was meant for me. When I walked into the designer's studio, she looked at me and said, "I have the perfect dress for you." She couldn't have been more right.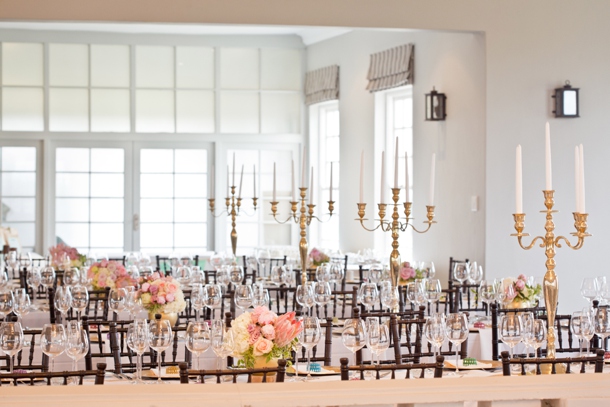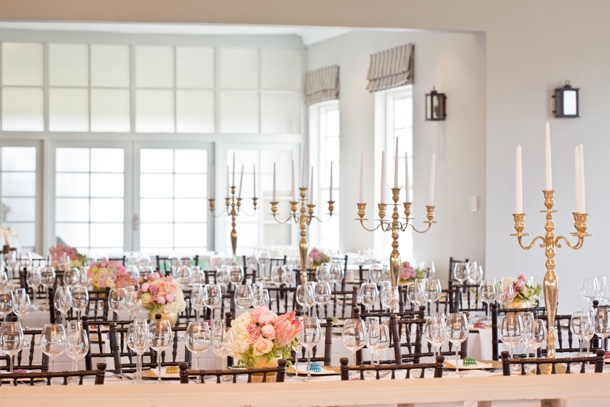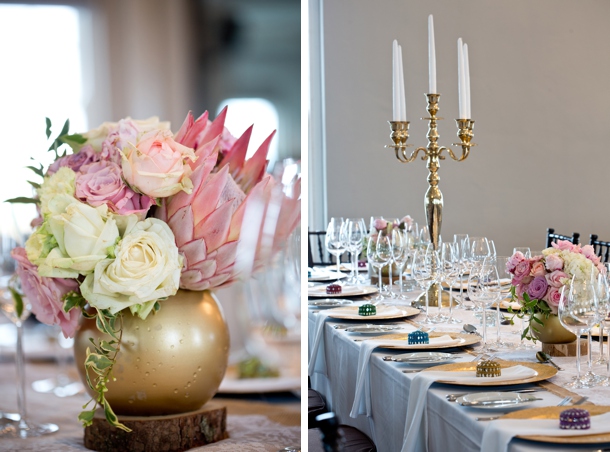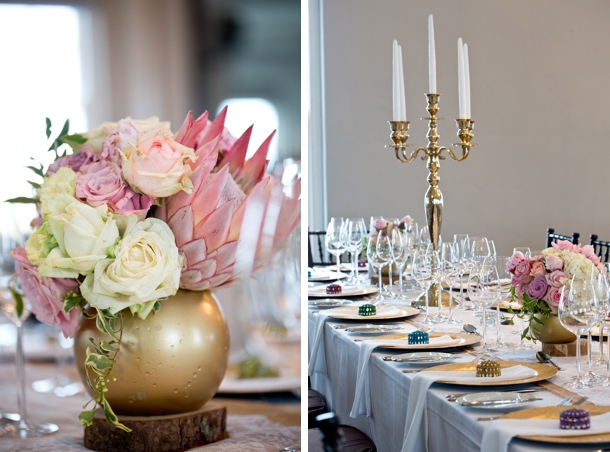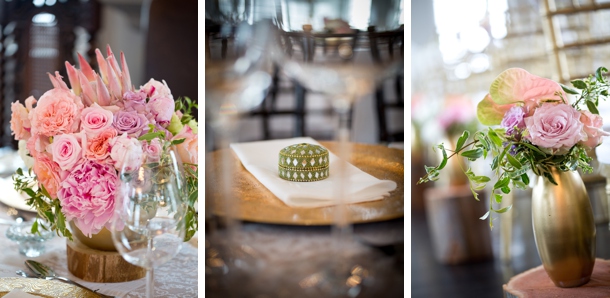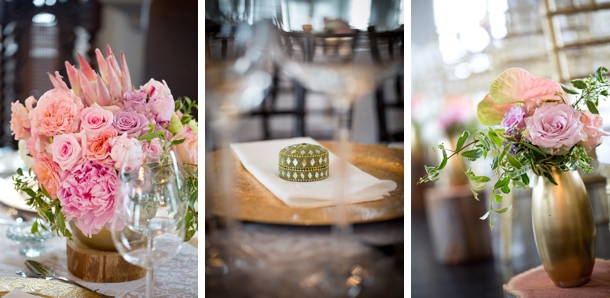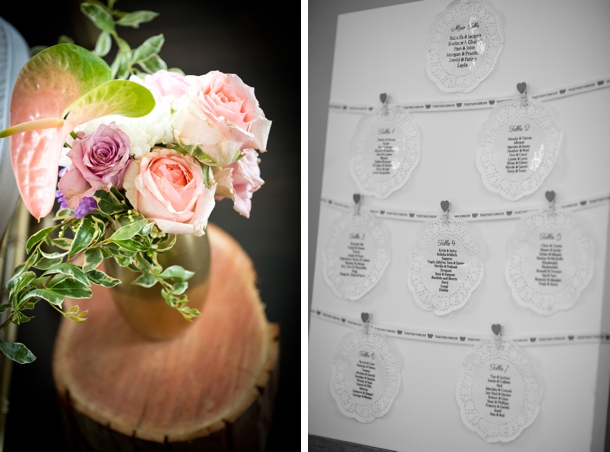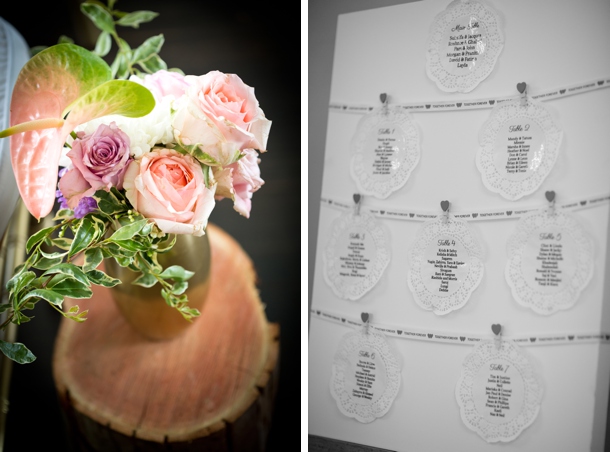 Memorable Moment
I took a moment towards the end of the reception to look at all the guests – laughing, mingling, dancing and having a good time – and at that very moment I felt so incredibly grateful for the people in our lives. Their love for us just made the day so special and our love for each other was the reason they were all there. It touched my heart. 
Proudly South African Details
We used proteas and lots of them!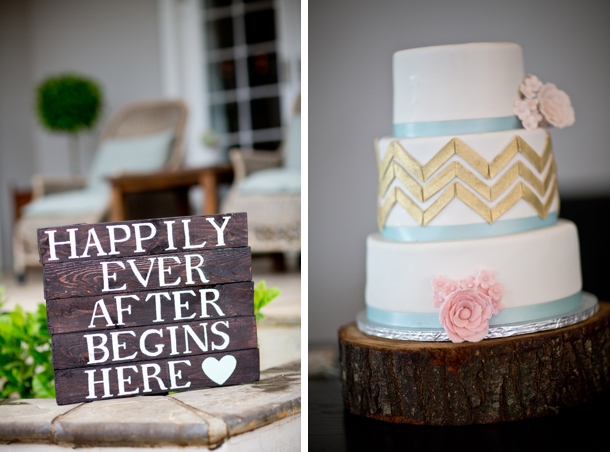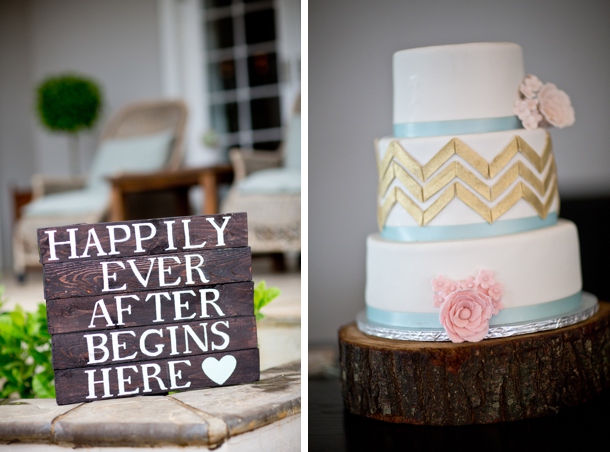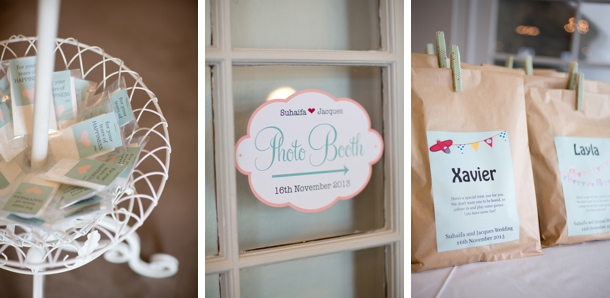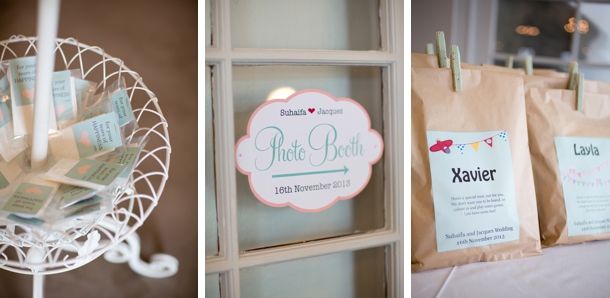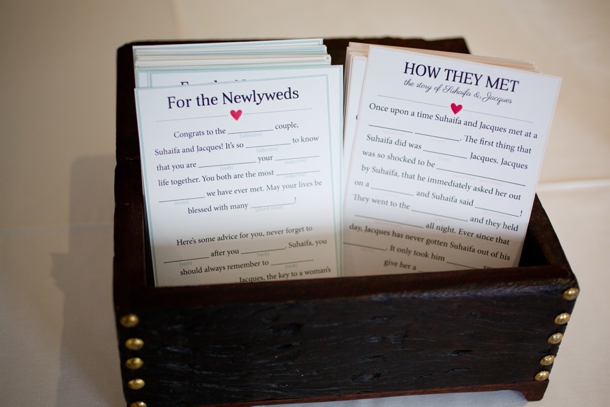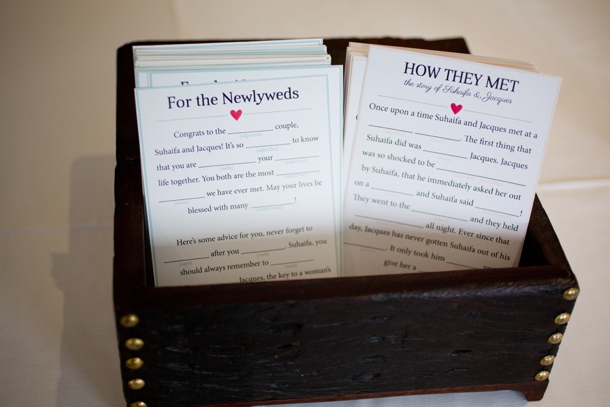 The Honeymoon
We went to Thailand – I am a crazy organiser, so I inisisted on planning our honeymoon, much to my husband's delight.
Advice for Future Brides & Grooms
Just have fun and enjoy every single moment of the wedding. Don't stress about anything, only you know how things are supposed to look on the day. If something goes wrong your guests will never know. And try your best to speak to all the guests at the wedding, it will just add that personal touch to your day. Also, don't forget to have a piece of the wedding cake!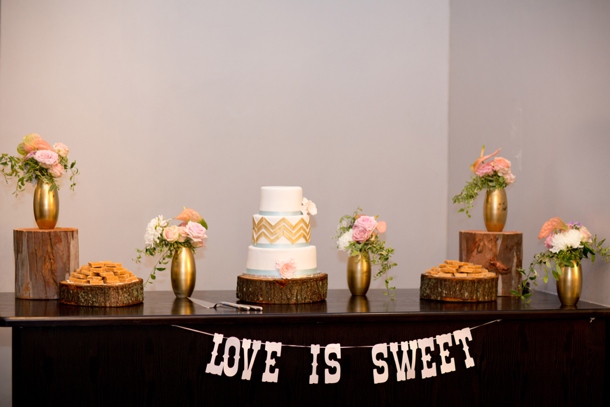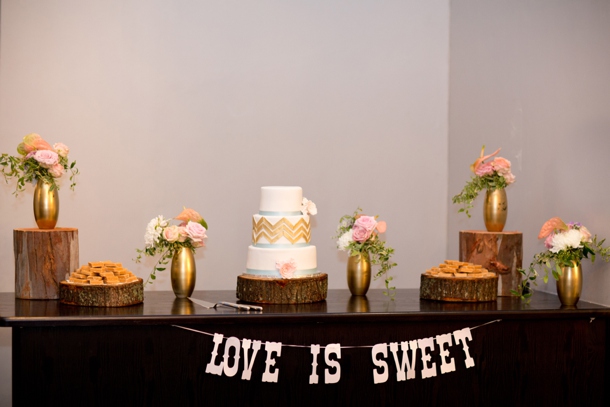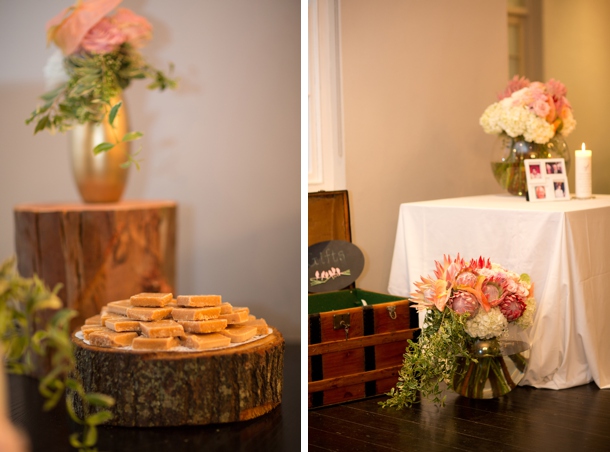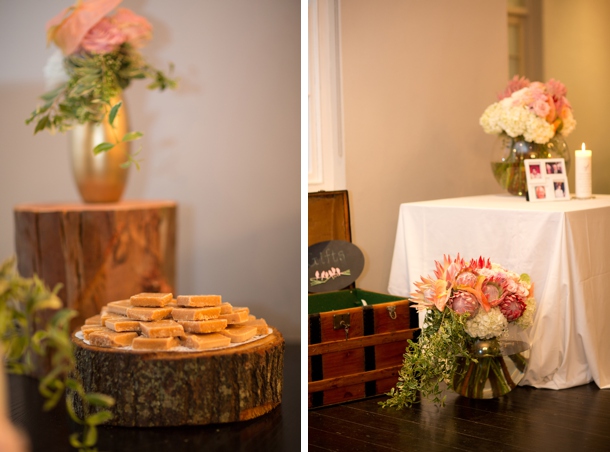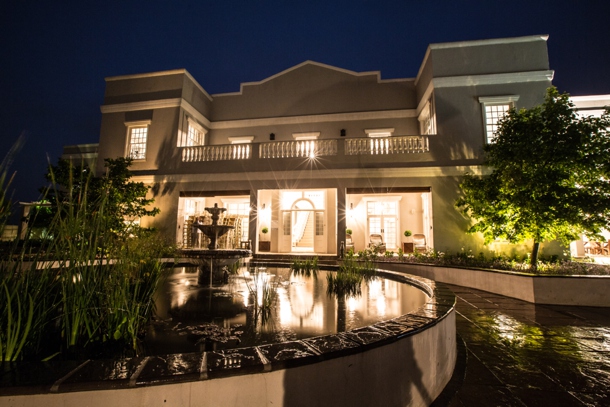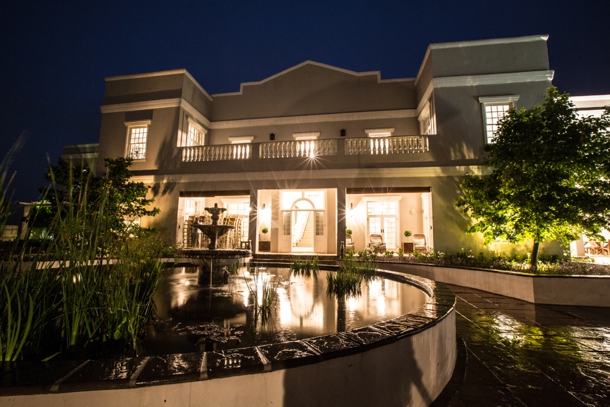 You can see more from this wedding on photographer Daniela Zondagh's blog.
SERVICE PROVIDERS
Venue & catering: Nantes Estate | Photography: Daniela Zondagh | Flowers & decor: Fleur le Cordeur | Cake: Rocky Love Emily | Hair & makeup: Marli Basson | Groom's suit: Moi Styling | Video: Vision on Fire | Bride's dress: Paaneri (Mumbai) | Bride's dress: Maggie Sottero