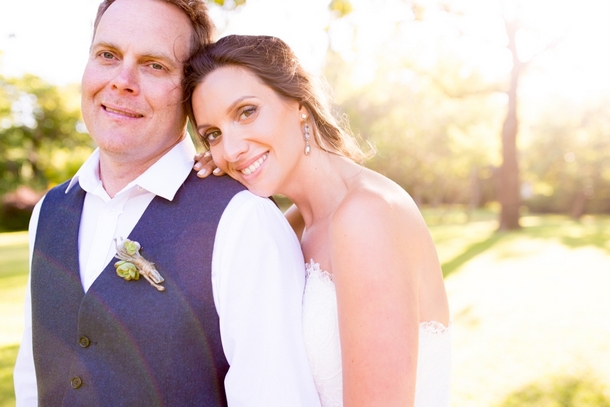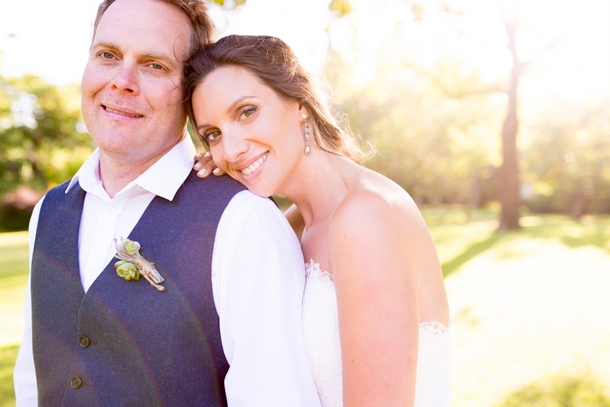 It's funny how sometimes when someone meets the person they're meant to be with, it's obvious – not just to them, but to the people around them too – it just fits. They bring the best out in one another, they make each other happier, more centred somehow, still themselves but in the most awesome way. That's how it was when Geoff (a friend of mine from London) met the lovely Caryn – pretty much immediately I couldn't imagine them not being together. So it was with much happiness that I heard he'd popped the question, and much delight that I pored over the beautiful pics of their wedding by SBB's dear friend Cheryl McEwan. The day was relaxed and fun (a perfect reflection of the couple, right down to Geoff's Durban-boy flip flops), and full of soft, summery, shabby-chic details that worked perfectly in the elegantly rustic setting of Nooitgedacht estate. I also have to make a special mention of my friend Belinda, the cake making legend, because she's always been such a big fan and supporter of my blog – awesome job, Bels! So happy to share this particular wedding with you all today :)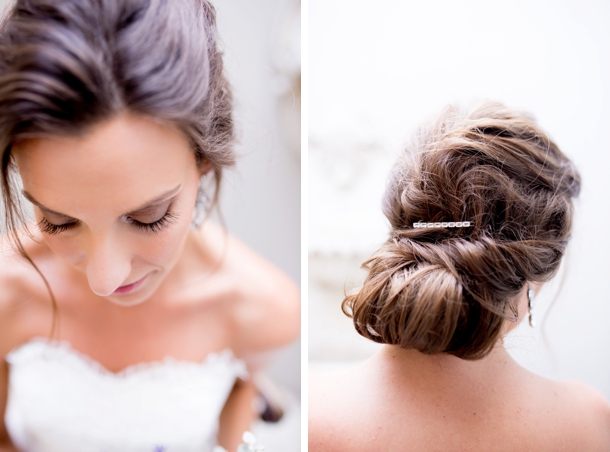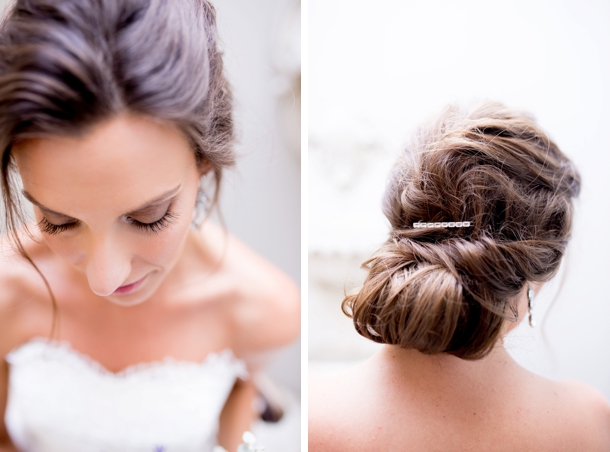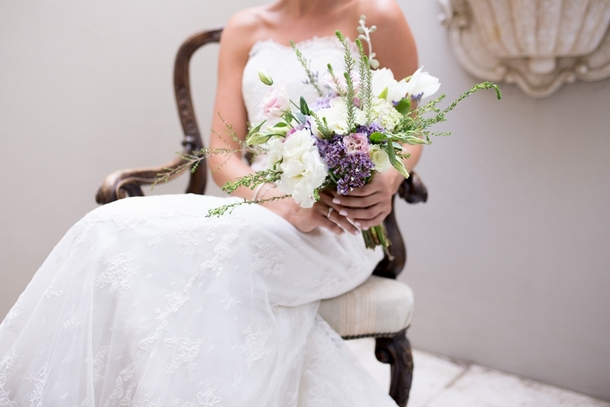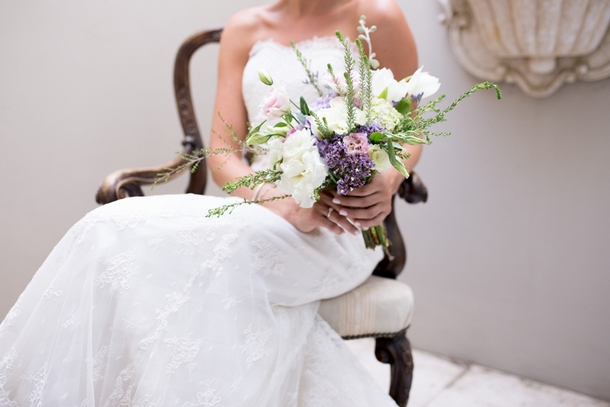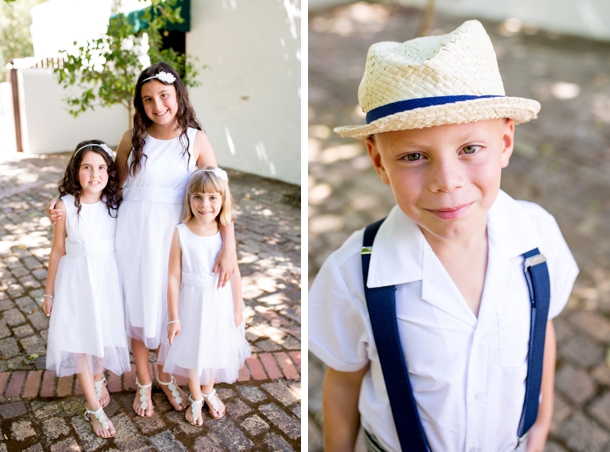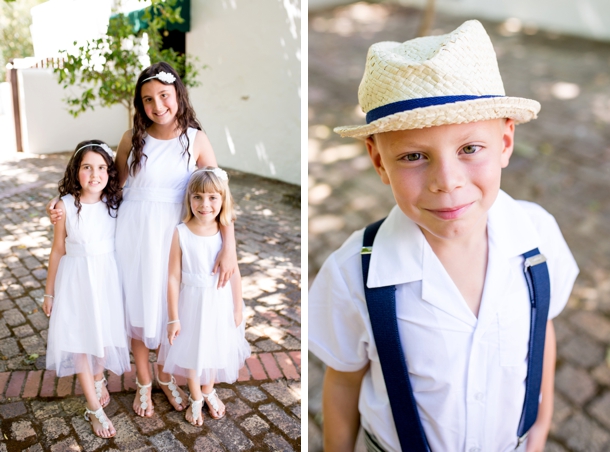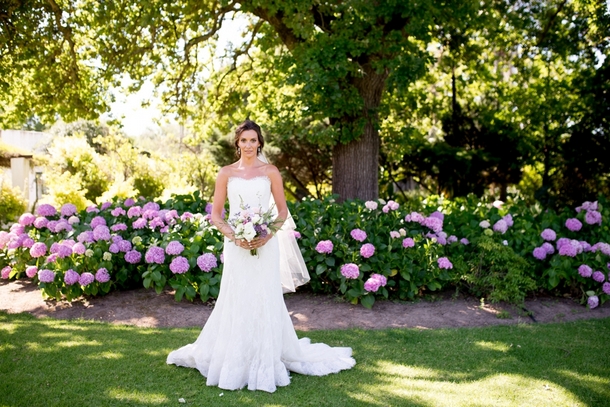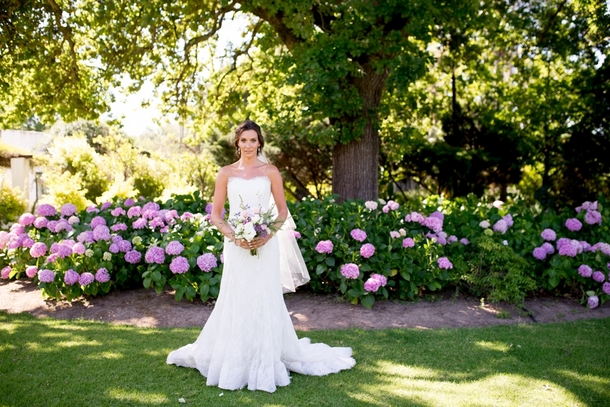 Love Story
We met through friends at ten pin bowling one evening in Raynes Park, London. I wasn't doing too well on the bowling side of things, so Geoff offered to bowl a few, but his skills eluded him and he also ended up in the gutter! We met again a few months later, when both on a night out in Wimbledon, and that was it.
The Proposal
We were in Cape Town on holiday from London, and Geoff wanted to do a trip up Table Mountain. The weather had been awful all week, but finally on our last day in CT, the weather cleared and up we went. We were wandering around on the top, taking in the fantastic views, taking pictures and enjoying the fresh air. Geoff led me off to a quiet part of the mountain, and then went down on one knee (I thought he was tying his shoelaces), and asked me to marry him! To which I obviously said yes! It was a wonderful day, and I couldn't think of a more spectacular place for Geoff to have "popped the question".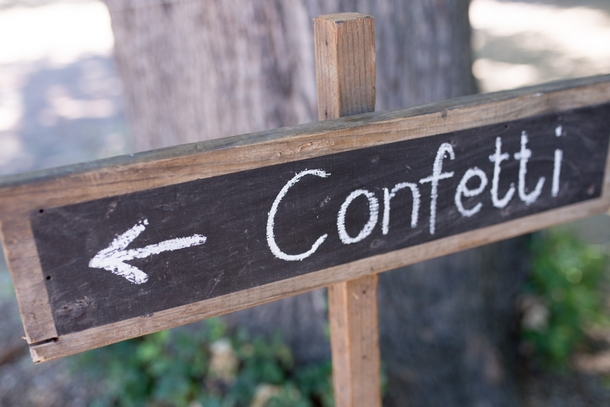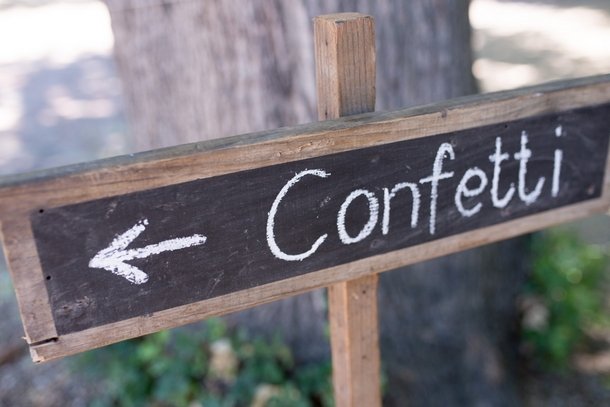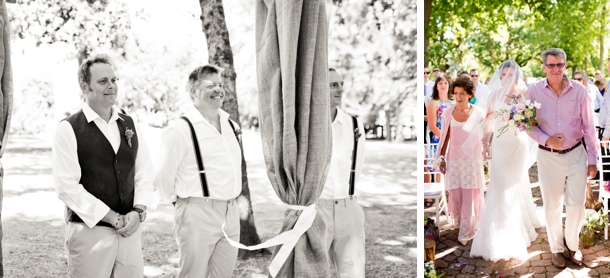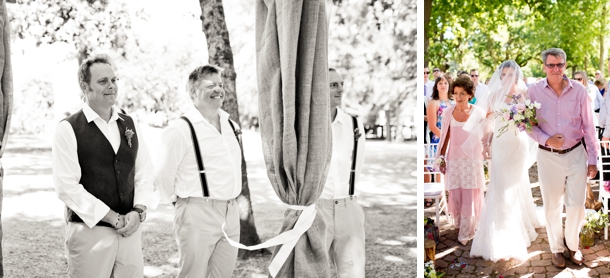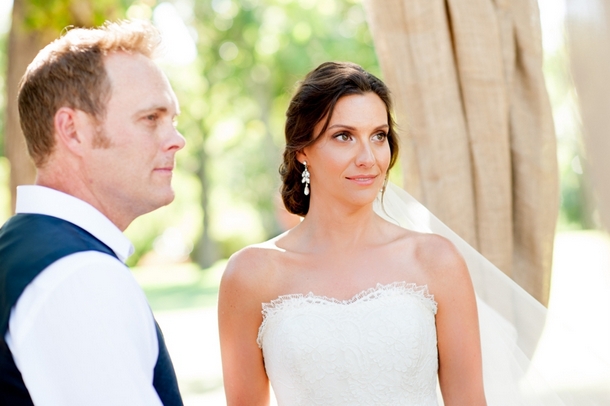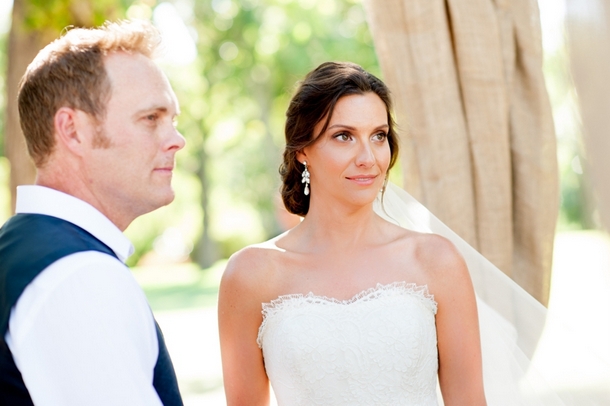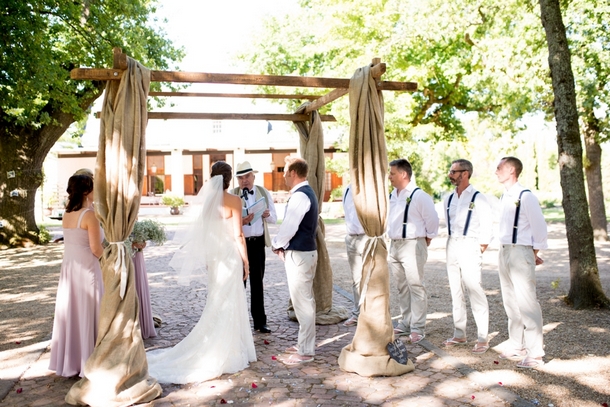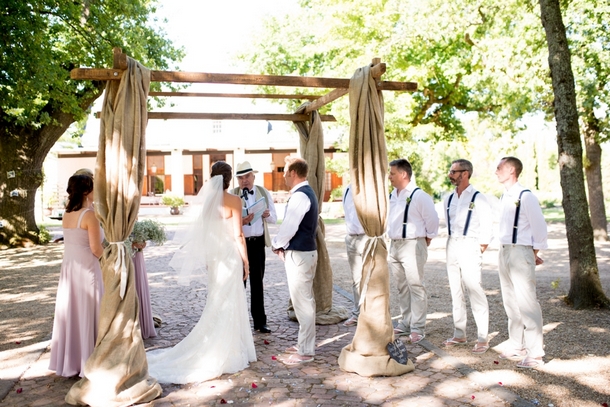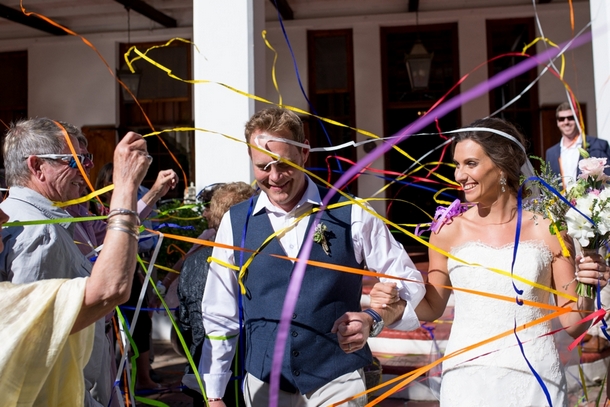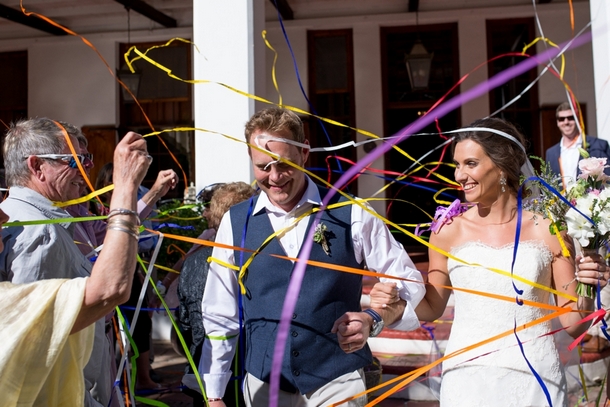 The Venue
We both have similar taste, and wanted either a beach or wine farm wedding. Most importantly we needed the venue to be able to accommodate a casual style wedding with back up options for bad weather. We also wanted something a little less commercial, and it was by complete accident that we came across Nooitgedacht. I had spent days scoping out different venues whilst on holiday, and even sent my parents around the Cape looking at venues when I was back in London. I saw a post on Facebook, which showed Nooitgedacht Wine Estate, and it looked perfect. I had my parents go check it out, got some WhatsApp videos sent over, and it was an easy decision. It is an awesome venue! You get the whole venue to yourself the entire day. We had the ceremony in the beautiful tree-lined lane, canapés on the lawn in front of the manor house and the reception in the main inside space.
Wedding Style
We liked the shabby chic look, with some added rustic charm, and we went for neutral pastel tones that worked well with the setting. The bridesmaid dresses were taupe but the flowers had shades of pinks, greens and purples. We were hoping to have the reception on the large lawn under the stars, however the CT wind blew so we had the reception in the main inside space, which turned out to be a great "Plan B"! With Geoff being a chilled out Durbanite, he was even keener on the relaxed theme, and this is quite evident with his decision to wear flip flops, which I loved! We decided against a sit down dinner, and instead went for a mix of occasional seating in the form of sofas and bales of hay coupled with canapés and champers and then bowl food after speeches. Much later we served pizza slices for anyone still peckish!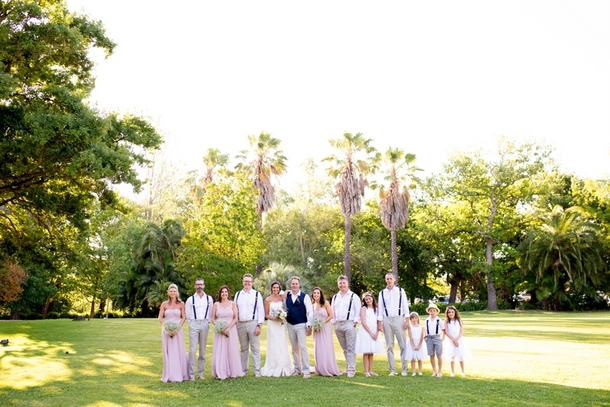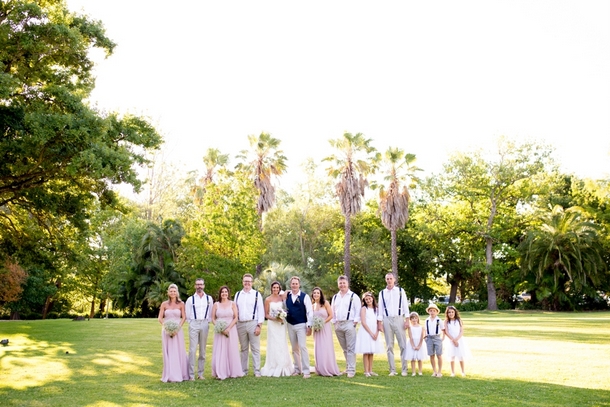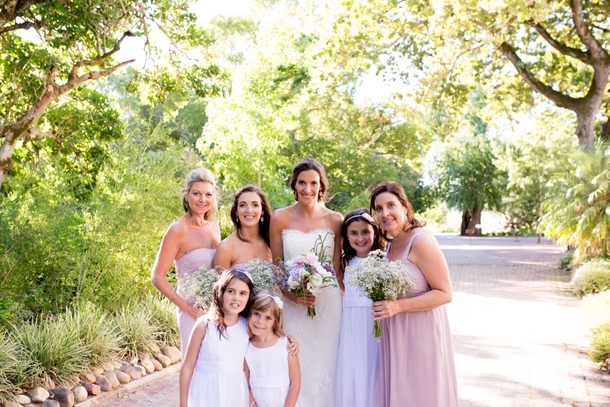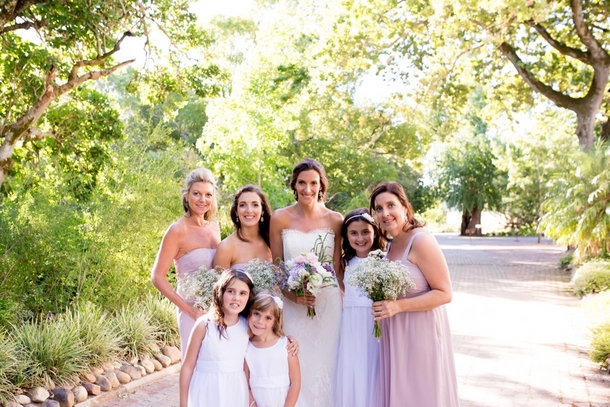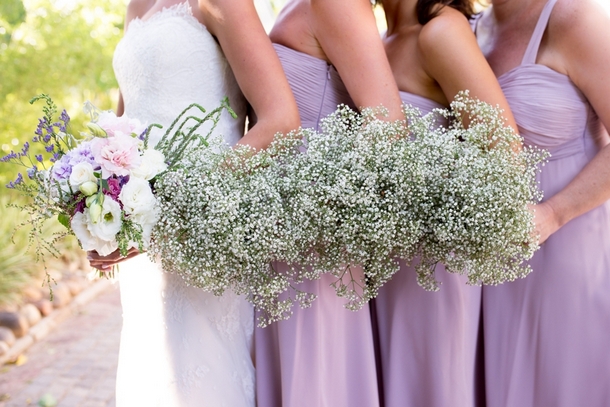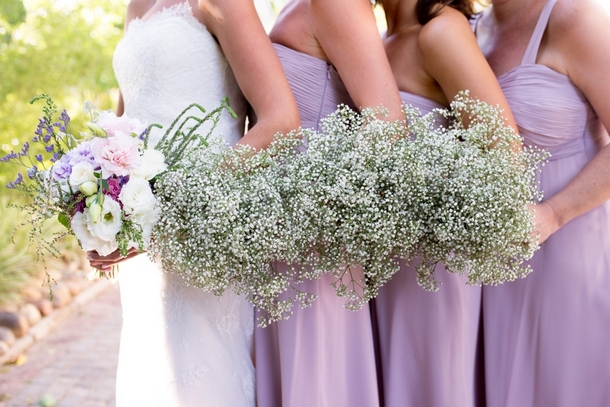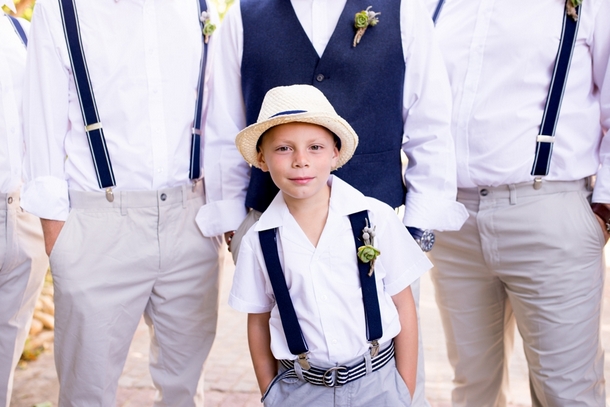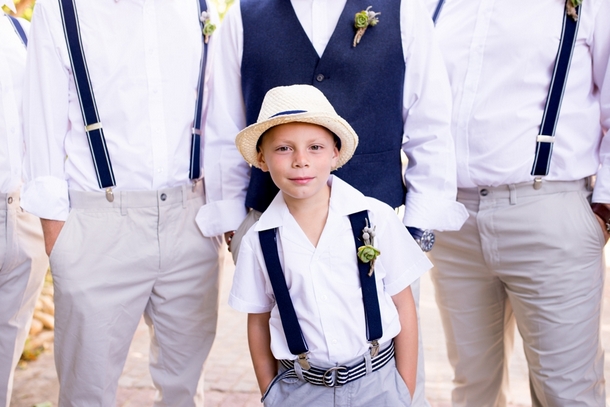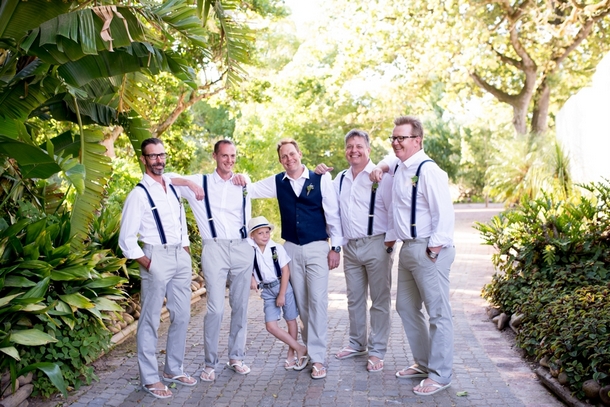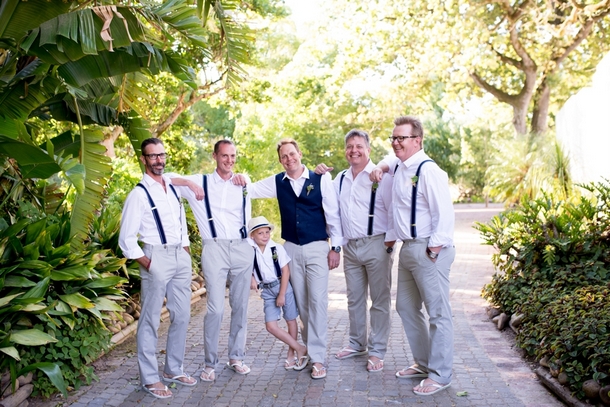 Wedding Details
Being a plaas-kind, Geoff threw in the idea of me and my bridesmaids arriving on the back of a tractor, which the venue kindly organised – it was great fun, especially for the flower girls and Joshua, Geoff`s nephew. As all our friends know, Geoff loves a good fire, so we were meant to have a fire pit to braai supersized marshmallows but unfortunately it was too windy to have one. The marshmallows were still enjoyed a few days later! We are both very fortunate to have both sets of parents and all our siblings in our lives and I wanted to acknowledge their importance to us so wrote each one a note to be handed out whilst everyone was getting dressed… for some I even included photo of me with the family member from the good old days. Our MC had my nieces read out messages from a few friends and family who were unable to make it which was really special. And the youngest niece stole the attention on the dance floor with her rendition of "All About That Base".
Geoff's mom, Cynthia, makes a to-die-for chocolate cake which Geoff has made for all my birthdays since I have known him, so we just had to have this cake for our wedding. We tasked our good friend Belinda, also a star baker, with making the famous chocolate cake and she did an amazing job… twelve cakes later to make up the three tiers! We had a sweets table with all of our favourites, along with little candy bags so guests could take treats home.
Additional Elements
Coming from London, we were limited with what we could bring. But we pretty much hand-picked everything we used. We had the decor team attach a few photos of us by the ceremony and pre-drinks area, and places photos of Geoff and I as toddlers by the Ladies and Gents bathrooms. We created a makeshift photobooth on the porch of the venue so chose the fun items in a party store when we went to buy streamers (which were used as confetti).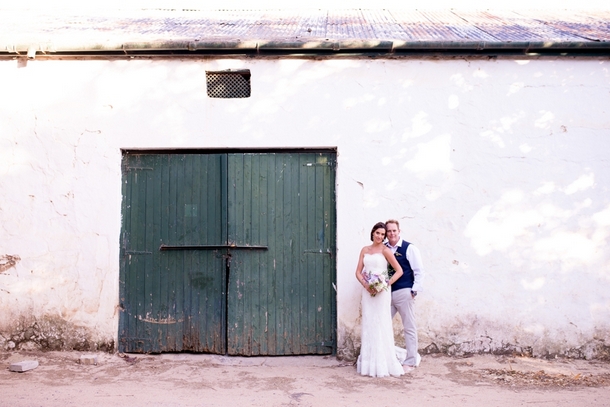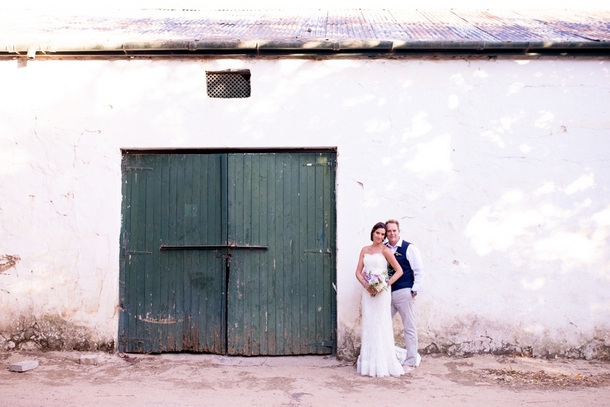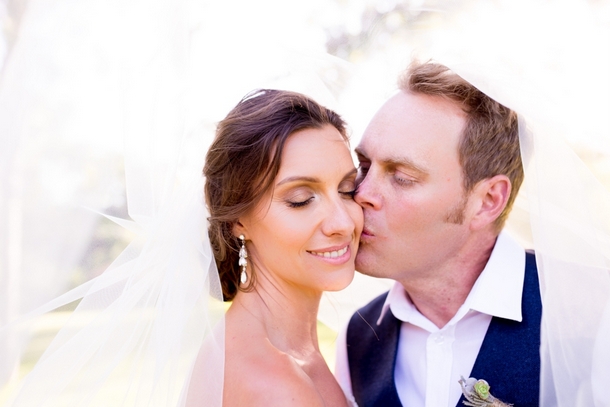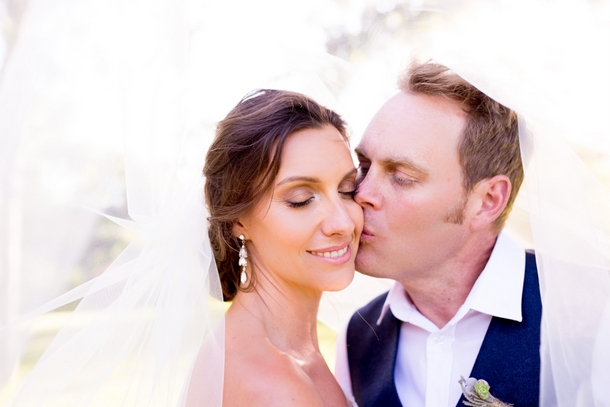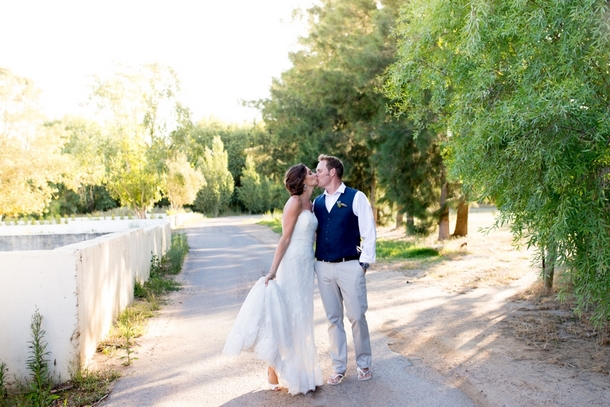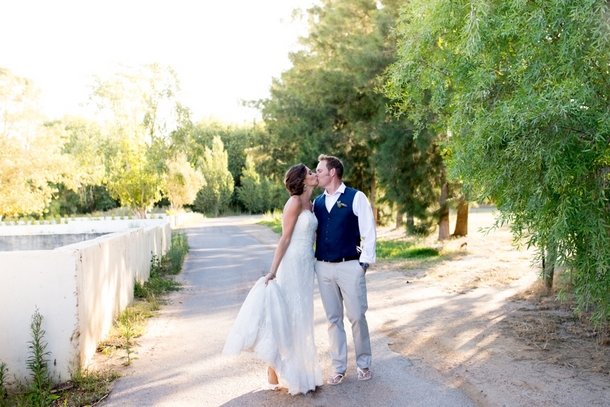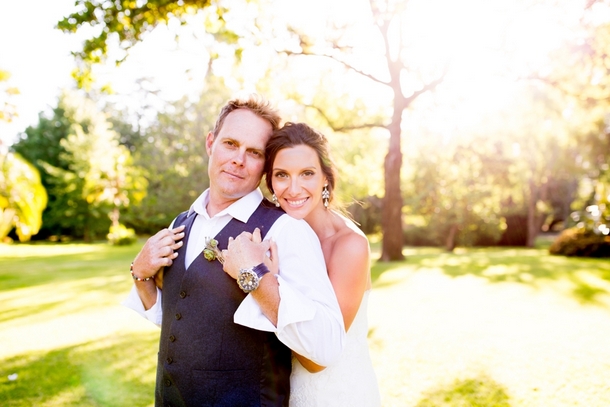 The Flowers
The flowers were simple and relaxed in style to match the rest of the day and vibe we were aiming for. I had a mixed bouquet whilst my bridesmaids all had a bunch of baby's breath. I originally wanted a Protea in my bouquet – there was a little mix up, but I was happy with the bouquet as it was anyway.
The Dress
A Lusan Mandongus strapless lace column style gown, which felt effortless to wear. It was one of the first dresses I tried on when shopping with my bridesmaids, but at that stage I still wasn't quite sure exactly what I wanted and needed to try a variety of styles to determine what suited best. I revisited the boutique on my own a few months later and knew it was the one so had my sister come along for another visit and that sealed the deal. I also managed to get the sales lady to sell me the sample at a discounted price for cash – as it fitted and was in immaculate condition, there was no need to order a new one in.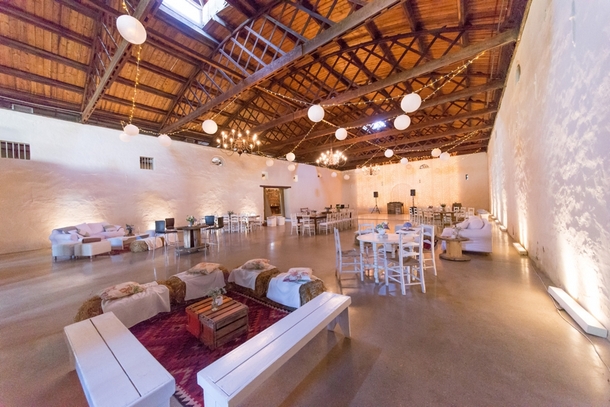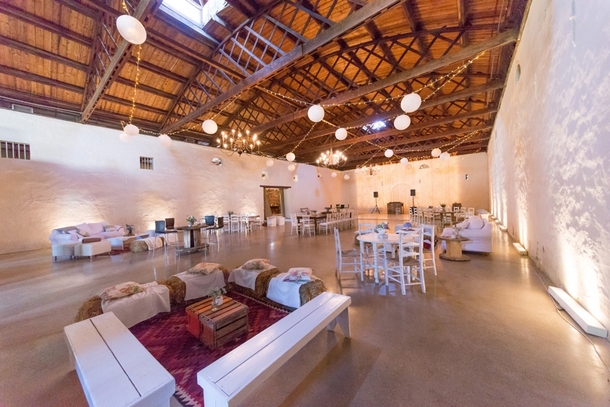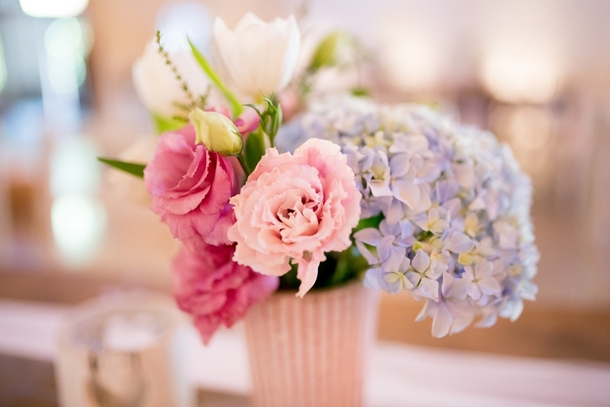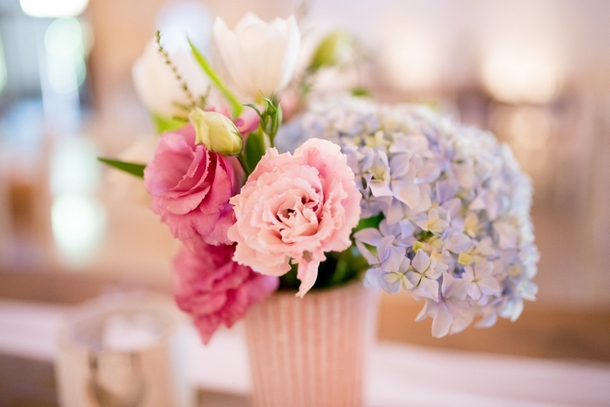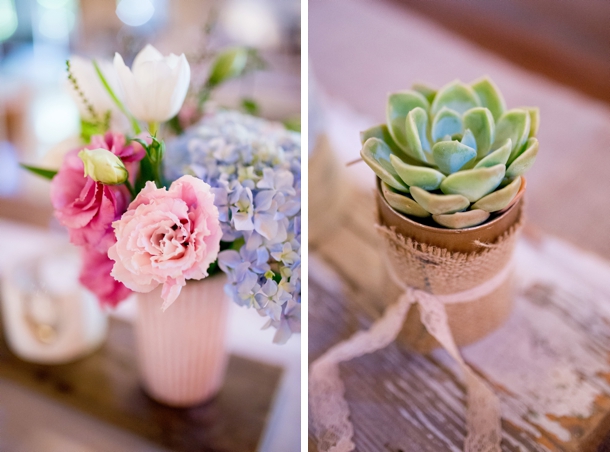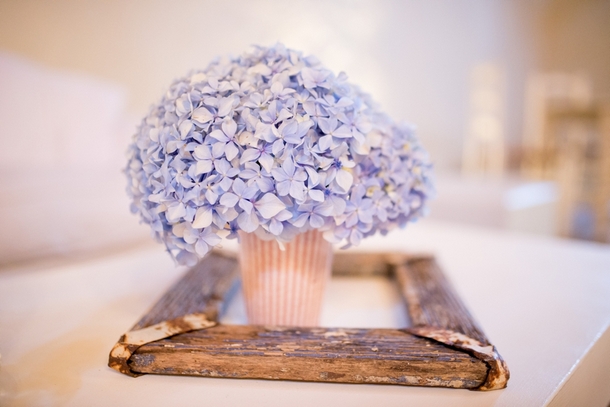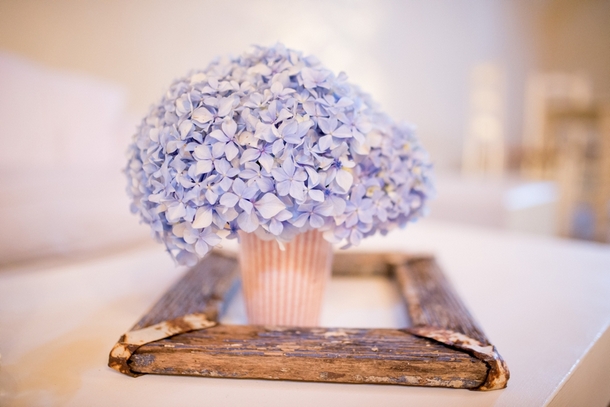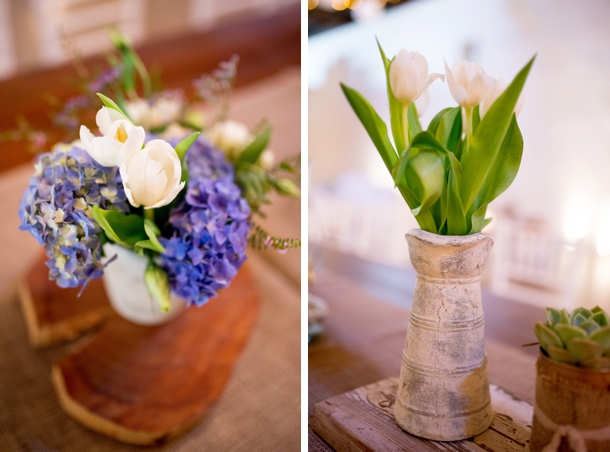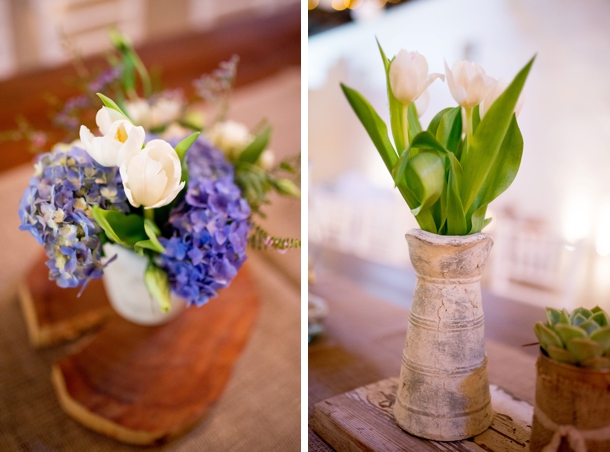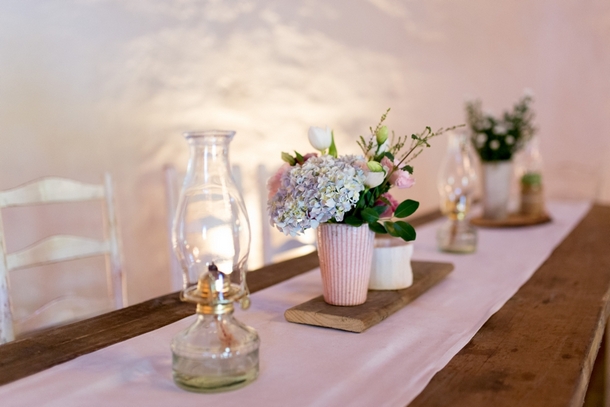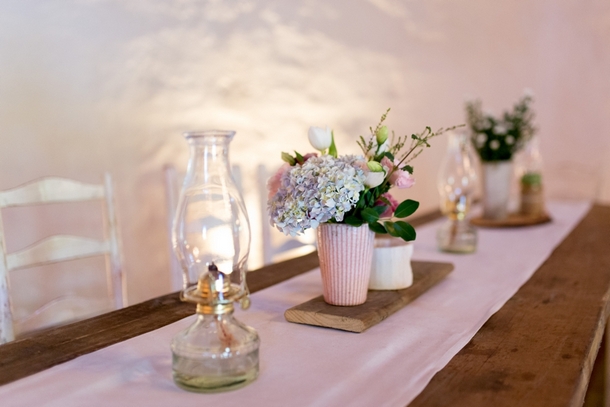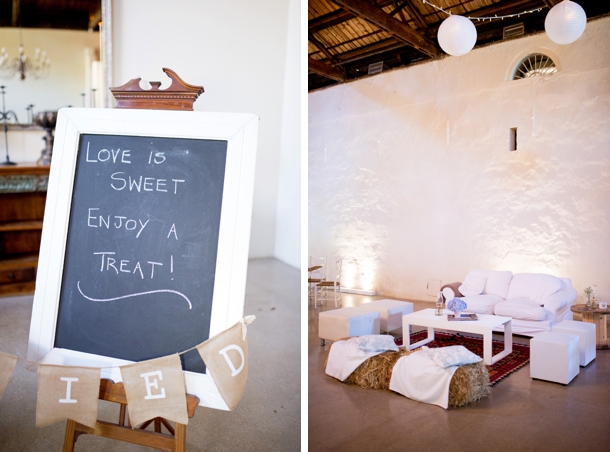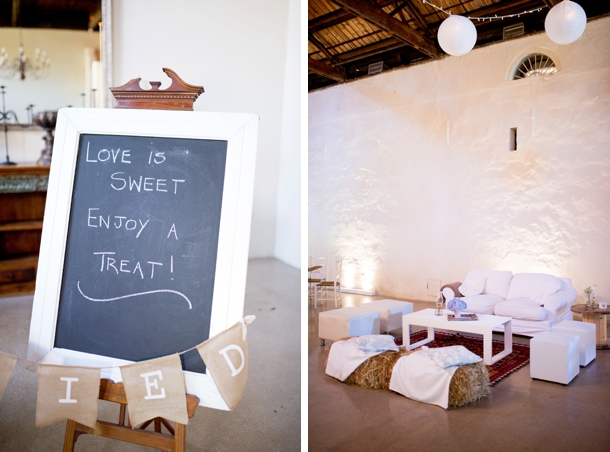 Favourite Detail
Probably the sparklers for our first dance. Along with the fairy light curtain they felt so magical and were long burning so lasted the duration of our dance.
Proudly South African Details
We served boerewors and samosas for canapés and bunny chow was on the bowl food menu. We also had mini Melktert and Peppermint Crisp puddings for dessert… yum!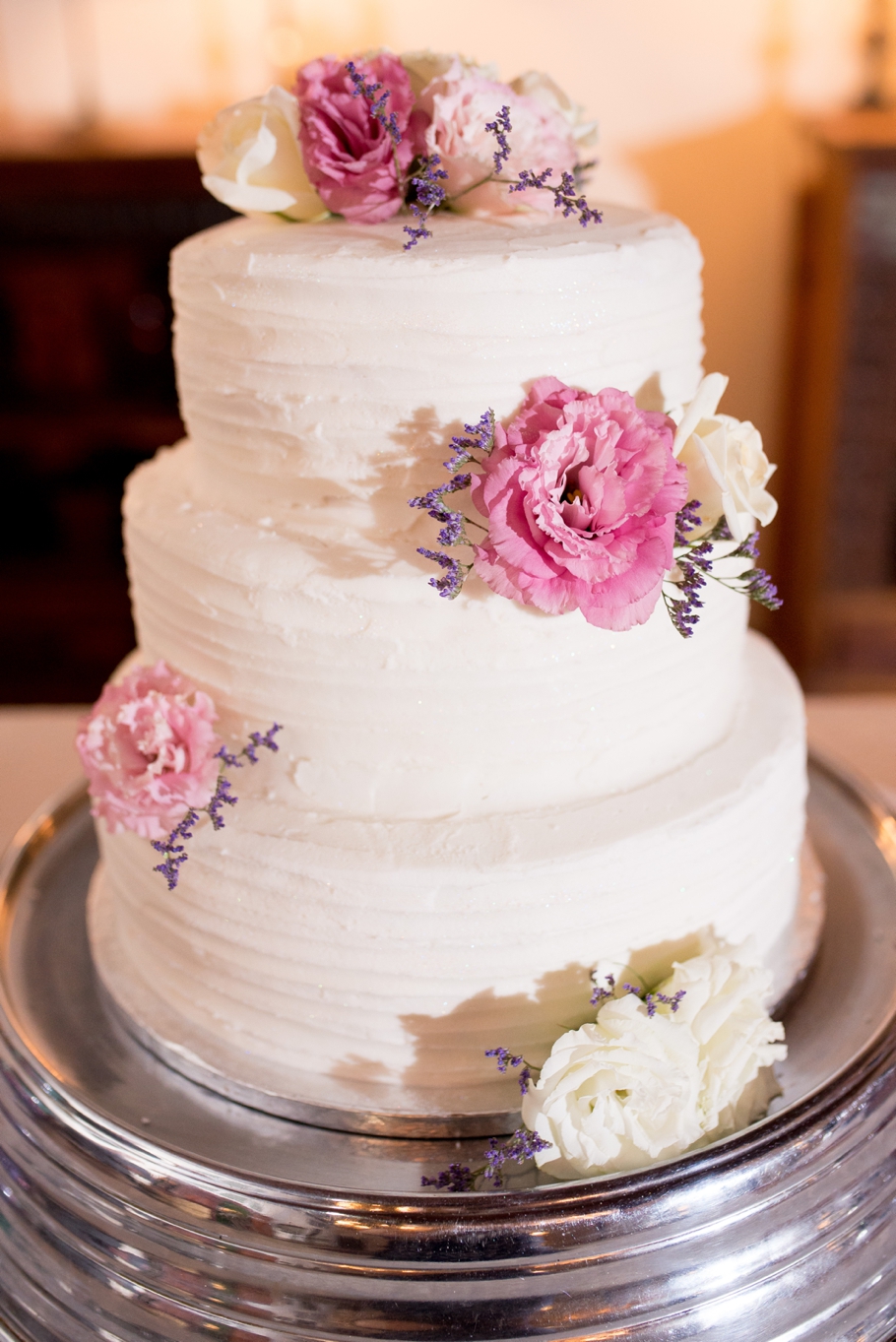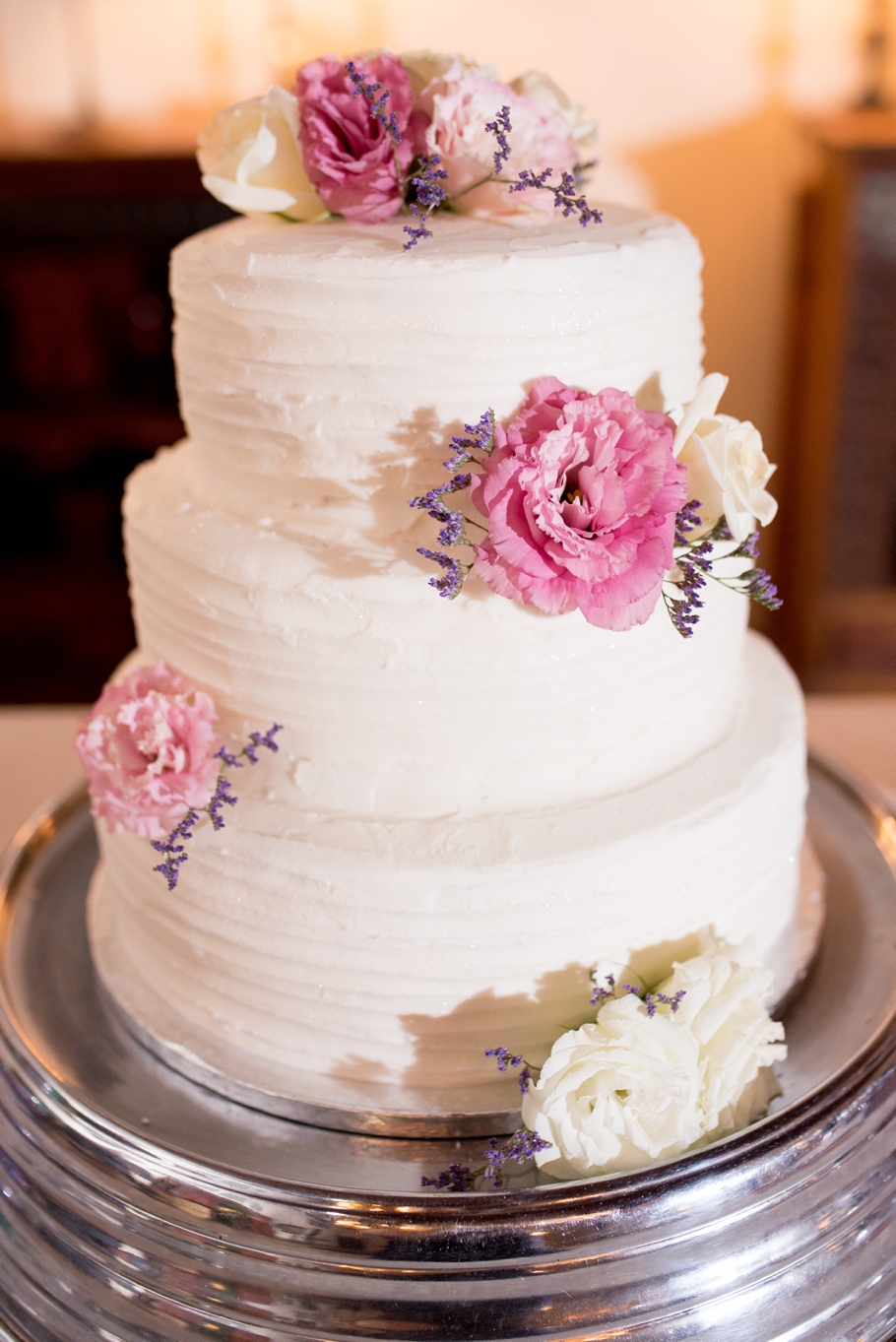 The Honeymoon
Given we had loads of friends travel from near and far and we ourselves live abroad, we stayed in Cape Town and spent Christmas with Geoff's family in Durbs. Geoff did surprise me by booking us into a swanky guesthouse in Bakhoven with our own private pool for a few nights after our wedding. I also quite like the idea of a belated honeymoon to have something to look forward to and to really enjoy outside the crazy chaos of a wedding.
Advice for Future Brides & Grooms
Elope! Just kidding, we are so glad we were able to celebrate with so many special family and friends but planning a wedding, especially from afar, is no easy task! At the end of the day you need to remember a wedding is a celebration of two individuals coming together and the day really is all about you. You will never keep everyone happy… no matter how hard you try… so do what feels right for you.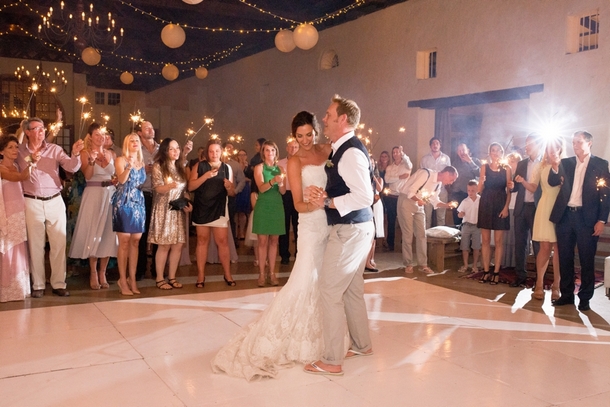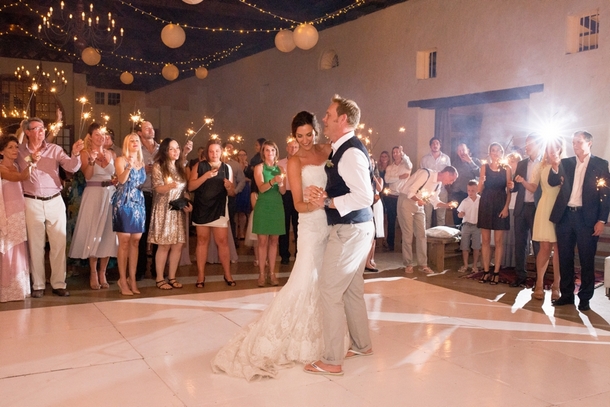 You can see more from this wedding on Cheryl McEwan's blog.
SERVICE PROVIDERS
Venue & catering: Nooitgedacht Estate | Photography: Cheryl McEwan | Cake: Belinda Knol | Flowers & décor: 4EveryEvent | Bride's dress: Teokath, London | Bride's accessories: Joyce Jackson (veil); Rainbow (shoes) | Hair & makeup: Mary Gouveia |
Bridesmaids' dresses: Debenhams, London | Flower girl dresses: From Vertbaudet, France | Groom's attire: Pink, London (chinos); Debenhams (waistcoat); Havaiana (flip flops) | DJ: DJ Jarrad Treger
SBB ♥ Cheryl McEwan Photography, a featured member of our Directory