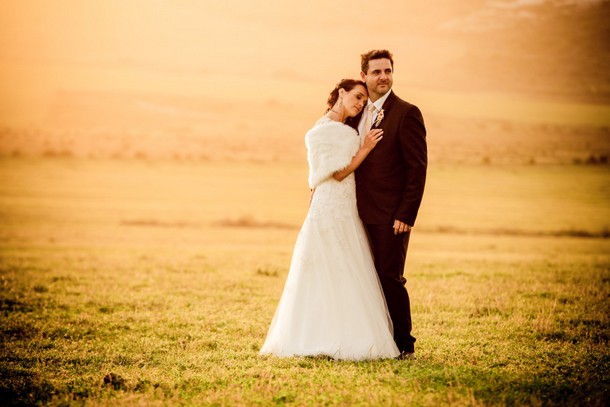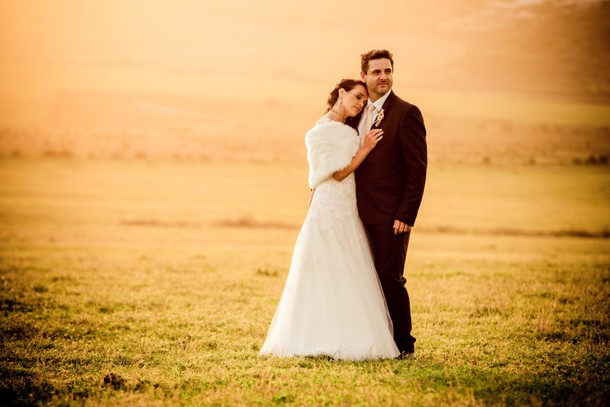 Today's wedding is such a happy mix of some of my favourite trends. There's a little bit of floral print (love those napkins) and pop of pink colour against a palette of neutrals in the flower choice (orchids, such an elegant bloom, and a personal choice for the bride). There's a touch of sparkle (amazing bridesmaids dresses alert!), and a whisper of lace (ditto for the wedding dress!). There's a bit of rustic, a hint of vintage, and of course a safari feel thanks to the Garden Route Game Lodge location. And even though it's an eclectic mixture in some ways, it totally works. Like the wedding equivalent of 'these are a few of my favourite things'. (That song's going to be in your head for the rest of the day now, SORRY.) The lovely Luzanne and her hubby Jean pulled off a fabulous weekend fete, and photographer Nelis Engelbrecht, was there to capture every perfect moment.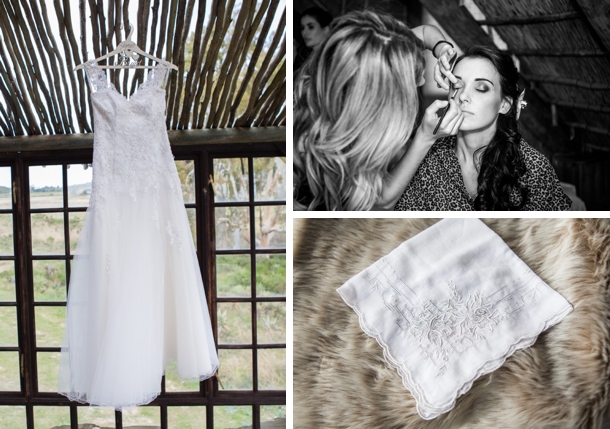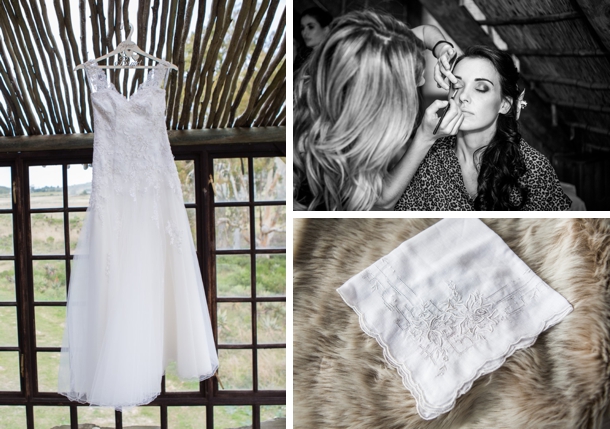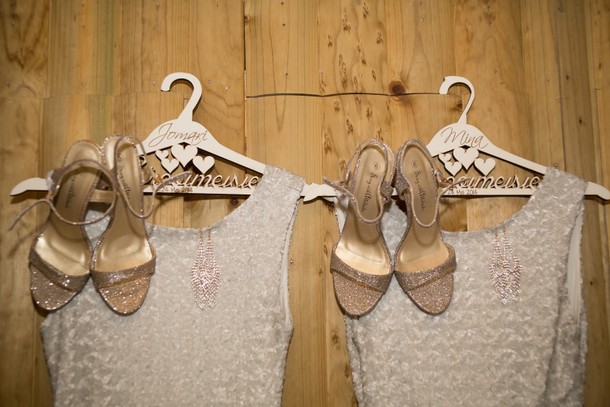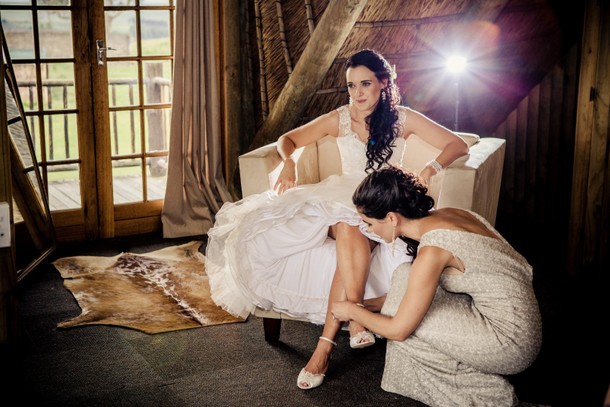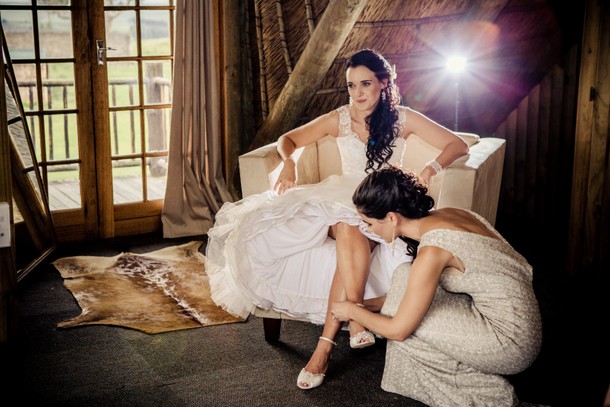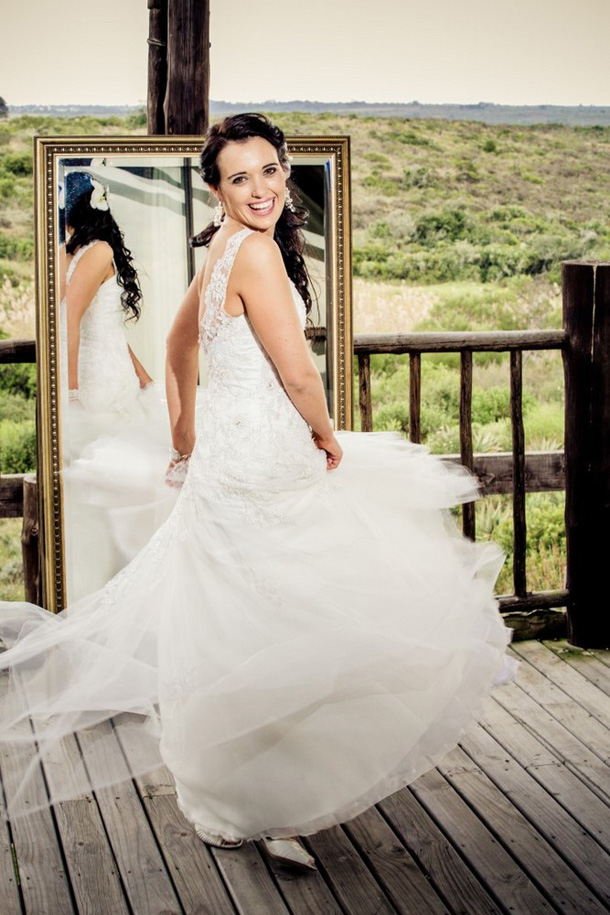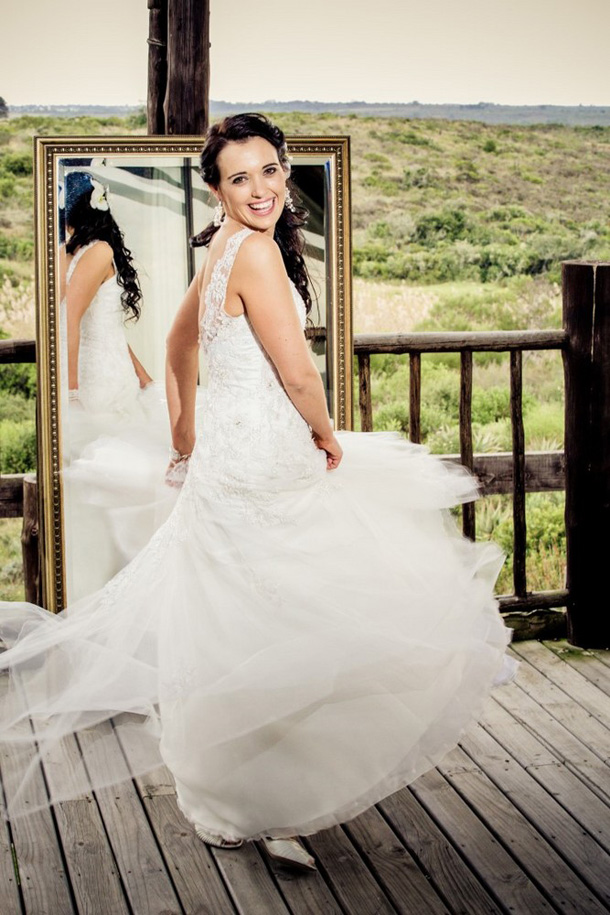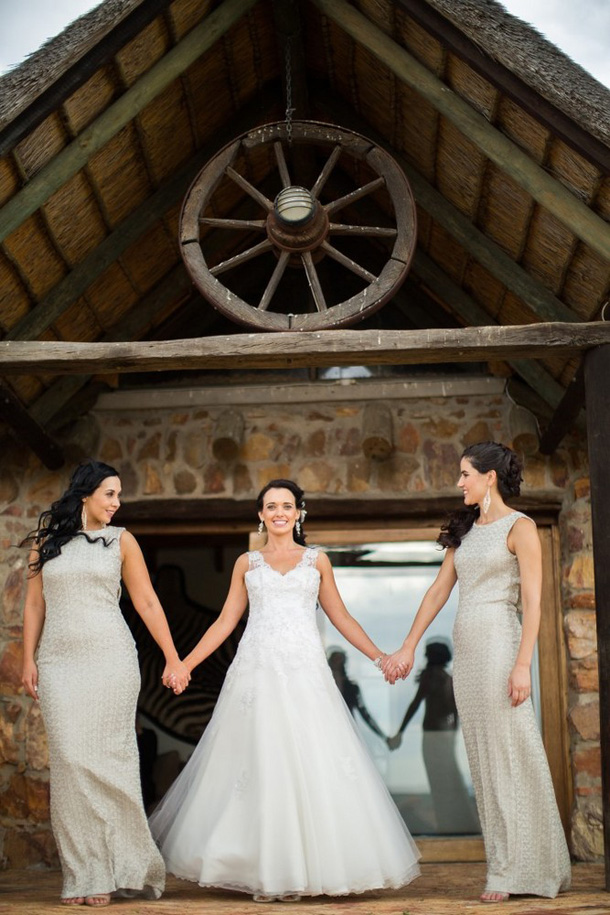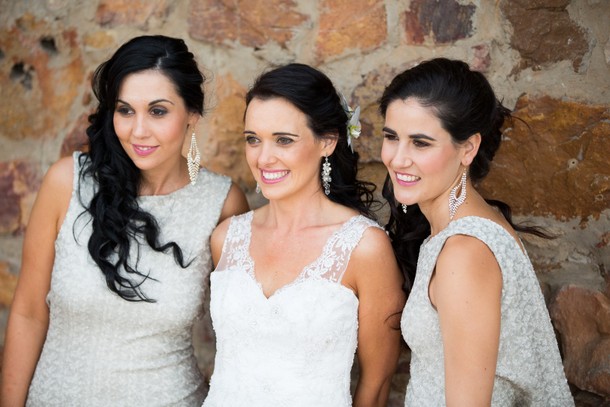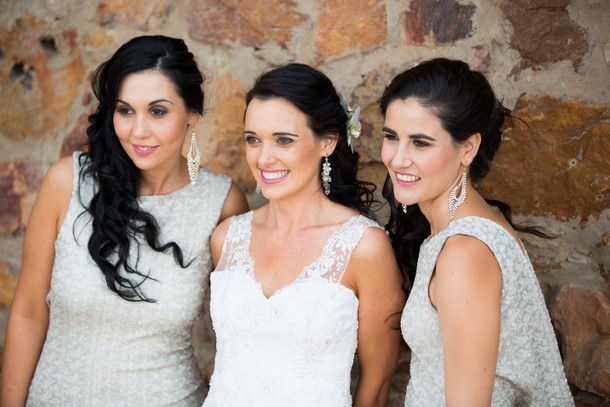 Love Story
I was acquainted with Jean as we grew up in the same farming neighbourhood just outside of Worcester. We both went our separate ways after school and did not seen each other for nearly eight years. In February 2012, I was attending a friend's baby shower and this very eligible bachelor was having lunch with my brother at the same local venue. After the baby shower, I joined their table and we swapped numbers, as he needed a date for a wedding in April. I suggested introducing him to some of my friends, which was a bit awkward as he actually wanted me to be his wedding date! We started texting each other and then he invited me for a braai the week after Valentine's Day. Cupid did the rest.
The Proposal
At the time, I was traveling frequently for work. The time we had available to spend together was limited, so we planned a weekend in Stilbaai for a for some peace and quiet, beautiful sea views and to each enjoy other's company. The big moment happened shortly after I posted a picture on Facebook of a spectacular sunset, two glasses of wine and a burning fire. My caption was: "a perfect evening." Then, my perfect evening exceeded perfection when Jean asked me to become his wife and to be by his side forever!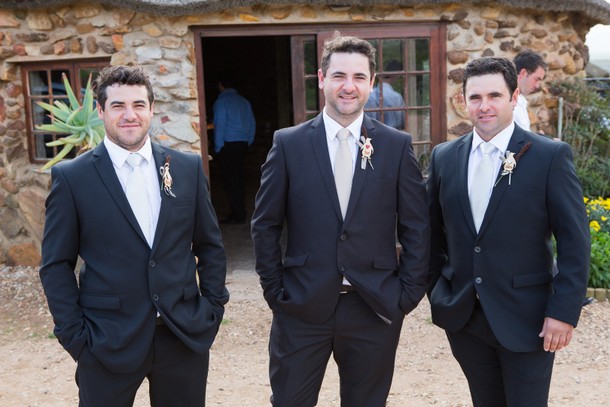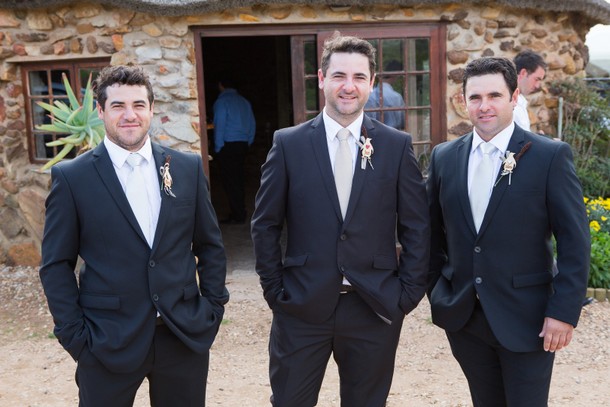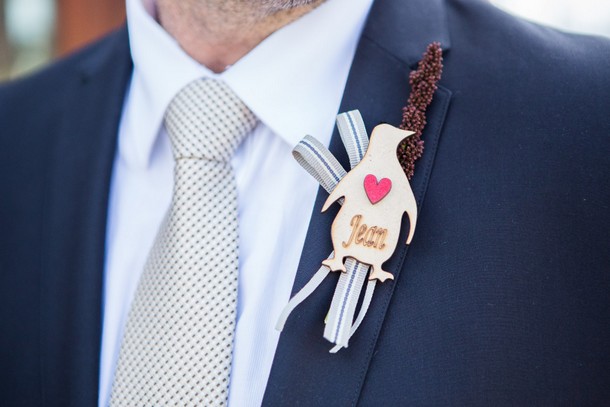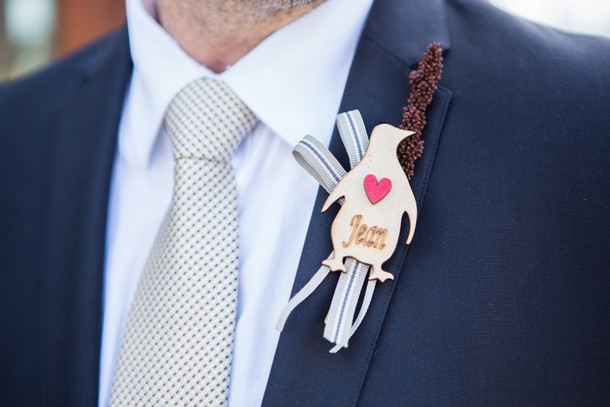 The Venue
The day after our engagement we went to Garden Route Game Lodge, located just outside of Albertina. When we entered the gates, we both knew this was where we wanted to get married and we booked the first available exclusive use date.
Wedding Style
Warm and proudly South African, informal but classic. It was all about shades of whites and creams combined with colours from the bushveld. We wanted our guests to have fun too, so we extended our celebrations and organised a weekend wedding. It was a perfect weekend breakaway in the bush filled with drinks, good food and great company. 80 guests stayed at the lodge and the rest stayed in Albertinia which was 5 km away. I organised shuttles for our guests so that no one needed to worry about driving, and could just relax and enjoy the celebrations.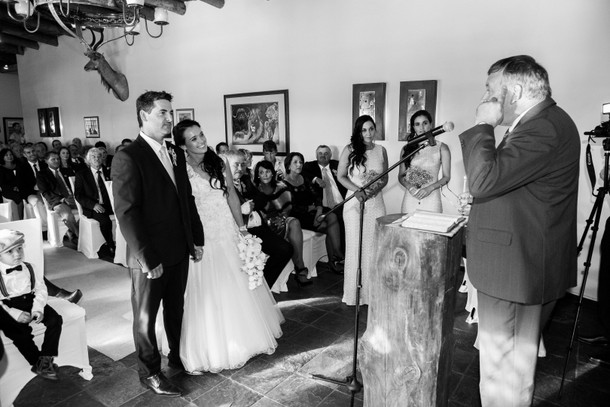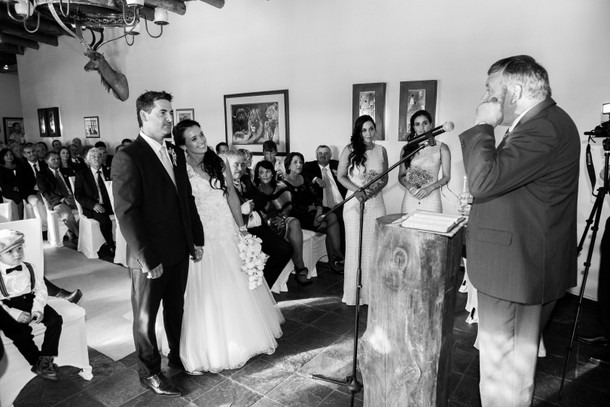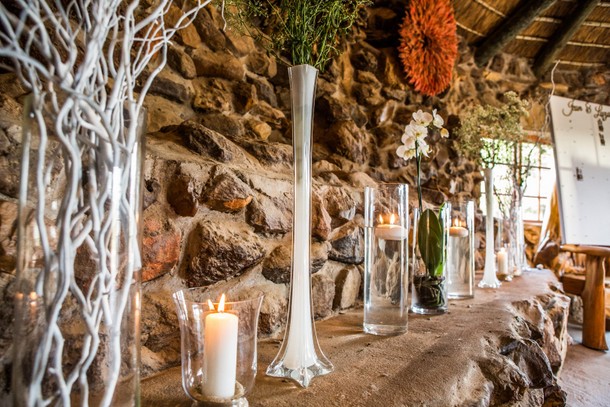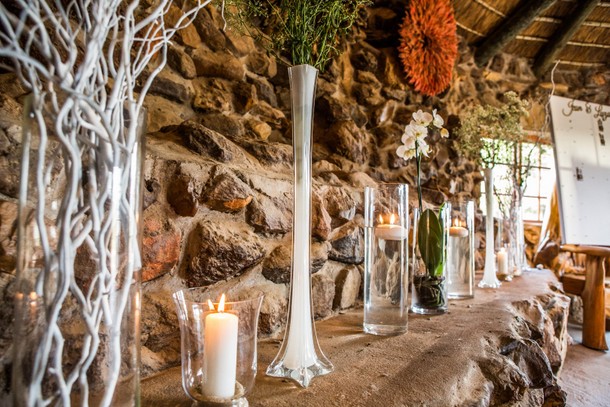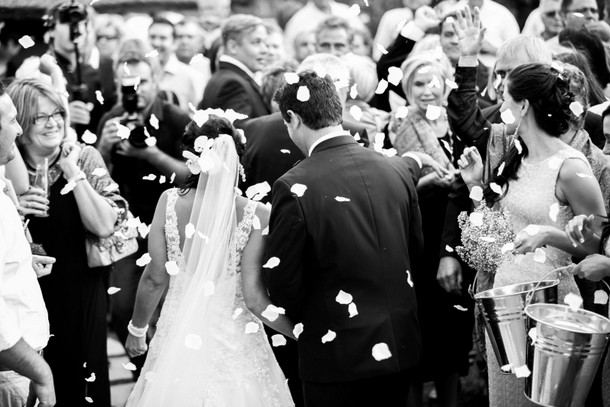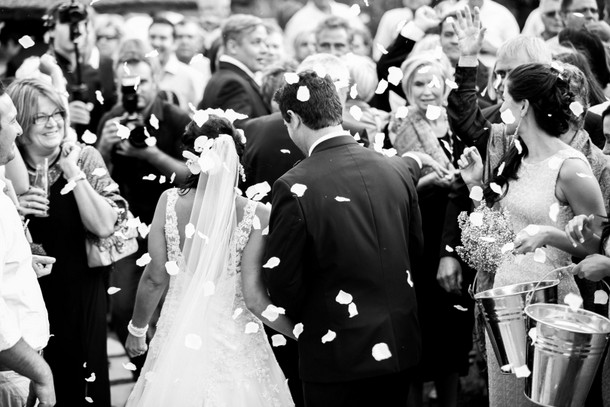 DIY Elements
We painted the pots for the centerpieces ourselves and my mum planted the orchids. Afterwards, these were used as thank you gifts for all the people who helped me with the process. It is so nice to walk into my 'heart people's'  houses and see the orchid plants in their living rooms. All communication was done electronically via our wedding website and emails. We did all the planning and organising ourselves.
The Flowers
Orchids – my mom's favourite. Orchids symbolise strength, natural beauty and endless love. This symbolism is a perfect description for our special relationship.
The Dress
I had a very specific picture in mind. After visiting every bridal store in Cape Town, I finally found one exactly like the one in my picture. It was such a disappointment when I tried on the dress and unfortunately did not experience that "wow" moment. I had been pushed for time and I knew I had passed up so many beautiful dresses on my quest for this 'specific' look. I was not keen on getting a dress made, so I went back to Ilse Roux Bridal Store where I had begun my search, and asked the shop assistant for help. After trying on about ten dresses, she went to fetch a dress at the back, which was actually being held for someone else. I was not keen at first, as it was not what I had in mind, but I agreed to try it on. I immediately fell in love with the simple yet feminine style of the dress. The next morning, I received a call that the dress had become available and it had my name on it!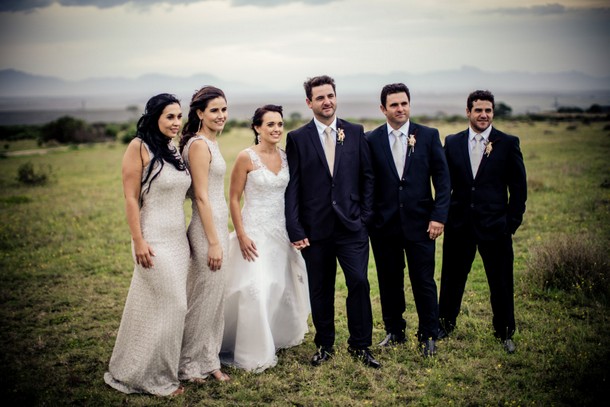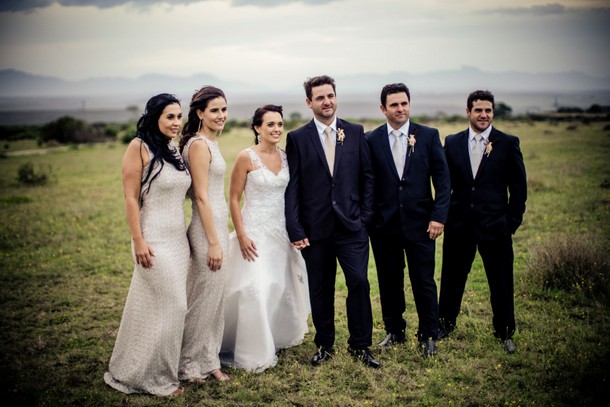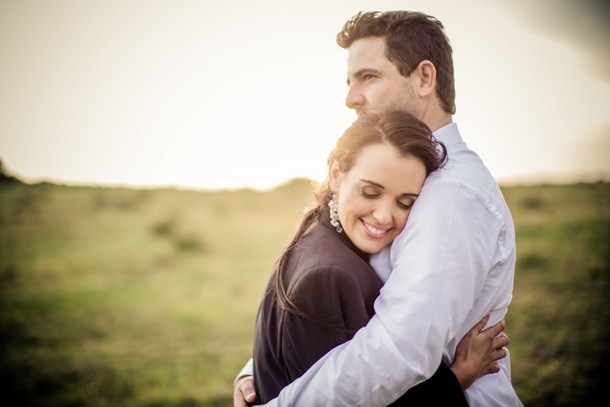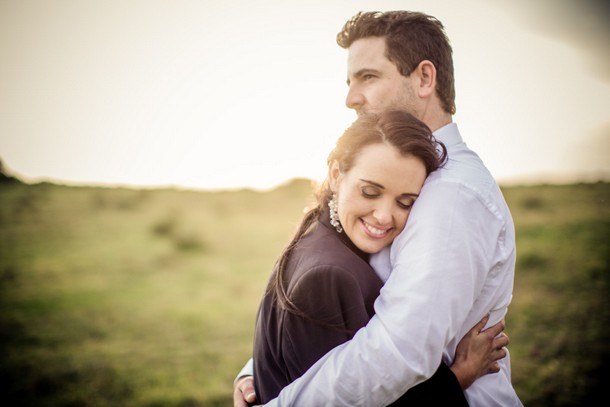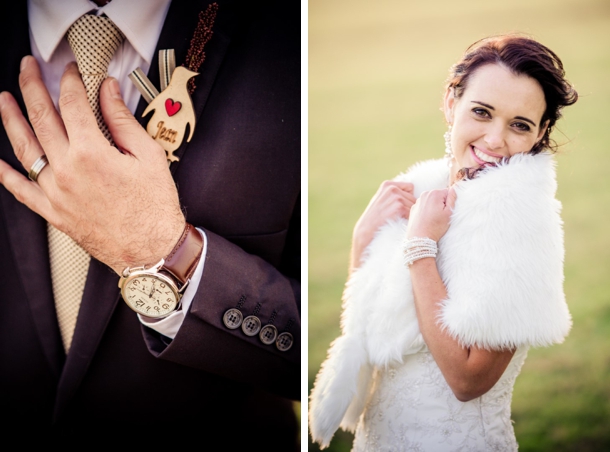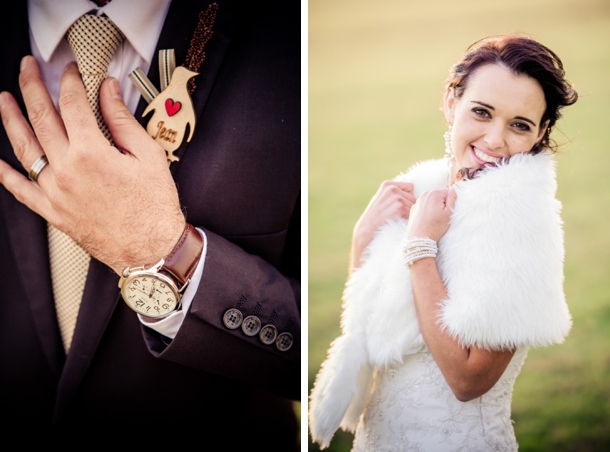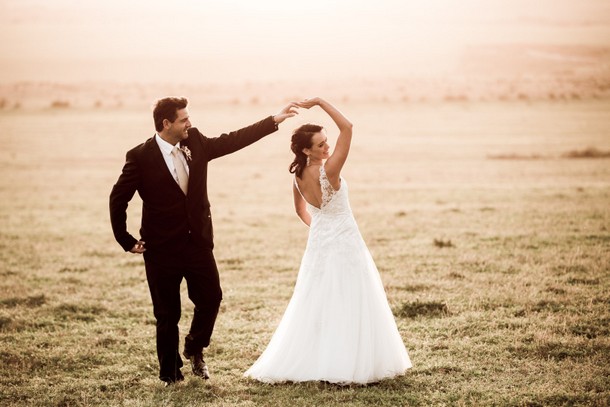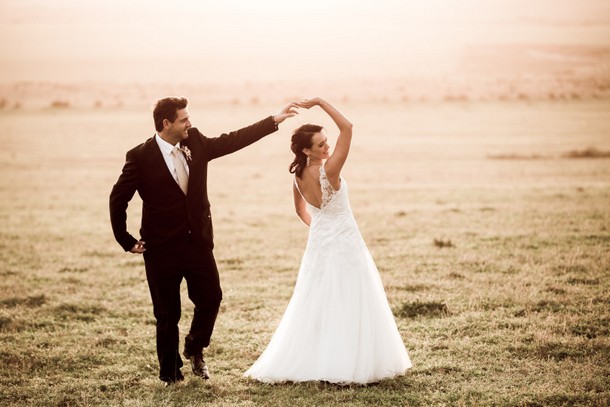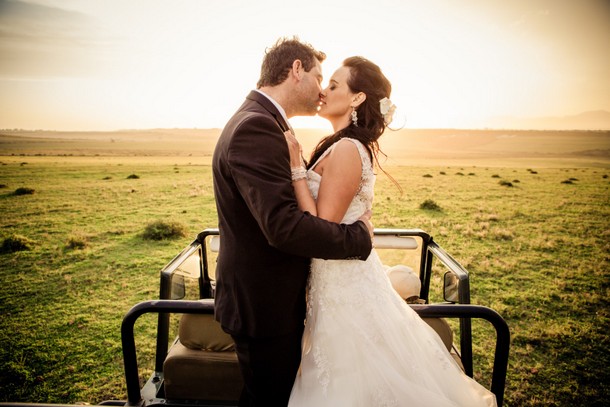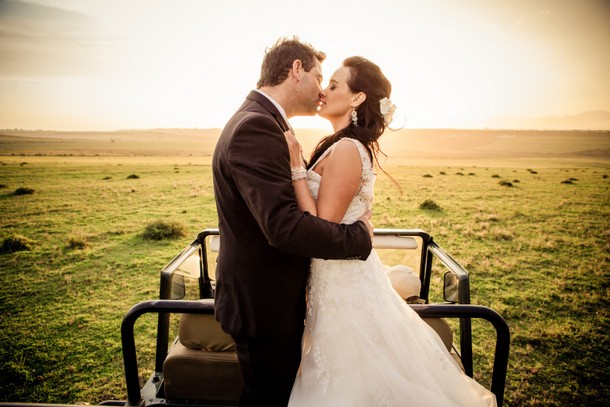 Most Memorable Moment
My most memorable moment was the ceremony– it still gives me goosebumps. The bridesmaids entered while "A Thousand Years" played, and I followed, accompanied by the Wedding March. We wrote our own vows and also partook in the unity candle ritual. A mutual friend also performed a beautiful song for us, to bless our marriage.
Proudly South African Details
On the Friday night, the majority of the guests stayed at the lodge and had a nice get together. It took the pressure off me meeting and greeting everyone on the wedding day. We had boma fires blazing, good music and real South African food was served, including Biltong soup! It was a beautiful evening in the bushveld. The next morning all the wedding guests went on a safari to view the "Big 5" after a hearty breakfast. After the wedding ceremony, cocktails, beer, wine and sherry were served around the pool, while the guests were entertained by a marimba band and photo corner. Kebabs, samosas, various bruschettas and other snacks like popcorn, were available for the empty stomachs. We had a wonderful champagne 'welcome' with our guests greeting us in the reception hall of the restaurant. Our menu included Springbok shanks, stuffed chicken breasts and fillet steak. For dessert, there were options like Amarula cheesecake, Malva Pudding with custard and a white chocolate mousse served with berries. None of the guests had to travel too far, so we partied and danced till late. As a token of our appreciation for attending our wedding, the guests could help themselves to a box of chocolates at our late night chocolate buffet at the exit, as well as bottle of red wine with a customised label.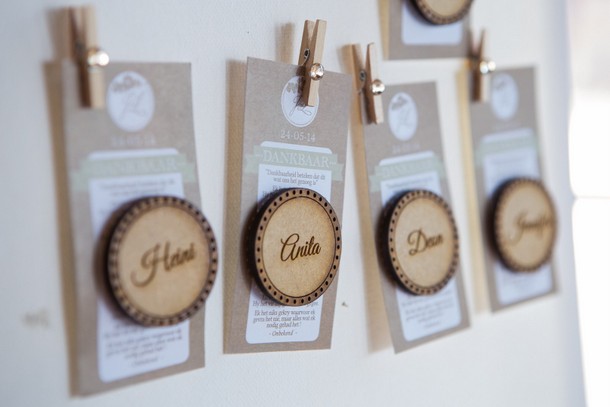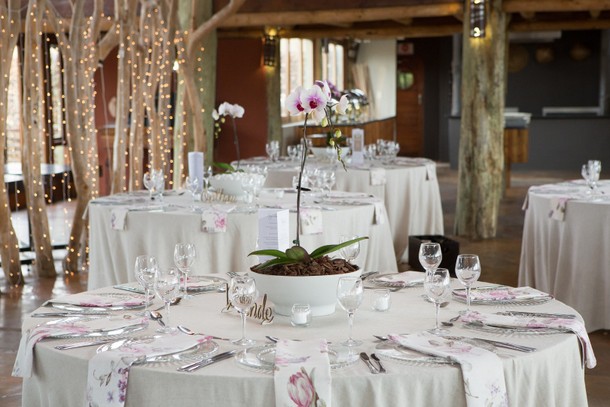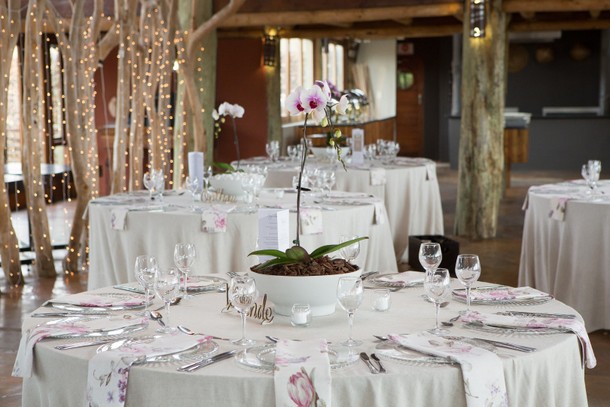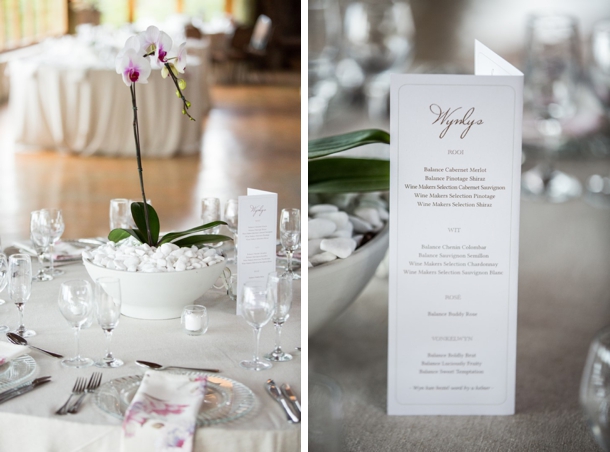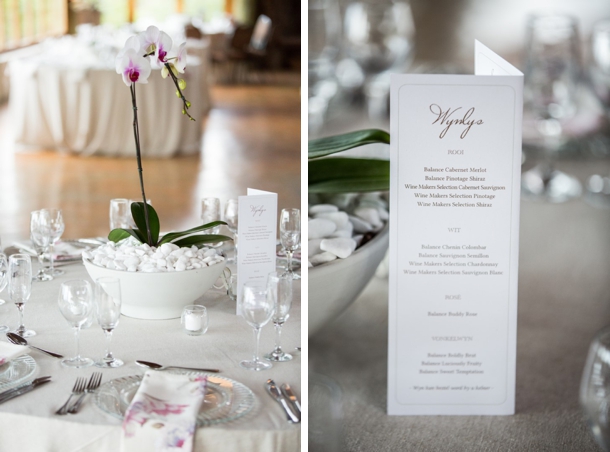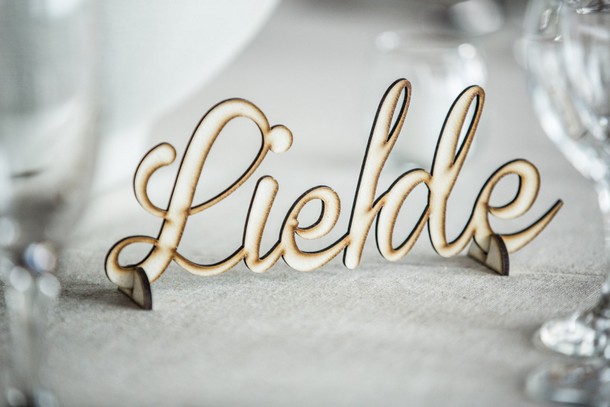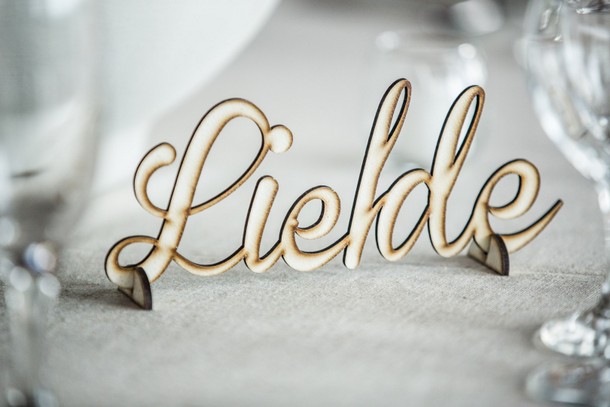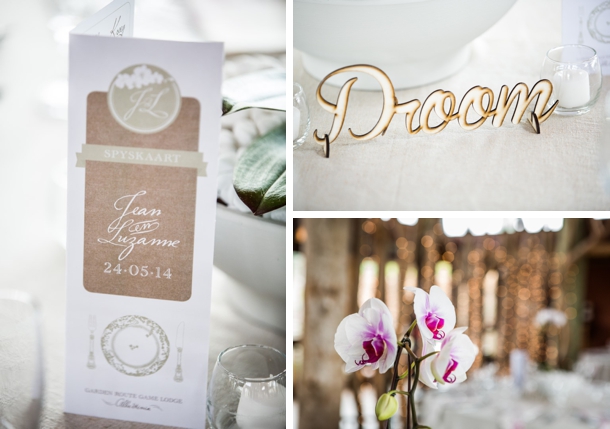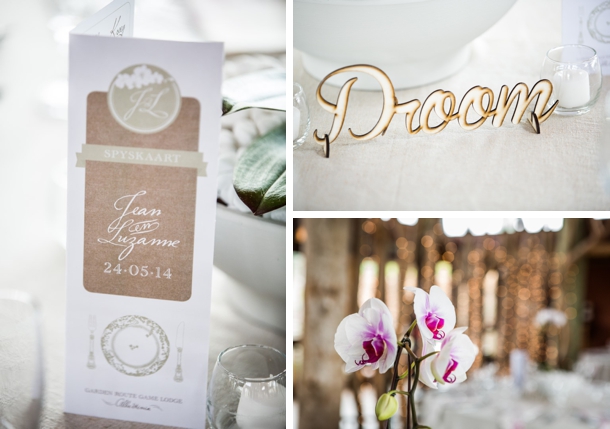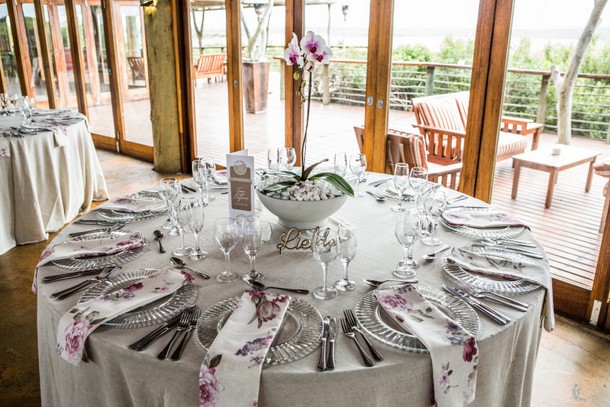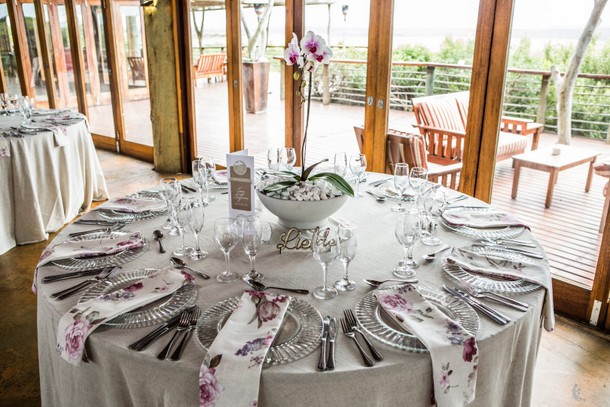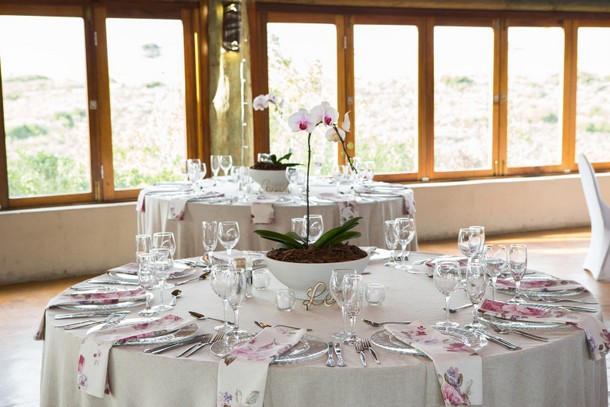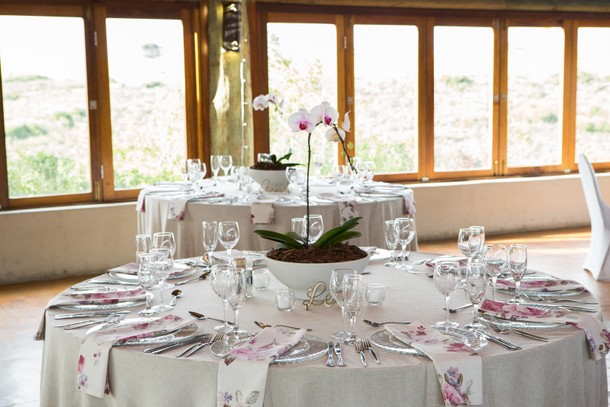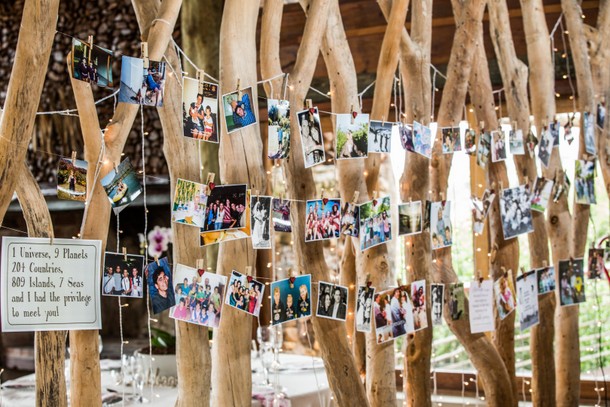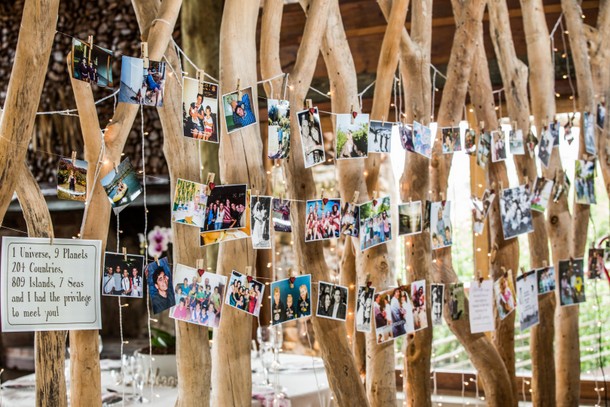 The Honeymoon
We ended up deciding on an island style holiday, where no exploring was required and where you wouldn't feel guilty sipping cocktails next to the pool all day. Mauritius was the perfect destination to switch off completely for a week. The fact that it's fairly close was a big bonus. We returned via Johannesburg where we explored Gauteng for a couple of days, before we faced reality! In Mauritius we stayed at Sugar Beach (highly recommended to any honeymoon couple). We are already planning our second trip! (The all inclusive package is a must!) I do love surprises but in this case planning together was part of the fun. (I used to be a travel agent and my husband would have never managed to keep the itinerary away from me!)
Advice for Future Brides & Grooms
Have fun, and don't stress about the little things. (Most people do not even notice the little details.) With proper planning and a good team, everything will go well. It was nice to work with a venue that knows what they are doing and that provides many services like accommodation, catering, set up and cleaning. The venue was beautiful and did not need much décor – which is something to take into consideration when deciding on a venue. Madre and her team at the lodge did an excellent job and exceeded all expectations! Do not try and save on a good photographer and make-up artist, I promise, they are worth the expense. Good, warm food and a great DJ are the things people remember and talk about the most. Enjoy and savour every moment – for me it was the shortest but most enjoyable weekend ever! (Also, ask for advice from recent brides.)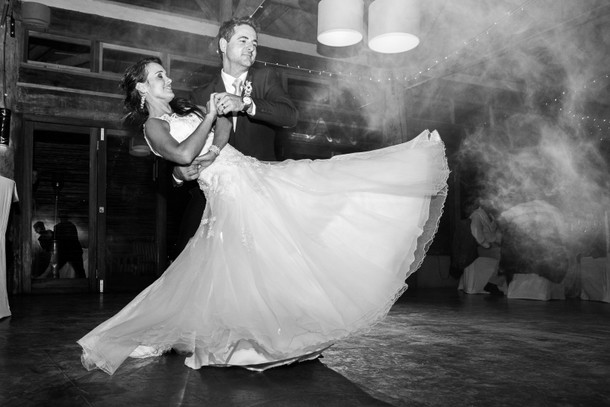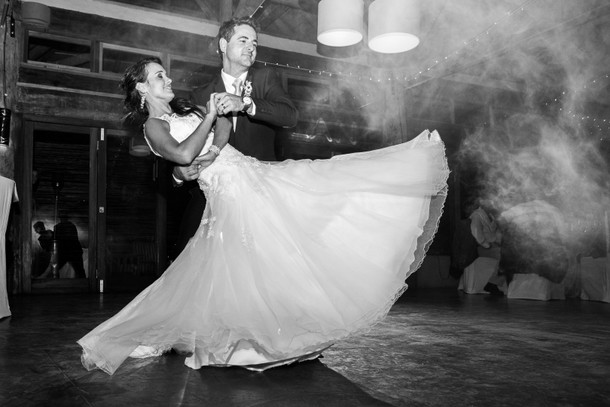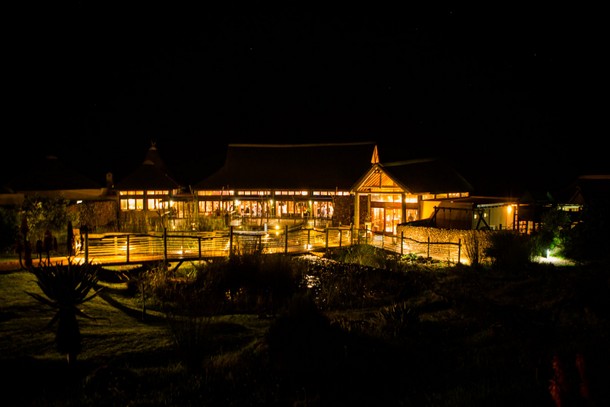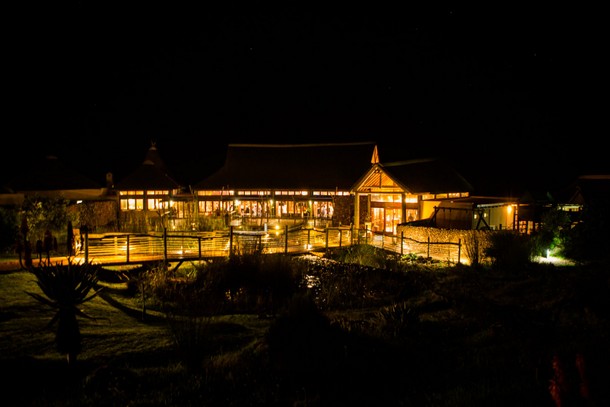 You can see more from this wedding on Nelis Engelbrecht's blog.
SERVICE PROVIDERS
Venue & catering: Garden Route Game Lodge | Photographer: Nelis Engelbrecht Photography | Videographer: Relite Photography | Décor: SRT Functions | Stationery: Carla Hugo from Grapevine Designs | Bride's dress: Ilse Roux Bridal | Hair & makeup: Wilna Allpass | Bridesmaids' dresses: YDE | Groom's attire: Woolworths