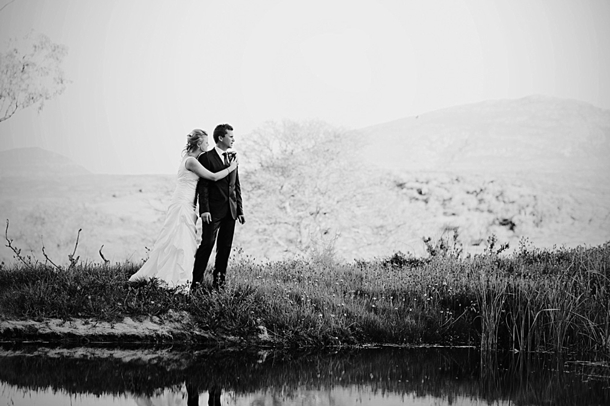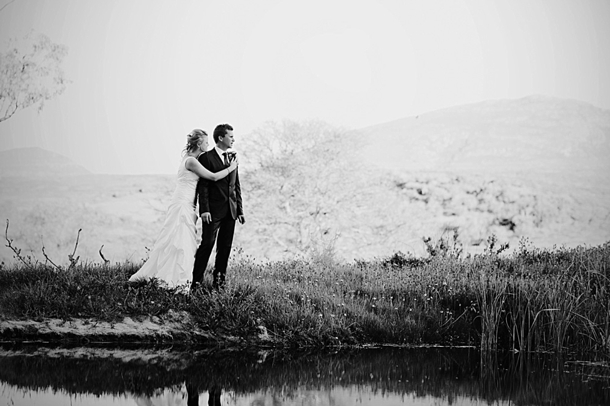 I have a very cool wedding for you today! Bride Leigh is not just the little sister of my dear friend Melissa (whose wedding I featured here), but during her engagement she was an avid reader of Cap Classique (the old SouthBound Bride) and we were often in contact chatting about her plans. Knowing all the thought and love that goes into a wedding always makes it extra special when you see the final result, and with my well-documented protea obsession, you can imagine how much I loved Leigh's decor – so perfect for a wedding in the bush. I also loved how she's taken ideas she's spotted online – the 'here comes the bride' sign carried by the flowergirl, the thank you note to guests at each setting, or the succulent boutonnieres, for example – and made them her own. Cari Eksteen was there to take the pictures, and she's captured every detail in a way that really tells the story of the day and captures Leigh and Clayton's love for one another and the warmth that surrounded them as they made their vows together. Congrats, guys! Wishing you a lifetime of happiness.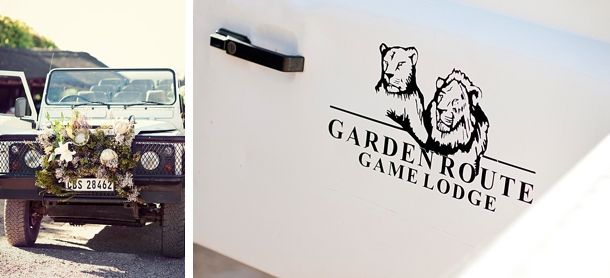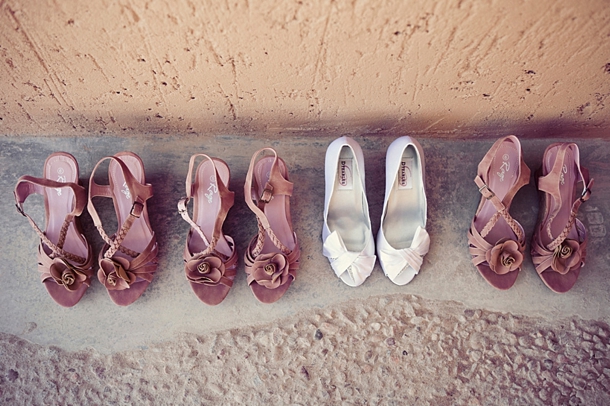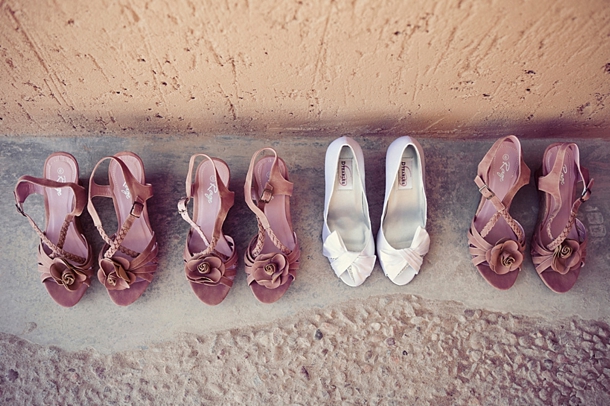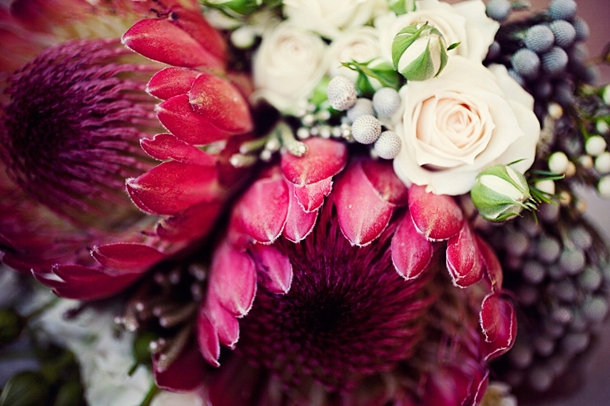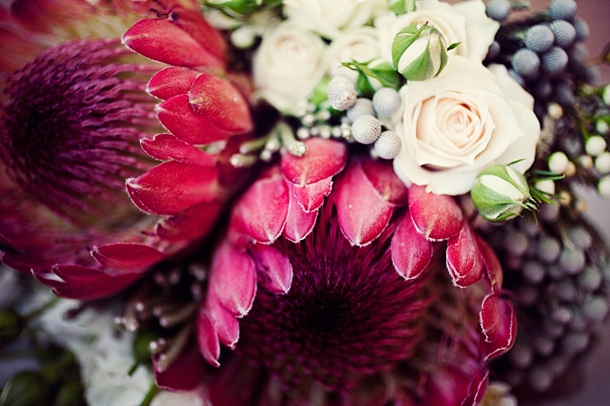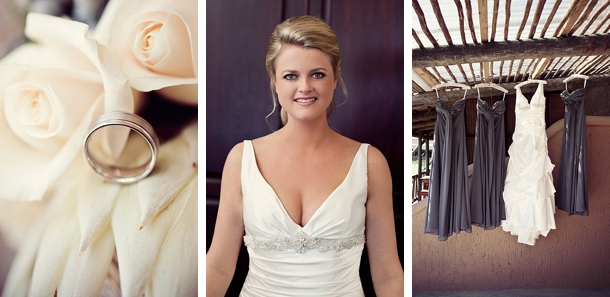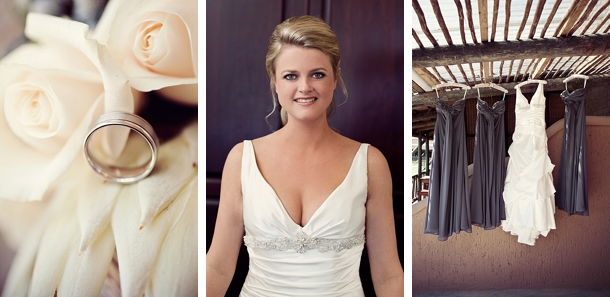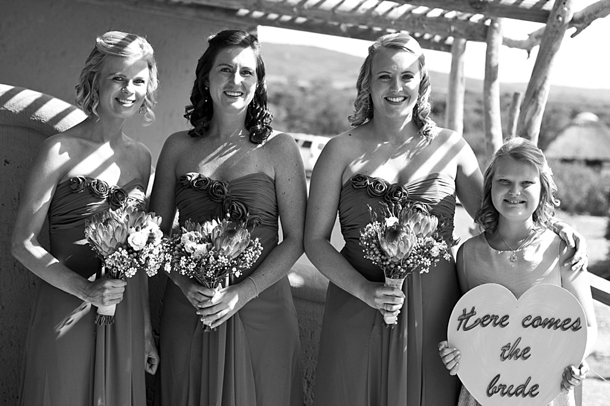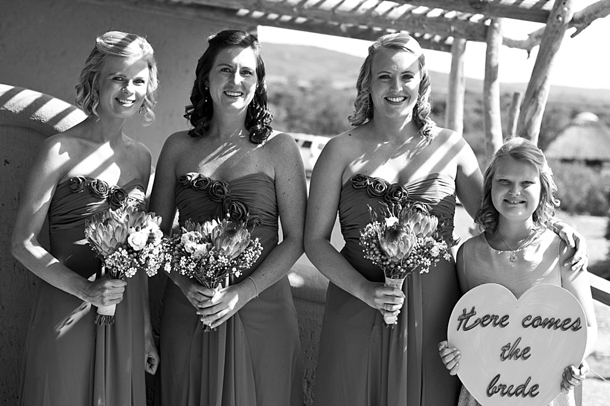 Over to the lovely Leigh:
Clayton and I originally met when I was in Matric and he was in second year. He and his friend managed to convince me that they were out in Cape Town from Stellenbosch and had nowhere to sleep. My parents were away so the party moved to our place. but we never saw each other again. Anyways, after school I spent a year in Brazil before returning to study in Stellenbosch. It was during carnival of my first year that we met again. I still don't really remember him in matric, but he sure does!
It was a long eight year wait till I got my dream proposal – it wouldn't have been quite so long, but my sister's darling husband popped the question to her and threw Clayton's plans a little. We had planned a trip to Thailand, our favourite spot, and in true Leigh style I invited two of my girl friends and Clayton's brother along. Ten days into the holiday Nadia and Mariejite left us and we were in Koh Tao diving. After a long day on the water, we were starving and headed out for an early dinner. I was trying to convince Clay's brother to stop being stupid and join us, but he maintained he wasn't feeling well. Some time between starters and mains Clayton went down on one knee and asked me if I would spend the rest of my life with him. It was magical! I can still remember the butterflies in my tummy. Nether of us could eat our food so we went back to our hotel room and met up with my new brother-in-law-to-be in the bar and ended up celebrating our engagement with a bar full of strangers. :) PERFECT!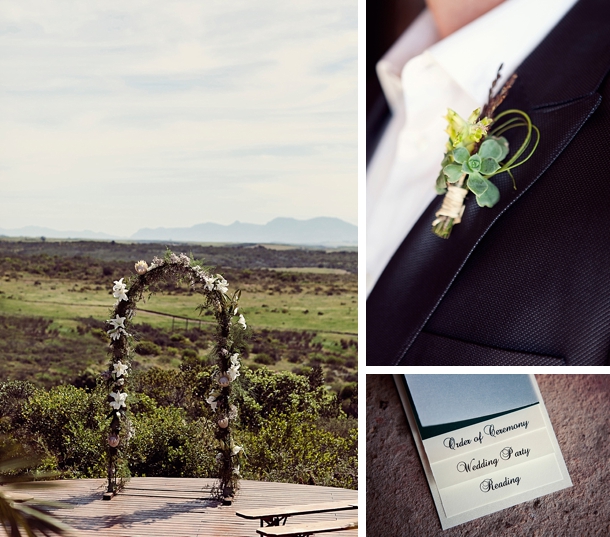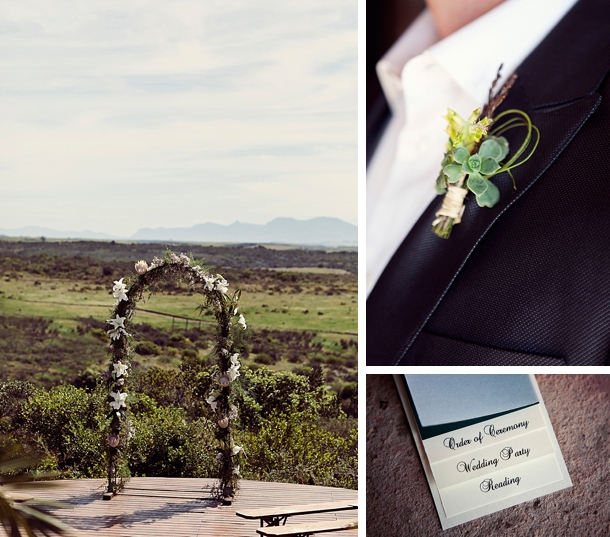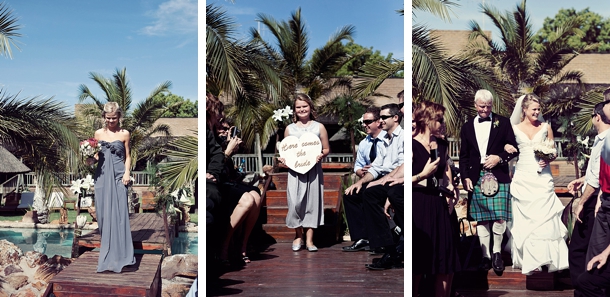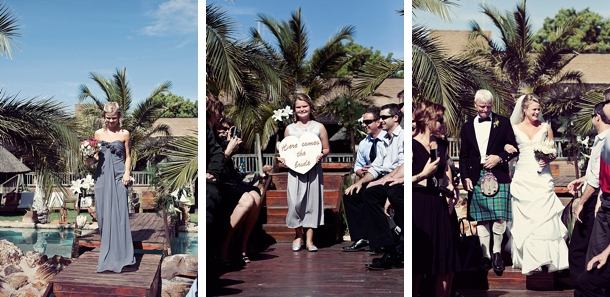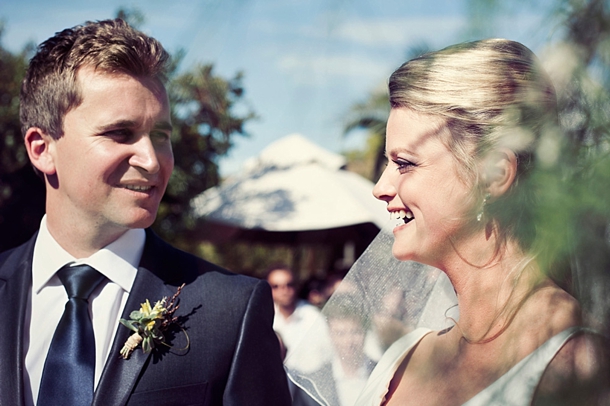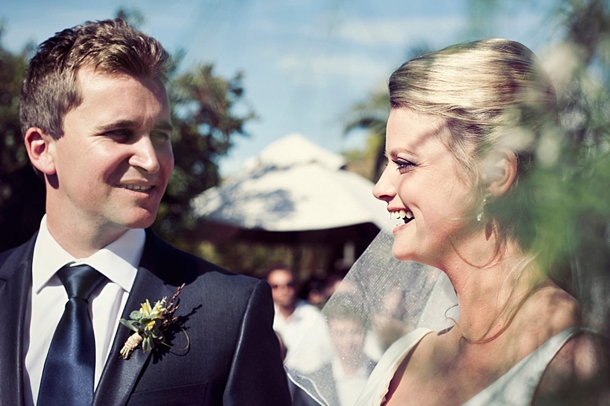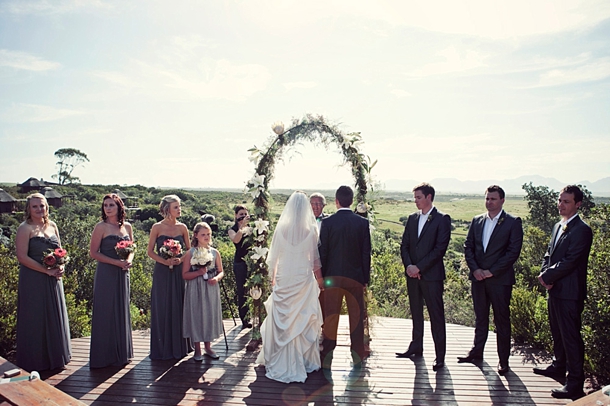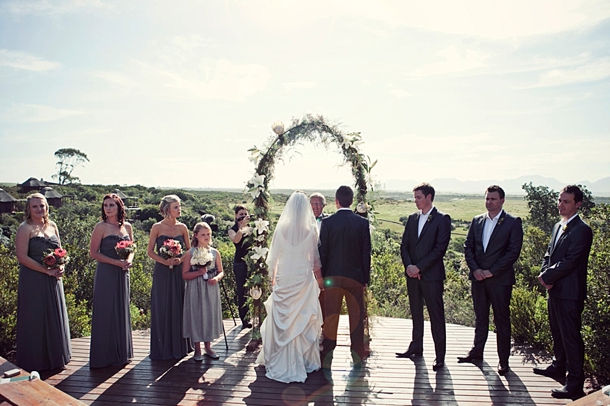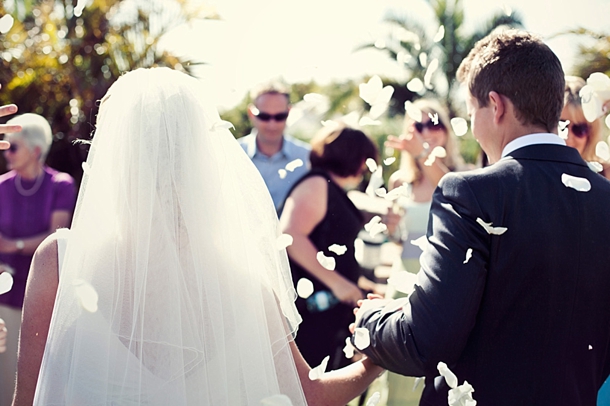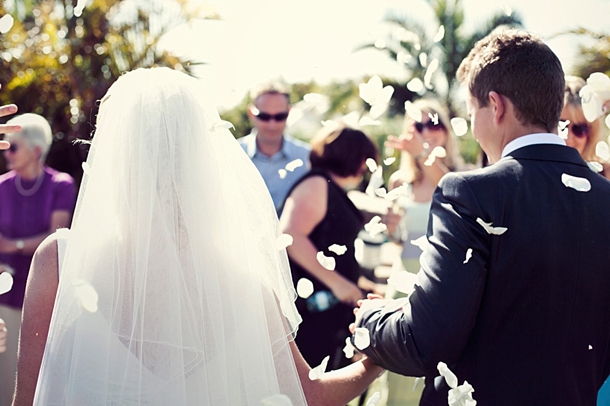 When we started planning our wedding, we weren't exactly sure what we wanted. All we did know was that we wanted to share as much time with our friends and family as possible. Clay told me he really was easy and that he would like anything, but the only thing he was sure of was that he didn't want to get married in Cape Town itself or on a wine farm.(he is a wine maker and we live on an amazing farm in Franschhoek). EASY??? That made my life next to impossible. After loads of searching, we came across the Garden Route Game Lodge in Albertinia and having spent an awesome weekend there, we were sold.
We wanted to keep to the whole game farm feel so we kept everything rustic. We had proteas and succulents, which really blended with the natural surroundings of the Garden Route and the game lodge feel. Although I don't think we really had a colour scheme as such, we stuck to greens and champagne.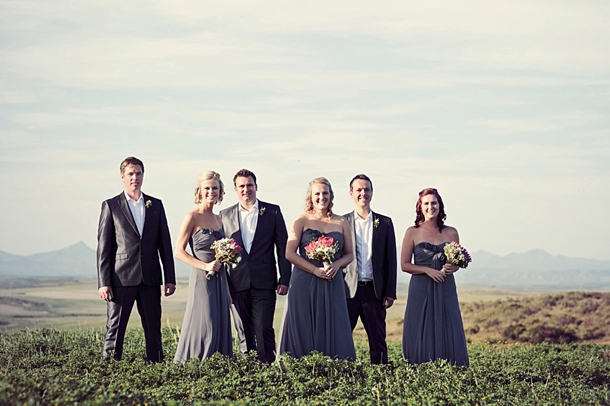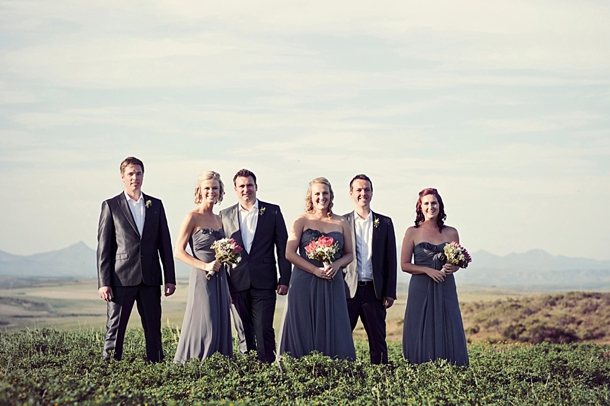 Clay and I like to see ourselves as sociable people and love having our family and friends over and we wanted to reflect that on our wedding day. We knew from the early days of wedding planning that we wanted to spend time with everyone for as long as possible. We spent the Thursday night with our families and bridal party on the river in Stilbaai and then had a massive braai at the venue on the Friday night for 70 guests. (Thanks again to my wonderful bridesmaids for dragging me to bed early). We also hired out the whole game farm so there were no other people there and we all had breakfast together the morning after. We loved not just sharing our marriage with everyone, but an awesome weekend away too. We still often talk about how awesome it was to be able to look around and know every face we saw, there was not one person there that we didn't want present.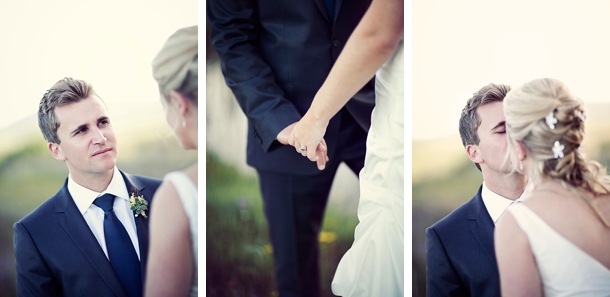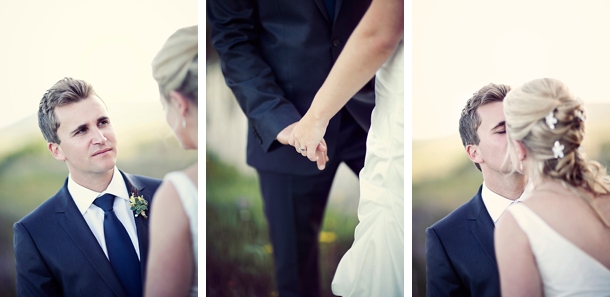 One of my favourite parts was the morning of the wedding. I spent it with my three favourite girls, faffing, laughing, eating, drinking champagne and chain smoking. :) My mom and Clay's mom were also there and that made me happy. I also had the most amazing flower girl, Tarry, who kept me up to date on what the florist was doing and checked that the bridge over the pool was strong enough for my dad and I to walk over. For most brides I think the best part of your wedding day is walking down the aisle and seeing your husband-to-be, and don't get me wrong, that was an incredible moment in my life that I will always cherish, but I was so at peace with my decision to marry Clayton that everything felt so comfortable. Much to my surprise I did not cry or black out, I just took it all in, and giggled like a schoolgirl. We also absolutely loved our speeches. Everyone made such a huge effort and it was awesome hearing how other people view our relationship.
Clay and I are quite simple people who enjoy good food and good wine, so for dinner we had fillet and chips, served on wooden boards (lent to us by our favourite restaurant, The Grill Room) and Morêson Premium Chardonnay and Pinotage flowed all night. Sounds like an average Saturday evening at the Reabows – only much better!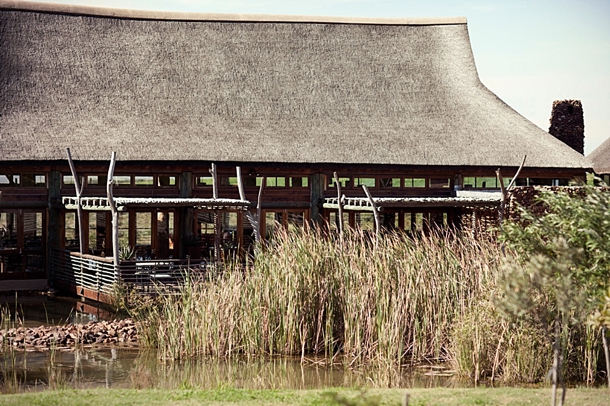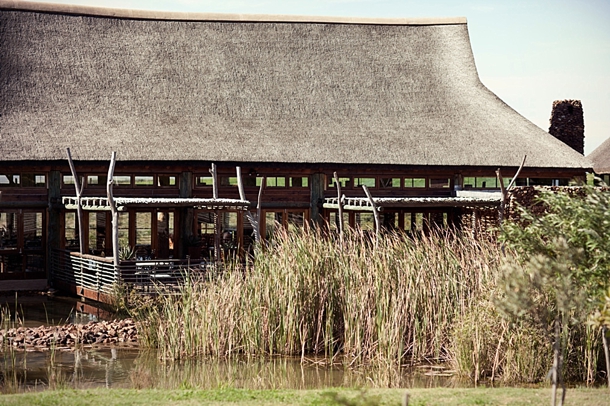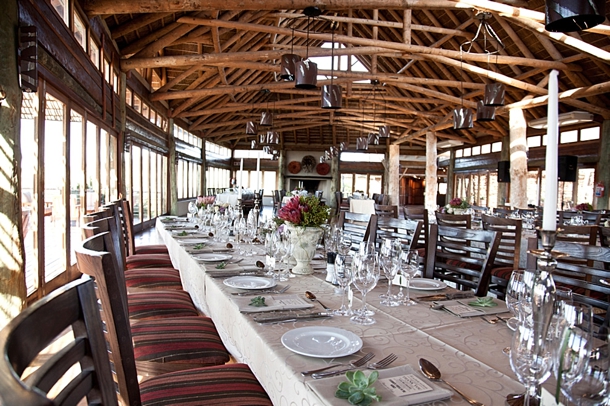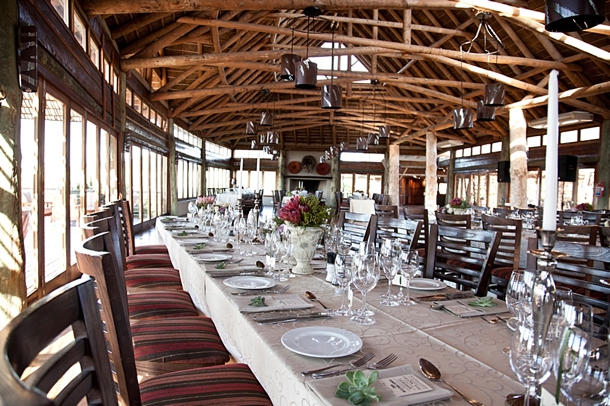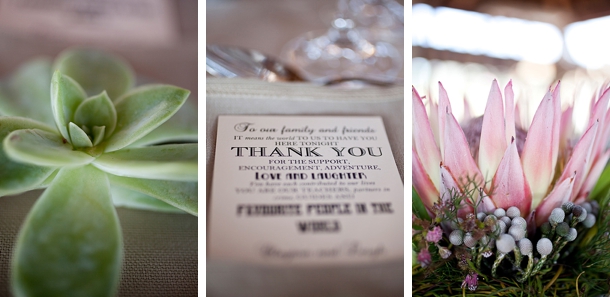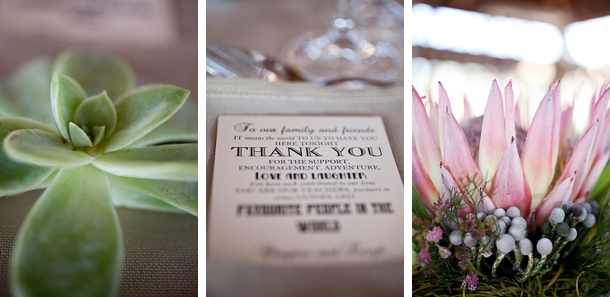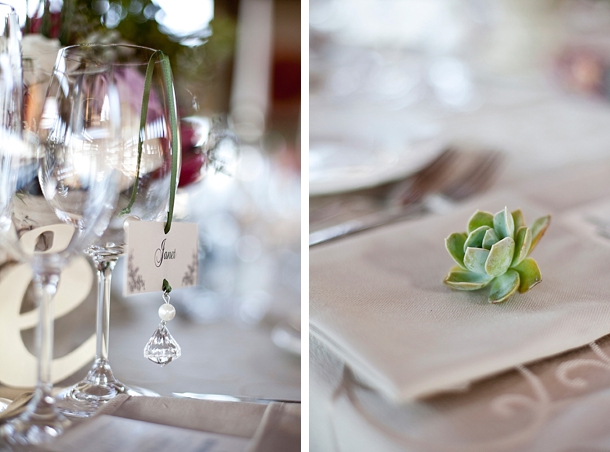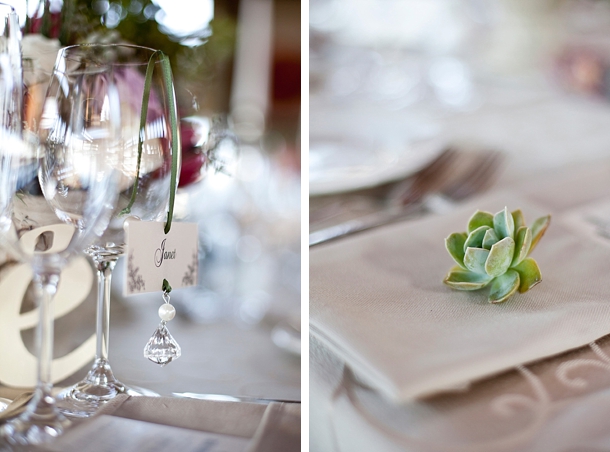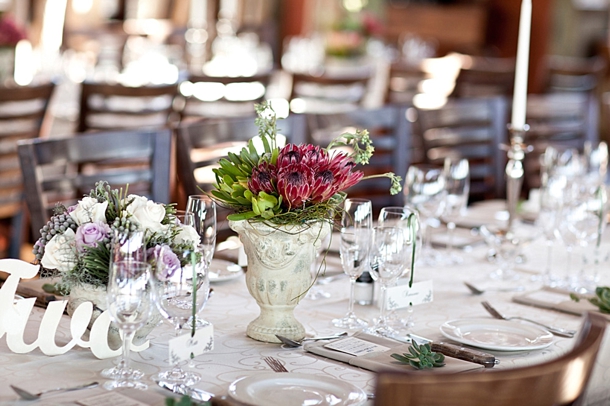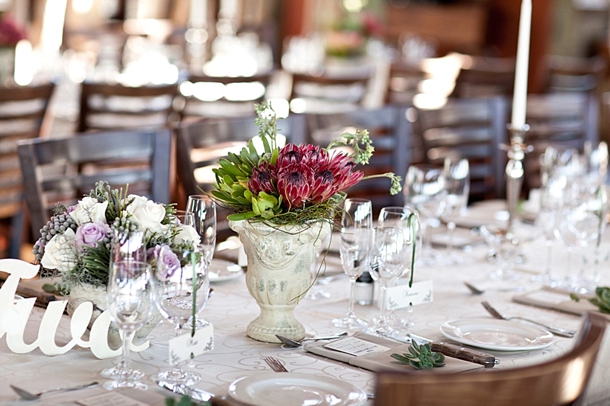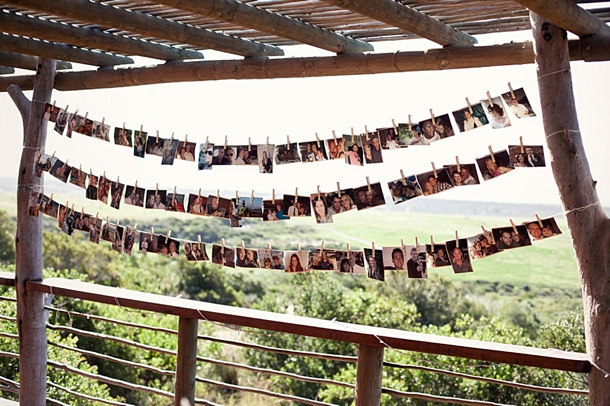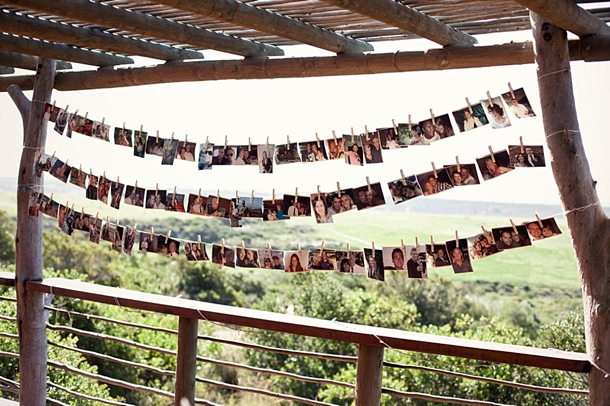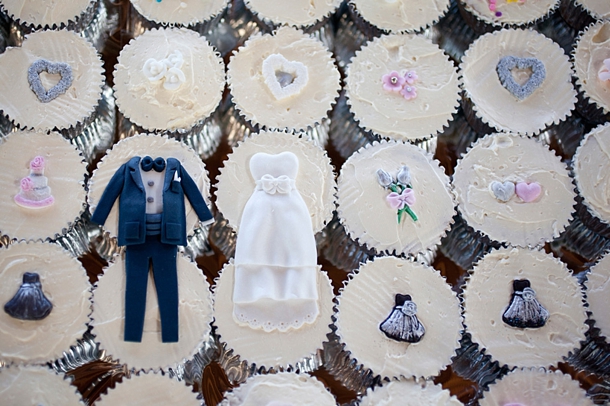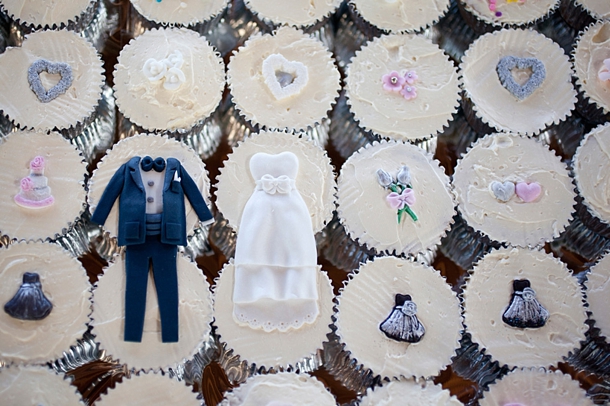 I planned my wedding from various blogs, of course including SouthBound Bride. My sister and I got married six months apart and our tastes are quite different so we spent hours emailing each other ideas. The best advice I can give any bride and groom is to be completely selfish on the day – focus on one another and forget about everyone else. If there is some distant relative you don't feel like talking to, don't. The day is all about the two of you. Your family and friends are there to play witness to your marriage, they are not going to be devastated if they only get five minutes of your time. And brides, DELEGATE. I planned everything myself and had the whole picture in my head. The Thursday before Clay and I sat down with both our parents, bridal party and partners and told them the "picture", it was then that we switched off and if anything wasn't right someone else had to work out how to fix it. :)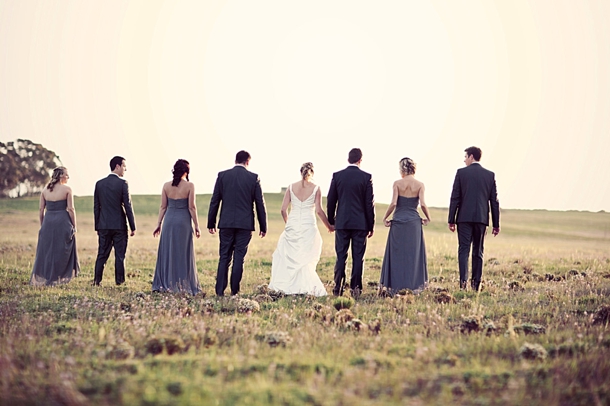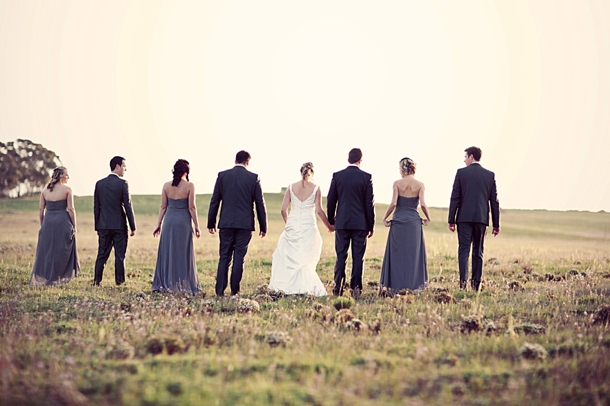 Thanks so much Clay and Leigh, and thank you to the awesome Cari. You can see more from this wedding on her blog.
SERVICE PROVIDERS
Venue, catering & co-ordination: Garden Route Game Lodge | Photography: Cari Photography | Flowers & decor: Franschhoek Flowers | Cupcakes: Mother of the bride | Bride's dress: Lady Marmalaide | Bridesmaids' dresses: Bride and Co. | Makeup: Elani ([email protected]) | Hair: Suzette of Neo Hair | DJ: Charles du Preez ([email protected]) | Wine: Moreson