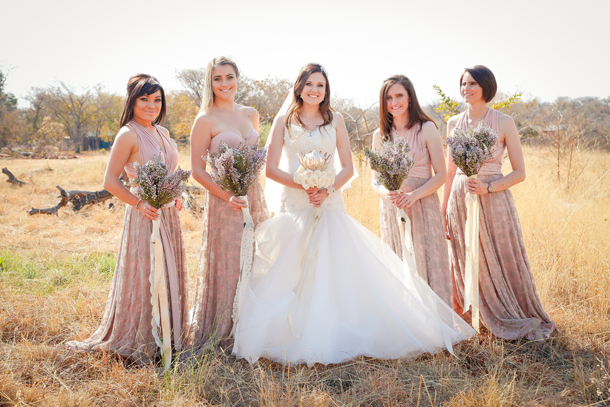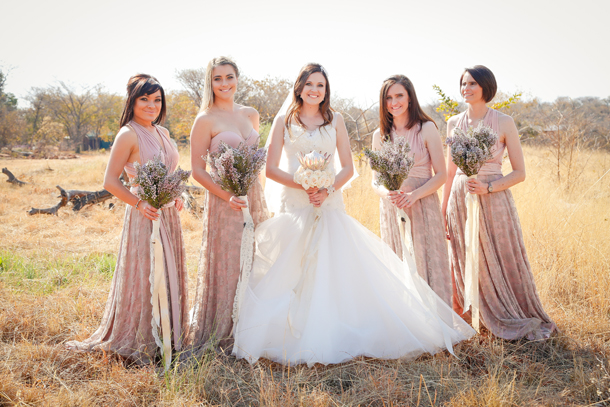 I can't think of a more proudly South African theme for your wedding than fynbos, and that's exactly what today's bride and groom chose, basing their entire wedding design on their love for Cape fynbos, right down to protea seed favours. Here's the twist though – the wedding didn't take place in the Cape, but rather in the North West, creating a gorgeous fusion of the best of two of our prettiest provinces. This is rustic handmade wedding design at its best, in creamy neutral colours, along with shades of soft pink and a touch of gold. 5 Talents Photography took these golden images, to commemorate Jean-Marie & Jacques special day!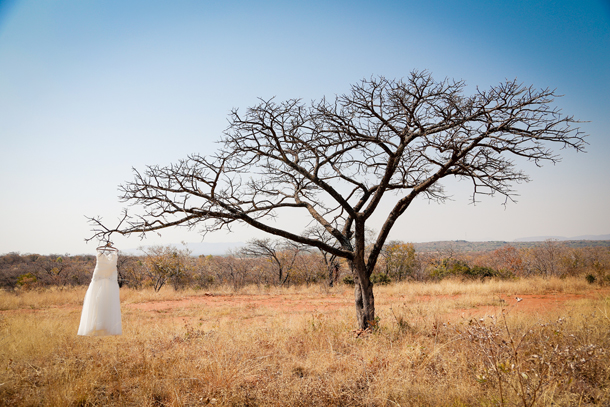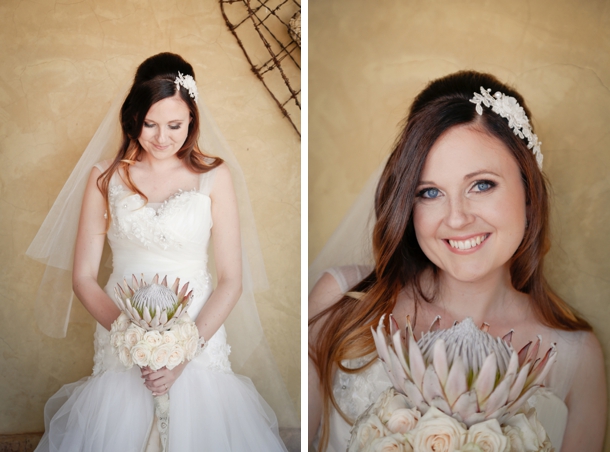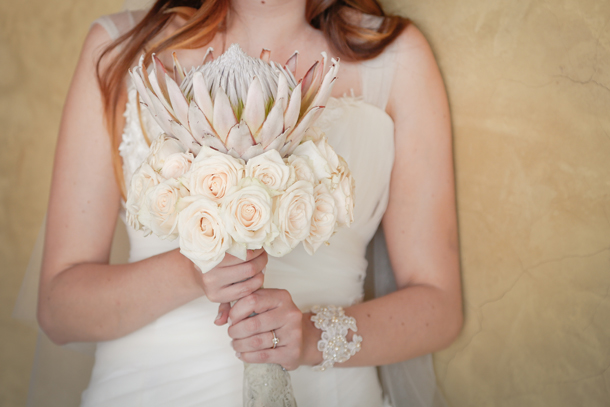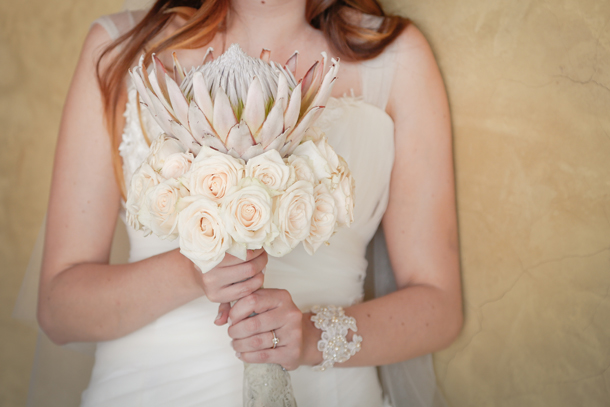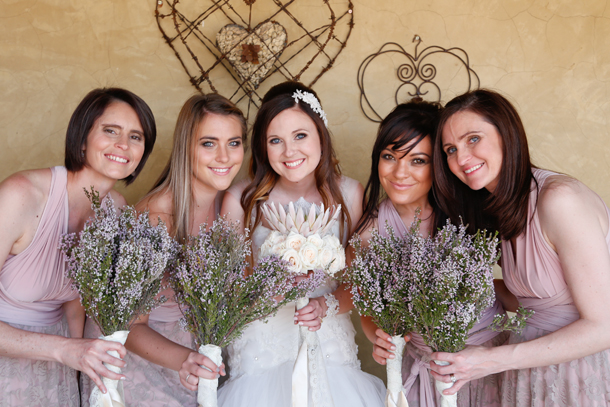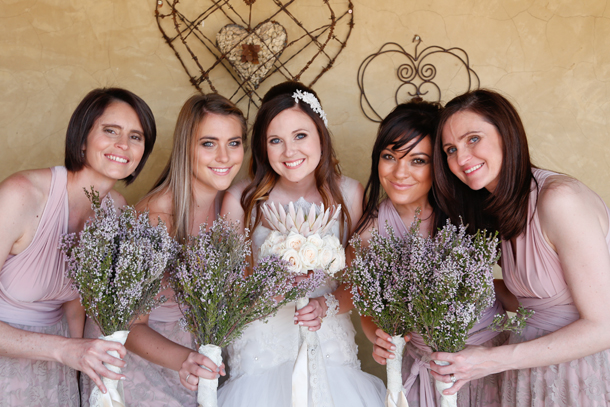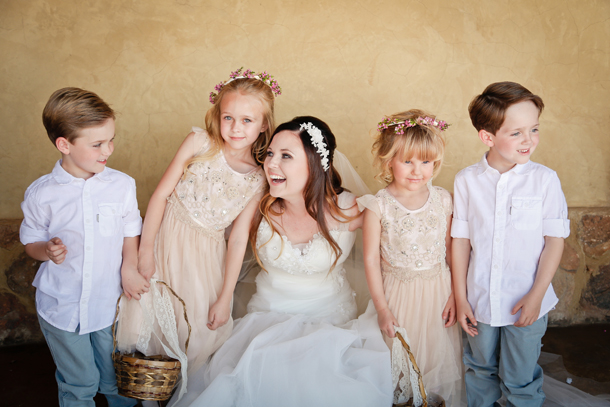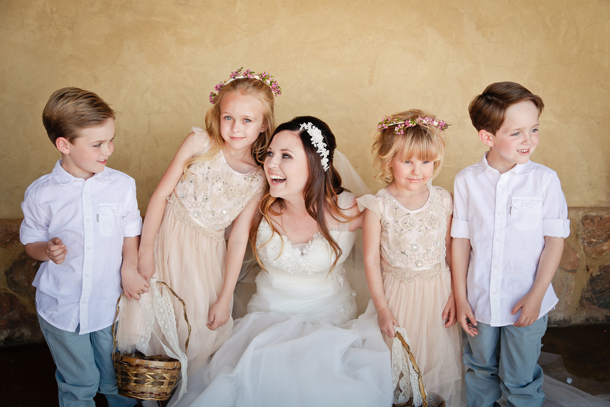 Love Story
Jaques and I met in high school when I was a mere sixteen years old. Our love story had its twists and turns. We started off madly in love and were together for the best part of high school and then I ended up moving away to study. Splitting up and going our separate ways seemed like the best thing to do at the time. For two and half years we were both on our own adventures. As fate would have, it our paths crossed again and at that moment we knew it was meant to be. Long distance dating didn't seem that impossible anymore and we made it work until I finished my Honours in 2011. As we were now living in the same province, we moved in together to make up for lost time. Things were going so well and we grew closer to each other each day. After dating for nearly four years, he finally (and I mean FINALLY) popped the question! And the rest, as they say, is history!
The Proposal
We were on a family vacation at the seaside when he decided to pop the question. I can't say that I wasn't expecting it to happen, but after a few days he really had me wondering. Each time I would mention anything about us and the future, he would start fighting with me! (I now realise he was obviously so nervous and not wanting to blow his cover!) About a week into our stay (and me seriously doubting if he would ever marry me) he woke me up just as the sun was rising and said we should go for a walk on the beach. (Jaques doesn't like walking on the beach, so I was already suspicious.) Not wanting to get my hopes up for no reason, I didn't question it and just went along. After walking for a while we found a nice rock to sit on and just watched the sunrise. All of a sudden I could see he was getting a bit twitchy, almost as if he was irritated. I asked him a few times what was wrong but he just said he wasn't sitting comfortably. After about ten minutes of this, he jumped up and said 'I just can't wait anymore!' He went down on one knee, pulled out a ring and asked me to be his wife. I couldn't believe it! It was a feeling of joy and relief – I had always imagined an extremely romantic, over the top, "grand gesture" engagement, but this simple engagement on the beach topped all of my expectations!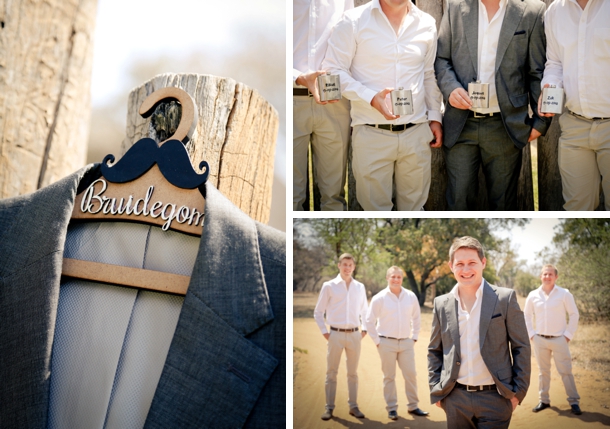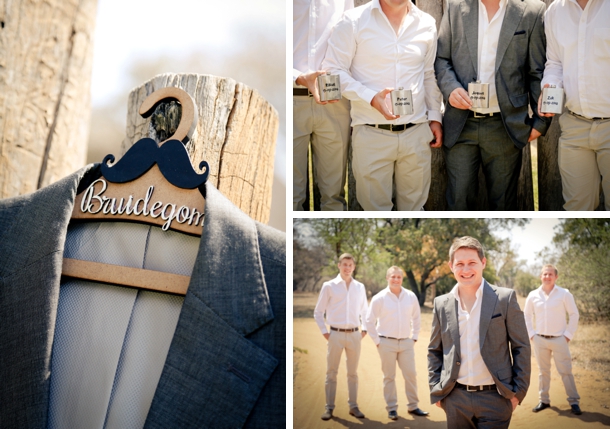 The Venue
When we started looking for a venue, we knew we wanted to be surrounded by open spaces and we wanted a venue that was 'something different'. Finding Makinky Manzi was no easy task. After lots of research, I found this gem in the bush, hidden away in the Boshoek area near Sun City. Surrounded by the Magaliesberg mountain range and lush bush, I knew we had found something spectacular as we drove in. What really won our hearts was the ceremony area of this gorgeous venue. A short drive from the reception area is a stunning river with lots of rocks along the water. This is where they built their little chapel with a bridge leading over the river. Makinky Manzi means 'something different at the water' and that 'something different' was exactly the 'wow' factor that we were looking for!
Wedding Style
Our aim was a 'Cape fynbos wedding' in the middle of the low-veld bush. We wanted a soft, romantic and natural feeling to the day. We both love the bush and as the Cape was too far away, we brought a bit of the Cape to us. All the ideas and colours of my wedding were planned around our beautiful King protea and the stunning fynbos of the Cape. Dusty pinks, cream and champagne with natural elements could be seen throughout the wedding. We also used raw wood and lace to bring in a more natural but romantic feel. This fitted in perfectly with our rustic bush wedding venue.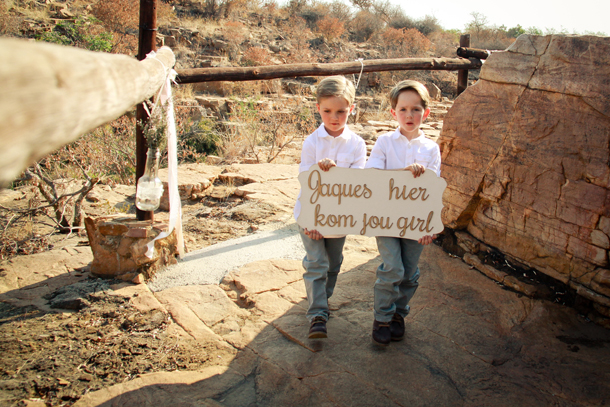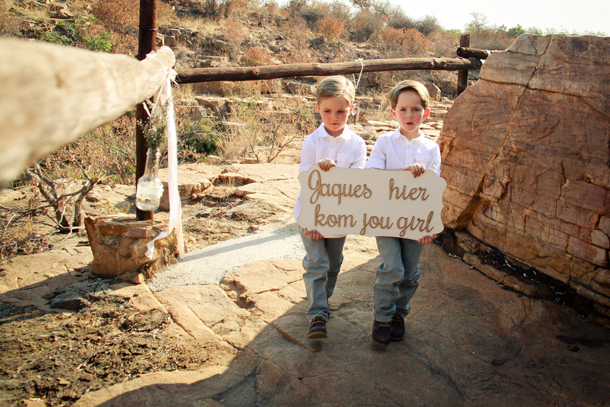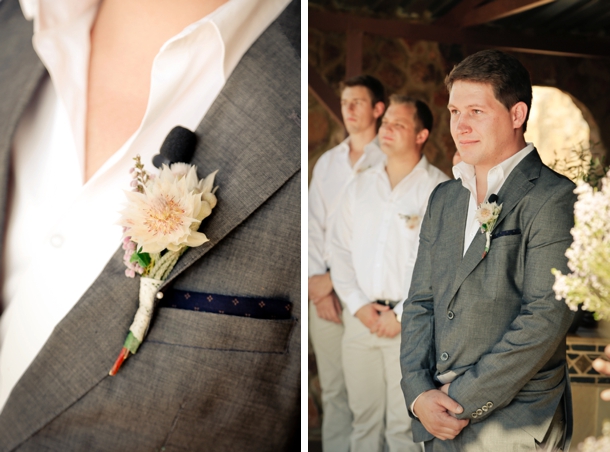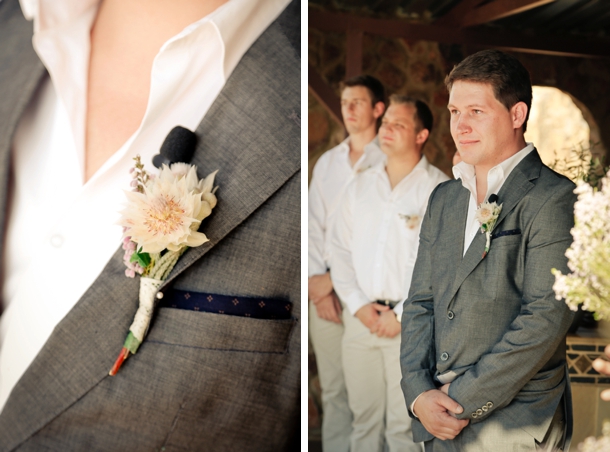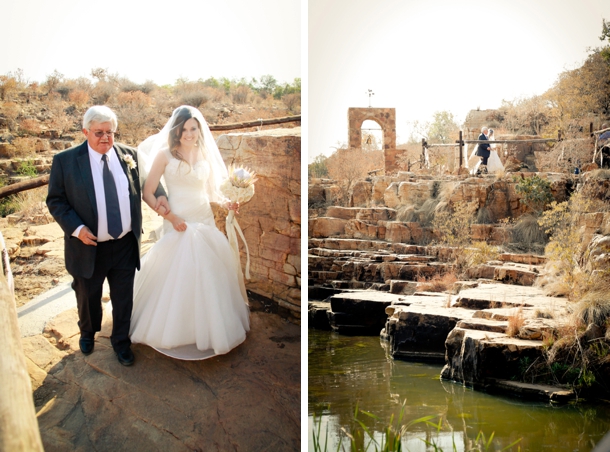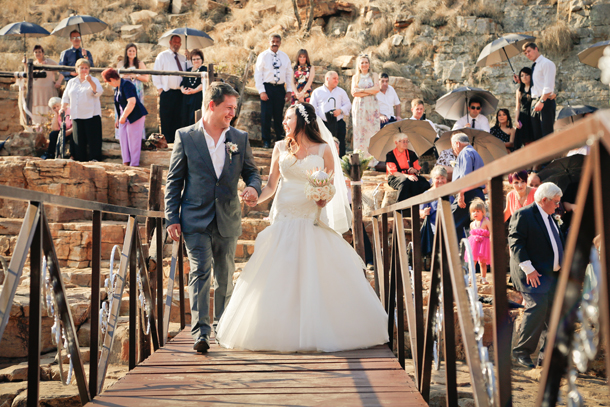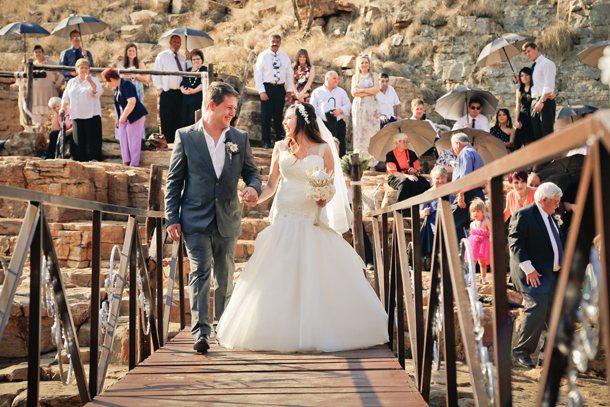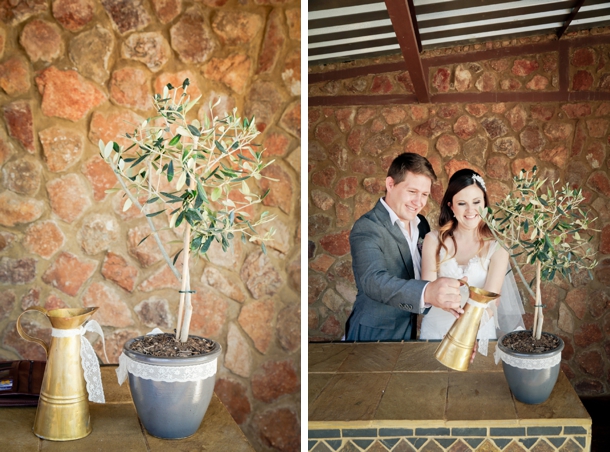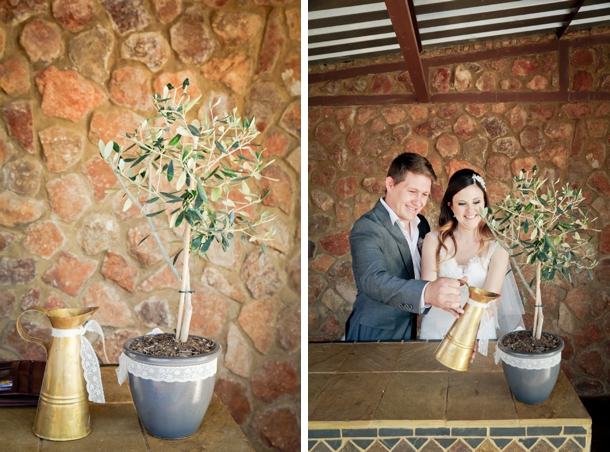 Wedding Details
As a girl who is big on detail, I wanted our wedding to be different to any other 'protea-themed wedding' you may have seen before. We decided that our theme will not only be about proteas but about Cape fynbos in it's entirety. From table names, to thanks-you gifts with protea seeds in them, everything was fynbos related. The flowers we used for the wedding were ALL fynbos varieties, except for the roses and Lisianthus. Deciding on the table names was great fun! We used Afrikaans fynbos names like Dronkbessie (drunk berry in English) and Daggaklip! Each guest's name card had their table name at the back with a sketch and a short description and story about their fynbos table name. The guests loved this!
DIY Elements
We did all the flowers, décor and stationery ourselves. This was hard work but in the end I couldn't have been happier! We scouted for tablecloths, lace runners and flower vases. All of the work was definitely a team effort! Even Jaques helped by cutting strips of material for the garlands and my parents gathered off cuts of wood to make all the wood placemats and stands on the tables. Everything turned out just the way I wanted, but it wouldn't have happened without lots of help from family and friends!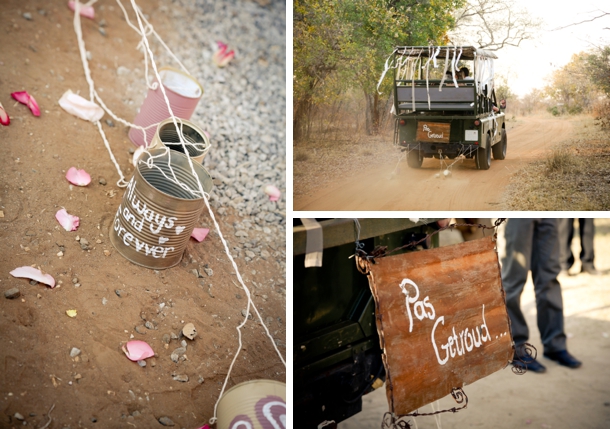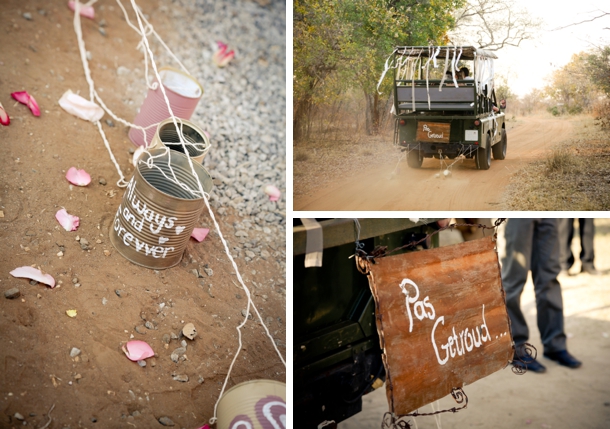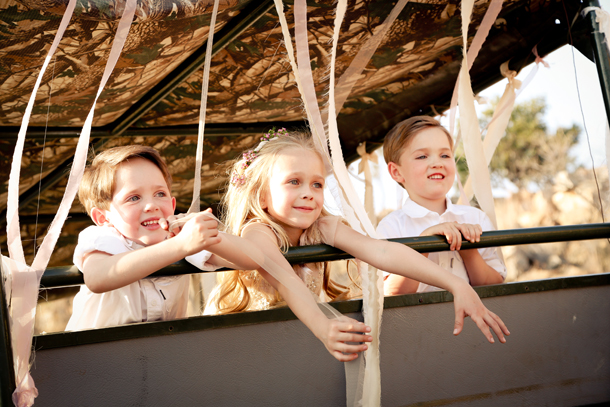 The Flowers
The theme of our wedding revolved around our flowers, so this was a pretty important detail. To keep to the fynbos theme, we decided to only use fynbos in our arrangements. This was quite a challenge, as the flower markets only have limited flowers each week. Once a week the buyers go to bid for the flowers, and the risk is that your selection may or may not be there. This was our challenge, arriving at the market a day before my wedding. We went to collect our ordered flowers and then received the news that half of the fynbos I wanted just wasn't available that week. We had to compromise and took what we could get! We used King and Queen Proteas, Blushing brides, Ericas, Big Kol-Kol, Wax and Slangbos to name a few. We also did all the arrangements ourselves, which meant a little bit of extra stress but it was great fun! Having my family and friends all jump in and help really made it that much more special and memorable.
The Dress
I found my wedding gown a lot sooner than I had imagined! Myself and two of my bridesmaids went dress hunting one Saturday. This was more for the fun of it then anything else. After trying on numerous dresses and just having fun trying on different styles, I remembered seeing a dress on their website which I liked. As soon as they opened the bag and took out the dress I had goose bumps all over! As I tried on the dress I started crying! I never thought someone could really feel this way in a wedding dress but it was all true! Both the girls loved it as well and after my mom's approval we said yes to the dress!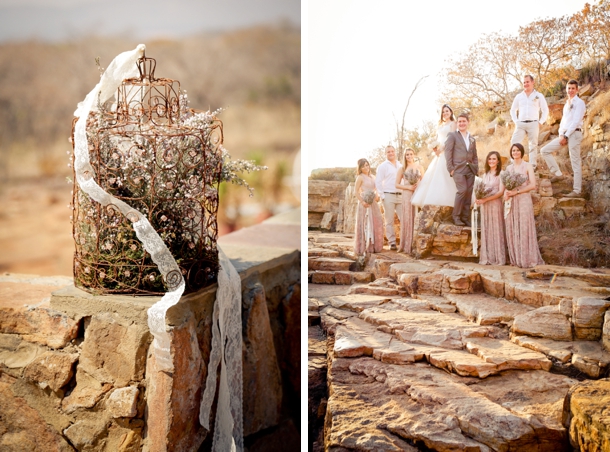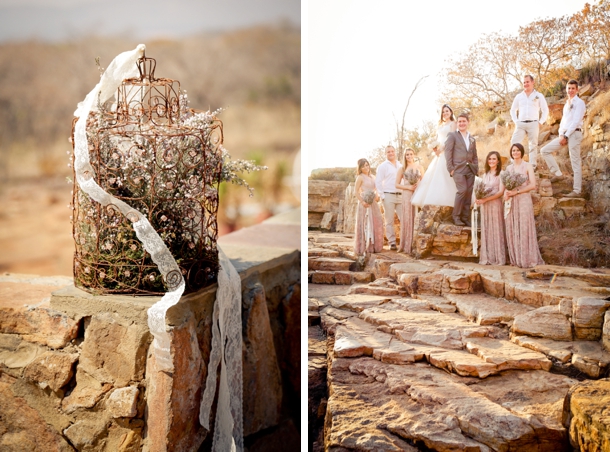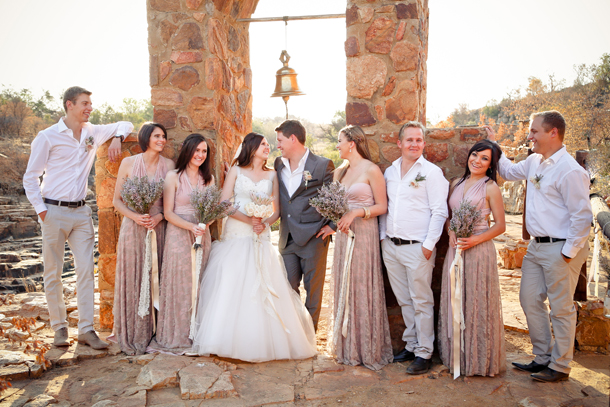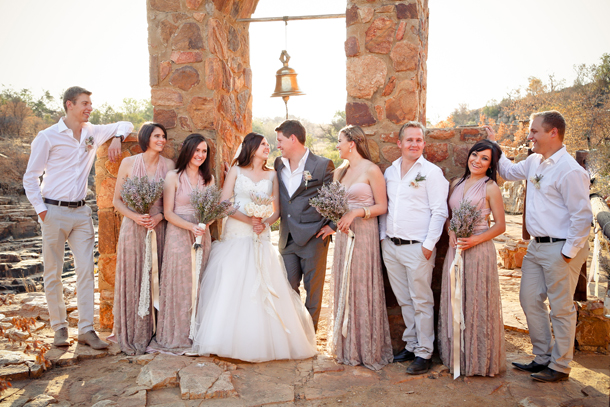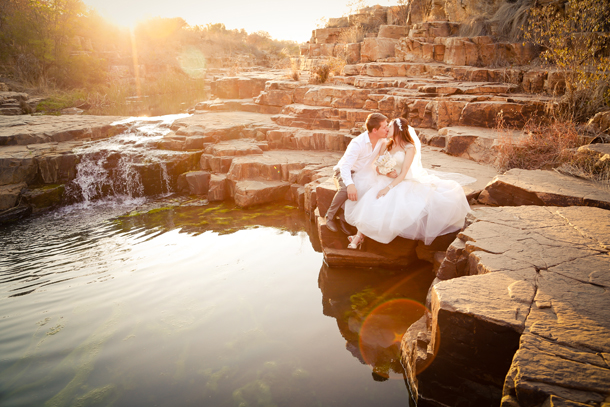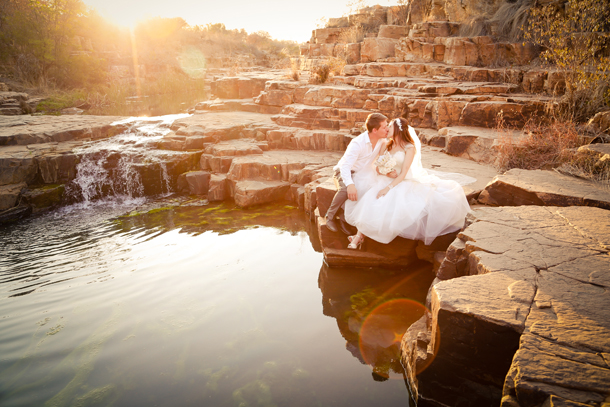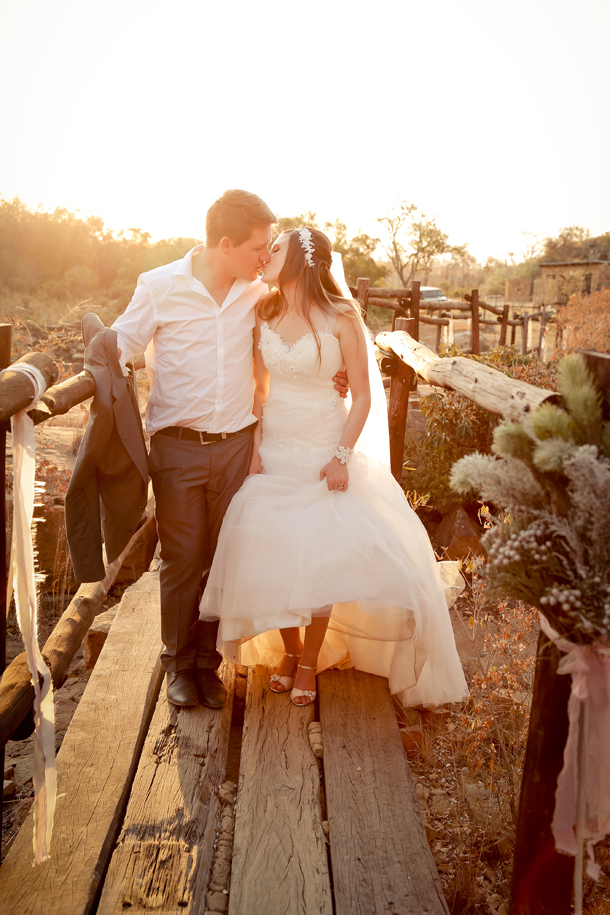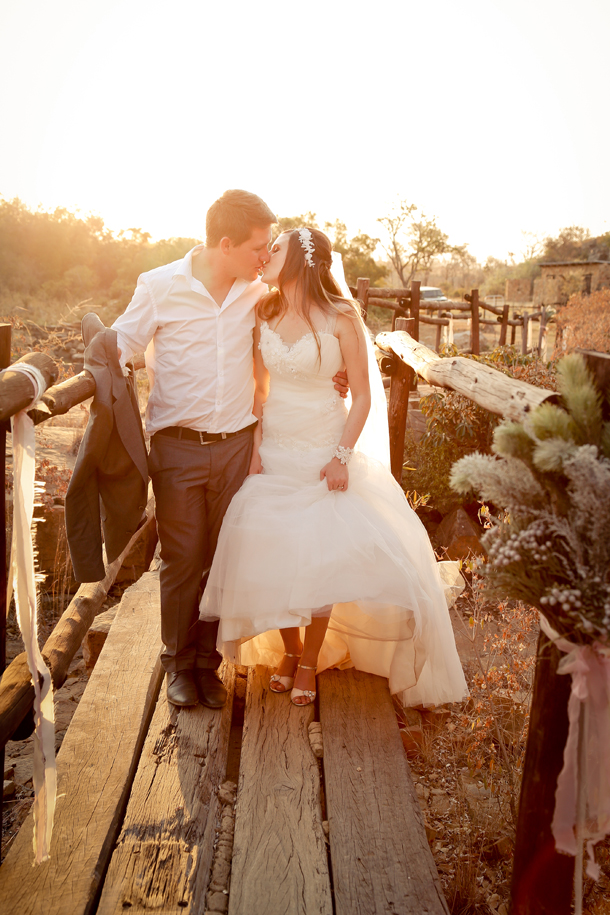 Memorable Moment
Seeing the reaction on Jaques' face as I walked down the aisle was really the highlight for me. I had never seen him smile so much or be filled with so much emotion! That moment I will treasure forever!
The Honeymoon
As much as he tried to keep it a secret (which he is not good at at all!) he accidentally spilled the beans two weeks before the wedding! I was ecstatic to hear that we were going to Mauritius. It was wonderful and everything you could wish for on your honeymoon.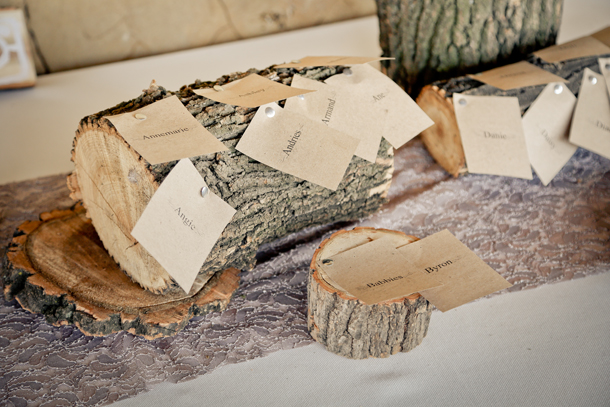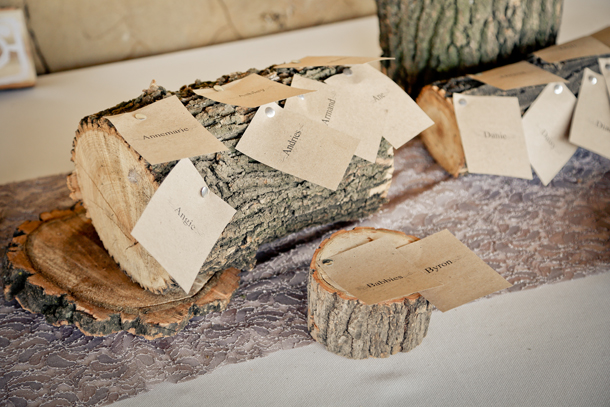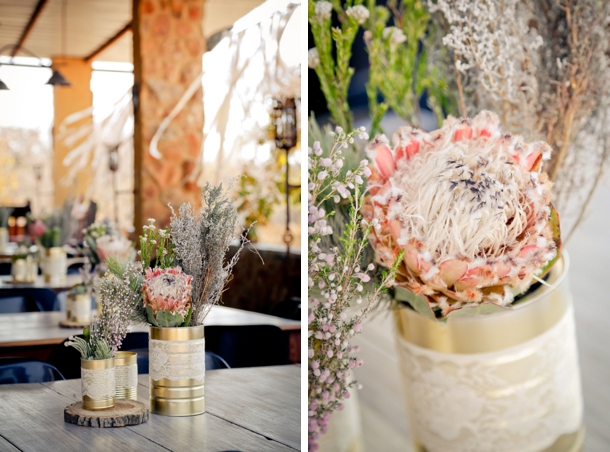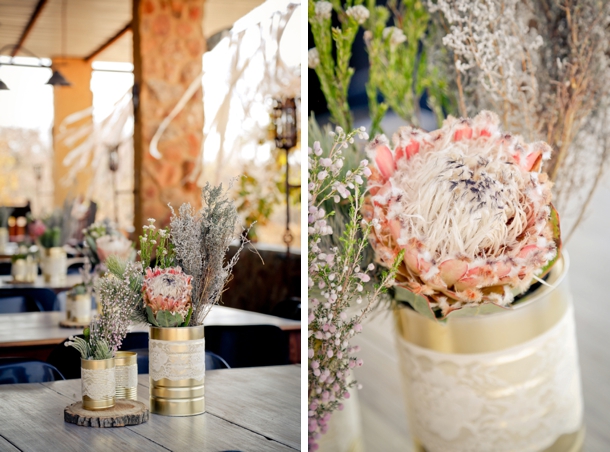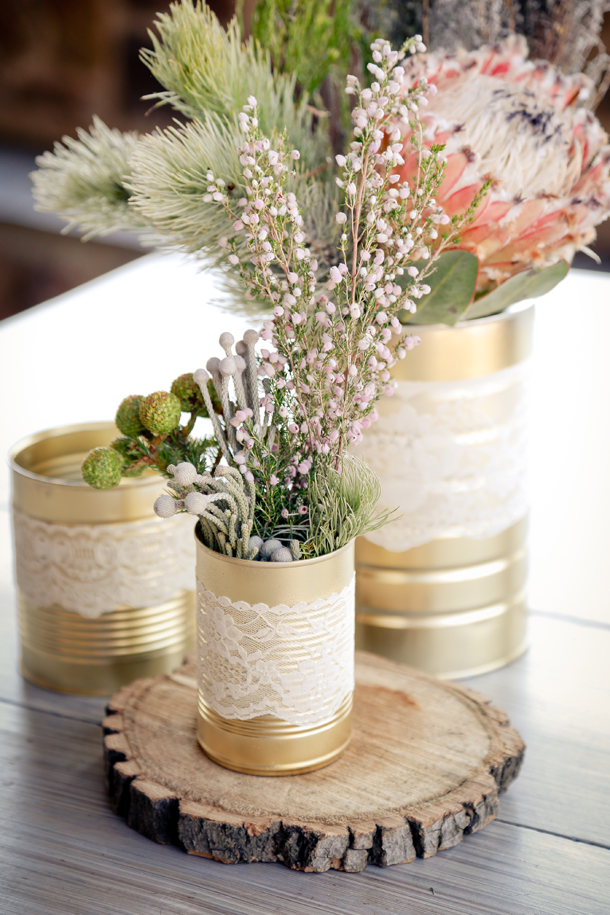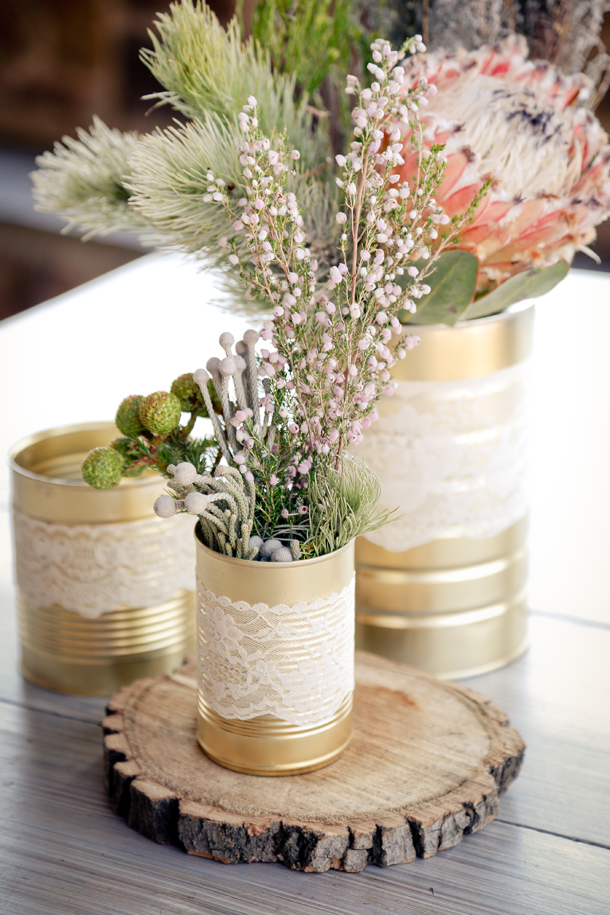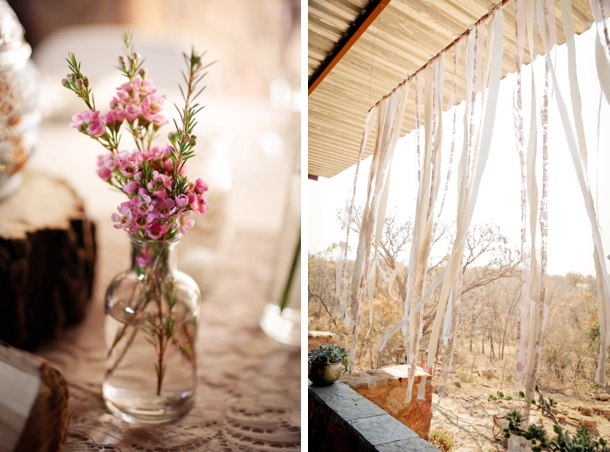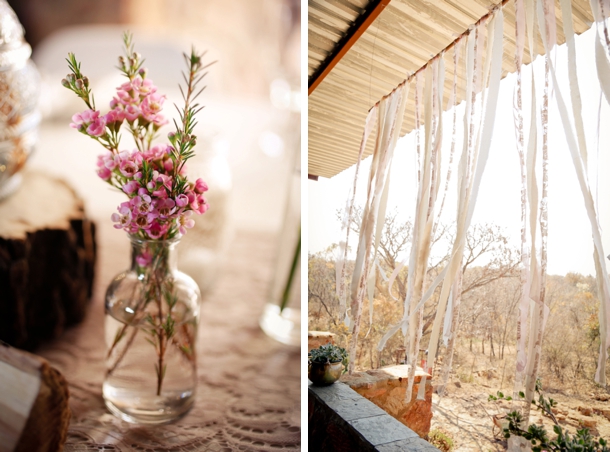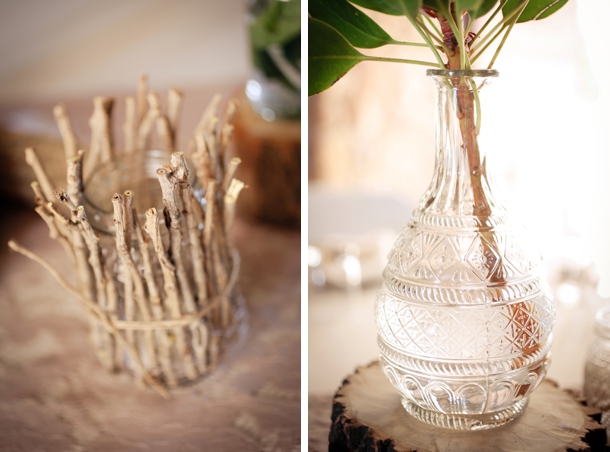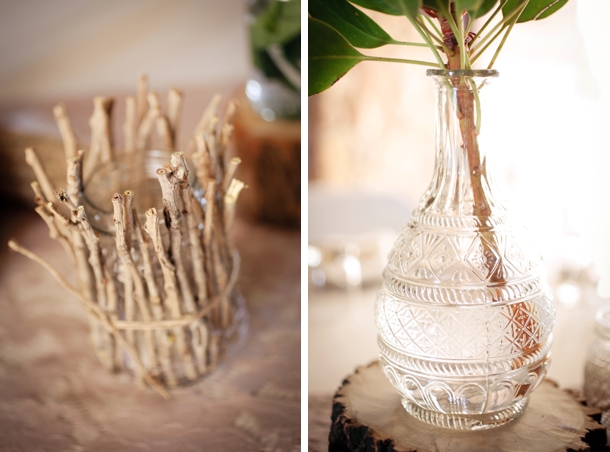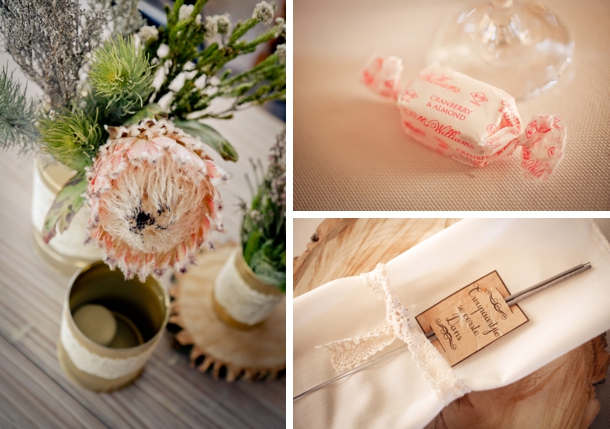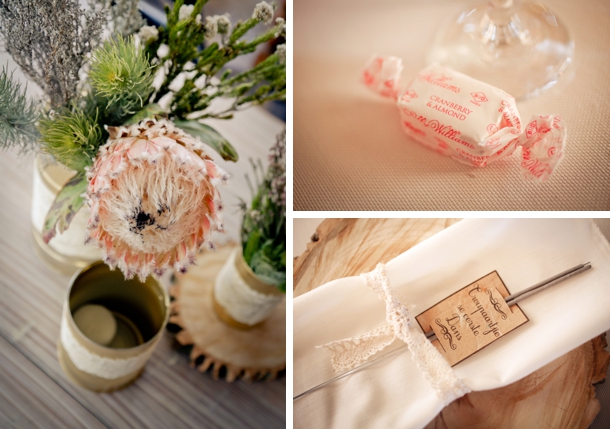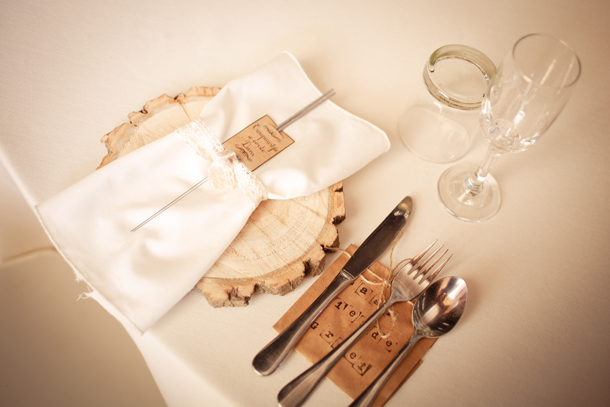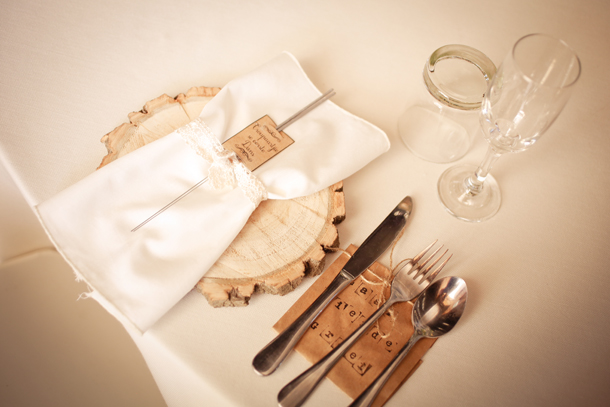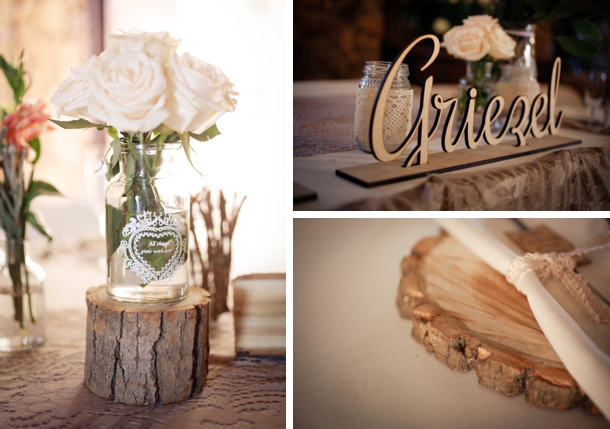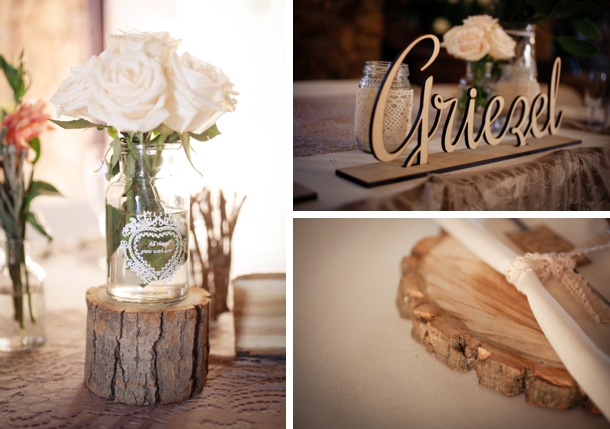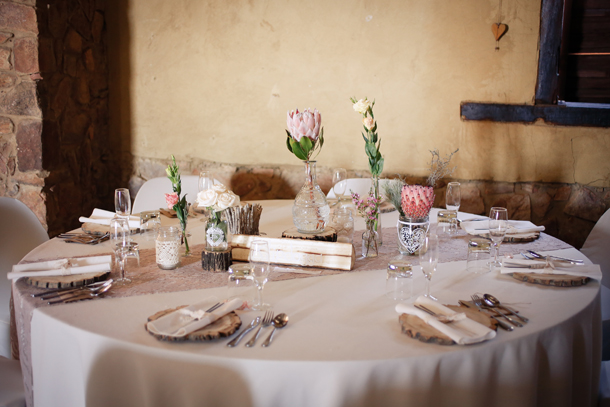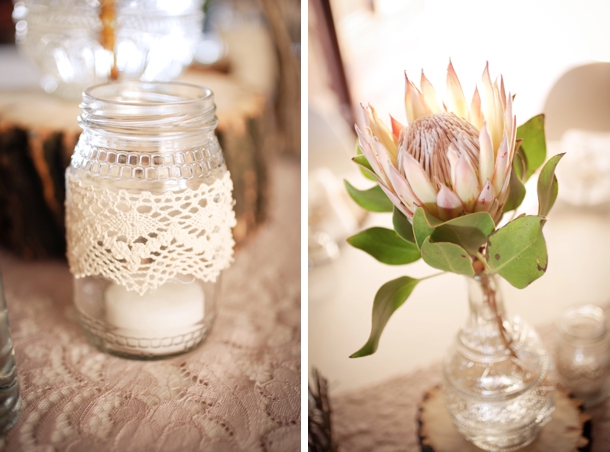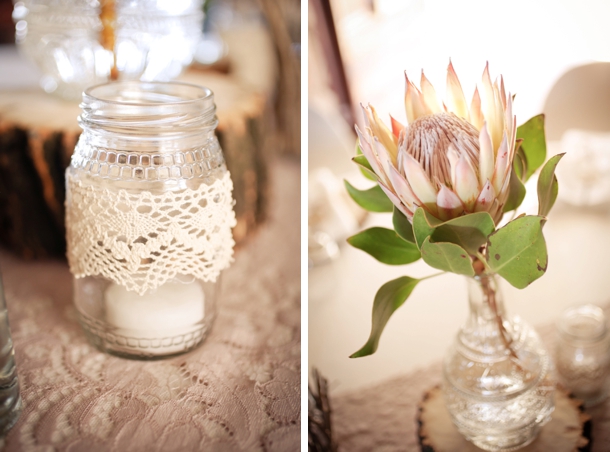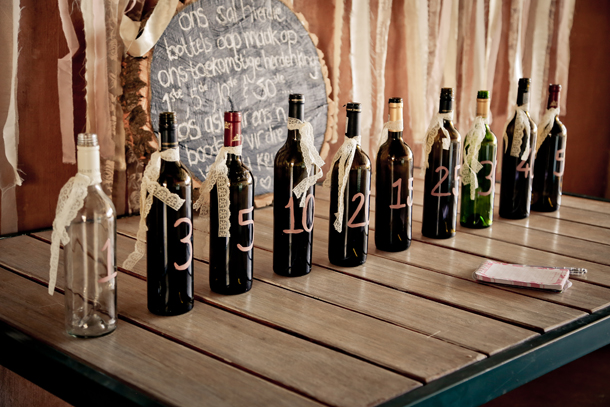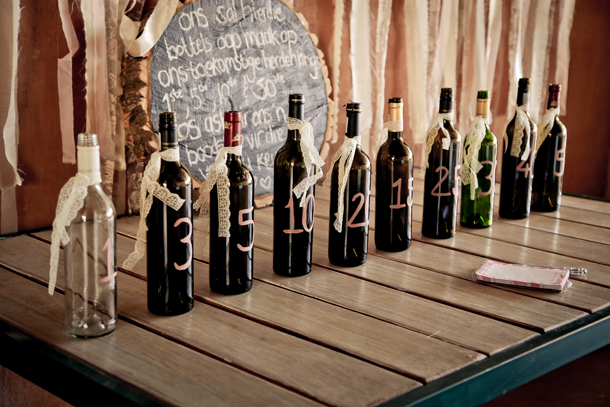 Advice for Future Brides & Grooms
I know everyone tells you to "take it all in," but REALLY do that! It all goes by so quickly and afterwards all you have left are the memories. Also, if there is something that you really want on your special day, do it! This is your day and you have to enjoy every second of it. If it is important to you, you will find a way to make it work! No regrets!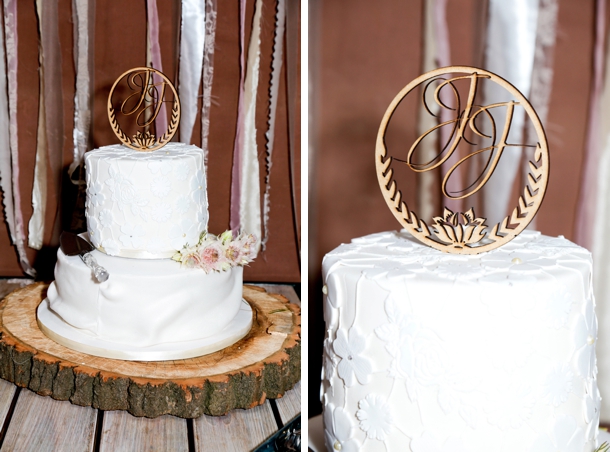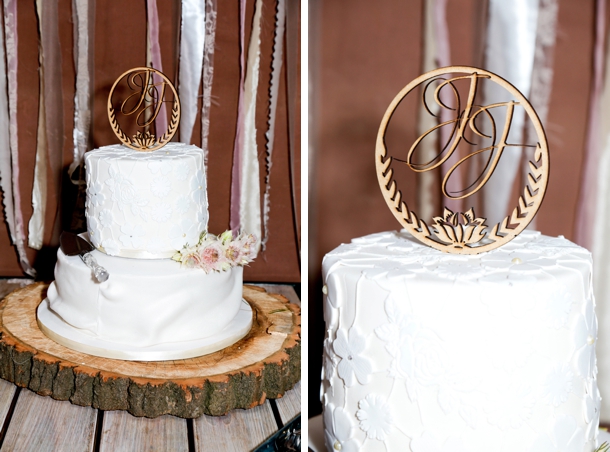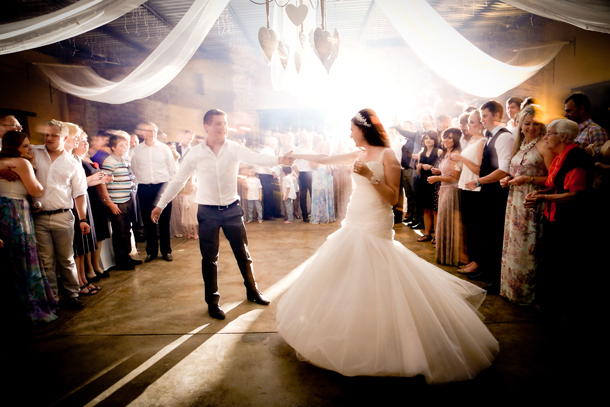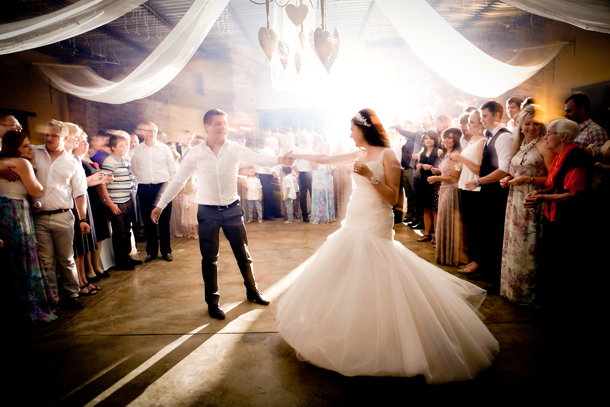 You can see more from this wedding on the 5 Talents Photography blog.
SERVICE PROVIDERS
Venue, catering & DJ: Makinky Manzi | Photographer: 5 Talents Photography | Videographer: Luvstruckfilms | Cake: Belle's Patisserie | Bride's dress: Eurobride | Bride's accessories: Kathleen's Bead Studio | Hair: Toffas Salon | Makeup: Nadine | Bridesmaids' dresses: Gelique | Groom's attire: Zara | Cake topper: Cassandra.D | Lasercutting: Raven Lasercutting