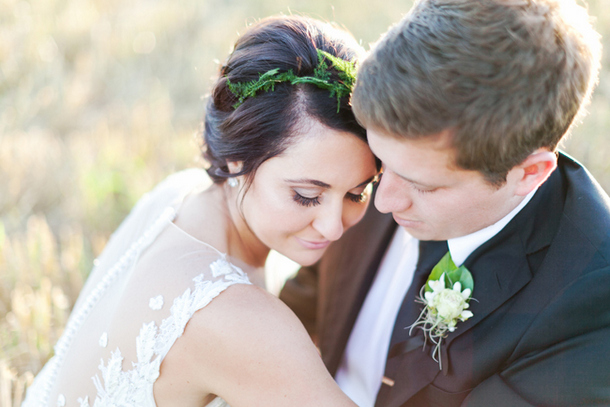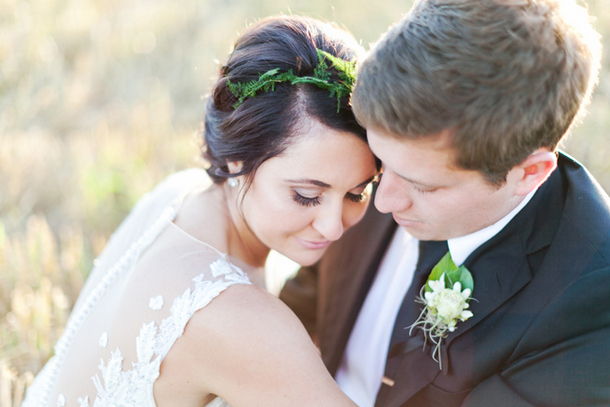 Oh, this wedding. I'm pretty sure there's a picture dictionary somewhere with some of Moira West's gorgeous images from Joyle & JP's big day illustrating 'chic', 'elegant', and 'amazing'. First of all, there are flowers – tons of them. Huge swags and wreaths and garlands, so pretty they absolutely blow me away. (To see how the clever bride made these work double time on a budget, see below.) Then there's Joyle's dress, which OMG is absolutely breathtaking. As are the sparkly, embellished beauties that her bridesmaids wore. It's such a beautiful take on classic glamour, and there are so many fab ideas to inspire other brides. So get ready to fall in love…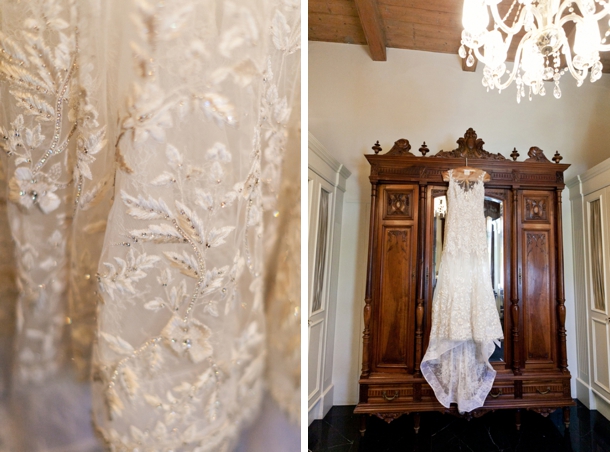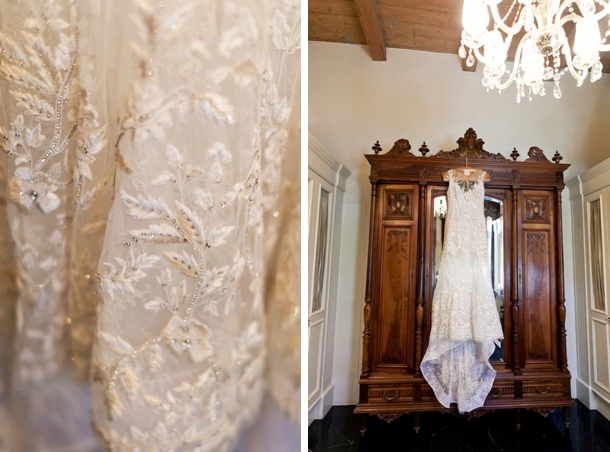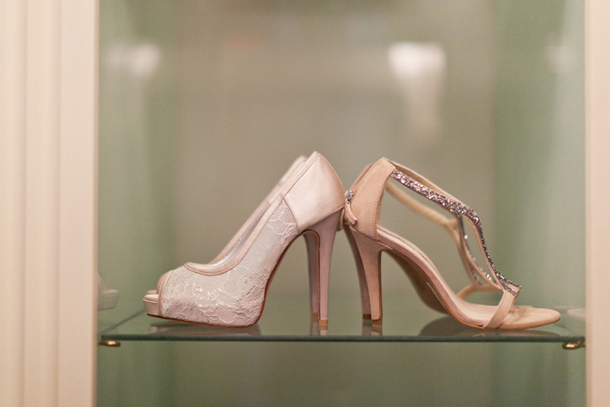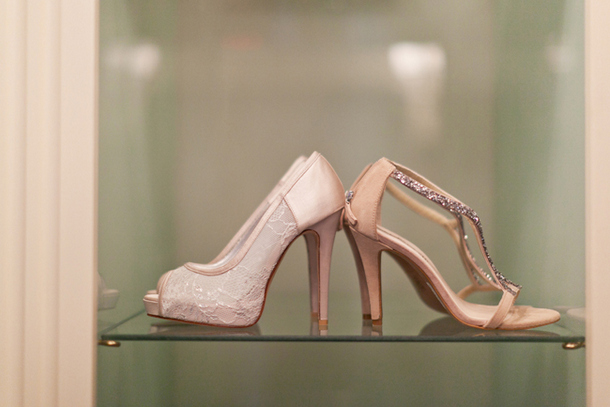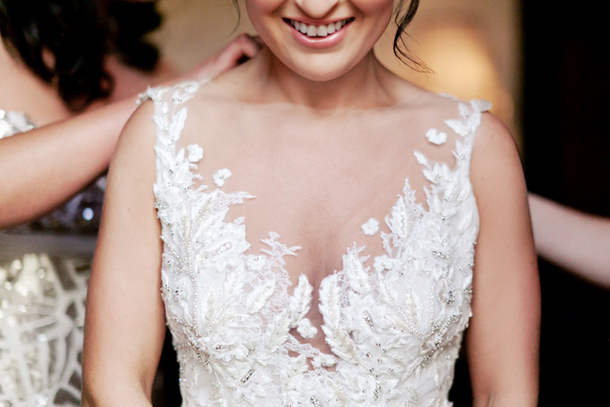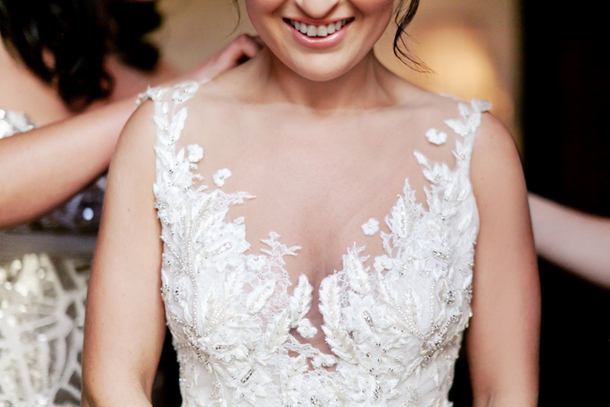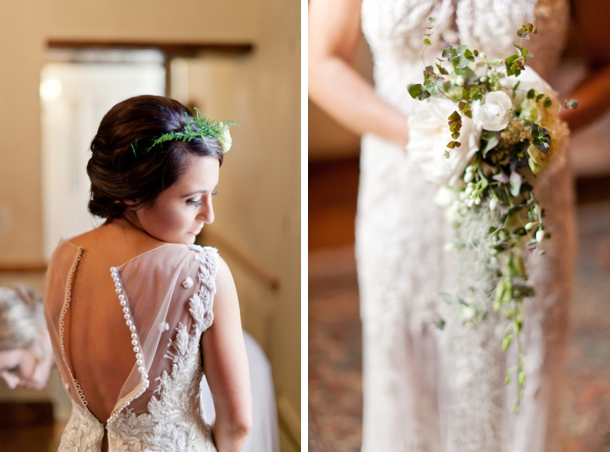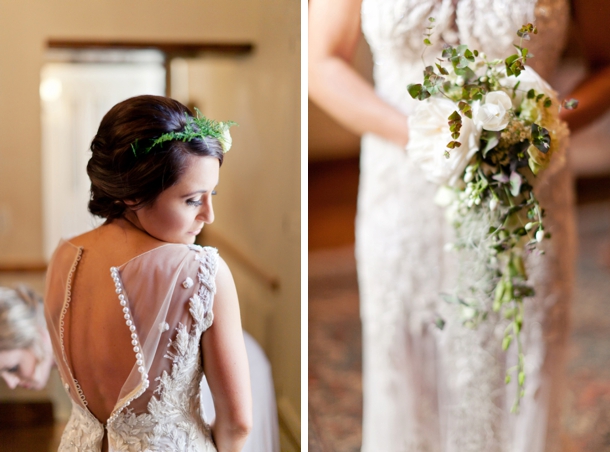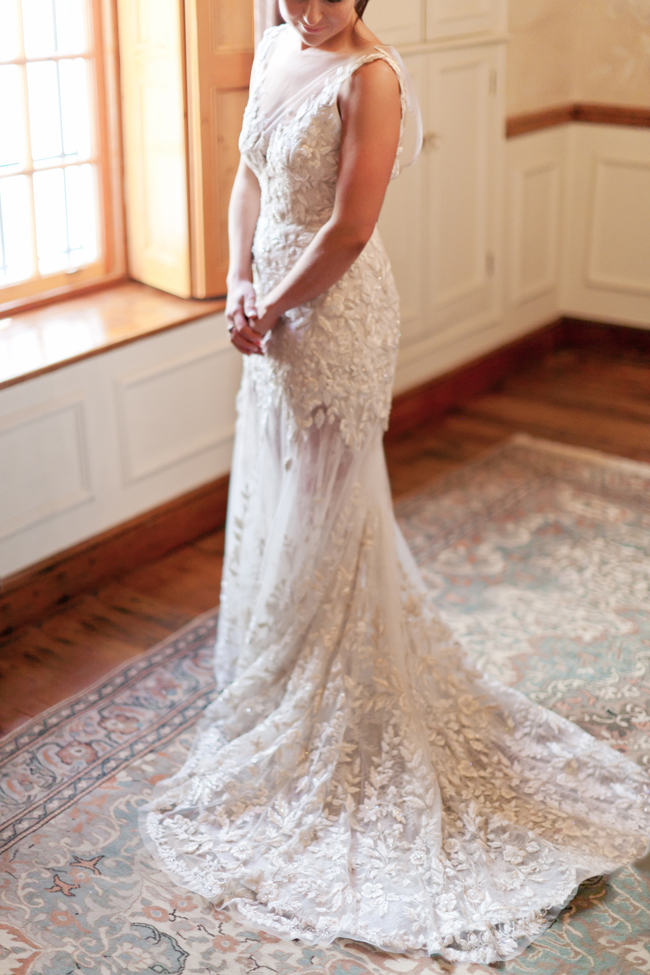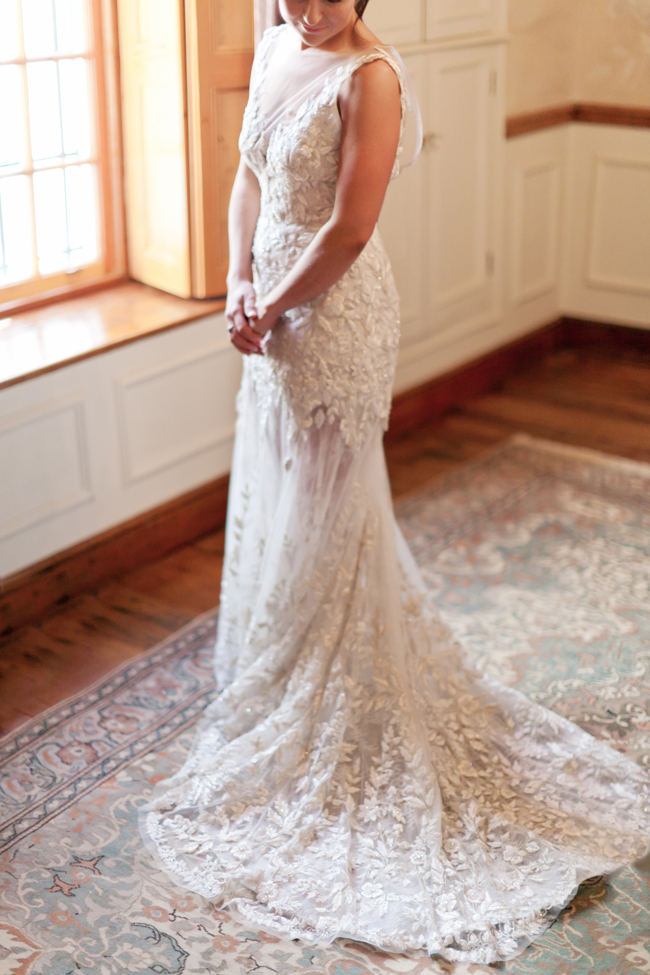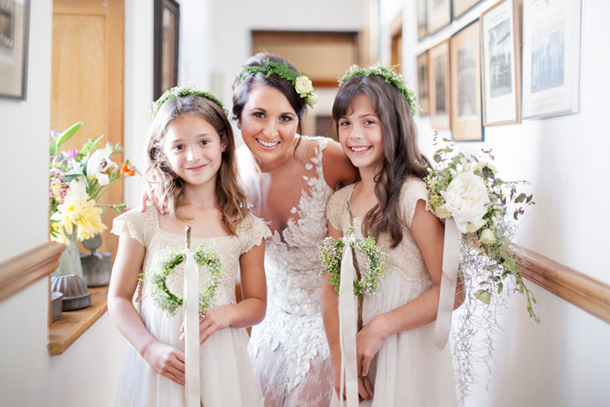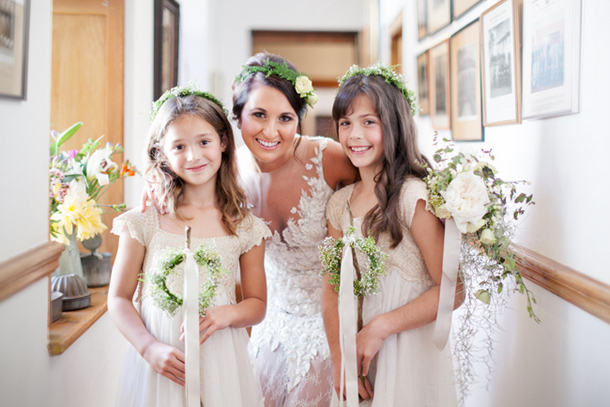 Love Story
Our fathers were very good friends and our families have know each other for almost ten years. The two of us though, had never met. One Sunday J.P. stopped to visit my parents on his way back to the Karoo and luckily I was home. Later on, both of us had to admit we were hoping to meet each other. We didn't speak much that day (for the first time in my life I was shy), but started chatting soon afterwards. Two weeks later, he came to visit me and took me on a date. After that first weekend there was absolutely no doubt in mind that I was going to marry that man. One thing led to another and three months later we got engaged!
The Proposal
We were at my parent's house (again) and on our way to visit friends in Jongensfontein for the day. As I came out of the bathroom, still with a towel wrapped around me, he was waiting for me on bended knee. I can't remember everything he said. What I do remember is that I couldn't get a word out, but it was the best feeling I have ever felt and eventually I managed to say yes. What made the day even more perfect was to be able to celebrate it with family and friends.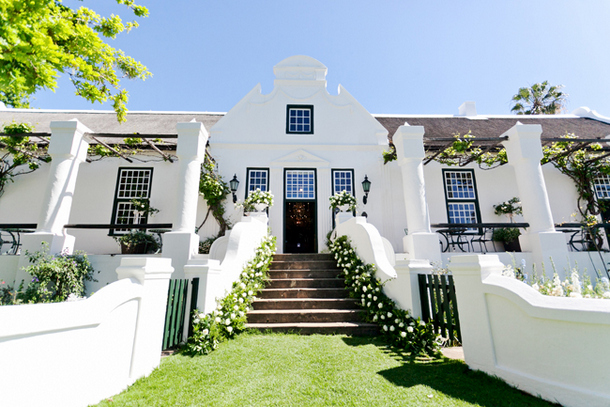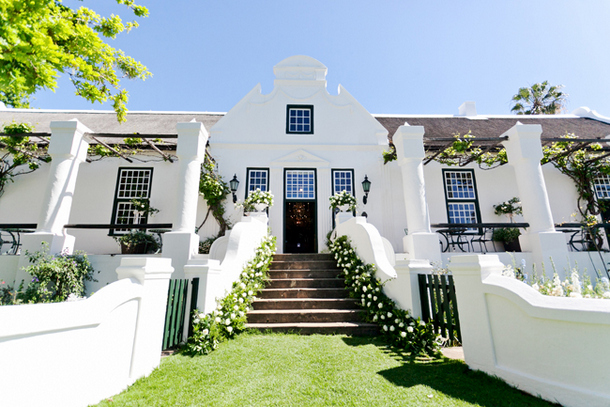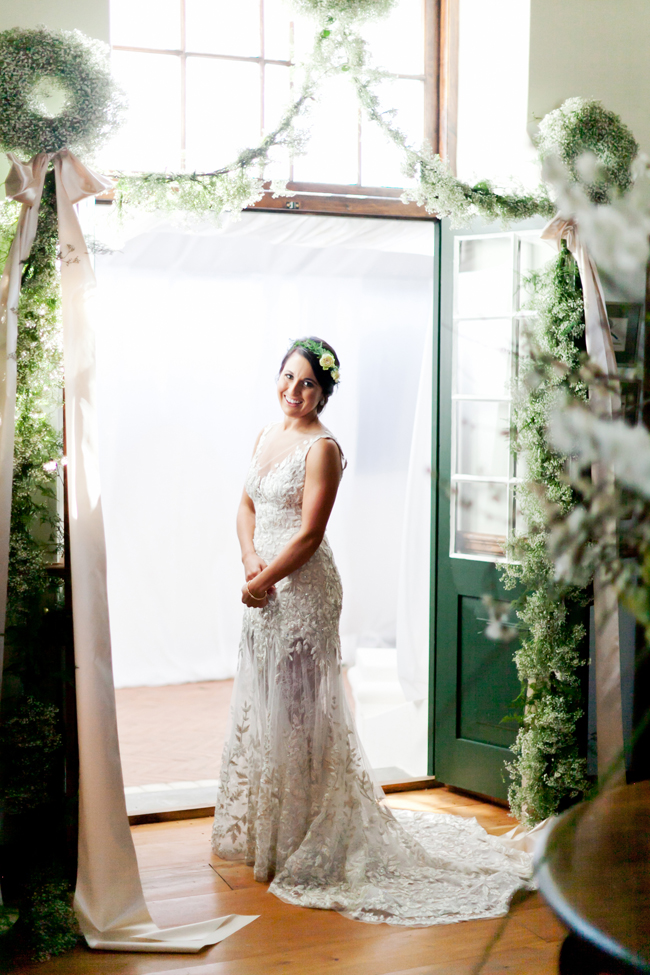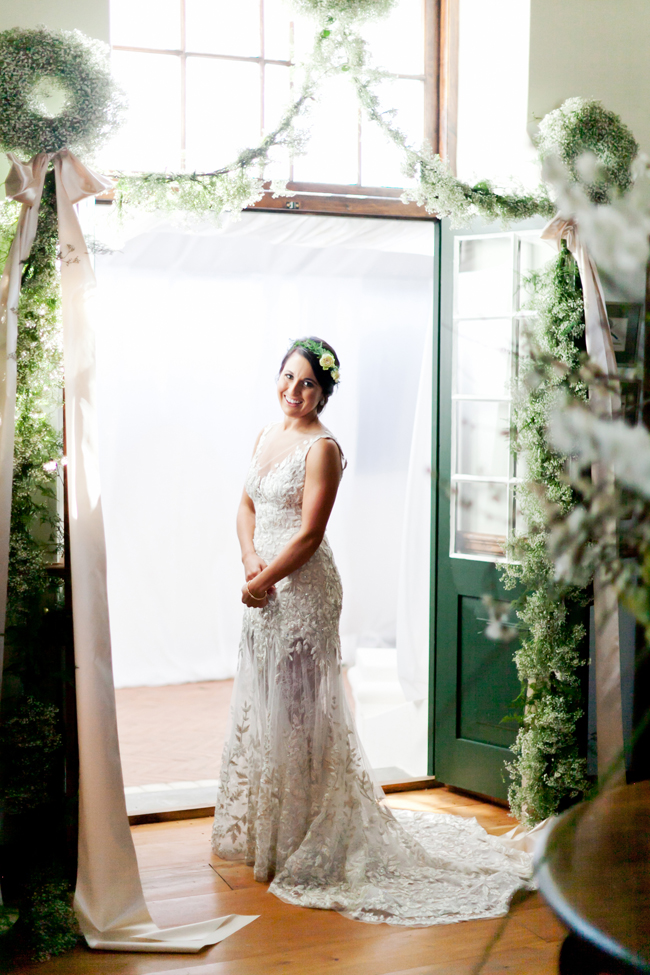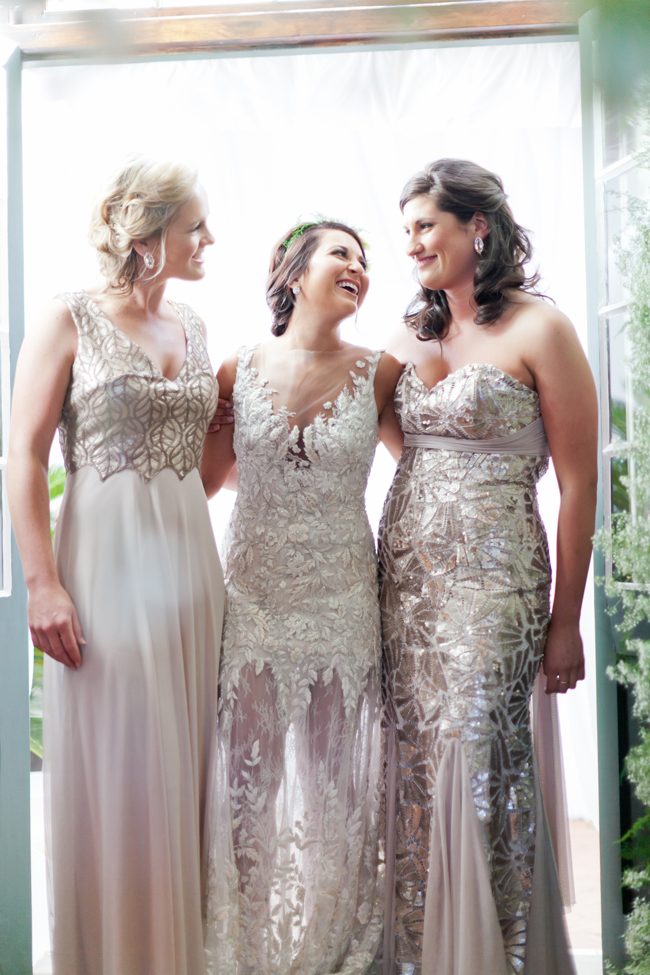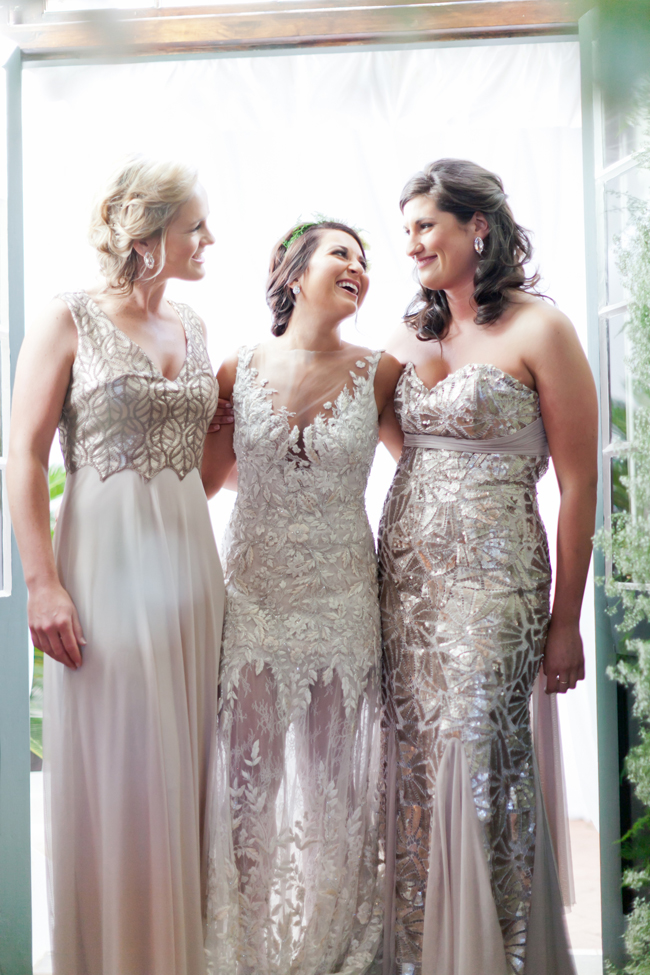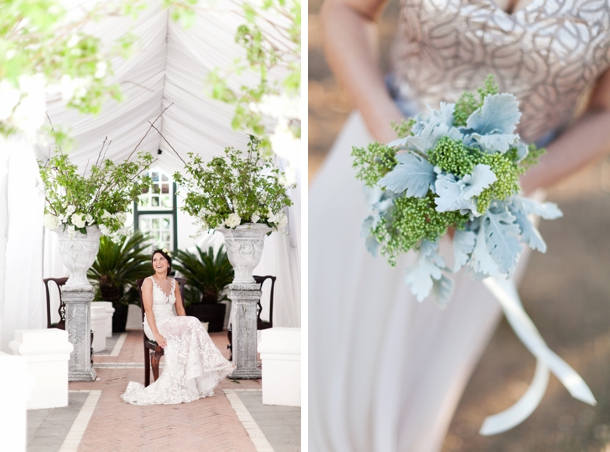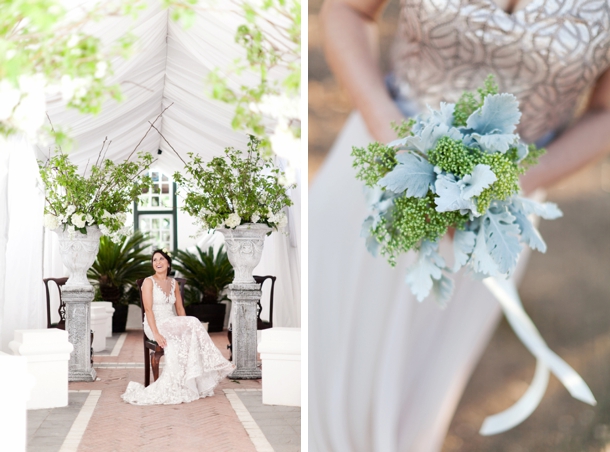 The Venue
I grew up in Swellendam, so the town is part of my heritage.  I never even considered getting married anywhere else. Swellendam has the most beautiful church, which we attended as a family and this is where we had our ceremony. My parents live in an old Cape Dutch house, one of the oldest houses in Swellendam. The house is only a few kilometres outside of town – so it was a huge blessing to be able to have my wedding reception at home – the same place where I met my husband and where we got engaged.
Wedding Style
The colours we chose were navy, white and antique gold. We wanted the wedding to be simple yet formal in terms of the course of events and the stationery. The ceremony had a classic, dramatic feeling with bold flower arrangements. We also used broad ribbons that we draped in the church and made perfect big bows with. The church is very large and I wanted the decor to make an impact.
For the reception, the guests entered our house at the front door. The reason for this decision was because we wanted our guests to feel "at home". Our parents stood at the door and greeted everyone as they entered. There were flower arrangements placed throughout the house – on the tables, on every windowsill, inside the bathrooms, etc.  For pre-drinks, the guests congregated around the pool. We created a lounge atmosphere with white couches, small bar tables and chairs. We wanted to create a contrast for the reception decor. We decided to only have flowers on the bridal table. We used the pots and flower arrangements from the ceremony, to create the same "bold" effect at the back of the bridal table. There were flowers on top of the whole length of the bridal table. We decorated the rest of the reception area with lighting. Our wedding monogram shone on the white dance floor, the big dark woven balls hanging from the roof were covered with fairy lights and the lights changed from shades of yellow to green, blue, etc. which created a perfect festive atmosphere.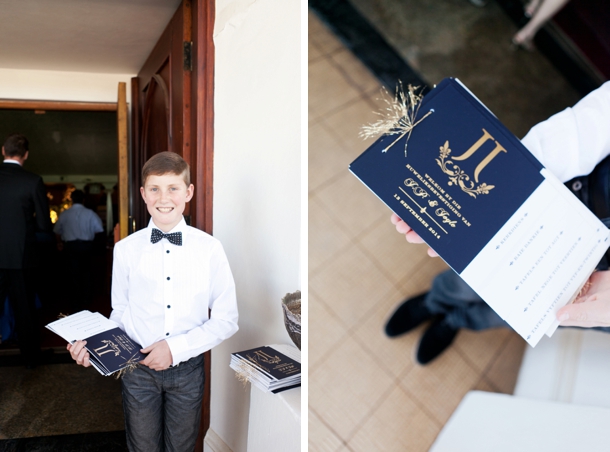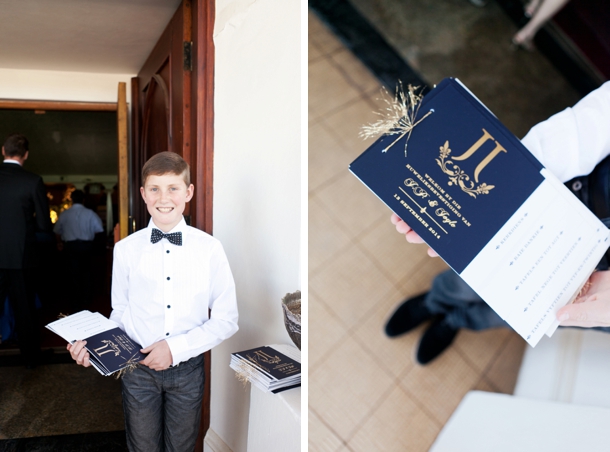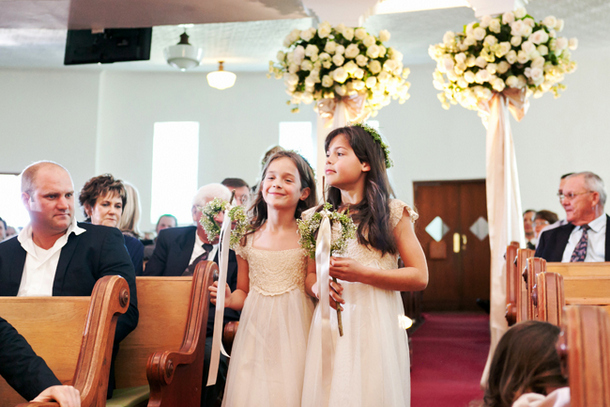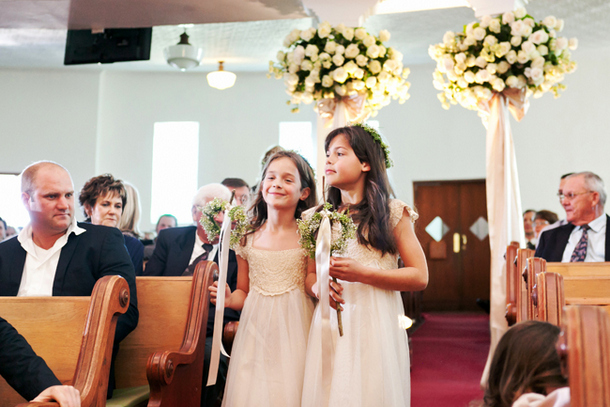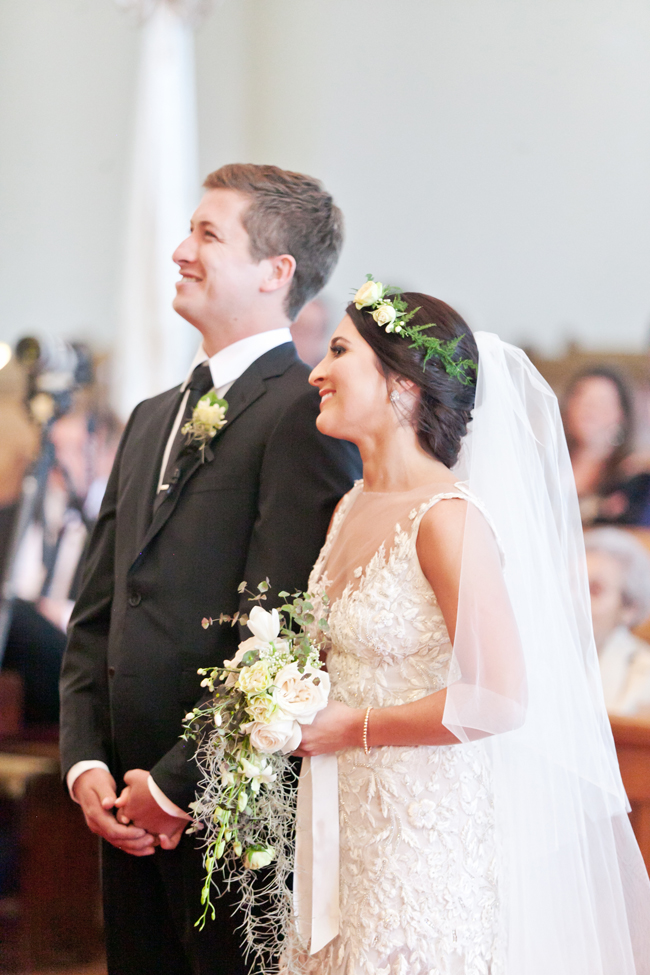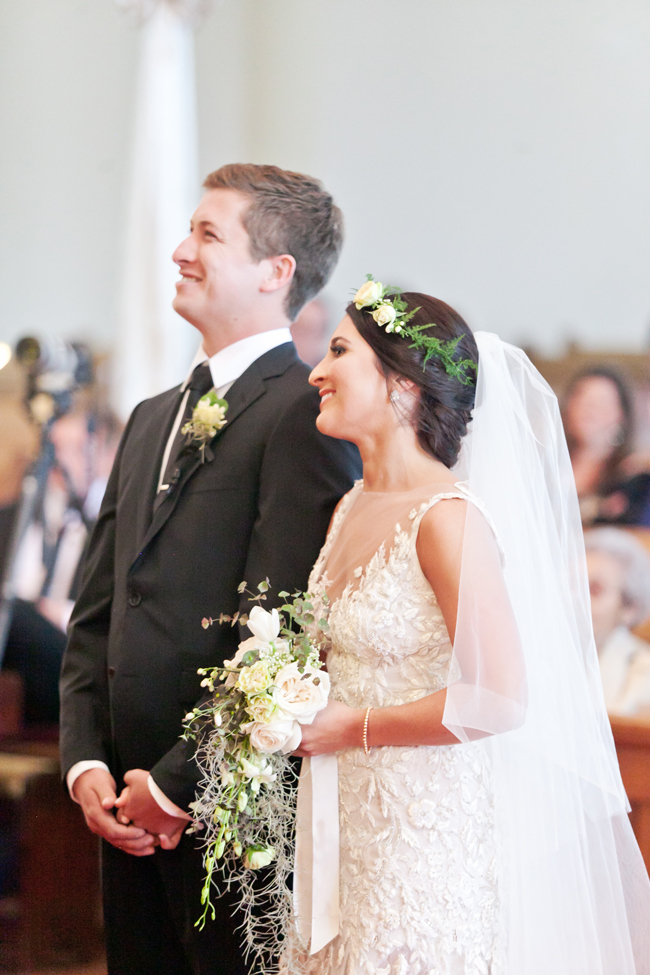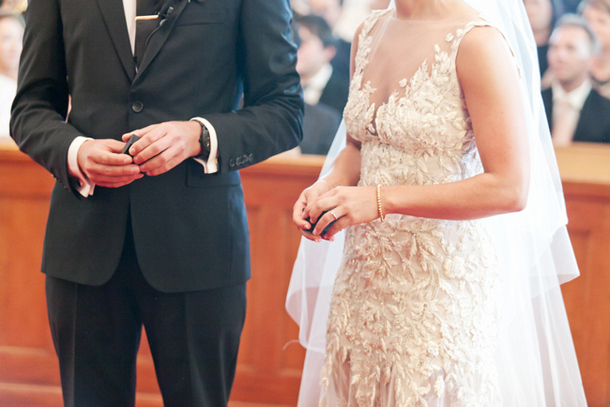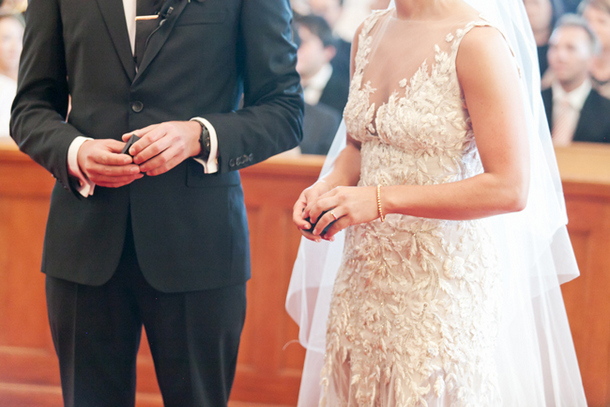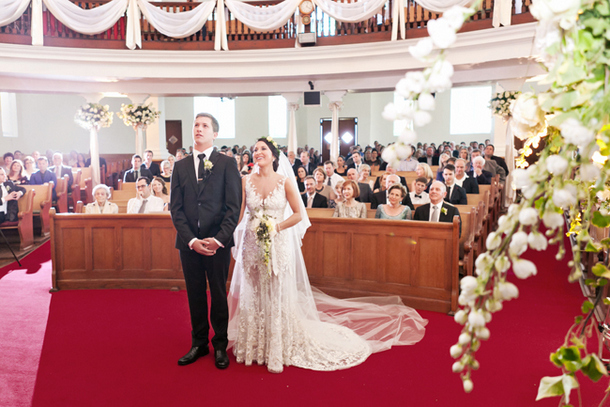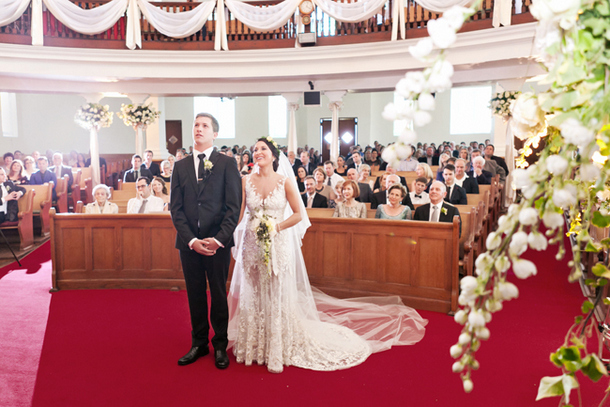 Wedding Details
JP and I like the same colours and have a similar style, which made it easy to decide on decor. We used our initials to create a monogram which featured on all our stationery. This made it easy to create the organised, formal feeling we wanted.
My husband and I both grew up on farms so we are used to country living and big celebrations. We decided we wanted to invite everyone who is special to us and we settled on 300 people! A lot of people say it is more personal when you invite a small group, but in our experience, it was the most amazing feeling to have all our family and friends under one roof.
Budget Elements
We had big flower arrangements, instead of hiring a lot of small vases for the tables (which also takes more flowers to fill). I stuck to only the necessary stationery: I emailed the save the date and made sure I didn't send printed invitations to people who had already RSVP'd "no"to the save the date. We printed the table seating list on the church pamphlet. From my personal experience, we saved the most money from getting quotes from different service providers and being precise with the amount of items we needed. Also, I was surprised with how much money you can save if you discuss prices and if you feel it is appropriate, ask for a discount.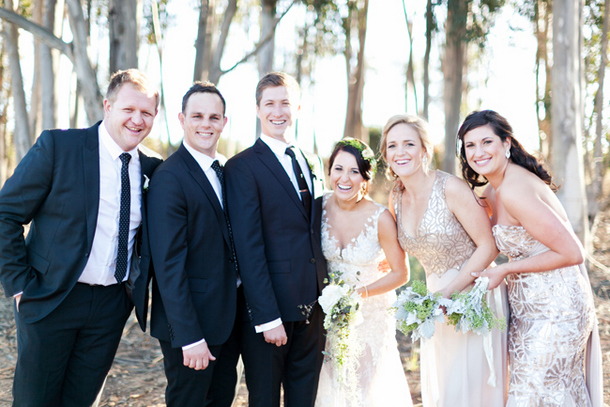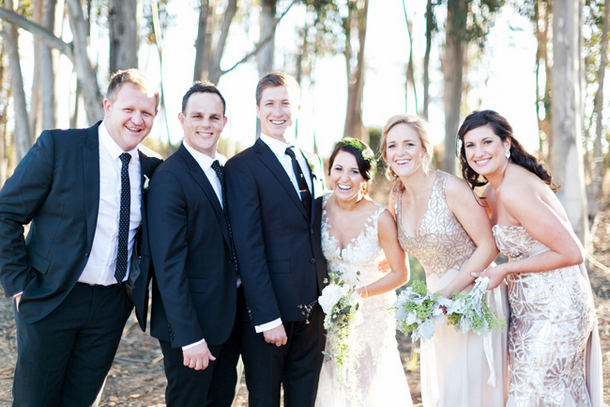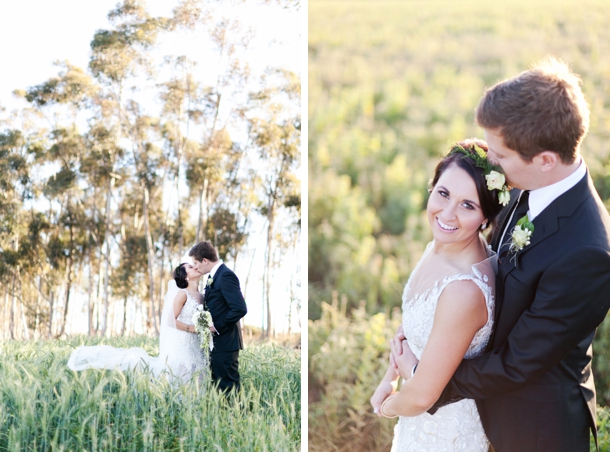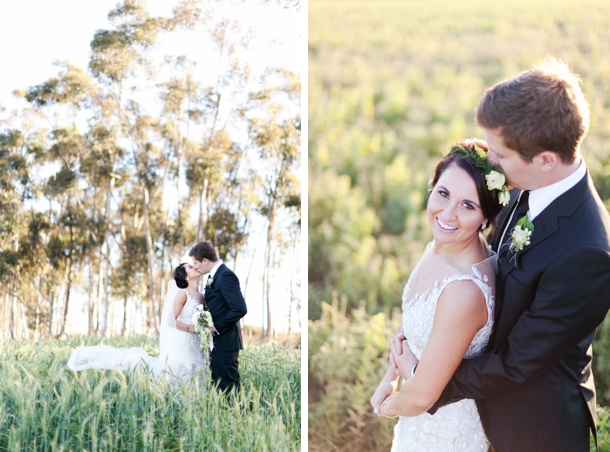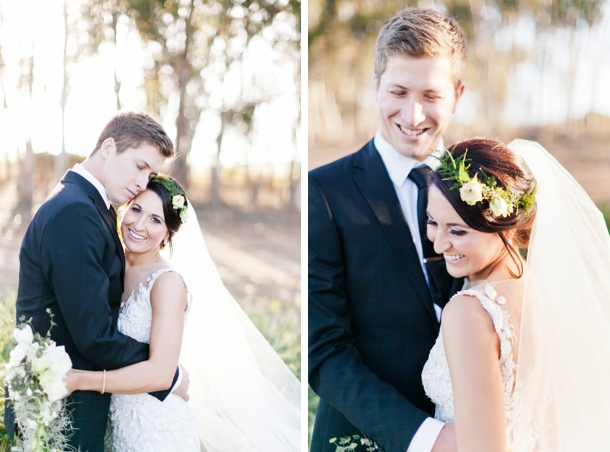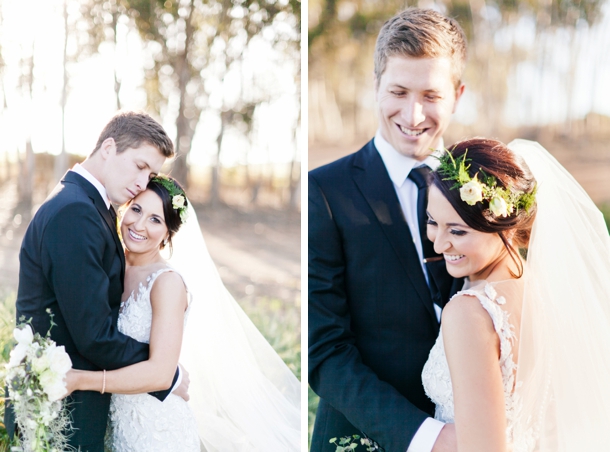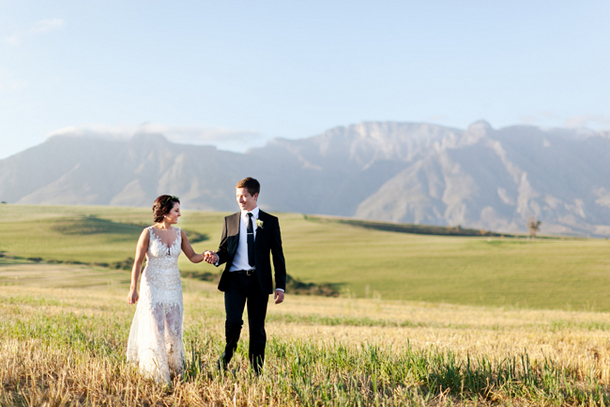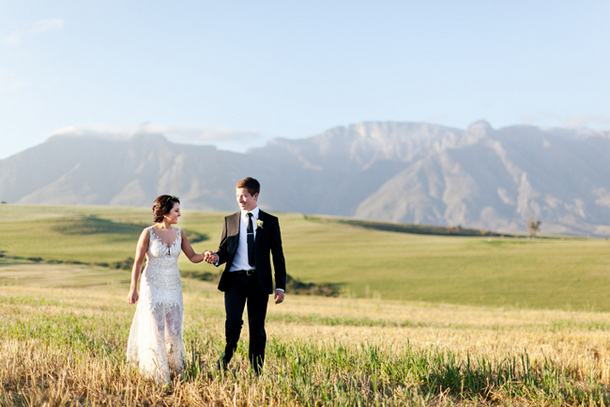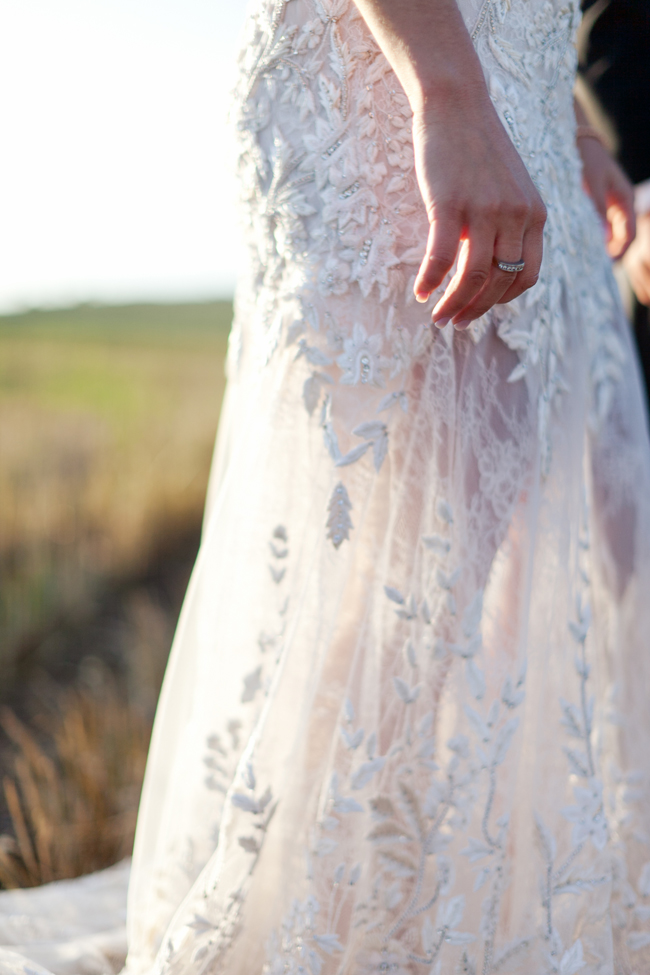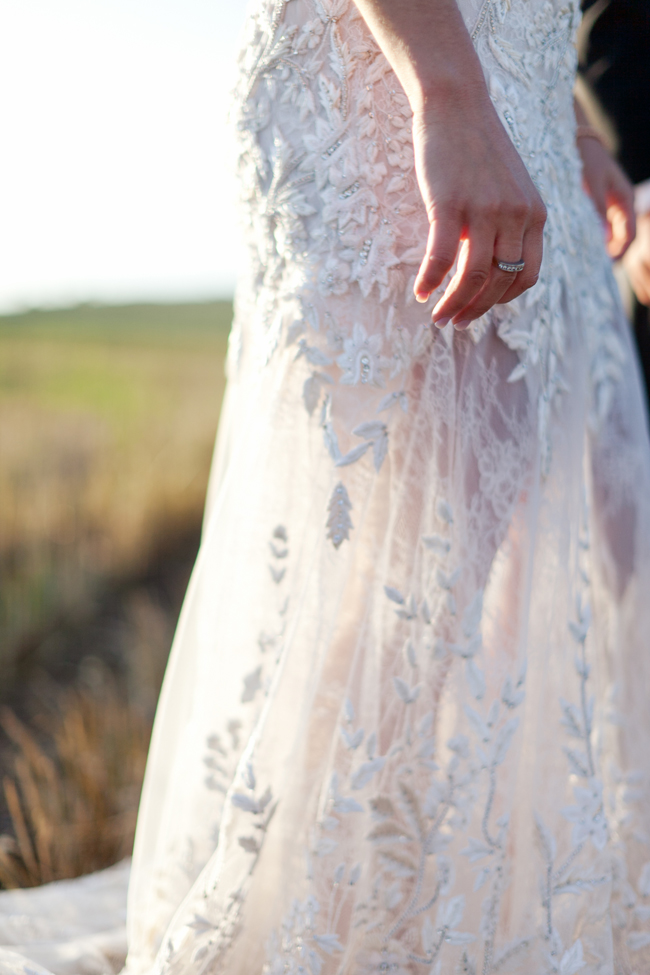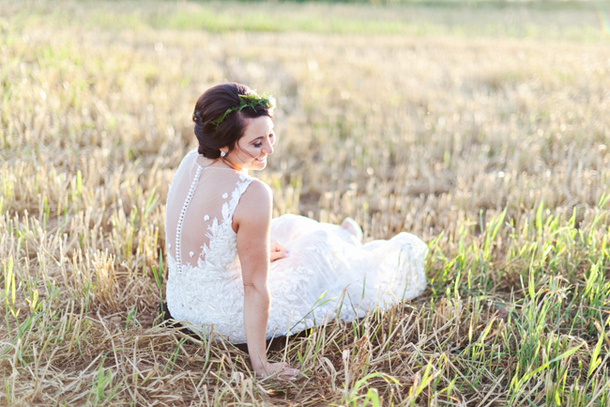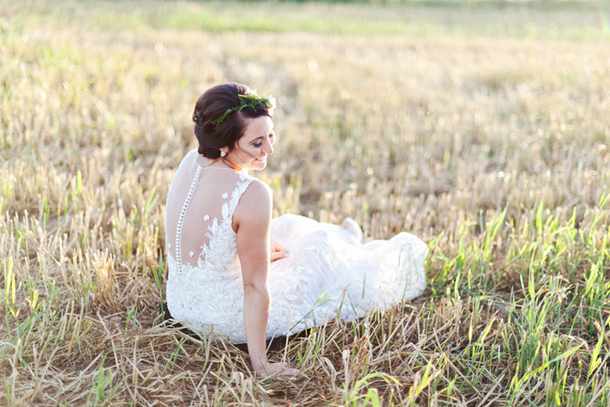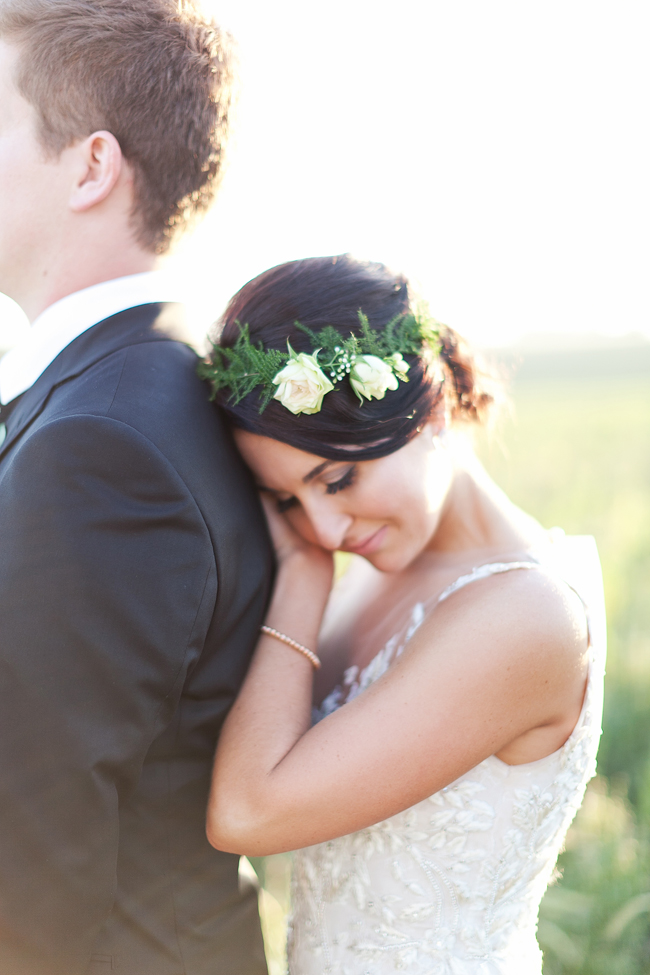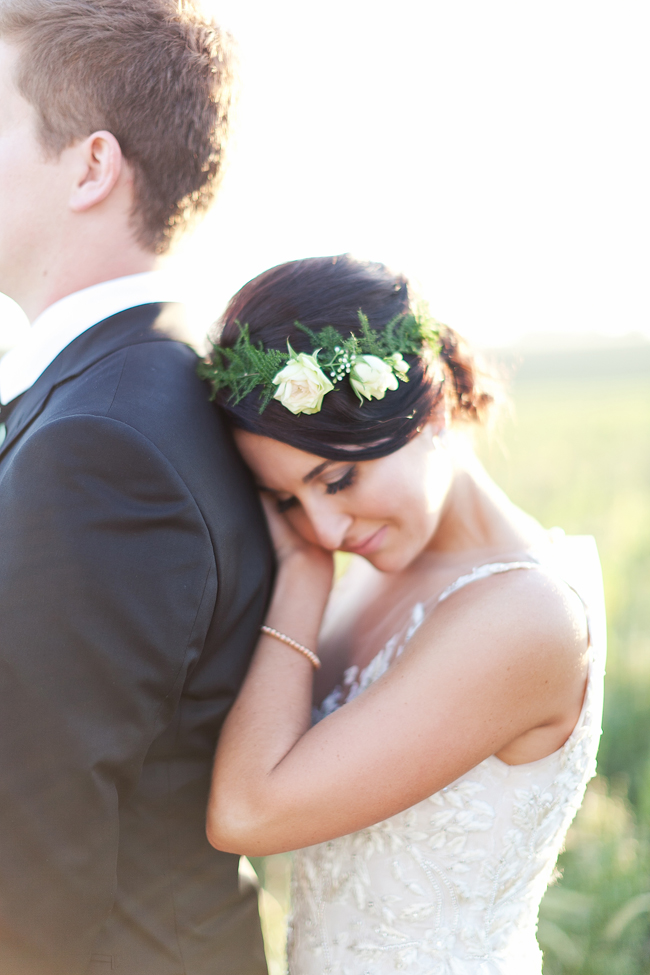 The Flowers
The church flowers in front of the pulpit, on the steps in front of the house, at the reception and on the bridal table were created using roses, white blossoms, white Christmas roses (Hydrangeas), Giant Delphiniums and some foliage. Roses were also arranged all around the pillars in the church and at the pre-drinks area. In the house there were gypsophila wreaths all around the windows. My bouquet consisted of roses, green orchids, grey twigs, Pepper tree berries, white tulips and Muehlenbeckia. The bridesmaid bouquets consisted of Cineraria Centuria (soft grey leaves) and Vibernum "knoppies."  The flower girls had Gypsophila fairy wands and head wreaths which looked very cute.
The Dress
I always knew I wanted the fabric of my dress to be the main focus. I wanted my wedding dress to be the most beautiful dress I will ever have. I went to Kobus Dippenaar and saw a sample of lace and I immediately knew this was what I was looking for. Kobus helped me to put my ideas together and in the end I could not have been happier!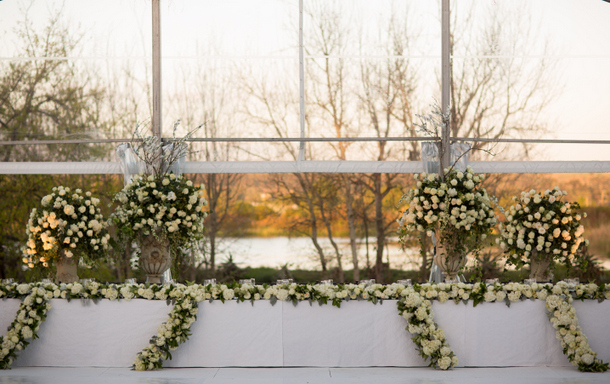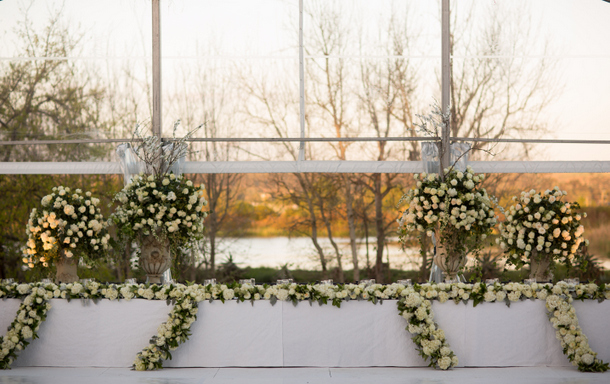 Image above by Joe Dreyer
Memorable Moments
I don't know where to begin… all the flowers, the morning I spent with my bridesmaids, the excitement when my brother come to pick us up and drive us to church, walking down the aisle next to my father, seeing my husband for the first time, coming down the steps and entering the reception area with smoke blowing as we walked, the speeches (especially my father welcoming everyone as if we were sitting around the family dinner table) and our first dance. Every once in a while I just stood still and tried to take everything in. It was an amazing feeling to see everyone laughing and enjoying themselves while realising "this is my wedding day!" One final thing – my husband made sure we danced as much as possible!
Proudly South African Details
Lots of good food and local products, especially meat. Good wine from a farm in Durbanville called Diemersdal, and lots of "langarm" dancing. My husband and I left the wedding at 4am and we weren't the last people to go home.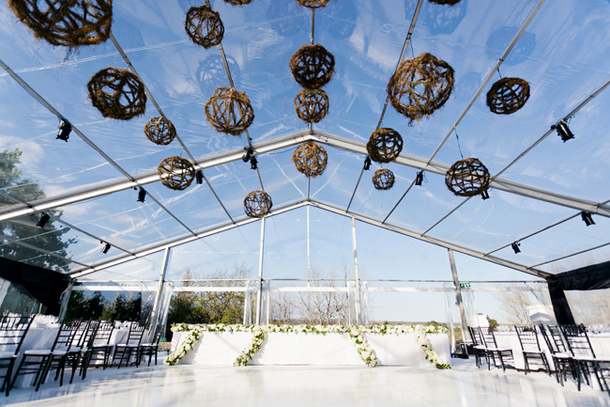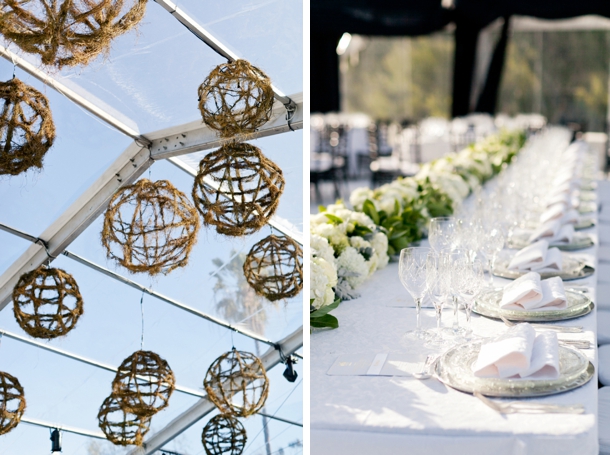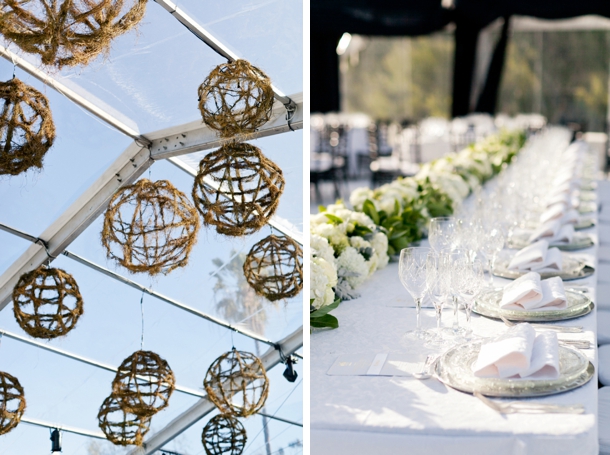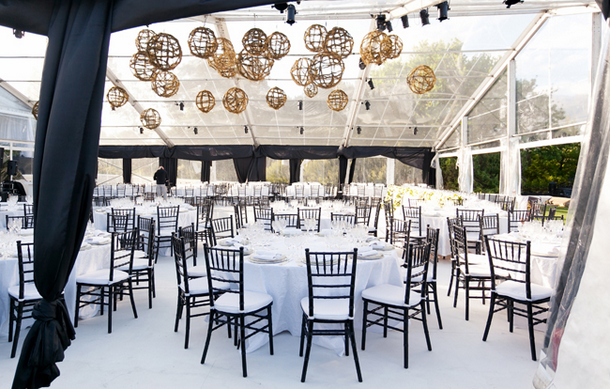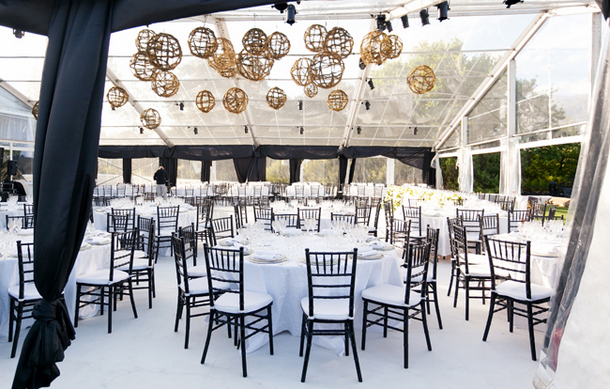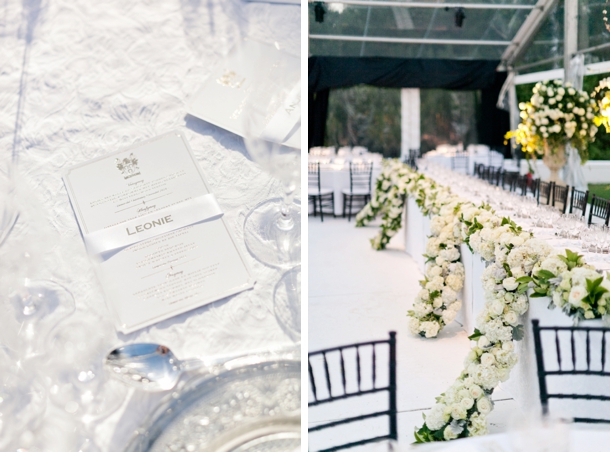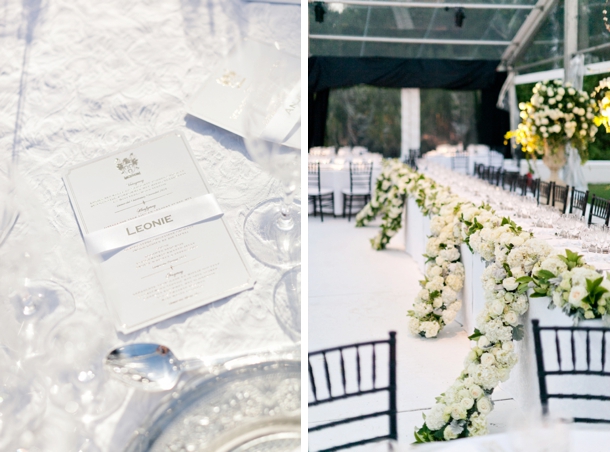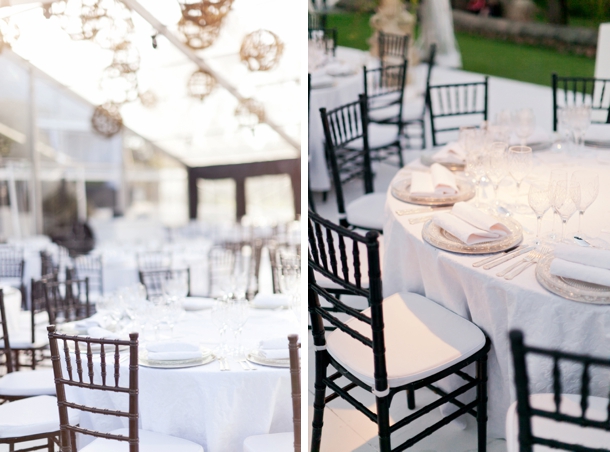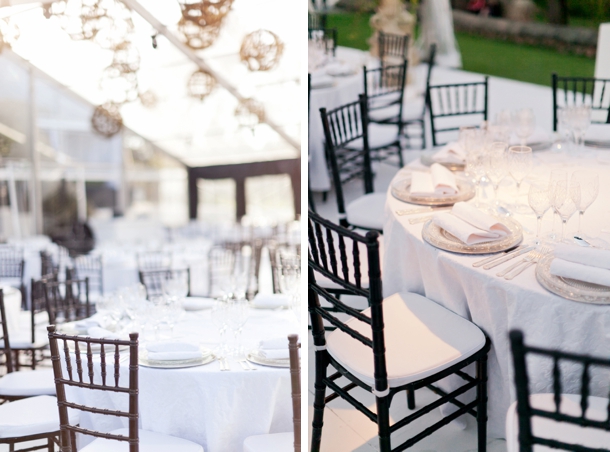 The Honeymoon
We went to Barcelona, Monaco, Paris and Mykonos. I knew where we were going, but my husband arranged everything. It was the best holiday of my life!
Advice for Future Brides & Grooms
All the time and effort that goes into planning this one day of your life is worth it! If possible, choose service providers you are comfortable with and that share your taste and style – we were so blessed with ours! A good photographer and videographer are essential! Appreciate your family and friends for all their support and help throughout the planning. Remember it is about the story, not just the happy ending!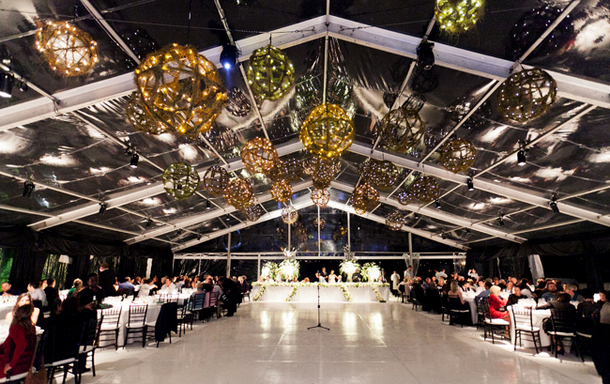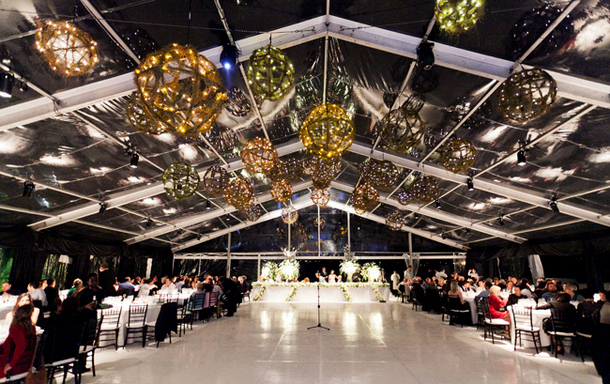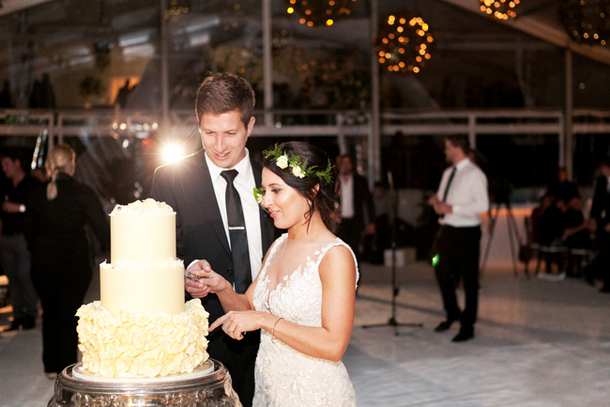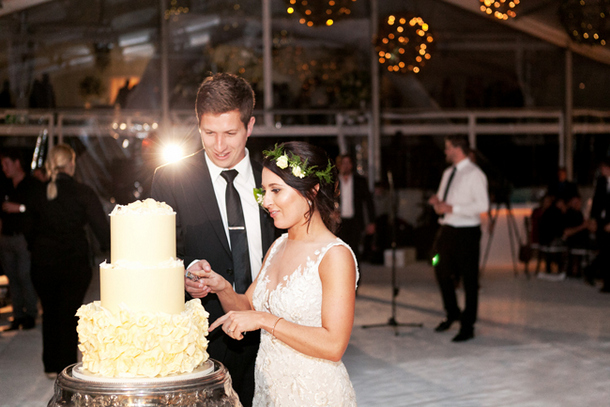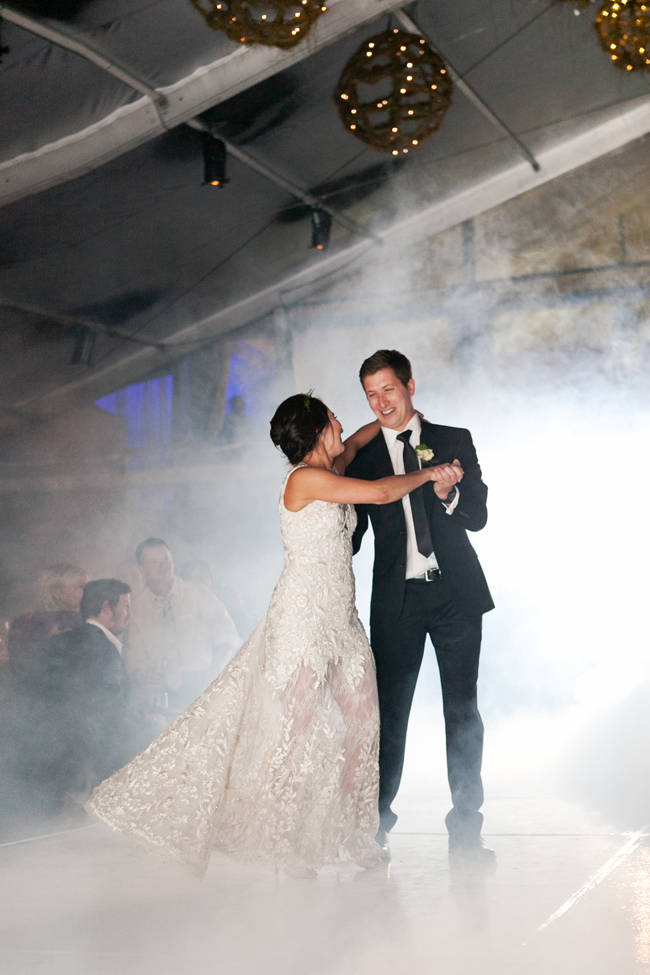 You can see more from this wedding on Moira West's blog.
SERVICE PROVIDERS
Venue: Private farm | Catering and cake: Antoinette Events | Photographer: Moira West Photography (second shooting by Joe Dreyer ) | Co-ordinator: Zoon Jacobs | Videographer: Vision on Fire | Flowers & décor: Antoinette Events and El le Fleur | Stationery: Gera de Wet | Bride's dress: Kobus Dippenaar | Bride's accessories: Errol Arendz (earrings), Kobus Dippenaar (shoes) | Hair & makeup: Corlé Barnard | Groom's attire: Hugo Boss | DJ/Entertainment: Dirkie and Talisa; DJ Chopper | Lightning and sound: Willem Steenkamp