Hello lovelies! This afternoon I thought I would share (finally) some feedback from the 2012 readers' survey. First of all, a HUGE thank you to all of you who participated – I really appreciate your time and effort! Relaunching the blog in May was scary, and it has been so amazing not just to see the numbers grow but to hear from you what the site means to you as well. Your responses really do make a difference – they show myself (and my sponsors) how to help you, where things could be improved, and what to do more of. So again, THANK YOU. Right, here we go!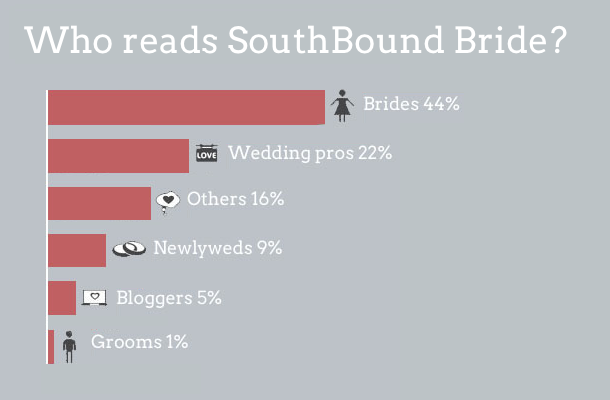 First of all, who's reading this lil' blog? Because as much as I love the community of service providers and other bloggers, the site's really about you brides. Well, win, because almost half of the audience is a current bride or groom, with a few more who are recently married (I LOVE when my readers stay on). Then there are the awesome wedding pros and my fellow bloggers, and those who don't fall into this category, but just like pretty things. (I am so one of you!)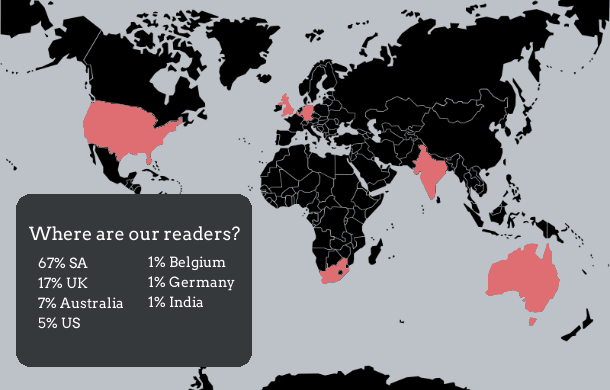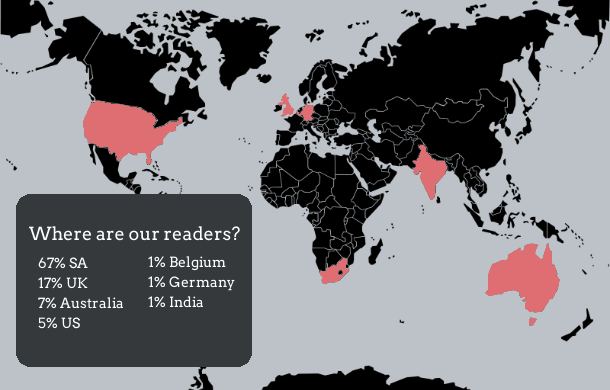 Next, I wondered where you are (please note, I do have more accurate readings on these from blog stats, but this confirms the general pattern). The majority are in SA, with another large chunk of loyal readers in the UK and a growing contingent in Australia and the US. And hello, Belgium, Germany and India! We South Africans love having couples from all over coming to our gorgeous country to say their vows, and it's great to see the destination trend is growing.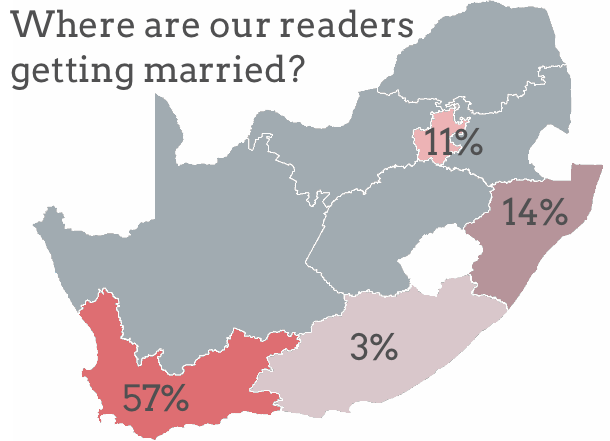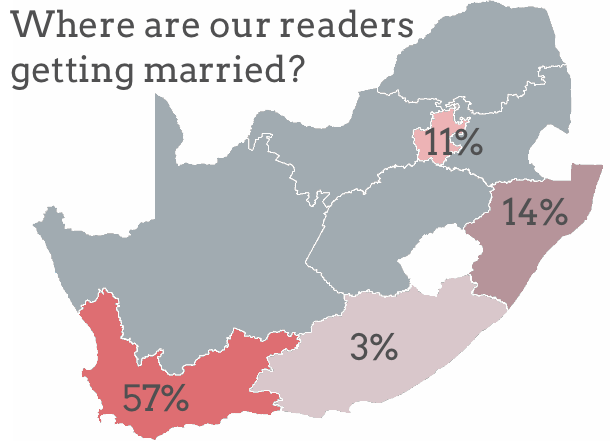 But where exactly in South Africa are you getting married? This was an important question for me, because the relaunch opened up SBB to areas outside Cape Town and this has been a big area of growth for us this year. In fact, quite a few survey respondents from other areas asked for more comprehensive listings and more real weddings, and that's something that we're working on behind the scenes. I already feature at least one wedding from outside the Cape every week, and will continue to do so. But you can help too – if you know of great suppliers in the rest of the country, especially if you've used them yourself – get in touch and I'll add them to the listings. Otherwise, remember you can search our real weddings archive by location, and this is always a great place to start.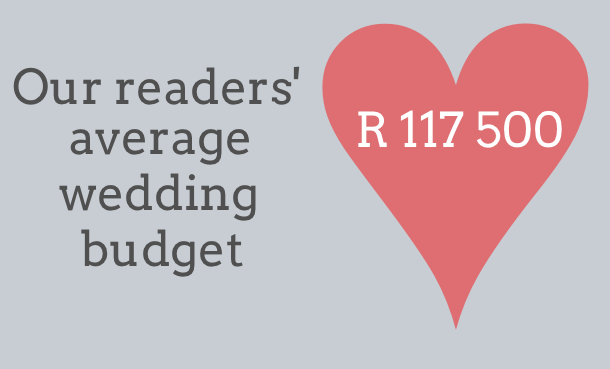 Budget is something we don't touch on too often here, because it can be a tricky issue and changes all the time. One of the projects I'd like to take on next year is creating some useful tools for new brides in this area. In the meantime, I asked our readers for their budgets (thanks for sharing!) and this is the average figure you all came up with. Now here's the really cool thing about that number – the average wedding in the UK costs £19,000. Which means that you can still have a beautiful wedding in SA for less than half the price. And that, my friends, is good news for all of us.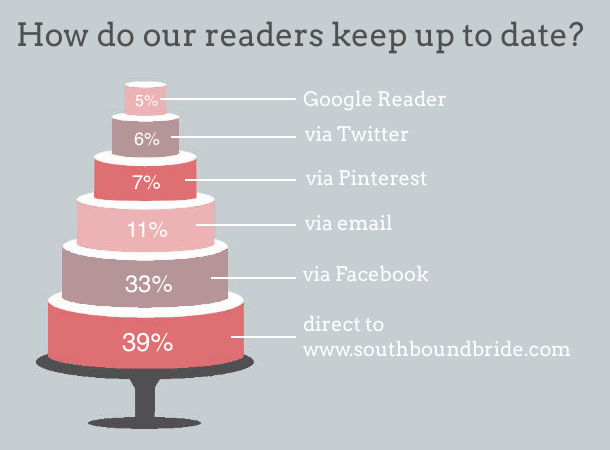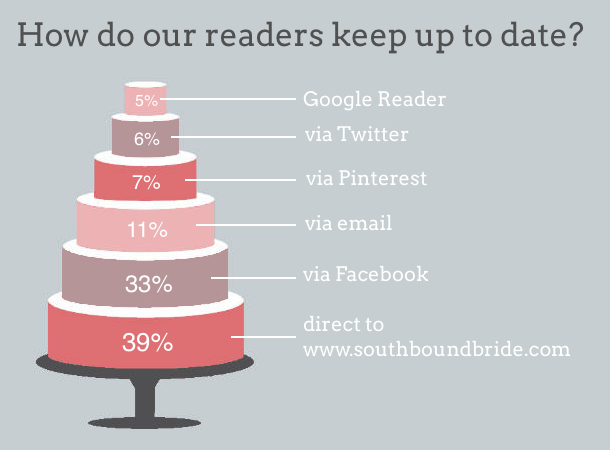 Next up, I asked you all how you keep up to date with SBB. Again, this is an important question for me technically, as it drives some of the small tweaks and improvements to the website. For example, one reader helpfully suggested that the first image in every post should link directly to the post, since it would be easier to click on that image than on the 'more' button if you're using a mobile. I think that's a great idea, so we'll be implementing that from now on. You'll soon also be able to click on the images in the slider to get to the posts. Some of you also asked why the blog now only features posts with breaks (i.e. you have to go to the full post to see all the pictures) – this is something that really divides opinion, but I made the decision after spending 3 months in SA this year and realising the costs and challenges of SA broadband (or lack thereof). This way, the site loads faster (and cheaper!) for many of you. Incidentally, if you do read the blog every day (but maybe can't get there at work), I'd recommend signing up for emails (see the link at the top of the sidebar) – you'll still get all the pictures and links direct to your inbox. Of course, social media is changing all the time, so if you would ever like to make a suggestion related to how you read the blog, just get in touch!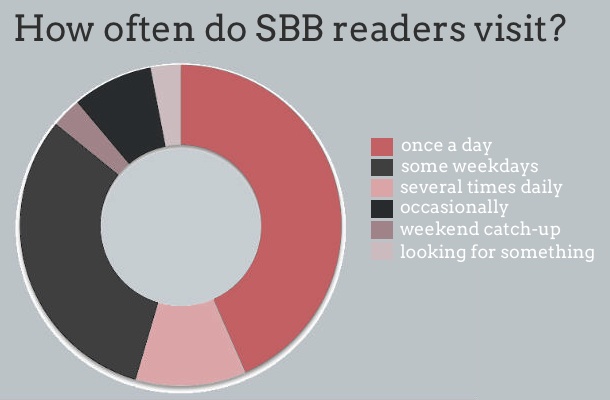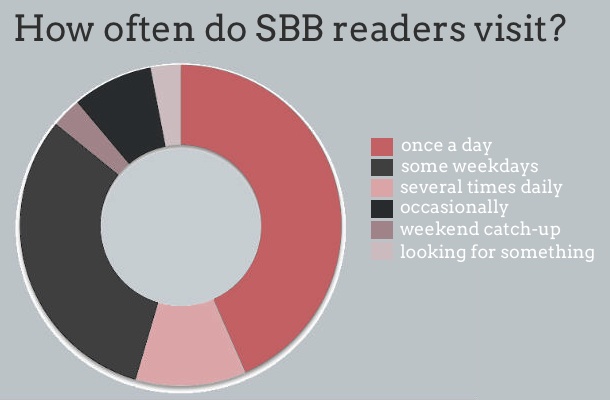 More info related to the blog – this one made me feel pretty awesome. I love that so many of you visit at least once a day – makes all my hard work seem worthwhile. :)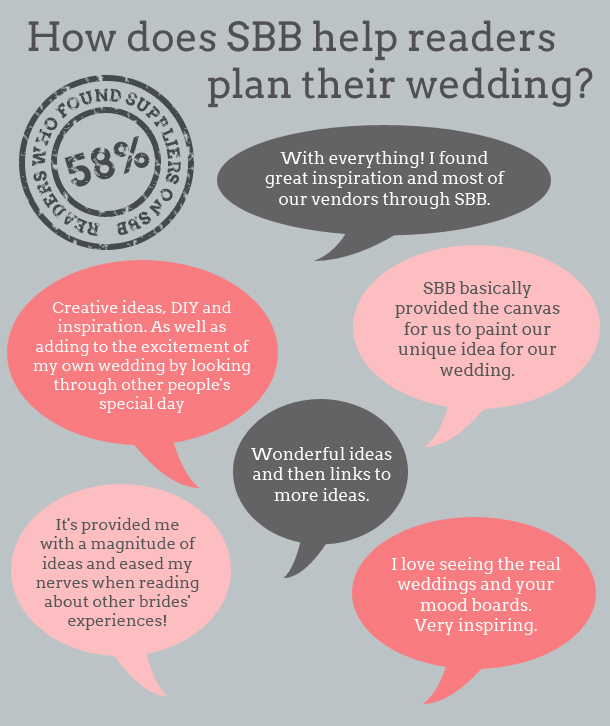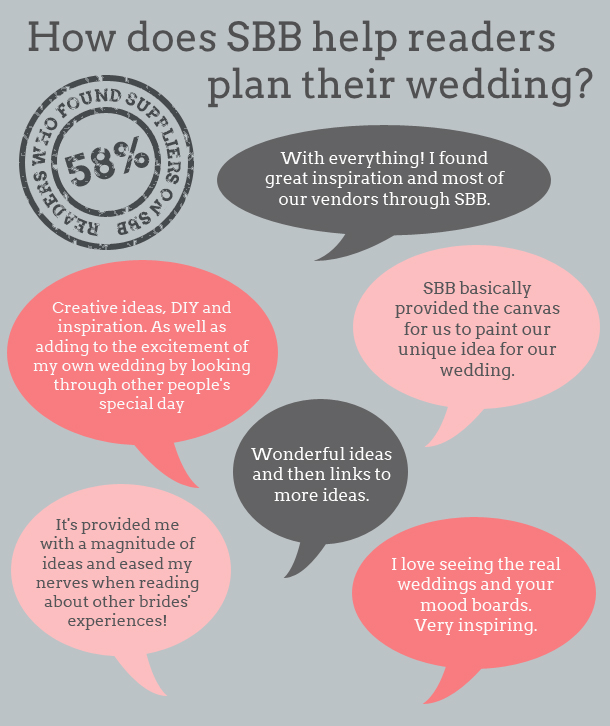 One of the big questions I asked was how SBB helps you plan your wedding, and it's great to see that so many of your are not only finding ideas and inspiration on the blog, but service providers as well. Needless to say, we'll keep bringing you more of all of them in 2013!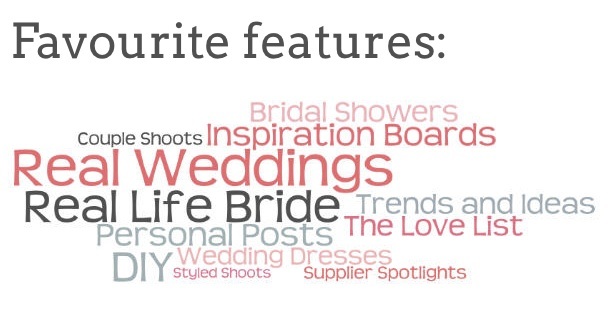 Being more specific, I asked you all what your favourite features are. Last year your answers really helped with direction – I introduced many more hen night/bridal shower posts, for example, as well as DIYs and more Real Weddings. These continue to be your favourites for inspiration (as well as advice) and I'm thrilled to see how much you enjoy the RLB posts as well. A lot of you mentioned inspiration boards, and this is a feature that won't be going anywhere, since I love doing them. I'd been wondering if any of you read The Love List, so it's great to see that you do, and also that the increased number of bridal fashion posts I have been featuring have been hitting the right note. I did want to ask about personal posts though – you asked for more of these, and I wondered what sort of posts you were interested in reading? Business/industry/behind-the-scenes posts? My personal advice and opinions? Or just random slices of Gabyness? Let me know in the comments if there's anything in particular. :)
Of course, I didn't just want to know what you like, but what you'd like to see that we aren't already doing. A LOT of you asked for more practical advice (as one reader put it: "When all the pretty and lovely has saturated our eyeballs and brains, brides may find that those bits are slightly fried. We never reject a bit of help in trying to figure out how to actually and logistically smoosh all that pretty into the Big Day"). I'll be taking this to heart (with a little help from some industry friends) and you'll be seeing more practical posts in future. Look out for some great downloads next month (our newsletter readers always get these first, so consider signing up!). There were also some great feature ideas I'll be following up, including advice on gifts and guest attire (since I know you're attending as well a throwing weddings!) and some budget-friendly ideas. Keep those suggestions coming – I always try to help out if I can and the chance is if you're wondering about something, so is someone else.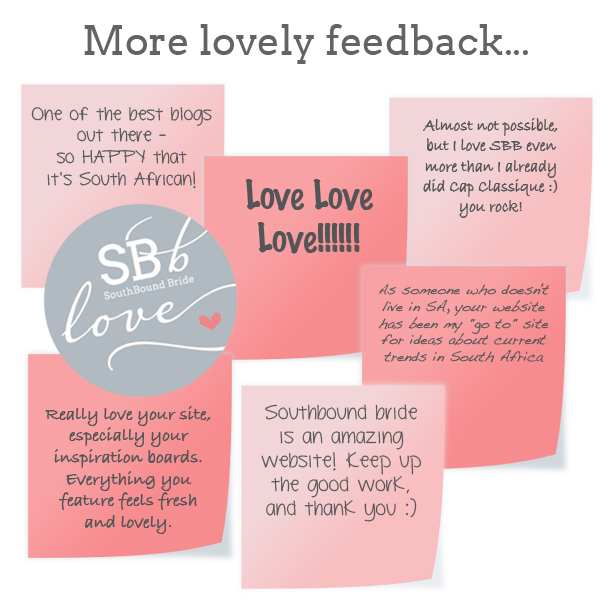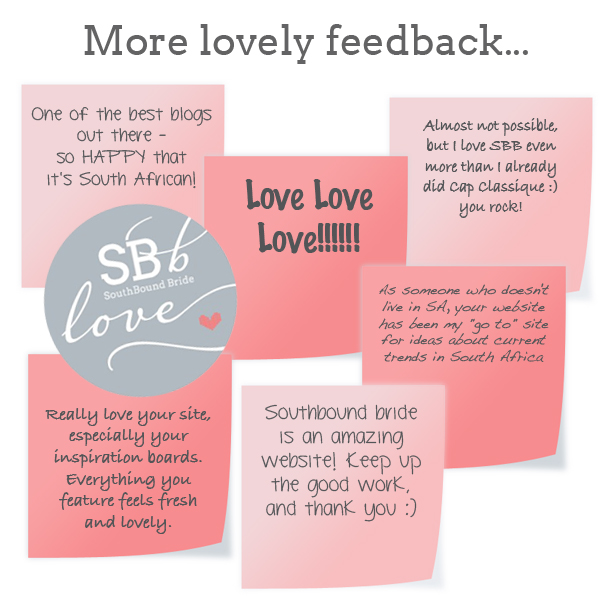 I have to say another thank you for all your amazing feedback – it was great to hear that there are no significant improvements you were crying out for, and that many of you felt I was getting the balance right. And lots of happy blushes on your compliments. You guys are the bestest.
Which only leaves me with one thing to do, and that's to announce the winner of the draw… look out for an email from me in your inbox!