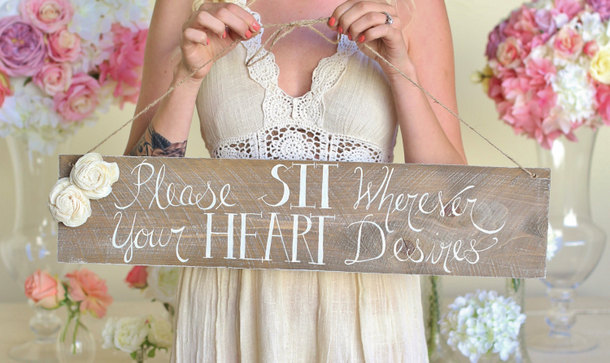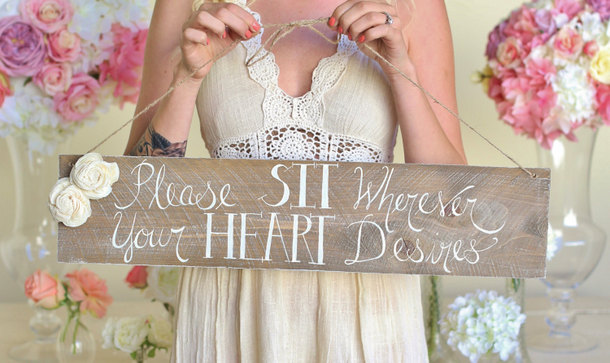 Sign by Morgann Hall on Etsy
A few years ago, when one of my university friends was planning her wedding, I checked in to see how things were going. "We're doing things a little differently," she said. "You might think it's weird." I doubted that – after all, I believe couples should do what's right for them. "There are no groomsmen or bridesmaids," she said. Makes sense, I thought, if that's what you want. "There aren't formal speeches – but there'll be periods where we'll have an open mic." I wondered how that would work, but thought it was a fun idea (it was). "And we're not having assigned seating." Wait, say what now? I mean, I'd been to plenty of events where you weren't assigned a specific seat, but you did get assigned a table, but she was talking about no direction at all. A seating free-for-all. Table anarchy! How would that even work? Would it be like a game of musical chairs or (shudder!) the scramble to get on an Easyjet flight? I'll be honest, I was kind of dreading it, and I totally made sure my friends and I had done some strategising about nabbing seats together. I worried about getting stuck on my lonesome. The funny thing is, that when the day came around, it turned out to be so not a big deal. A table had been reserved for the family and a few close friends, and everyone else just made themselves comfy. In fact, it was kind of brilliant and really in keeping with the laid back vibe of both the couple and their wedding. So since then, I've been a lot more open to the idea of unassigned reception seating, which I'm noticing a few more couples choosing these days. You only need to Google it once to find out this is kind of a controversial wedding etiquette topic, so today on SBB we're rounding up the pros and cons, and helping you with top tips and wording for if you do decide that unassigned is the way to go for you.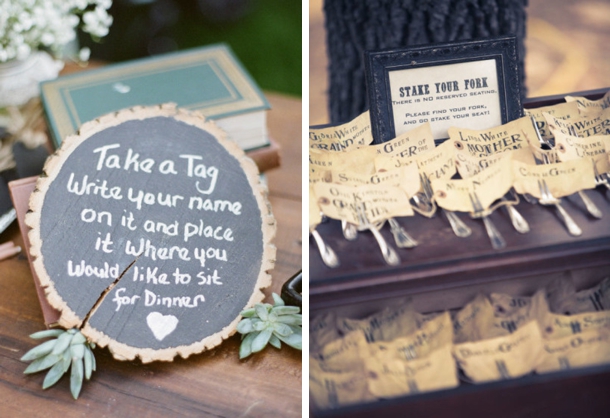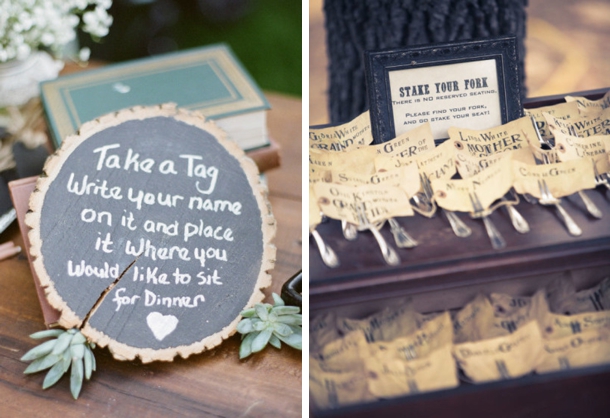 Sources: The McCartneys Photography via Style Me Pretty (left), Tyler Metcalfe Photography + Greenleaf Images/Laurel White Design via Style Me Pretty (right)
PROS & CONS
As I mentioned, this is an issue that tends to split opinion, and with some very clear negatives, it's no wonder. Here are the key concerns many brides have with unassigned seating:
It can be chaotic – without direction, guests could find themselves milling about, shouting at one another to save spots, moving chairs and place settings to be with their friends, etc. Assigned seating is relatively calm and orderly – everyone has a place and they just need to find it.
It can split up groups or even couples. Particularly those who arrive a little late, and will have to slide into the odd seats at remaining tables. Here's the thing though (and why you can't really please everybody) – one of the key advantages to open seating is that the majority of guests can choose who they sit with, so they won't be unhappy with the choice you make for them (e.g. when your single friend is sitting with a bunch of people she doesn't know at the 'single table' instead of chatting to the friends she travelled cross-country to catch up with).
Unassigned seating can provoke anxiety. Sure, some guests will have no worries chatting to people they don't know and asking if a seat is taken. In fact, you may actively want your guests to mix and mingle and get to know one another. But for some of them, this is going to be pretty stressful. On the other hand….
Open seating can save YOU a lot of anxiety and time. Because creating a seating plan sucks. It takes hours, it often leads to arguments, and you're never going to be 100% happy with it. And if it comes right down to the wire, you genuinely may just not have the time to do it.
If some of your guests have strict dietary preferences or if the meals are sit down and pre-booked, open seating is a disaster for your caterers to manage. It's definitely only for buffets or family-style platters.
The bottom line is that open seating won't suit all weddings. But if you're planning something small, or your guests already know each other well and are generally the relaxed, friendly sort, it can add to the laid-back atmosphere you may be trying to create. If this sounds like your wave-length, you may want to consider a picnic reception – this is the ultimate for open seating, because people can move around and really sit where they like.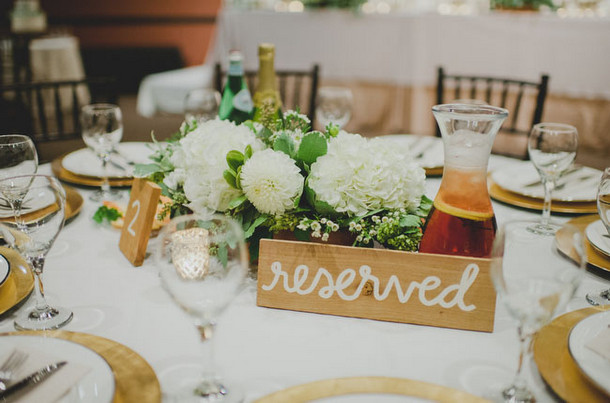 Source: Manchik Photography/Short and Sweet Design via Green Wedding Shoes
TOP TIPS
So let's say you've decided that, even with the potential problems, this is the way you want to go. There are a few things you can do to make it all run smoothly and create a happy atmosphere, just like it did for my friends.
Have long tables: I love long tables anyway, and they really do help to eliminate some of the issues with open seating and generally integrate people better since there's a continuous flow instead of defined groups. It's also much easier for people to move up and let someone else in next to their friends than it is trying to swap between tables.
Make it clear: Ideally, you'll mention it to guests in advance to avoid confusion, but you'll also want to have some clear signage on the day (lots of suggestions for wording below!) As well as signs at the reception, it's a good idea to have your MC make an announcement.
Reserve top tables: Even with open seating, it's probably a good idea to reserve a table for immediate family, the bridal party and of course, the bride and groom! Again, clarity is really important here – make sure the people who will be sitting at those tables know this in advance.
Allow plenty of time: My friends allowed guests to wander into the reception area to choose their spots during cocktail hour, which gave plenty of time and avoided a mad rush. One idea is to provide your guests with name tags or escort cards (or even forks, like in the adorable example above!), and suggest they place them where they'd like to sit (which also prevents your gorgeous reception space becoming overrun with placeholding bags and coats).
Make them comfortable: Identify guests who aren't part of a group or may find the process of finding their own seat a difficult one, and make sure you introduce them to people ahead of time. You could ask a couple of friends or your bridesmaids to be 'on duty' for this task during cocktail hour and while everyone is sitting down, making introductions and smoothing the process. If you haven't already, you might want to offer single guests the options of bringing a plus one.
Provide extra places: To avoid splitting people up, it's a good idea to have a few extra places set, and extra chairs on hand.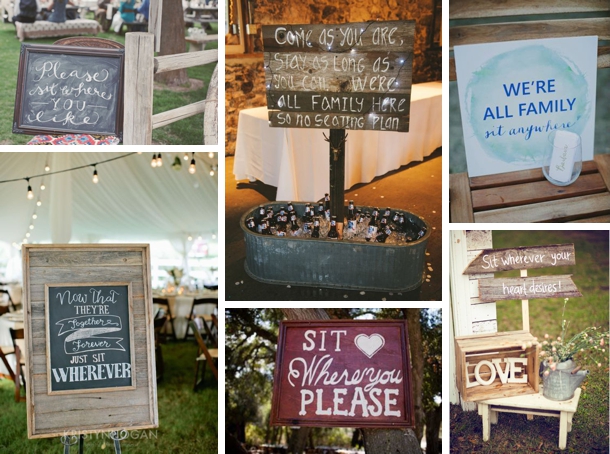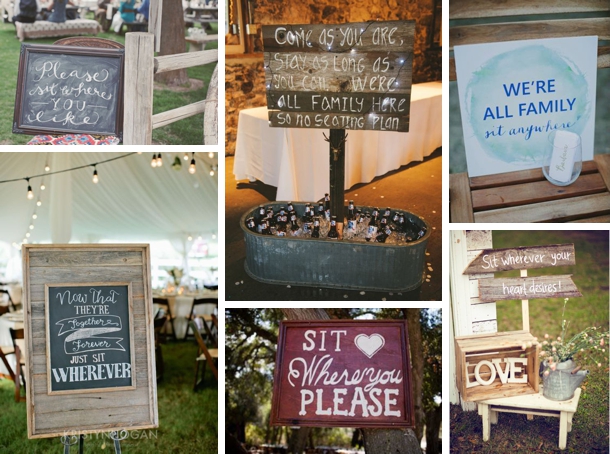 Sources: Ben Blood via Green Wedding Shoes (top left), Sarah Maren Photographers via Ruffled (top centre), Bek Grace/Lovestruck via Ruffled (top right), Kristyn Hogan via Cedarwood Weddings (bottom left), Sarah Shreves via Green Wedding Shoes (bottom centre), Three Nails Photography via Wedding Chicks (bottom right)

SIGN WORDING
There are loads of fabulous signs that you can use, including one we've made up especially for you (see the printable below)! Here's some of our favourite wording options from around the web:
Now that they're together forever, just sit wherever
Come as you are, stay as long as you can, we're all family here, so no seating plan
Please sit wherever your heart desires
Sit where you please
Please choose your seat, it's up to you, our only request is that you get up and dance a song or two!
Welcome! Mix and mingle, meet and greet, no need to rush, you can pick any seat
Happy you are here, stay as long as you can, mix it up and mingle, 'cause there's no seating plan
There is no assigned seating this evening, so take a seat and grab a drink to toast the bride and groom to a happy marriage!
Please seat yourself
We're all family, sit anywhere
She's crazy about him, he's mad about her, please take a seat anywhere you prefer (free printable here)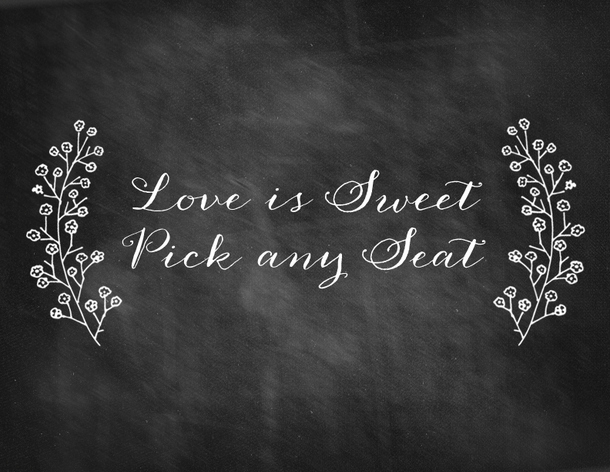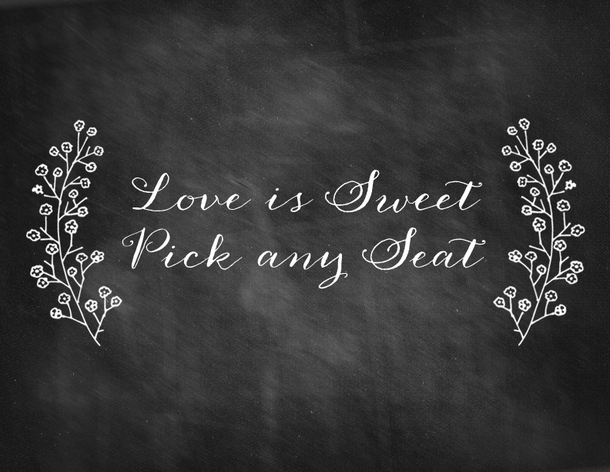 Or how about: "Love is sweet… pick any seat!" That's what we've chosen for our FREE chalkboard printable, which you can download right here. Just print it yourself or via an on-demand print service like PSPrint, pop it in a frame and you're set!