So here on SBB, we are often all about the girls (well, it is SouthBound bride, after all). But we really do want to make sure that we're offering inspiration for the boys as well. And the biggest question I get when it comes to the groom and his merry men is: "What colour should the groom wear if our colour scheme is x". Ah for the days when this was an easy answer, and all you had to do was match your blush and bashful to his shiny cummerband, right? (I'm kidding, obvs. NObody misses the cummerband.) In fact, the first questions to ask when choosing your groomswear aren't about the colour scheme at all, but rather about the formality of your wedding, the time of day it will be held, and what will make him (and his budget) comfortable. So taking thes factors into account, I've put some options together for ice-cream pastel weddings (one of the more challenging of the groomswear dilemmas). Simple answer? Don't make him wear a pink suit.
Brunch & Daytime Weddings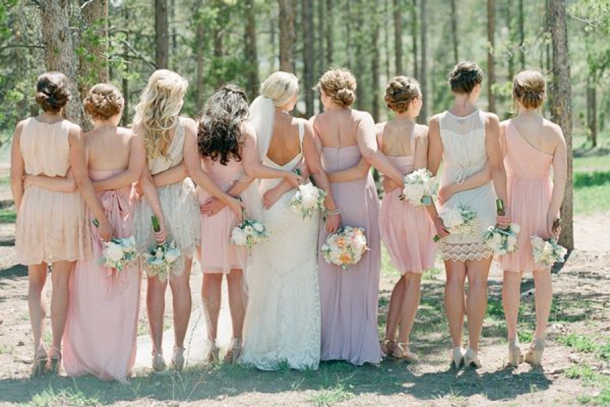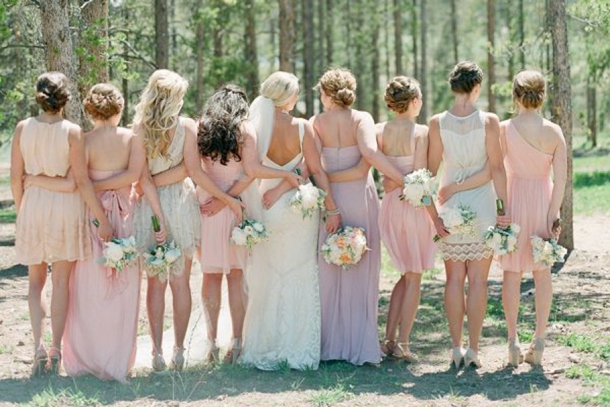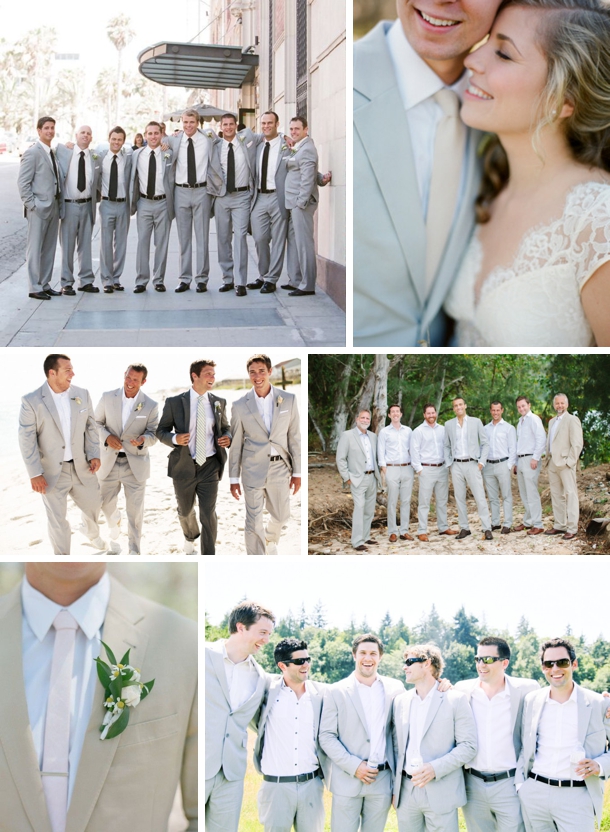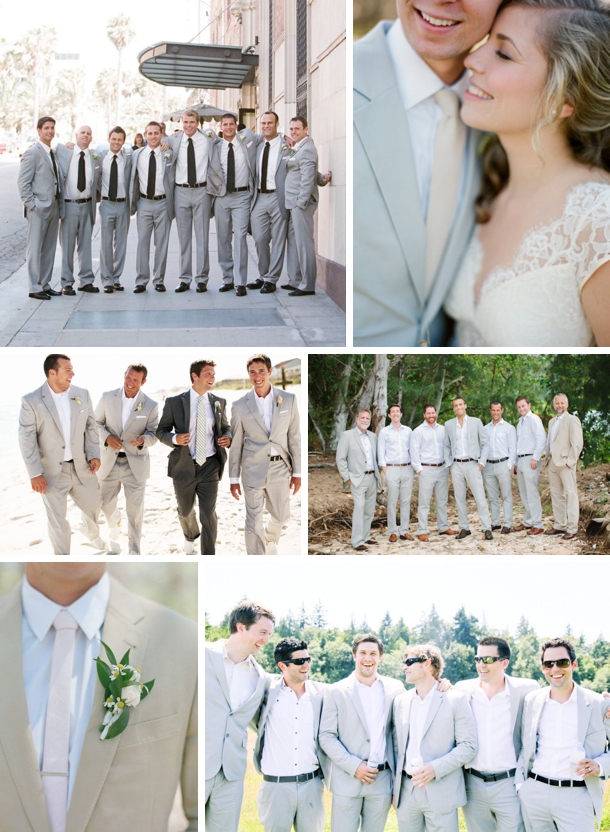 By their very nature, pastels lend themselves to this kind of wedding, so this is where a lot of you pastel-loving brides will find yourselves. I'm a big fan of two piece suits in this situation – they're smart and classic, but with a bit of a casual twist. Accessorise with bow ties or stylish ties, or lose the neckwear completely and have open shirts. Light colours are perfect – grey is my favourite with ice cream shades, although a soft tan works well too.
Image credits (top to bottom, left to right): 1- Laura Murray Photography via Wedding Chicks; 2- Lane Dittoe via Style Me Pretty; 3- Jose Villa; 4- ee photography; 5- What A Day Photography via Bridal Musings; 6- Laura Murray Photography via Wedding Chicks; 7- Lindsay Keans Photography
Casual Weddings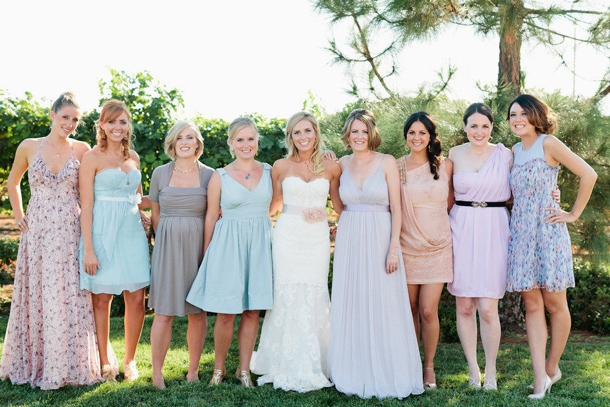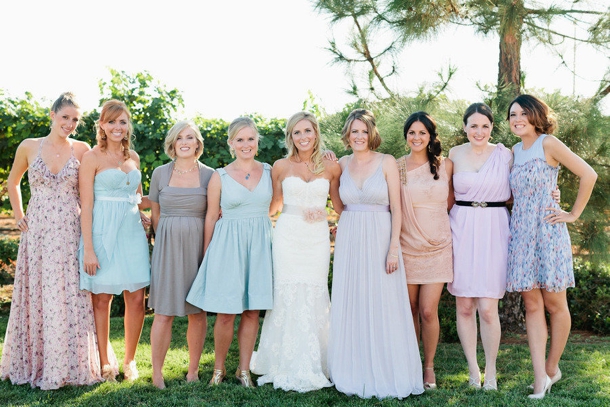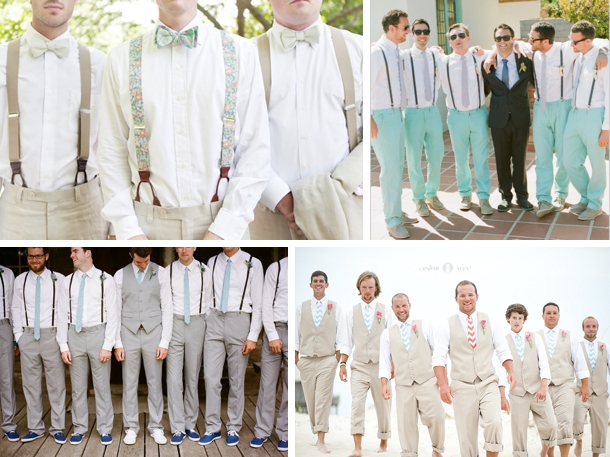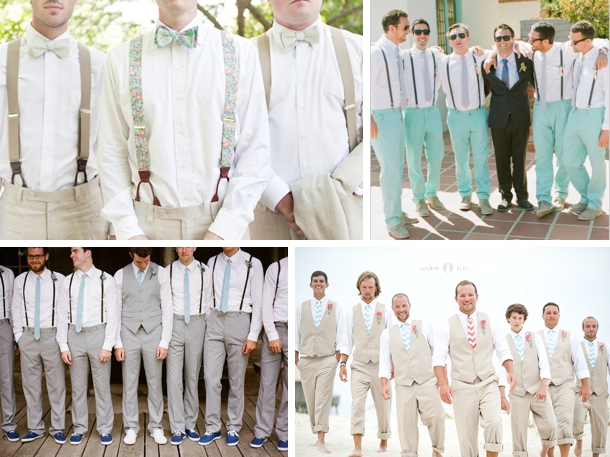 Casual wear for grooms has really opened up in the last few years, and to some degree, anything goes. It can be as simple as replacing formal shoes with flip flops or converses, or dropping the jacket in favour of exposed braces (or waistcoats), but can go as far as shorts or jeans if your wedding style is very chilled out. The braces option is idea for pastels, I think. Crisp, classic, but casual. For a beachy wedding, light slacks and crisp white shirts are perfect.
Image credits (top to bottom, left to right): 1- Erin Hearts Court via Style Me Pretty; 2- Glass Jar Photography via Wedding Chicks; 3- Paul Von Rieter via Wedding Chicks; 4- Austin Warnock Photography; 5- Aislinn Kate Photography
Formal & Evening Weddings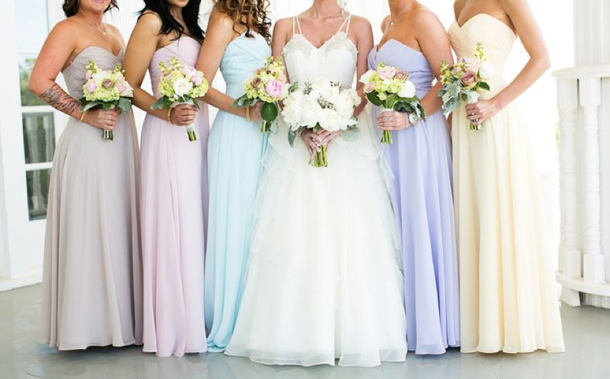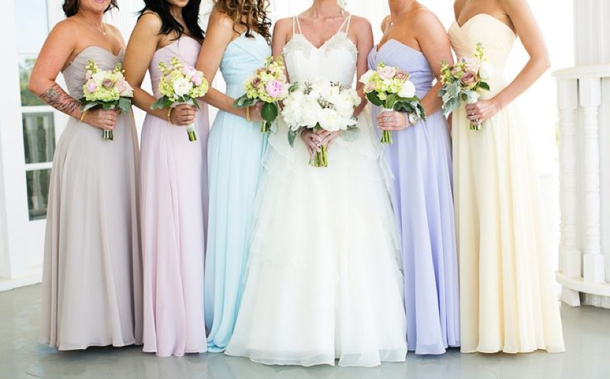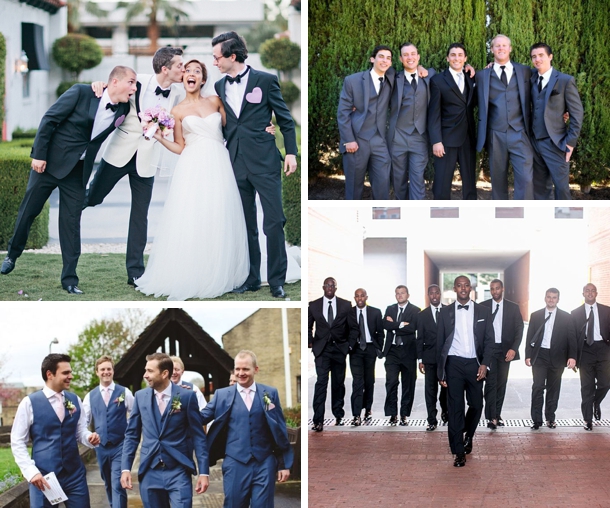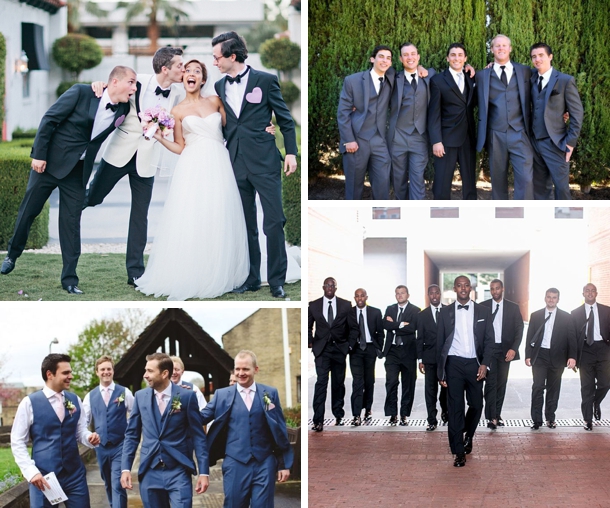 If you have a formal wedding in mind, you're looking at tuxedos or a high end, three piece suit (or even a black two piece). Of course, if you're having a very formal morning wedding, it's a proper morning suit with tails for your boys! Darker colours work best, so if you're matching to mixed pastel bridesmaids, I'd go for a black or charcoal (navy suits are also very hot right now, but be sure that they work with the mix of pastels you have chosen).
Image credits (top to bottom, left to right): 1- Double Knot Photography via Style Me Pretty; 2- Happy Confetti Photography via Brides; 3- Cole Joseph Photography via My Wedding; 4- Jess Petrie via Rock My Wedding; 5- Meredith Hanafi Photography via Brides
Pops (and more) of pastel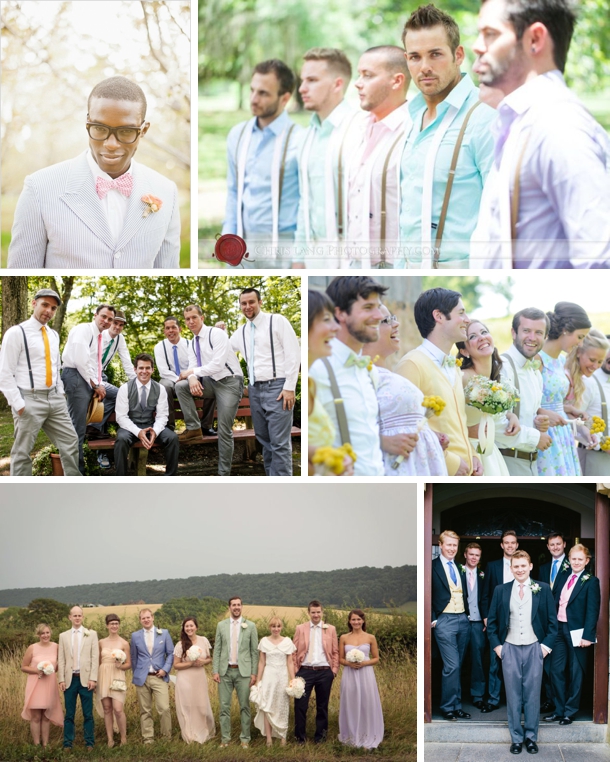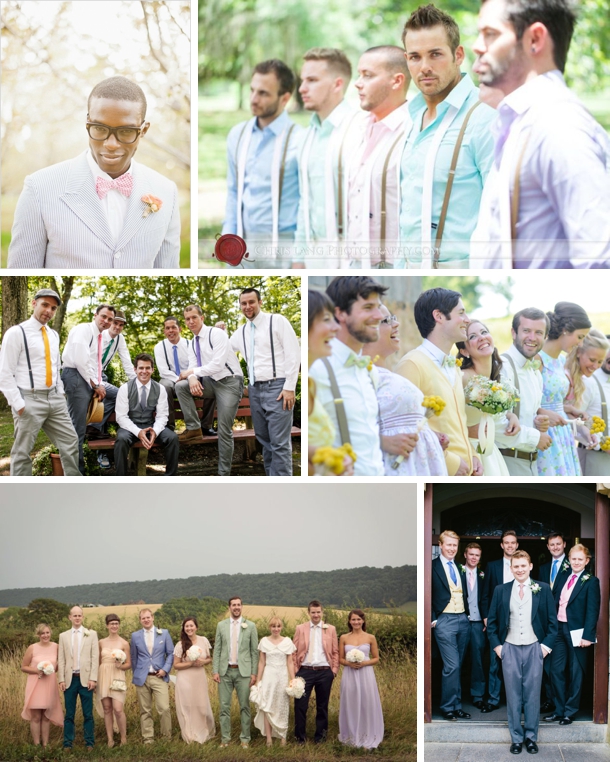 You may notice I've steered clear of suggesting ways of bringing pastels into your groomswear so far, and that's because this is one area where a little goes a long way, especially if you want those mismatched pastels to stand out on your bridesmaids (rather than have the groomsmen compete with them). Plus, you definitely want to avoid being too matchy. All it takes are lovely pastel ties or bowties, or even just boutonnieres to highlight but not overkill your colour scheme. But if you're feeling bolder, options include having groomsmen in mismatched pastel shirts, pastel suits, or seersucker (a very stylish import from our friends across the Atlantic). The truth is that a confident, fashion conscious groom can carry something unusual and unexpected off (especially when his groomsmen go for a more classic colour and style) – but I'm guessing if you're marrying one of them, he won't need my advice to begin with ;)
Image credits (top to bottom, left to right): 1- David Newkirk via Wedding Chicks; 2- Chris Lang Photography; 3- Jon Stars via Boho Weddings; 4- The McCartneys Photography via Wedding Chicks; 5- Haywood Jones via Rock My Wedding; 6- Gillian Higgins via One Fab Day
More inspiration for grooms: