As promised earlier, friends, we're saying goodbye (for now) to one of our Real Life Brides, and hello to a brand new friend. Allow me to introduce the lovely Irene, who'll be taking us through all of her ideas and inspirations before her wedding next month. Yay! Irene, we're so happy to have you – welcome! Today, we're meeting Irene and her fiance, and hearing a little bit about their wedding style. Meet our Bicycle Bride…


Meet Irene
I'm a translator and my fiance Du Toit is a pharmacist – we live in Bellville with our two dogs. He's very sporty, having played professional rugby, and is now an avid cyclist/runner/crossfitter, etc. He's completed the Absa Cape Epic twice and his suggestion for our HONEYMOON was to climb Kilimanjaro (don't worry, I replied with a very definite "no"). I'm a couch potato who loves to read, watch my favourite series and I love to make crafty things. He's a very sweet, happy-go-lucky person whilst I'm sort of a control freak. But I think we're a good match and that our differences makes it work. We do share interests – we are obsessed with our two Weimaraners – our children (beware of our Facebook pages, we are those crazy dog people who spam your walls with pictures of them!) and we enjoy taking them for walks in Grabouw's forest reserve. Although I'm not a sporty person at all, I have to confess that I love to be a spectator at his sporting events! We love to go to the movies (most of our friends think we have bad taste in movies – we strongly disagree) and we love to have coffee and breakfast at Oppikoffie on Sundays.
As mentioned, I love to make crafty things and to get married really is just the best time for craft/DIY lovers. It can also be a bad thing – I have had SO many ideas and I keep changing my mind (curse you Pinterest!). With a little under two months to go, I STILL have to make final decisions on (too) many things. Luckily our beautiful venue is a huge part of the decor in itself, which makes things a lot easier. I opted to save money and do most of the decor and all of the planning myself. Be warned, it's true what they say: it's super hard work to pull off a DIY wedding, so hats off to the professional wedding planners out there!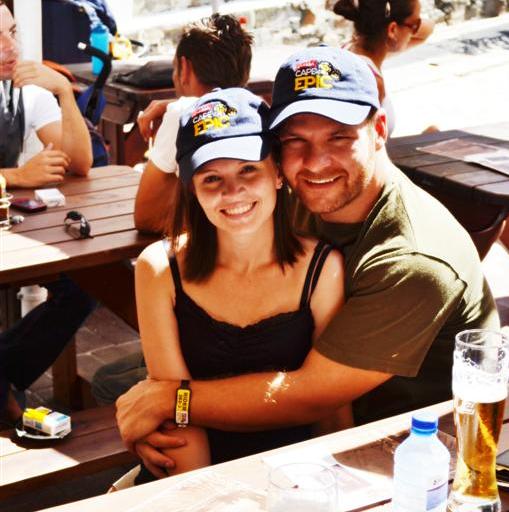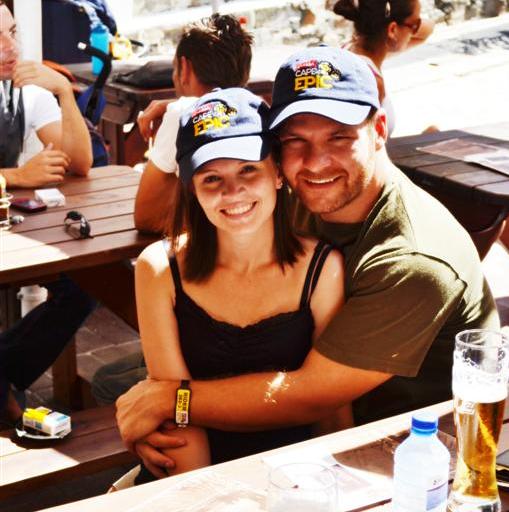 Our Love Story
Du Toit and I don't exactly have one of those 'love at first sight' kind of experiences. We met at a Heuwels Fantasties show in 2010. I was walking with my friend to the bathrooms when she commented on how young all the people at the show were. I spotted a guy that was standing in line for the bathrooms that looked a bit (a lot!) older than most of the other people around, so on the spur of the moment I walked over to him and told him that he looked old (I meant to say that he looked 'older'!) and then asked him how old he was. He did not seem impressed and just said, "No, no, I'm old". I thought he was rather grumpy and didn't run into him again that evening.
The very next morning I went to a friend's baby shower. The guys were also invited, and when I arrived my friend said that she wanted to introduce me to someone (a good friend of her husband's)… it was Du Toit! Sort of mortified I tried to break the ice by reminding him that I met him the previous evening, but he didn't seem to remember, neither did he look too interested or impressed, and he quickly made his way over to the guys. Only later would he tell me that he was very shy about meeting me! About two months went by before the same friends invited us both over for dinner – the rest is history!
The Proposal
He proposed to me at the Grabouw/Elgin Country Club (the forest reserve). We often take our two Weimaraners out to Grabouw for hikes – probably one of my favourite things to do. It was new years day in 2013, and I didn't expect a thing. We were hiking with the dogs with our local Weimaraner group, and afterwards he suggested that we stay a bit longer to let the dogs have a swim in the dam. I know that he was very jittery and didn't pay much attention to what the dogs were doing, which annoyed me a bit – and which made me suspect it even less. I just remember that he tried to create a romantic mood by putting his arm around me, but I was too involved with what the dogs were doing. Eventually he just told me that he had something to ask me, and that's when I knew. I know it's such a cliché, but I really don't remember what he said –  I just know that it was so sweet (he's a big, sweet, teddy bear) and that he put a gorgeous ring on my finger! I couldn't get over how perfect it was – a beautiful place, with our two 'children' present as well. We're getting married in March at Old Mac Daddy's Luxury Trailer Park in Grabouw.
Wedding Style
I would say that my wedding style is really just based on who Du Toit and I are. I think my personality will reflect in all the DIY elements in the decor, and bicycles will also be a prominent feature, as Du Toit loves cycling. As I'm also a linguist with a HUGE love for books, I'll also incorporate that with origami flowers made with pages from old books, some books as decor, etc. My goal would be for people to recognise parts of both me and Du Toit's personalities in the decor and vibe of the wedding.
Although I started out with a colour scheme of mint and blush, it has since evolved into pastels, hessian and vintage coloured lace – I'm not too set on sticking to any specific colour schemes and my dress is very reflective of me, a little different, not over the top and with a romantic, vintage feel to it. My Instagram page is where I post most of the things I'm making for the wedding.
We're opting for a very relaxed, informal vibe with 60 of our closest friends and family – long rectangular tables with just enough decor on the tables to create an intimate feel. All-in-all, I would say a rustic, country, DIY, intimate kind of wedding.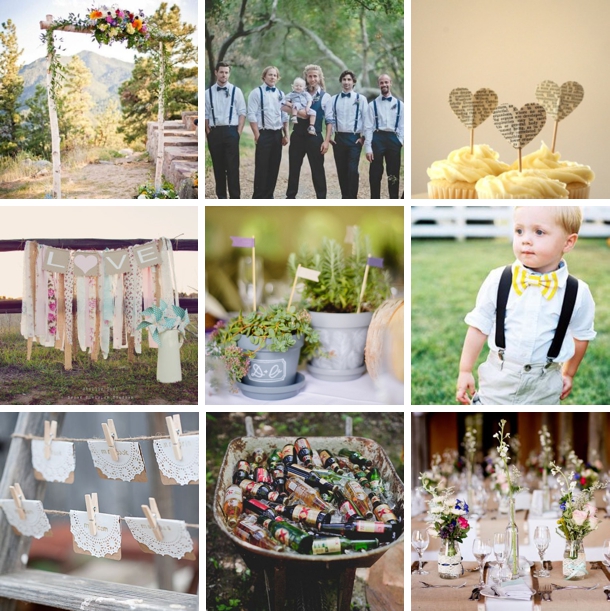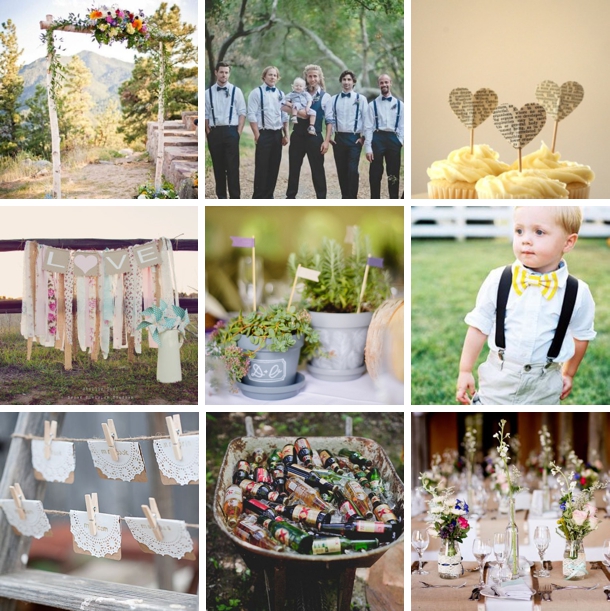 Inspiration credits (top to bottom, left to right): 1- Christina Kiffney Photography via Style Me Pretty; 2- Intuitive Images Photography; 3- The Path Less Travelled on Etsy; 4- Halo's Haven on Etsy; 5- Sara Wilde Photography; 6- via Brides of Adelaide; 7- Gina Petersen Photography/Plum Couture Vintage via Wedding Chicks; 8- Taylor Lord/Ladies of Bella's House via Wedding Chicks; 9- Iz Labuschagne Photography.