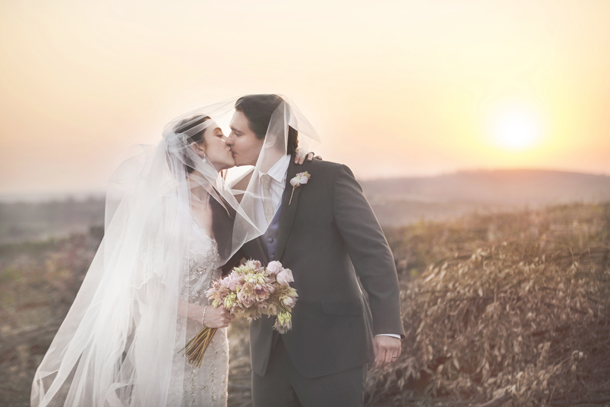 I can't think of a more romantic wedding to celebrate Valentine's week than this one. You might remember Shayna and Gavin from their engagement shoot a few months ago, when these two cuties shared their amazing love story (and Shayna showed off her gorgeous ring, courtesy of her jewellery designer mother, Jenna Clifford). Today we get to showcase the whole wedding. Starting with an industrial space (a hangar on their family farm) and filling it with beautiful flowers in soft neutral shades, a drizzle of fairy lights and decor with a touch of French chic is absolutely inspired – not only is the final result gorgeous, but unique. I adore Shayna's dress (made by another South African talent, Marianne Fassler) and her blushing bride bouquet, as well as her dapper groom in a touch of blue. And Kallah Ohr's pictures are absolutely GORGEOUS, especially the sunset couple shoot where the newlyweds only have eyes for one another. Total swoonage.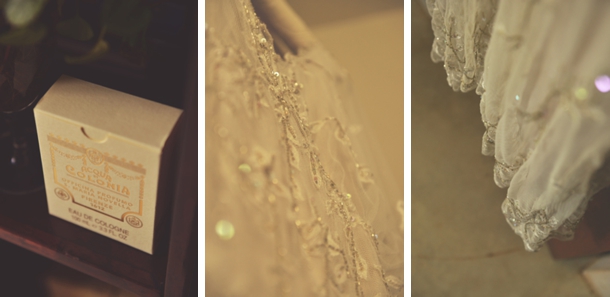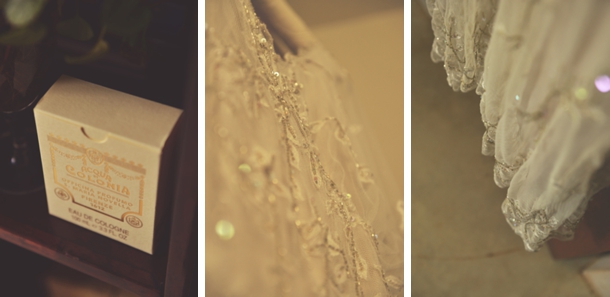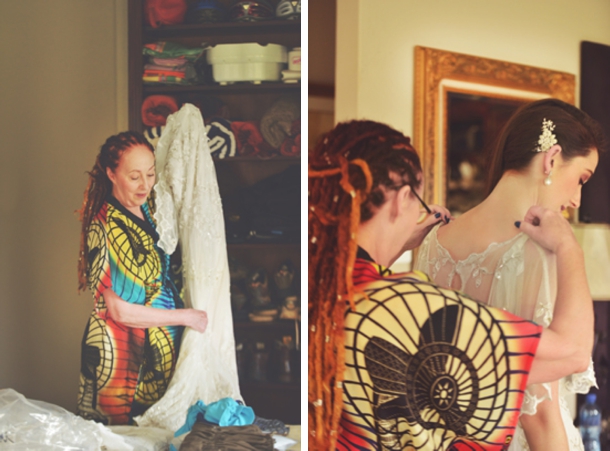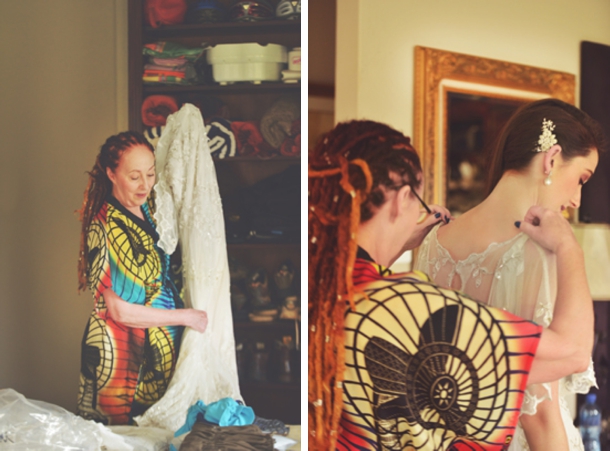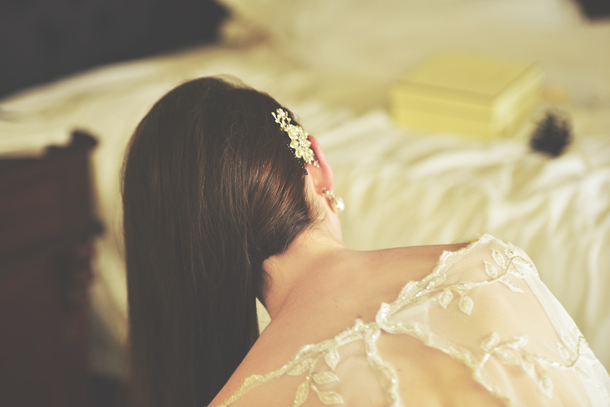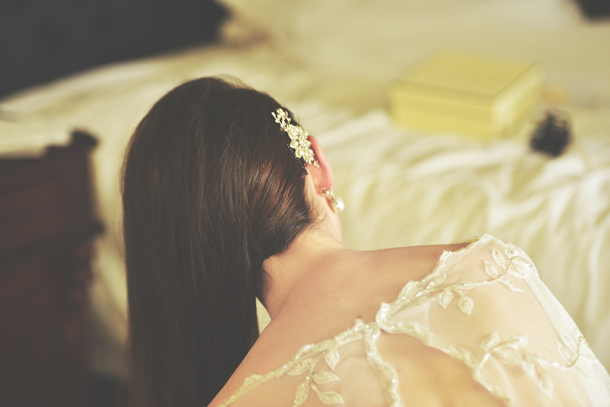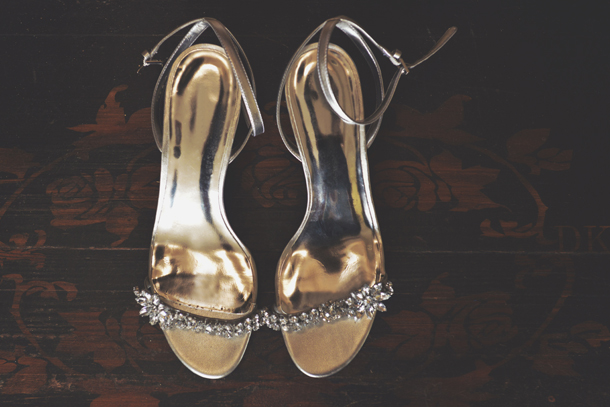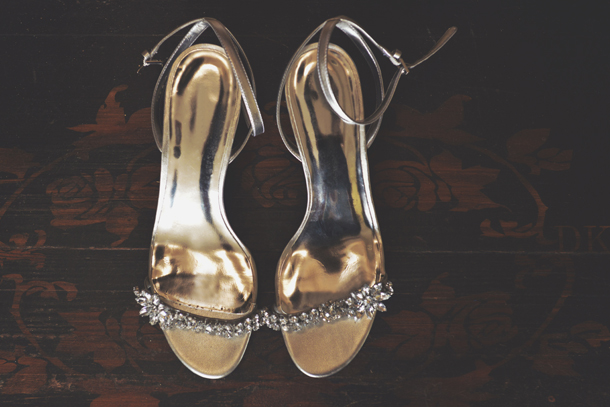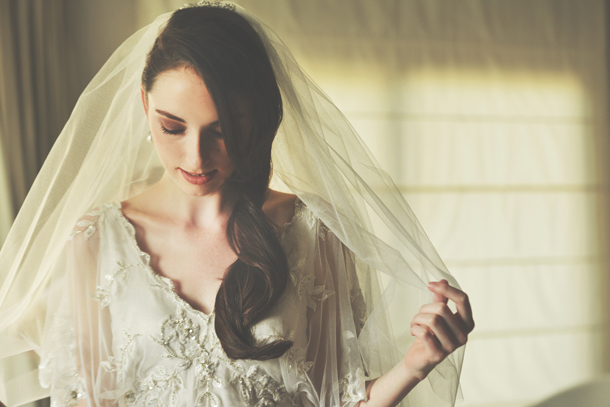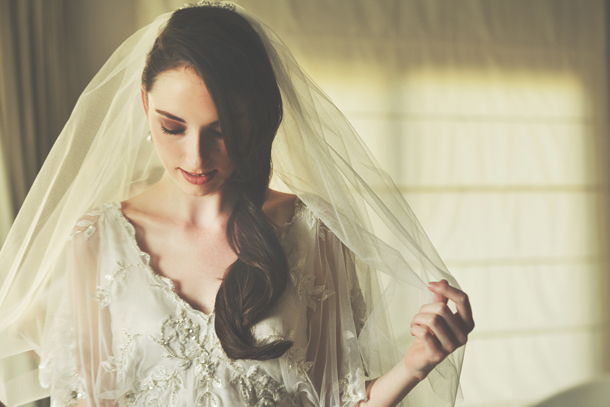 Love Story
Gavin and my parents have known each other for over 25 years. My mom told Gavin from a young age that he should "wait for Shayna" as she was convinced we were going to get married one day. In 2009 we met for drinks and a few weeks after that, we started dating. I knew Gavin was the person I wanted to marry after spending just a few hours with him.
The Proposal
One of our favourite spaces in Johannesburg is Gavin's mom, Lindy's, garden. It is beautifully landscaped and one of our favourite spots in the garden is the rose garden. Gavin must have known that I wanted a proposal in a familiar space with no one around and that his mom's garden was one of my favourite places. On a beautiful sunny day, my mom, his mom and Gavin had planned "tea and scones" for us there. After tea, we went for a walk and whilst sitting on the bench overlooking the rose garden, he proposed.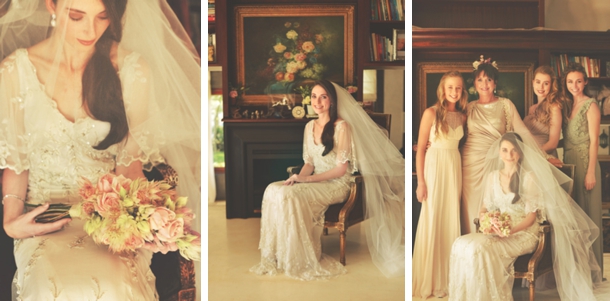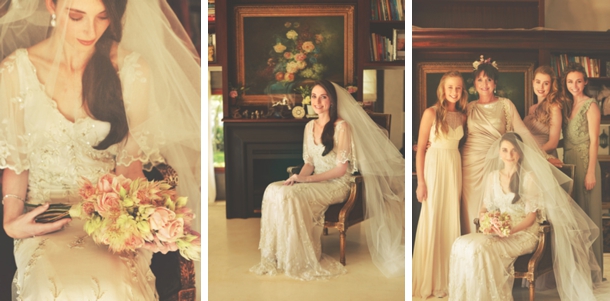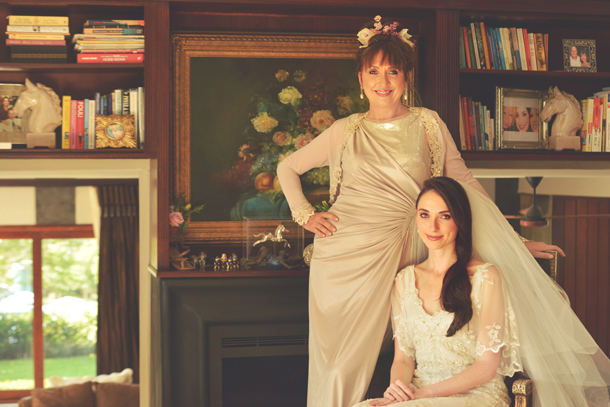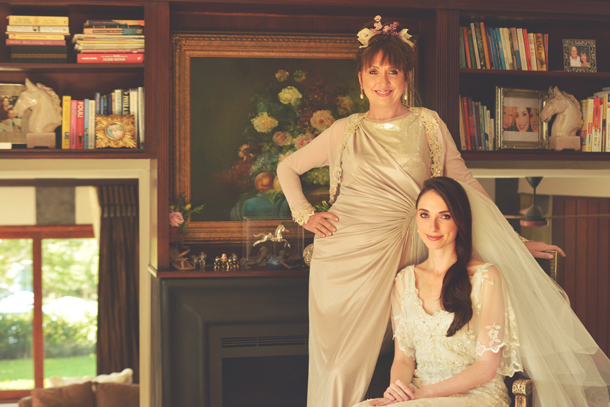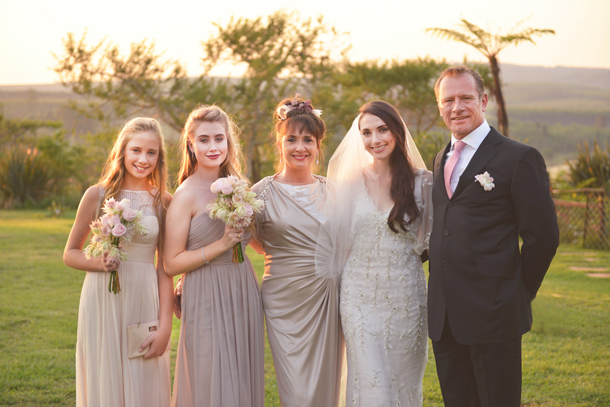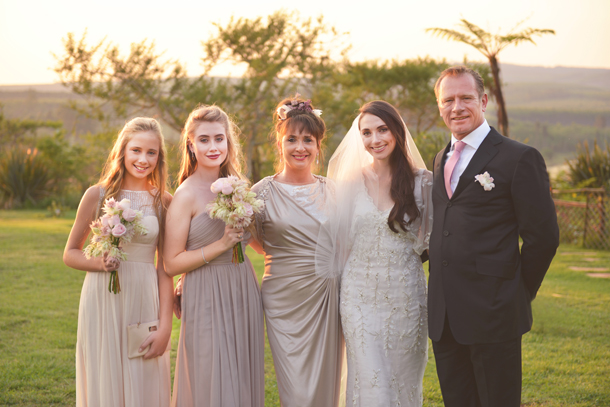 The Venue
My parents bought a farm in 2004 and called it Baronmere. It was always their dream to buy a piece of land and live on it. The farm has always been a happy place for my family and it wasn't even a consideration that we might get married elsewhere.
Our ceremony venue was across the lake from the spot where our parents first met 25 years ago. The lake is a large part of both our families' history, having been a spot where we both spent many happy family holidays. We got married in the White River Methodist church and had Gary and Jacqui Rivas (of Gracepoint in Johannesburg) marry us. The church ceremony was the most important aspect of our wedding day so we spent a significant amount of time planning the ceremony with Gary and Jacqui and we had Connell Cruise (who also worships at Gracepoint) leading our worship at the ceremony.

Wedding Style
Our wedding style and colour palette can be described as Country Chic with use of all natural colours and neutral tones – sand, dove grey, charcoal, fynbos green and shades of browns. I found it quite difficult deciding on a theme and sticking to it, so our theme went from Industrial Chic to Rustic French to Country French Chic. I guess part of any creative process is the natural evolution of what something begins as and what it turns out to be. We had lots of fun sourcing ideas on Pinterest and also gathered much inspiration from a book I bought in Chicago called A New Fashioned Wedding by Paige Apple and Kelly Harris. The book speaks of weddings that are no longer done 'by the book' and that embrace backyards over ballrooms, oriental cuisine over standard catered fare. The farm on which we hosted our wedding also had a significant influence over our chosen theme as we didn't want to create a glam wedding venue out of a hangar; we wanted it to be authentic and play on the strengths of the venue.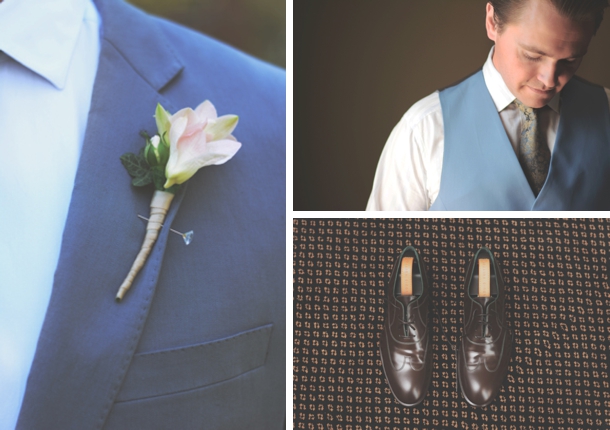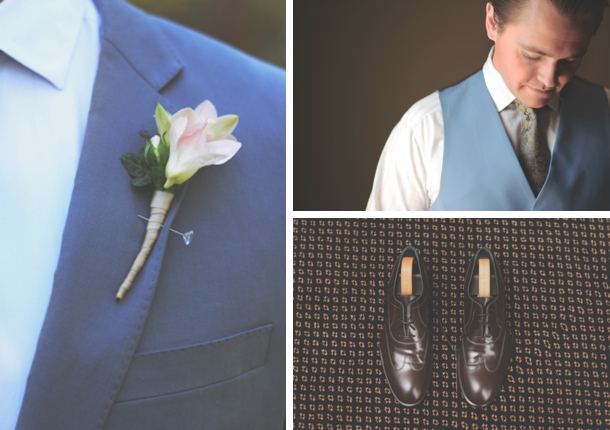 Wedding Details
We tried to add a personal touch to our wedding with a few elements that could be personalised. Our invitations and wedding ceremony programs were designed by a friend of mine who is a graphic designer for the Jenna Clifford brand, which helped saved on artwork costs. Where possible we tried to negotiate on prices with suppliers but we also understand that people's time and expertise comes at a cost. We were fortunate to work with a lady called Neolien, from A Word or Two, who helped us with the wedding signage such as the guest seating plan and menu signage. She stressed the boards in green and white and used a special printer to print all the names in what looked like a chalk pen. She is really talented and can do anything you can dream of for wedding signage and décor! My wedding shoes (silver diamante sandals with a kitten heel) were purchased online at Nine West in the UK – they were on sale! As much as I wanted beautiful shoes – I knew I had already splurged on the dress and the shoes were something which would hardly be seen and only worn once. Funny thing is, I can now use the shoes again because I didn't purchase a typical bridal shoe. I also was fortunate to have my mom to assist with my wedding jewellery – as we are in the jewellery business this was a very simple process and I only decided what I wanted to wear in terms of jewellery about a week before the wedding. My two sisters and my cousin were my bridesmaids, and we only had to buy one dress as two of them wore dresses they already had. I think you need to be resourceful where you can and save on costs by using what you already have.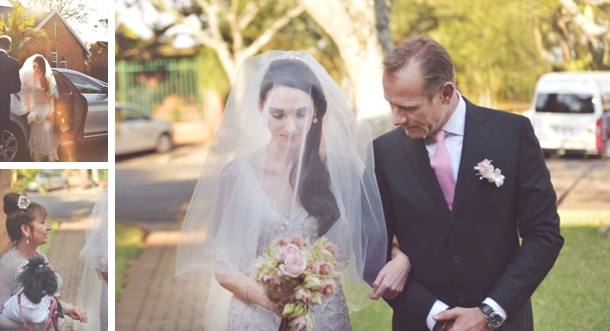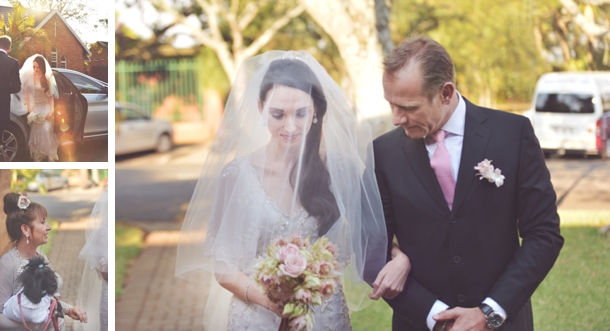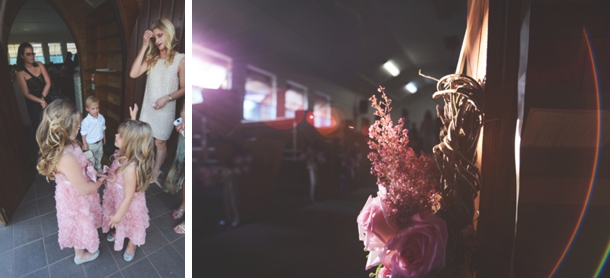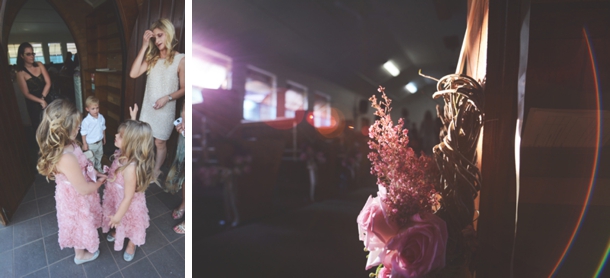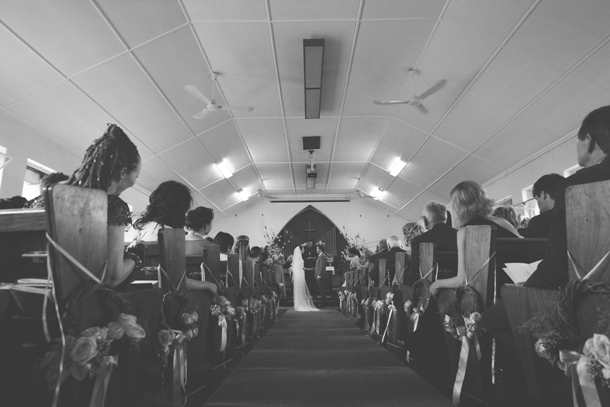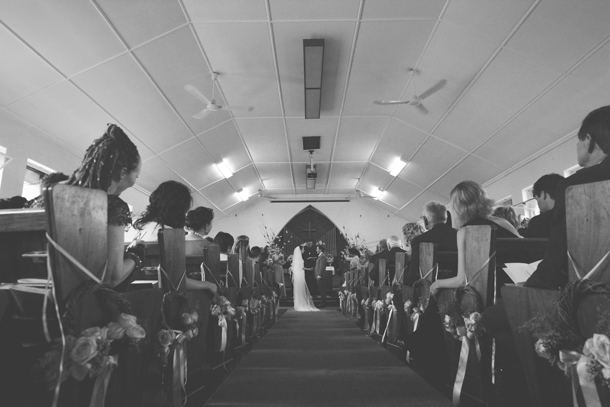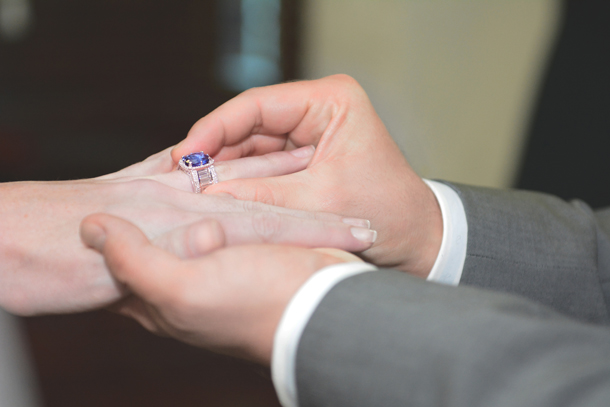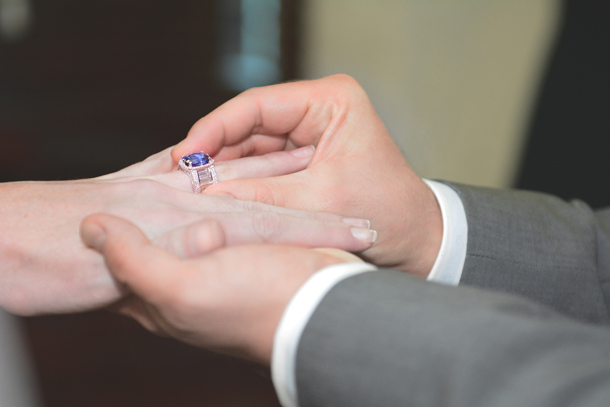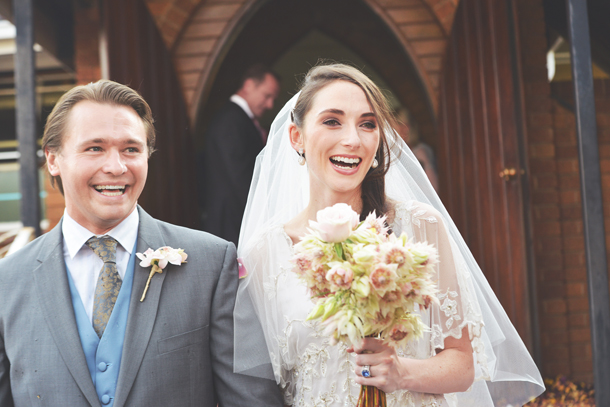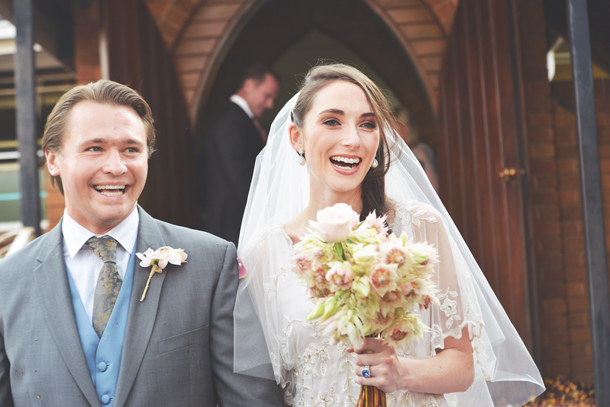 The Flowers
My wedding flowers were an assortment of fresh cut flowers that flowed throughout our home and the reception venue in the hangar. Guests say that all they saw was flowers! Franz Grabe of Franz Grabe Flower Couture did our flowers – he was incredible! We had an assortment of loose and highly structured arrangements, featuring blushing brides (which were the focal point of my and my bridesmaids' bouquets), Sweet Williams, mini gerberas, lisianthus, kol kol, desert roses and roses in a range of hues from soft dusky pinks, to coffee, vindela and sorbet. We used a dried and cured bunch of heather for each table setting with a little brown card for each guest's name (my husband does calligraphy so he was tasked with writing out 120 guests' names).
The Dress
My dress was made by Marianne Fassler. After searching for 'the perfect dress' in London and South Africa, I realised that what I wanted wasn't very easy to find in a retail environment, and so I approached Marianne to make my dress. She interpreted the brief beautifully and I thoroughly enjoyed the process of being a part of the design and all the fittings. Each fitting revealed a more beautiful and more detailed gown which was made just for me!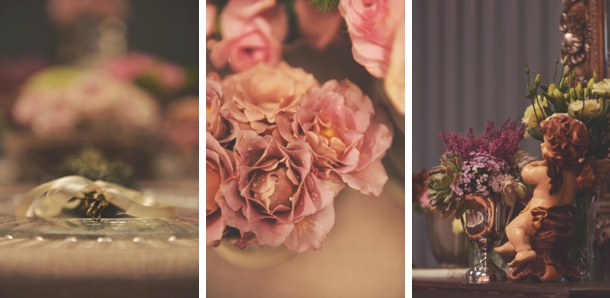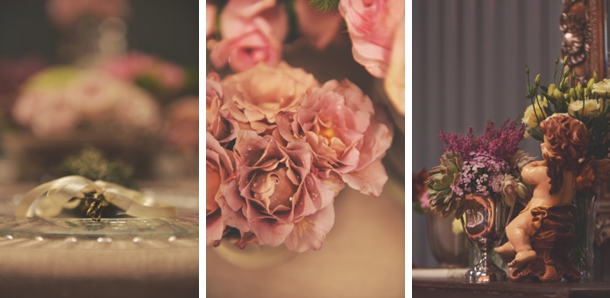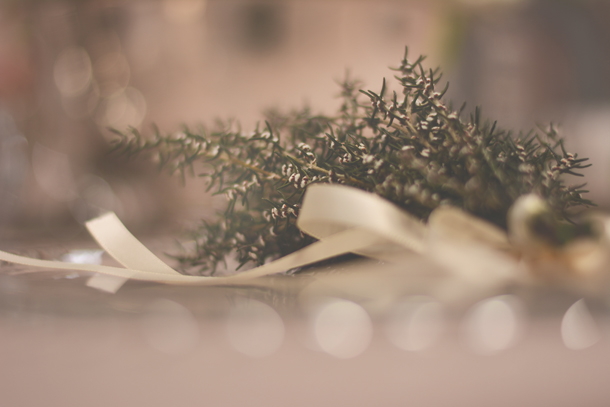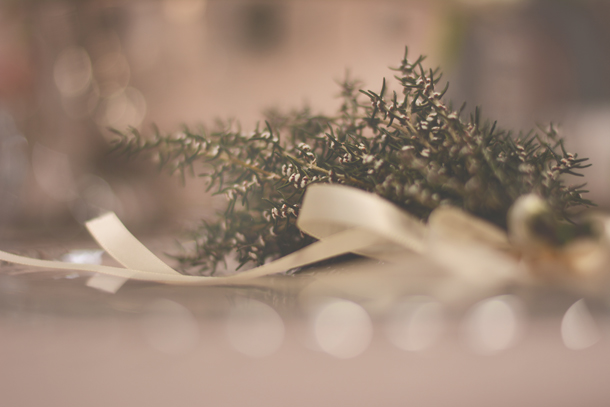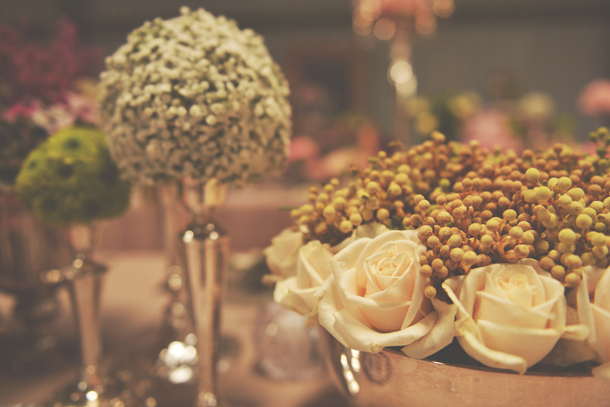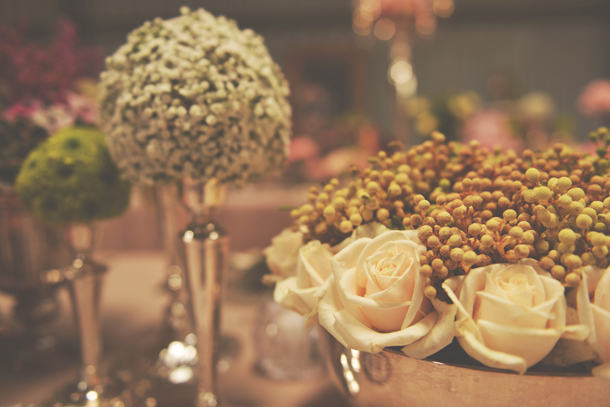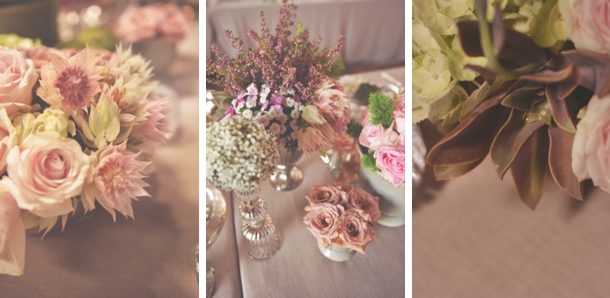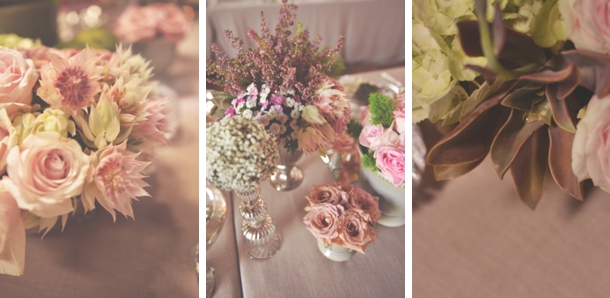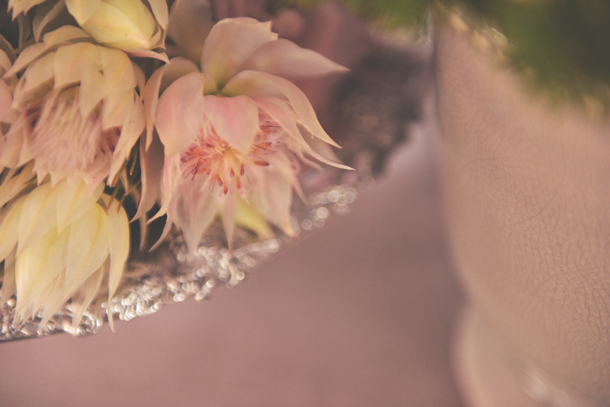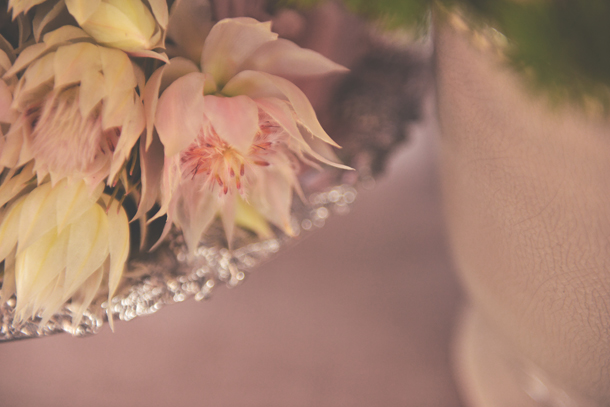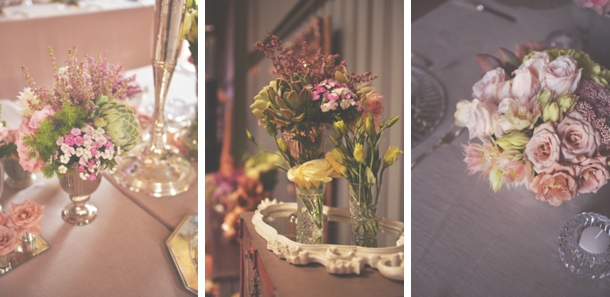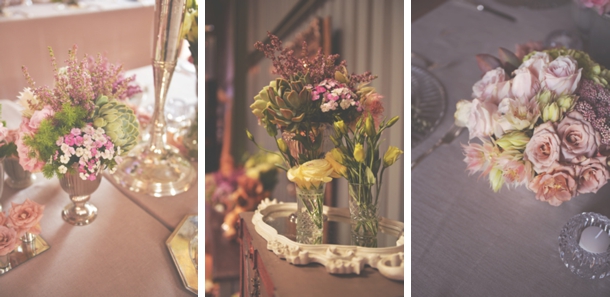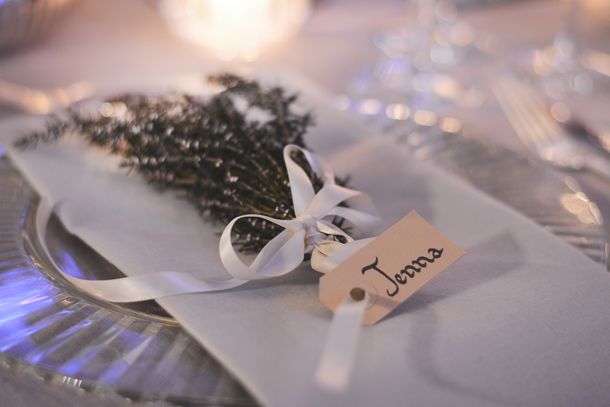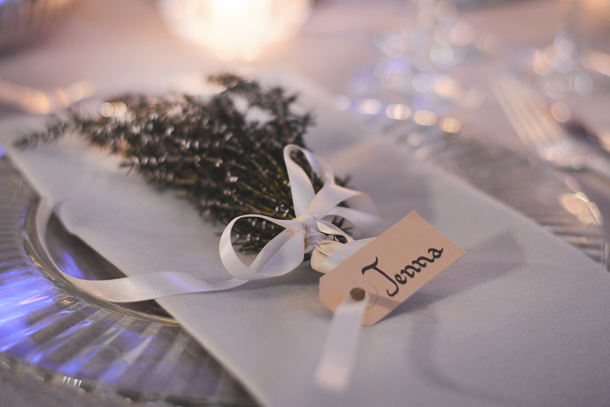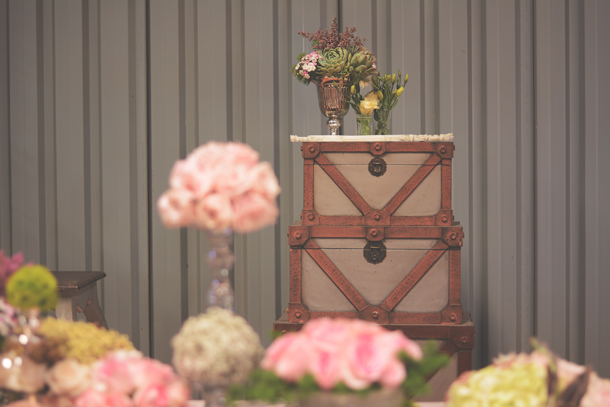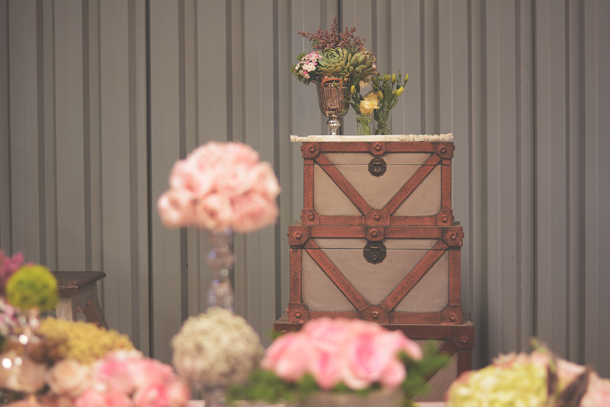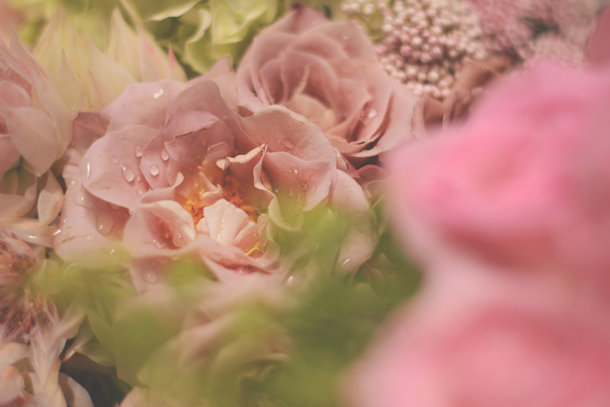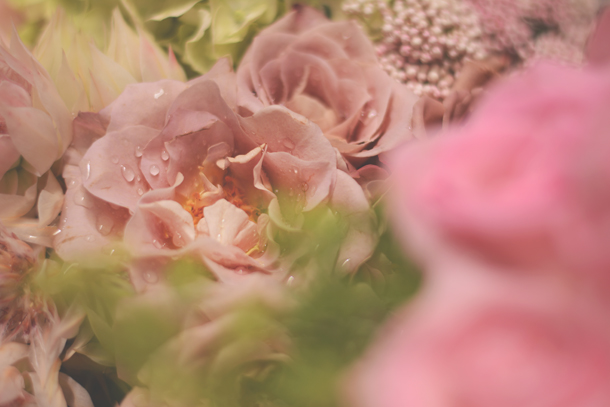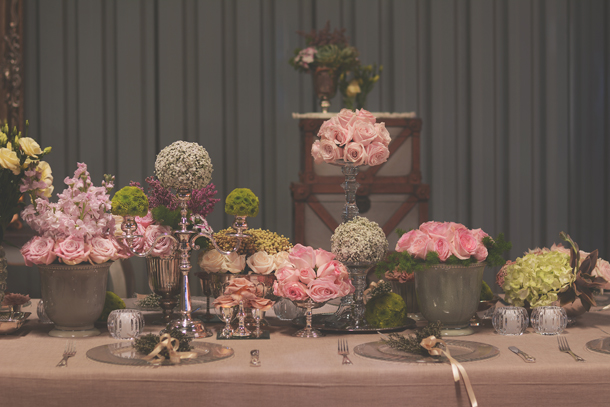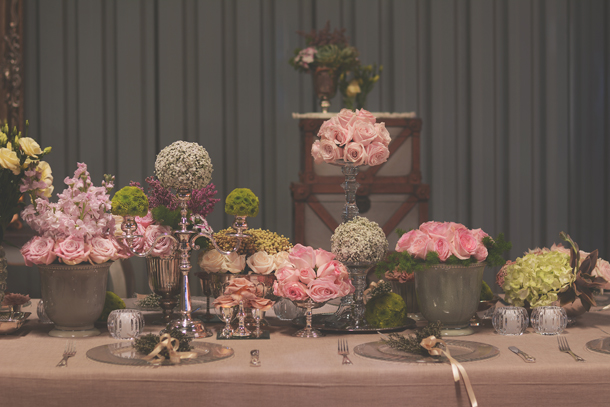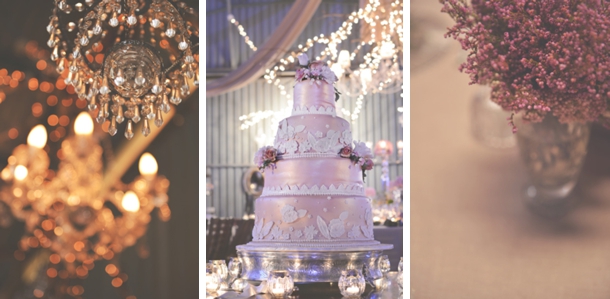 Memorable Moments
After the church service, we headed back to the farm and were whisked off by our photographers for pictures against the backdrop of our farm with the sunset. It was a precious moment to take in – newly married, looking into each other's eyes – in such a beautiful setting. My husband's speech was another very special moment on our day. He spoke beautifully. Luckily we have all these precious moments on film (BLIMP cinematographers are incredible, I highly recommend using them) so I can relive each moment of our wedding again whenever I want to.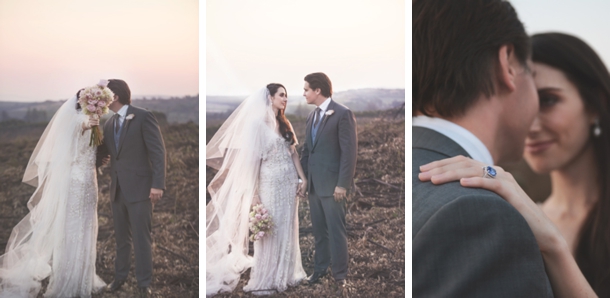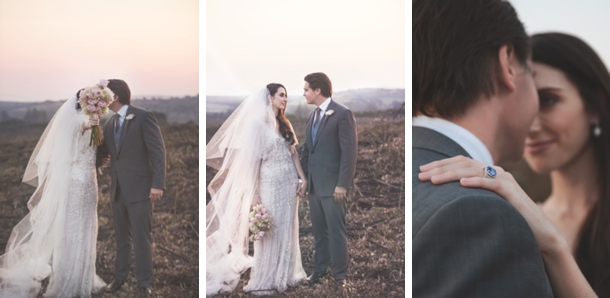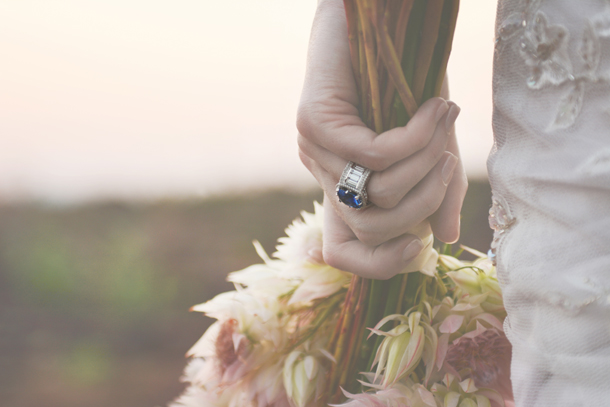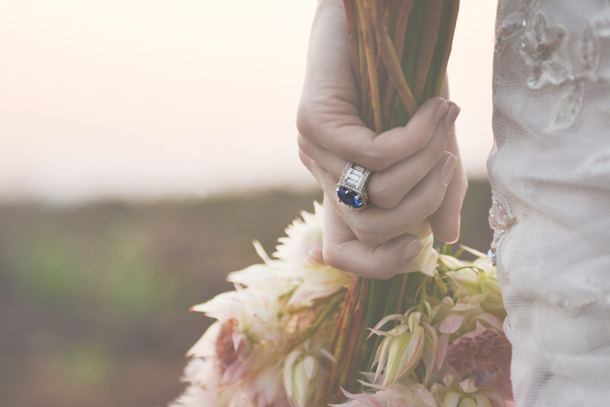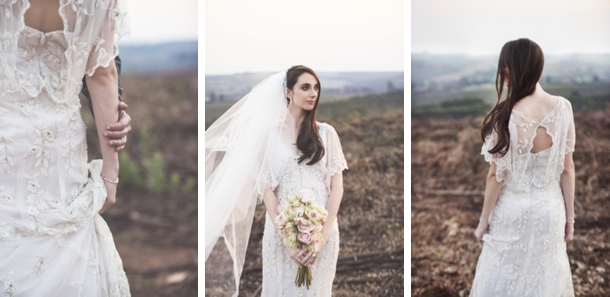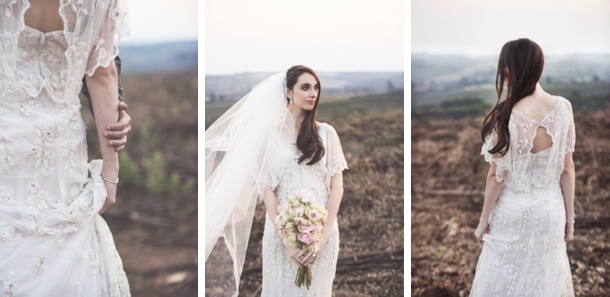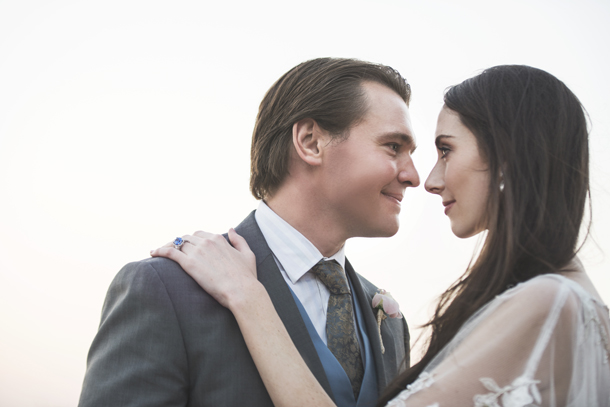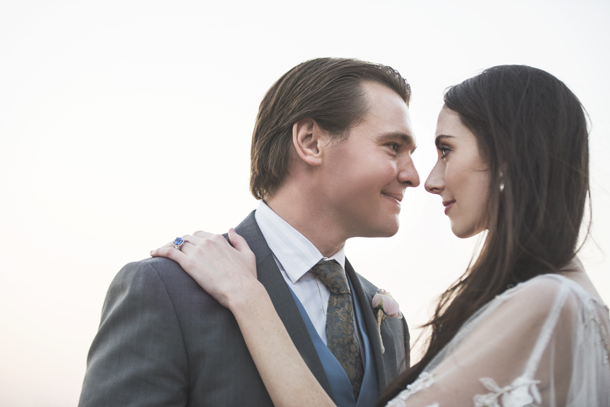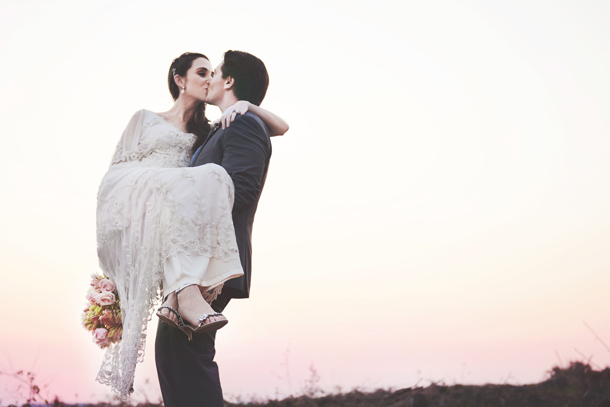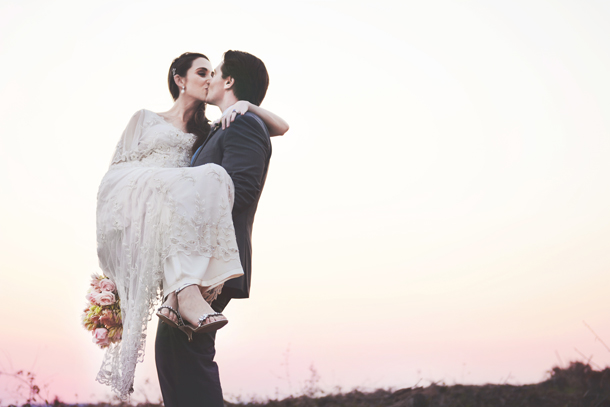 Proudly South African Details
On the night before the wedding we hosted a traditional South Africa braai (lamb on the spit) at the hotel where all our guests were staying. This was a chance for all the guests to get to know one another before the wedding day and it was a chance for us to see and chat to our friends before the big day. Further to this, we used local suppliers for every element of our wedding (the only things bought abroad were my wedding shoes). We tried our best to use suppliers from White River and Nelspruit mostly, with the exception of the flowers coming from Johannesburg. We served oriental curries in a buffet style for the main course and koeksisters as one of the dessert options at the dessert buffet!
The Honeymoon
We decided to keep it local as we are living abroad and October was a great time in SA to honeymoon (not peak season and it was summer), so we chose Cape Town and Plettenberg Bay. We stayed at The Plettenberg Hotel in Plett (A Liz McGrath hotel) and The Cape Grace and the Mount Nelson in Cape Town.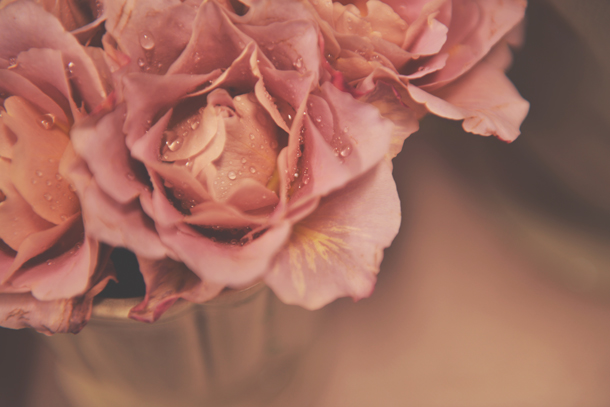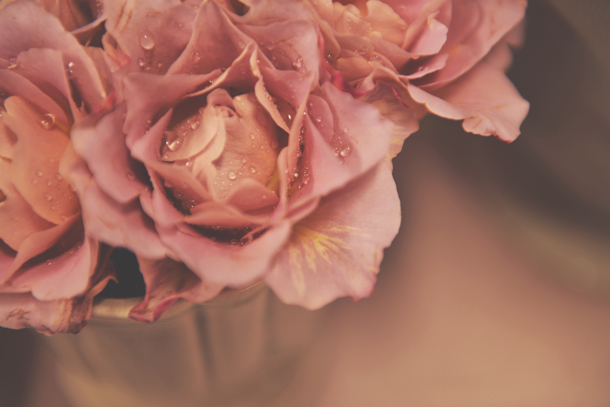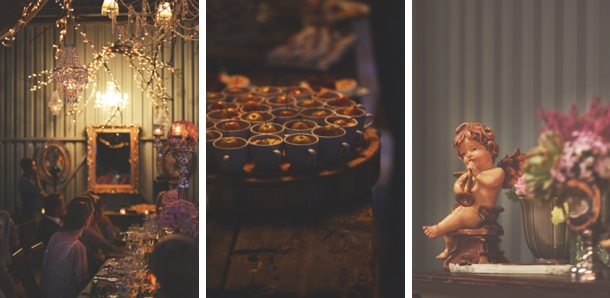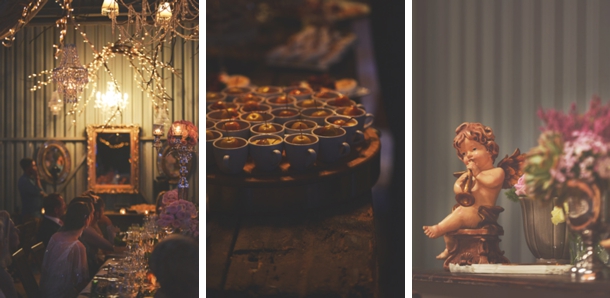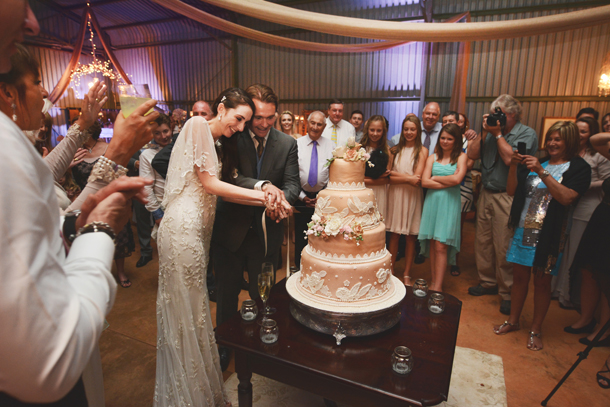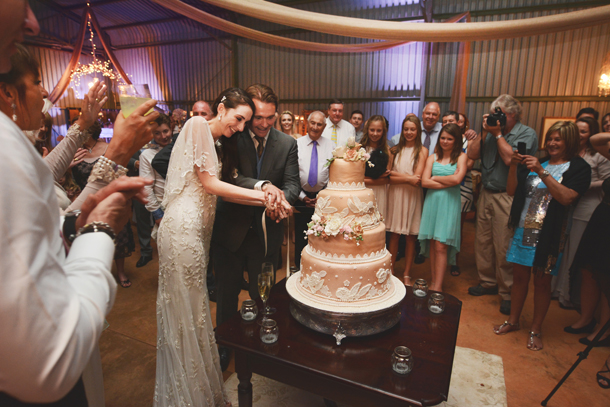 Advice for Future Brides & Grooms
Don't rush the wedding planning – we had twelve months to plan our wedding and it was so lovely to have that time. We had such a happy year being engaged too! When deciding on a venue and the flow of things, think about your guests and the experience you want them to have – but mostly, think about what you want. I think smaller weddings are nicer weddings, they allow you to pay attention to the important details. We were very privileged to have our parents pay for our wedding – sit down with both parents before you begin planning and decide who is paying for what and how they will be paying.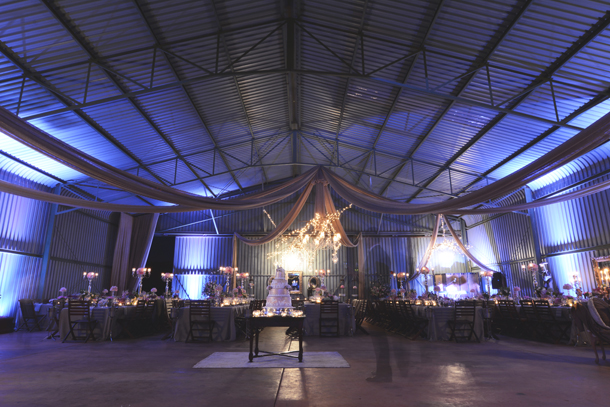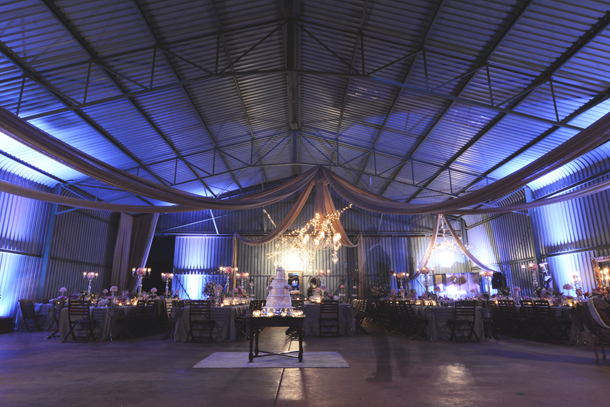 You can see more from this wedding on Kallah Ohr's blog.
SERVICE PROVIDERS
Co-ordination: Brightside Events | Photography: Kallah Ohr | Decor, hiring & DJ: Function Design | Flowers: Franz Grabe Flower Couture | Catering: Zest | Bar service: Rooikat | Video: BLIMP Films | Worship: Connell Cruise | Hair: Gabriel Ferreira for Studio 72 | Makeup: Malusi Malanga for Yves Saint Laurent | Cake: Helen's Cake Craft | Guest transport: E-Coaches | Wedding signage: A Word or Two | Stationery: SA Card Print | Furnishings: Hans van der Merwe and Sons | Jewellery: Jenna Clifford | Bride's dress: Marianne Fassler, Leopard Frock | Calligraphy: Sue Holder